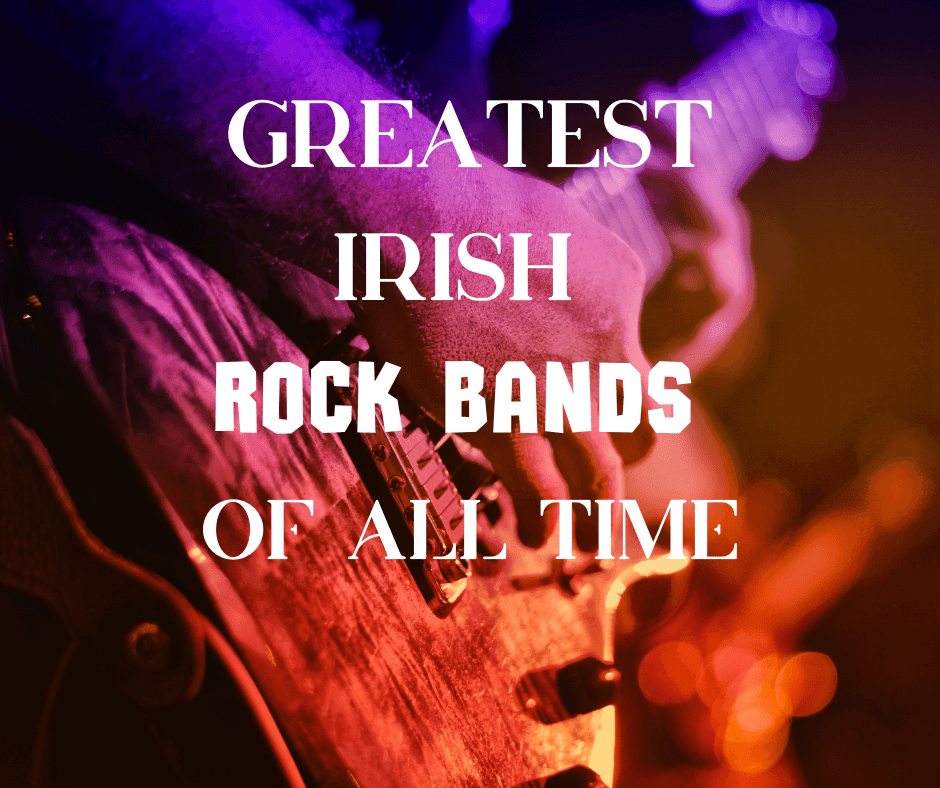 Ireland is a haven for music. It's a country known world over for its traditional music, but don't overlook the fact that Ireland has gifted the world with some iconic rock bands down through the years. Without any messing around, let's get straight into who we believe are the greatest Irish rock Gods, ranked from 10-1, with some honourable mentions.
What are the Best Irish Rock Bands?
10. The Boomtown Rats
Led by the charasmatic Bob Geldof, The Boomtown Rats were originally a punk band but broke into the mainstream with the hit I don't like Mondays. They went on to record 7 albums, after calling it a day in 1986. But, they have since reformed and in 2020 released their latest album Citizens of Boomtown.
Bob Geldof will certainly be known worldwide for his enormous charity work, but let's not forget the unique voice and charisma of this iconic Irish rock singer.
An iconic band in the late 70s and one which must have caused a stir in Ireland during the 'Showband' era. Have a look here at their hard hitting, power-chord driven punk tune: Looking After NO 1
9. The Frames
A band known to many Irish who would have grown up in the 90s or 2000s. A student's favourite during this era, with the song 'Revelate' almost holding anthemic status around this time.
Led by the powerful, yet emotional voice of Glen Hansard and backed by a highy talented band, their unique sound is still heard widely in Ireland today.
The use of the violin in many of their songs adds a beautiful melody through the distorted guitars. Hansard himself is actually a recipient of an oscar-one he recieved for best song in 2008.
The song was performed for the movie Once, in which he actually acts in himself. An iconic Irish band-unique, melodic and a great mix of power and raw emotion. Here's a smashing performance of Revelate:
8. Horslips
A band labelled as 'Celtic Rock', this group mused the electric guitar with traditional Irish instruments, producing some intricate melodies inspired by Irish jigs, airs and reels.
They were active in the 1970s and went on to record 12 albums. Their music is incredibly iconic and many of their melodies have been sampled from everything to official World Cup songs to TV ads.
They are highly regarded amongst many in the rock music/Irish music scenes, due to their technical riff-based approach and accompanying traditional Irish melodic lines.
As this eclectic style of music is difficult to put into words, enjoy these 2 live performances from the band:
7. Snow Patrol
Formed in 1994 in Dundee, Scotland, this Northern Irish-Scottish band rose to prominence in the early 2000s. Snow Patrol became a mainstream favourite in many countries and toured extensively during this time.
Some of their most well-known singles included Chasing Cars, Open Your Eyes and Run and the album Eyes Open was hugely popular at the time.
The single Run is one that will certainly spring to mind for many, as it was made hugely popular by the singer Leona Lewis, who covered the single.
The original Snow Patrol version features a beautiful guitar/string quartet arrangement that with leave you with goosebumps! A great modern Irish softrock band.
6. Ash
Formed in Northern Ireland, this band were very prevalent in then 90s and early 2000s both in Ireland and the UK.
With hits like Girl From Mars, Burn, Shining Light and the summer anthem OH Yeah, Tim Wheeler and his band burst onto the scene at the tender age of 18.
Wheeler's unique voice (with a hint of a Northern Irish accent in there) became instantly recognizable, and coupled with some rocking guitar riffs and solos, Ash had their foot in quite a lot a genres, including pop, soft rock, hard rock and punk. A very accessible band and a great one to listen to on a road trip.
Check out this great road trip tune by Ash:
5. Gary Moore (solo)
It was quite difficult to know where to place this iconic rockstar on the list. In terms of musicality and pure raw talent, he could easily be placed higher than number 5. His other project in fact is placed higher so make sure you read on to find out where!
Gary Moore's solo career spanned over 3 decades, from the early 80s right up to the 2000s, until his passing in 2011 at the age of 58.
Moore's incredible technical ability on the electric guitar has left a huge legacy in the rock world. He was heavily influenced by the blues and produced some incredibly memorable songs and melodies over his long and varied career.
In the 80s Moore's guitar playing was rip roaring, atmospheric and incredibly technical, with some iconic tunes such as Empty Rooms, the epic Celtic influenced Over the Hills and Far Away and the beatiful instrumental piece The Loner
The 90s saw Moore releasing the beautiful blues ballad Still Got the Blues, along with Midnight Blues and Walking by Myself. Often viewed as as just being a massively talented guitarist, Moore's singing abilty should not be overlooked.
His voice was strong, bluesy and unique, but was also very capable of delivering a more mellow tone, as is heard in the song Johnny Boy.
Moore is regarded as one of the greatest guitar players the world has ever seen and has been described as a 'musical powerhouse' by Blues Rock Review.
His enormous portfolio of music is a legacy that will live on for many years to come. Check out some of these masterful performances:
4. The Cranberries
The Limerick rockers lit up the world with their first hit Dreams in 1992, and from there went on to sell over 40 million albums worldwide.
Dolores O'Riordan's mesmerizing and incredibly unique vocal style catapulted the band to stardom in the 90s. This band was huge.
Anyone who grew up in this era will remember a host of songs from Zombie to Linger and they became the soundtrack to millions of teenagers' lives. O'Riordan's signature yodelling style, coupled with a strong Limerick accent made her voice practically uncopyable.
With the help of some killer guitars and booming drums, this act played in front of millions of adoring fans around the world. Unfortunately, Dolores passed away at the age of 46 in London.
Her passing was a shock woldwide and her legacy won't ever be forgotten. One of their more notable performances lit up Paris in 1999. Check out this belting rendition of Zombie:
3. Rory Gallagher & Taste
As is with Gary Moore, Rory Gallagher was a true musician's musician. Born in County Donegal and raised in Cork, the former still hosts a festival in his honour in Ballyshannon every year. Where to start with Rory?
Firstly, it has been widely acknowledged that Rory was an absolute perfectionist and spent hours on end perfecting guitar riffs and melodies.
His insatiable work ethic must have paid off because to this day, he is regarded by many (including Brian May of Queen and Slash of Guns n' Roses) as being one of the finest guitar players of all time.
Rory was all about passion, and his beat up Fender Stratocaster proves the lengths he went to to get the most out of his instrument.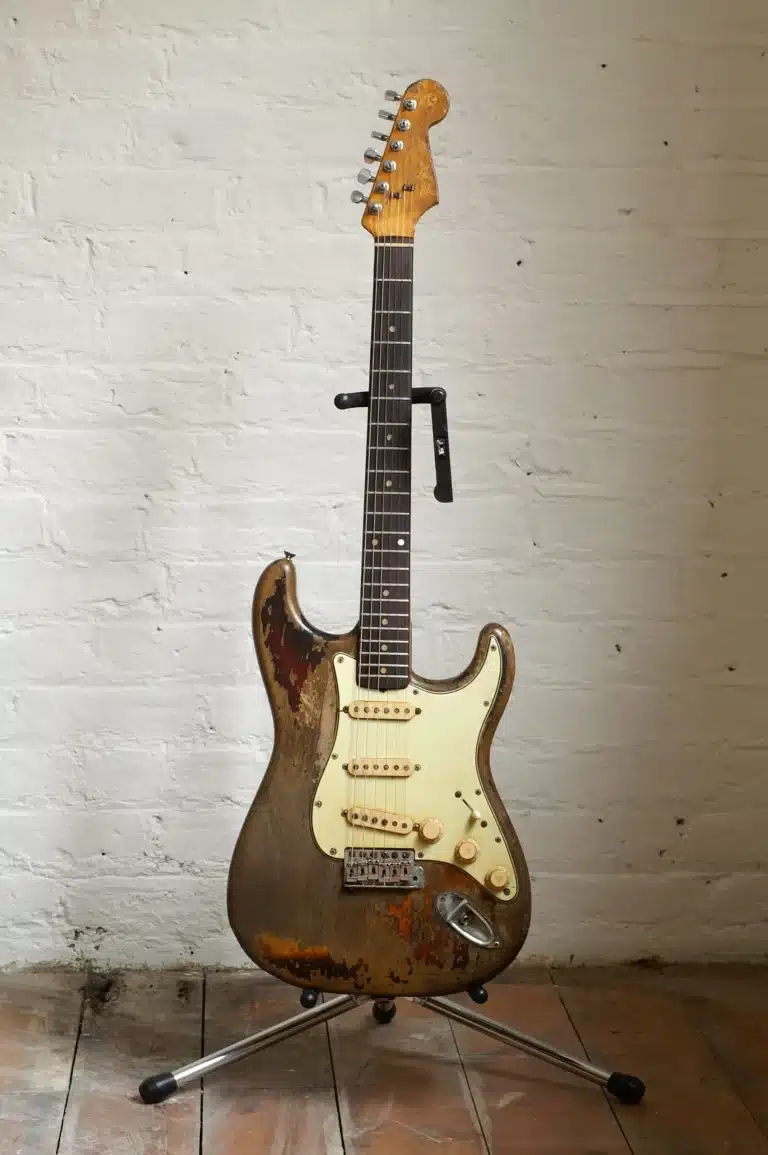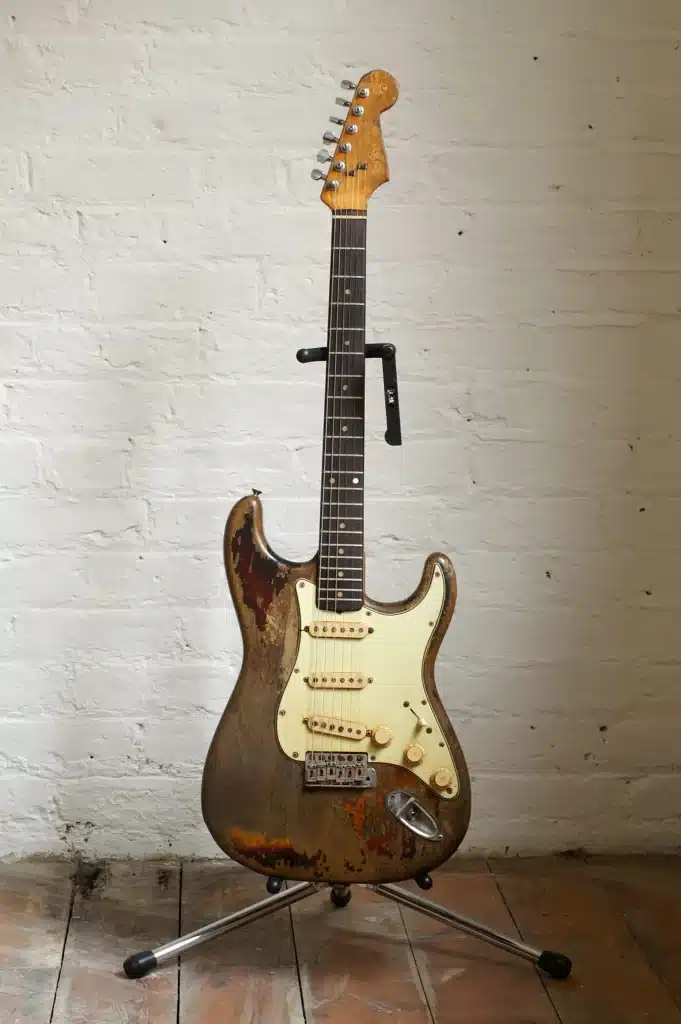 Rory's first band was Taste and they released 2 studio albums, but the highlight of their career must have been performing alongside Jimi Hendrix and The Who at the Isle of Wight festival in 1970.
Rory Gallagher then joined up with Wilgar Campbell and Gerry McAvoy to form a new band simply named Rory Gallagher.
This is when he really started to excel in his guitar playing and performing, and the band travelled Europe extensively, where they received critical acclaim.
Their performance at the world-renowned jazz festival in Montreaux, Switzerland received huge accolades and etched Rory into the annals of rock guitar Gods.
Some of his most iconic songs are Tatoo'd Lady, A Million Miles Away and the cracking number Bad Penny with its gnarly, distorted intro riff. Rory was also heavily influenced by the blues, and on the acoustic guitar, he was just as impactful.
Rory was a master at using the volume knob on his Fender Strat to create any atmosphere he felt fit that particular moment on stage. The effect of this technique had, up to that point, seldom been used in that way.
Like Moore, his singing voice is often overlooked but he was well able to belt out a tune or take it down a notch at will. Here are those 3 cracking songs from Rory Gallagher:
2. U2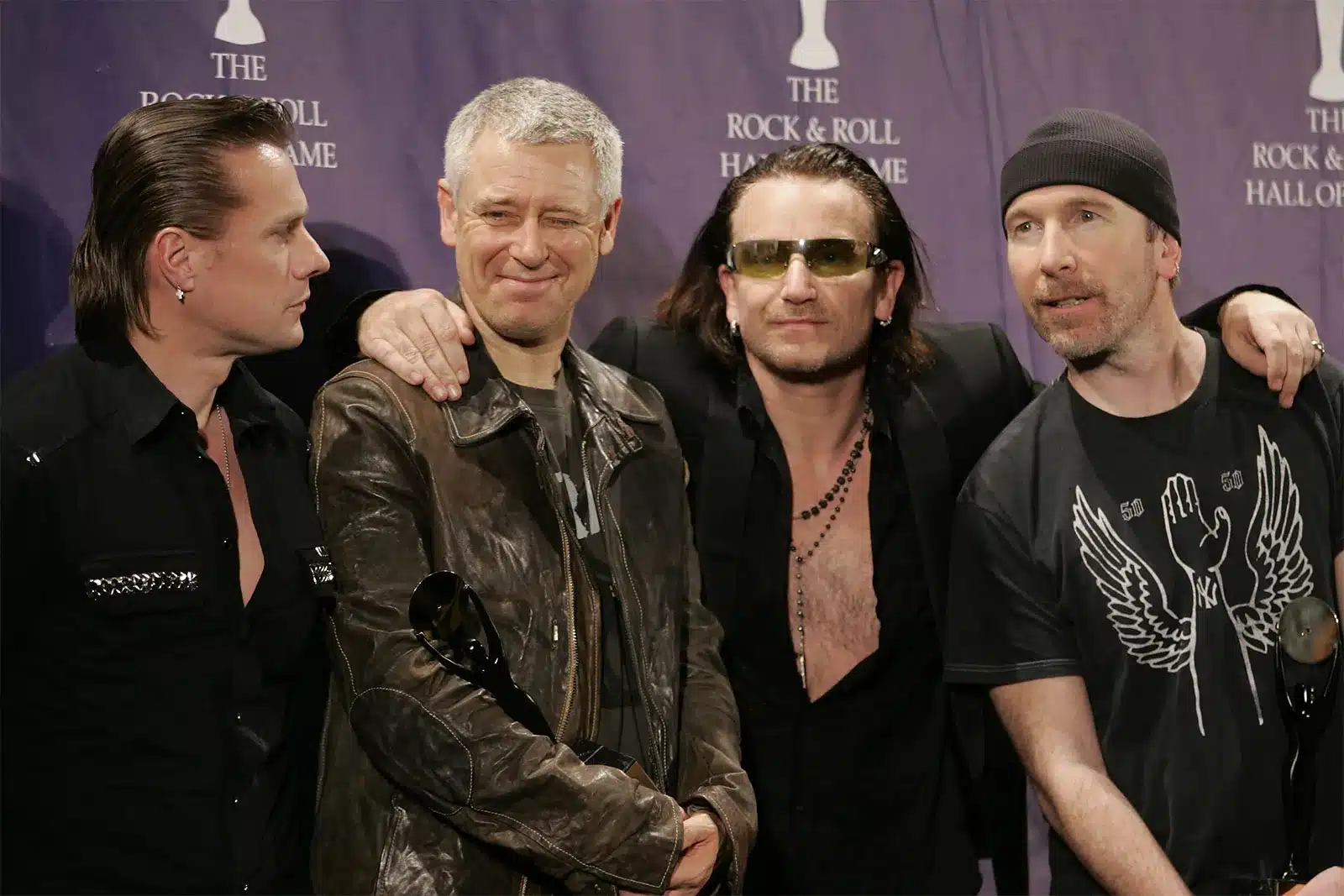 These guys need no introduction, but here's one anyway. Is there a corner of the world where U2 is not known?
Formed in 1976 in Dublin after drummer Larry Mullen Jr. posted a note on the school notice board saying he was looking to start a band.
Originally, they were not the most proficient of musicians, but after a few years they signed their first record deal, and have since gone on to sell an insane 170 million records worldwide.
Having actually started out as a punk outfit, the band has evolved over the years in terms of musical style, but with all original members still being in place, their sound is still as recognizable as ever.
Led by Bono's phenomenal vocals up front, The Edge has also had a huge part to play in their distinctive sound.
Who can forget the intro to Where the Streets Have no Name? Certainly a goosebump moment, even to this day.
The Edge may not be regarded as the most technincally proficient of guitar players, but his sonic ability is not to be overlooked.
Mixing various forms of reverb and delay, while turning his guitar pick upside-down to produce his signature chiming (almost organ-like) effect was incredibly innovative.
The rhythm section of Mullen and Clayton is also so precise and perfectly in tandem, that they are sometimes overlooked. A true world band, led by a charismatic vocalist and frontman.
U2 has countless fantastic tunes, it's difficult to whittle it down to just a few, but here are some of our favourites.
The first video brings back strong memories of driving through Death Valley National Park with this blaring in the car: a memory which will never be forgotten.
1. Thin Lizzy – The Greatest Irish Rock Band of Them All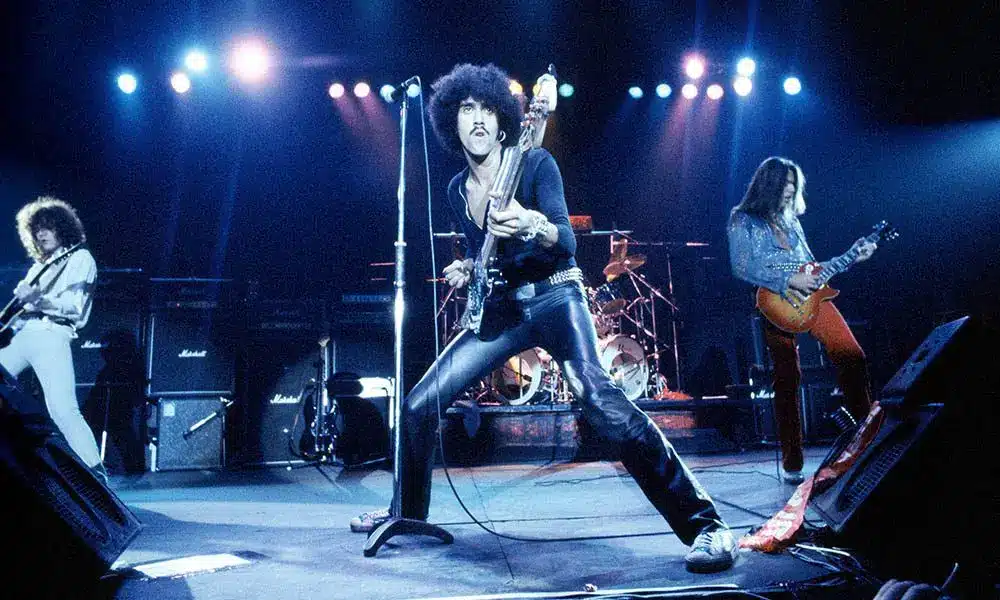 Surprised at the number 1 choice? Remember, this list is just a personal opinion, but many Irish will agree that these boys were the greatest band ever to come out of Ireland. I guess the big question is 'why'?
Phil Lynott
They were led by the wonderfully charismatic and highly talented bass player, songwriter and vocalist: Phil Lynott.
Standing over 6 foot tall and using his Fender bass as a reflector for the stage lights, Lynott's vocals, melodies and lyrics will live long in the hearts of Irish people.
A real 'rocker', he lived his life to the max but unfortunately passed away at the tender age of 36.
Their Influence/Iconic Guitar Harmonies
To this day, Thin Lizzy can be heard on radios around the world. From the widely known anthem The Boys are Back in Town to the incredible musicality of Roisin Dubh (The Black Rose), this band have been lauded by rock bands the world over as being highly influential.
As eluded to earlier, a certain rock star by the name of Gary Moore was an integral part of Thin Lizzy's success.
He was responsible for many wonderful guitar parts heard in the songs Waiting for an Alibi, Sarah and Black Rose.
But one of Thin Lizzy's iconic trademarks was the use of guitar harmonies in their melodic lines. Just listen to the main meldoy lines of The Boys are Back in Town or Emerald.
Scott Gorham and Brian Robertson (who preceded Moore) are widely credited for introducing this to the world of rock, a technique which has since been adapted by countless well-known rock bands.
Brian Downey
Let's not forget the foundation of the band, Brian Downey. One of the most underrated drummers out there.
A workhorse who produced some timeless drumming sections such as the momorable intro to Emerald and the performance on Bad Reputation, Downey is incredibly respected in drumming circles around the world.
Thin Lizzy-in our opinion the greatest rock band Ireland has ever produced and one of the greatest bands of all time.
They left a huge influence, not only on the world of rock, but also on many people who were lucky enough to have seen them live. A double vinyl of their greatest hits is available here.
The greatest way to experience the raw power and emotion of this band is by checking out their Thin Lizzy: Live and Dangerous album. A masterpiece.
Honourable Mentions
Aslan
Some may believe this much loved Dublin pop-rock band should have made the top 10 list, and would have a good case too.
Led by the Irish icon Christy Dignam, Aslan formed in 1982, with their name being inspired by the lion in C.S. Lewis' Narnia series.
They grew to fame in the 80s until the the harrows of drug abuse lead to a hiatus towards the end of the decade.
They subsequently reformed in 1993 and released the memorable Crazy World, a song which reached number 4 in the Irish charts.
This was a massive achievement in an era of incredible bands such as Nirvana, U2 and Sting, to name but a few.
And what a brilliant song it is:
The Waterboys
Can these lads be classified as an Irish rock band?
They were formed in Edinburgh in 1983 and have since had members from Scotland, Ireland, Wales and England.
Their music explores various genres, mainly of folk and rock and to this day have a massive cult following. Mike Scott, a founding member of The Waterboys moved to Dublin in the early 80s, where he fell in love with Irish traditional music.
So much so in fact that the band moved to Spiddal in Connemara in the year 1988 to record their iconic Fisherman's Blues album.
Here, one of the most loved songs in Ireland to this day:
The Undertones
Whether these lads can be classified as a rock band or a punk band, it really doesn't matter. Their gritty power chords and Feargal Sharkey's unique vocal style can still be heard on many a radio station to this day.
Formed in 1974 in Derry, Northern Ireland during 'The Troubles', they were a breath of fresh air for the youth of the time.
The band steered clear of any political 'undertones', and focused on more life-relevant topics such as adolescece and heartbreak.
Who hasn't heard their iconic Teenage Kicks?
The Corrs
Once again, it is questionabable if The Corrs can be classified in the same 'rock band' category as Thin Lizzy or Rory Gallagher. In any case this band were HUGE in their heyday.
Their unique sound explored elements of pop, rock and traditional Irish music, with a very high level of musicianship.
A family band, consisting of sisters Andrea, Caroline and Sharon (and let's not forget their brother Jim), The Corrs gained recognition when auditioning for the cult classic film The Commitments in the early 90s.
Their career took off at a rate of knots, gaining recognition in both the UK and USA. They had a string of hits from Runaway to Breathless and went on to sell over 40 million albums worldwide.
My Bloddy Valentine
To finish up, an incredibly unique and atmospheric sonic band, which formed in Dublin in the 1980s: My Bloddy Valentine.
Driven my founding member's Kevin Shields' massive Fender Jazzmaster guitar sound, which incorporated effects such as fuzz and reverb, their sound was certainly unique and they are regarded by many as a truly special band.
Their live guitar/drum sound has been cited as being incredibly loud, with the dissonant, almost quiet vocal sound adding a unique layer of texture and contrast.
Instead of trying to put this into words, have a listen here:
Final Thoughts
Have you found what you're looking for?! These are what we believe are the greatest Irish rock bands of all time.
As all top 10s are controversial, we would love to hear if you believe this is a reasonable list. Have we forgotten somebody?
Should a band be placed higher on the list? Let us know! Maybe you have seen some of these rockers live? We'd love to know how they were. Drop us a comment. We'd be delighted to hear from ye!
FAQs
Who is the best Irish rock band?
In our humble opinion, Thin Lizzy is the greatest Irish rock band. Their sheer musicality, coupled with the charismatic front man, Phil Lynott, makes them one of the most iconic rock bands of all time.
Who is the most famous Irish Rock band?
With a grand total of 175 million albums sold worldwide, U2 are easily the most famous Irish rock band.
Who is the greatest Irish guitarist of all time?
We believe it is a toss up between Rory Gallagher and Gary Moore. Both were technically very proficient and utlilized their instruments to the max; Rory being a master of the Stratocaster, whereas Gary preferring the fuller Gibson tone.
Both were also highly underrated vocalists.