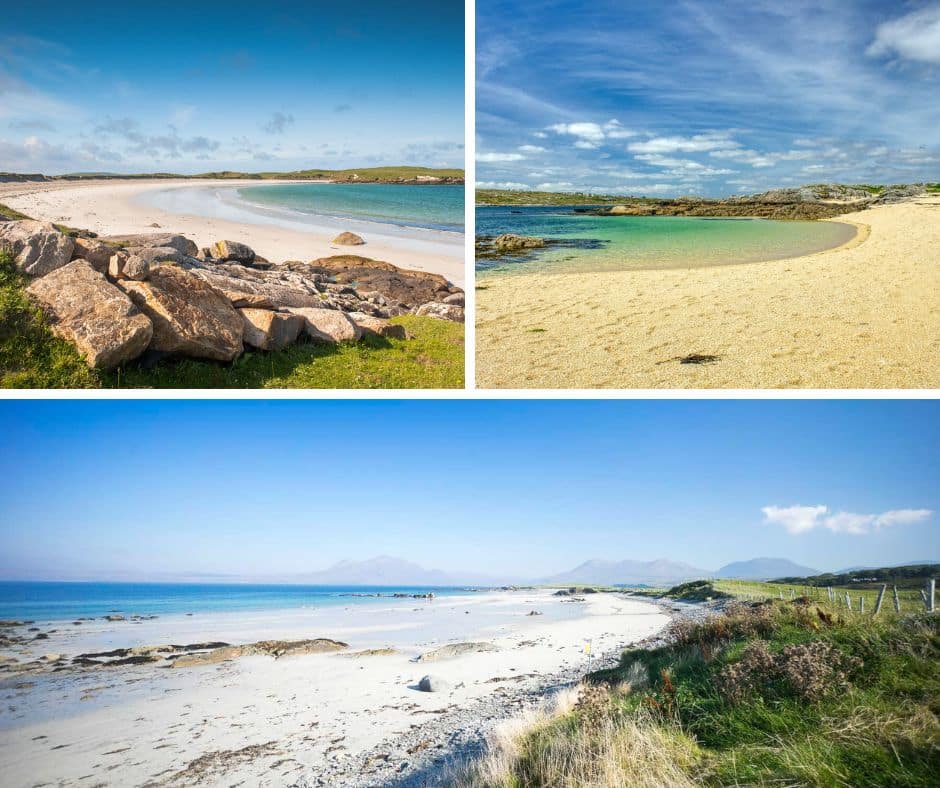 If you're wondering about where to find the best beaches in Connemara (including true hidden gems) then you're definitely in the right spot!
Connemara is a nature lover's paradise and a trip to one of its many beautiful beaches is something we highly recommend on a warm summer's day.
In a nutshell, there are some jaw-dropping beaches in Connemara. From the horseshoe shape of Glassilaun to the blinding white sands of Manin near Ballyconneelly, you'd be hard pressed to find more idyllic locations.
Our Tips for Visiting the Beaches of Connemara
Needless to say, all beaches should be explored during the warmer times of the year, namely May to September. However, on a calm day during the off-season, some larger beaches are ideal for a brisk walk.
If considering venturing into the water, take water safety very seriously and always accompany children when going into the water. Inform yourself here.
Check in advance in there are lifeguards on duty and if they are 'Blue Flag' beaches.
Although Ireland is not known for very high temperatures, the UV index is certainly high enough to get a bad sunburn in summer. Bring sunscreen and avoid the sun during the early afternoon hours.
Many of the beaches we list are in remote locations, so plan your journey accordingly. This relates also to having plenty of water with you if planning to spend the day at the beach.
Check before your visit if dogs are allowed.
Check the tides before your visit.
Leave the beach the way you found it – leave no trace!
Connemara Beaches Map
Our Favourite Connemara Beaches
The beaches we are going to outline are the ones that we personally love and return to time and time again. Here are our very favourite Connemara beaches.
Glassilaun Beach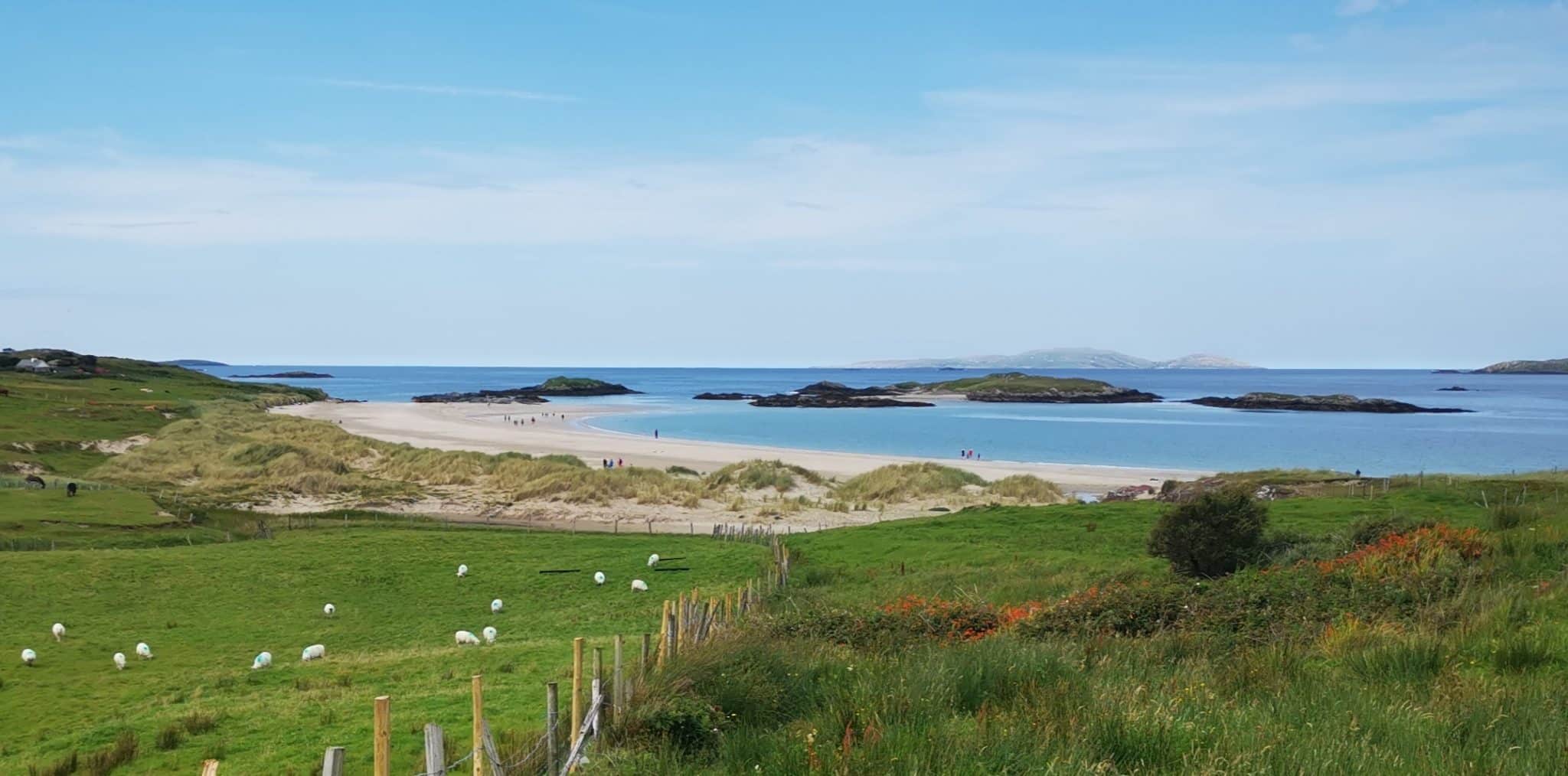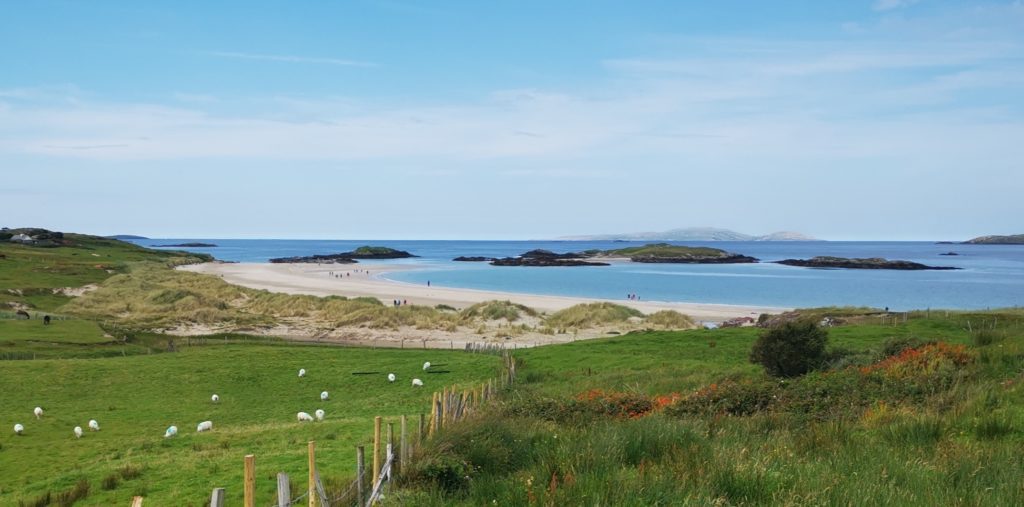 Glassilaun Beach is located in north-western Connemara and is a real beauty. You're going to hear the words 'idyllic', 'white sands' and 'turquoise waters being used a lot in this guide and Glassilaun certainly ticks all of these boxes.
For me, after having visited numerous times, the perfect horseshoe shape and the view towards the towering peaks of Mweelrea make this a very special place.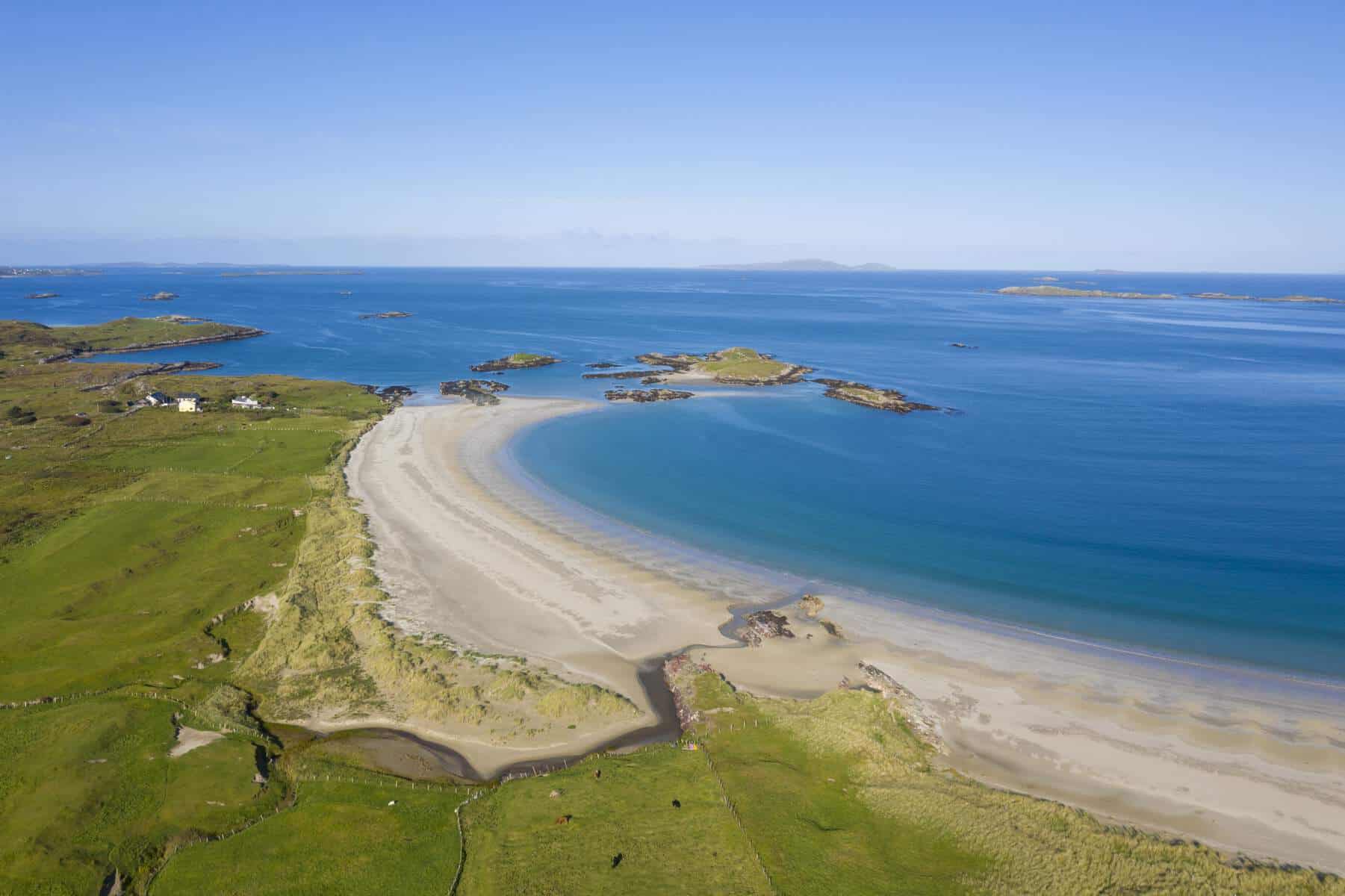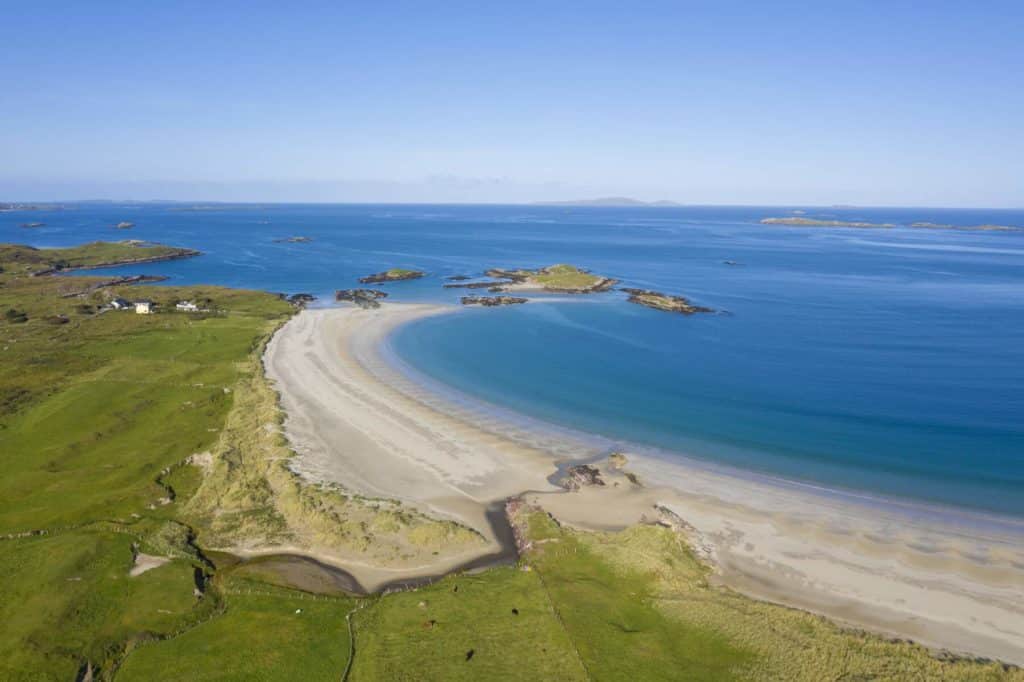 The beach is also surrounded by beautiful green fields, which are dotted with sheep for most of the year. There's certainly a case that could be made for Glassilaun being Ireland's most idyllic beach.
We have a detailed visitors' guide to Glassilaun Beach here.
Practical Info
Location: Click here for directions to Glassilaun
Parking: Small carpark with limited space
Blue Flag: No
Toilets: Portable toilets during summer months
Lifeguards: No
Renvyle Beach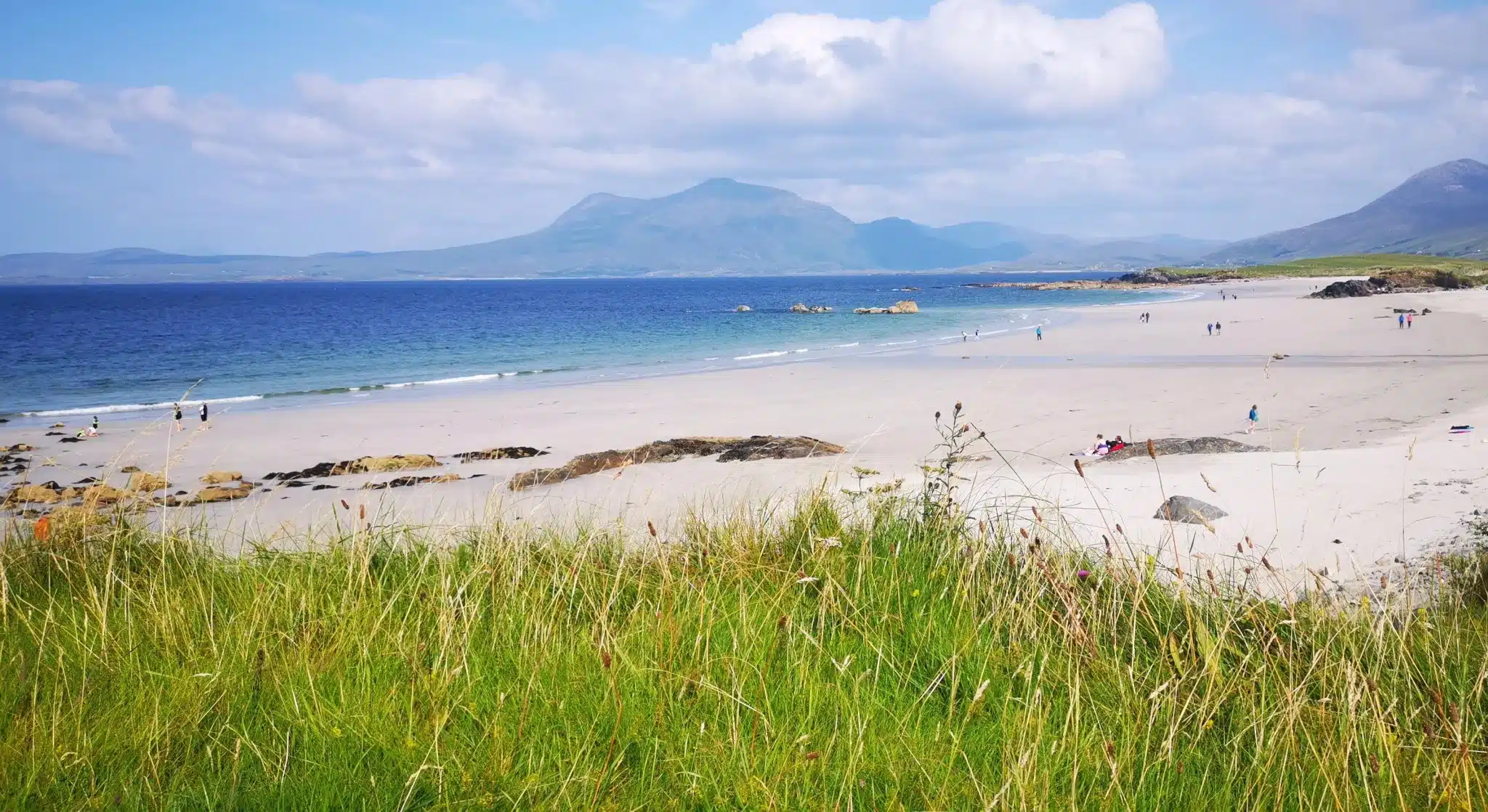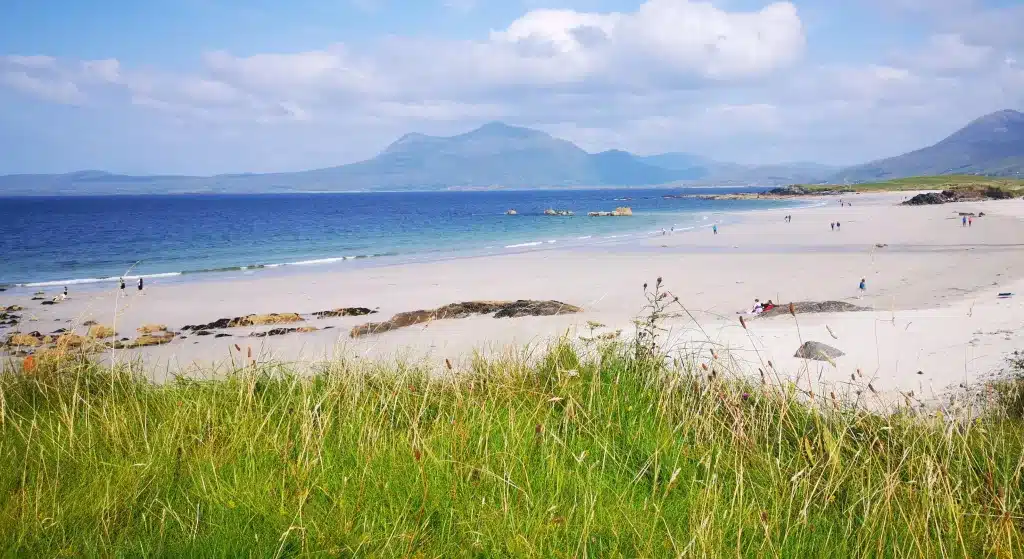 Renvyle Beach is a place I (sadly) only discovered in summer 2023. What a beach.
Located not too far from Glassilaun in western Connemara, Renvyle a more expansive and wilder beach. Two things struck me straight away when I visited: the almost impossibly white sand and the spectacular backdrop of Mweelrea.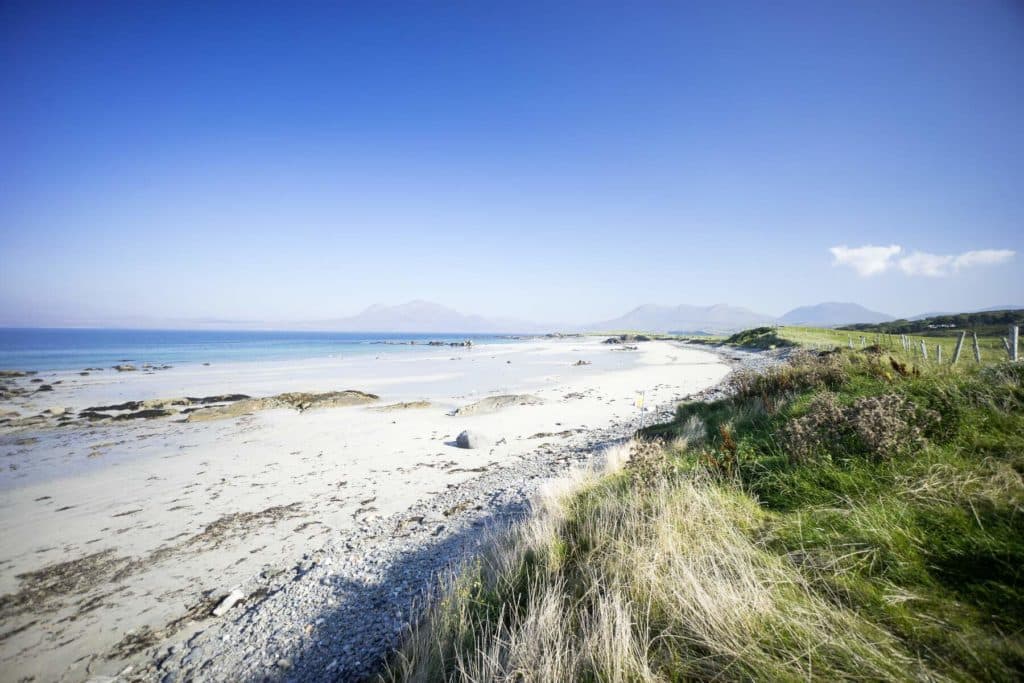 You'll be treated to views towards the islands of Inishturk and Clare Island. Being on the west coast, sunsets are a sight to behold and the beach never tends to get too busy.
There is unfortunately only space for 10 cars or so at Renvyle, so arrive early on a warm day! Insider tip: For that perfect photo, walk the short grass path to the left of the car park. Thank me later!
Practical Info
Location: Click here for directions to Renvyle Beach
Parking: Small carpark with space for 10-12 cars
Blue Flag: No
Toilets: No
Lifeguards: No
Lettergesh Beach
A beautiful beach with breathtaking views and a link to Hollywood.
For 'The Quiet Man' fans, you may or may not be aware that this beach was carefully chosen for the horseracing scene. Have a look here.
Lettergesh is easily the largest beach on the Renvyle Peninsula and although there is an adjoining campsite, the beach never gets busy. If parking at nearby Renvyle is hard to come by, we recommend visiting Lettergesh.
Expect similar spectacular views towards the islands of Inishturk and Clare Island, with majestic Mweelrea mountain standing proudly towards the northeast. The waters here are quite chilly as the beach faces directly towards the Atlantic and expect waves most of the time.
It is though an invigorating swim! Lettergesh in our view is an excellent beach for a long, brisk walk. That Atlantic air will fill you with energy and if you've been driving along the Wild Atlantic way, this is a great place to stretch the legs.
Lettergesh is located along the Connemara Loop, a branch of the Wild Atlantic Way, which offers truly beautiful views over the Atlantic, the many beaches and islands.
Another Connemara stunner, and a trip to this beach we highly recommend.
Practical Info
Location: Click here for directions to Lettergesh Beach
Parking: Yes, large carpark
Blue Flag: No
Toilets: No
Lifeguards: No
Gurteen Bay
The first of 2 phenomenal beaches, west of the village of Roundstone.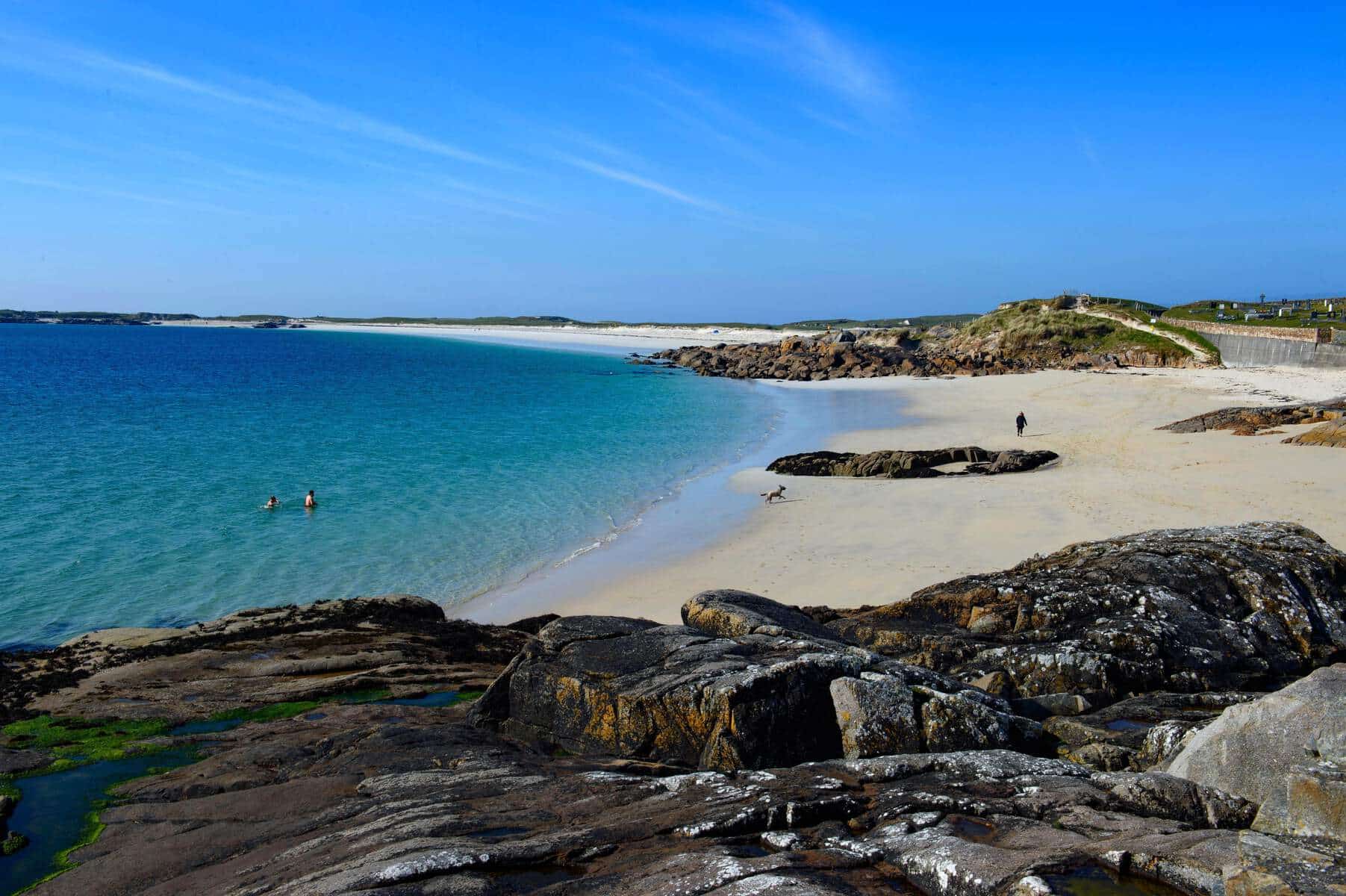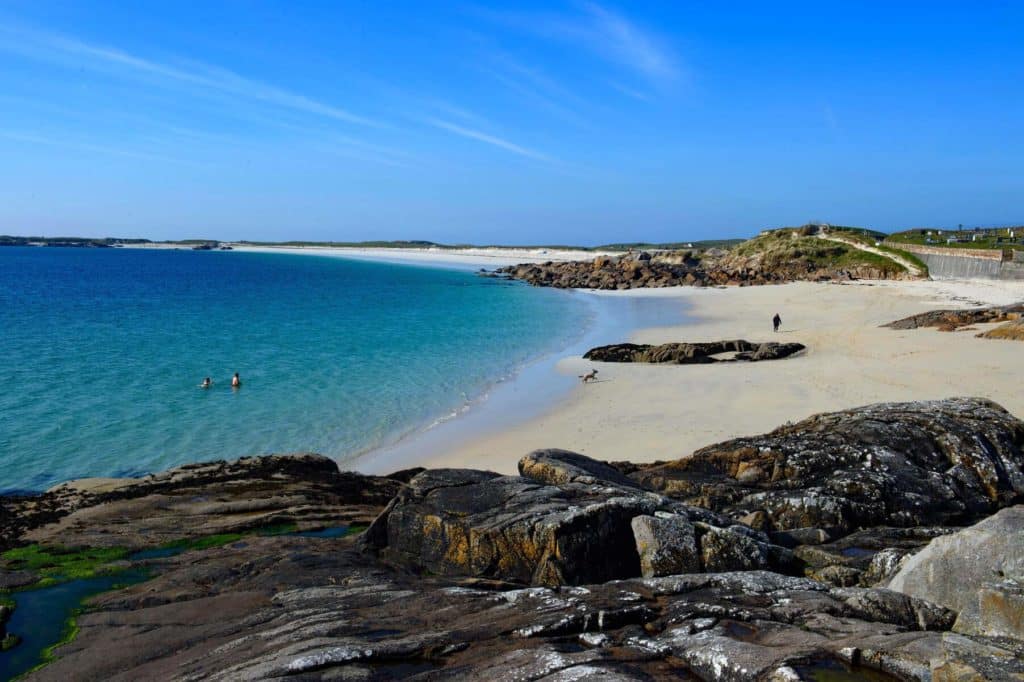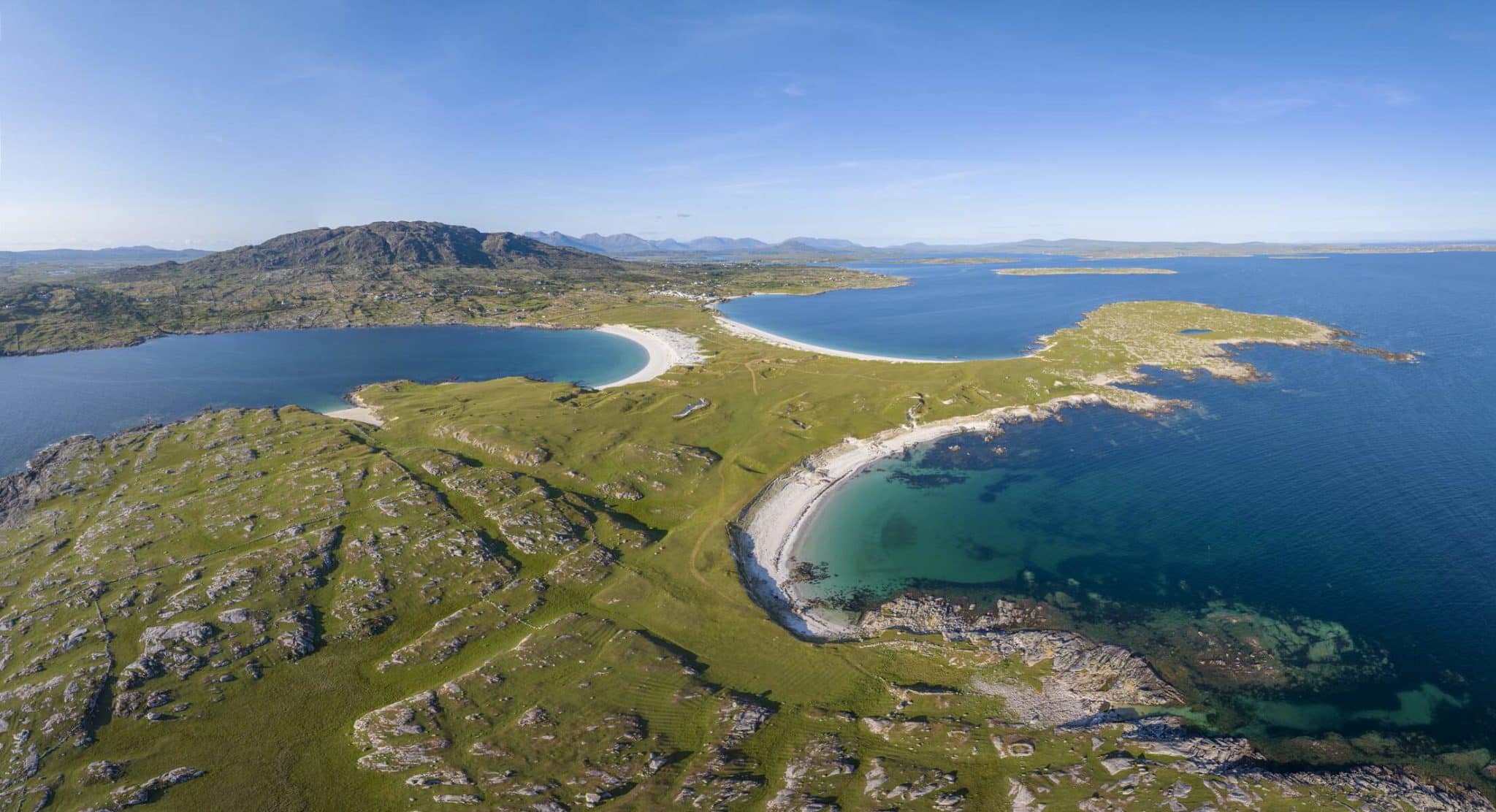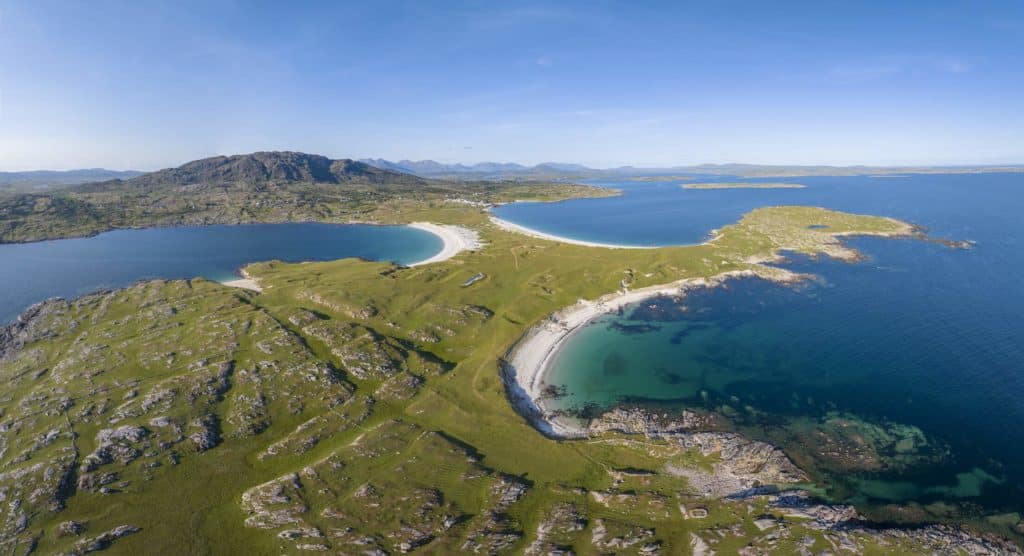 There was a time when these beaches were regarded as 'hidden gems'. They're certainly very well known now, but that doesn't take anything away from the spectacular beauty of this pocket of Connemara. It's almost impossible to put into words how striking the colours are on a bright day at Gurteen.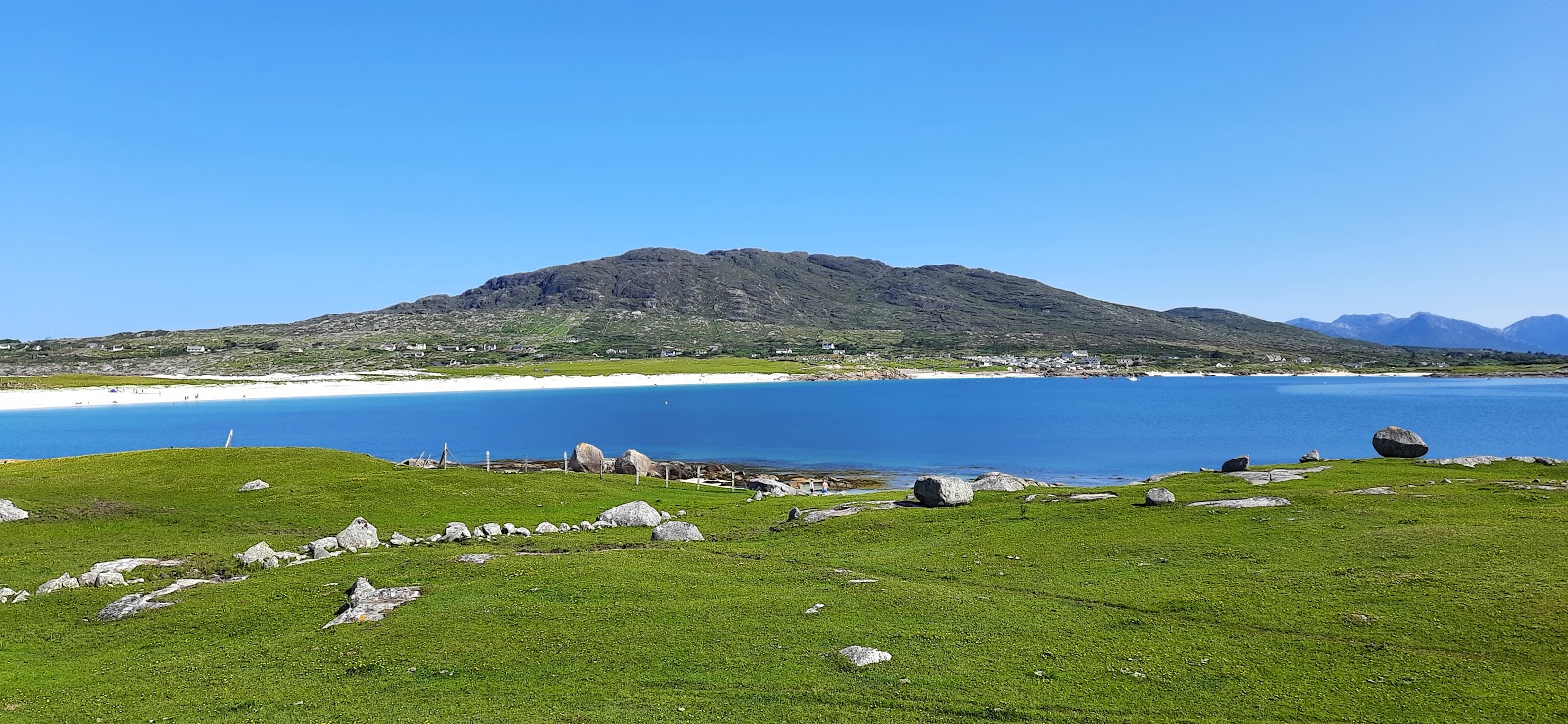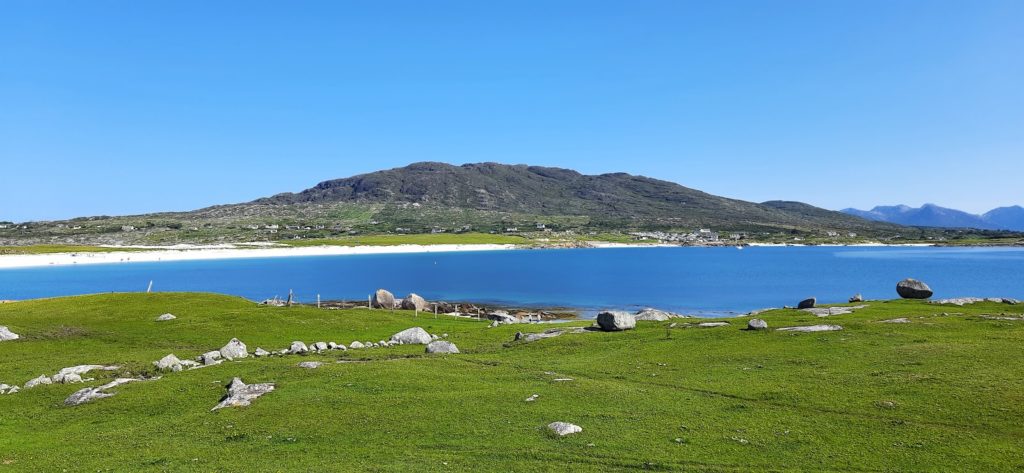 The whitest of sands and the clearest of turquoise waters, coupled with surrounding sheep-speckled green fields, make this a truly magical place. In fact, we would make this place a must visit if you're planning to visit the village of Roundstone.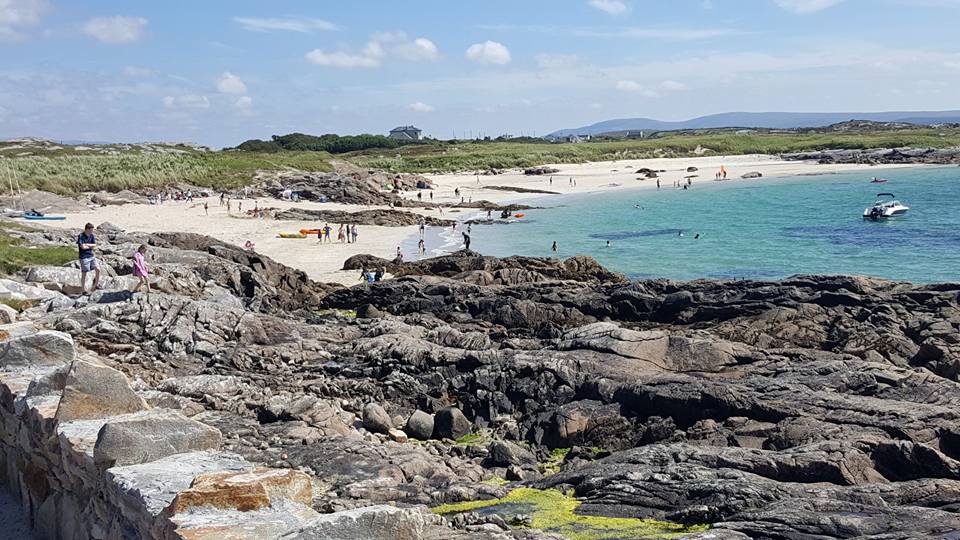 Its sheltered, south east facing location makes it perfect for swimming, snorkelling and paddle boarding, and although not the warmest of waters, it is a few degrees warmer than the more exposed beaches of Renvyle and Glassilaun.
Should you be lucky enough to visit on a warm day, it'll be hard to leave.
There is decent parking at the beach, but gets quite busy in summer as it's also used for those visiting nearby Dog's Bay.
Insider tip: We recommend exploring the whole headland i.e. walking towards the end of Gurteen and to the hidden cove beaches. And don't overlook this next beauty of a beach, located adjacent to Gurteen…
Practical Info
Location: Click here for directions to Gurteen Beach
Parking: Yes, space for up to 50 cars, but gets very busy on a fine day
Blue Flag: As of 2023, no
Toilets: No
Lifeguards: Yes, in summer months
Dog's Bay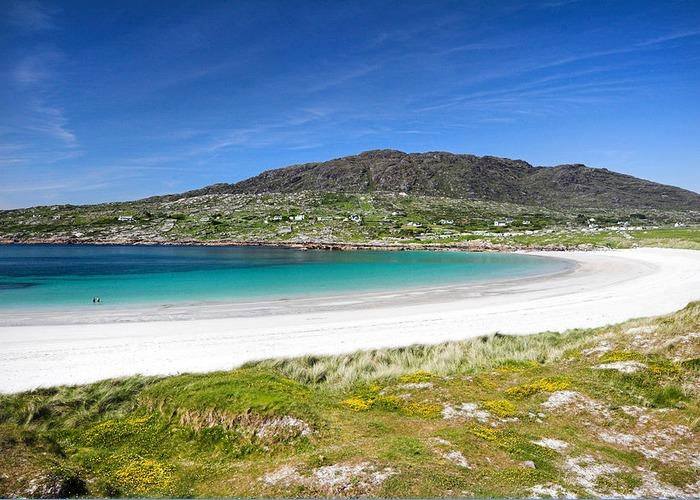 The perhaps quieter neighbour of Gurteen, Dog's Bay will present you with another wow moment!
When I visited for the first time many years ago, I couldn't believe this was actually the west coast of Ireland. Then after a quick dip in the waters, I was quickly reminded! But that's not to take anything away from how peaceful and perfect this strand is.
You'll experience a stunning horseshoe-shaped beach with fine white sands, along with glass-clear water.
Nearby Gurteen will get most of the crowds, just because it's closer to the carpark. We recommend making the trek to Dog's Bay, finding a quiet spot on the far side of the beach and then just relaaax.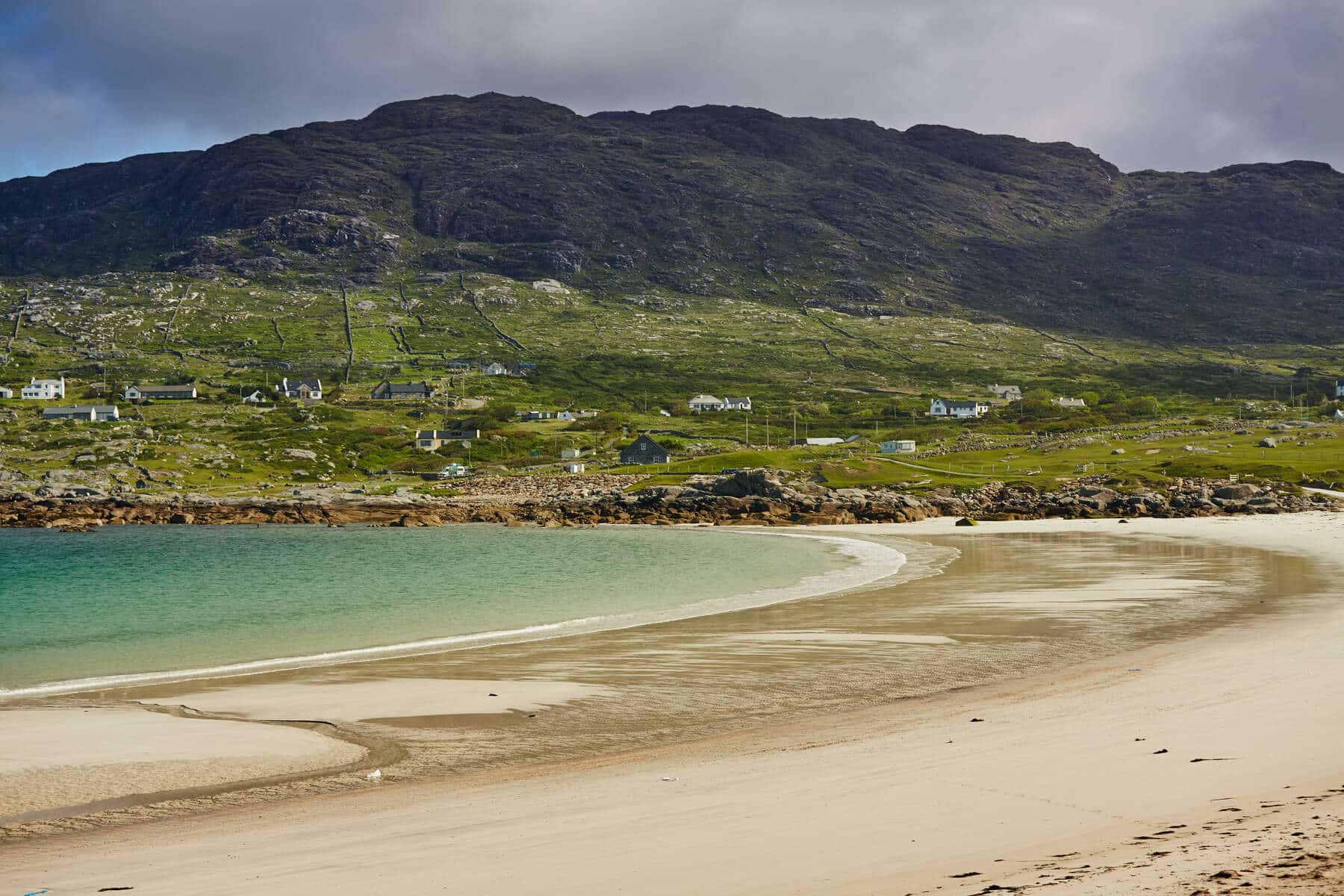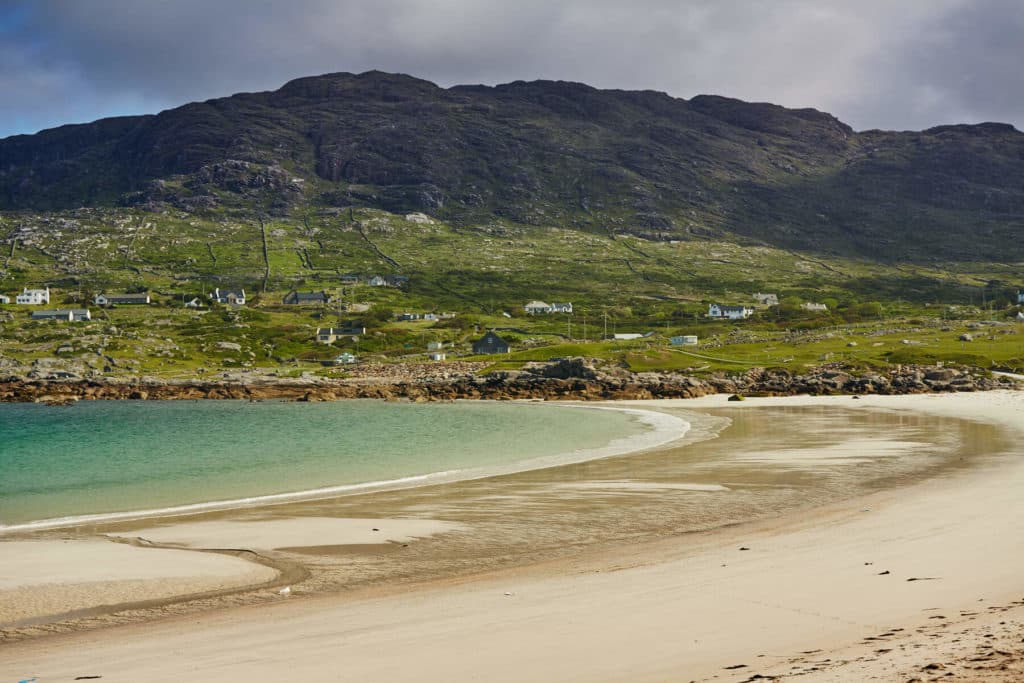 Beach therapy doesn't cost a penny and after spending a few hours here on a fine summer's day, you'll be left with incredible memories and more importantly, a clear head.
As mentioned above, we reckon you should take your time here and explore this whole headland by foot. This is the west of Ireland at its very best.
Practical Info
Location: Click here for directions to Dog's Bay
Parking: Park at Gurteen Bay and walk across the dunes to Dog's Bay
Blue Flag: No
Toilets: No
Lifeguards: No
Mannin Bay Blueway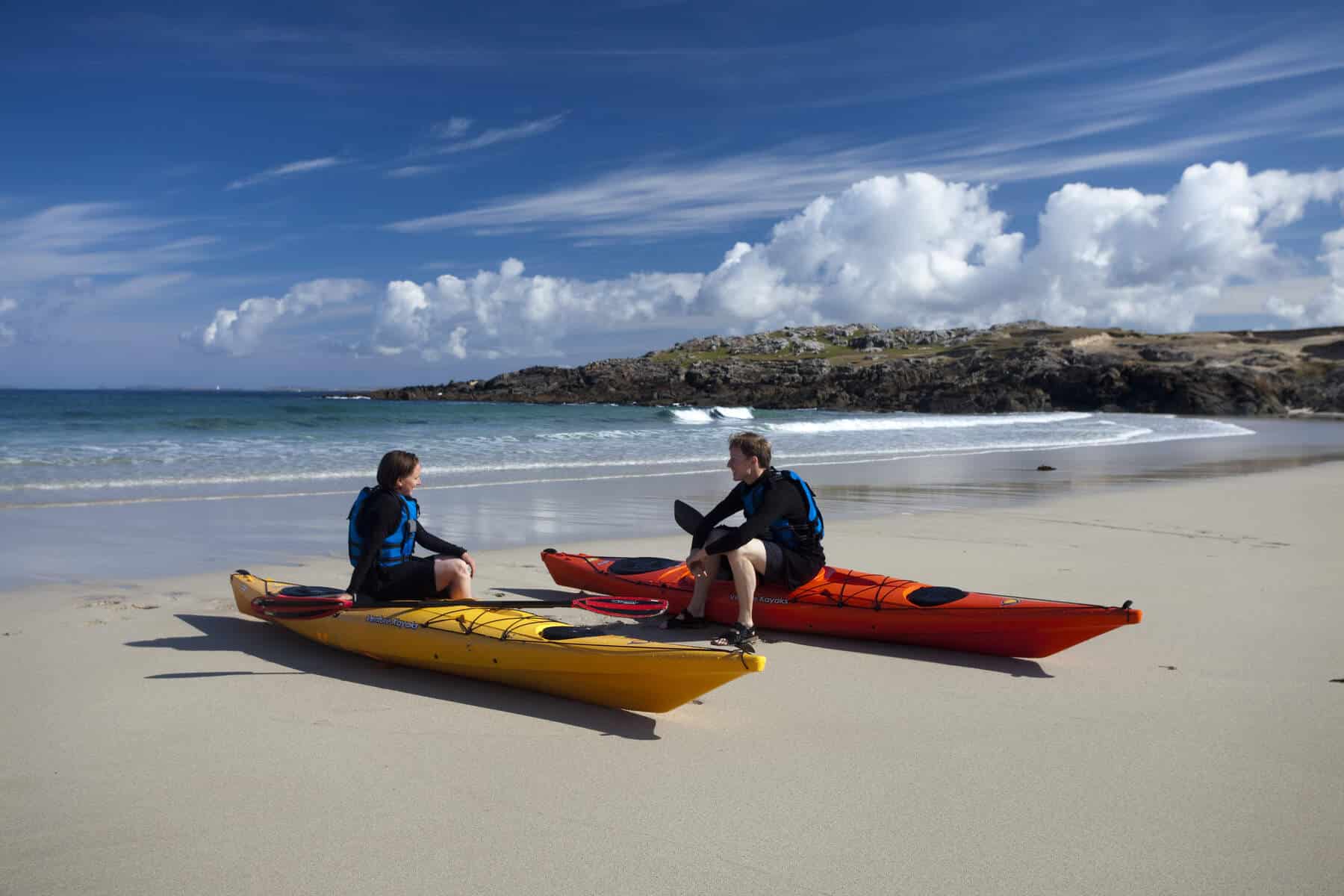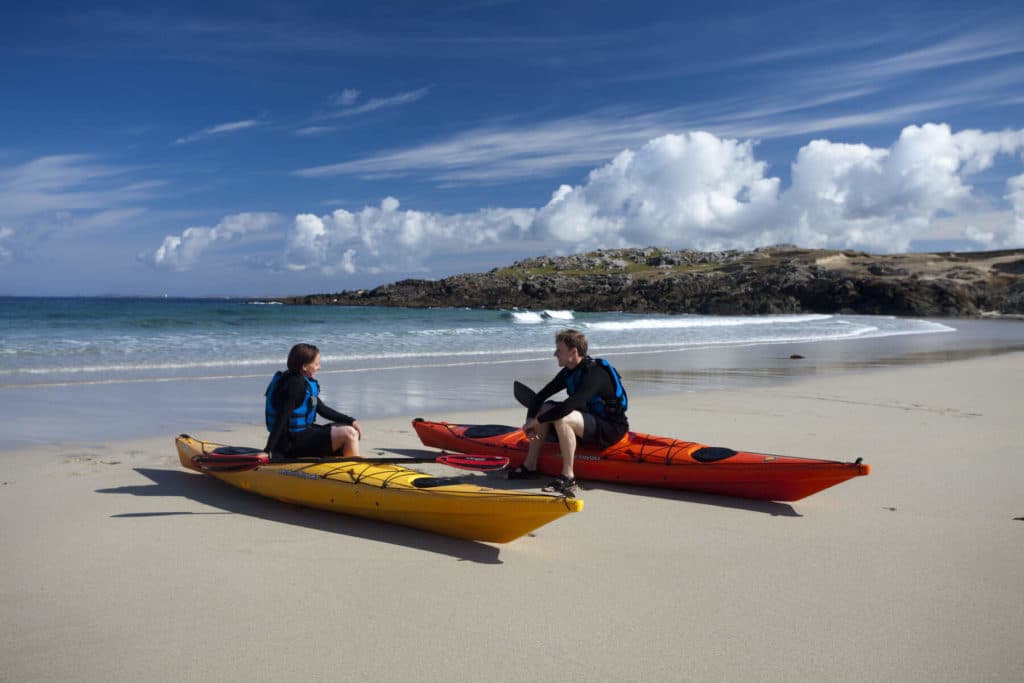 The headland west of Ballyconneely possesses some of the finest beaches in the country. If you are looking for hidden gem beaches in Ireland, this region sits very high on the list.
Right next to Connemara Sands Hotel, you'll find about 5 of the most pristine white sand beaches you are likely to see anywhere in the world. Yep, no exaggerating here, these beaches would rival any of the beaches in the Caribbean, Bali, you name it…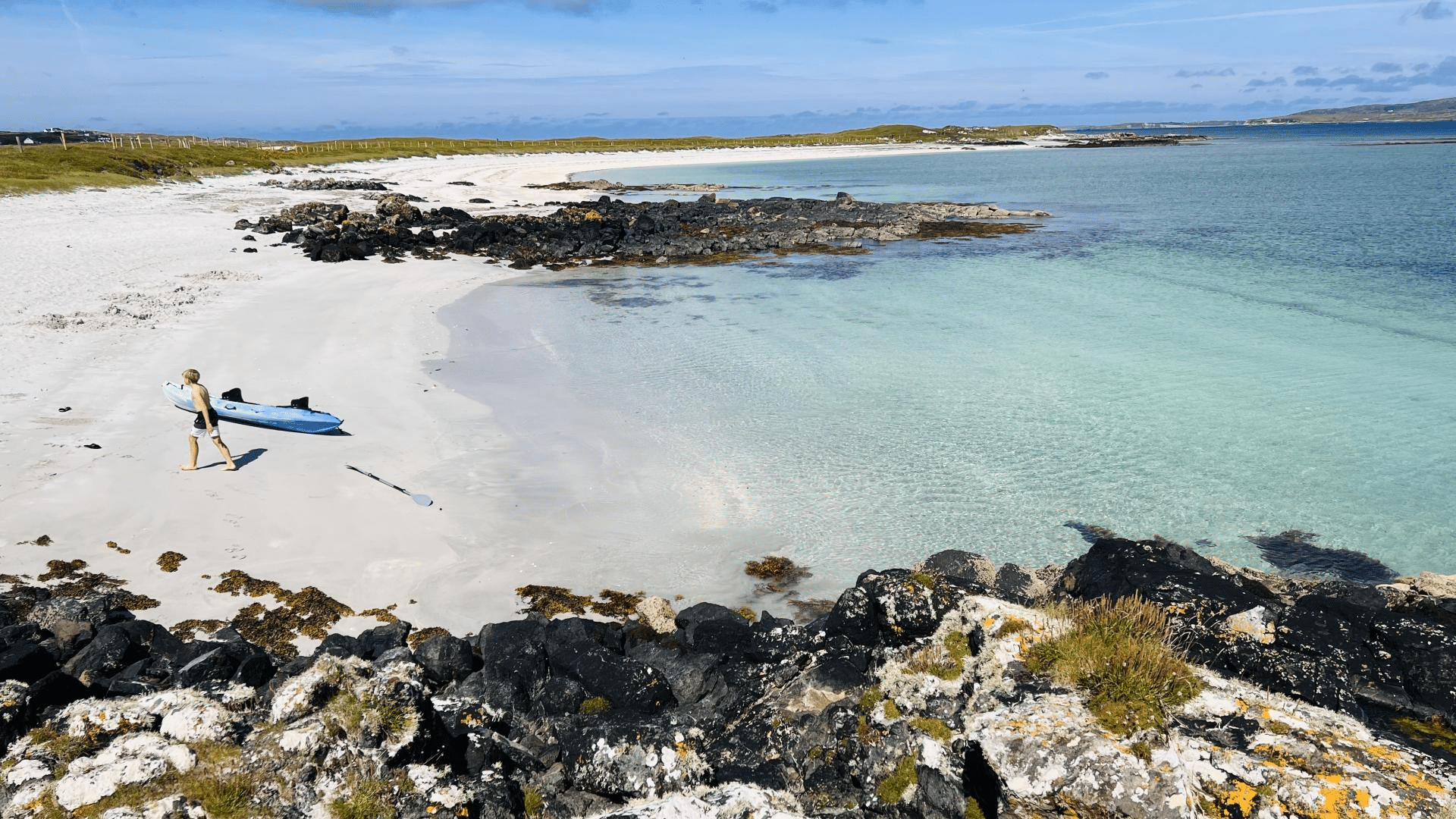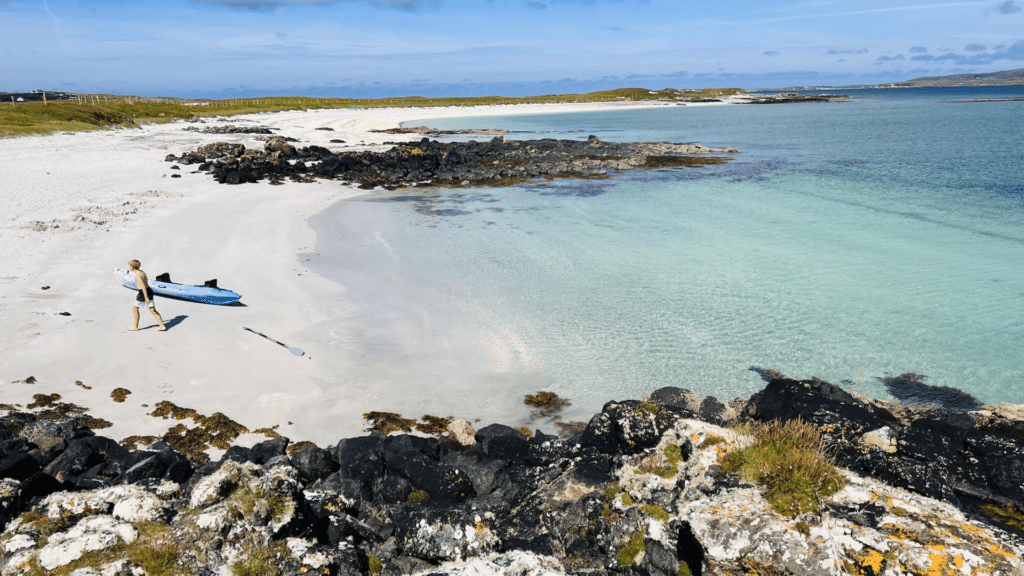 The only difference really in the water temperature, but on a warm day in summer, the shallows will feel surprisingly warm. When stepping into the sea, you'll be amazed at the incredible clarity of the water.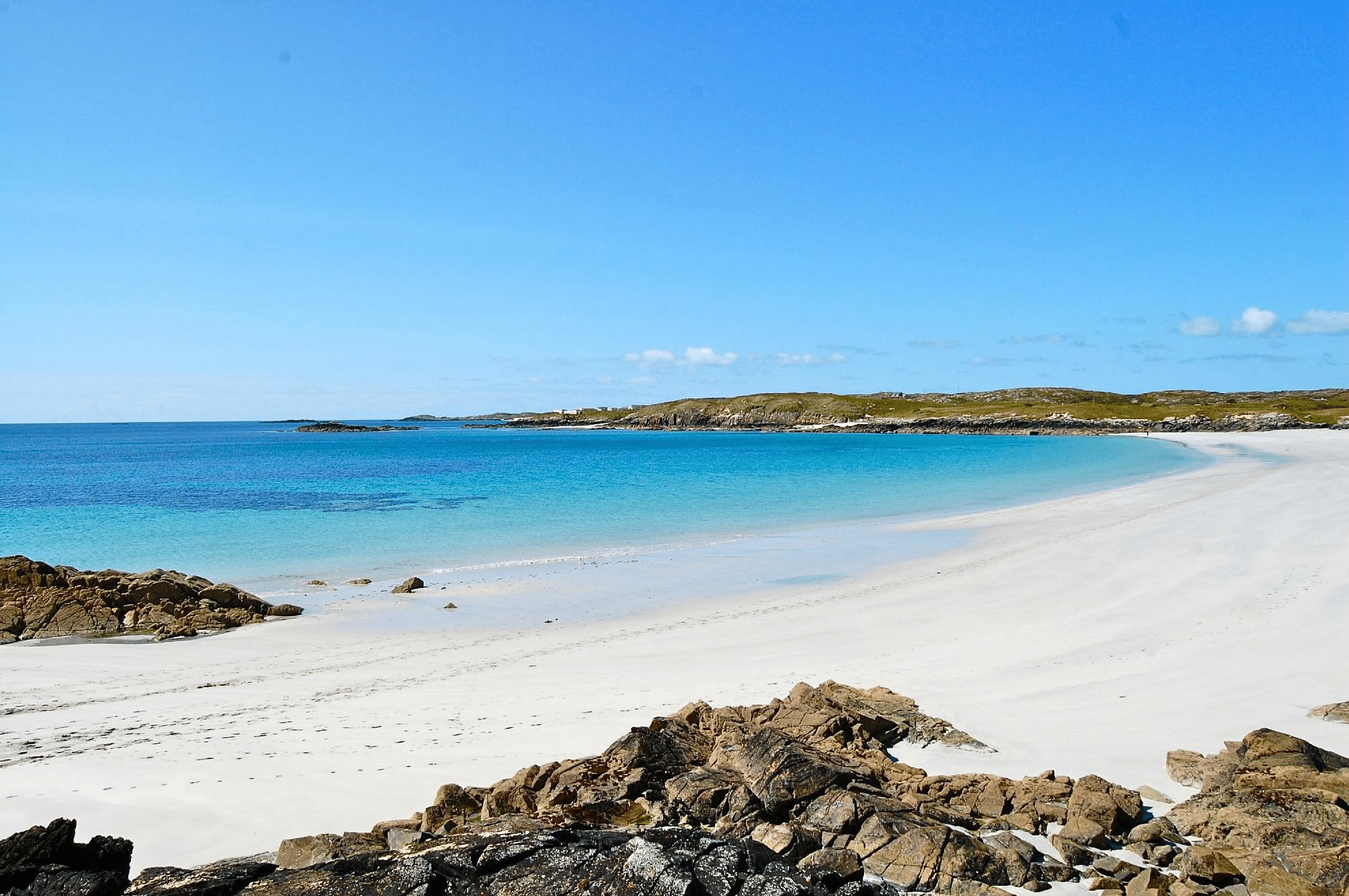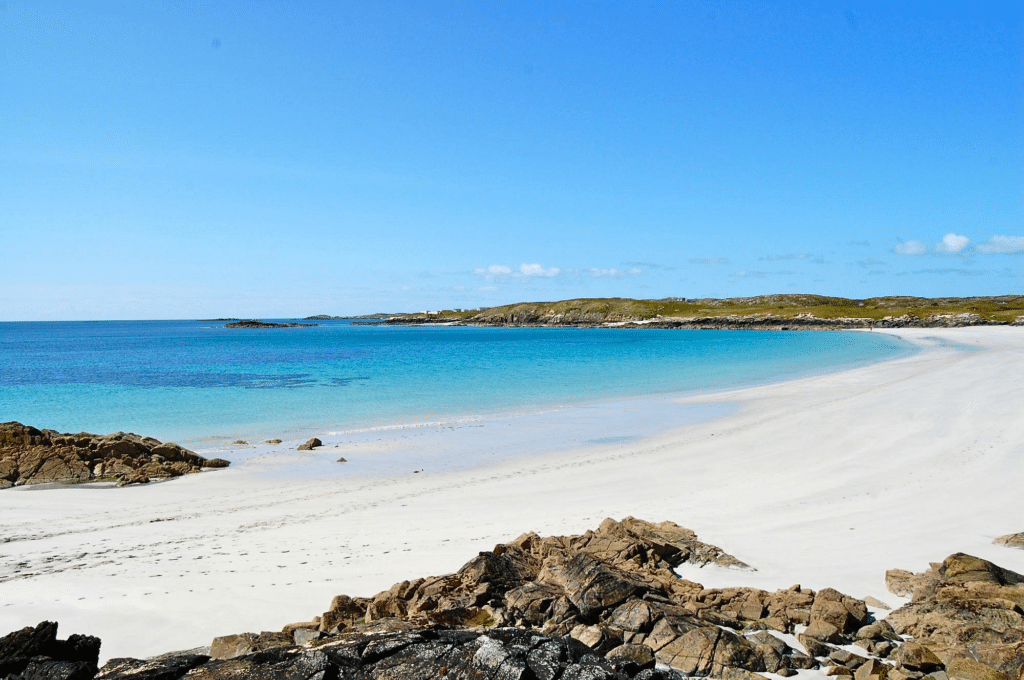 The sands here, you'll notice, are different to any beach you may be used to. It's composed of both fine sand particles and coralline seaweeds, sponge, snail- and sea-shells! The beaches are also beautifully sheltered, and have plenty of rock pools to keep your kids entertained for hours.
To take all of this beauty in, we highly recommend carrying out the kayak trip, which starts from the nearby hotel and takes you along the coast and to the various hidden white sand beaches of this area of Connemara.
Practical Info
Location: Click here for directions to Mannin Bay
Parking: Parking along the R341, space for 15-20 cars
Blue Flag: No
Toilets: No
Lifeguards: No
Coral Strand (Trá an Dóilín)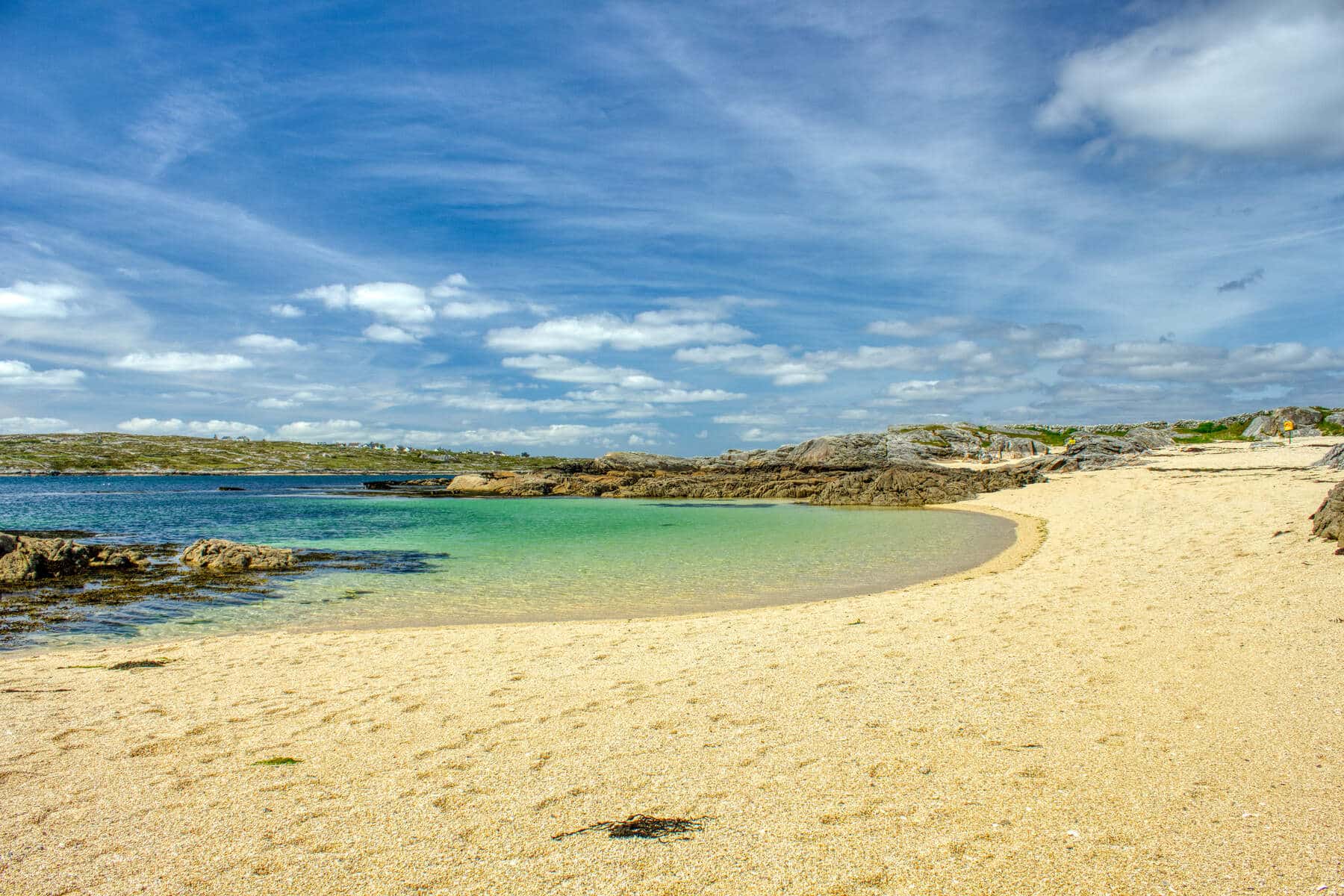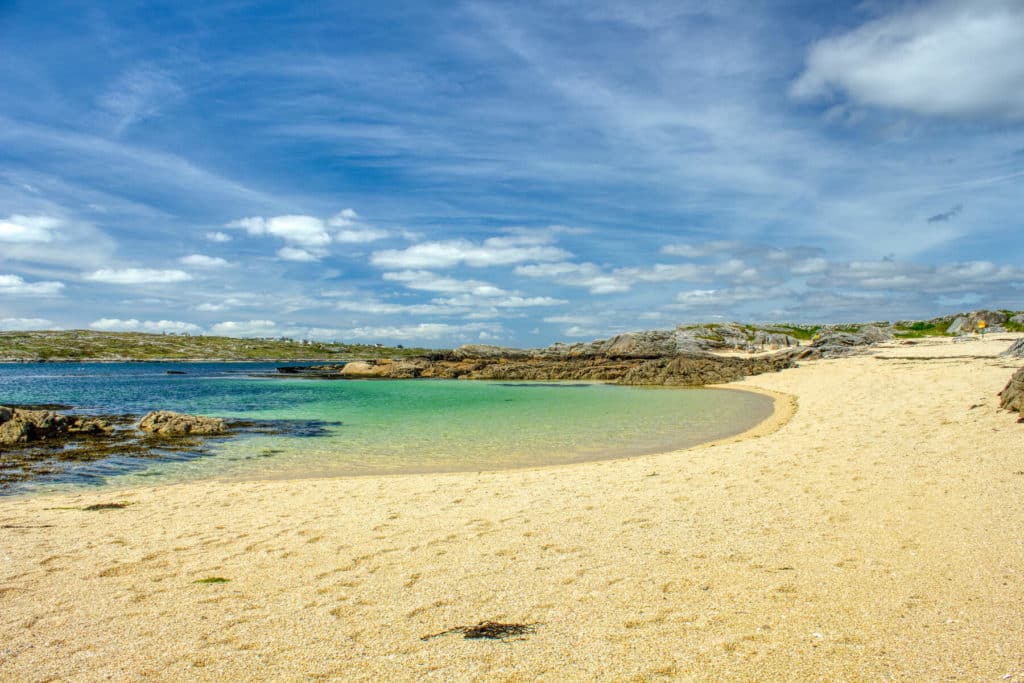 This small but uniquely beautiful beach is located near the village of Carraroe. You're in the heart of Connemara here and we feel it's a well-worth stop along the Wild Atlantic Way.
While the beach does not actually possess coral, it consists of algal gravels known as 'maërl'. When I visited, I was surprised at how soft it was underfoot and sometimes I sank slightly into the gravel! A very unique experience!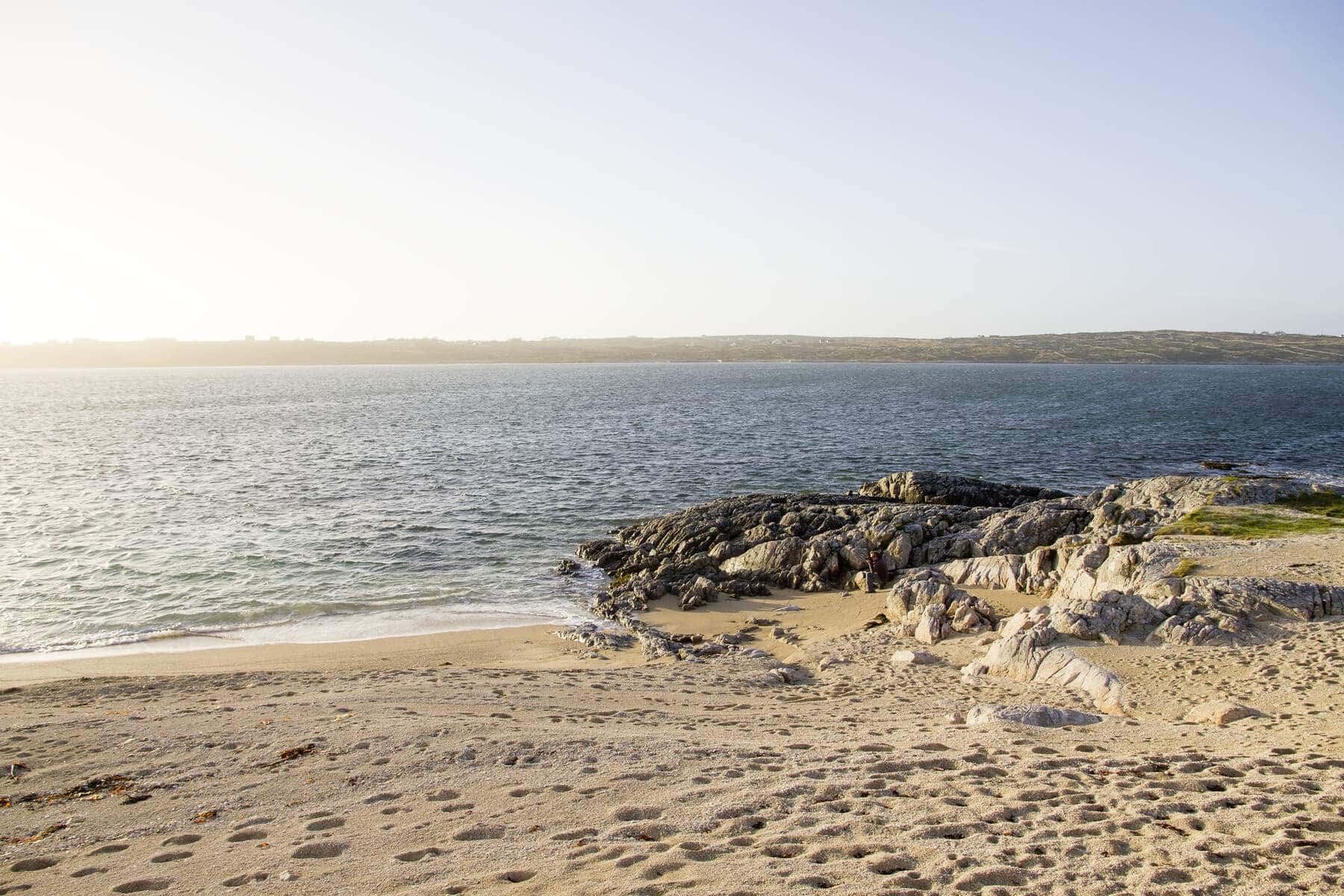 This beach has lifeguards on duty during the summer months and toilets on site, so compared to many of the wilder beaches of Connemara, it's one of the most accessible in the region.
The beach is also popular with snorkelers, as the water here is crystal clear. The local lifeguard explained to me that the water never gets truly cloudy due to the lack of 'real' sand in the water.
Practical Info
Location: Click here for directions to Coral Strand
Parking: Yes, but limited to a few cars
Blue Flag: Yes
Toilets: Yes
Lifeguards: Yes
Omey Island & Beach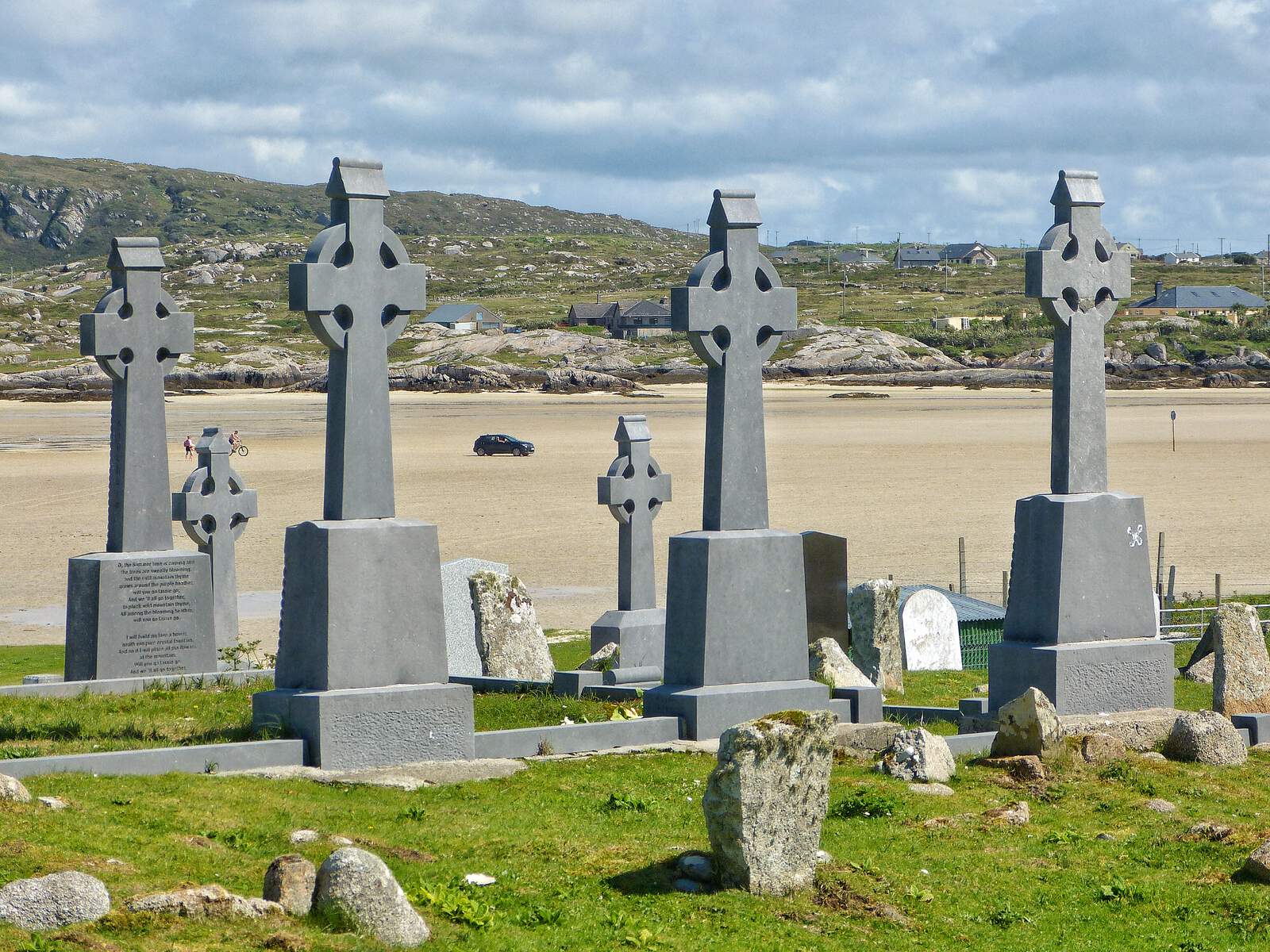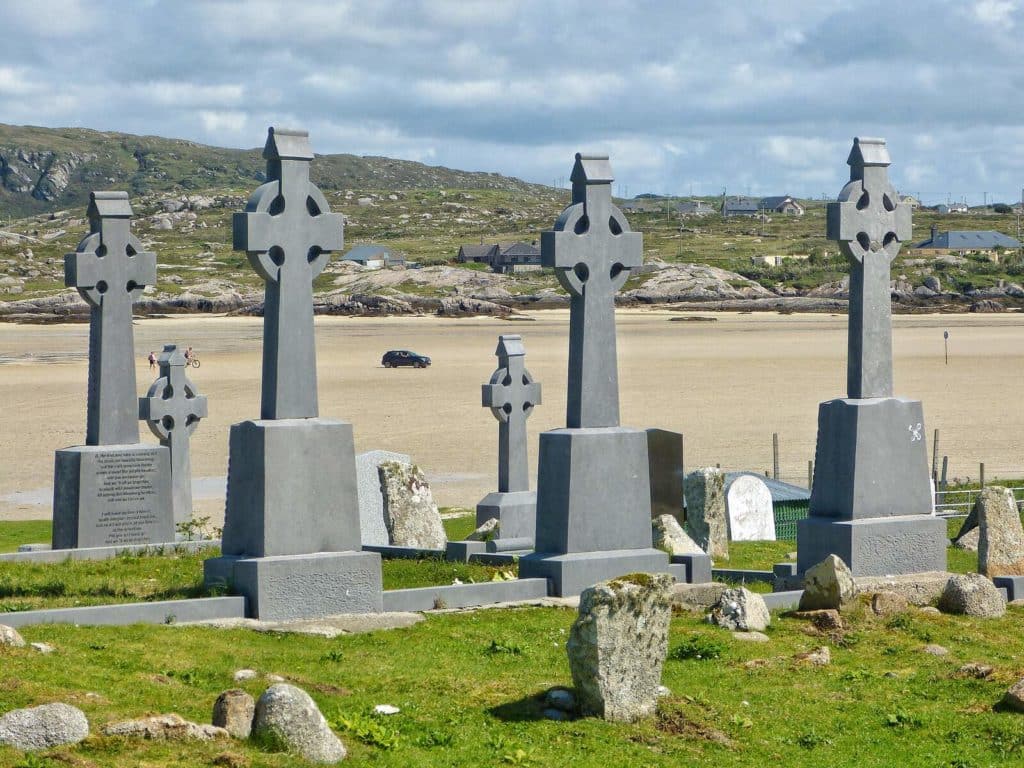 A visit to Omey Island is something you probably have never experienced before!
Located approximately 1 km off the Connemara coast, you can drive or walk out over the sandbanks and on to the island. This, however, is only possible during low tide and should you want to explore the island, you'll have to be aware of the tides for that day!
You'll find the tide times here.
This beach is home to the famous Omey Races, a horse-racing event which attracts thousands and takes place in the summer months. In 2022 and 2023, the races were unfortunately cancelled (insurance purposes) so here hoping this fantastic spectacle will return soon.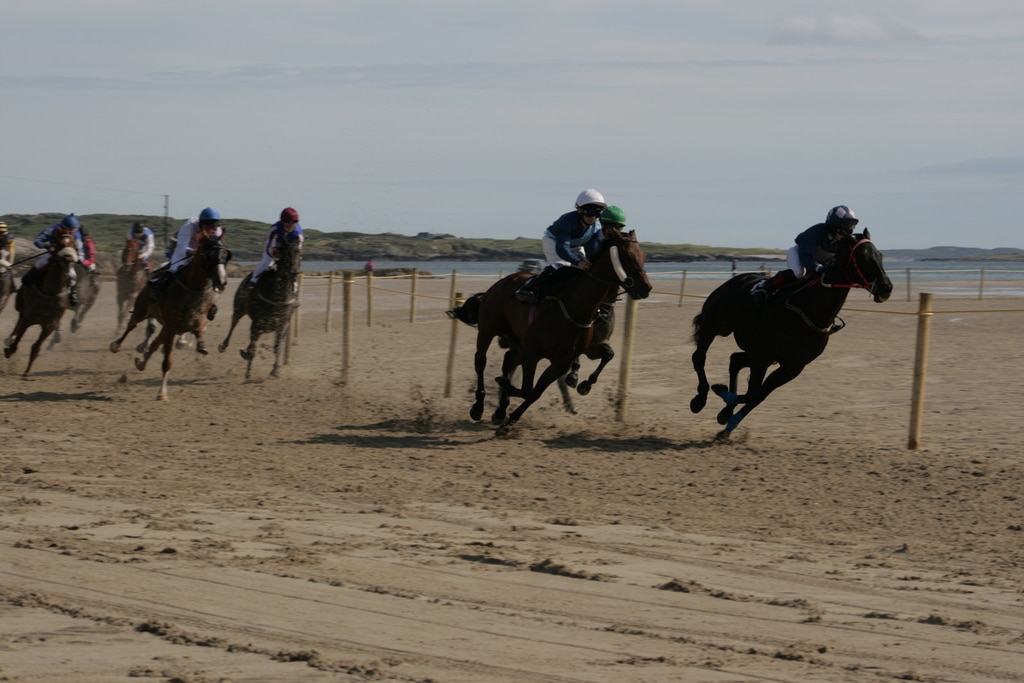 The 'road' out to the island is signposted as well so don't worry about veering into some soft sand and getting stuck. The road then continues through the small island and eventually takes you to Omey Strand. We recommend parking up here and getting out to explore the island by foot.
There are other beaches to explore on the island as well, such as the South Beach. Make sure you stick to the coastal walk on the island, as most of it is private agricultural land.
If based in the nearby Clifden of Letterfrack areas, we highly recommend a visit to Omey. Driving over to this island is a truly unique experience and a great story to tell when you get back home.
Practical Info
Location: Click here for directions to Omey Island
Parking: Yes, moderately-sized carpark before sand road
Blue Flag: No
Toilets: No
Lifeguards: No
Bunowen Beach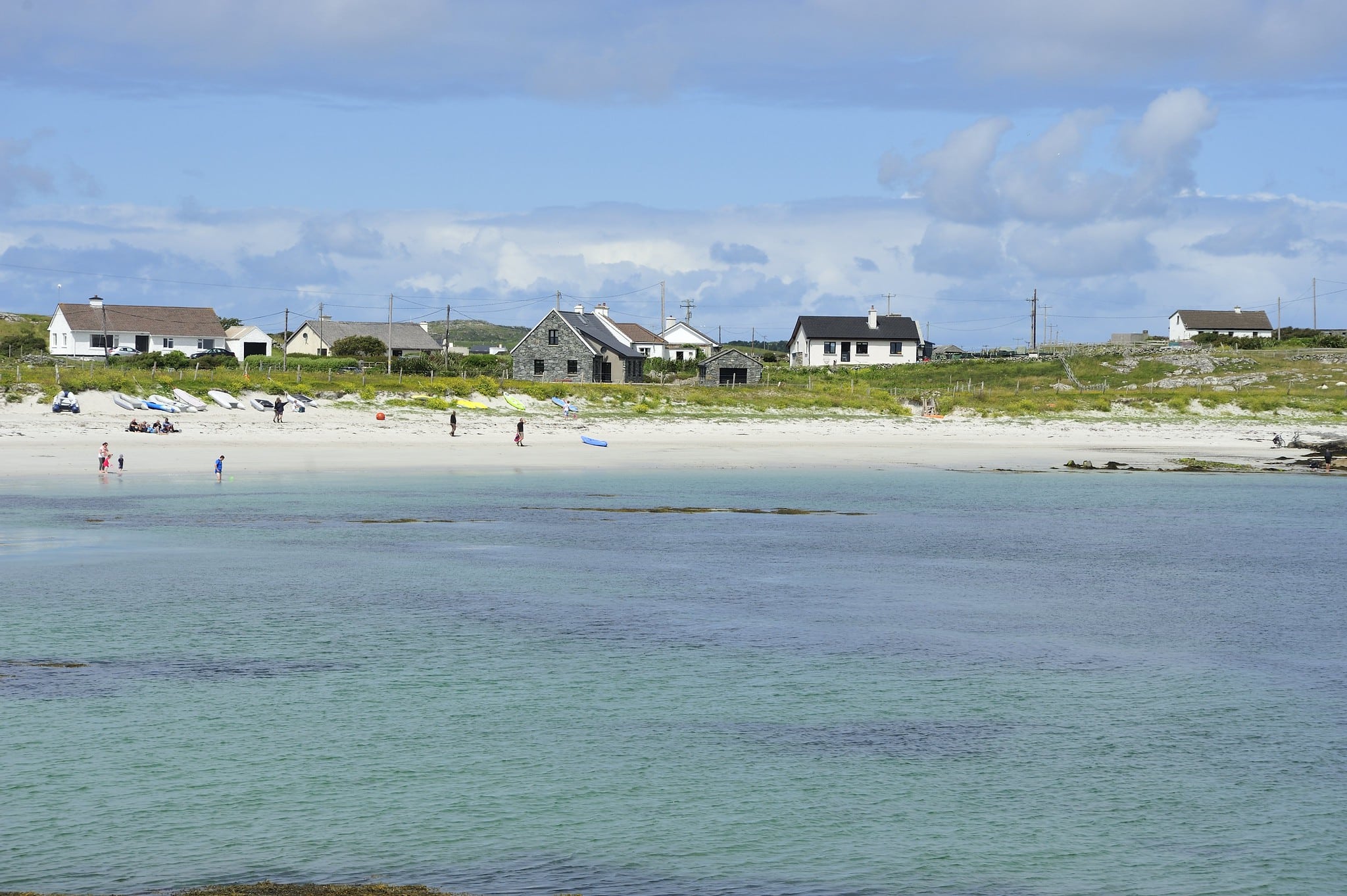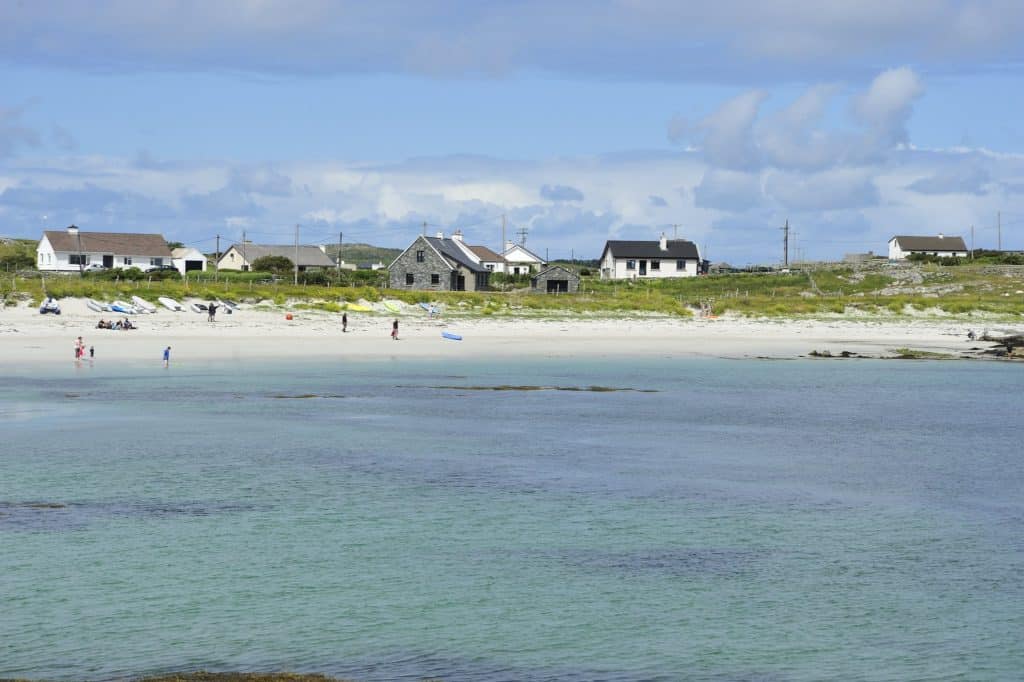 It's back in the direction of Ballyconneely we go to again and to another idyllic, white sand beach.
Bunowen beach is located on the southern side of Slyne Head Peninsula, an area we believe possesses some of the finest beaches in the country. Here you can expect more of the same; blinding white sands, turquoise waters and nothing but west of Ireland magic!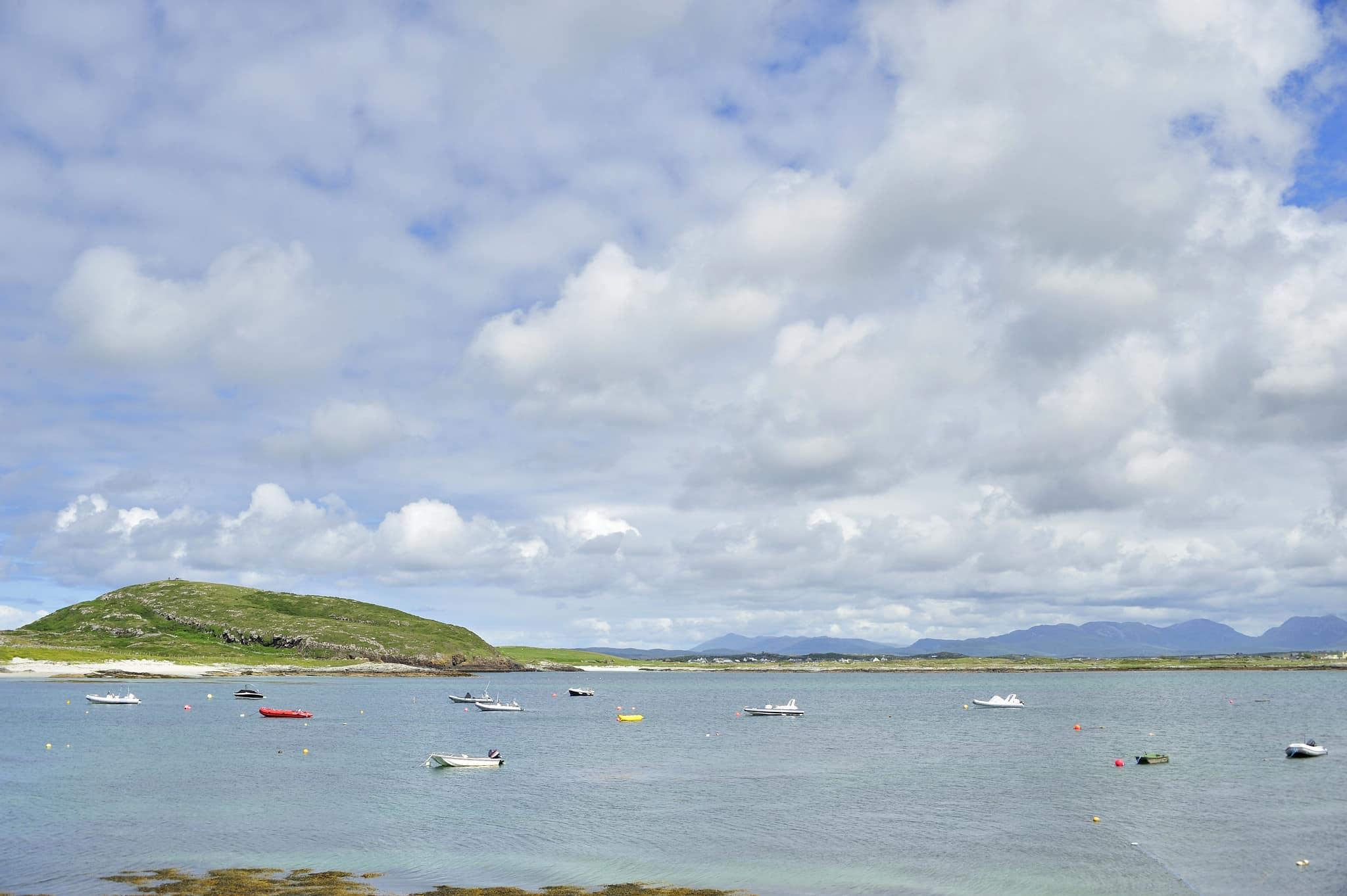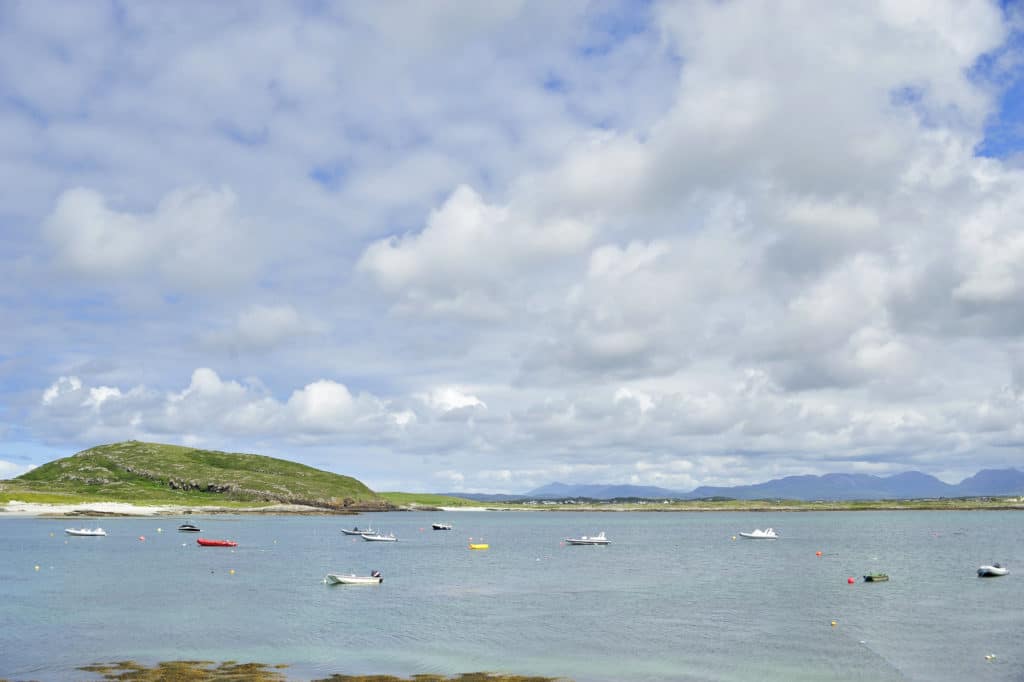 The beach is located near the Connemara Smokehouse, as well as Connemara Links Course. So why not go for a round of golf, followed by a dip in the refreshing waters of the Atlantic?! An afterwards, treat yourself to a bit of local fish in the smokehouse.
A great day out in my eyes!
A word of caution though, the waters get deep quite quickly at this beach.
Practical Info
Location: Click here for directions to Bunowen Beach
Parking: Very limited parking along the road, more spaces at the harbour
Blue Flag: No
Toilets: No
Lifeguards: No
An Trá Mhór (Inverin)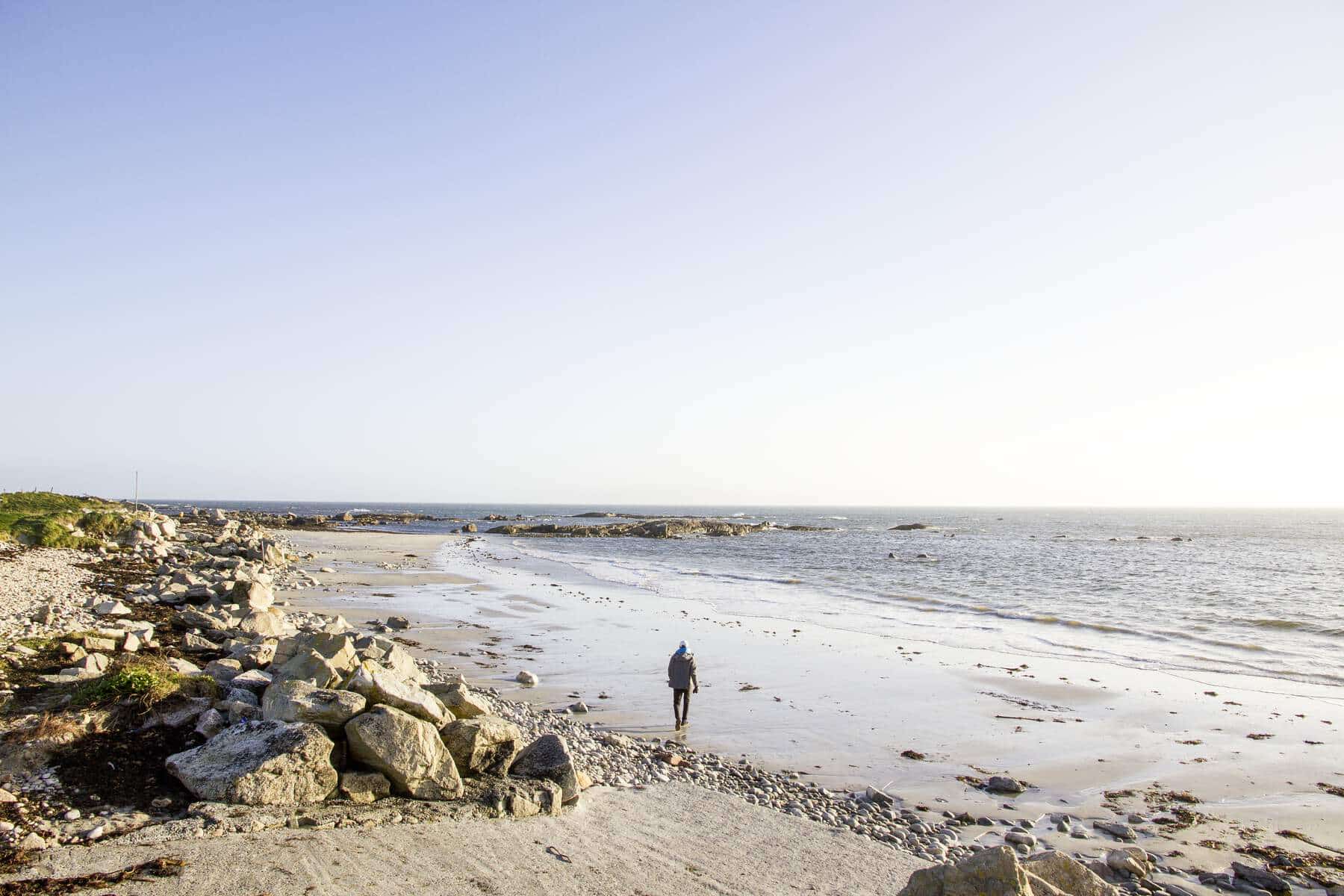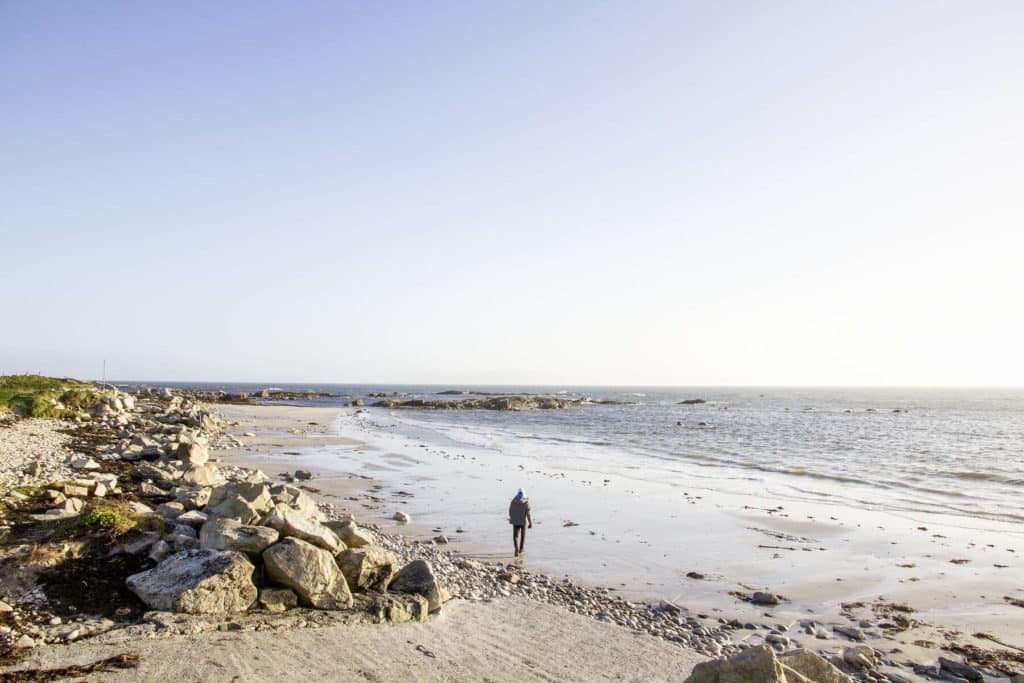 A family favourite located on the shores of Galway Bay.
An Trá Mhór is an ideal beach for those staying in the local towns of Spiddle or Inverin. There is parking on site, as well as toilet facilities.
An Trá Mhór translates as 'the big beach', and although the main section is only 300 metres or so in length, there are some lovely smaller coves beaches on each side.
While certainly not the most remote or not of the same mesmerizing beauty as Dog's Beach or Gurteen, it is definitely worth a visit on a fine day, especially as its a Blue Flag beach, which means it passes all the required standards for safety and cleanliness.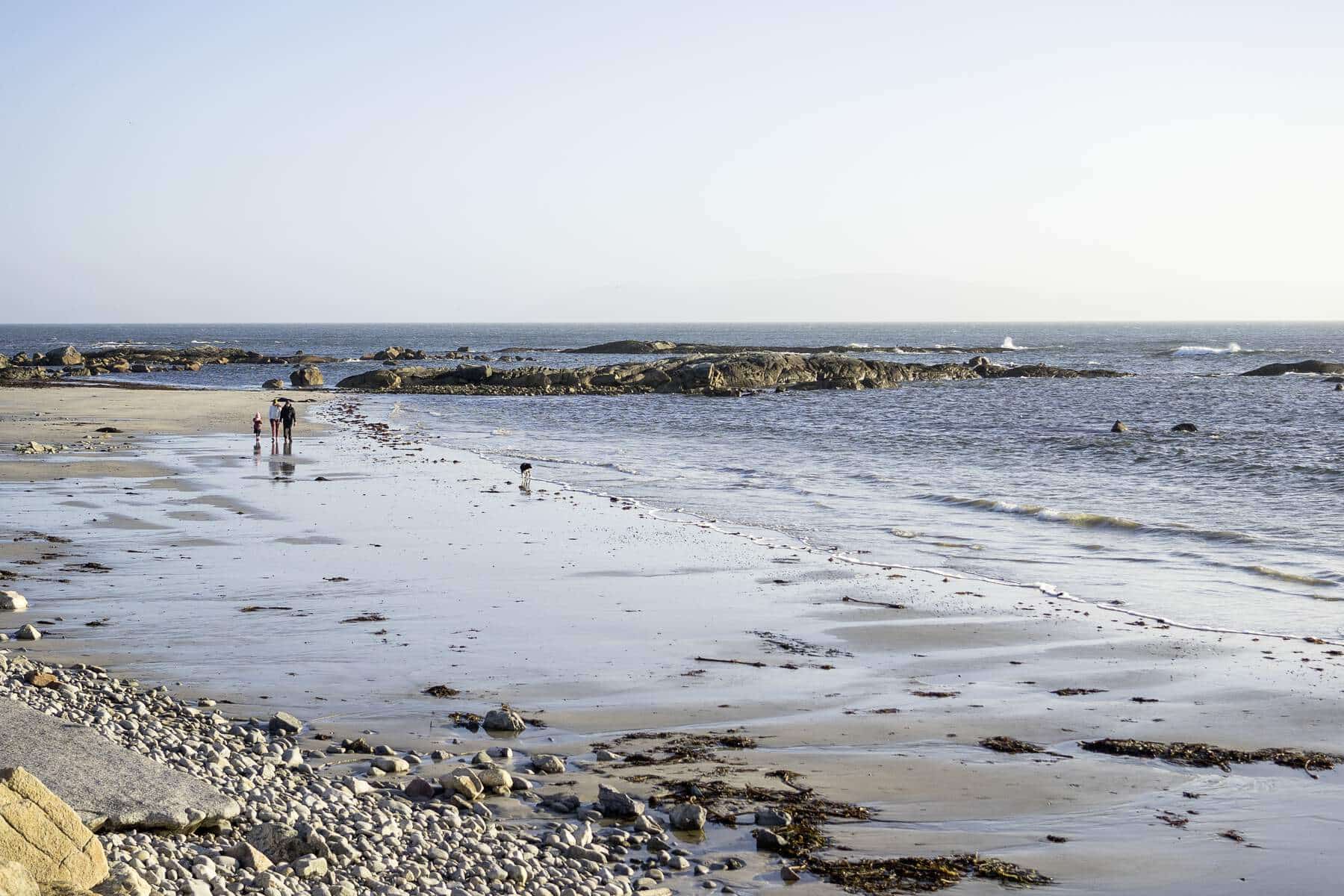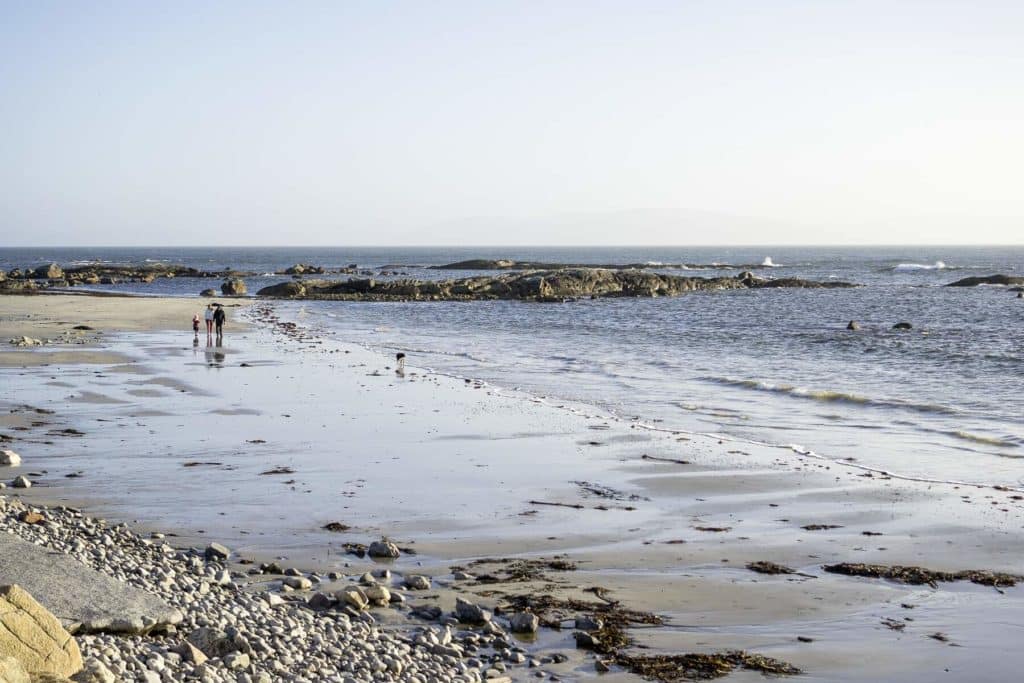 The beach is a popular swimming spot as the water deepens nice and gradually, making it also nice for kids to paddle around in. Just be wary of the tide though, as there's not a whole lot of space when the tide comes in.
Overall, a great beach and a solid option for families during warmer days.
Practical Info
Location: Click here for directions to Tra Mhor Beach
Parking: Yes, ample parking in front of beach
Blue Flag: Yes
Toilets: Yes
Lifeguards: Yes, in summer months
We'll round up our best beaches with a beautiful hidden gem.
This beach is located on the far side of the tombolo where both Gurteen and Dog's beaches are located. I stumbled across this gem while exploring the region by foot many years ago, long before cameras on phones were a thing!
The crowds will all be found at the 2 nearby strands, but for those who want total peace and quiet, turquoise waters and incredibly fine white sands, this is the place to go!
The beach is tiny and a bit of a trek to get to, so make sure you visit on a fine day to make the most of it, and if venturing into the water, know that this is not a Blue Flag beach and adhere to all the water safety recommendations.
Finally, there is one more hidden cove located at the end of the headland, a larger crescent-shaped beach, which is also a hidden stunner.
Happy exploring!
Practical Info
Location: Click here for directions to Tra Mhartog Beach
Parking: Park at Gurteen Bay
Blue Flag: No
Toilets: No
Lifeguards: No
Final Thoughts
We hope that you'll get to experience at least one of these beaches on your trip to Connemara. If you are staying in the region for a while and you get lucky with the weather, then try to visit as many as you can!
The two 'hot spots' for beaches in the Connemara region are Renvyle Peninsula, with Glassilaun, Lettergesh and Renvyle all in close proximity to one another, and the other is Slyne Head, with all the beaches west of Ballyconneely.
Whichever beach you choose to visit in Connemara, you won't be disappointed. The west of Ireland boasts some truly phenomenal beaches, and they are all completely unspoiled and free from mass tourism.
If you have any queries, we'd love to help out. We know this region very well and would be delighted to help. Safe travels and be safe in the water!