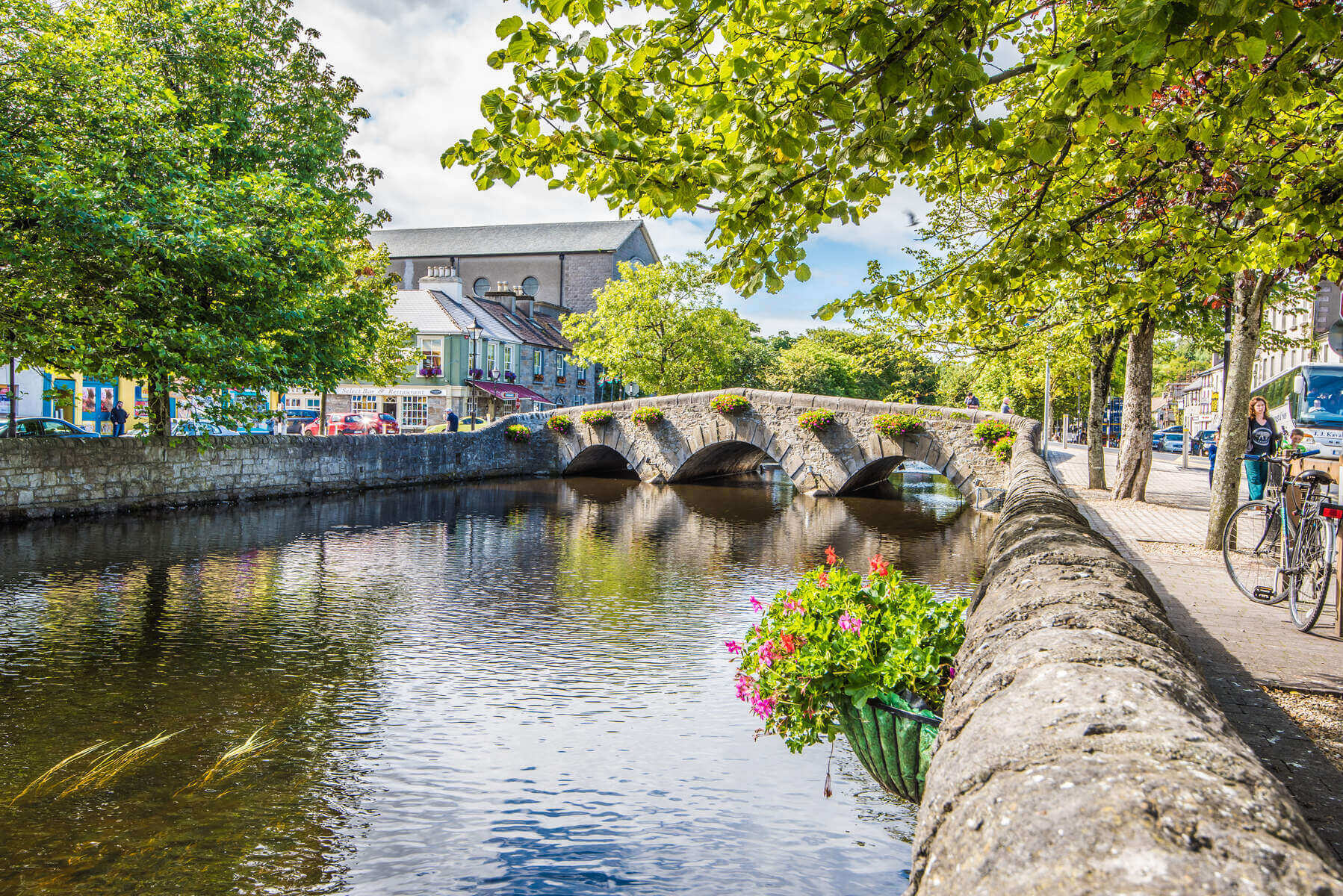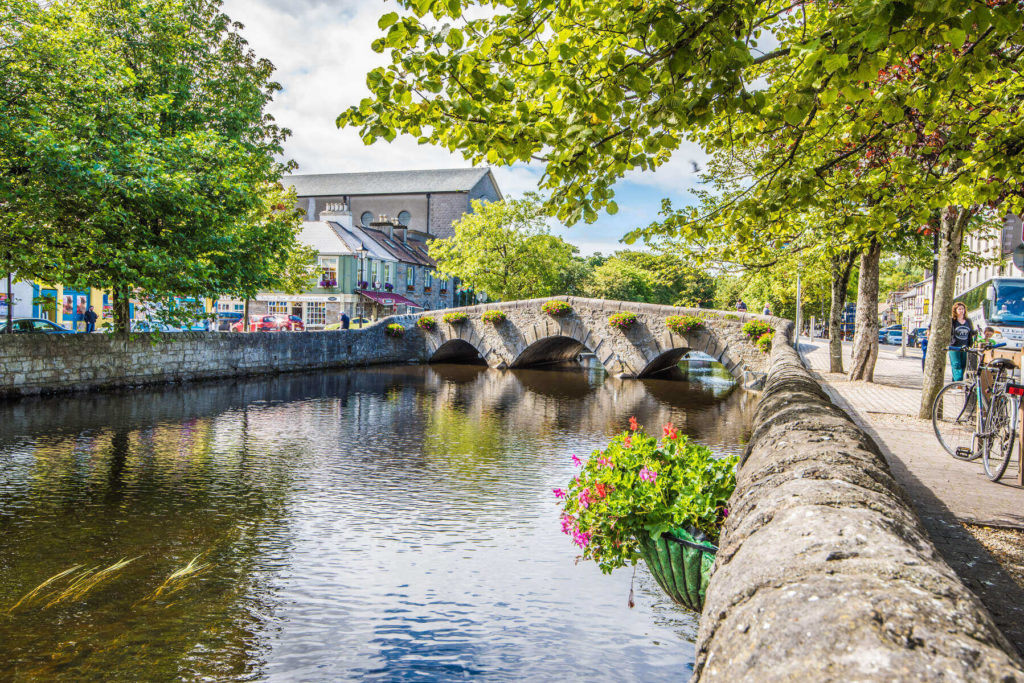 Westport ('Cathair na Mairt' in Irish) is a wonderfully picturesque town located on the shores of Clew Bay in County Mayo, the west of Ireland.
In terms of what it offers visitors, Westport really packs a punch. With Ireland's holy mountain, Croagh Patrick, standing proudly over the town, coupled with its quaint coastal location, we believe Westport is a must-visit on your trip to Ireland.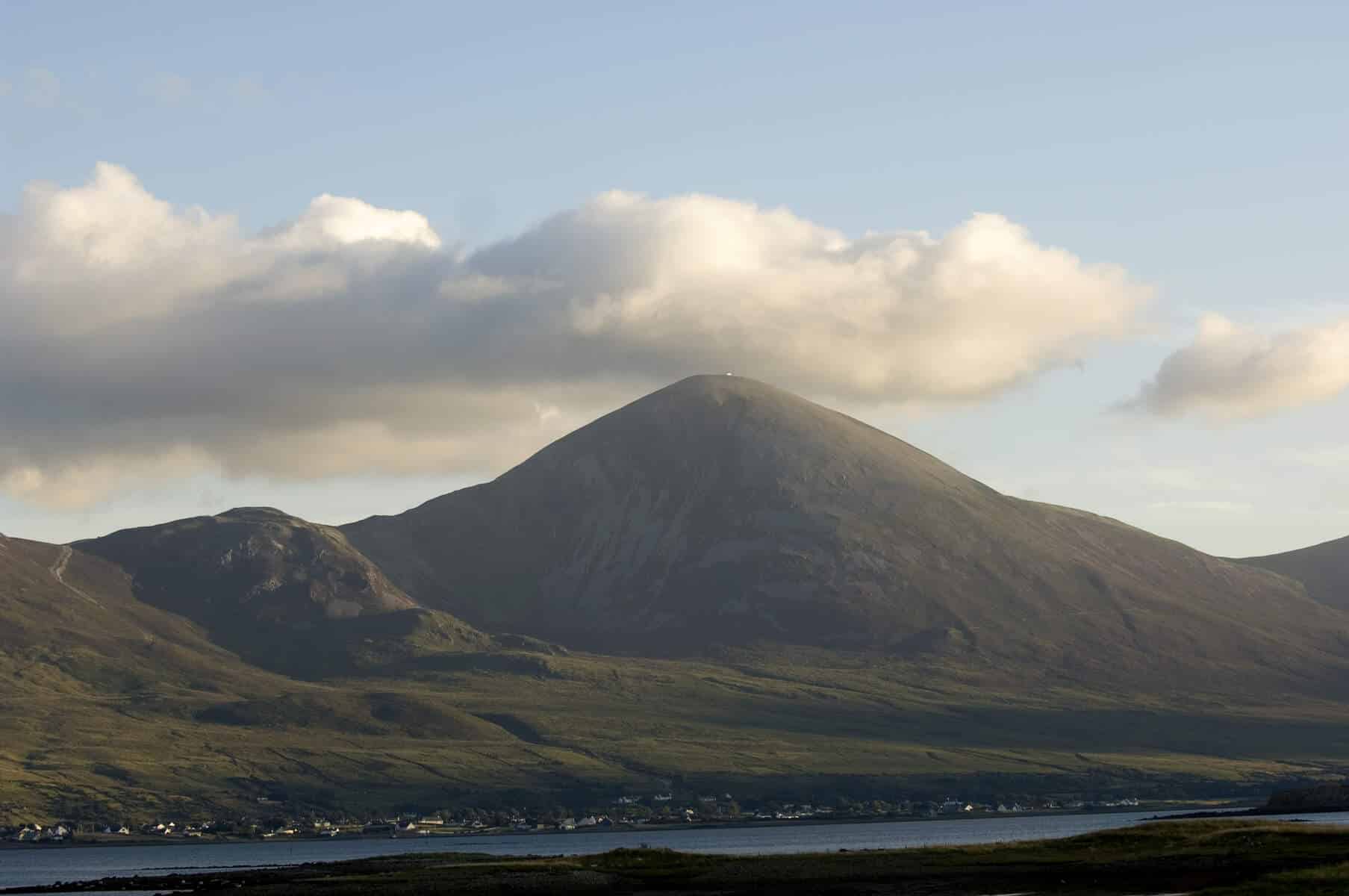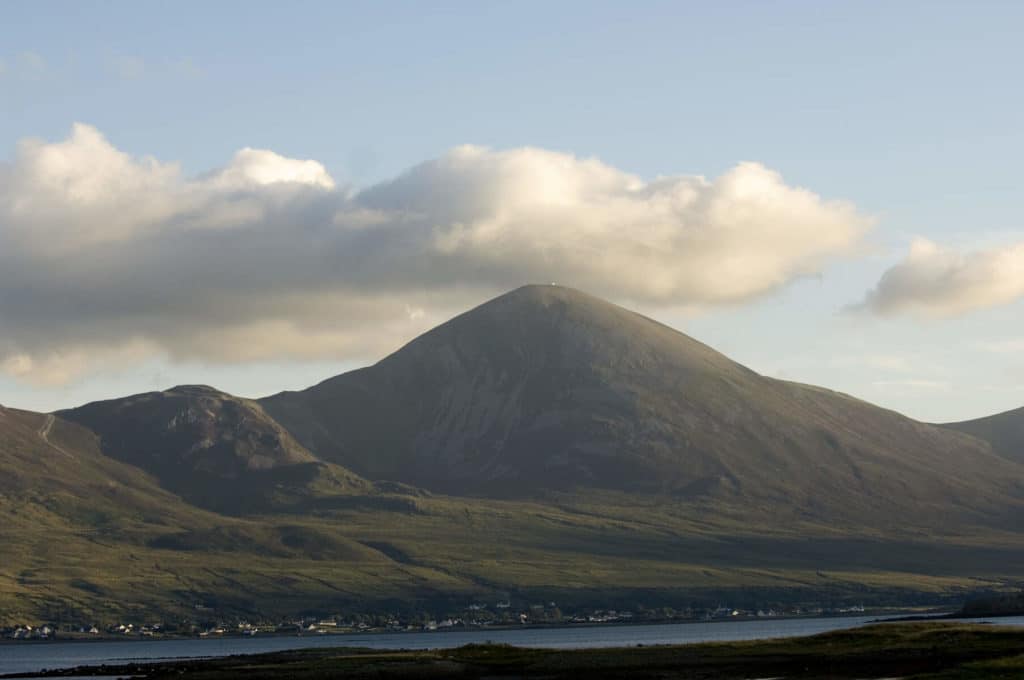 Westport is also famous for its pub scene, with traditional music to be heard in abundance. Throw in some of the best restaurants with the finest of local ingredients and you'll have a trip to remember.
Oh…and by the way, Westport is located close to some jaw-dropping natural scenery, including islands, mountains, valleys, glacial hills, beaches and a whole lot more.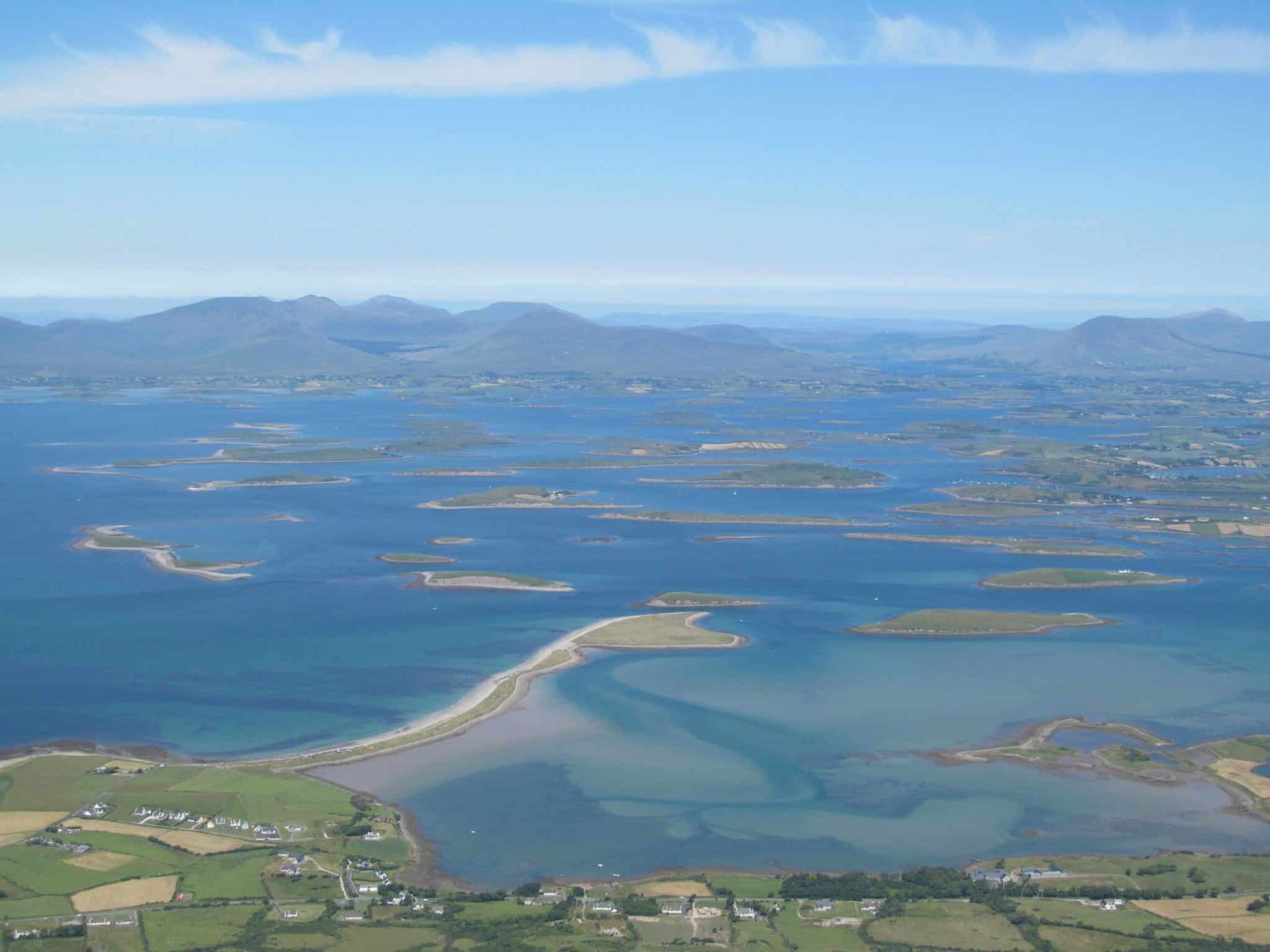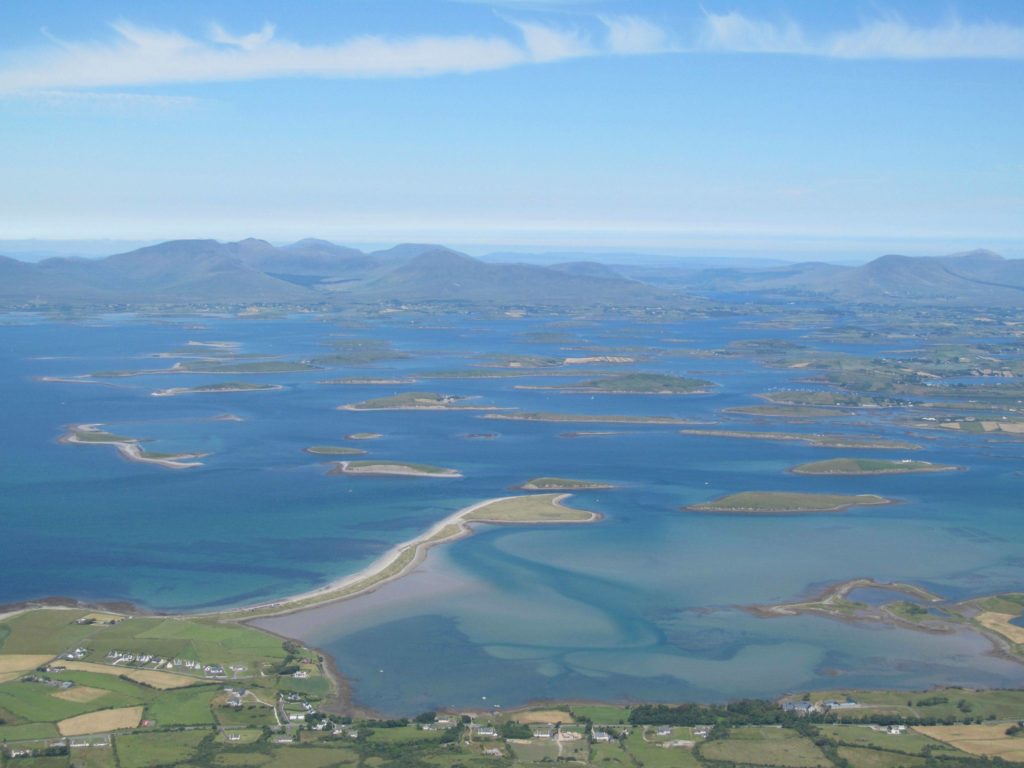 This post is going to outline what the best things to do in Westport are (from a local's persepctive) We will also tell you all about the surrounding areas and how to make the most out of your trip to this beautiful part of Ireland.
Please be aware that this website contains affiliate links. This means that if you click on a link and make a purchase, I may receive a commission at no additional cost to you. Rest assured that I only recommend products I believe will be of value to my readers. Thanks a million for helping keeping this site going.
Did you know? People from Westport are known as 'Coveys'. Up until a few decades ago, the people of Westport spoke in the covey dialect, which was incomprehensible to outsiders.
The word 'covey' means a 'fella'. A 'fella' is the slang for fellow, or male. Some of these words are still used today in Westport, such as 'doner', meaning a woman. Your 'bruiser' is your dinner and 'going for a lay' means you are going for a drink!
Is Westport Worth Visiting?
If you are travelling to Ireland and are looking for a ideal base to explore the nearby wonderful natural Irish landscapes, then yes, Westport should certainly be high on your list.
But why exactly is Westport worth visiting? Let us break down exactly what Westport has to offer.
1) Westport's location is perfect. It sits on the south-eastern corner of the magnificent Clew Bay, with its 100s of glacial islands.


To the west lies Croagh Patrick, an unforgettable hike with some of the best views in the whole of Ireland. Within an hour's drive you will arrive at Achill Island, with its soaring cliffs and world-famous beaches, making Westport a brilliant base to explore the surrounding area.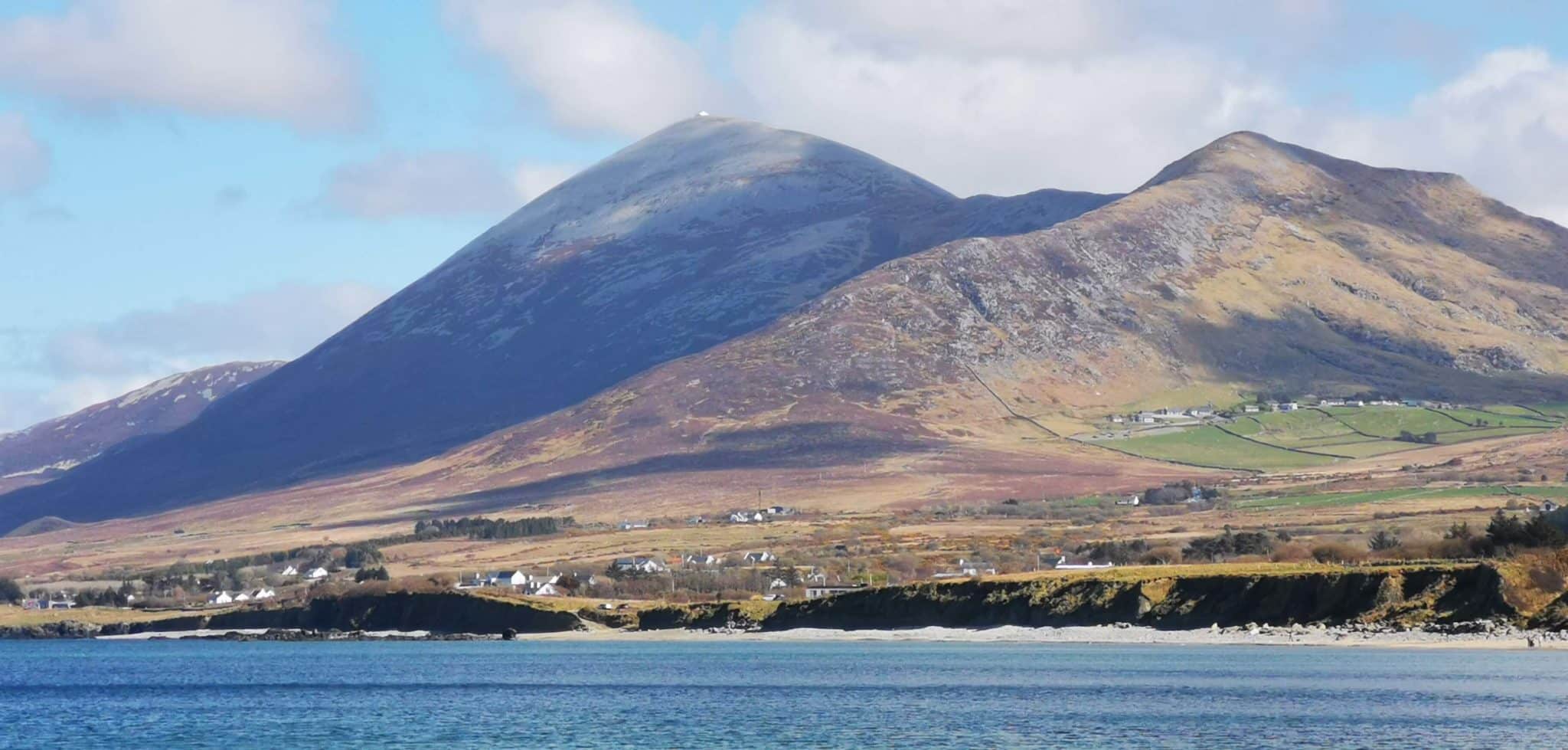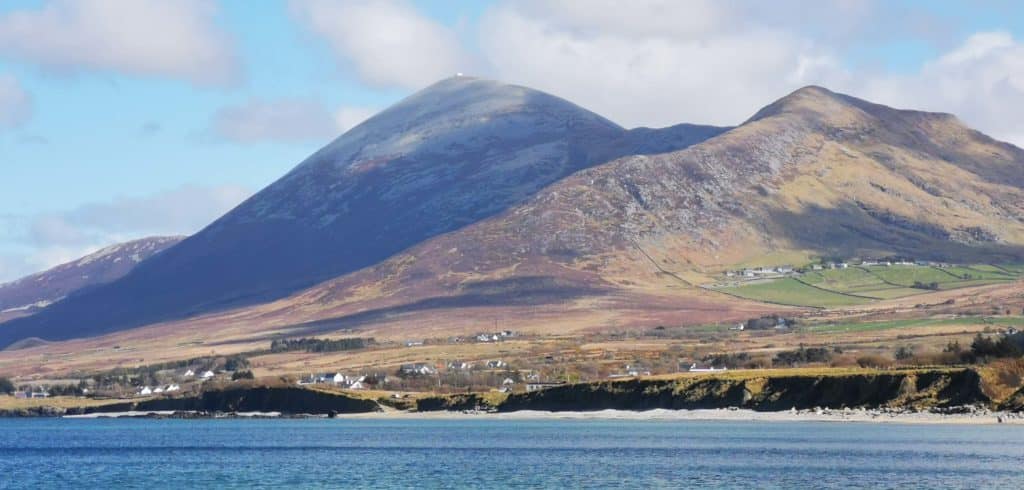 Westport is perfect to explore the nearby beaches and scenic drives, being located directly on the world's longest defined coastal drive: The Wild Atlantic Way
2) Outdoor enthusiasts flock to Westport to utilise the natural nearby landscape. There is a wealth of both land and sea-based activities to try your hand at.
Some activities include: surfing, windsurfing, kayaking, kanoeing, paddleboarding, fishing, golf, hiking, cliffwalking, swimming, walking, cycling, horse-riding and plenty more.
3) Westport is very picturesque. With the tree-lined Carrowbeg river running thorugh the town, its bridges tastefully laden with bright flowers, to the town's focal point, 'The Octagon', it's easy to stroll around, taking in the town's west of Ireland charm.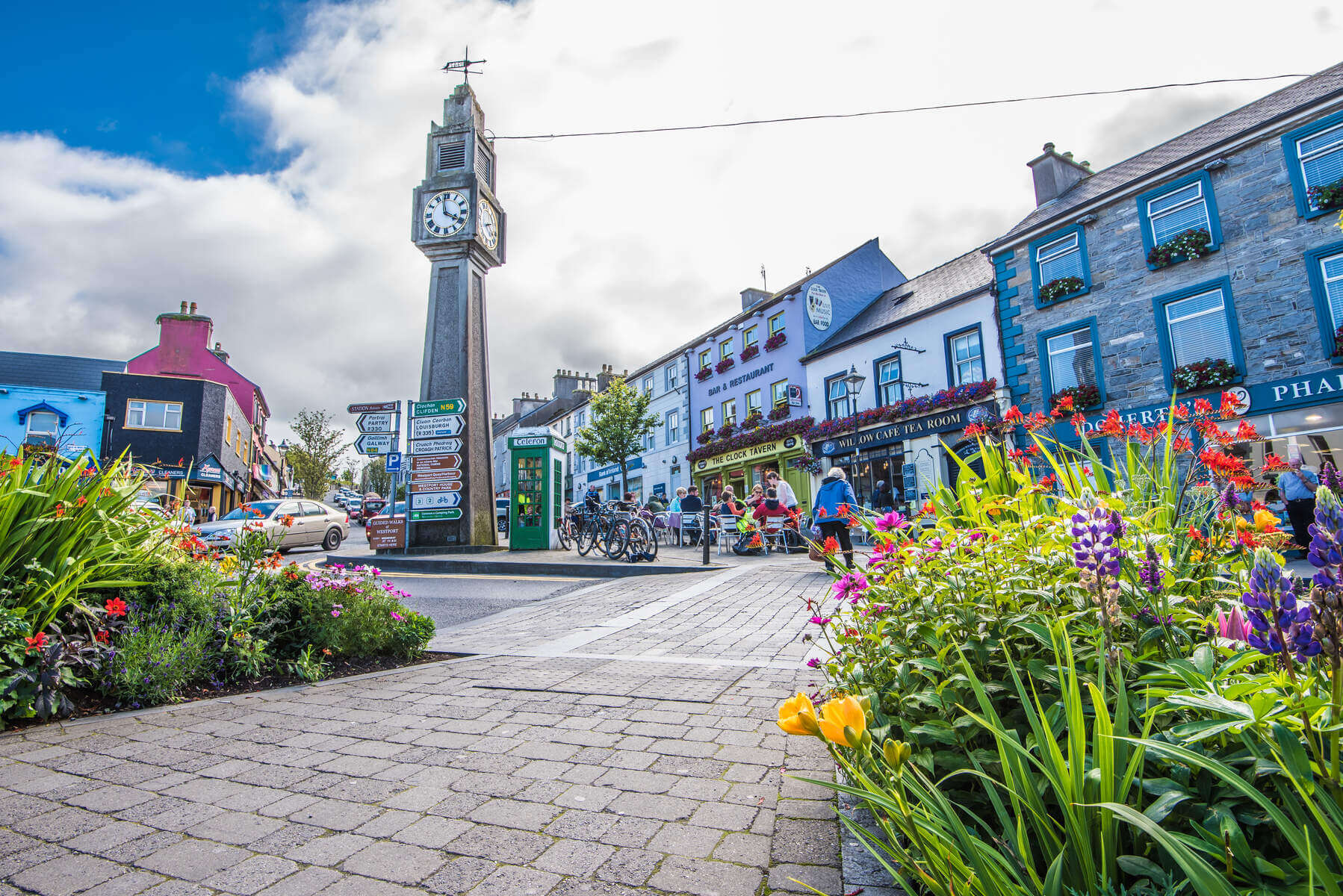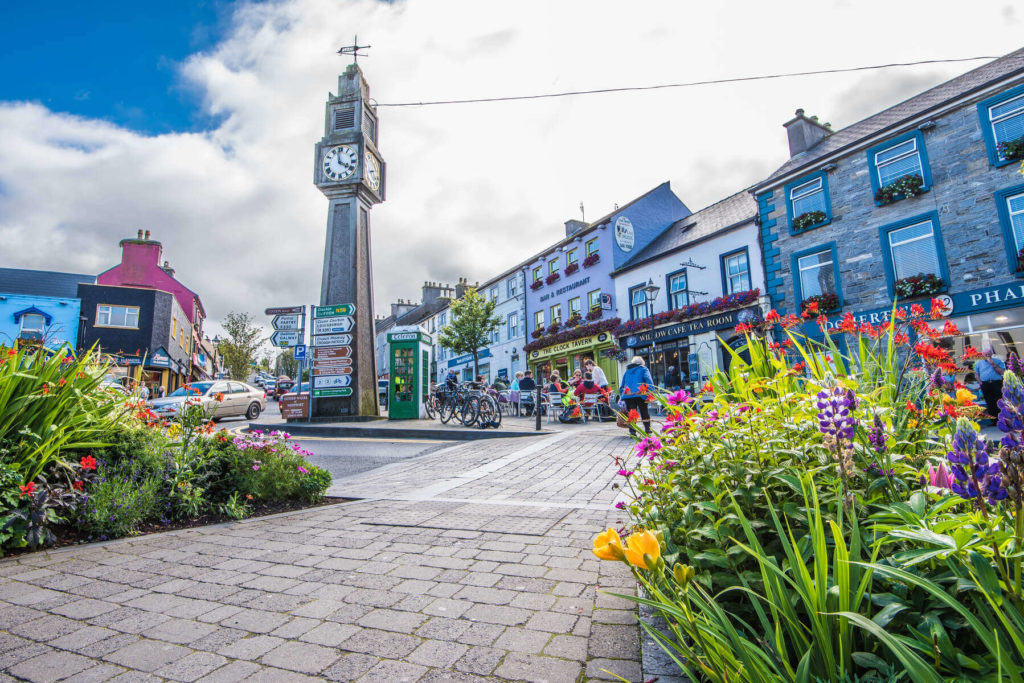 4) Westport has brilliant pubs, coffee shops and restaurants. Heard of Matt Molloy? A highly talented and well-known Irish musician who rose to fame as the flute player of the iconic band 'The Chieftains', he is the proprietor of 'Matt Molloy's' pub in the town.
This pub, along with many more, are fantastic places to sit down with a pint of Guinness and take in the magical melodies of Irish traditional music.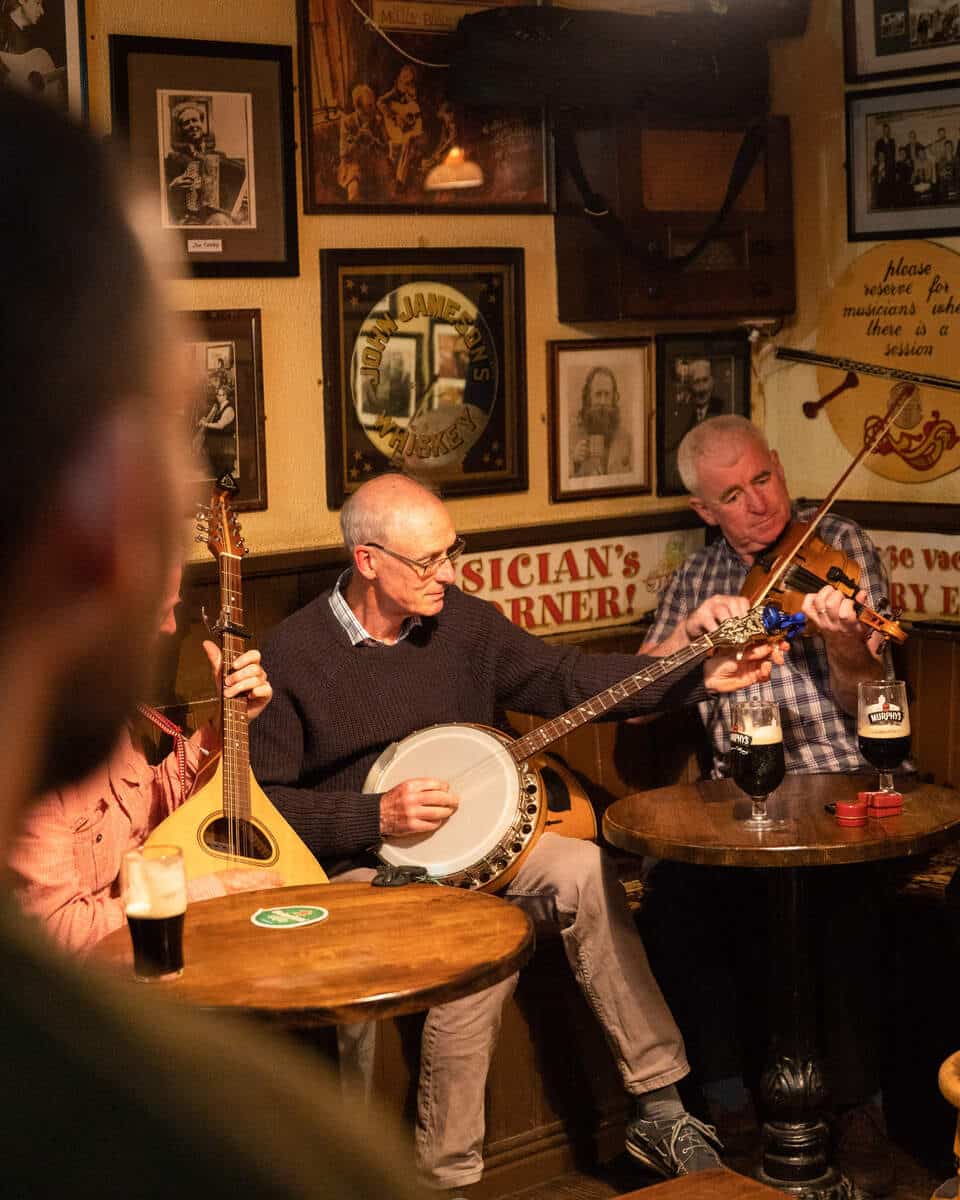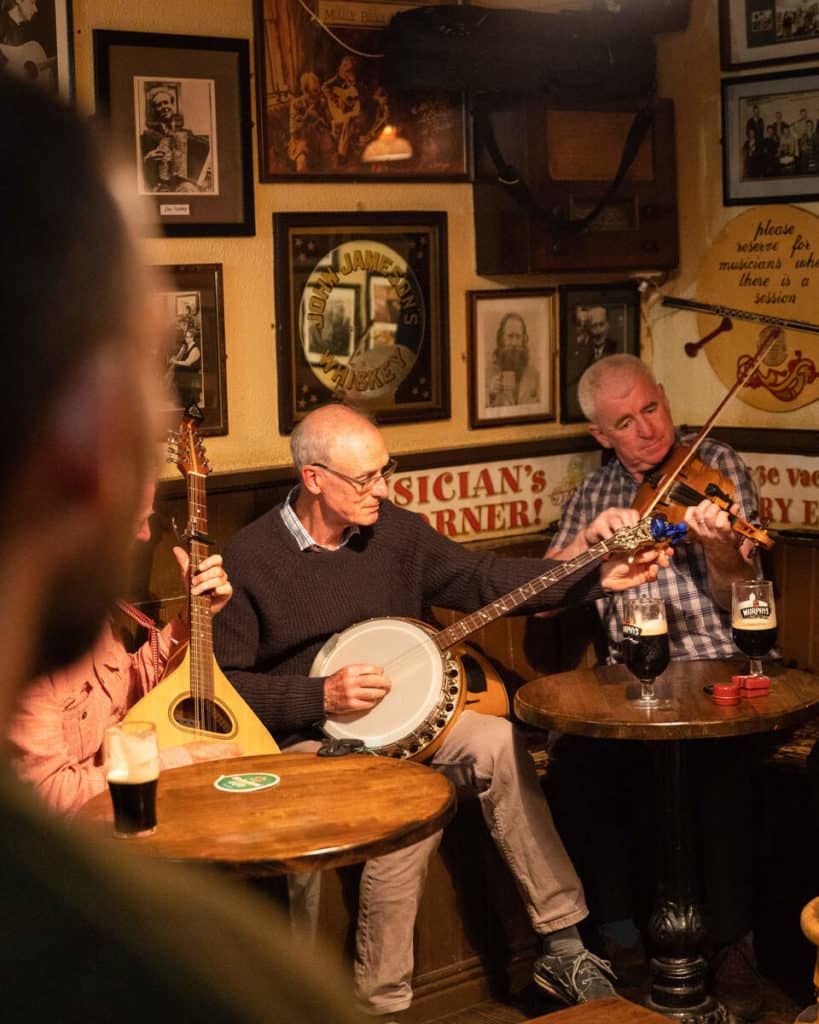 There are some excellent restaurants too, which serve some top-notch seafood dishes. If you are not into seafood, don't worry, there's loads more on offer.
5) Westport has a large variety of accommodation to suit all budgets and needs. Whether you would like to stay in a B&B or relax in a hotel, there's a great selection of places to stay.
We know the town like the back of our hands and have stayed in practically every hotel, so have a look here for our choice of the best.


6) Even though Westport is located in the far west of Ireland, it is only about 3 hours by train to Dublin and about the same by car. It's also only 1 hour away from Ireland West Airport.
Before we get into our pick of the best things to do in Westport, let's look at some important information about Westport.
Some Handy Background Info about Westport
History
The Irish name for Westport is 'Cathair na Mairt', which translates as "the city of the fairs".
The town was founded in 1780 by John Browne, the 1st Earl of Altamont, who built his residence on the site of the present-day Westport House.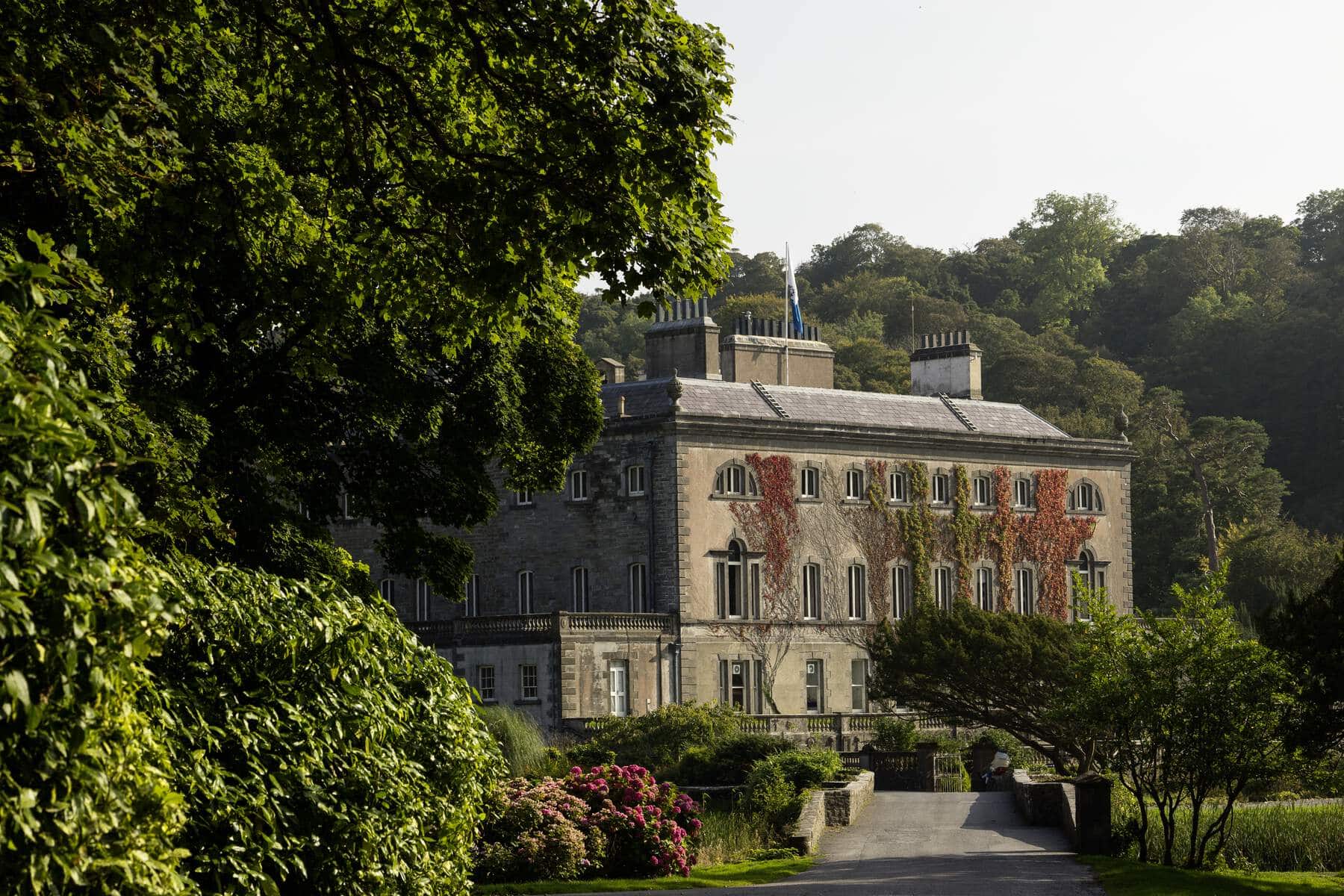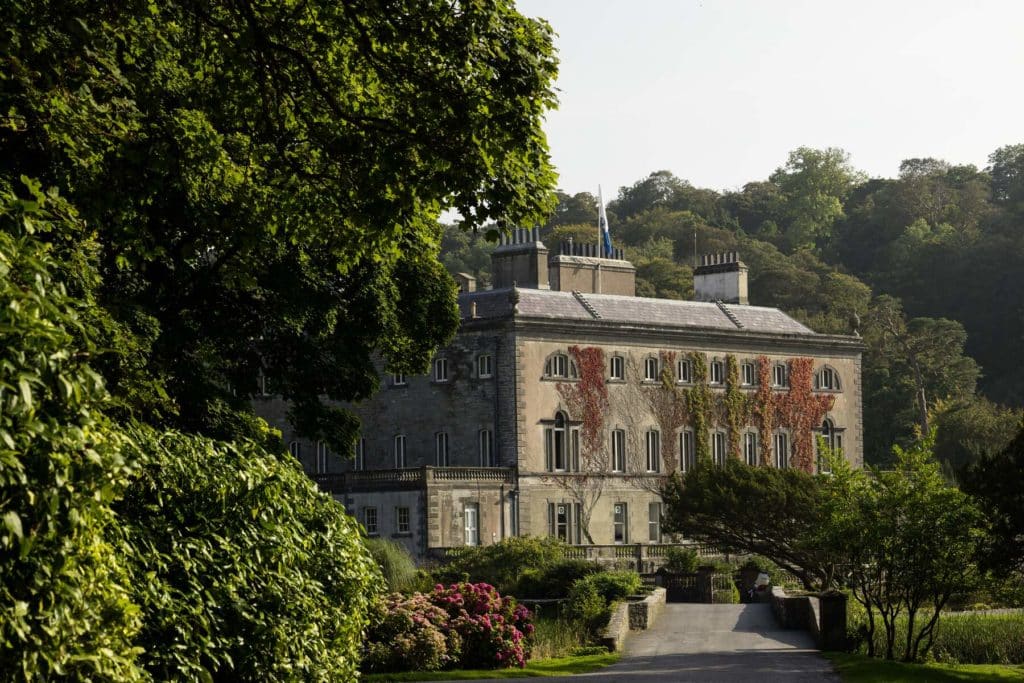 Westport is one of a handful of 'planned' towns in Ireland, which is clearly evident when you walk the streets. The 'Octagon' is the main focal point, with the 'Clock Tower' being its centrepiece and all main streets branching out from this point.
The 19th Century saw Westport develop into a central hub for trade, owing to its ideal location on the shores of Clew Bay.
The beauty of the town was noticed by the English novelist Thackeray, who claimed it to be one of the most beautiful places he had ever visited.
This drew the attention of many, and subsequently lead to Westport being a holiday destination for the wealthy in the years that followed.
Location
Westport is located on the south-east corner of Clew Bay, County Mayo. It is nestled amongst a series of glacial hills (or drumlins) which you will notice from the steep streets. To the west lies Croagh Patrick, which can be clearly seen from the town and beyond.
Its is the 3rd biggest town in Mayo, with a population of just over 6,000 inhabitants.
Fun Fact: Westport is the world's largest producer of 'Botox'! Allergan, which is based in the town supplies the world with an overall market share of 80%.
How to get there
New Road 2023
April 2023 will see the opening of a new road which will bypass the county town of Castlebar, which is on the way to Westport from Dublin.
This dual-carriageway will reduce the driving time significantly when travelling from the east (which is where the vast majority of traffic comes from)
This means that Westport will be reachable from Dublin in 3 hours and apart from a short stretch in Roscommon, it's a good, open road. This should put your mind at ease if driving on the left may be a worry!
Train
By train, it's about 3 hours 15 mins from Dublin. Check the timetable here.
Eco-friendly option: If you are conscious of your carbon footprint, why not ditch the idea of renting a car and bring your bike to Westport instead?
Technically you don't need a car in Dublin, so bring the 2-wheeler on the train with you and cycle the longest defined cycling route in Ireland, The Greenway. By the way, The Greenway is spectacular.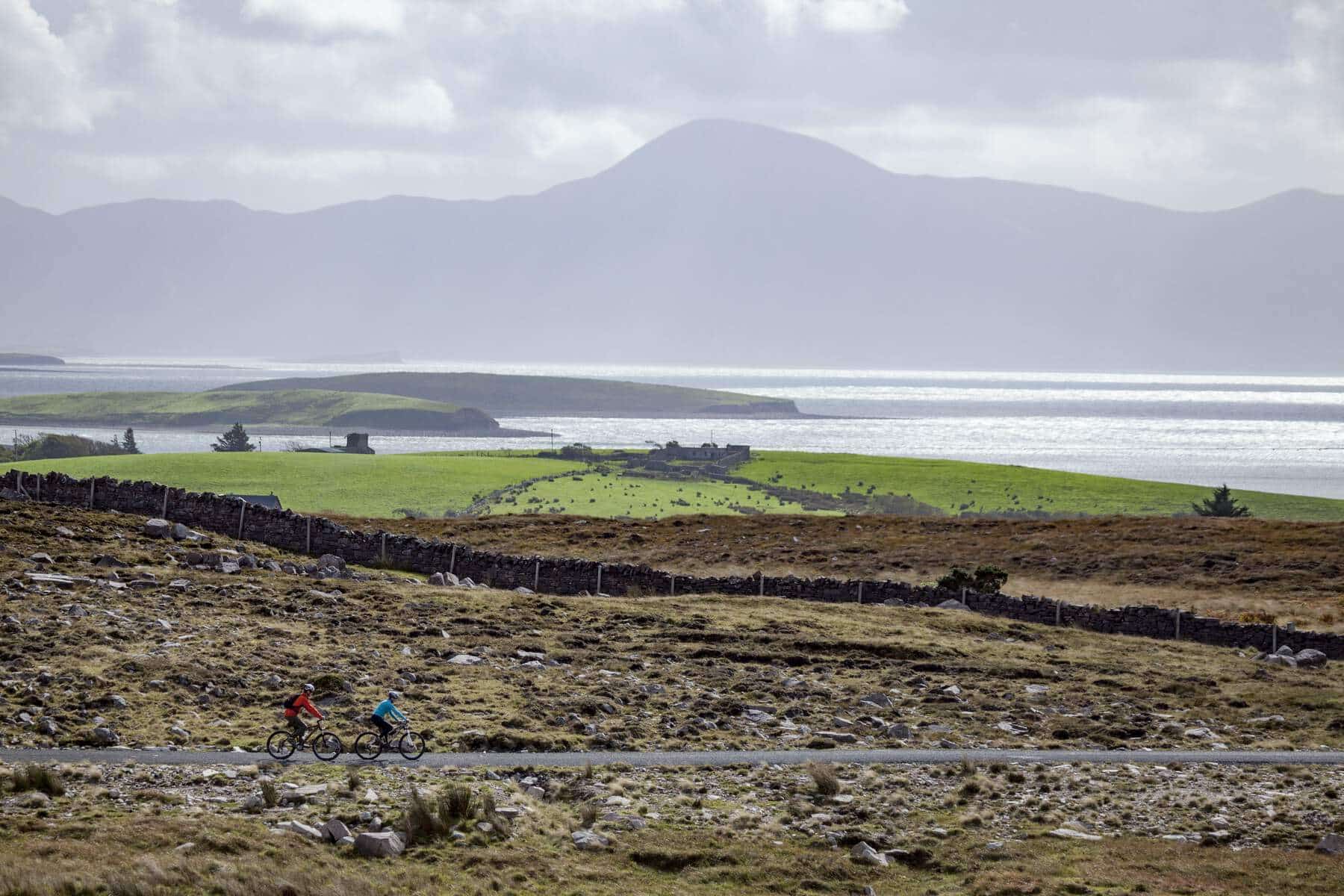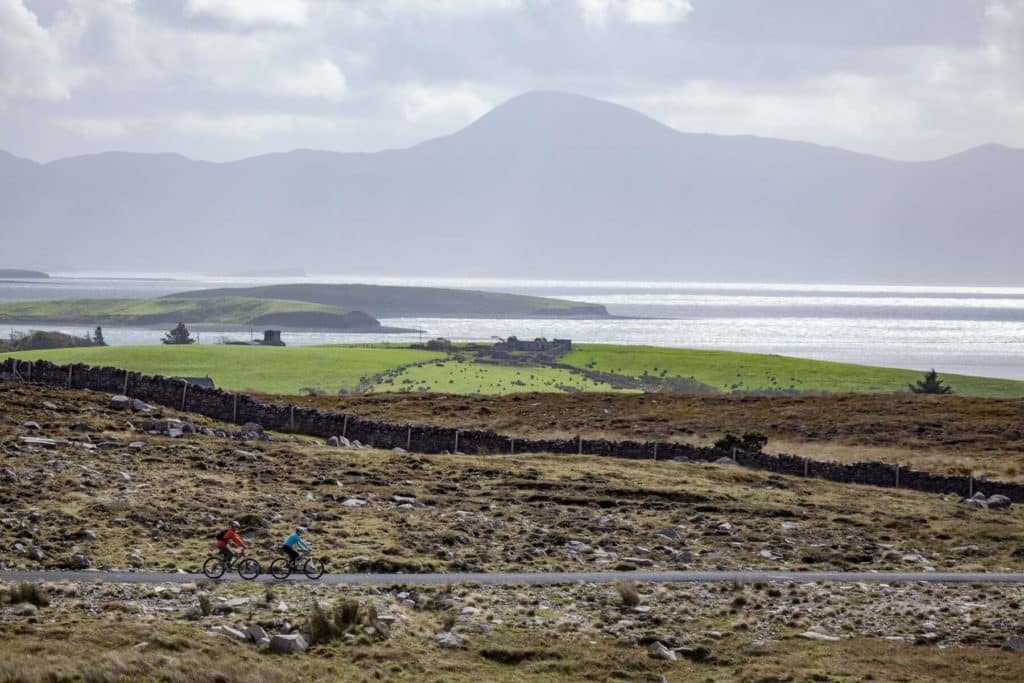 Bus
As with all decent sized towns in Ireland, Westport is well serviced by buses. This link will show you all the ways to get there by bus.
Our Favourite Things To Do In Westport
Climb Croagh Patrick to experience one of Ireland's best views
Croagh Patrick i.e. Ireland's holy mountain is a must on your visit out west. It's a 764 metre high mountain that rises dramatically from the shores of Clew Bay.
It's a challenging climb, but you will be rewarded with a fascinating summit, which includes St. Patrick's Chapel and also 'St. Patrick's Bed', where our good old patron saint rested his weary head during his 40 days and 40 night fasting on top of the mountain.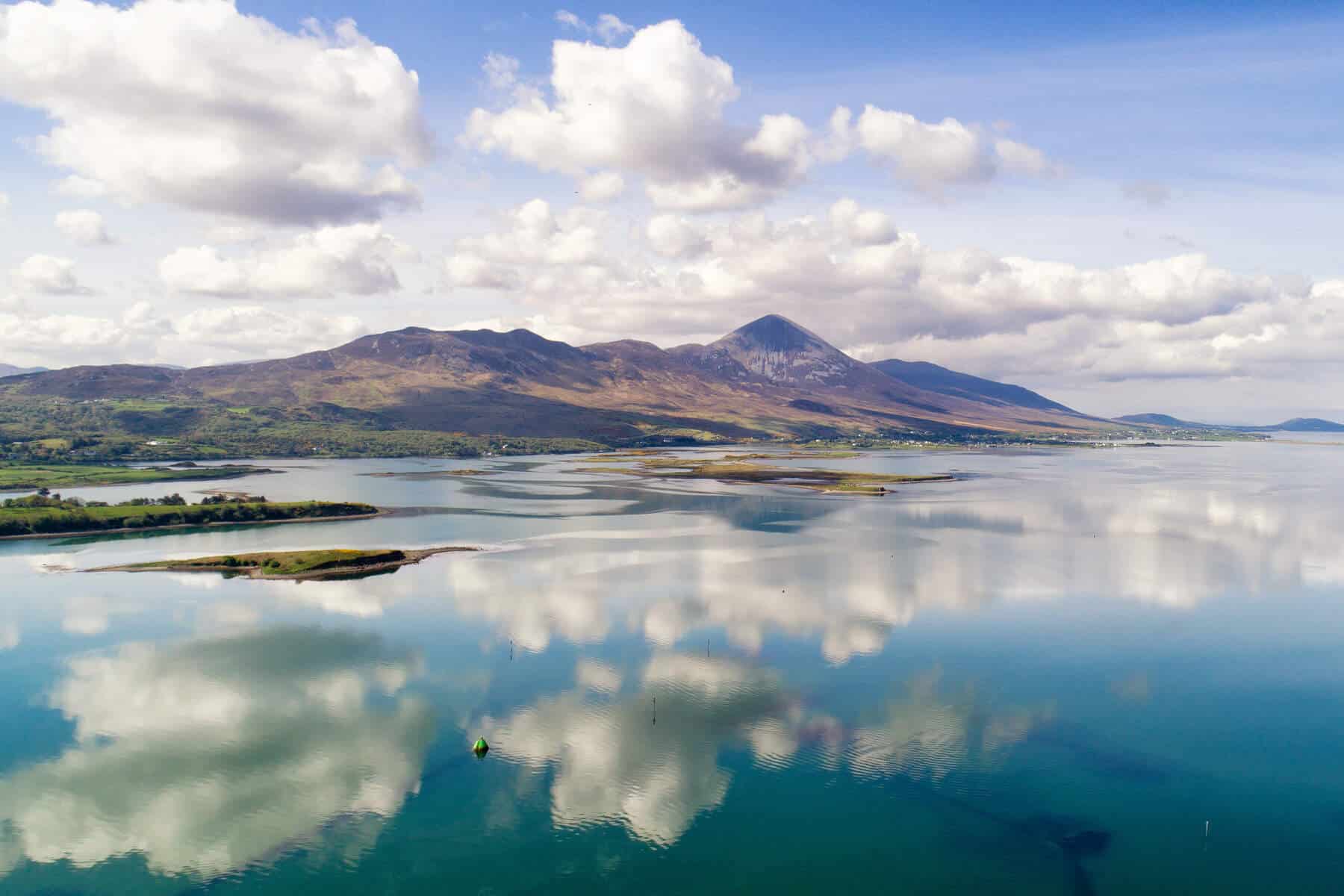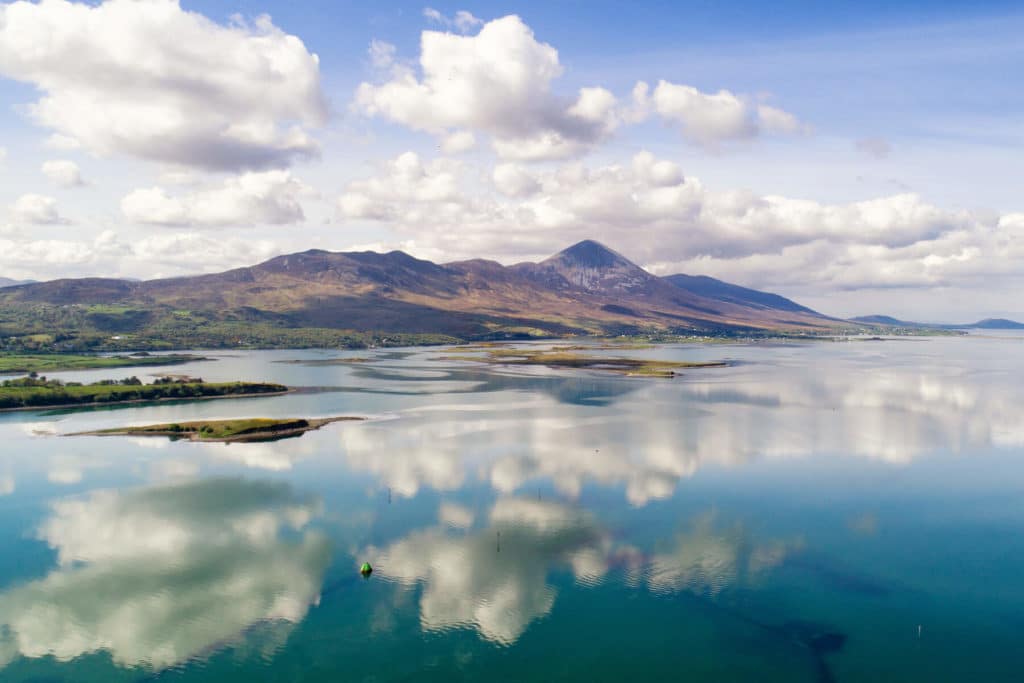 And, you'll be in awe when you catch sight of Clew Bay in all its unique glory, its 365 islands dotted around the bay spectacularly.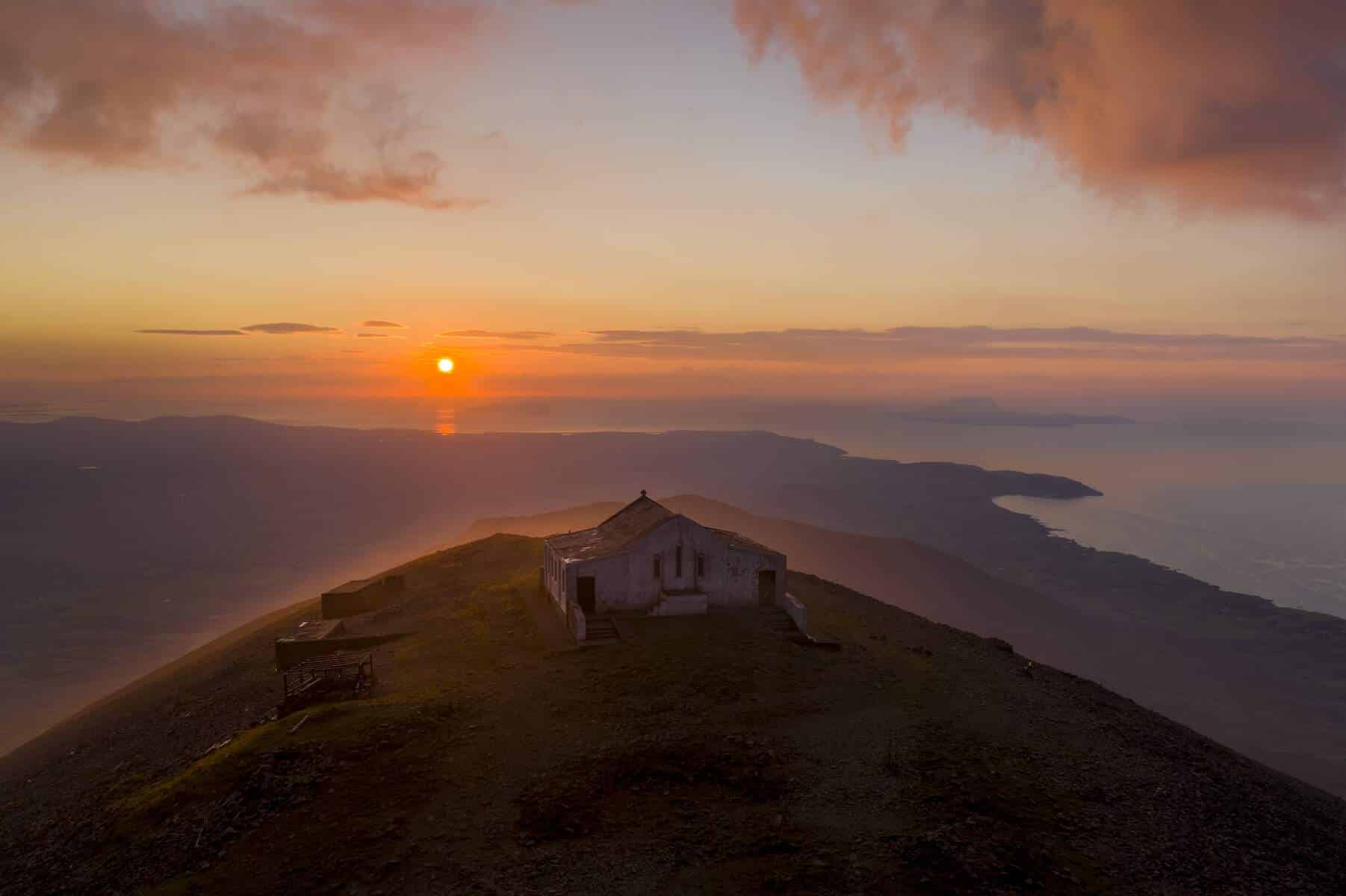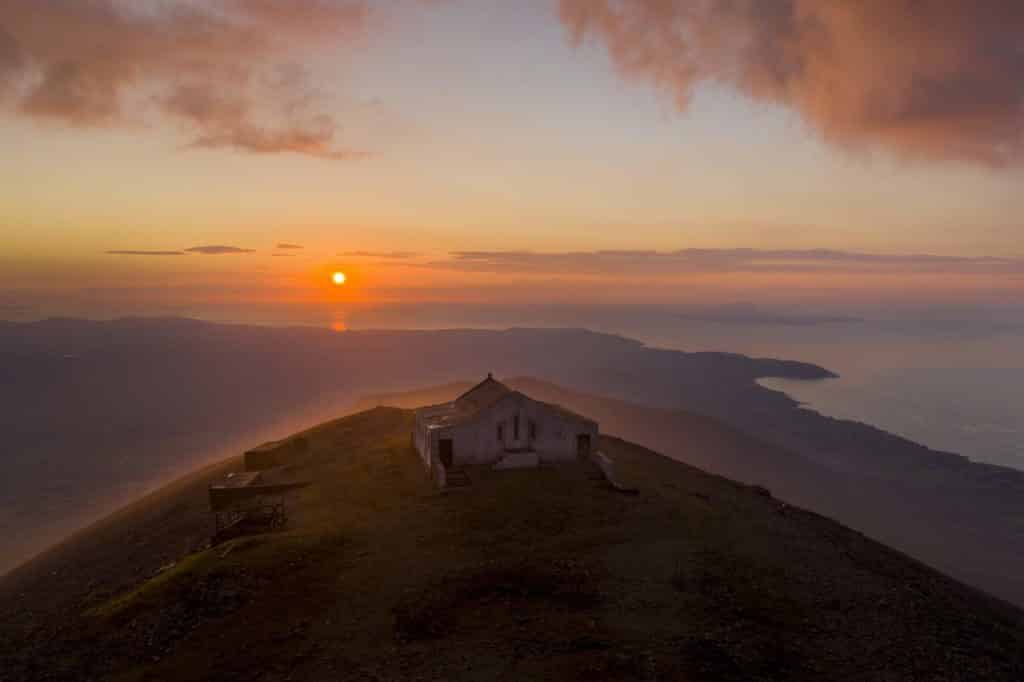 We have a comprehensive guide about everything there is to know about Croagh Patrick, including a detailed climbing guide here.
Cycle The Great Western Greenway to take in the beauty of the West of Ireland
As mentioned up above, Westport is just a brilliant destination for outdoor activities. The Great Western Greenway is a 44km biking trail which starts in Westport and finishes on Achill Island.
It passes thorugh some wonderful landscapes, firstly through rolling drumlin countryside to the village of Newport, with its iconic bridge.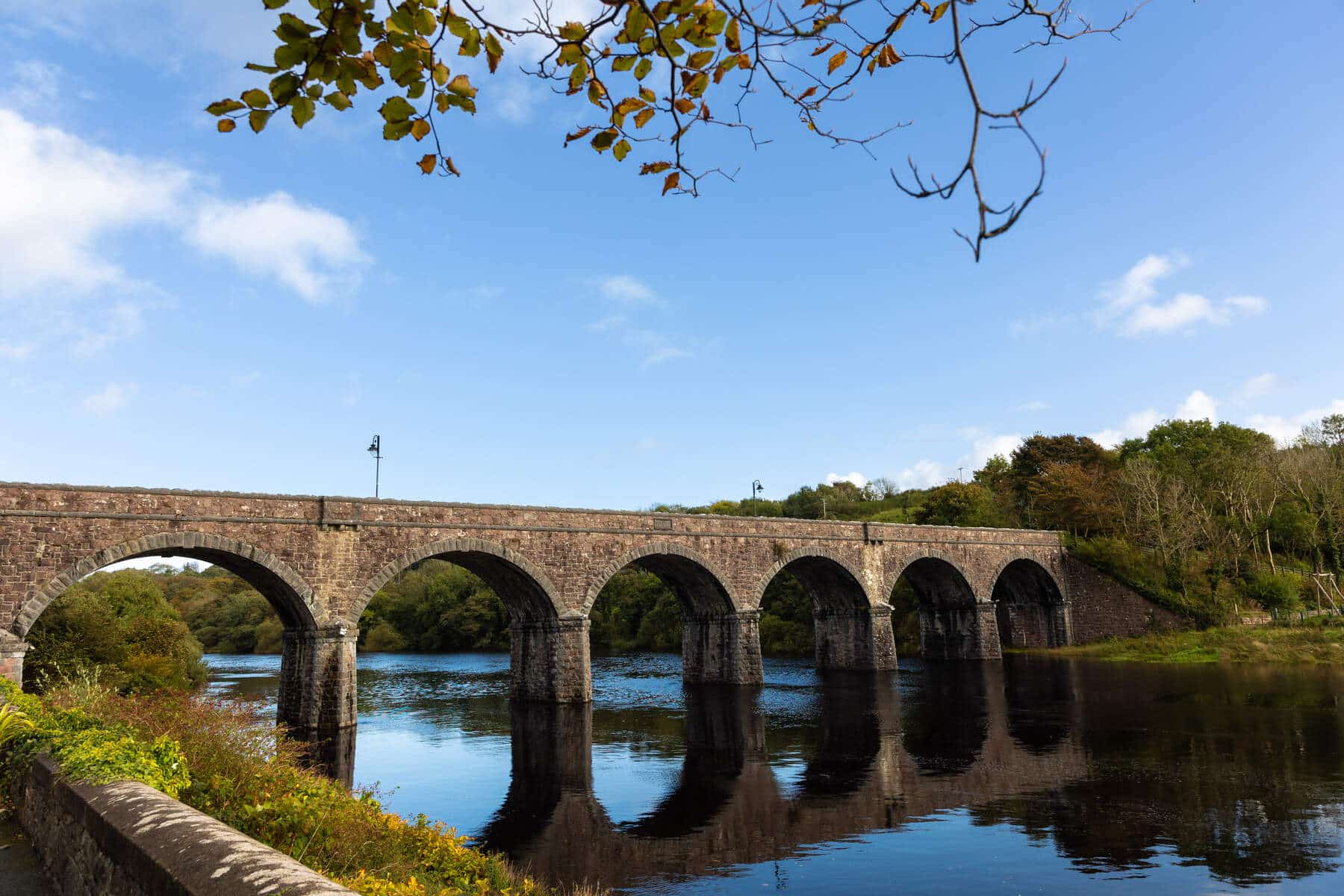 The next section is my personal favourite as you will cycle on an elevated bike lane to Mulranny, with panoramic views out over the whole of Clew Bay to Clare Island and beyond.
The good news is that you can rent bikes for the day in Westport, or indeed as long as you want. Here is a link to bike rental. There are electric options available also, here.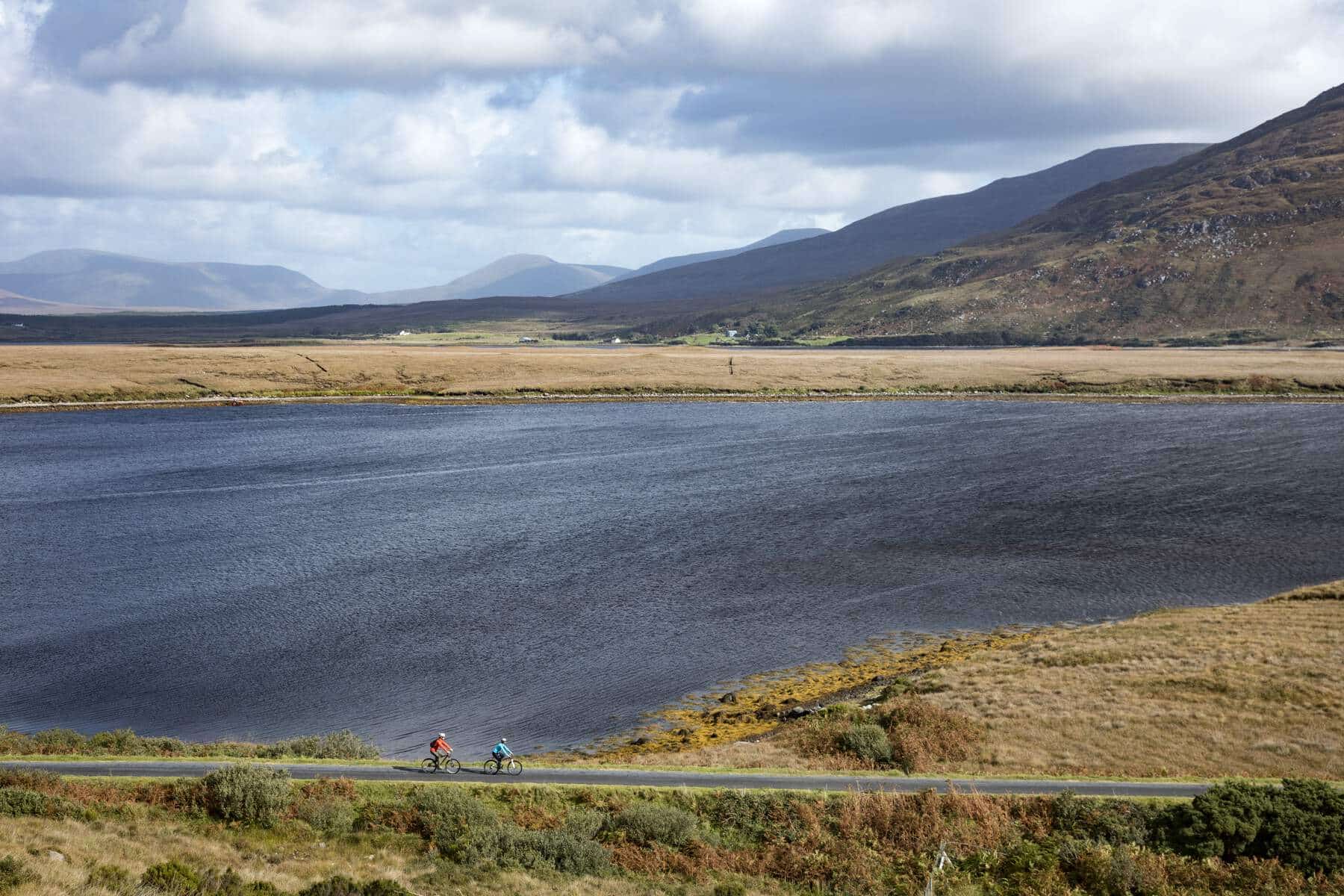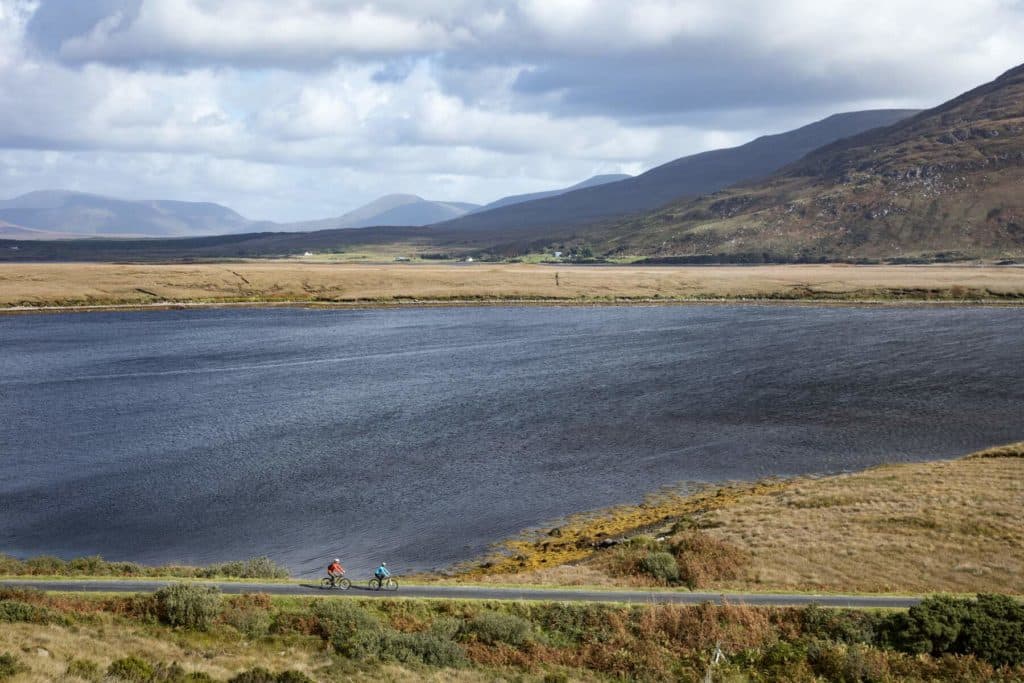 Visit Westport House and Estate
Built in the 18th Century near the site of the famous O'Malley clan's castle, this beautiful stately home and grounds are a lovely way to pass an afternoon.
Take a guided or an audio tour of the 30 rooms and 6 permanent exhibitions, where you will step back in time to witness exactly how the aristocrats of Ireland lived during the Georgian era.
The grounds are stunning, with wide open gardens and ancient Irish oak trees giving that touch of old-time elegance and serenity we all need on our holidays! Take a stroll around and take in the beautiful location, along the shores of Clew Bay.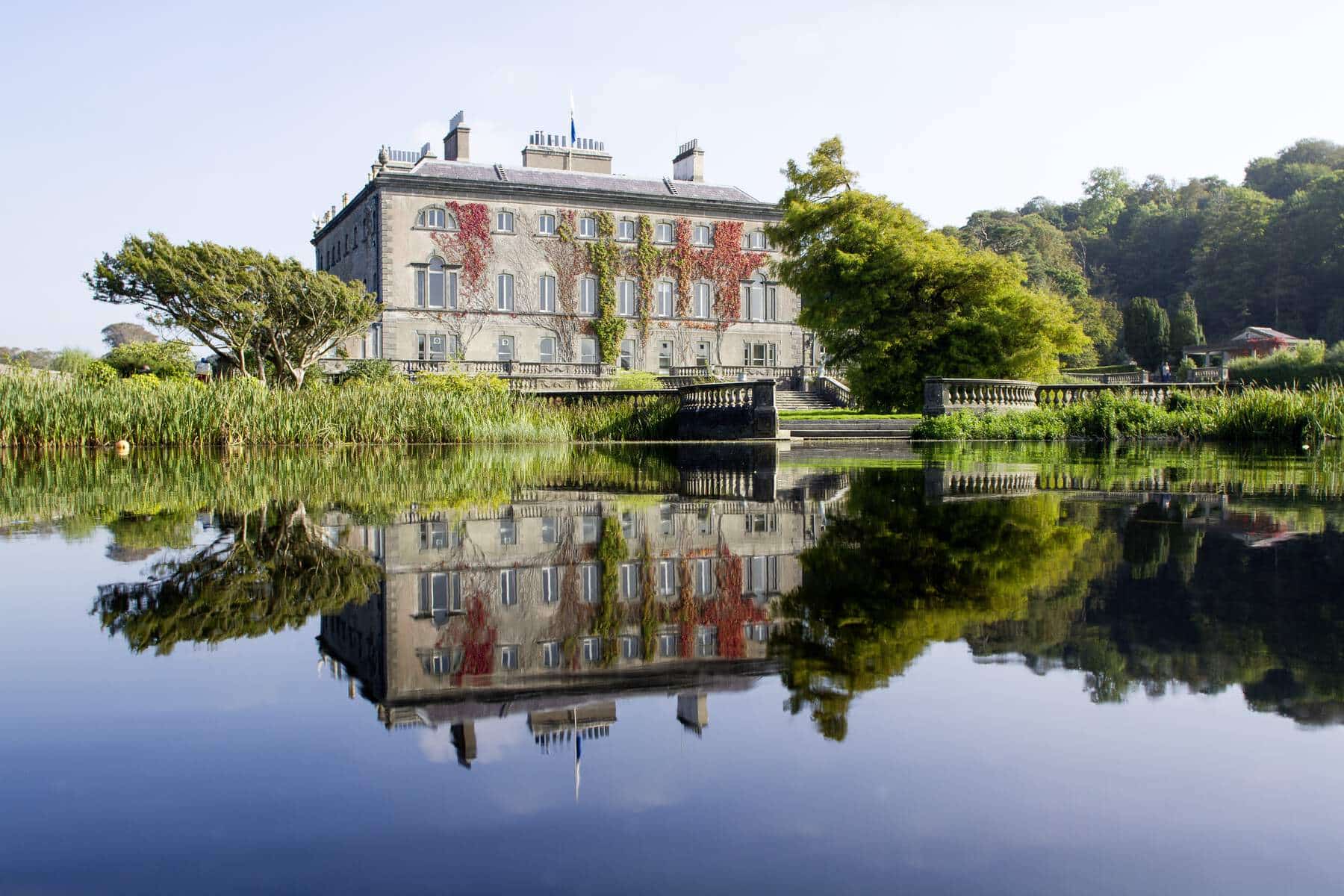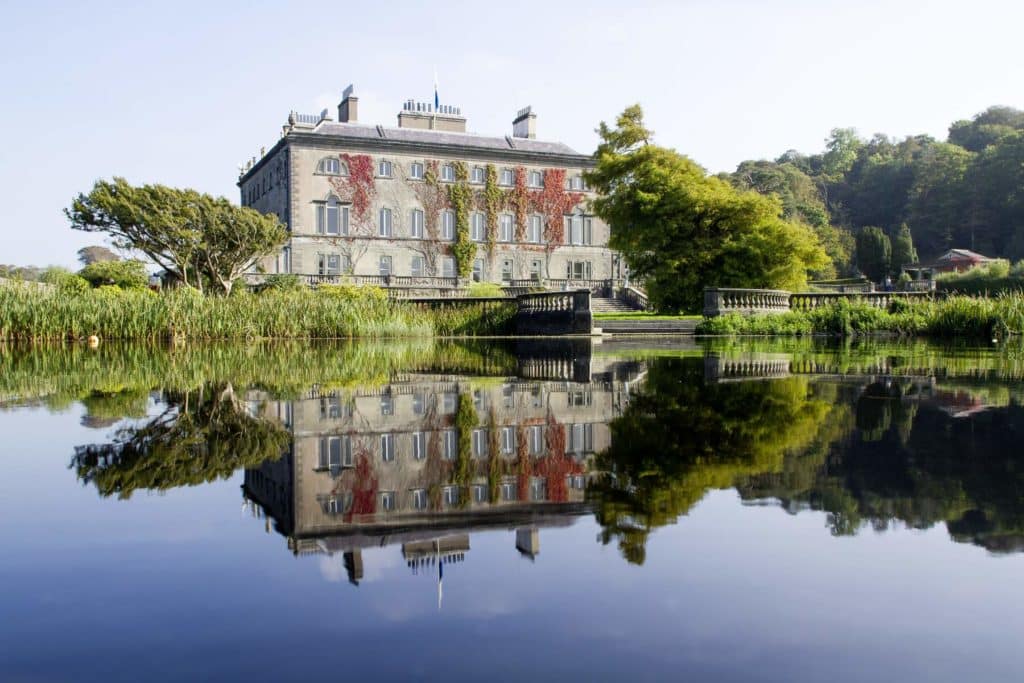 In summer, there is a coffee trailer set up near the outhouses and the barns here have some brilliant activities for the kids.
You can also jump on the little train which takes in the grounds and the town of Westport itself. This is a very popular choice for families in the summer months, along with the 'rentable swans'. You won't miss these paddleboats as there is always quite a queue for them!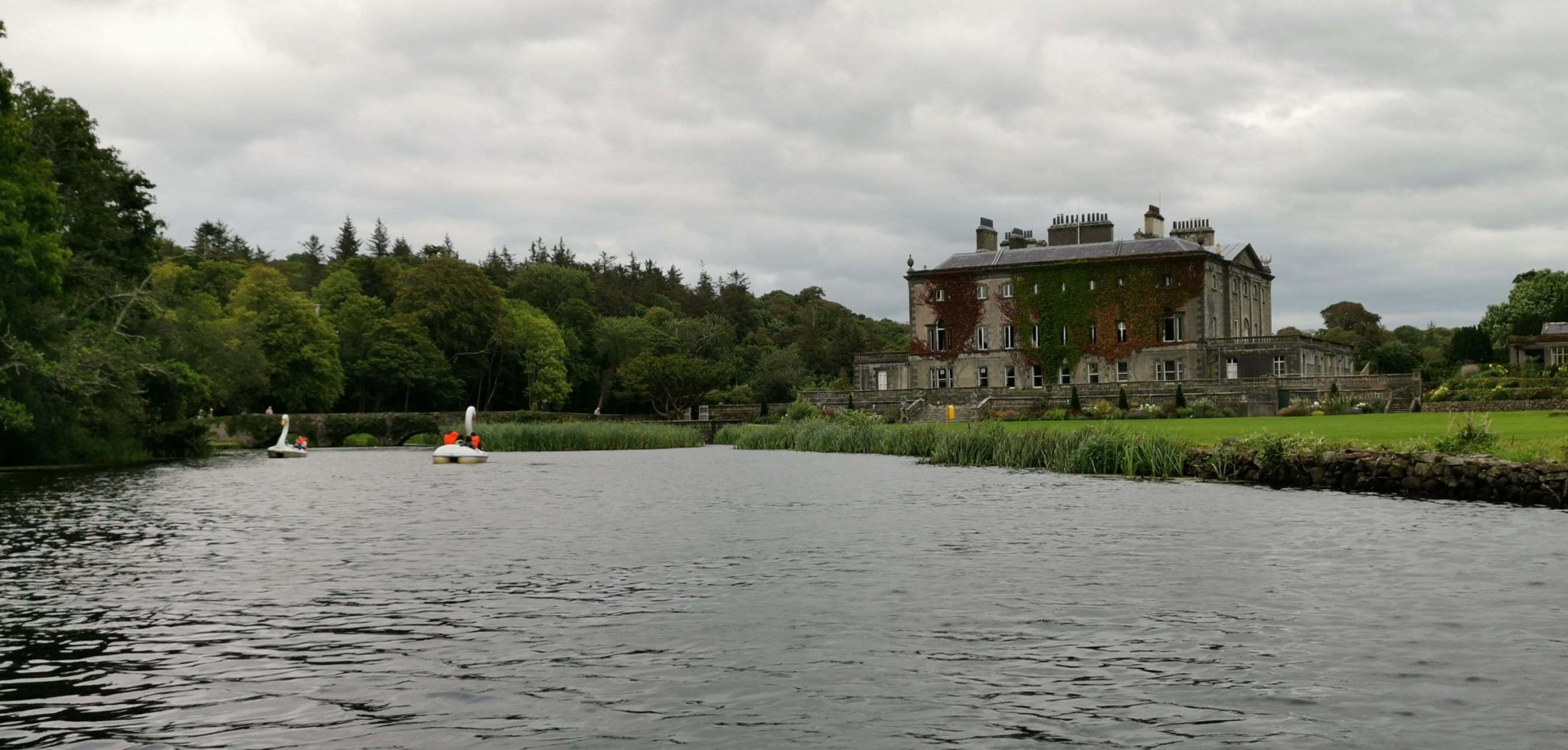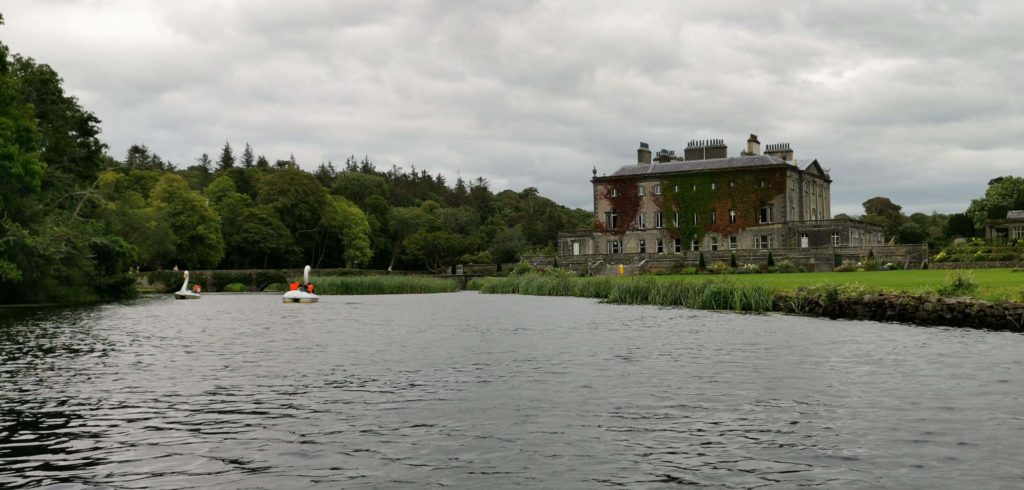 Visit a Westport Pub for some of that world famous Irish music
Why just visit one?! There are plenty of mighty pubs in the town. The main ones that spring to mind are Matt Molloy's, The Porter House, Blouser's and An File. The first 2 on the list tend to attract most tourists and the last 2 are generally quiter, but have equally good music.
There's nothing better than sitting in the corner of an Irish pub on a wild and blustery night with the open fire blazing away, a fresh Guinness on the table and some tasteful music playing away in the background.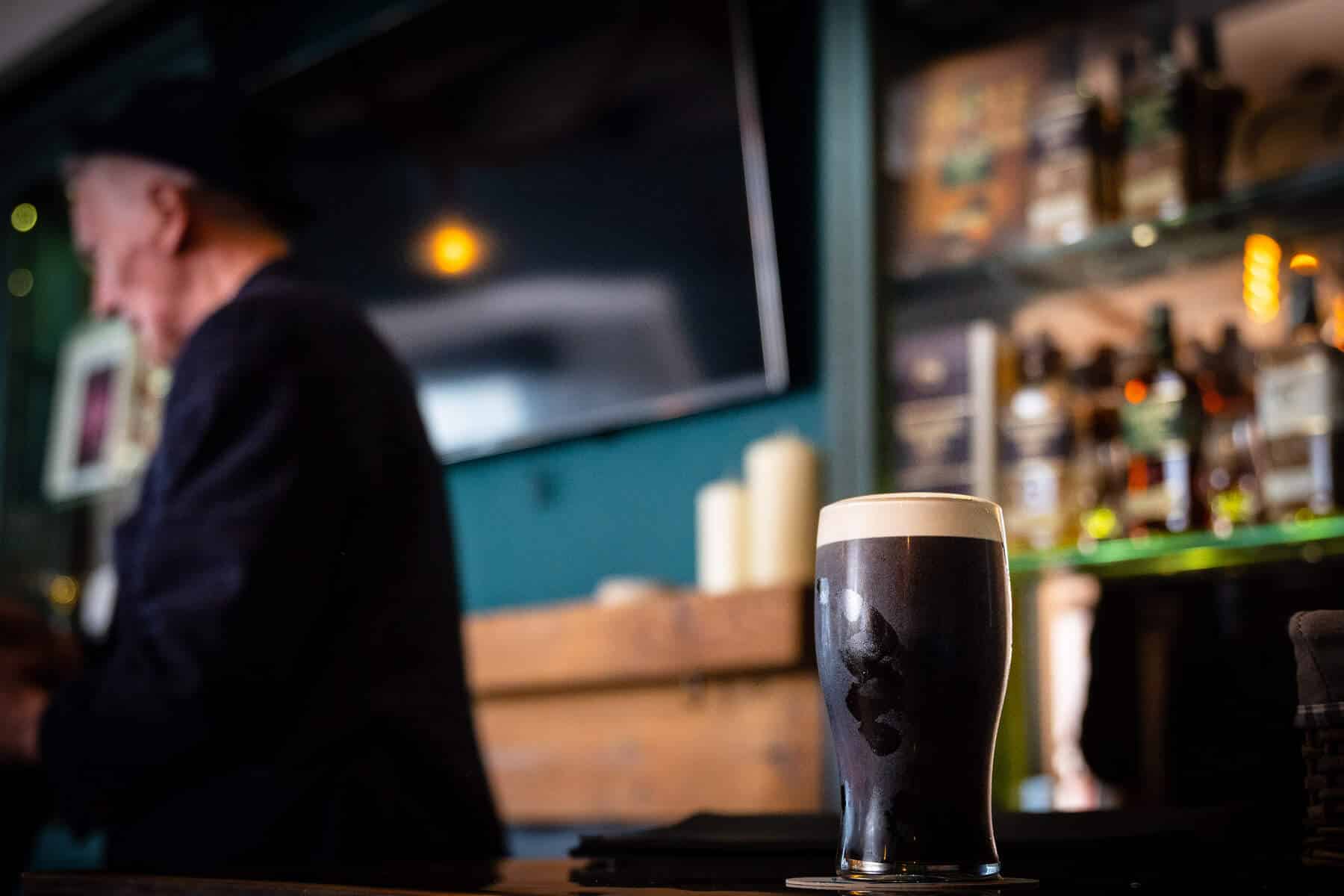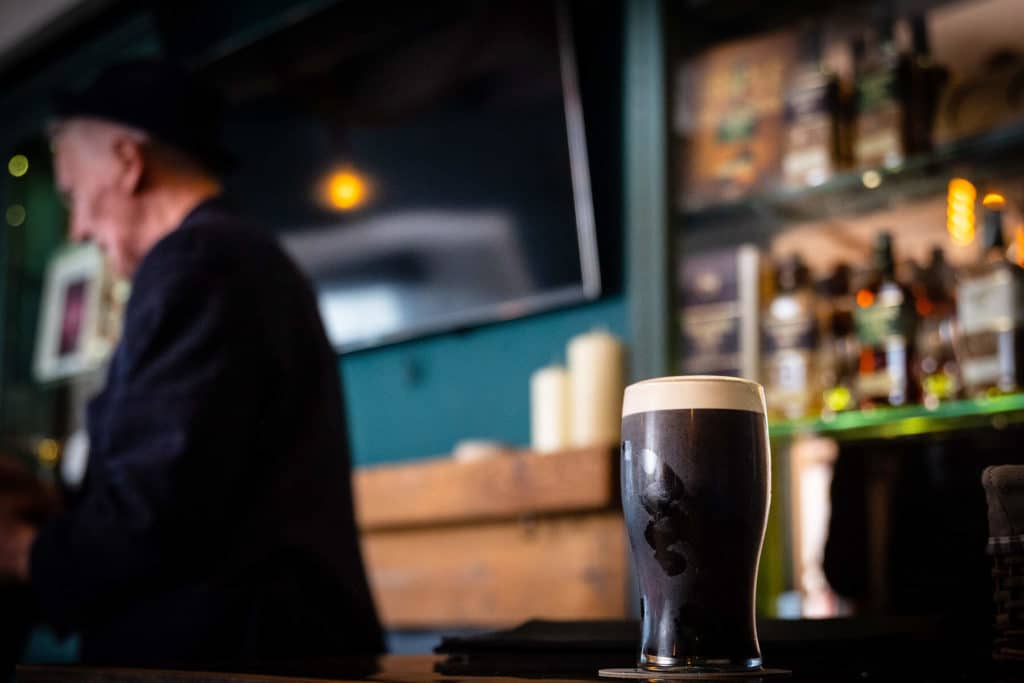 Insider Tip: Pubs like Matt Molloys sometimes put on a daytime traditional music session in the summer months, generally on Saturdays. Have a stroll around town and follow your ears. You might get lucky…there'll be less crowds in the pubs during the day as well.
Stroll around the beautiful quaint town of Westport
Westport is full of charm. A proud holder of multiple 'Tidy Towns' awards and winner of 'The Best Place to Live in Ireland' award, Westport locals take great pride in their home.
It's certainly evident too. Flowers are to be seen nestled on the old bridges over the Carrowmore river, along with tree-lined streets and brightly-coloured buildings, you'll be spoilt with countless photo motives.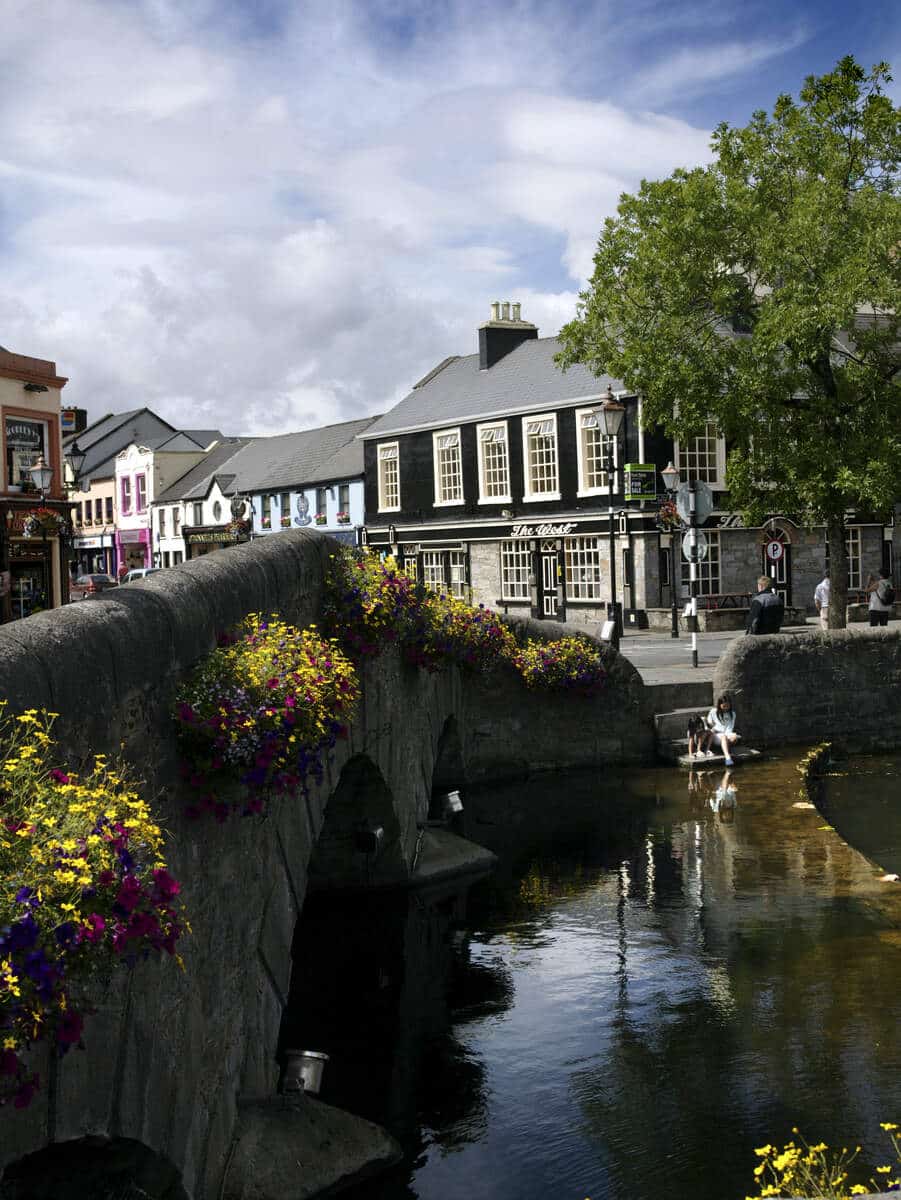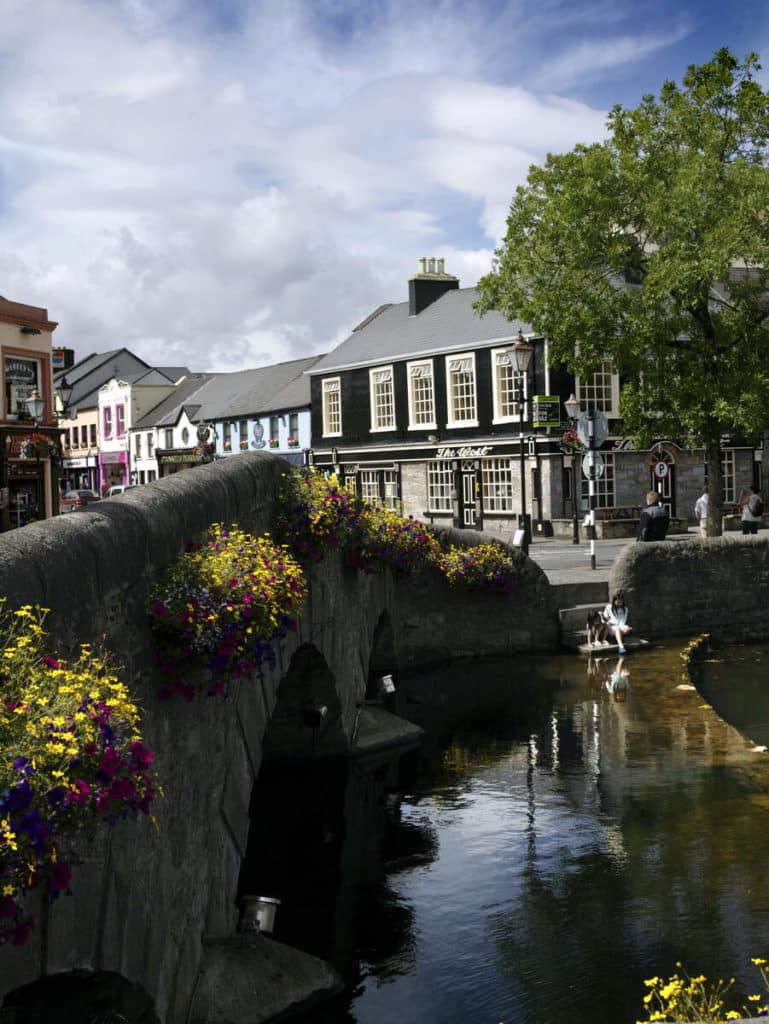 Westport has some excellent shops with stores, Carraig Donn springing to mind. Here, you'll find some tasteful and high quality Irish gifts and clothes, amongst many other Irish products.
Grab a coffee and a treat at 'This must be the Place' near the Clock Tower and watch the world go by. Your eyes will be drawn to the very colourful 'Moran's' across the road with its endless supply of Mayo flags and buckets and spades for the beach!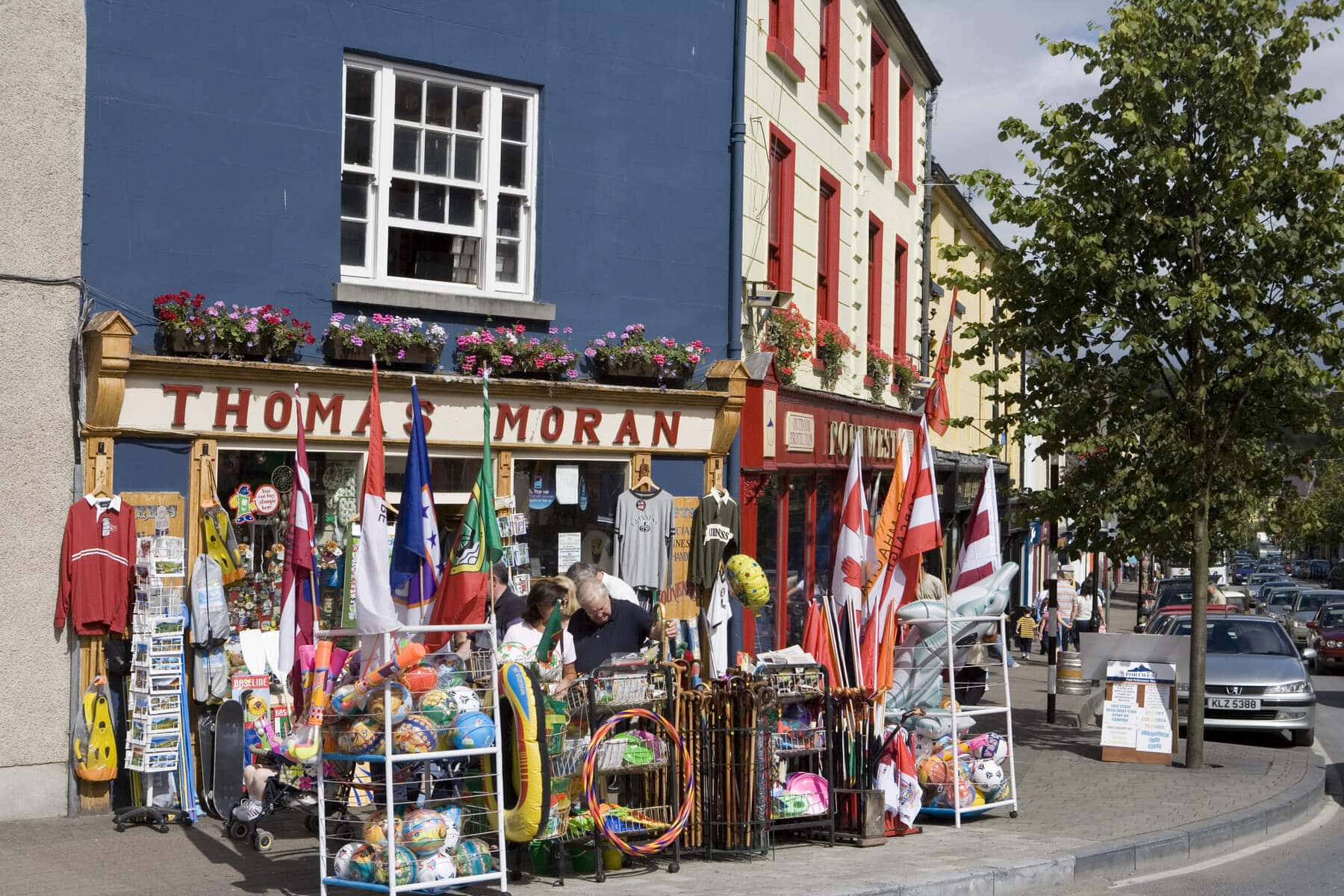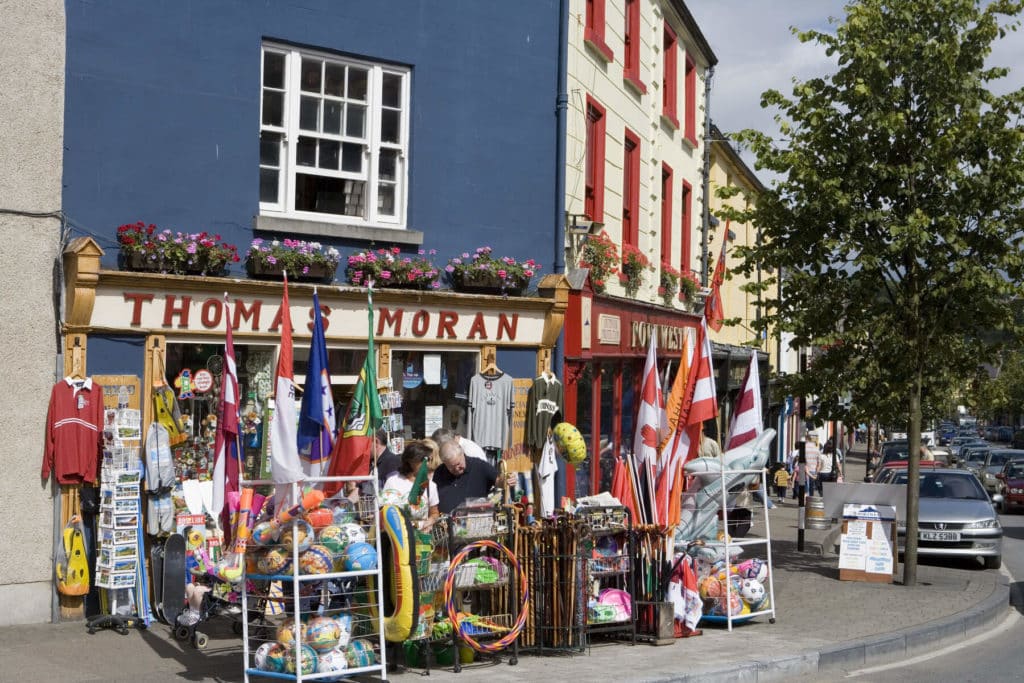 Go on a Clew Bay Cruise
On a warm summer's evening (yep, they sometimes exist) in 2022, we went on a wonderful cruise out into Clew Bay. Since then, I can't wait to get back and do it again!
The boat takes you out into the western part of the bay, where you'll meander your way through the iconic drumlin islands, with Croagh Patrick providing a breathtaking backdrop.
You'll also pass a seal colony and the island that John Lennon and Yoko Ono once owned. There is a guide on board too, who will keep you keen with some great little anecdotes about the goings-on of this famous couple, and how the locals reacted to their purchase!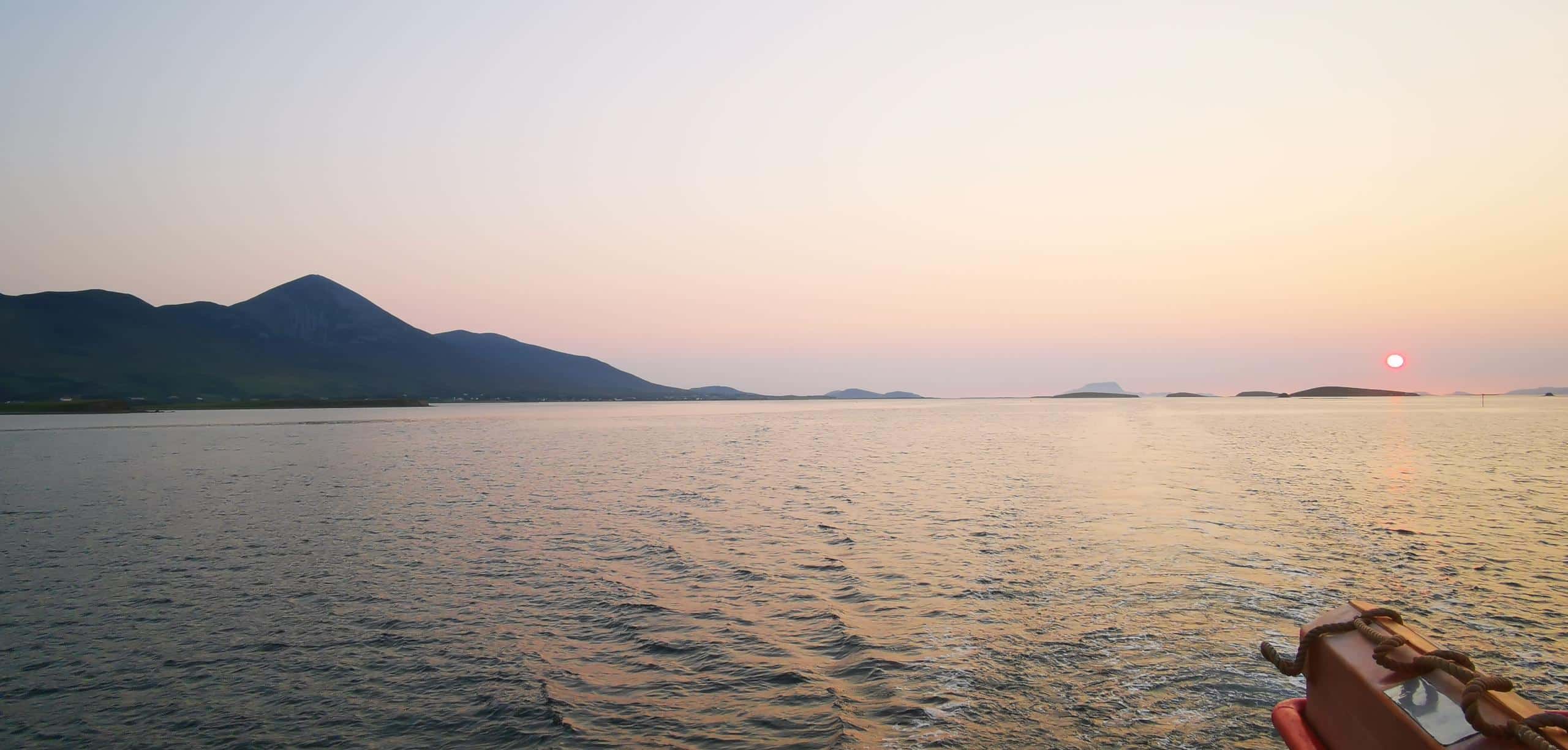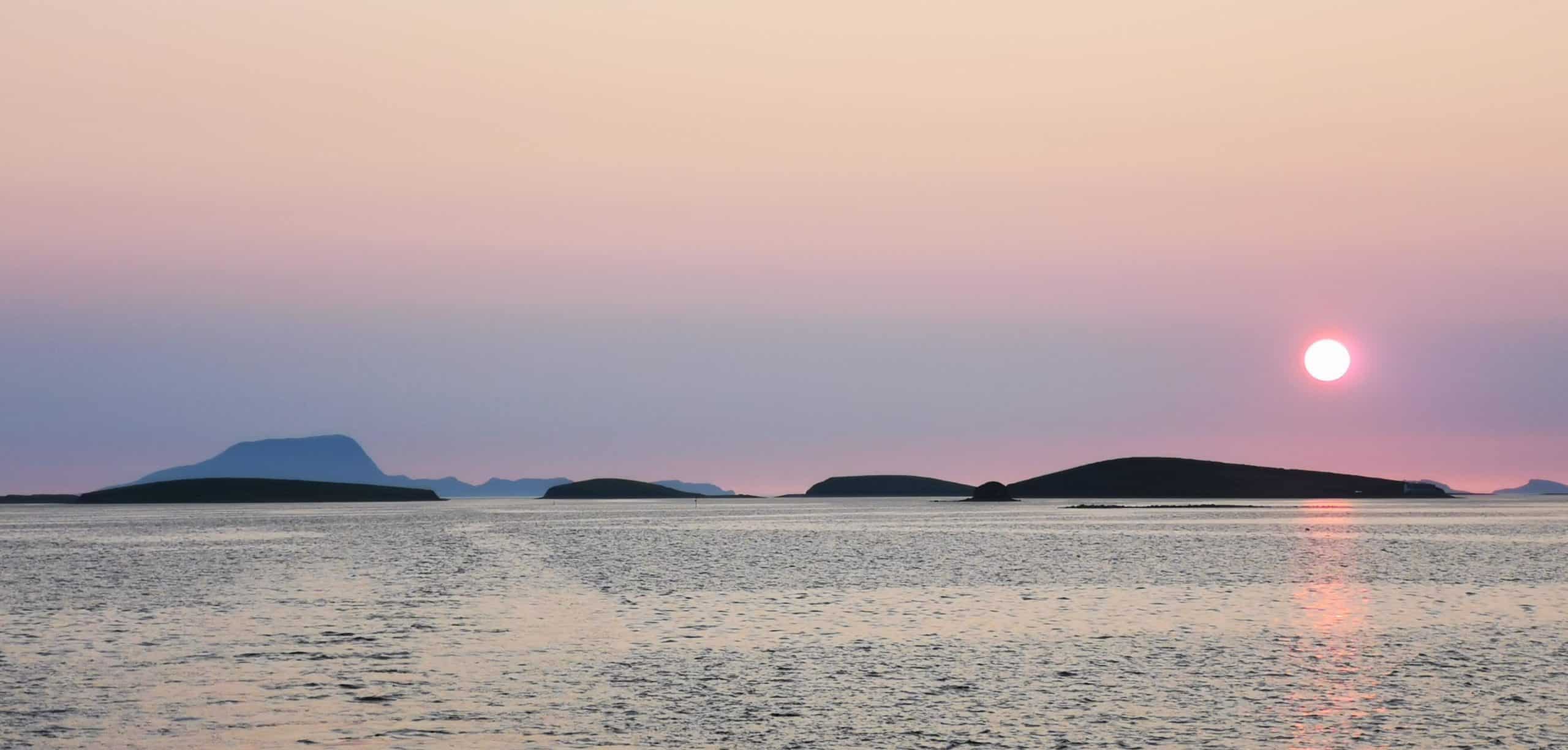 We did this cruise during sunset, which we would highly recommend. You'll have to keep your eye out though, as these special cruises only take place in the summer months and the times are posted a few days in advance.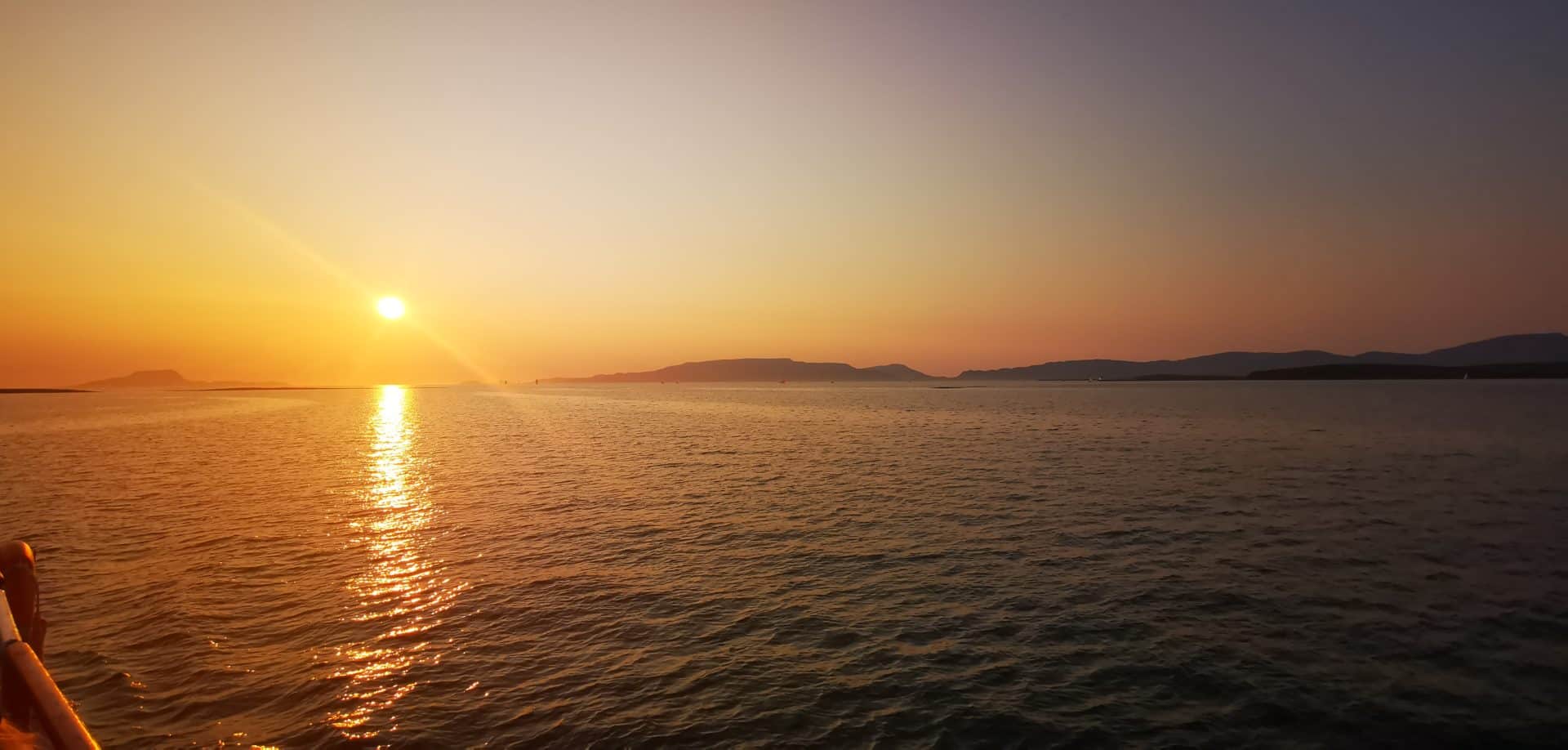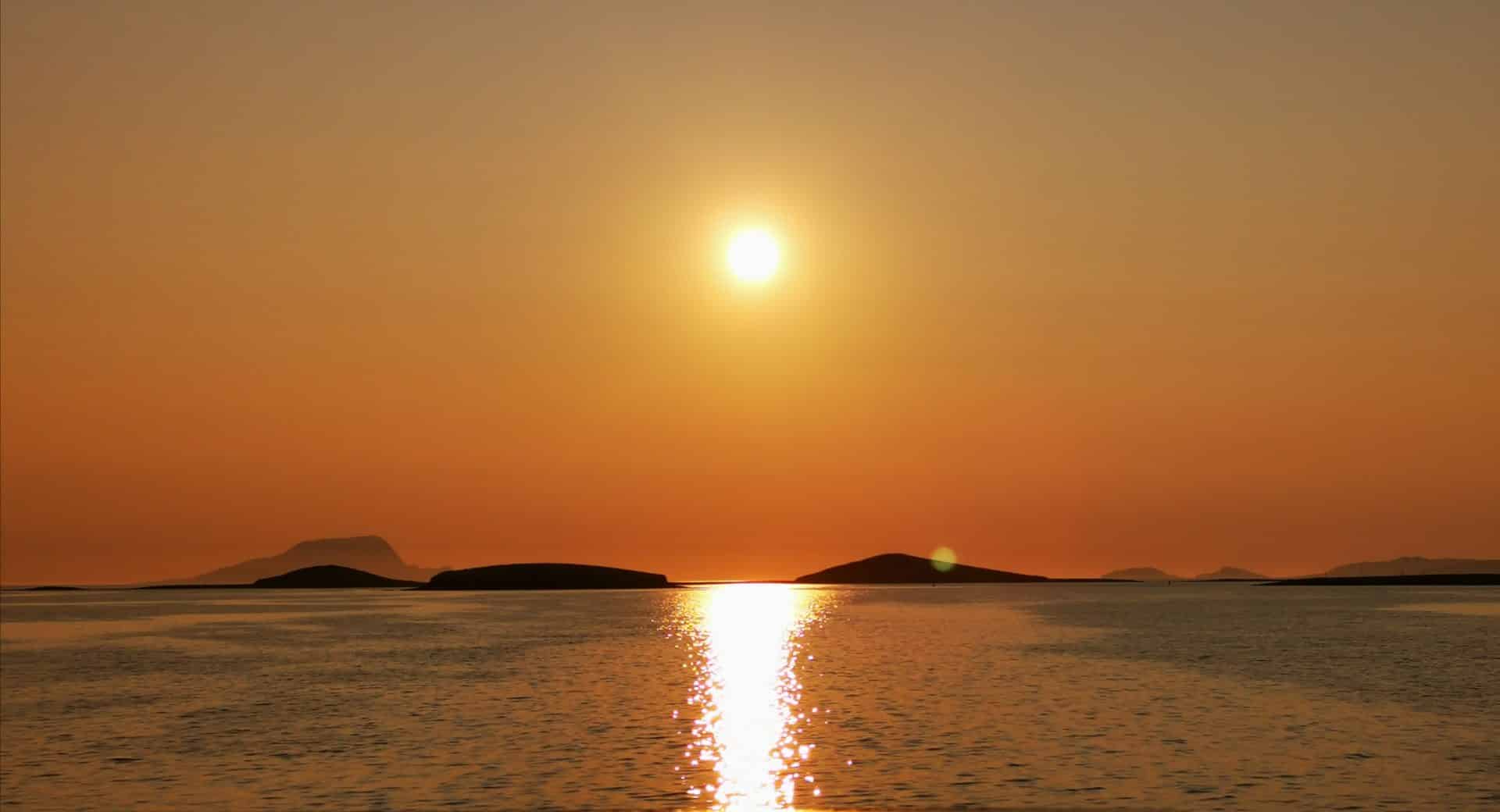 If there are no sunset cruises available, no worries. The company also has daily sailings, the details of which can be found here.
Things to do on a Rainy Day in Westport
With all the talk of participating in outdoor activities such as climbing Croagh Patrick and cycling the Greenway, it's time to talk about the weather…
As Westport is located on the Atlantic western seaboard, it gets a fair bit of rain. Therefore to participate in these activities, we would recommend visiting from the months of April to Septmeber.
Very often though, the rain will come in the form of a quick shower and be gone as quick as it arrived.
But what if you are desperately unlucky and it doesn't stop raining? Below you'll see our link to a long list of great activities you can enjoy, if the weather is particularly inclement.
16 Brilliant Things to Do in Westport on a Rainy Day.
Things to Do For Kids in Westport
Playgrounds
Here, you'll find the locations of the playgrounds in Westport. Note: 'The Wild West' is indoor.
Indoor Playgrounds
The Wild West is a great indoor playground located just outside the town. This will certainly keep the young ones happy with the sizeable activity frame and countless other activities.
There is also a 'sensory room', which allows kids to explore their world in a different way, promoting brain development.
On site is also a cafe, to keep mum and dad occupied. More details here.
Westport House
One of the must-visit attractions for kids in Westport is Westport House and the adjoining adventure park.
The historic Westport House, is home to a variety of exciting activities, including a Pirate Adventure Park with rides, slides, and games. As mentioned before, the famous little Westport train stops off at Westport House.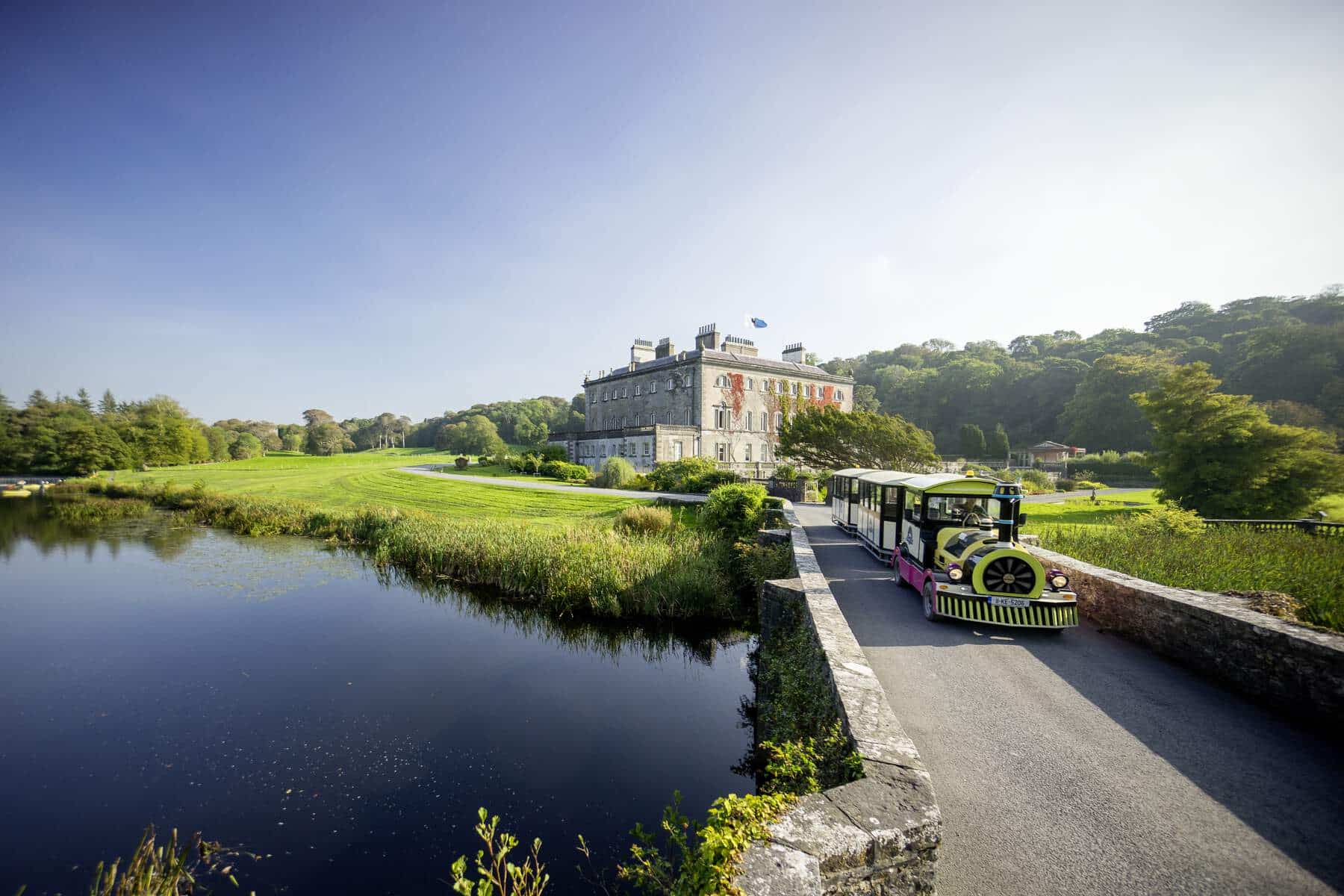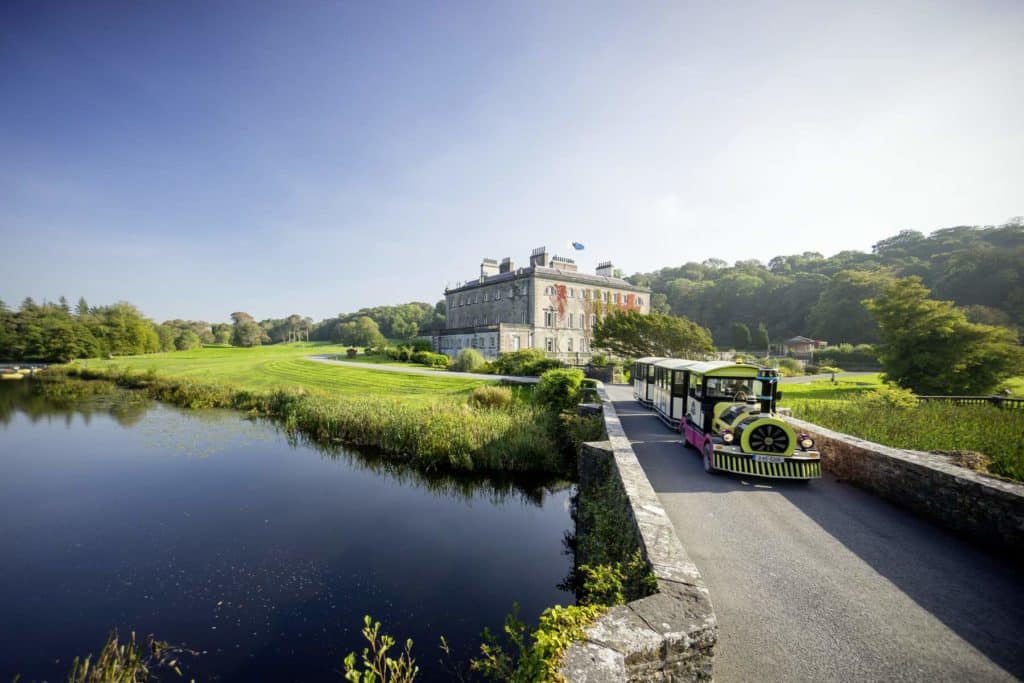 The Pirate Adventure Park gets busy during the summer months. Have a look here for tickets.
Westport Leisure Park
Why not go for an indoor swim wth the kids if the weather is inclement?
Westport Leisure Park allows non-members to avail of the many facilities available such as: 25m indoor swimming pool, toddler pool, sauna, steamroom, plungepool and relaxation area.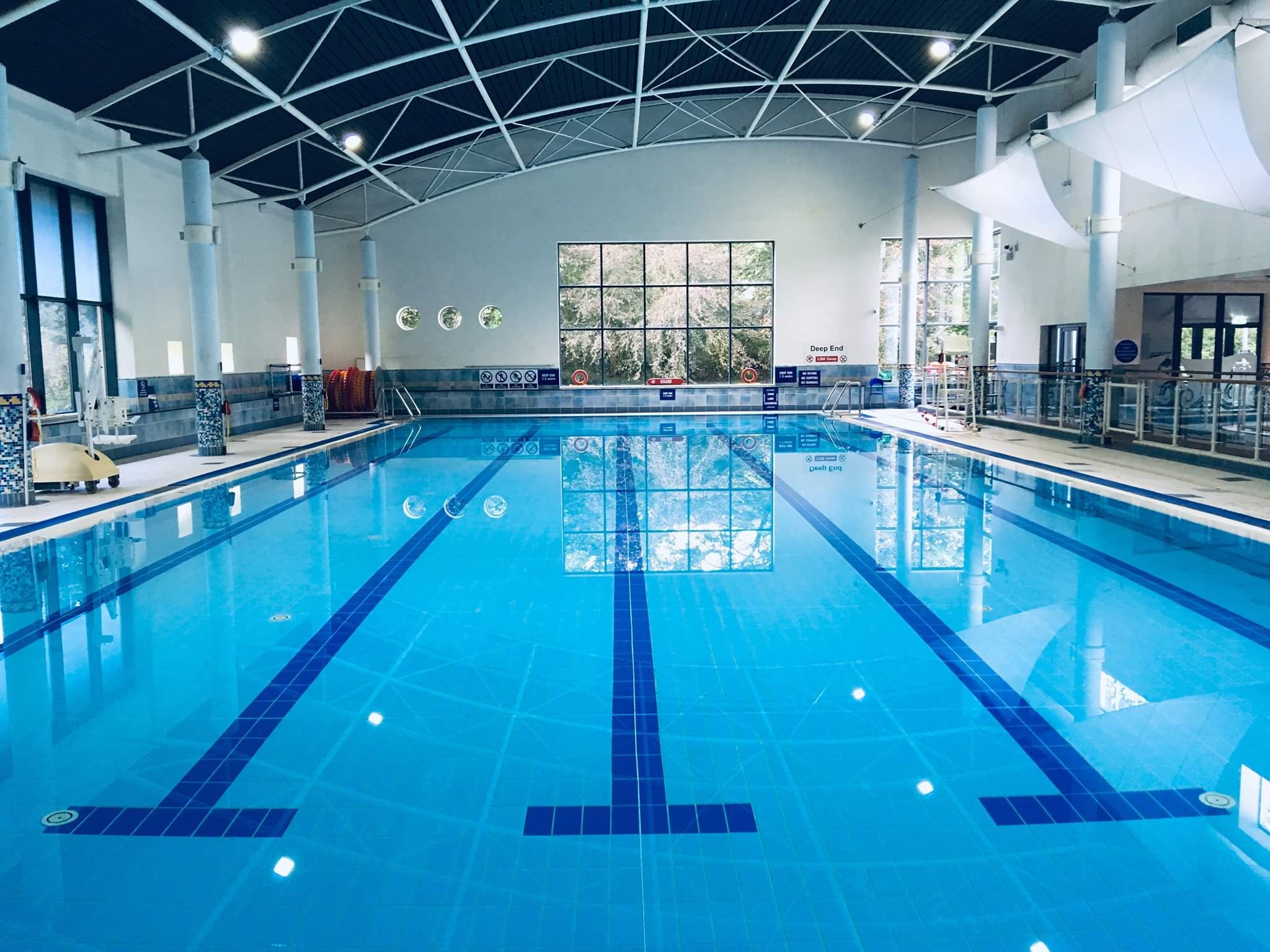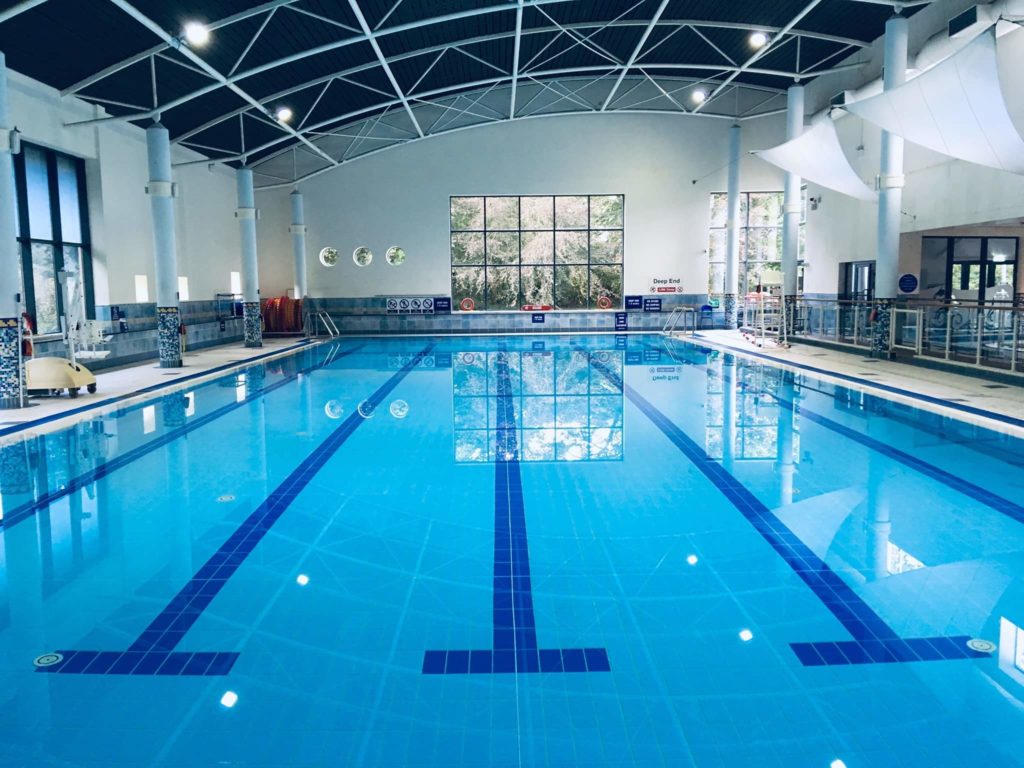 There are certain allocated times for this, so check out their website for this.
Horse Riding
There are numerous horse riding centres near Westport that take in the stunning countryside and coastal regions of Westport.
These trips are also educational and informative and offer a unique way of exploring the beautiful west of Ireland. Click here for more details.

Day Trips from Westport
As mentioned, we believe Westport is a brilliant base for exploring the beautiful nearby areas. Here, we will outline from experience what we believe are the best locations to visit near Westport.
Visit Achill Island via the Atlantic Drive
If you have been reading some of our other articles, you may have noticed that Achill is one of, if not, our favourite place to visit in Ireland.
Achill offers breathtaking coastal, mountain and cliff scenery that's hard to beat. It's also a Mecca for outdoor activities such as kite surfing, surfing and hiking. We have a detailed guide to Achill and the incredibly scenic Atlantic Drive here.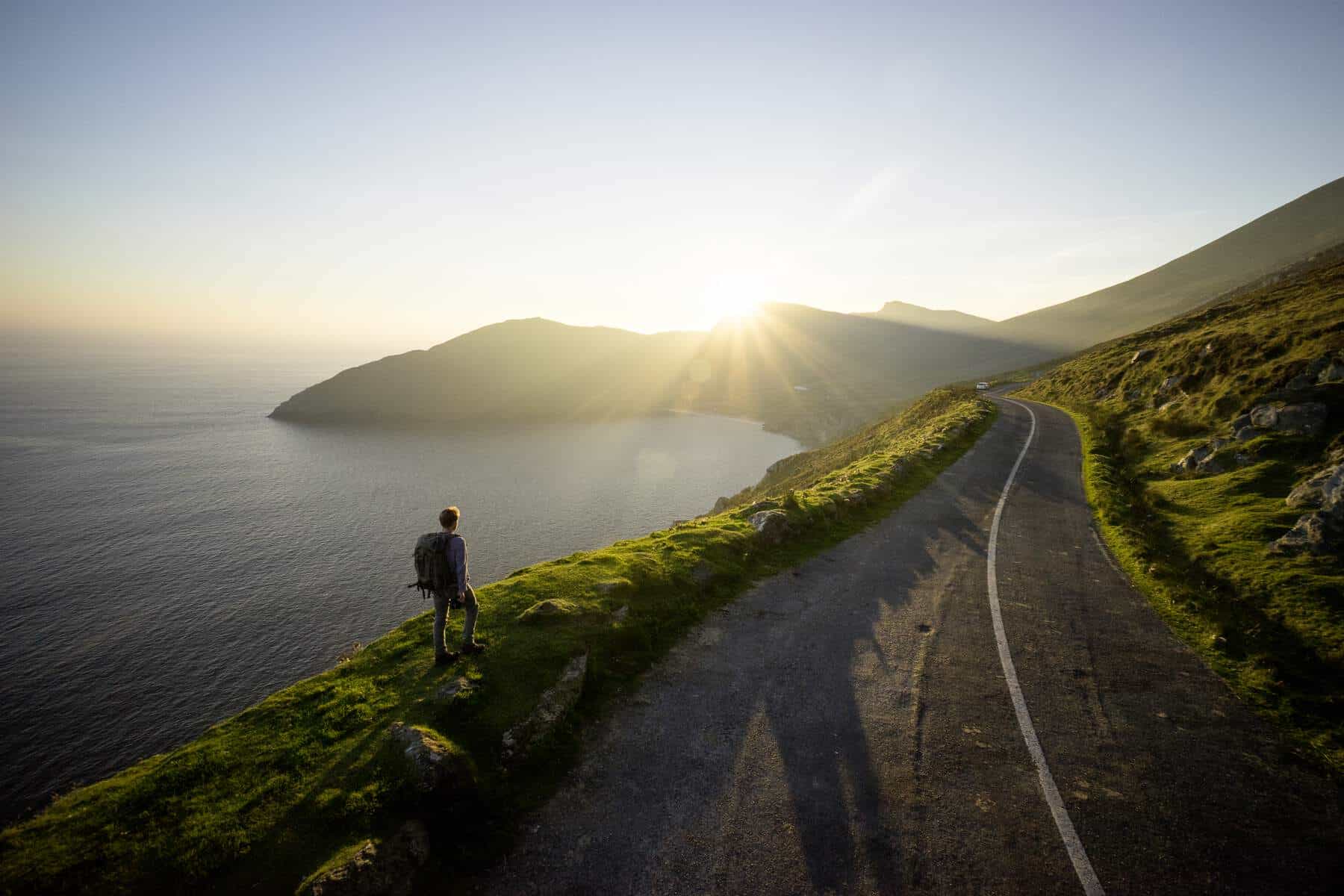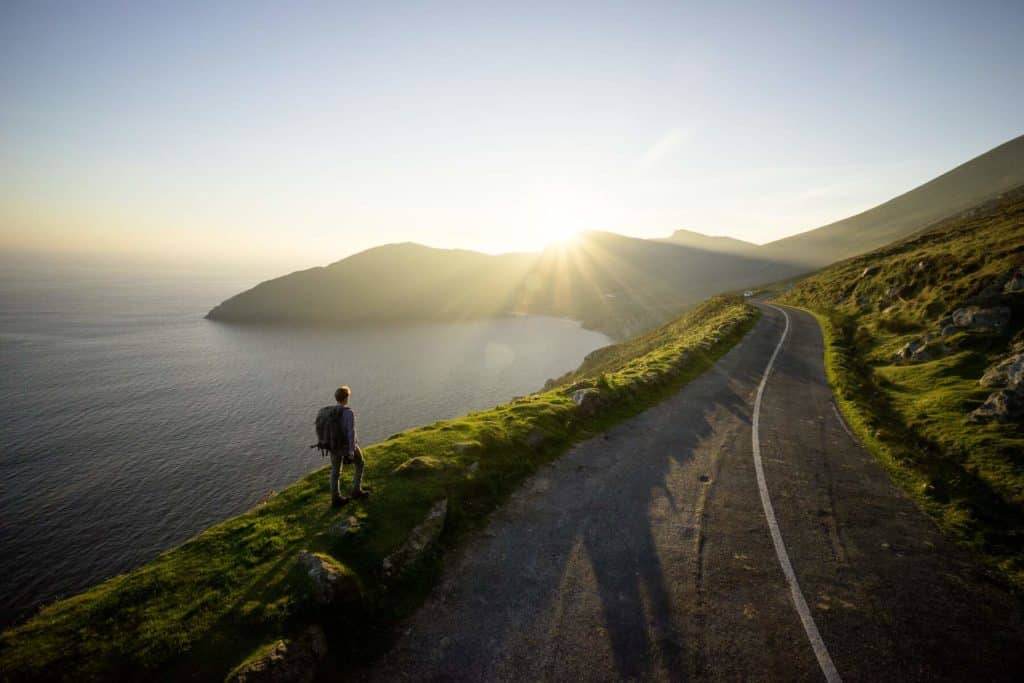 If you are planning on climbing the highest cliffs in Ireland, which are located on Achill and happen to be 3 times the height of the Cliffs of Moher, we have a detailed guide here.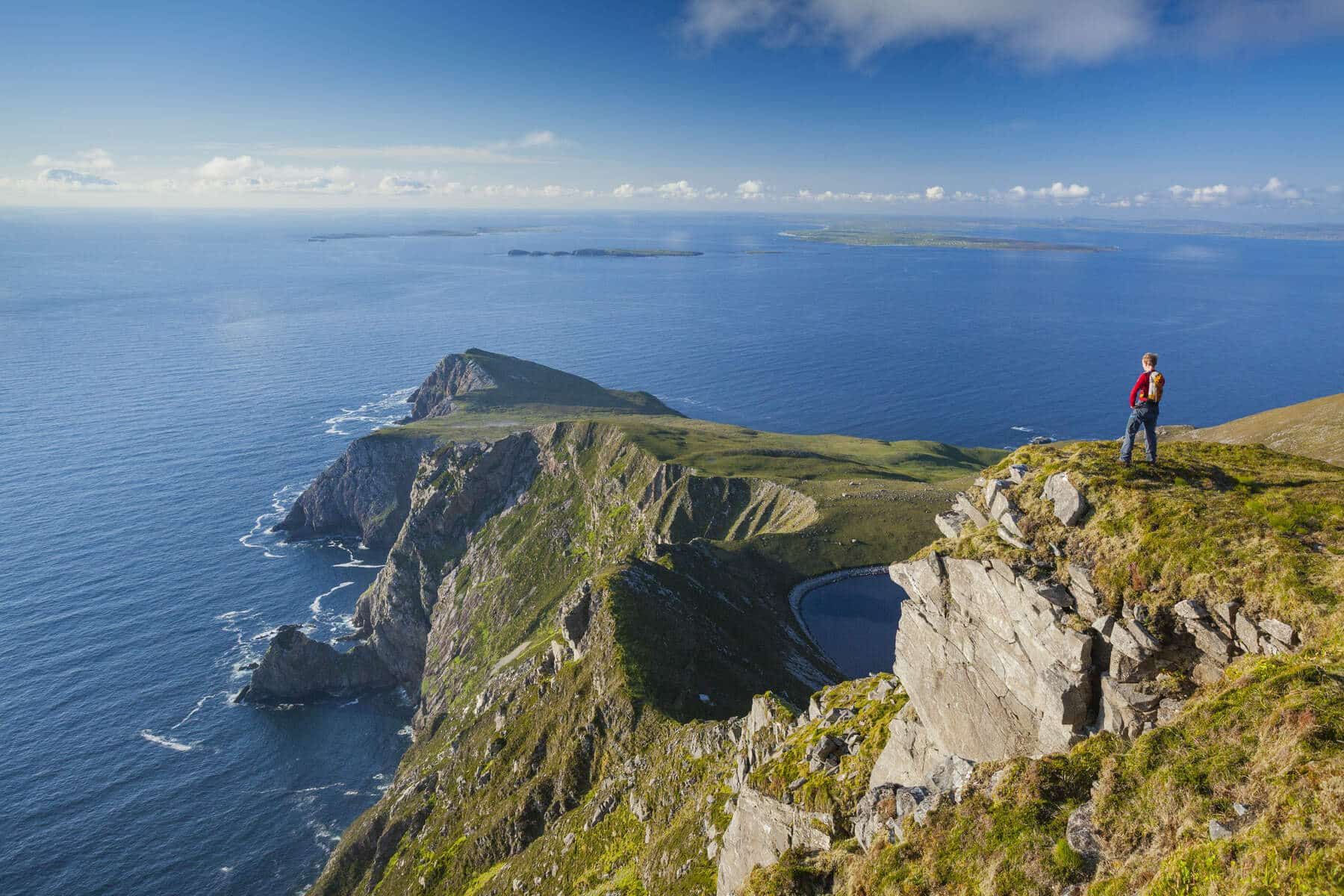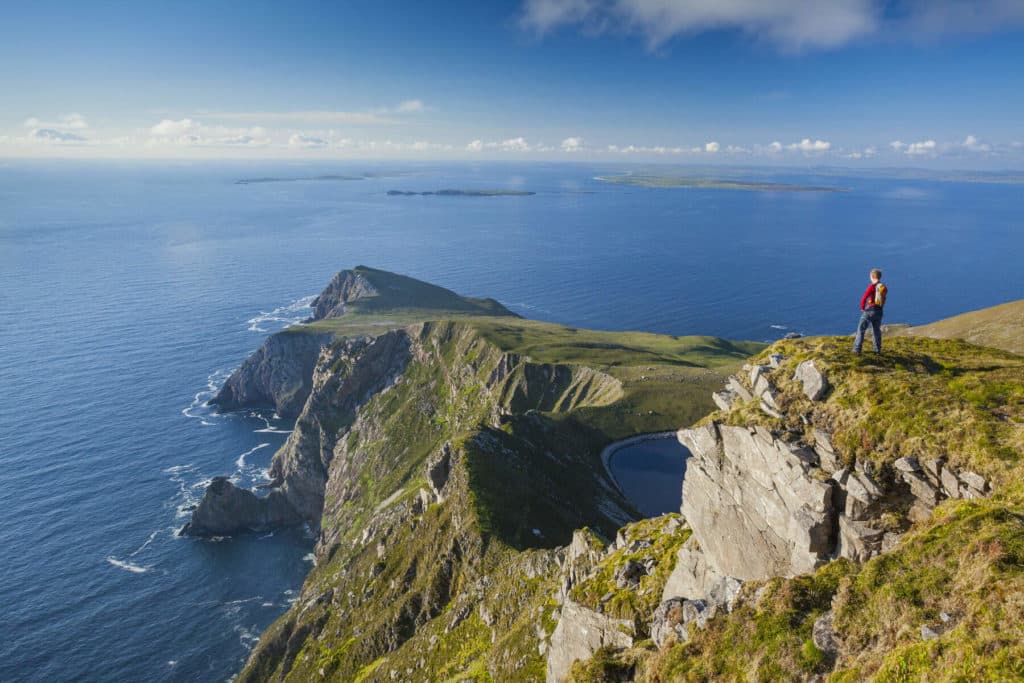 Achill is also home to one of the world's great beaches, Keem Beach. We have a comprehensive guide to Keem Beach on Achill Island here.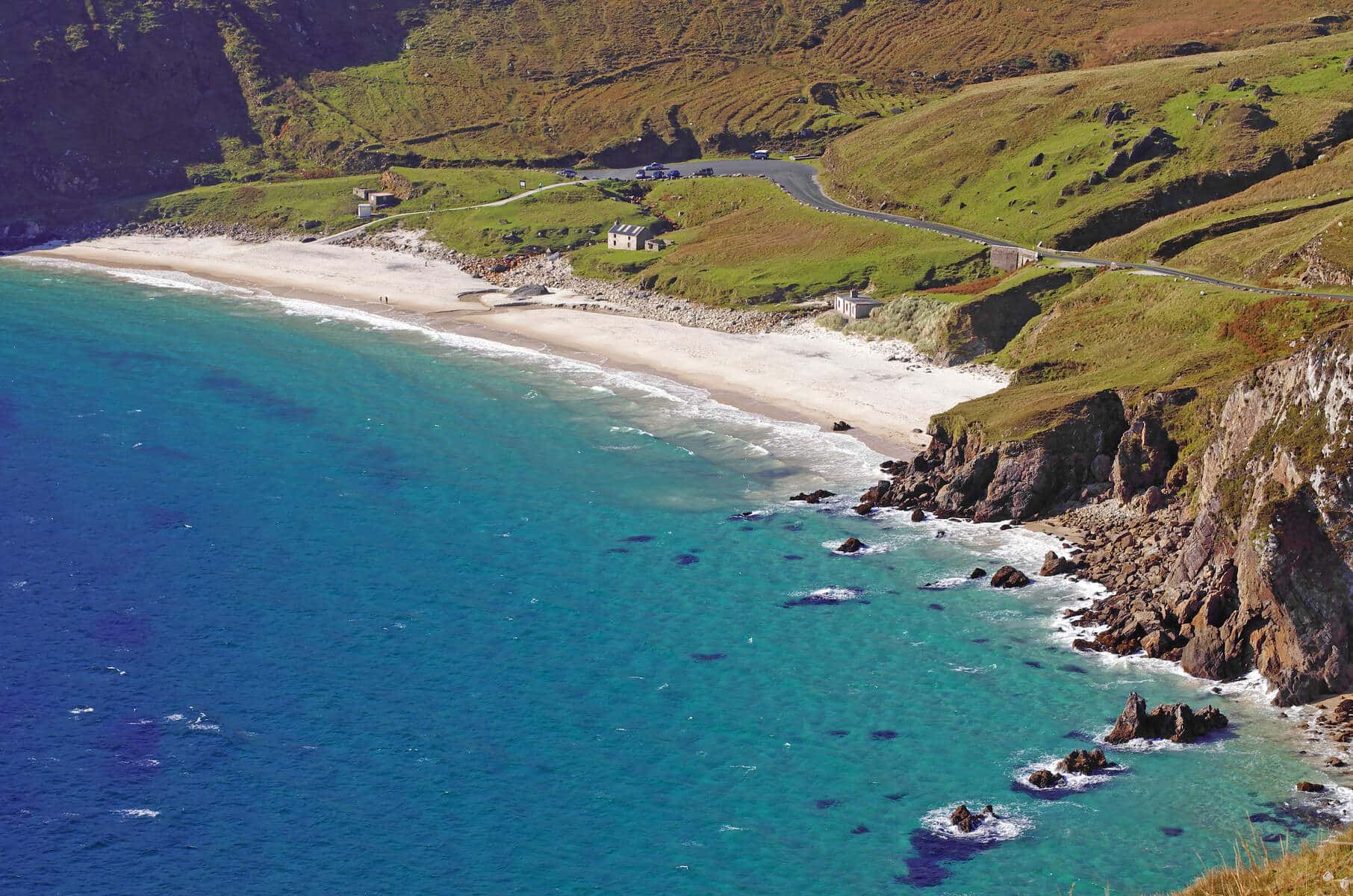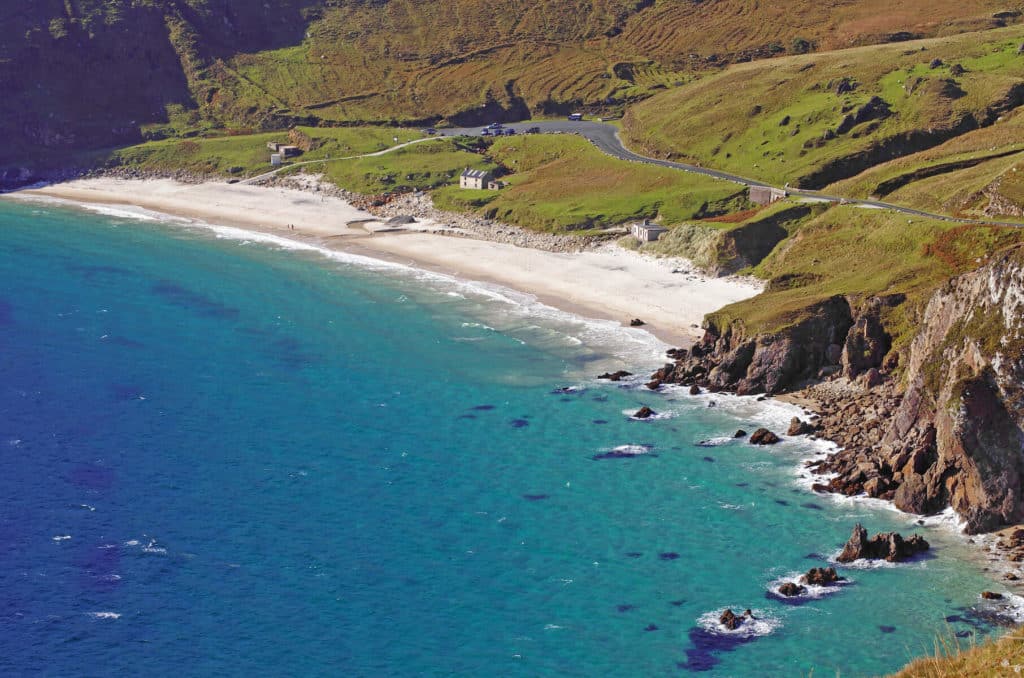 We also have a comprehensive road trip compiled of all filming locations of The Banshees of Inisherin here, which takes in all the highlights of the island.
Drive along the stunning Clew Bay to Louisburgh
Why not jump in your car, or hop on your bike and cycle the beautifully scenic road to Louisburgh from Westport. You'll pass by the iconic peak of Croagh Patrick.
If you are not too keen on climbing it, you can park there and make the small walk to the statue of St. Patrick at the foot of the mountain.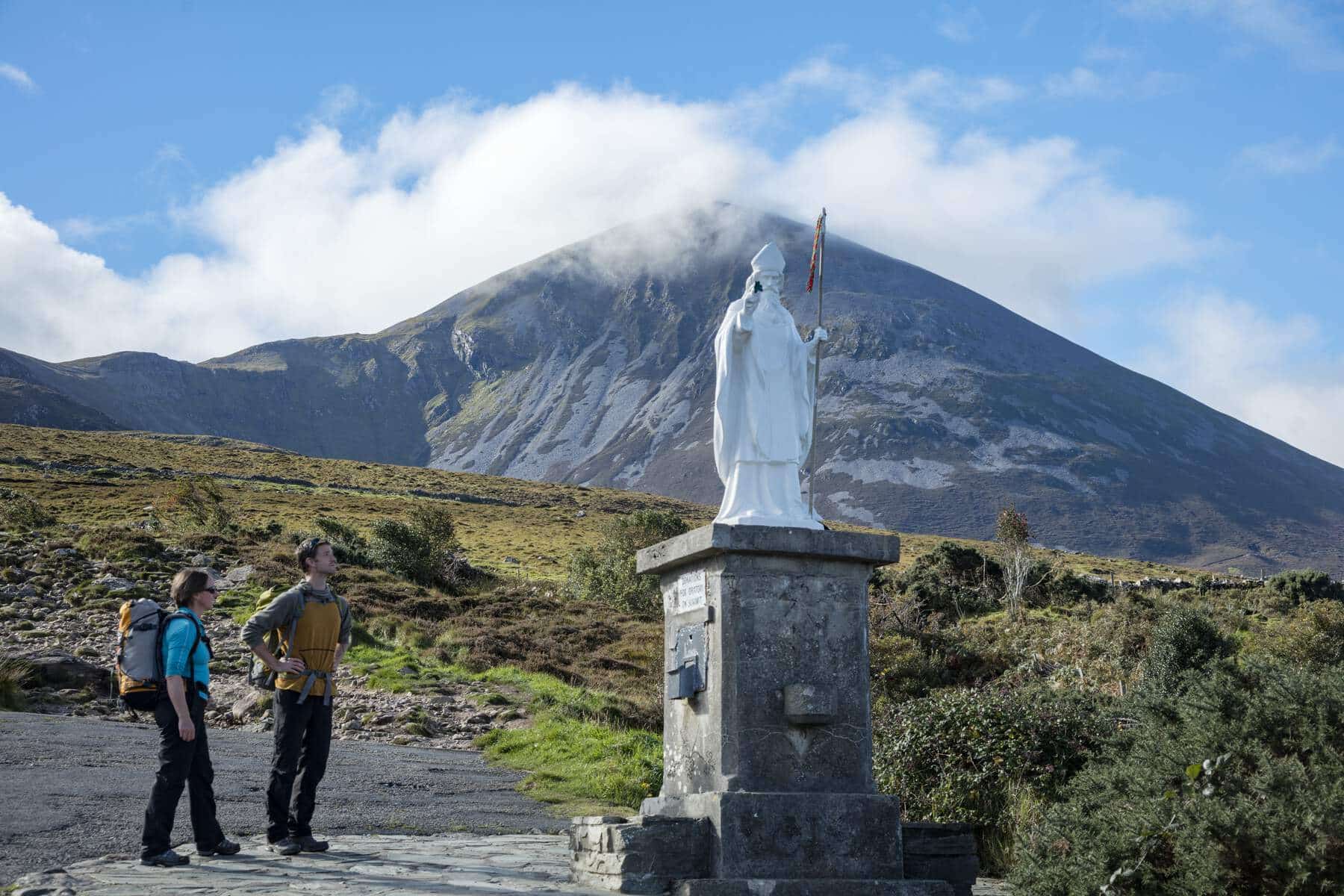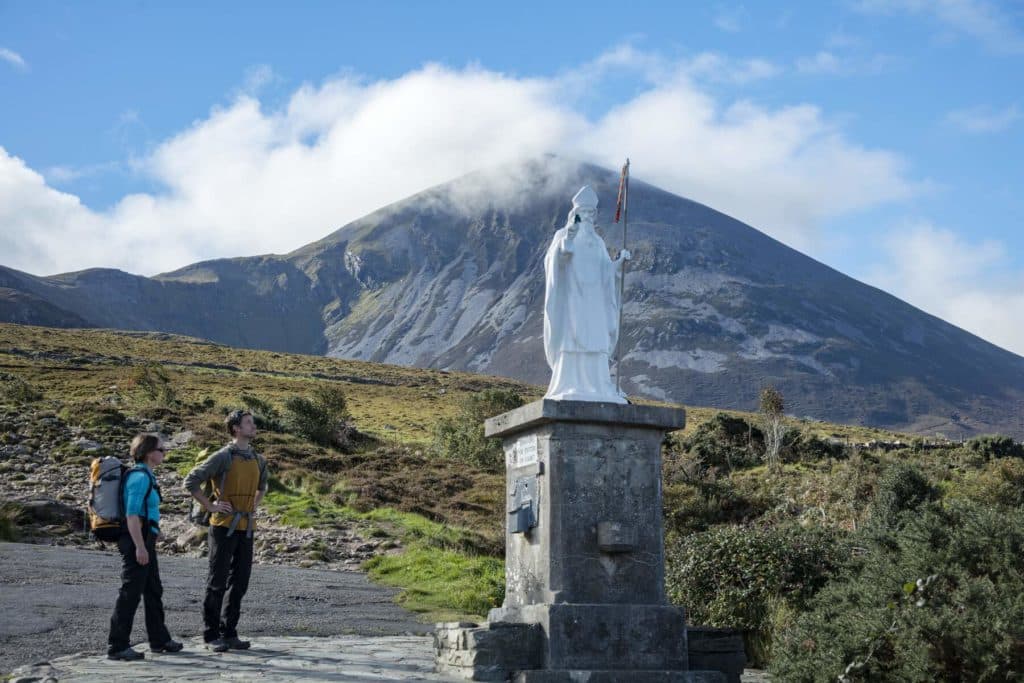 Across the road, you can visit the ruins of Murrisk Abbey, a former Augustinian monastery located on the shores of Clew Bay. While you're there, take in the starkly beautiful National Famine Monument.
Continue at your own pace along this gorgeous stretch of the Wild Atlantic Way to the small town of Louisburgh, where you can have a coffee at 'Louisburgh 74'. Louisburgh, by the way is within short driving distance to some breathtaking beaches, many of which you will find here.
Take in one of Ireland's most scenic and diverse drives.
This is the exact route in question:
You'll be following the route to Louisburgh outlined above along the coast, where you'll experience the magic of Clew Bay.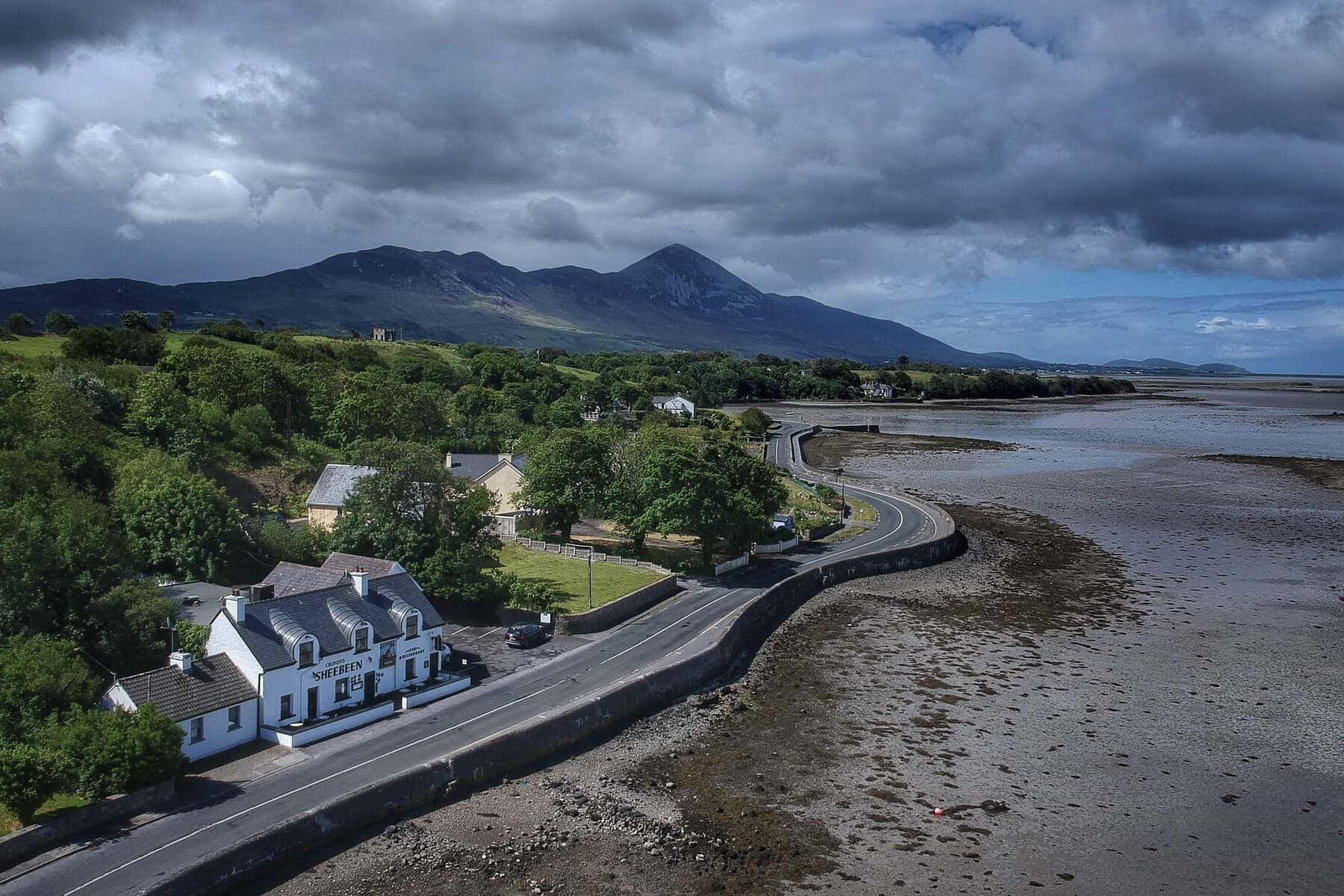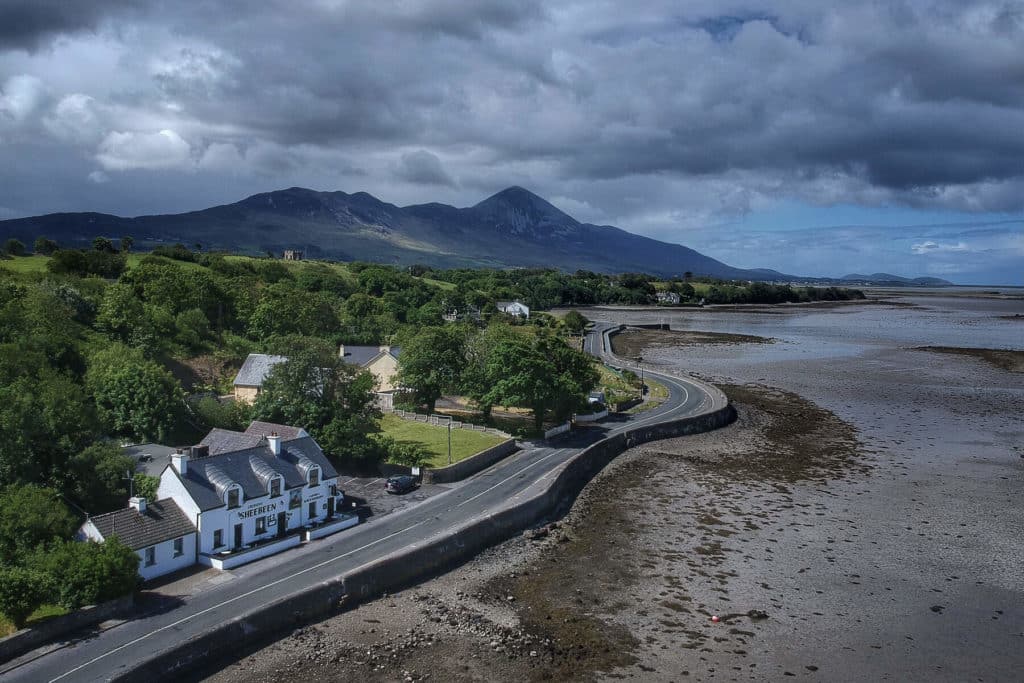 Then you'll be turning inland to experience a totally contrasting landscape: The beautiful Doo Lough Vallay, with its 2 spectacular lakes nestled in an awe-inspiring mountain valley.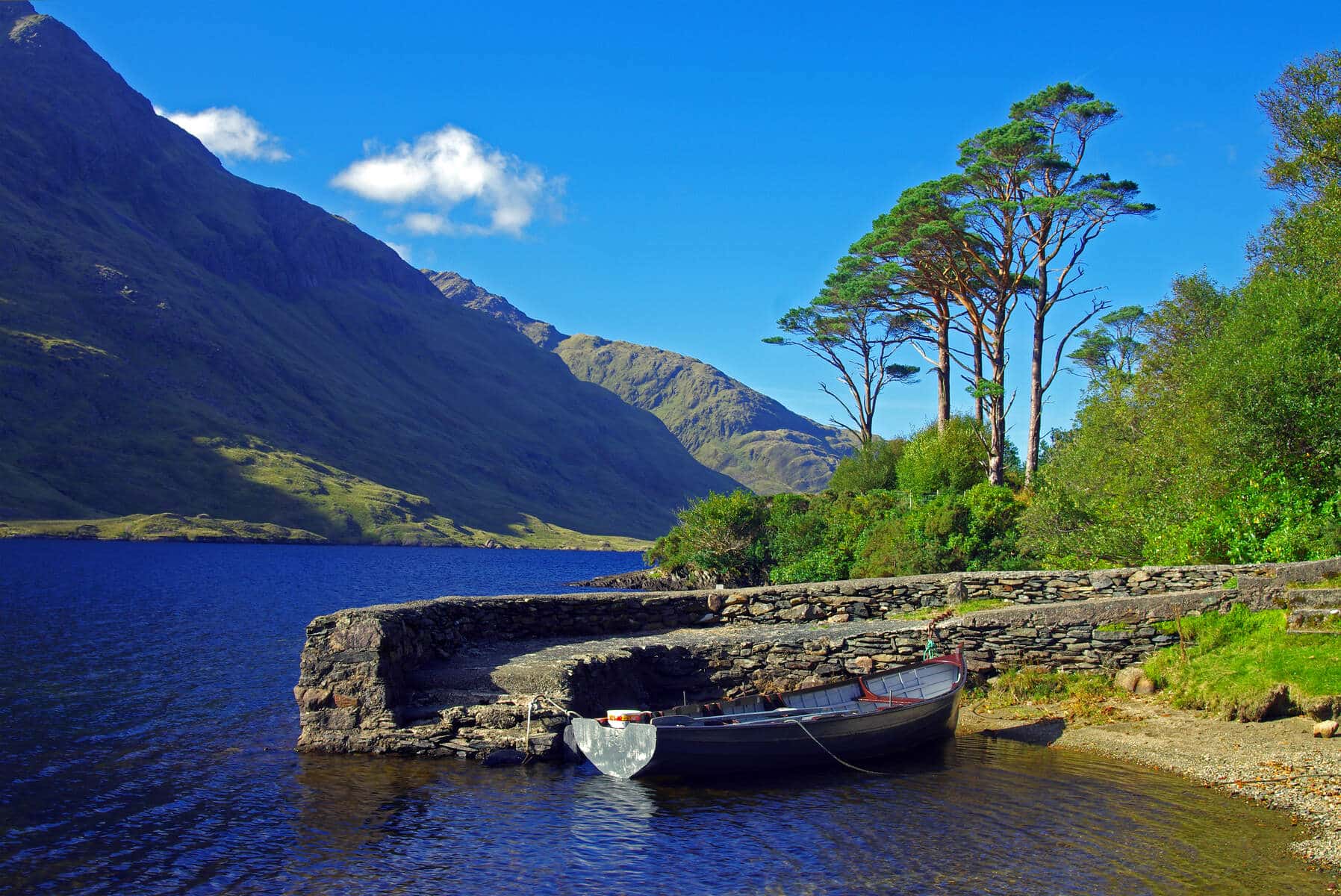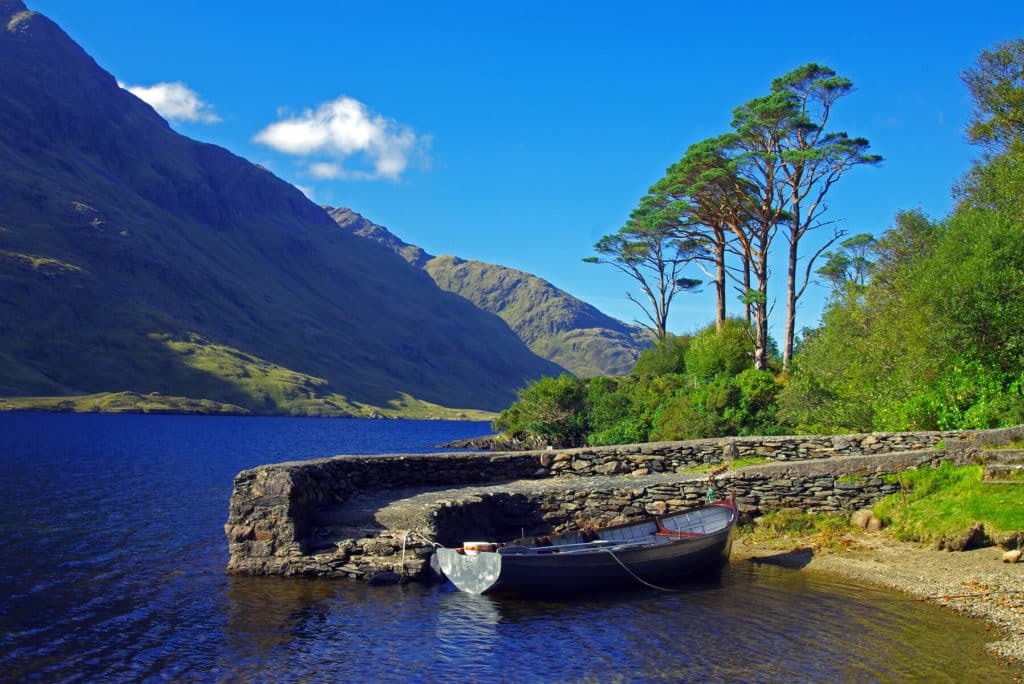 You'll continue on to Leenane, located on Ireland's only fjord, a location also made famous by the classic film: The Quiet Man. Have a break here, grab a bite to eat from one of Ireland's most famous and unique eateries: The Misunderstood Heron.
Then, it's time to take in some more fabulous mountain scenery along the Erriff Valley and back to Westport.
The total drive is only about 2 hours, but you'll be making ample photo stops along the way, so set aside an afternoon here. You could also do the drive in a clockwise direction, with Clew Bay being the last leg of the trip.
Take in Mulranny, Newport and Ballycroy National Park
The two villages of Newport and Mulranny are located along the northern shores of Clew Bay. Newport, with its iconic bridge is a nice spot to grab a bite to eat, here we recommend the fantastic 'Kelly's Kitchen' and 'Grainne Mhaol'
Mulranny is a very picturesque village and is also located along the Great Western Greenway. It's home to 2 amazing beaches, one of which we have listed on our top 15 Mayo beaches.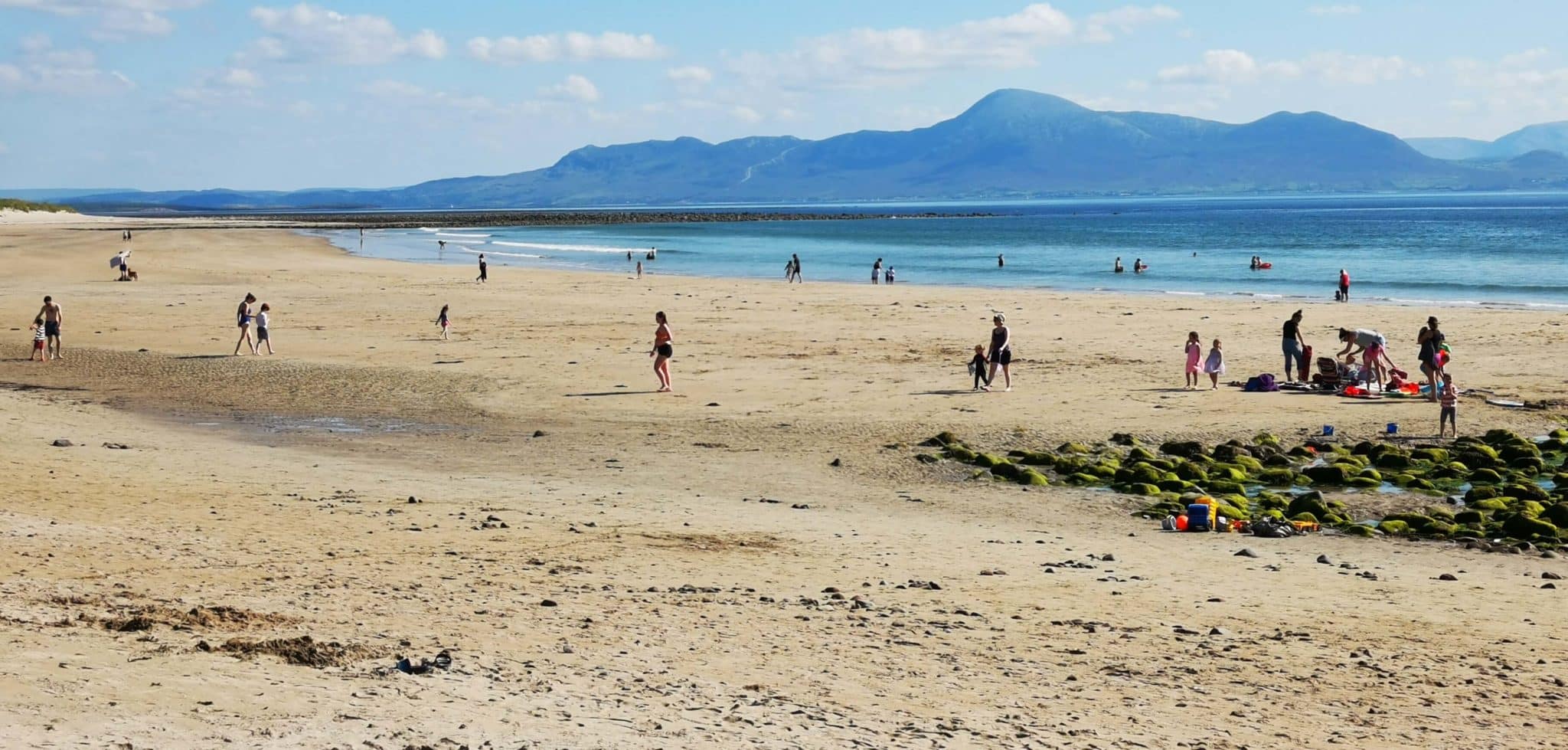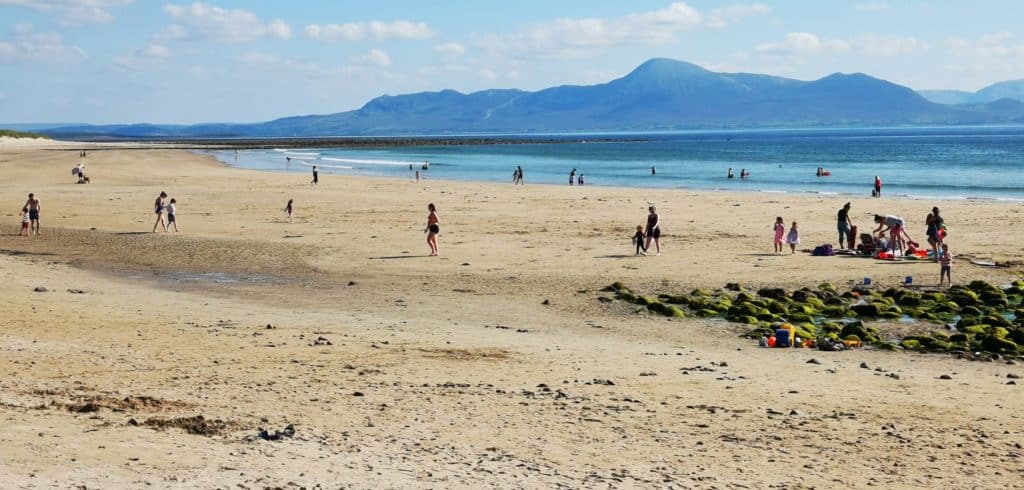 There are some phenomenal views out over Clew Bay from Mulranny and a great walk across the salt marsh along the historical Mulranny Causeway.
About 20 minutes on from Mulranny, you'll find the Wild Nephin National Park Visitor Centre, a very worthwhile trip with some very informative exhibitions.
Wild Nephin is one of few locations which is a 'Gold Tier Certified Dark Sky Park'. On a dark, clear night the skies are illumintated with a million stars and the Milky Way is in clear view.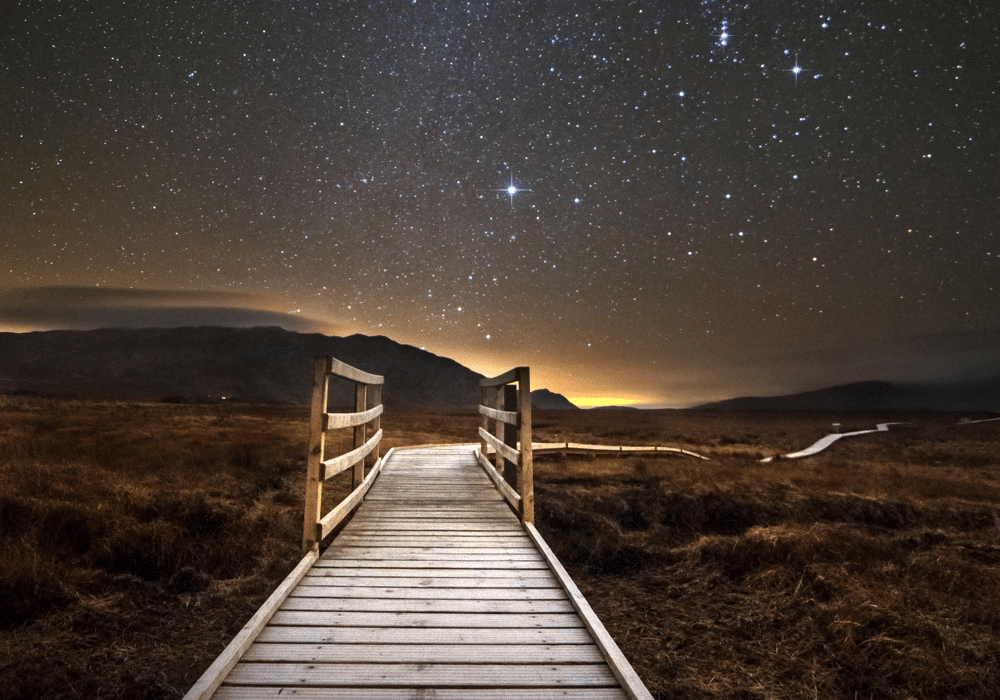 The national park also has some very interesting walks near its visitor centre, many of which are raised wooden paths through the vast open bog landscapes of the region. More details are here.
Update summer 2023: There is a free shuttle bus which runs from Westport to Wild Nephin National Park, details of which are here.
Get the Ferry to Clare Island
Clare Island is well worth a trip, especially for those who just want to get away from it all and experience that quiet, slow pace of life (if only for a day)
Clare Island is a small, rugged island. The island is home to a small community of friendly and welcoming locals, who have a rich history and culture that is deeply rooted in the land and sea.
You may have heard it through the Irish band The Saw Doctors, who immortalized the island in their well-known song.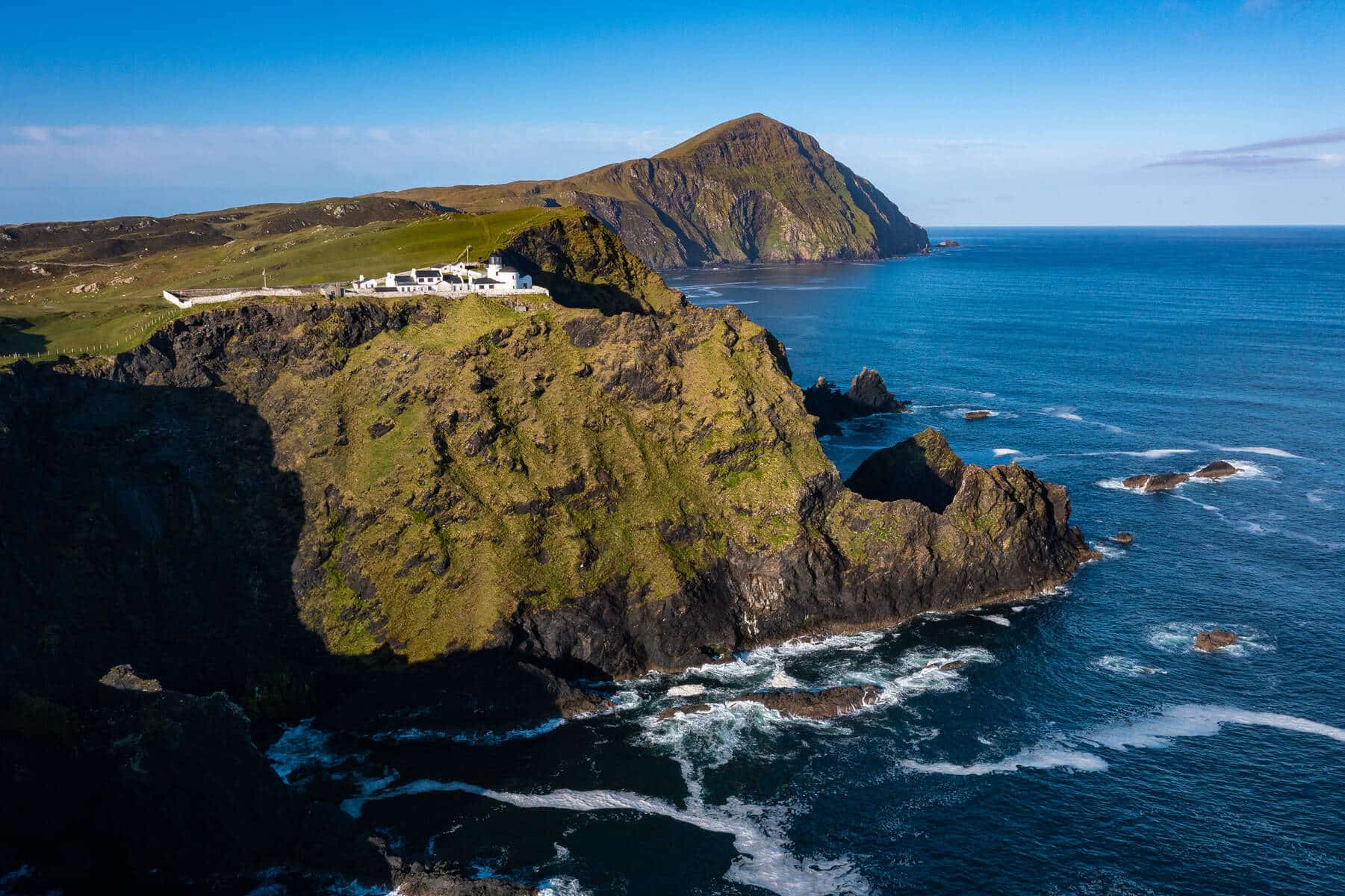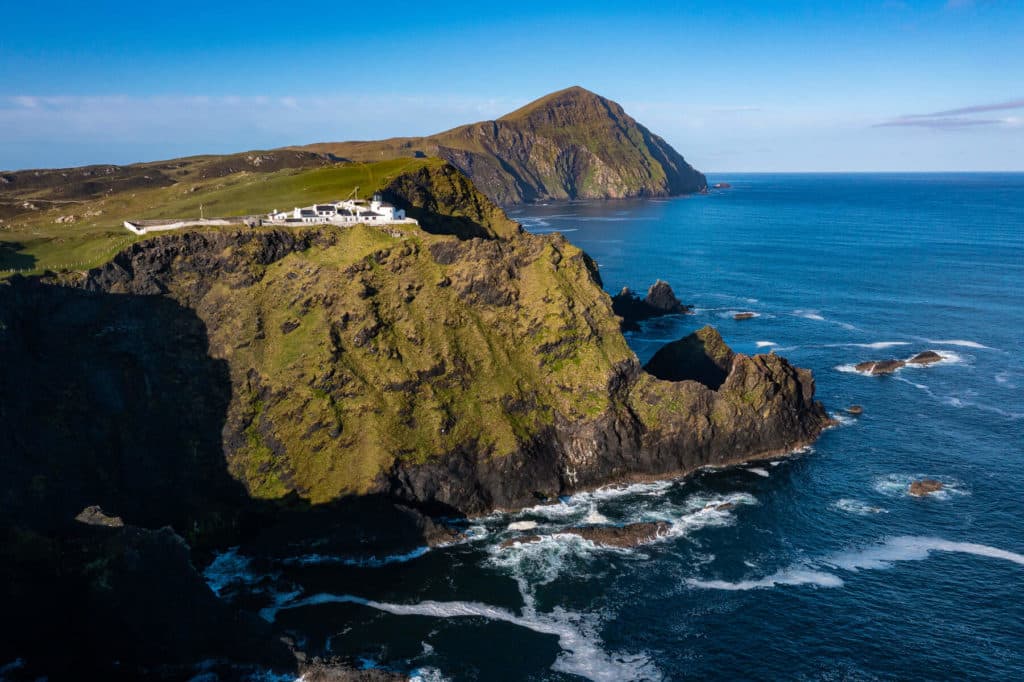 Visitors to Clare Island can enjoy a wide range of outdoor activities, such as hiking, cycling, fishing, and kayaking, or simply relax and soak up the stunning scenery.
The boat leaves from Roonagh Pier, located west of the town of Louisburgh. The ferry crossing is only 20 minutes. Click here for times and details.
Beaches near Westport
Bertra Beach
Another great reason to visit Westport is its close proximity to some great beaches.
The nearest is Bertra Beach, located at the foot of Croagh Patrick, a beautiful sand bar that extends out into Clew Bay.
We have a detailed guide to Berta Beach, which includes details about parking and tides. Click here.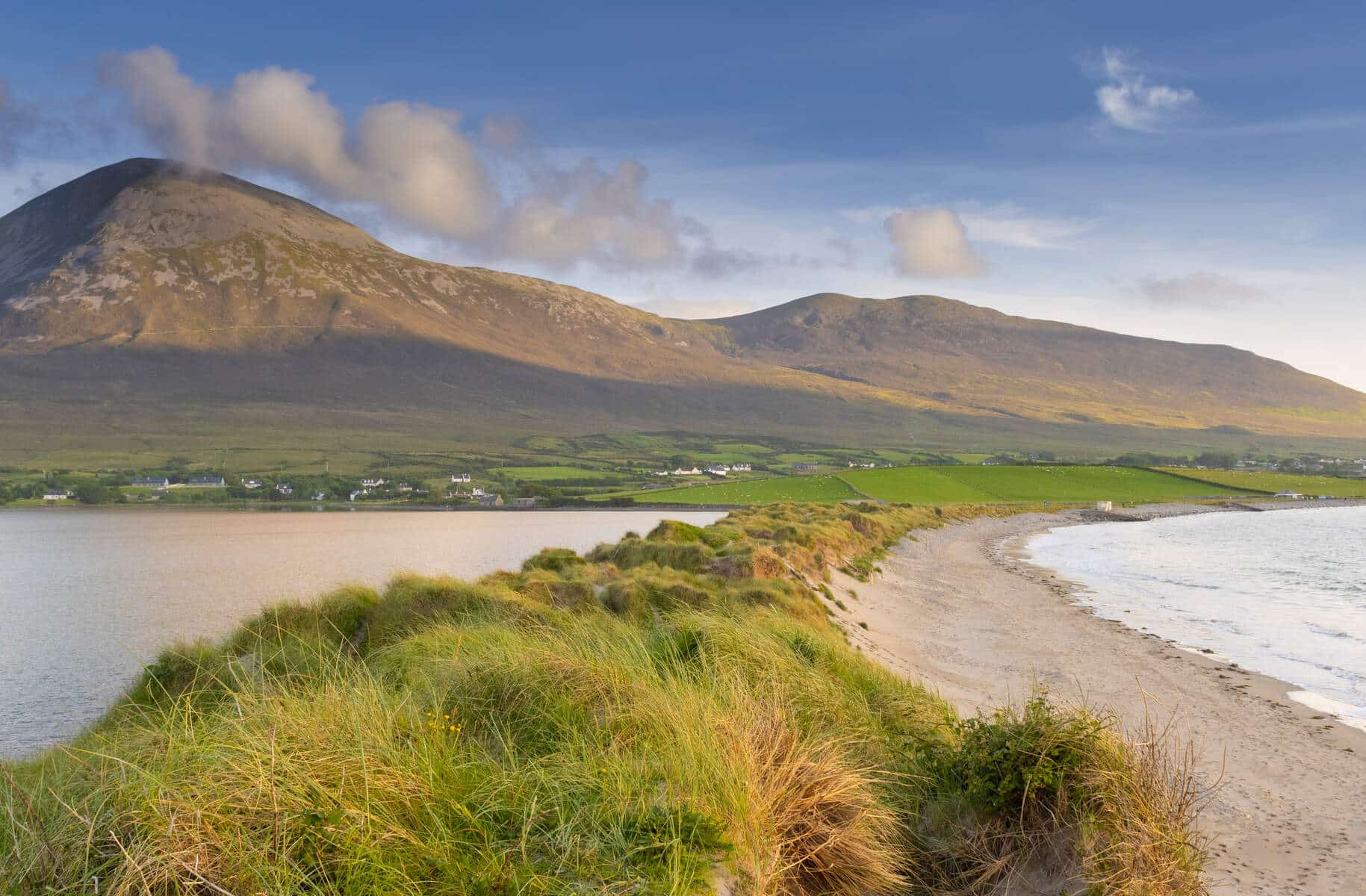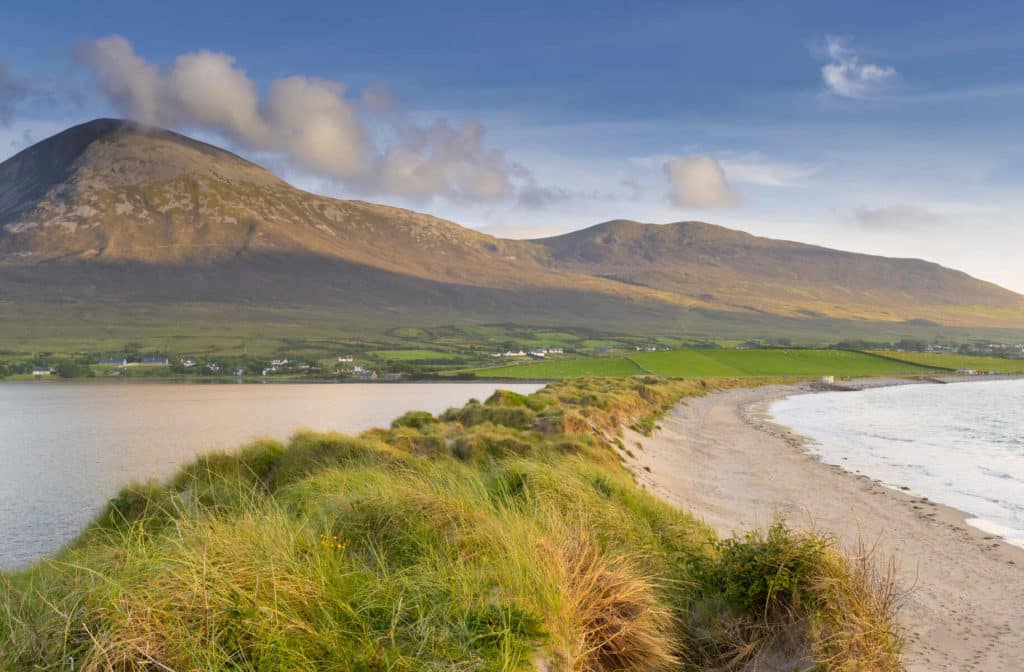 Old Head Beach
Located near Louisburgh, this beach is also a real gem and an ideal beach for kids, due to its sheltered location.
It's also home to some unique forest walks, a sauna and a dedicated SUP company, who operate directly from the beach. We have a comprehensive guide to Old Head Beach here.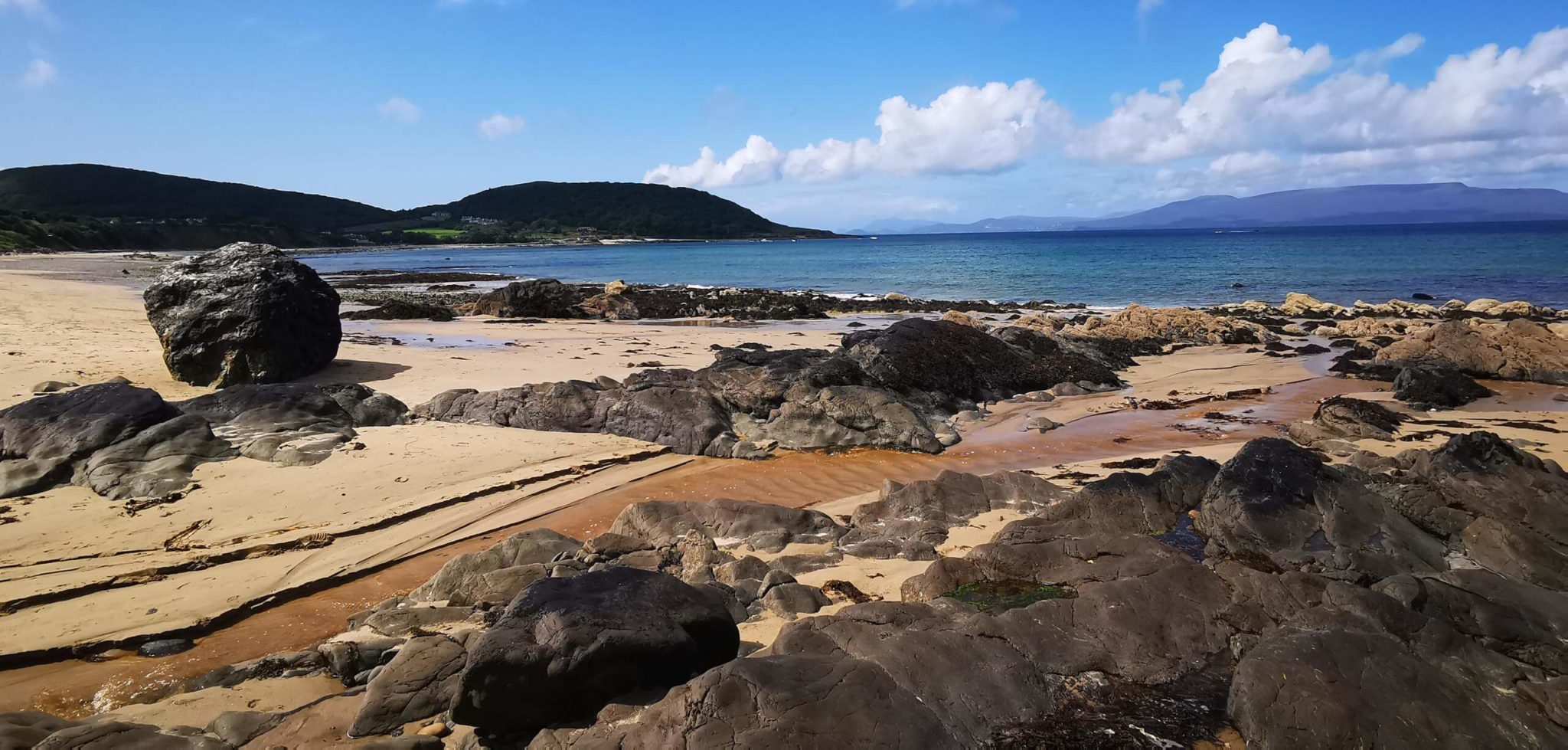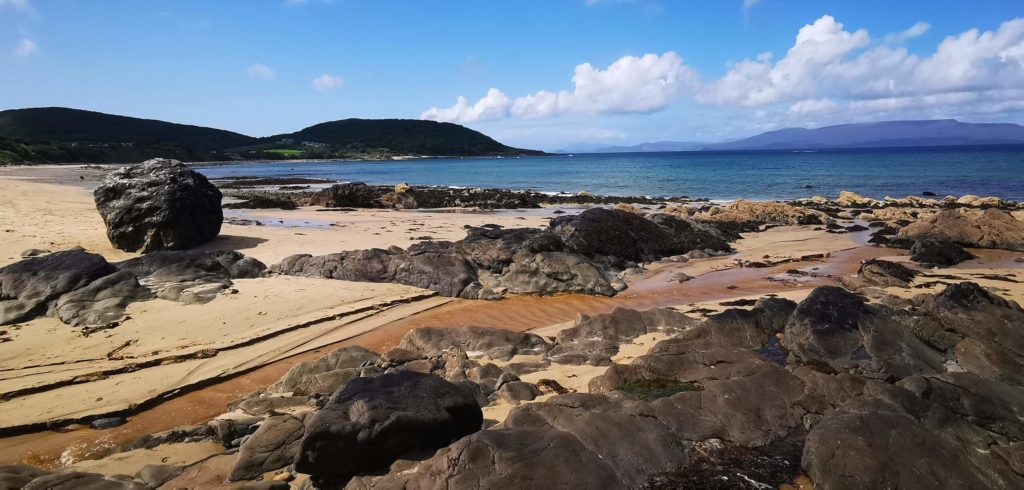 Other beaches near Westport
As mentioned earlier, Mulranny has some great beaches, as does stunning Achill Island, such as the enormous Keel and breathtaking Keem.
There are tons of brilliant beaches near Louisburgh too, all of which are listed here.
Best Restaurants in Westport
I'm always wary of posts which claim to know the best 10 restaurants in a certain place. All I can do here is give you my honest opinion on what I believe to be the best restaurants in the town.
All of these places I have visited multiple times, so here is my list of the best restaurants in Westport:
The Helm
A go-to for many who visit Westport, this restaurant is located on the Quays, an area located slightly outside the main town.
Let this not put you off though. They serve some incredible dishes, my own personal favourites being the crab starter and the catch of the day.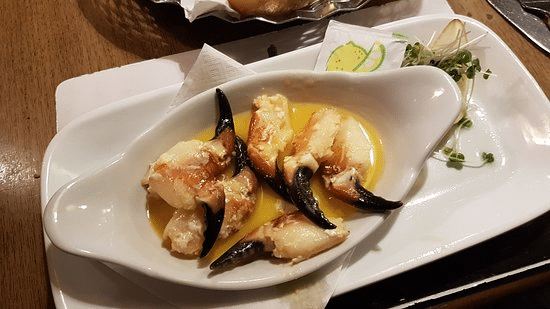 They also have a big and varied menu to satisfy all needs.
The Towers
Located also at the Quays, this relatively recently renovated restaurant is excellent.
In summer, it's a hive of activity with a brilliant beer garden right along the waterfront, with Croagh Patrick's pyramid peak towering over Clew Bay
Indside is very tasteful too, with a nice relaxing marine theme. Tip: Go for the Calamari starter with chilli: unreal!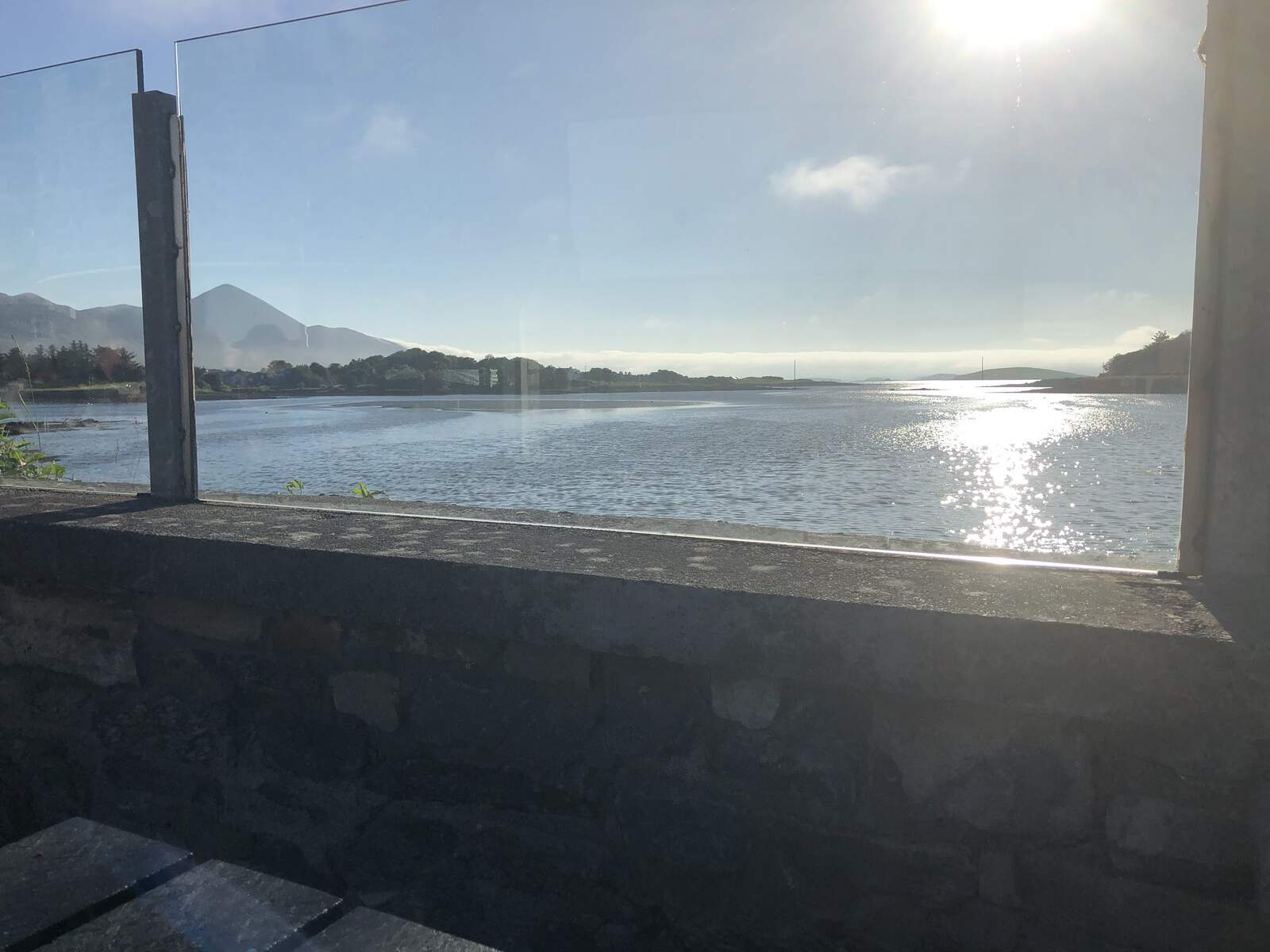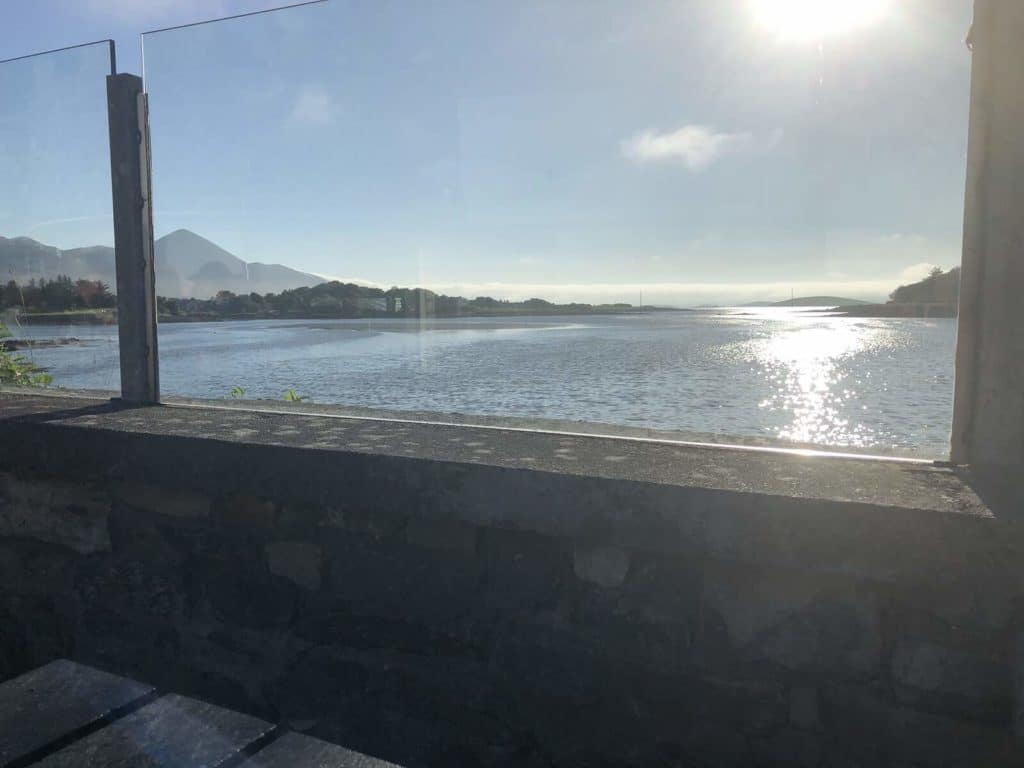 An Port Mor
A multi-award winning restaurant located in the town, this place needs little introduction.
The restuarant prides itself on making the very best dishes out of the very best local produce. It's a restaurant for special occassions, making it quite pricey. But, then again you're on holidays so why not?!
It's highly advisable to book in advance, as the restaurant is quite small and is always in high demand.
The Pantry & Corkscrew
Located in the town centre, this restuarant is also one that's in high demand.
In the same vein as An Port Mor, this eatery prides itself on local organic cuisine. Their menu ranges from venison to veggie bhajis and booking is also essential here.
As of March 2023, this is one of the highest rated restaurants in all of Westport, which is saying something considering the standard of restaurants in the town.
Arno's
Having visited Arno's last summer, I have to say I was impressed. The rib-eye special was perfectly charred and the asparagus side added something special. The mussels were not what I expected, but in a very good way, the lemongrass went incredibly well with them.
The restaurant is also quite small and booking in advance on weekends and in summer is essential.
The Irish-French culinary influences can be clearly noticed here and it all adds up to a brilliant culinary experience.
Where To Stay in Westport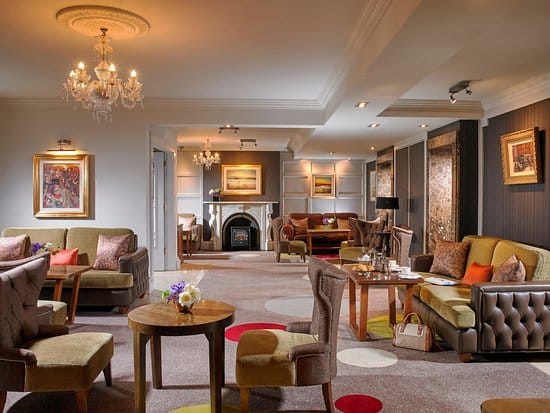 Luckily, Westport has a wide variety of hotels. Many of these are booked out well before the summer months, but you may get lucky and get a room midweek.
Without going into too much detail, we have a comprehensive post which deals with our list of the best in Westport (from budget to luxury) We have also stayed in (almost) all of them, so our opinion is based on first-hand experience. Click here for more details or have a look below at our summary:
Best Budget Hotels: The Mariner, Clew Bay Hotel
Best Mid-range: Castlecourt, Westport Plaza, Atlantic Coast
Best Luxury: Knockranny House Hotel
Best for Countryside Location: Westport Country Lodge
Best Hostel: The Old Mill Hostel
We have also put together a list of the best cheaper options available in Westport. This guide is here
Final Thoughts
As you may have gathered, we reckon Westport is a cracking little town which offers a proverbial mountain of things to do, from the great outdoors, to some great pints of Guinness and equally great food.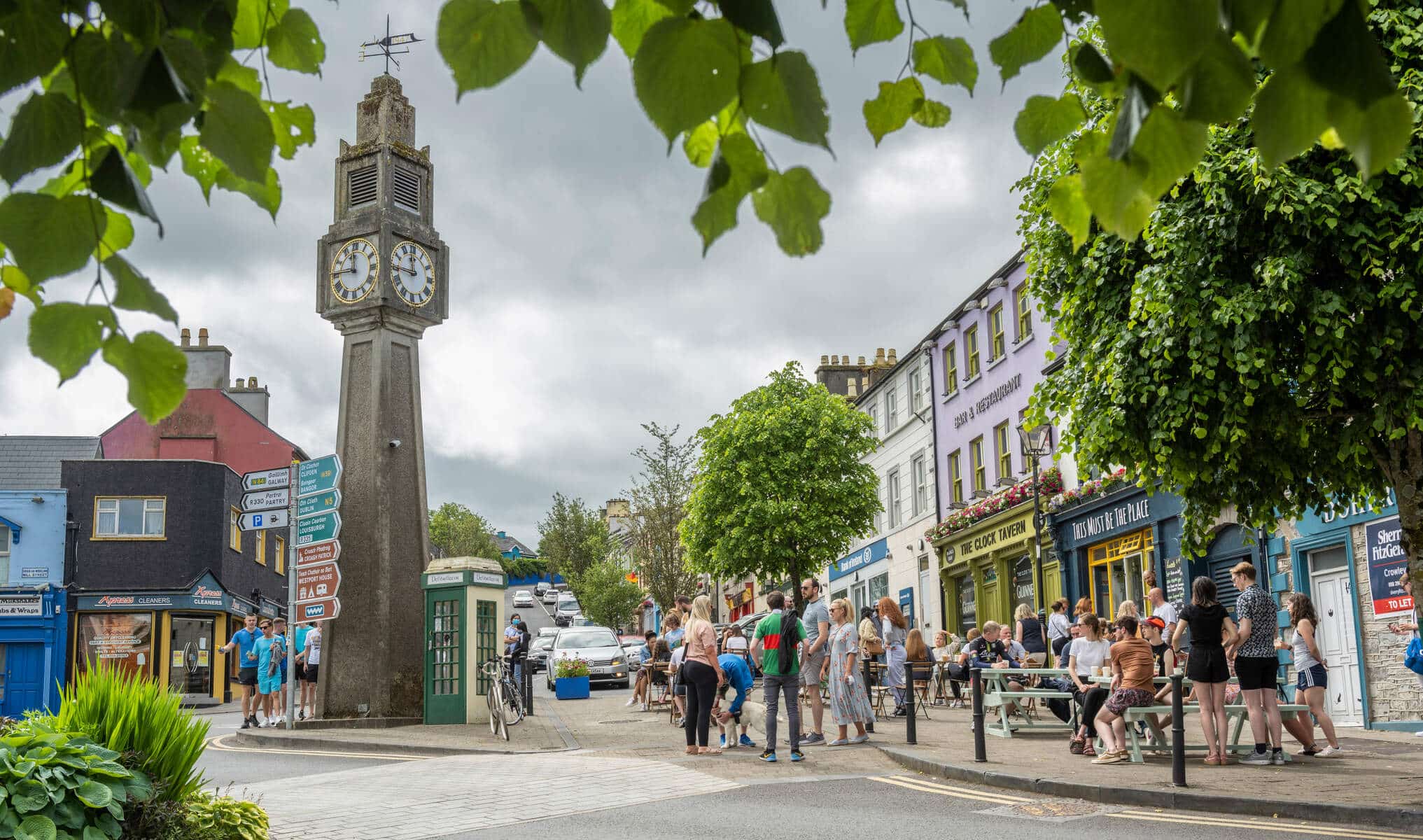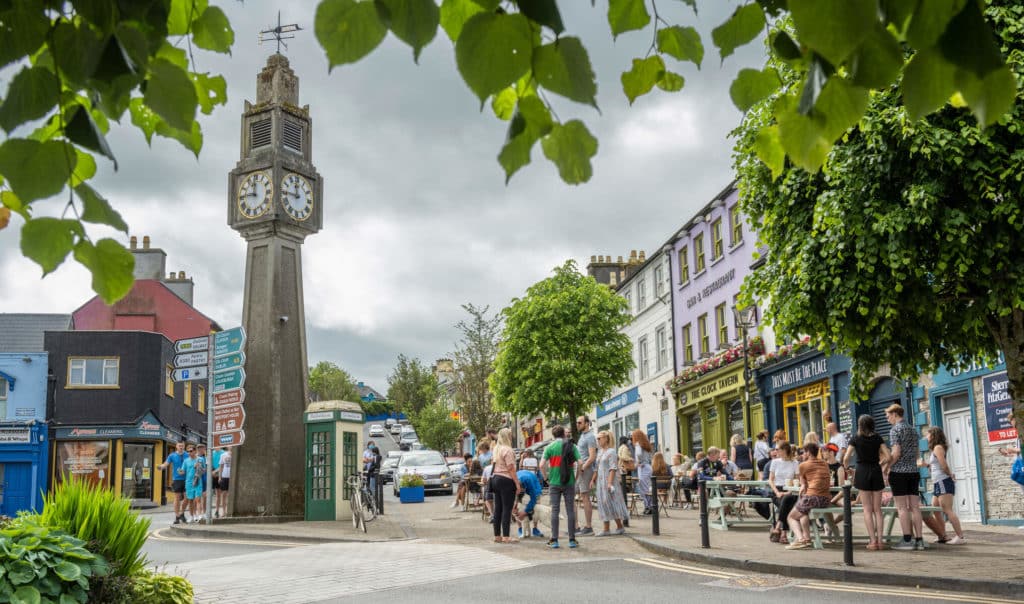 Using the town as a base to take in some of the best landscapes Ireland has to offer makes Westport a fantastic place to visit on your trip to Ireland.
Added to that, the new road will make the driving time from Dublin even shorter. Packing your hiking shoes yet?
By the way, this post will also give you an insight into so many more indoor activities you can avail of in the town, such as visiting the Town Theatre or Clew Bay Heritage Centre.
Also, Achill Island, which is only an hour away, was chosen as one of the principal filming locations of The Banshees of Inisherin. Why not tackle our road trip, which takes in all these locations?
We'd be delighted to help you with any queries you may have regarding Westport, as we know the town well. Drop us a line or leave a comment below. Do you have plans to visit?