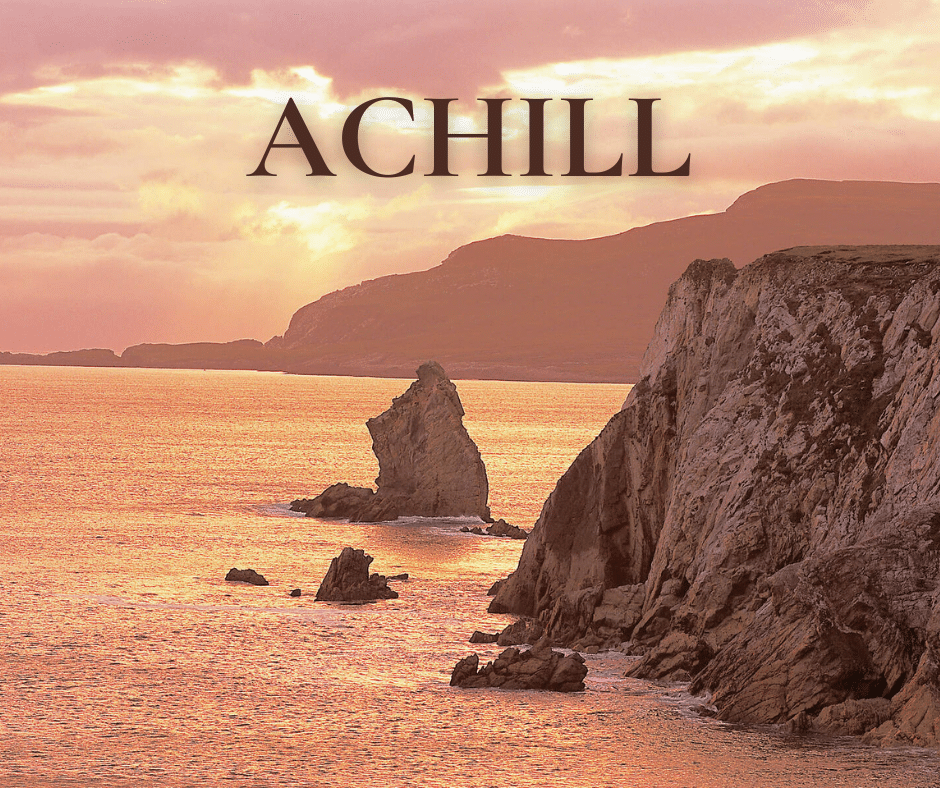 There's one place that offers some of the most spectacular scenery you are likely to see anywhere. Achill Island, County Mayo, offers the visitor an amazing amount of things to do and see, especially if you are an outdoor enthusiast.
But, don't worry if you are not! There are plenty of other things to do on Achill, like the stunning Atlantic Drive, Minaun Heights and so much more… This post is going to show you 17 amazing things to do on Achill Island.
Achill What? I haven't seen it on any guide book…
The landscapes here are awe-inspiring, and worthy of the front cover of any Ireland travel guide. From almost 700 metre cliffs to world-renowned beaches, you'll be spoilt for choice. But you may be asking yourself, 'How come I never heard of the place?!'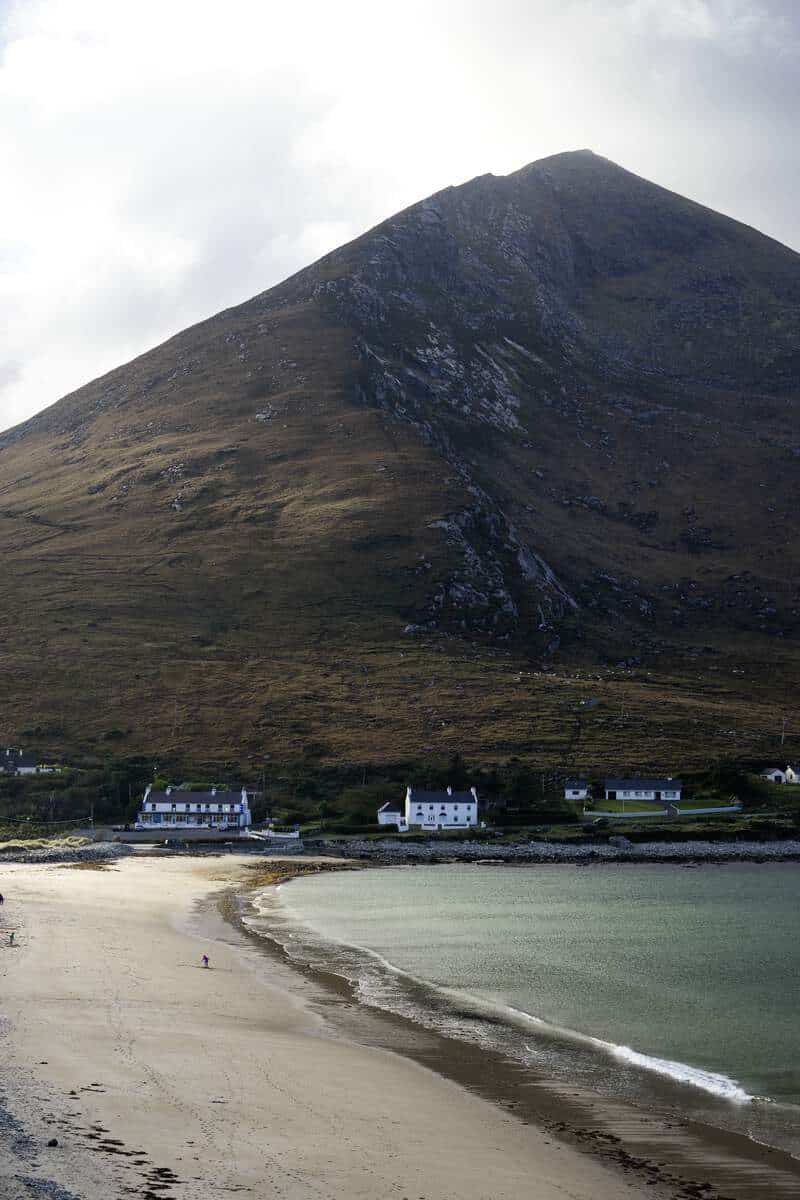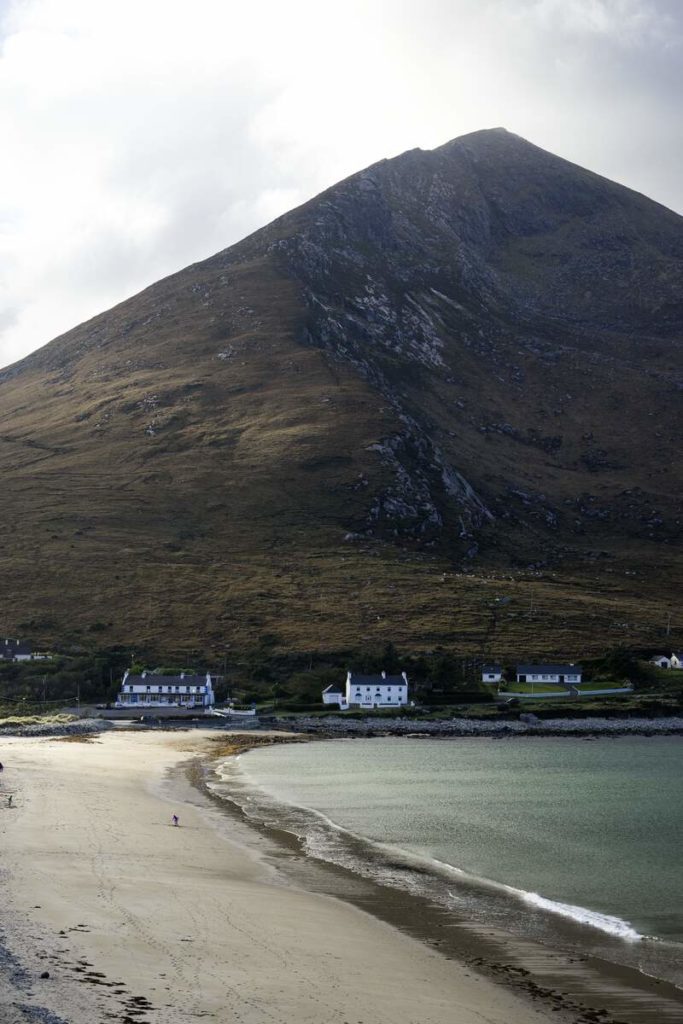 Traditionally, most guests who visit the Emerald Isle will spend a few days in Dublin, then make their way either southwest towards Kerry, followed by Galway and then ultimately back to Dublin. Sadly, areas such as Donegal, Sligo, Mayo (to name but a few counties) are often overlooked in guidebooks, which is a great pity.
There are some real hidden gems in these areas, and Achill Island is well up there with the best of them.
Why Visit Achill Island?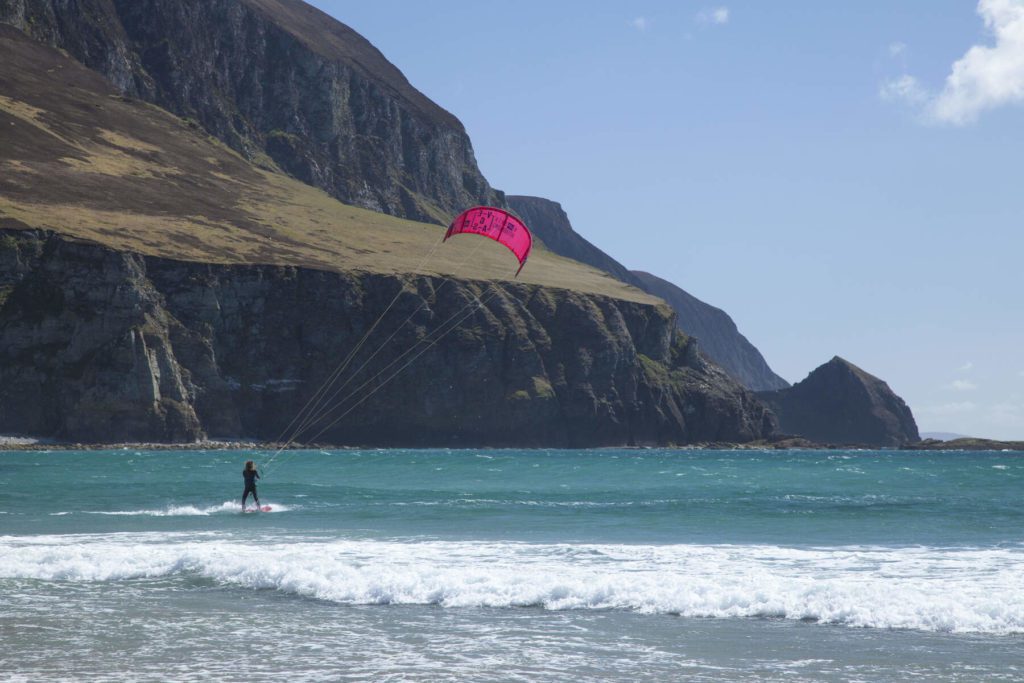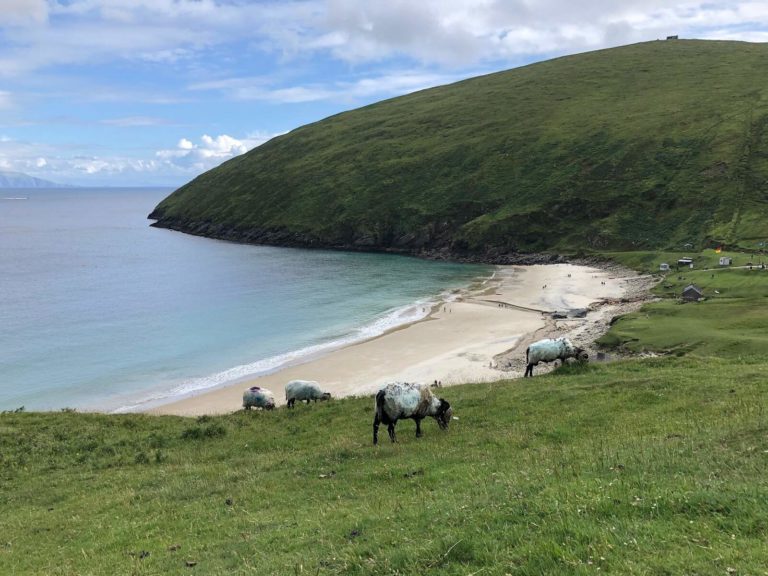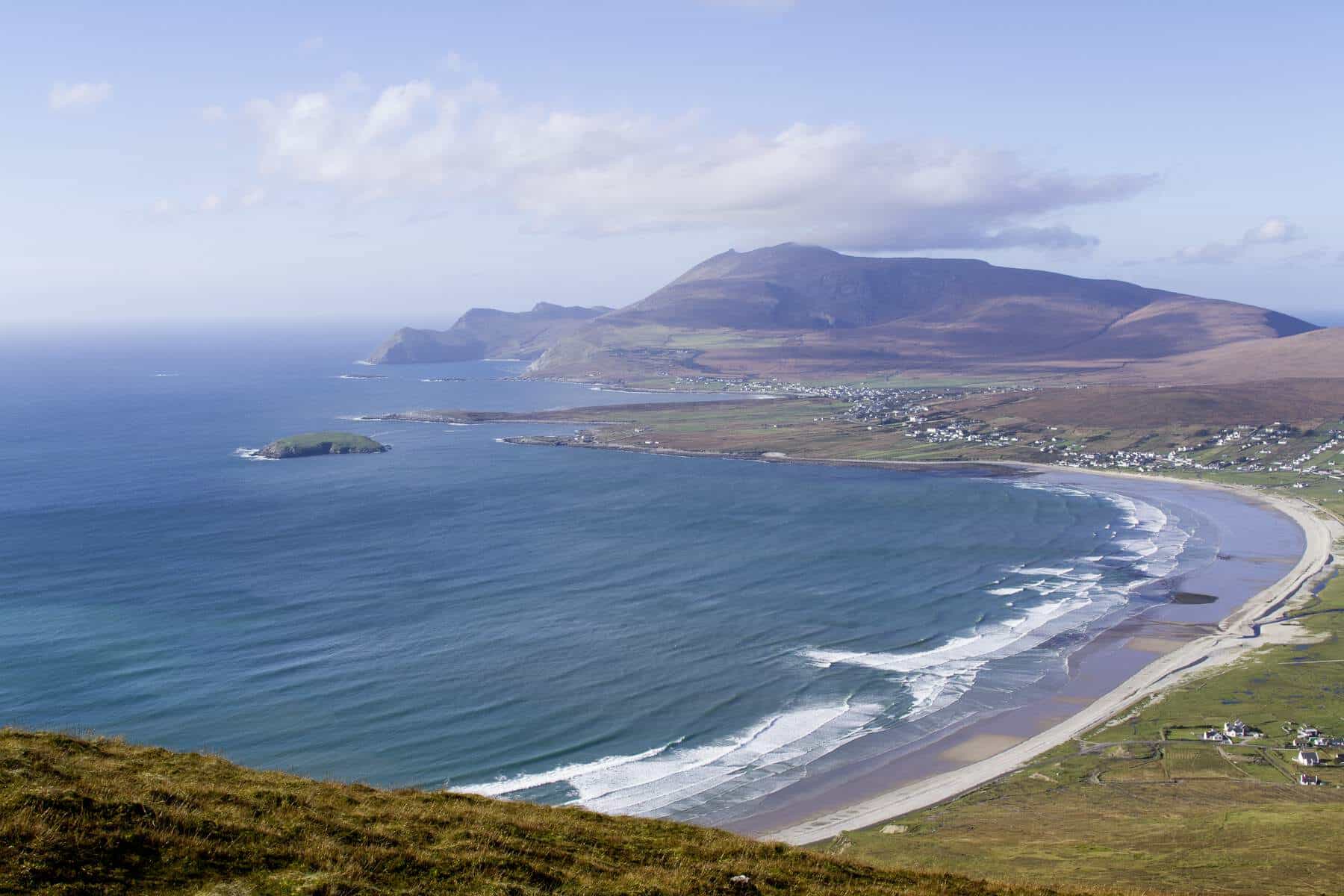 images via Failte Ireland/Courtesy Gareth McCormack
1) As mentioned already, outdoor enthusiasts will love Achill. Some activities on offer include kite surfing, surfing, windsurfing, kayaking, canoeing, paddle boarding, fishing, golf, hiking, cliff walking, swimming, walking, cycling, horse-riding and plenty more.
2) Awe-inspiring landscapes. Endless enormous cliffs, long stretches of golden sands, vast tracts of open land, all photobombed by the thousands of free-roaming sheep, make this place uniquely Irish.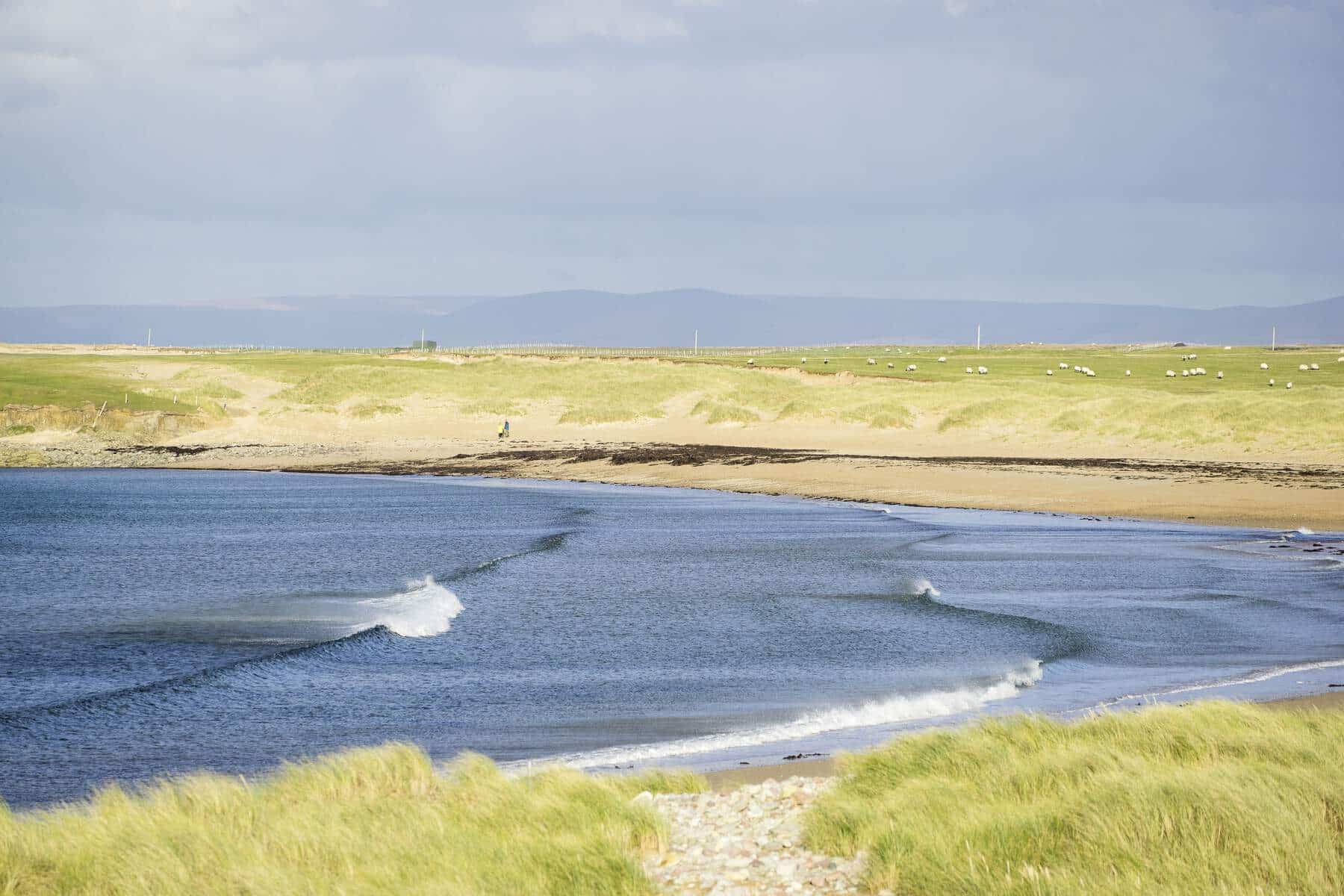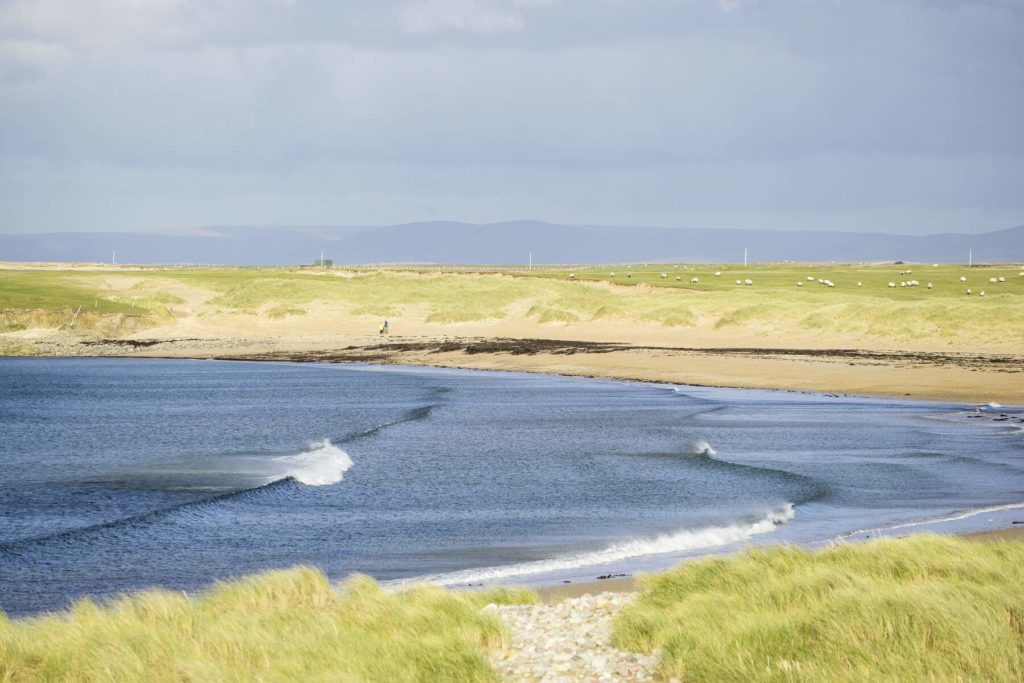 3) To fulfil that desire to escape the hectic world we live in today. Standing on top of a cliff at Achill Head will make you feel quite insignificant in Mother Nature's eyes, but that's a good thing. We all know how important it is to get away from the rat-race, and Achill offers this sense of freedom and clarity in spades.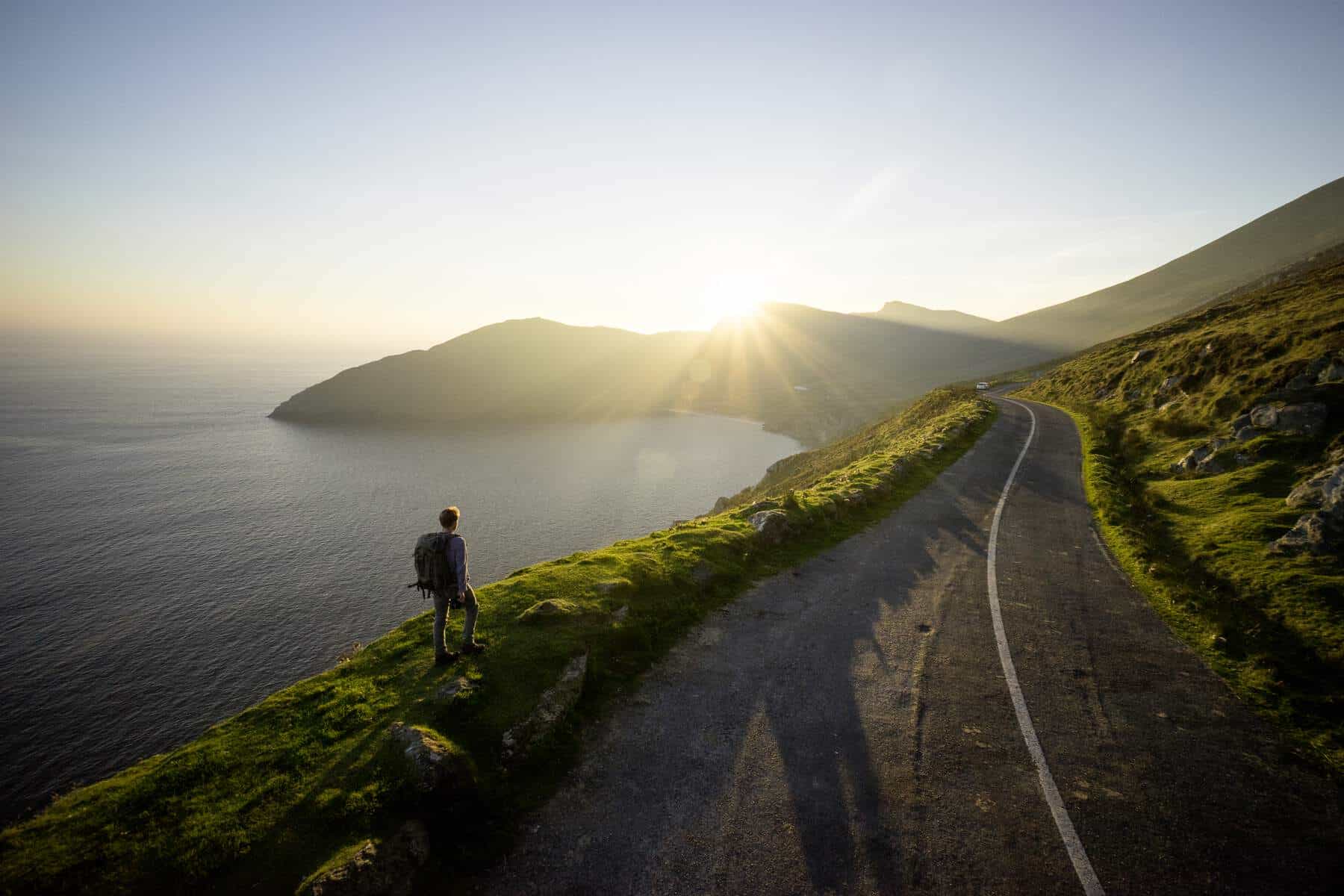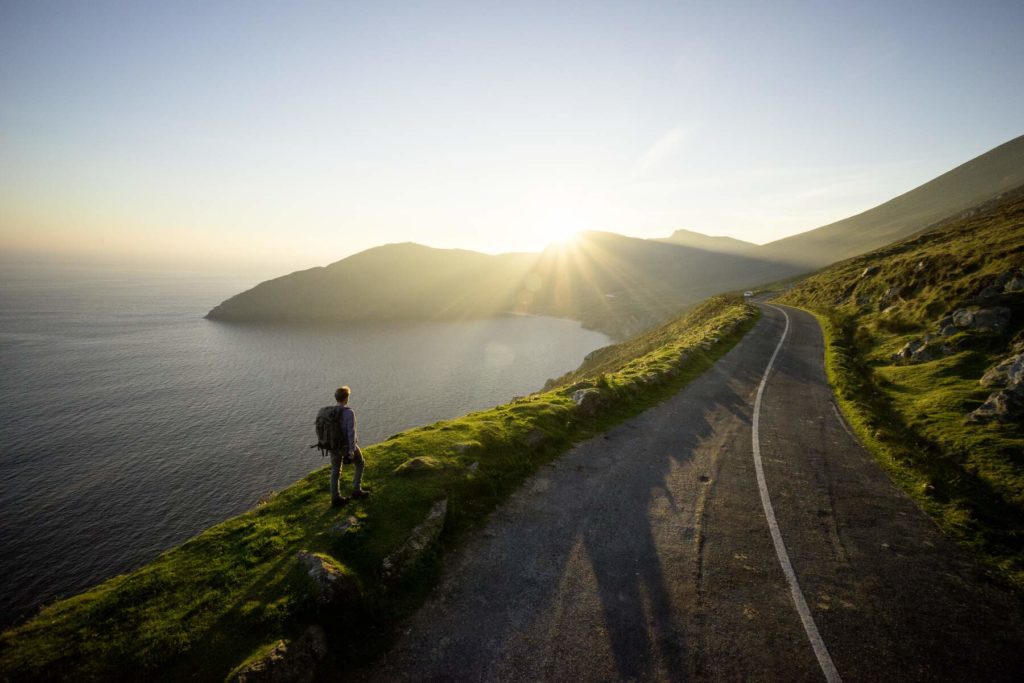 4) You are a painter or a photographer, or maybe a drone enthusiast. The endless coastal and mountain vistas on Achill Island will be right up your alley. The ever-changing light of the west coast of Ireland is a huge draw for many photographers and artists alike.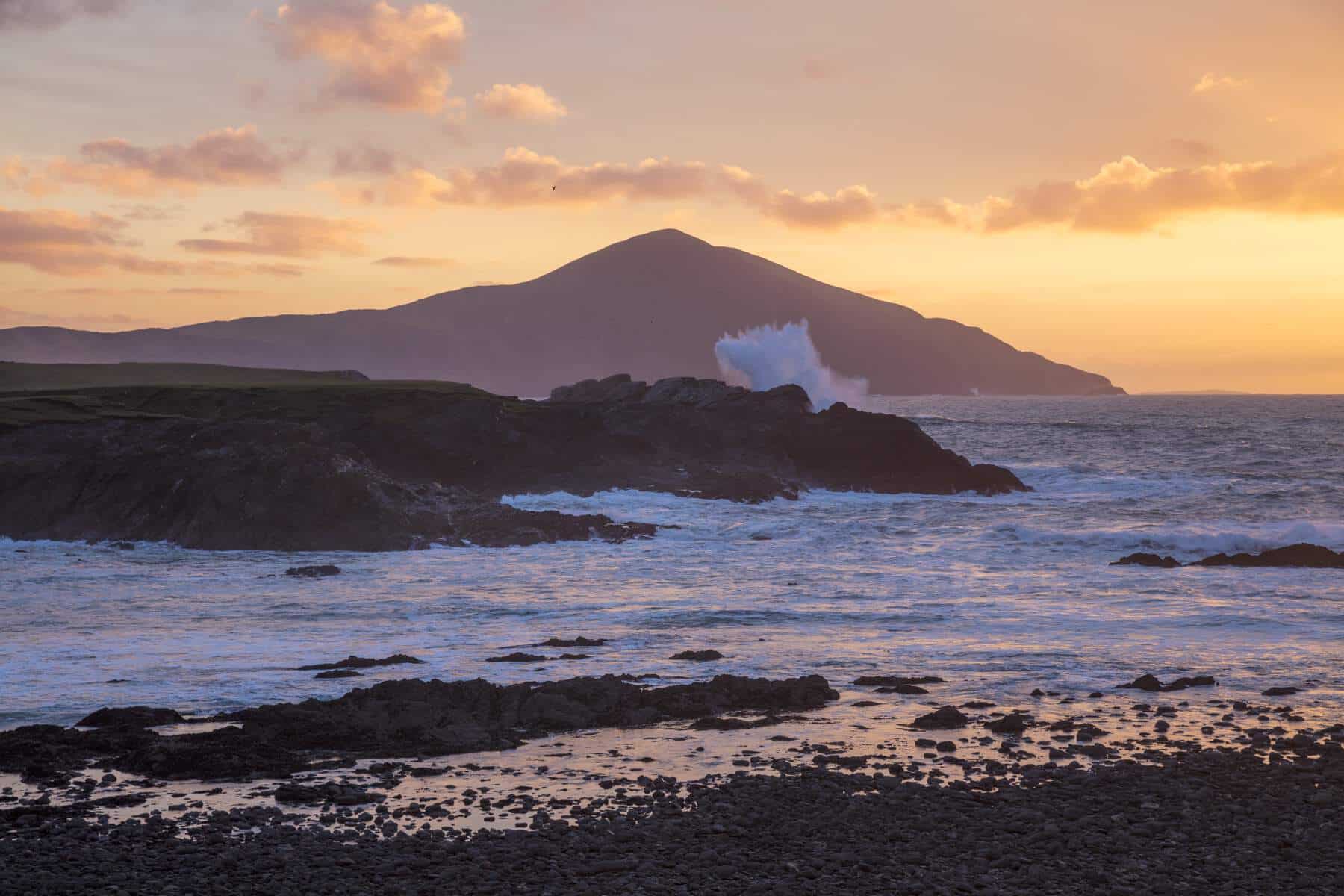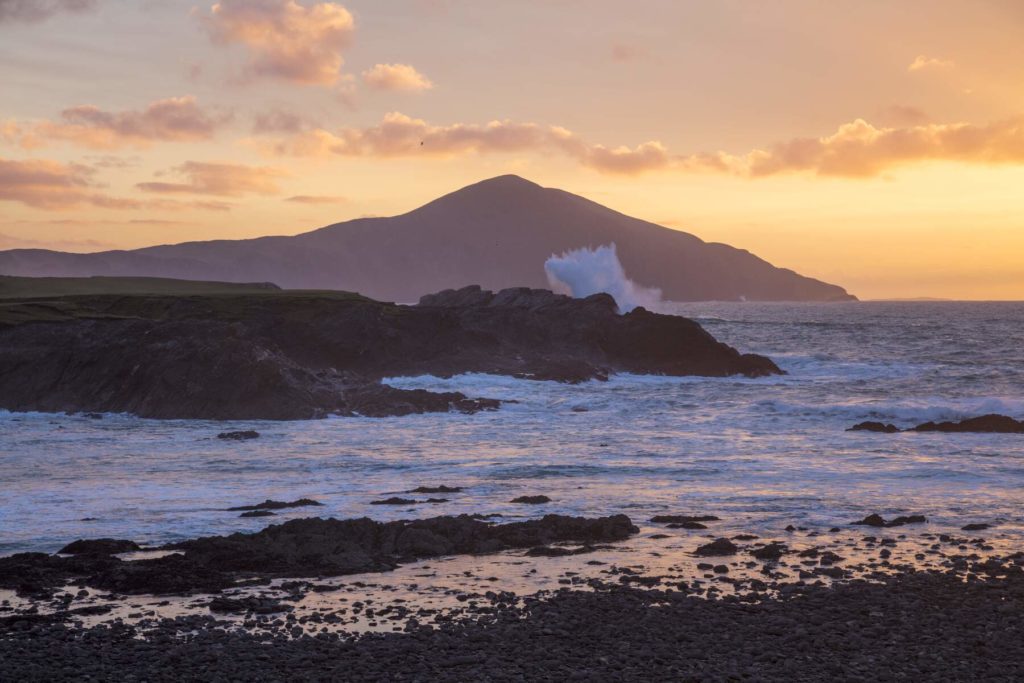 Also, some mind-boggling aerial images and videos have been shot on Achill-particularly at the Keem Bay area.
5) You've watched The Banshees of Inisherin and been inspired by the natural landscapes on display. Half of this movie was filmed on Achill Island. The exact locations are here:
And also, here is a tailor-made tour we have created to take in those exact locations. This road trip would also be the perfect route to take in the highlights of the island.
Some handy background info about Achill Island
Achill Island is Ireland's largest island with an area of approximately 150 km² and a population of 2,500. The island is reachable by car as it is joined to the mainland by the Michael Davitt Bridge.
There are virtually no trees on Achill Island. Almost two thirds of the island is covered in bog and high ground, with the remainder being occupied by plants such as heather, rhododendron and various other hardy plants which can withstand the harsh environment of the island.
There is a large variety of places to stay on the island (and are genuinely affordable), some brilliant restaurants and some equally mighty pubs.
Have a look below at our hand-picked best places to stay on Achill Island:
Accommodation on Achill: Bed and Breakfasts, Self Catering and Hotels
The 17 BEST Things to Do & See on Achill Island
Explore the Atlantic Drive for a breathtaking road trip
A must for anybody who visits the island. Here, you will witness the rawness of the Atlantic Ocean and its massive impact on the western shores of Ireland.
We advise to start after passing through Achill Sound on the road to Keel. Approximately 1 km outside the town take a left for 'Atlantic Drive' and follow the route. Here is the exact route to follow:
You'll be spoilt with massive ocean views, endless skies and views of the distant coastlines of Clare Island, Croaghaun and Keem Bay. The tour ends with a panoramic view of Achill Island at Minaun Heights. There are many pull-in spots along the way for that perfect snap.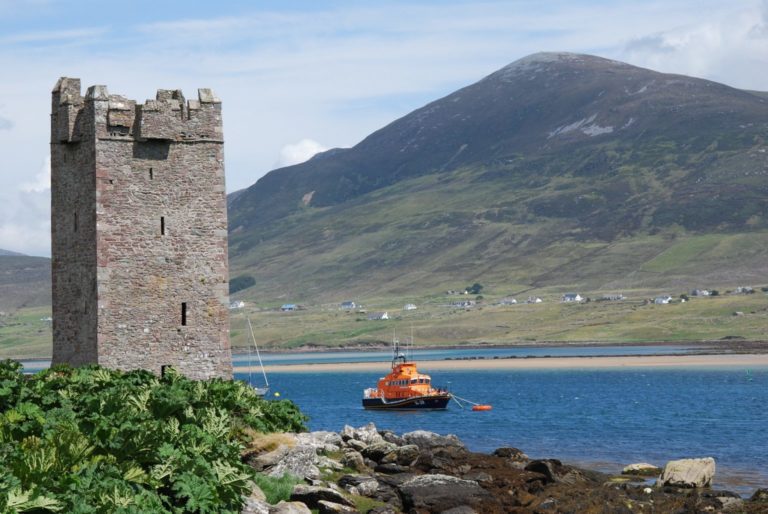 images sweetisleofmine.com
Drive or Cycle the Minaun Heights for the perfect panorama
After having completed the Atlantic Drive, it's time to take the turn for 'Minaun Heights' The location is outlined on the map above.
It's a steep ascent to this lookout point, but the views are spectacular. We advise parking the car and walking up to the statue of Mary, for one of the greatest panoramic Insta/photo shots you'll take in Ireland.
Insider Tip: Choose your moment wisely and go up there on a clear evening during sunset.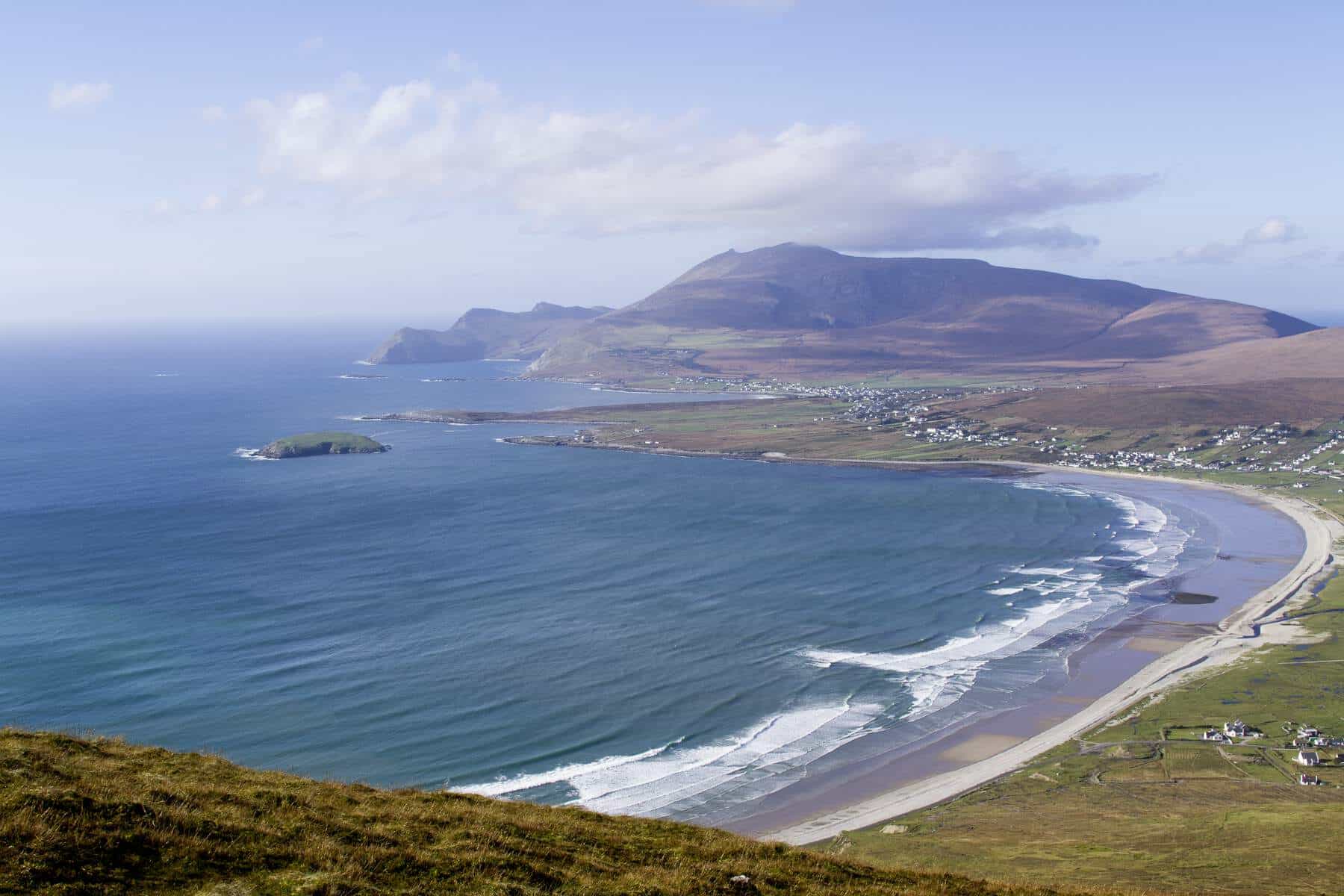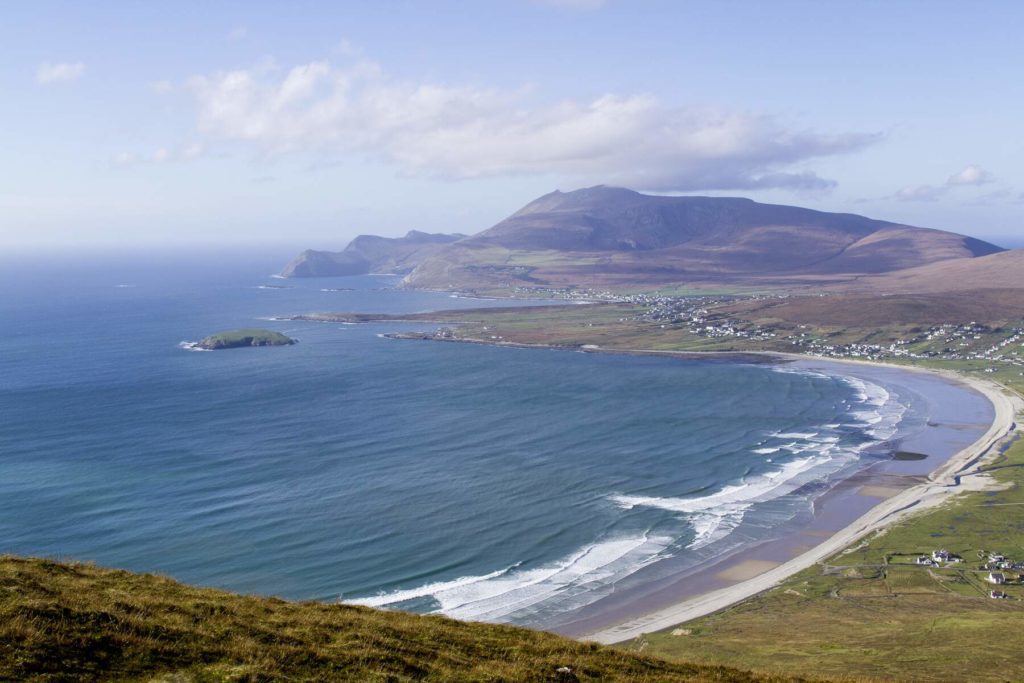 Conquer the Croaghaun Seacliffs to witness the highest cliffs
One of the great hikes of Ireland? We certainly believe so. Standing at 688 metres and over three times the height of the Cliffs of Moher, this may be the most underrated and overlooked sight in Ireland.
This one is for hikers with a good level of experience, a good level of fitness and no fear of heights. The second highest sea cliff in Europe has no designated trail and should be tackled on a clear, calm day.
Throw in an insane corrie lake and the remnants of a crashed RAF World War II plane, and it's an unforgettable day.
At least a half a day should be set aside for this hike to really get the most out of it. Click here to see our detailed post about the cliffs.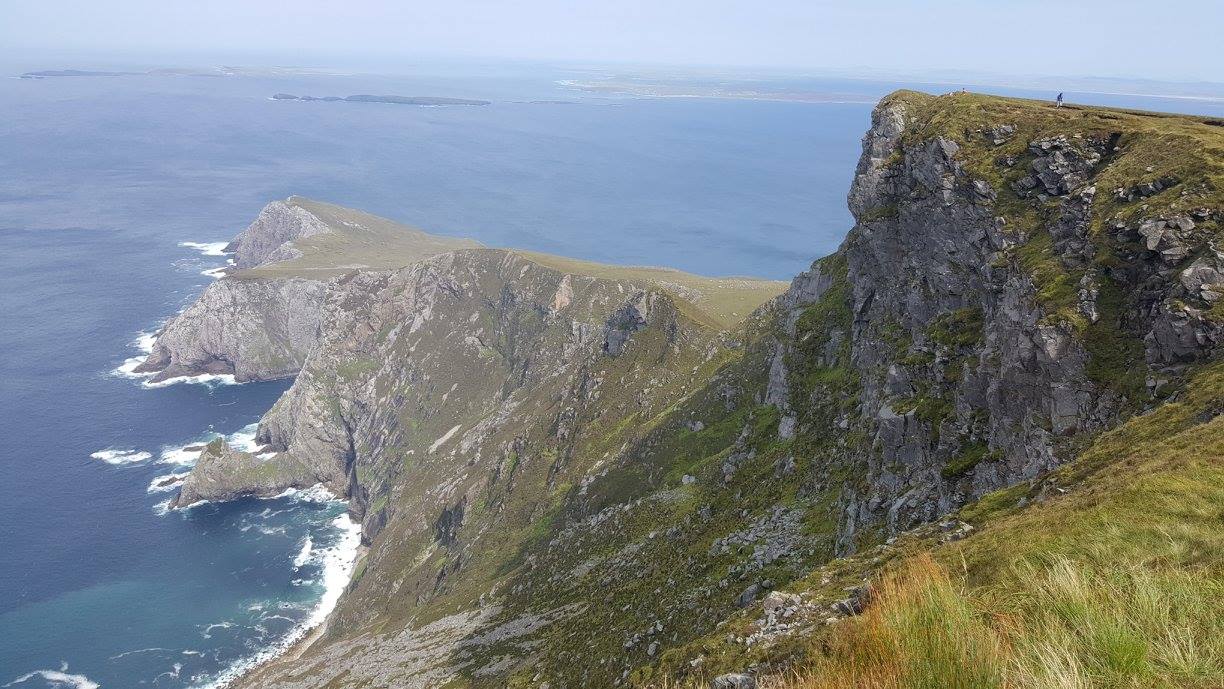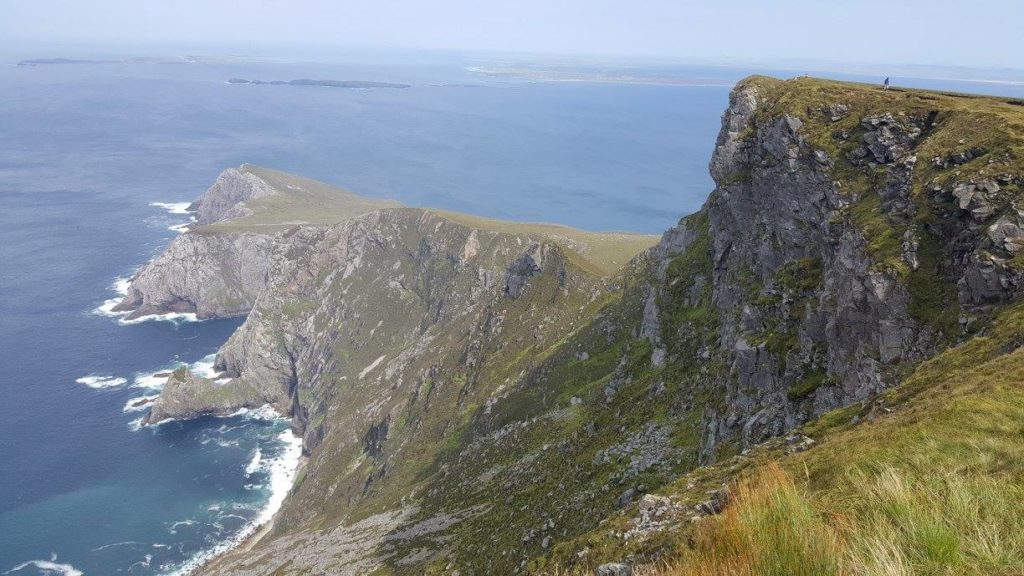 Take a Boat Trip to the Majestic Cliffs of Croaghaun
Recently, Blacksod Sea Safari have started offering boat trips to see the enormous cliff face of Croaghaun. While we have not personally been on this trip, all 80+ reviews on Tripadvisor are 5 stars. One for the bucket-list for sure.
There are also often sightings of dolphins, sharks and whales and I can imagine your jaw will drop when you see these cliffs from the sea. An experience I personally cannot wait to have when the seasons change.
The boat departs from Dugort and numbers are limited, so a call in advance is necessary. Click here for more details.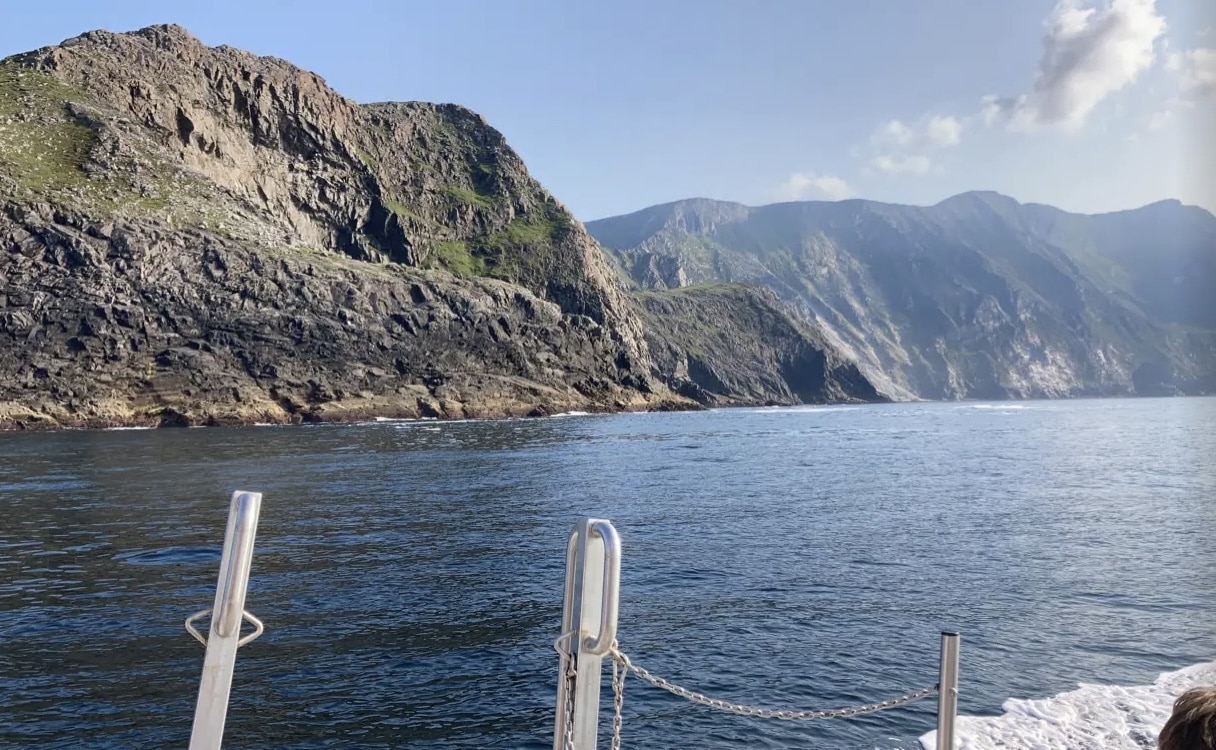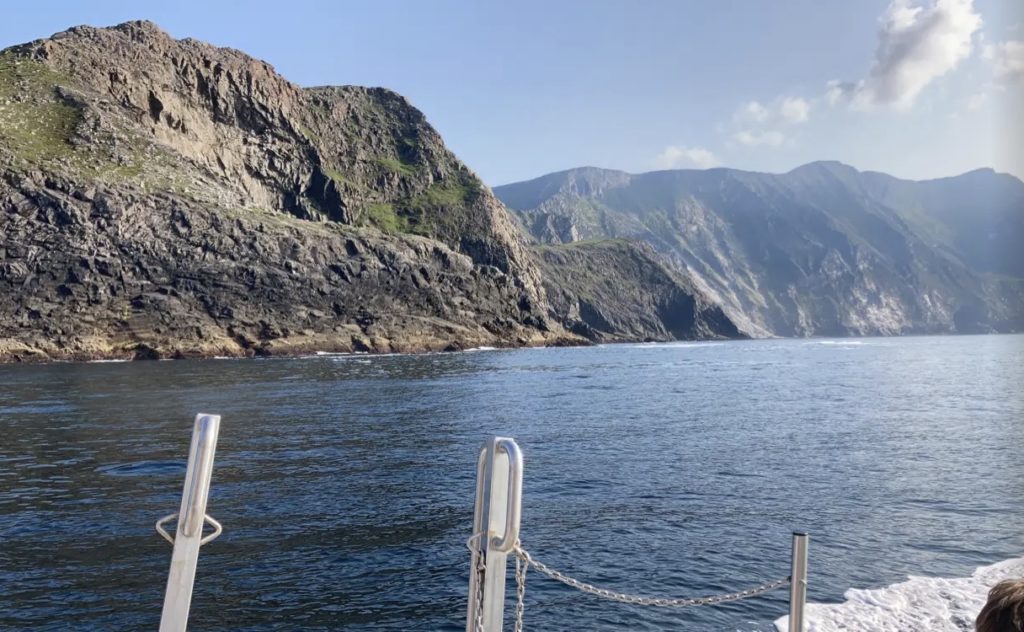 The wonderful Keem Bay which is located at the uninhabited western end of Achill Island is a must-see, not only for those visiting Achill, but anyone visiting Ireland.
This is a blue-flag beach, meaning it passes all European standards of safety and cleanliness.
The elevated, winding approach road from Keel adds to the drama and excitement of this slice of paradise. You'll be amazed by the precarious positions of the local sheep on the cliff edge, without a care in the world.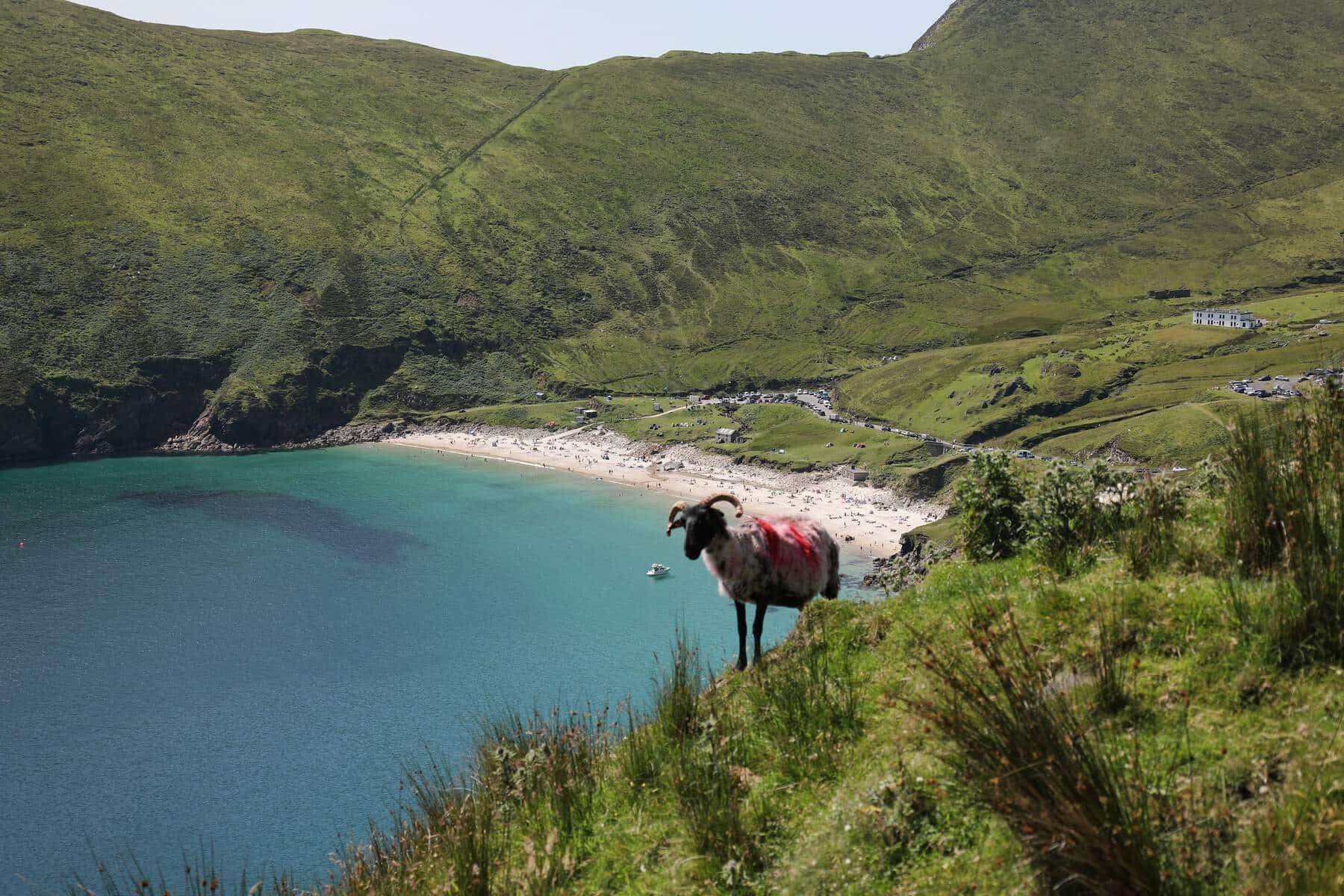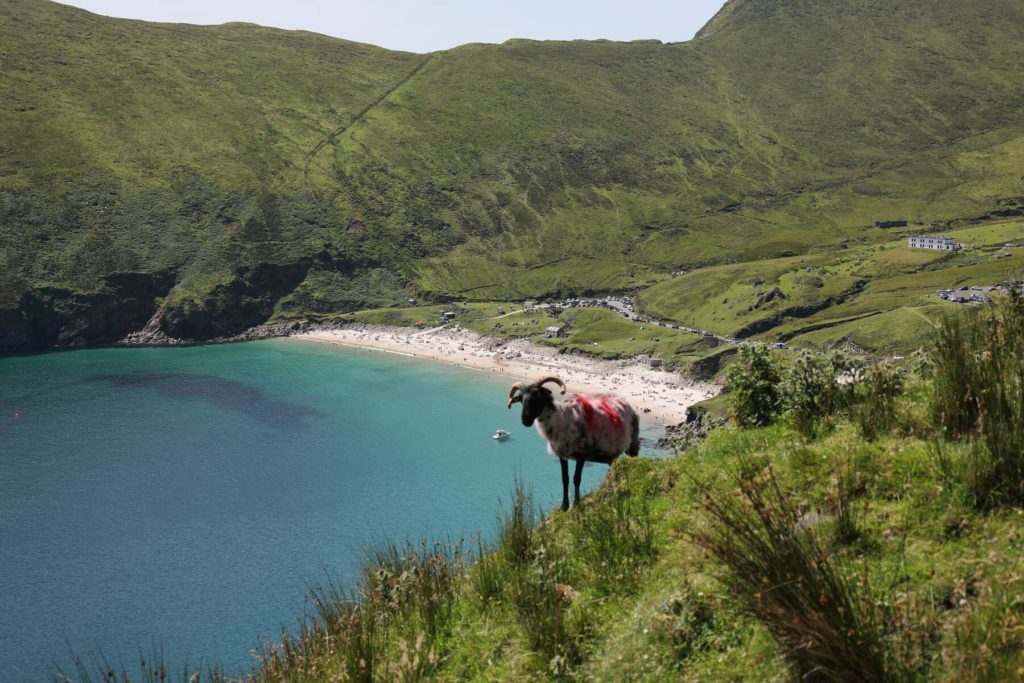 In the early summer months, there is a very good chance you'll spot a huge Basking Shark or dolphin in Keem Bay. These harmless sharks are a sight to behold as they wade their way through the emerald waters. Once hunted in the area, they are now a protected species.
Discover Keel Beach for watersports or an invigorating walk
This 4 km stretch of beach is very popular for all kinds of watersports, including surfing, windsurfing and kitesurfing. Enjoying a cracking location which attracts some killer waves, this beach has become very popular for watersports enthusiasts. But it also a brillaint stretch of flat sand to go for an invigorating walk.
There are no less than 3 surf schools on the beach. Check out the surf forecast here.
Keel is also a blue-flag beach, and the backdrop of the 400 metre Minaun Cliffs makes this a beautiful location. There is an enormous camping site next to the beach with the village of Keel, with plenty of pubs, restaurants and accommodation, nearby. Keel village is the hub of Achill Island and an ideal base for exploring.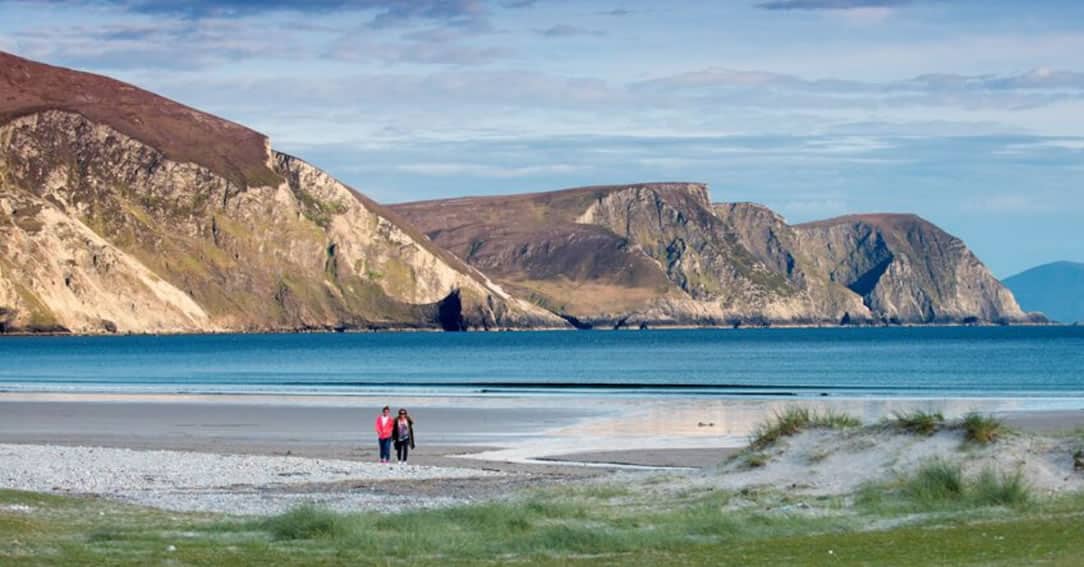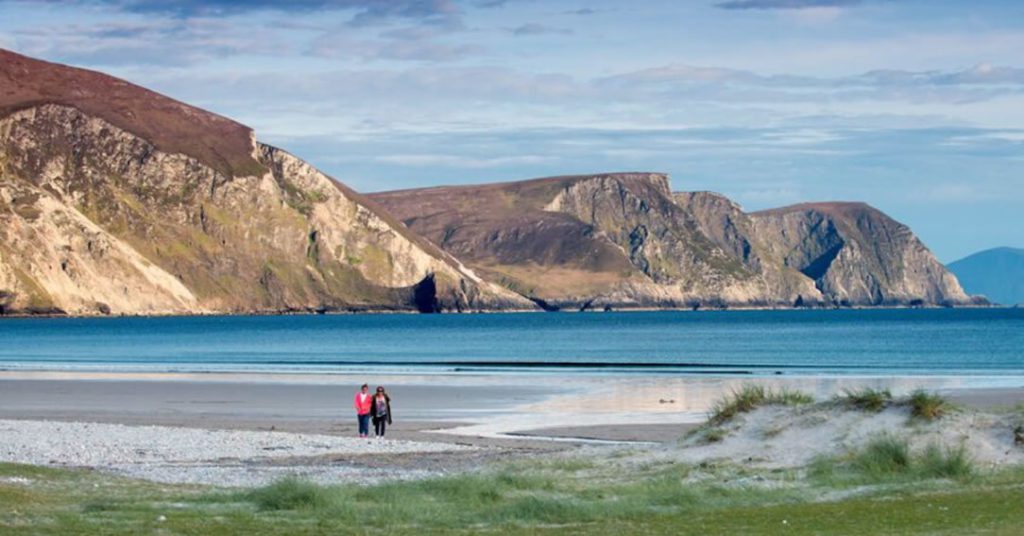 Cycle along roads with incredible scenery
The Great Western Greenway is a designated cycle lane which starts in Westport, passes through Mulranny and Newport and finishes at Achill Sound. If you are on a cycling trip and have all your necessities on board, we would highly recommend continuing on to Achill Island.
There are a ton of routes to follow, with some offering a real challenge. There are some great climbs on the island. Some stand-out ones being the ascent to Minaun and the ascent & descent to Keem. Why not partake in the annual Tour de Achill, which offers various levels of difficulty.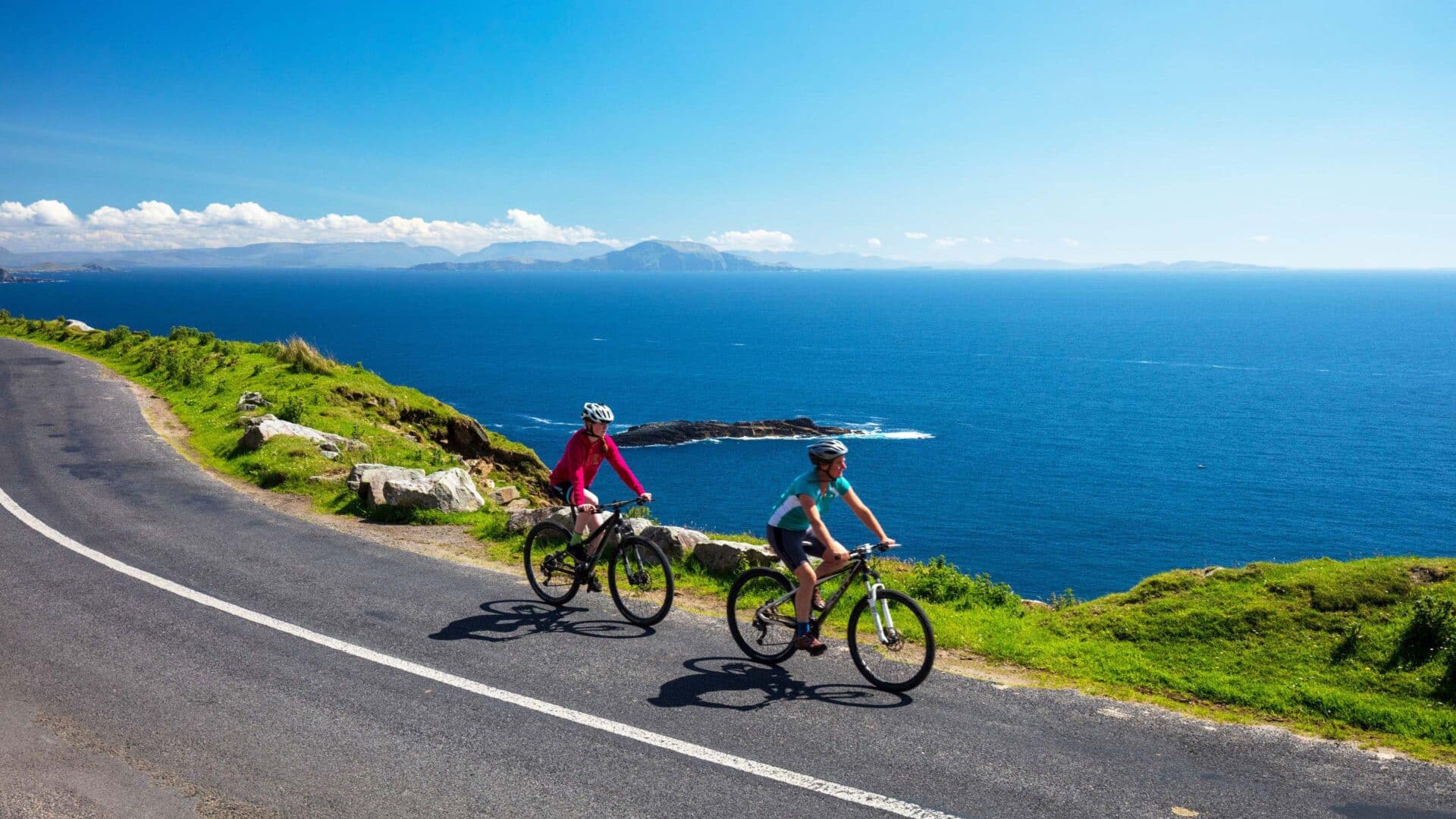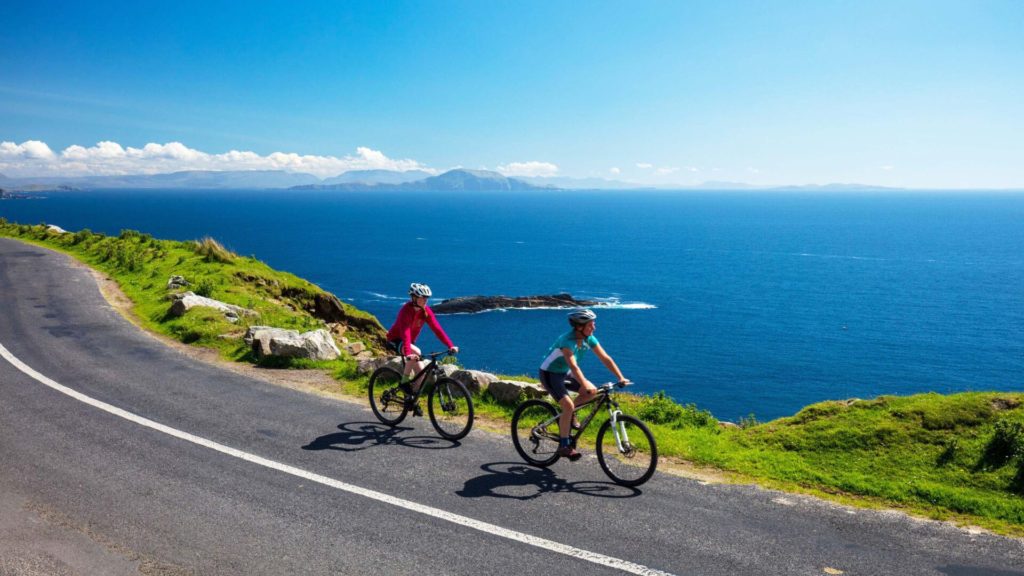 Pure Magic Kitesurfing & More for adrenaline junkies
For about a decade, this famous kitesurfing school has literally taken off on Achill Island. If you are in need of an adrenaline rush, then these are the lads who will sort you out!
Throw in some paddleboarding and some French cuisine and you are guaranteed to have one epic holiday. They also offer accommodation in a lovely homely location at the foot of Slievemore mountain.
Visit The Deserted Village for a glimpse into Ireland's troubled past
Nestled on the foot of the imposing Slievemore mountain, this stark reminder of times gone by and the pain of emigration is contemplative and atmospheric.
These 100 'booley' or summer farmsteads tell a tale of eviction and resulting abandonment, leaving these buildings exposed to the elements for hundreds of years.
Considering the wildness of the local climate, these constructions were incredibly well-built and stand the test of time. A good hour is needed to learn about this village and to get a good feel of the place. Take your time here. There is also a very informative infoboard at the entrance.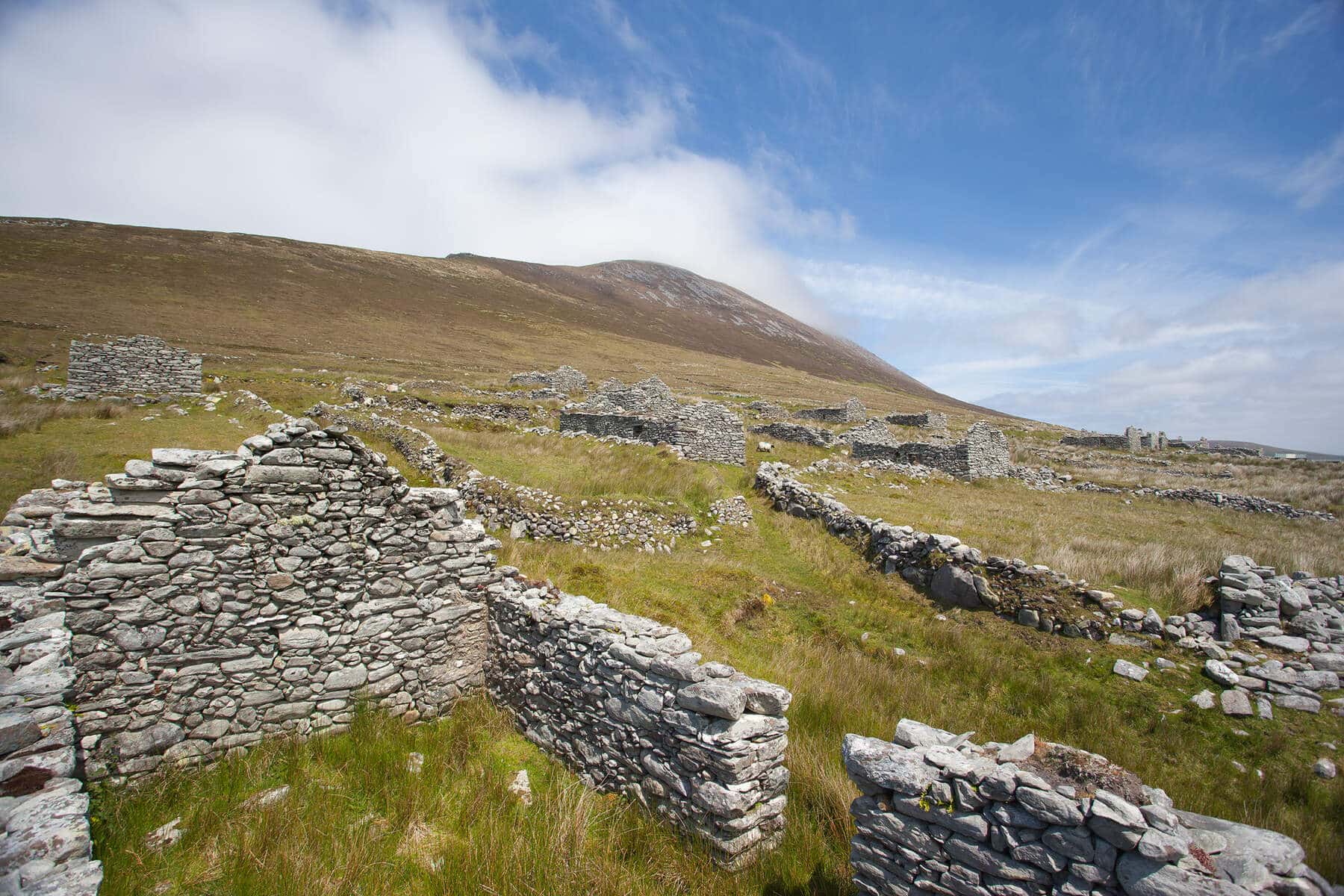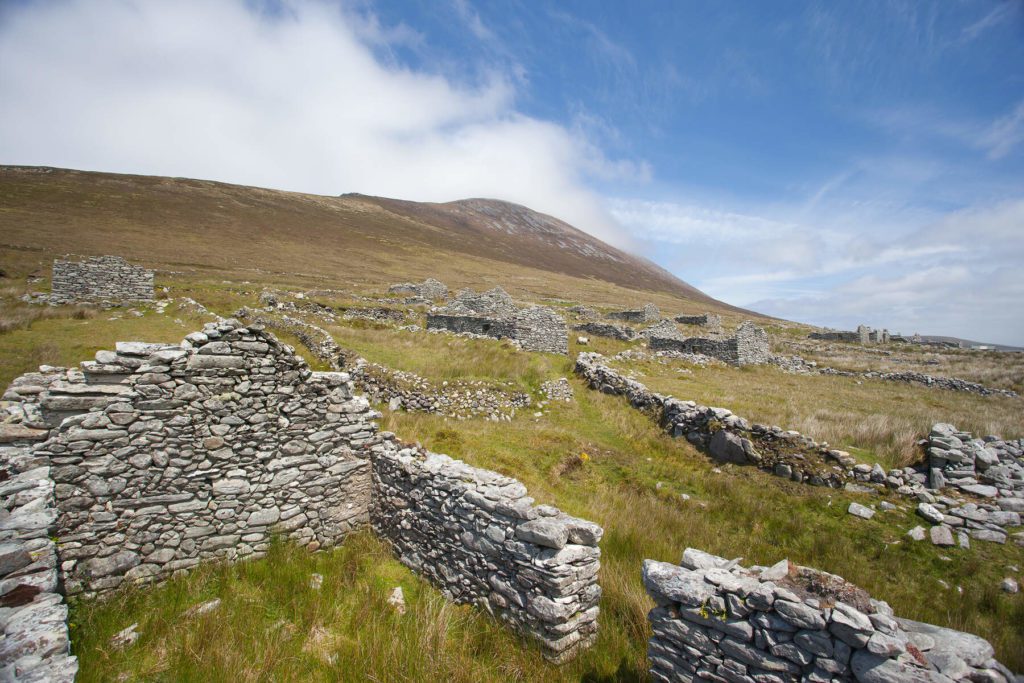 Learn about our oceans at Achill Experience Aquarium (great indoor option)
This small, but very interesting aquarium is a great attraction for young and old on a rainy day. One thing that really sticks out is the level of knowledge from the guides, who obviously have a background in marine biology, but who are also really intereactive with the kids and are willing to answer ANY questions!
Highlights include Nemo and Dory, the lobsters, dogfish, rays and a great selection of both locally found fish and those found in more tropical waters. There is also an exhibition from the American artist Robert Henri, who painted portraits of many local children in the 1920s.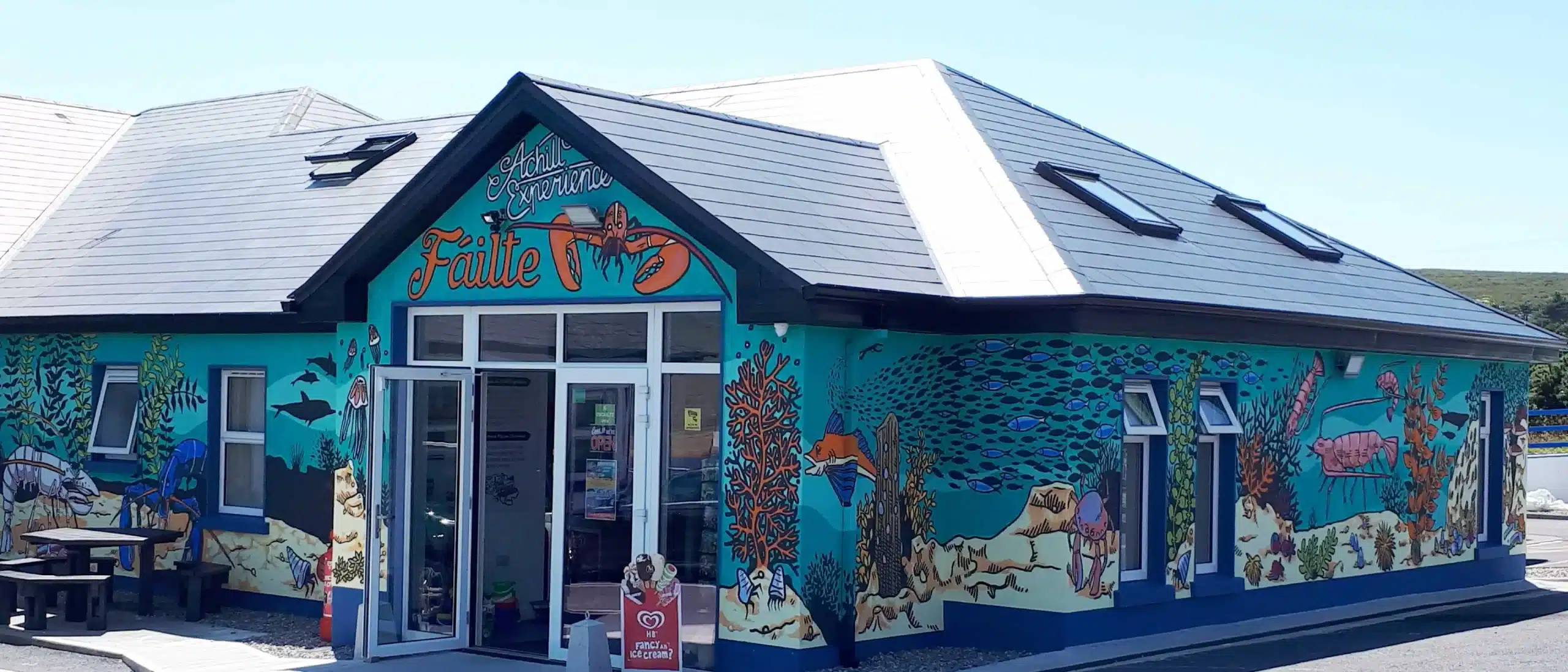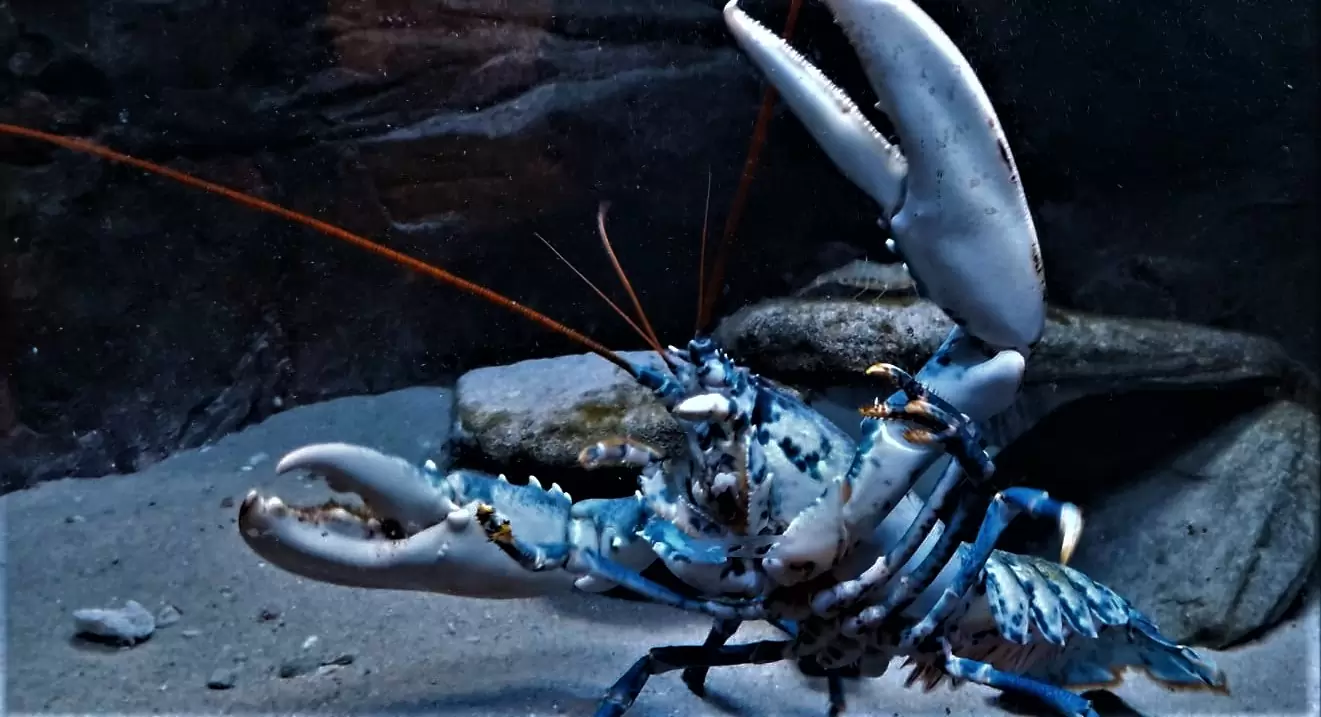 The elusive blue lobster/ images via Experience Achill
Visit an Art Gallery to get lost in local landscape paintings (great indoor option)
The weather is particularly inclement? Why not visit 'The Western Light Art Gallery'. This fantastic gallery houses Achill's largest collection of images, with some truly wonderful landscape images of the local area.
Some works genuinely capture the rawness and the ever-changing light of Achill, and a wander around here is highly recommended.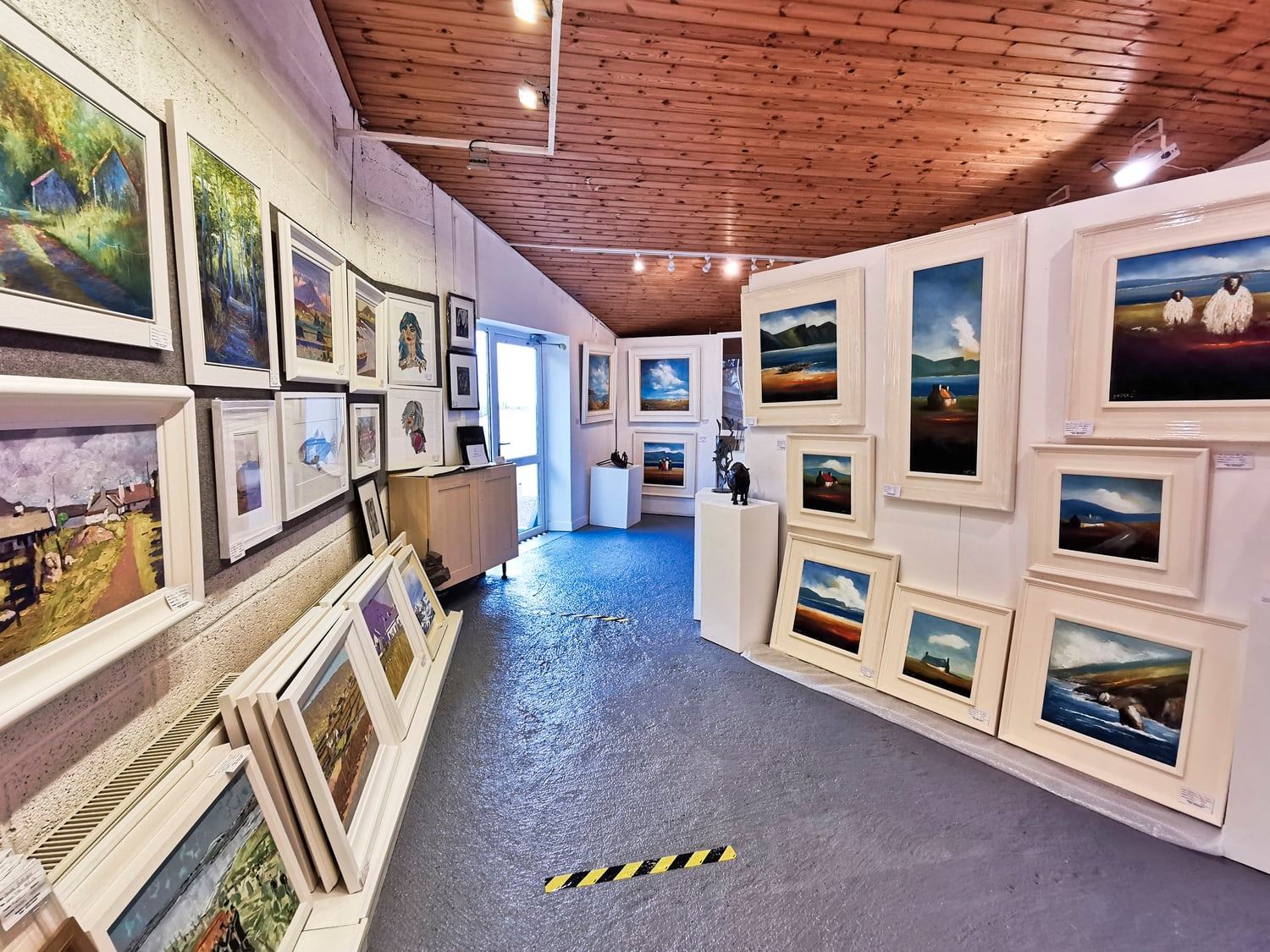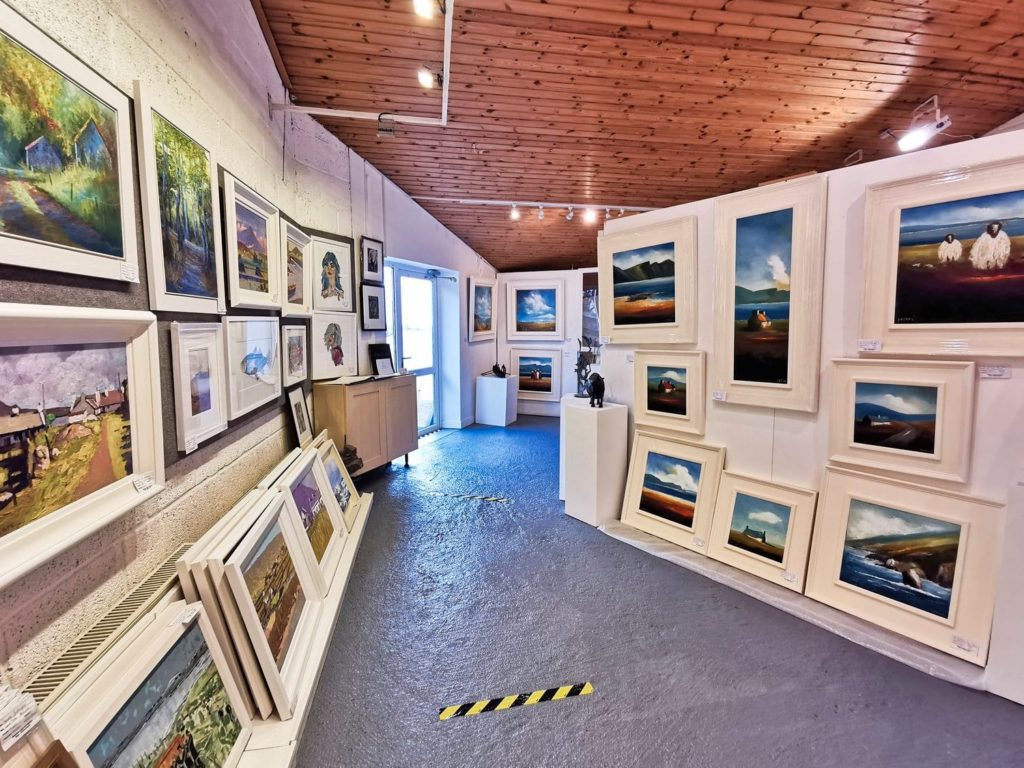 Play Golf on one of the most hilarious/beautiful courses
I guess the question you are asking is 'Why is this course hilarious?'
Remember we mentioned the sheep earlier? Well, they seem to be the natural greenkeepers here, keeping the fairways impeccable!
You'll see them strolling around with not a care in the world, clipping any little chunk of grass that dares show its face. But, don't fear, the actual greens are fenced off, just to ensure your shortgame isn't in jeopardy!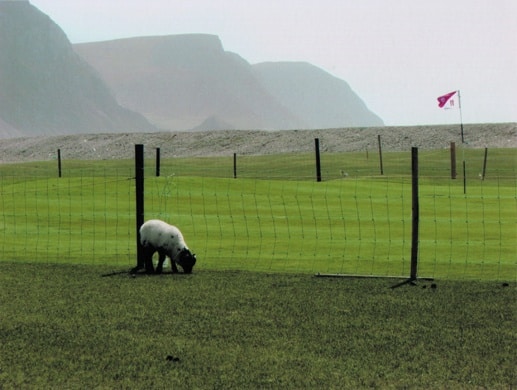 Walk the Sli Grainne Mhaol for brilliant vistas
Literally translated as 'Grainne Mhaol's Way', this beautiful walk takes in some wonderful panoramic views of Achill. This walk is not entirely flat and would be ideal for those who are in search of some good exercise, but not willing to take on a big hike.
There is a designated path and here you can download the map. Oh and by the way, the trail is named after the local pirate queen 'Grainne Mhaol', a fearsome pirate who ruled these lands in the 16th century.
One of her many castles (Kildownet) can be found along the first leg of the Atlantic Drive. More details, along with details of the historical graveyard next to this castle can be found here.
Follow in the footsteps of the Banshees of Inisherin.
As many of you will already know, the lastest Martin McDonagh film, The Banshees of Inisherin was filmed on Achill Island (along with the island of Inishmore) We have put together a route which includes every single filming location on Achill Island.
This route is actually ideal for those wishing to visit the island for a day. You'll take in all of the highlights of the island and leave with some memorable photographic moments. The exact route and description is here.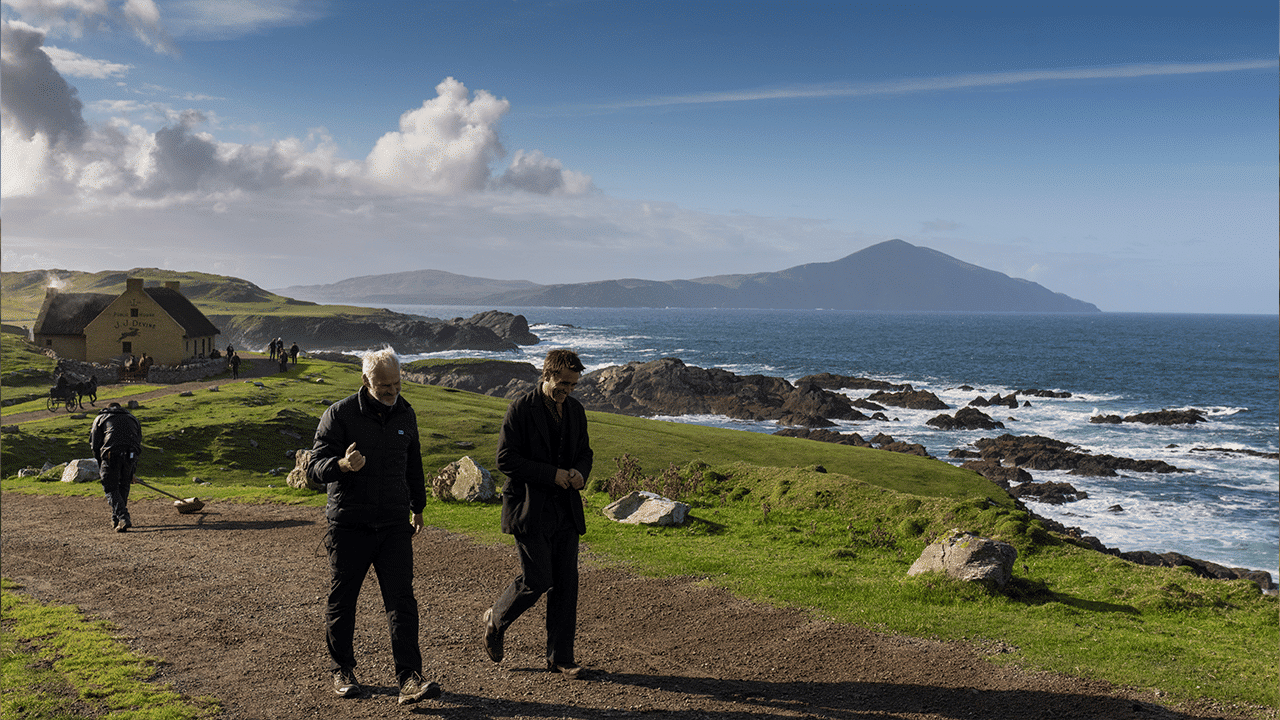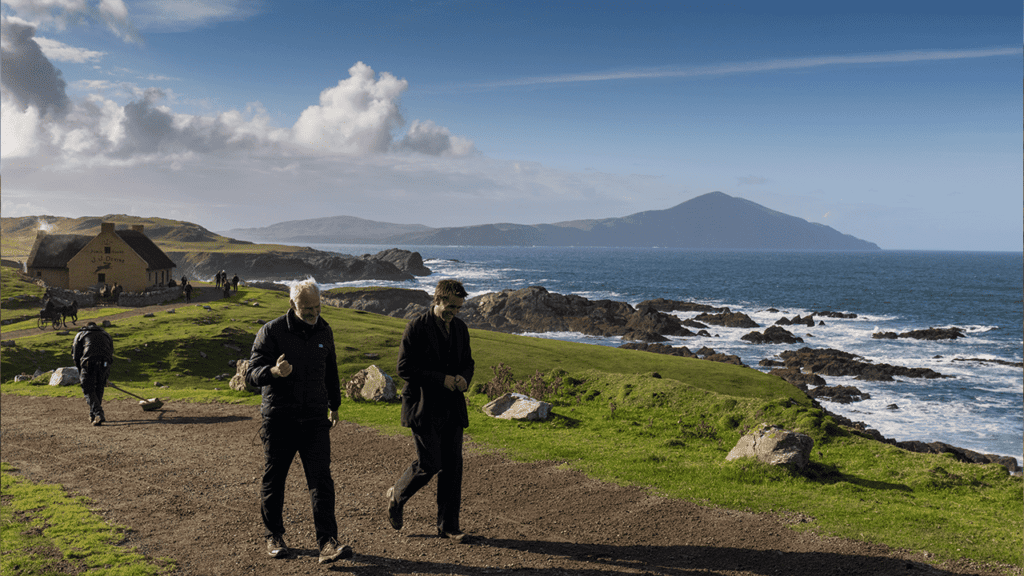 Visit an Achill Pub for the craic agus ceol
Lynott's
We highly recommend visiting Lynott's Pub on Achill island. The Guinness is great, often there's an Irish music session, but it has one stand-out feature: it's tiny! But it makes for a very unique atmosphere and you'll have no choice but to chat to whoever is beside you. But, sher isn't that what visiting Ireland is all about?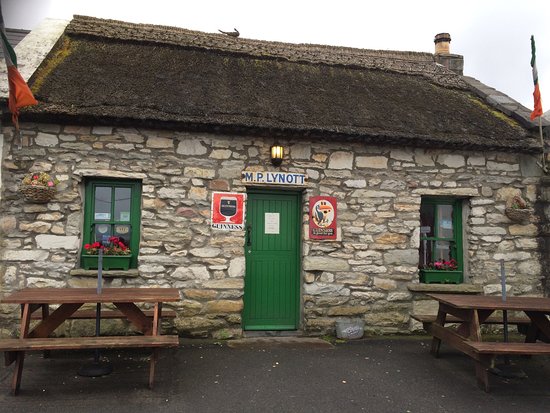 Ted's Bar
Another pub we can highly recommend. I've once spent New Years on Achill. We ended up in Ted's bar and witnessed one of the best traditional music sessions I've ever seen.
There were about 10 musicians, the craic was mighty. Closing time came and everybody went outsude to a full moon and to our complete surprise it had snowed while we were all inside having a whail of a time.
The cliffs of Minaun came into full view, with a blanket of fresh snow and fully illuminated. It was a sight to behold, especially as it snows every 50 years or so on Achill.
Grab a Bite to Eat
There are some proper good restaurants on Achill. Our favourite is the Amethyst Bar in Keel. Recently renovated and with a huge menu, this food joint is well worth a look at.
The seafood chowder is as good as you'll get anywhere and the deep fried cod is a solid recommendation.
If you are going for a light menu, go for the open prawn sandwich. And by the way, there are some great light bites and a decent menu for the kids, which in my humble opinion is the sign of a good restaurant.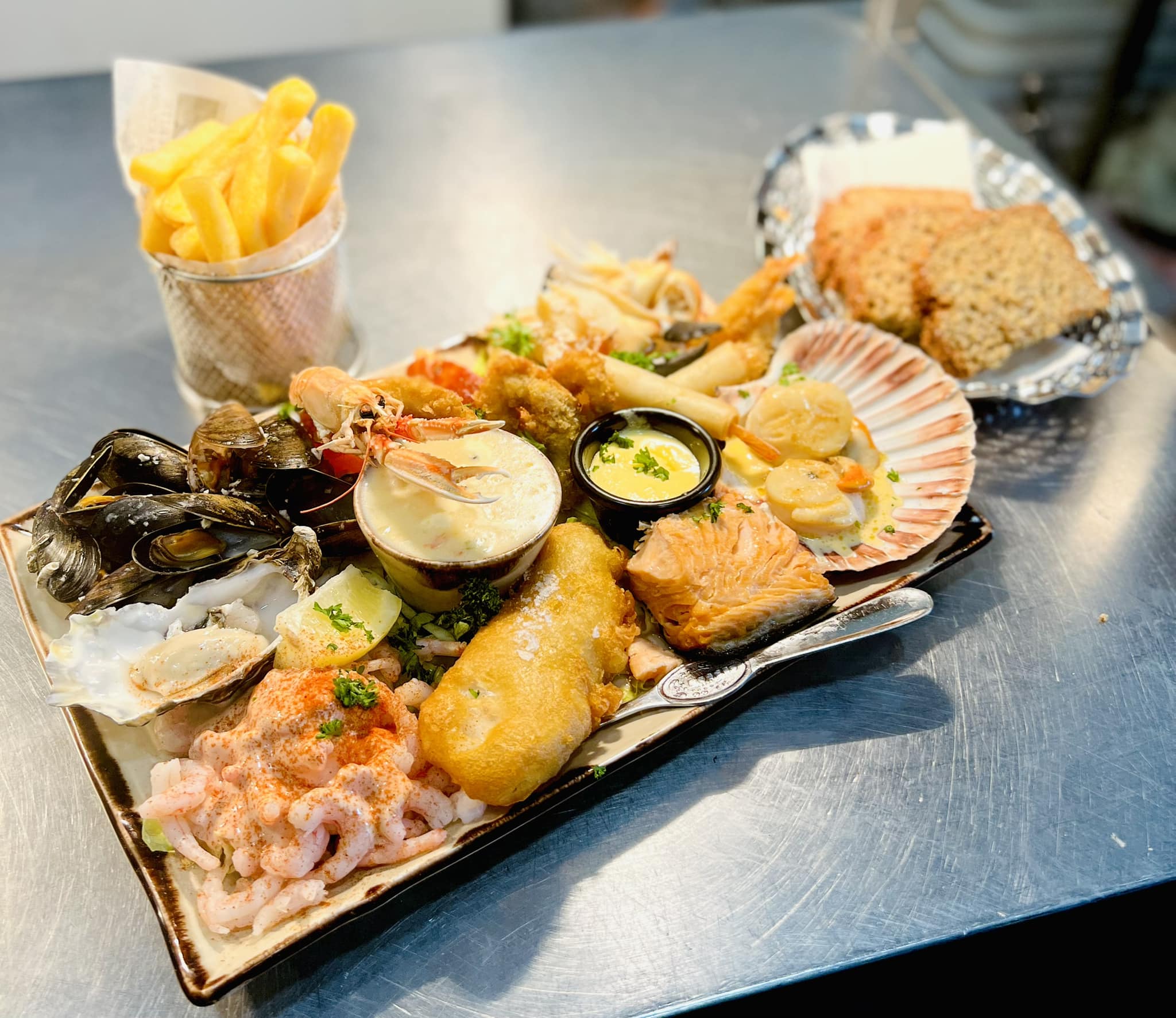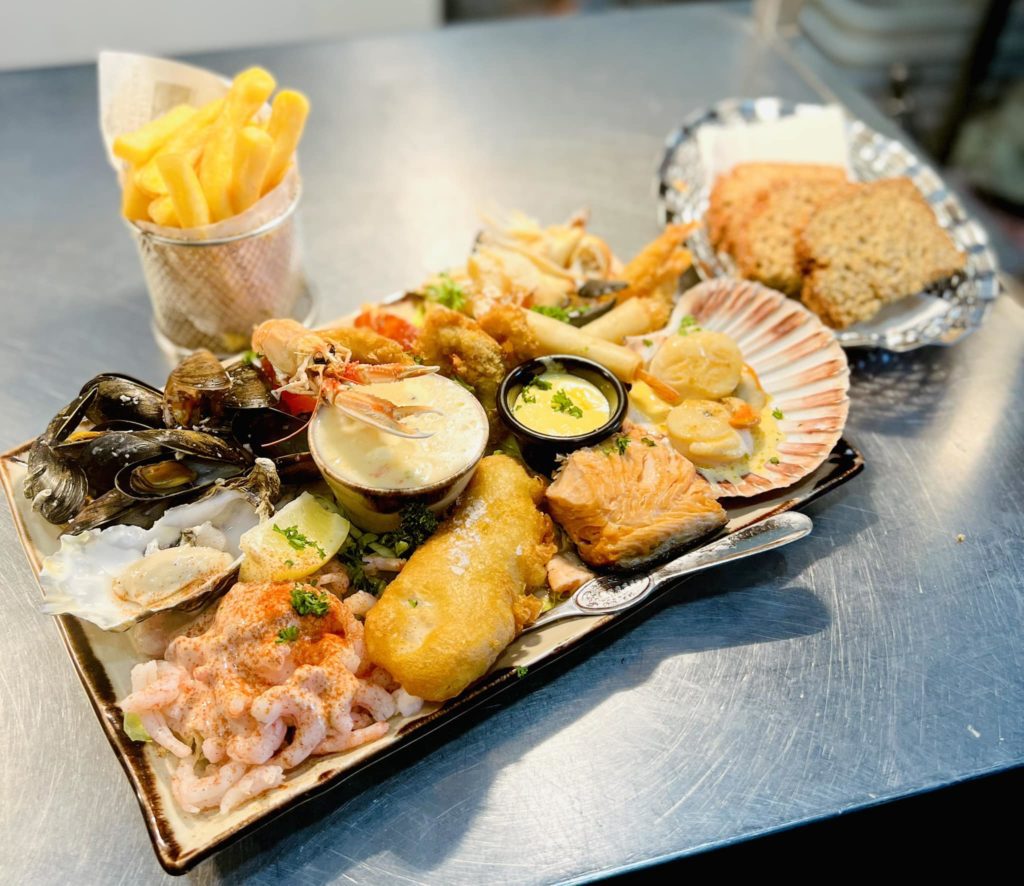 The other eatery we would highly recommend is the 'Beehive'. They serve food during the day only, until 4, but is also a great place to sit outside on a fine day and admire the mighty Cliffs of Minaun with a coffee. They serve a whole host of dishes from chowder to vegetarian options, and there's a craft shop attached too.
Your questions about Achill Island answered
Is it worth going to Achill Island?
Visiting Achill Island is undeniably worth it. Its extraordinary landscapes offer breathtaking beauty and endless adventures, making it a must-see destination for nature enthusiasts and adventure seekers alike.
Visiting ideally during good weather will allow you to explore magnificent landscapes such as Keem Bay, Croaghaun cliffs and so much more. Achill Island really is a true highlight along the Wild Atlantic Way.
How many days do you need in Achill Island?
We advise spending at least 2 nights on Achill Island. With this amount of time, you'll get a good overview of the island and should be able to fit in some outdoor activities such as cycling or hiking.
If you are lucky enough to have more time on your hands and the weather plays ball, there are countless outdoor activities, attractions, restaurants, pubs and drives you can enjoy. 5 days to 1 week will enable you to have an adventure you won't be forgetting any time soon…
Conclusion
That wraps up what we think are the 17 best things to do on Achill Island. If I was to choose one, it's undoubtedly the Cliffs of Croaghaun hike, but it's also really great to do a road trip around the island and take it all in.
From the list above, it's clear that this island would be a paradise for those into outdoor activities of the high-adrenaline type. I'd highly recommend keeping an eye on the forecast and choosing some decent weather for your trip, but then again for those who rely on wind for their outdoor activities, I guess it doesn't really matter when you visit.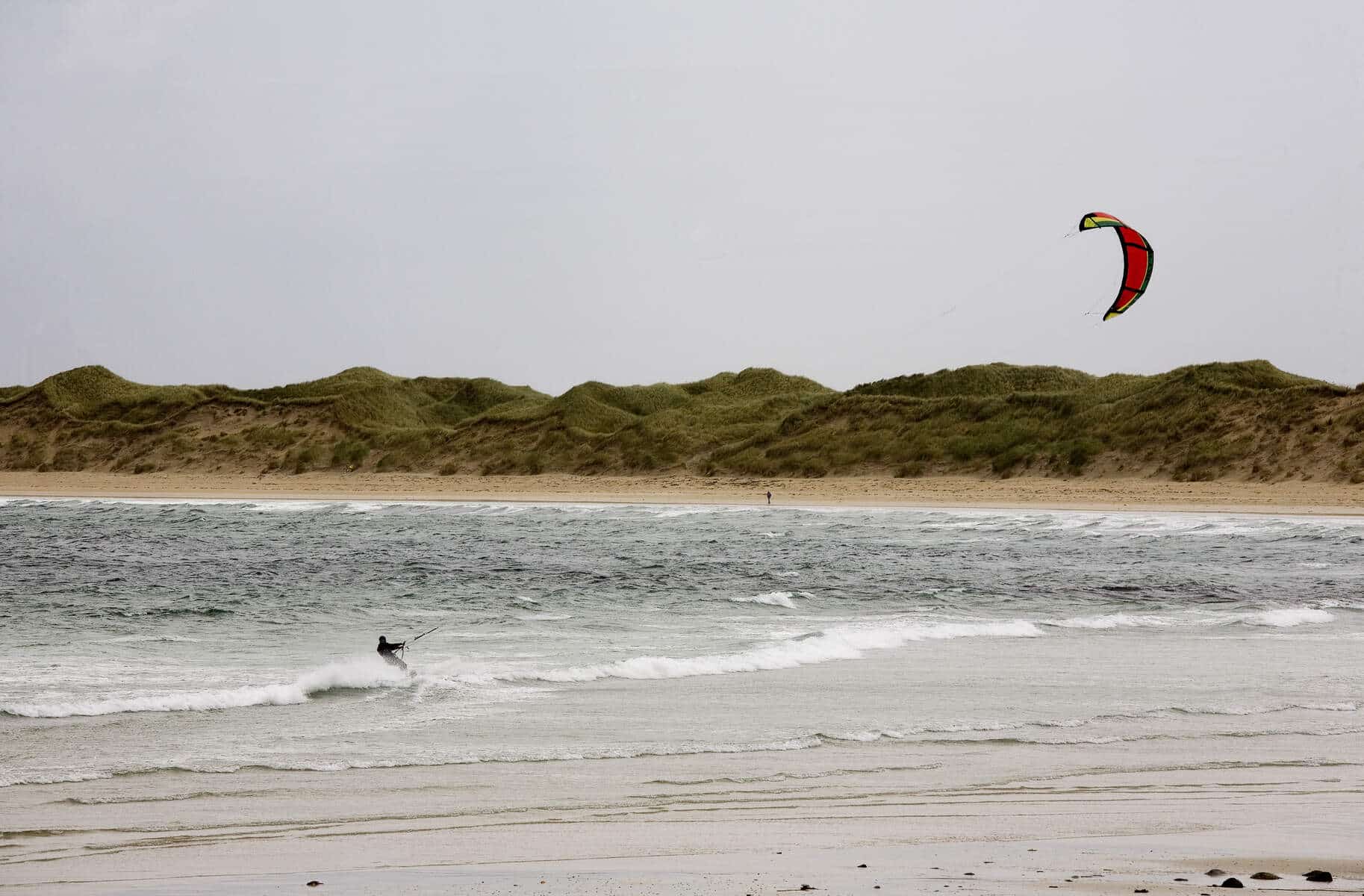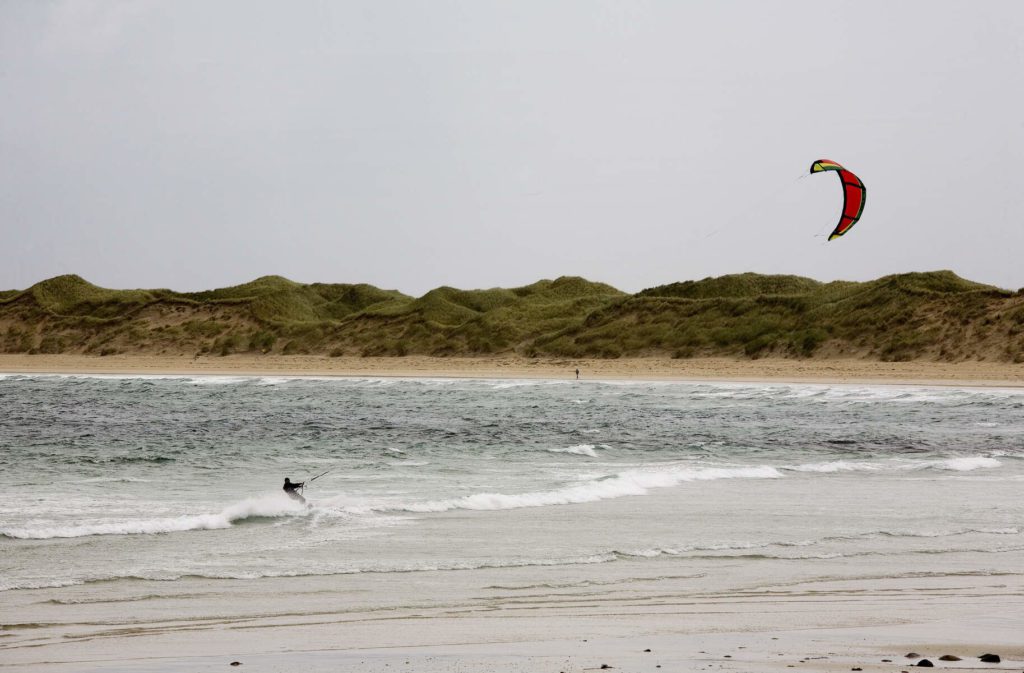 Achill is not known for it's sunshine and calm conditions, but of course like anywhere in Ireland, the can be lucky and get a lovely spell of weather. The ideal time to visit would be late spring to early autumn i.e. April to September inclusive.
Accommodation on Achill: Bed and Breakfasts, Self Catering and Hotels
Many people also choose to visit Achill on a daytrip from the wonderful coastal town of Westport, approximately 40 minutes away by car. If you need help looking for a place to stay, we have stayed in the main hotels there and can advise you on which we believe are the best, from budget-friendly to luxurious. Here are our choices.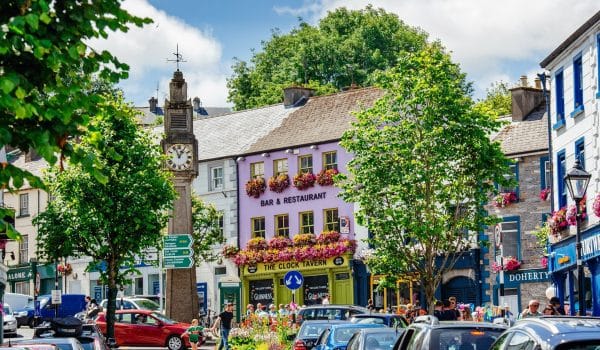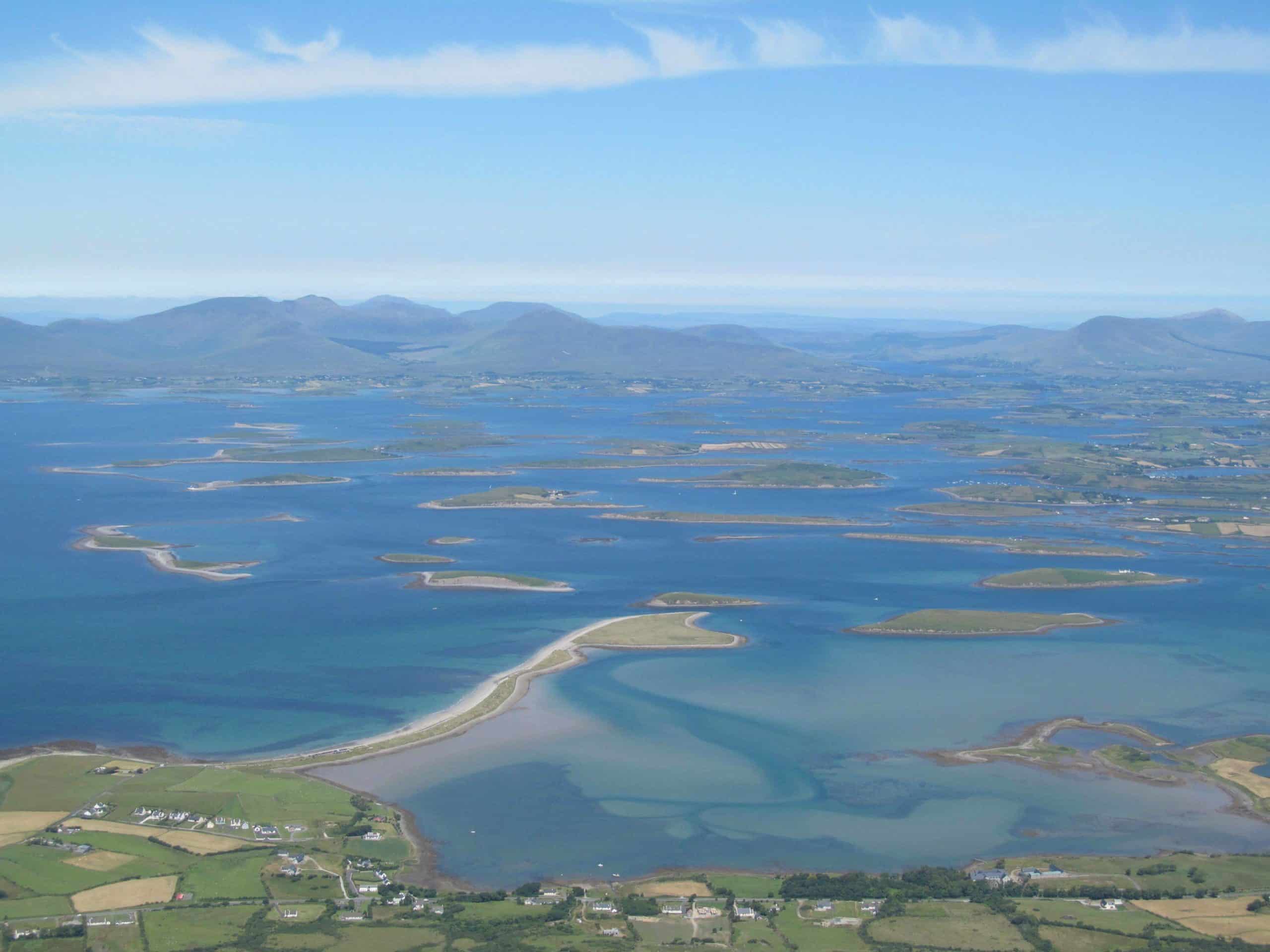 Westport town centre and the view from Croagh Patrick
We'd love to hear how you got on on your trip to Ireland's largest offshore island. We hope we could help you have a memorable time. If we did, write us a comment below. We know this area like the back of our hands so we'd also be delighted to help if you have any queries. Slán go fóill!