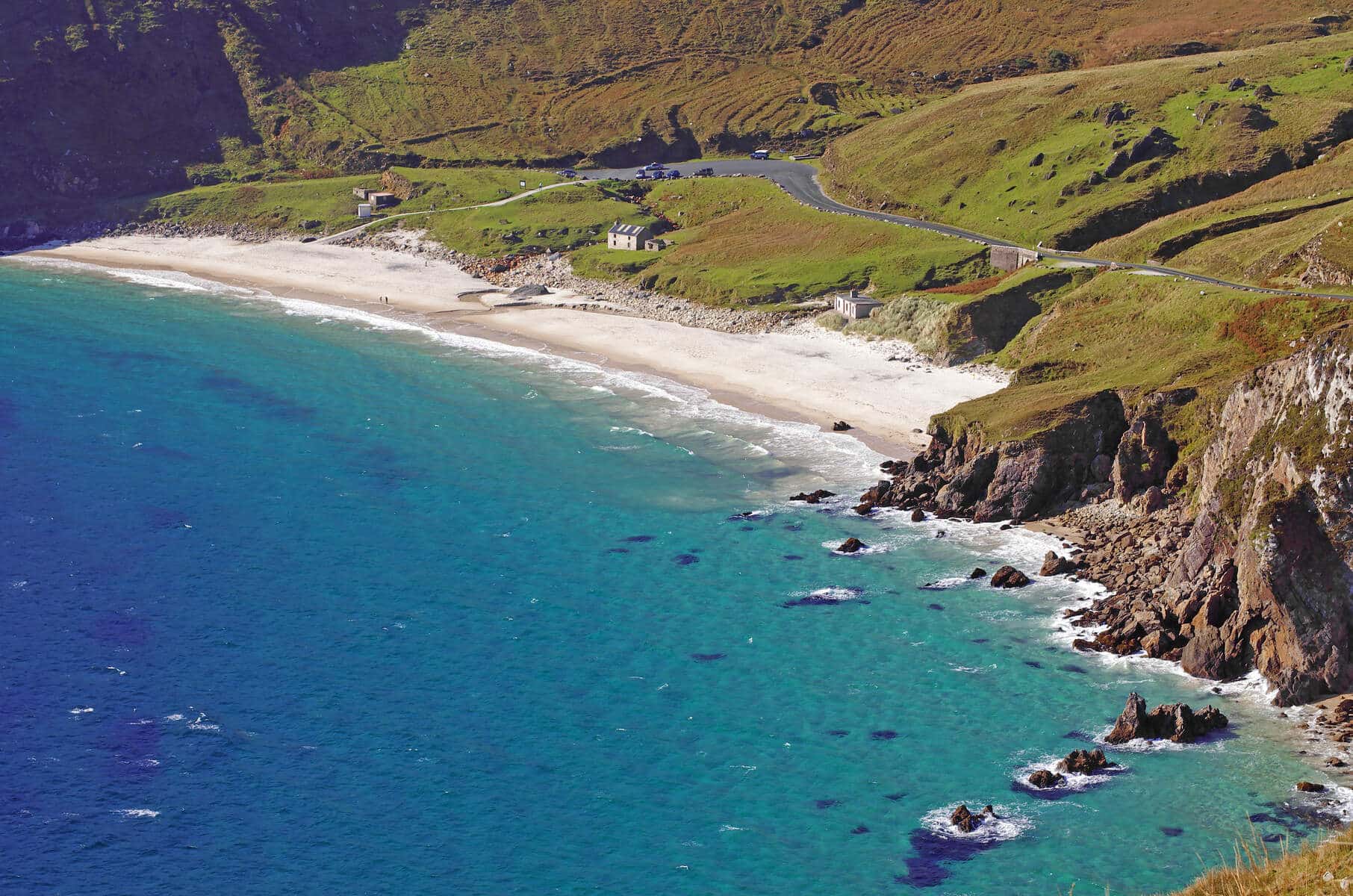 Are you planning on visiting Achill Island this year and has it crossed your mind about what accommodation is on offer? Then look no further! Here is your Achill Island accommodation guide for 2023 (by a local)
Since putting out our guide to the filming locations of the Banshees of Inisherin, we have received emails with 2 main queries: 1. Can you drive to all these locations? Yes, we have the exact route here. 2: Are there any hotels on the island?
There are a couple, but there's loads of other accommodation too. We'll tell you exactly what we believe to be the best overall places to stay along with the best budget options.
Brief Overview of Achill Island
Achill Island is situated off the west coast of County Mayo, Ireland and is known for its wild, rugged and spectacular scenery.

Although it's an island, it's reachable by car via the short Michael Davitt Bridge.
Achill is an outdoor enthusiast's dream – from the highest cliffs of Croaghaun to the killer waves at Keel, you could have a holiday that will last long in your memory.
Throw in a dose of some of the most incredible scenery at Keem Bay and the wild, majestic vistas of the Atlantic Drive: you're in for a feast for the eyes.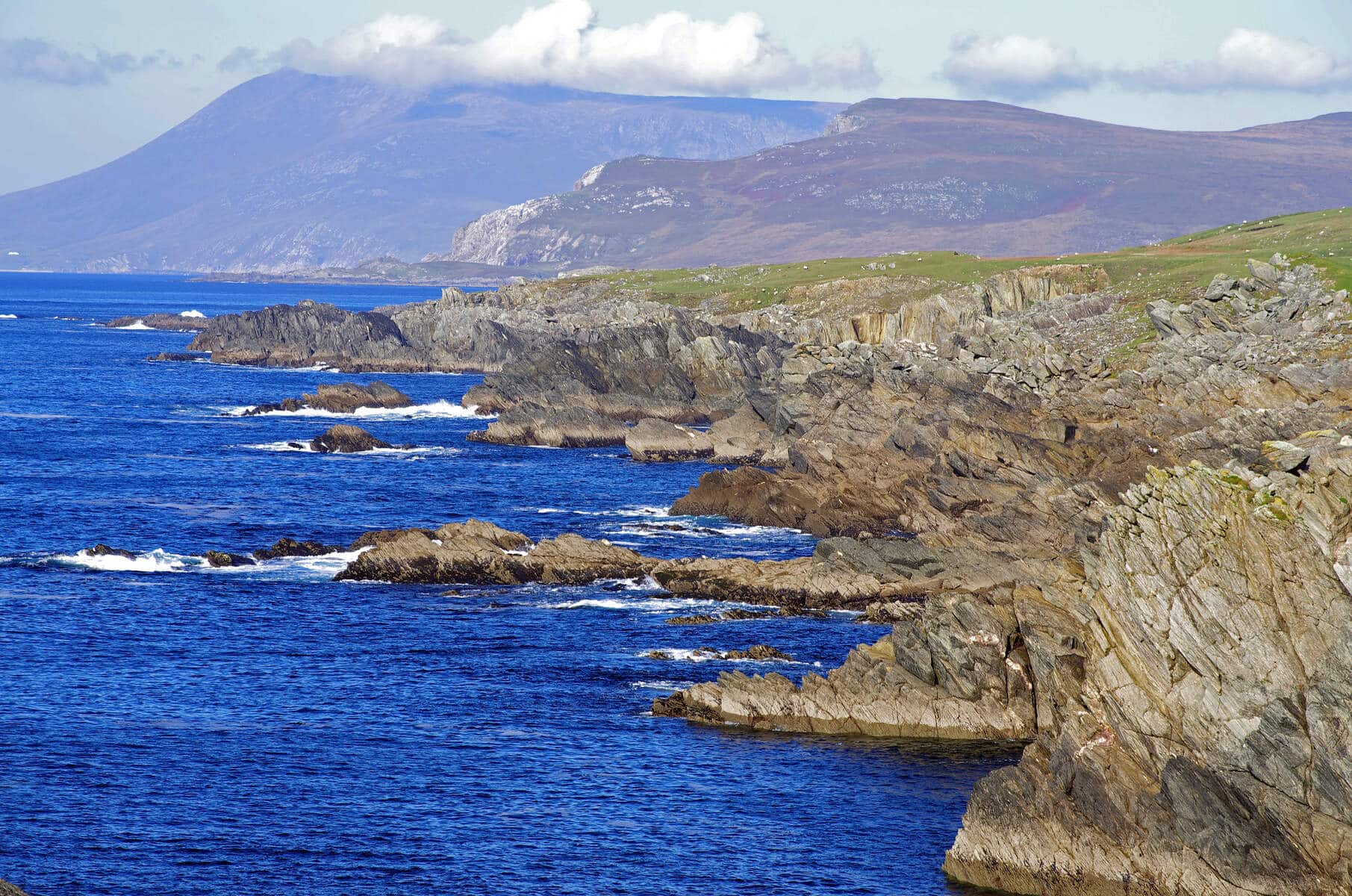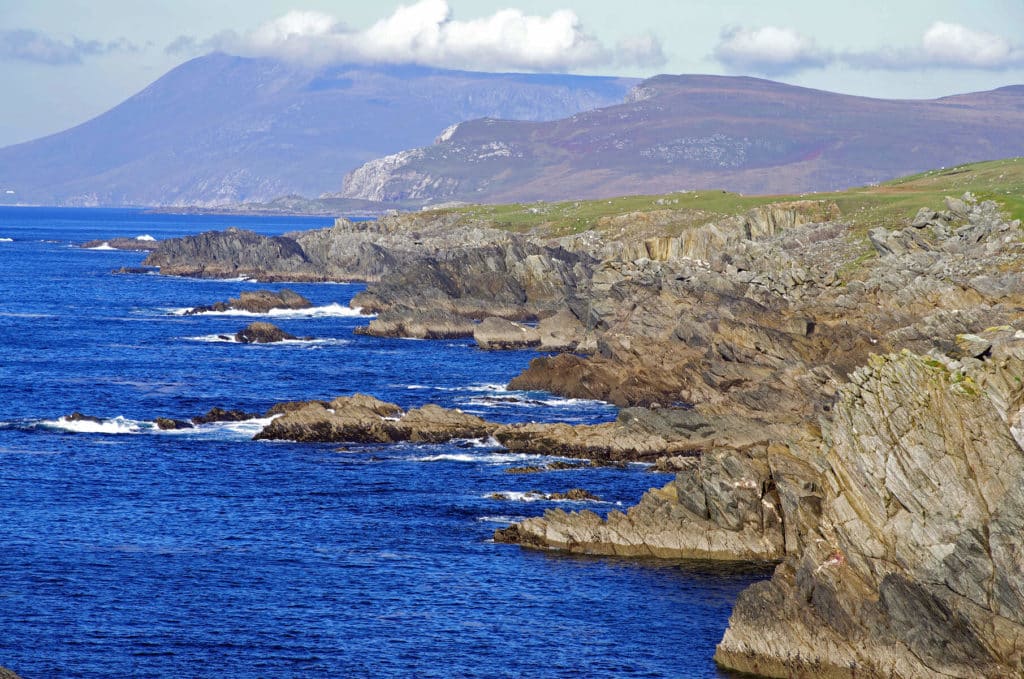 Convinced yet?! Then let's go on to where you can stay on the island.
What kind of accommodation can you find on Achill Island?
Thankfully there's a good selection of places to stay on Achill island. We are going to break them down one by one and show you which we believe to be the best on the island.
Hotels
There is a grand total of 3 hotels on Achill Island.
Achill Island Hotel
Achill Island Hotel is actually located on the mainland just before you reach the Michael Davitt Bridge. The hotel enjoys beautiful views over the Bay with a nice garden area with benches where you can sit outside on the warmer days with a cool drink or some tasty local cuisine.
The restaurant in the hotel offers a great selection of seafood locally produced from delicious mussels to the freshest fish.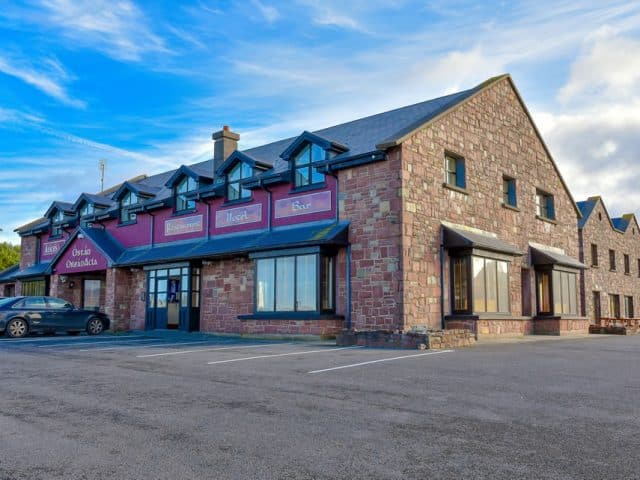 There was also a very nice bar area with a cozy atmosphere, along with the beautiful local stone adding a homely feel.
Renovated quite recently, this is the newest hotel on the island.
Click here for more info, rates and photos.
Achill Sound Hotel
The Achill Sound Hotel is located in the center of the town of Achill sound. This pub enjoys a great location close to the main shops and bars of the town, so any supplies you'll need are within walking distance, which is very uncommon on Achill Island!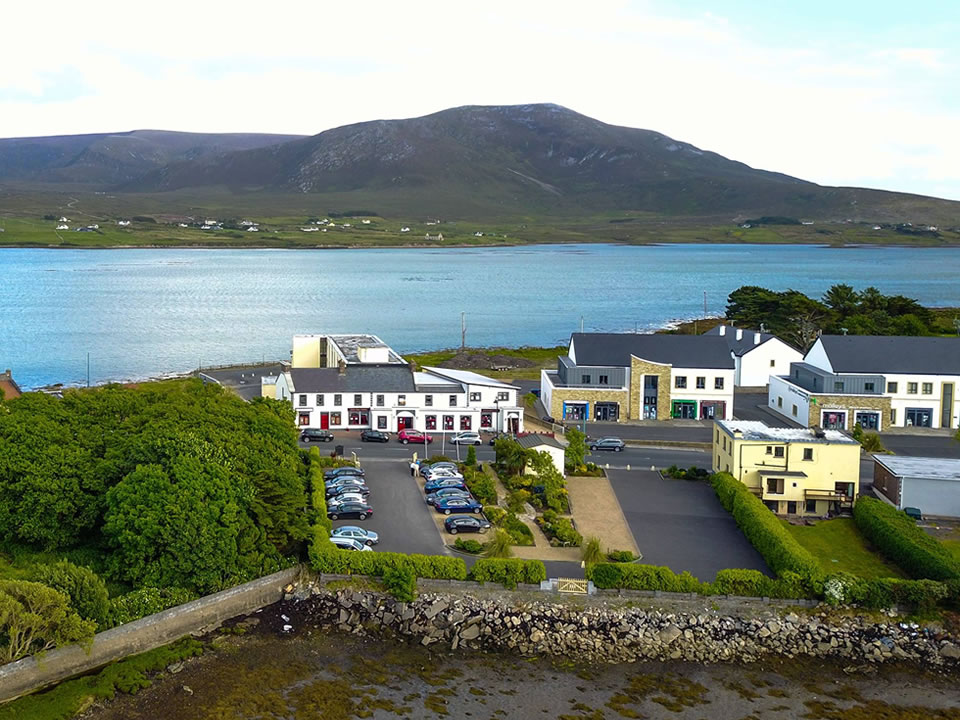 This is a very homely hotel with the great pub which which often has life Irish music during the summer months.
The food in the Achill Sound hotel is also highly rated, offering some great home cooked meals.
Click here for more info, rates and photos.
Achill Clifff House
Our next hotel, the Achill Cliff House it's not located in the main town of Achill Sound but in the town of Keel, a town located practically in the dead center of the island, and enjoys views over the spectacular strand of Keel Beach.
This guesthouse/hotel is well known also for its fantastic food, which offers plenty of local dishes from local lamb to local seafood and fresh fish.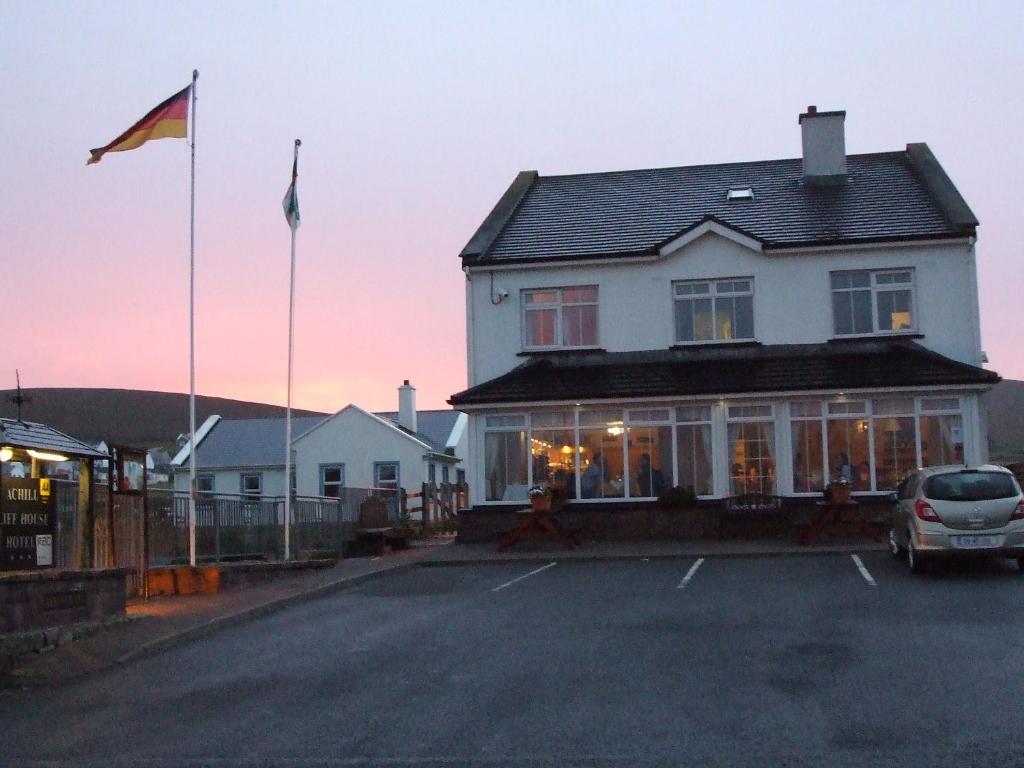 The hotel is kitted out with all you would need from Wi-Fi to parking and with its location close to some of the most scenic beaches in Ireland, this accommodation is a great option.
Click here for more info, rates and photos.
Bed & Breakfasts
No trip to Ireland would be complete without a stay in a bed and breakfast. Here are our picks of the best on the island:
Ferndale Bed & Breakfast
Ferndale bed and breakfast is it beautiful house with spectacular views over Keel Bay. This bed and breakfast is actually adults only and the themed rooms offer something a little bit different for the visitor. Check out some photos here.
People have commended the breakfast in Ferndale also, and for those looking for a more luxurious and unique stay, it's a great option. Add in the incredible location and views, and this could well be one of the best options for accommodation on the island.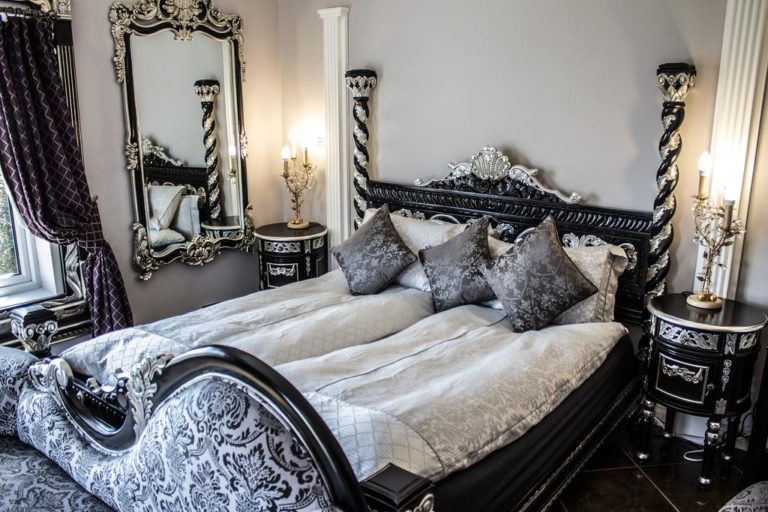 It must be noted though that's this bed and breakfast, because of its location and uniqueness, is very popular so booking well in advance is highly advised.
Click here for more info, rates and photos.
Stella Maris
Our next bed and breakfast, Stella Maris it's also located near the village of Keel and offers breathtaking views over the Keel Strand, Keel Bay and the Minaun Cliffs.
This bed and breakfast really offers something very special: direct access to Keel beach via the large front garden. Just imagine waking up to that view and after a hearty breakfast and making your way down to the vast beach for a morning walk or a surf!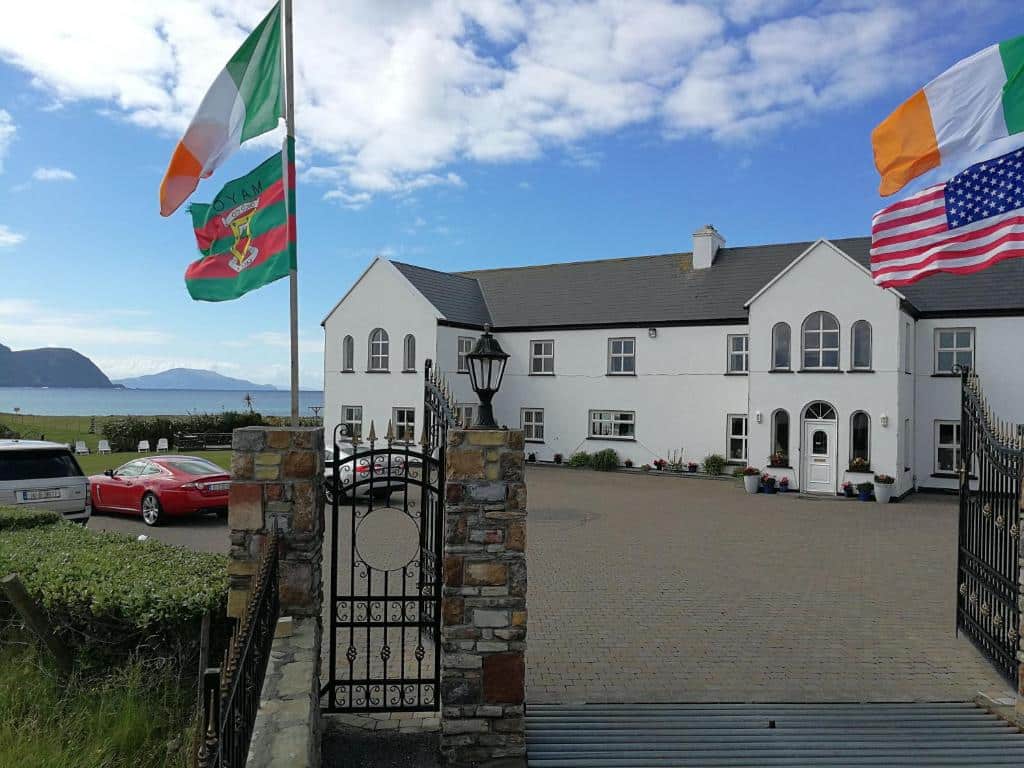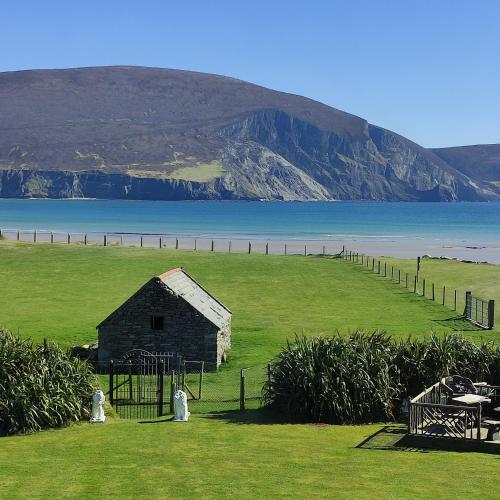 Once again, like Ferndale, this is a very popular bed and breakfast and is very likely to be booked out months in advance.
Click here for more info, rates and photos.
The Greenway Lodge
We have carefully selected this bed and brekfast as we feel its a great option on the island.
The Greenway lodge is located in the town of Achill Sound and offers visitors that Irish cottage feel which one must experience when on holidays to the Emerald Isle.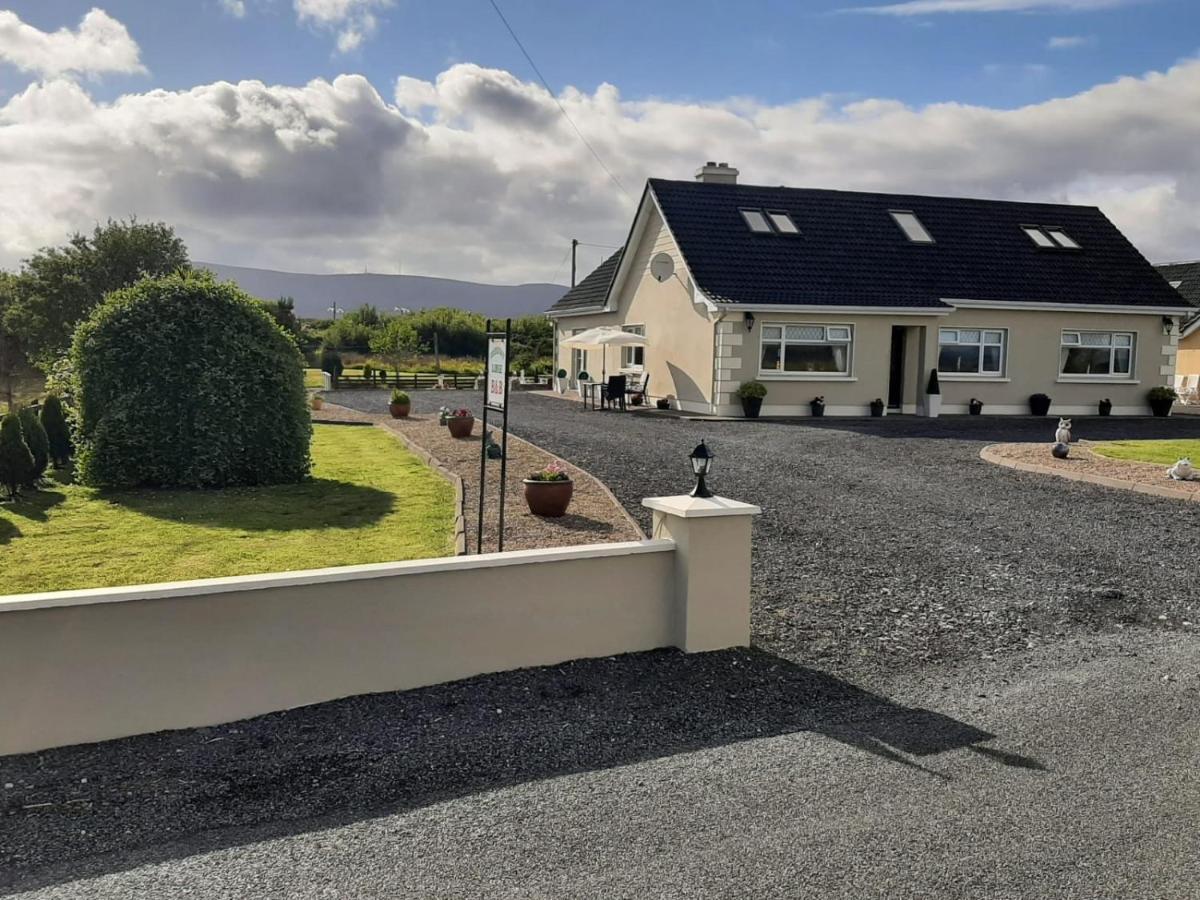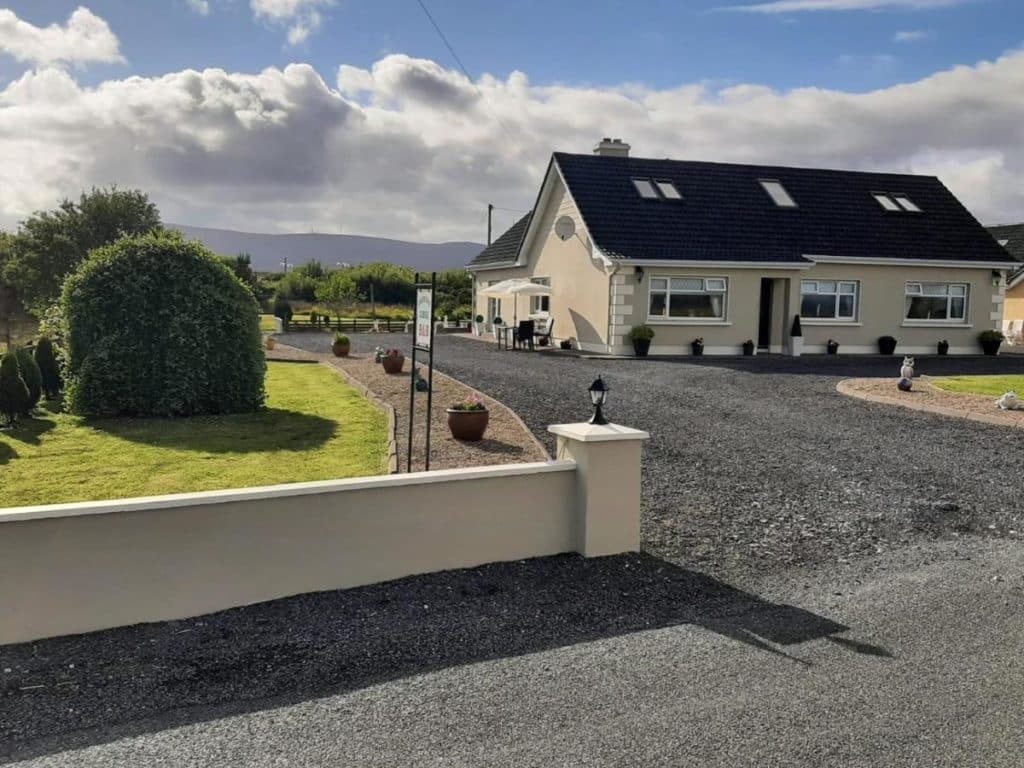 This small but well appointed and clean bed and breakfast offers great views and proximity to Ireland's longest cycle route: the Greenway.
This would be an excellent place to spend a night after cycling from Westport to Achill Island, with the plan of further exploring Achill Island the following day.
Click here for more info, rates and photos.
Guesthouses
The Bervie
Could this be all the accommodation you need on Achill Island? We think it just may be…
This restored coast guard house enjoys a stunning location, as close as you can practically get to Keel Strand. It also happens to be located within walking distance to art galleries and some great restaurants.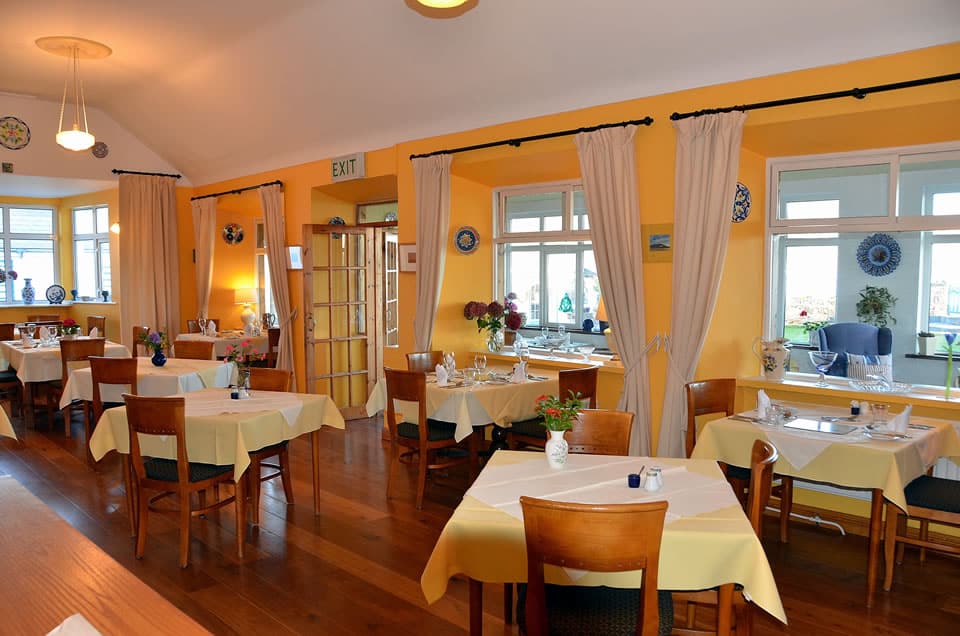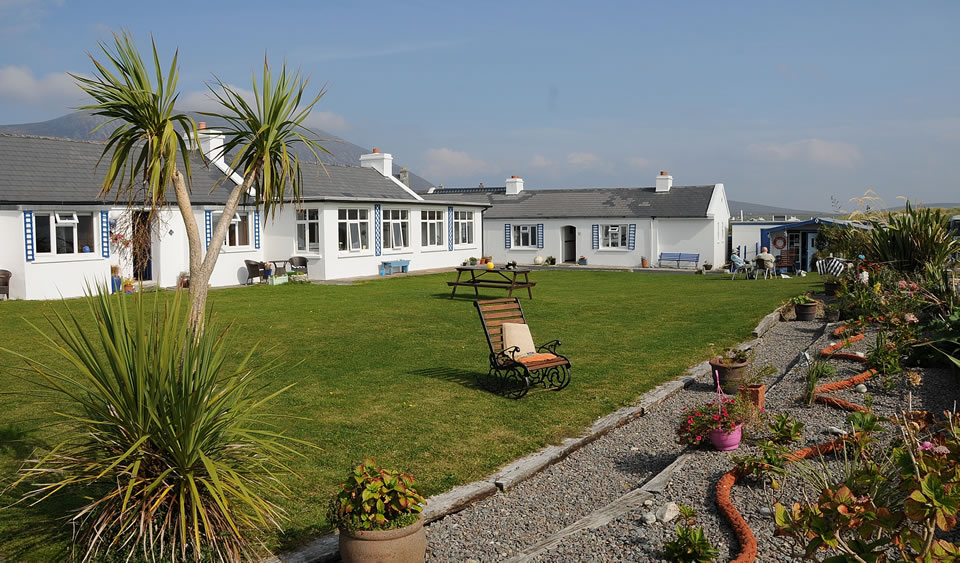 The Bervie also has its own restaurant, which is highly commended, serving local produce from Achill lamb to freshly caught sole from the sea just a stone's throw away. A real hidden gem and a great option for your holiday on Achill Island.
Click here for more info, rates and photos.
Roskeel House
Another highly recommended guesthouse on Achill located near the stunning beach of Keel, with beautiful views over the bay and cliffs.
Because the accommodation up above is likely to be booked out well in advance, this could well be a viable option, due to it having plenty of rooms on offer.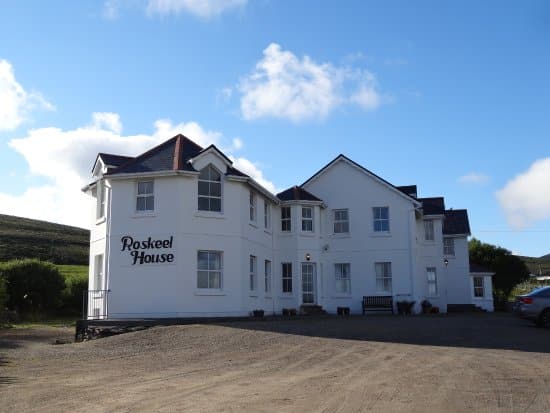 One great advantage of staying here is that you are close to some great restaurants in Keel, as well as being within walking distance of the beach.
Click here for more info, rates and photos.
Joyce's Marian Villa
Like Roskeel, this accommodation is brilliantly located near the restaurants and beach of Keel.
There are plenty of rooms available here, with many offering beautiful views over the bay.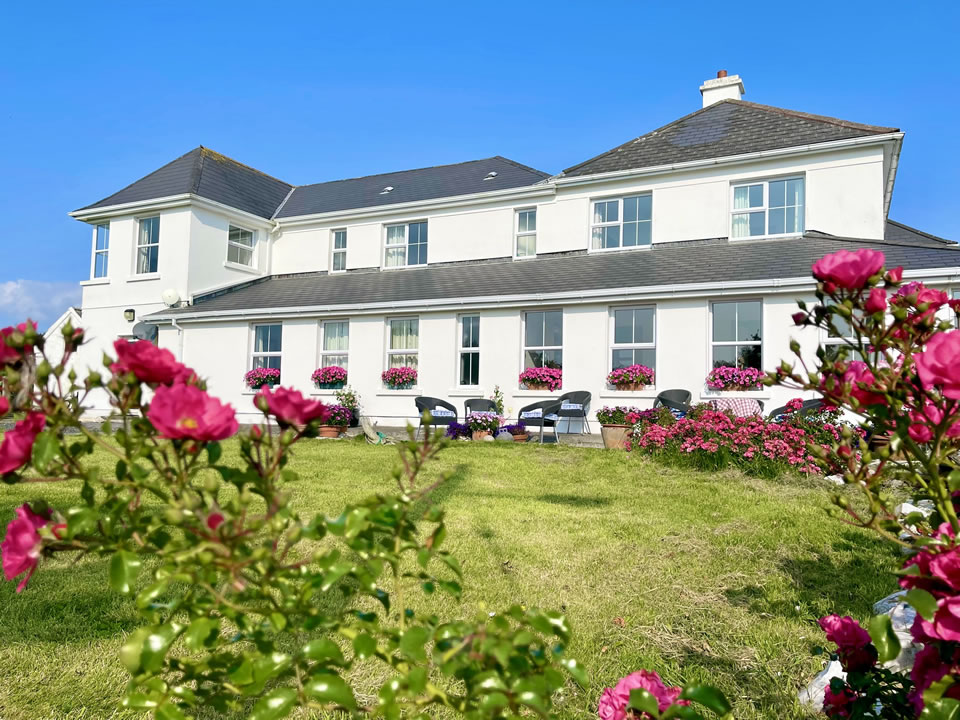 You'll find everything you need, from wifi to parking, with a good hearty Irish breakfast to greet you in the morning. A solid option for a few nights.
Click here for more info, rates and photos.
Hostels
The Valley House
The Valley House is located on the north of the island at first glance looks like a Victorian house. That's indeed what it used to be but now it's a hostel with a great reputation. There's plenty of accommodation available for all group sizes from 10 bed dorms to private rooms.
The bar must also be commended and frequently has live music on during the busier months. You'll also find a mighty turf fire blazing in the corner most of the year. Definitely a very viable option for groups or indeed anyone who wants to visit the island on a budget.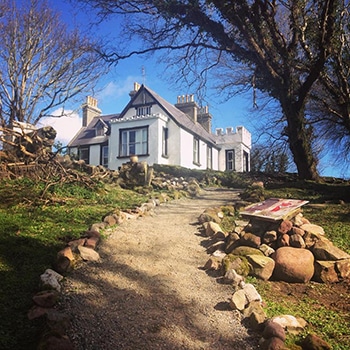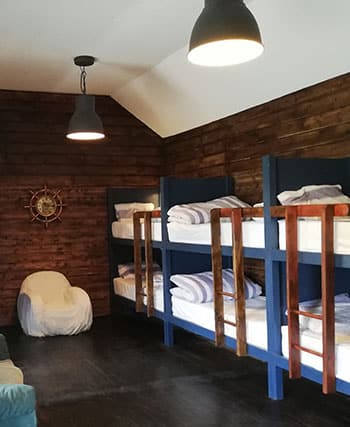 The Valley House is also famous for its fairy trail garden which can be visited even if you're not the guest there, definitely a fun option for the young ones!
Click here for more info, rates and photos.
Pure Magic
Pure magic is a company which originally came to the island with the intention of spreading the gospel of kite surfing, amongst other water activities.
In recent years they have expanded and turned their base into a wonderful hostel which offers themed rooms in unique styles, from Hawaiian to Moroccan.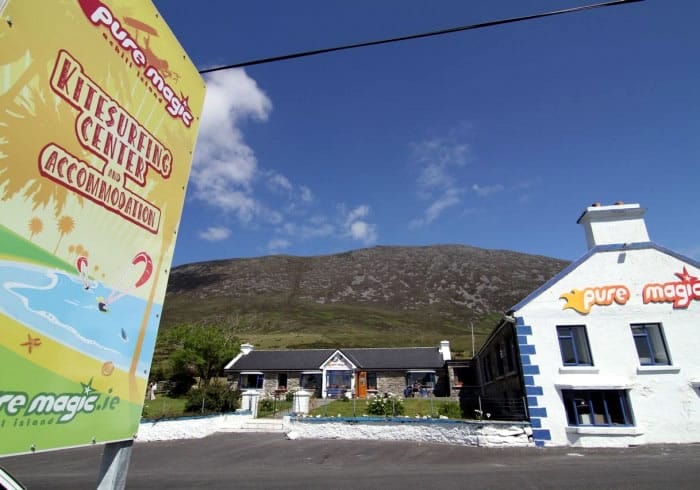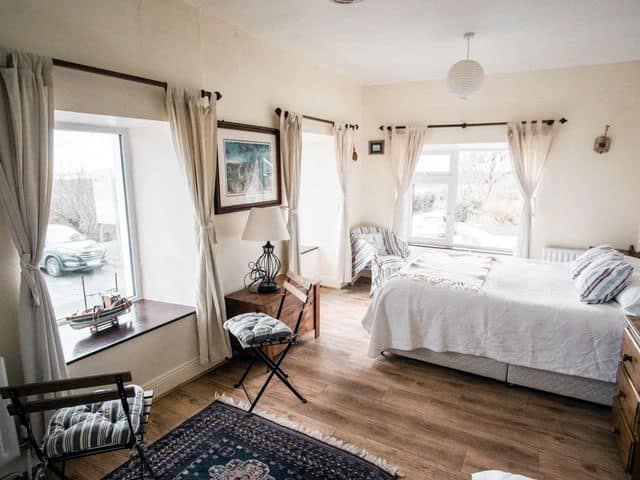 They also have a very decent restaurant which offers a big mix of food inspired by both Irish and French cuisines, and a tasteful wine list.
There is a great general atmosphere about the place at Pure Magic with many of the guests playing musical instruments in the corner at any given time, along with the famous pool table being almost always occupied.
Click here for more info, rates and photos.
The Railway Hostel
The Railway Hostel is also a very good budget option. This is located in Achill Sound and comes equipped with two fully fitted kitchens. The dorms sleep up to six people with private and family rooms also available.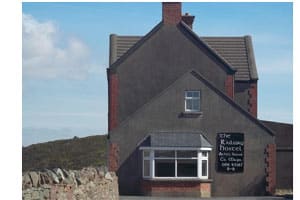 This hostel is also in close proximity to the Greenway offering a great budget option if you're out and about with your bike.
Click here for more info, rates and photos.
Self Catering
There are a number of self catering options available on Achill Island, but here are some options which really caught our eye:
Kearney's Cottage
This beautiful stone cottage at the foot of Slievemore mountain is the type of place you could easily spend a chilled out week in, doing nothig but recharging the batteries and going for long walks on the island.
If you want to get away from it all, cosy up in front of the open fire with a book, this place looks ideal.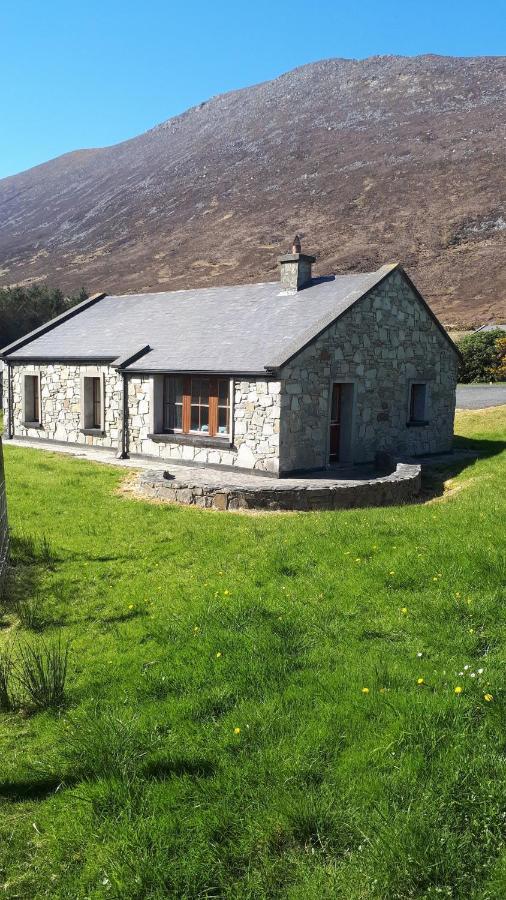 You're also not far from the main attractions of the island. The house, although small, sleeps 6 so definitely a good deal for familly or small group.
Click here for more info, rates and photos.
Achill Cottages
Located near Achill Sound, these 4 star cottages are tucked away in a nice secluded part of the island. They sleep up to 6 people and are for rental the whole year round.
This could be a great option if visiting in the quieter months, when not everywhere will be open for guests.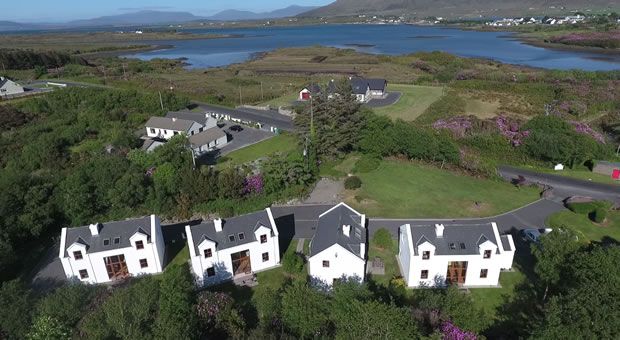 The owner lives on site too, which can be very handy indeed if you need some info about the area.
Click here for more info, rates and photos.
Camping Sites
Achill has always been a very popular location for those who prefer to camp, and thankfully there are 2 great campsites on offer.
Achill Seal Caves
Located in the wonderful village of Doogort to the north of the island, a nestled under the looming peak of Slievemore, this campsite has been on the go for the last 30 years.
You'll find a great selection of mobile homes, with plenty of space to park your own camper if you want to spend the night next to the beautiful Blue Flag beach of Doogort.
Recently renovated showers and toilets, along with countless other facilities such as a recreation area and wifi throughout make this a great campsite to take in the local area.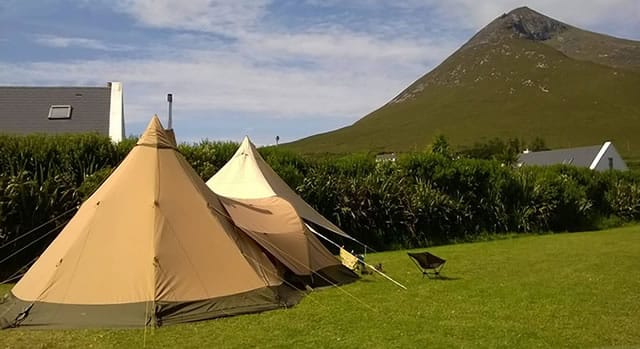 With over 7 acres of ground, you'll find ample space if you want to pitch your tent for the night. Because of its location on Doogort Hill, you'll be spoilt with some wonderful panormaic views over Doogort Bay, Beach and Slievemore.
Click here for more info, rates and photos.
Keel Sandybanks
Another long running and well established campsite in a perfect location next to Keel Strand.
Keel Sandybanks has a wide range of options such as mobile homes for rent with hot and cold water, ample space for campervans and lovely green areas for pitching your tents. You'll find a wide range of facilities too such as laundry, picnic areas and a great playground for the young ones.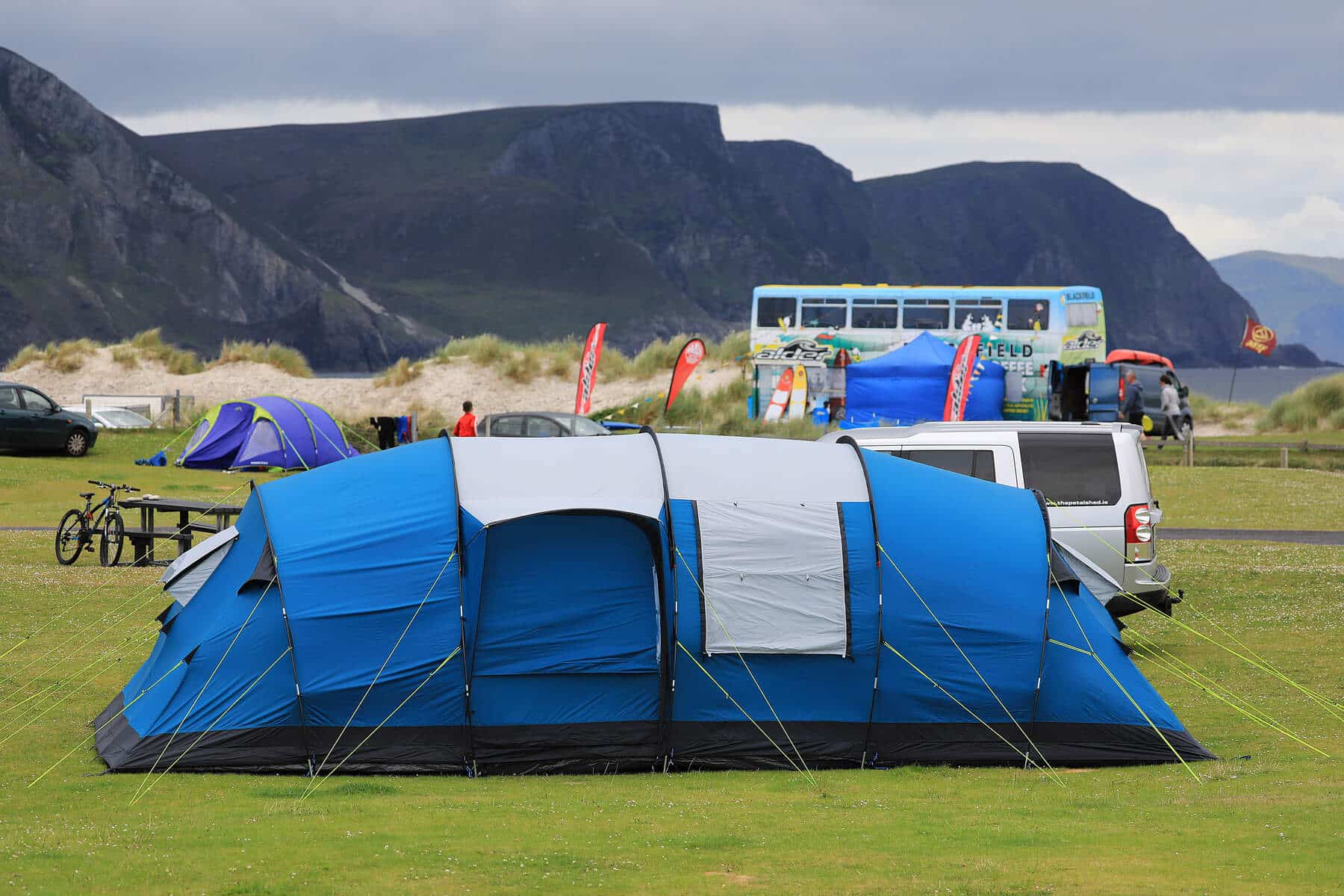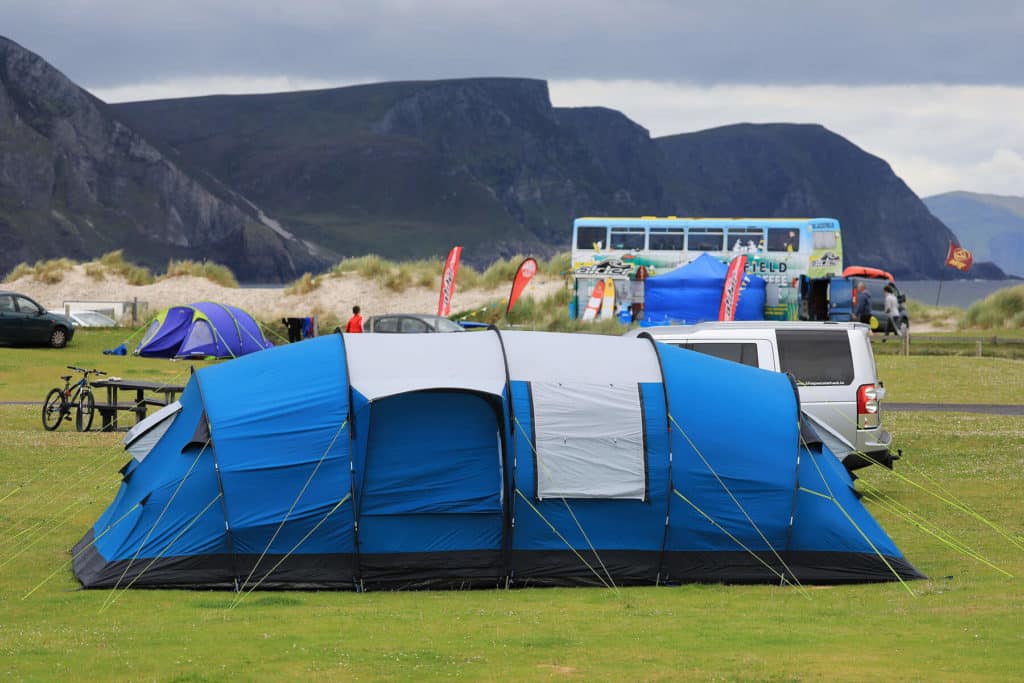 Imagine waking up in the morning to the sound of the Atlantic waves and within a few minutes you could be on your surfboard riding some epic waves. That's pure Achill Island.
Click here for more info, rates and photos.
Our Choice of the 5 Best Places to Stay on Achill
All lists are subjective and of course what we may think is best may not tick all the boxes for many, but here is our choice of the 5 best palces to stay on Achill.
Our favourite part of Achill is Keel, which is why most places listed above are in this area. We believe this location is perfect; you are in the dead centre of the island, next to the epic beach of Keel with its spectacular views and countless watersports, and there are plenty good restaurants nearby.
Not to mention art galleries, some great pubs and the world renowned Keem Beach, the village of Keel is ideal as a base for exploring what Achill has to offer.
Now, onto our best budget options:
Our Choice of the 5 Best Budget Places to Stay on Achill
Greenway Lodge (9.5 rating, 90 euros per night for double room in June)
Murrayville B&B (9.5 rating, 90 euros per night for double room in June)
Hy Breasal (9.1 rating, 90 euros per night for double room in June)
Minaun Cliff View Apartment (9.7 Rating, 117 euros per night for whole apartment in June)
Creevagh B&B (9.8 rating, 89 euros per night for double room in June)
Things To Do on Achill Island
Achill offers a lot for many types of visitor, from breathtaking drives like to one of Ireland's great hikes, the Cliffs of Croaghaun.. We have compiled a comprehensive list of activities to do on Achill Island, which also includes indoor activities.
Final Thoughts
We are sure that if you decide to choose any of these location above, you will have a lovely comfortable stay.
As already mentioned, Achill is expected to be very busy this summer (2023) due to the roaring success of The Banshees of Inisherin. By the way we have all filming lcoations covered in detail here. We also have an epic road trip planned out, which takes in all of these locations. Click here.
If you have trouble finding a place to stay on Achill, why not stay in the beautifully picturesque town of Westport and use this as a base to explore the west of Ireland? We have hand-picked our best hotels in Westport here.
If you have any questions regarding where else we would recommend staying please let us know in the comments below or drop us a mail. We'd be delighted to hear from ye! Slán Go Fóill!