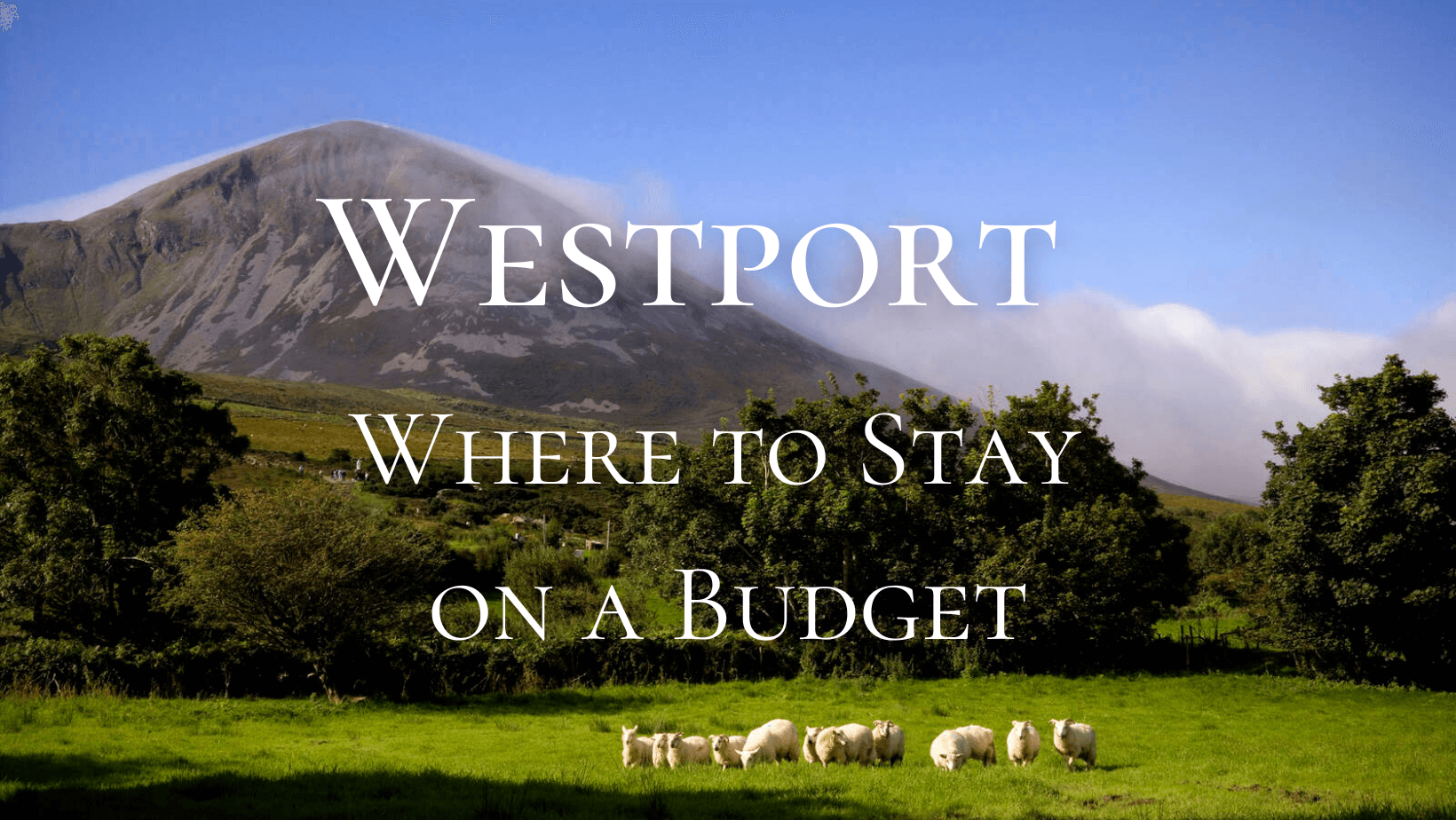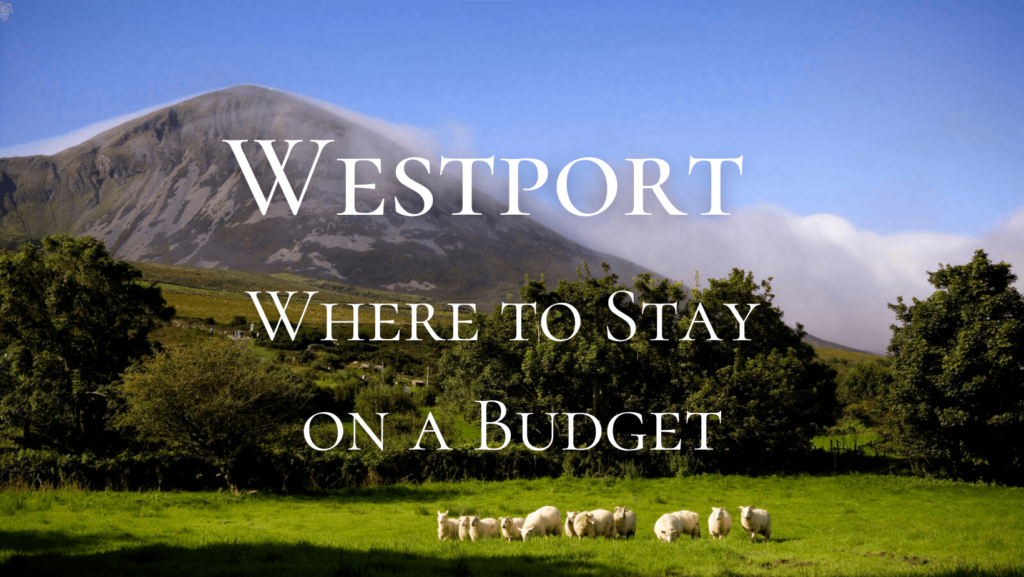 Westport is a town located on the shores of Clew Bay, County Mayo in the West of Ireland. It is a town known for its beautifully scenic location, as well as having some excellent shops, pubs and restaurants.
It is also an excellent base to explore the stunning nearby sights and attractions, such as Achill Island, The Great Western Greenway or Croagh Patrick.
But, let's be honest, the hotels in the town are expensive, especially in high season (July and August) You'll be paying at least €200 for most hotels per night.
If you are planning to visit in the off season, you will get better hotel rates. We have put together a comprehensive overview of hotels in Westport, most of which we have personally stayed in. Click here.
But for now, let's dive into our guide to the best budget options available in the town of Westport. At the end, we will provide you with our personal recommendations.
Note: I work hard putting these free guides together for you. If you click on a link, I may get paid a small commission, at no extra cost to you! Thanks a million for helping offset the monthly costs of running this site.
Tips For Using This Guide
This is a very detailed guide, designed to help you make the best decision on which accommodation to choose in Westport.
We highly advise reading our first-hand reviews in detail, but if time is of the essence, we have a concise summary at the end of the post.
Our Choice of the Best Budget Hotels in Westport
We'll start off with hotels in the town centre, which on first glance may not exactly be classified as 'budget! In saying that, relative to the other higher-end hotels in Westport, they do offer better rates.
Clew Bay Hotel – best for excellent location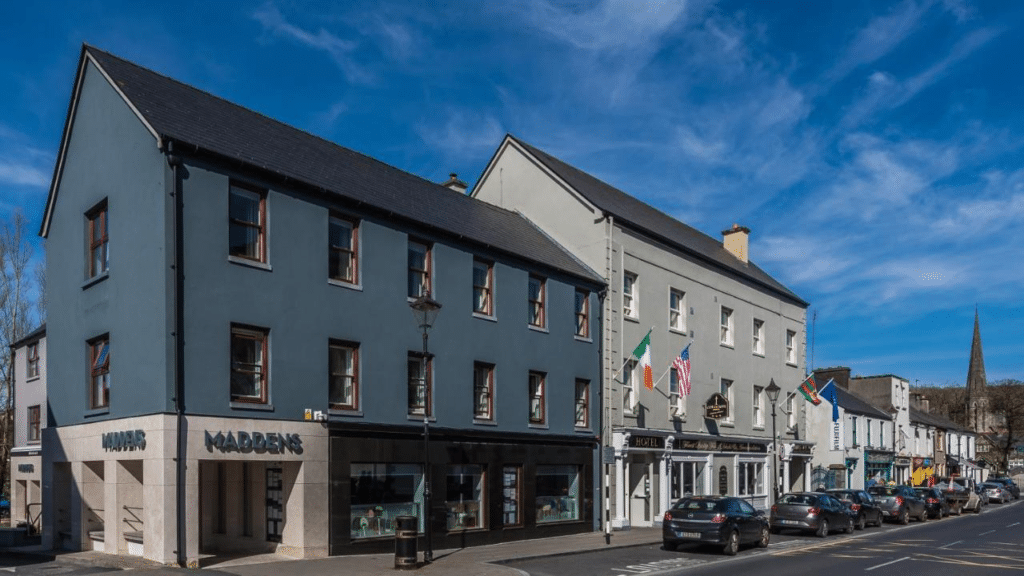 The hotel enjoys an excellent location, in the town centre of Westport. You'll be within walking distance of everything from Westport House & Gardens to a great selection of shops, pubs and restaurants.
The restaurant on site is also very good, providing a nice relaxing experience, along with a varied menu to suit all tastes.
The hotel is also well known for its award-winning breakfast, providing a continental and full Irish, as well as vegan options.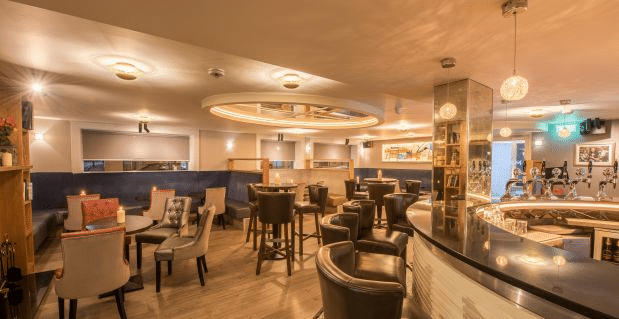 A great option if planning to explore Westport by foot. In mid June, expect prices of €150-160 for a double room, with that price being closer to €190 in the high season (July &August)
Click here for more photos and exact rates.
The Wyatt – best for location and Irish music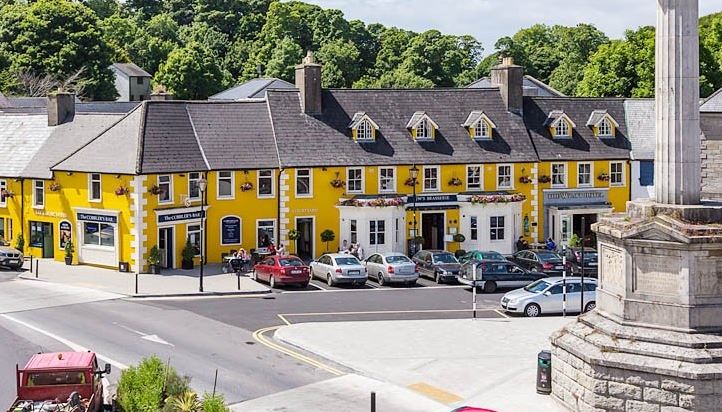 Located right in the heart of the town in the 'Octagon', this small, yet very well presented hotel, ensures everything Westport has to offer is within a couple of steps.
The hotel stands out from the crowd with its bright and vibrant yellow exterior, while the Cobbler's Bar serves some good bar food and great Guinness.
The bar is also known to put on a great Irish music session. We visited last year in the summer (2022) and was a nice, quieter alternative to the busier (but also brilliant!) Matt Molloys.
Expect similar prices to the Clew Bay hotel, of around 160 euros per double room in mid June. Certainly not cheap, but considerably cheaper than the higher end 4 star hotels in Westport.
Click here for more photos and exact rates.
Westport County Lodge – best for country location & affordability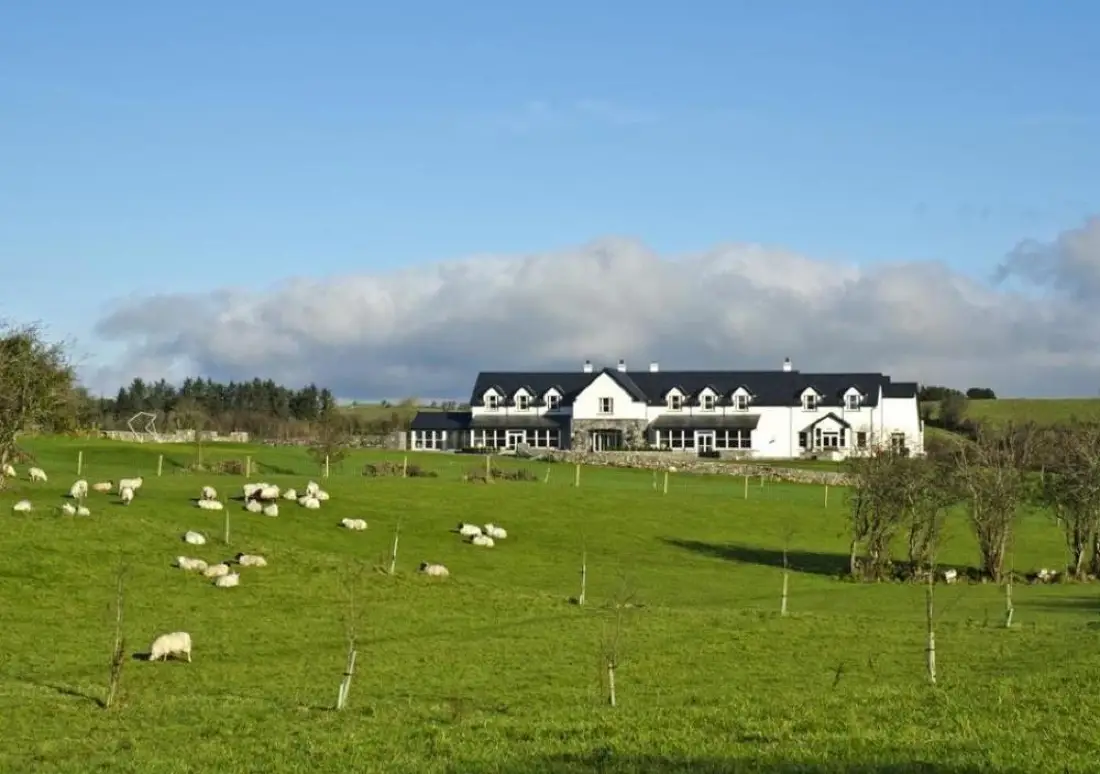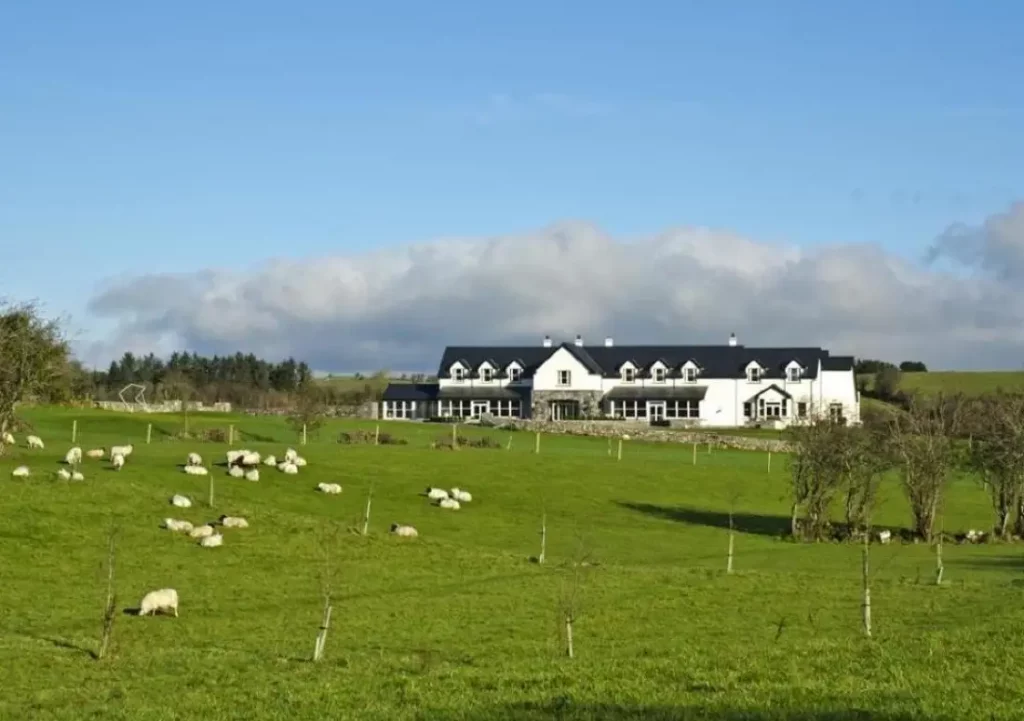 This hotel is often overlooked, due to its location approximately 4 km outside the town of Westport. Located in some beautiful countryside with views of the famous rolling drumlins and Croagh Patrick, this hotel provdies a more reasonably priced alternative to those mentioned above.
If staying in the countryside as opposed to the busy town of Westport is your preference, then this hotel is certainly worth a look into.
There is a great selection of rooms to chose from, including a generously sized family room and many have stunning views of Croagh Patrick.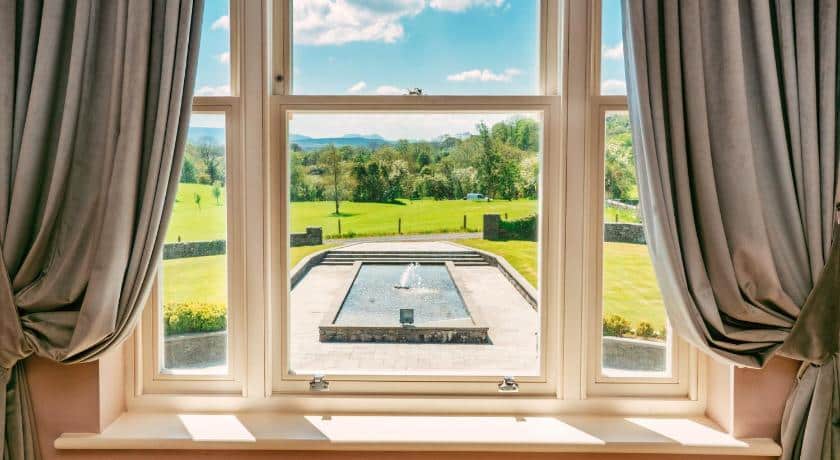 There's a great restaurant too, where you can enjoy some hearty home-cooked meals while enjoying the view over the beautiful countryside and Croagh Patrick.
Expect a cheaper price than those mentioned above, with a double room costing in the region of €130-140 in mid June and €170 in peak season.
Click here for more photos and exact rates.
Our choice of the best budget B&Bs in Westport
Clooneen House – best for location, facilities.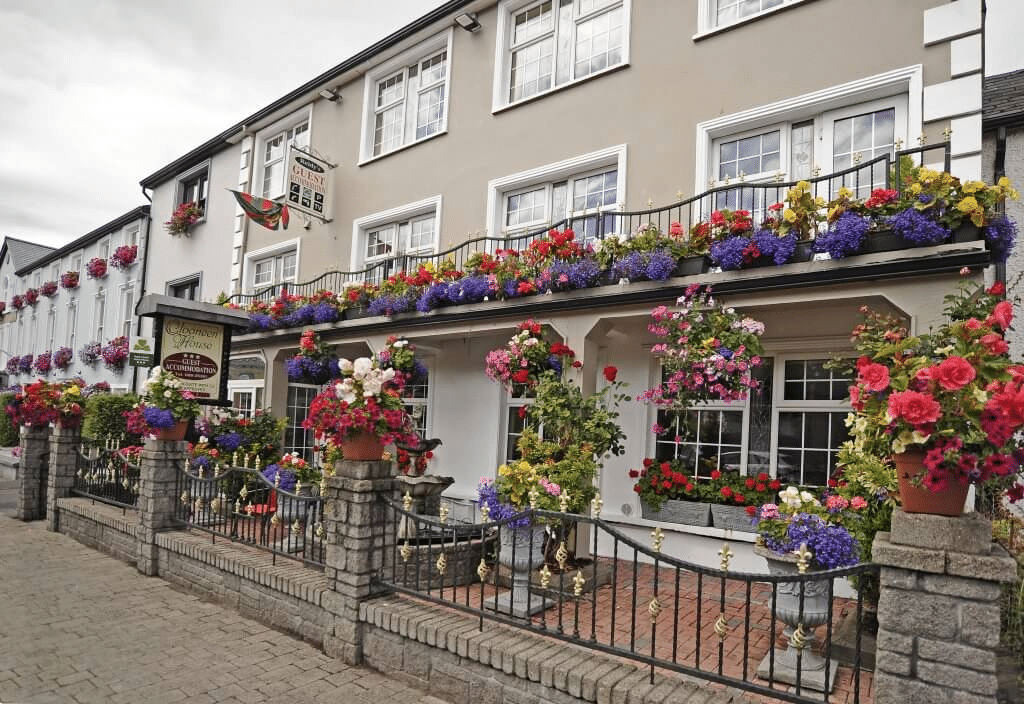 Located perfectly in the town, right next to the Castlecourt Hotel, this bed and breakfast is a perfect cheaper alternative to the more expensive hotels in Westport.
You can also avail of the incredible facilities of the hotels next door, the Castlecourt and Plaza, at a discounted price. These include a multi-award winning spa, pool, gym, hot tub…
Could this be that perfect blend of price, location and facilities? Expect a price in the range of €100 euros in June for a double. Family rooms are also available, along with free parking.
Click here for more photos and exact rates.
Plougastel – best for comfort & location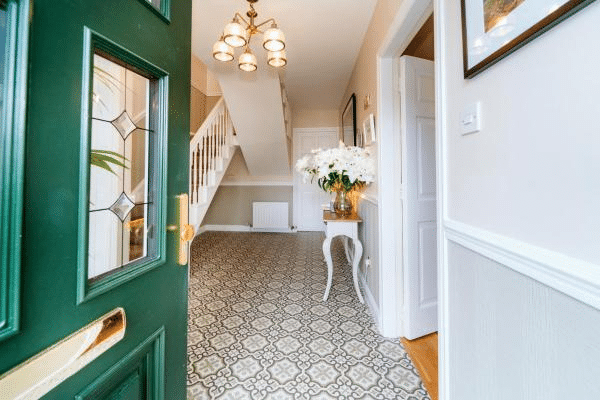 Another b&b in an incredible location, Plougastel is highly commended on booking.com. With a score of 9.6, the guests commended the house's elegance, comfort and ideal location in Westport town centre.
Expect a freshly prepared breakfast of your choice, either Irish or continental, along with 'super comfy beds' and '4 star hotel accommodation' (at a far more appealing price point)
The rates are around €120 for a double room in June, and for the quality of accommodation on offer, this is a very solid rate.
Click here for more images and exact rates.
Westport Heights – best for views, great all-round package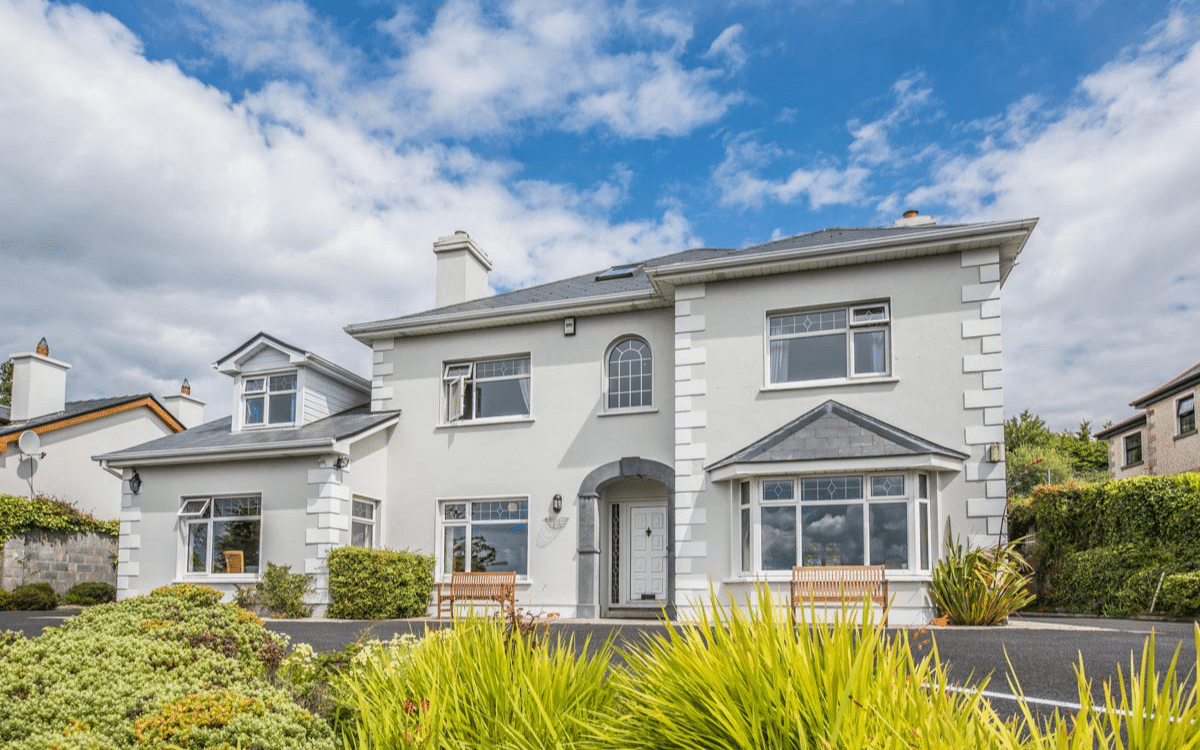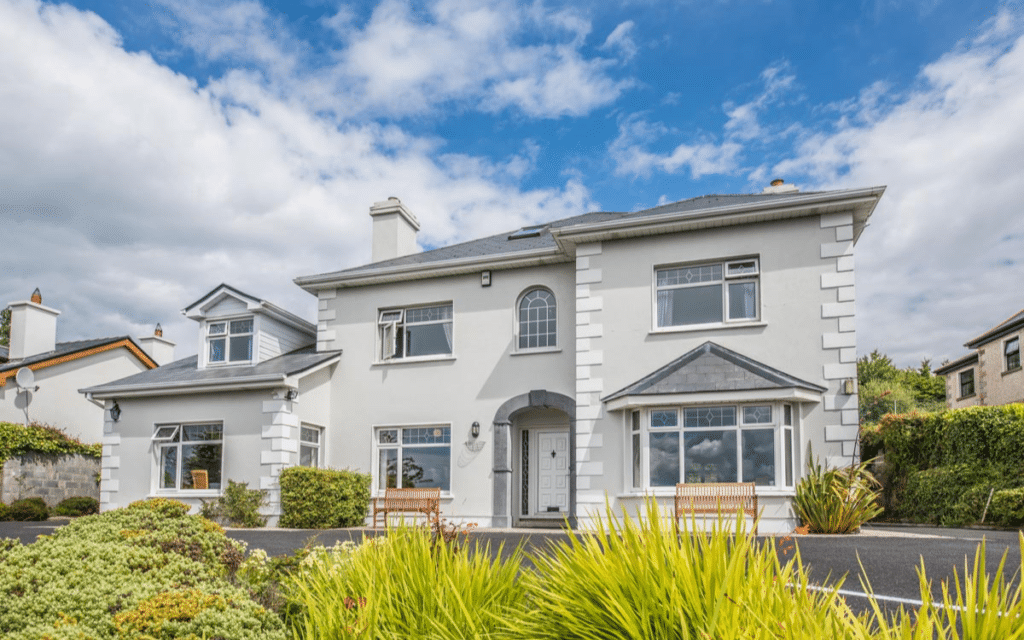 If you have been attracted to Westport for its scenery, then waking up every morning in this bed and breakfast will put a big smile on your face. You'll be spoilt with beautiful views of Croagh Patrick, Clew Bay and Clare Island.
The house also enjoys a fantastic location, 5 minute's walk from the town centre and 100 metres from the Greenway cycle lane.
The rooms are modern, and there's an apartment available too. With a high rating of 9 on booking.com, guest commended 'very comfy beds', 'stunning views' and a 'very good breakfast'
No wonder this place gets booked out quickly. Expect similar rates of €100-120 in June.
Click here for more images and exact rates.
Boffin Lodge Guest House – best for proximity to Quays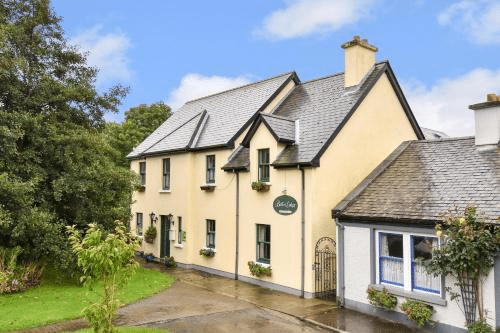 Located near The Quays and Westport House, this elegant country-style house is another very good option for your stay in Westport.
The Quays is a very popular part of town and you'll be near some excellent restaurants such as The Helm and The Towers, as well as being on the shores of Clew Bay. The Clew Bay cruise starts at this location also, which we highly recommend.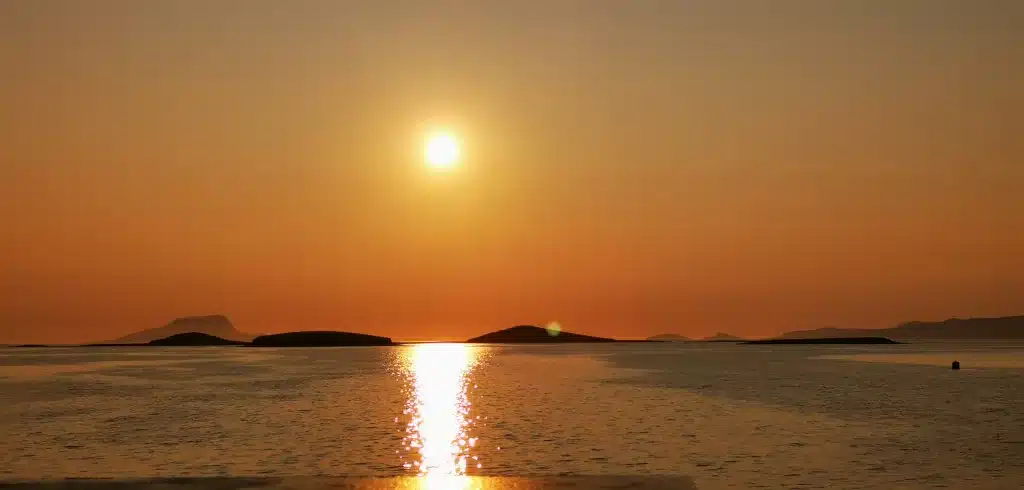 Guests here complimented 'the lovely quiet rooms', 'lovely, friendly staff' and 'good choice of breakfast'
The house itself has a lot of character both inside and out. Expect around €100-120 in June, as is the standard for this time of the year.
Click here for more photos & exact rates.
The Helm Apartments Bed and Breakfast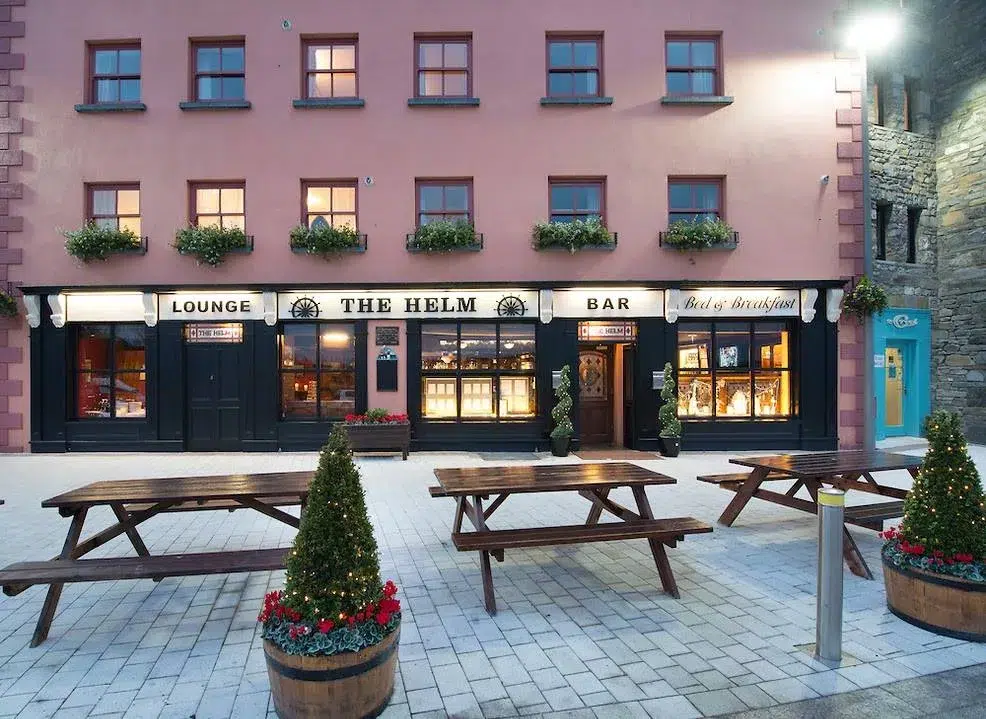 The Helm apartments are also located along the Quays, above one of our favourite restaurants of the same name.
We are big fans of this part of town, as it is quieter than the town centre, while being close to Westport House. There are wonderful views of Clew Bay and Croagh Patrick and you're at Croagh Patrick in 10 minutes.
The Helm Apartments are rated an impressive 9.1 out of 10. You'll have a separate kitchen and living area, and you can avail of breakfast in the restaurant. You'll also have a washing machine, which could be a godsend if travelling around Ireland for a longer time!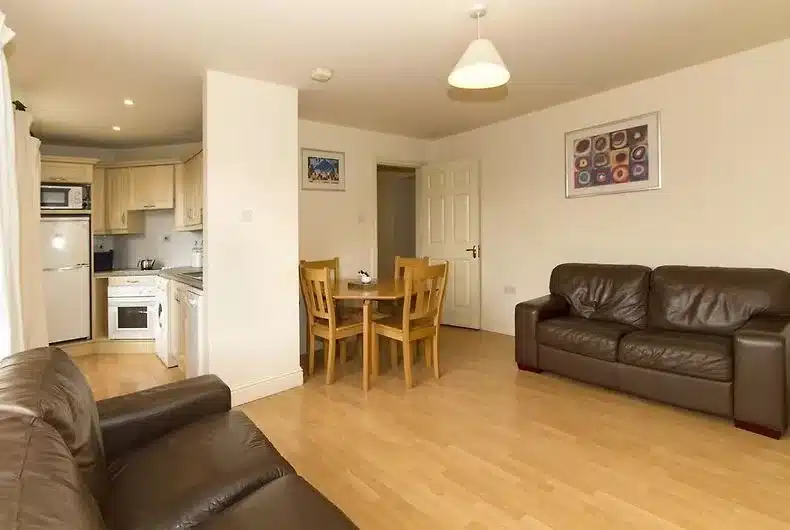 Guest commented on 'the outstanding breakfast and dinner, best on our travels in Ireland', 'apartment very clean and cozy'. There are 1,2 and 3 bedroom options available.
Expect the same rates as above, €120 in June for 2 sharing. In my eyes, considering what you get for this rate, this is our stand-out accommodation in Westport.
Click here for more photos & exact rates.
Out Choice of the best budget B&Bs near Westport
Carrabaun – best for country location, close to town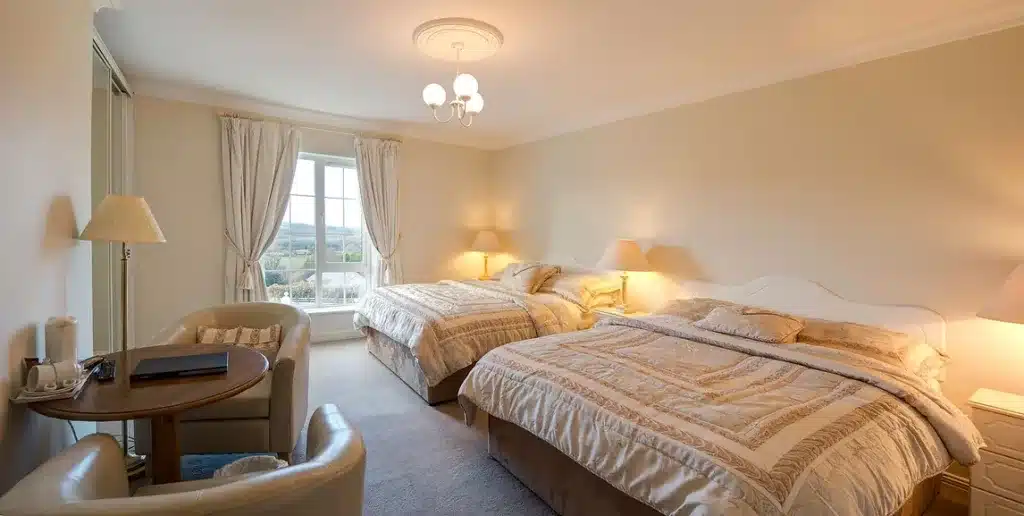 This wonderful house enjoys amazing views over Croagh Patrick. Although located in the countryside, you'll only be just under 2 kms from the town centre of Westport.
With a 'superb' rating of 9.1, expect to be treated with an excellent breakfast, free parking a warm and friendly host. Isn't that what every b&b experience should be about in Ireland?
'Spotlessly clean rooms' will await you, along with 'amazing beds and views'. It's also located on the Leenaun road, so you'll be avoiding any Westport traffic if you are planning to visit Connemara (which we highly recommend)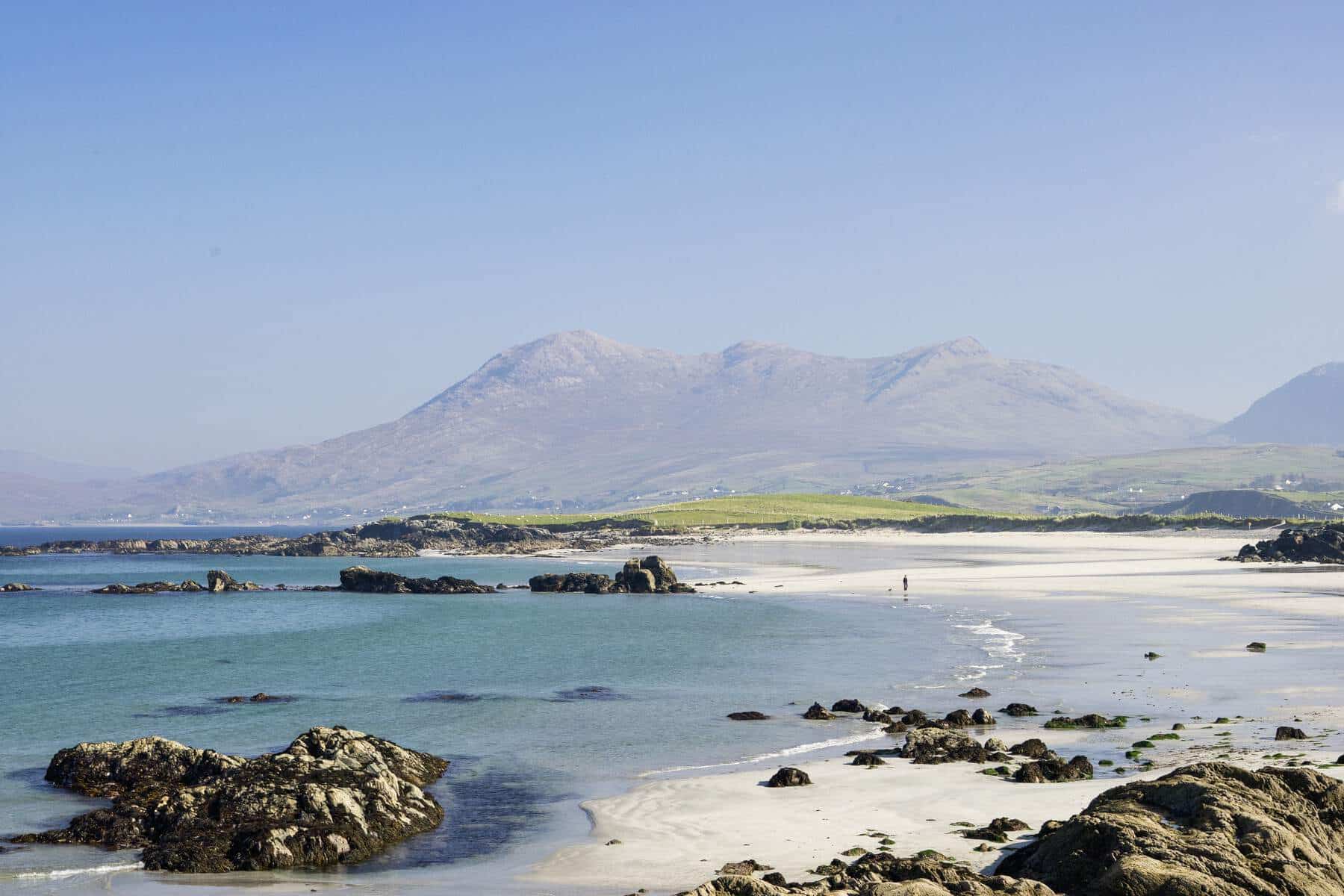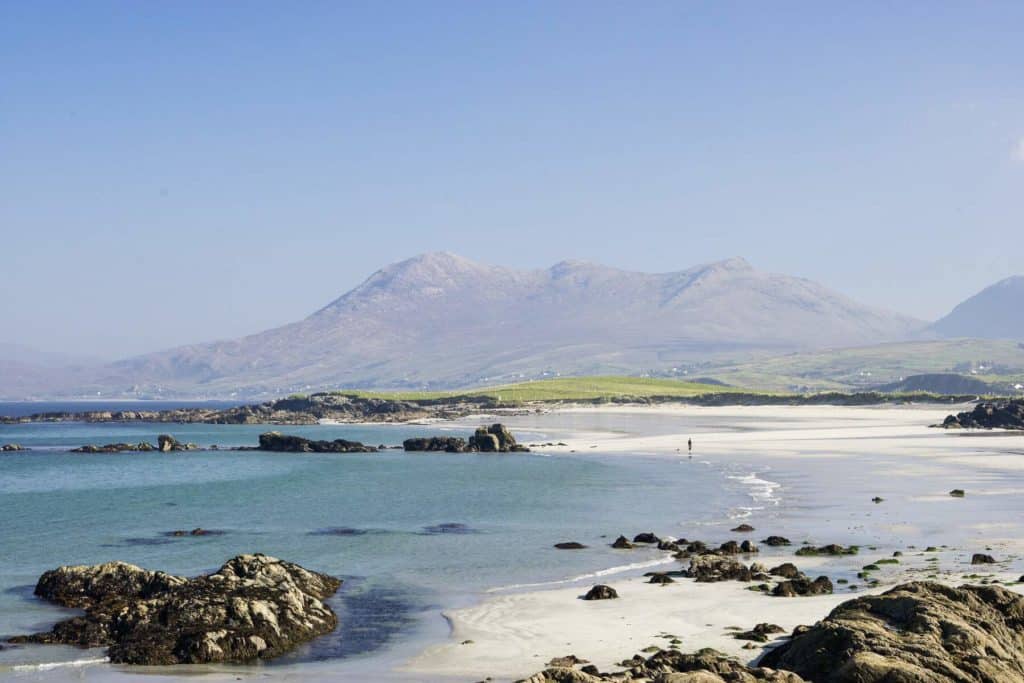 Expect a similar price point of around €100 – 120 in June.
Click here for more images and exact rates.
Bertra House – best for Croagh Patrick and coastal location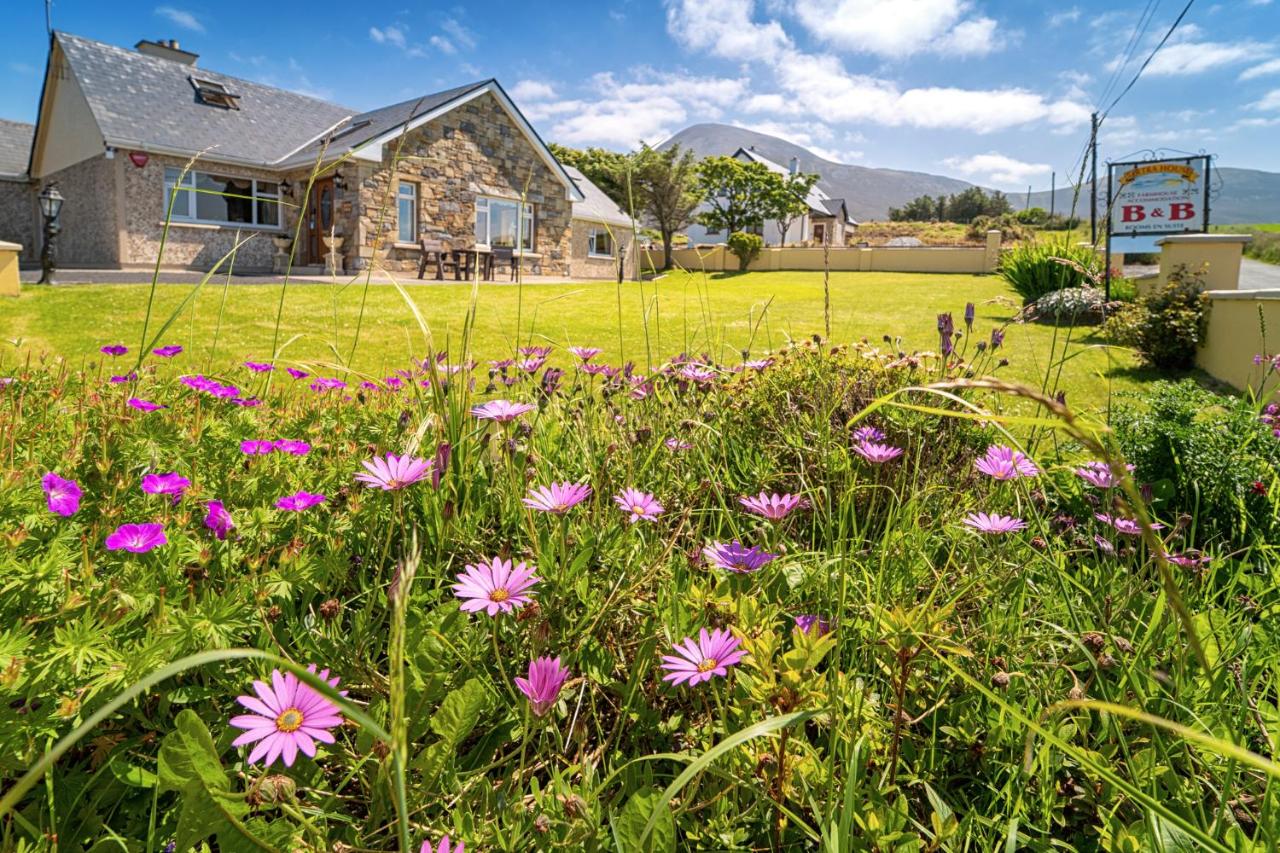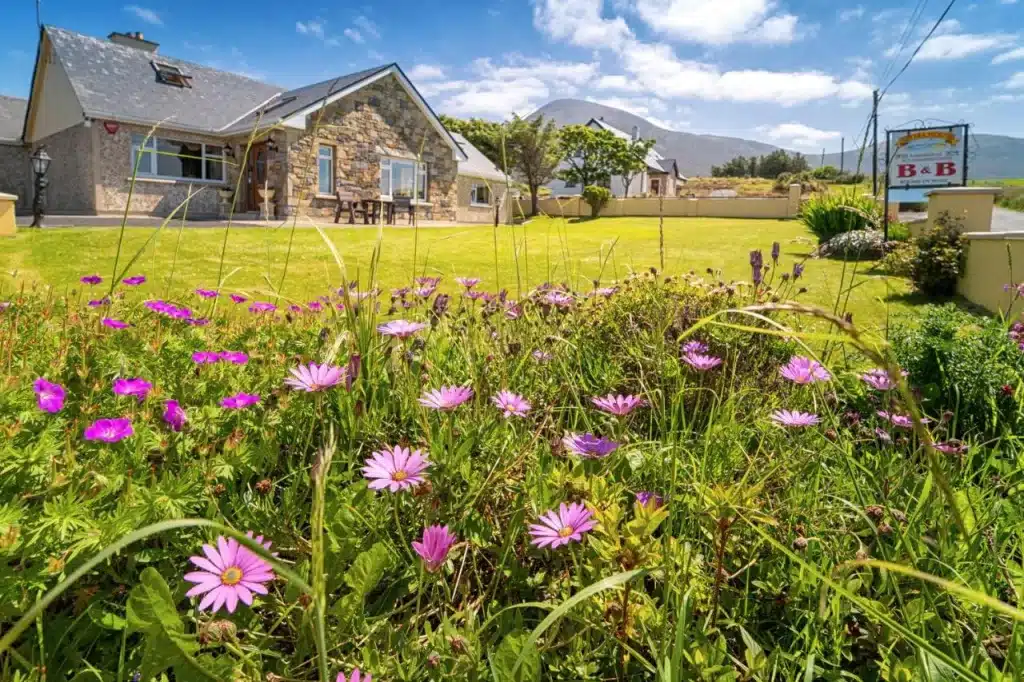 Located approx. 8 kms from Westport, you may be thinking this is way too far out of town. While it certainly is not withing walking distance, the views you'll be treated with will easily make up for it.
Bertra House is located right at the foot of Ireland's Holy mountain – Croagh Patrick and with views over Clew Bay, you'll be waking up to a beautiful sight. The beautiful Bertra Beach is just down the road too.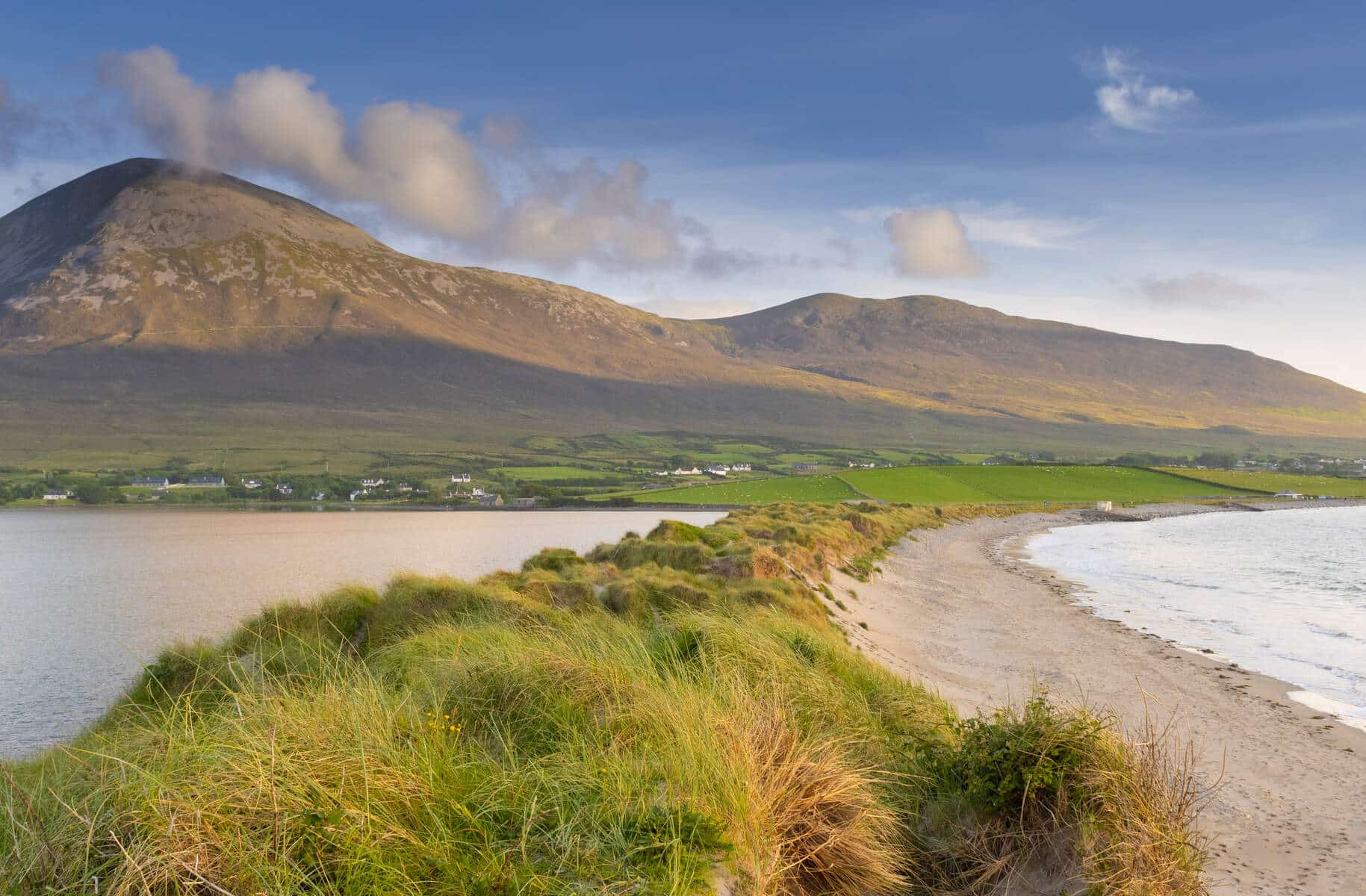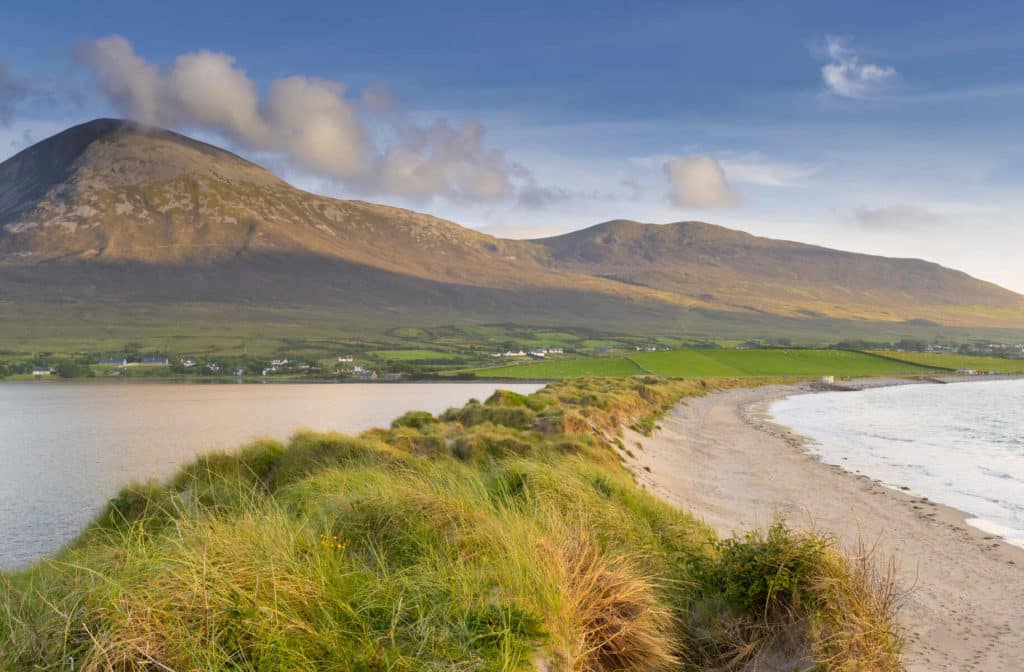 With a very high rating of 9.4, guests commented on the 'huge room which was spotless clean', as well as the 'delicious homemade breakfast'.
The good news is that prices in midweek in June will be around the €100 mark, considerably cheaper than in Westport town.
If you prefer beautiful views over town centre locations, then Bertra House is our top tip. This is also an ideal base for those wishing to climb Croagh Patrick.
Click here for more photos and exact rates.
Glenderan Bed & Breakfast – best for peace & quiet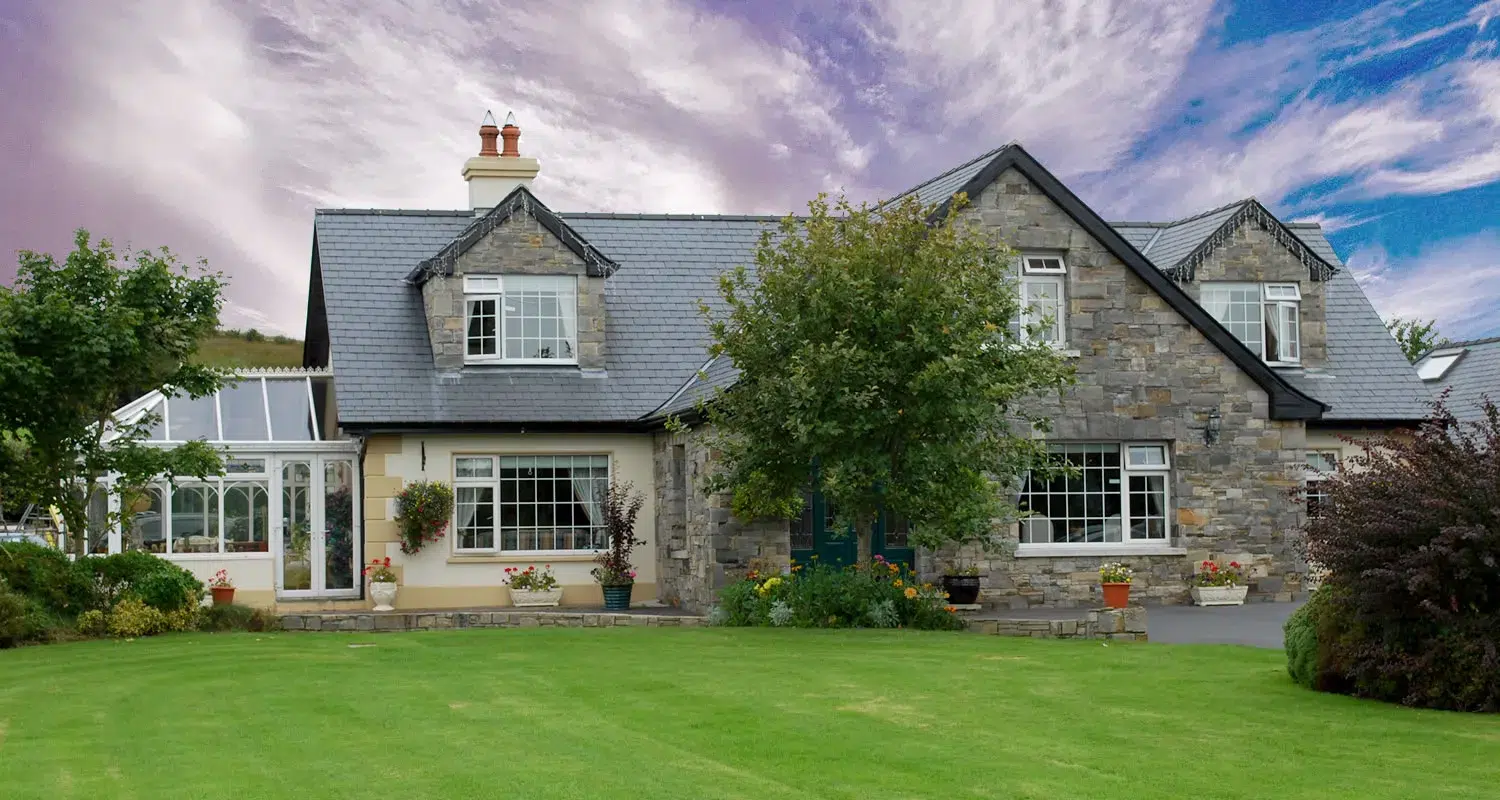 Glenderan is located about 1 km from The Quays and has a very impressive 9.4 rating.
Within walking distance of a Clew Bay, there are some spectacular photo motives in this part of Westport. The house itself is tastefully elegant and is nestled on 1 acre of beautiful gardens.
Expect a 'wide range of choices for breakfast', along with a 'clean, spacious room'. Guests also commented that this is a 'gem of a bed & breakfast'.
Expect a slightly higher rate than those above of €130 in June. You will, however, have the luxury of an orthopaedic bed and very quiet location, surrounded by greenery and spectacular mountain and coastal scenery.
Click here for more photos and exact rates.
The Waterside Bed & Breakfast – best for coastal location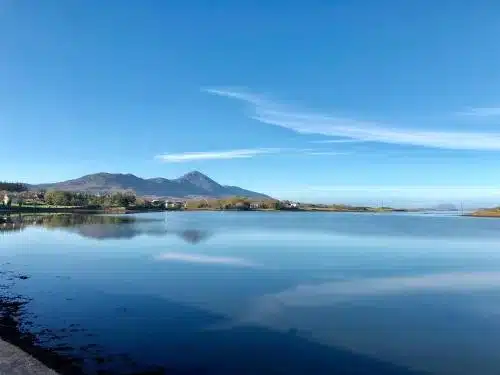 The Waterside, as the name suggests enjoys an incredible location in the Quays of Westport, with some quality restaurants next door.
It's also very close to the entrance to Westport House. All rooms have a private bathroom and there is a good variety of bedrooms, from double to family.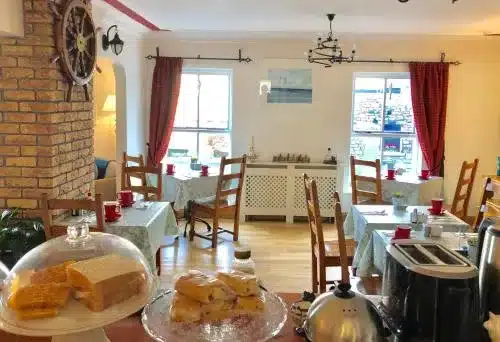 The real highlight is the incredible waterfront location, with amazing views over the bay and Croagh Patrick. Prices here seem to vary quite a lot. A quick scan revealed a quote of 85 euros for a double in June, which is as good as you'll get anywhere in Westport.
Click here for more photos and exact rates.
Hostel/Other Cheaper Accommodation in Westport
The Old Mill Hostel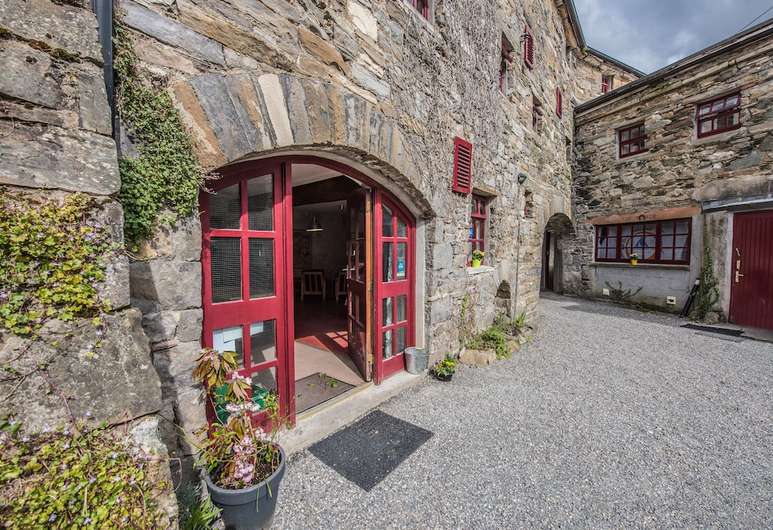 Located right in the centre of town, if you are on a strict budget and location is key, then this may well be your best option.
The buidling itself is over 200 years old and is full of character. There are plenty of options available:
Five x 4 bed dorms (some with optional 5th bed)
Two x 6 bed dorms (some with optional 7th bed)
One x 8 bed dorm
One x 12 bed dorm
Expect to pay around €27 per person in an 8-bed dorm in June and €30 per person in a 4-bed mixed dorm. This is the best price you'll get in Westport for accommodation, no doubt.
Check here for more info, photos and rates.
Cu Chulainn's Accommodation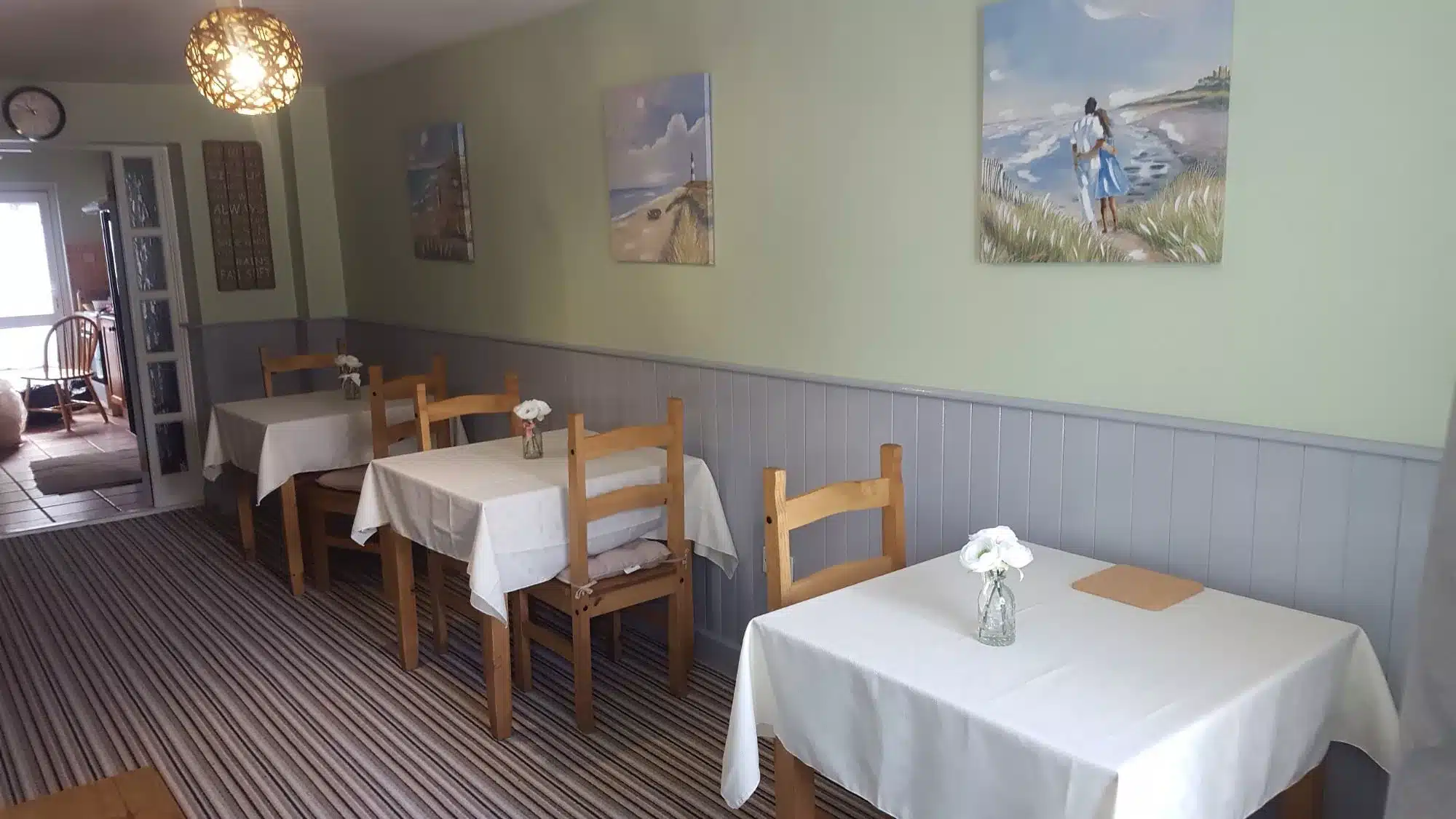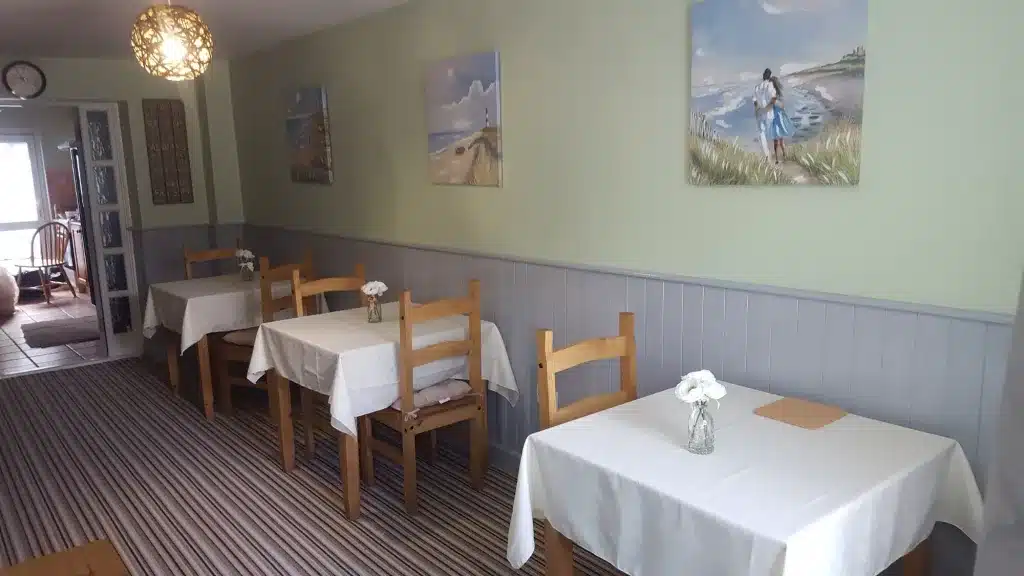 Last, and by certainly no means least, we have Cu Chulainn's. This simple, excellently located accommodation is perfect for those on the go all day and just need a comfortable, central location for the night.
There is no breakfast included, but you'll be within walking distance of all the great cafes, pubs and restaurants Westport has to offer.
With a very respectable rating of 8.3, guests commented on the location 'being very close to the train station and the centre', along with the owner being 'super friendly'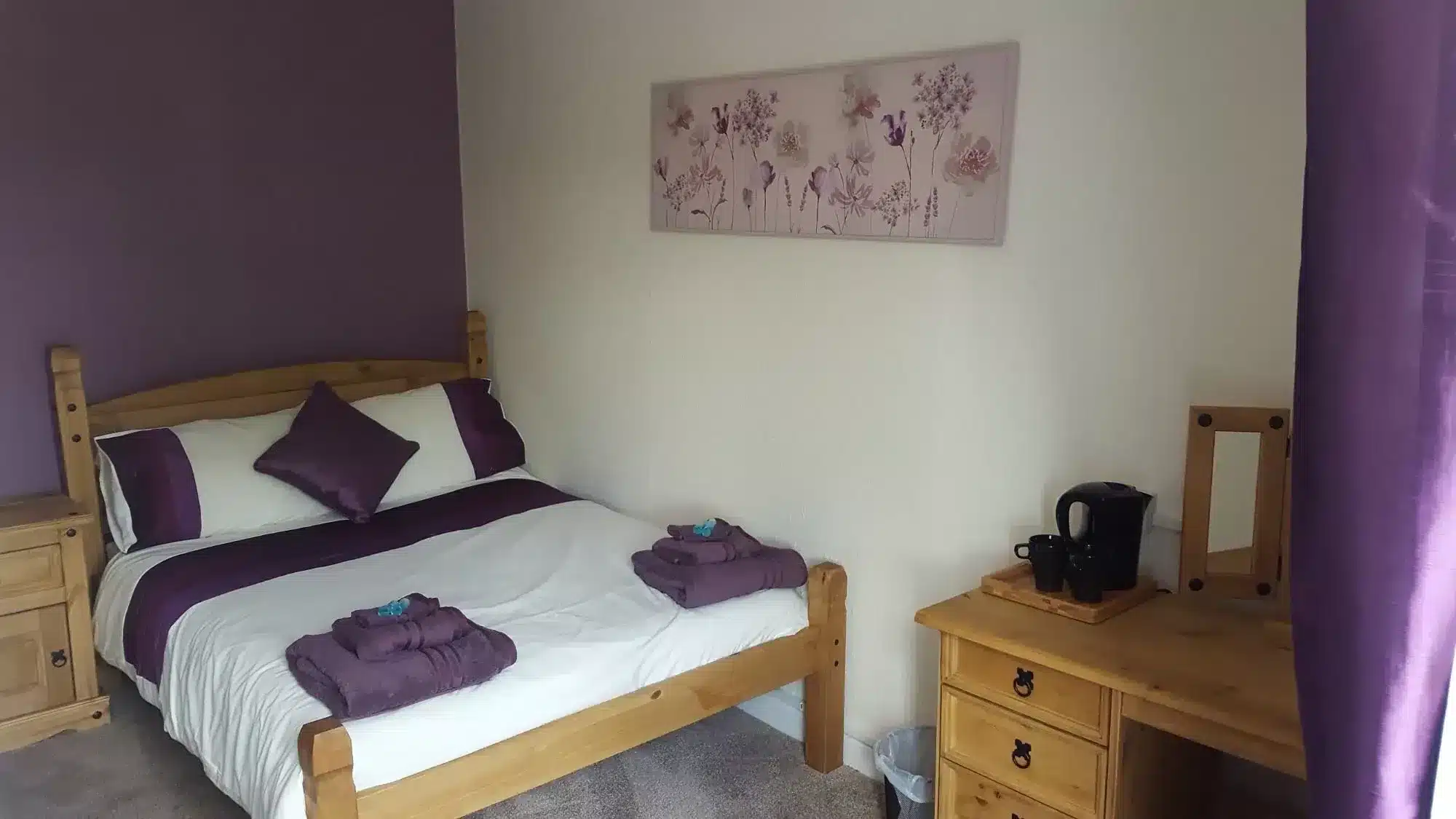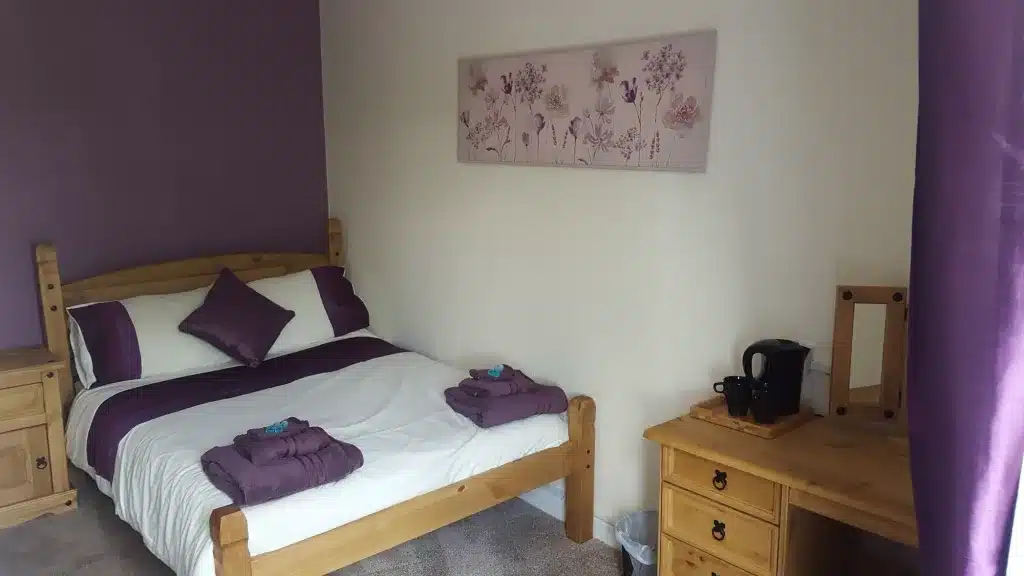 The accommodation is located over a pub and you'll get a great deal in June, only €70 euros for a double with a shared bathroom.
Click here for more photos and exact rates.
Our Recommendations & Final Thoughts
Westport is one of the most popular destinations along the west coast of Ireland. That comes at a premium. The larger hotels (which are all 4 star) in the main season all hover around the 200 Euro mark with many considerably higher than that.
The 3 star options will get you a better deal, and although they may lack the facilities of the higher-spec ones, they do not lack in quality. There is a very good standard of accommodation in Westport.
So, what to do? Ponder these options:
If you want to stay in the best reasonably priced hotel in the town of Westport, this is the best option:
If you don't mind staying outside, but would like to stay in a reasonably priced hotel, here is your best bet:
Insider Tip : The Westport Coast Hotel, a wonderful 4 star hotel we have stayed in numerous times, will sometimes allocate a certain amount of rooms at a discounted price: Check here.
If you are looking for the best Bed and Breakfasts in Westport, here are easily your best options:
Westport Heights Bed and Breakfast
If you don't mind staying a bit outiside and are willing to sacrifice a central location for beautiful scenery and relaxation, these are your best bets:
Bertra House Bed and Breakfast
If you are really on a tight budget, your best bets are:
We hope we have helped you find your best budget accommodation in Westport, and that there is availability for your travel dates.
You'll have noticed that apart from the Old Mill Hostel, getting your hands on a room in Westport in the high season under €100 is tough.
In saying that, we still highly recommend visiting the town and we have put together a detailed guide of Westport and surrounding areas here.
From endless outdoor activities, such as climbing the mighty Croagh Patrick, or visiting spectacular Achill Island, there is a wealth of places to see and explore.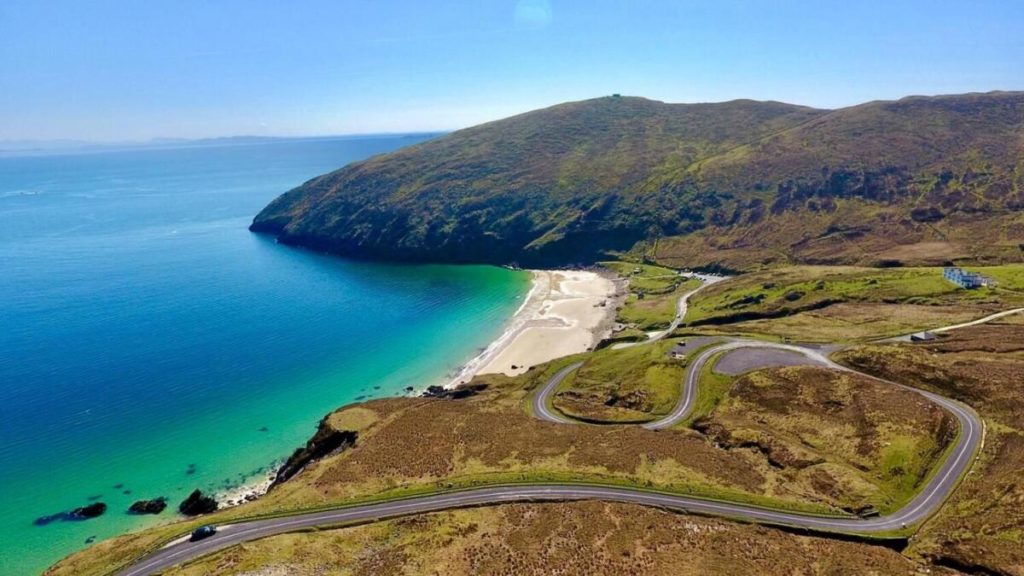 The main sights around the town are natural attractions, therefore free of charge. Think of visiting the stunning beaches of Bertra or Old Head if weather permits.
Spend your evenings in a cracking restaurant or soak up some Irish tunes in an old pub, whatever you choose, Westport is the west of Ireland at its very best.
We'd be delighted to help you out with any queries you may have, we know the town like the back of our hands! Leave a comment below or drop us a mail.