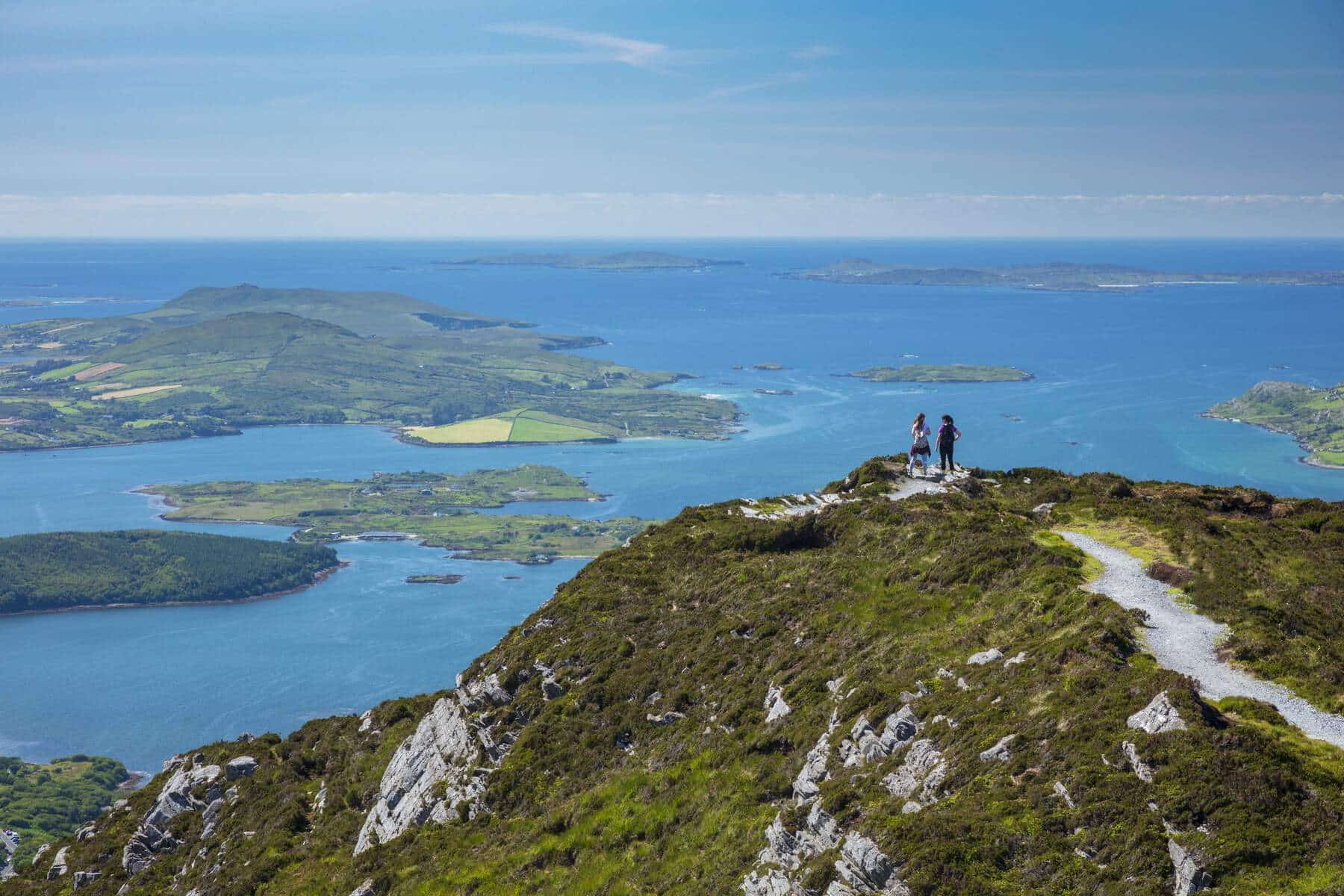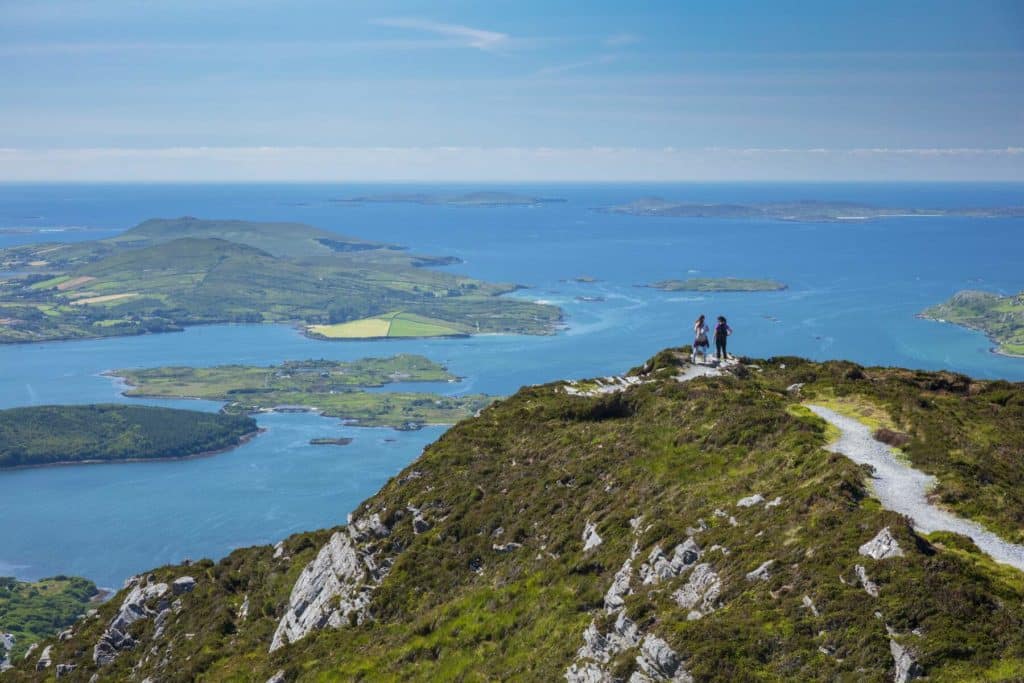 Situated in the county of Galway in the west of Ireland, Connemara National Park is a stunning protected area that covers almost 3000 hectares of rugged terrain, offering visitors a glimpse into the unique beauty of the Irish landscape.
From the peaks of the Twelve Bens to its countless unique lakes, Connemara National Park is a must-see destination for nature lovers and outdoor enthusiasts.
In this blog post, we'll explore the history and attractions of this beautiful park, learn about the flora and fauna that call it home, and offer some tips and recommendations for making the most of your visit.
Location
Connemara National Park is located in the west of County Galway, in an area known for its vast wilderness and spectacular, rugged scenery.
The landscape here is characterized by countless lakes, mountain peaks, open blanket bog and valleys.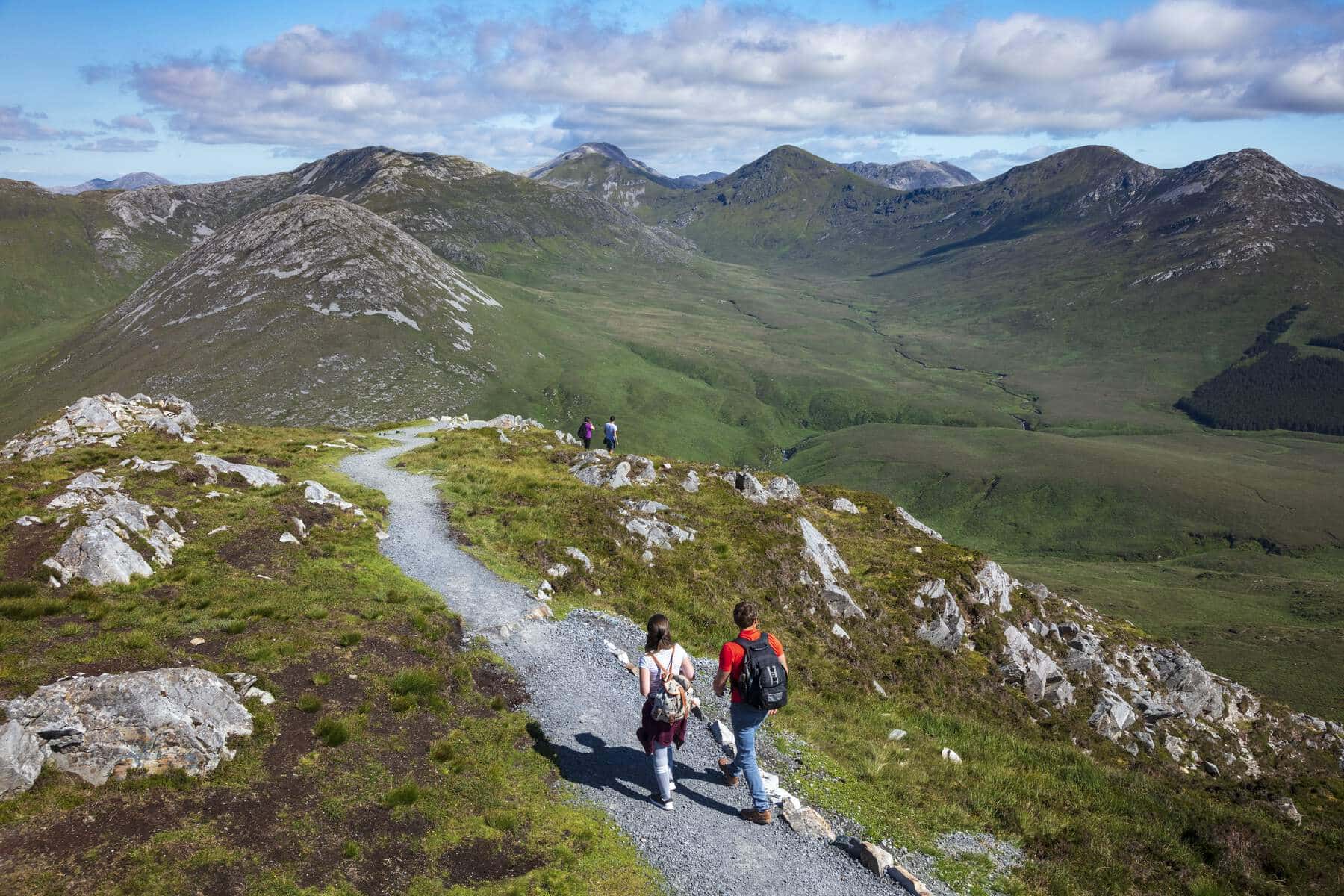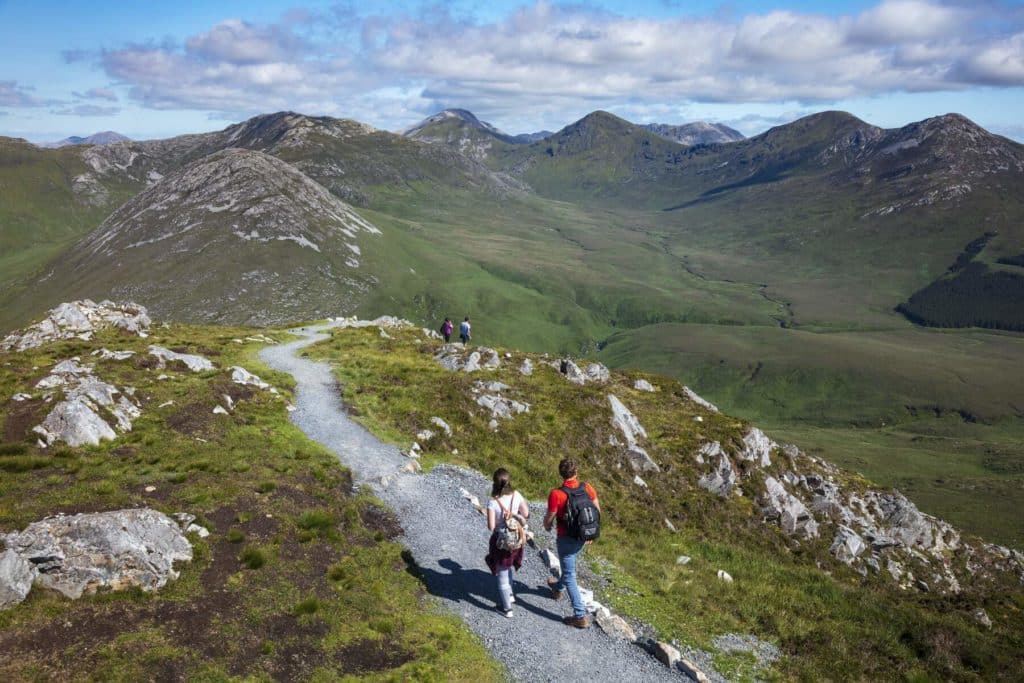 The region of Connemara itself covers a much larger area of the county which starts west of Galway City and extends to the Atlantic coast.
Connemara is a Gaeltacht region, meaning the main spoken language here is Irish.
Here is the precise location of Connemara National Park:
How to Get to Connemara National Park
If you are coming from Galway City (chances you are), there really is no rush to get to the park! In terms of scenery, there are few roads as beautiful in Ireland.
Expect to see practically every geographical feature on your way, from high mountains to hundreds of lakes, beautiful coastal vistas and endless stone walls…this really is the epitome of the west of Ireland.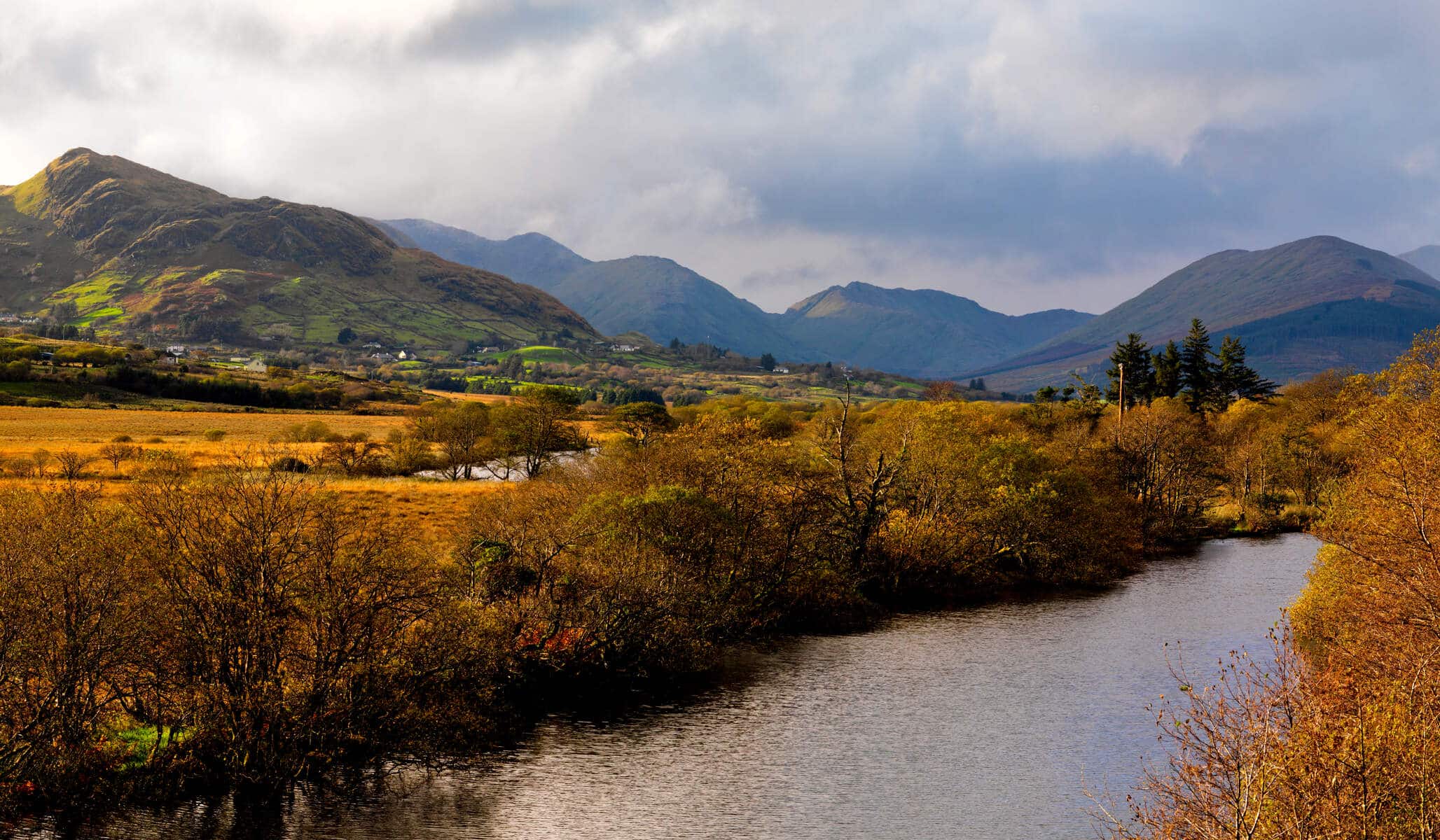 Bus
For those of you not opting to rent a car, there are relatively frequent buses to the park from Galway. The timetables for these buses can be found here. The travel time is about 1 hour 45 mins.
Car
If you are planning to visit Connemara National Park from Galway, we would set aside (at least) a full day to make the most of the park and nearby incredible scenery.
The travel time from the city is approximately 1 hour 30 mins. This is the shortest, most direct route.
However, we would recommend taking this route as you will have an unforgettable day of west of Ireland scenery.
By the way, we recommend Rentalcars.com to get the cheapest car rental in Ireland. Ireland of late has become notoriously expensive for car rental and Rental Cars will compare all companies making sure you'll get the best car and insurance.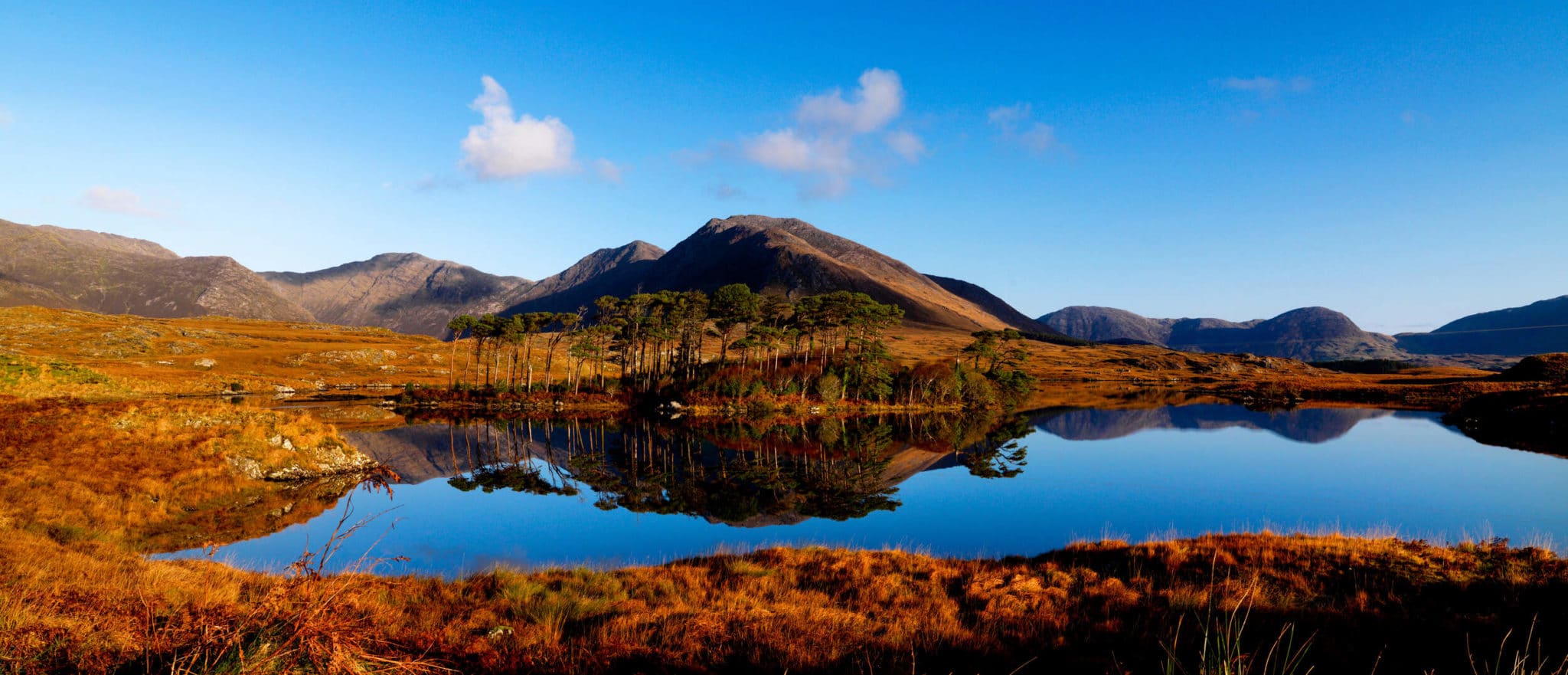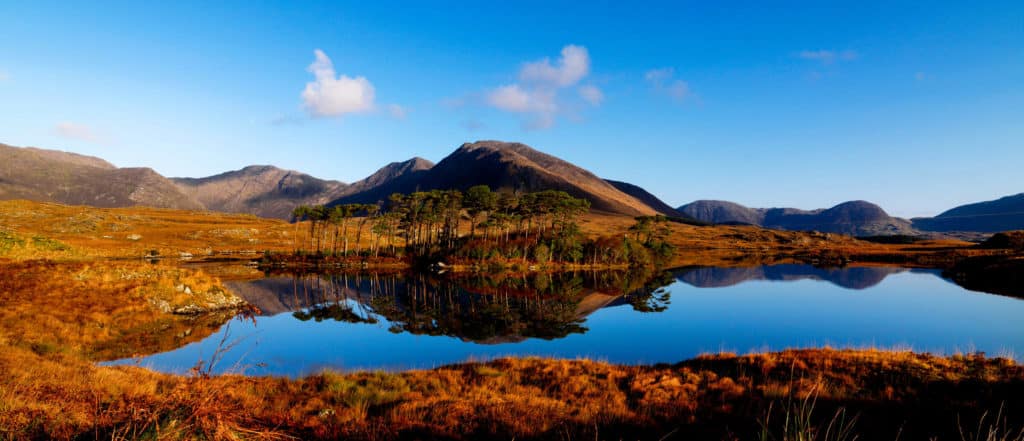 Organized Bus Tours from Galway
What if you have no car, but want an informative and relaxing tour of Connemara?
Thankfully, there are some excellent all-encompassing tours which run from Galway City and take in the beauty of Connemara along the way.
Having being a tour guide and organizer myself, I have visited Connemara multiple times.
Therefore I would highly recommend travelling by bus, especially for that elevated view over the landsdcape and just the general comfort of not having to drive the west of Ireland roads!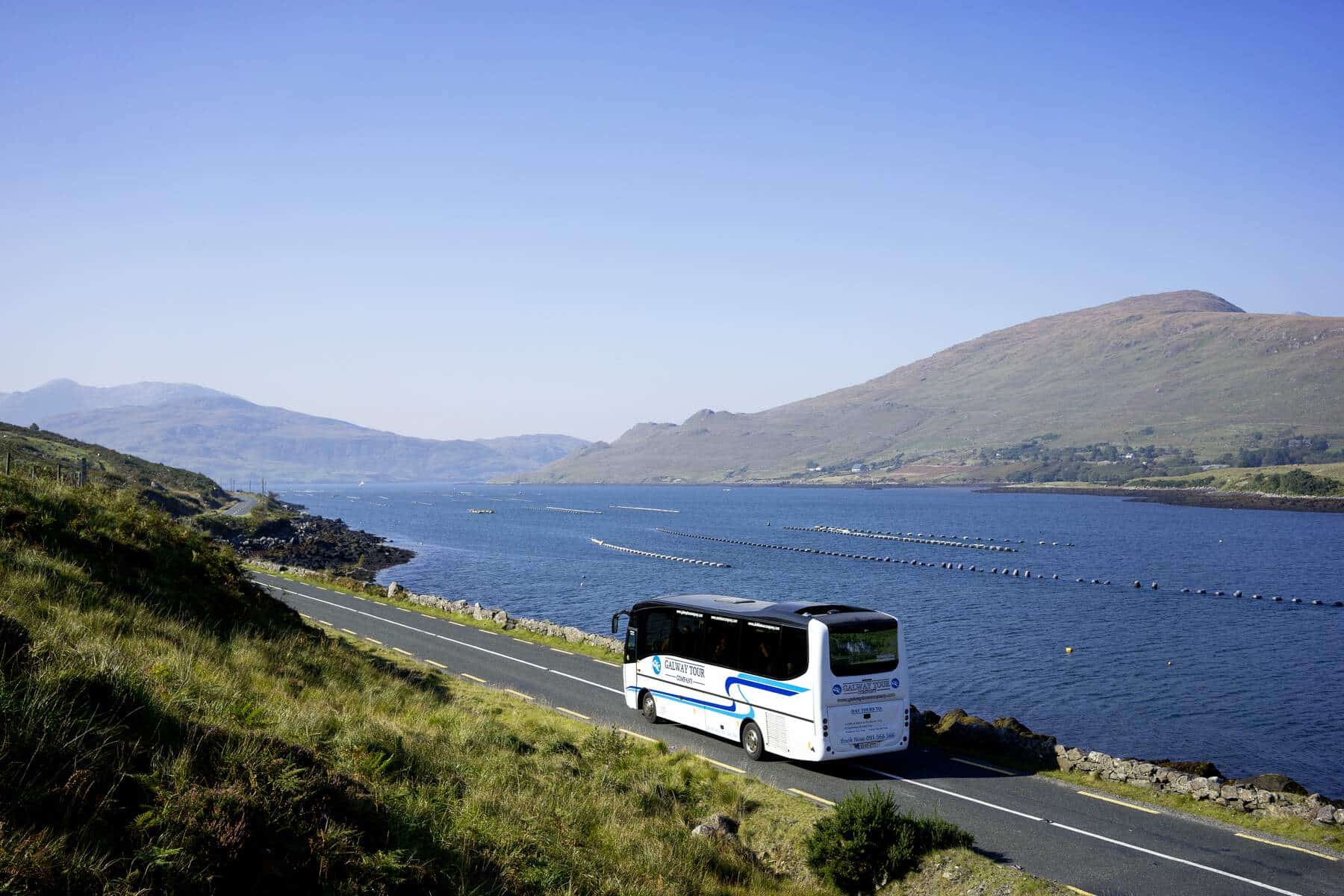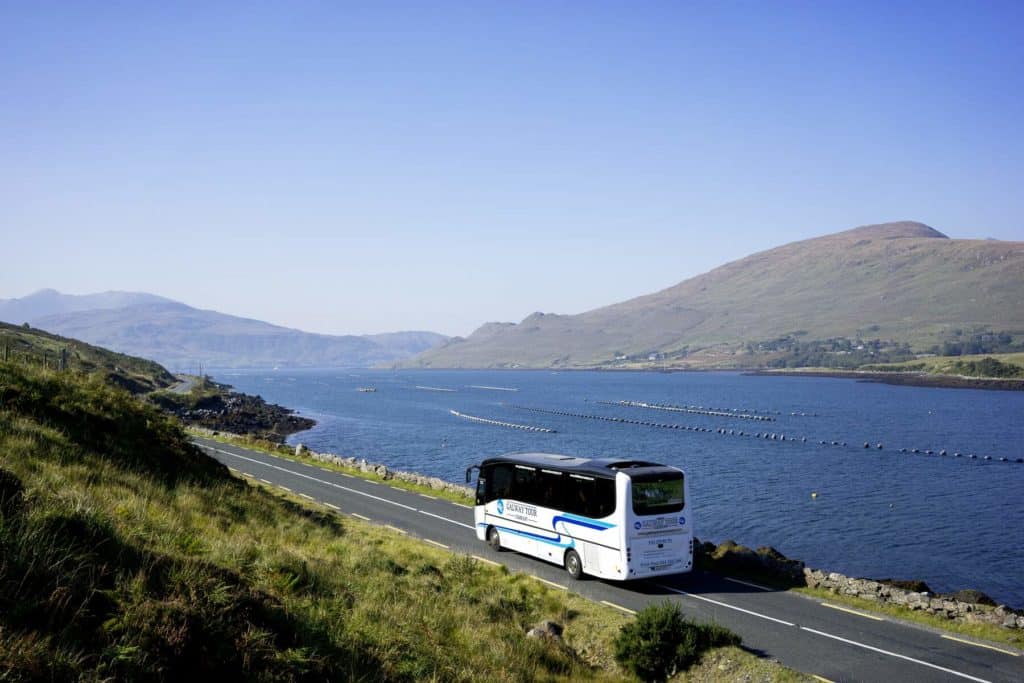 There is a huge selection of tours available, all with very good ratings. The king of the tours would have to be the full day trip, but there is a tour which allows 3 hours at the National Park.
This is ideal to take in the Diamond Hill Trail. Have a scout around here to find a trip that suits your needs and budget.
Geography of Connemara National Park
The park is nestled between the Twelve Bens mountain range to the east and the Atlantic Ocean to the west, which provide some wonderful scenery and a large variety of geographical features.
The dominant landscapes of Connemara National Park are the rugged mountains and rolling hills that make up the Twelve Bens range.
These mountains are made up of ancient granite rocks and are known for their distinctive shapes, along with being popular for hiking.


The highest peak in the range is Benbaun, which stands at 725 meters. The valleys and foothills of the mountains are covered in heather and bogland, which provide a rich habitat for a variety of plant and animal species.
The park also includes a large area of blanket bog, which is a unique and ecologically important habitat.
Blanket bog is formed by the accumulation of dead plant material, which slowly decomposes and creates a spongy, waterlogged surface.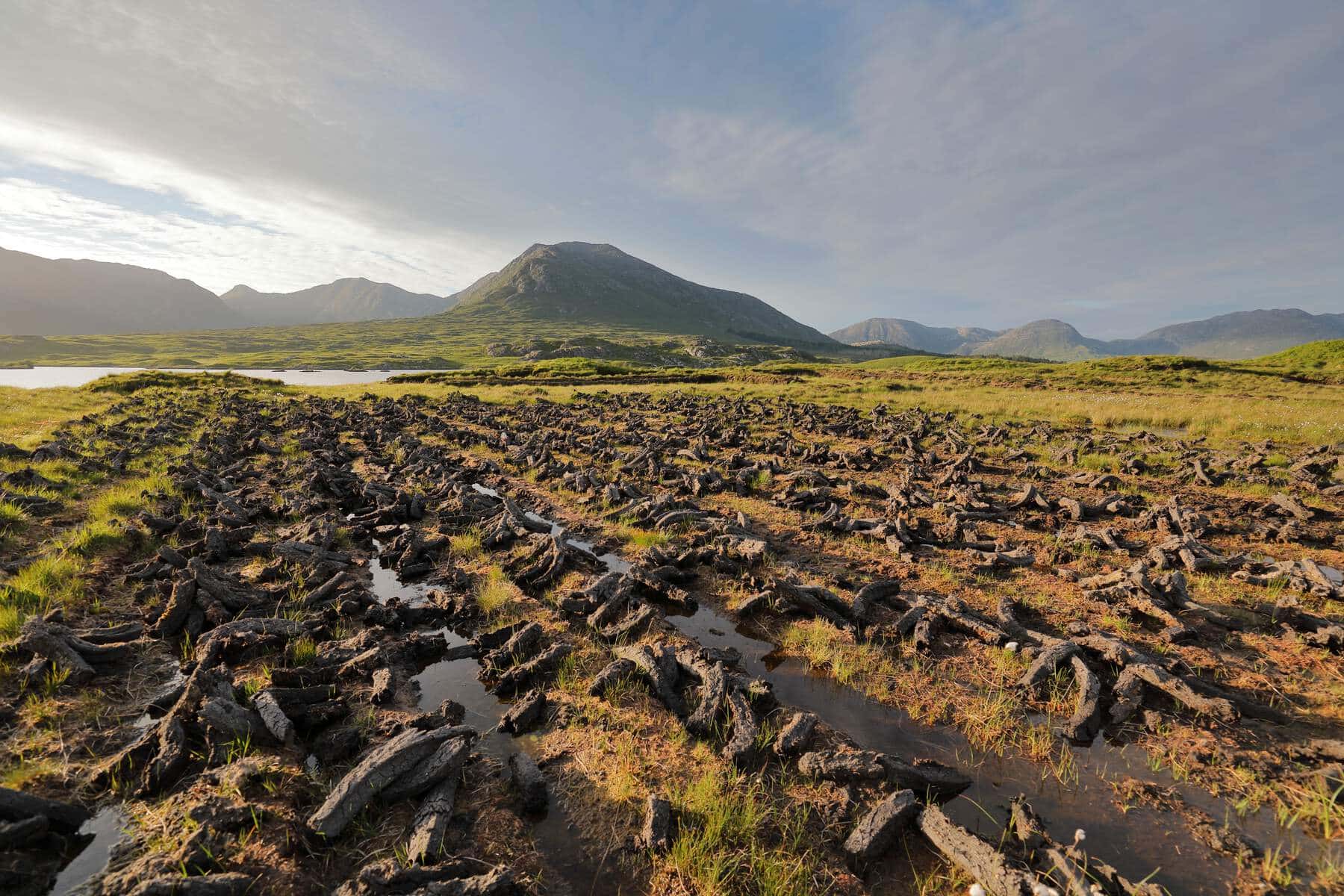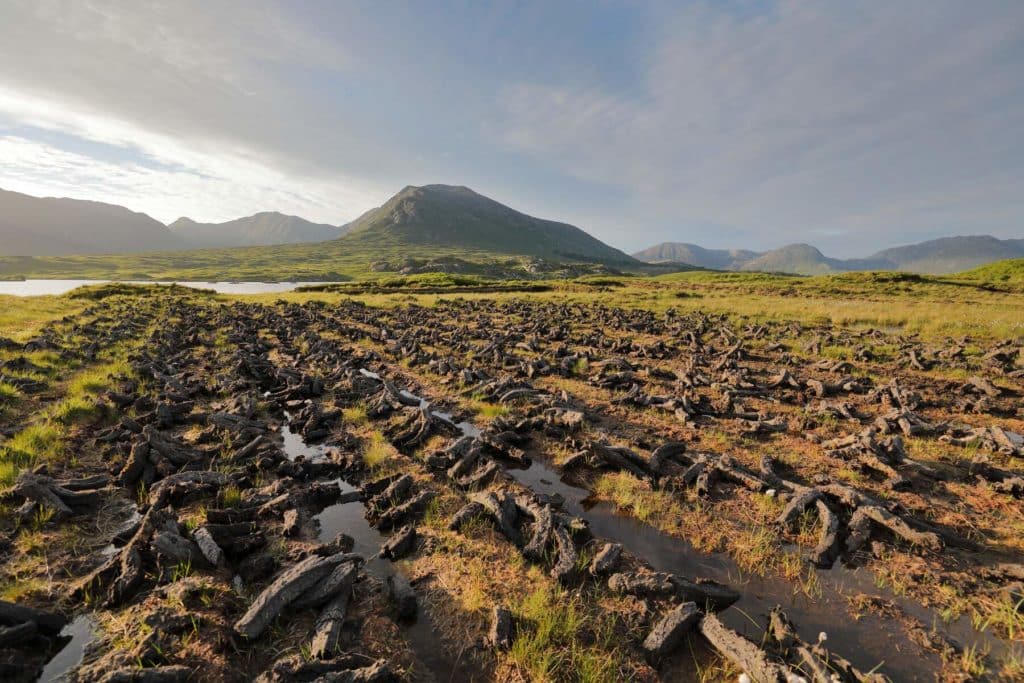 This type of habitat, altough a very common sight in the west of Ireland, is rare in Europe and supports a number of important plant and animal species, including bog cotton, bog asphodel, and the endangered golden plover.
The park is also home to a number of lakes, rivers, and streams, which provide important habitats for fish, otters, and waterfowl.
Overall, the national park is home to a rich and diverse array of wildlife and habitats.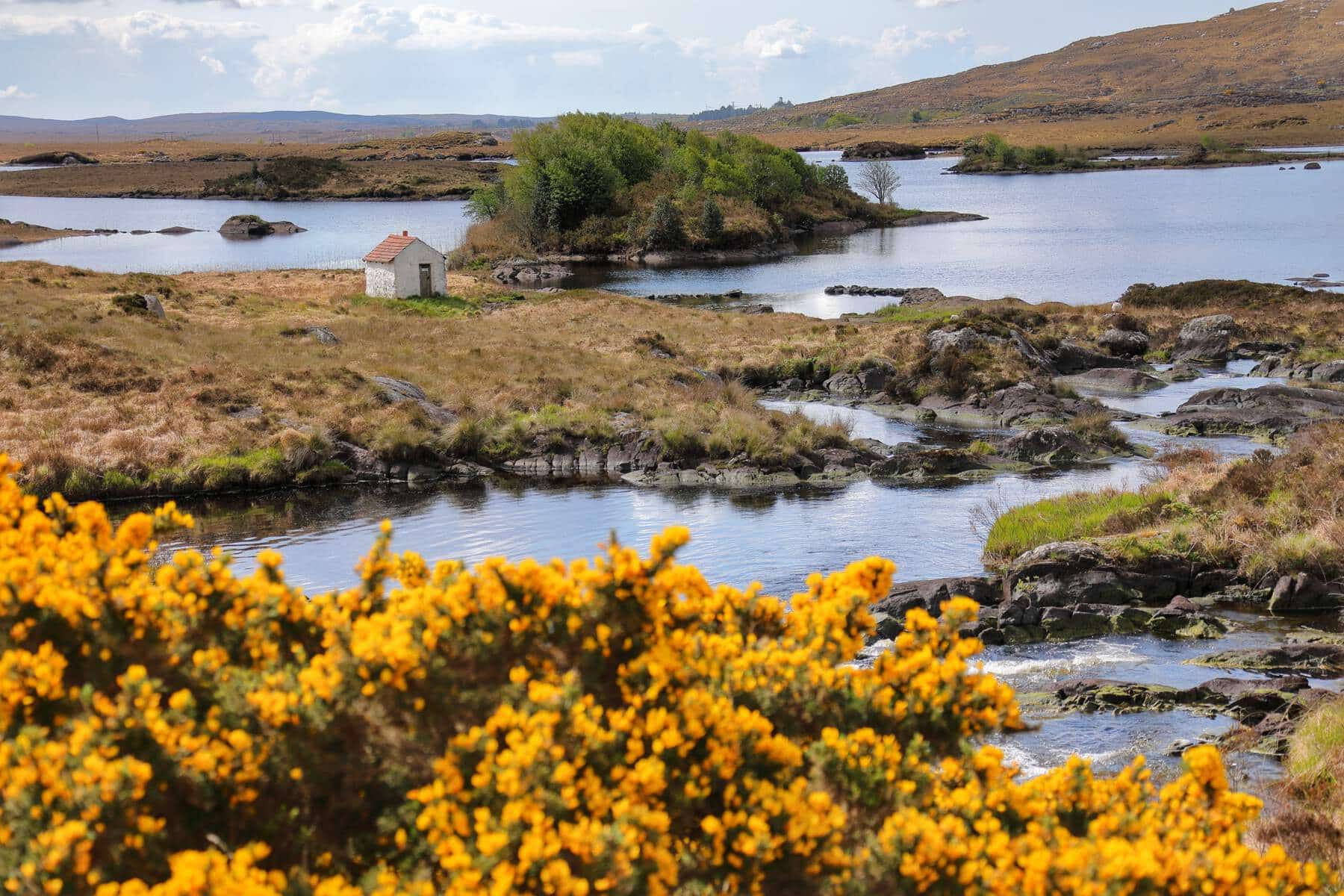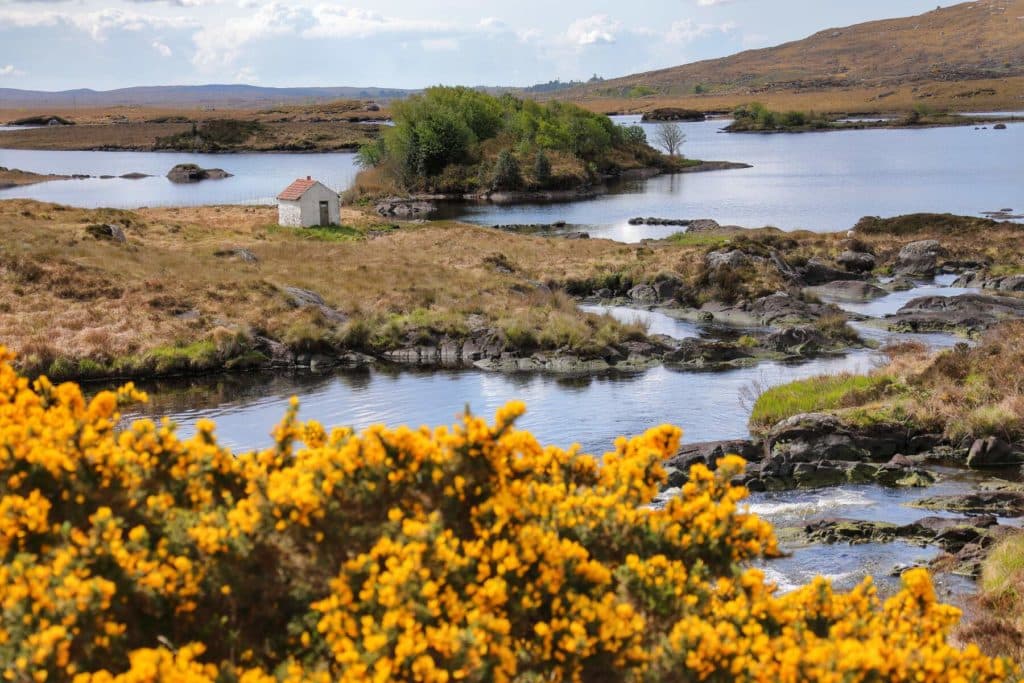 A Brief History of the Park
The park was established in 1980 and is managed by the National Parks and Wildlife Service.
There is evidence of human civilization in the park back to 4000 years ago. The Knockbrack Tomb, located near the village of Cleggan is a great example of a wedge tomb and was built between the early Neolithic and Bronze Ages.
The history of Connemara National Park dates back to the early 19th century when a large oprtion of the estate was owned by the Martin family, as well as the nearby Kylemore Estate.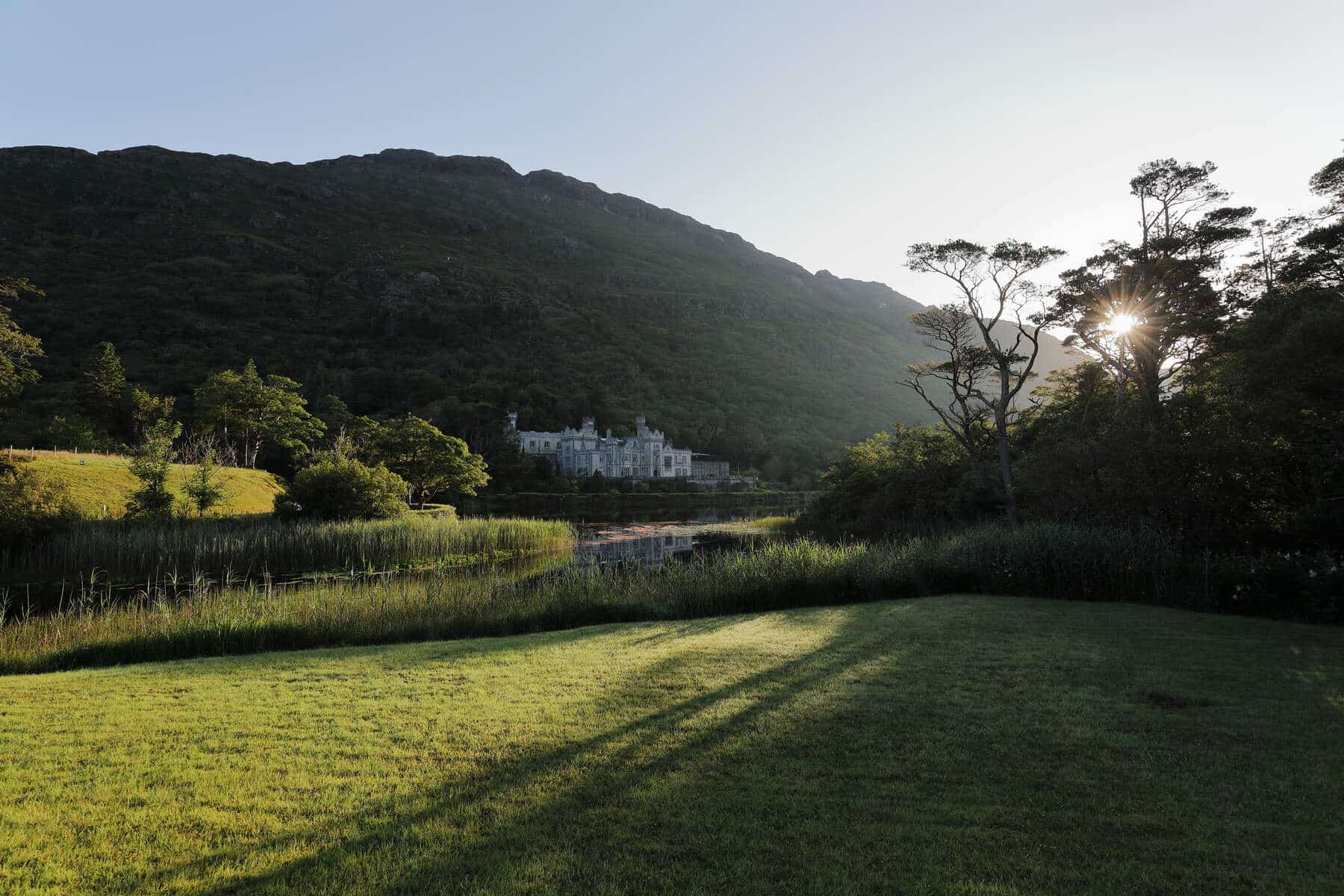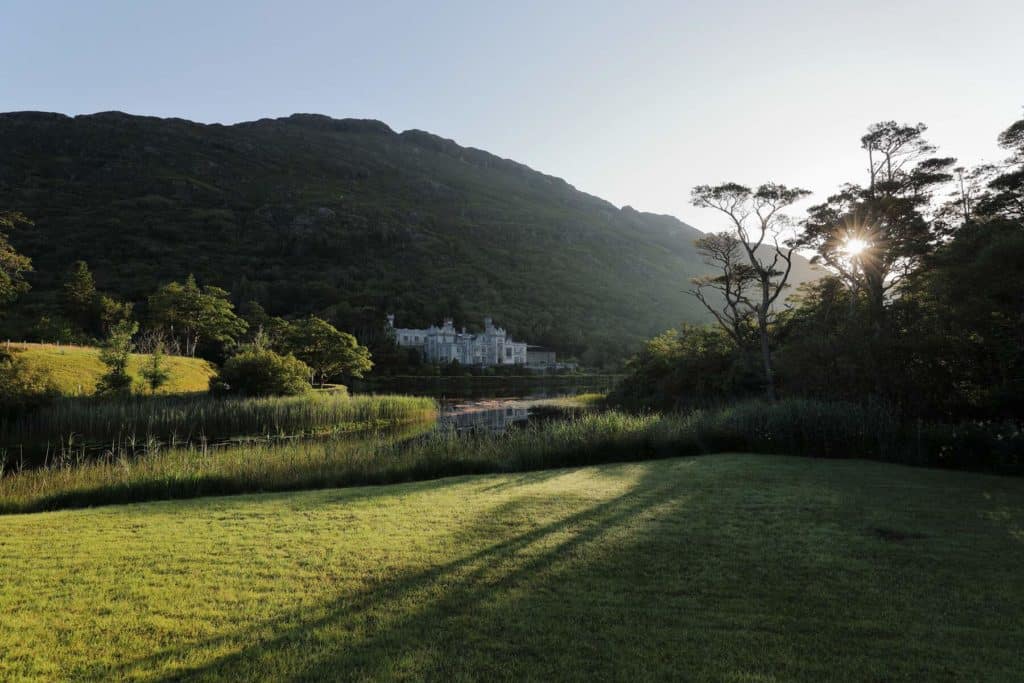 In 1839, Richard 'Humanity Dick' Martin built a hunting lodge in the park. Martin was an strong advocate for the humane treatment of animals and was one of the founding members of the Society for the Prevention of Cruelty to Animals in Ireland at the turn of the 19th century.
The estate was later sold to the Irish government in the early 20th century, and the park was officially established in 1980.
Facilities at the Park
Visitor Centre
The visitor centre is located here. There is a very worthwhile audio guide (which is in multiple languages) and also some informative exhibitions about how bogs were formed, the various geological areas of Ireland, and a stunning painting of the animals which call the park home.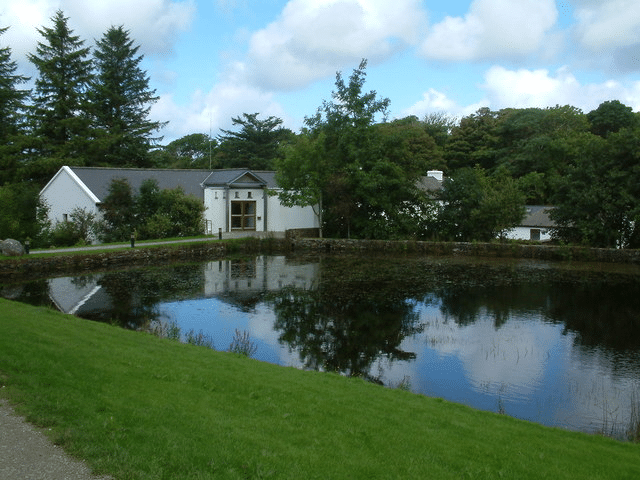 There is also a tasteful cafe on site, along with a gift shop. The visitor centre is open from 9-5.30, 7 days a week. The cafe though is closed during some of the winter months. Check more details here.
The entry to the park is free of charge.
There are also toilets on site.
Parking & Electirc Vehicle Charging
There is a decent sized carpark right next to the visitor centre and any time I have been there, I have gotten a parking space. Parking is free of charge.
There is also an electric vehicle charging station in the carpark.
Playground
There is a great children's playground behind the visitor centre, which is located on a good open green area to let the young ones blow off some steam!
Picnic Benches
There are ample picnic benches located around the grounds of the visitor centre with beautiful views of Diamond Hill and the rich and varied surrounding vegetation.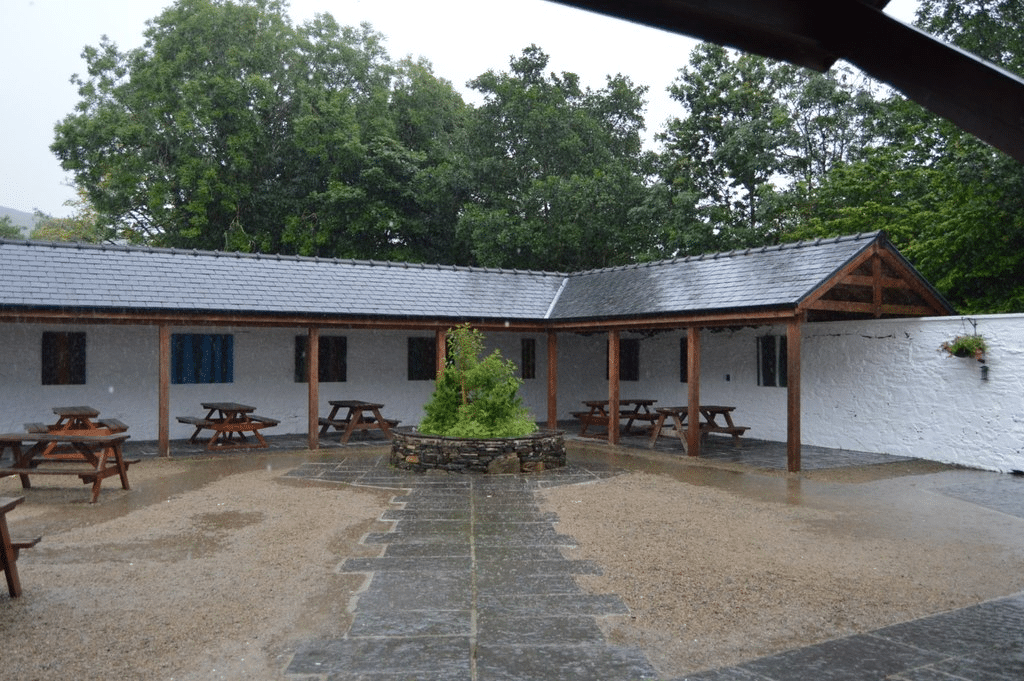 Things to Do in Connemara National Park
The Visitor Centre: to get a feel for the place
We always find it a good idea to learn about the local area before taking on some activities and the well presented and informative exhibitions and audio-visuals in the park are highly recommended.
Take in the Beautiful Surrounding Scenery
The park is stunning. You'll see the vast wildnerness of Connemara and if you are feeling adventurous enough (and the weather permits) we highly recommend climbing Diamond Hill, the trail of which starts at the visitor centre. More below.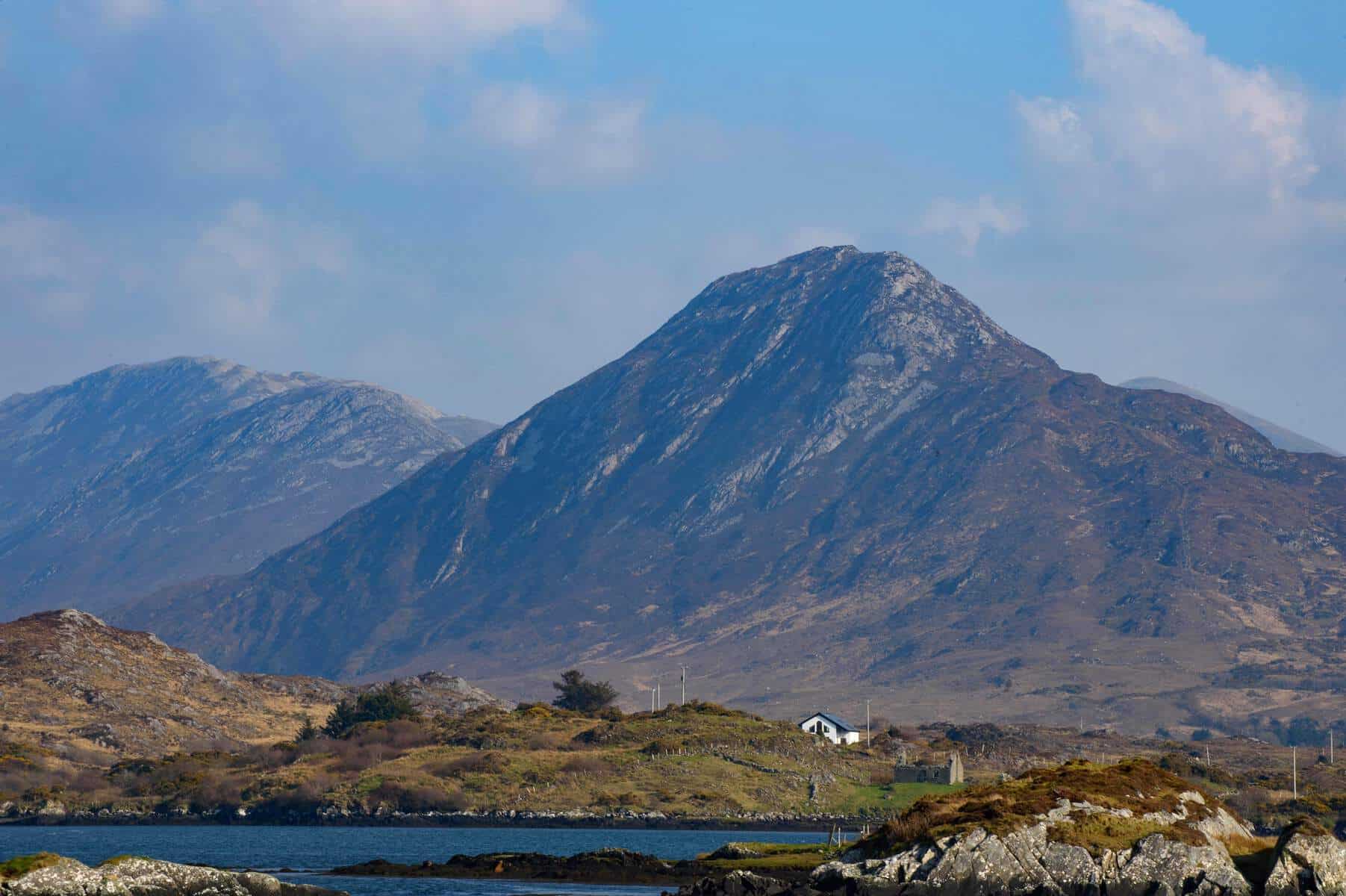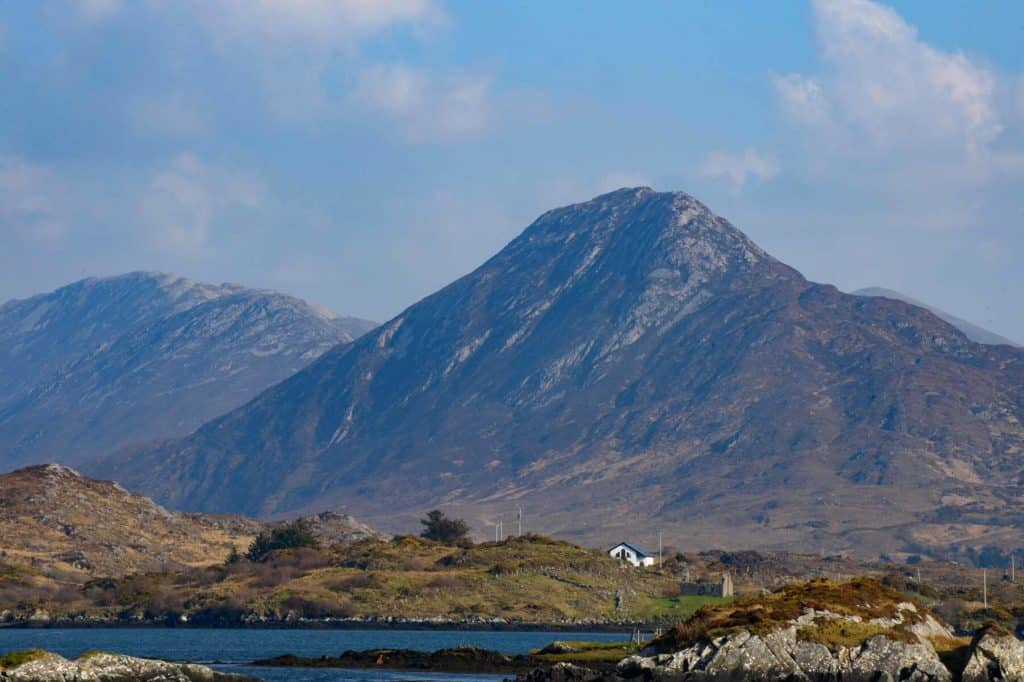 You'll be spoilt for photo motives in the park. This area really is quentessential west of Ireland scenery. It is worth noting that flying drones is not permitted in the park, so as to not disturb the wildlife in the area.
It is also worth noting that if you would like to explore as much of the park as possible, you'll have to do it by foot. There are no roads through the park itself.
Remember also that this is bogland is the west of Ireland, so underfoot can be quite soggy. Plan ahead and visit during a prolonged spell of dry weather in the warmer months to make the most of your trek.
Go for a Walk
Ellis Wood Nature Trail
This is a nice half-mile walk that starts at the Connemara National Park visitor centre and is ideal for those not willing to take on one of the bigger hikes listed below. You'll be rewarded with views of some wondeful wild flowers in the warmer months and a huge variety of vegetation. There is also a beautiful small waterfall along the trail.
Sruffaunboy Nature Trail
This wonderful trail takes in some beautiful vegetation and if you're lucky you'll see the world-famous Connemara ponies grazing in the meadows.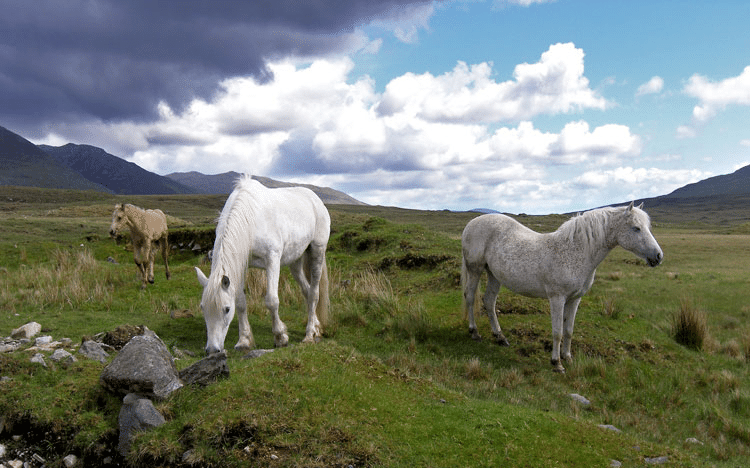 This hike is also ideal for families and a great 'starter hike' for kids. It is approximately 1.5 kms in length and is definitely a little steeper than the Ellis trail. A popular option is to combine the above Ellis trail with Sruffaunboy.
Hike the Magnificent Diamond Hill
Diamond Hill Trail is a popular hiking trail in Connemara National Park. Expect incredible panormaic views of intricate bays, coves and beaches to your west and the magnificent peaks and valleys of The 12 Bens to your east.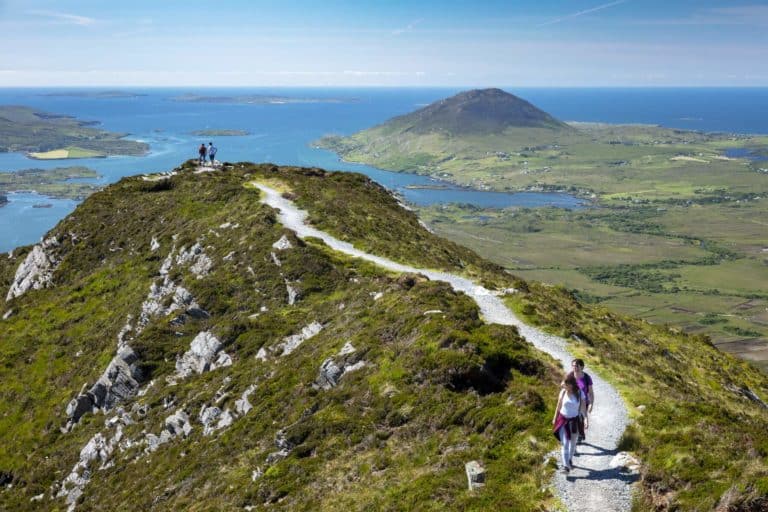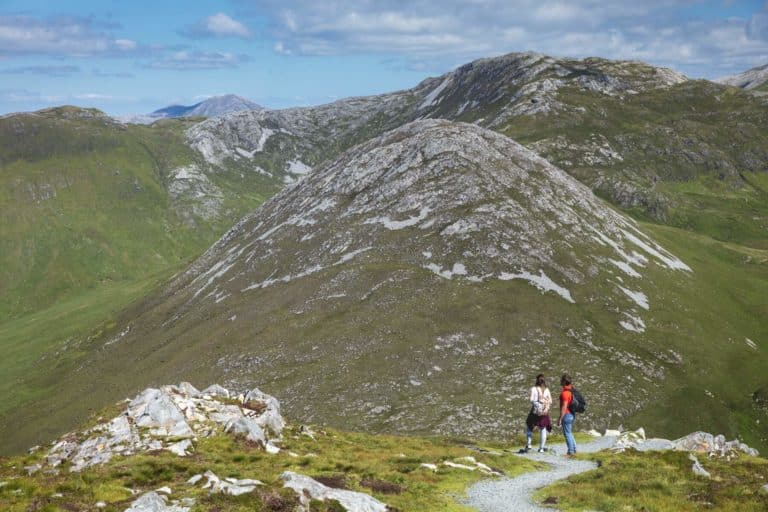 Trail Overview: The Diamond Hill Trail is a moderate 7.5 km (4.7 miles) loop trail that takes about 2.5-3.5 hours to complete. The trailhead starts behind the visitor centre and takes you to the summit of Diamond Hill, which stands at 442 meters (1,450 feet) above sea level.
Difficulty Level: The Diamond Hill Trail is a moderate hike and is suitable for most fitness levels. However, the trail can be steep and rocky in some sections, so proper hiking shoes and clothing are recommended.
What to Bring: Bring plenty of water, snacks, and sunscreen. It's also a good idea to bring a rain jacket as weather conditions can change quickly in Connemara. Also in the summer months, you could encounter the infamous 'midges', or small biting flies. It's a good idea to bring some midget repellent!
Trail Highlights: The trail offers stunning views of the Connemara coastline and countryside, and the summit provides panoramic views of the surrounding mountains and lakes. You'll also encounter a variety of flora and fauna along the way, including wildflowers, heather, gorse and grazing sheep.
Trail Safety: The trail is well-marked and maintained, but be mindful of the weather conditions and stay on the designated path. It's also important to be aware of your surroundings and watch your step on steep and rocky sections.
The Lower Diamond Hill Trail: This is a great alternative trail to that of the Upper Diamond Hill. It takes 1-2 hours to complete and is a lot less strenuous than the Upper. It does not however offer the same panoramic views, but is a very viable option for those who may be looking for a less challenging hike. It is also a great option if you have a limited amount of time or if the weather is a little iffy.
Take on other Stunning Hikes in the Park
The Twelve Bens offers some fantastic hiking. There are limited number of trails also, which can be challening and planning in advance is key.
Why not take on County Galway's highest peak, Benbaun (725m)? The trail for this hike starts here and is regarded as a challenging climb for experienced walkers only. A detailed overview and guide to hiking Benbaun can be found here.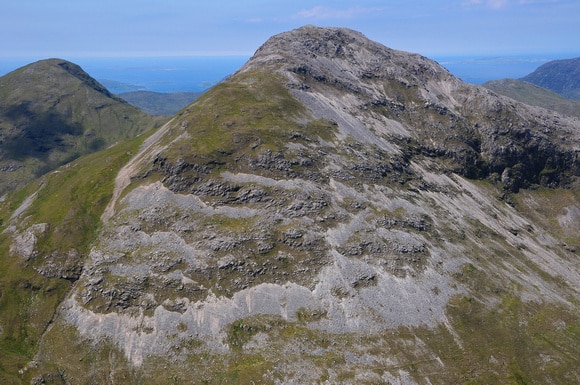 This hike is regarded as one of the best in the country, offering spectacular wilderness and a breathtaking views of the nearby peaks, along with vistas over the lakes of Connemara and the Atlantic Ocean beyond.
The 12 Bens area is easily one of the Ireland's best regions for hiking, offering breathtaking views and some great challenges. Here is a fantastic video of one of the tours you could try on your trip to Connemara:
Keep Your Children Happy & Curious
Connemara Naitonal park is also a wonderful place to educate your young ones about the flora and fauna of the area.
The park provides fantastic resources online which you can print out and have ready for when you arrive at the visitor centre.
They include information and photos of the trees, birds, butterflies and more which are commonly found in the park. The teacher in me gives this a big thumbs up!
Why not take in one of the easy walks around the park and keep your young scientists curious and occupied, while getting exercise? A win-win in my eyes!
Map of Connemara National Park
What to Do/See near Connemara National Park
Kylemore Abbey
The world famous Kylemore Abbey and Gardens is located only 5 minutes away from Connemara National Park. This spectacular castle was originally built in 1868 and was the private residence of Mitchell Henry, an English doctor.
In the year 1920 the Benedictine Nuns acquired the house and subsequently set up a monastery. In the years that followed the nuns educated Catholic girls and became an international boarding school right up until 2010.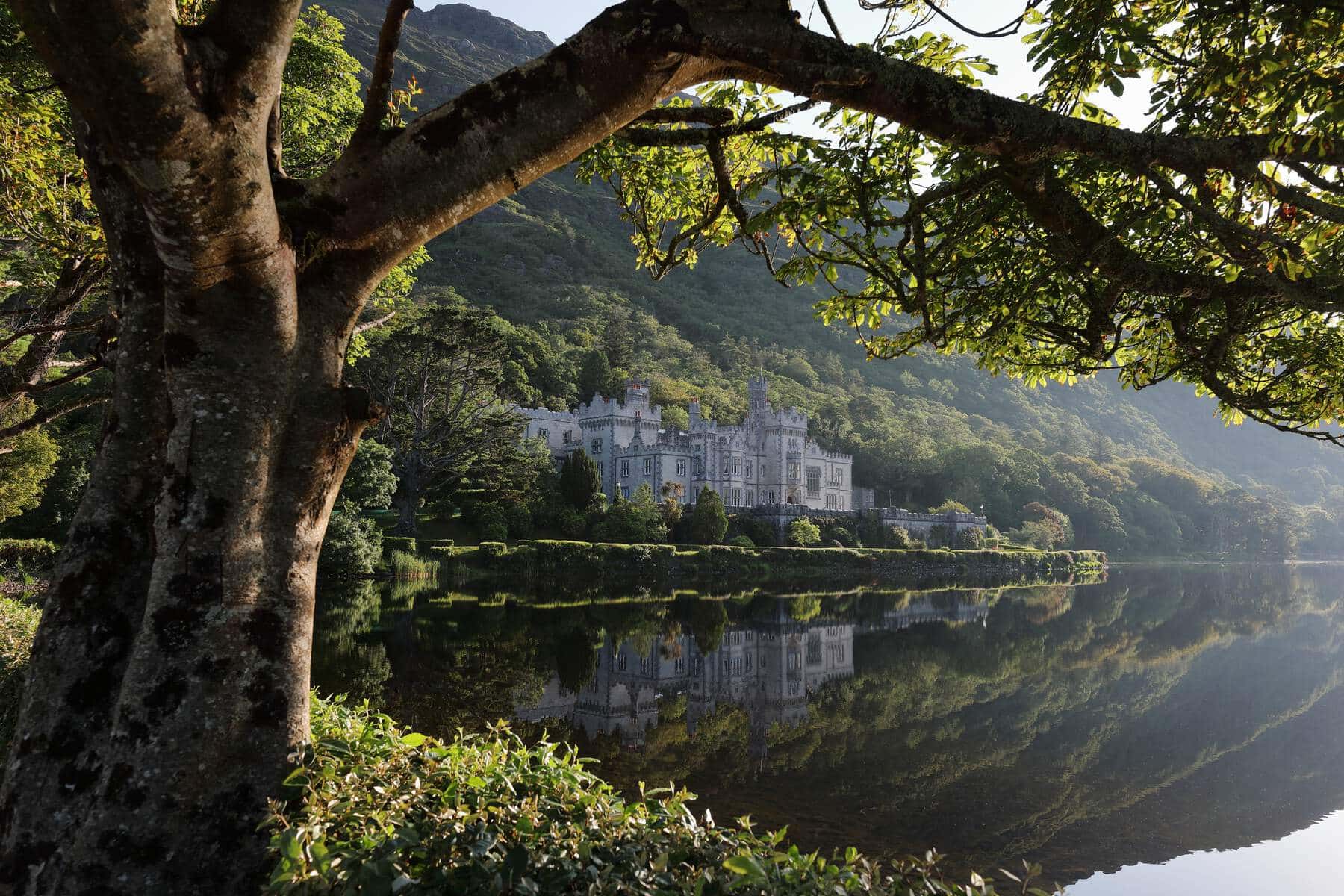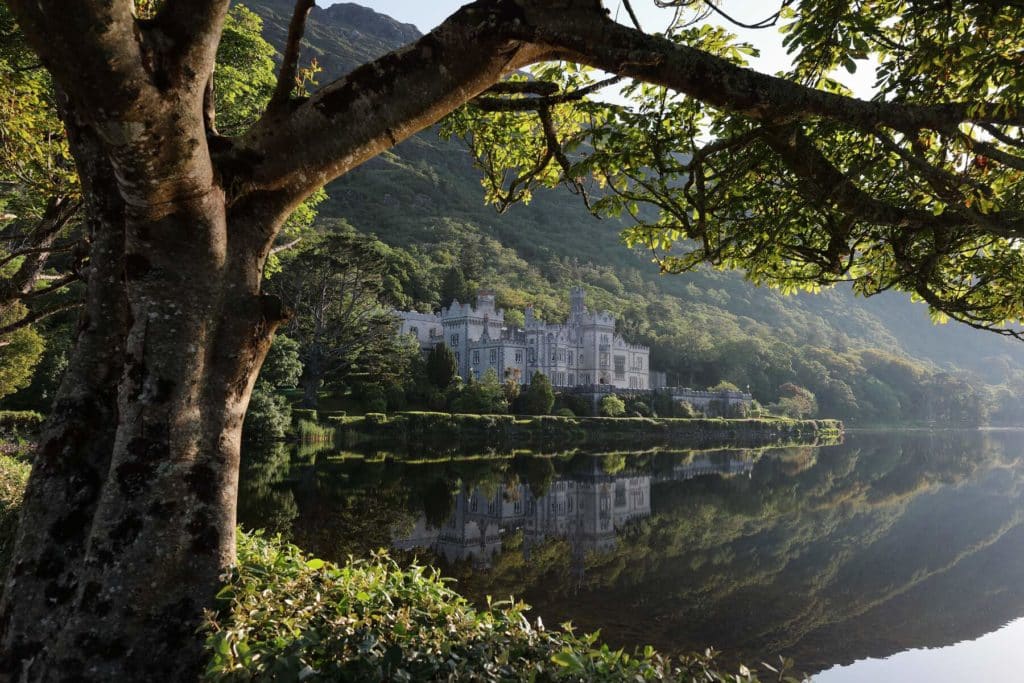 The house is currently open to the public, along with the must-see gardens and a delightful Gothic chapel. How about visiting early in the morning before the throngs of tourists start to arrive and then visit the national park in the afternoon?
Get the Boat to Inishbofin
If you are settled in this part of Ireland for a few days, a trip we would highly recommend is to the beautiful island of Inishbofin, off the coast of County Galway.
Here, on this remote island, you get to experience a different way of life and some wonderful beaches, cliffs and ultimate quiet and relaxation.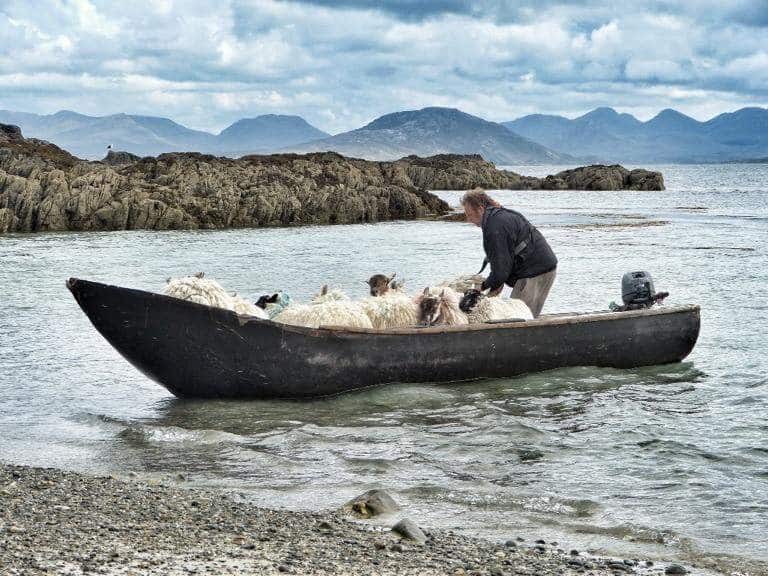 The nearby harbour of Cleggan, about half an hour away, is where you board. All times and details are here.
Visit a Nearby Beach
Hopefully you will get lucky on your visit to Connemara National Park and you'll get some sunshine. Maybe you've tackled Diamond Hill and the feet are in need of some cool, cleansing water?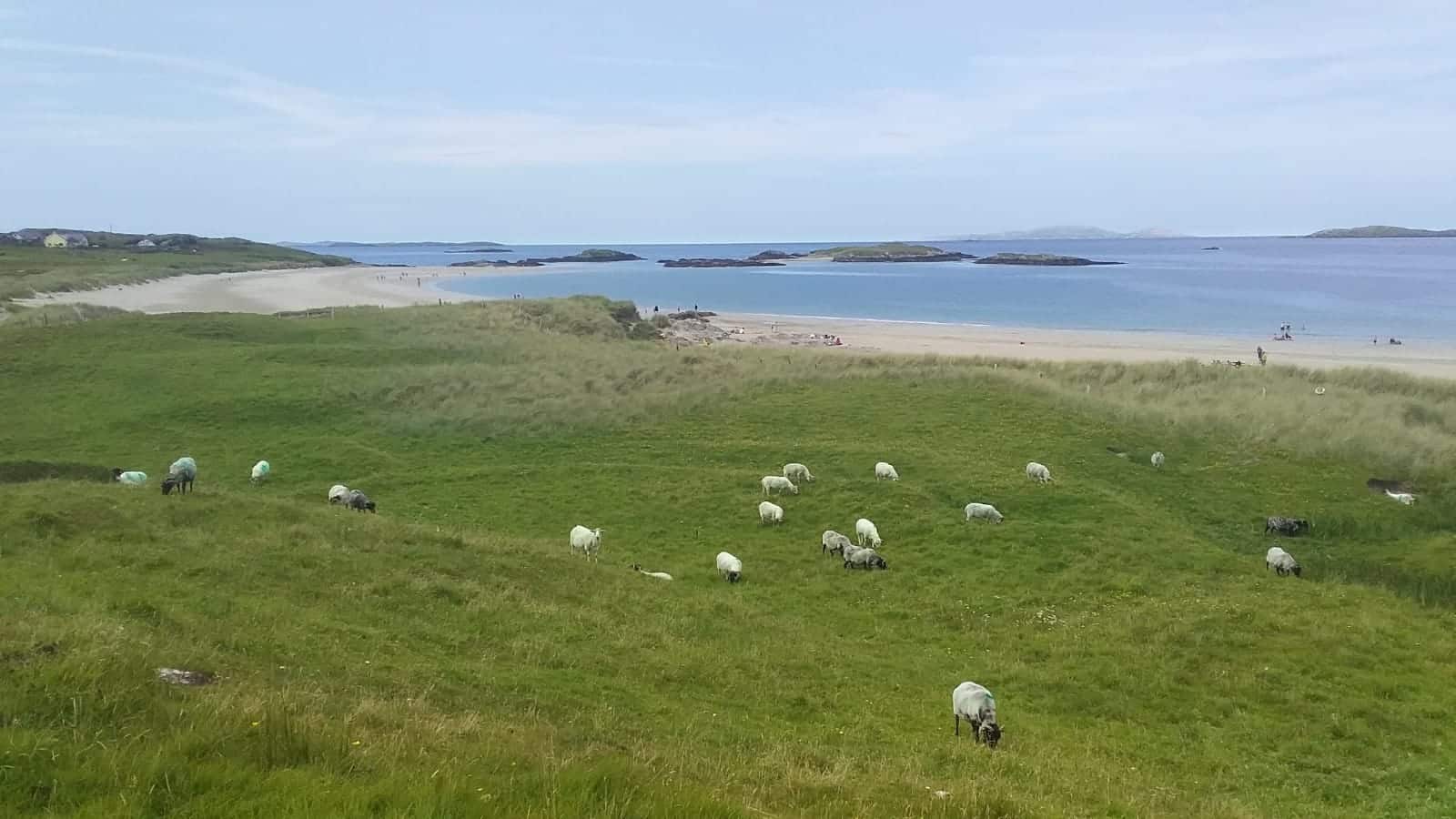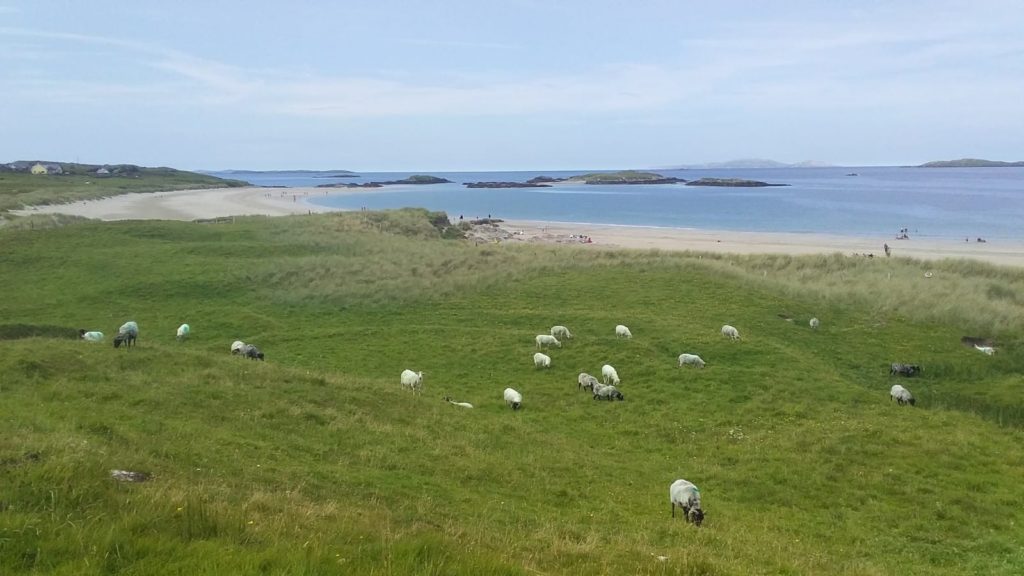 Then we recommend visiting a nearby beach. There are some stunning beaches in the area and our 2 favourites are Glassilaun and Renvyle. We have a comprehensive guide to Glassilaun here. This is a breahtaking white-sand beach with phenomenal views.
Where To Stay Nearby
Should you be considering exploring the nearby region of Connemara (which we highly recommend) there are a few different options available.
Letterfrack
For example, the nearby village of Letterfrack is a nice base to explore the region. There are a handful of great pubs and restuaurants, including the well-known seafood restaurant and quaint pub of Veldon's.
Also, the famous Rosleague Manor Hotel is located in Letterfrack, which offers that special something on your stay to Connemara National Park.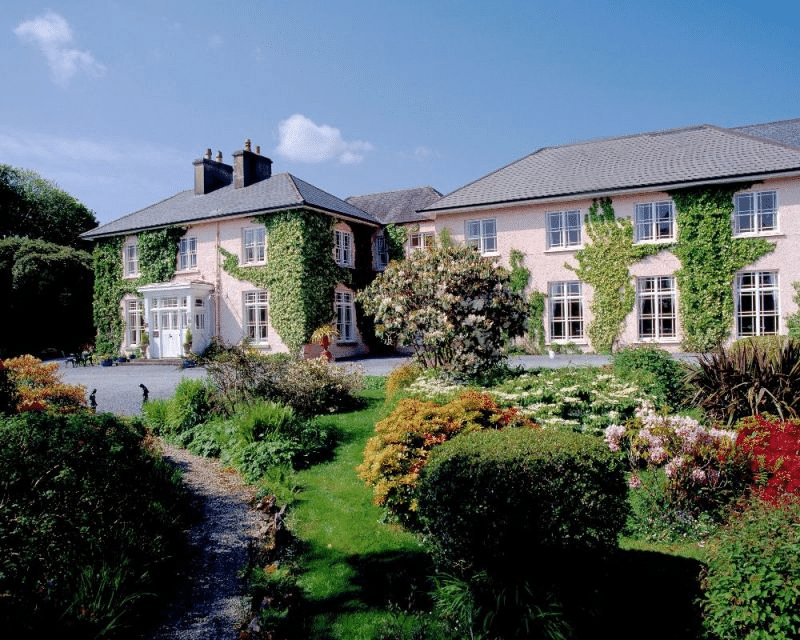 Clifden
Clifden, the 'capital of Connemara' is also a great option to base yourself while on your trip to Connemara. Clifden is located only 15 minutes away from Connemara National Park.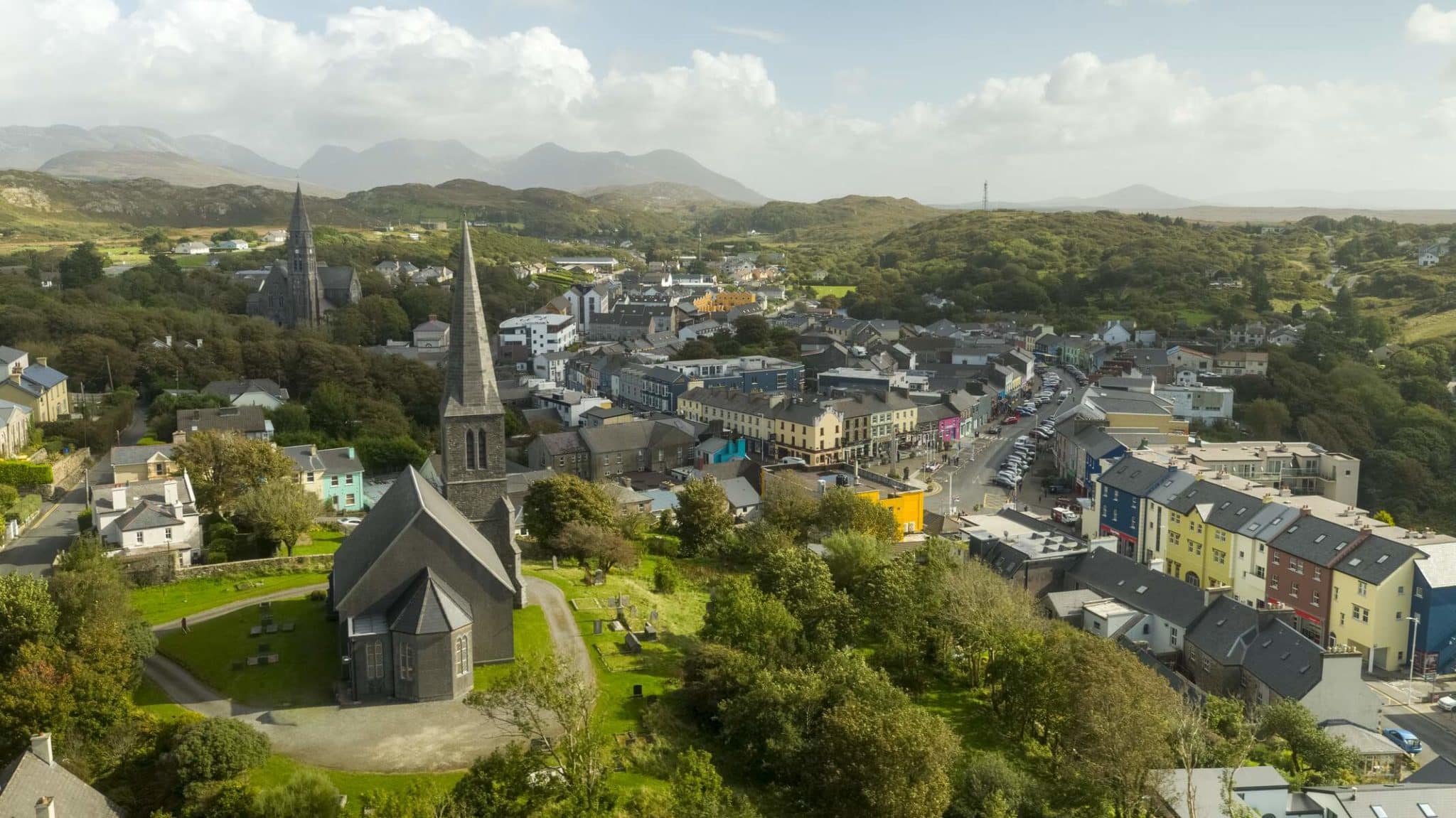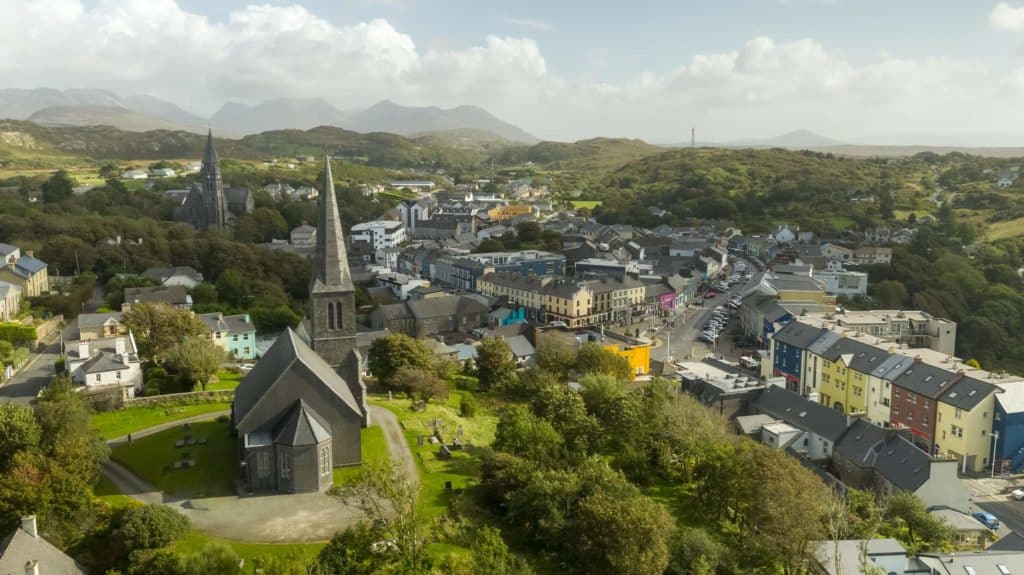 It's home to some fantastic pubs and restaurants, including our very favourite restaurant in Galway, Mitchell's. This is an excellent base to explore and we love its colourful character in the summer months.
Stick your head in the door of Lowry's, Mannion's or Griffin's for a good old trad session on a summer's evening.
Take in the nearby epic 'Sky Road' drive for some amazing vistas out over the Atlantic Ocean or visit Clifden Castle ruins. There are also some tasteful craft and gift shops in the town including the brilliant 'All Things Connemara'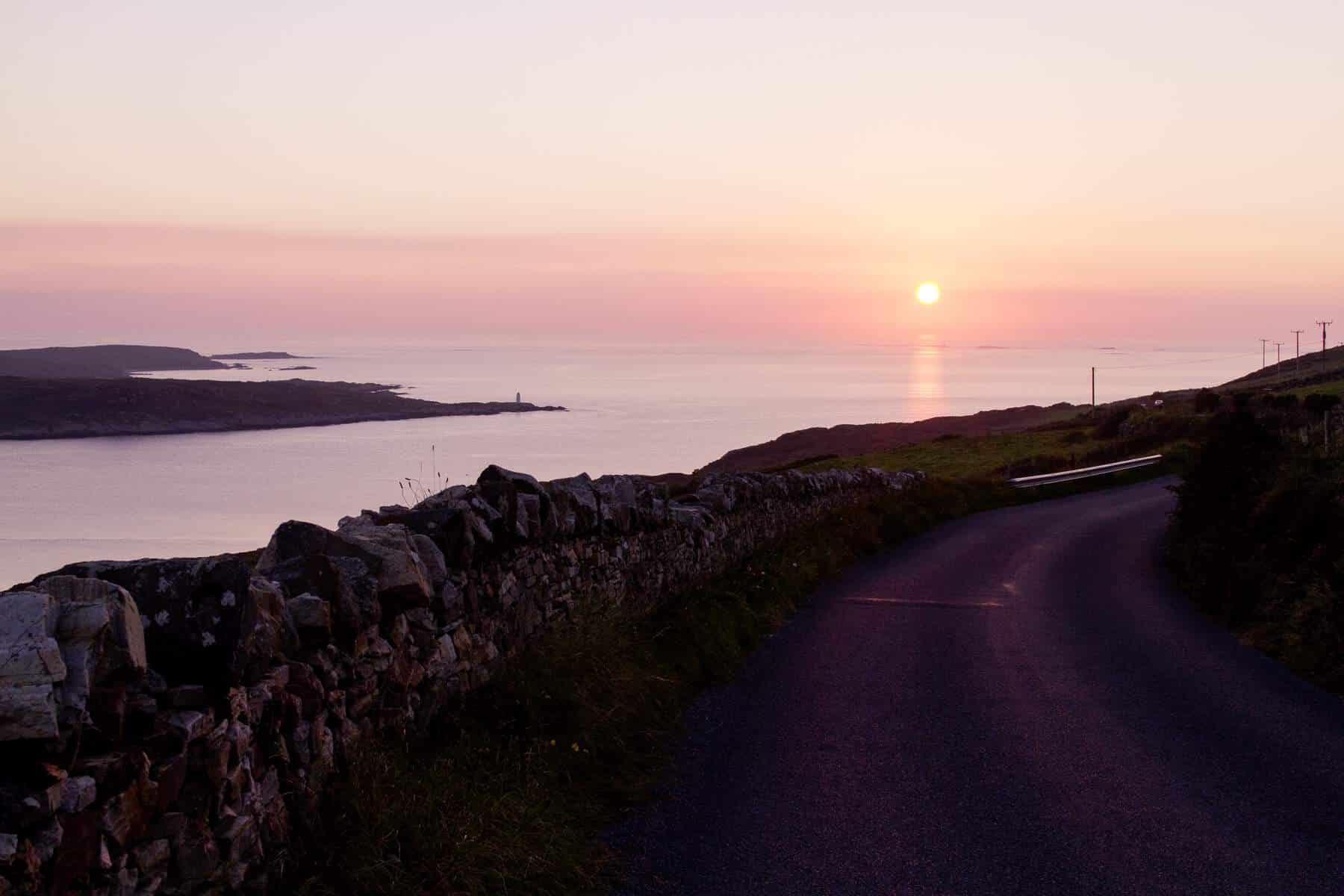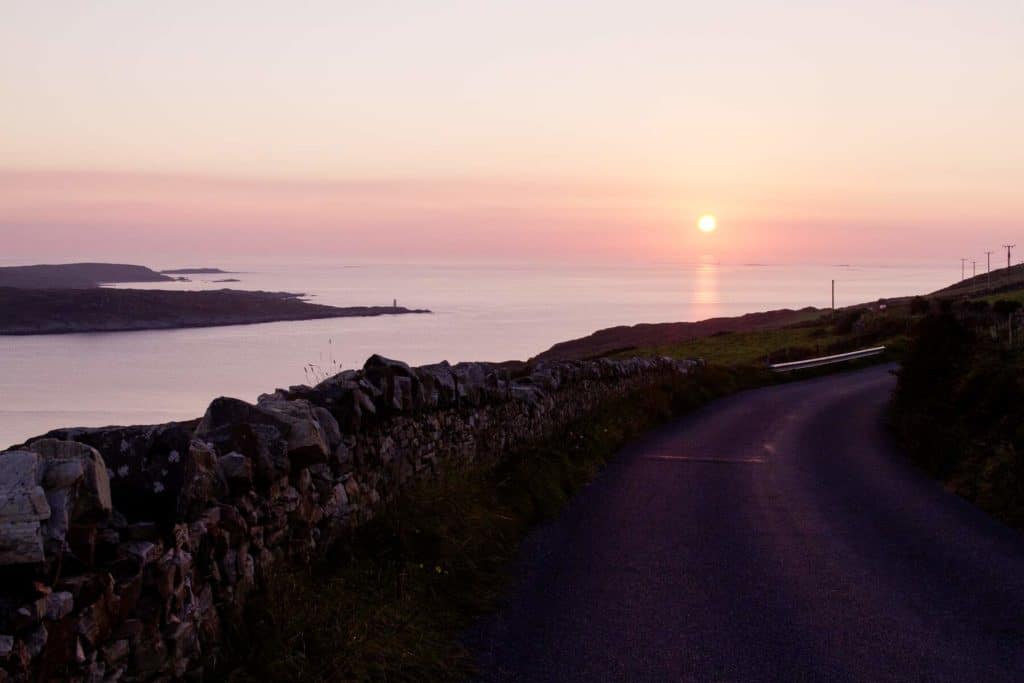 Have a browse around here for accommodation in Clifden.
Westport
While Westport is approximately 50 minutes away by car, we believe it is an excellent base to explore the regions of west Mayo and Connemara.
Westport is a wonderfully picturesque town located on the shores of Clew Bay in County Mayo. In terms of what it offers visitors, Westport really packs a punch.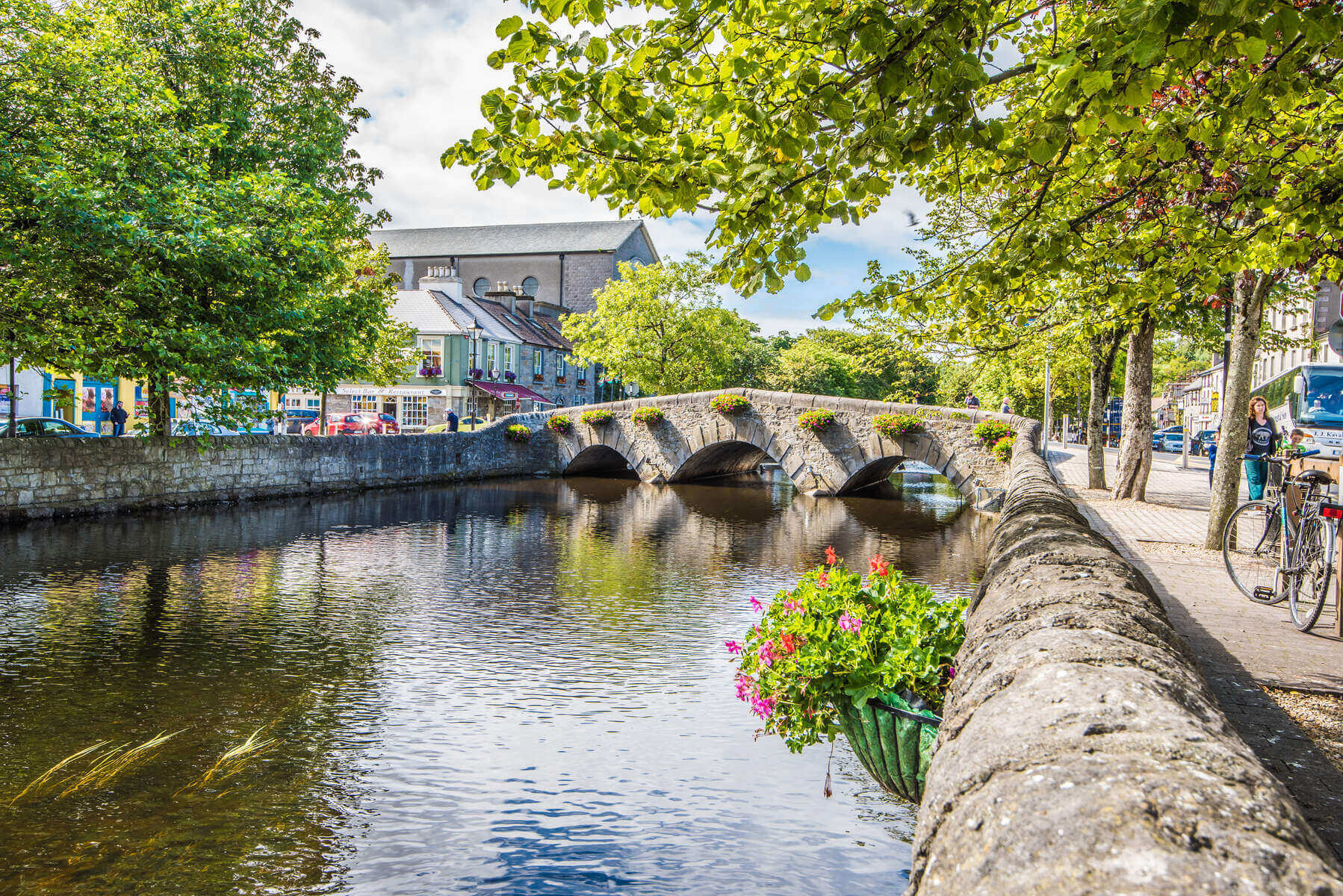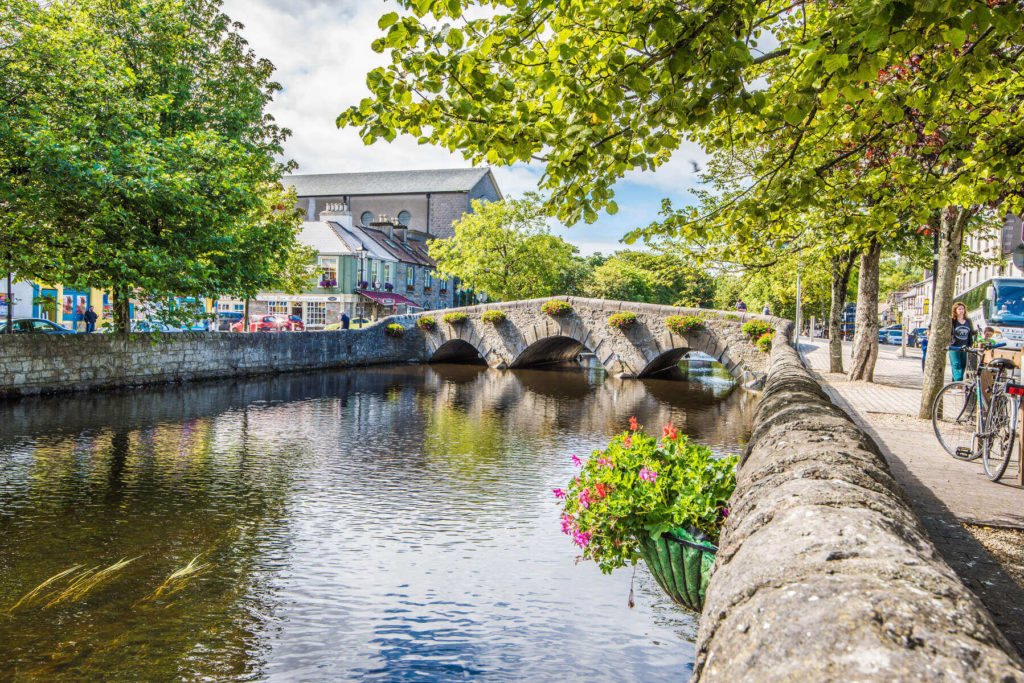 With Ireland's holy mountain, Croagh Patrick, standing proudly over the town, along with its quaint coastal location, we believe Westport is a perfect west of Ireland destination.
Croagh Patrick is perhaps the most iconic hike in Ireland. It is quite challenging but offers immense views over the uniquely beautiful Clew Bay. We have a detailed hiking guide to Croagh Patrick here.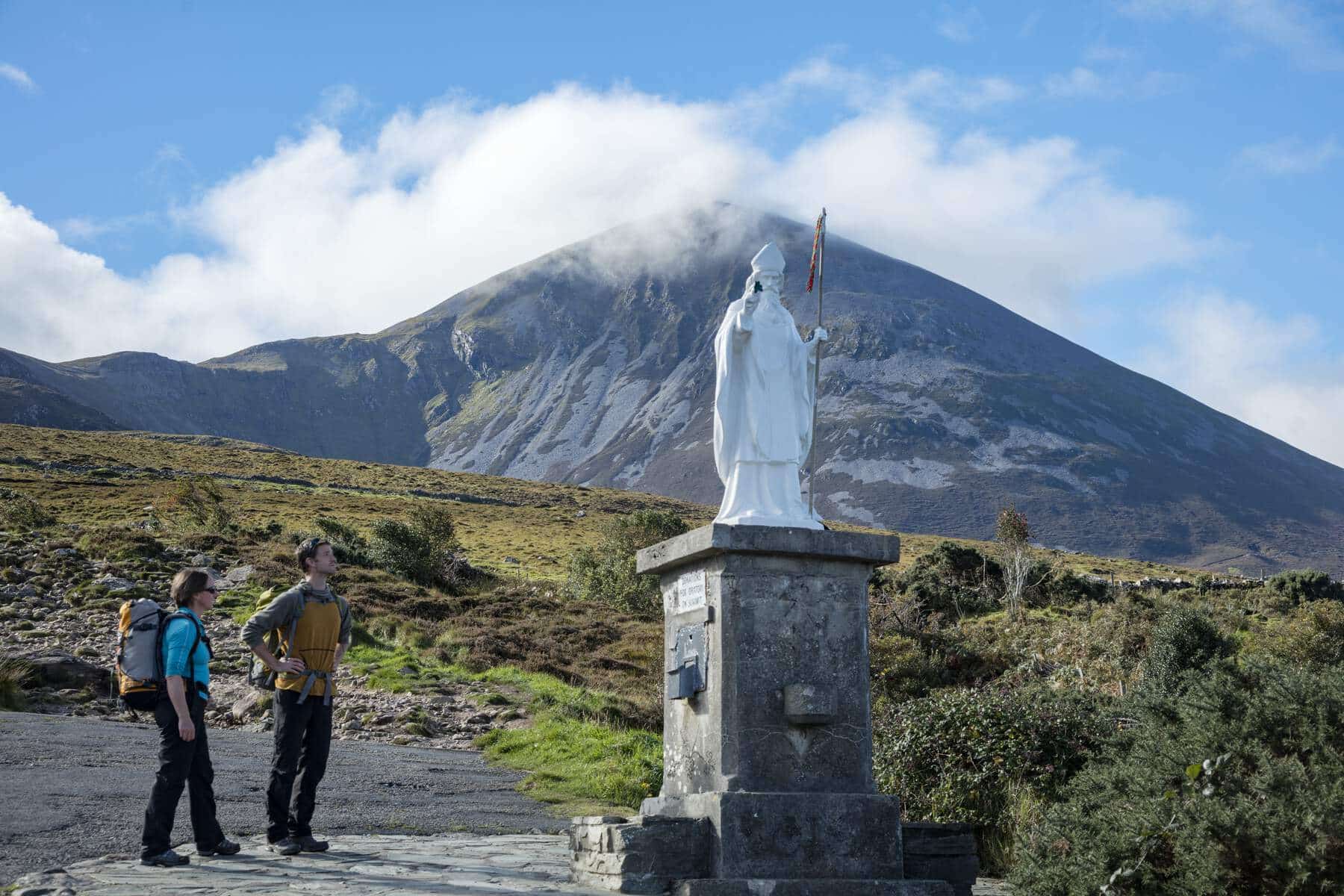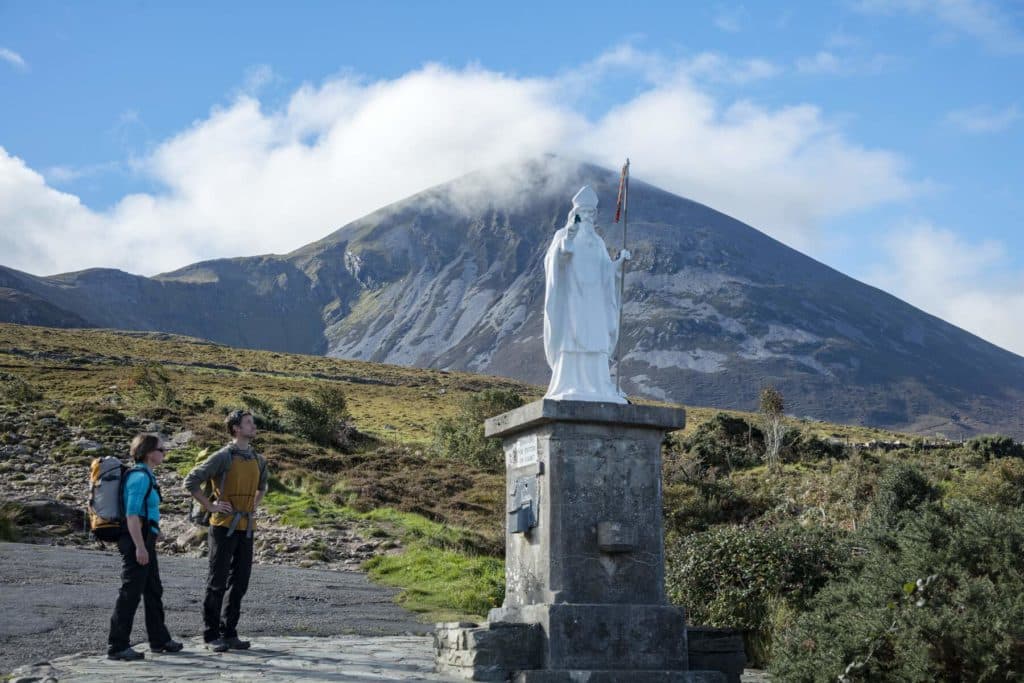 Westport has a vibrant music scene and is located along Ireland's longest defined cycling lane, The Greenway. The Greenway passes through some beautiful coastal and mountain scenery and finishes at the spectacular Achill Island.
Should you be considering using Westport as a base, we have a detailed guide to the town and surrounding areas here.
We also have a detailed guide to where to stay in Westport here (from first-hand experience)
FAQs
Is Connemara National Park worth visiting?
Yes, we feel Connemara National Park is definitely worth it. The park has many walks for all levels of fitness, including the stunning hike of Diamond Hill. There is plenty to do for kids also, including excellent educational resources provided by the park. The park is also located in some breathtaking west of Ireland scenery.
How much time is needed at Connemara National Park?
If you have your own car, you could see and experience a lot in one day. Arriving in the morning, you could take in the visitor centre and then take on the hike of Diamond Hill after some lunch at the Hungry Hiker Cafe.
Later in the afteroon, visit the nearby Kylemore Abbey with its stunning gardens, gothic church and idyllic lakeside location.
Is Connemara National Park good for kids?
It's excellent for kids. There is a great playground behind the visitor centre, some excellent easy trails on site, along with some great educational resources available for download from the park website. We believe it's a brilliant place to keep the kids happy and to get some exercise.
Can you drive through Connemara National Park?
No. The national park is a protected area and has no road that runs through it. The park is accessible by foot, although the 3000 hectares is predominantly soft bogland and mountain. There are many roads though which run through the region of Connemara, including the beautiful Connemara Loop.
Do you need to book in advance if you want to visit the Connemara Park Visitor Centre?
It's definitely not a bad idea to contact the park in advance in the summer months as it can get busy, especially in July and August.
Final Thoughts
Connemara National Park is one of 6 designated national parks In Ireland and we believe it's a excellent stopover on your trip to the west of Ireland.
It offers activities for all ages and levels of fitness, as well as being very informative and educational. For us, Connemara as a region is one of the true highlights of Ireland.
In terms of the breathtaking and varied scenery, and also being a stronghold for the Irish language and culture, isn't this exactly what a visitor wants when coming to Ireland?