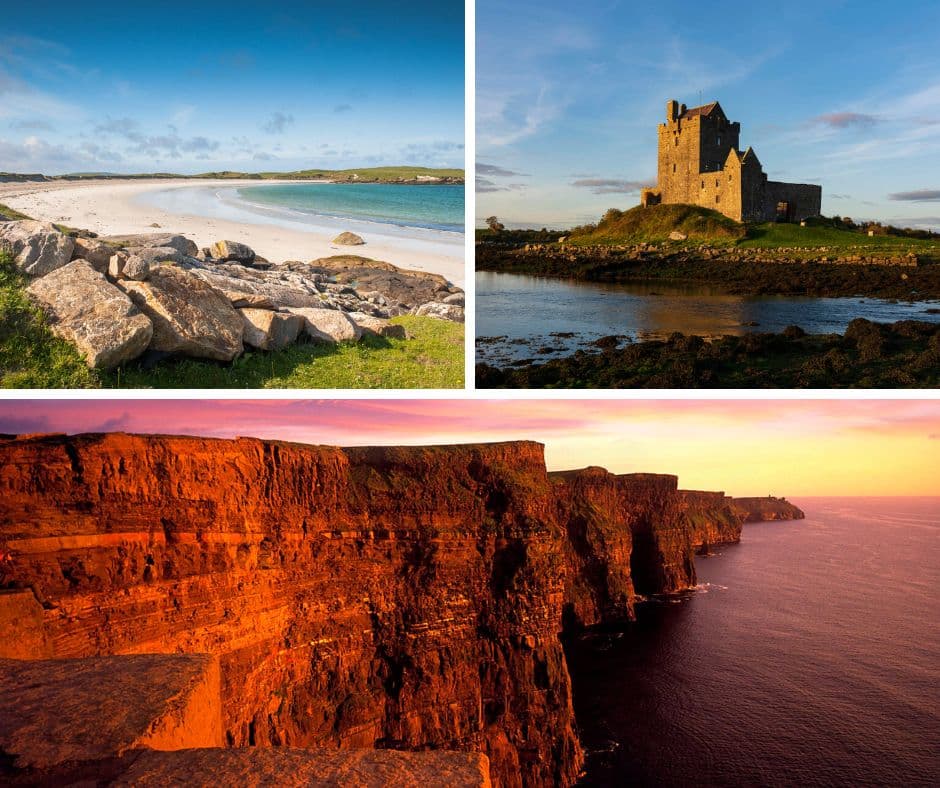 Welcome to the wild and wonderful West of Ireland. If you are planning a trip to this magnificent location on the edge of Europe, this article is going to give you a run-down on the very best things to do here.
The western shores of Ireland is where nature's beauty takes centre stage, putting on a memorable show at the turn of every corner.
It's here you'll get to experience authentic Ireland, from its endless stone walls and seaside villages, to the quaint country pubs and timeless traditional music.
The West of Ireland is a place I am lucky enough to call home, and having travelled far and wide, there are few destinations to match the wilds of this part of the world. This post is the first in our West of Ireland series and we'll be focusing on our favourite attractions. I'm delighted you stopped by!
Map of West of Ireland Destinations
Our Favourite Things to do in the West of Ireland
Visit the Cliffs of Moher for an almighty view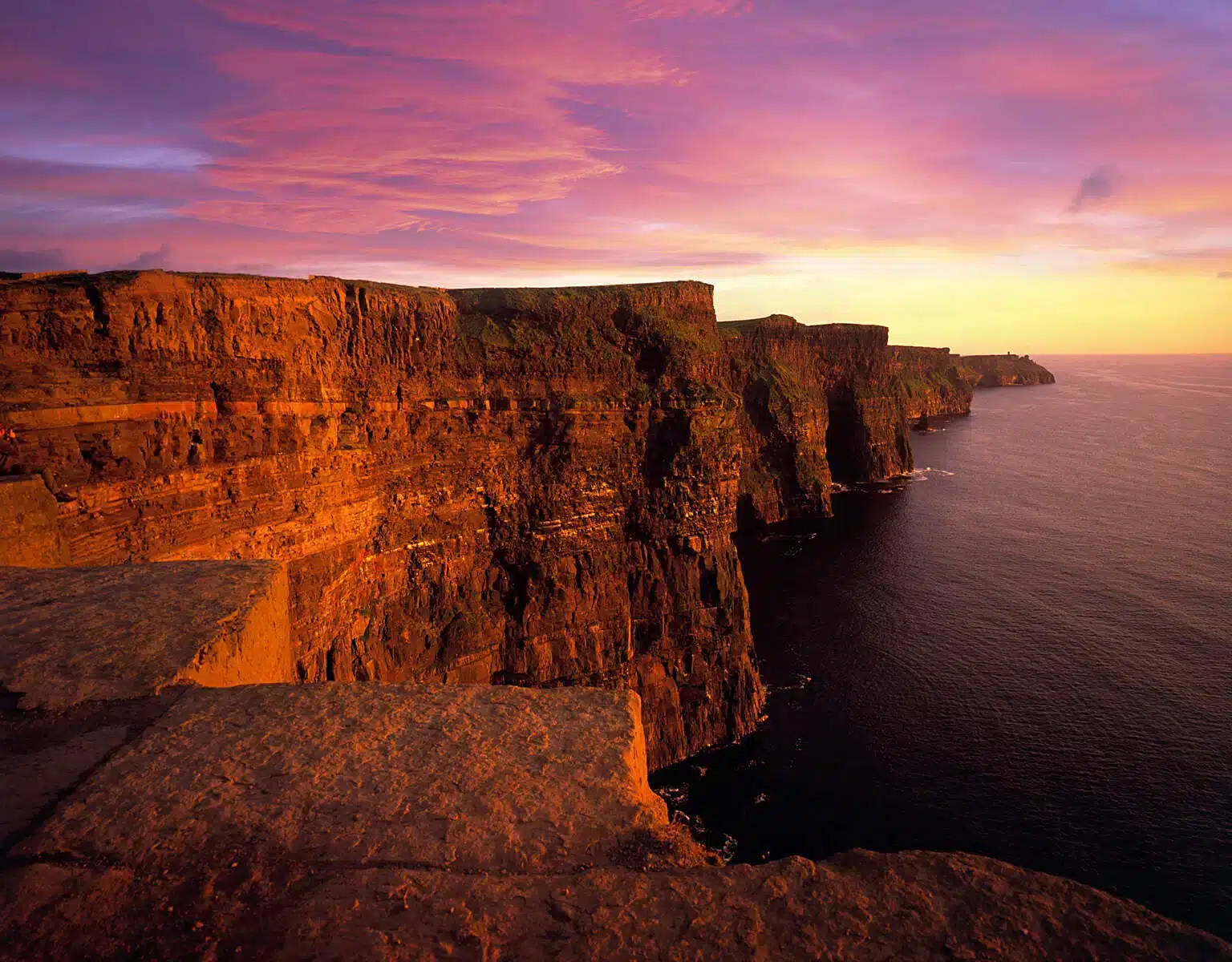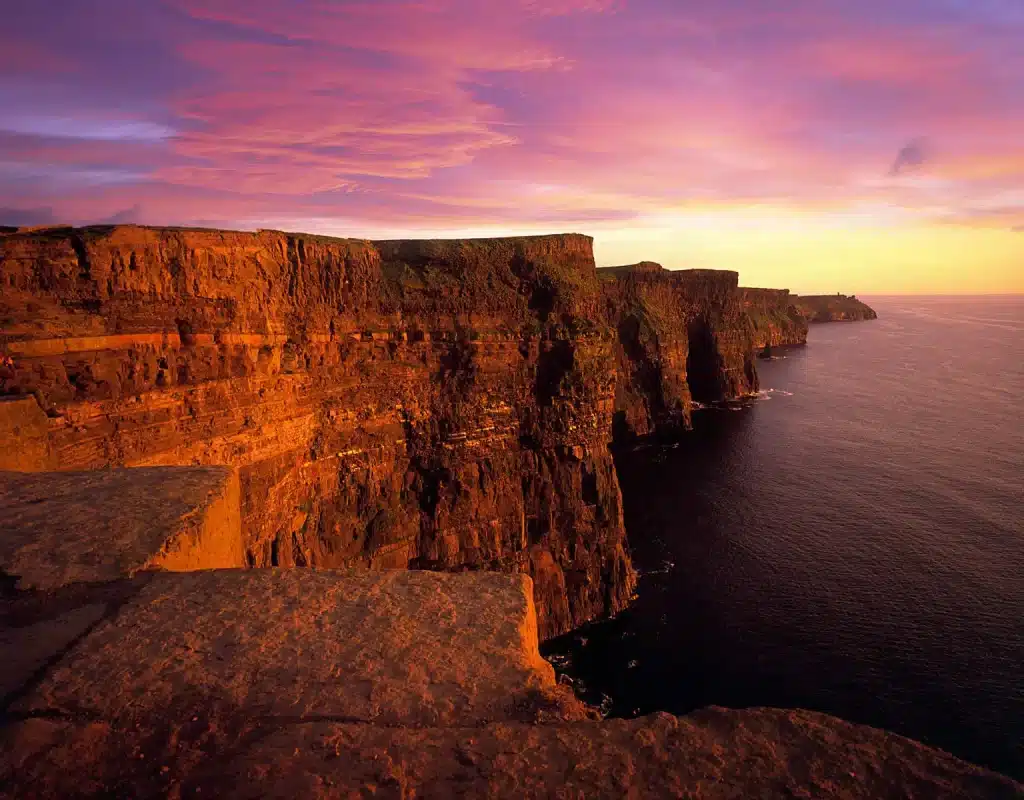 A place I have visited more times than I can count, and seems to present a different atmosphere each time.
The Cliffs of Moher are one of Ireland's most iconic natural wonders, located on the rugged west coast of County Clare. These majestic cliffs stretch for about 8 kilometres (5 miles) along the Atlantic Ocean and rise to heights of up to 214 meters (702 feet) above sea level.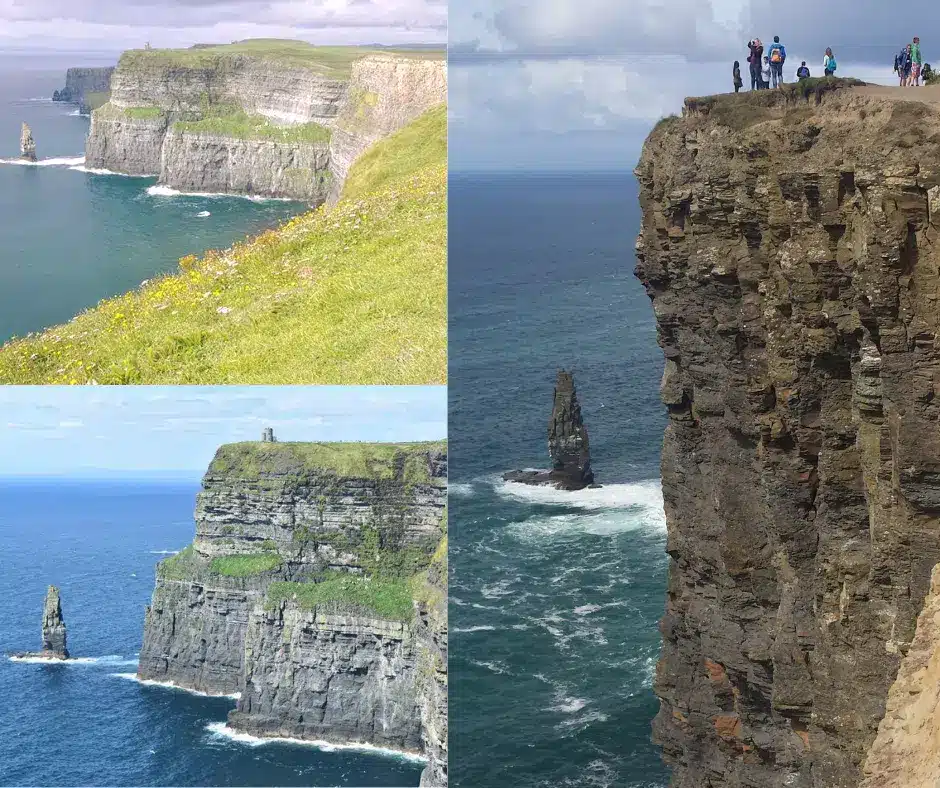 Their dramatic beauty and breathtaking views make them Ireland's most popular natural attraction. You can explore the well-maintained walking trails along the cliffs, taking in panoramic vistas of the Atlantic Ocean and the Aran Islands, but expect visitors at any time of the year, especially the summer months.
The visitor centre offers valuable information about the geology, history, and local wildlife. If you're planning a trip to the west of Ireland, the Cliffs of Moher are a must-see natural wonder that will leave you in awe at how such sheer power can produce such perfectly crafted beauty.
Explore Majestic Connemara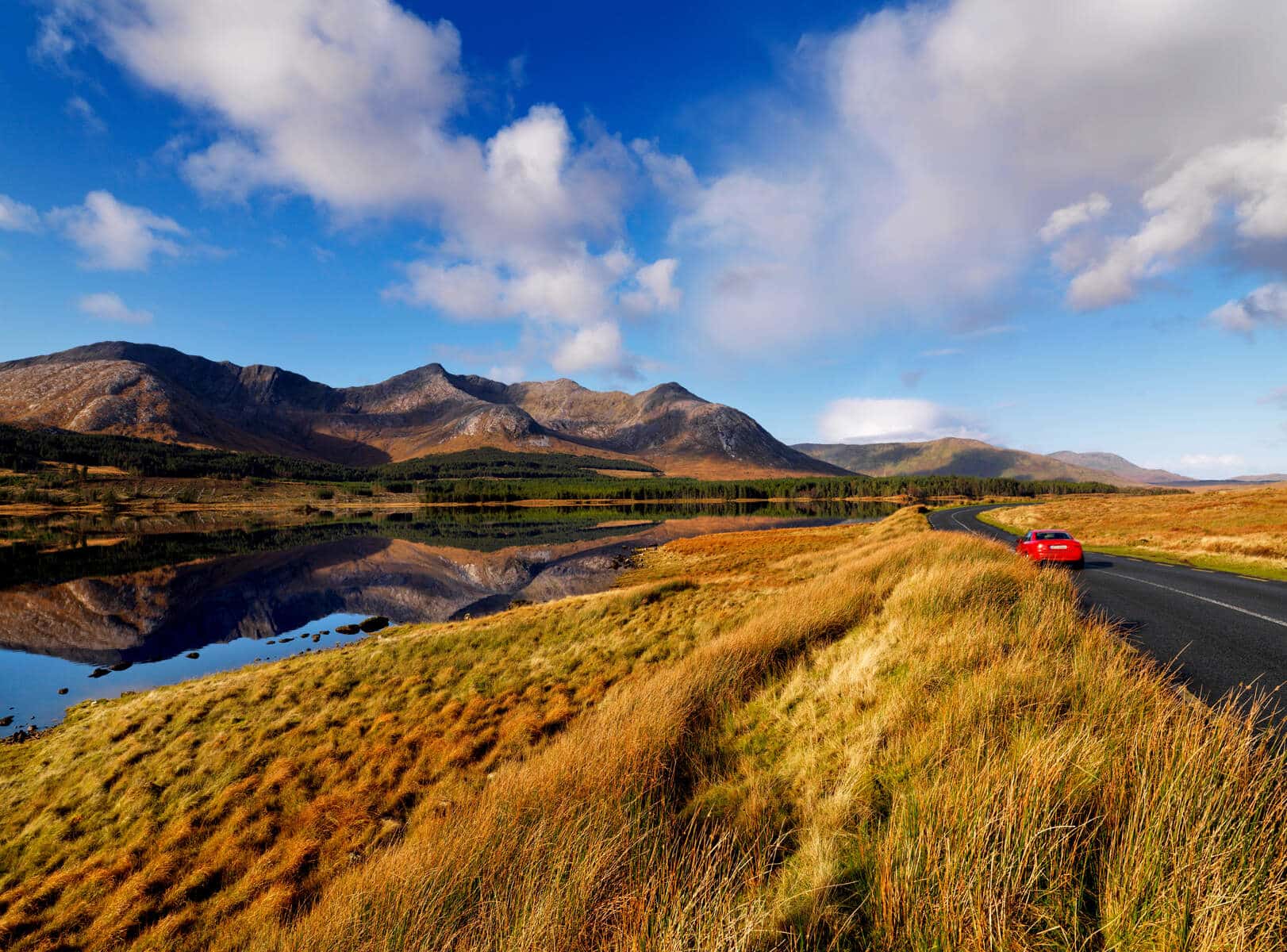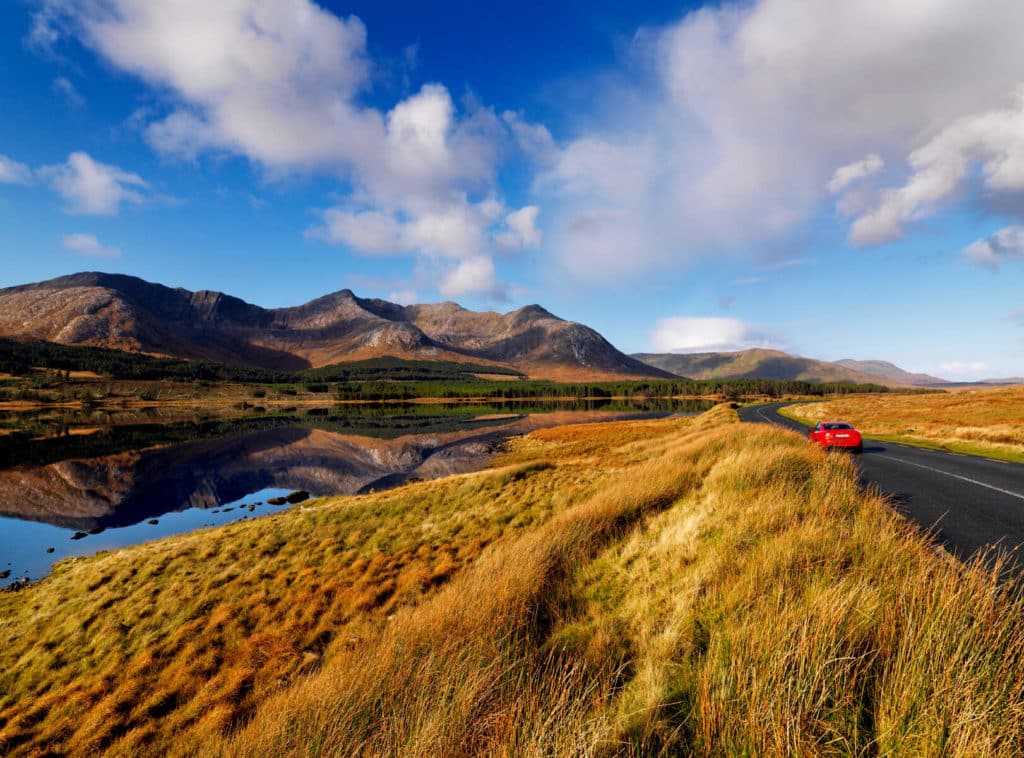 Connemara is one of personal favourite regions in Ireland. It offers such a wealth of diverse and beautiful landscapes, while also being one of the last remaining strongholds of Irish language and culture.
It's located in western County Galway. Connemara is a haven for nature enthusiasts, with its countless pristine lakes, and the stunning Twelve Bens mountain range.
Connemara is also famous for its stunning coastline, dotted with a wealth of white-sand beaches and charming fishing villages and towns like Roundstone and Clifden. There's also a wealth of outdoor activities to enjoy, with countless opportunities for hiking, cycling, fishing, and water sports.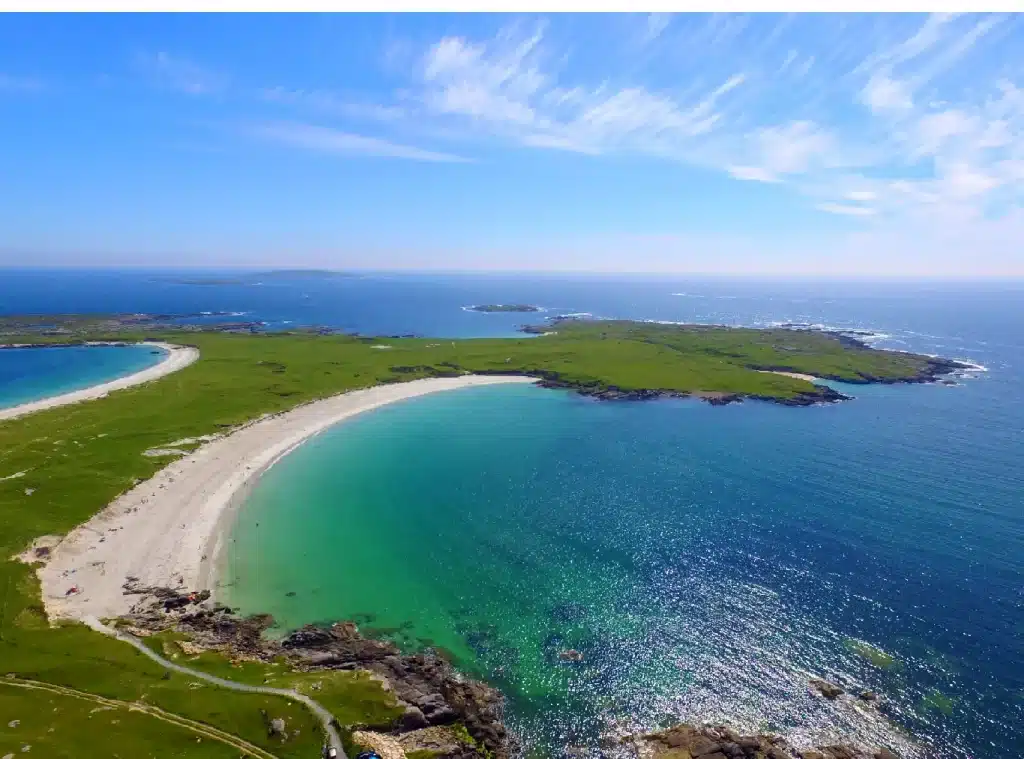 We highly recommend exploring Connemara National Park, where you can enjoy a variety of excellently maintained walks, including my very favourite: Diamond Hill. The summit offers fabulous west of Ireland views which take in the nearby beaches, mountains and a birds-eye view to Kylemore Abbey.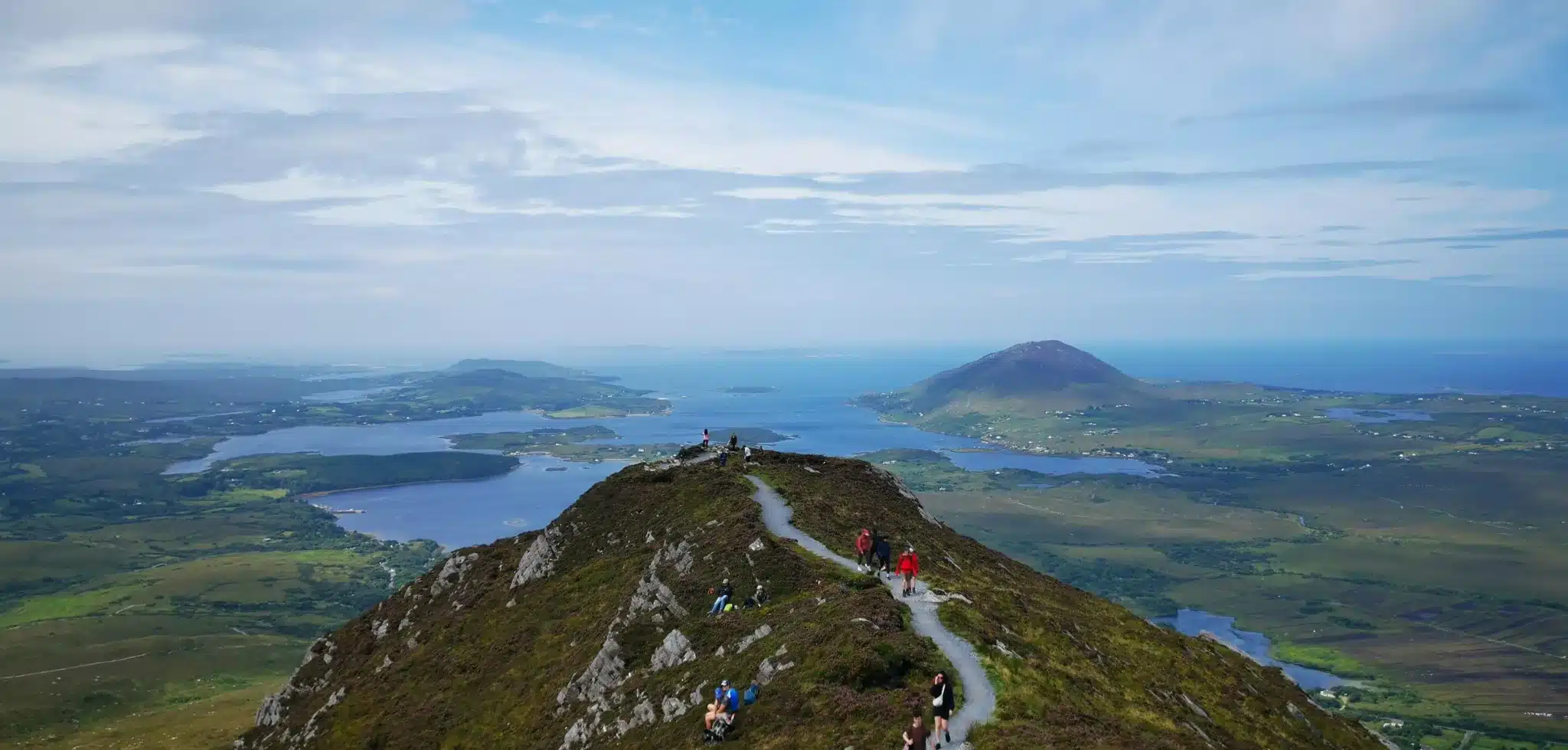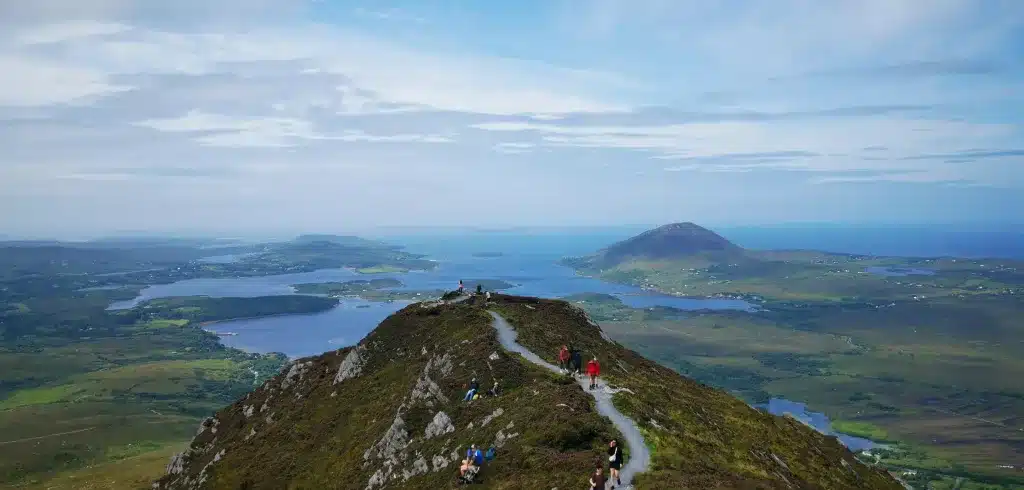 Additionally, Connemara is steeped in Irish culture and history, with traditional music sessions and festivals held throughout the year. April 2024 sees the return of the brilliant traditional music festival in Clifden, an unmissable event for Irish music lovers.
Be sure to savour local food like Connemara lamb and freshly caught seafood (such as my favourite: mussels) at one of the pubs or restaurants. Whether you're seeking adventure, natural beauty, or cultural experiences, Connemara really has everything.
Marvel at the beauty of Kylemore Abbey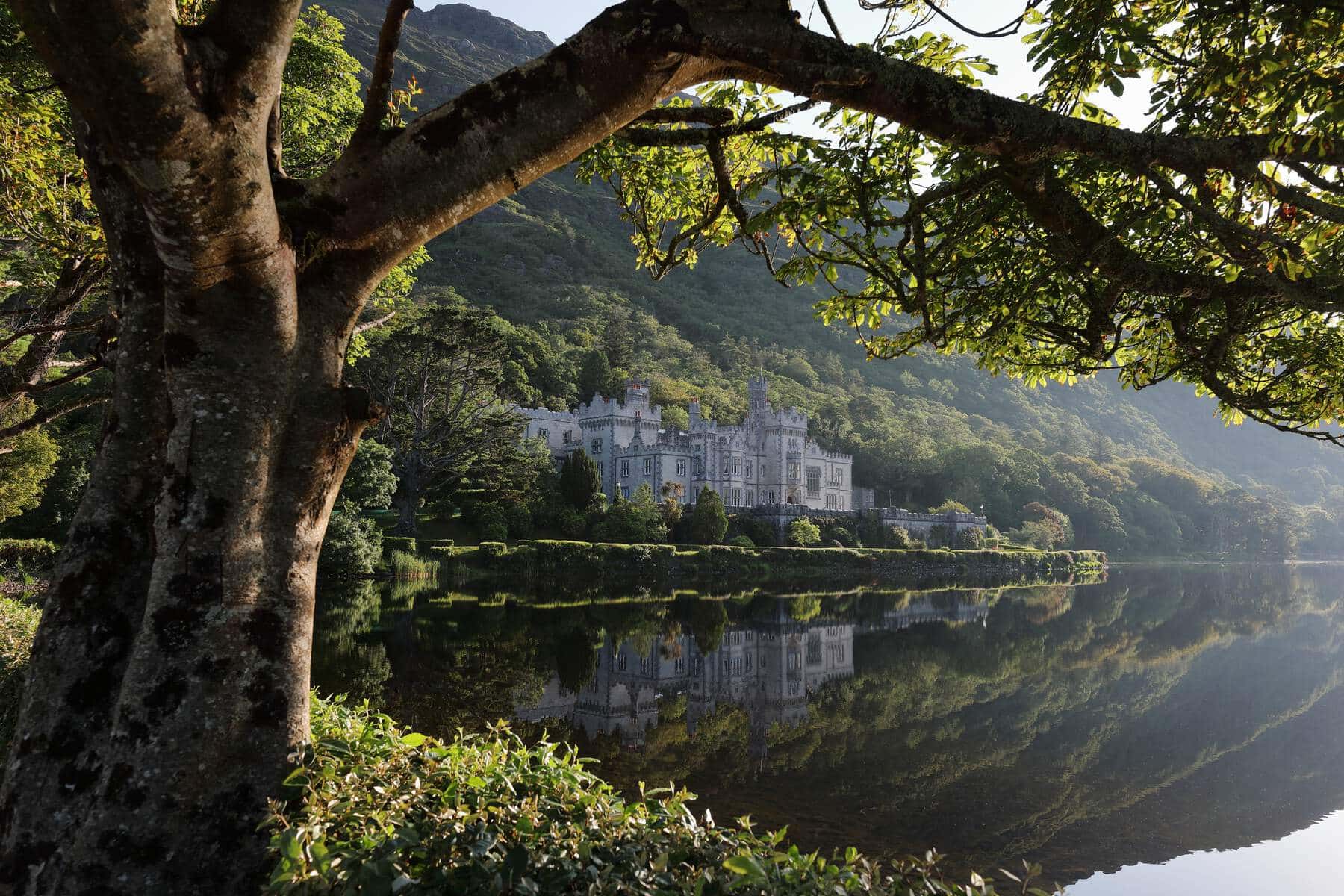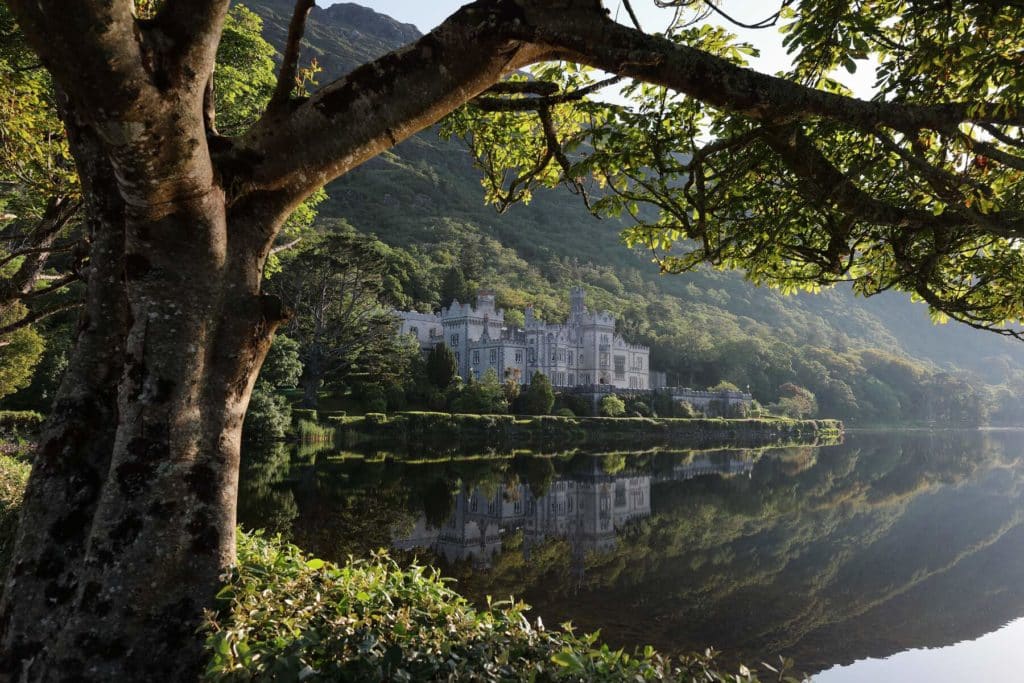 Kylemore Abbey, nestled in the picturesque Connemara region of Ireland and next to Connemara National Park, is a captivating 19th-century neo-Gothic castle that once served as a private estate. Today, it's renowned for its idyllic beauty and is regarded by many as Ireland's most beautiful castle.
Set against the backdrop of the stunning Twelve Bens mountain range, the abbey boasts large Victorian gardens along the tranquil waters of Pollacapall lake. Originally built as a gift from Mitchell Henry to his wife, it later became an abbey for Benedictine nuns who established a girls' school.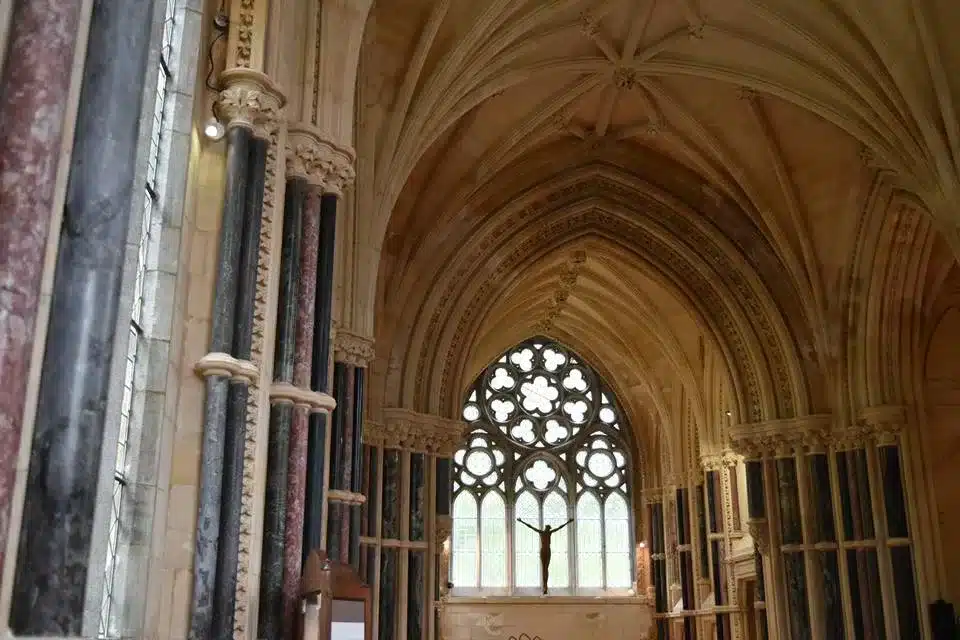 You can explore the interiors, the Gothic church, and the tranquil walled gardens, which are incredibly well maintained. When I visited in April 2023, the gardens were a sight to behold.
Kylemore Abbey is not just a must-see for its architecture and natural splendour, but also for the rich history attached, making it one of my favourite destinations in the Connemara region.
Take the trip of a lifetime on the Wild Atlantic Way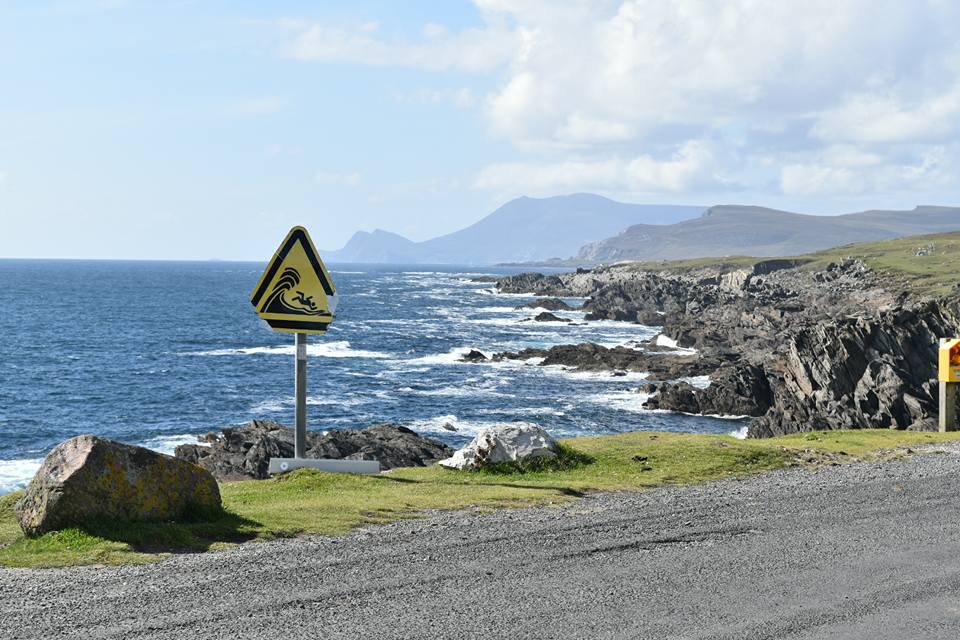 If you're planning a trip to Mayo and Galway or indeed any county along the western soaboard, you definitely want to explore the stunning Wild Atlantic Way.
Stretching along the western coast of Ireland, this scenic route offers views of wild and rugged cliffs and headlands, along with beaches that would pass for being in the Caribbean (apart from the obvious water-temperature difference!)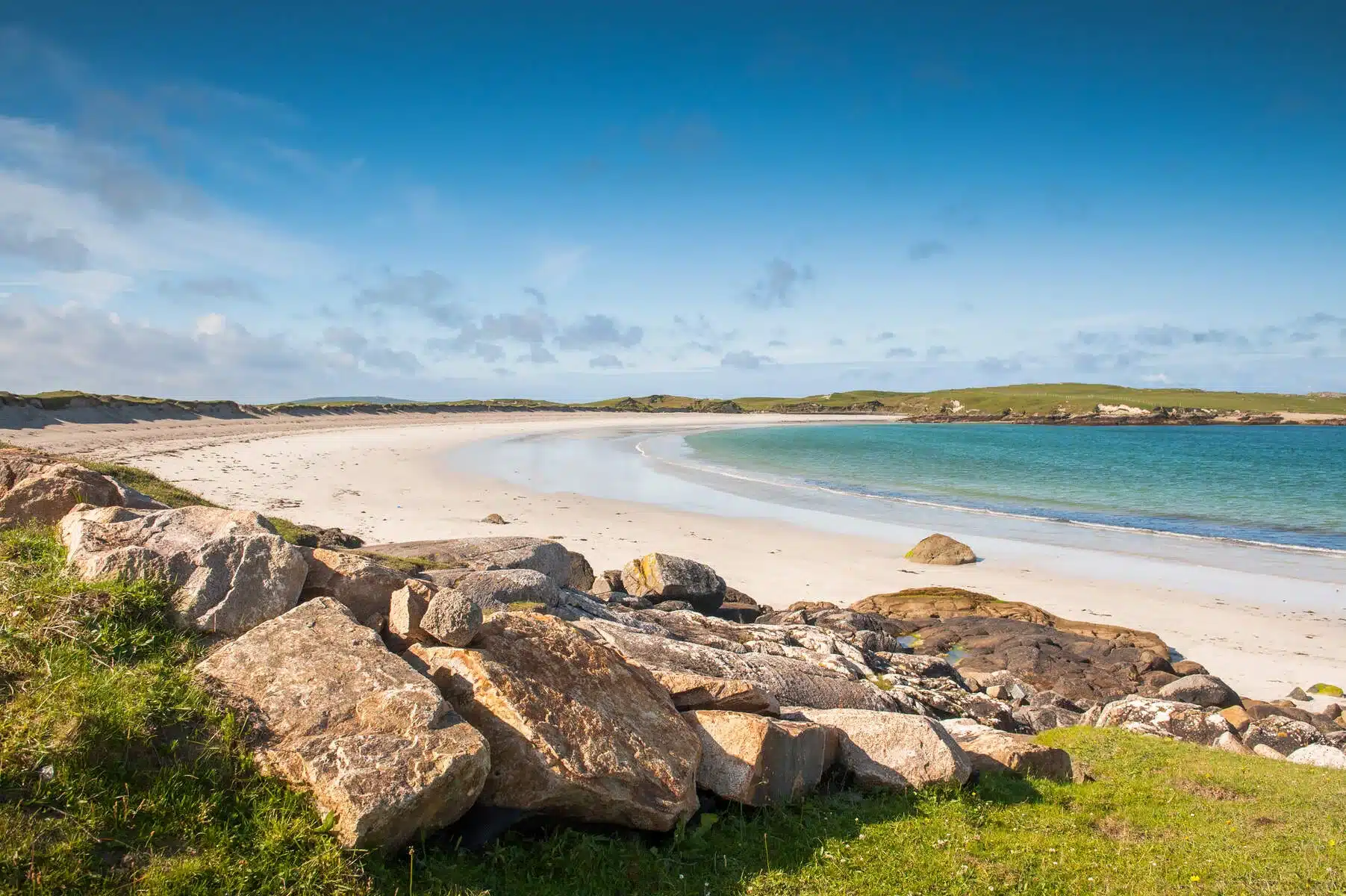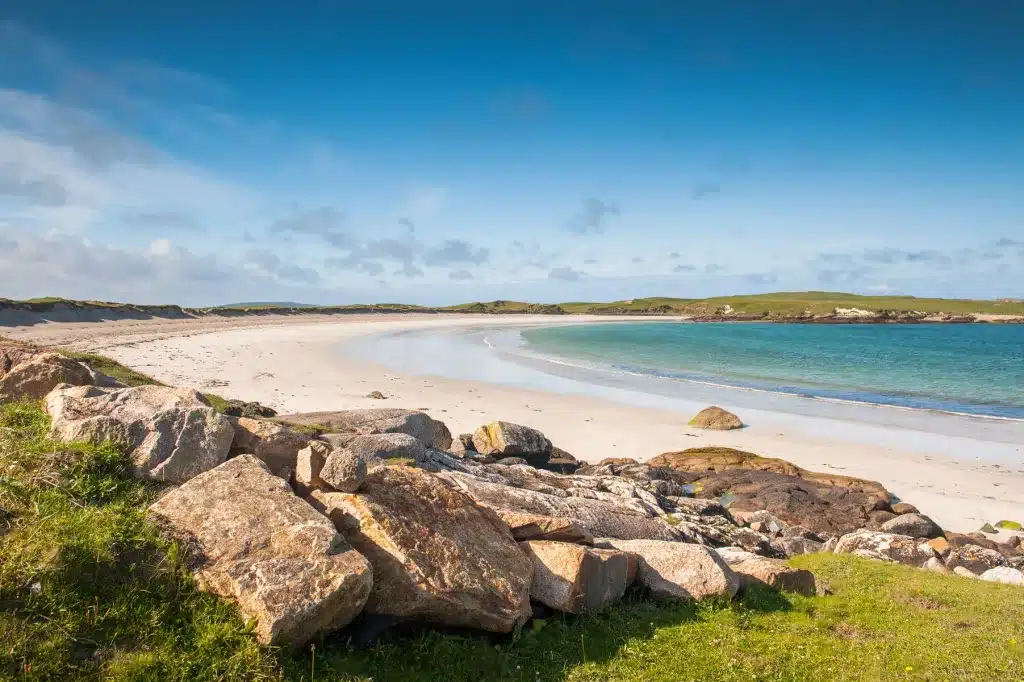 On the Mayo leg of the route, we highly recommend a visit to Achill Island, known for its dramatic cliffs and beaches, along with outdoor activities such as surfing and kite-surfing. Along the Wild Atlantic Way, you'll come across signature points i.e. must-see points of interest.
Two unmissable locations in Mayo are Keem Beach and Downpatrick Head.
Further south, you'll encounter Connemara National Park in Galway, a haven for hikers and nature lovers. We also highly recommend visiting the uniquely beautiful Killary Fjord, on the border between Galway and Mayo.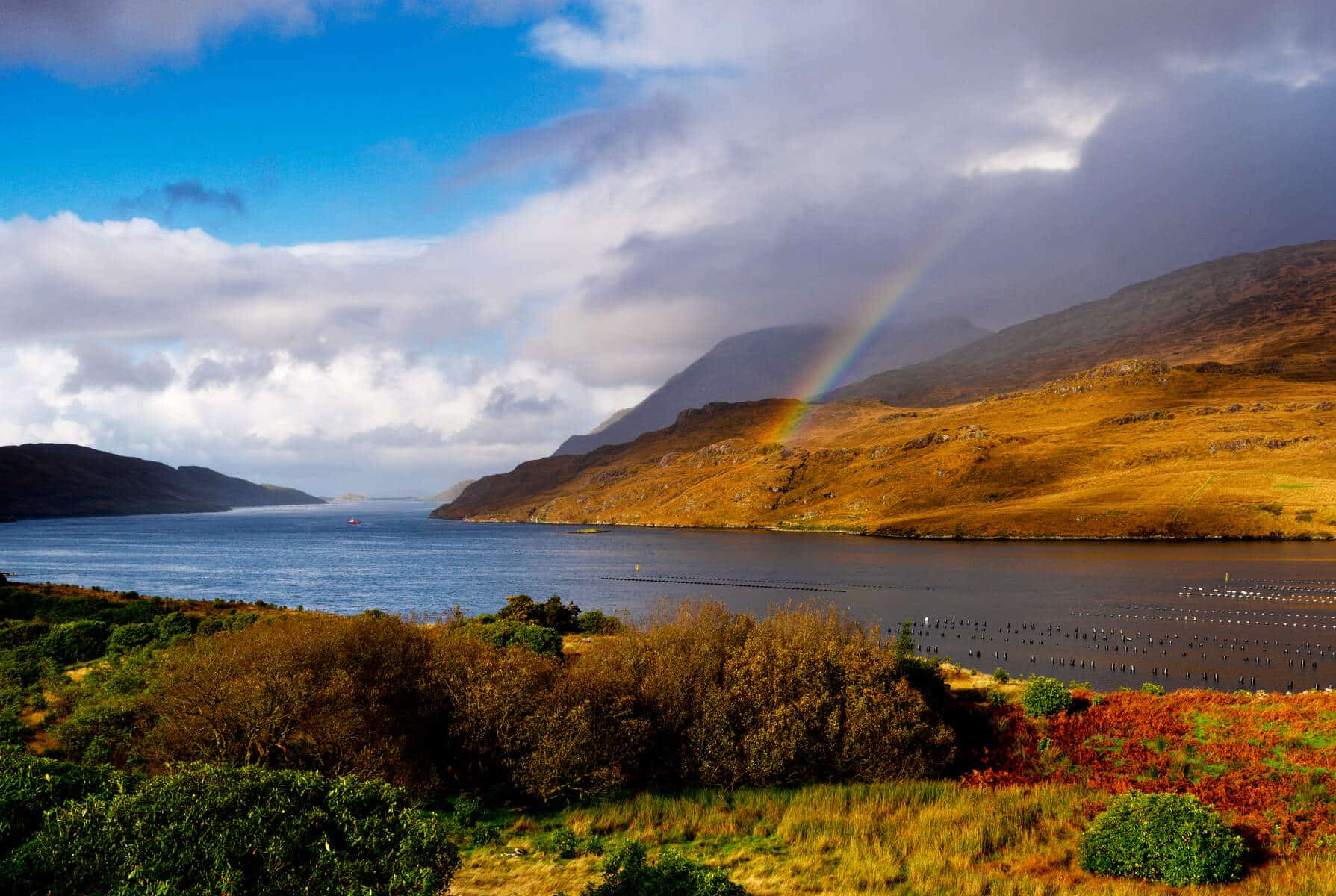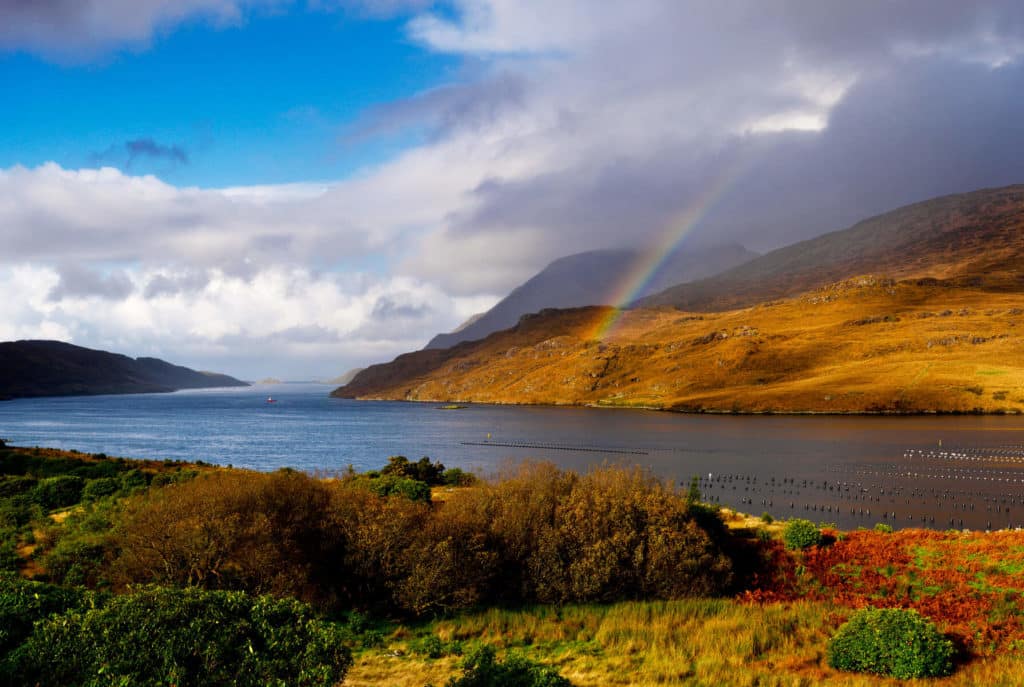 The Wild Atlantic Way in Mayo and Galway promises an unforgettable adventure. In fact if you plan on visiting Ireland and are unsure about where to visit, taking on the WAW offers (in my opinion) an all-encompassing holiday, complete with breathatking scenery, invaluable peace and quiet, laid back locals and delicious local food.
Immerse yourself in Galway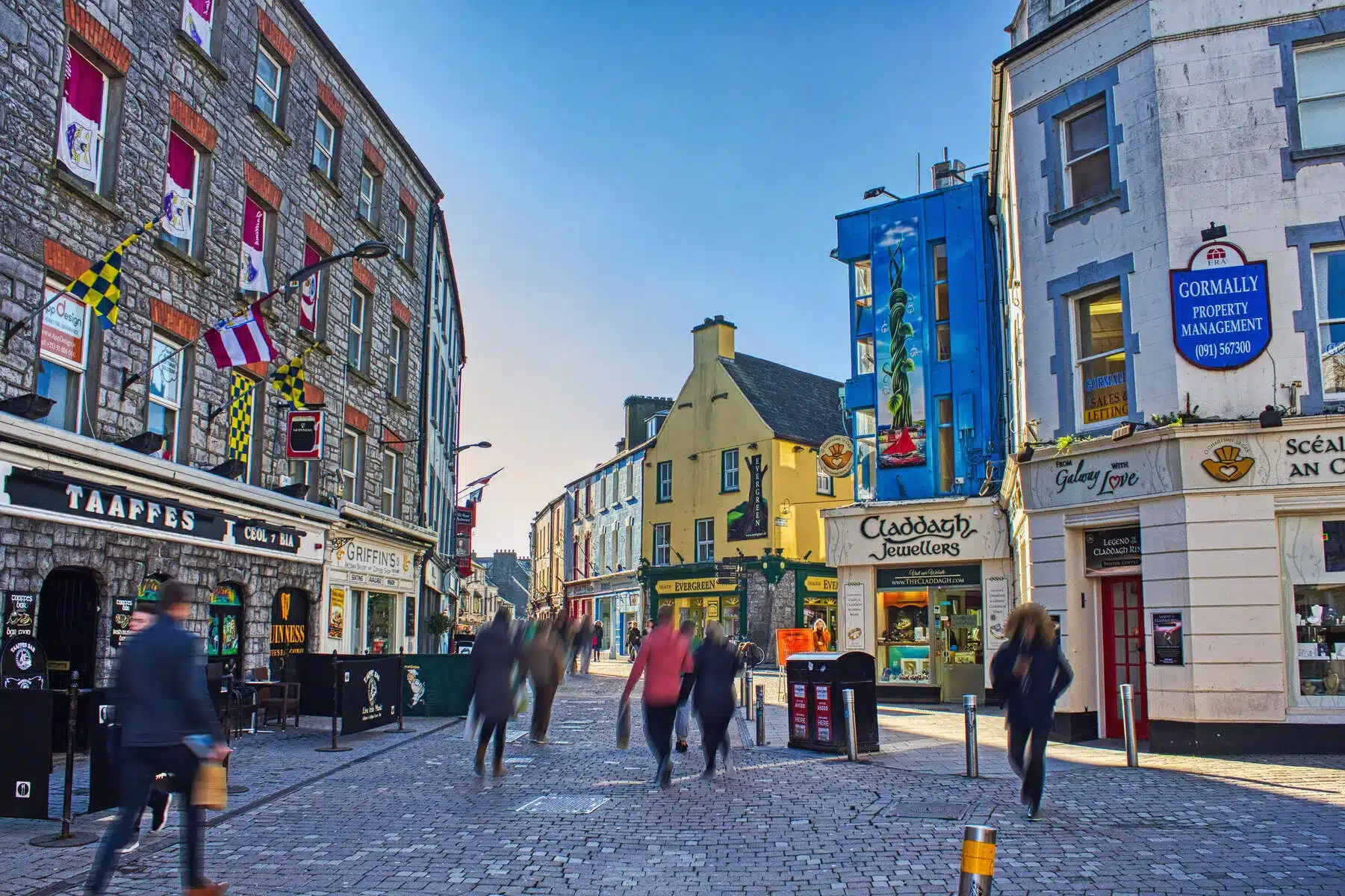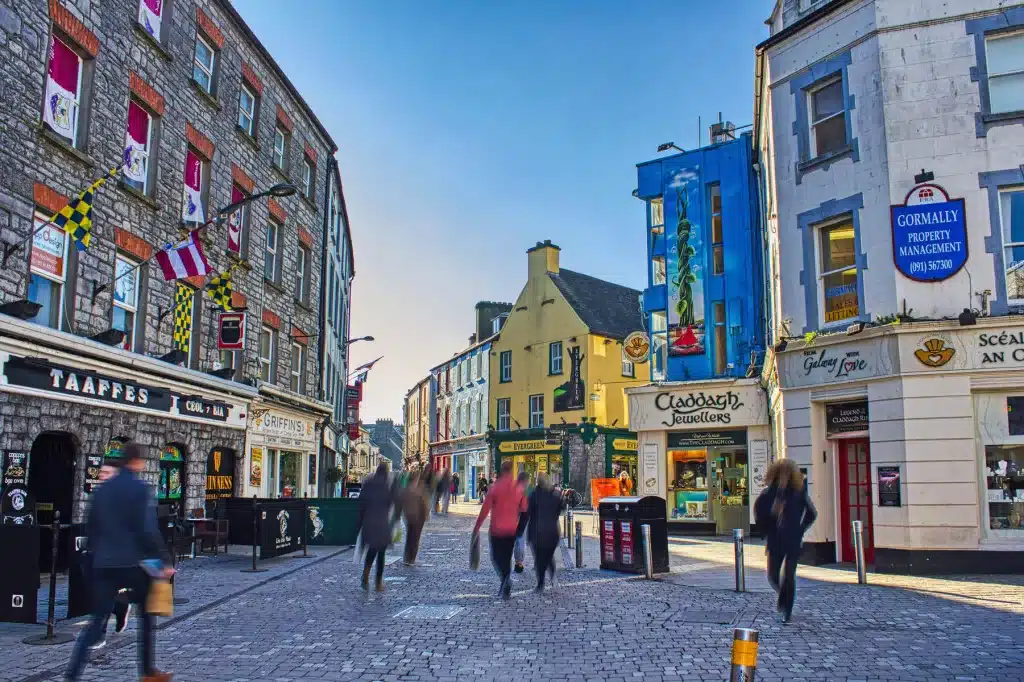 Ah, good ol' Galway City, a place close to my heart as I lived there for 7 years. Galway is the capital of Ireland's west and is known as the "City of Tribes,". Galway is a place where tradition meets modernity.
You'll notice its lively arts scene, with street performers and festivals like the Galway International Arts Festival. Galway is a very walkable city so don't forget to explore the Claddagh and the Spanish Arch down by the waterfront. The latter receiving its name because of the many visits of Spanish ships that came to Galway to trade.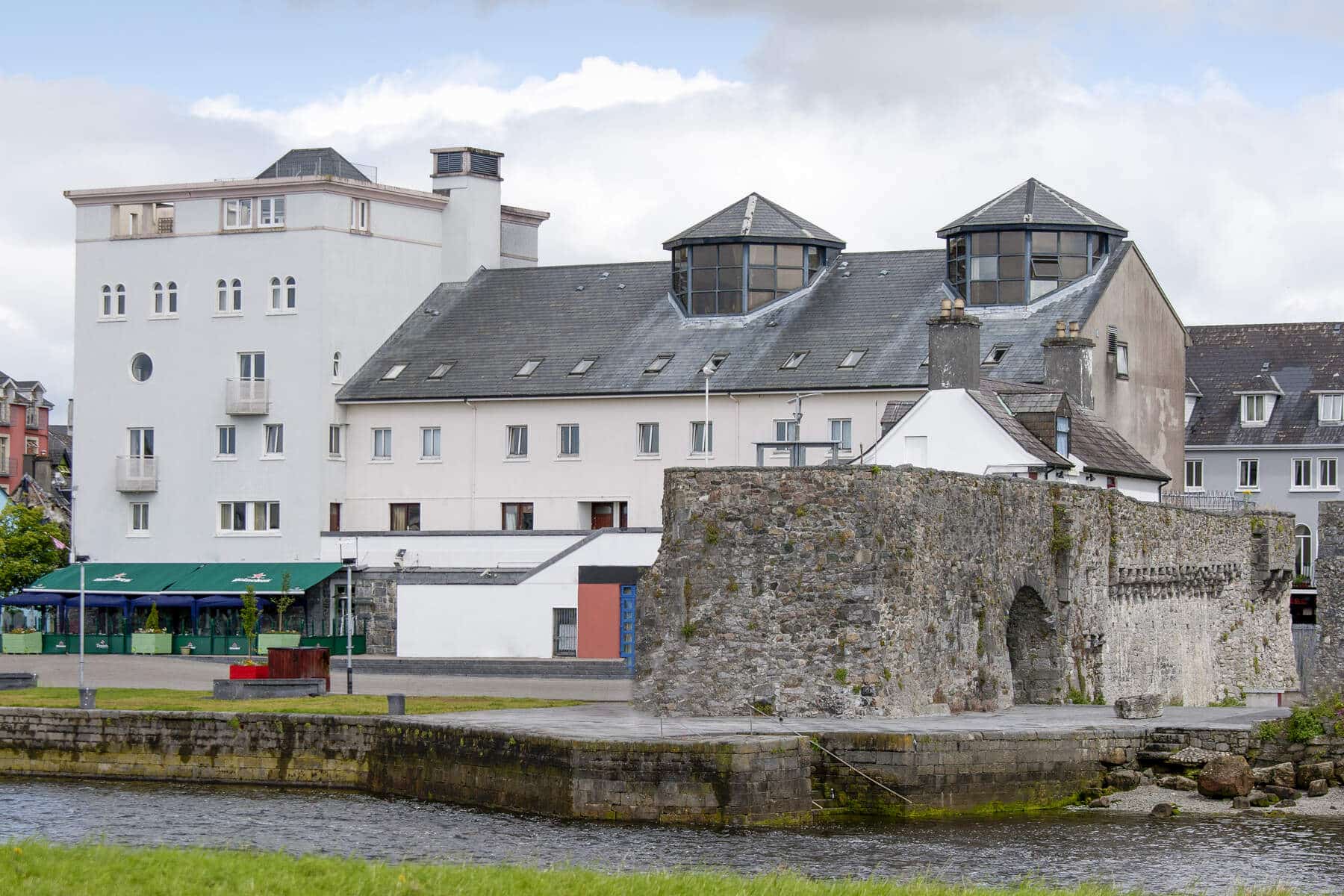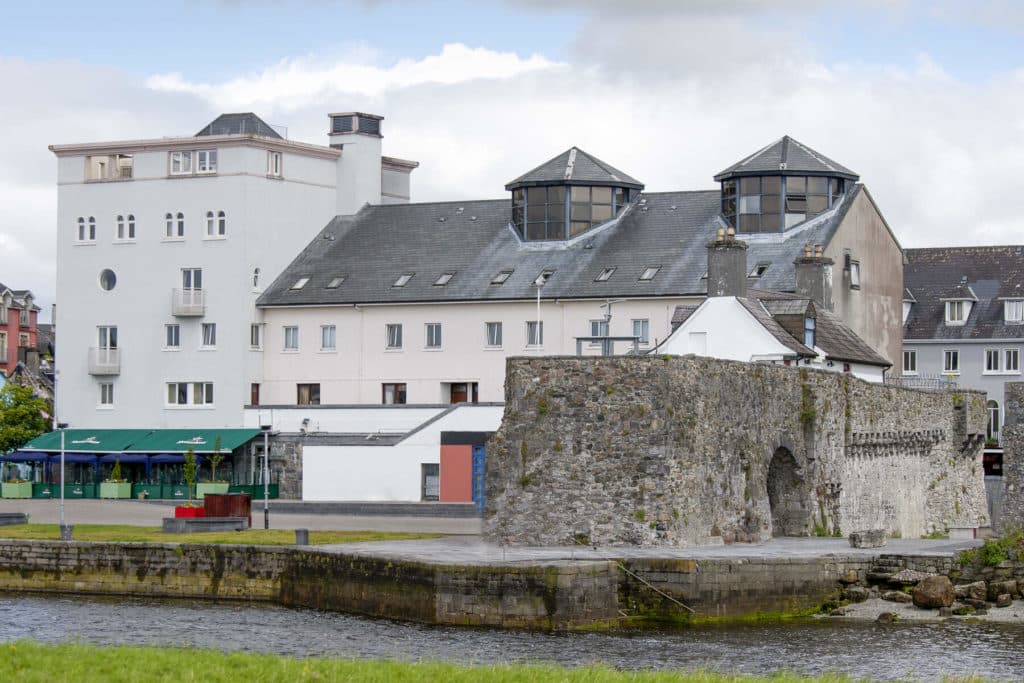 Galway's location is also perfect for exploring the endless natural attractions on its doorstep, with the Cliffs of Moher and the Aran Islands a few hours away.
Why not try out some fresh seafood at the Galway Market, or pay a visit to striking Galway Cathedral? Then spend your evenings in my favourite pub 'The Crane' and enjoy a pint of the black stuff, while being treated to authentic Irish tunes and melodies.
Step back in time on the Aran Islands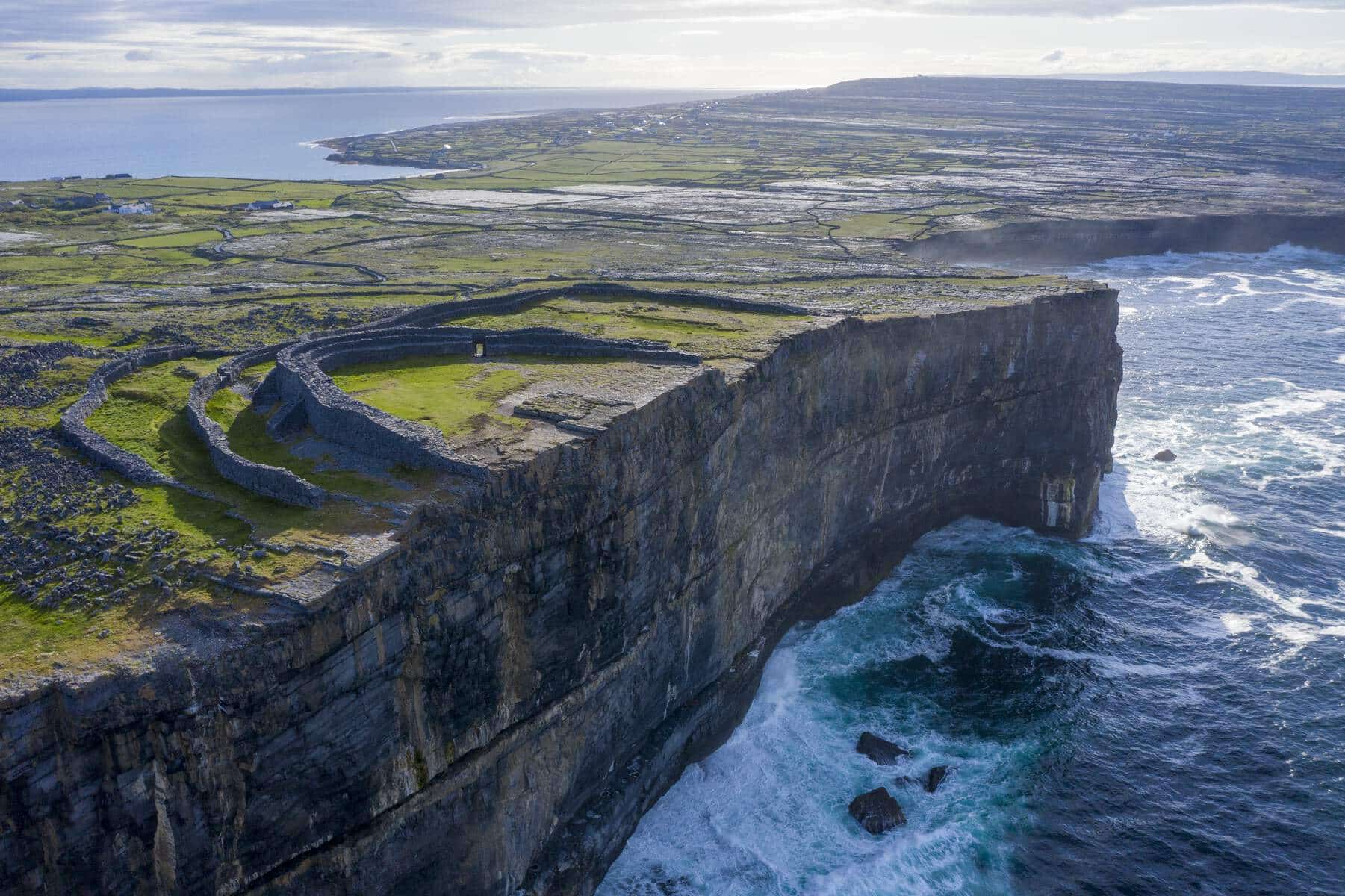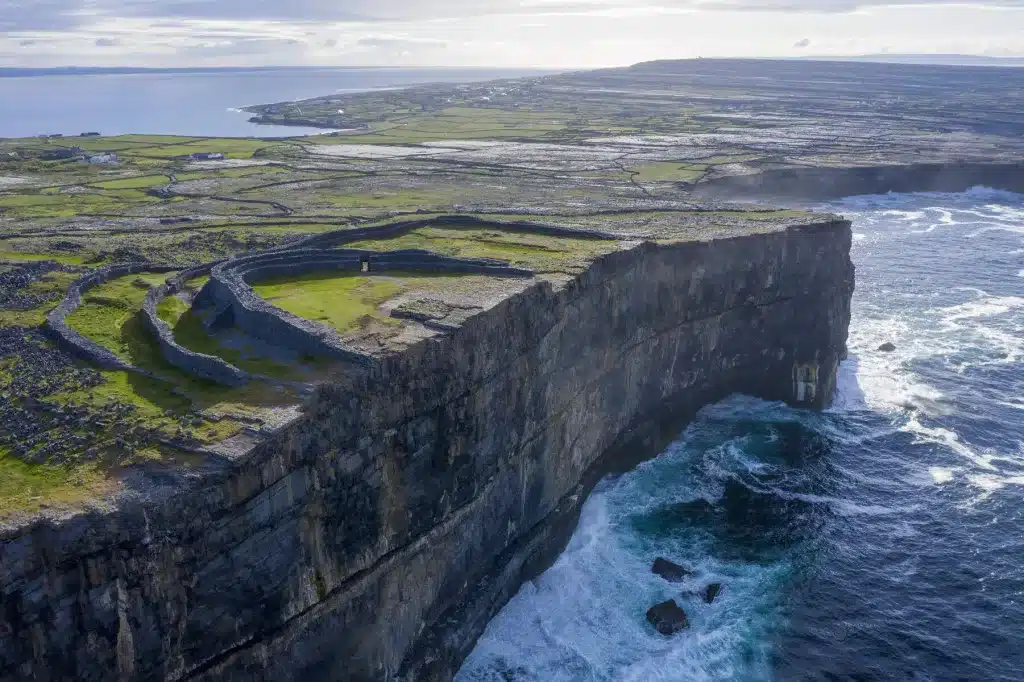 If you're planning a visit to the Aran Islands, you're in for a unique and unforgettable experience.
These three islands, Inishmore, Inishmaan, and Inisheer, off the west coast of Ireland, offer a captivating blend of rugged beauty, rich Irish culture, and a deep sense of history. You'll find yourself immersed in a world where traditional Irish language, music, and folklore are part and parcel of everyday life.
Don't forget to explore the iconic Dun Aengus fort perched on a cliff's edge on Inishmore, or take a easy bike ride along the picturesque stone-walled lanes. And when it comes to dressing for the weather, layers are your best friend; the Atlantic Ocean has its own unpredictable sense of style!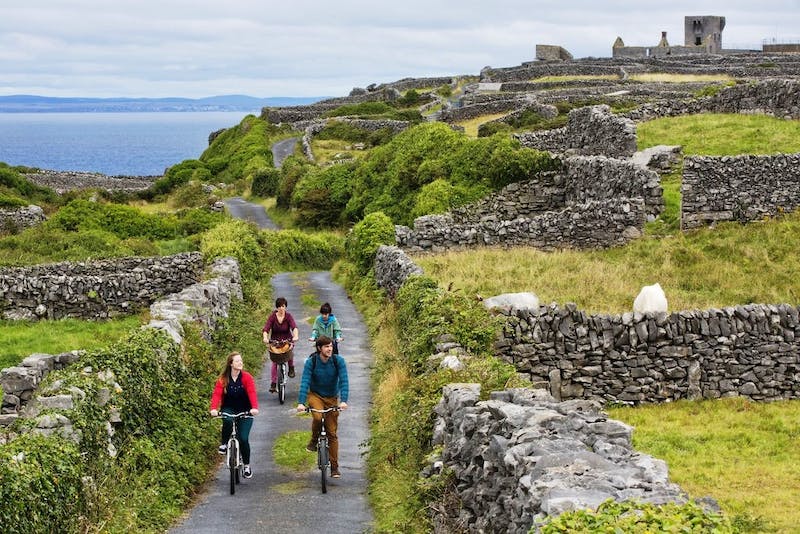 As regards recommending the best one to visit? That's a tough one. Inishmore is the bigger and more touristy island. Inishmaan is for those who like hidden gems and a quieter experience, and Inisheer is a blend of the 2! I have to give the nod to Inisheer. Being there recently on a warm sunny day was a cracking day out!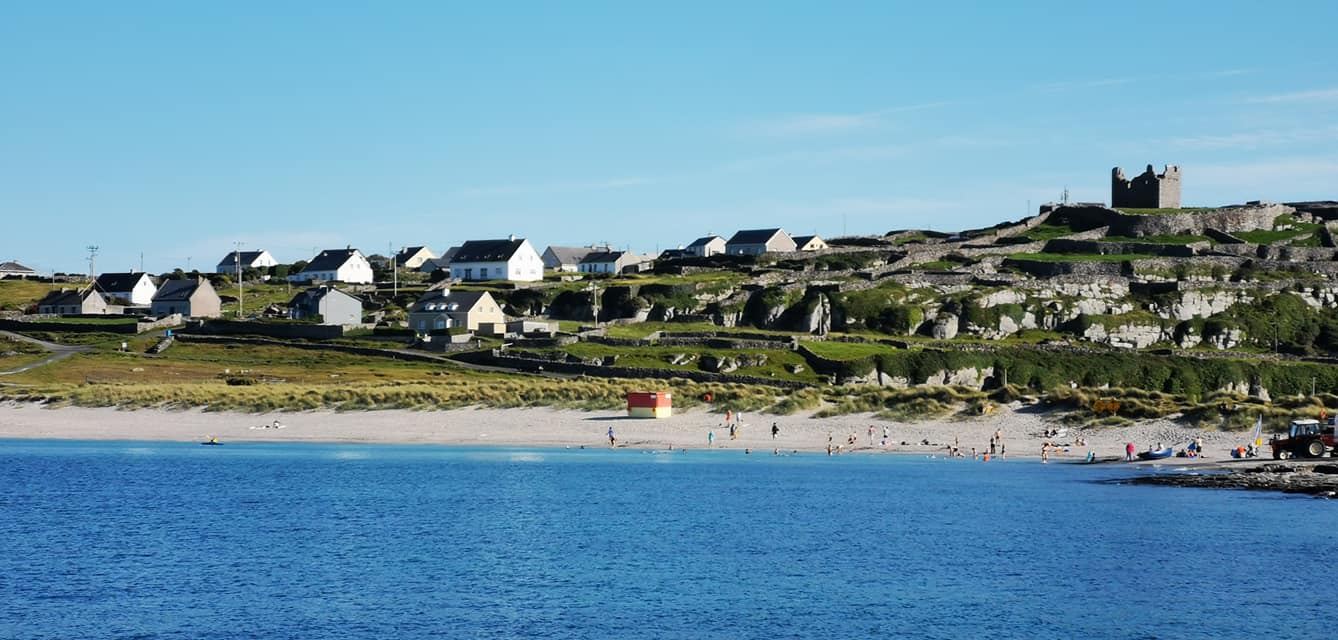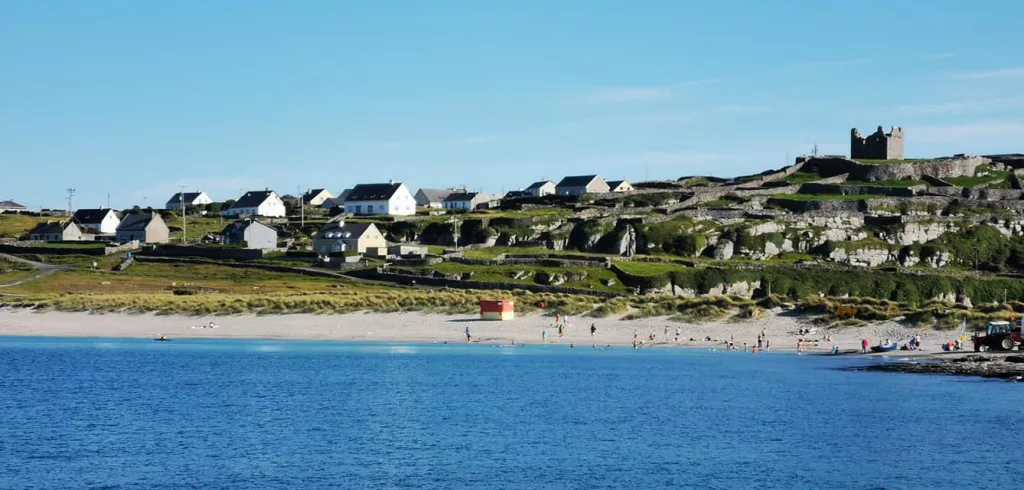 Experience raw beauty at The Burren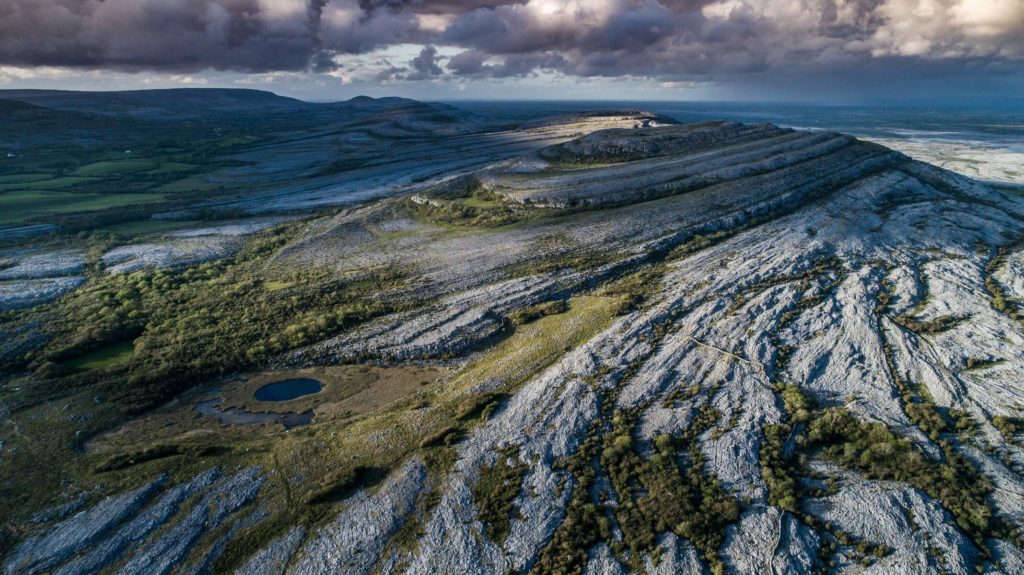 One of the most uniquely beautiful landscapes of Ireland.
This rugged, almost lunar-like landscape, located in County Clare, boasts a mesmerizing landscape defined by its limestone karst formations and wildflowers that create a stunning mosaic. The Burren is renowned for its rich biodiversity, with countless species of plants and wildlife.
Don't forget to wear sturdy footwear for hiking, as some of the trails can be a bit challenging. Along your journey, you'll come across ancient monuments, like the Poulnabrone Dolmen. The Burren is a truly unique and unforgettable destination, perfect for nature lovers and history enthusiasts alike.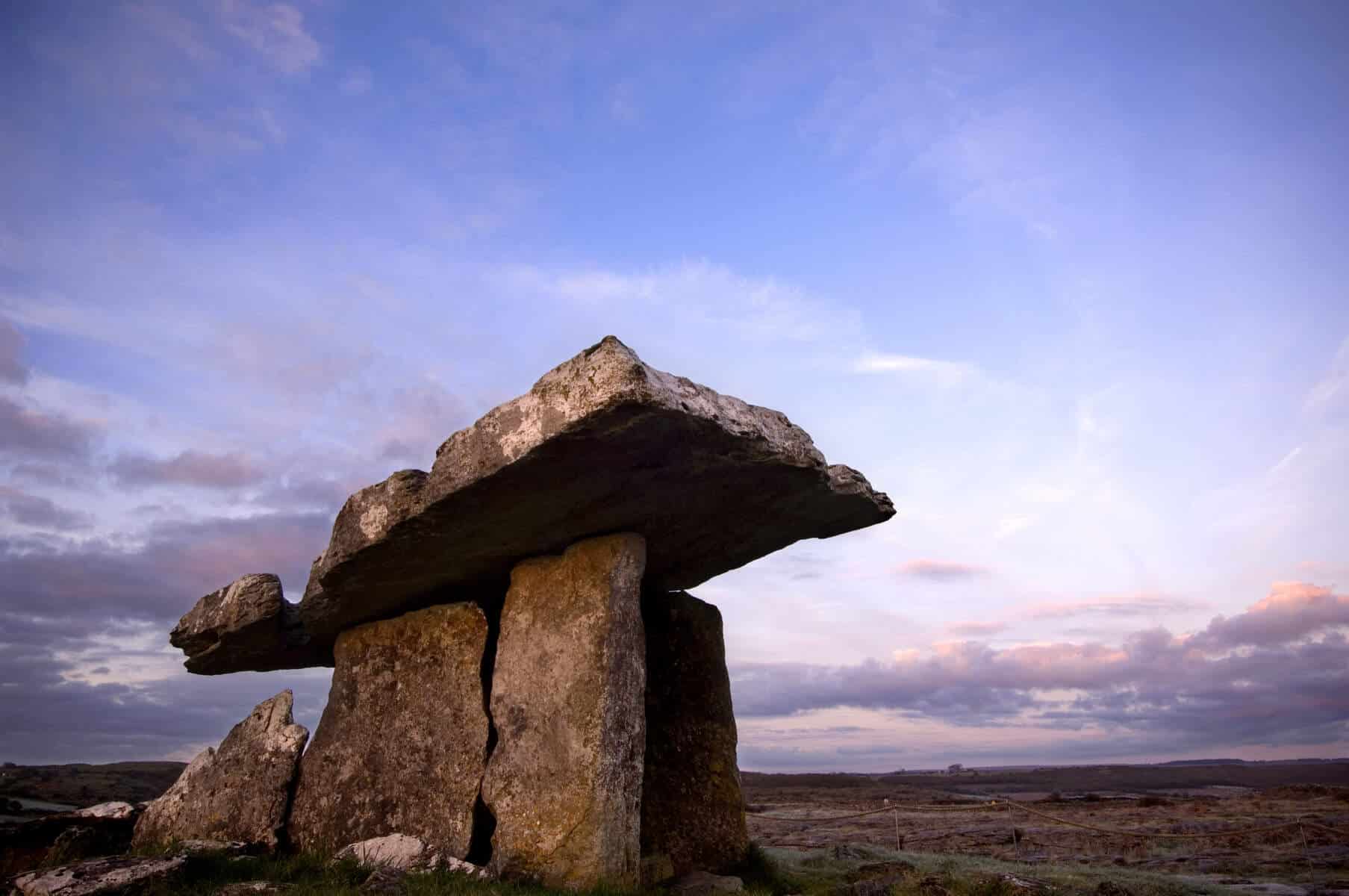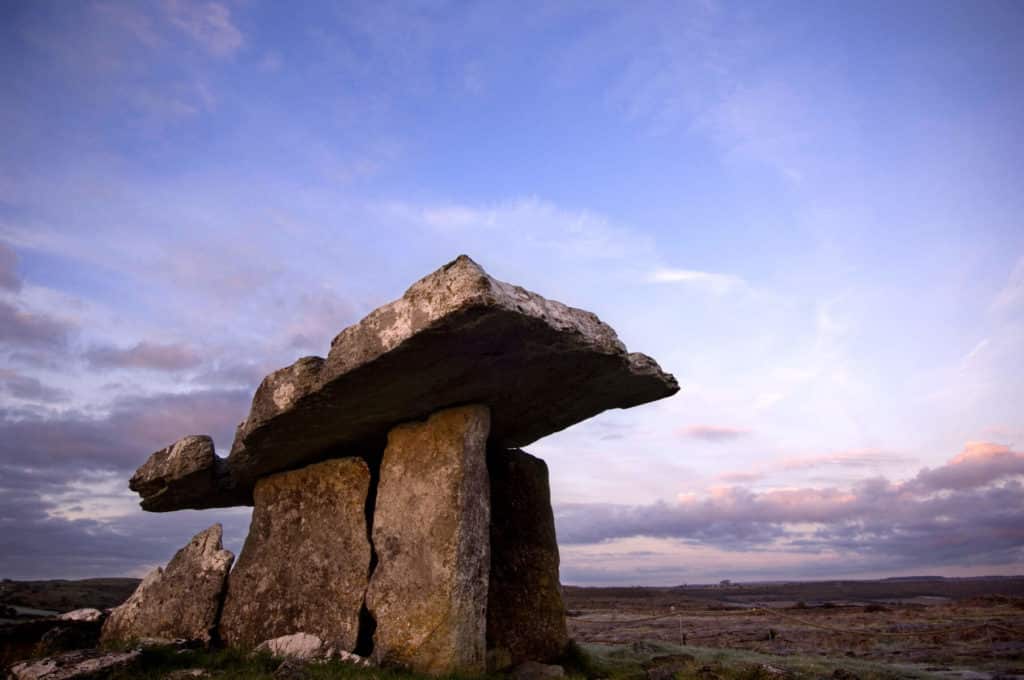 The Burren can be explored as part of a trip to the Cliffs of Moher, a trip we carried out numerous times and an idea day trip if based in the city of Galway.
Enjoy spectacular coastal scenery at Loop Head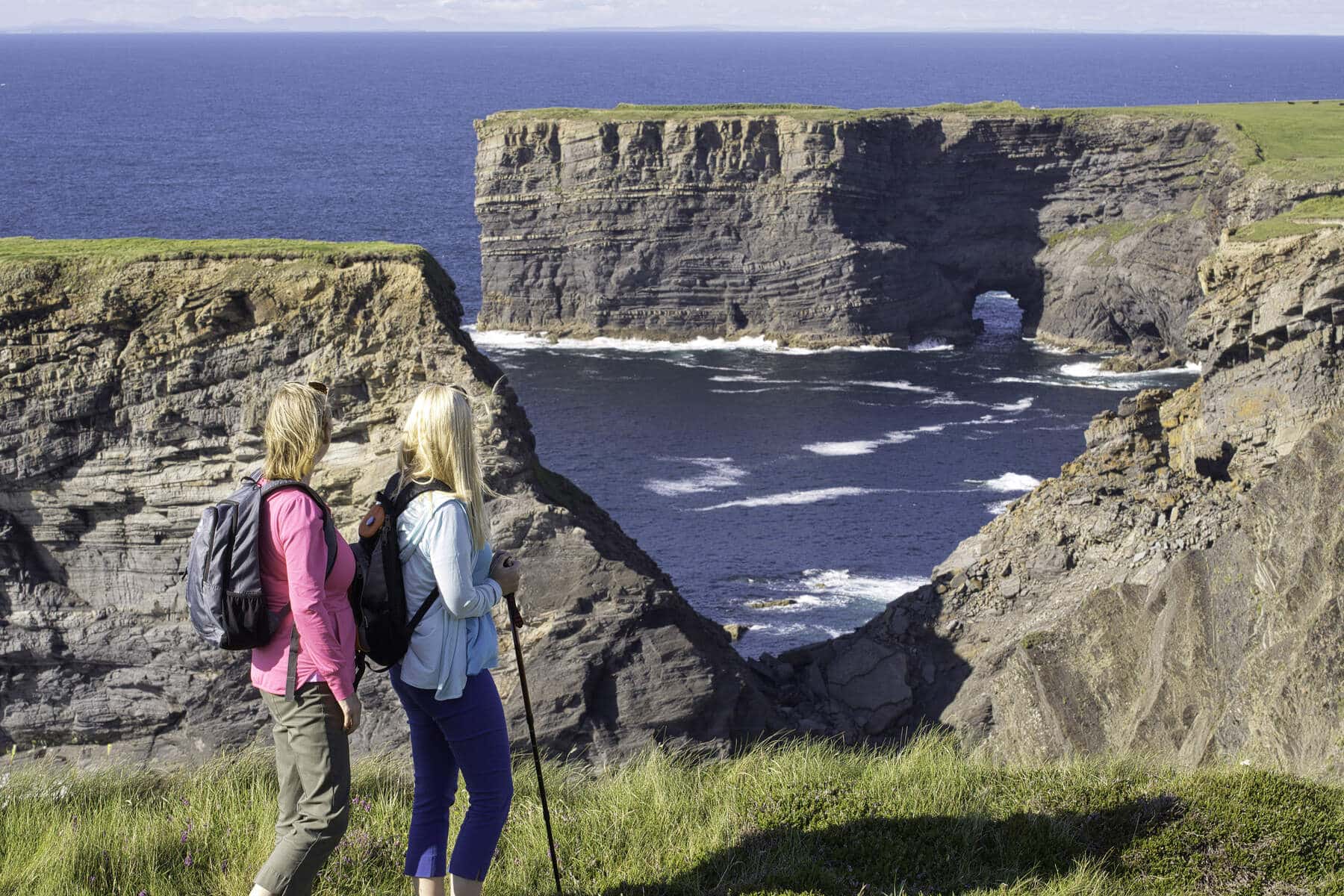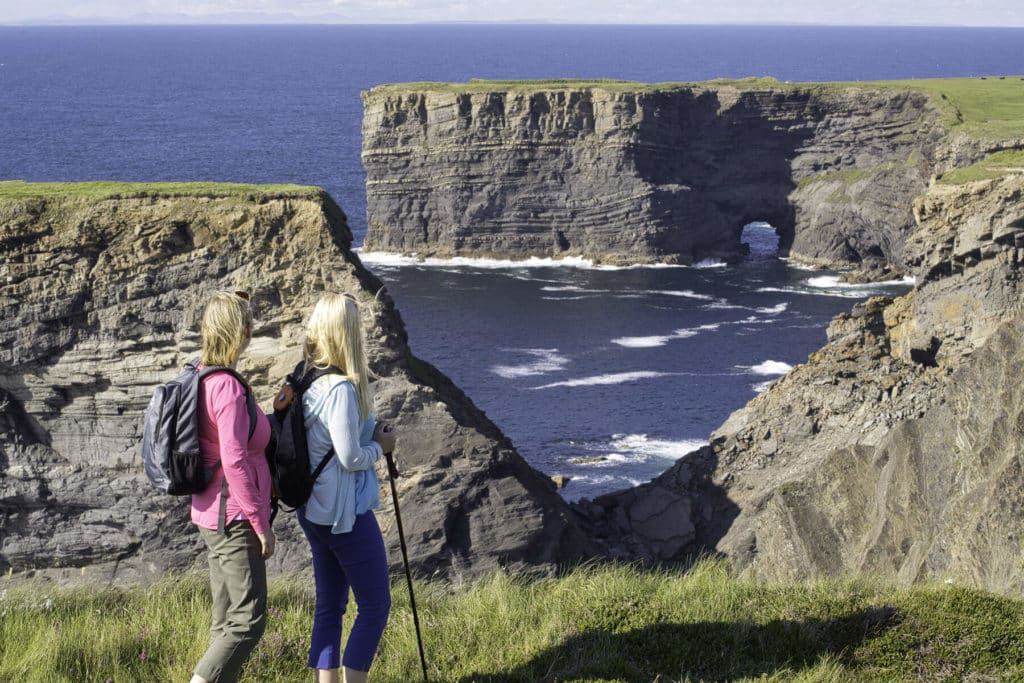 Often regarded by many as one of the most scenic regions in all of Ireland, Loop Head is a hidden gem we highly recommend visiting.
The nearby Cliffs of Moher will take all the plaudits as the king of Irish cliffs, and although the cliffs at Loop Head are not as high, they are certainly spectacular.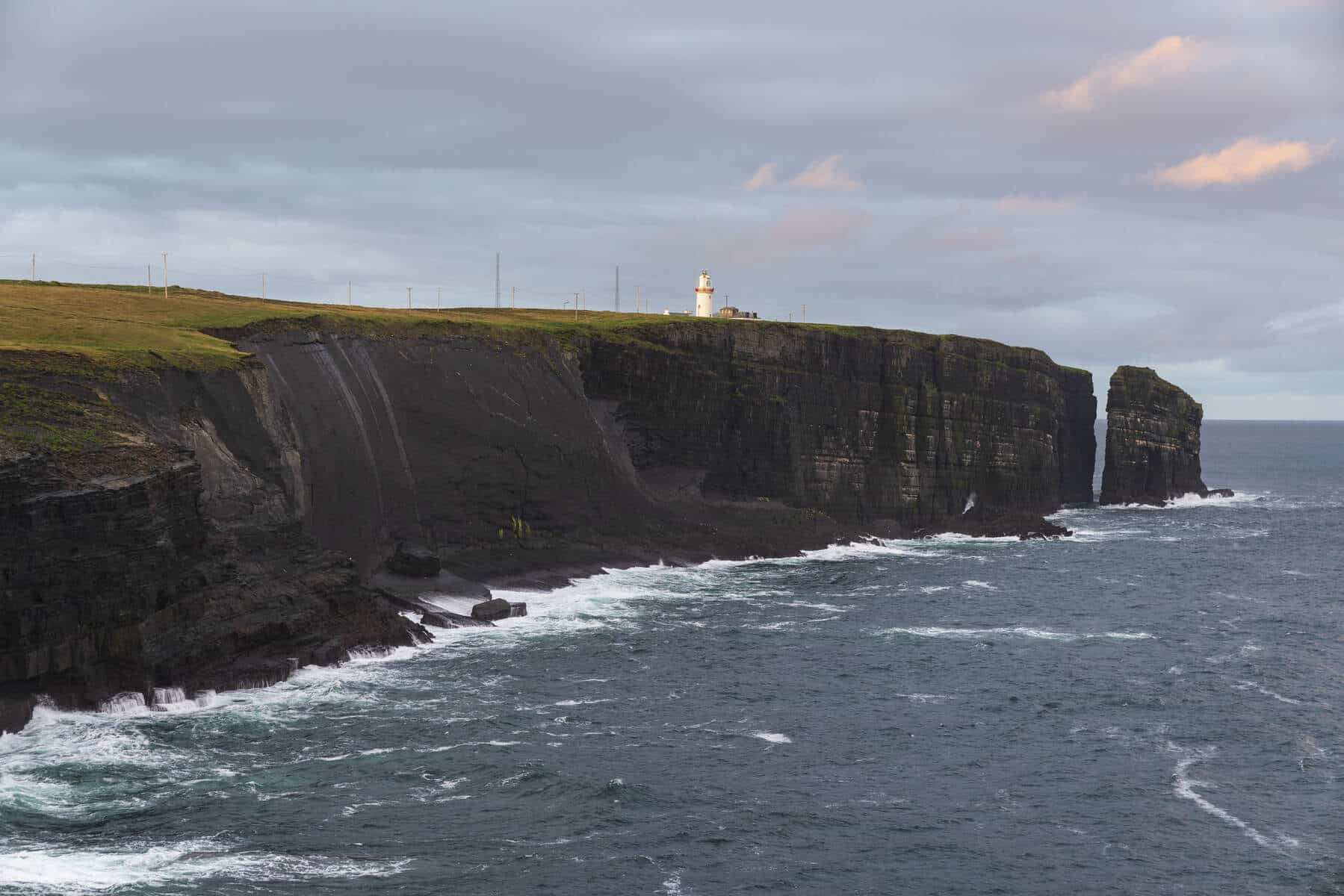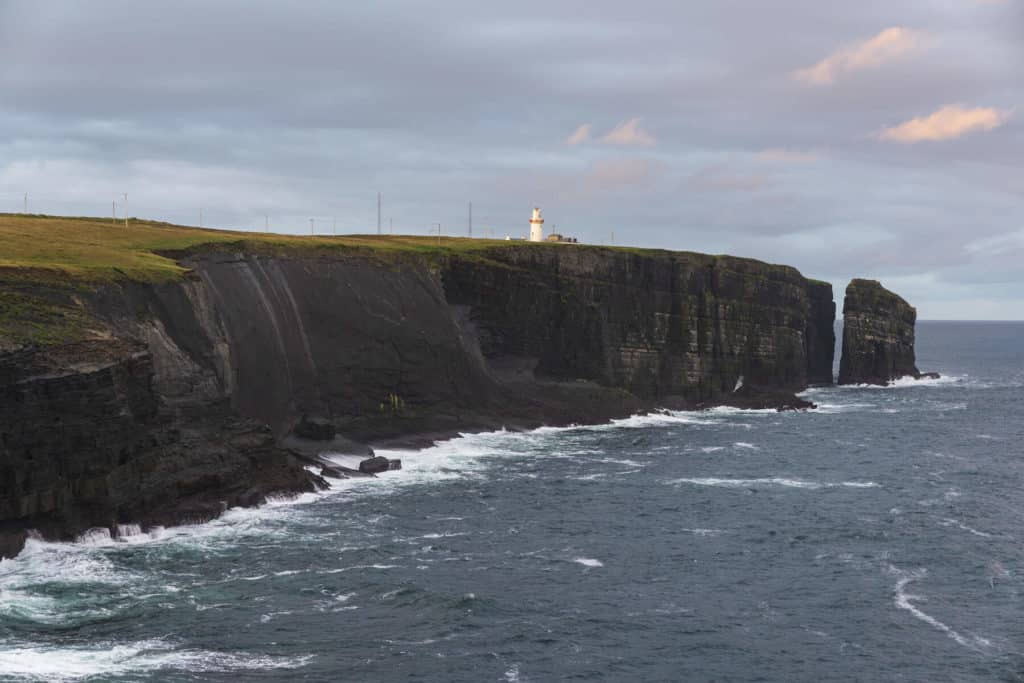 The iconic Loop Head Lighthouse is a must-see, offering breathtaking views of the rugged cliffs and the vast Atlantic Ocean. Don't forget to explore the scenic Loop Head Drive, which presents you with cracking views of the wild west of Ireland. Loop Head is also a popular spot for birdwatching, so bring the binoculars!
If based in the County Clare region, a trip to Loop Head is well worth it.
Be amazed by Achill Island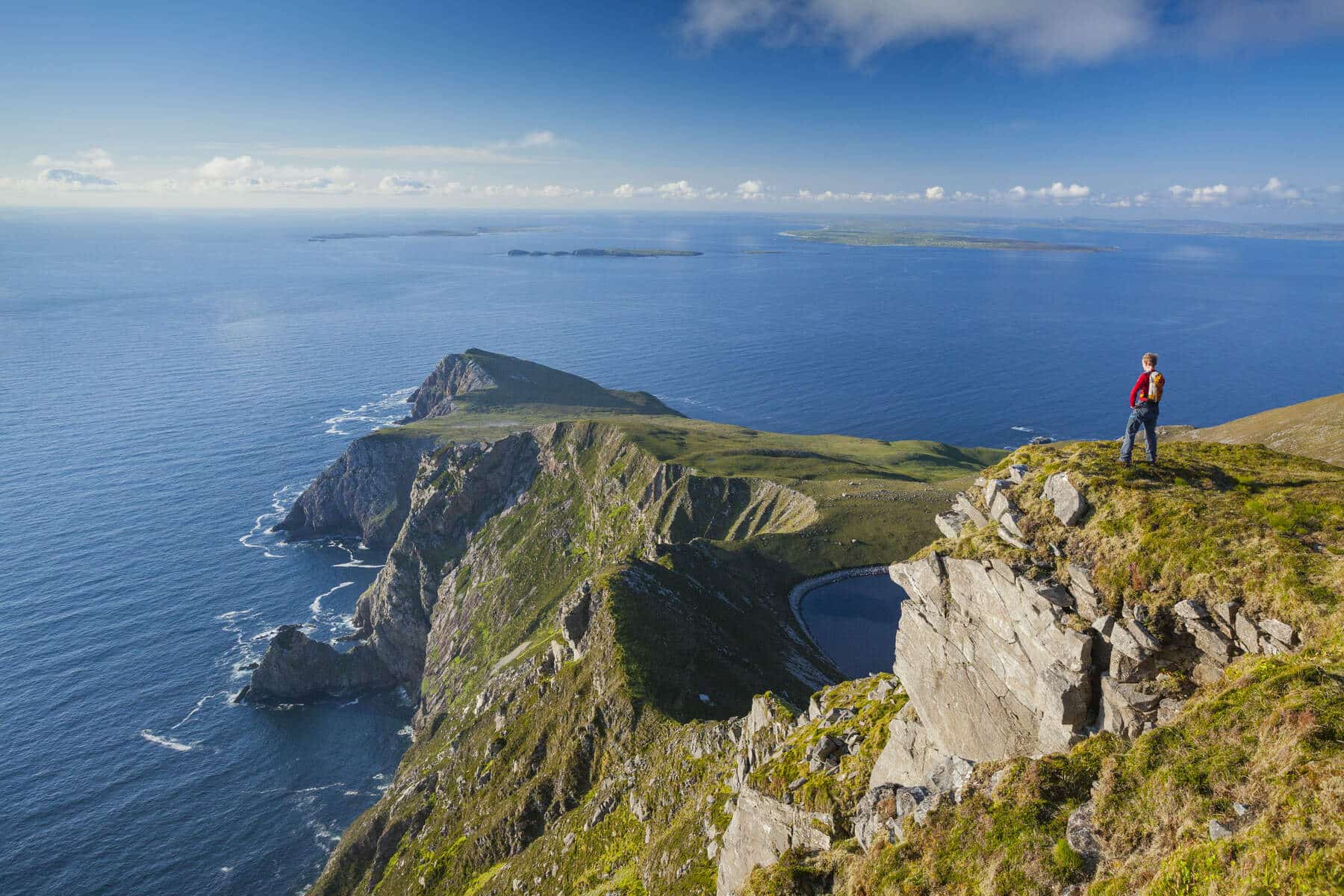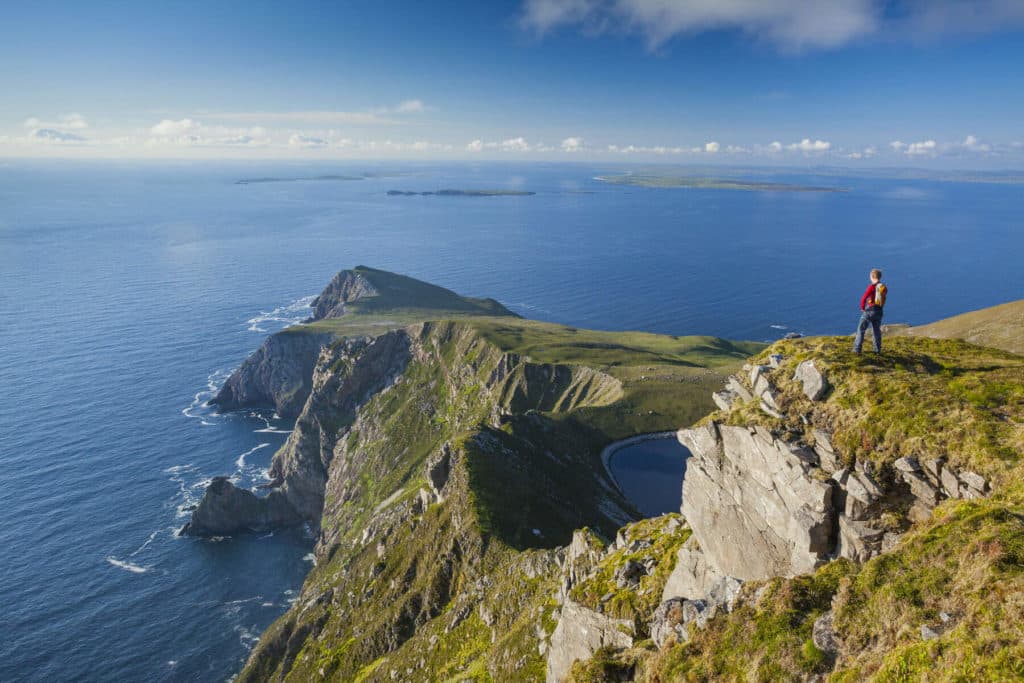 Achill Island is Ireland's largest offshore island and if you're planning a visit, here's what you need to know.
First off, the scenery is unreal.
You'll be treated to massive cliffs, golden sandy beaches, and the iconic Keem Bay, which is like a slice of paradise. If you're up for an almighty trek to Ireland's highest cliffs, then Croaghaun is a must. I've said it before and I'll say it again, this is hands down one of the best hikes you'll do in Ireland.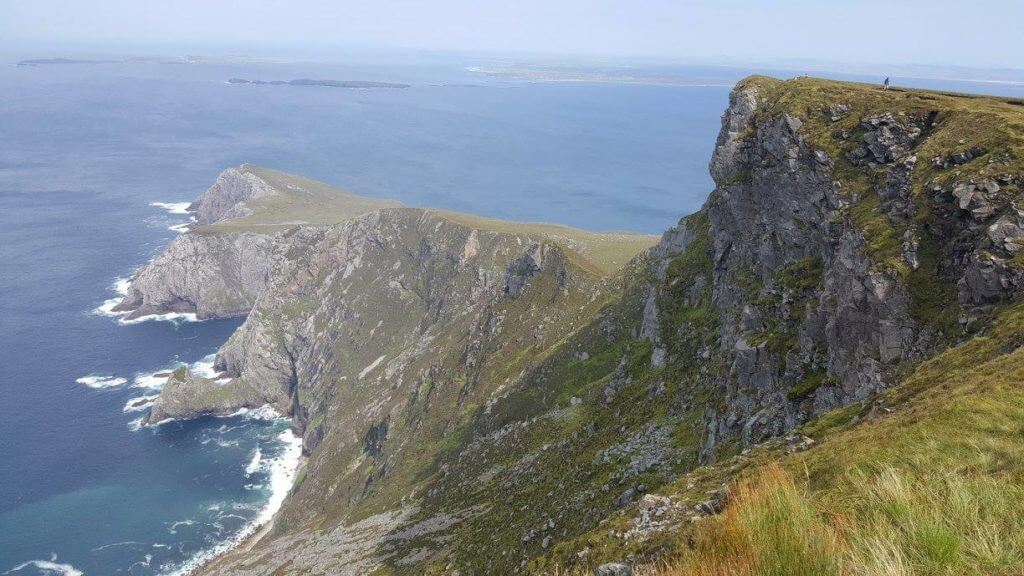 When it comes to culture, you'll find the island's unique blend of Irish and Anglo-Irish heritage fascinating. The Deserted Village is a must-see historical site, offering a harrowing glimpse into the Ireland of old.
And when you're feeling peckish, tuck into some seafood at local eateries. Finally, be prepared for unpredictable weather. Should you arrive during good weather, well then you'll be able to explore the incredible outdoor possibilities Achill has to offer.
We have Achill covered in detail here.
Witness one of the world's great beaches at Keem Bay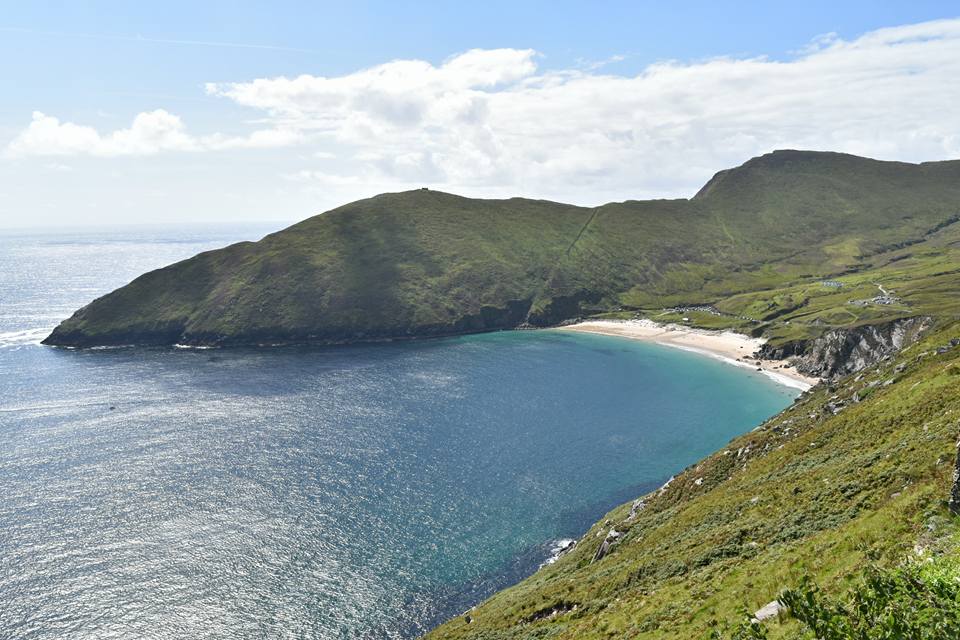 This place, although mentioned above, deserves a write-up of its own!
Nestled on the western end of Achill Island, Keem Bay is a gem waiting to be explored. Here, you'll find a breathtaking horseshoe-shaped beach surrounded by dramatic cliffs that will make your jaw drop. The pristine waters and white sands are perfect for a refreshing swim.
This is easily my favourite beach in all of Ireland.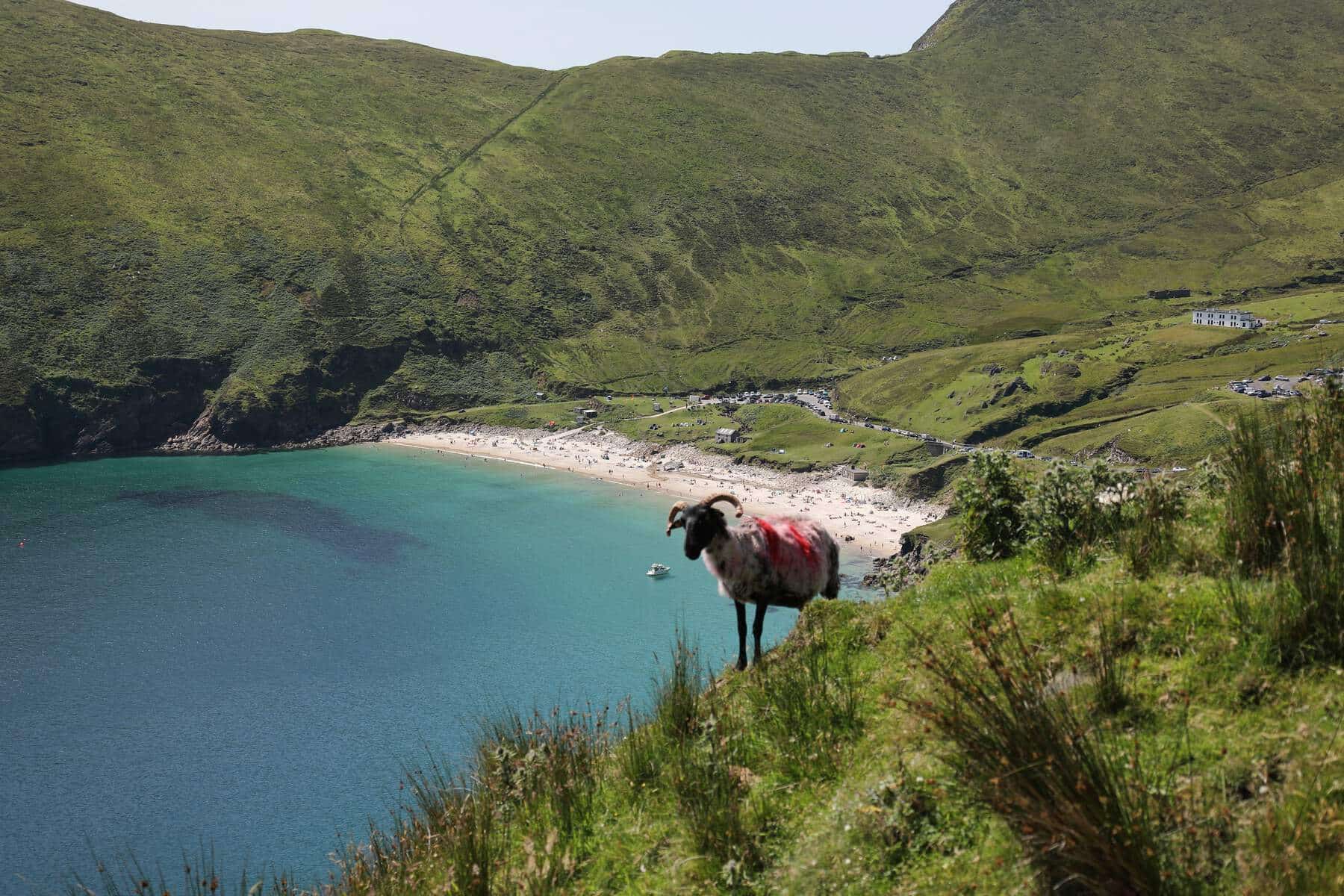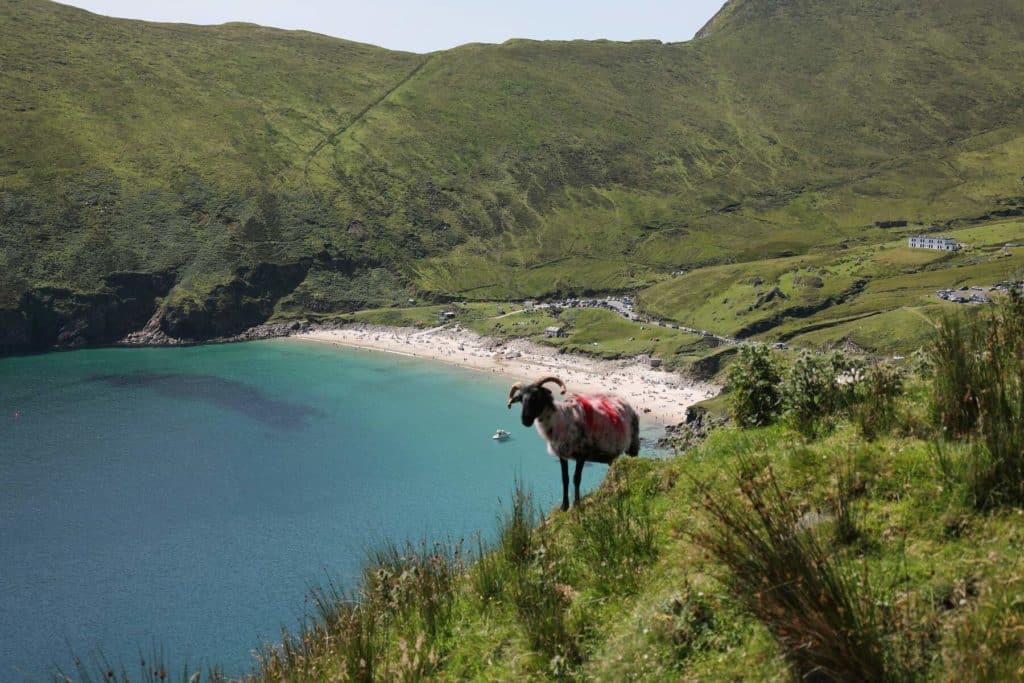 Hiking enthusiasts, you're in luck too, as there are fantastic trails along the cliffs offering epic views. Keep an eye out for the local sheep that wander around, adding a unique charm to the place. And while you're at it, in the early summer months, keep an eye out for basking sharks. Don't worry, these 8 metre giants are harmless!
This beach is consistently listed as one of the world's best, so a trip here is a must.
We have Keem Beach covered in detail here.
Conquer Croagh Patrick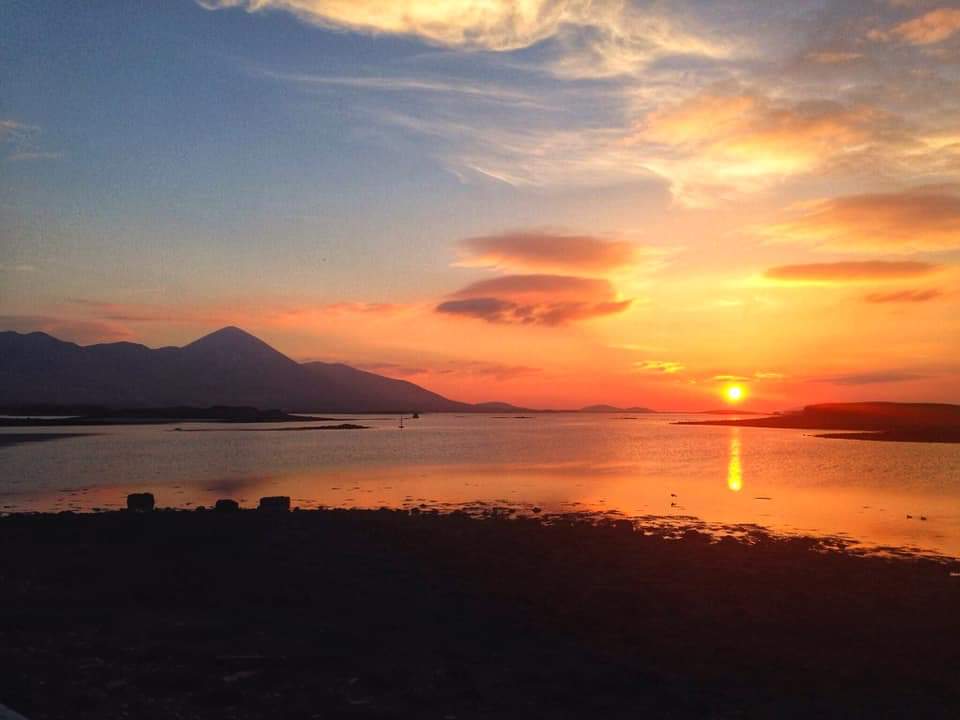 If you're planning to go hiking on your trip to the west of Ireland, we highly recommend tackling the mighty Croagh Patrick. This iconic mountain in County Mayo isn't just a stunning backdrop; it's a sacred pilgrimage site.
Having climbed Croagh Patrick , I can say it is a truly unique experience and for those actively inclined a must on your trip.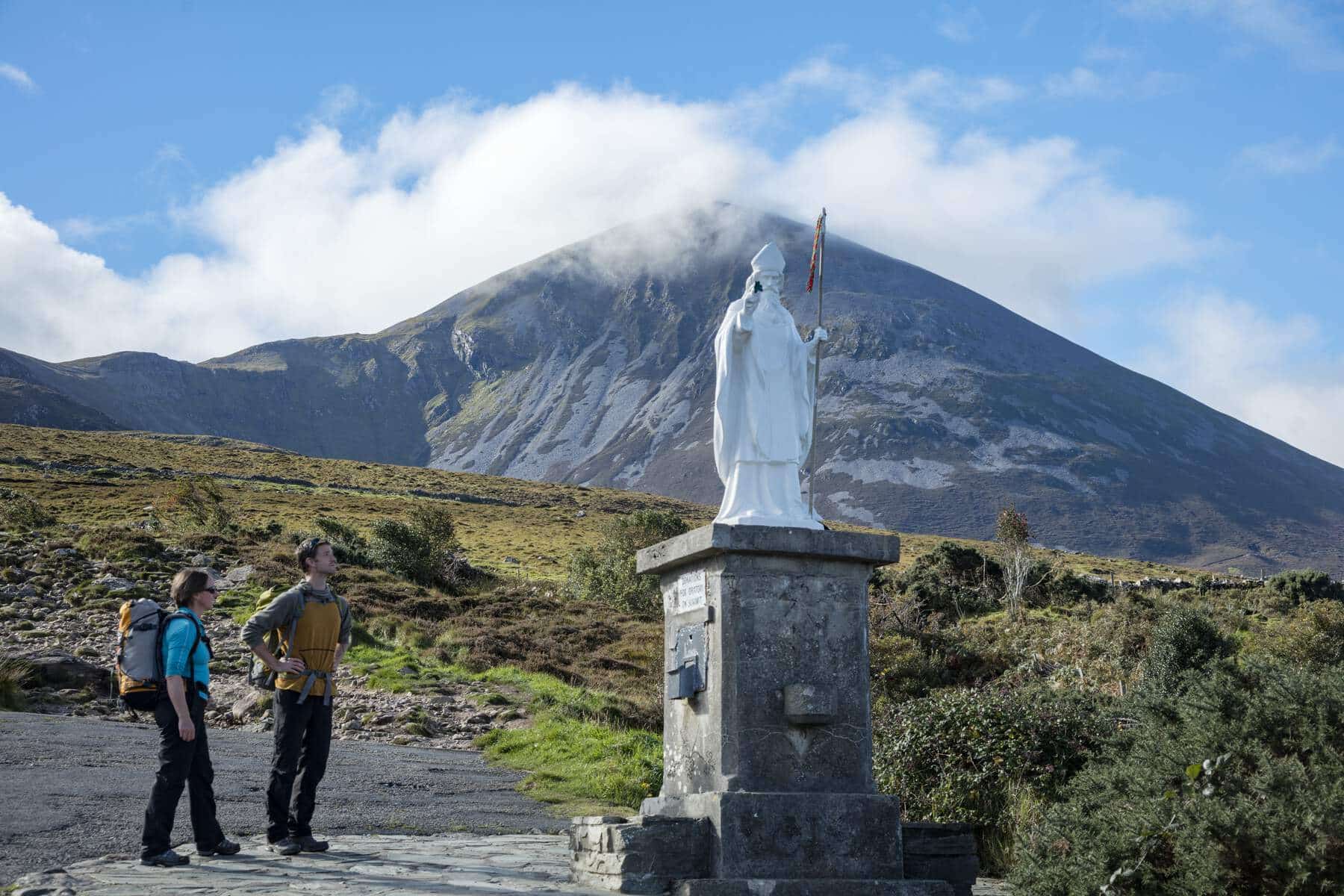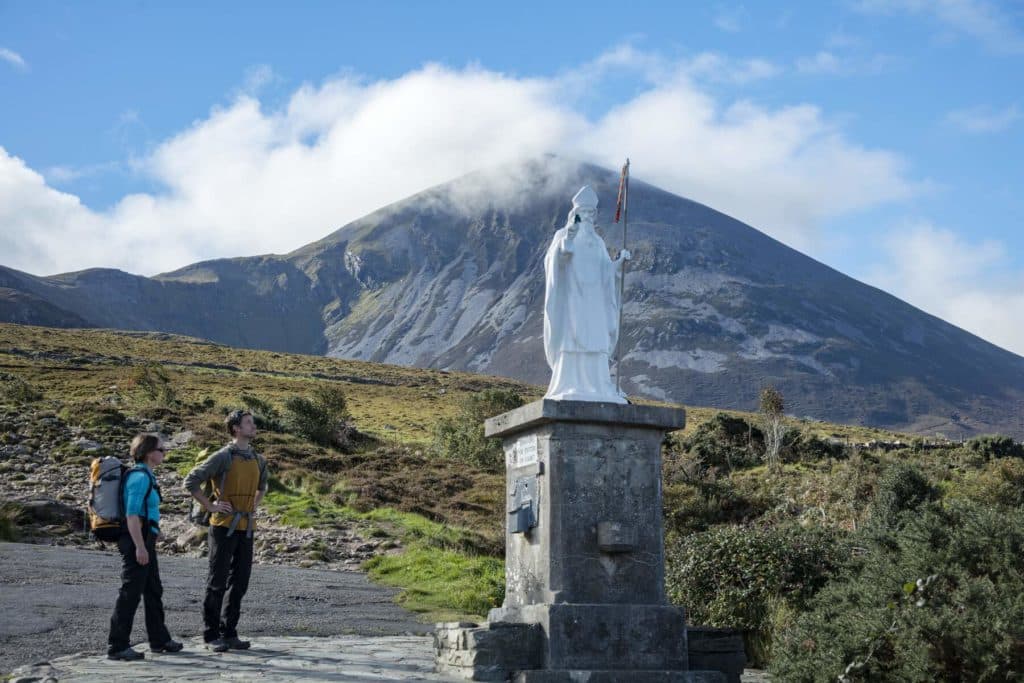 The trail, while beautiful, is steep and challenging, so bring plenty of water and snacks. The good news is that the hike has now been made a lot safer with the implementation of natural steps to the summit.
Once you reach the summit, don't forget to say your prayers in St. Patrick's chapel! And don't forget to soak in the breathtaking views of Clew Bay and surrounding landscapes; it's what makes the climb truly unforgettable. Enjoy your adventure on Croagh Patrick, and remember, it's not just a mountain; it's a piece of Irish history and spirituality.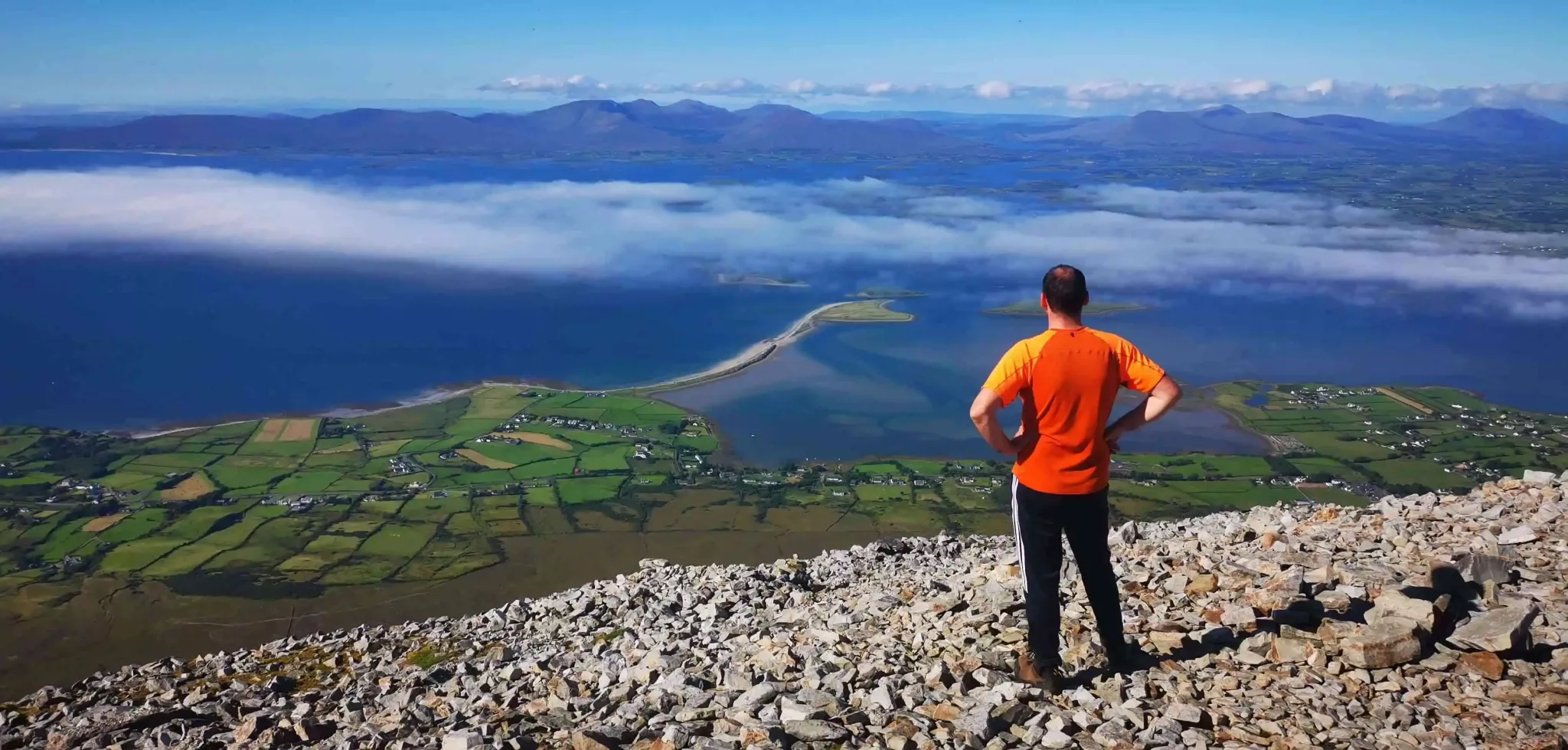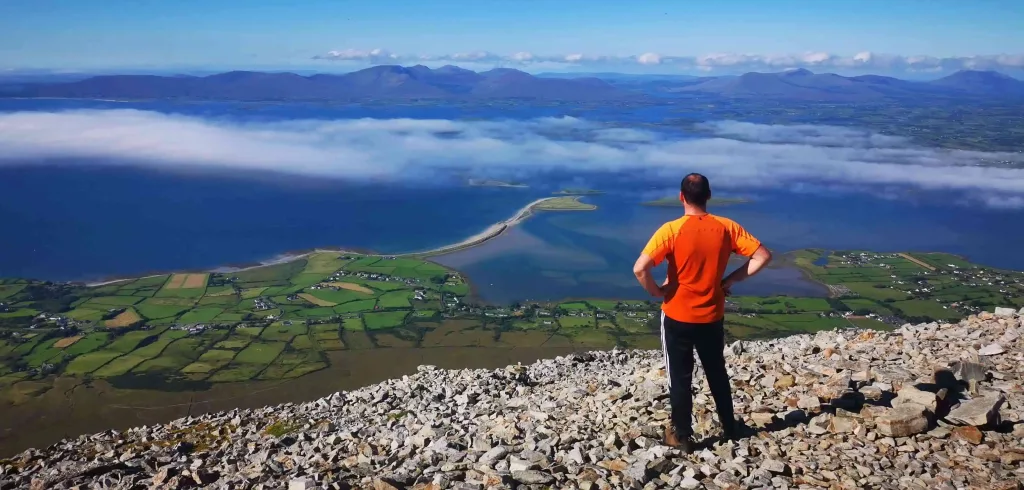 We have a detailed guide to Croagh Patrick here.
Experience wonderful Westport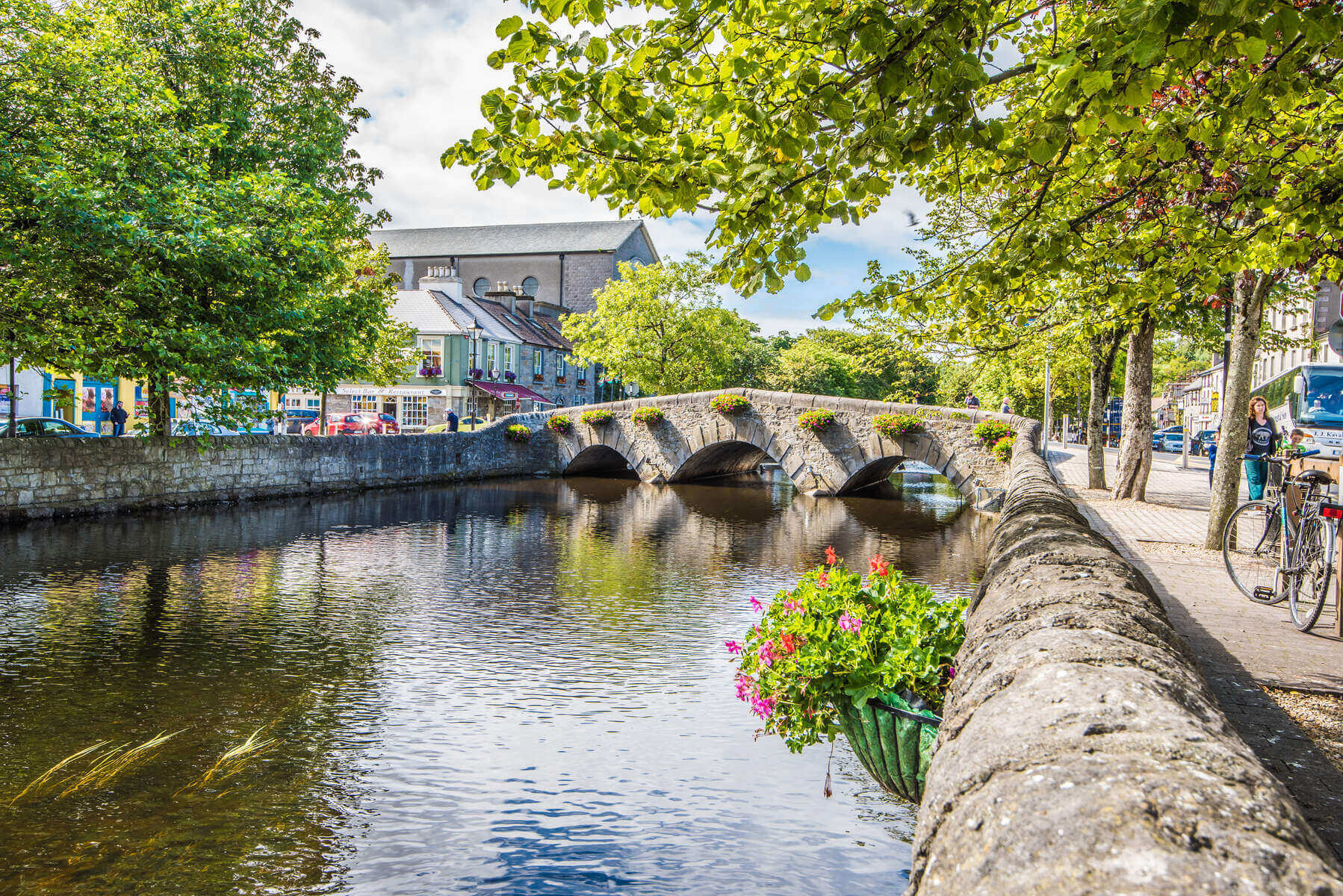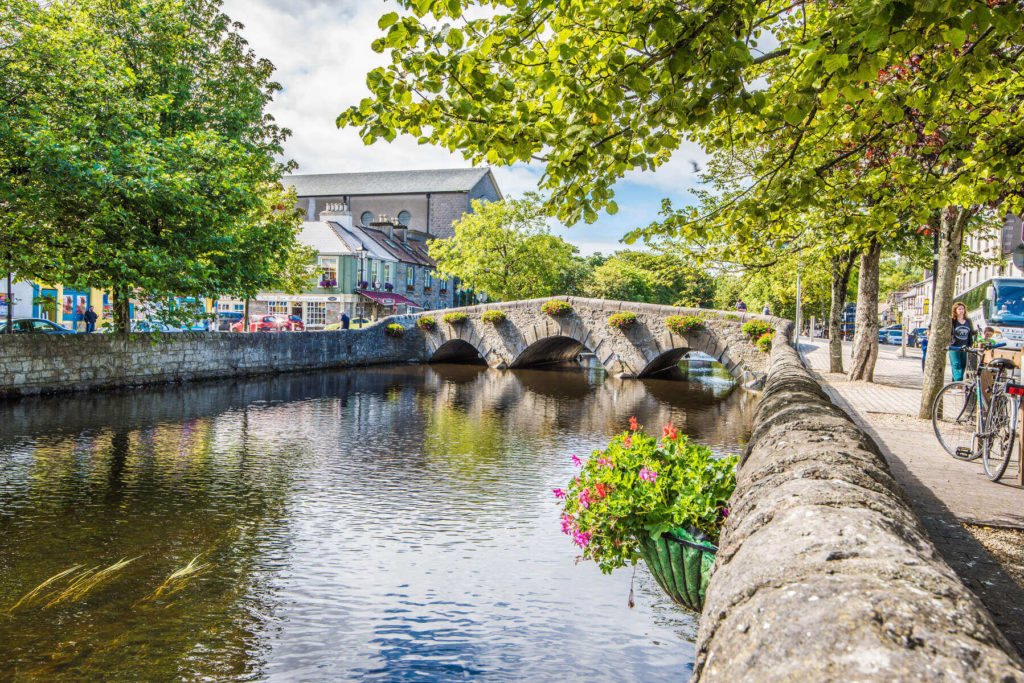 Westport, Mayo is an cracking little town nestled along the shores of Clew Bay in County Mayo on the west coast of Ireland, and before you ask, it's definitely worth visiting!
First things first, you'll be drawn in by the stunning natural beauty that surrounds it.
From the rugged peak of Croagh Patrick to the pristine beaches along Clew Bay, outdoor enthusiasts, this place is a dream come true for you. Some activities on offer are water sports, hiking, golf, horse-riding, fishing, paddle boarding, the list goes on…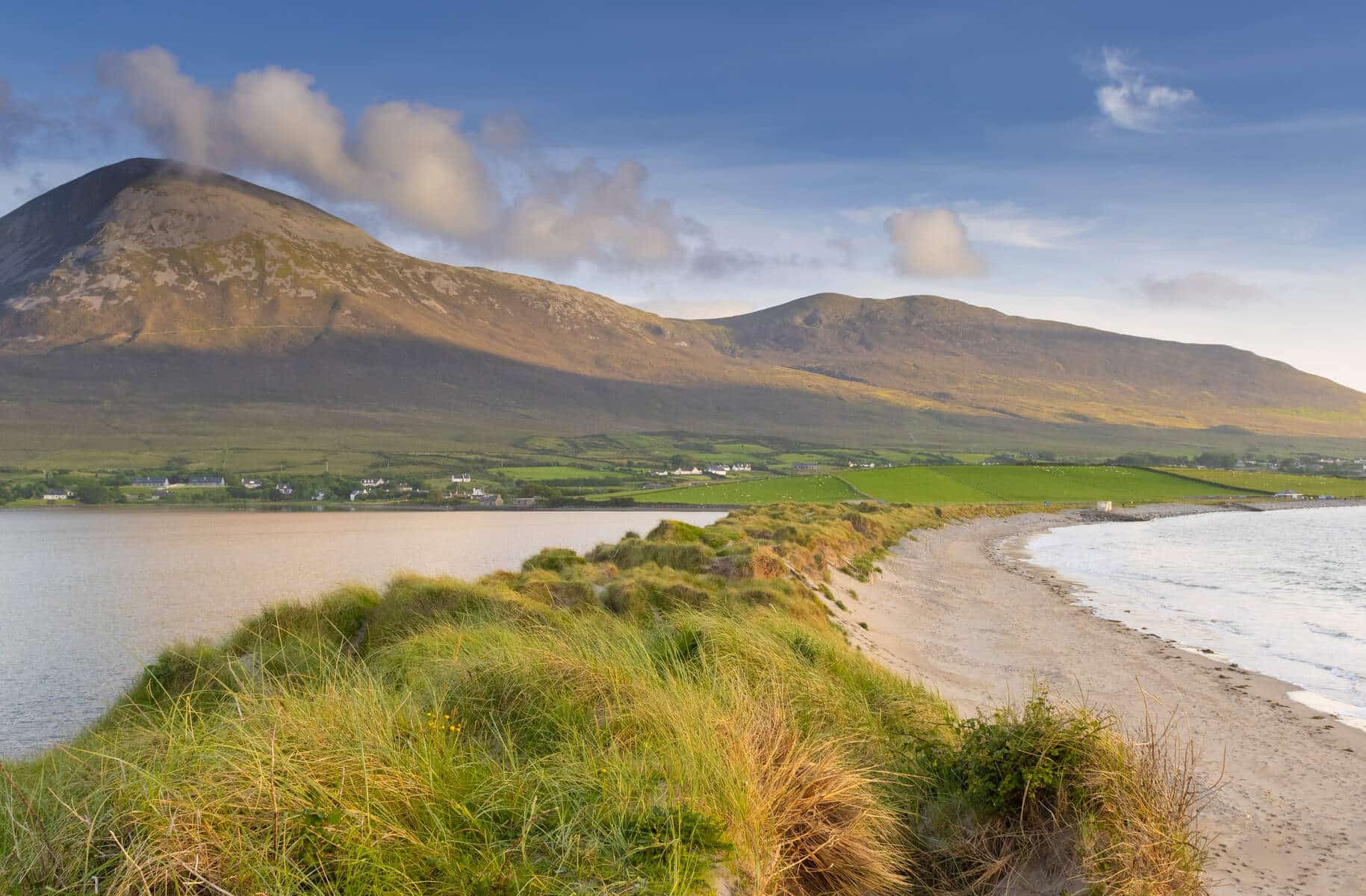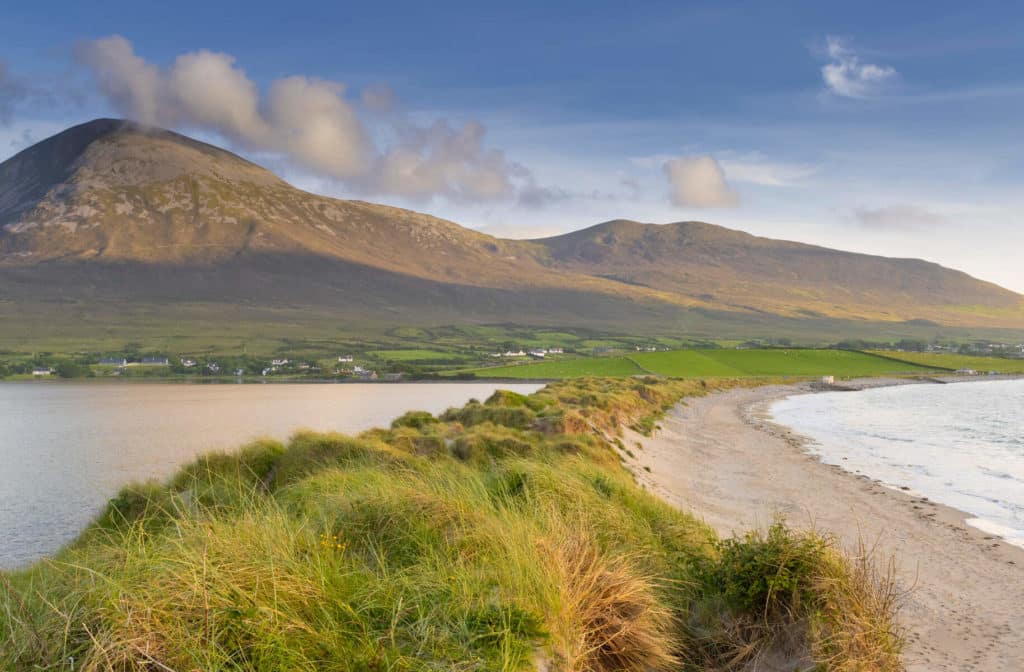 But it's not just about the scenery – Westport also boasts a vibrant cultural scene with lively pubs, top-notch restaurants, and a welcoming community, a community which takes great pride in keeping their town tidy. In fact Westport has been voted as the best place to live in in Ireland.
Be sure to stroll down its charming streets, lined with colourful Georgian buildings, and don't miss out on Matt Molloy's, a legendary pub for traditional Irish music. Take a walk through the grounds of Westport House and imagine what life was like living in an Irish stately mansion in the 18th century.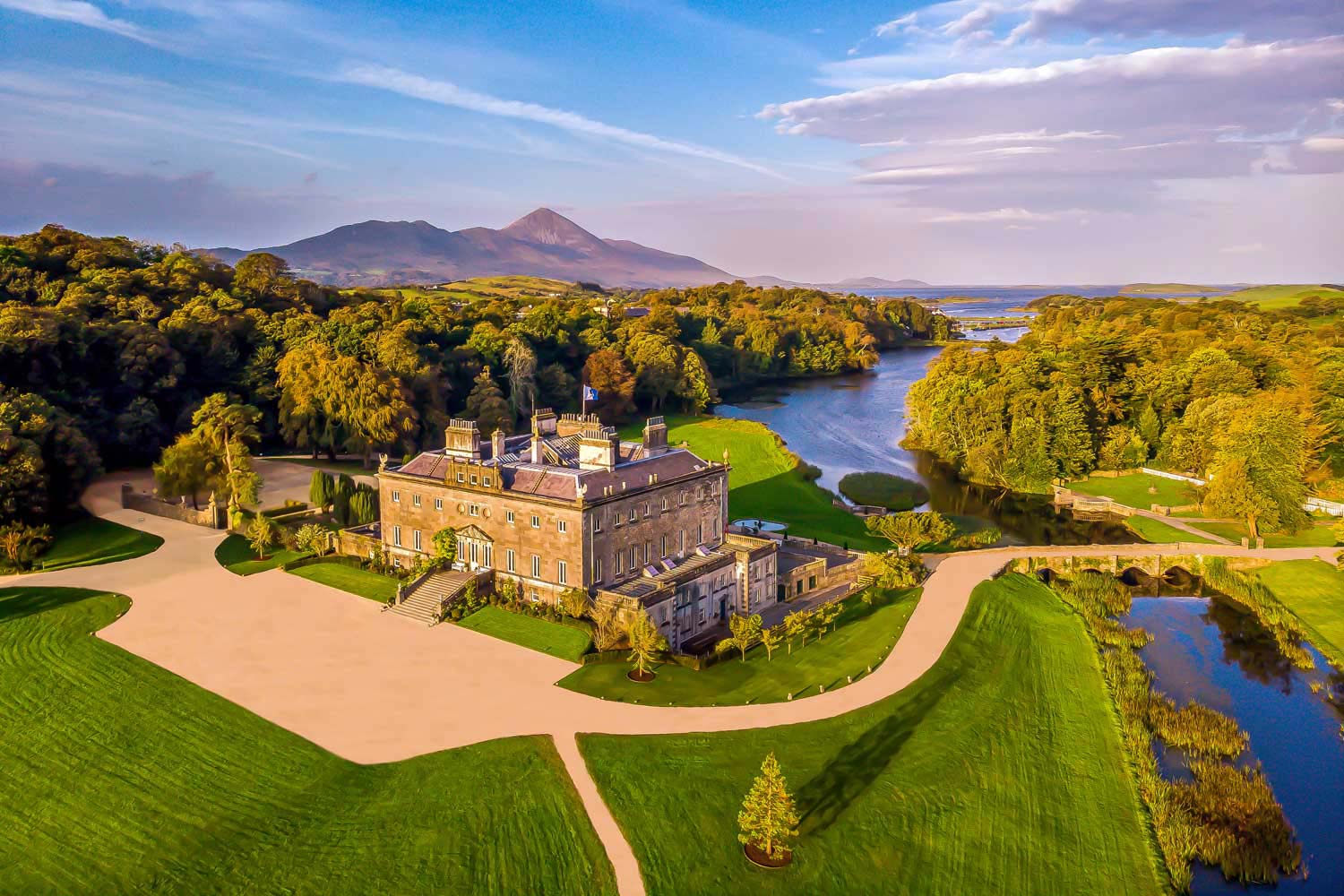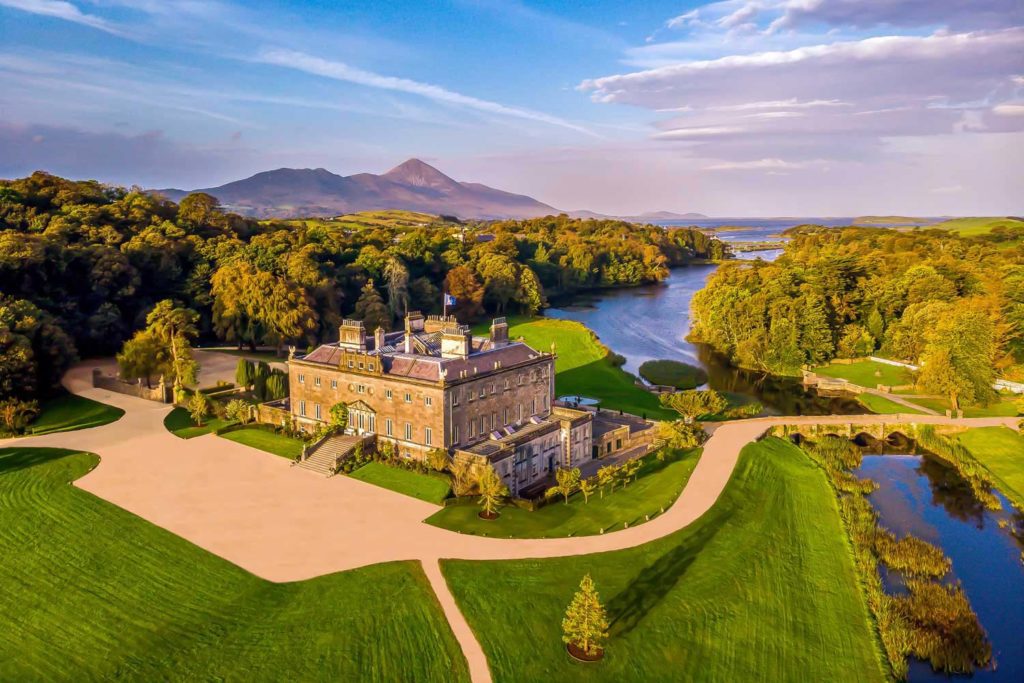 And here's a pro tip: if you're up for some cycling, you can tackle the Great Western Greenway, a scenic cycling route that runs all the way to Achill Island. This town has a way of capturing your heart and making you want to return again and again.
We have the town of Westport covered in detail here.
Cycle the magnificent Great Western Greenway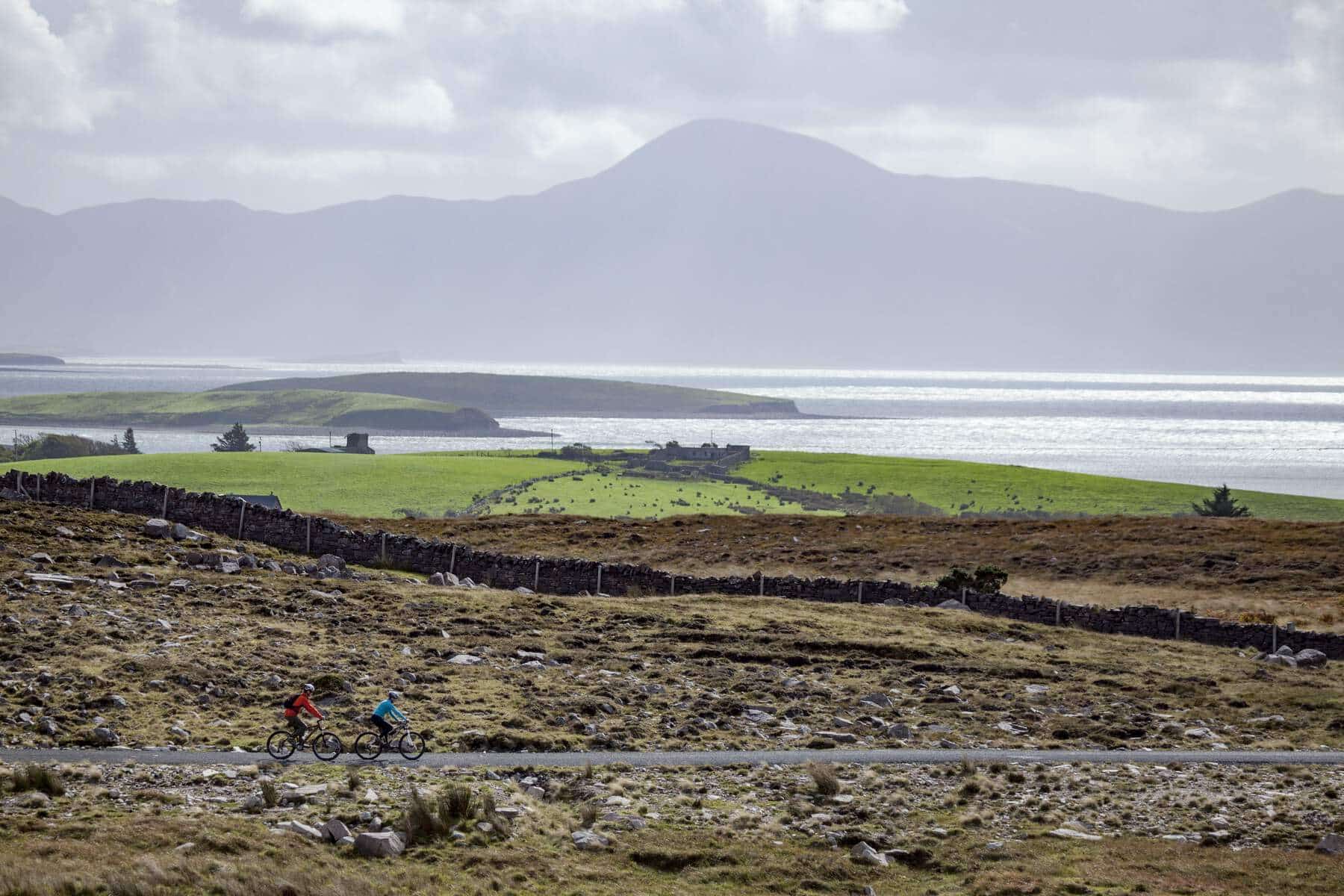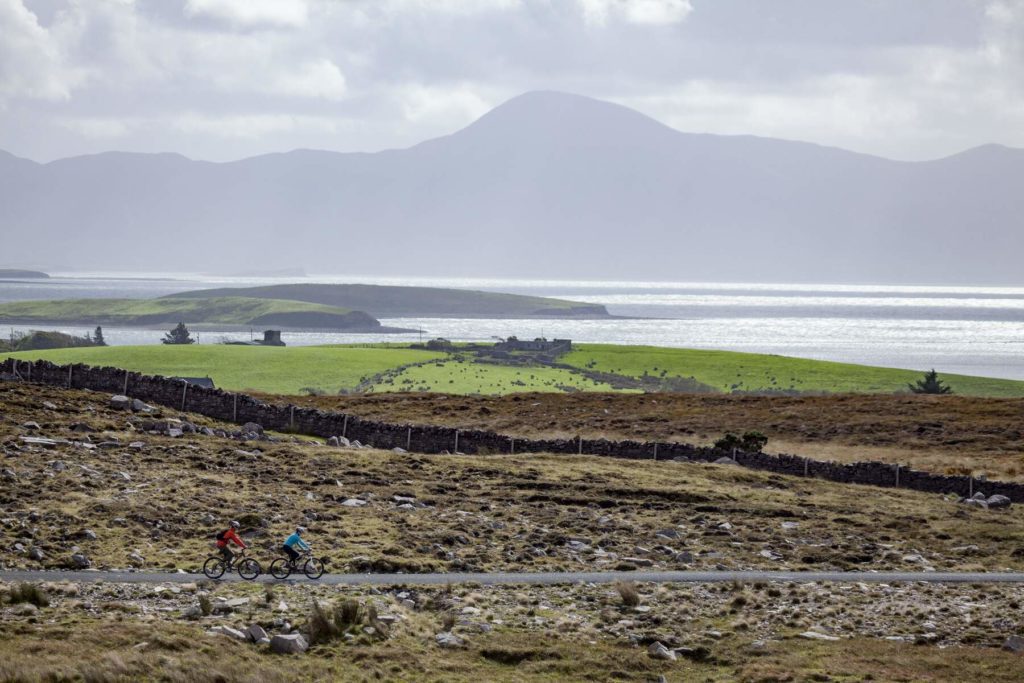 If you're planning a visit to Westport, Newport, Mulranny or Achill, the Great Western Greenway is an absolute must-do.
You'll find this 42-kilometer cycling/walking lane nestled between Westport and Achill Island.
What makes it so special? Well, first off, it's off-road, so you won't have to worry about cars interrupting your journey. As you pedal or stroll along, you'll be treated to some beautiful views out over Clew Bay and its islands, along with the barren foothills of the Nephin Begs.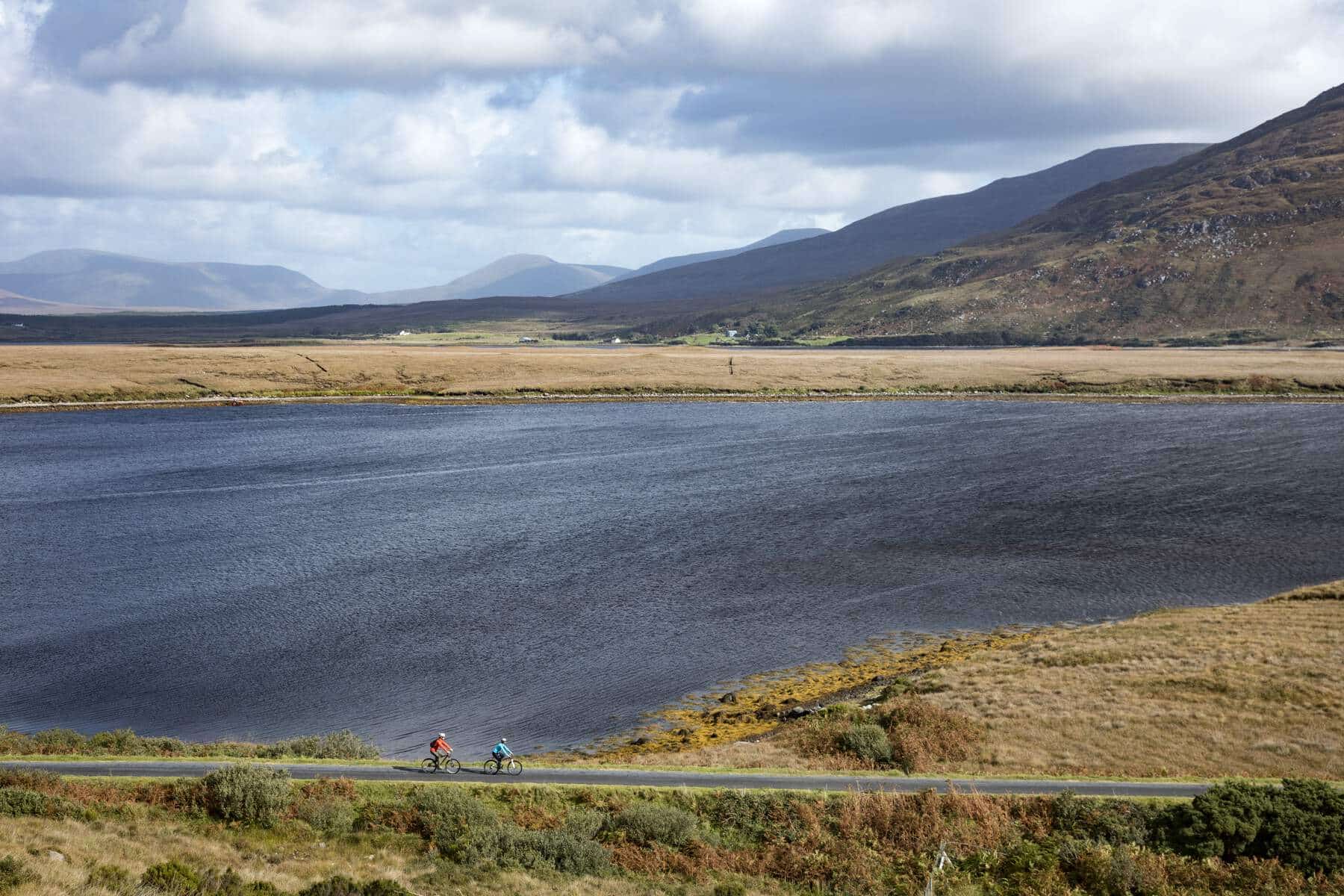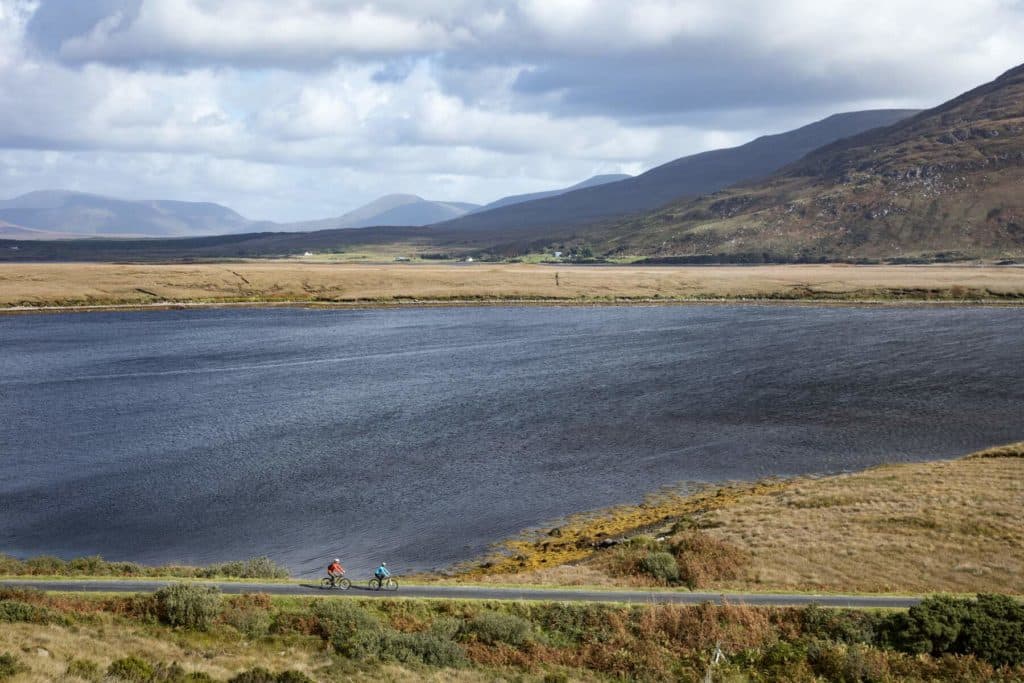 Plus, there are plenty of pit stops along the way where you can refuel with a hearty meal or a pint of Guinness. Whether you're a proper cyclist or just looking for a leisurely adventure, the Great Western Greenway has something for everyone, young and old.
My personal favourite stretch is from Mulranny to Newport. The landscape opens up here and everywhere you turn is wonderful scenery.
We have the village of Murlanny covered in detail here.
View & explore spectacular Killary Fjord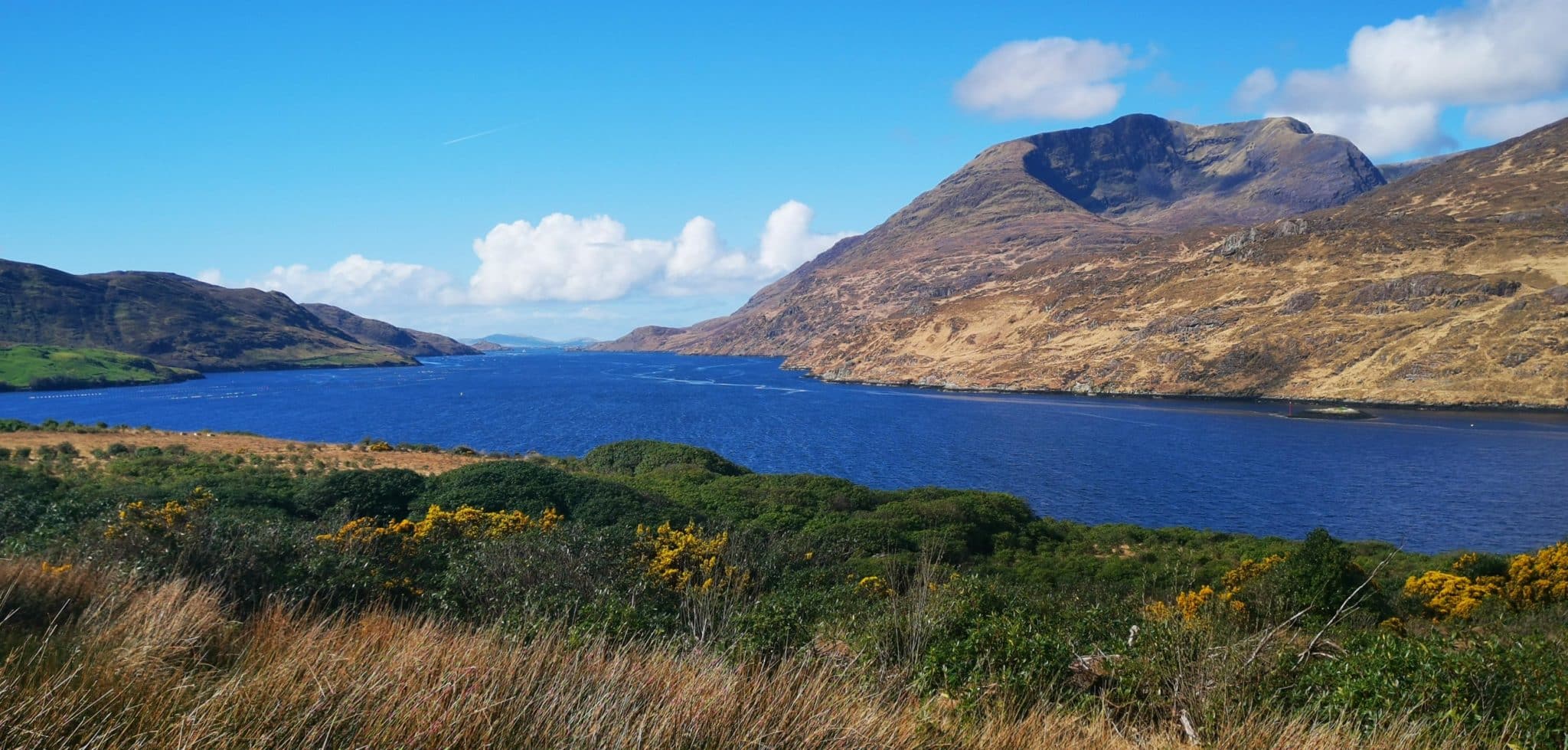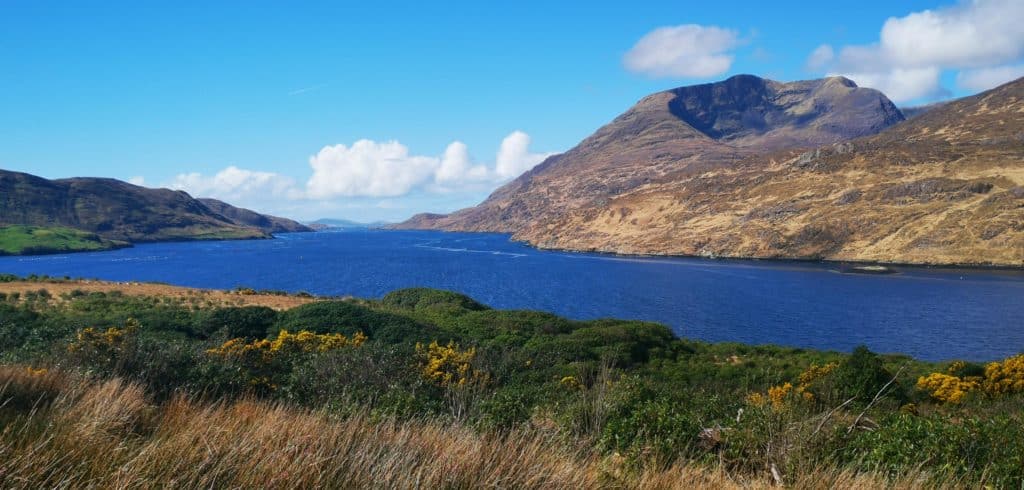 Nestled an the border between counties Mayo and Galway lies the breathtaking Killary Fjord, a true natural wonder that offers spectacular beauty. Carved by ancient glaciers over millennia, this fjord stretches for 16 kilometres, offering a striking combination of imposing mountains and deep blue waters.
The dramatic landscape provides excellent opportunities for hiking, kayaking, and simply immersing yourself in the scenic beauty and tranquillity of the surroundings.
A surprisingly mountainous area for Irish standards, this whole region of south Mayo/north Galway offers something unique. Nearby you'll also find Doolough Valley, one of Ireland's great roads, with a haunting history.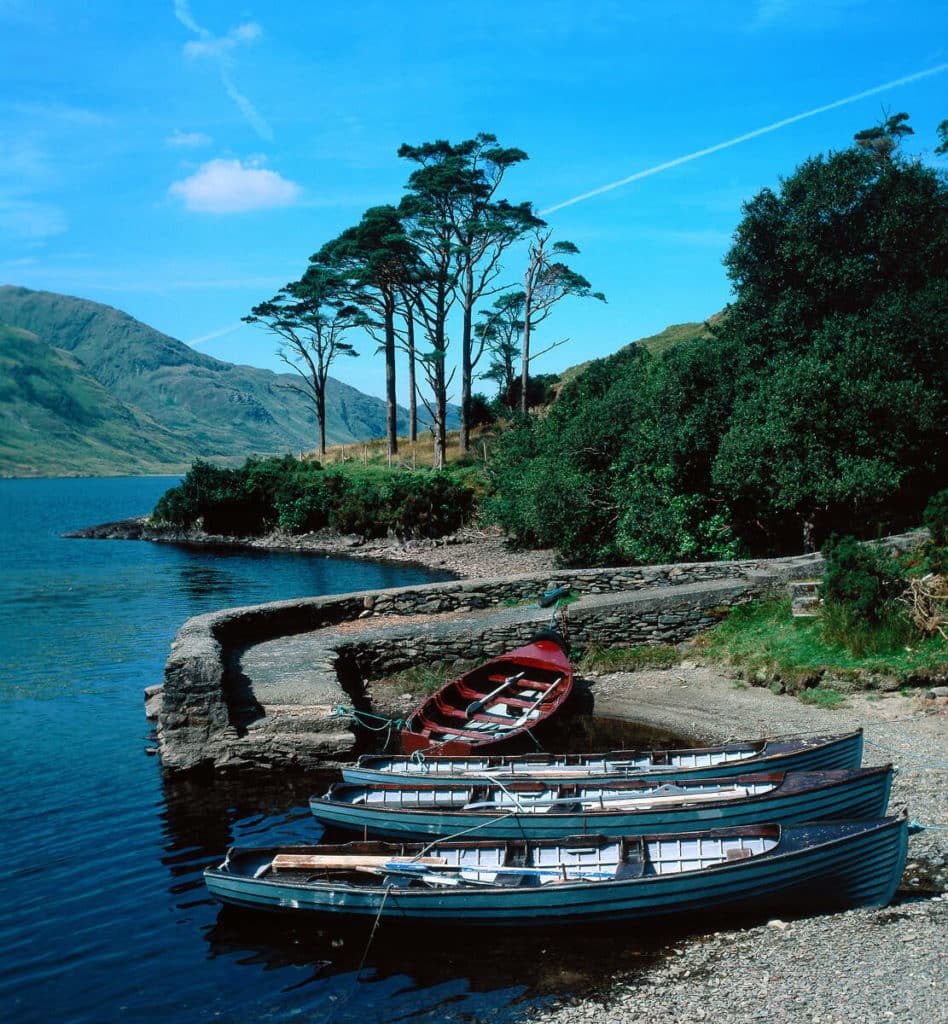 As you drive along the fjord's edge, the scenery seems to change at the turn of every bend. There are numerous stops along the way, such as Aasleagh Falls and Leenaun Village. The stunning vistas, rich biodiversity, and sense of untamed wilderness make Killary Fjord an enchanting destination that should be on your west of Ireland bucket list.
Experience breathtaking coastal scenery at Downpatrick Head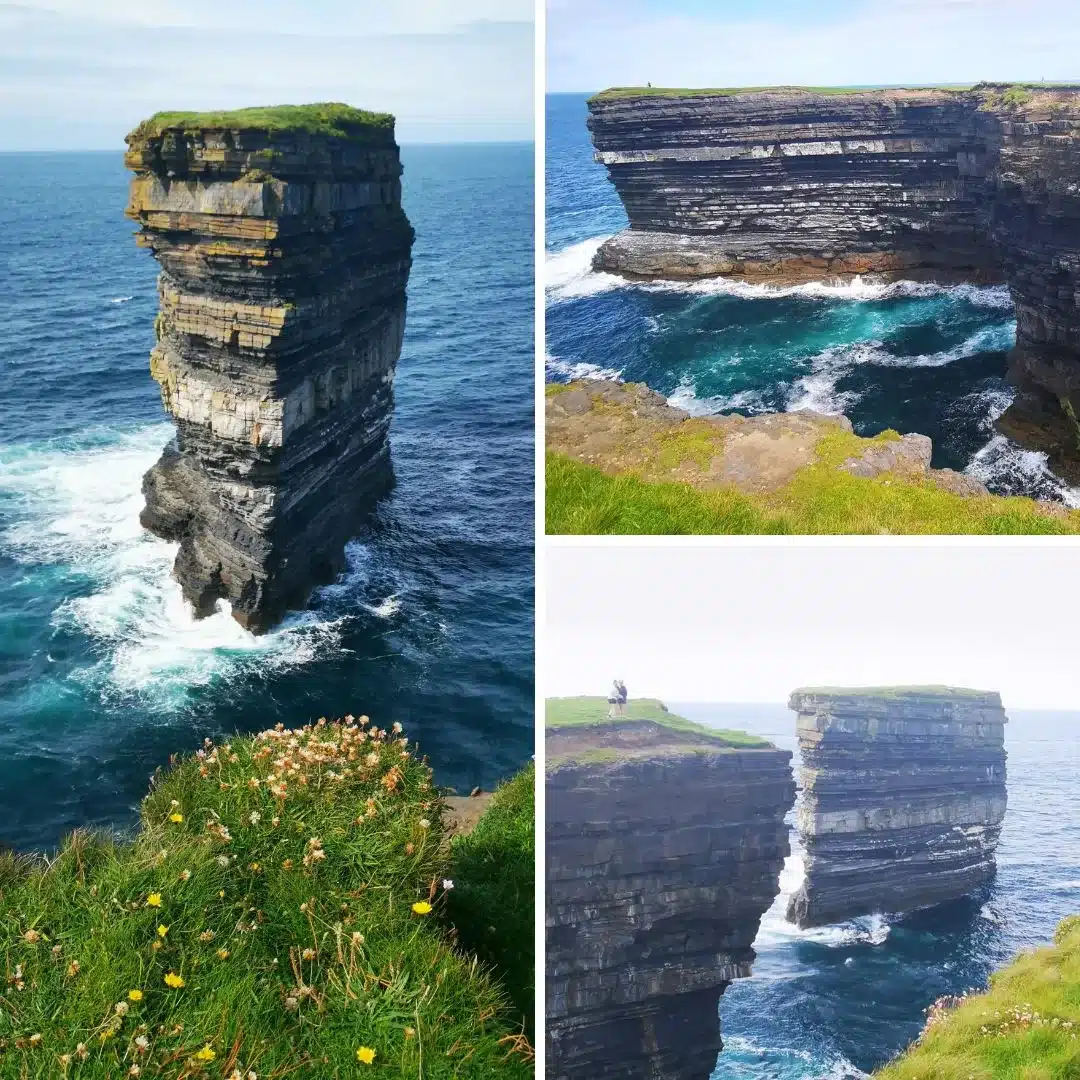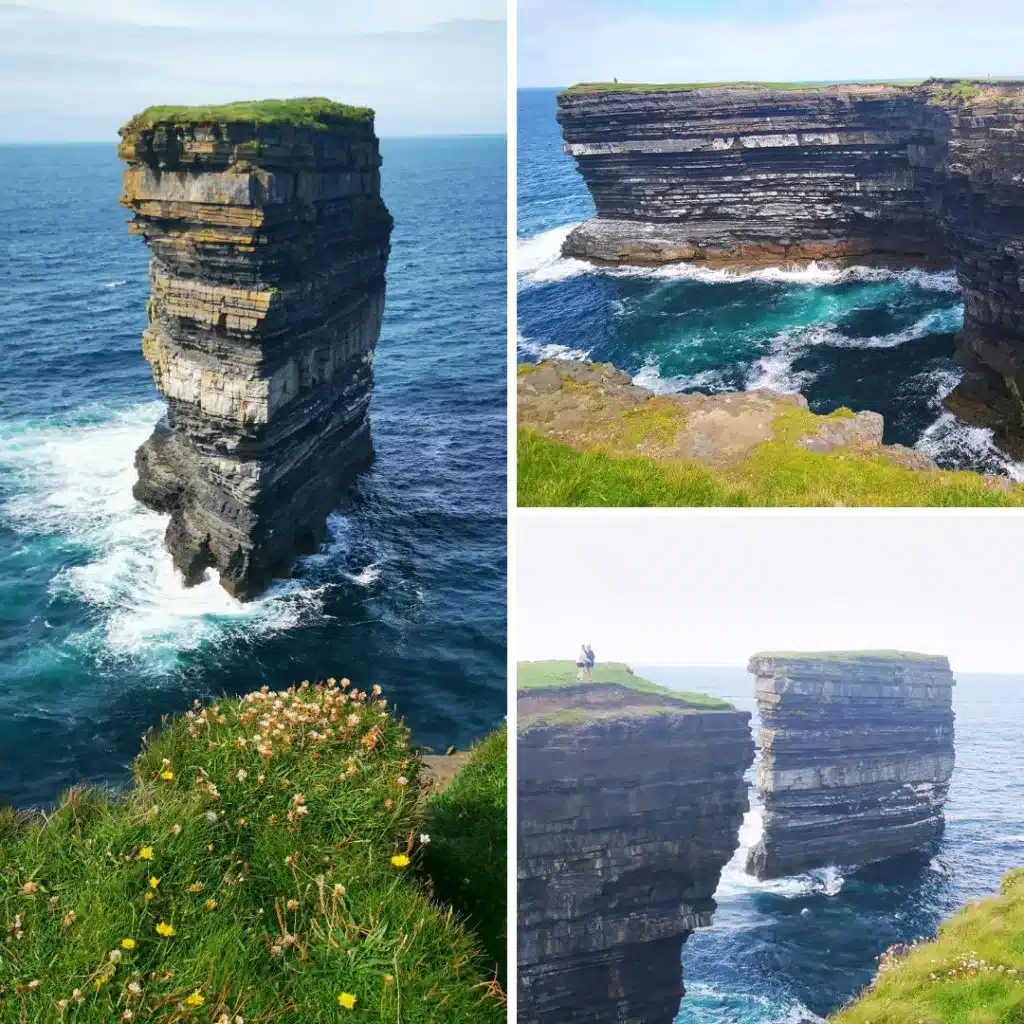 Downpatrick Head is another signature point along County Mayo's Wild Atlantic Way. Once a relatively unknown location, but now a very popular "Insta" shot, this coastal formation is spectacular.
When you visit, you'll be treated to stunning sea cliffs that plunge dramatically into the Atlantic Ocean, offering a truly wild experience. But the star of the show is the iconic sea stack, called "Dún Briste," which stands defiantly against the elements.
It's a fantastic spot for photographers and those with a keen interest in history. Be sure to bring your hiking boots, as there are walking trails that take you along the cliff edge. Also, if you have time, check out the nearby Céide Fields, a Stone Age farming landscape.
Downpatrick Head is a must-visit destination for anyone seeking the raw beauty of the Irish coastline.
We have a detailed visitors' guide to Downpatrick Head here.
Experience the beauty of The Lost Valley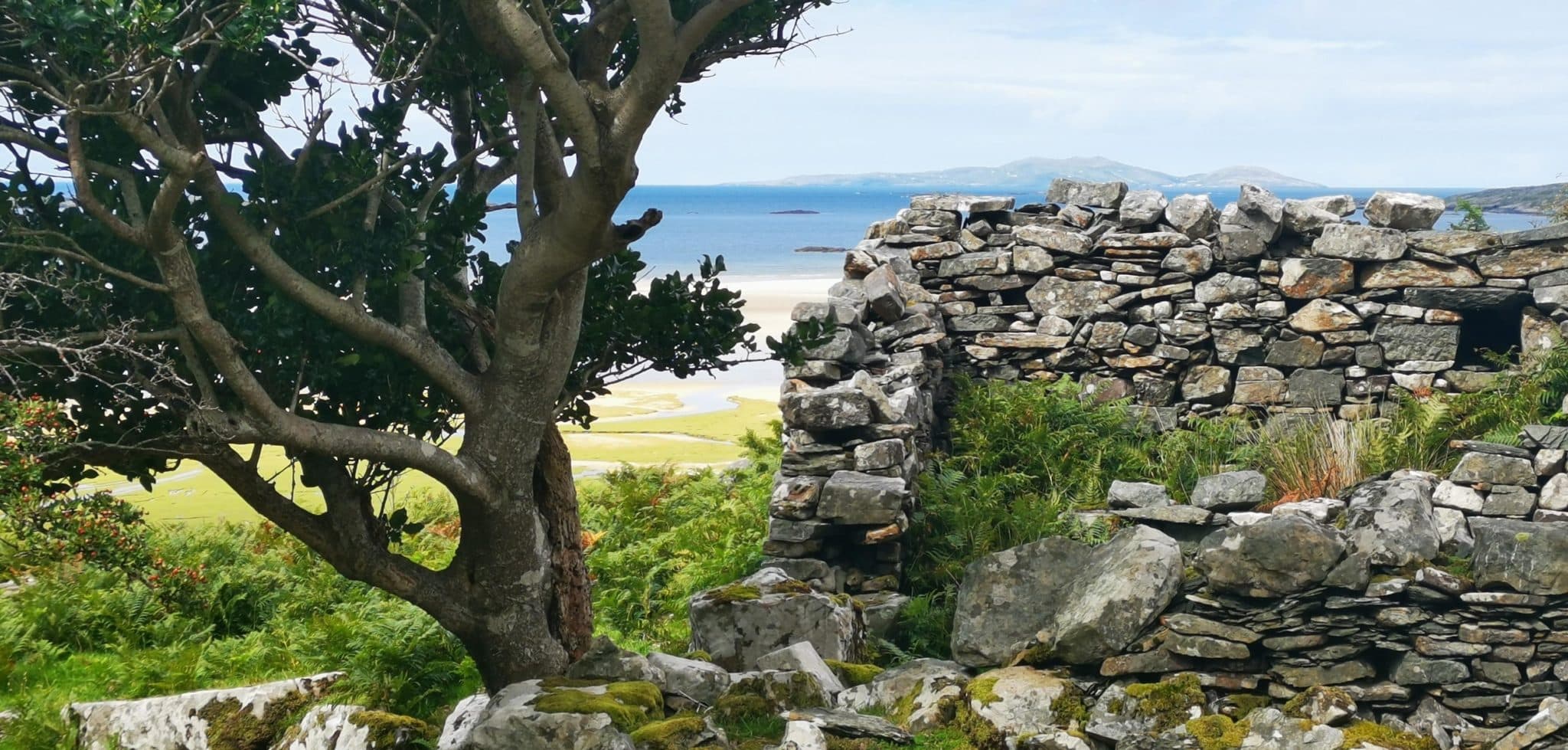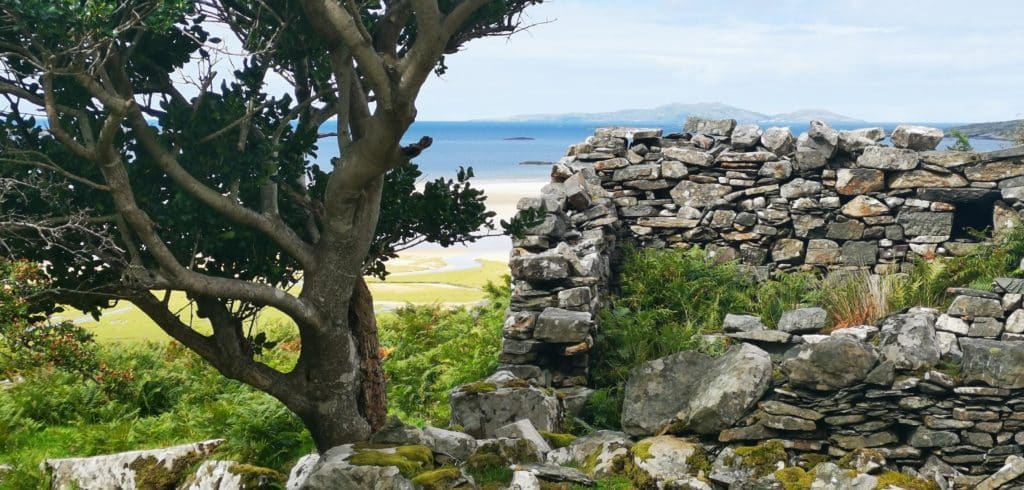 One of the 'newer' attractions in the west of Ireland, The Lost Valley is located on the south eastern corner of County Mayo. After I visited here in August 2023, it left a lasting impression.
First things first, make sure you've got comfy hiking shoes and dress for changeable weather; this place is all about rugged beauty. John Bourke will bring you out on his farm in the townland of Uggool, andthe first thing you'll be struck by is the scenic beauty of the area.
Nestled under Mweelrea, Connaught's highest peak, the farm sweeps down to the Atlantic and can certainly lay claim to being Ireland's most beautiful farm.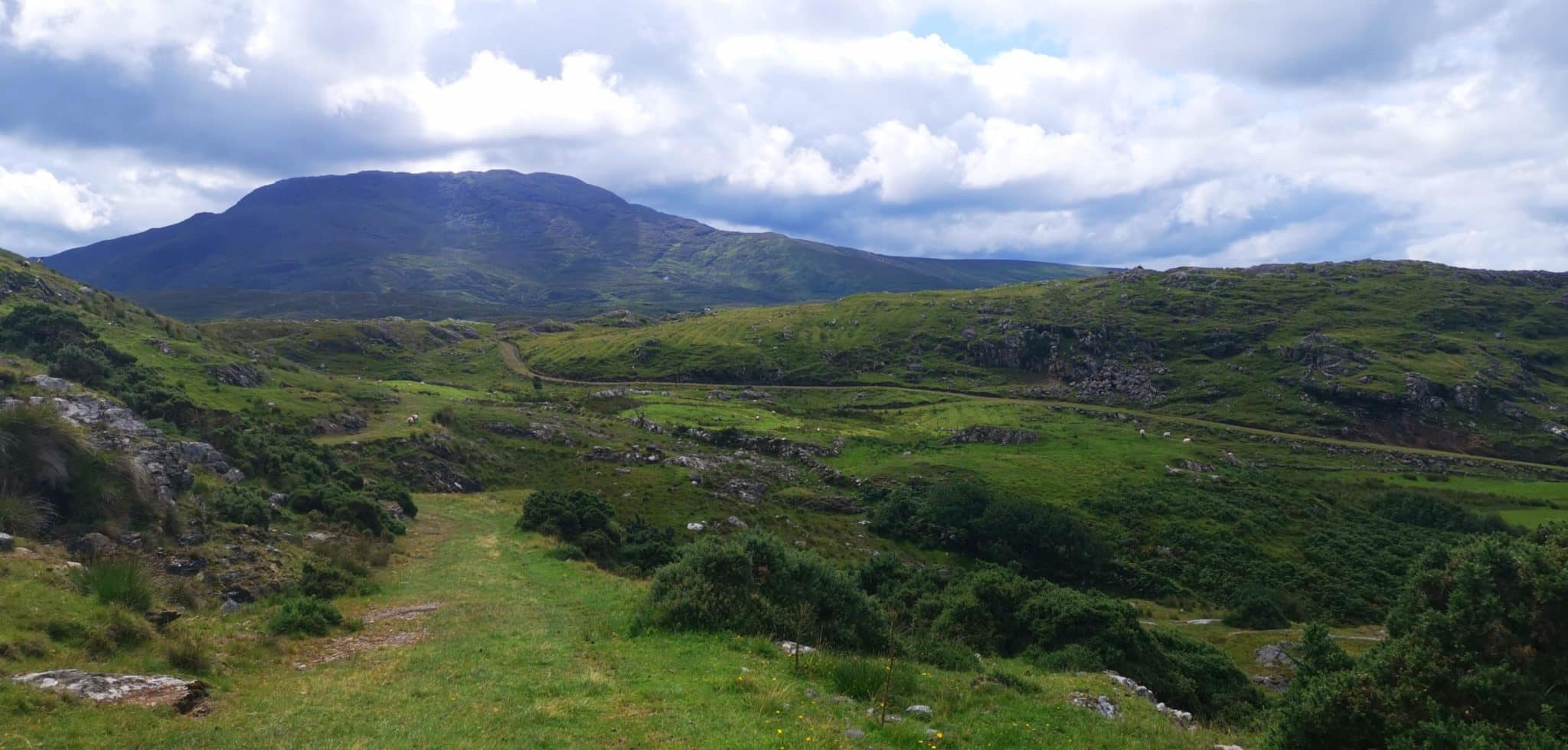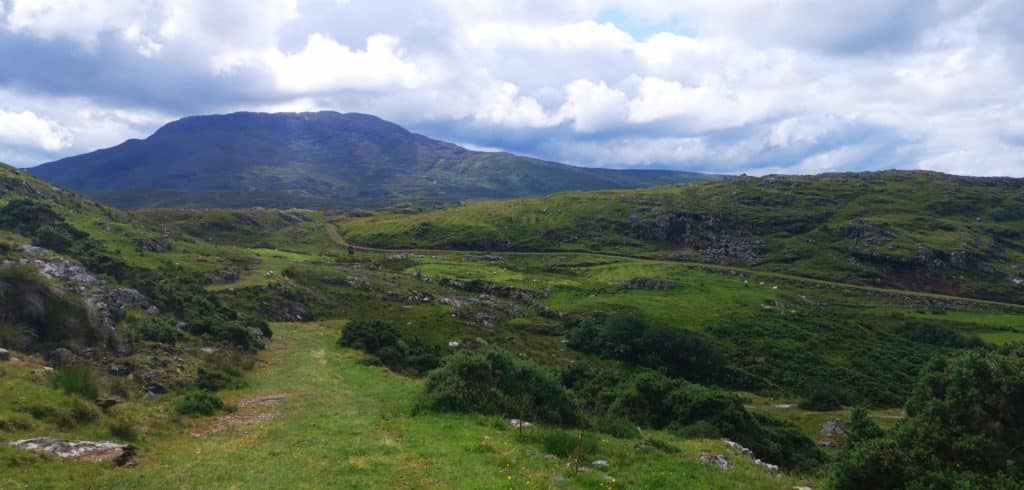 The guided tour is fantastic – John is super knowledgeable and will share intriguing, yet tragic stories about the valley. Enjoy your adventure in the Lost Valley; it's a true hidden gem in the west of Ireland.
Immerse yourself in the National Museum of Ireland: Country Life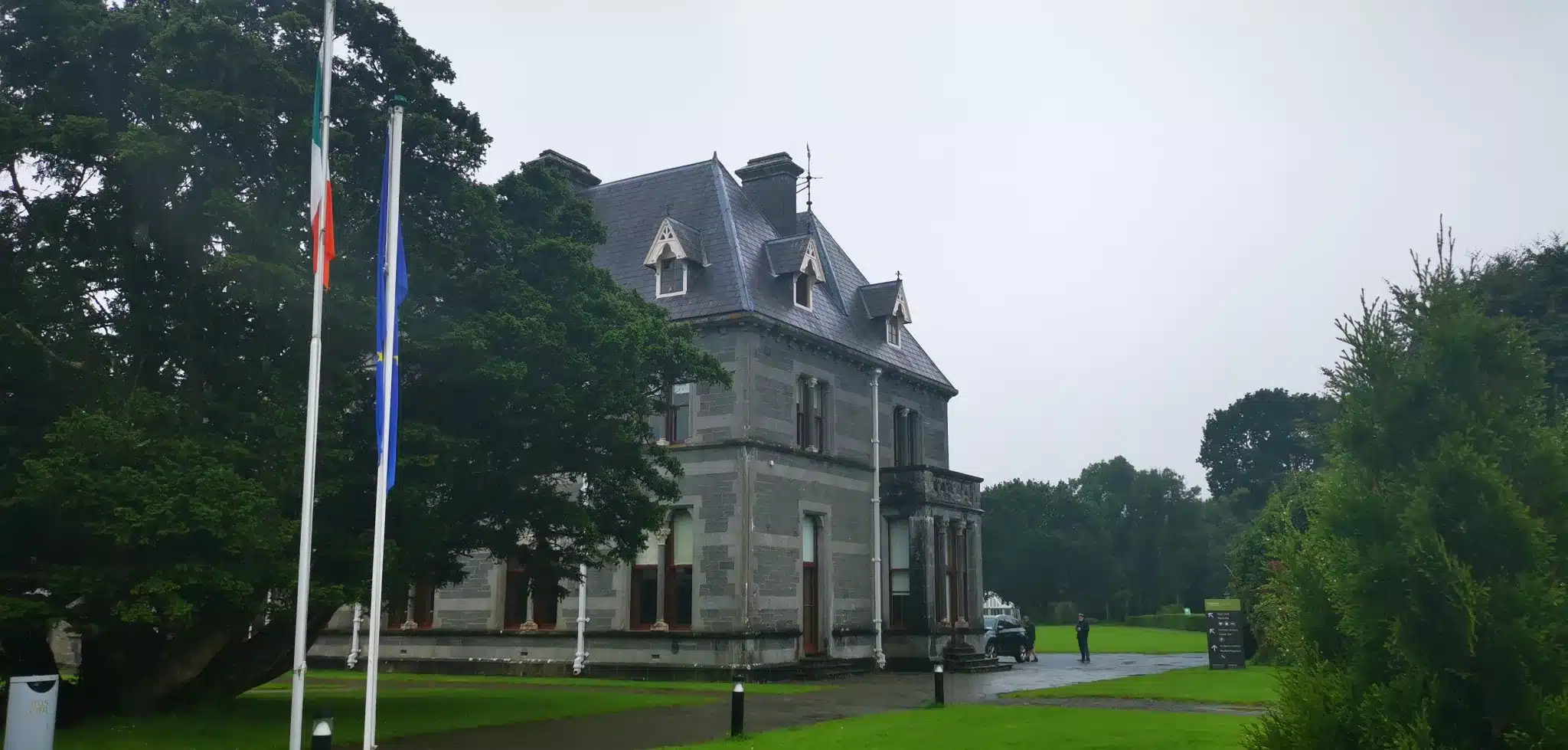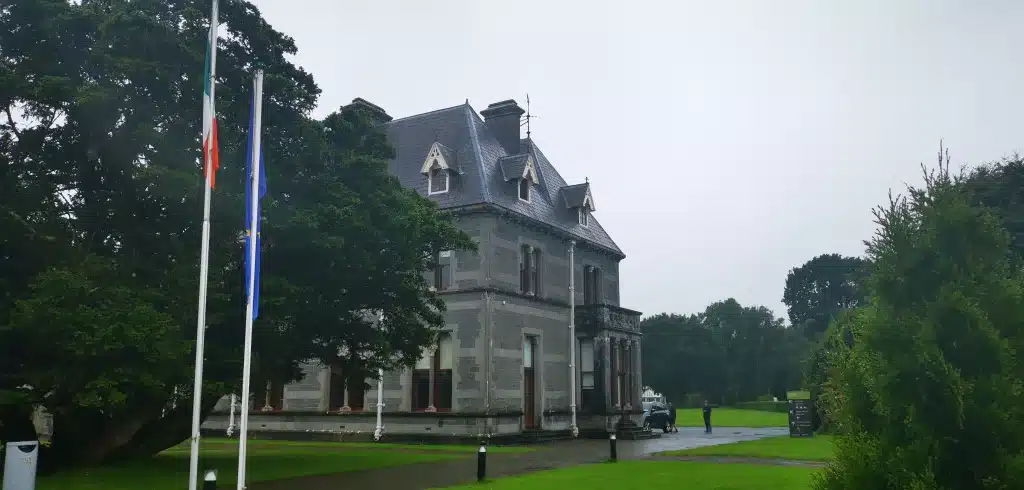 A solid rainy day activity is a visit to the Museum of Country Life, in County Mayo.
This museum is all about showcasing the rich heritage and traditions of rural Ireland. As you explore, you'll discover fascinating exhibits featuring everything from traditional farm tools to vivid displays of Irish folk history.
One of my favourite exhibits is the strangely realistic 'Jack O' Lantern' on display. This turnip carving offers a fascinating insight into the festival of Halloween, an ancient tradition which has its roots in Ireland.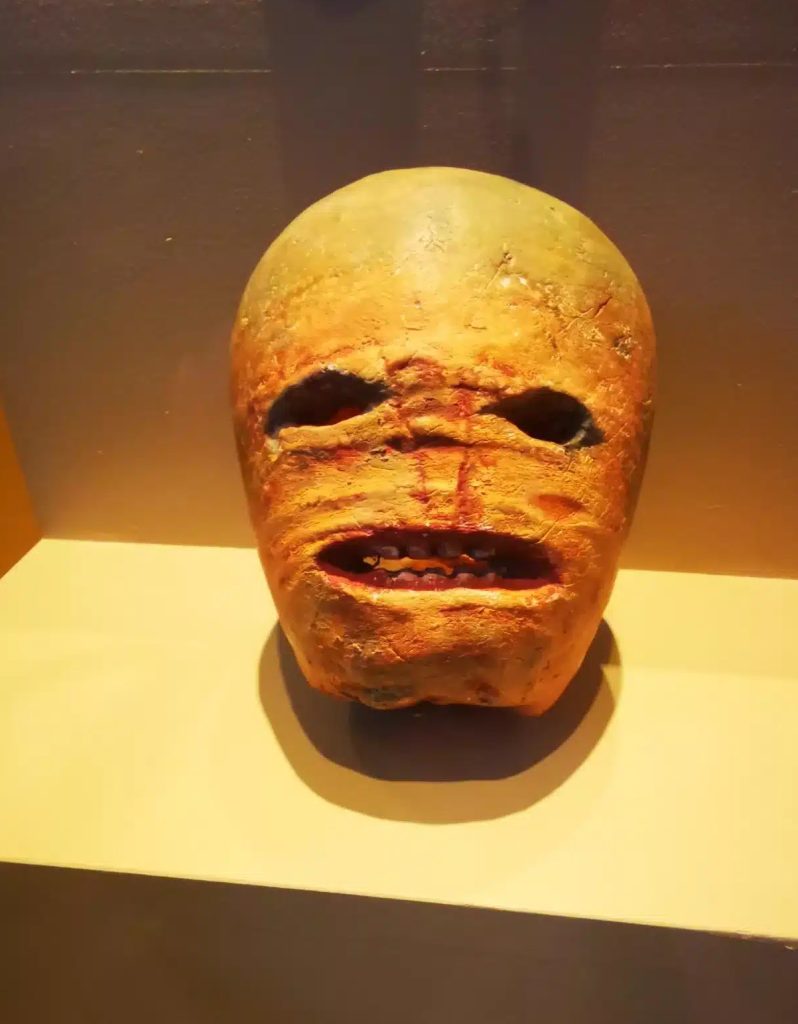 The interactive exhibits here really make history come alive, and it's a fantastic place to bring the whole family. Plus, the beautiful Turlough Park surrounding the museum is perfect for a leisurely stroll.
Visit Ireland's most beautiful village: Cong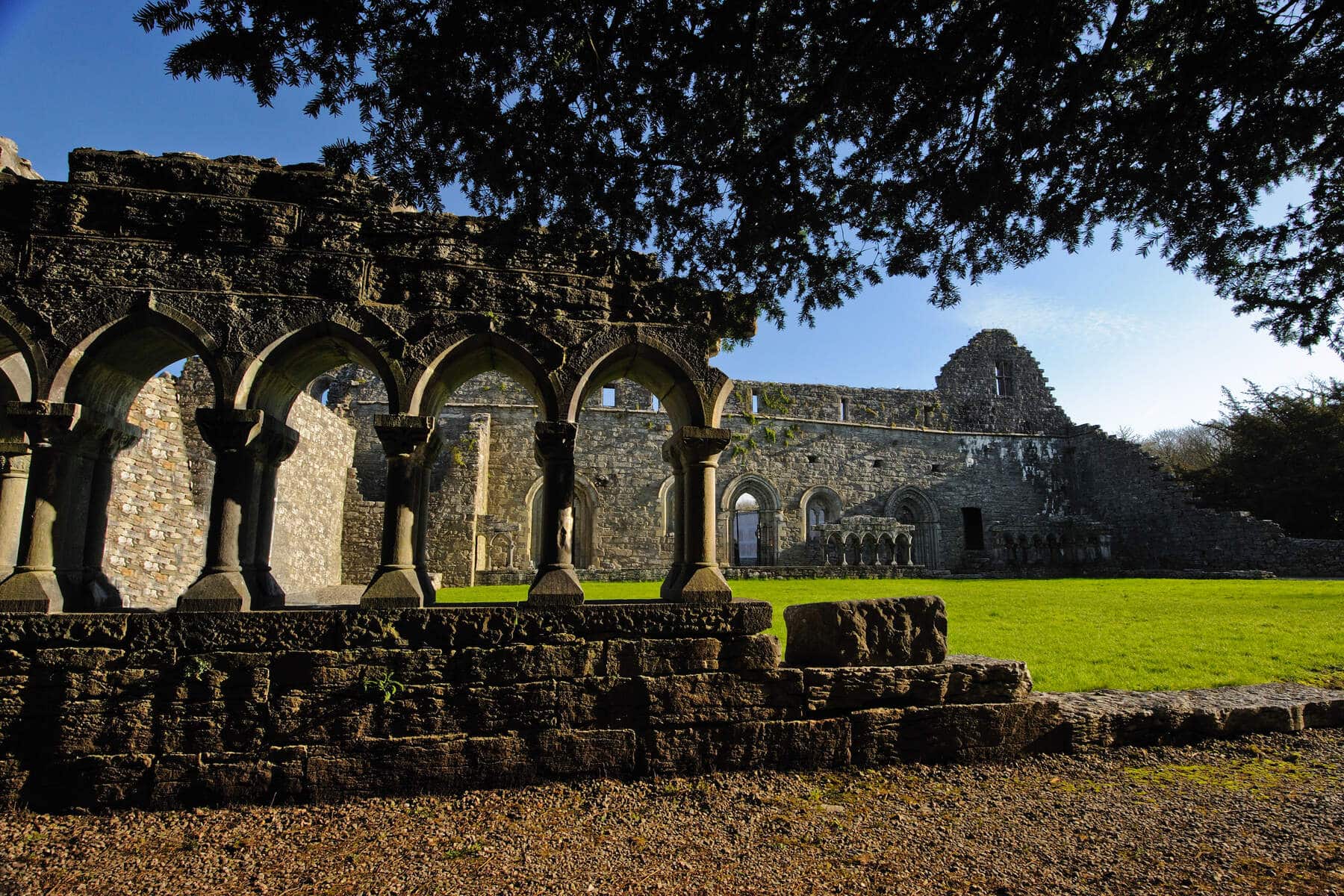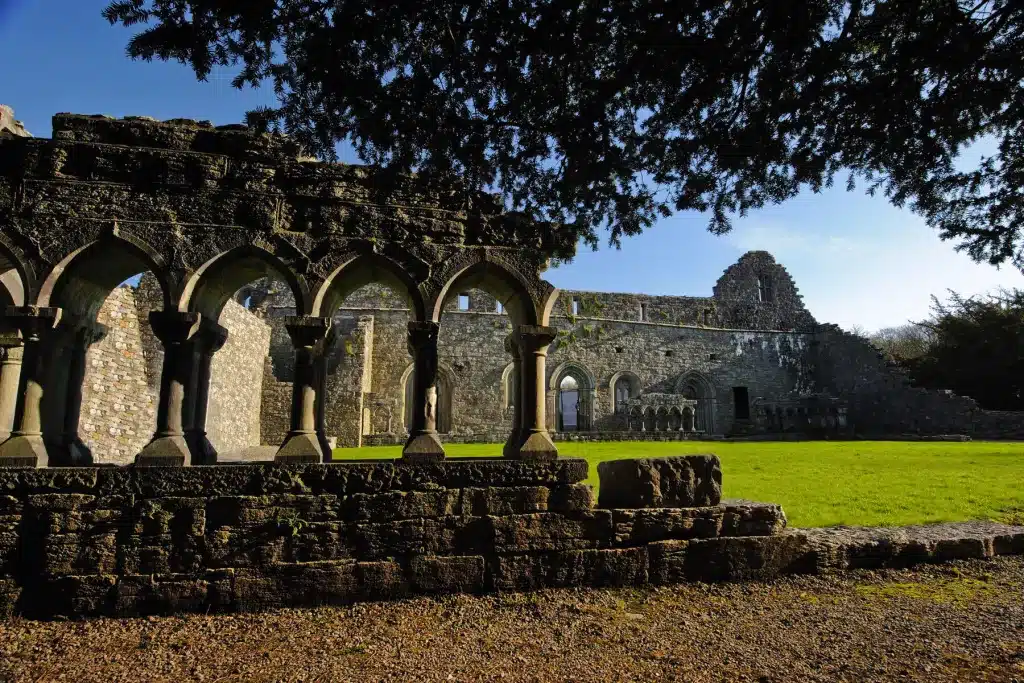 My personal favourite village in Ireland and a place that attracts plaenty of visitors in the summer months.
First things first, make sure you explore the stunning Ashford Castle and its lush grounds, even if you're not staying there. You may walk through the grounds to the gate, but after this point, you have to pay an entry fee.
Outside the gate, you'll be drawn to the thatched cottage, which is a cafe I highly recommend. If you are visiting on a warm day, sit outside with a cup of tea and a bun and marvel at the incredible grounds of this truly spectacular castle.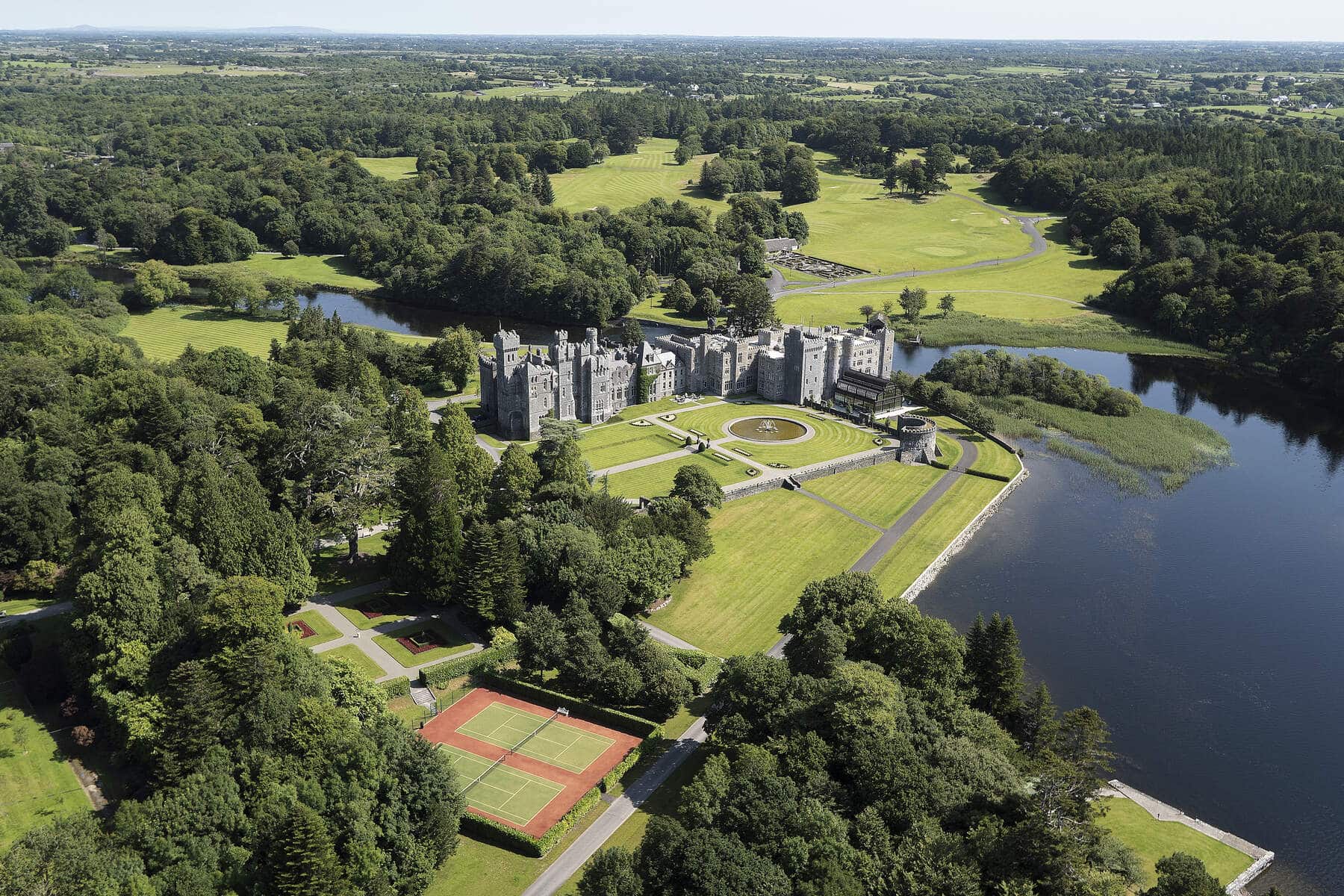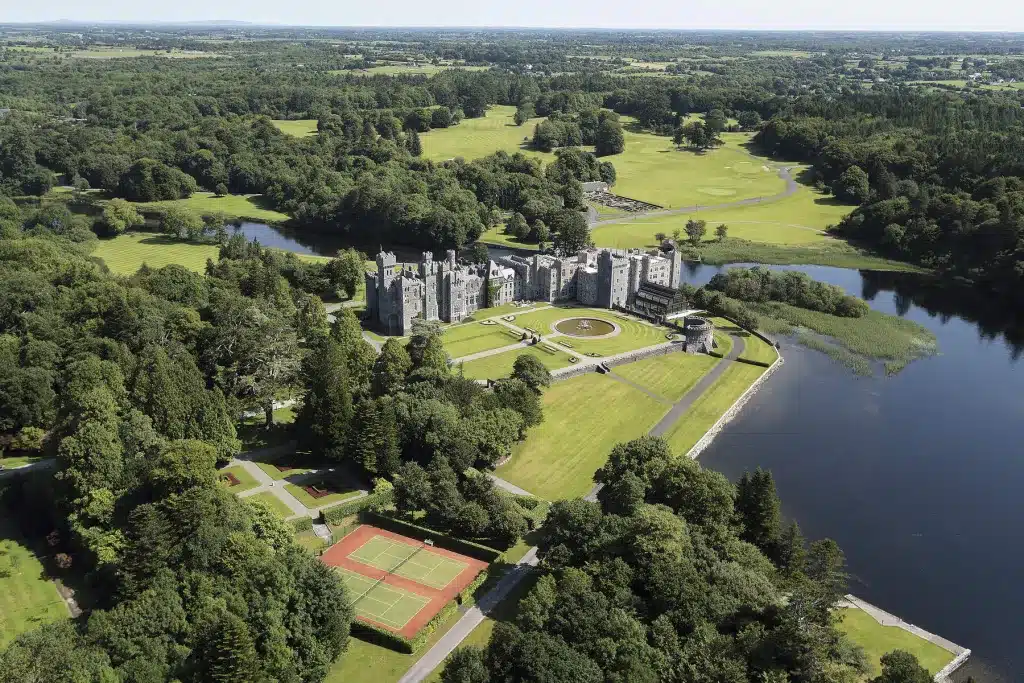 If you're a fan of "The Quiet Man" movie, you'll love the Quiet Man Museum, which showcases memorabilia from the film. Cong woods offer some beautiful walking and you'll finish up the loop with a relaxing stroll along Cong River.
Make sure to pay a visit to Cong Abbey also and to top off the day, try some seafood chowder at one of the many excellent pubs/cafes.
Explore magnificent Lough Key Forest Park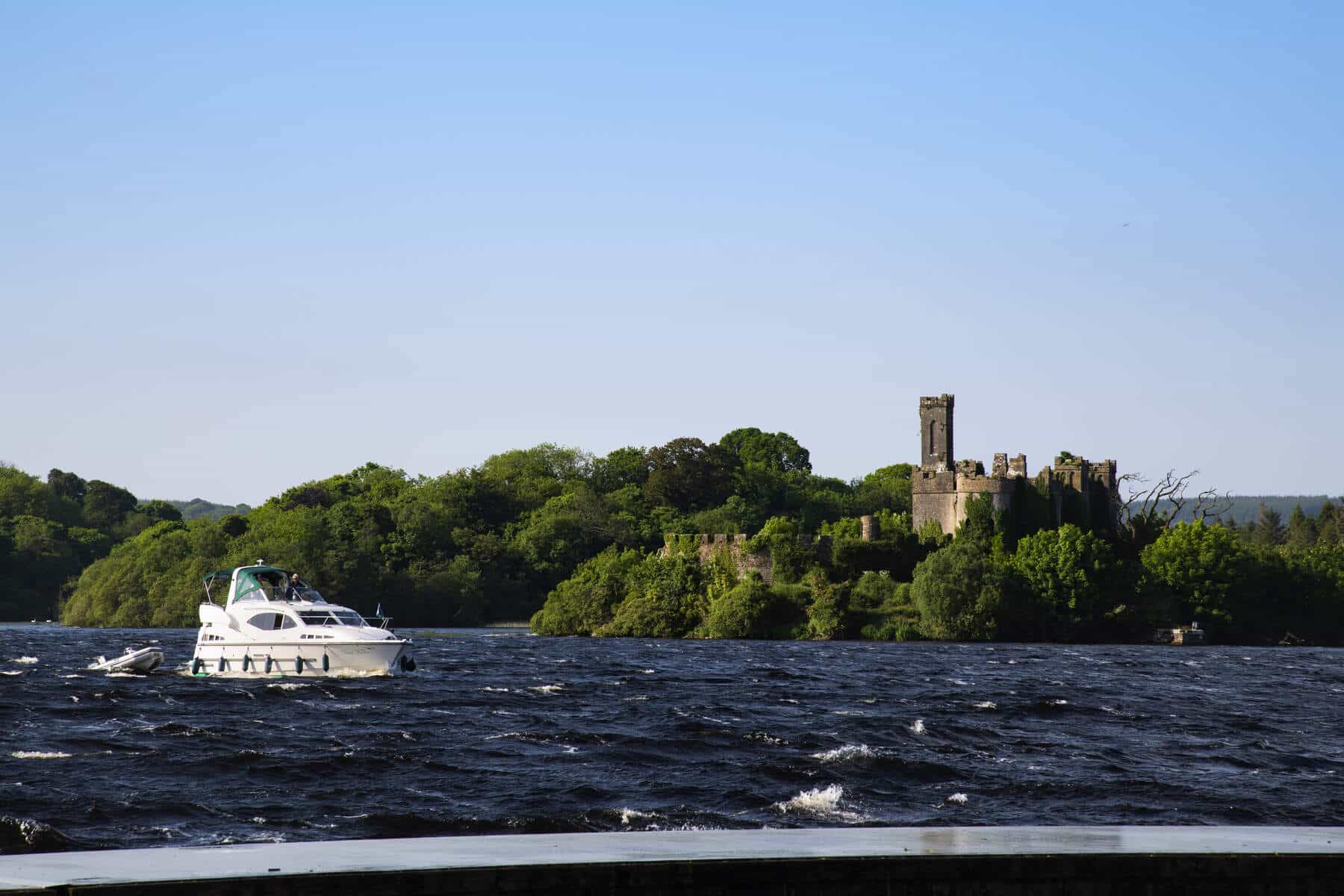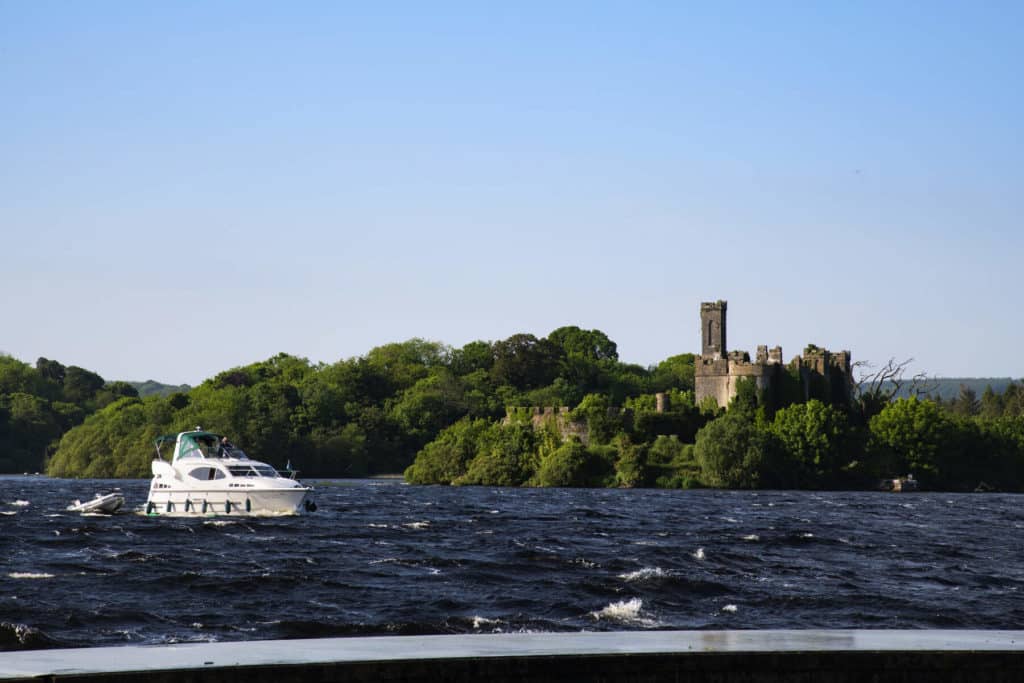 It's over to County Roscommon we go now and to the beautiful lake of Lough Key.
A hidden gem? We certainly think so. Whether you're a nature enthusiast or just looking for a fun day out, this park has something for everyone. You'll discover a mix of woodlands, lakes, and historical sites, making it the perfect destination for a family outing or a solo adventure.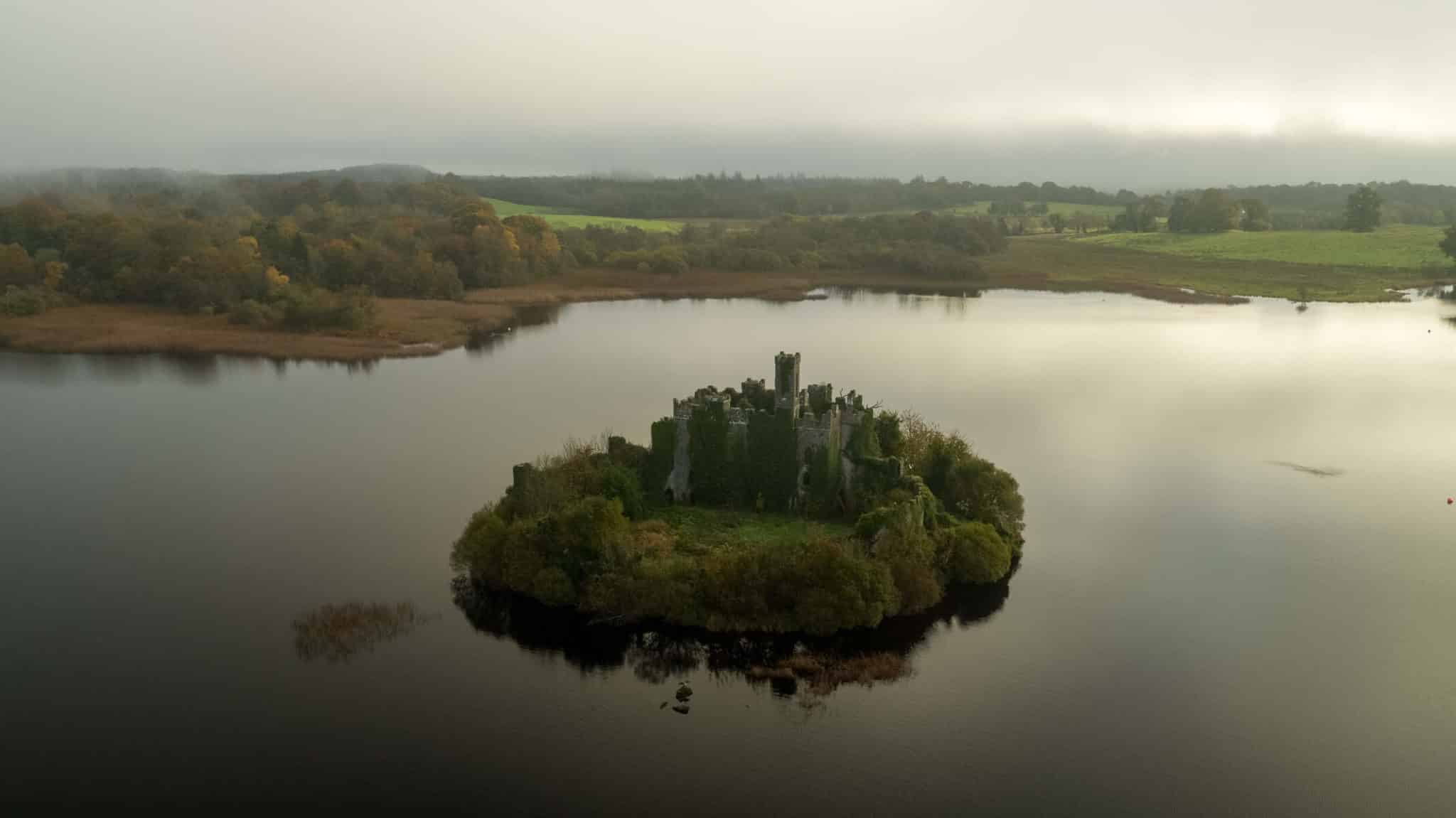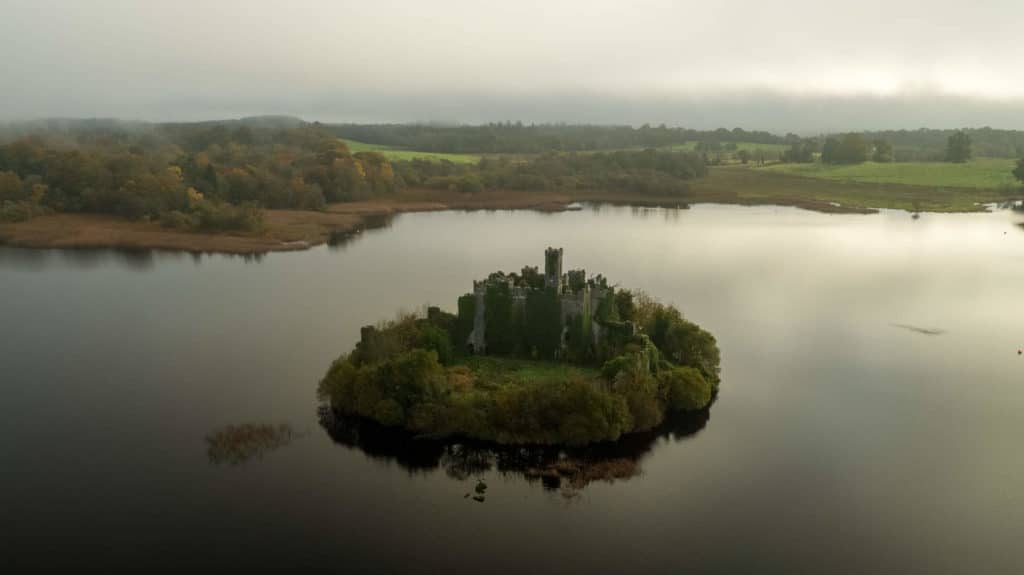 Try the treetop canopy walk, where you can enjoy fantastic views and a sense of adventure. Don't forget to bring a picnic, as there are plenty of lovely benches to relax and take in the picturesque surroundings.
Don't forget to explore the beautiful Rockingham House on the shores of the lake. Plus, for a unique twist, take a boat trip to the epic Castle Island. Overall, Lough Key Forest Park offers a blend of nature and history that you won't want to miss – a truly brilliant day out if in the Roscommon area.
Conclusion
This wraps up the first part in our West of Ireland series. Stay tuned as we'll be providing you with further detailed information regarding when to visit, how to get around and where to stay. For now, it's slán Go fóill, but if you reckon we have left out any places or you need some local advice, just drop a comment below!