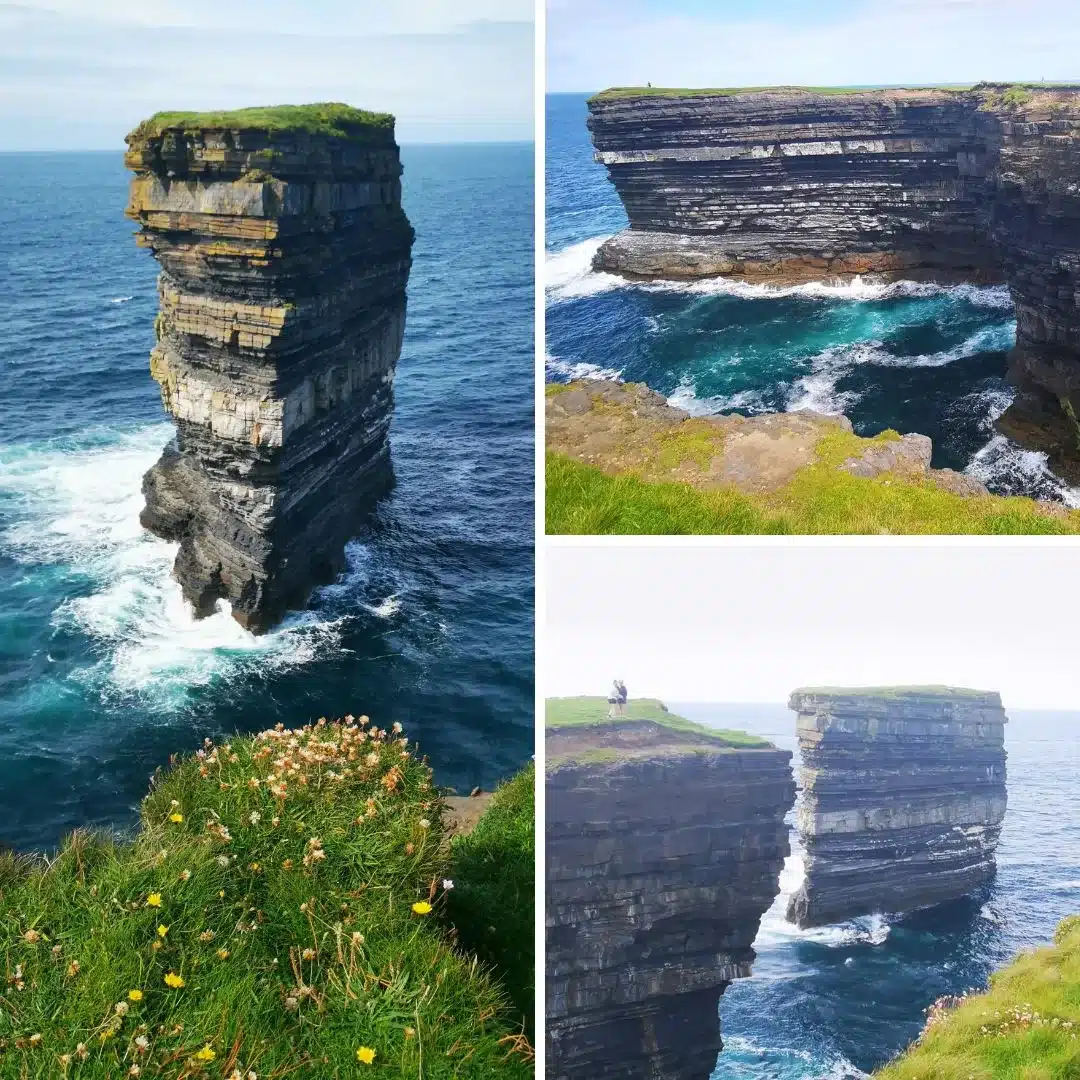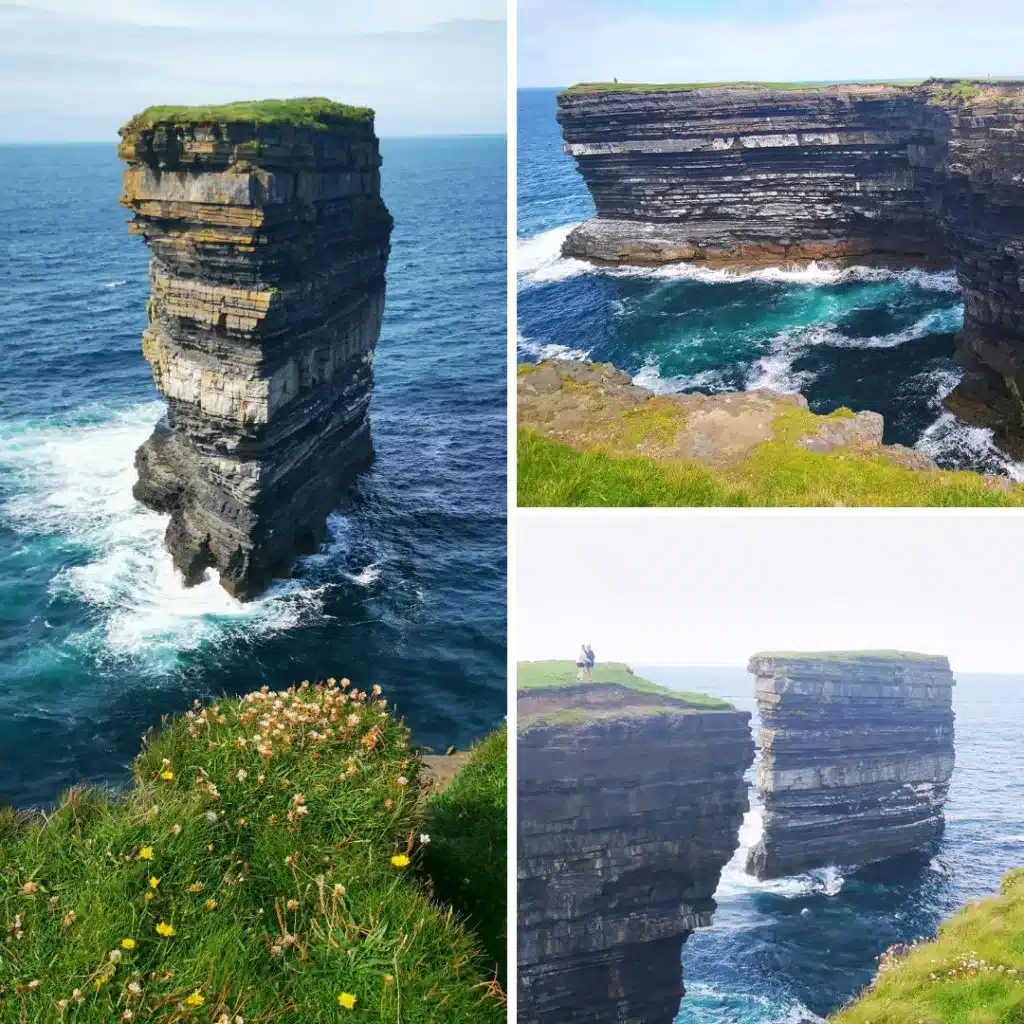 Downpatrick Head is a remarkable stretch of coastline in County Mayo, Ireland. Famed far and wide for its iconic sea stack (Dun Briste) and dramatic cliffs, it's a must visit on your trip along Ireland's Wild Atlantic Way.
This guide is going to tell you everything you need to know about Downpatrick Head. We'll be looking at what makes this place so special, the incredible story of how the sea stack was formed and the fascinating history attached to this location.
We'll also be looking at the aspect of safety, something I feel is very important for a variety of reasons we will get on to later.
Some Handy Information To Know Before You Go
Origins of the Name 'Downpatrick Head & Dun Briste'
The name 'Downpatrick' is the anglicised version of the Gaelic 'Dún Pádraig'. Dún is a common placename in Ireland and translates as 'fort'. 'Pádraig' is the Gaelic Irish word for 'Patrick'. Ireland's patron saint is believed to have founded a church at this location, which is currently marked with his statue. The 'Head' refers to a headland, defined as an area of resistant rock jutting out to the sea.
So, Downpatrick Head can be understood as 'The Headland of Patrick's Fort'.
Dun Briste, again a Gaelic Irish word, translates as 'Broken Fort'. A perfectly suitable name for the unique sea stack which lies off the coast of Downpatrick Head.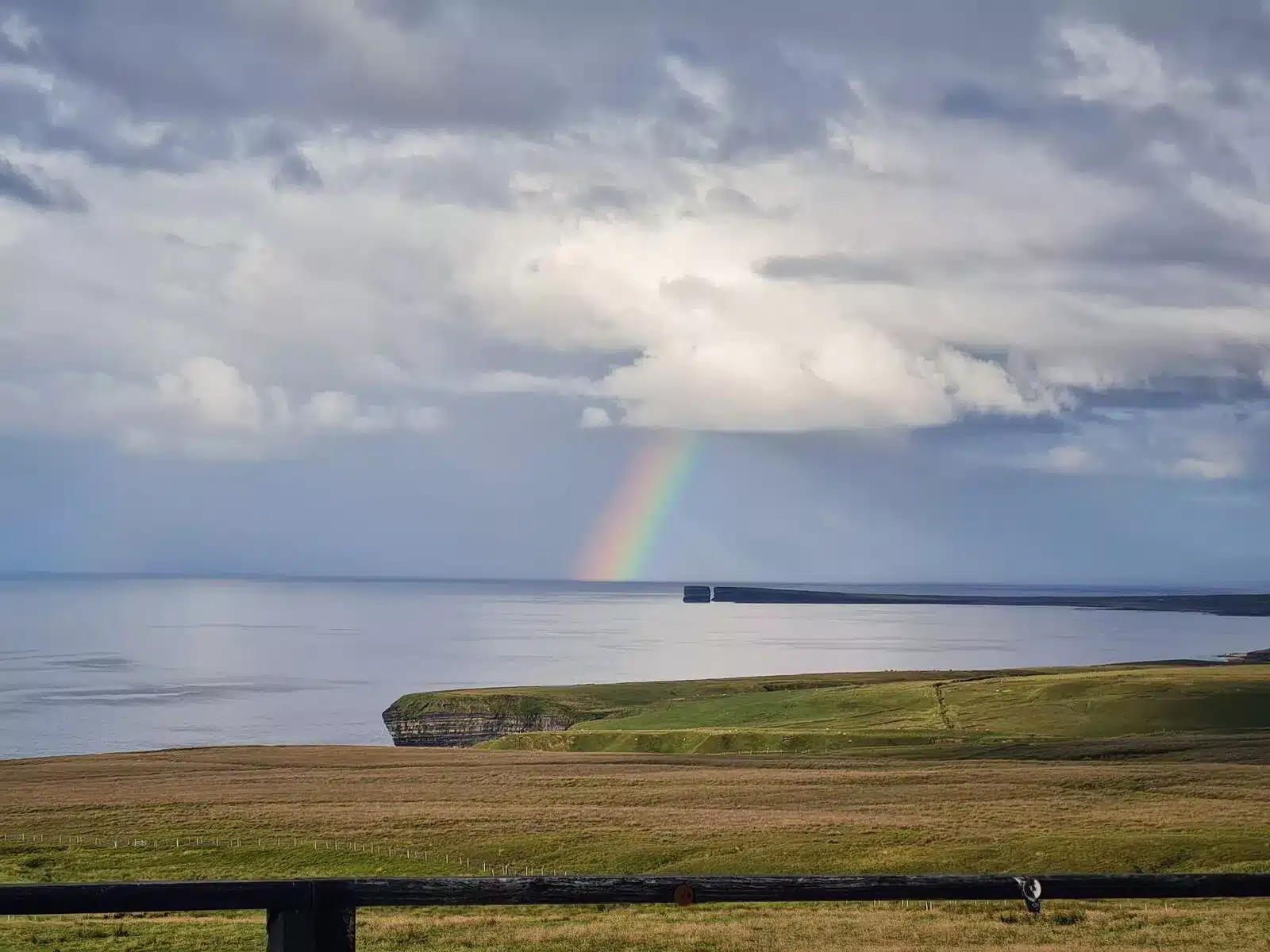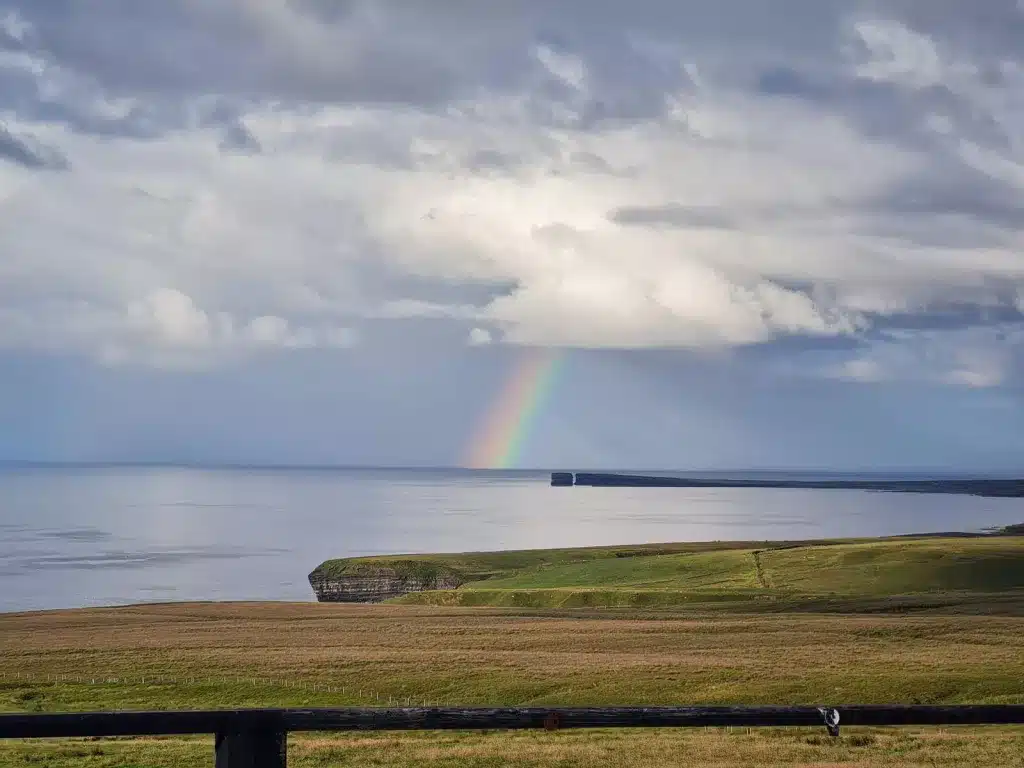 Where is Downpatrick Head?
Downpatrick Head is located 6 km north of the village of Ballycastle on the north Mayo coast. It is located along the Wild Atlantic Way and because of its unique beauty is listed as one of the drive's signature points.
Nearby you'll find the Ceide Fields, the oldest known field system in the world and definitely worth a visit. It's also located in an area of spectacular coastal scenery with endless cliffs and some gorgeous beaches. Within a stone's throw away, you'll find Ballycastle beach.
A popular and exceptionally highly rated glamping (glamorous camping) village is also nearby; Ceide Glamping.
How to get there
The 445 Bus Eireann service from Ballina makes a stop at Muingrevagh, located 2 kms from the cliffs. The bad news is the bus back departs an hour later, so this option is practically out of the question.
The only realistic way to get there is by car (or bicycle)
The nearest large town is Ballina, 36 km away (40 minutes by car)
The city of Galway is located 145 km away and will take the best part of 2.5 hours to reach Downpatrick Head
If travelling from Dublin, be prepared for a long trip. It'll take you 3.5 – 4 hours (267 km)
Many who travel to Mayo will be based in Westport, and from here it's a 1 hr. 20 min drive
If travelling from Sligo town, it's approx. 1.5 hours
From the popular coastal town of Enniscrone, it's a 50 minute drive
Yep, Downpatrick Head is in a very remote location but I can guarantee it's worth the trip!
Parking at Downpatrick Head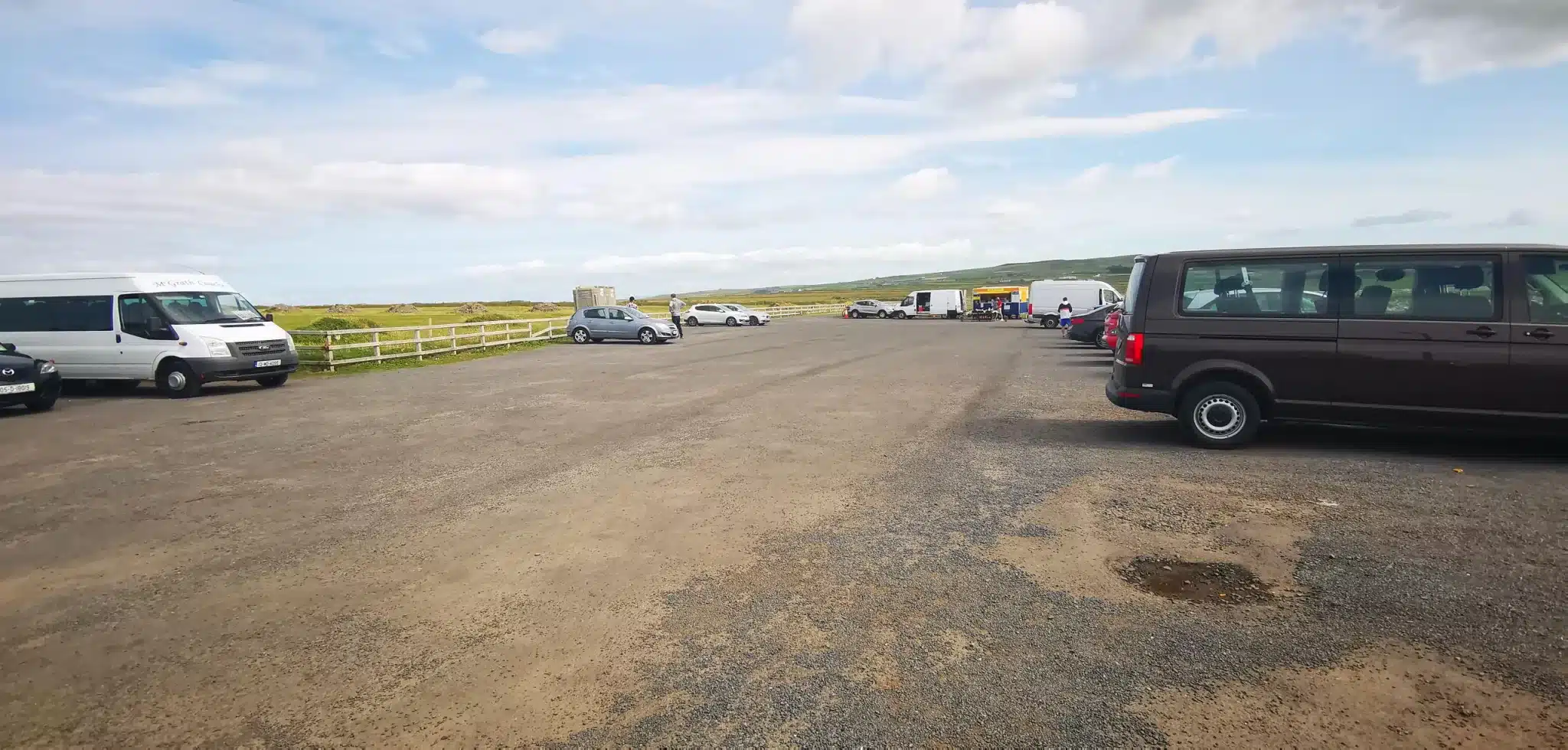 The carpark has been extended in recent years and can accommodate well over a hundred cars. From here to Downpatrick Head is a 15 minute walk. Parking is free of charge.
When to Visit/Opening Times
Downpatrick Head is open 24/7. When to visit though is something entirely different.
I do not recommend a specific time of year. I have visited countless times, but the most important thing is not to visit on a wild and stormy day, due to its exposed nature.
Most of the time it's breezy/windy there, but if there are any weather warnings on Met Eireann, it's best to skip.
Entry Fee
Access to Downpatrick Head and parking are both free of charge.
How long do I need at Downpatrick Head?
The looped walk that starts at the carpark is a total of 1.5 kms. You'll find yourself exploring and taking plenty of photos so allow at least 1.5 hours.
'Tea by the Sea' Mobile Cafe
On my last visit to Downpatrick Head in July of 2023, there was a delightful mobile cafe in the carpark which served hot and cold beverages, along with other snacks. The slogan on the side of the van gave me a good giggle, along with the accompanying picture.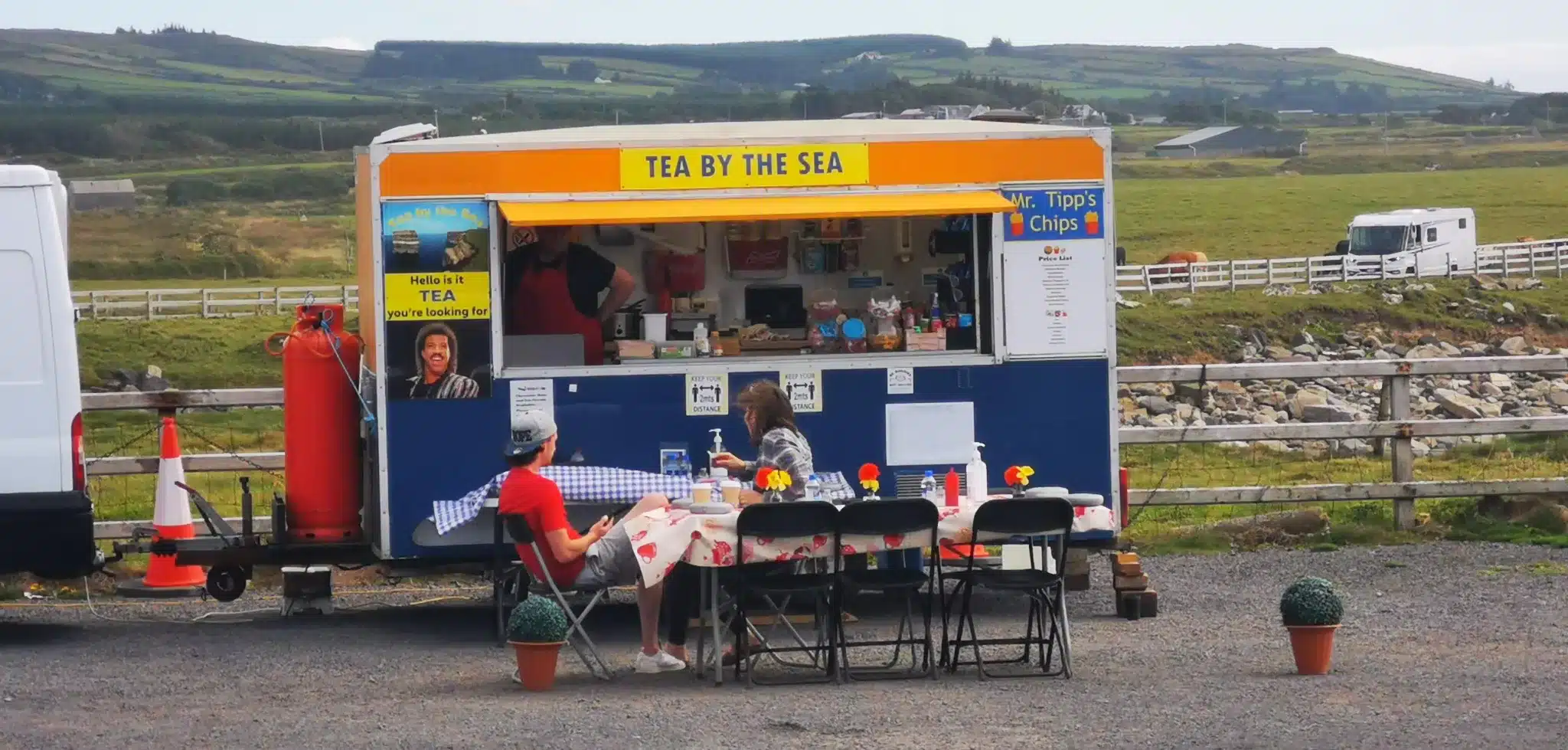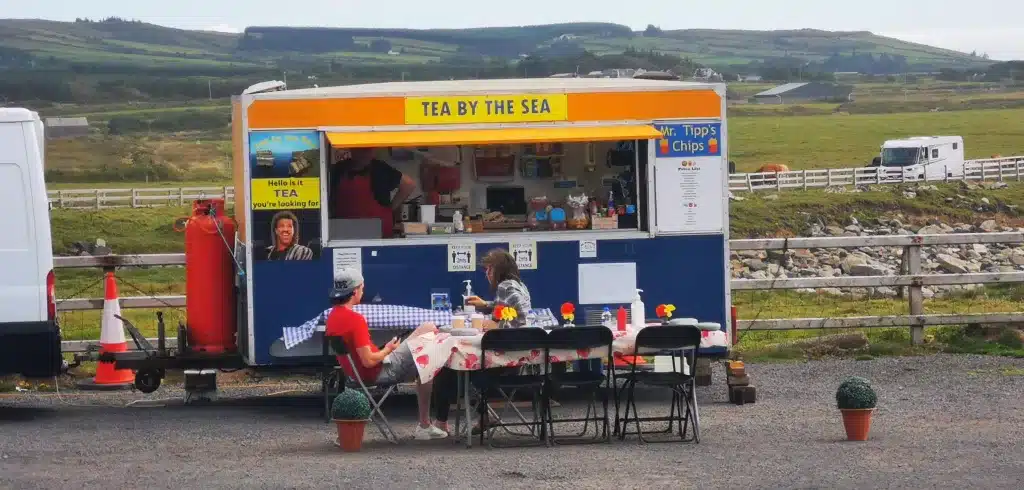 Safety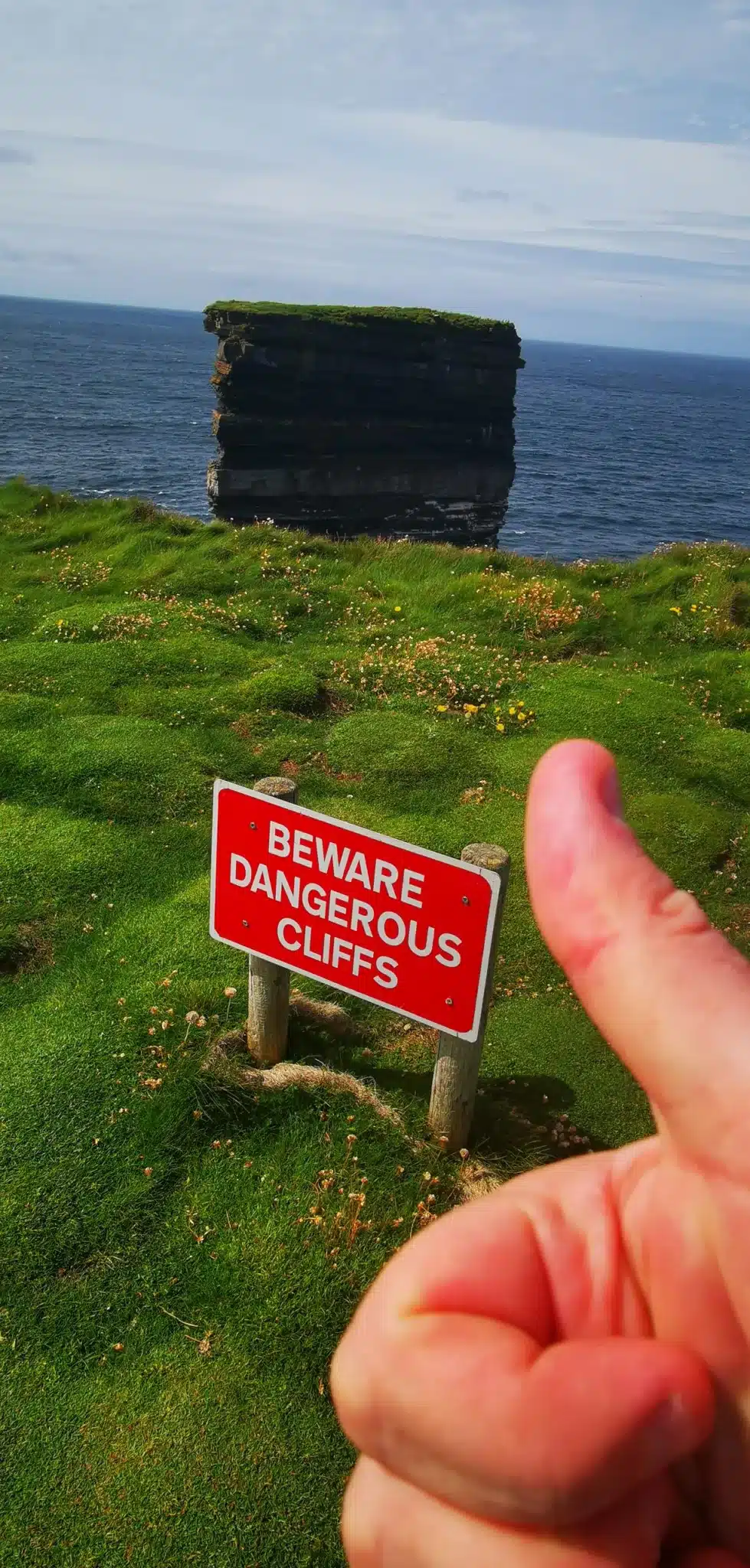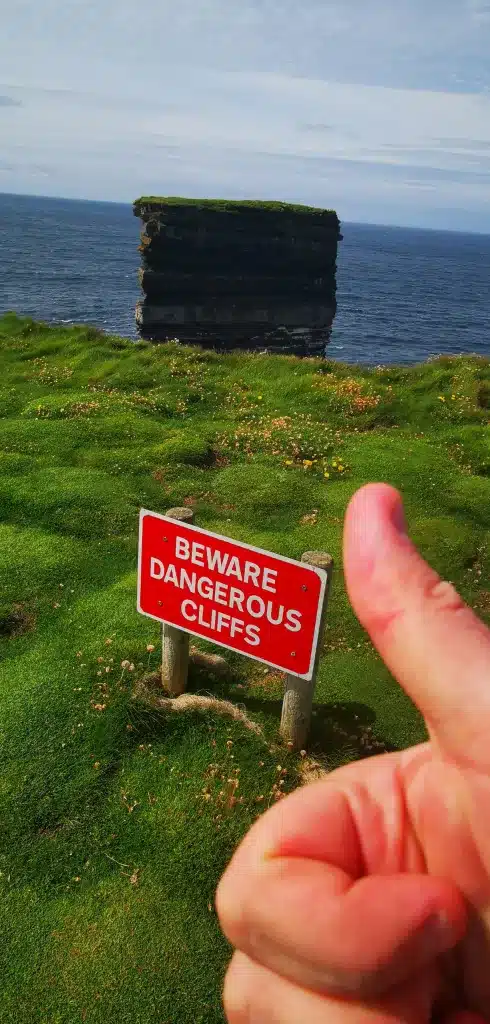 As with along any cliff, safety is something that should be taken very seriously. Here are some safety warnings I have put together after having visited numerous times.
Don't visit when there is a weather warning for wind. Downpatrick Head is incredibly exposed and you really feel you are jutting out into the Atlantic. There is not a tree in sight either and there is no fence or barrier along the clifftop!
Be careful of the 'bubble grass'. Although incredibly cool, it's quite easy to trip over these little humps in the ground and you don't want to be doing that on top of a cliff.
I don't recommend bringing young kids here. Because of the combination of wind, bumpy ground and no protection along the cliff edge, unless by your side at all times, I can't recommend bringing your young ones here.
Stay away from the cliff edge. This is a very popular 'Insta' location, but make sure you prioritize your safely over your epic shot!
Going to the caves below is very risky. Although this is a truly spectacular location, they can only be accessed in low tide. 2022 saw a massive rescue operation take place, details of which are here.
About Downpatrick Head
For quite a small area, there's so much to discover at Downpatrick Head. On my last visit, I followed the loop walk, which you'll find here.
The Blowhole: Poll na Scantoine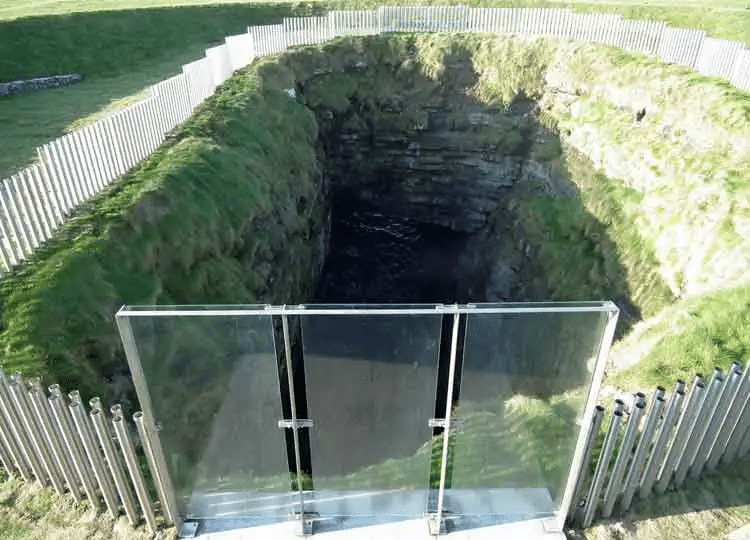 After parking up, I took a few photos of the beautiful rocky coastline below and followed the clear path up the hill to a mound of earth. As I got closer, I began to hear and actually feel the pounding of waves below. A real base-like sound followed by a brief silence, and this sequence repeated relentlessly.
When I got to the to the top of the mound, I had a great view down to the bottom of the blowhole at the rocks below, and the constant thrashing and thumping sound was incredible.
The blowhole is 150 metres from the actual cliff edge, but a huge underground cave links the blowhole to the sea.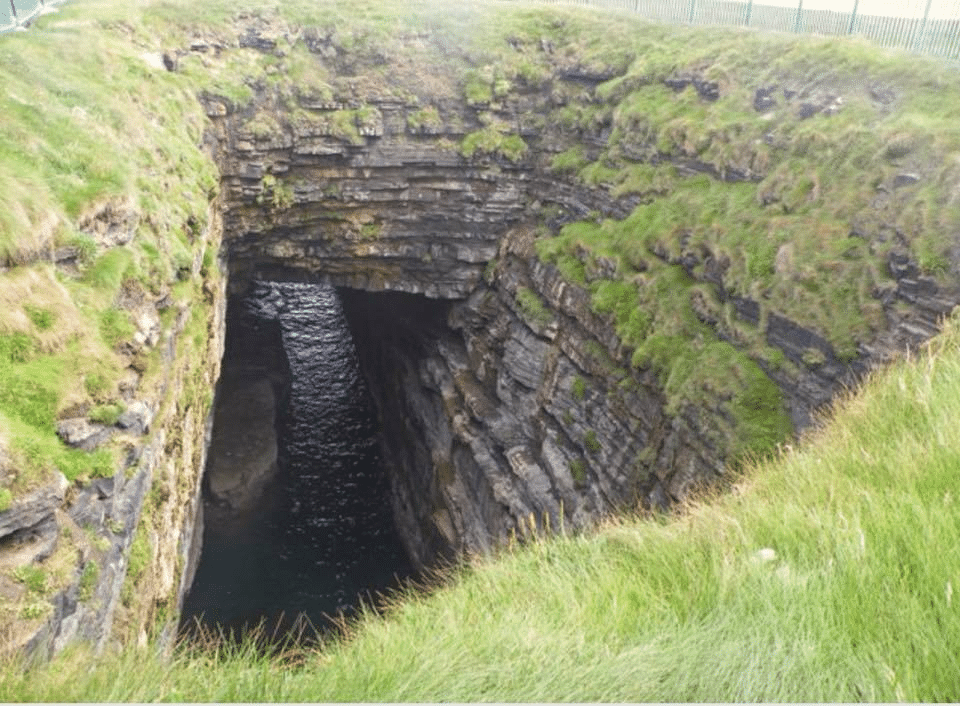 The blowhole is (thankfully) fenced off and the other side of the mound gives an equally impressive view atop a small platform. In fact, there is a raised area around the whole blowhole you can walk along.
'Poll na Scantoine' means 'Hole of the Old Fire'. This may relate to the effect of the mist bellowing out of the hole during rough weather, resembling smoke of a fire from a distance, or to the legend we'll get on to shortly.
St. Patrick's Statue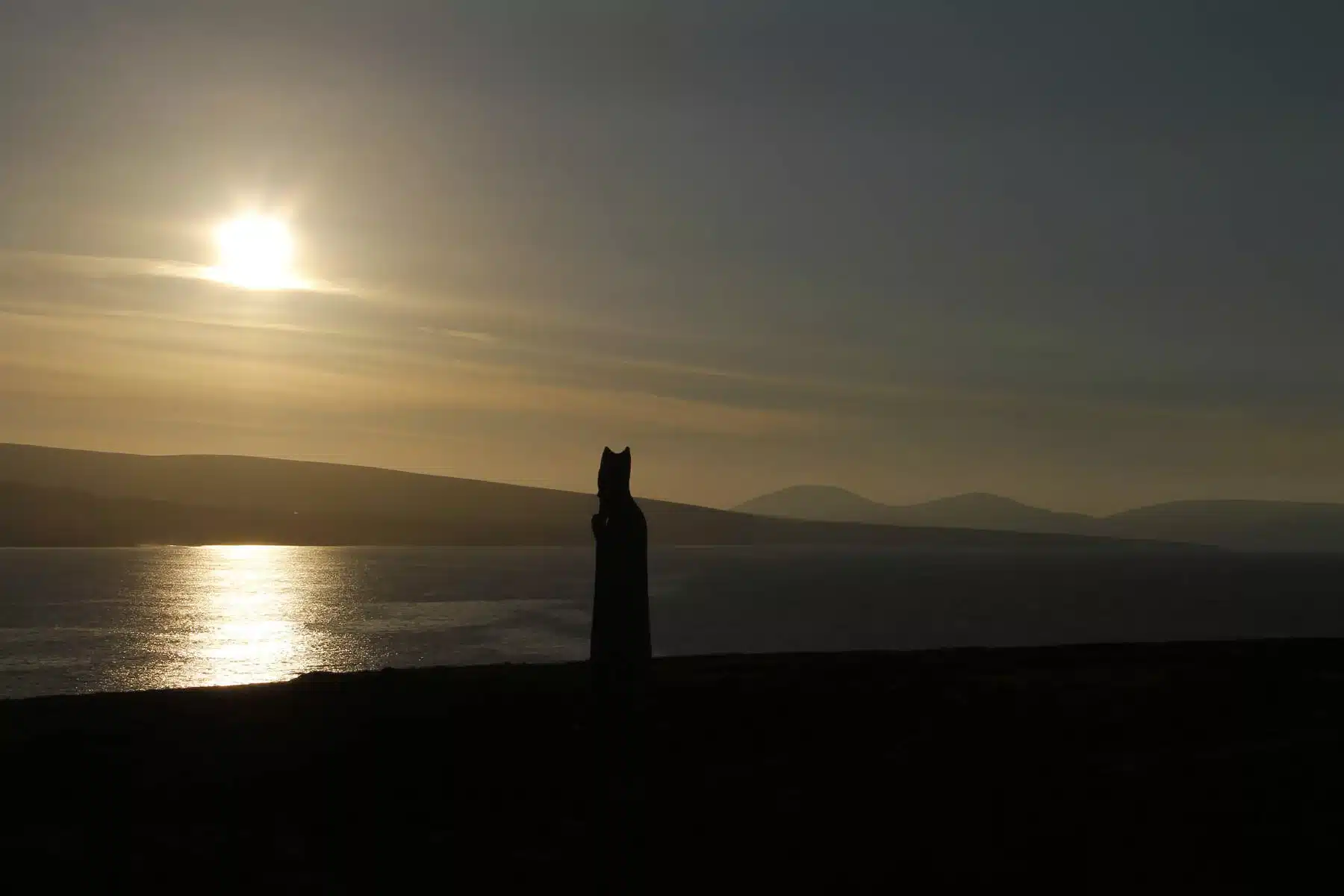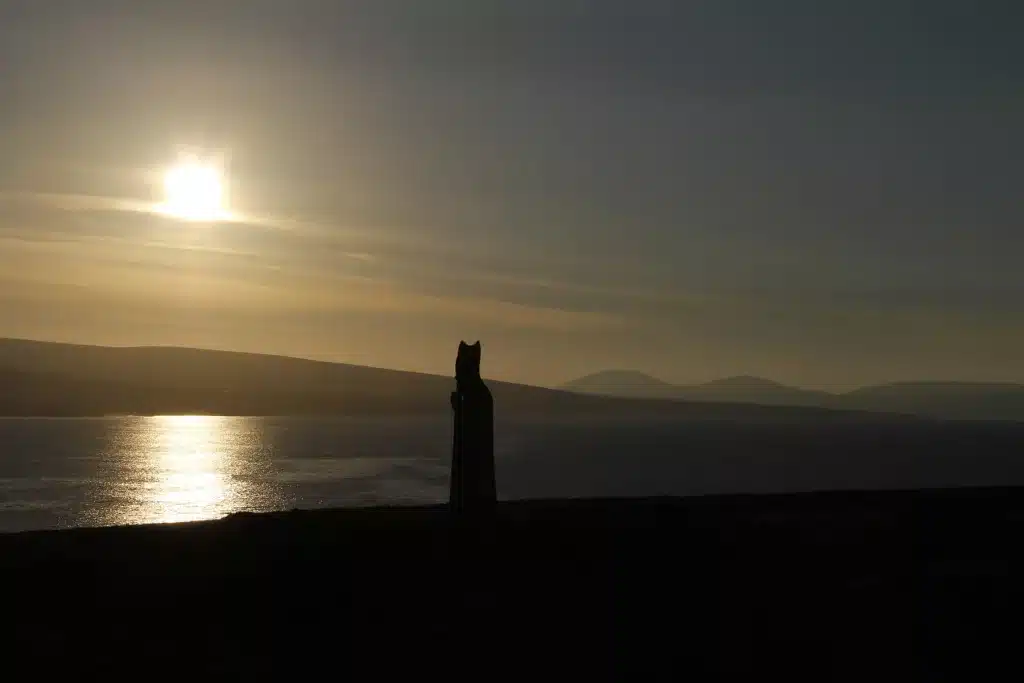 Continuing along the recommended path, I came to St. Patrick's Statue, built in the location where the patron saint founded a church. The ruins you see now are those of a more recently-built chapel, from 1912.
The statue was built in the 1980s and on this spot, on the last Sunday of July (Garland Sunday) mass is still celebrated. On this same day, many thousands of pilgrims will climb Ireland's holy mountain, Croagh Patrick, near Westport.
Dun Briste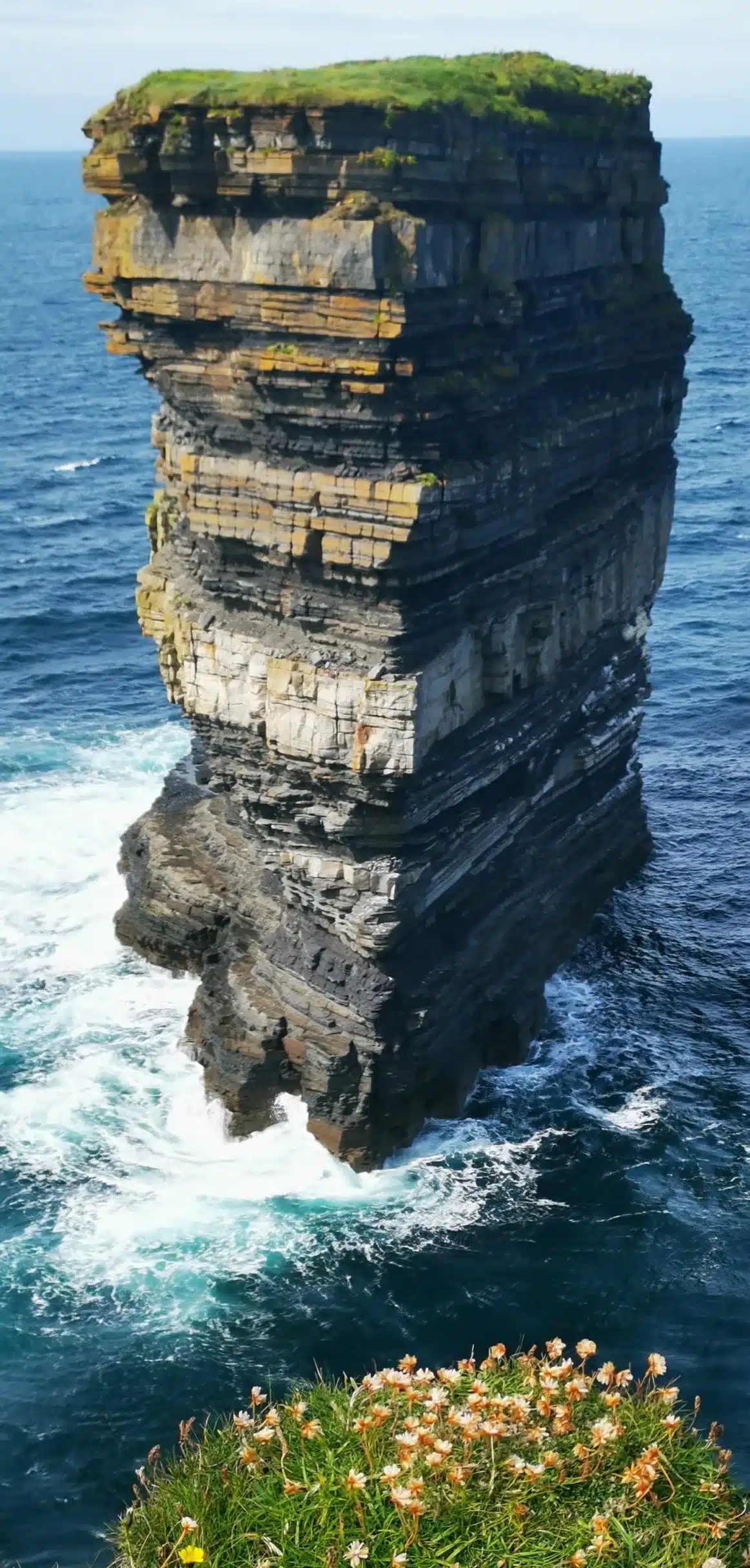 After saying my goodbyes to himself, I made my way towards the cliff edge and the grass started to bubble! It's such a strange phenomena. A local explained to me that the ground underneath is full of air and water, leading to it's swelling up like a balloon!
Paying attention to my footing, the flat, green top of Dun Briste came into view and as I reached near the cliff edge, it revealed itself. Such a sight.
The first thing I noticed is how high it is, 45 metres to be exact (148 feet). It lies just over 80 metres (262 feet) offshore. The next staggering thing is its precarious position, a narrow stretch of land perched in the middle of the Atlantic.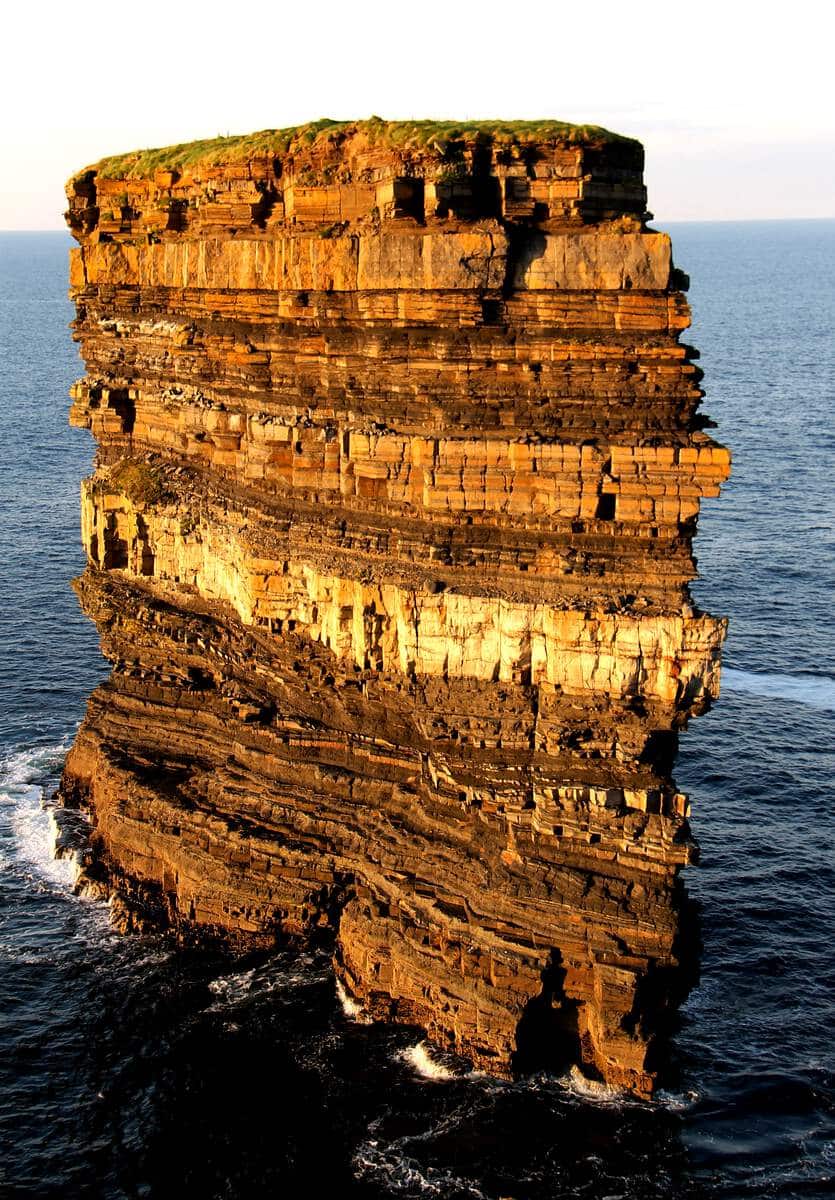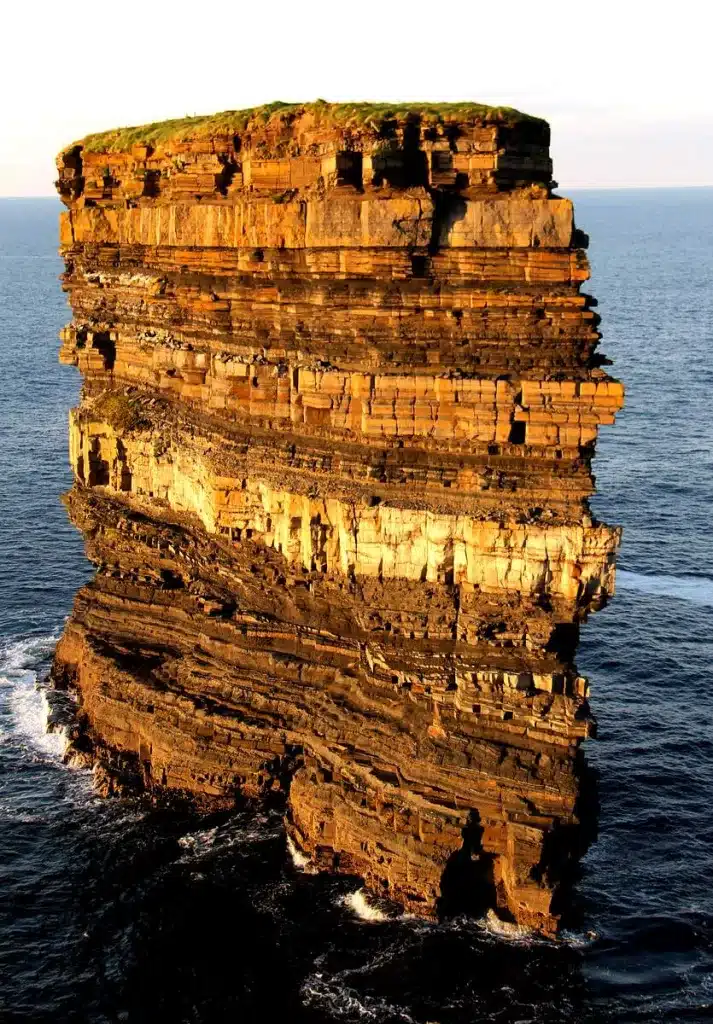 Then my eyes are drawn to the strata; the layers of limestone rock with their own 350 million year old story to tell. Then on top, the perfectly green patch of grass; it actually almost defies logic!
It's a relatively calm day, but the waves are constantly smashing against the lower rocks and one wonders how much more battering Dun Briste can take…All the time, common gulls can be seen circling the waters and cliffs.
Downpatrick Head is also a birdwatcher's paradise, with choughs, ringed plovers, wheatears, fulmar and puffin to be found in abundance here.
How was Dun Briste formed?
Well, it's Ireland, so there's a cool legend version and (in my view) an equally cool historical account!
The legend involves St. Patrick, who was on a mission to convert non-believers into Christians. Patrick paid a visit to Crom Dubh, a pagan chieftain of these lands. Dubh was not very welcoming, let's say, and attempted to throw Patrick into his fire.
Patrick picked up a stone and after carving a cross into it, threw it into this fire, causing the fire to collapse and forming the blowhole 'Poll na Scantoine'. Dubh quickly made his way to his clifftop fort, but Patrick stamped the ground with his crozier, causing the ground to collapse, leaving Dubh isolated on the 'broken fort'.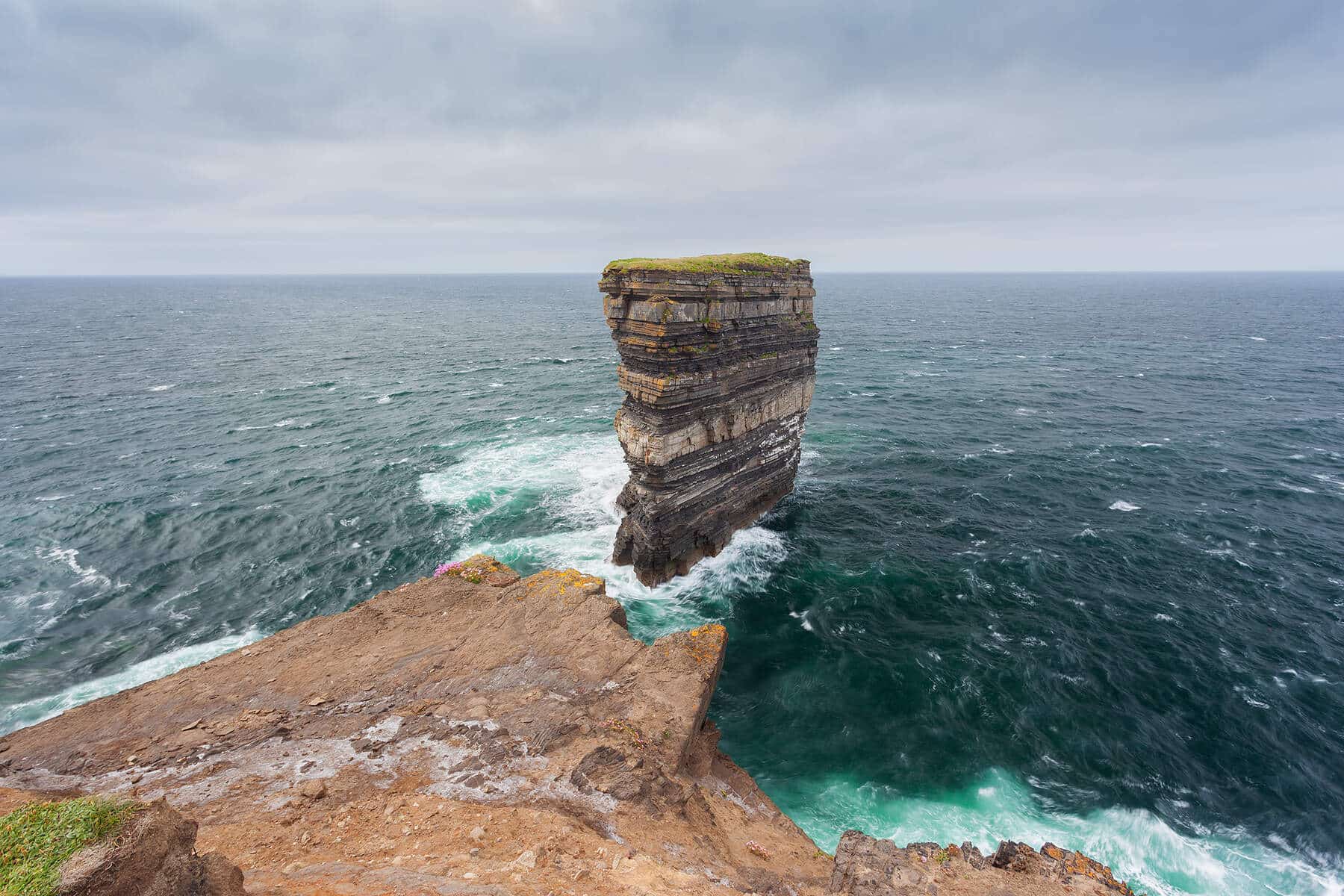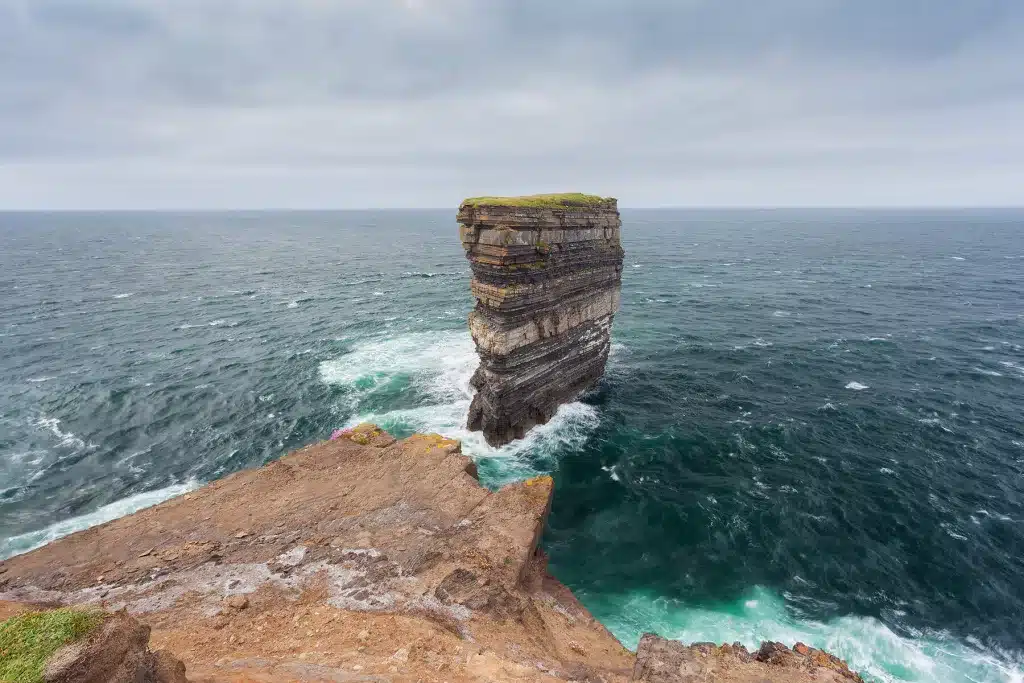 The other version goes like this: During a storm in the year 1393, the arch linking this headland collapsed into the sea below. Local knowledge says there were people actually living on the (then) headland and the poor souls were trapped on the newly formed sea stack.
This local knowledge proved correct, as in 1981 an archaeological discovery found evidence of 2 dwellings on top of Dun Briste. The archaeologists were also confident that these dwellings were shared by both humans and animals.
Thankfully, it is believed the inhabitants were then rescued by boats using nothing but ropes, but there is no account of what happened to the poor animals.
These findings would have also been seen by Mick Fowler, Nikki Duggan and Steve Sustad in 1990, who managed to climb to the very top of Dun Briste for the first time.
The WWII Watchtower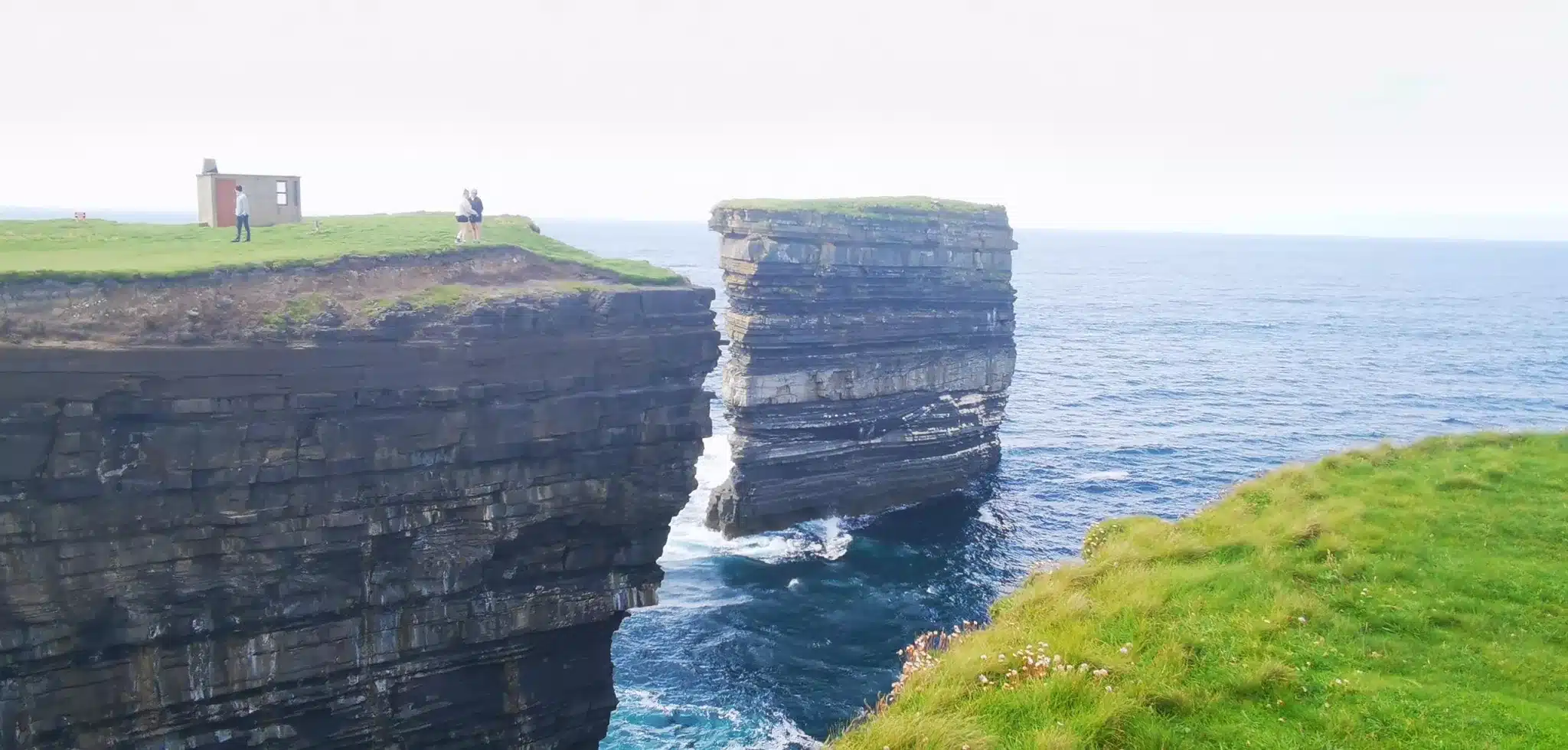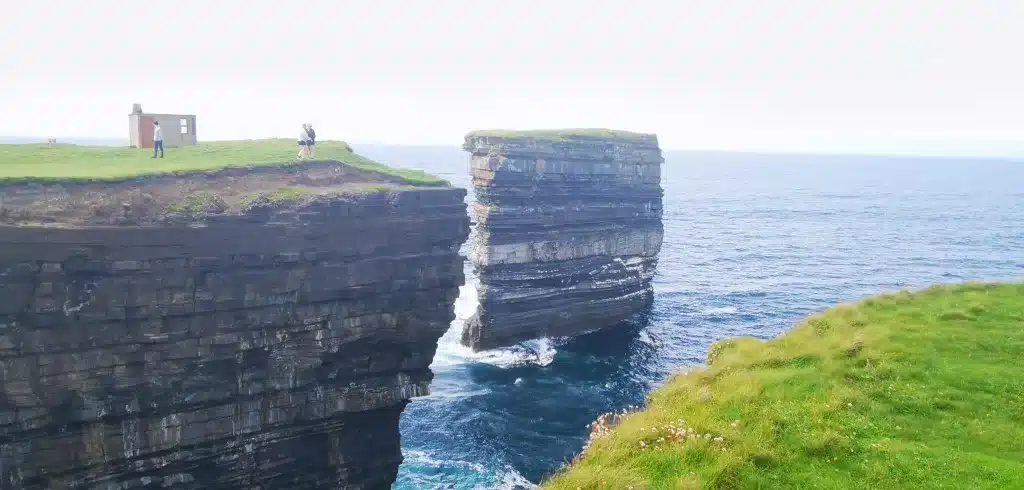 As I made my way along the cliffs, I spotted a small restored watchtower dating back to the Second World War. There are 6 windows in total, all facing seaward. During Ireland's neutrality in the war, many of these lookout towers were erected along the west coast.
Those manning their posts were given the task of reporting any sea vessels to the Irish Coast Guard, by use of telephone. Another fine example of a lookout post can be found on Moyteoge Head, above the magnificent Keem Beach on Achill Island.
I kept walking along the coast here, while keeping a safe distance to the edge, and stepping over plenty of bubble grass! The nearby cliffs open up here spectacularly and you can see the entrance to the cave down below. From here you can see the distance it travels underground to the blowhole, a good 150 metres away.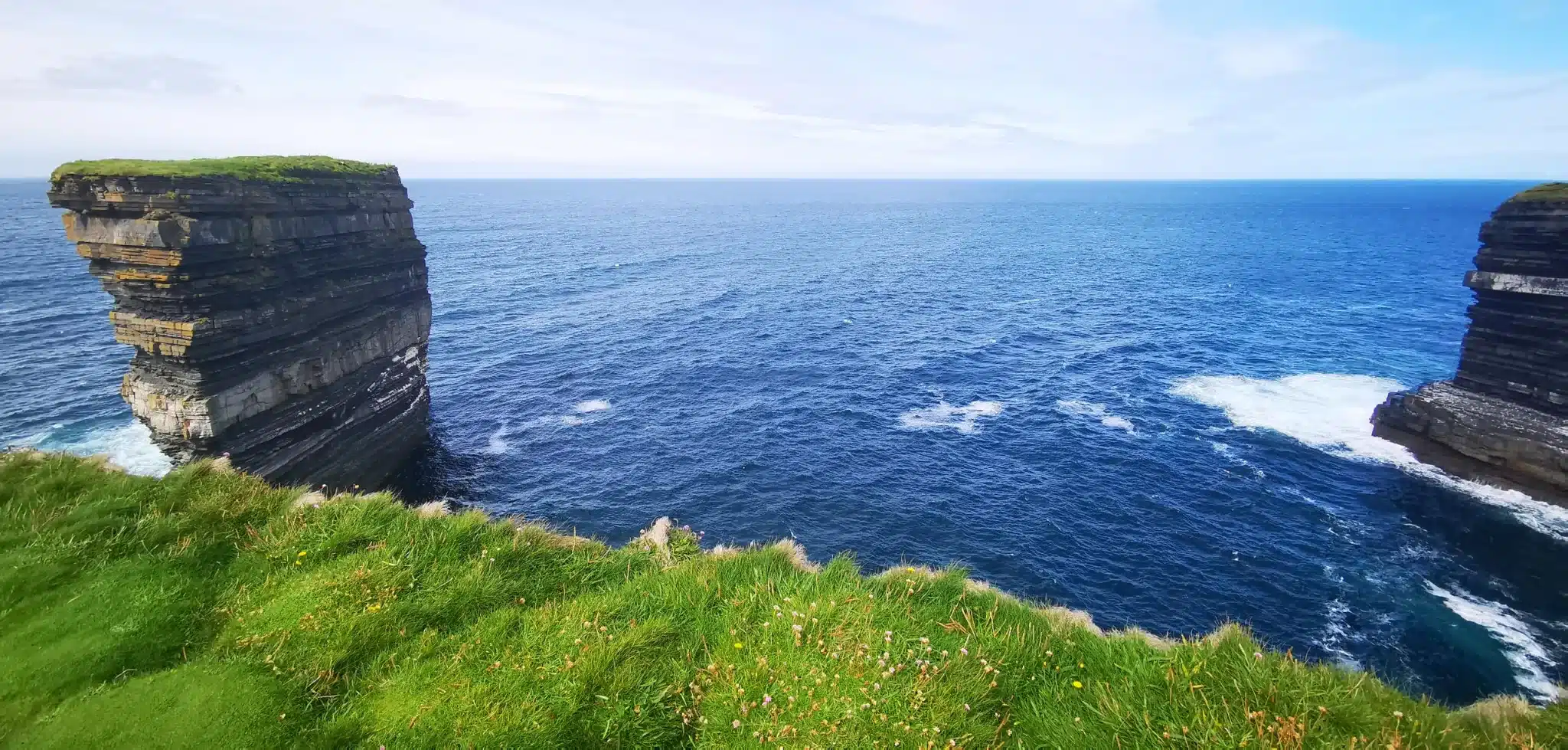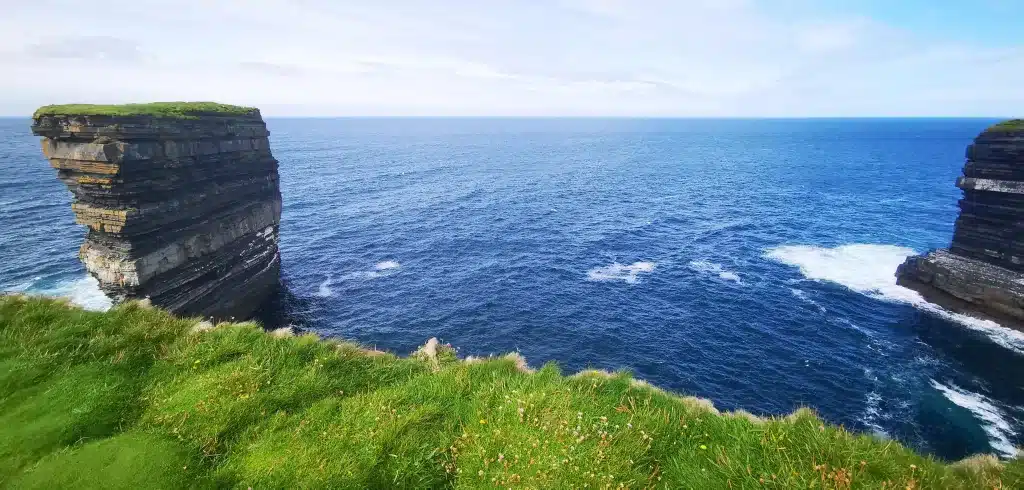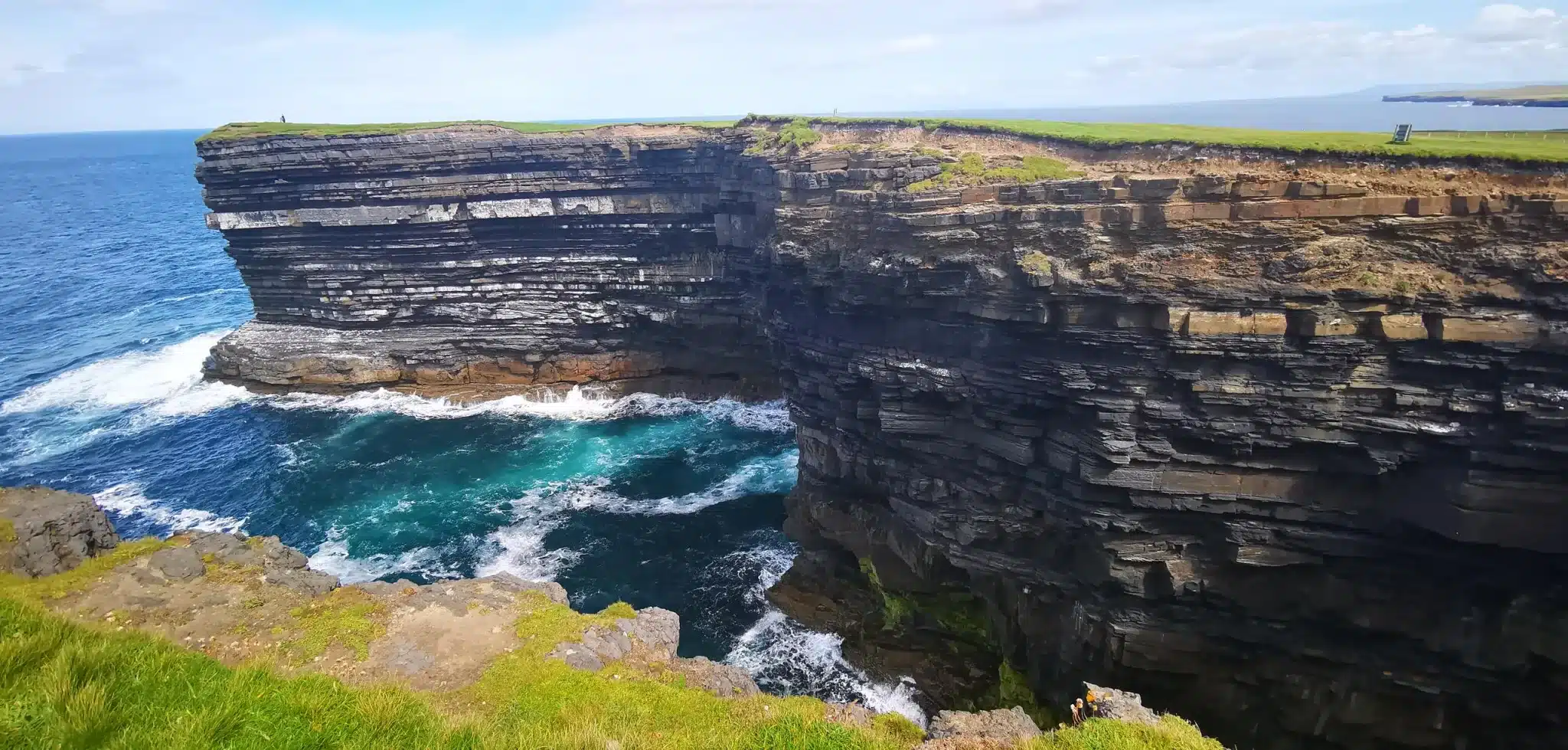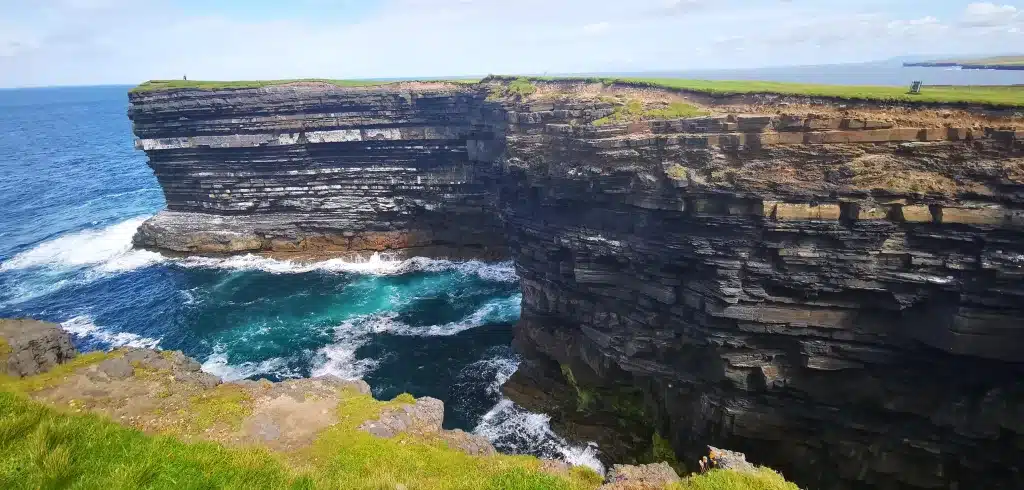 Eire 64 Marker at Downpatrick Head
I stop here and soak up the scenery. As I continue long towards the far headland, I can see large slabs of rock and if I hadn't known in advance what these were, I wouldn't have paid any heed.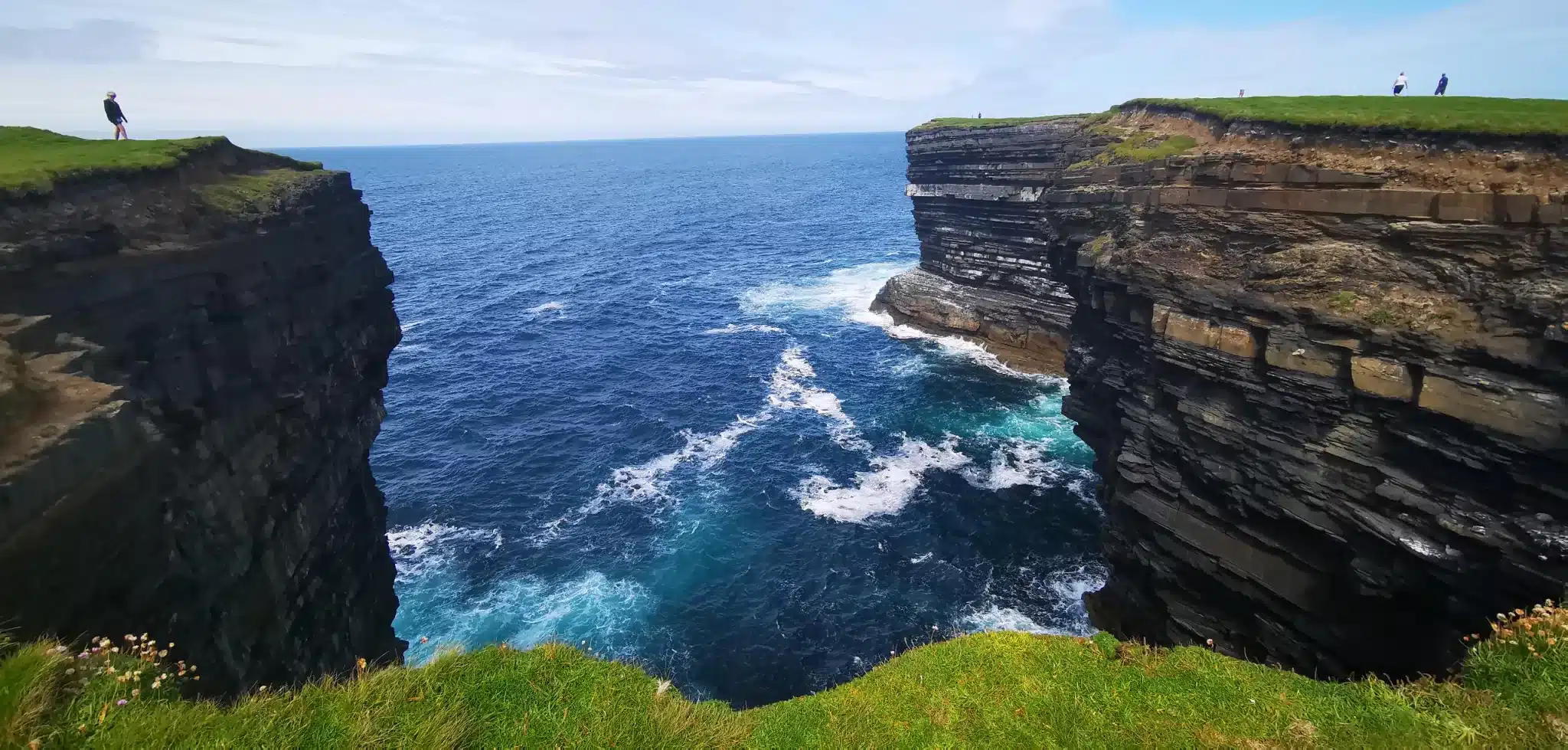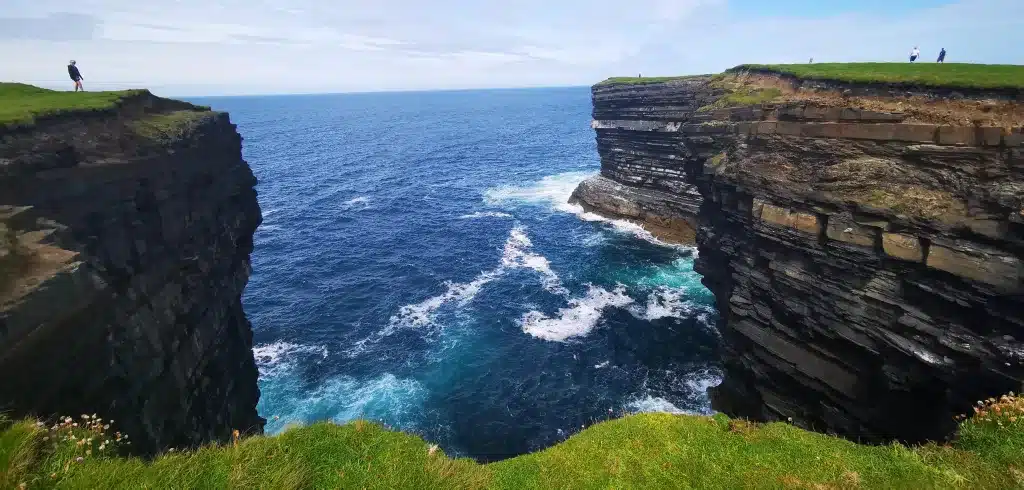 Taking a few steps back reveals the word 'ÉIRE' and then directly behind, the number 64. These markers are very common along the Irish coast, and there are a total of 80 dotted around every major headland.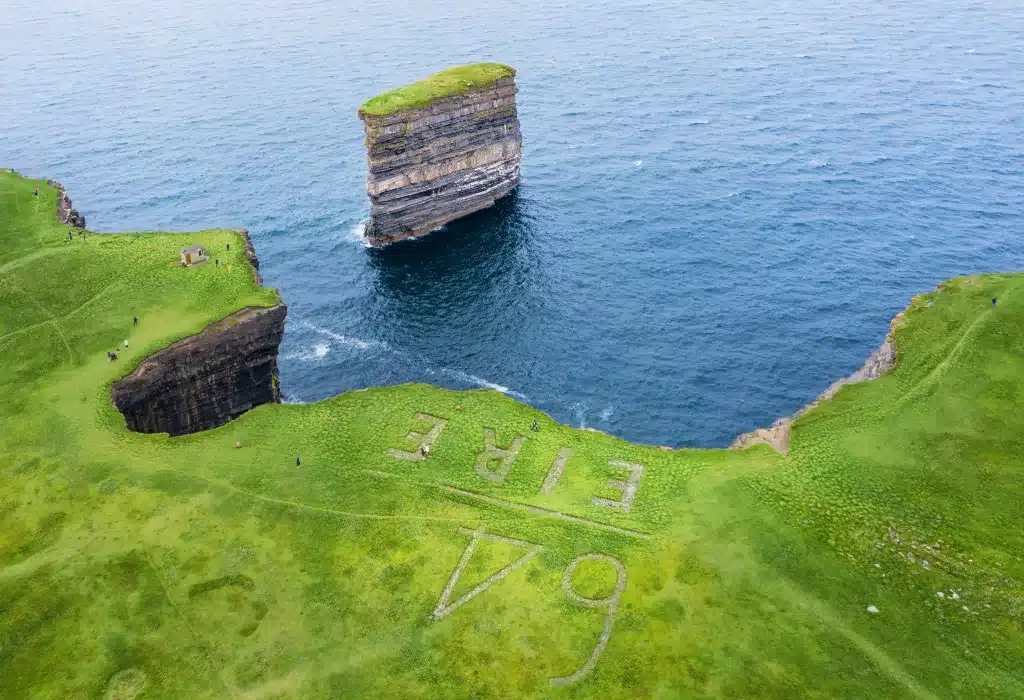 These were markers used to inform pilots overhead that they were in neutral territory, Éire is the Irish word for Ireland. After enjoying even more spectacular views of the cliffs below and a different perspective of Dun Briste, I made my way downslope past the blowhole and over to 'Tea by the Sea' for a hot cup of tea.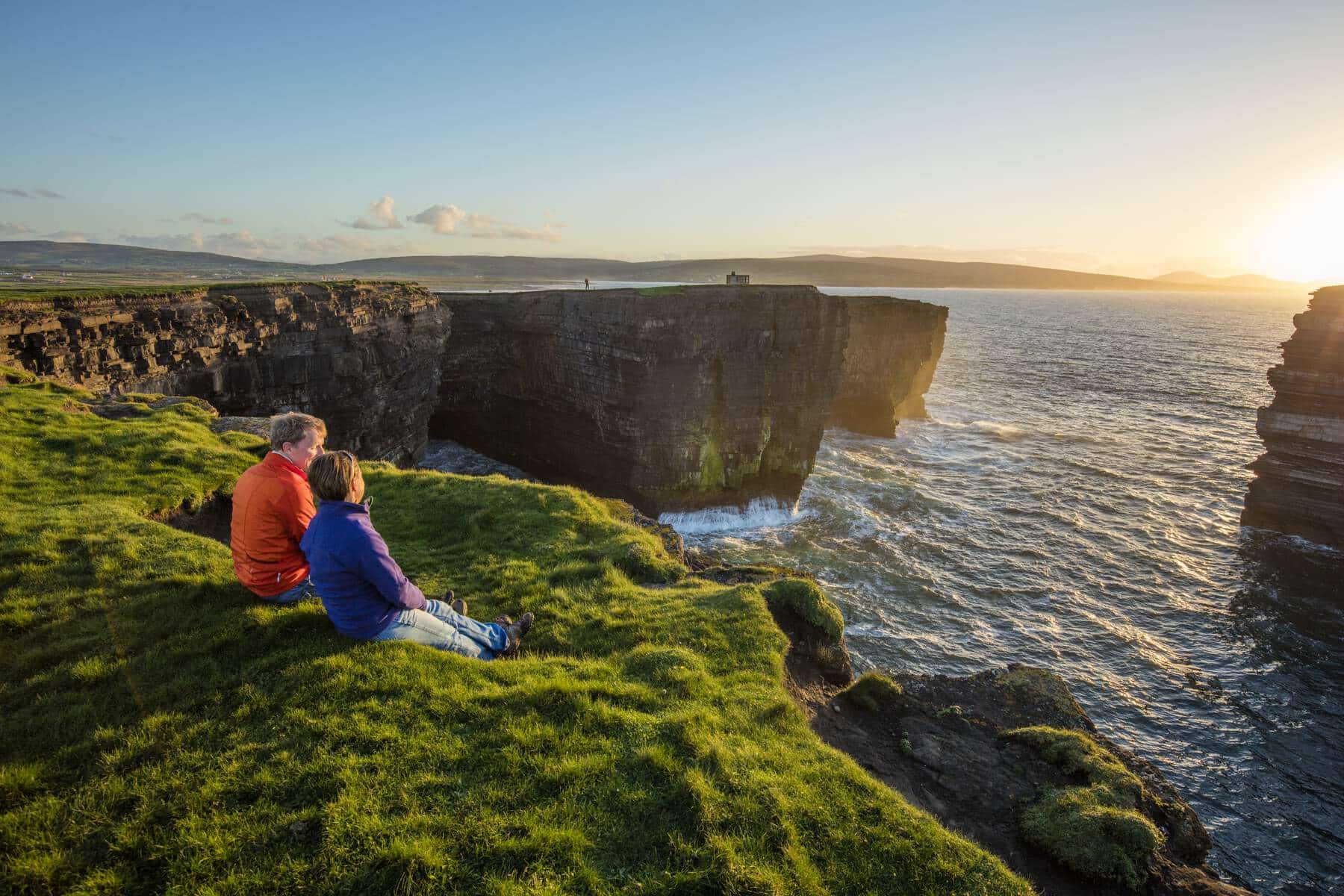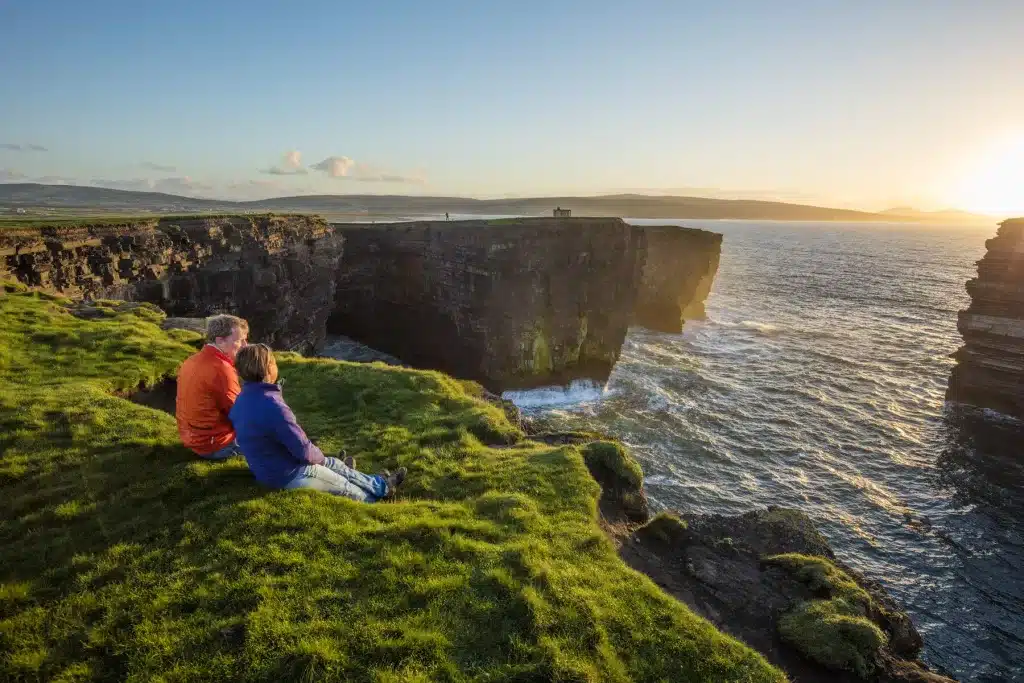 Aerial Video of Downpatrick Head
After all that reading it's time to sit back, relax and enjoy the splendour of Downpatrick Head and Dun Briste, to the beautiful sound of the Irish Uileann Pipes.
Things to do Near Downpatrick Head
Visit Ceide Fields (15 minutes away)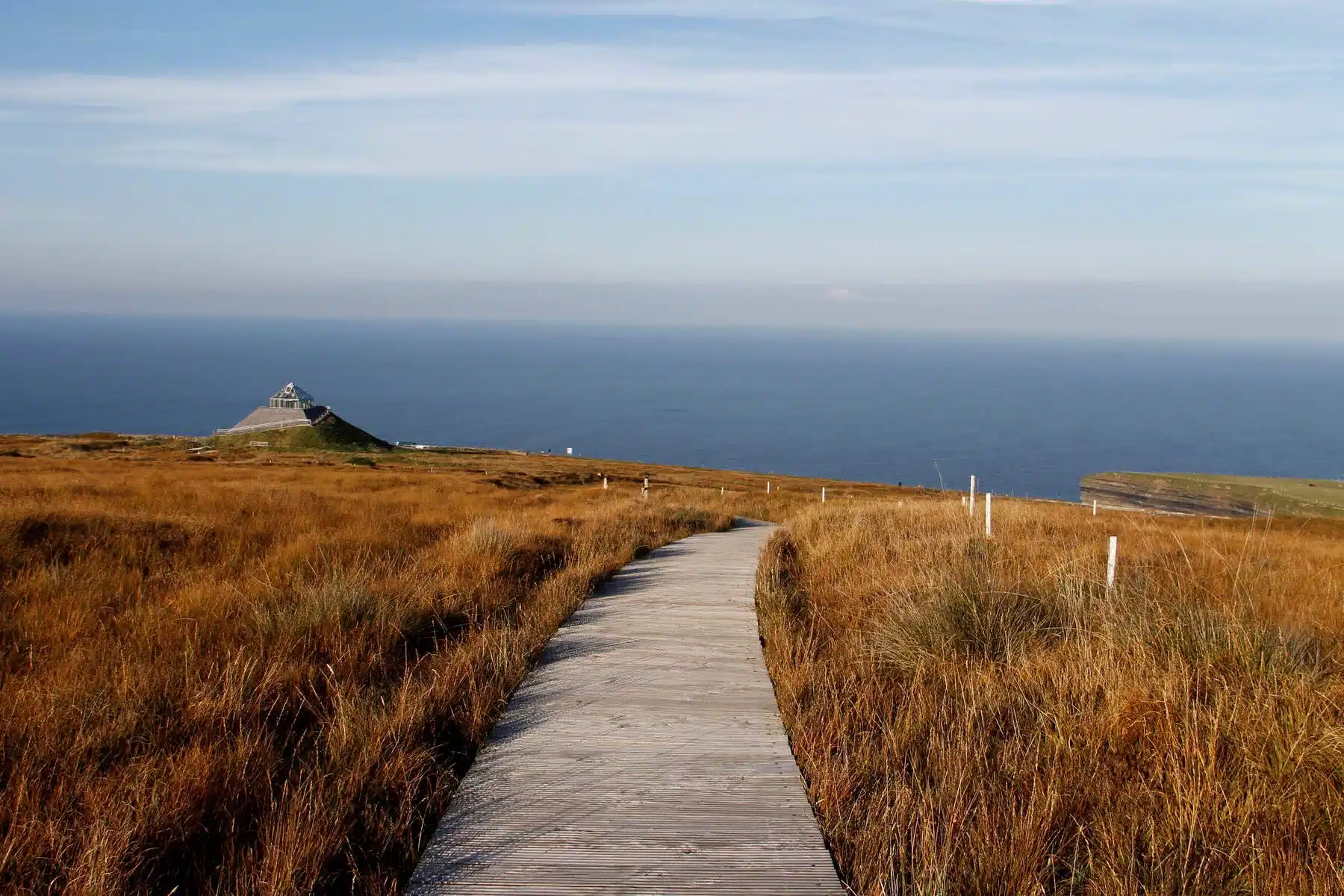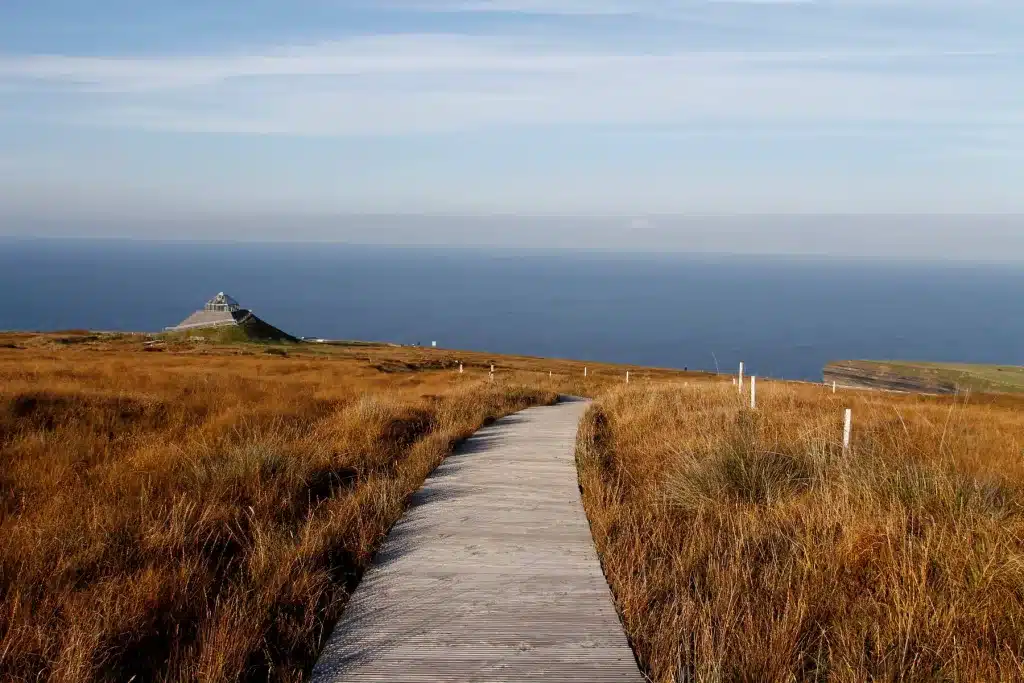 Ceide Fields, located in County Mayo, Ireland, is an archaeological site featuring an extensive Neolithic landscape with well-preserved field systems, stone walls, and megalithic tombs. It provides valuable insights into ancient farming practices and human settlement in the region, dating back over 6,000 years.
It is oldest known field system in the world and was discovered by a local farmer who was cutting his turf here in the 1930s.
Ceide Fields has a visitor centre on site with some interesting exhibitions, which include artist's impressions of how life must have been 6,000 years ago in this location, and lots more. There is also a cafe on site, as well as guided tours to the field system. The centre can be seen from afar because of its unique pyramid shape.
Ceide Fields also enjoys a spectacular elevated position, providing beautiful cliff and ocean views.
Drive Along One of Ireland's Wildest & Loneliest Roads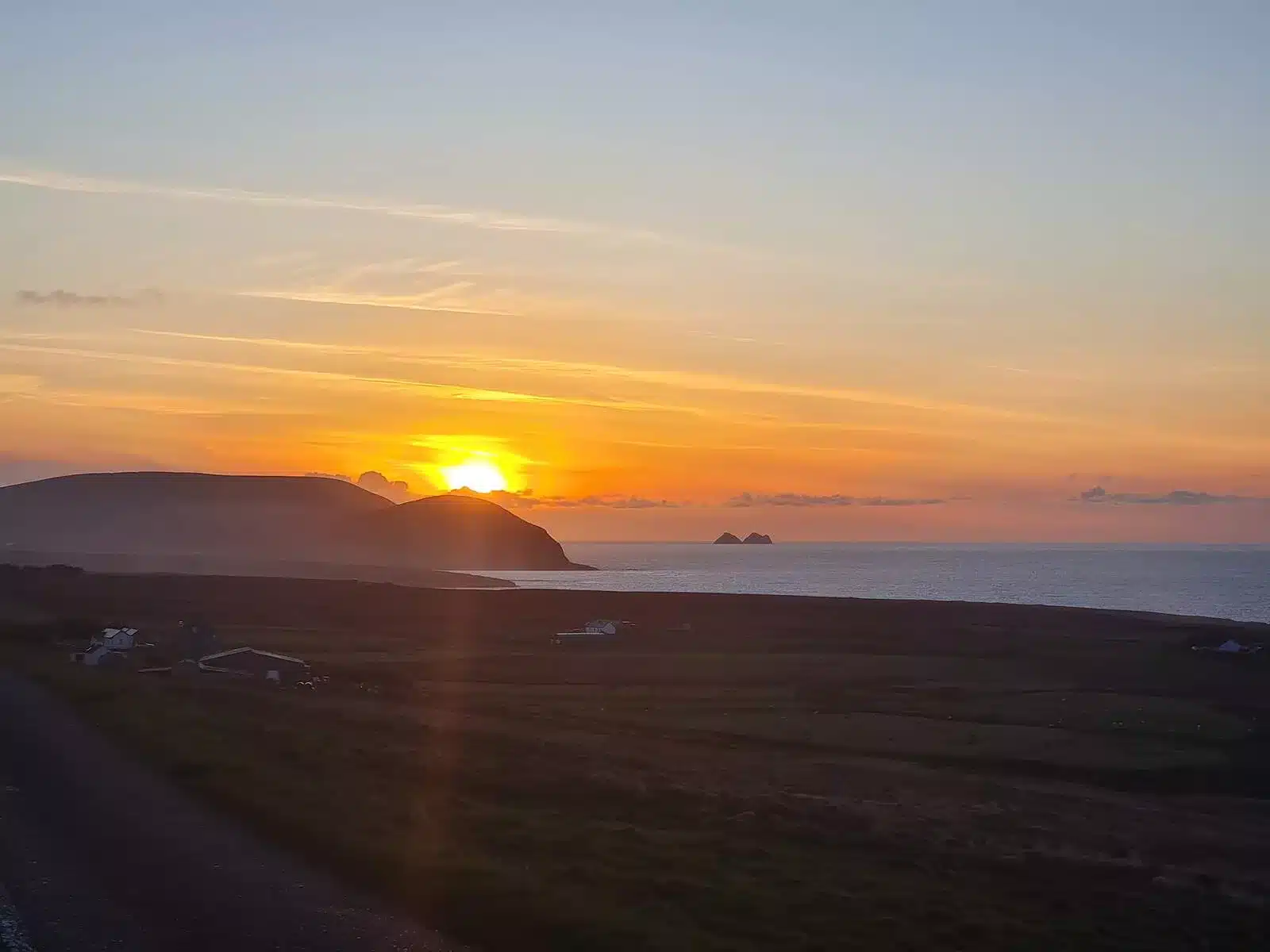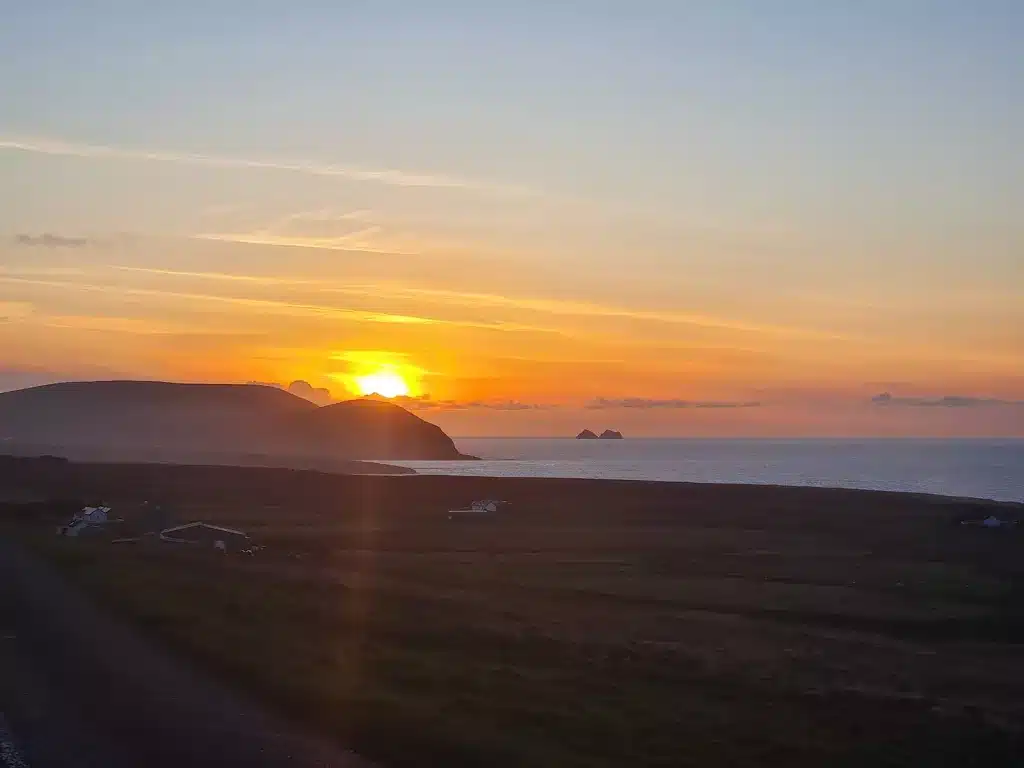 Continuing along the R314 westwards, you'll encounter some truly wild and dramatic scenery. To your right, you'll be treated to some expansive coastal views and to your left, wilderness as far as the eye can see.
At the village of Belderrig, you can continue along the R314, which will eventually bring you to Belmullet. Or you can take a right towards some even more dramatic scenery. Taking a right here will eventually bring you to Carrowteige, an Irish speaking area, and home to one of my favourite coastal walks in Ireland.
Carrowteigue Looped Walk (50 mins away)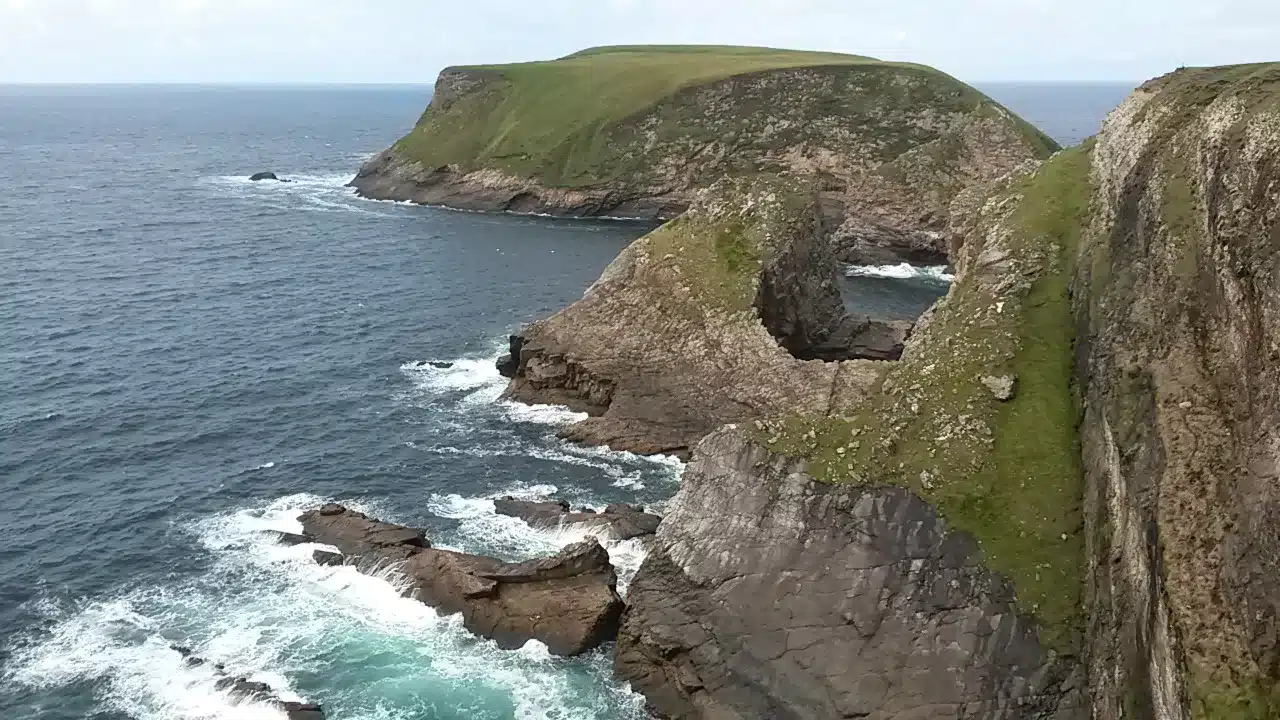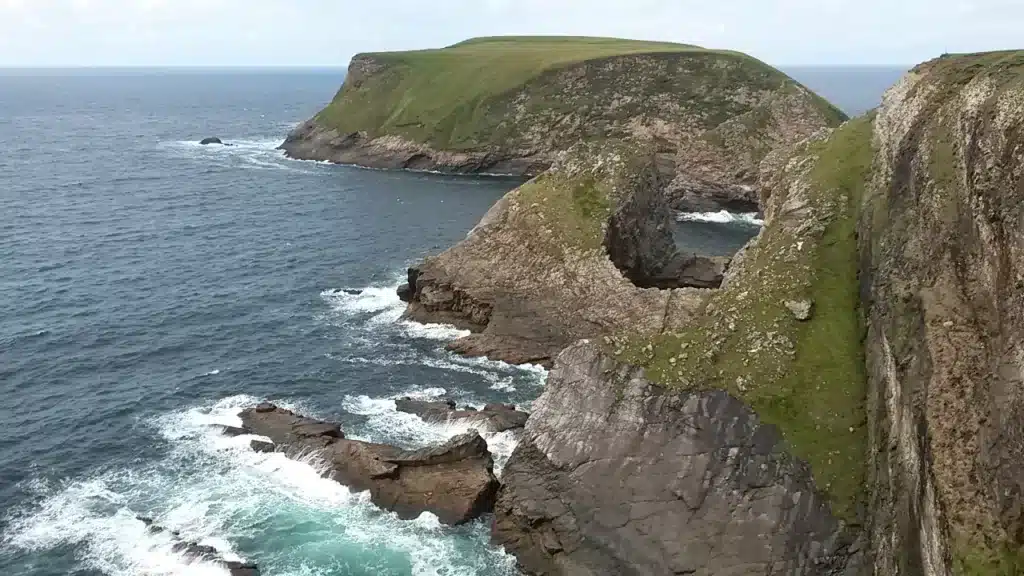 If in the mood for more cliffs and a long coastal walk/hike, then look no further than the Carrowteigue Loop. There is a great variety of walks here to choose from, all of which are listed here. The shortest ranges from 6 km and the longest is 13 km.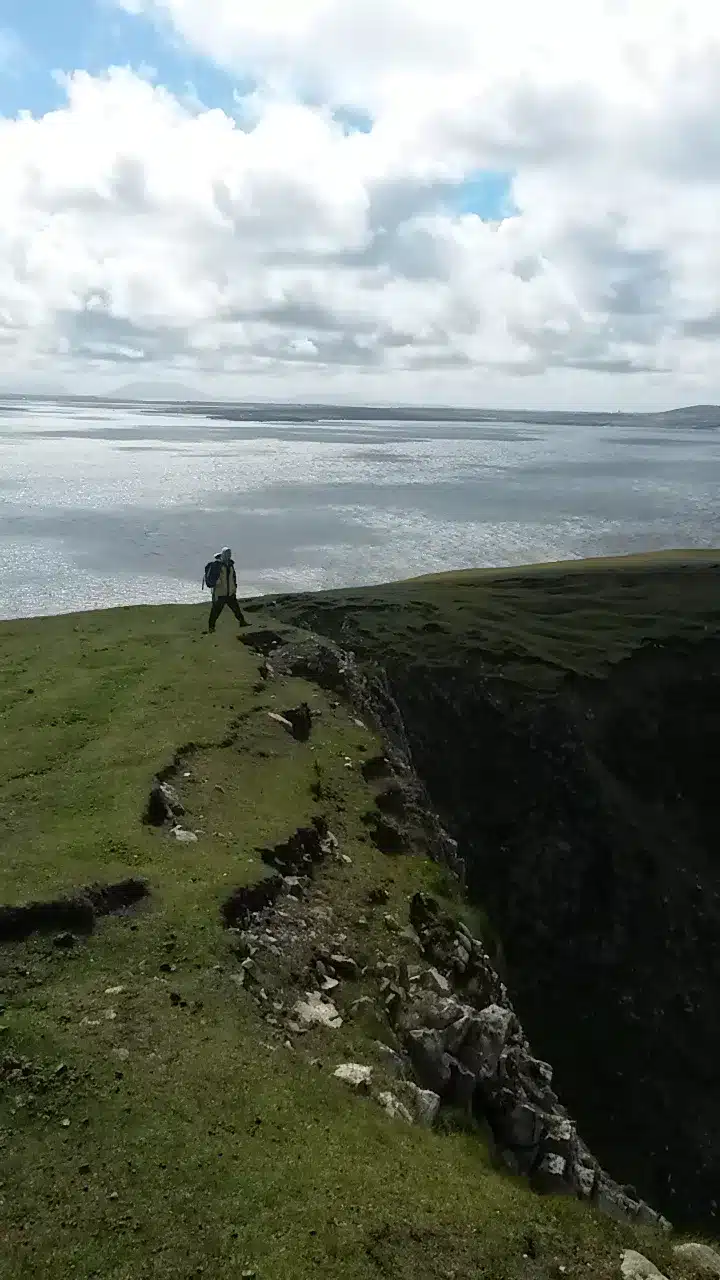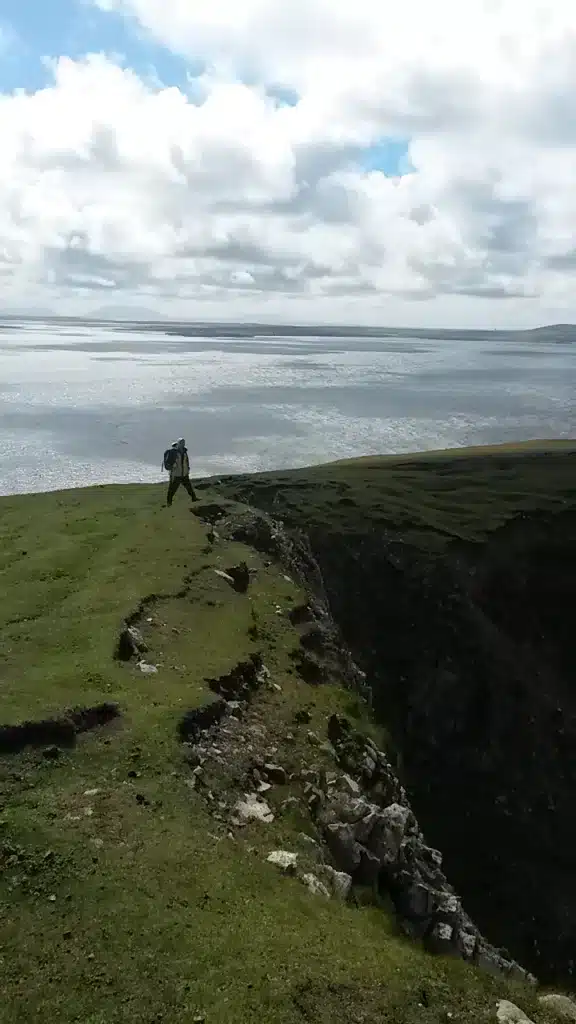 Having completed the longest hike myself, which takes you to Benwee Head (a location most people never even heard of) I was gobsmacked by the coastal views. The cliffs here exceed the great Cliffs of Moher in height by a good 30 metres.
This part of Ireland is a true hidden gem.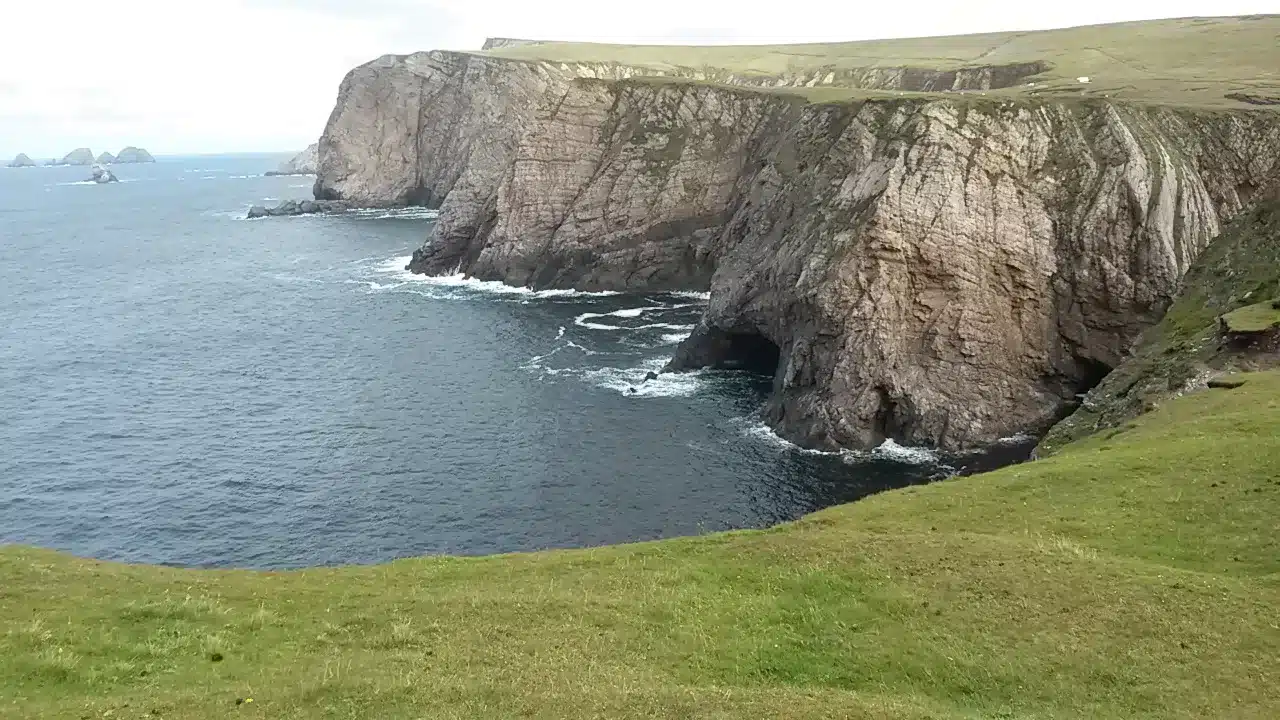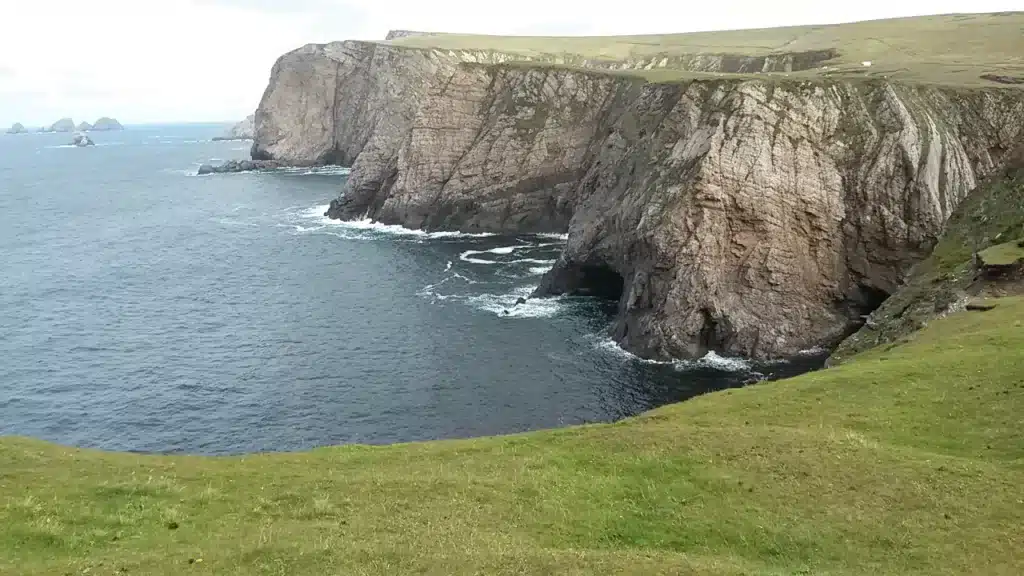 Take a Trip to Ballina, via Killala
Ballina is a picturesque town known for its location on the mouth of the River Moy, which is world-famous for its salmon fishing. It's a popular tourist destination with a vibrant community and various cultural events, including the annual Ballina Salmon Festival.
Ballina is home to the fabulous Belleek Castle, listed on our top hotels in Mayo. On the grounds of this castle are some excellent walks, for young and old. During Halloween, the woods are tastily decorated and is a huge hit for the kids. The woods, by the way, are incredibly atmospheric around this time of year.

Killala is a small coastal village, known for its historical significance, including the 1798 Rebellion and the nearby Killala Bay. Its focal point is the magnificent 26-metre high round tower, which along with the harbour in the background, provide some beautiful photo motives.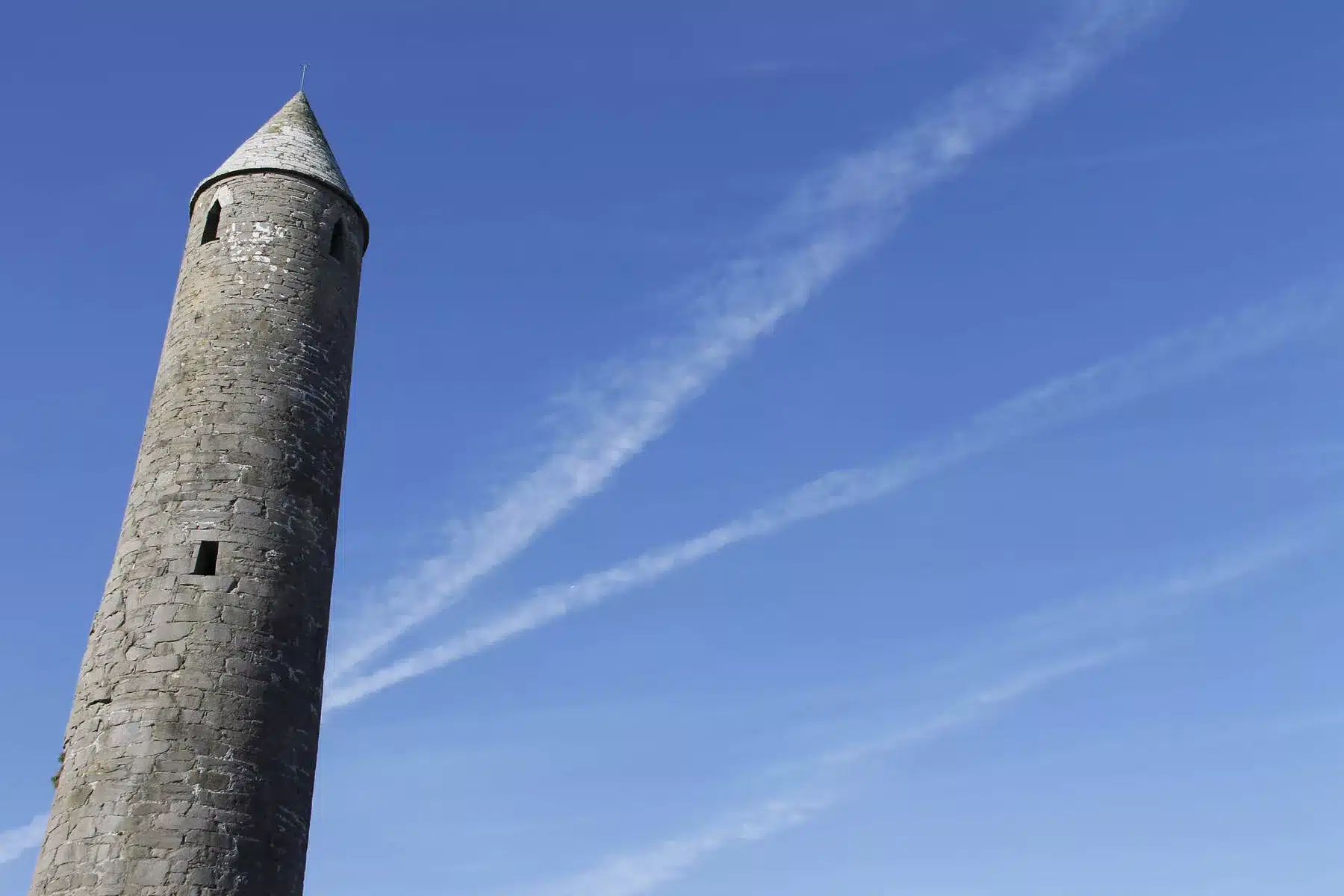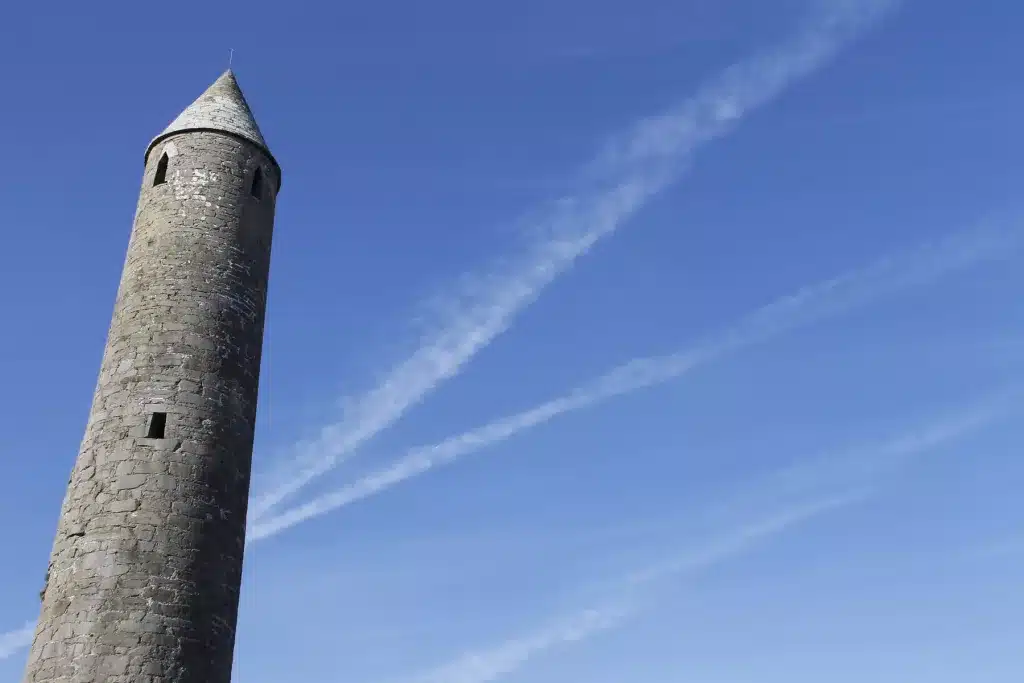 Your Questions About Downpatrick Head Answered
Is Downpatrick Head Worth it?
Downpatrick Head is a stunning coastal landmark in County Mayo, Ireland, known for its breathtaking coastal scenery. Visitors find it worth the trip due to its dramatic cliff scenery, historic ruins, and the iconic Dun Briste sea stack. If you appreciate nature, photography, and exploring unique landscapes, Downpatrick Head is definitely worth a visit.
How was Dun Briste Formed?
During an altercation between St. Patrick and the pagan chieftain, Crom Dubh, Patrick stamped his crozier on the ground, causing the headland to break off from the mainland, leaving Dubh trapped. However, the more likely explanation originates from a storm in 1393, which caused the sea arch to collapse, forming Dun Briste, and leaving people isolated on the stack. They were then rescued using boats and ropes.
How High is Dun Briste?
Dun Briste is 45 metres in height and lies 80 metres offshore. Its unique appearance is characterized by strata, layers of limestone rock dating back 25 million years, along with a patch of grass at the very top.
How do I Get to Dun Briste?
Because of its very remote location in North Mayo, you'll have to drive by car to the parking area, which is within 10-15 minute walk of the attraction. The good news is that there is ample parking.
Final Thoughts
Downpatrick Head is a special place and a real treat for anyone who appreciates dramatic coastal scenery. Add the historic elements of St. Patrick and the WWII markers and you have a brilliant overall natural attraction.
Have you been there yet? Let us know below and if you have any further questions, we'd be delighted to help.