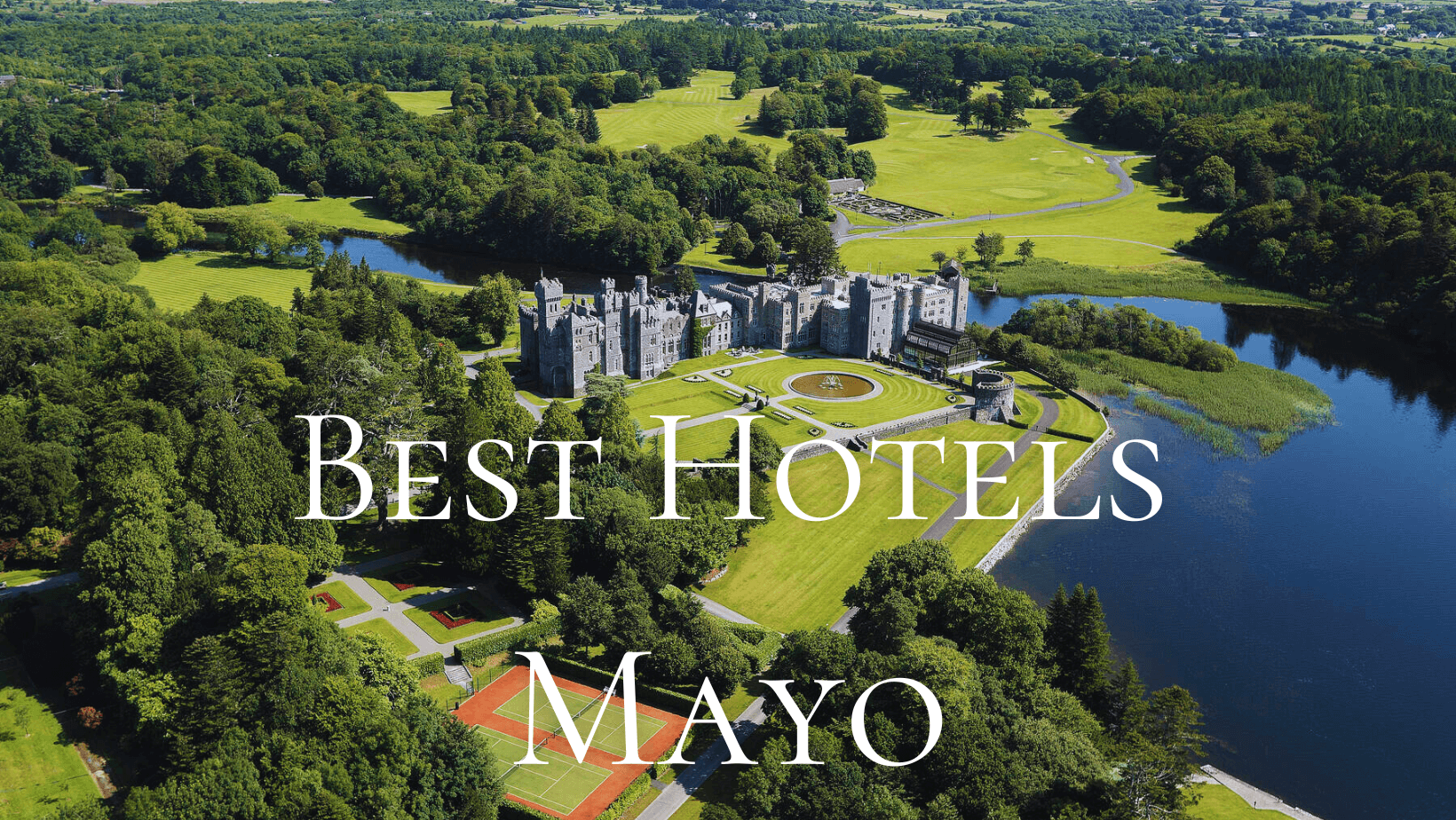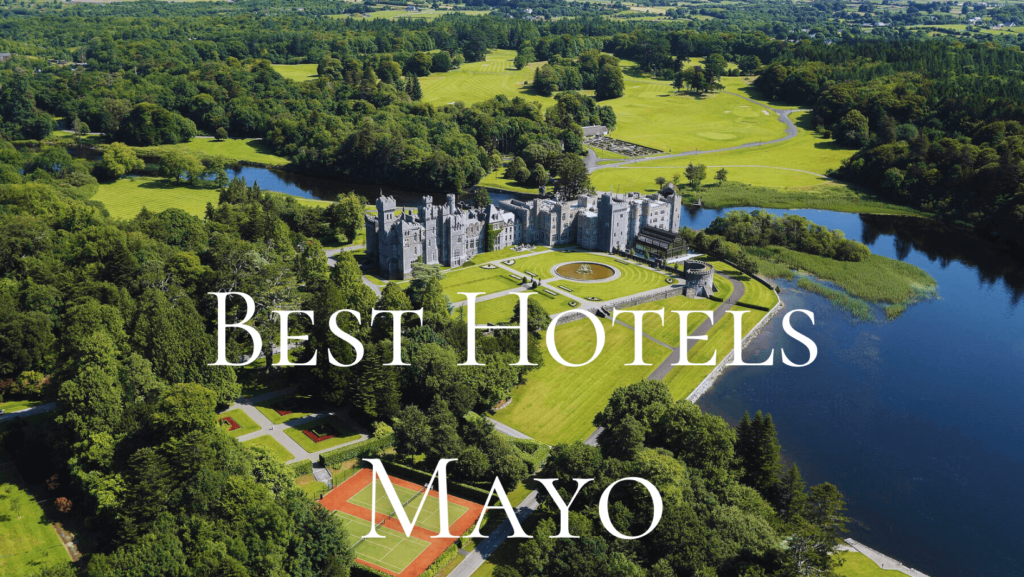 If you are considering vacationing or staycationing in Mayo this year, our comprehensive hotel guide should help you make up your mind on where to stay.
County Mayo is known for its stunning, untouched and highly varied scenery, offering visitors a huge range of outdoor activities and scenic sights, from world-famous beaches to awe-inspiring hikes.
Luckily, I hail from the county of Mayo, so I'll be my advice is based on first-hand experience of having stayed in the majority of these hotels down through the years.
Our guide is going to cover what we believe to be the best hotels in County Mayo. We'll look at the 3 main towns, namely Castlebar, Ballina and Westport and then give you some local advice on other great places to stay in the county.
Note: I work hard putting these free guides together for you. If you click on the links provided, I may get paid a small commission, at no extra cost to you! Thanks a million for helping offset the monthly costs of running this site.
Tips For Using This Guide
This is a very detailed guide, designed to help you make the best decision on which hotel to choose in Mayo.
We highly advise reading our first-hand reviews in detail, but if time is of the essence, here is a summary of our best choices for County Mayo:
Our Top Choices for Westport
Our Top Choices for Ballina
Our Top Choices for Castlebar
Other Regions of Mayo
Our Favourite Hotels in County Mayo
Ashford Castle/The Lodge, Cong: One of the world's great hotels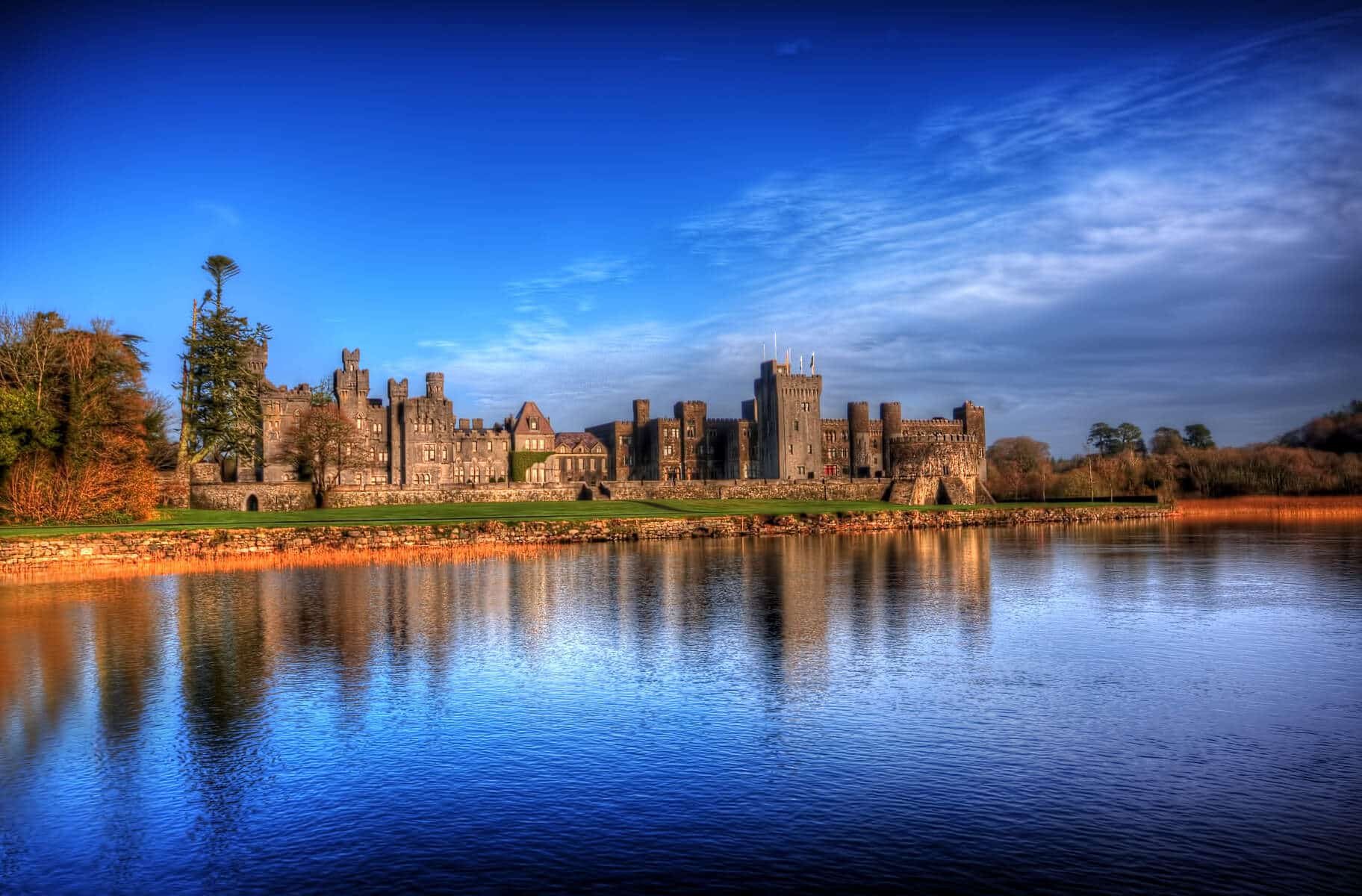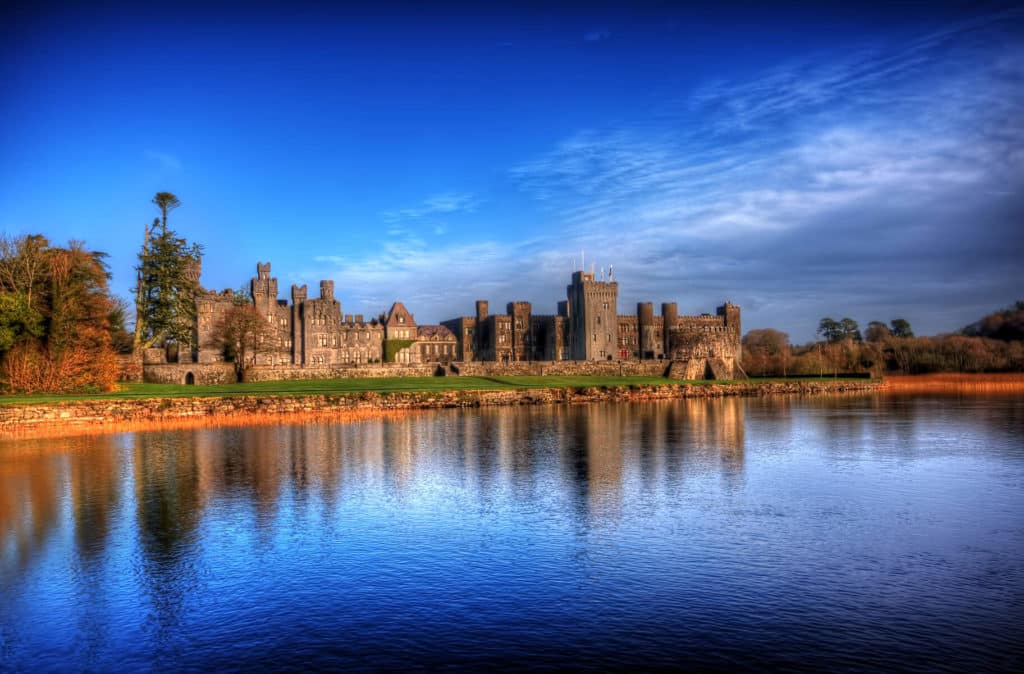 Some years ago I was lucky enough to have stayed in easily the greatest hotel I have ever been, Ashford Castle. To stay in a place like this is a once-in-a-lifetime experience and leaving was no easy task!
Ashford Castle is simply an extraordinary hotel that captures the essence of luxury, history, and natural beauty. Located in the stunning landscape of South Mayo, this 800-year-old castle stands proudly on the shores of Lough Corrib, surrounded by enchanting woodlands and picturesque gardens.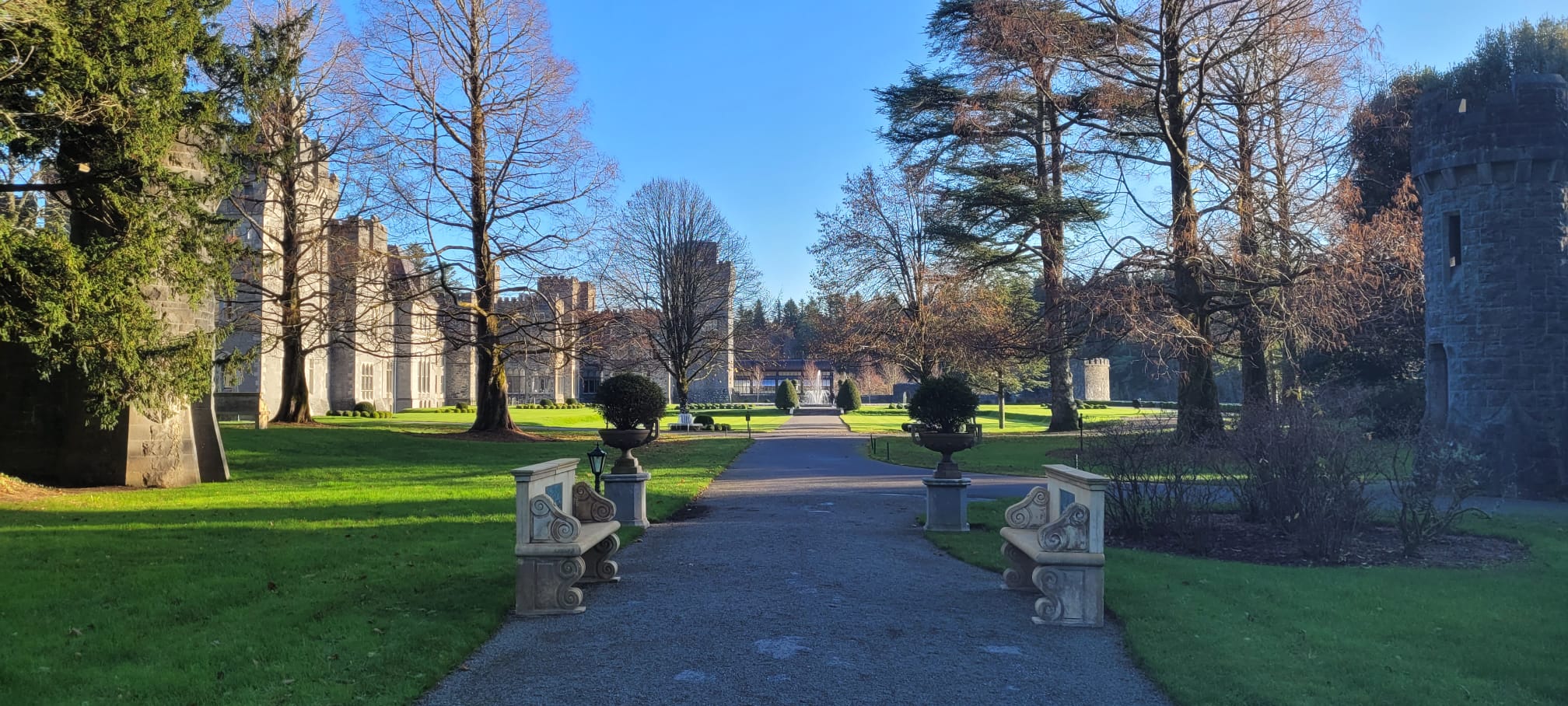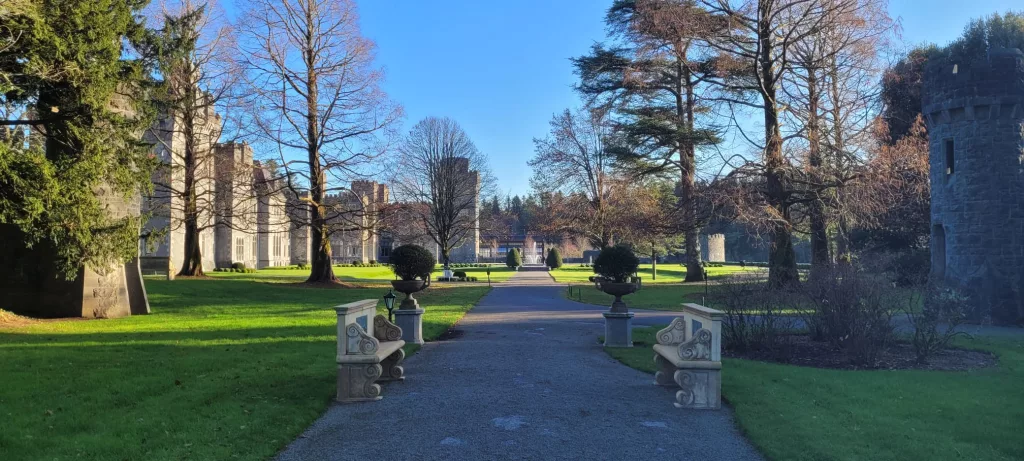 Once a home to the Guinness family, the hotel and grounds cover a massive 350 acres, on which you'll find a golf course, beautiful walks and a whole host of other activities to choose from, from falconry to tennis.
There are 7 restaurants in the castle, the stand-out being the George V. And Gentlemen, a dinner jacket will be required for this particular dining room.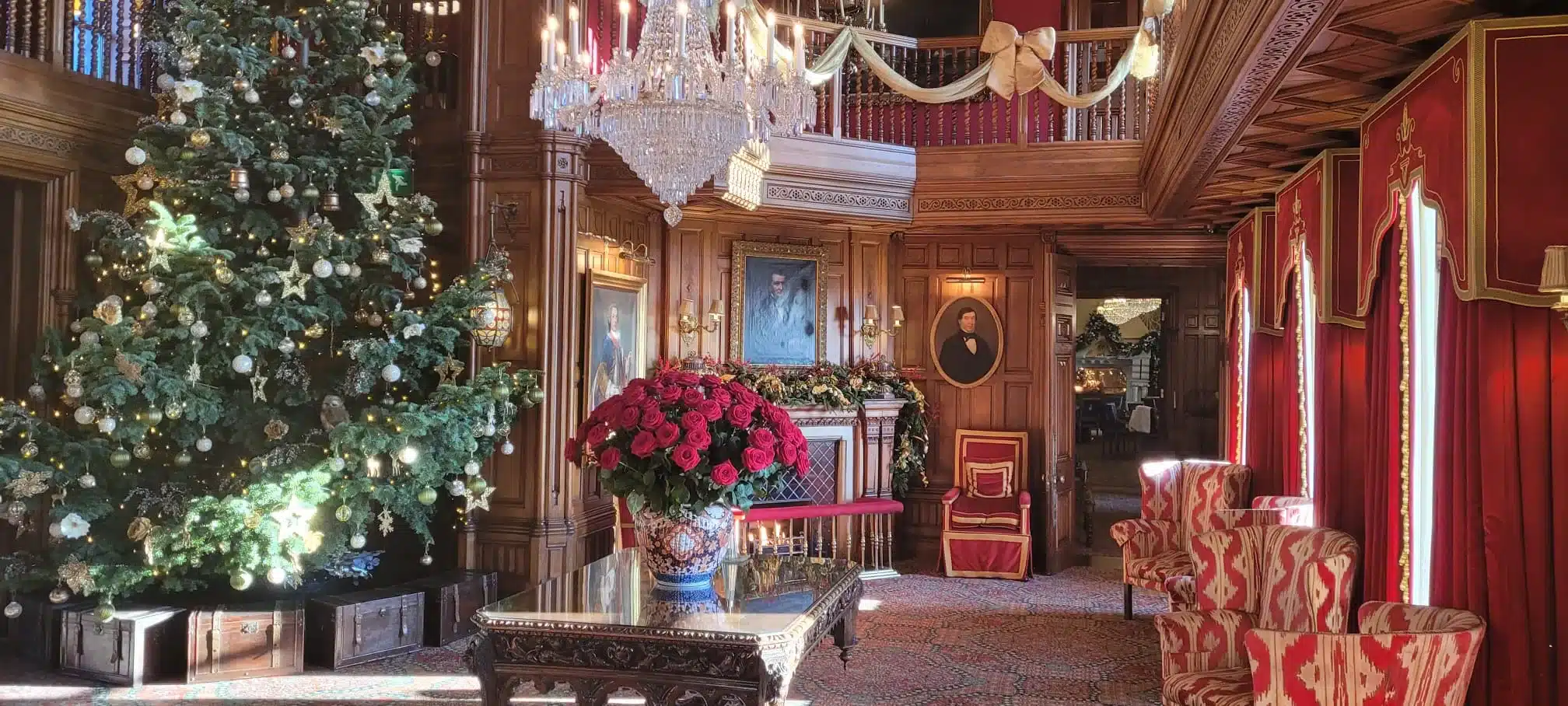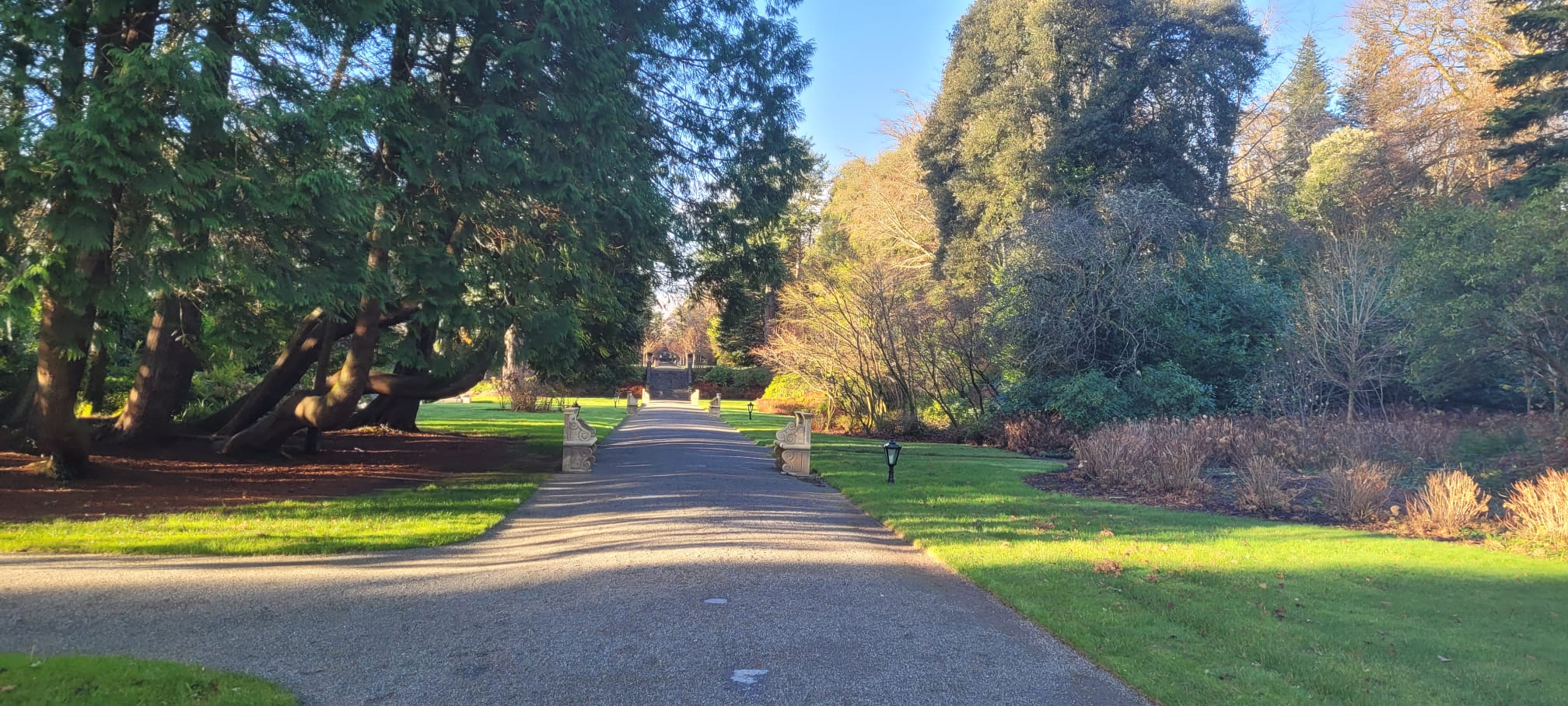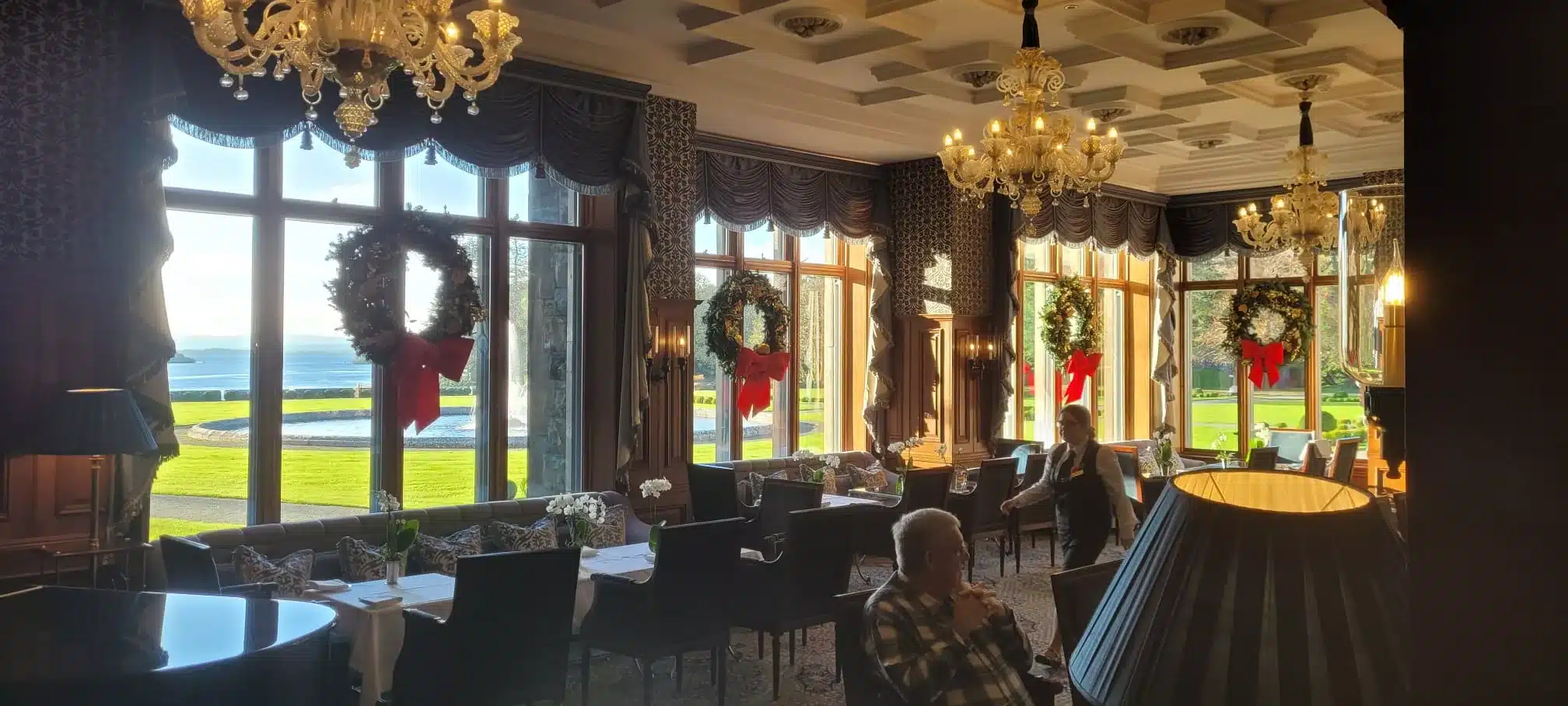 images: sweetisleofmine.com
Ashford is a place for a very special occasion. For those of you who have always dreamt of staying in a fairy tale Irish castle, you'll find it hard to beat this remarkable hotel.
Here you can see prices for Ashford Castle.
If you have had a scan around for prices and your eyes nearly jumped out of your head, welcome back!
There is an alternative option to the castle: The Lodge. This is located next to Ashford Castle and you have full access to the grounds of the castle and activites.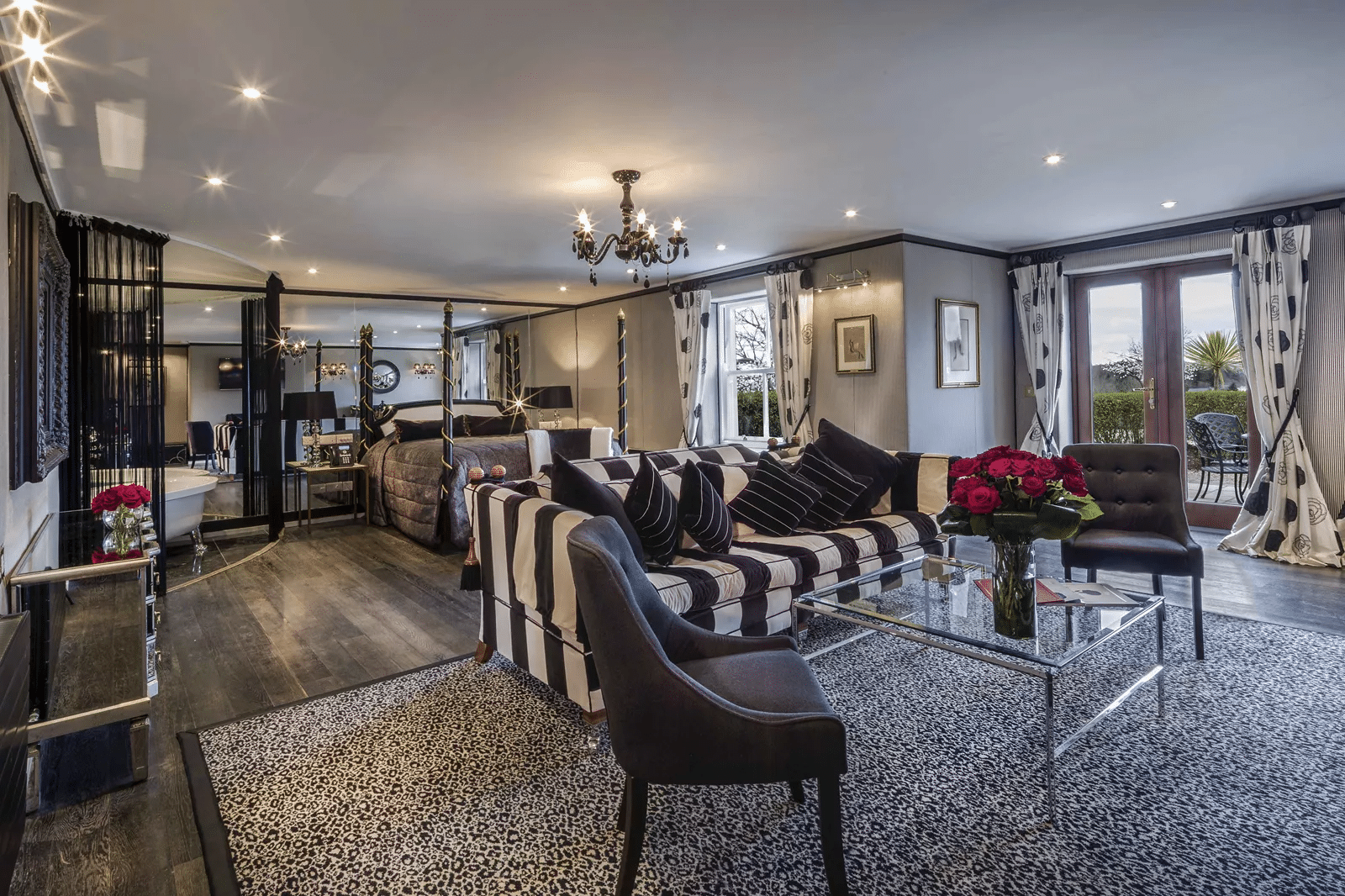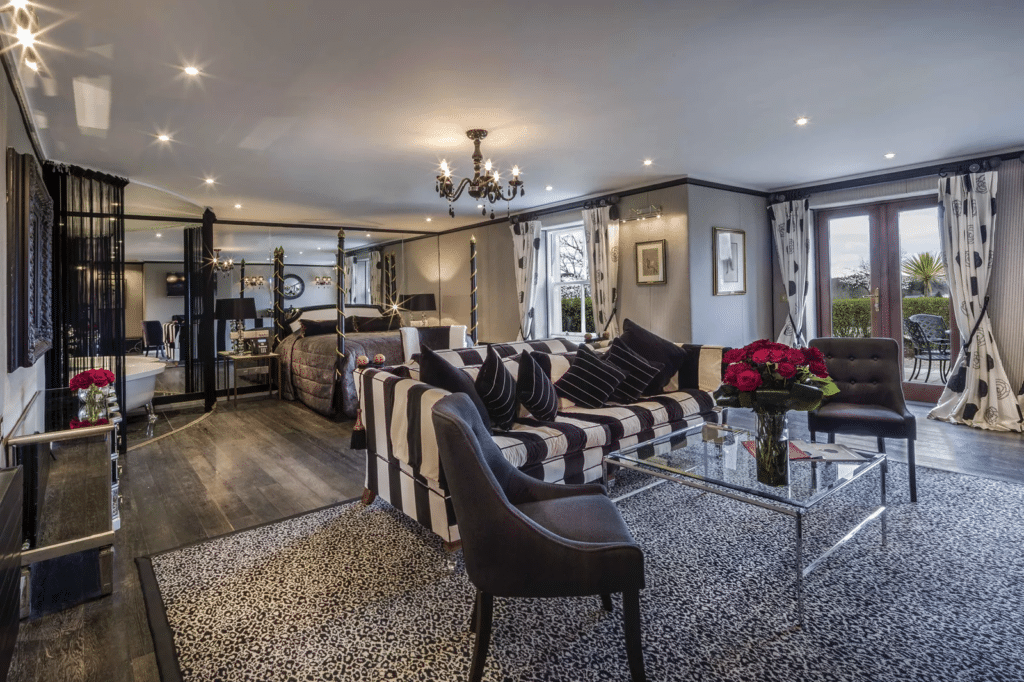 The Lodge is a cheaper option than a night in the hotel, while also offering that same luxury and comfort, all at a more reasonable price.
You'll find more photos and rates here
The Westport Plaza: Great for facilities & families, town centre location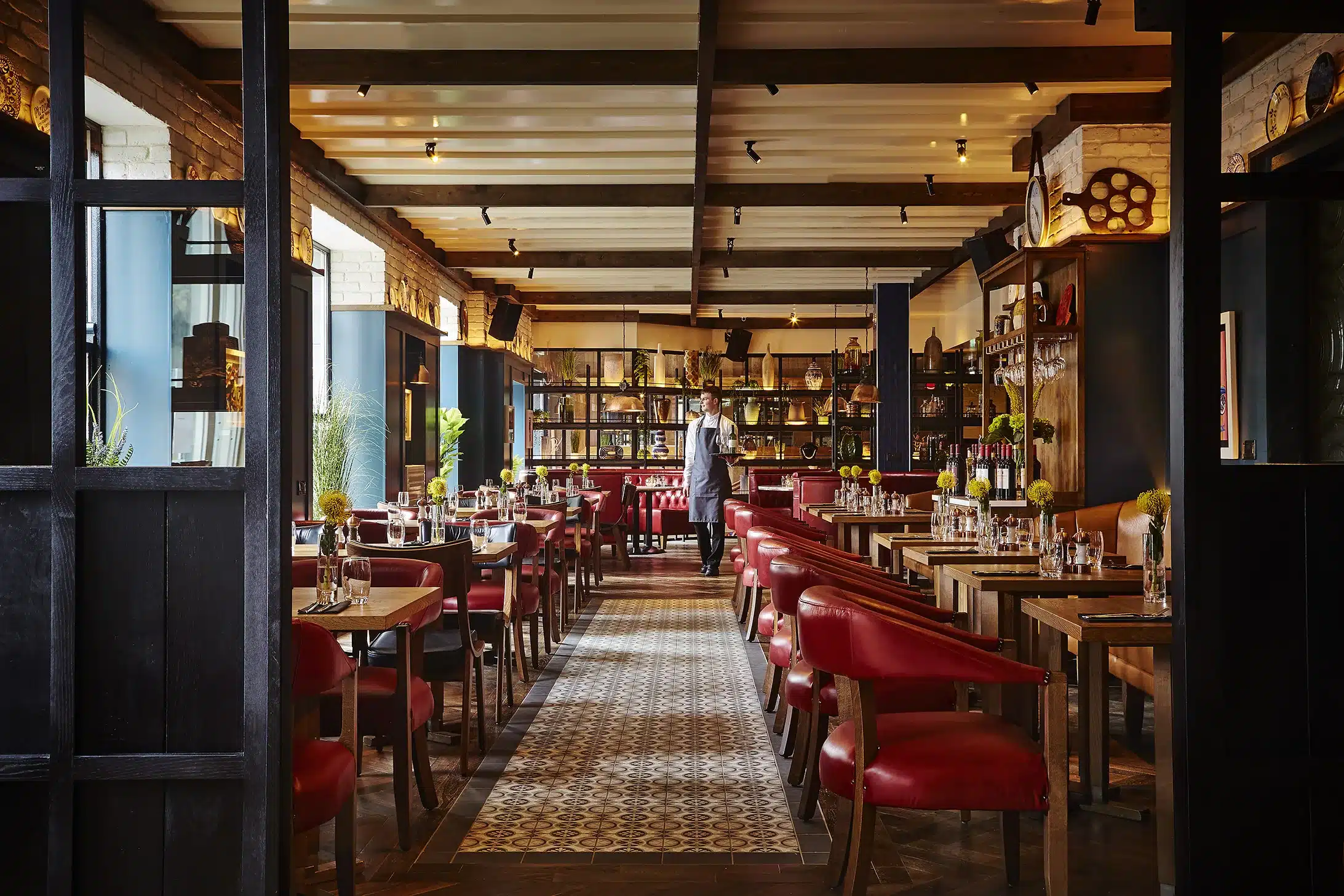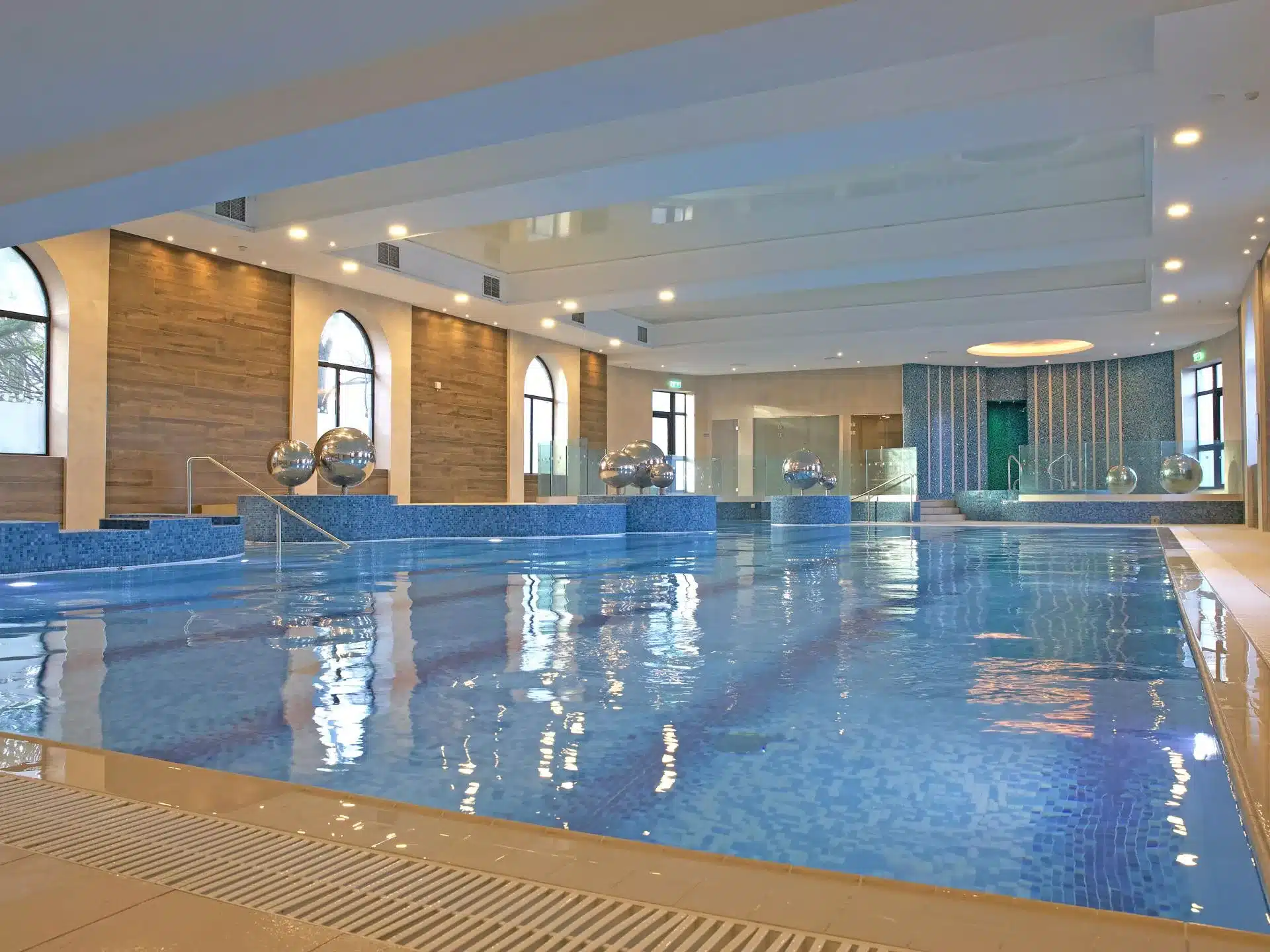 Westport has a fine selection of hotels, most of which we will cover in this post, but for me the stand out is the Plaza.
Loacted next to its sister hotel, the Castlecourt, this perfectly located, modern hotel provides a great blend of modern decor and brilliant facilities.
The 'Covey's Gastrobar' serves up some delicious meals in a New York style setting, while the 20 metre pool along with kids pool will keep everyone happy on a damp day.
You get some good rates here midweek in the off-season and during the summer it's worth keeping an eye out for some last minute availabilities.
You'll find more photos and rates here.
The Castlecourt, Westport: Great for comfort & elegance, town centre location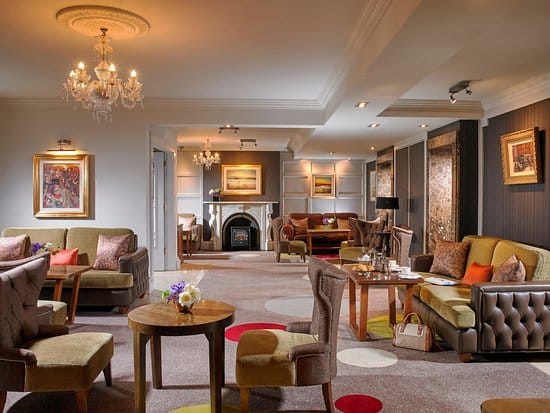 Located right next door to the Plaza in Westport, the Castlecourt shares the same leisure facilities, often at a reduced rate. This is one of the best known hotels in Mayo.
Almost an institution now, this hotel continues to provide its guests with high quality, comfortable accommodation, along with great food and very friendly, helpful staff.
Having stayed in the hotel countless times down through the years, it has always been a very pleasant experience.
The homely bar gets quite lively when live music is being played or if you need to just relax after a day on Croagh Patrick with a quiet pint, the foyer has some comfortable seating in a relaxing setting.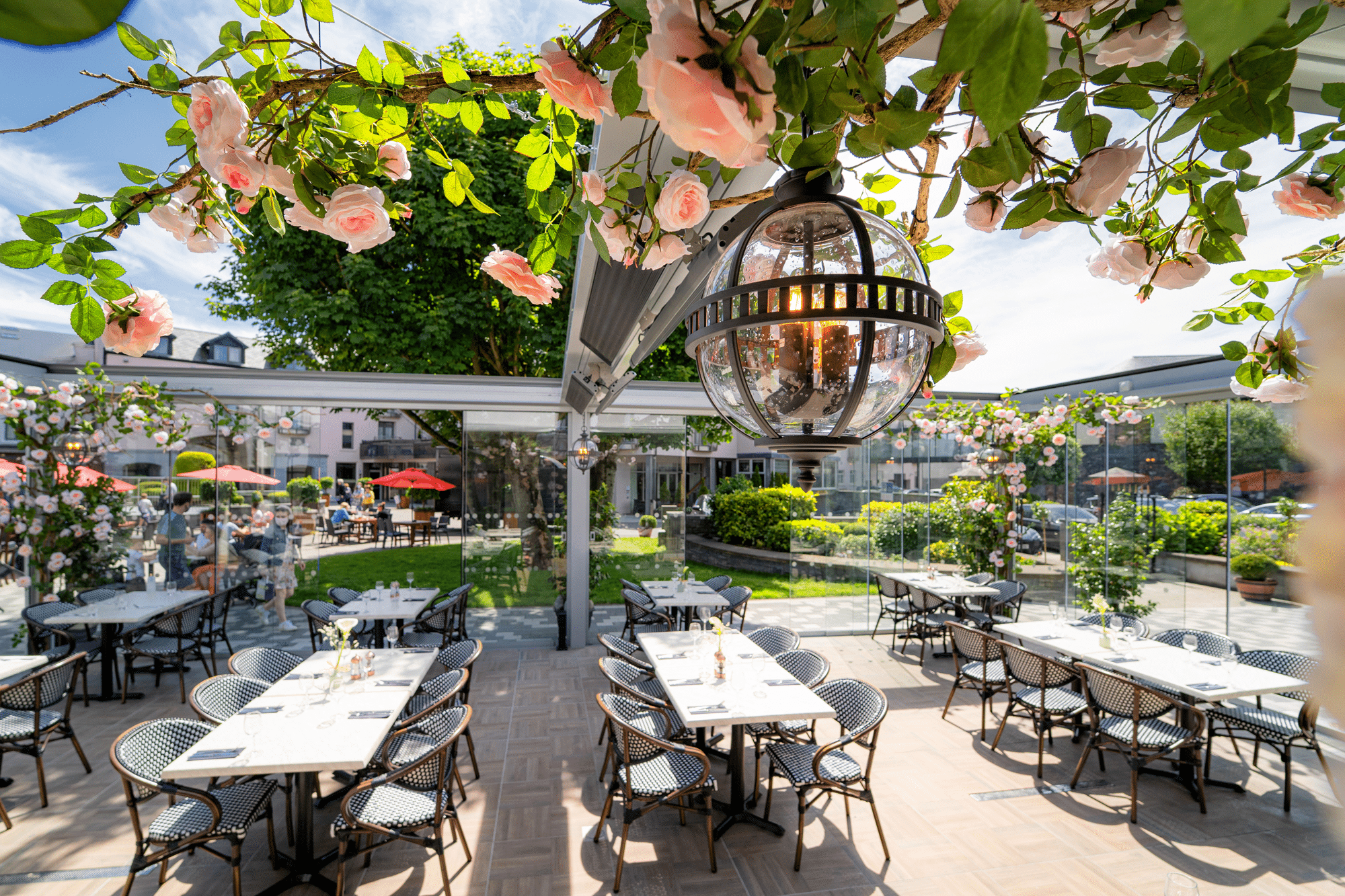 The restaurant we also definitely recommend if not keen on going into town and finding a table (this can be a challenge in Westport in summer)
You'll find more photos and rates here.
Mulranny Park Hotel: Great for coastal location and incredible views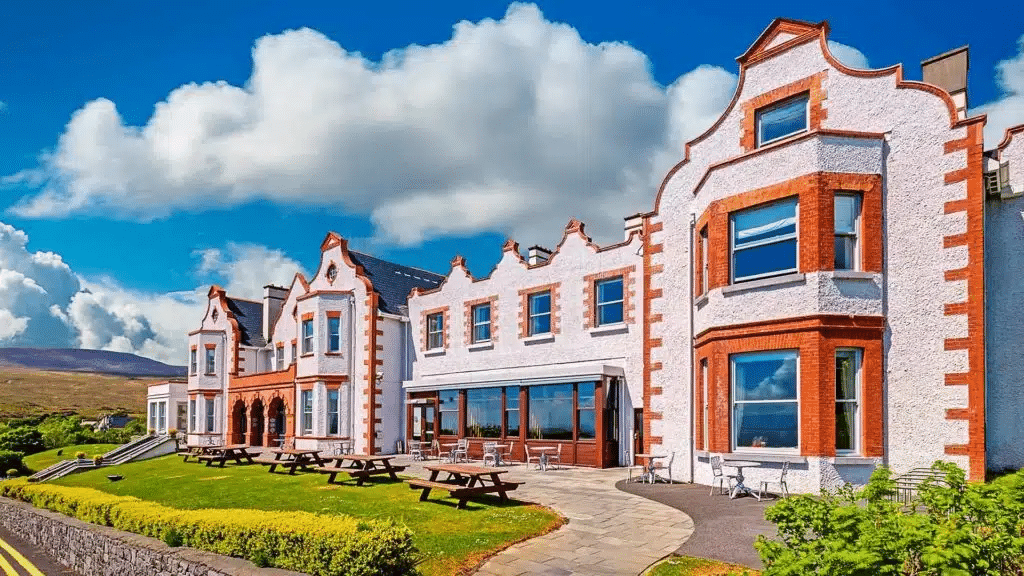 Located in my own personal favourite village in County Mayo, Mulranny, this is a wonderful hotel with incredible views and a fascinating history. It's also located directly beside Ireland's longest cycle route, The Greenway.
The Mulranny Park also has an indoor pool and gym which residents and non-residents (for a price) can avail of.
There are some amazing views over Clew Bay from most of the rooms and a very inviting patio to the front to enjoy a cool drink on a warm summer's evening.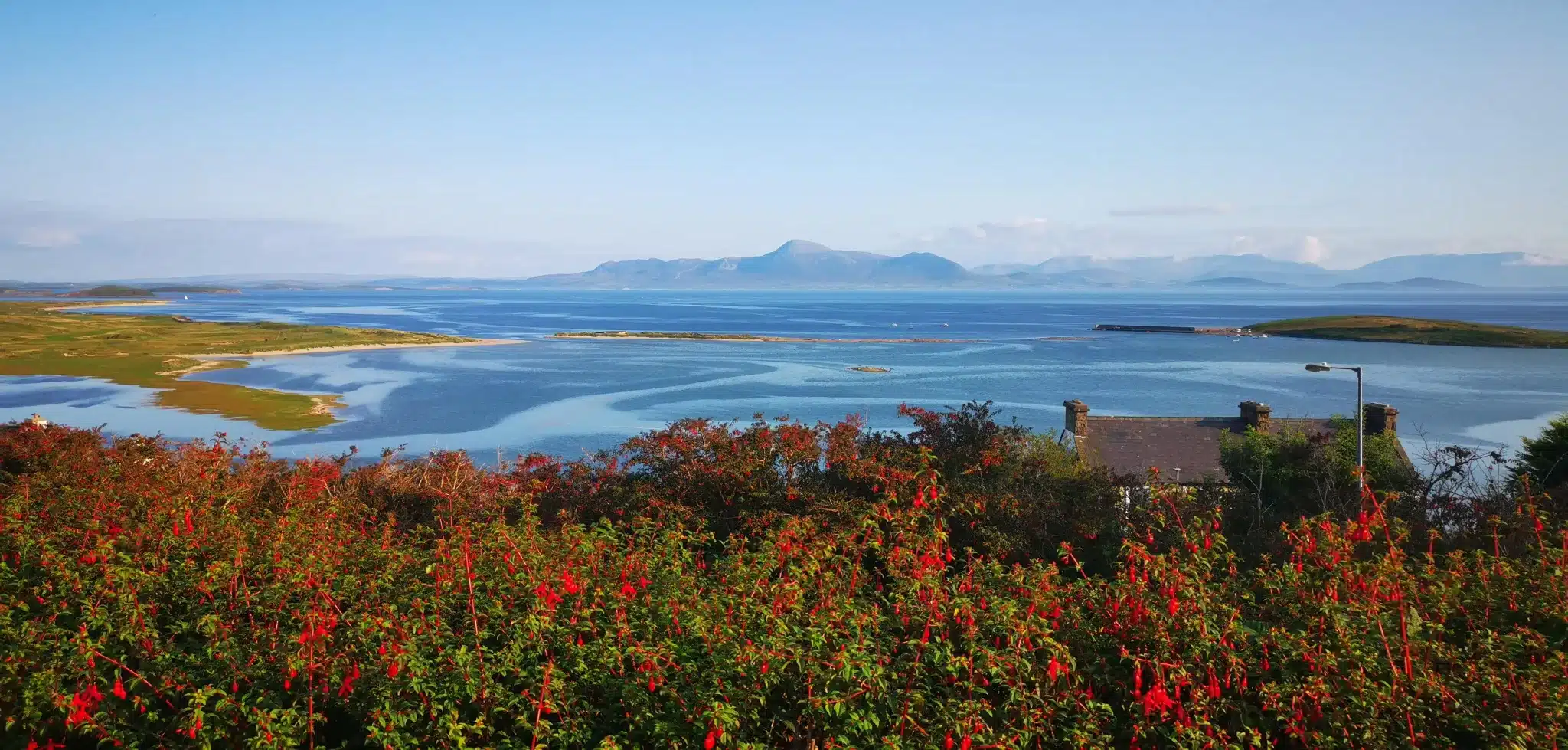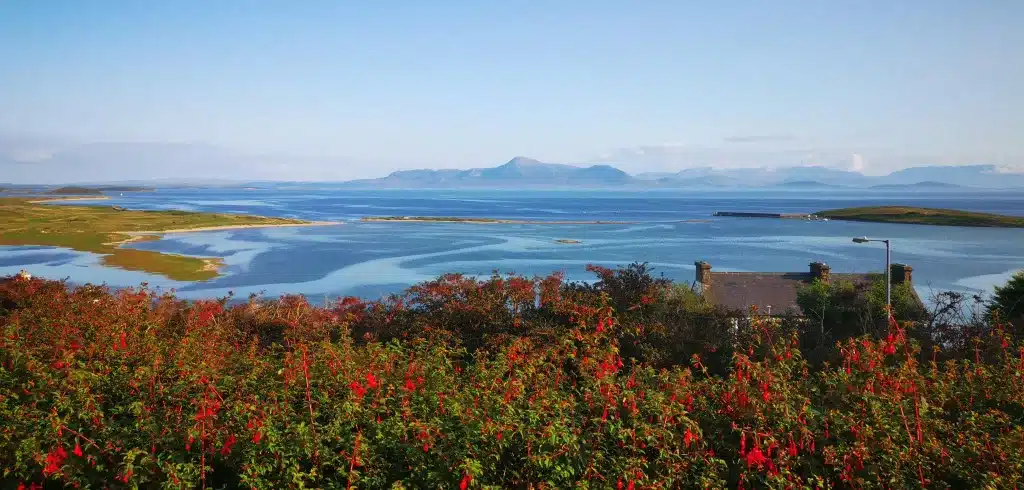 The restaurant/bar area is very cozy, as well as the Nephin restaurant, offering some tasty local dishes in a great setting. Maybe the 'John Lennon Deluxe Room' is available?
You'll find more photos and rates here.
Our Favourite Hotels in Westport
Aside from the 2 hotels mentioned above, namely The Plaza and The Castlecourt, here is our choice of the best hotels in Westport:
Best Luxury Option: Westport
Knockranny House Hotel

Located on a hilltop overlooking the magnificent Clew Bay and Croagh Patrick, this hotel is ideal for a romantic getaway or simply just to treat yourself to something special. Knockranny is on the upper price scale, but if you look at mid-week rates, you can save up to 25% in comparison to the weekend.
Located just outside the town, but within a few minutes' walking distance of everything, this hotel has a large range of facilities to keep you relaxed on your luxury getaway. The Italian style 'Spa Salveo' with its extensive list of treatments plus thermal suite offer ultimate wellness and relaxation.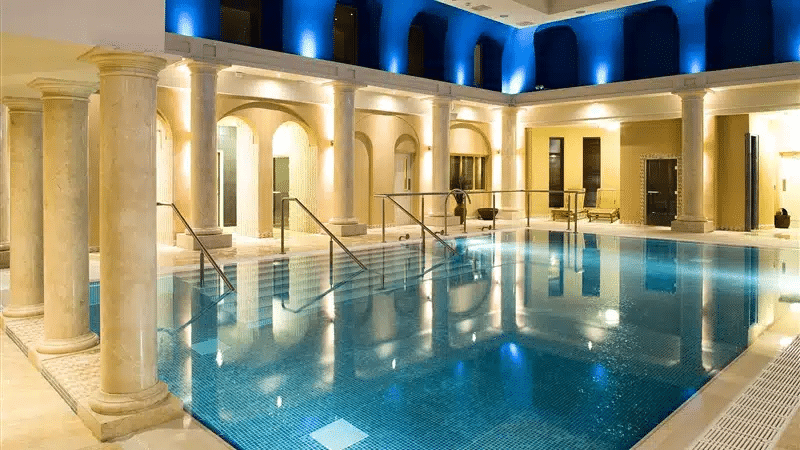 For me personally, one of the highlights of this hotel is the restaurant: La Fougere. There are not many restaurants in Ireland which provide such a stunning view, coupled with fantastic, multi award-winning cuisine.
I have enjoyed this restaurant multiple times and it's a place for those extra special occasions in life. The Brehon bar next to La Fougere also offers a some tasty bar food in a relaxed setting, and the staff are always very accommodating and friendly.
You'll find more photos and rates here
Best Mid-Range Option, Westport
Westport Coast Hotel: Great for seaside location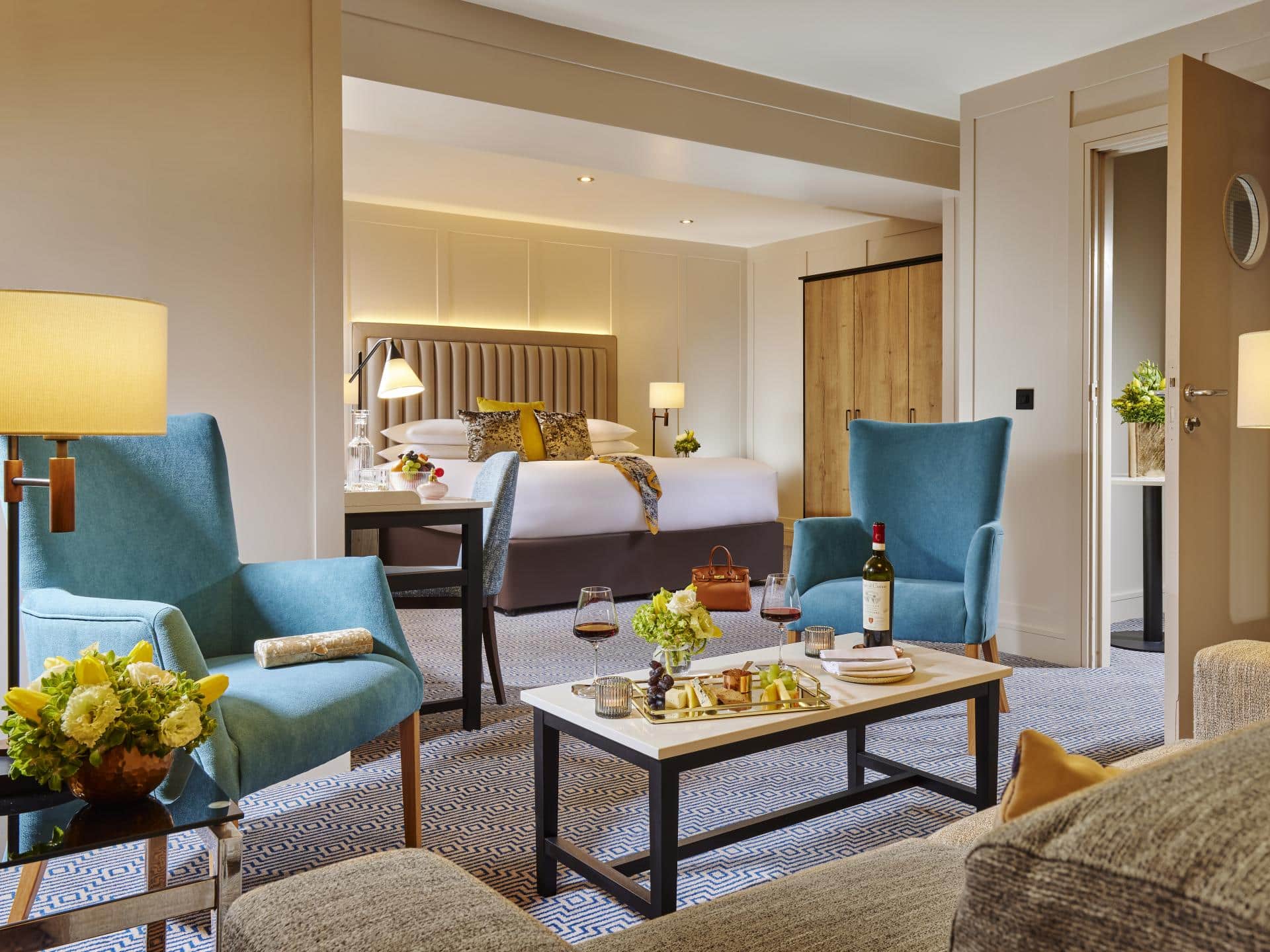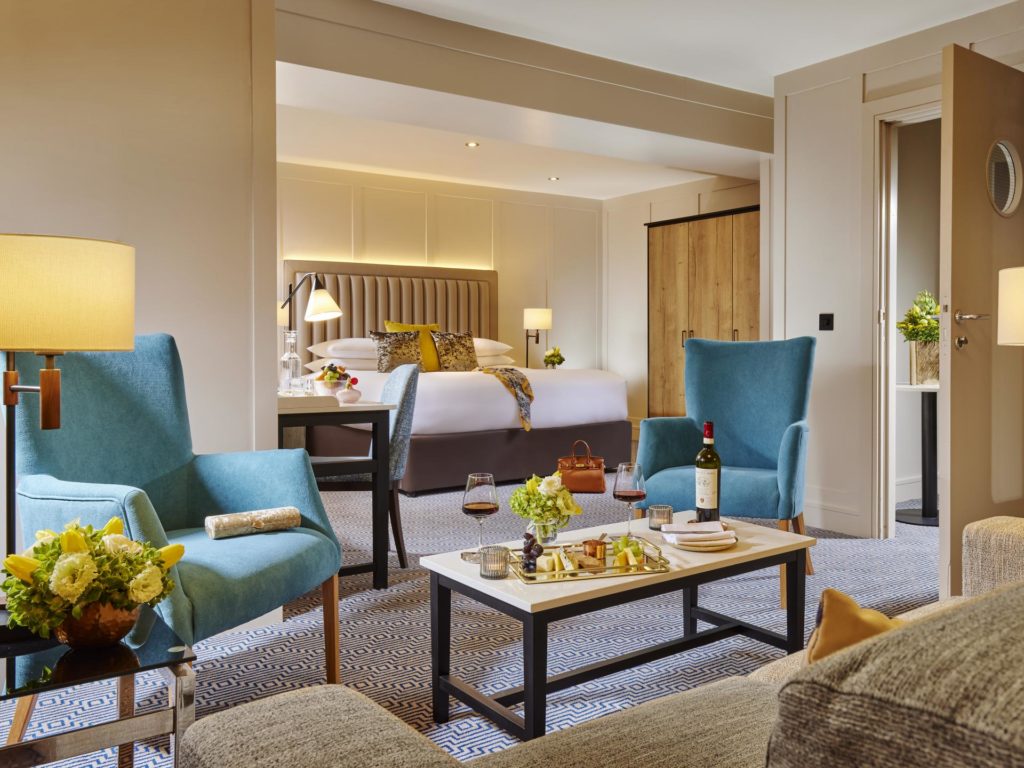 Although located on the Quays in Westport, approximately 2-3 kms from the town centre, don't let this put you off. The hotel is located next to Westport Harbour and en route to Croagh Patrick, Clew Bay and its magnificent beaches.
The Quays in recent years has almost become its own little village with some great places to eat, such as 'The Helm' and the popular coffee shop/bistro 'The Creel'.
In the summer months, the Quays is bustling with visitors enjoying '99' cones and parents dropping into the local shop looking to buy buckets and spades on the way to Old Head or Bertra beaches.


The hotel also has appartments on offer, along with its very own spa, pool and wellness area. Also relatively recently refurbished, some tasteful marine hues of green and blue welcome you as you enter the foyer.
The laid-back restaurant/bar area serves up some great seafood dishes in a cozy atmosphere and my go-to meal here are the fresh mussels!
You'll find more photos and rates here.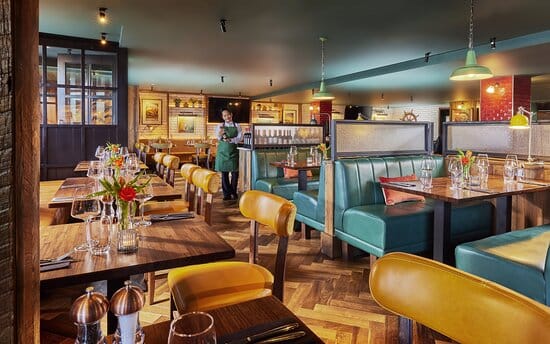 Best Affordable Options in Westport
Of late, Westport has become quite pricey, especially in the summer season. You'll find better rates in the months of April, May, and towards the end of September and October.
In saying that, our choice of the best 2 cheaper options will offer some decent savings.
By the way, if you would like a comprehensive overview to our best cheaper options in Westport, which includes B&Bs, have a look here.
Clew Bay Hotel: Great for town centre location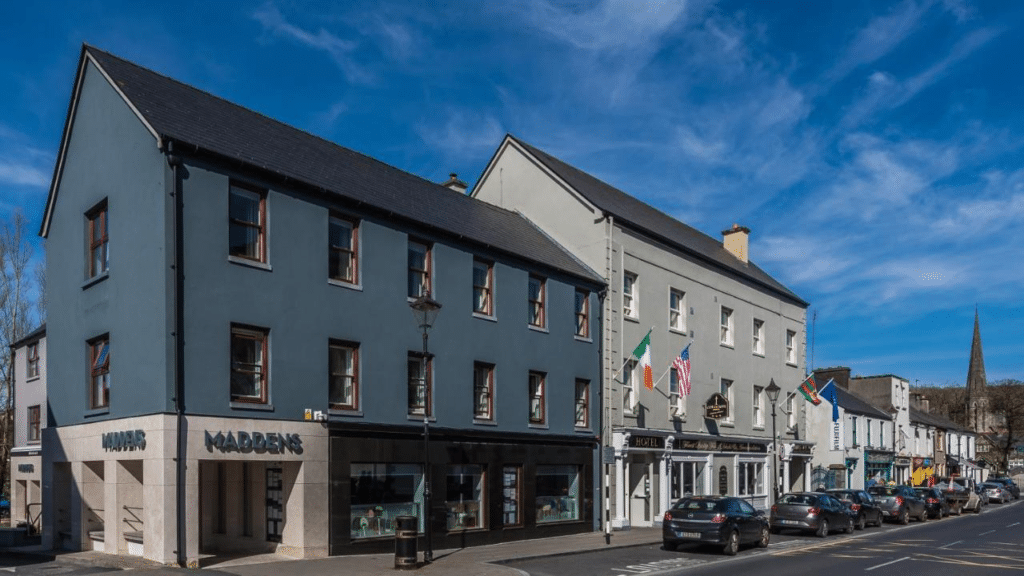 Location, location, location. You'll be smack down in the middle of everything, from Westport House & Gardens to the great selection of shops, pubs, restaurants and coffee shops that Westport has to offer.
The restaurant on site is also very good, providing a nice relaxing experience, along with a varied menu to suit all tastes.
The hotel is also well known for its award-winning breakfast, providing a continental and full Irish, as well as vegan options. Once again, you'll get the best deal outside of the main tourist season of June to mid September.
You'll find more photos and rates here.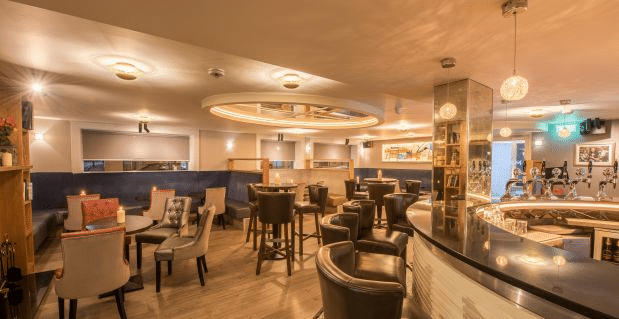 Westport Country Lodge: Great for quiet, country location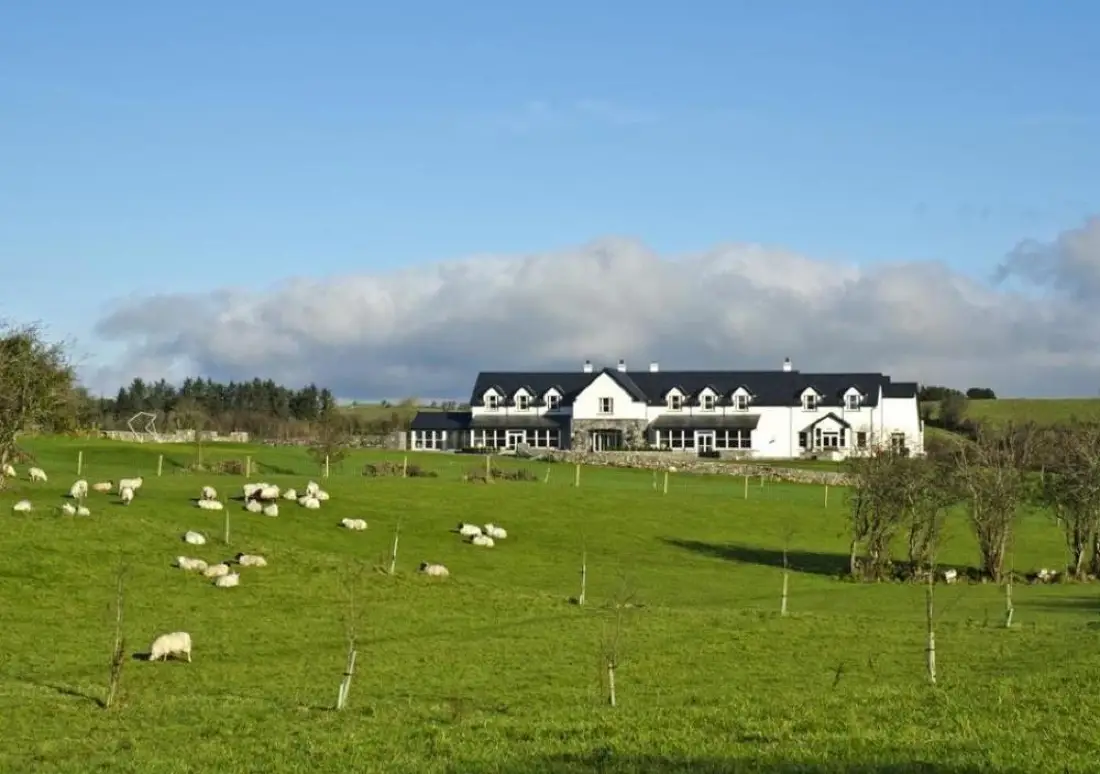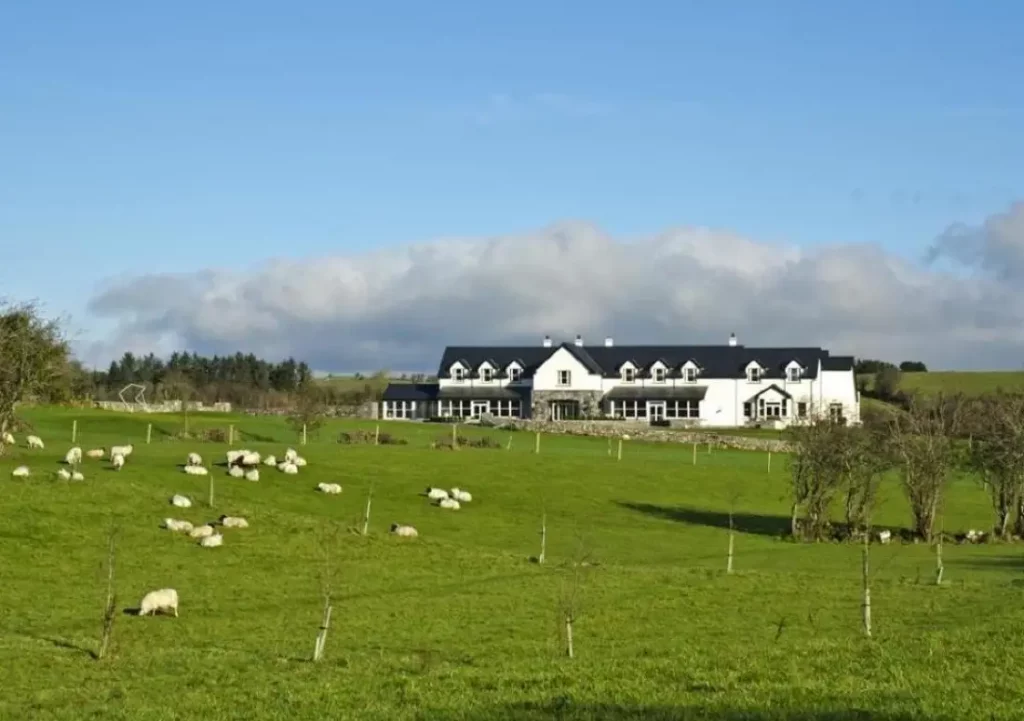 This hotel is often overlooked, as it's approximately 4 km outside the town of Westport. Located in some beautiful countryside nestled within the rolling drumlins and with views to Croagh Patrick, you'll get a better deal in this hotel than those mentioned above.
If you have access to a car and you don't mind staying in the countryside as opposed to the busy town of Westport, then this hotel is certainly worth a look.
There is a good selection of rooms to chose from, including a generously sized family room with many having lovely views to Croagh Patrick.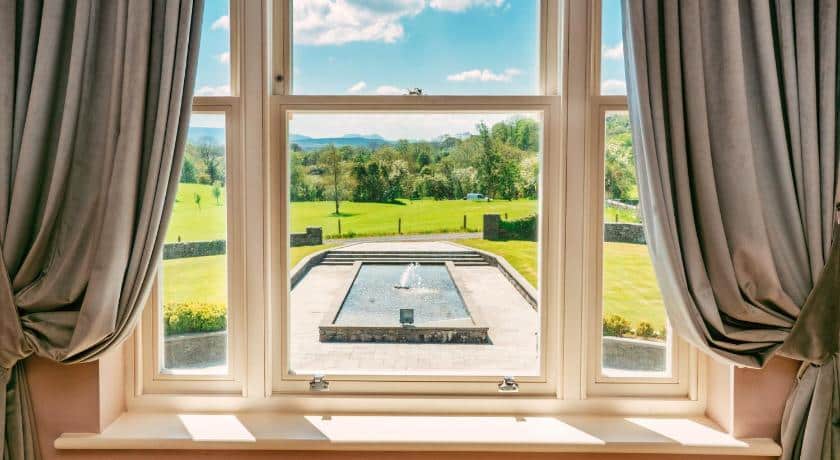 There's a great restaurant too, where you can enjoy some hearty meals while enjoying the view over the beautiful countryside.
You'll find more photos and rates here.
Our Favourite Hotels in Ballina
Ballina is located on the banks of the River Moy in North Mayo. It's world-famous for its salmon fishing and for also being the birthplace of Mary Robinson, Ireland's first female president and former UN High Commissioner for Human Rights.
Also, a certain prominent figure by the name of Joe Biden paid a visit to the town in 2023, as his ancestors originated from the area. Ballina is often overlooked as a tourism destination, but it's located near some wonderful natural sights, as well as having some fine hotels, pubs and restaurants.
Here are our favourites for Ballina:
Mount Falcon Estate: Stunning grounds, outdoor summer fun and great activities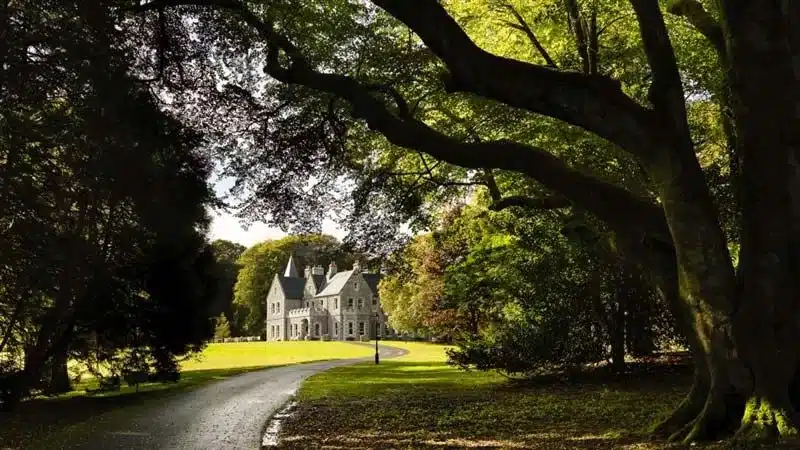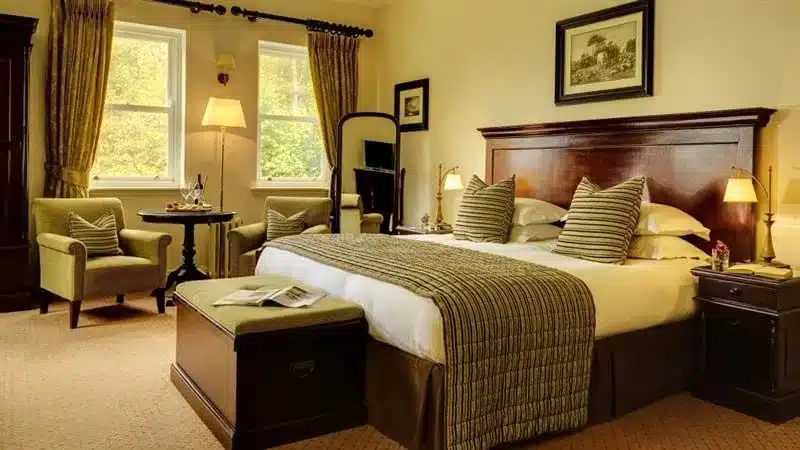 Nestled amidst 100 acres of stunning woodlands and manicured gardens, Mount Falcon Estate is a luxurious 4-star deluxe hotel. The hotel offers a range of accommodation options, including rooms in the historic manor house and spacious lodges for larger groups or families.
Why not treat yourself to the exquisite dining experiences at the Kitchen Restaurant or enjoy a relaxing treatment at the Elemis Spa. With activities like fishing, falconry, and golf available on-site, Mount Falcon Estate provides an fantastic retreat for both relaxation and adventure.
As well as it being a beautiful building, we also love the grounds of Mount Falcon. The estate itslelf is home to 197 species of trees and 42 species of native birdlife, all found in the densely forested grounds of this beautiful estate.
During the summer, usually on Friday and Saturday nights, the hotel hosts an outdoor party for residents and non-residents alike. On the lawn, a tent is set up and there's plenty to eat and drink also, with a live band playing.
You'll find more photos and rates here
Belleek Castle: Great for incredible grounds and a real step back in time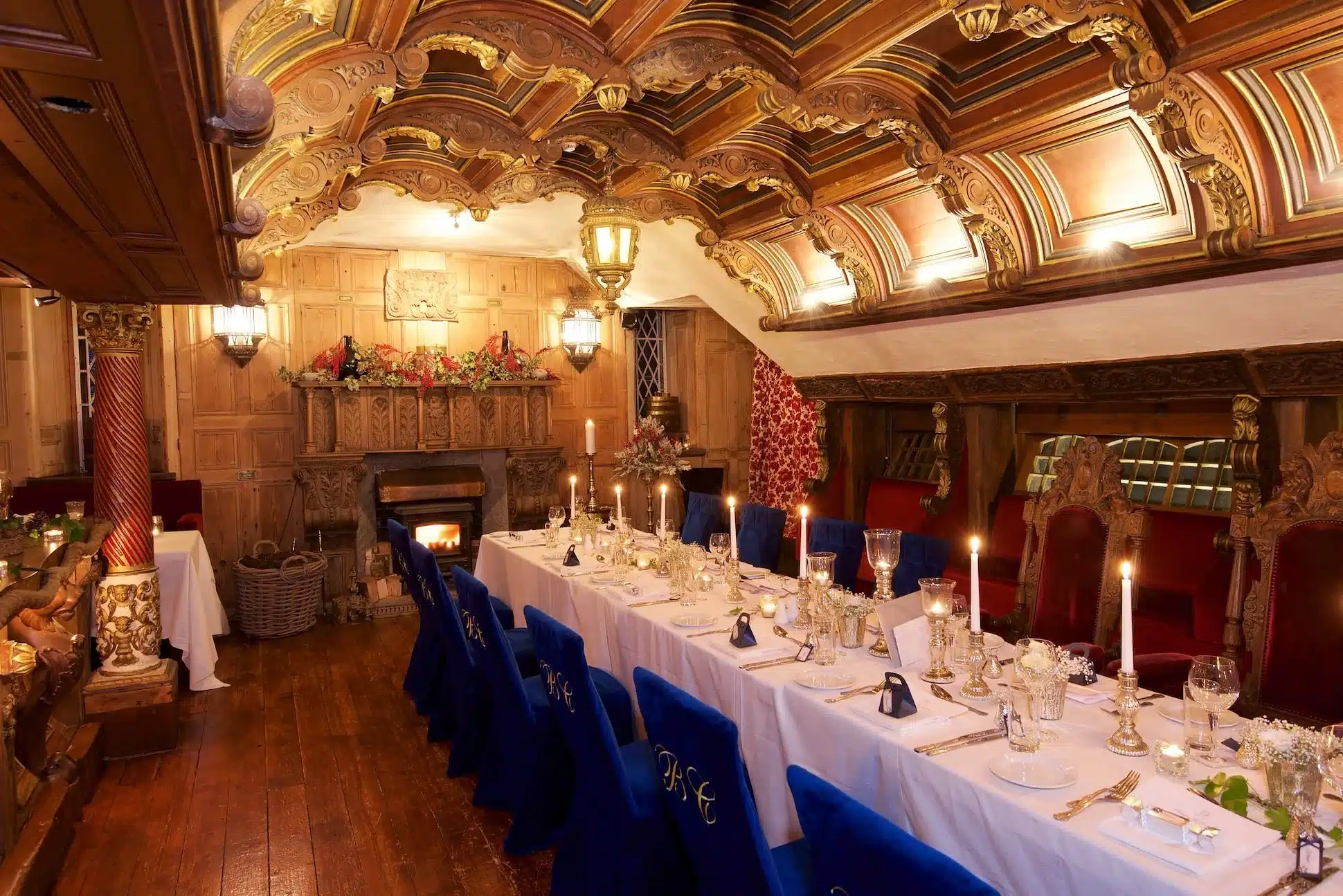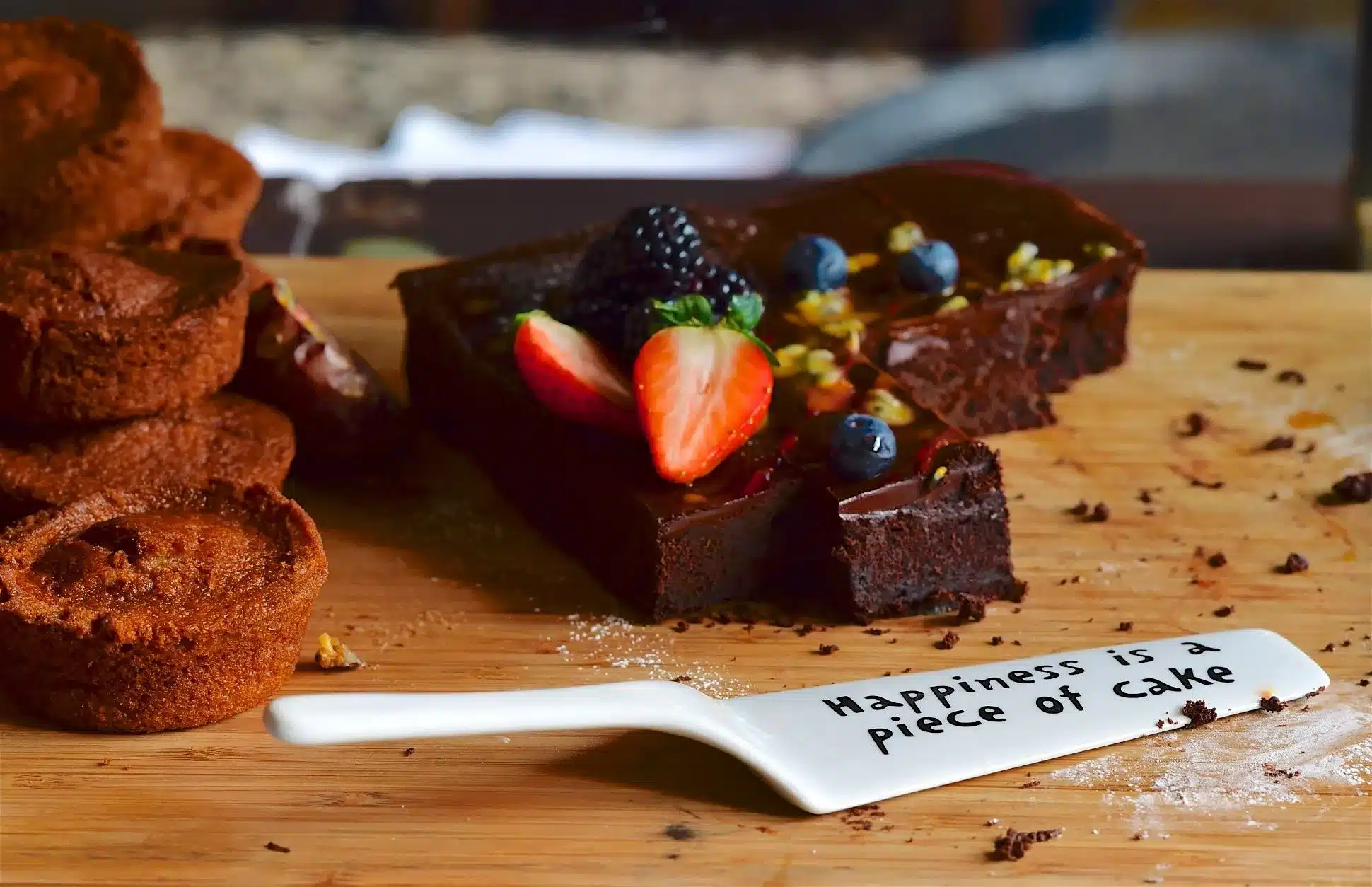 images via Tripadvisor
For those seeking a unique and enchanting experience, Belleek Castle Hotel is an ideal choice. This 19th-century castle-turned-hotel transports you to a bygone era, boasting elegant period furnishings, ornate interiors, and a special atmosphere.
The hotel offers a variety of individually styled rooms, each with its own character and charm. Dine in the renowned Library Restaurant, which showcases locally sourced ingredients in an incredible setting.
On a recent visit to Belleek, I ordered the steak which was presented sizzling on a sword! A truly unique experience dining in this restaurant and should be reserved for a very special occasion.
I was recently asked what the best bar in Mayo is. The word 'best' is very subjective, but the bar in Belleek is certainly one of the most beautiful. Without giving too much away, let's just say the Spanish Armada has something to do with it.
On entry, your eyes will be drawn to the knight's armour, as well as the authenticity of the interior, in all its age-old glory. Next to the castle, you'll find the very tasteful and popular bistro, Jack Fenn's, which we highly recommend if in the area or walking through the grounds of Belleek.
Last, but not least, you have the magnificent grounds of Belleek. An incredible 1000 acres of Irish woodland with multiple paths, ample benches for picnics and great views out over the Moy. During Halloween, the grounds get particularly atmospheric.
You'll find more photos and rates here.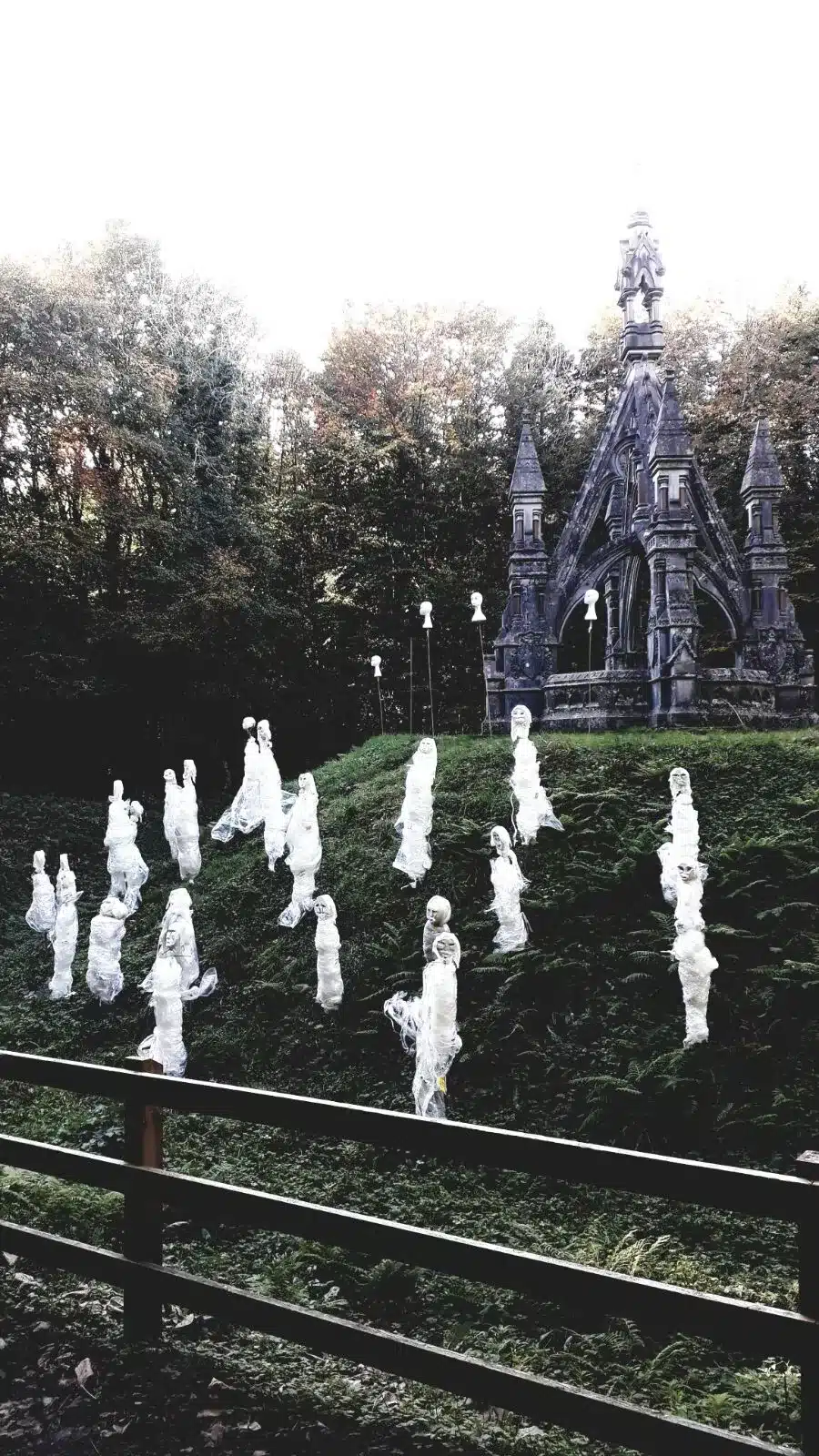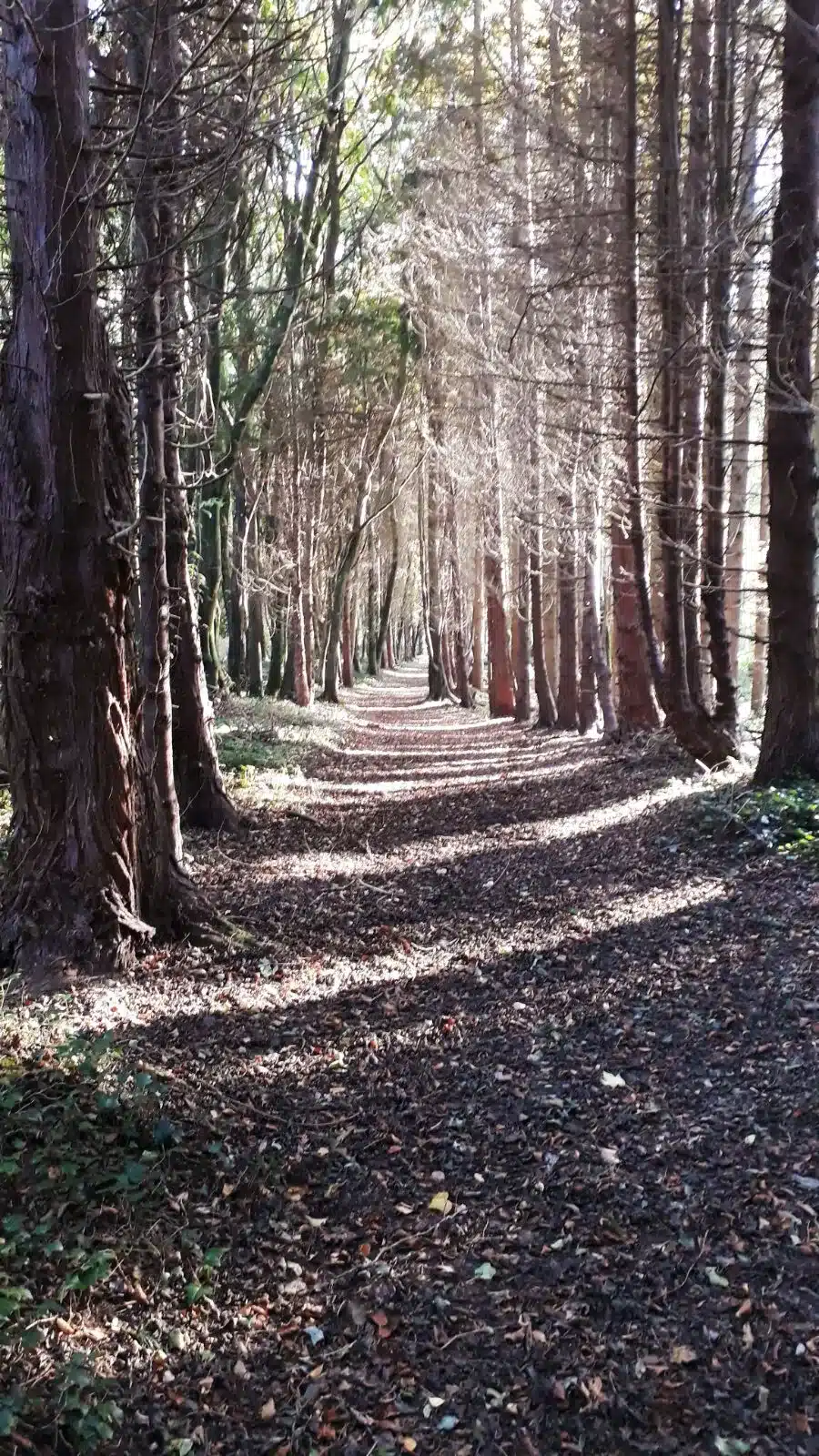 images: sweetisleofmine.com
Ice House Hotel: Great for modern luxury, spa and wellness facilities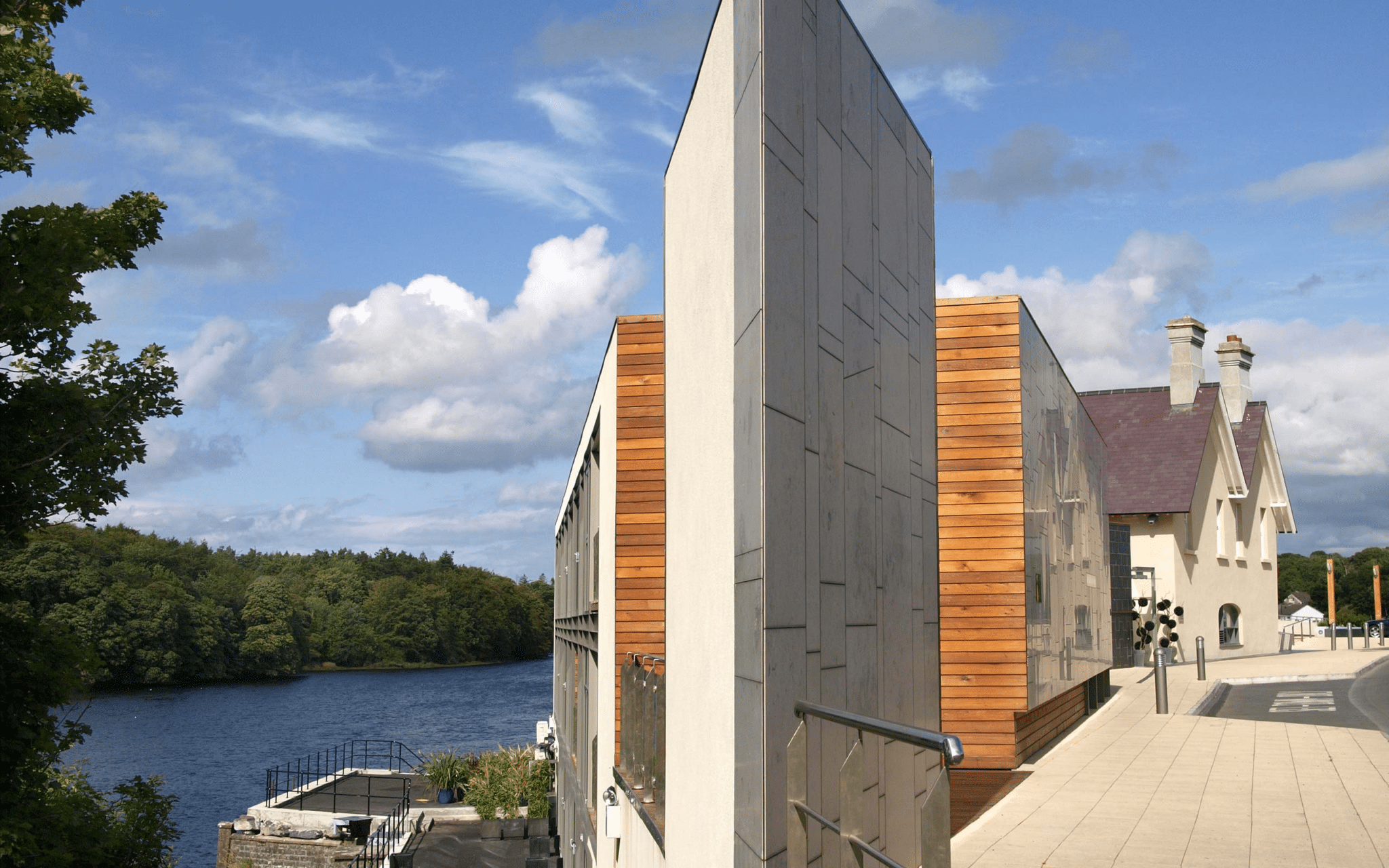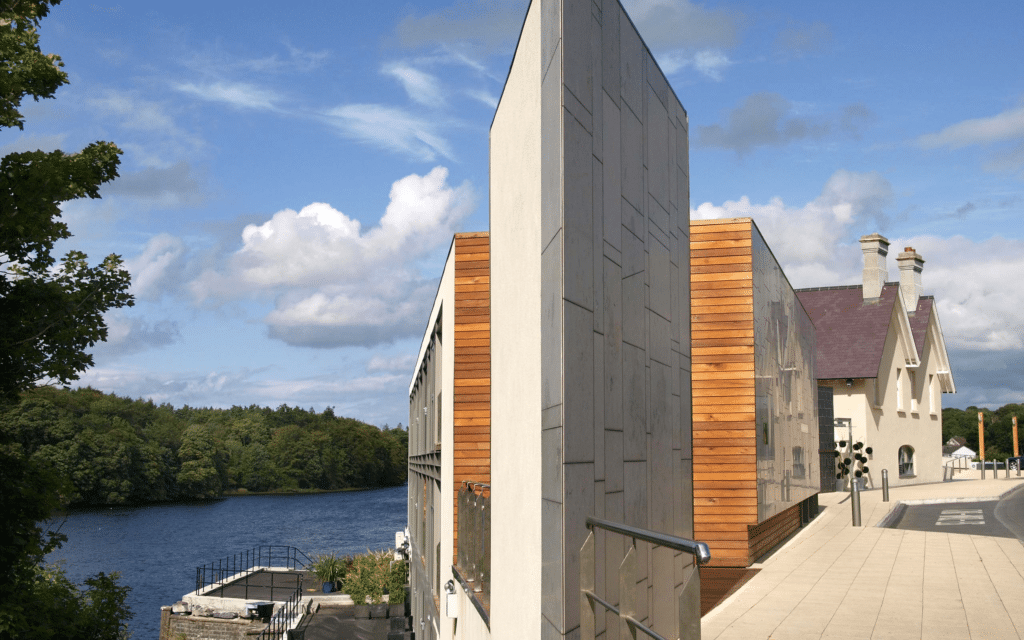 Located on the banks of the River Moy, the Ice House Hotel offers contemporary luxury in a stunning riverside setting. This boutique hotel features stylishly designed rooms with modern amenities and great river and woodland views.
The Pier Restaurant serves delicious cuisine made from locally sourced ingredients, while the Spa and Thermal Suite provides a tranquil space for relaxation and rejuvenation. Both residents and non-residents can avail of the fabulous facilites at the Ice House Hotel.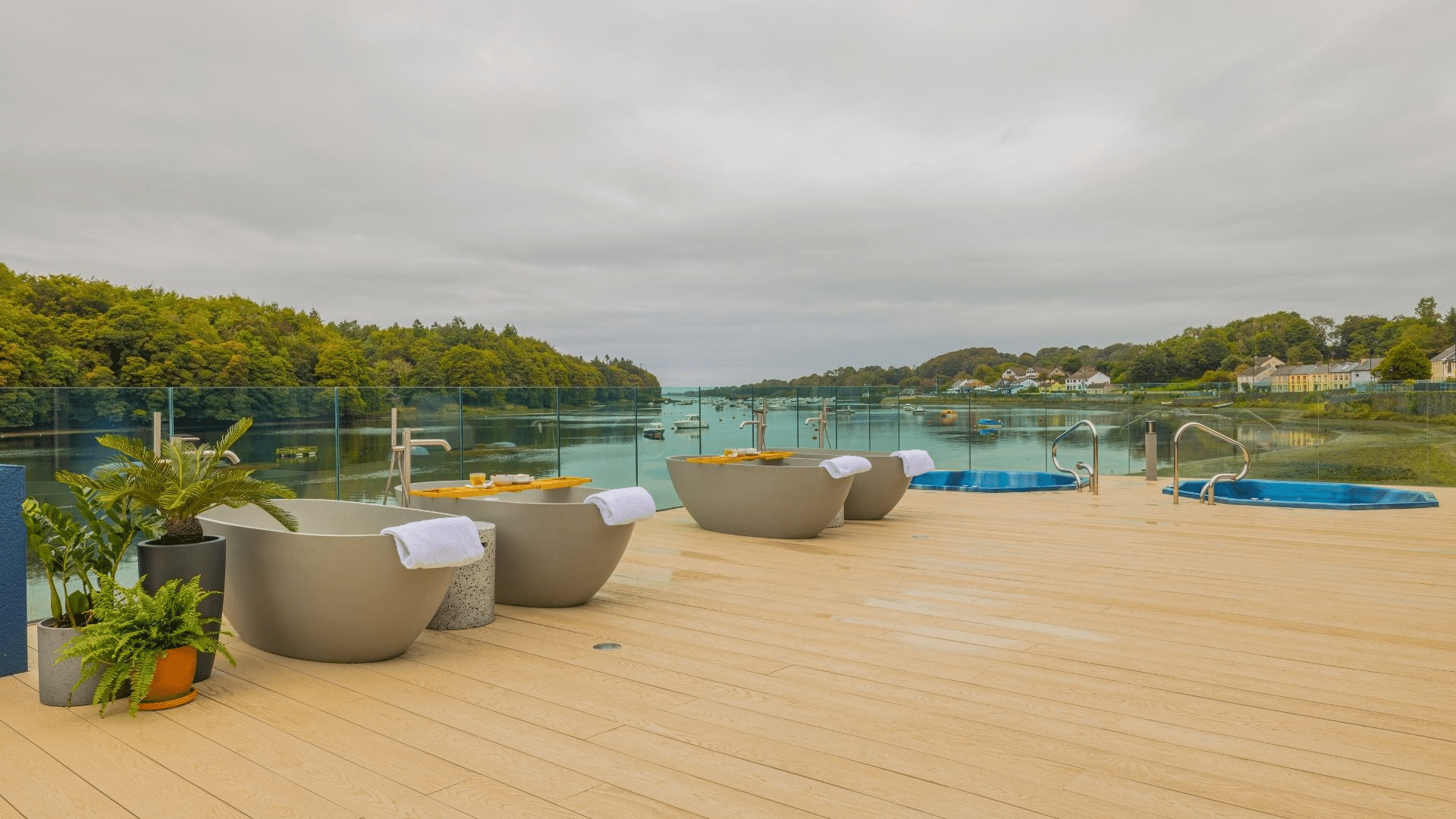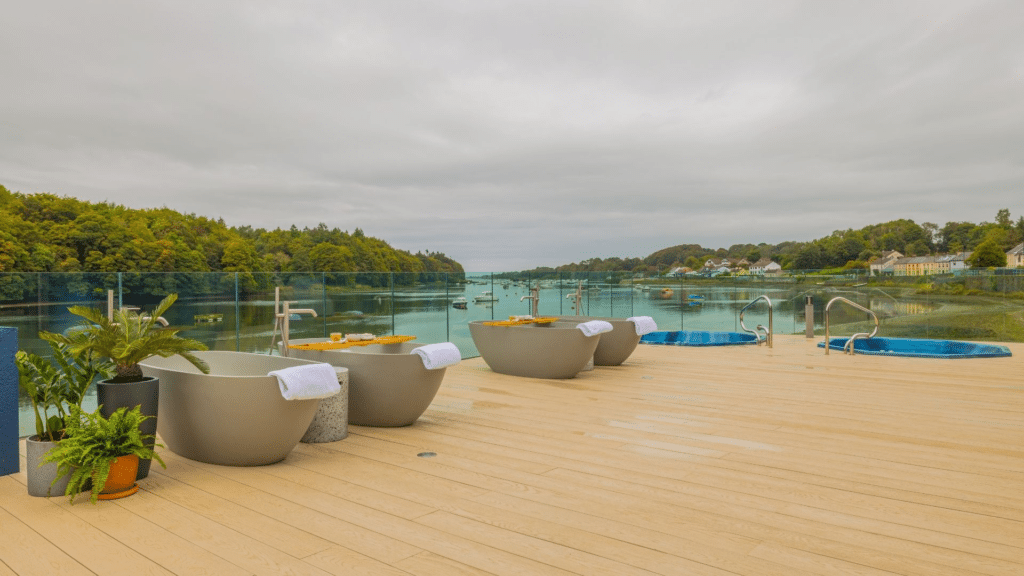 Take advantage of the hotel's complimentary bikes to explore the scenic surroundings or enjoy a riverside picnic. The hotel is built on the site where wild salmon were preserved under ice before being transported to the larger cities in the late 18th and 19th centuries.
Today, this buidling offers a delightful blend of comfort, style, and natural beauty, certainly a place to totally spoil yourself!
You'll find more photos and rates here.
Great National Hotel: Great for reasonable rates and a good family option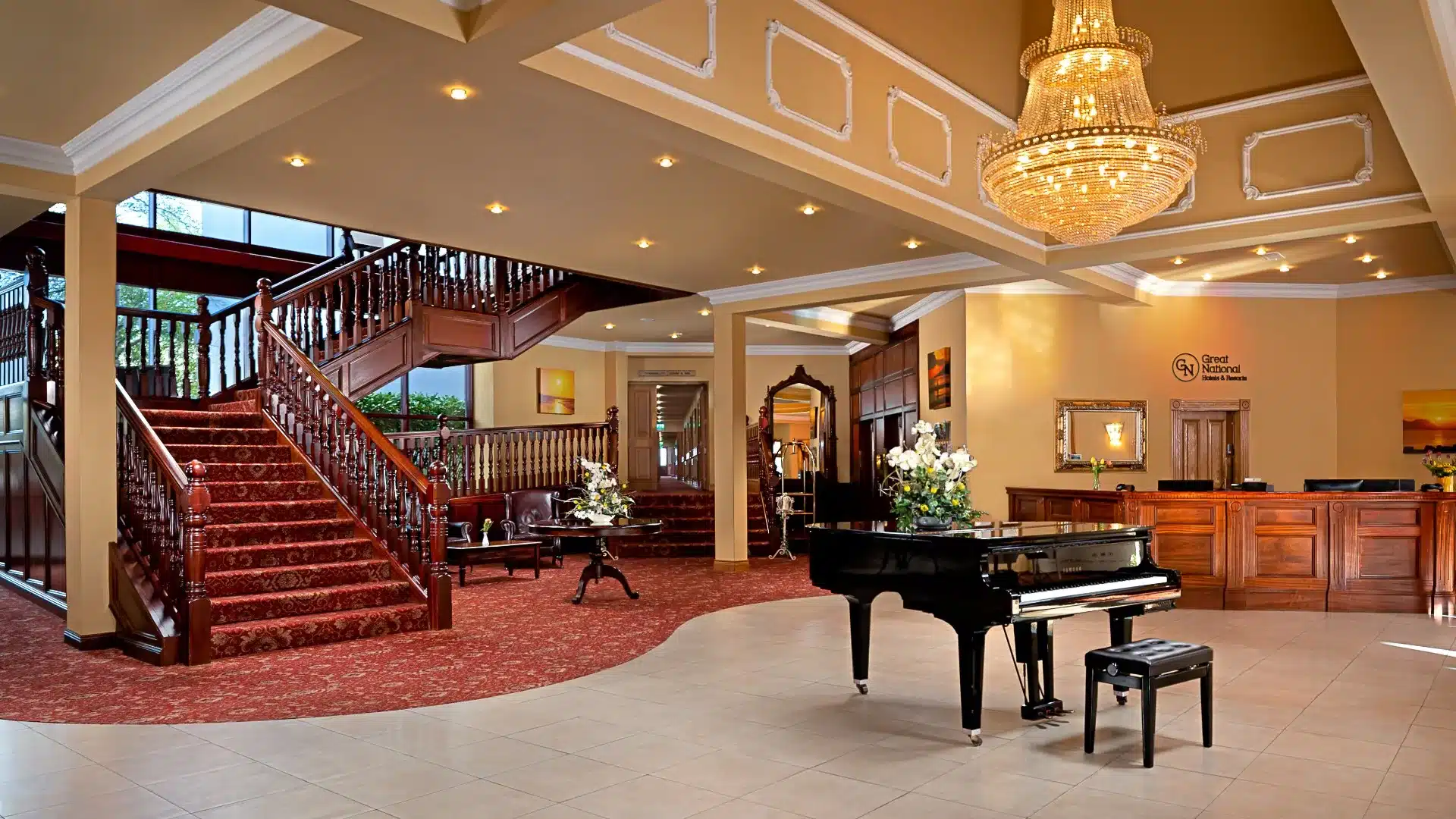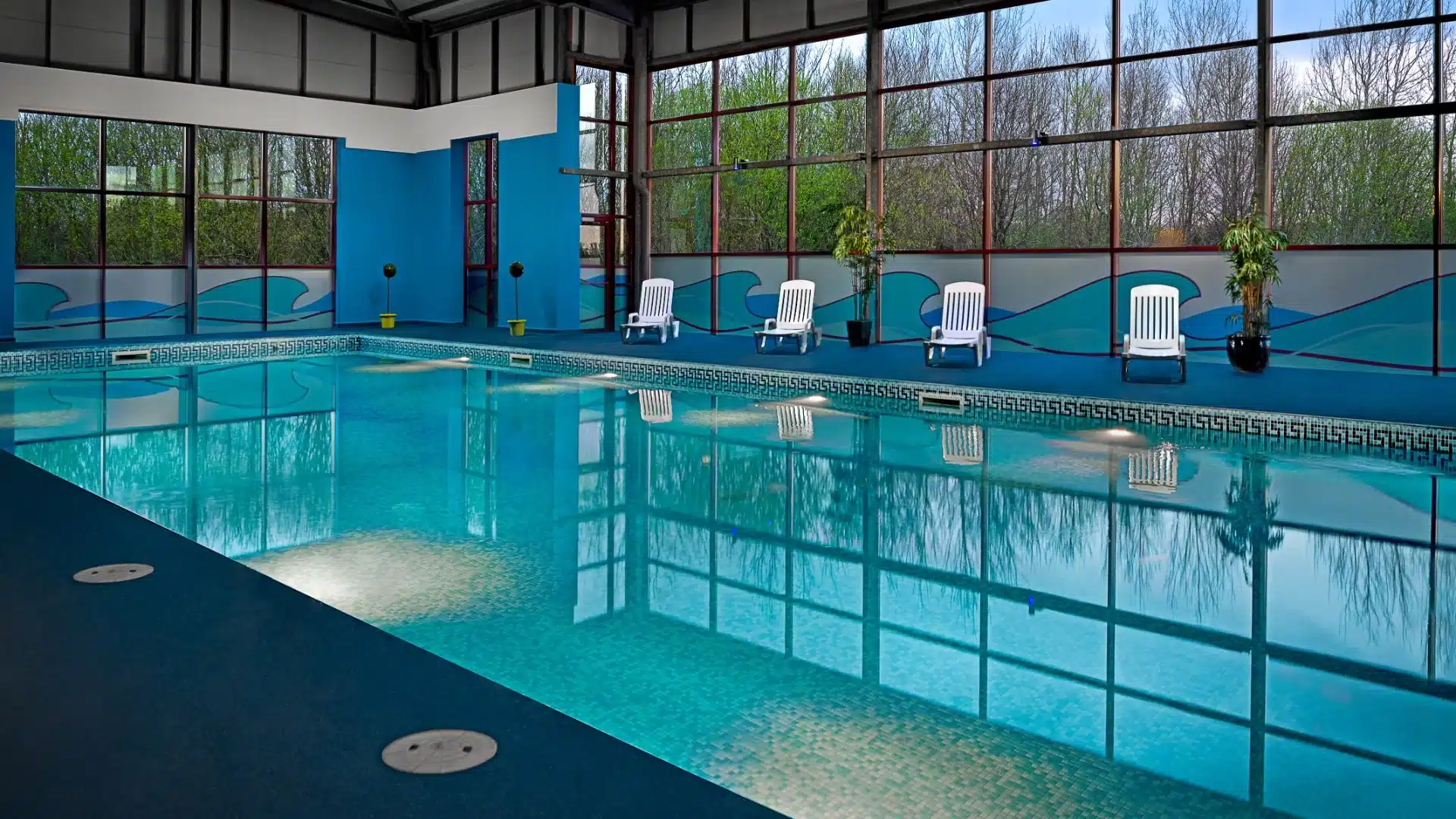 A more reasonably priced option than the hotels mentioned above, the Great National is located slightly outside the town of Ballina and is an ideal stay for those visiting the area.
There is a choice of 3 rooms available, including a generously-sized family room. Speaking of families, the hotel also has a kids' club to help them burn off some of that energy. They'll also be treated to a goody bag, which incudes a branded tshirt.
For food and drinks, McShane's bar and bistro offers a varied menu, with dishes such as Atlantic salmon, pizzas and asian cuisine on offer. The hotel also offers afternoon tea for those dreary days in winter (or summer!)
You'll also find a pool, spa, sauna and gym in the Great National, making this a very well-appointed hotel overall and a solid option for both families or indeed anyone wishing to spend a few nights in North Mayo.
You'll find more photos and rates here.
Our Favourite Hotels in Castlebar
Castlebar is Mayo's county town and although mainly an administrative town, it is located 5 minutes away from the Museum of County Life. This wonderful museum is located in the village of Turlough, which is linked to Castlebar via a Greenway (walking and cycling lane)
Castlebar is also only a 15 minute drive from Westport.
Many choose Castlebar as a base to explore Mayo and you'll find plenty of pubs and restaurants. Being the largest town, there are no shortage of shops either, as well as a cinema and the lovely Lough Lannagh walk.
The Royal Theatre is known to put on some excellent shows including comedy evenings, live music and lots more.
Here are our 2 favourite hotels in Castlebar:
The Ellison: Modern, comfortable hotel in a perfect location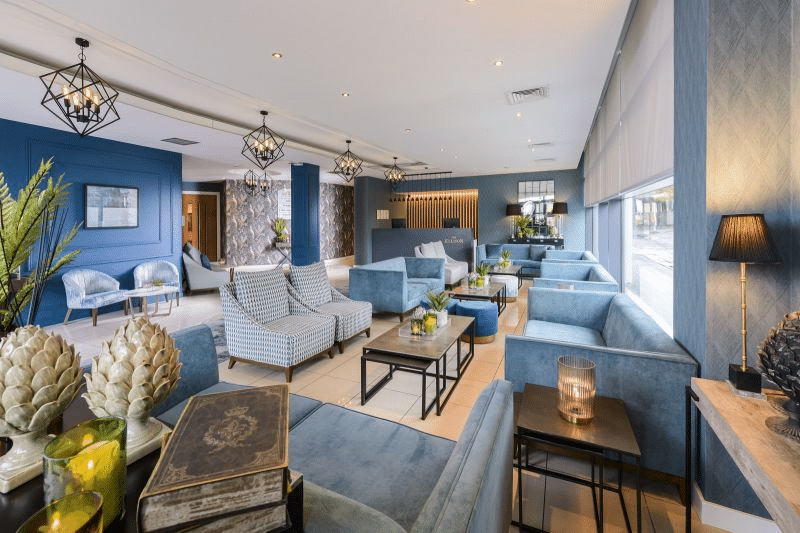 Located next door to the Royal Theatre in the town centre, this is easily the go-to hotel in Castlebar.
Highly rated, with guests commenting on the 'super comfy' beds and 'great restaurant', the Ellison is a modern, well-appointed hotel.
The 'Siar' restaurnat offers tasty lunch and evening meals in a beautifully modern setting and the breakfast comes highly recommended. Guests commented about the 'large, spacious rooms' and the 'overall cleanliness' of the hotel.
The hotel is very central and just across the road is the start of the Lough Lannagh walk, which offers great views west towards Croagh Patrick, a walk I have completed 100s of times! It's also a great running loop ( approx. 2 kms)
You'll find more photos and rates here.
Breaffy House Hotel & Spa: Beautiful hotel and grounds with exceptional facilities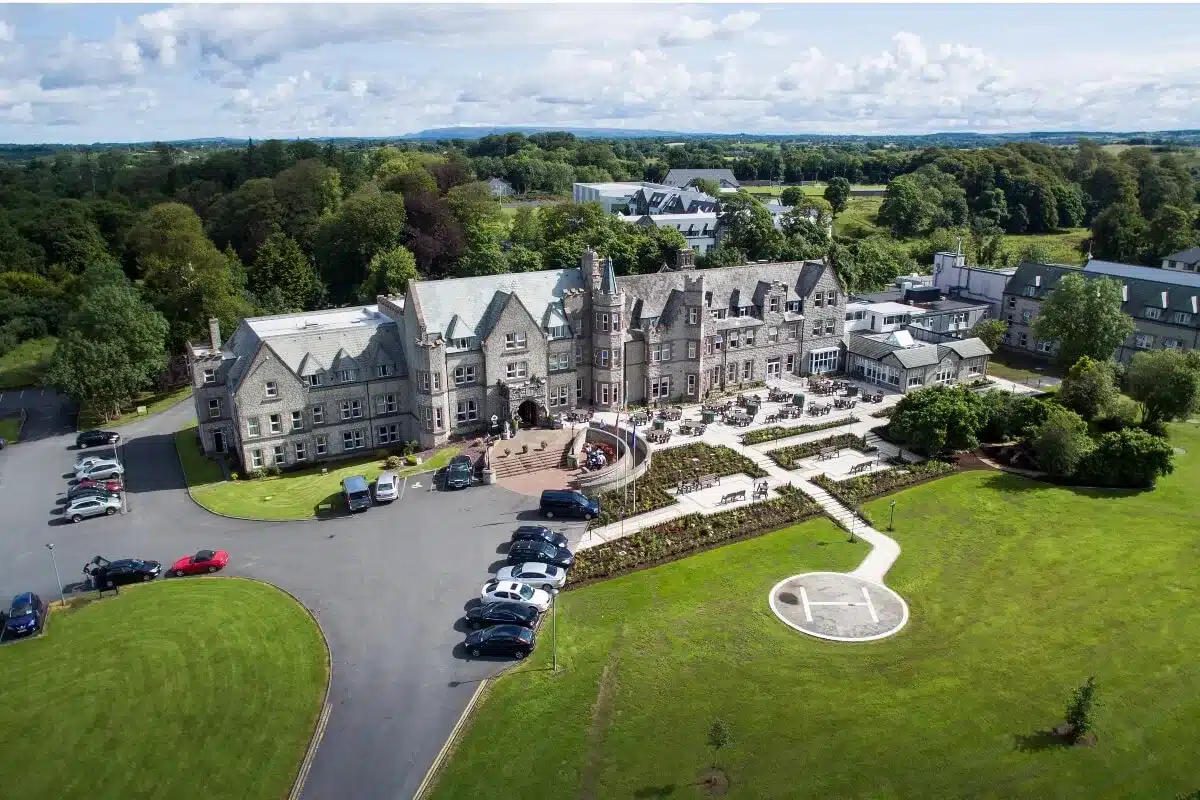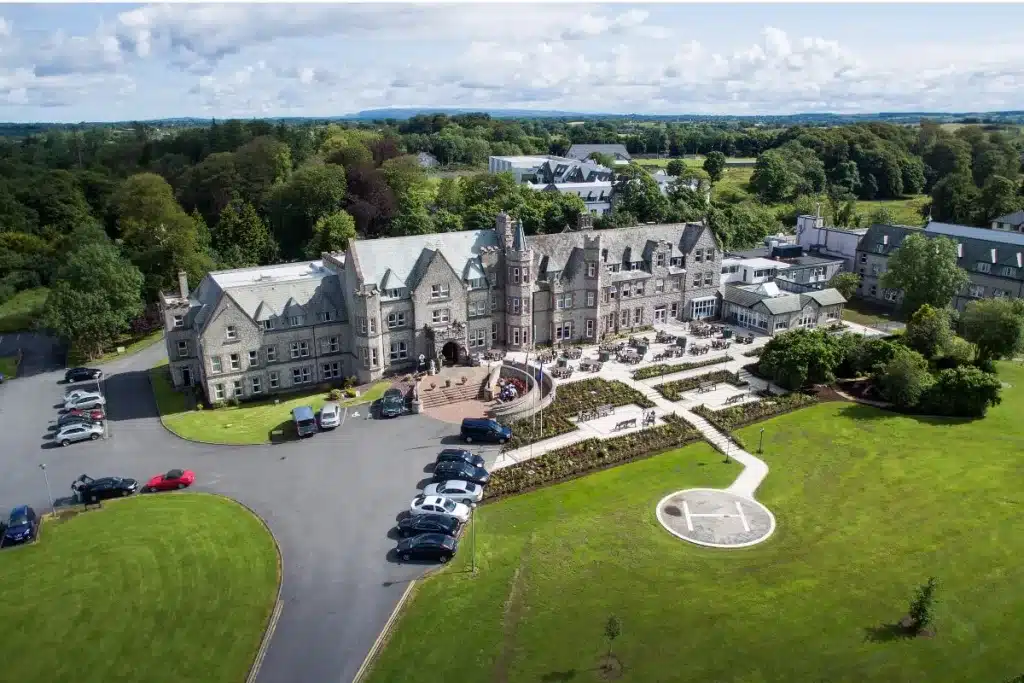 Almost an institution for anyone who would have grown up in the Castlebar area, Breaffy House is another excellent choice if staying in the Castlebar region.
The hotel is located in the village of its namesake, and is situated on 101 acres of beautiful grounds, 5 minutes from Castlebar. One of my favourite aspects to this hotel is the driveway, firstly through a woodland and then meandering through the lovely greenery.
The Irish oaks dotted here and there add that little bit of extra character to the surroundings.
Breaffy is a 4 star hotel and the pub and restuarant we can highly recommend. You'll find the main restaurant, The Mulberry serving up some great dishes and Healy Mac's pub also offering a less formal, but very tasty bistro-style menu.
What really sets Breaffy House apart from many other hotels, though, is its facilities. There's a fantastic 25 metre pool, a very well-stocked gym, a spa, sauna, health club, kids club, fairy walk, looped walk, the list goes on and on.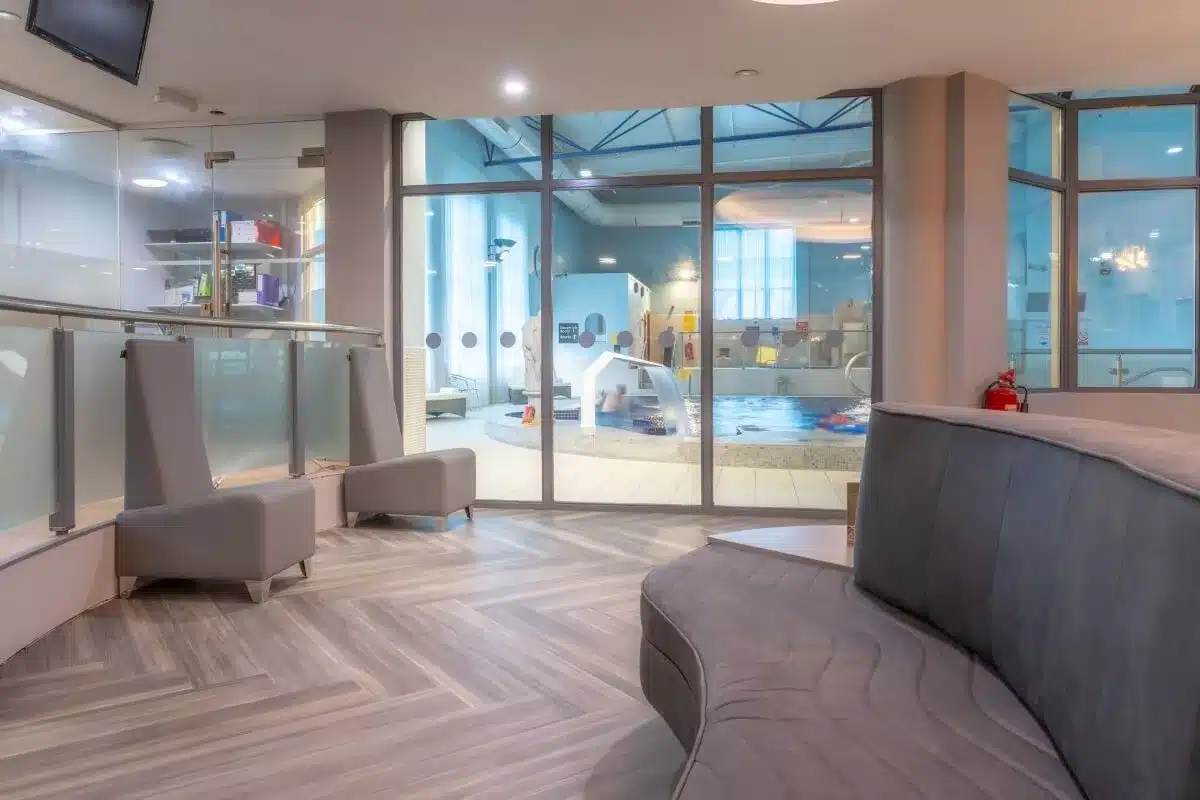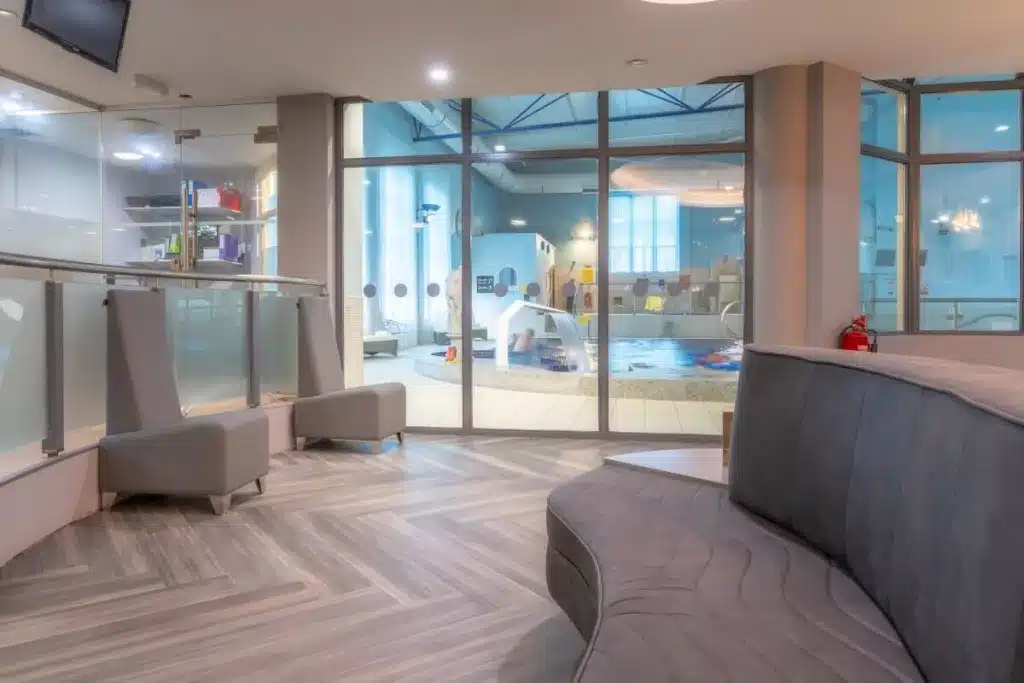 In fact, the sports facilities are so good, sports teams from far and wide avail of them on a frequent basis!
You'll find more photos and rates here.
Other Highly Rated Hotels in County Mayo
The Broadhaven Bay Hotel, Belmullet: A fantastic hotel with spectacular views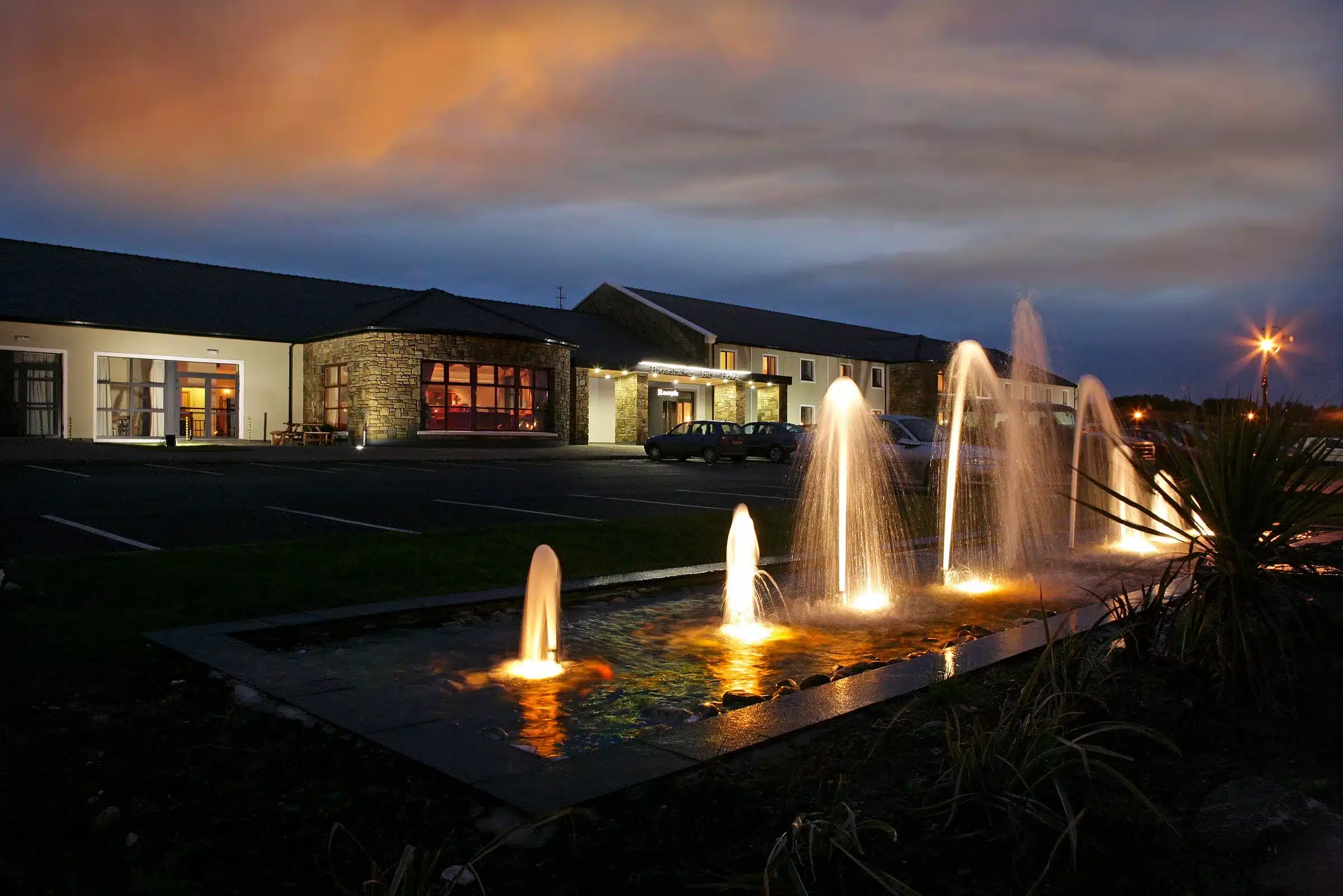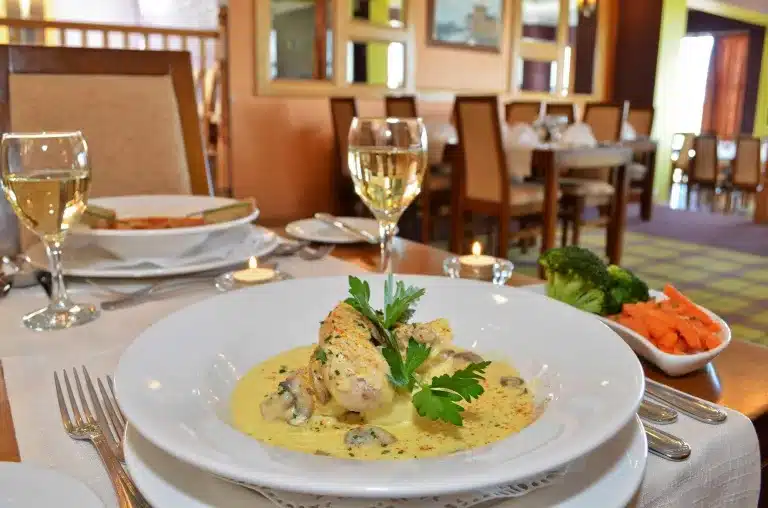 A hidden gem?
The Broadhaven Bay is located 5 minutes from the lively little town of Belmullet, in the north west of Mayo. Having been there myself, I can highly recommend this hotel if visiting the Belmullet region.
The views are spectacular in every direction, the bedrooms are modern with very comfortable beds, the food in both the main restuarant and waterfront bar was great, and you're located along the Wild Atlantic Way. There's also a spa, fitness room, family rooms, flatscreen TVs…what's not to like?
Added to that, you'll get a far better rate in the Broadhaven than in locations such as Westport and Achill. A hidden gem in our eyes for sure.
You'll find more photos and rates here.
The Erris Coast Hotel, Geesala: A modern hotel with coastal location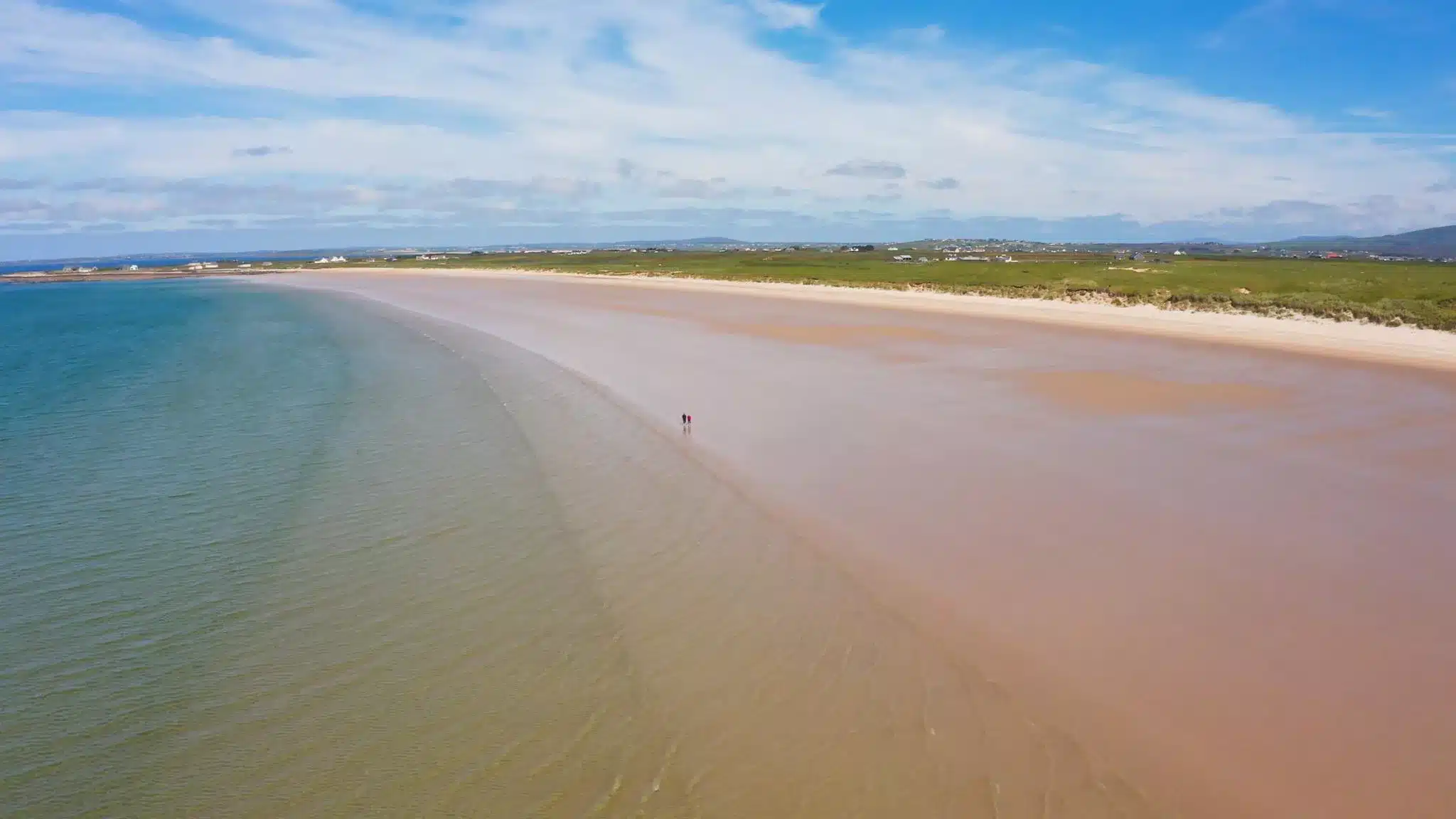 Located next to one of Mayo's wildest and most breathtaking beaches (famous for the Doolough horseraces) the Erris Coast hotel boasts a 9.2 rating on booking.com
The hotel has been recently refurbsihed and oozes comfort and elegance, all in a stunning coastal setting. The hotel has 36 rooms in total, each one beautifully decorated and you can eat at the Nephin restaurant or the Millington bar.
As mentioned, close by you'll find Doolough beach, but there are plenty of other activities in the region, such as sea angling, Carne golf links (one of the world's best) and wonderful coastal scenery along the Wild Atlantic Way.
You'll find more photos and rates here.
The Park Hotel, Kiltimagh: A highly rated, modern & comfortable option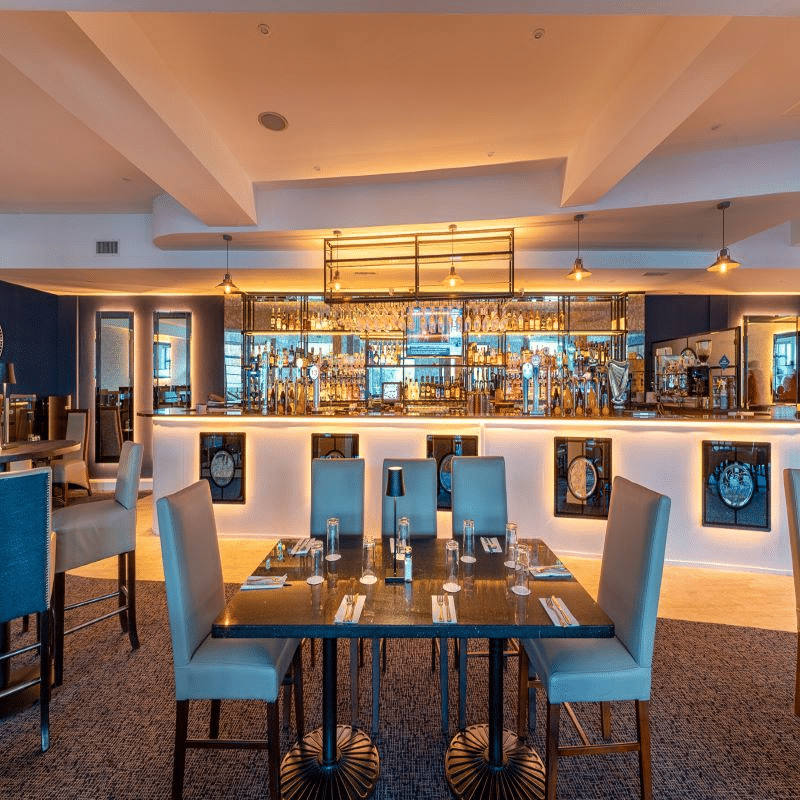 Kiltimagh may not be a typical tourist destination, but the town will be attracting visitors for sure in the summer of 2023. The recently opened VeloRail is a new sustainable recreational activity, which has made excellent use of the unused railway in the region.
Details of this brilliant initiative can be found here.
Whether just passing through Mayo, visiting family in the Kiltimagh, Bohola region or having a family get-together, the Park Hotel in Kiltimagh is a great option.
The hotel is modern, comfortable and guests commended the 'cozy beds and quiet, relaxing stay'. We have eaten in the restaurant and the roast beef with accompanying horseradish sauce was exceptional.
The Park is a 4 star hotel, with a very high rating of 8.8 on booking.com
You'll find more photos and rates here.
Achill Island Hotel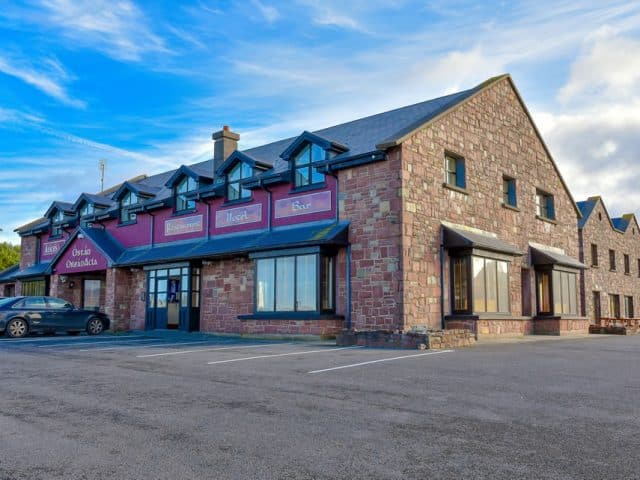 Achill Island Hotel is actually located just before you cross the Michael Davitt Bridge to the island. The hotel enjoys lovely with a nice garden area with benches where you can sit outside on the warmer days with a cool drink or some local cuisine.
The restaurant in the hotel offers a good selection of seafood, locally sourced of course, from delicious mussels to the freshest fish.
There was also a tasteful bar area with a cozy atmosphere, along with the beautiful local stone adding a homely feel.
Renovated quite recently, this is the newest hotel on the island. An ideal base for exploring the stunning Achill island.
Note: Achill has become quite busy in recent times, so either booking in advance or waiting till the shoulder season are your best options.
You'll find more photos and rates here
Summary of Best Hotels
Here, you'll find our summary of the best hotels in County Mayo. There are a couple we have added, such as Hotel Newport and the Mariner. We have personally not stayed here, but they are exceptionally highly rated.
Newport is, by the way, an excellent alternative to Westport, and is full of life in the summer months, along with being located on the Great Western Greenway cycle lane.
Our Top Choices for Westport
Our Top Choices for Ballina
Our Top Choices for Castlebar
Other Regions of Mayo
We hope we have managed to help you discover your ideal hotel in County Mayo. As you may have have noticed, we like to pour every bit of advice and knowledge we can into making your life easier when planning your get-away to the west of Ireland.
If you would like to read some more of our posts, have a look below at our most recent. If you've any more questions or comments, drop us a line below!
Must see places, west coast of Ireland
11 best islands off the west coast of Ireland
10 best places to visit in County Galway
10 best places to visit in County Mayo
FAQS
What are the best hotels in County Mayo?
Ashford Castle is easily County Mayo's and arguably Ireland's finest hotel. Other excellent hotels are the Plaza/Castlecourt/Coast in Westport, The Mulranny Park and The Broadhaven Bay.
What are the best family hotels in County Mayo?
Because of their excellent all-round facilities, we believe Breaffy House, Westport Plaza and the Westport Coast are Mayo's best family hotels.
Which hotels in County Mayo have a pool?
The Westport Plaza and Castlecourt share pool and wellness facilities. Other hotels in Mayo with a pool are: Westport Coast, Knockranny House, Westport Woods, Hotel Westport, Mount Falcon, Breaffy House and Mulranny Park. The Ice House and Ashford have smaller pools in their spa areas.