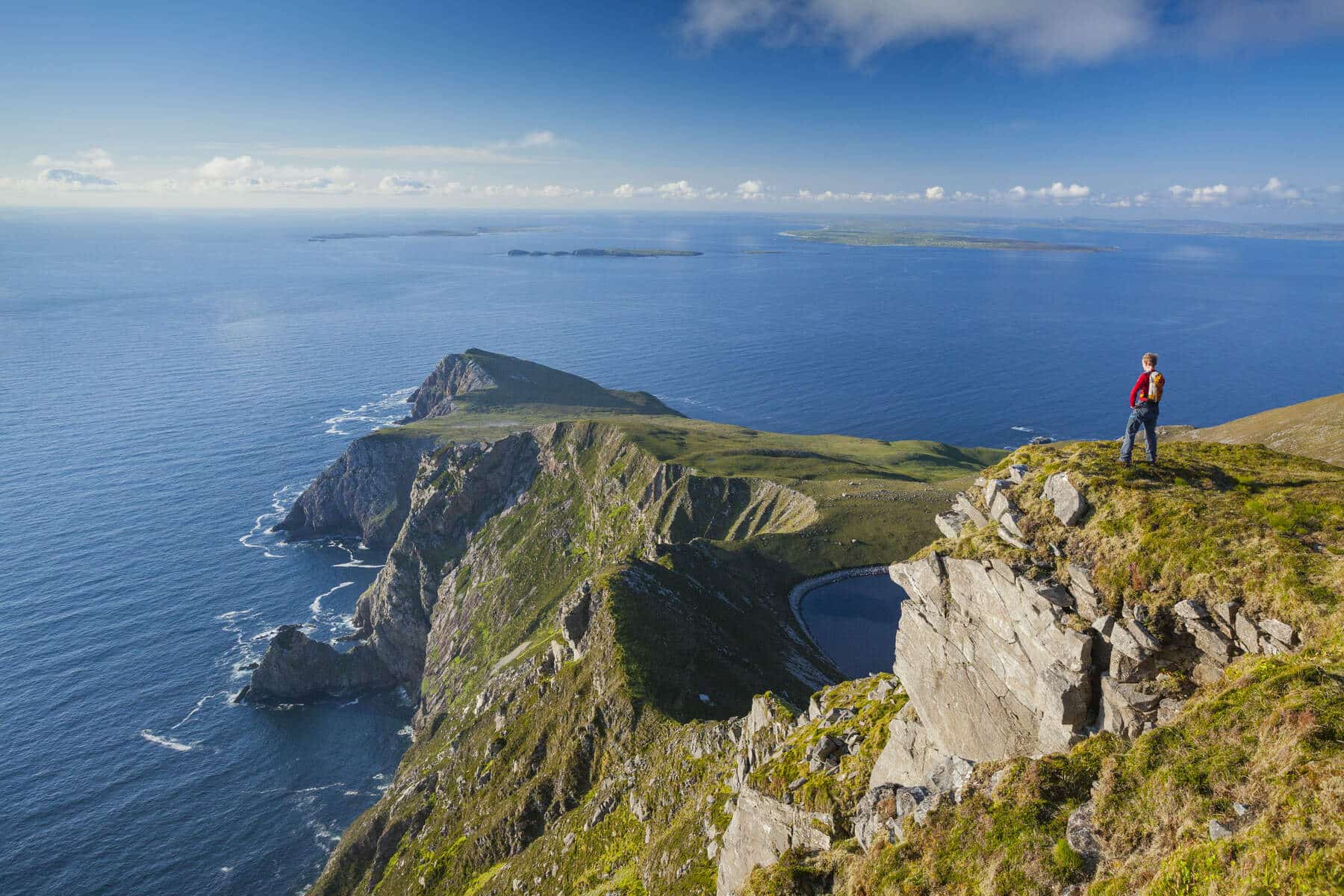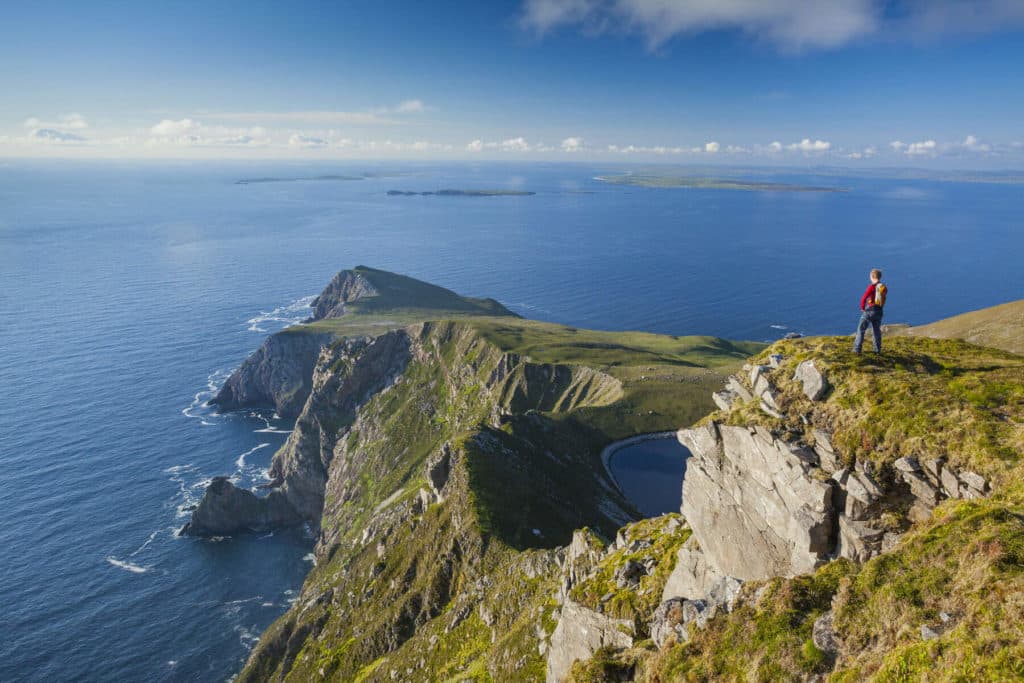 County Mayo is a region located on the western Atlantic seaboard of Ireland. In terms of the variety of geographical features Mayo possesses, there are few regions in Ireland that can match it.
From mind-boggling cliffs and vast, expansive beaches to iconic mountains, Mayo has a ton to offer, especially if you love epic scenery and untouched natural landscapes. This post will attempt to showcase the most stunning places in County Mayo, in the west of Ireland.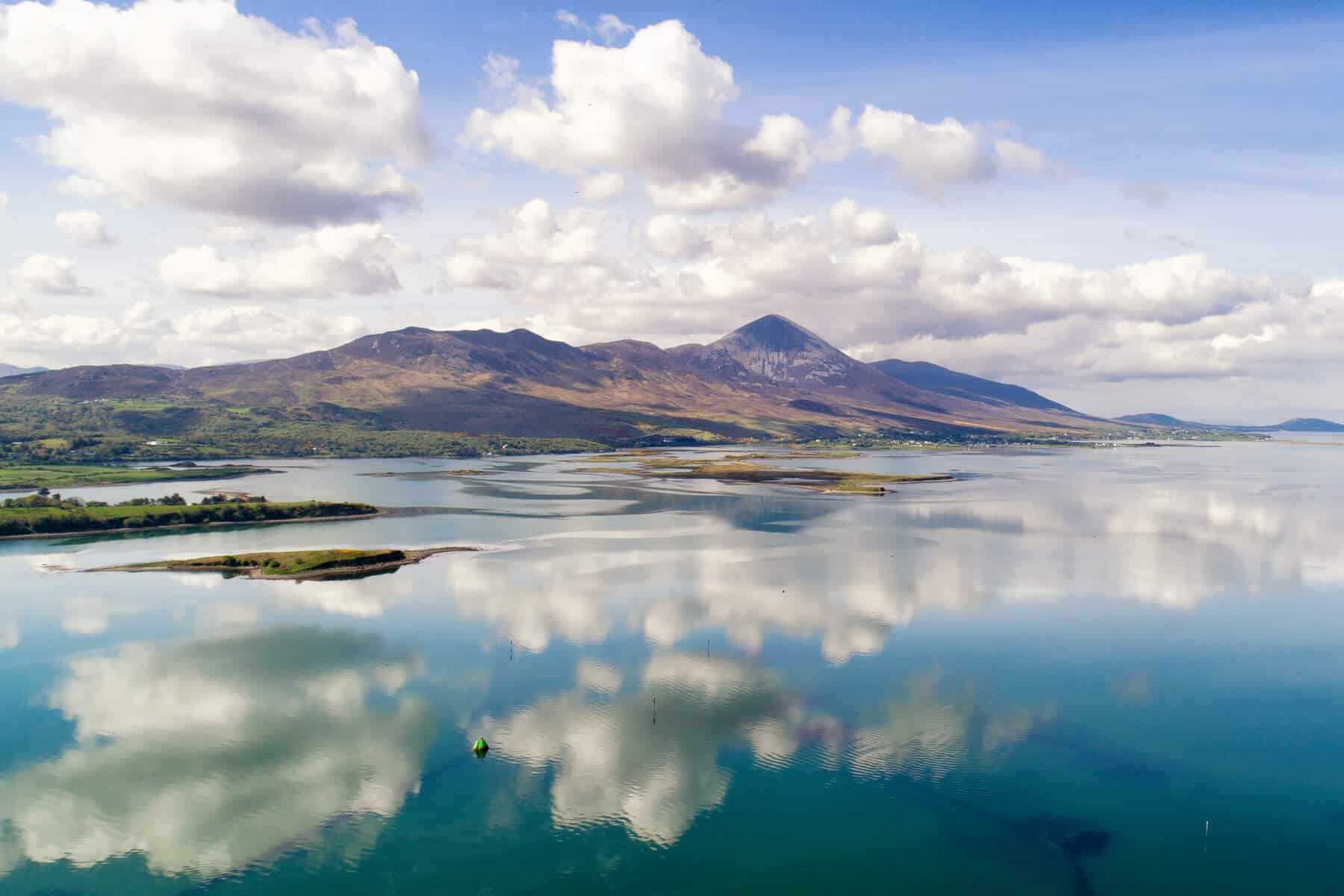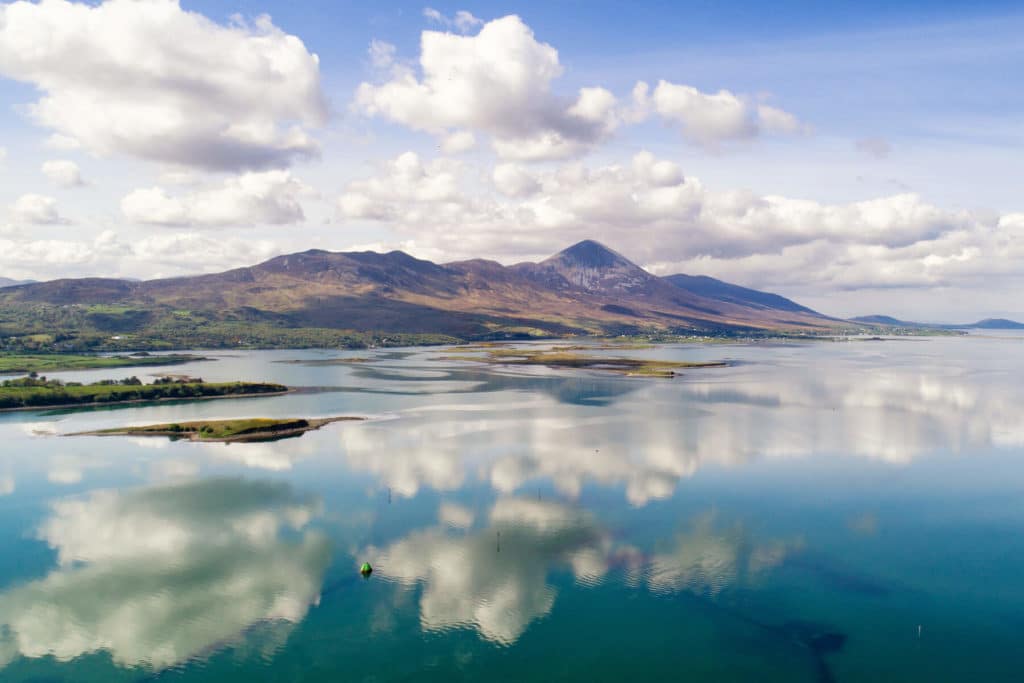 I am lucky enough to have grown up in County Mayo and have personally visited these locations multiple times. This post is going to outline what I believe to be the 10 most beautiful places in this magnificent county.
But first, allow me to give you a brief overview about County Mayo.
Where in Ireland is County Mayo?
County Mayo is located in the province of Connacht, in the west of Ireland. It's bordered to the south by County Galway, to the east by County Roscommon and to the north east by County Sligo. To the west lies the Atlantic Ocean.
County Mayo is the third largest county in Ireland (5,586 km sq.) behind County Galway and County Cork. It is also one of the most sparsely populated counties in Ireland, with only 23.3 inhabitants per sq. km.
Mayo also has the longest coastline out of any county in Ireland (1,168 km). Its coastline is characterised by a series of bays, cliffs, beaches, headlands, inlets and large offshore islands, such as Achill.
How far is County Mayo from Dublin?
The Mayo county border located near Charlestown to The Ha'penny Bridge, in Dublin City Centre is a distance of exactly 189 km. Depending on traffic, this equtes to a driving time of approx. 2.5 to 3 hours.
From the County Mayo border to Dublin airport, it's a distance of 195 km and a driving time of approx. 2 hours 15 – 2 hours 30.
From Dublin Airport to the popular tourist town of Westport, it's a distance of 257 km. Driving time currently (as of March 2023) is approx. 3 hours 20 mins, but with the new road at Castlebar opening this year, this will be reduced by approx. 15 minutes.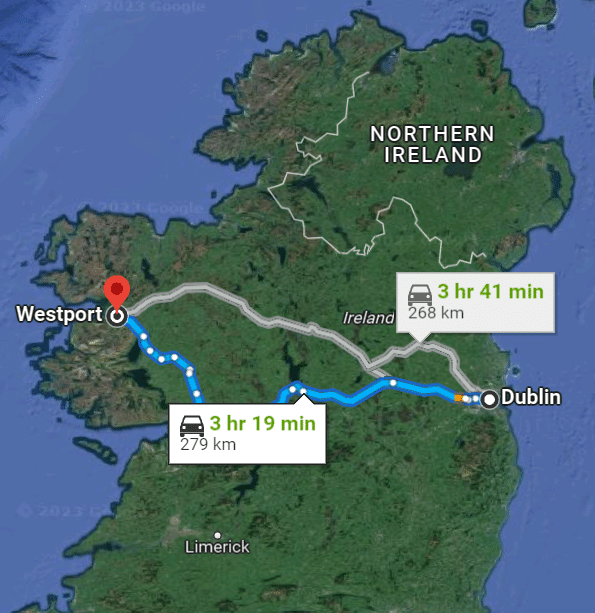 Where does the name 'Mayo' come from?
To those not from the county of Mayo or the country of Ireland, the name may sound quite humorous! Let's start off by saying it has nothing to do with the food type!
Like most present-day Irish placenames, Mayo is an anglicized word. The original Irish name is 'Maigh Eo', which is pronounced 'Mwee Oh'. This translates as 'The Plain of the Yew Tree'.
In ancient Ireland, the original capital of Mayo was in present day Mayo Abbey, a small village located in the south of the county and known for its flat, open pastures.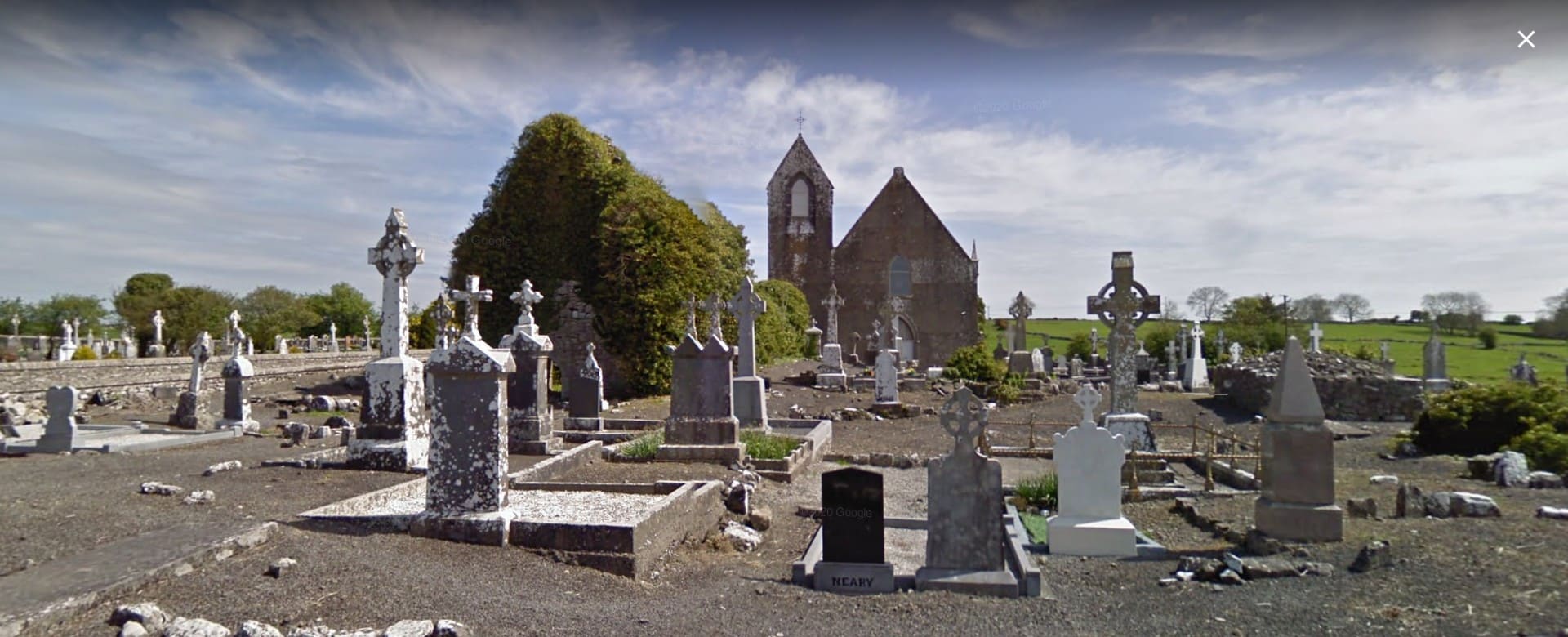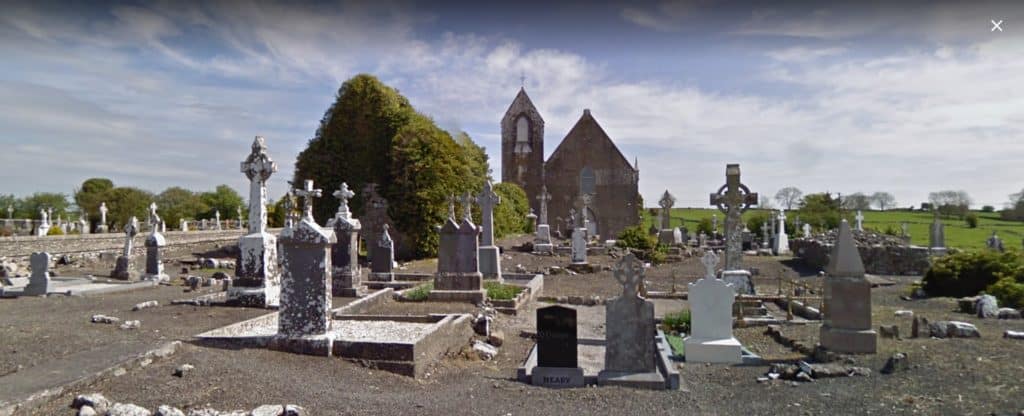 The grounds of the 'abbey' or monastery located in this village were apparently home to a grove of yew trees, a common sight in abbeys in those days. These trees symolized death and resurrection.
On the current day Mayo county crest, you'll see 9 yew trees located on the fringes, each representing the 9 historical baronies of the county.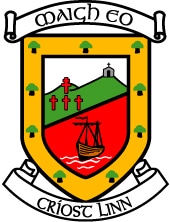 Where to Stay in County Mayo
We have put together a comprehensive list of the best hotels in County Mayo. Click here for more details.
If we were to choose one place to stay, Westport is a great base to explore West Mayo. Our guide here will tell you everything there is to know about the town, things to do and the best day trips.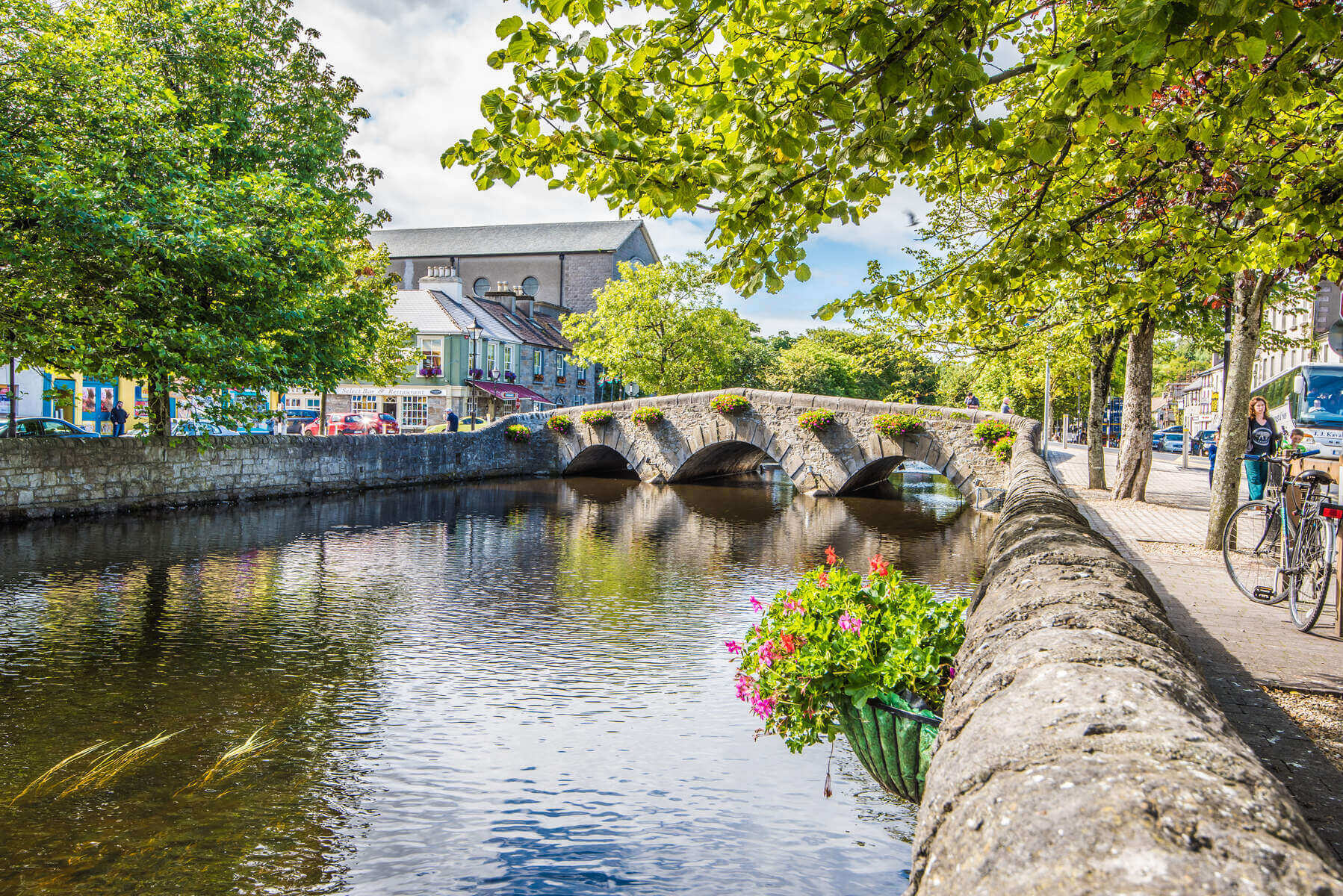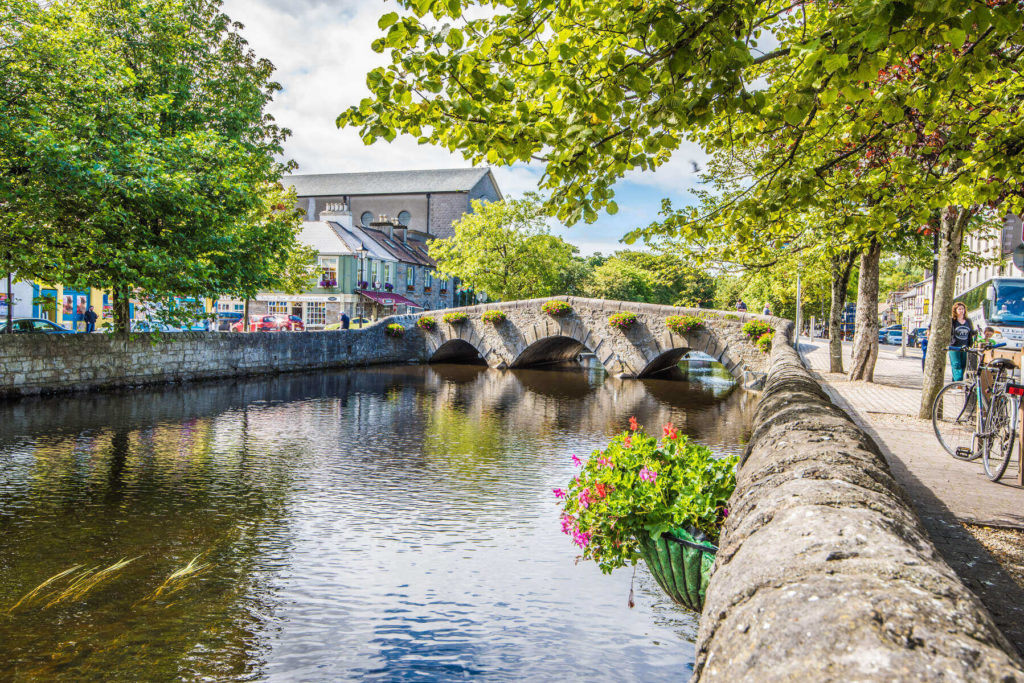 Achill Island is also a wonderfully unique place to stay and is home to some breathtaking scenery and outdoor activities. Our guide here will tell you everything you need to know. Here, we have a comprehensive accommodation guide to the island.
The 10 Most Beautiful Places in County Mayo
Our list is based on what we believe to be the most beautiful natural landscapes/areas of County Mayo. In compiling the list, we wanted to include as many landscape types as possible, which we believe is a true representation of the variety within the county.
Here, we see the locations of the most beautiful places in Mayo:
Croaghaun Cliffs
Let's start off at the dizzying heights of Croaghaun Cliffs, located on the western end of Achill Island.
These cliffs of insanity reach an incredible height of 688 metres (2,257 feet) and are notoriously difficult to get to.
You'll have to hike to the top from Lough Accorymore or walk out to Achill Head from Keem Strand. There's also a chance to see them by boat.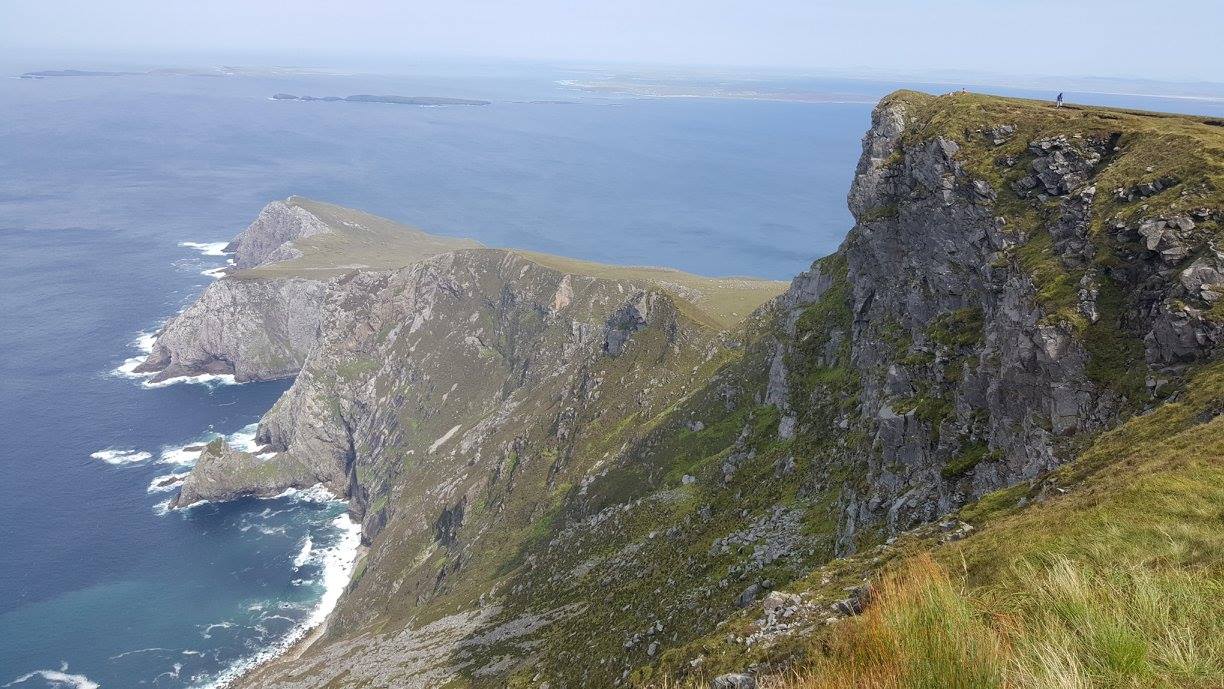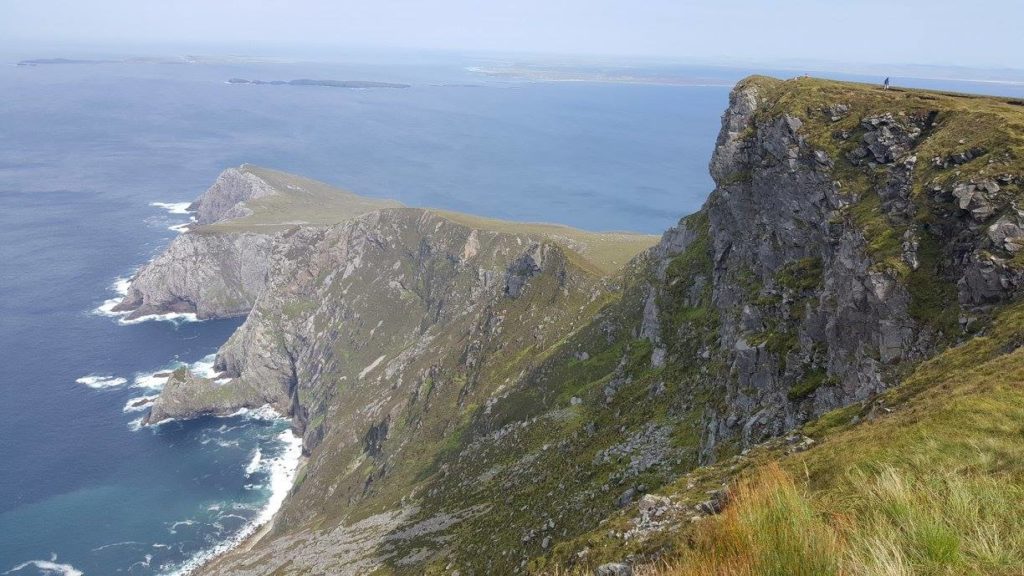 Whatever method you decide to choose, you will be in absolute awe at the views that await you. The cliffs are home to perhaps Ireland's most breathating lake 'Lough Bunefreva West'.
This incredible corrie (glacial) lake is perfectly perched on the cliff-edge, with drops of 100s of metres into the Atlantic just a stone's throw away.


To the west of Croaghaun, you'll see the cliffs continuing all the way to Achill Head, where they almost resemble a dragon's tail, sweeping out into the Atlantic Ocean.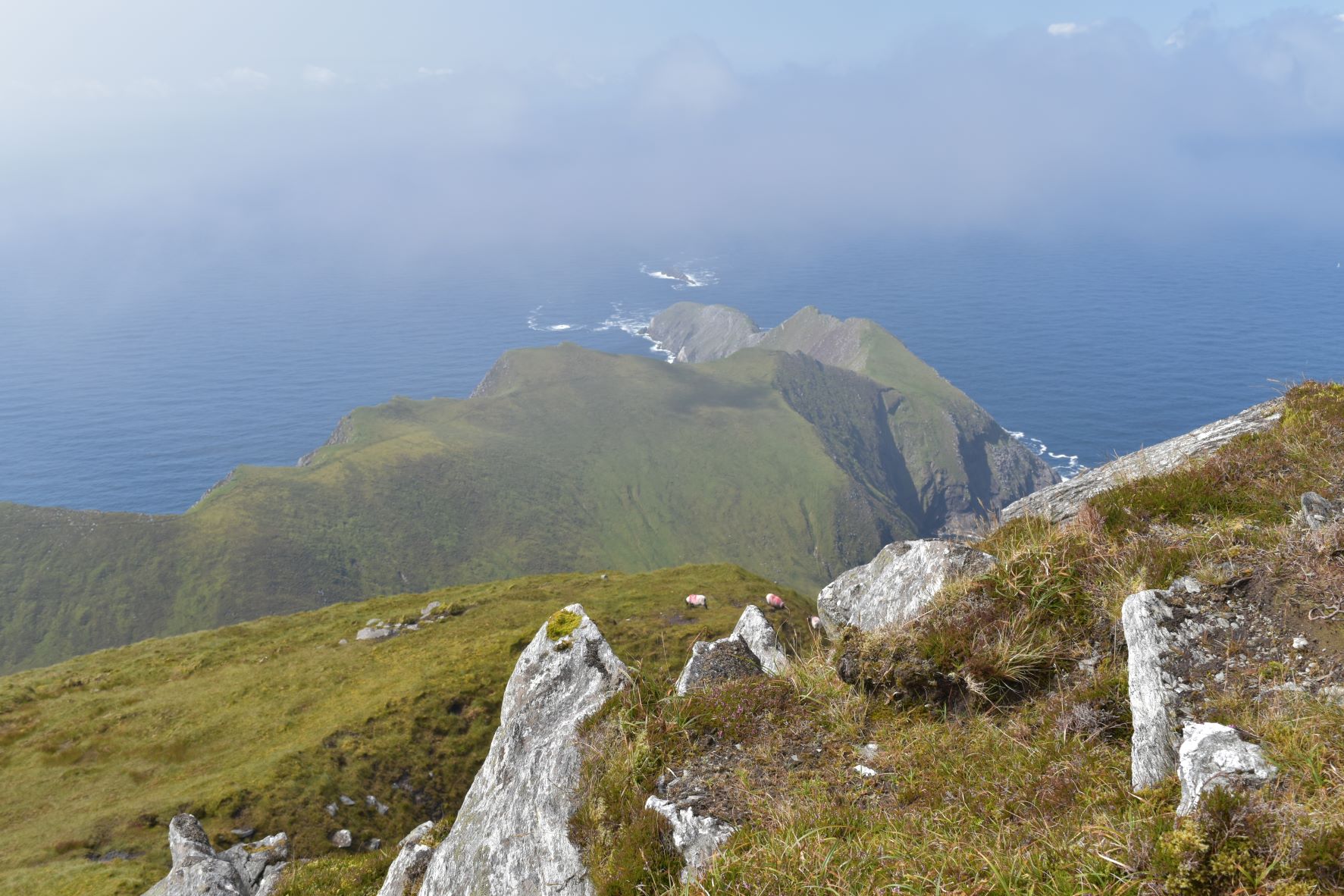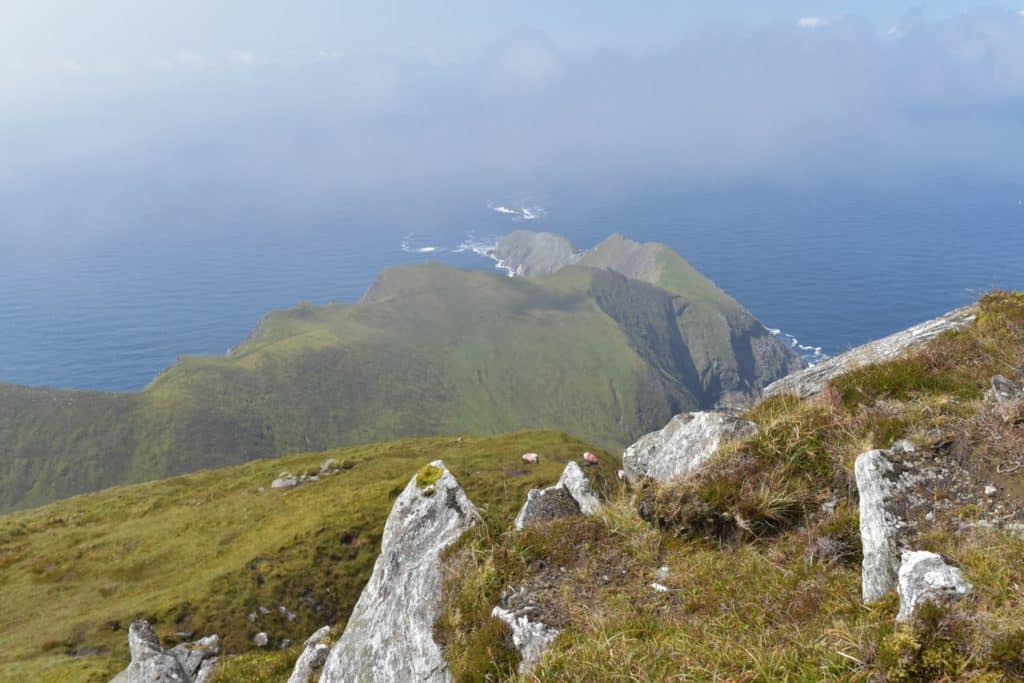 These cliffs continue until they reach a dramatic end at the world-famous Keem Strand. We have a detailed hiking guide to Croaghaun cliffs here.
Keem Beach/Bay
Does this beach need an introduction? Some places need to be visited at least once in your lifetime and this slice of paradise should be high on the list.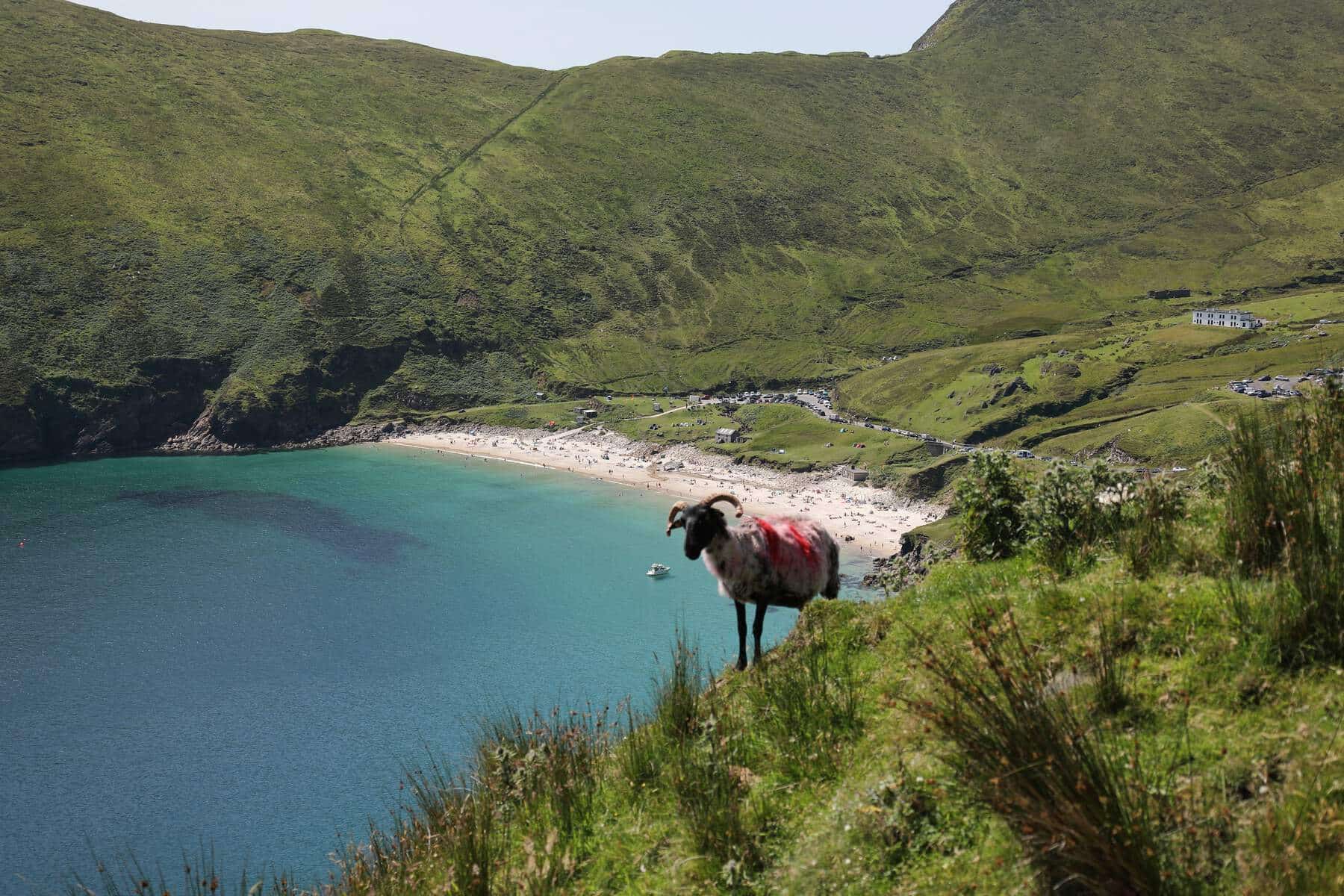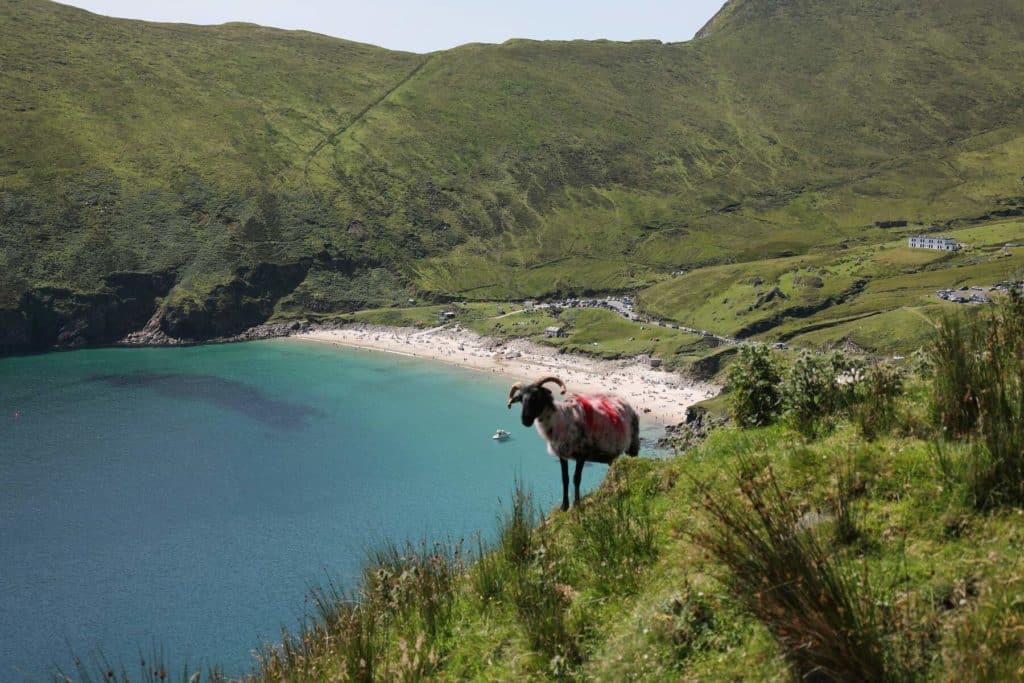 Nestled spectacularly under the enormous cliffs of western Achill Island, this beach has been voted as one of the best in the world.
On a clear day, you'll be rewarded with crystal-clear emerald green and deep blue waters and if you're lucky you'll spot a (harmless) basking shark wading away in the bay.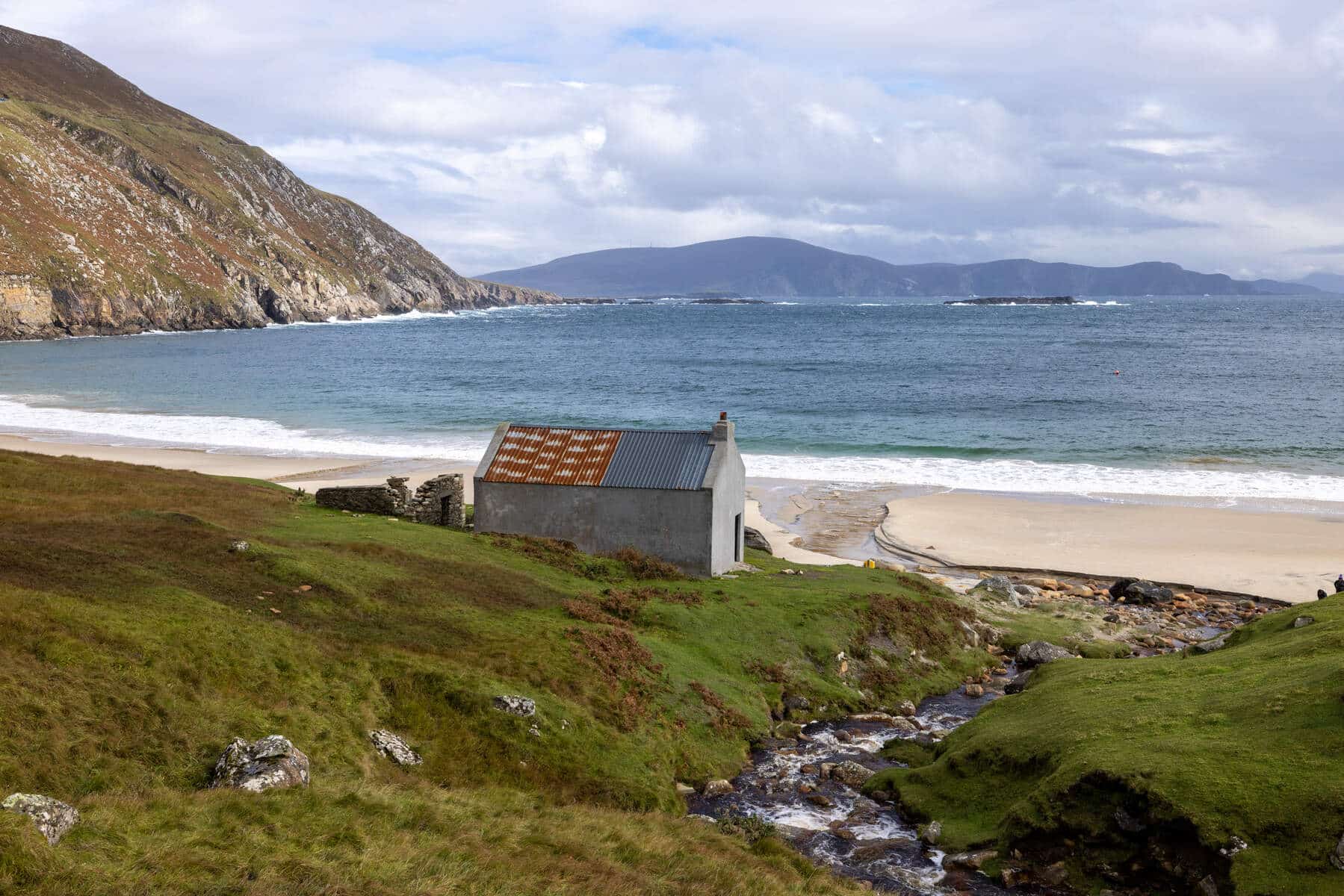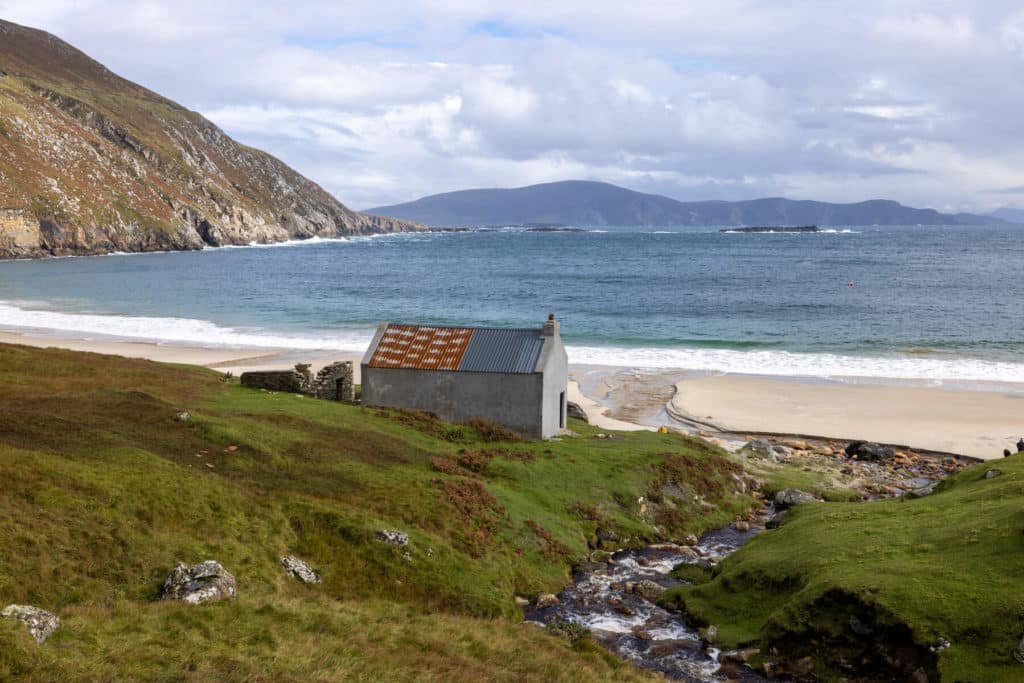 These gentle giants, along with dolphins are a common sighting here, mainly in the early summer months of May/June and add an extra layer of magic to this already incredible location.
We love this place so much that we have put together a very comprehensive guide to Keem Beach here. Truly one of the highlights not just of County Mayo, but of the whole of Ireland.
Croagh Patrick
Ireland's designated 'holy mountain', 'The Reek' is perhaps the most iconic mountain in all of Ireland.
A very popular hike, and a challenging one at that, this 764 metre quartzite peak will leave you breathless for a few reasons. The last section is steep and requires care, but the reward at the top makes the slog well worth while.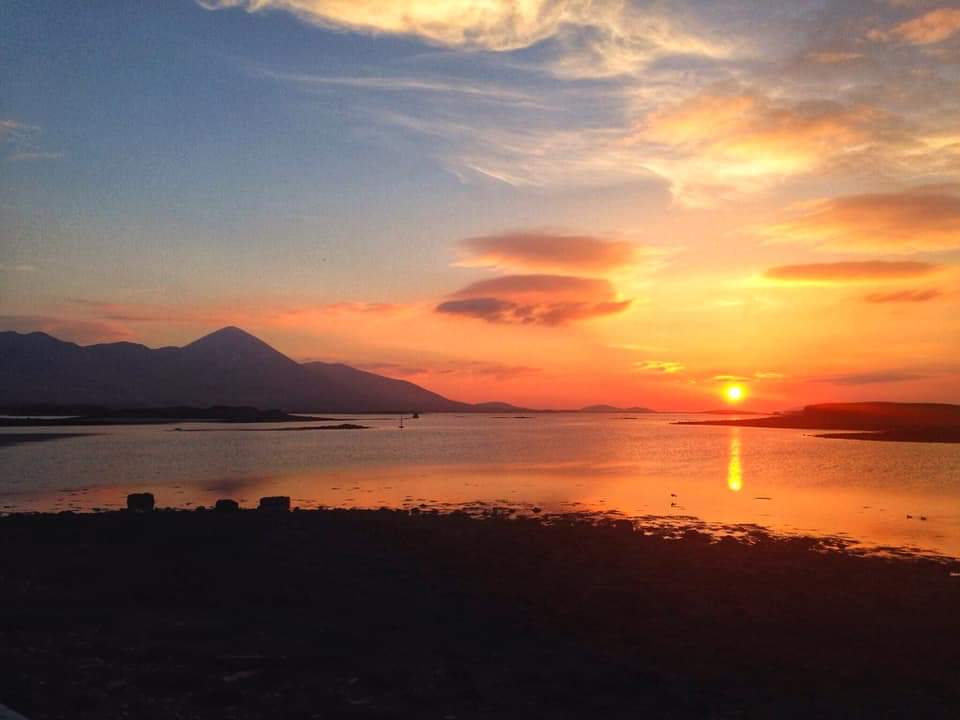 Expect panoramic views over the iconic Clew Bay with its hundreds of islands, along with views to the Nephin Beg wilderness area, Achill and beyond.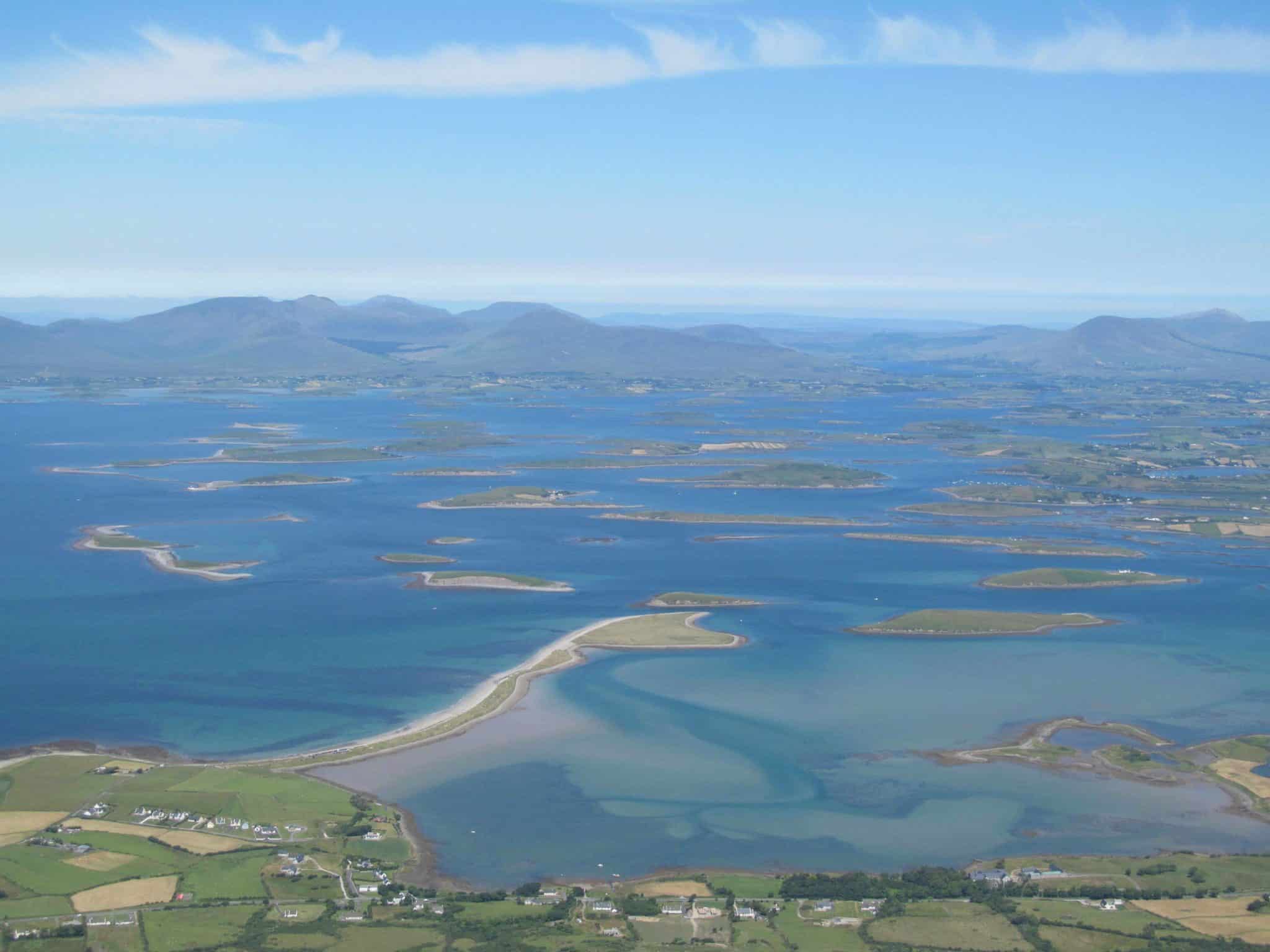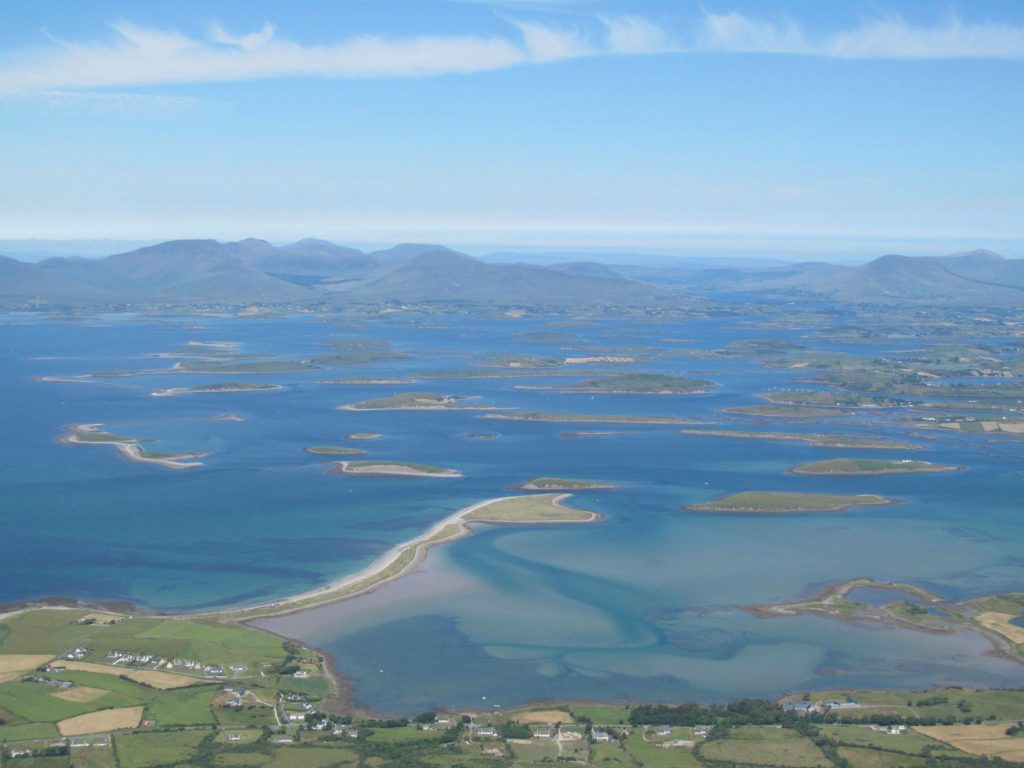 The summit is arguably one of the most interesting in Ireland, with St. Patrick's Chapel and Patrick's Bed adding some fascinating history to your climb.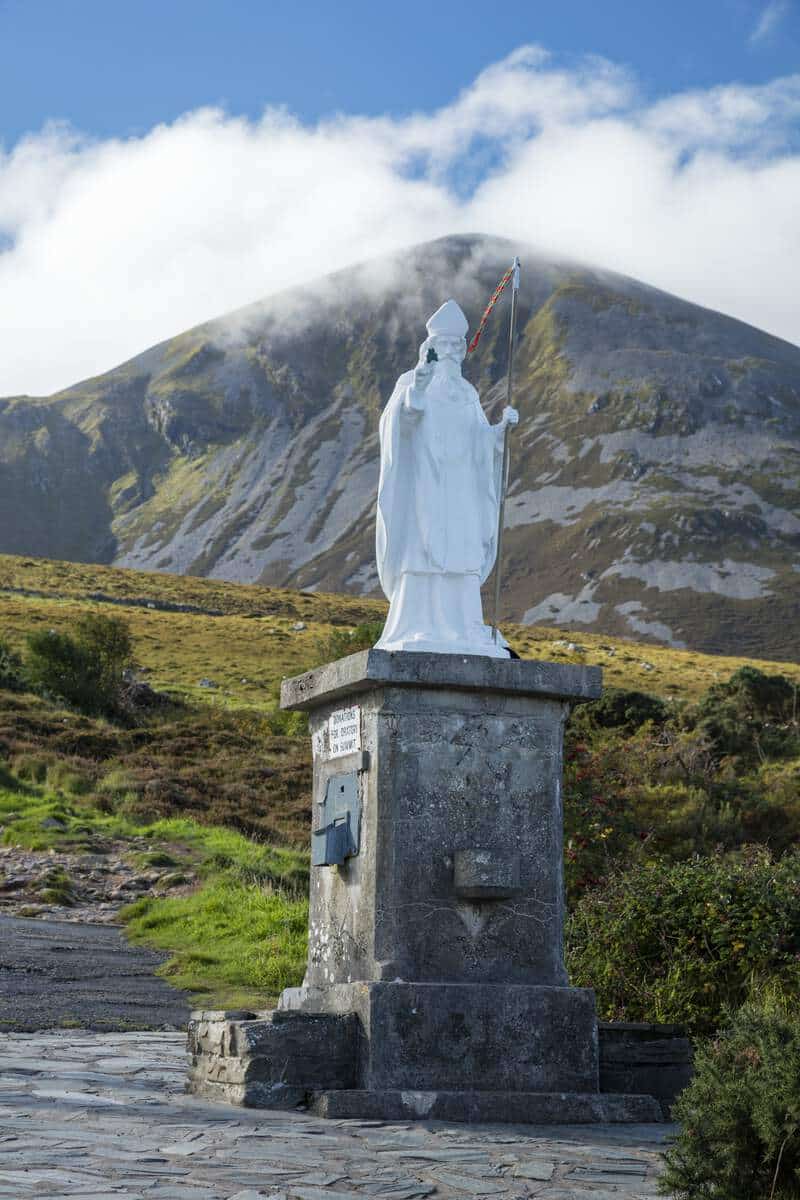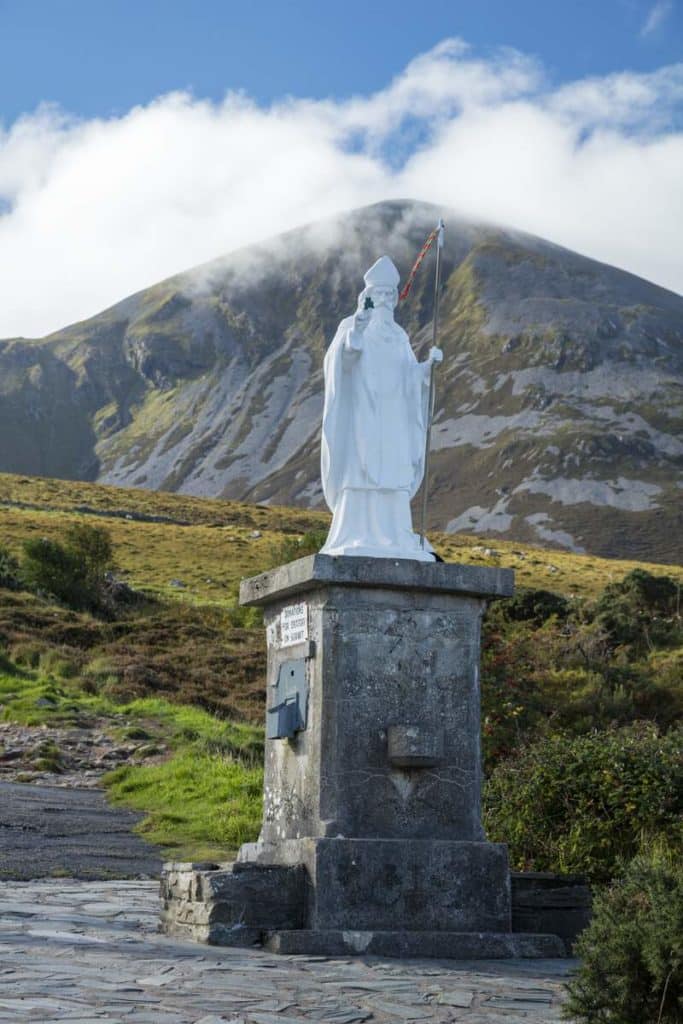 It is up here that Patrick fasted for 40 days and nights and got rid of them pesky snakes for once and for all. We have a detailed hiking guide, along with the history, geography and much more here.
Clew Bay
An incredibly unique and beautiful bay, Clew Bay is an absolute must see on your visit to County Mayo.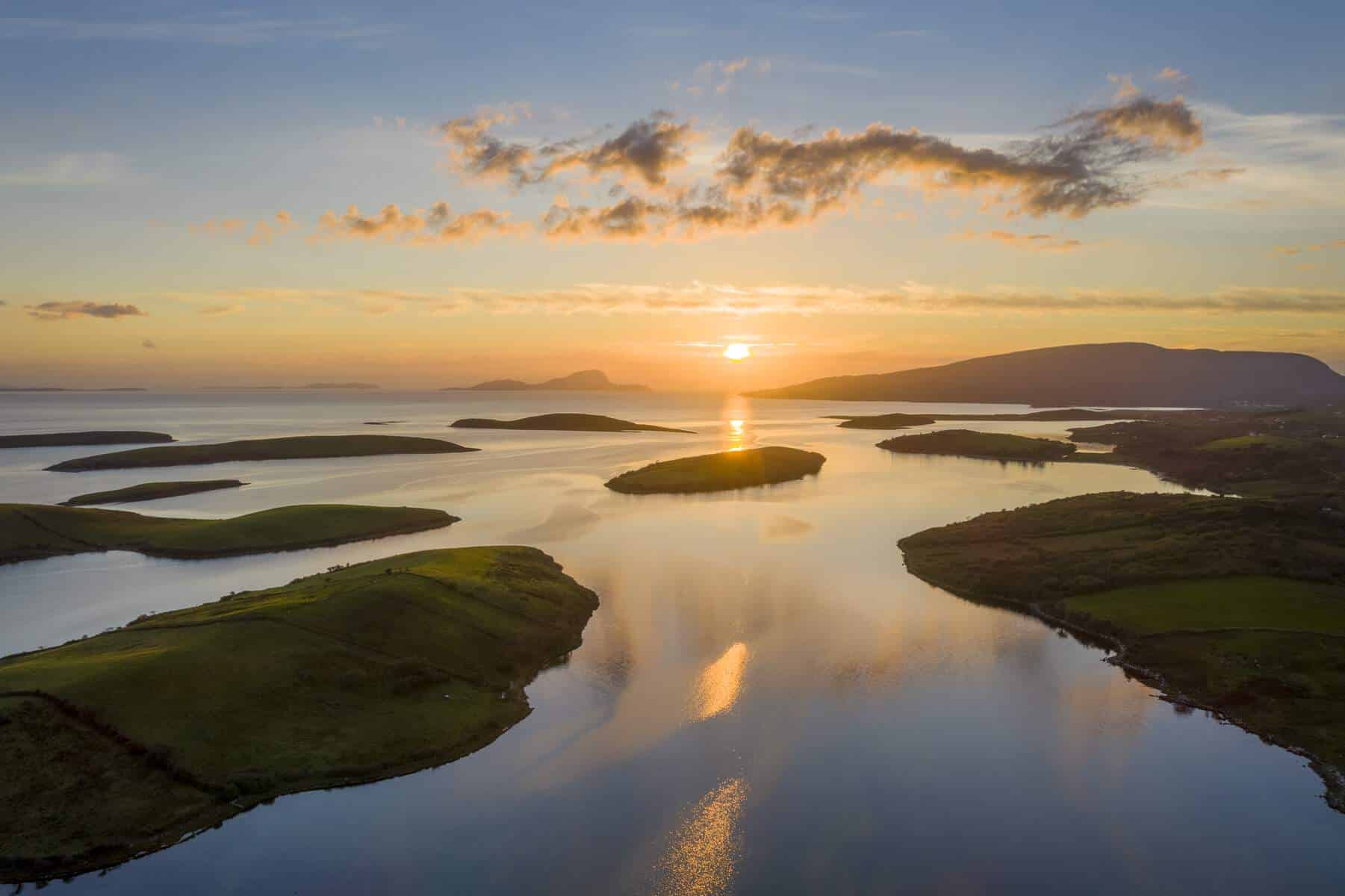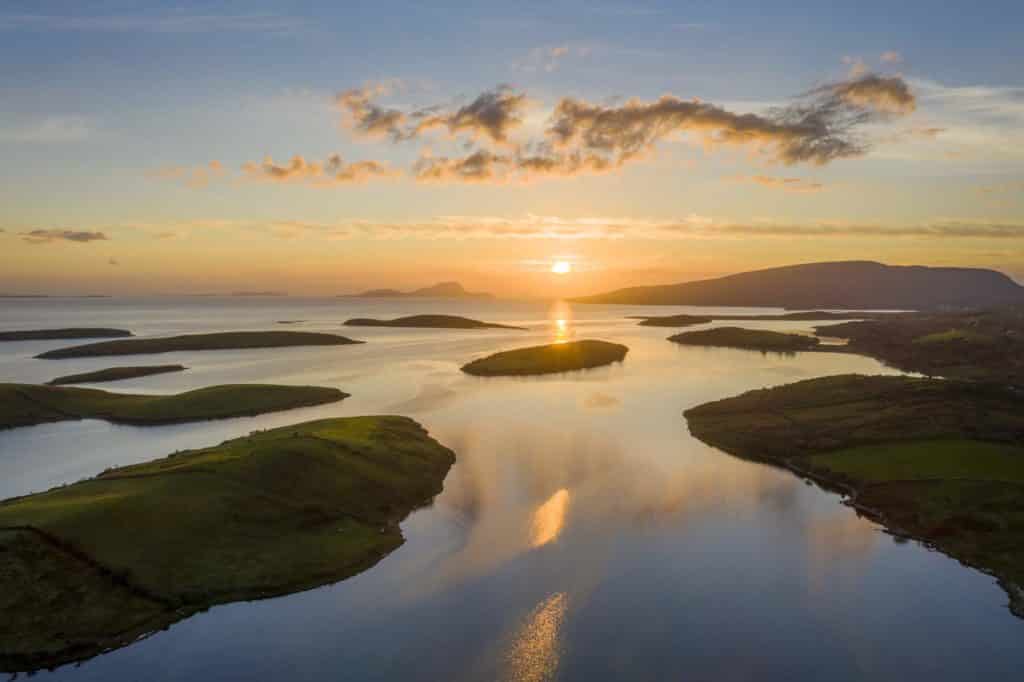 To the south lies the imposing peak of Croagh Patrick, to the north the wonderful beaches of Mulranny and nestled nicely in the south eastern corner, you'll find the wonderful town of Westport.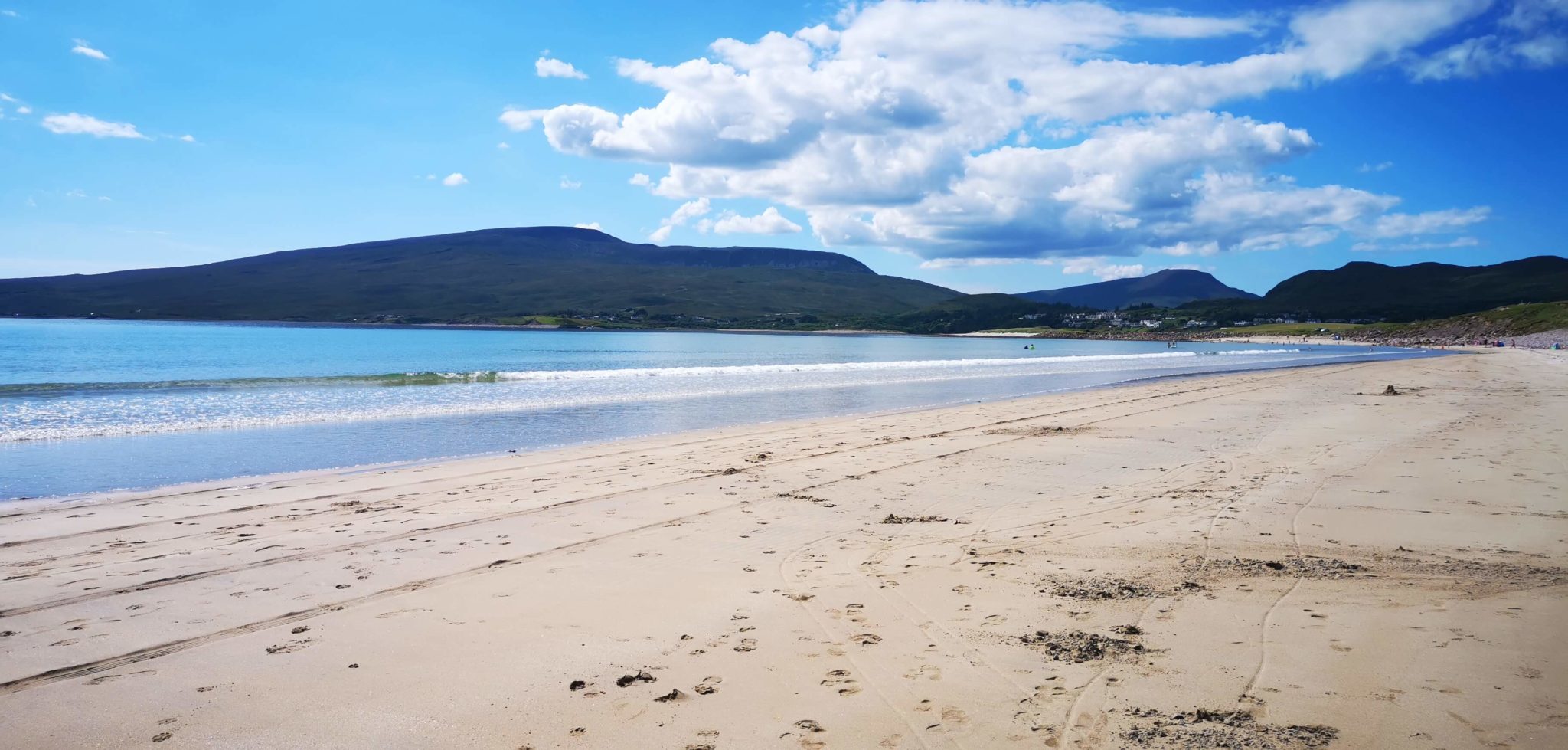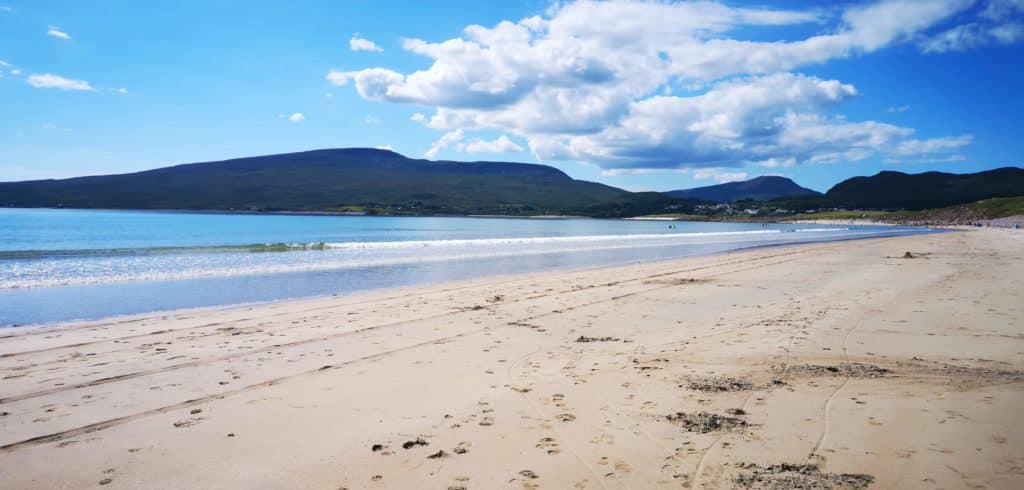 Westport is a brilliant base to explore the beauty of Clew Bay.
The bay is very unique, due to the hundreds of tiny green drumlin (glacial) islands dotted around the eastern shores.
These were formed during the last ice age and when the sea level rose, the areas around these hills were flooded.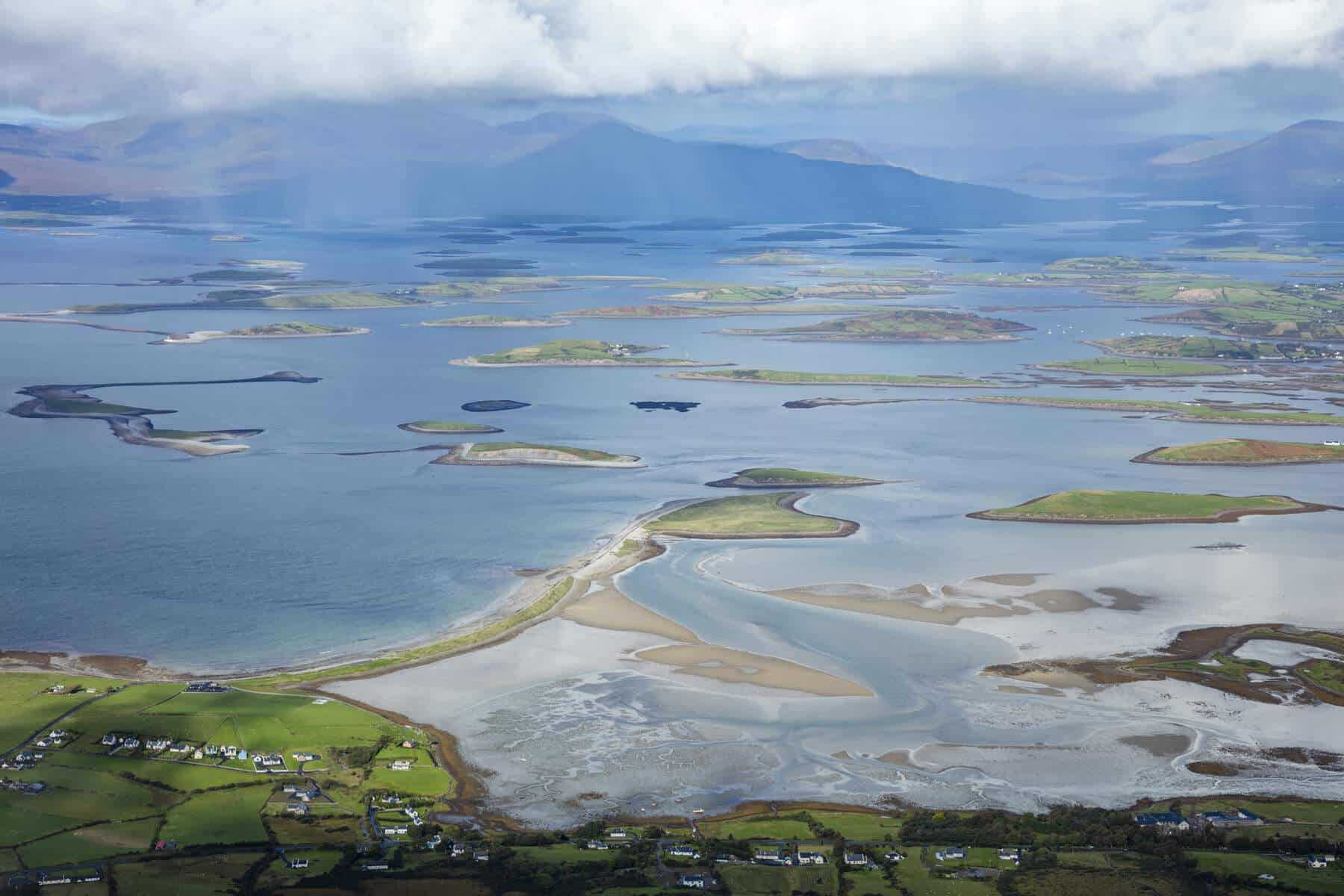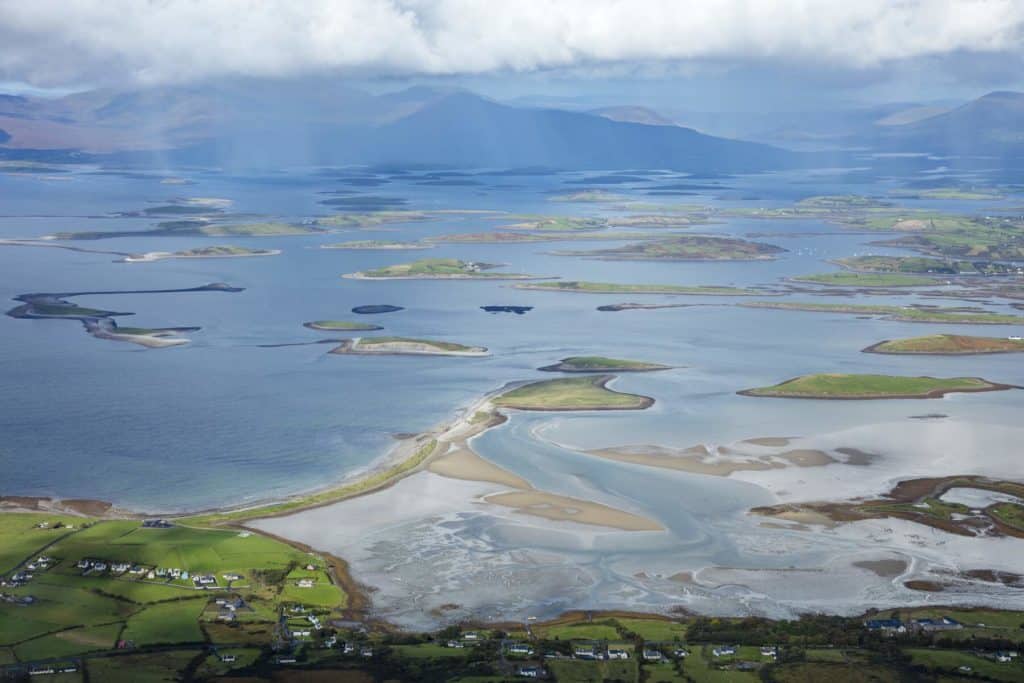 These hills still stand today, in island form, and are home to some very fertile land, on which you'll spot many sheep happily grazing away.
Dún Briste/Downpatrick Head
Downpatrick Head is located in North Mayo, a wild and wonderful part of the county, full of vast open spaces and phenomenal coastal scenery.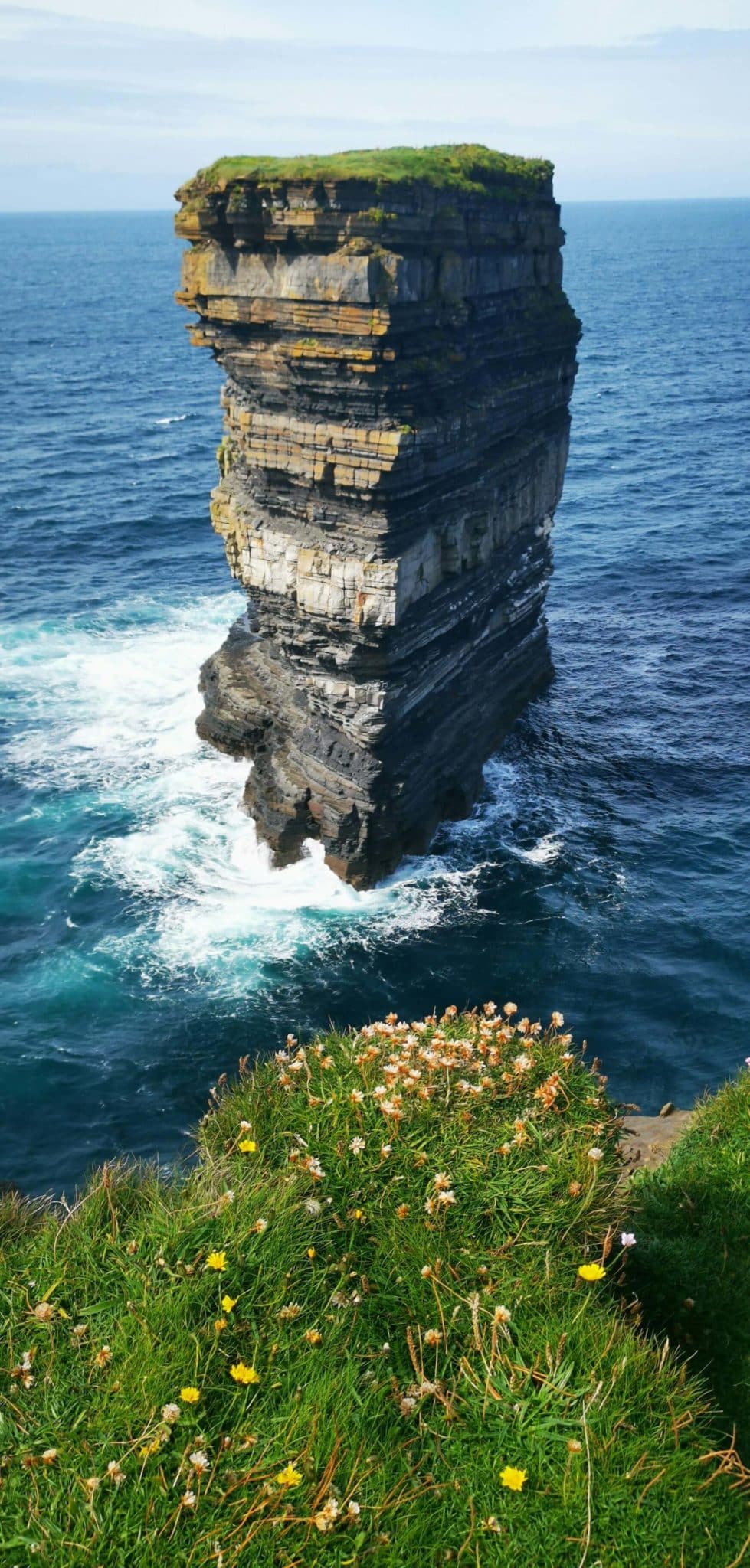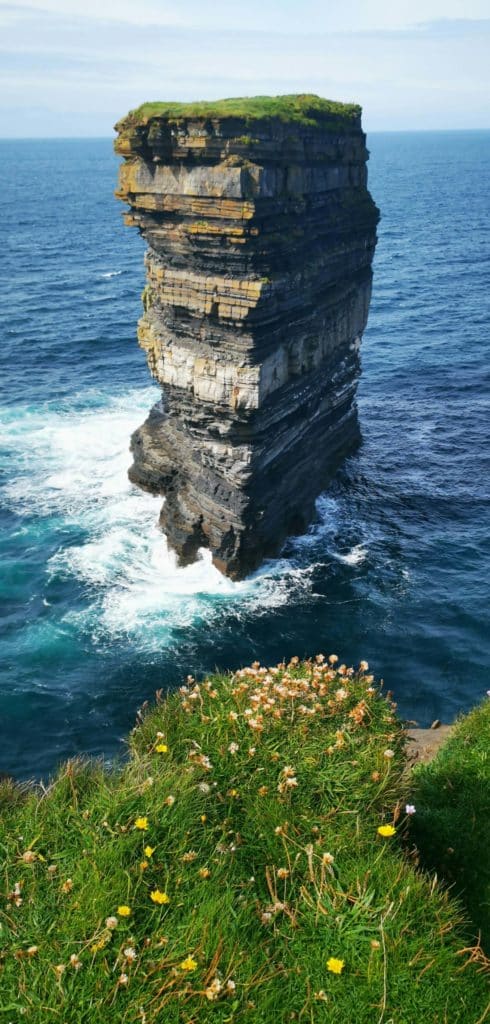 It is here you will find one of the most unique signature points along the Wild Atlantic Way, Dún Briste.
These words translate as 'Broken Fort', which relates to an event which happened here in about 600 years ago.
The seastack of Dún Briste would have once belonged to the mainland, but during a storm in the year 1393, the arch linking this headland collapsed into the sea, leaving the inhabitants stranded.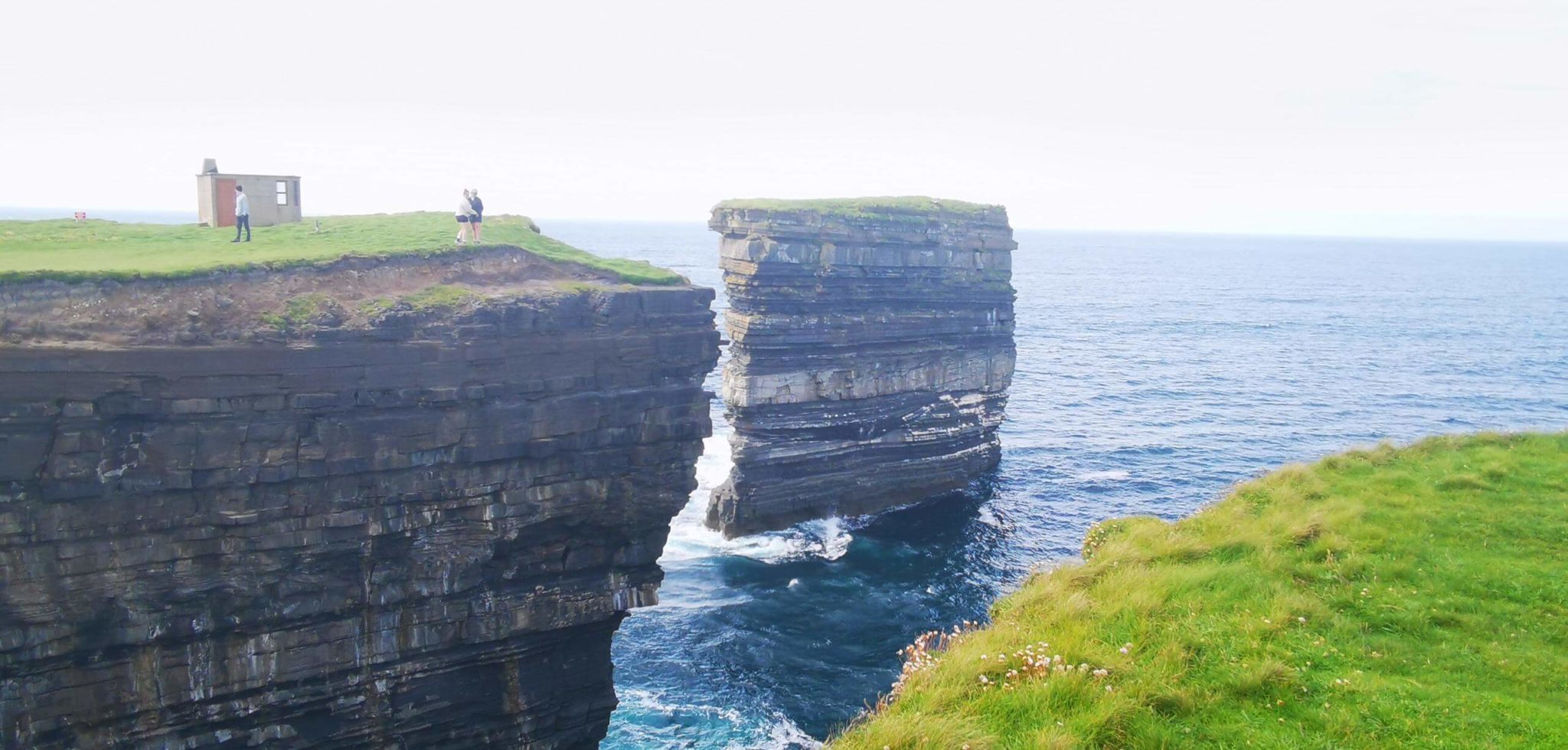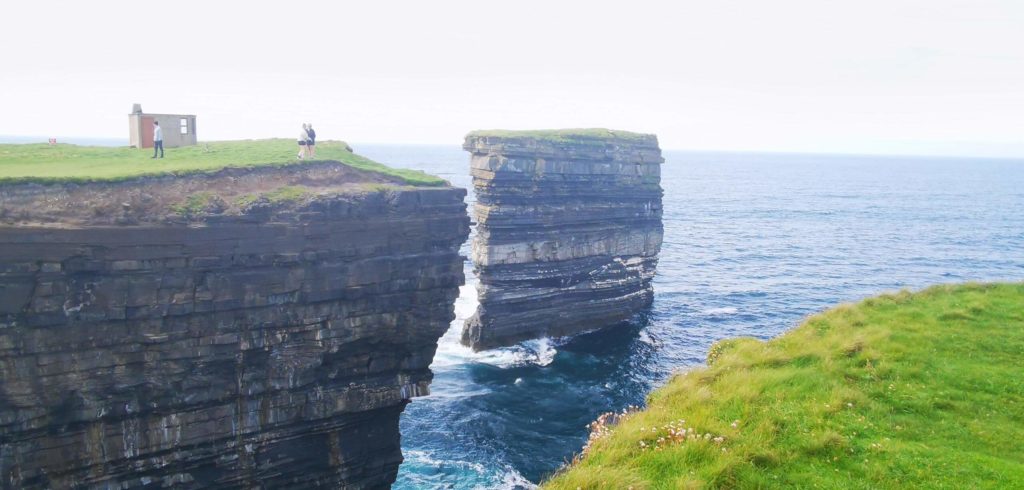 It is believed they were then rescued by boats using nothing but ropes to get the poor souls down from the stack.
Ruins of a medieval settlement were also found on top of the stack and the cliffs were traversed for the fist time by Mick Fowler, Nikki Duggan and Steve Sustad in 1990.
From a visual aspect, Dún Briste is incredible. After parking the car in the nearby carpark, you'll see a path which will lead you over some 'bubble grass'.
Here, you'll need to take care a little as you could quite easily trip.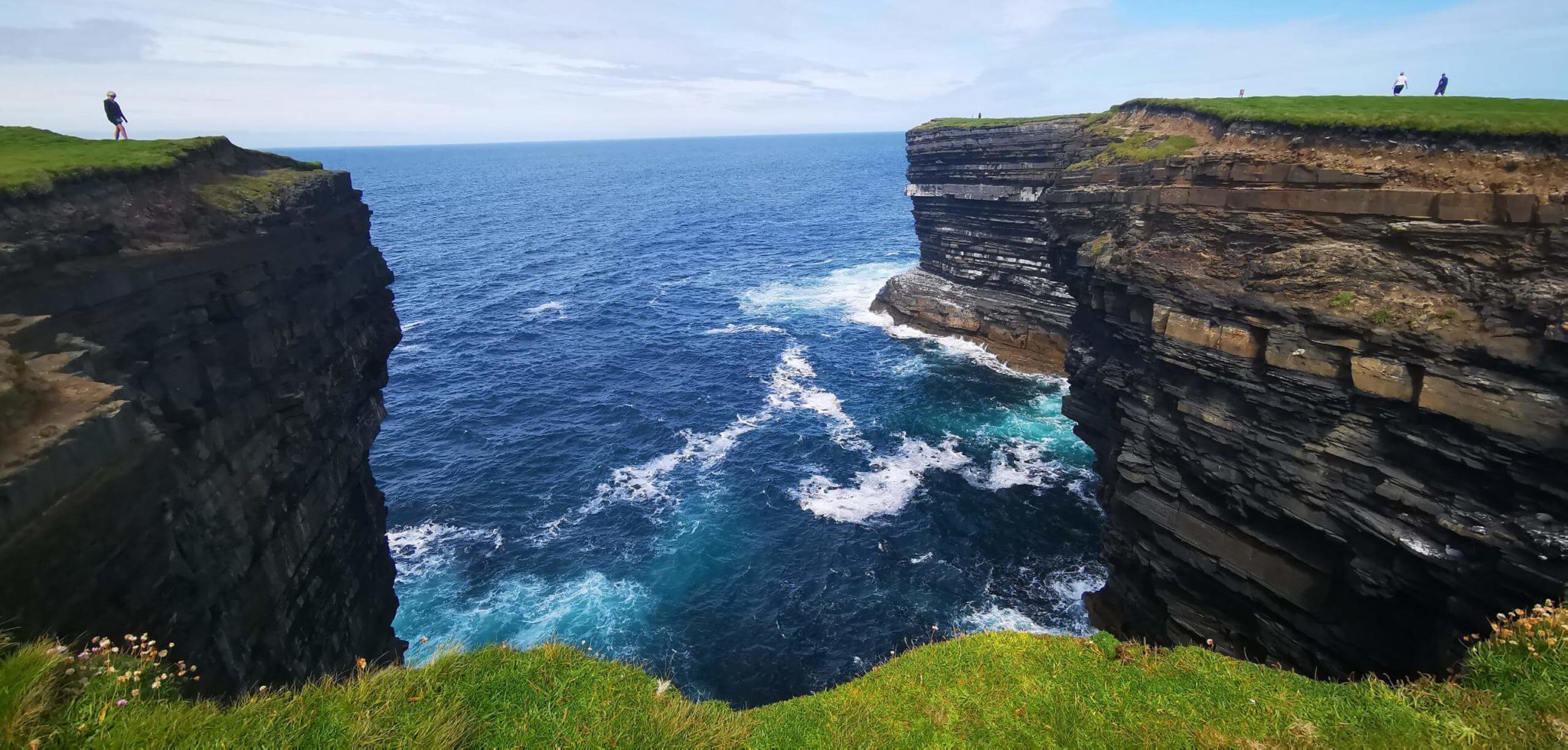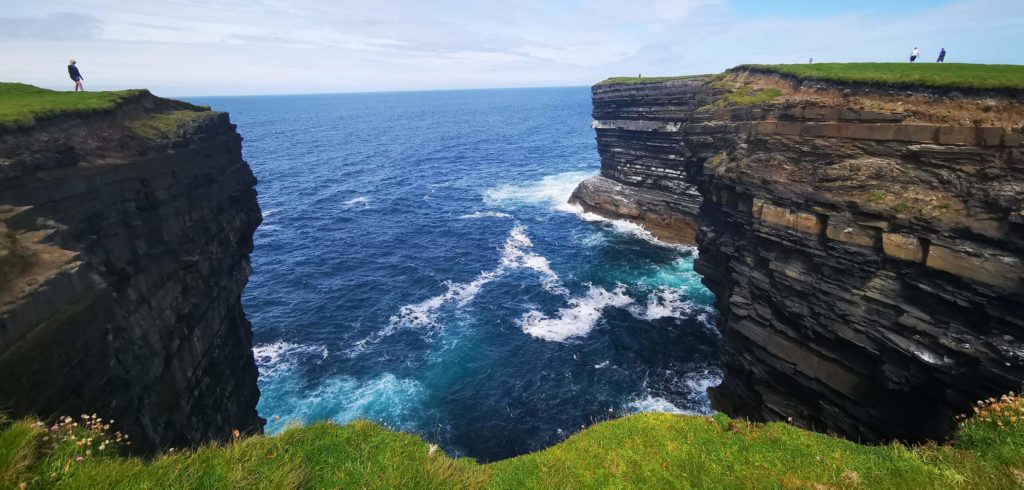 Then you'll find yourself on top of a cliff looking directly at the incredible sea stack, with its clearly defined 'strata', or layers of rock. These rocks date back to over 300 million years ago.
Between the cliffs and the carpark, you'll see a railing surrounding an enormous hole in the ground.
This is a blowhole, which is a crack or hole where water and air is released when waves crash against the shore.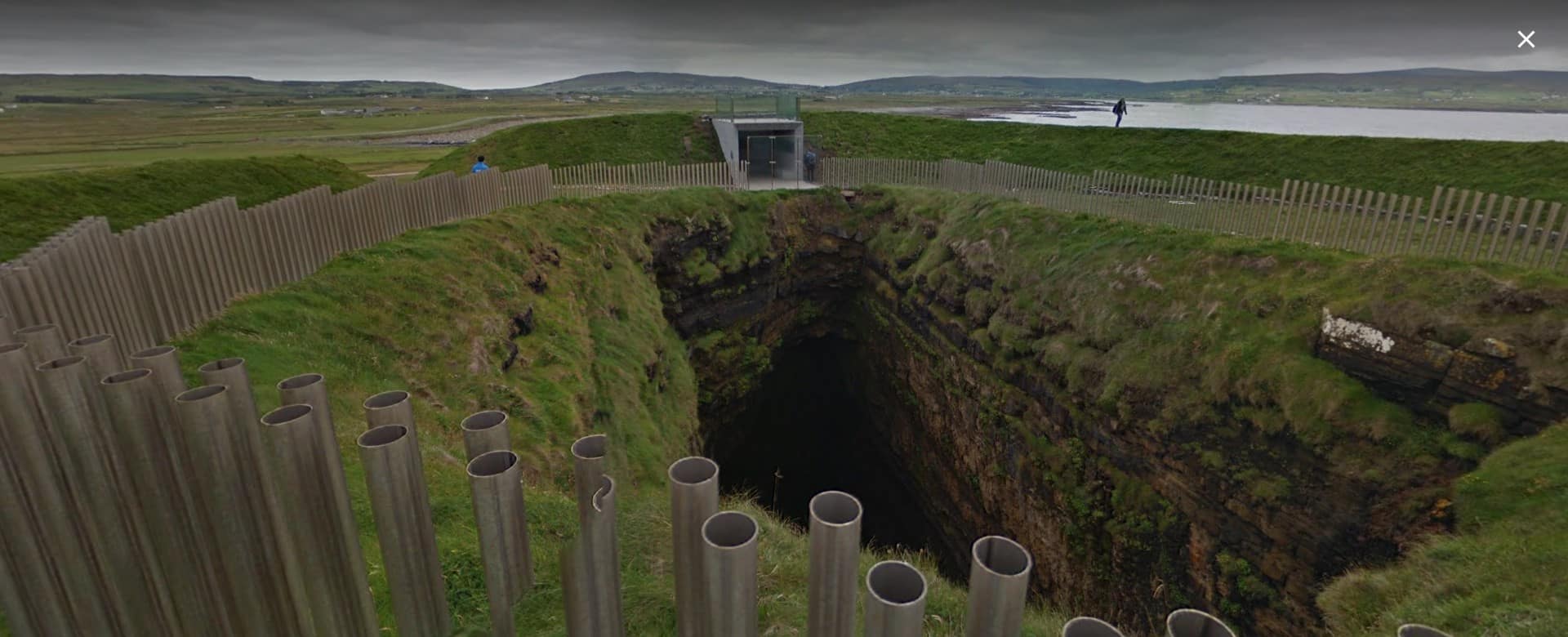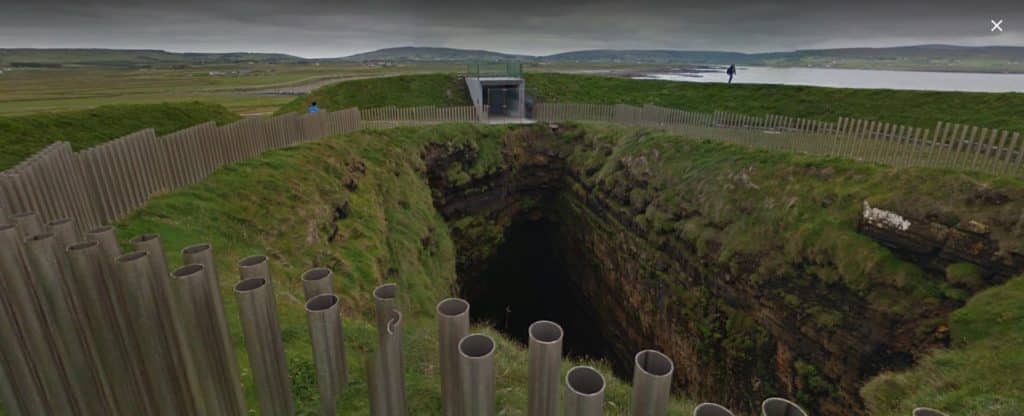 It's named 'Poll na Scantoine' and because the edges are well cornered off, you'll get an amazing view down into the massive caves below which are found directly under Downpatrick Head.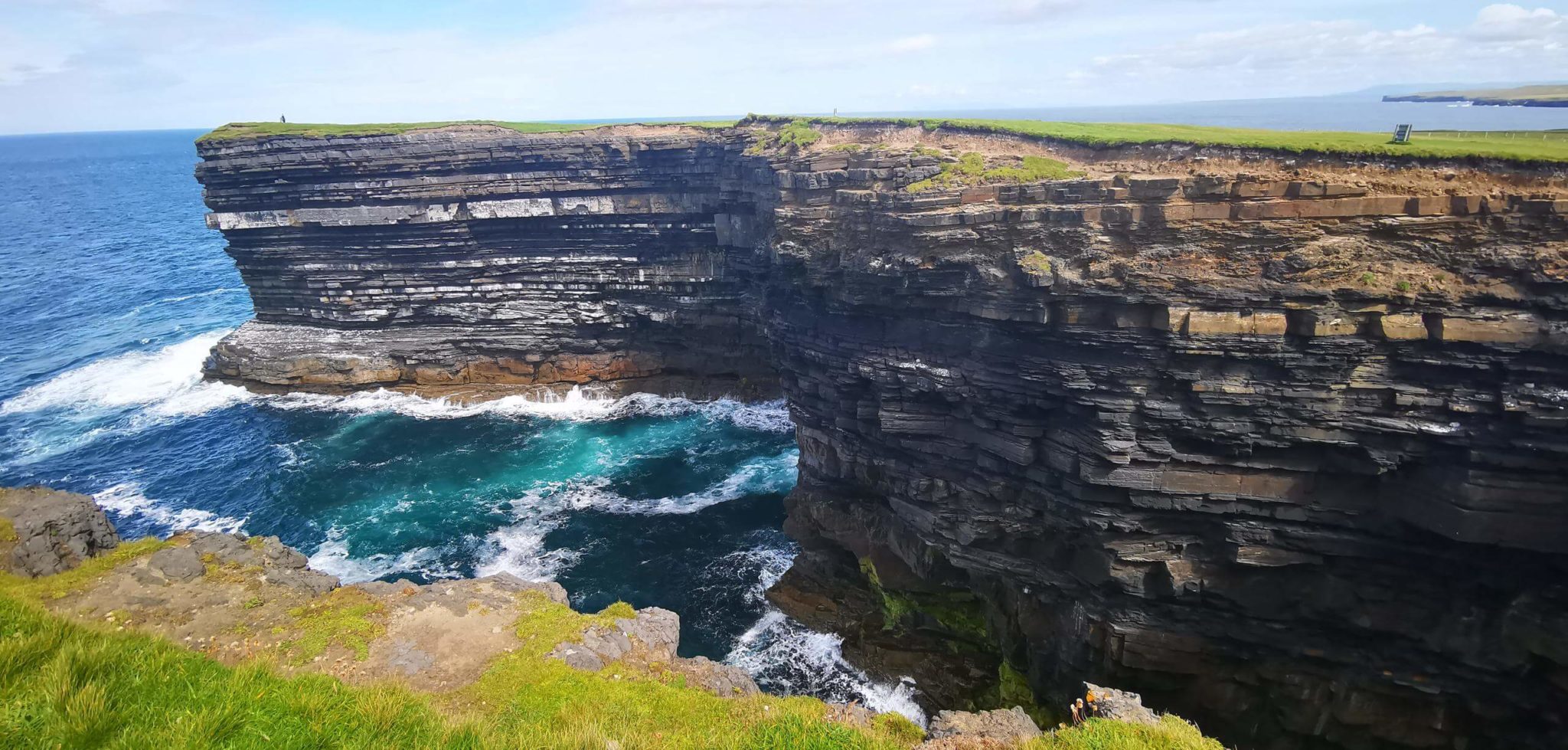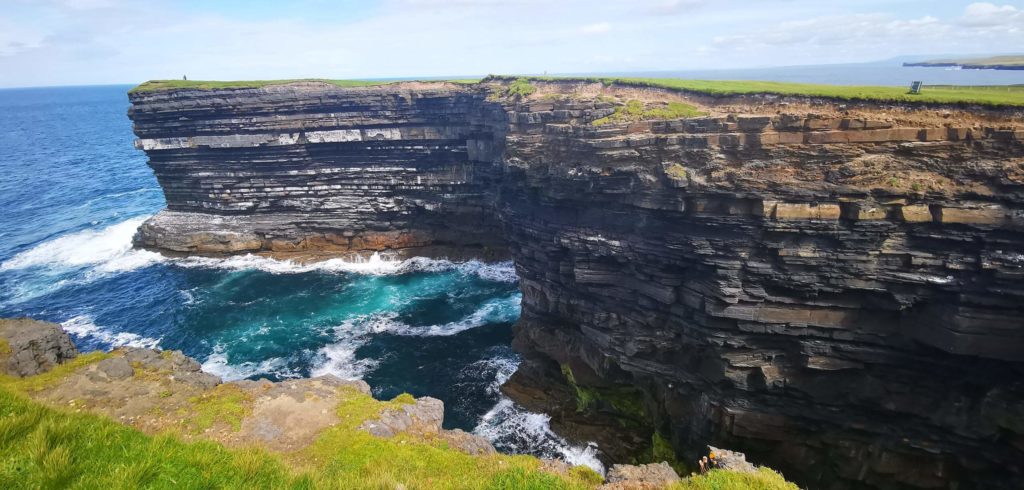 Since this has become a signature point on the Wild Atlantic Way, it has been recognised as a must-see location along the route, and for good reason too.
A remarkable place, especially for those into coastal landscapes and truly unique locations.
Doolough Valley
Doolough or 'Black Lake' in English is our first inland location on the list. It's one you will see on many guidebooks about the west of Ireland as it epitomises its wild, untouched nature.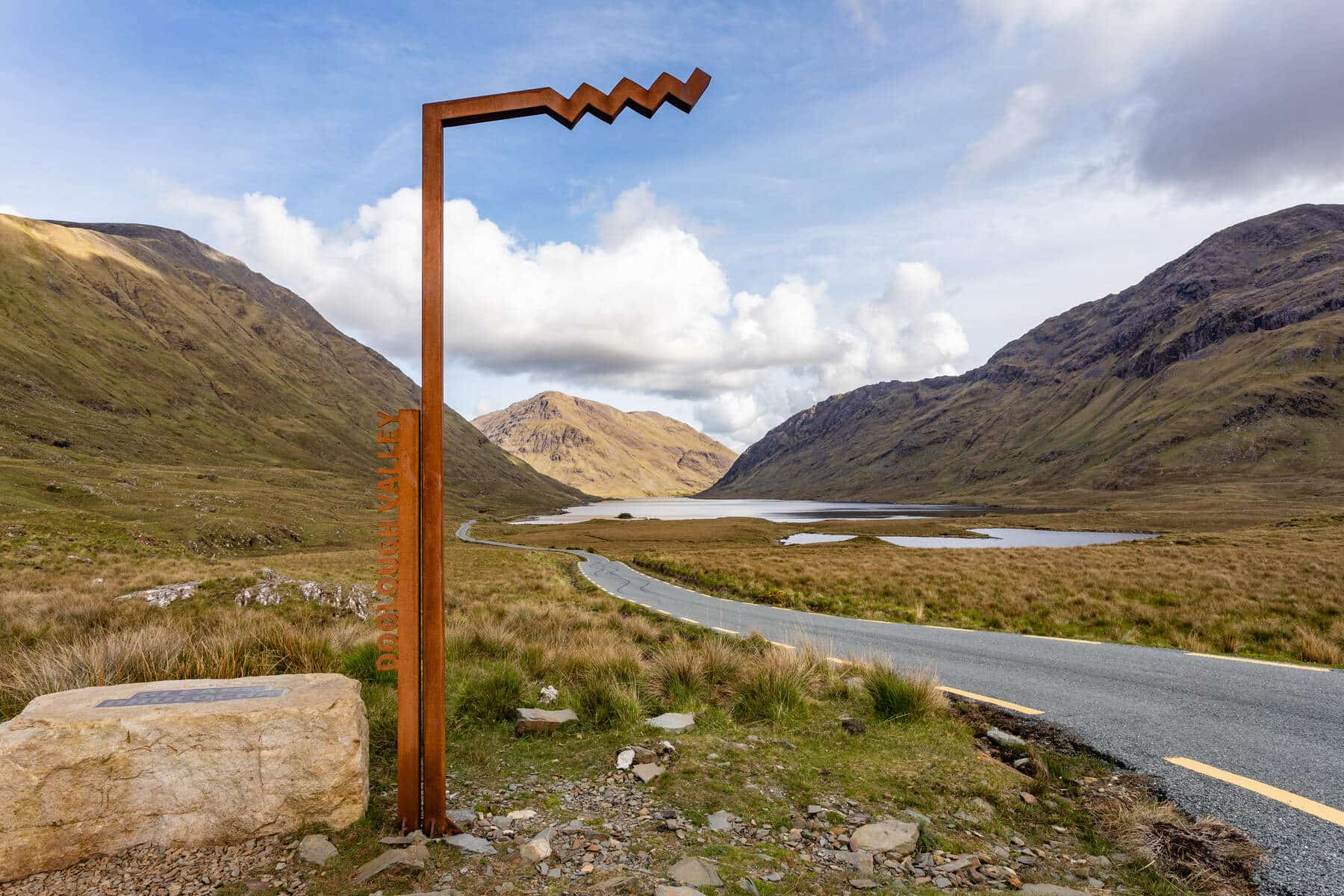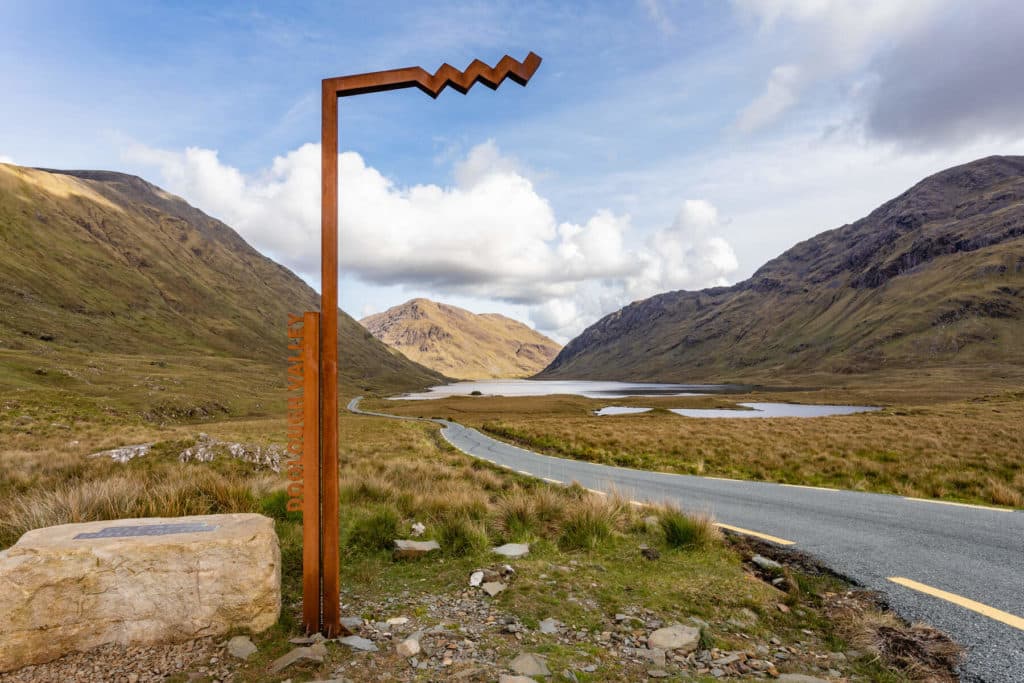 It is located on the road between Louisburgh and Lennane, in incredible isolation. There comes a point in the drive where you turn a corner and this huge glacial valley comes into view. This is the corry (glacial) walls of the Mweelrea mountain range.
As you drive on the lakes of Glenullin and Doolough will come into view nestled perfectly between the Sheefry Hills and Mweelrea range.


For those of you used to spectacular Alpine lake scenery, one main difference you will notice is that there is not 1 tree to be found on these hills and mountains, which adds some incredible uniqueness to the area.
Near the lake, you'll see a monument in memory of the Doolough Tragedy, a stark reminder of the appaling events which took place in this valley in the height of the Irish Famine, in 1849.
Doolough is a special place. The vast scale of the mountains and the incredible isolation in connection with the tragedy which occured create a deep sense of melancholy.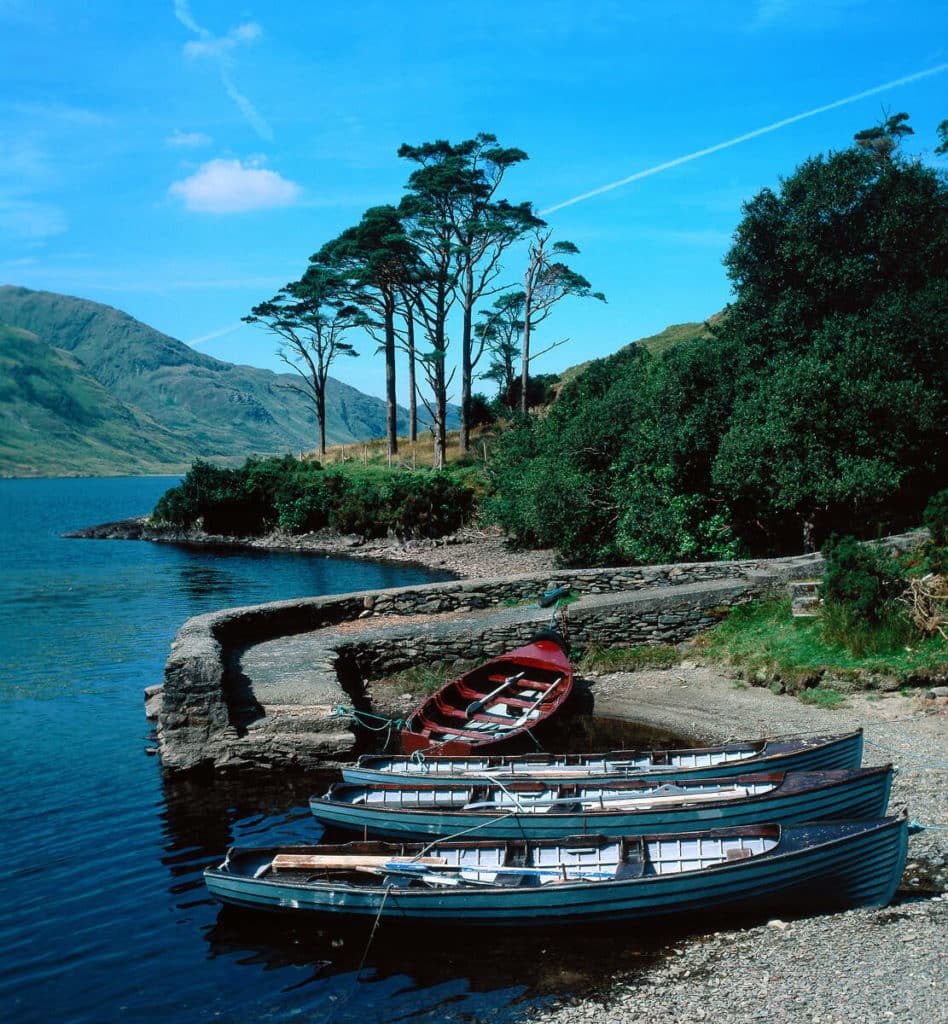 In saying that, it's west of Ireland nature at its very best and a place everyone should visit.
We have this location as part of out 'best day trips from Westport guide'. Click here for the detailed roadtrip guide.
Killary Fjord
Ireland's only 'true fjord' and another reminder of the ice age in Ireland, which ended approximately 10,000 years ago.


Killary is located not far from Doolough and is part of our recommended must-do roadtrip above. It forms the natural border between County Mayo and the county of Galway and seems more fitting in a Scandanavian country than in Ireland.
The fjord is 16 km long in total, with a maximum depth of 45 metres. You'll find the beautifully located village of Leenane (Leenaun) located at the top of the fjord, which provides stunning views of the surrounding mountains.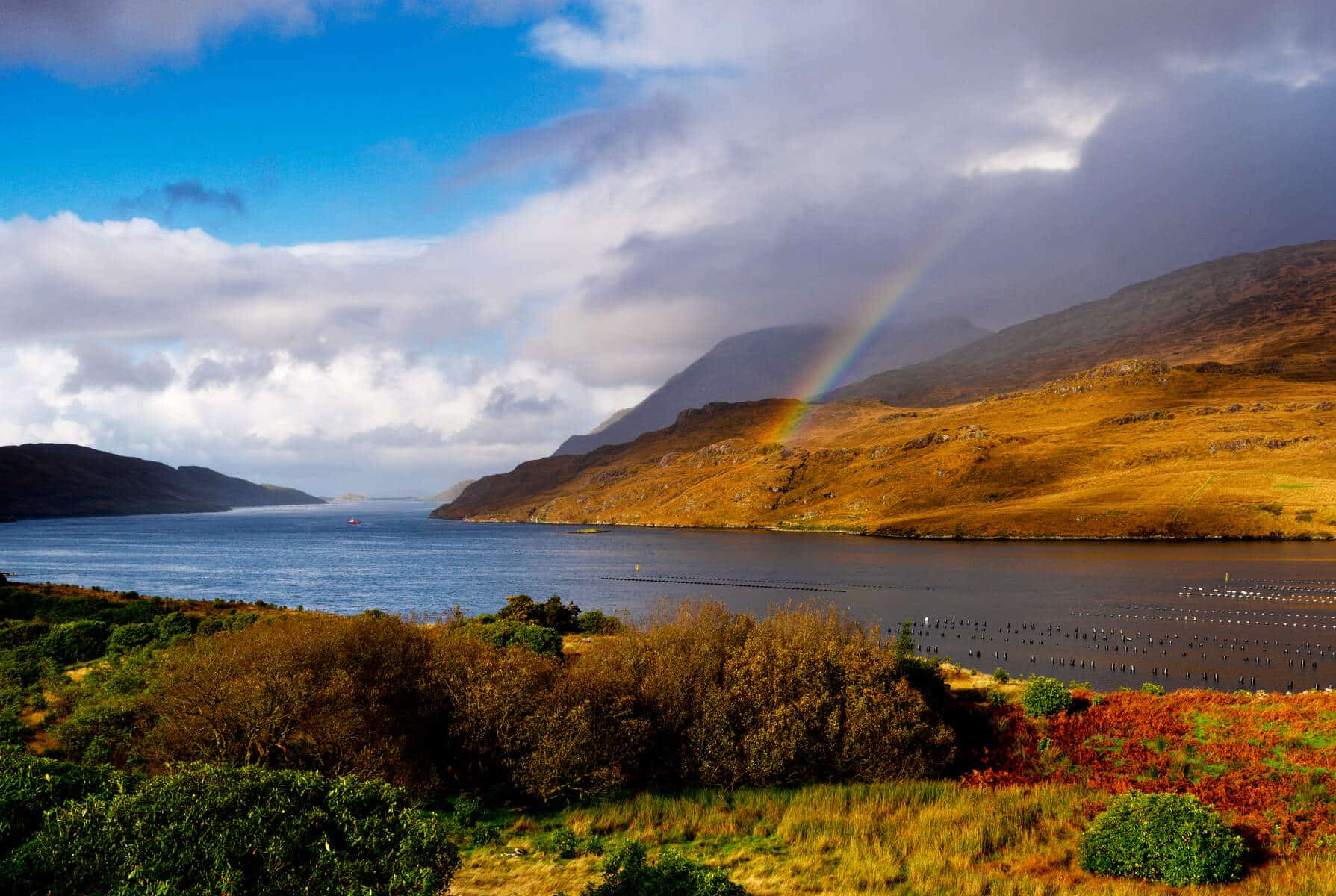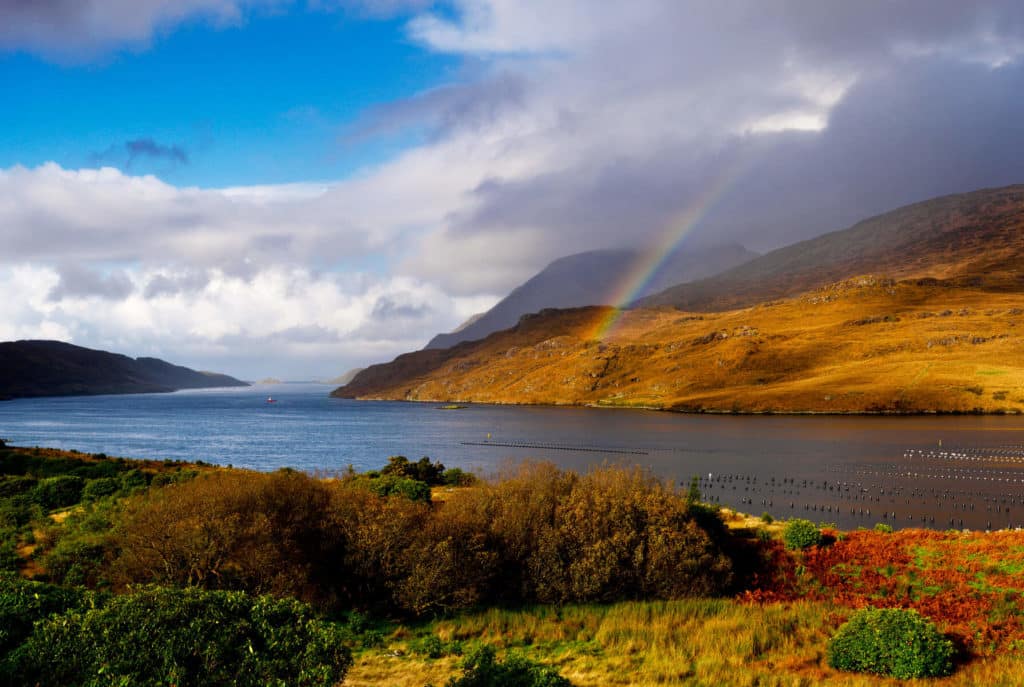 It's in this village that you'll also find one of Ireland's most stunning cemeteries, located here. Some spot to be buried…
The best way to see the fjord is from the boat which offers a very informative tour that lasts an hour and a half. You can book that directly here.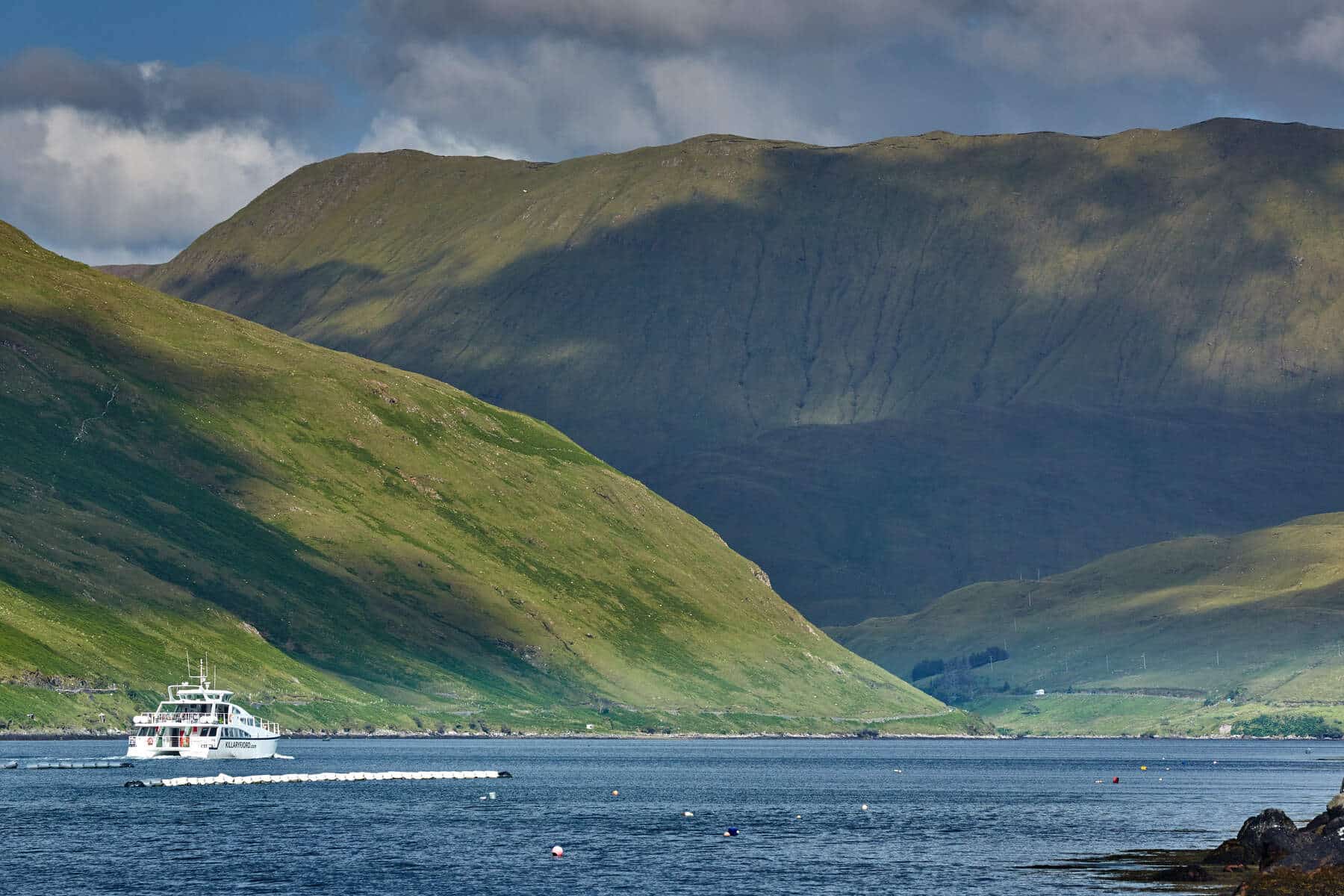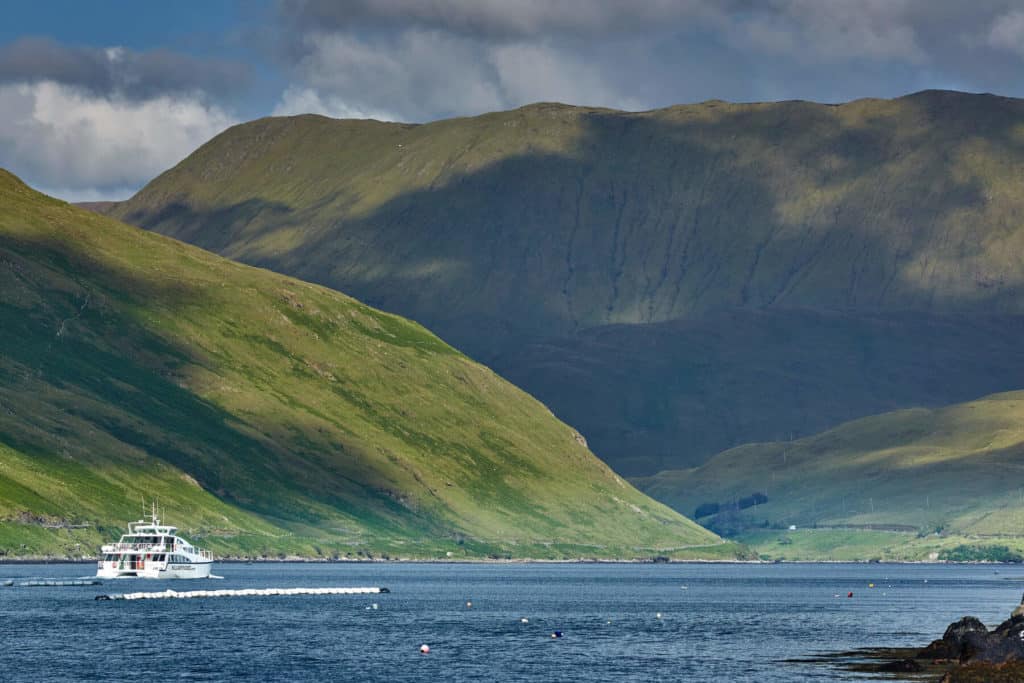 Just imagine taking in the fjord of Killary, Clew Bay and Doolough Valley in one day? Now that's a roadtrip to remember!
Wild Nephin National Park
As the name suggests this place if truly wild! Labelled 'Ireland's loneliest place', this vast area of bogland and mountains covers an area of 15,000 hectares.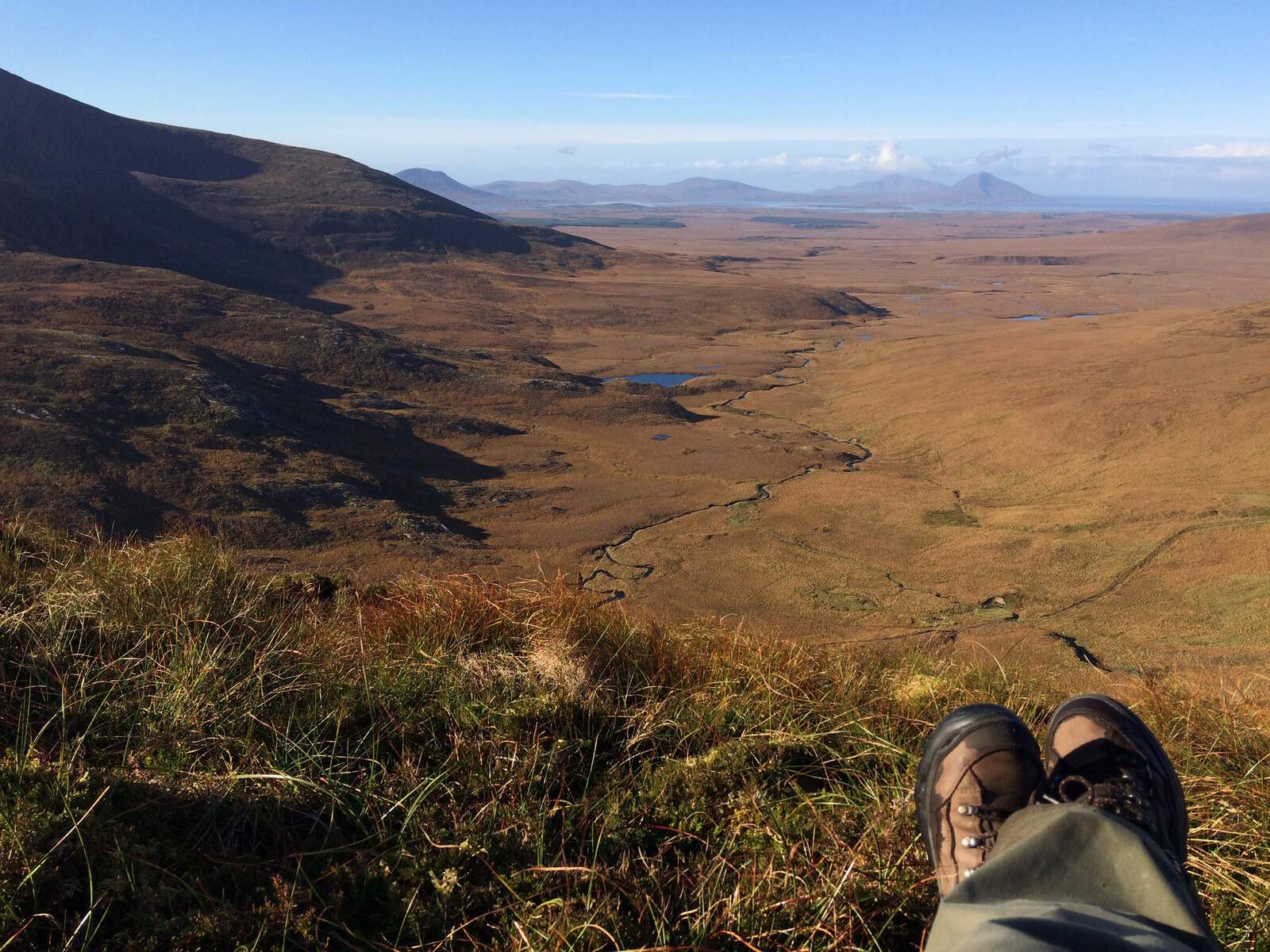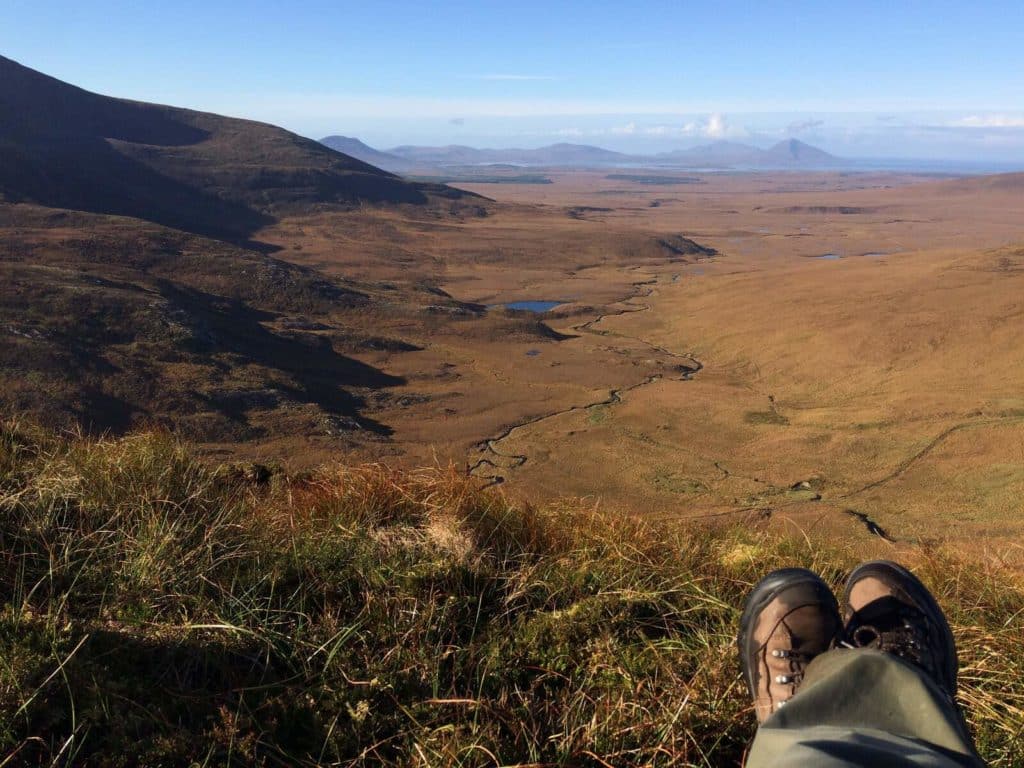 It's home to some great walks, one of the most popular being the Letterkeen Loop, a moderately difficult trail which takes in some beautiful river, forest and mountain landscapes. If you wish to get away from the rat-race of life, well I reckon this would be the place to visit.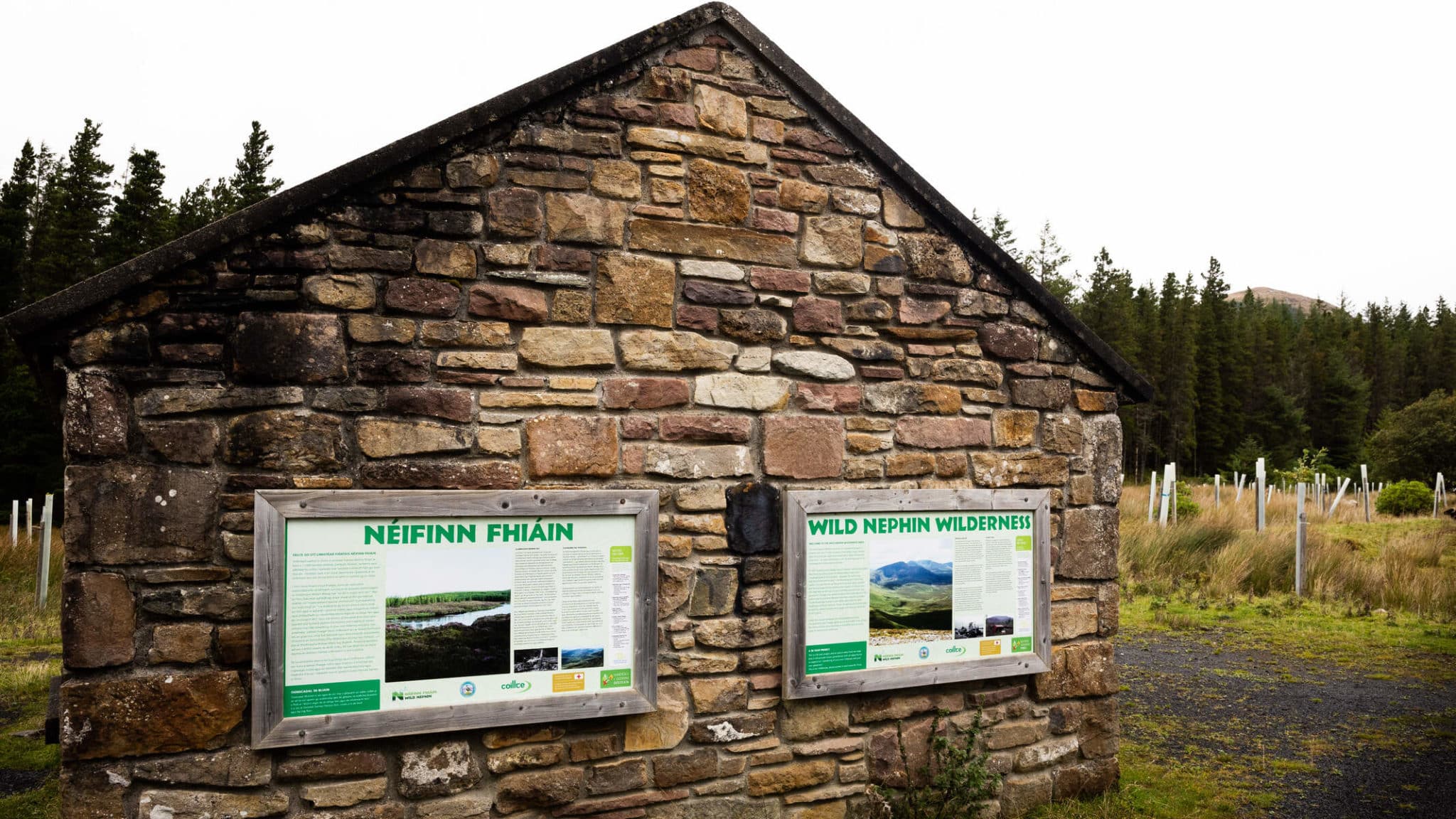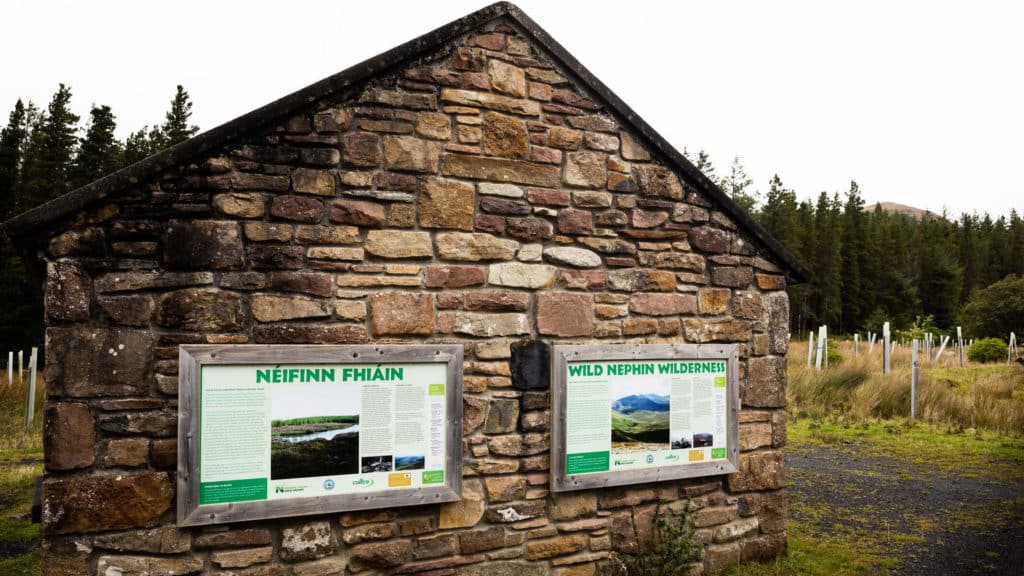 If you are feeling very adventurous and you have a lot of experience with cross country walking/trekking, then there's the Bangor Trail. This is without doubt the most isolated place in all of Ireland.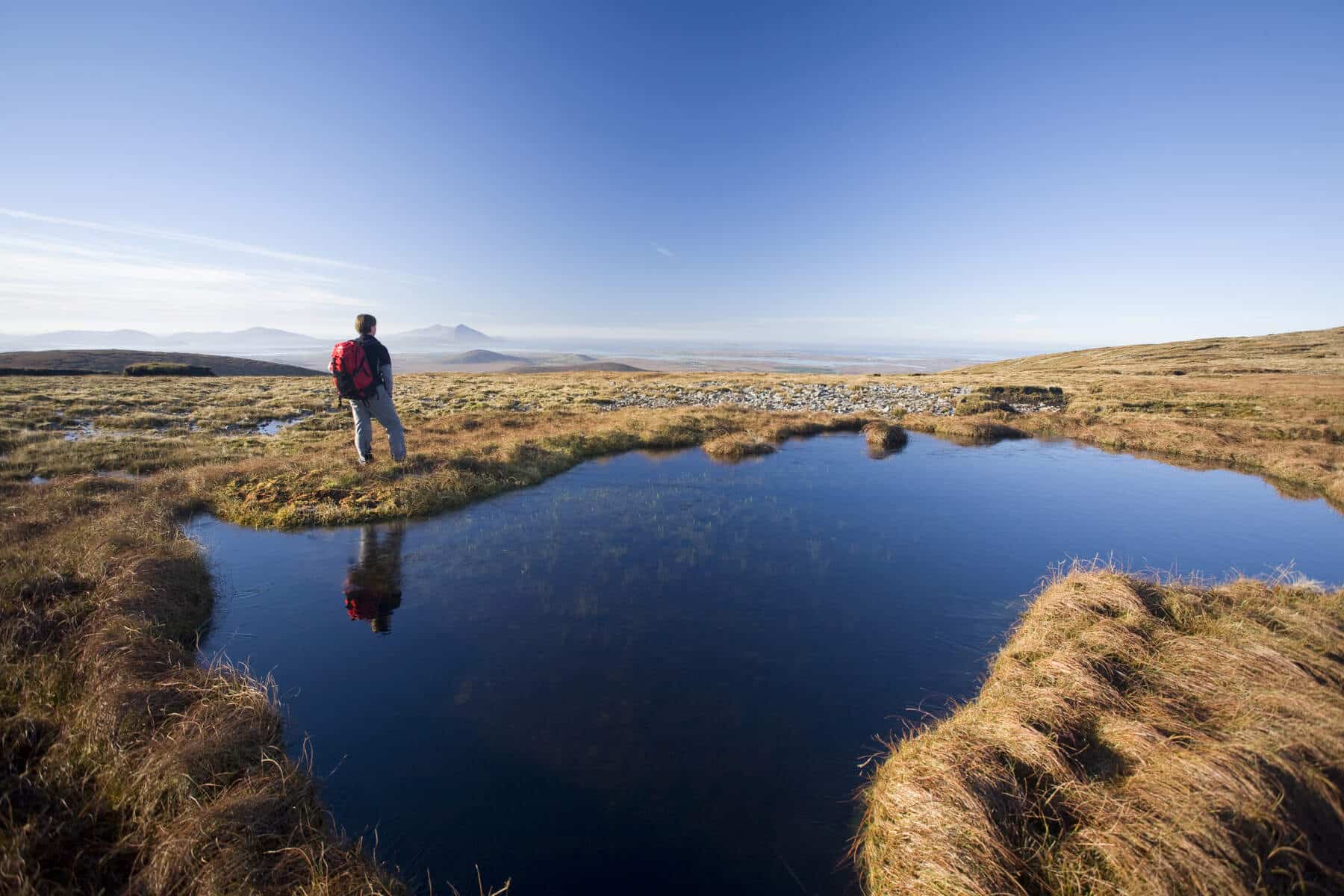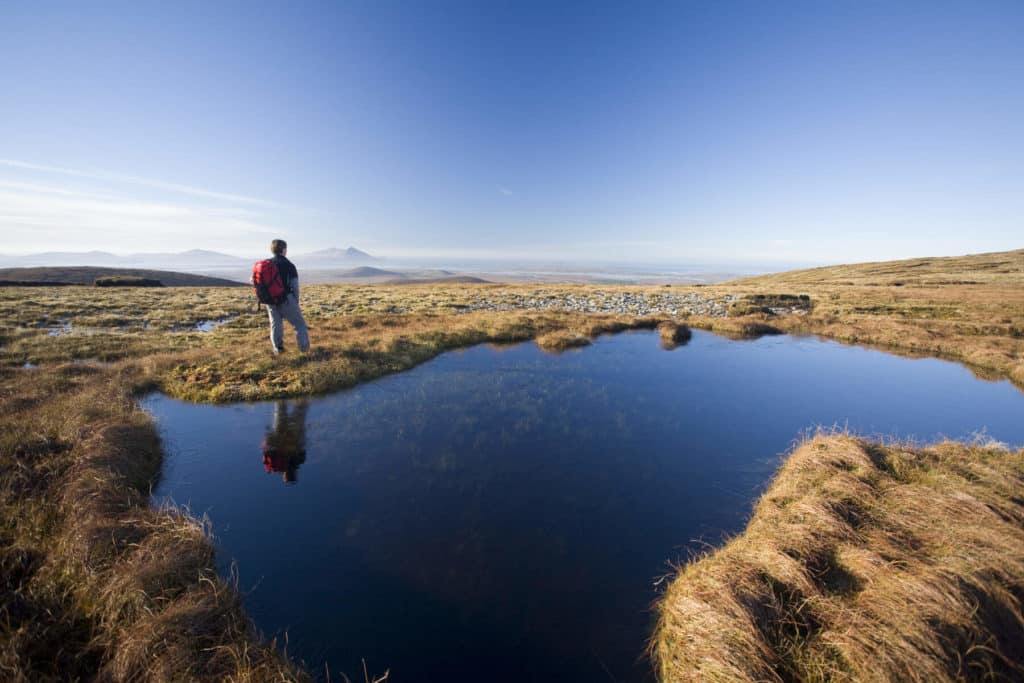 The trail is 39 km in length and passes through some very wet and boggy terrain, so you'll need to come very prepared for this one. Many camp along the way and make it a 2/3 day affair, but it is not recommended to do it alone.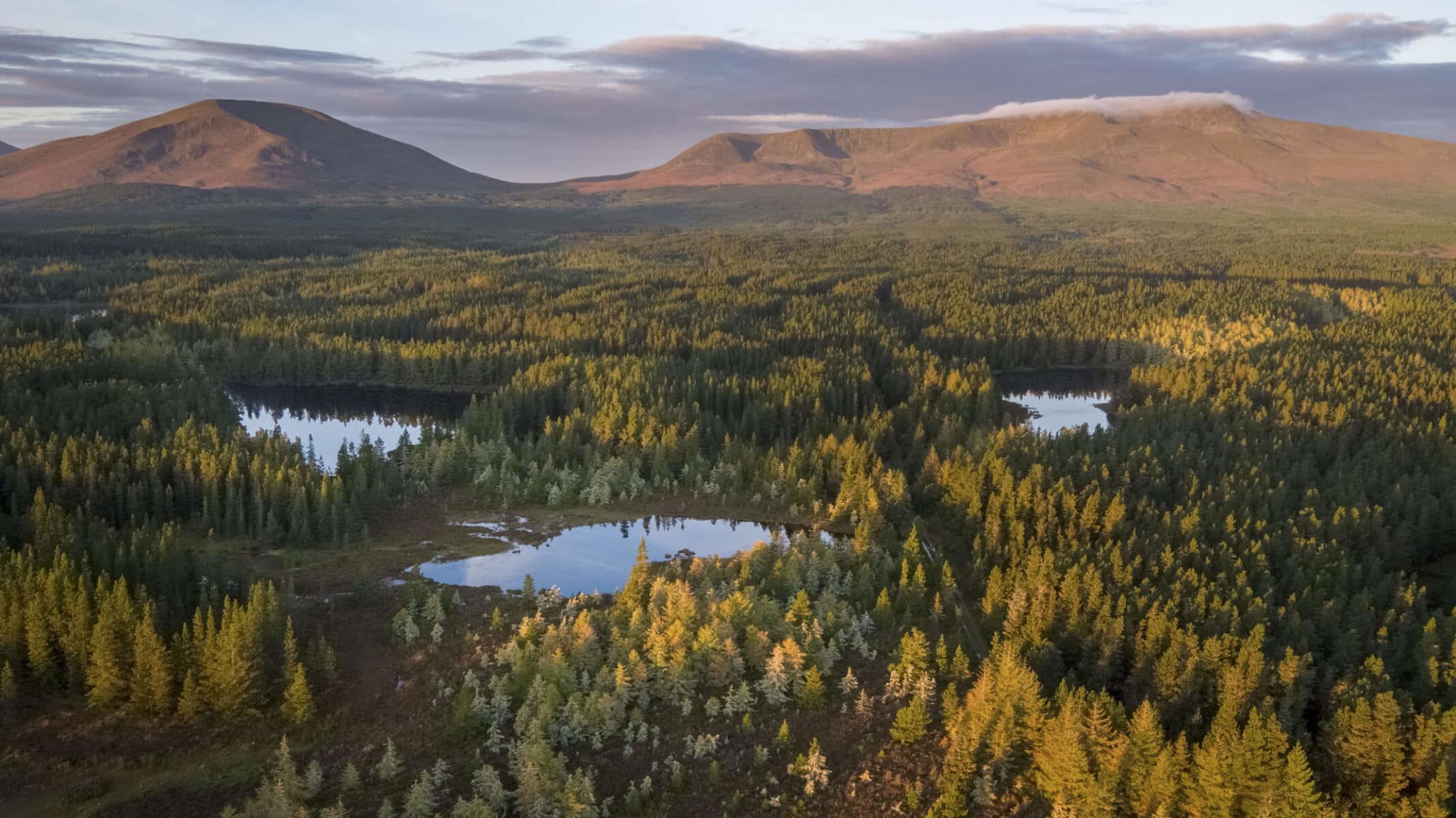 I think it's safe to say that this is a truly unique part of Ireland and is a place that offers true peace and tranquility, albeit in an incredibly remote location.
The only way I can try to put the Wild Nephin National Park into words is that it's akin to a desert, except a very wet one…
There is a newly opened visitor centre in Ballycroy, which is well worth a visit and gives a great insight into the farming and culture of the area in times gone by, with some very useful information regarding the Bangor Trail also.
The Lake District of South Mayo
County Mayo may be well-known for its coastal scenery, but you'd be very much missing out if you weren't to take a drive around the south of the county.
Here you will find the lakes of Lough Mask, the northern shores of Lough Corrib and Lough Carra.
Lough Mask is an enormous lake, known worldwide for its trout fishing. The World Cup Trout Fly Fishing Championship takes place here every year near the town of Ballinrobe.
Along the western shores of the lake is the village of Toormakeady, an Irish speaking area.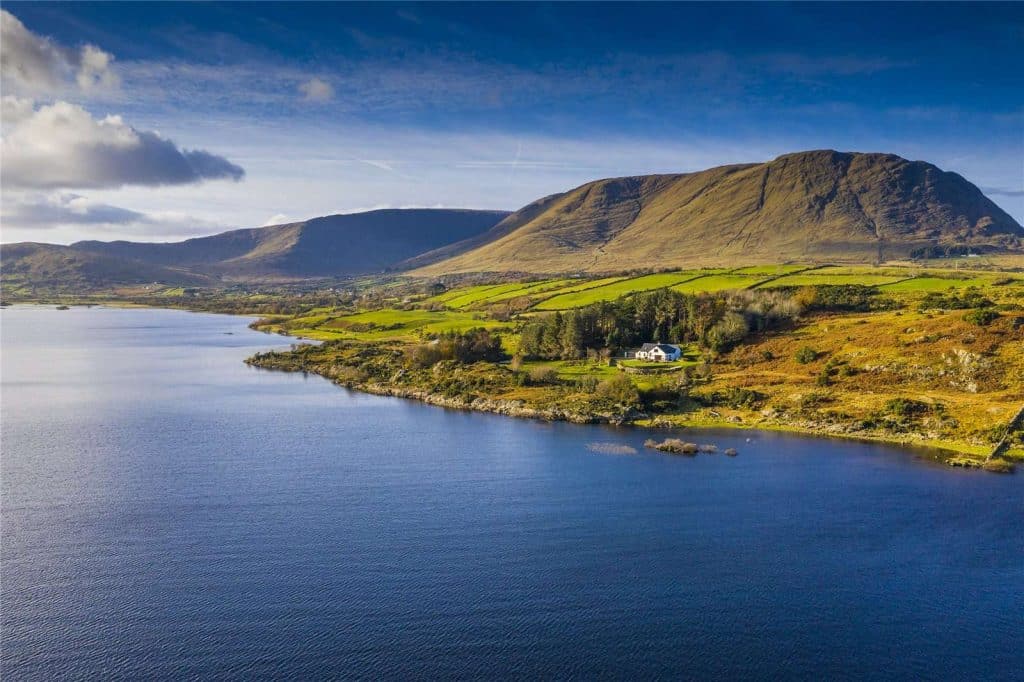 It's a wonderful drive from here onwards continuing south, where you'll begin to notice some quintessential west of Ireland scenery: rolling hills and dry stone walls as far as the eye can see, with Lough Mask to your left.
Continue on to the village of Finny and on over the bridge to Galway. Pass by the lovely village of Clonbur where you'll soon cross the border to County Mayo again and arrive at one of Ireland's prettiest villages: Cong.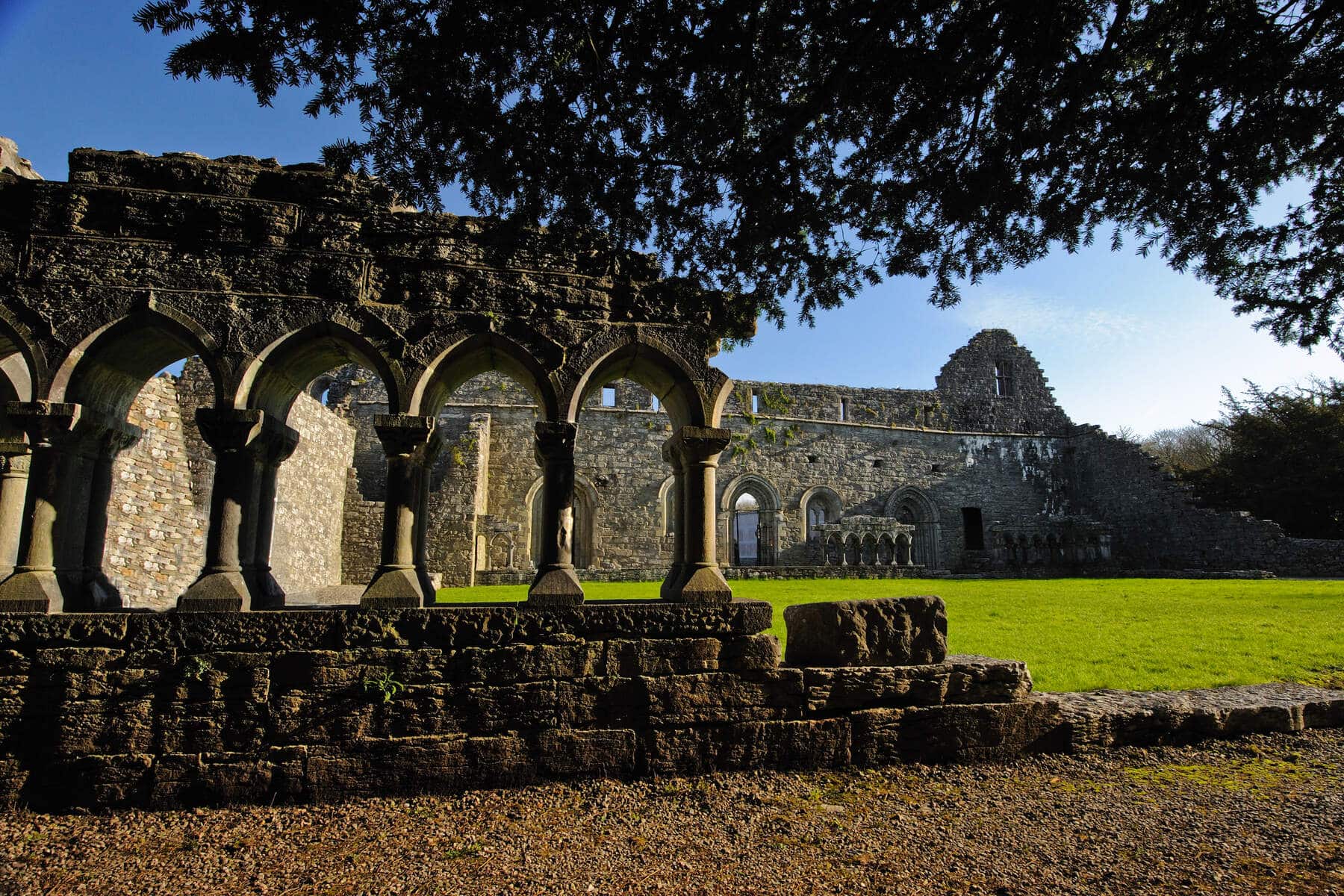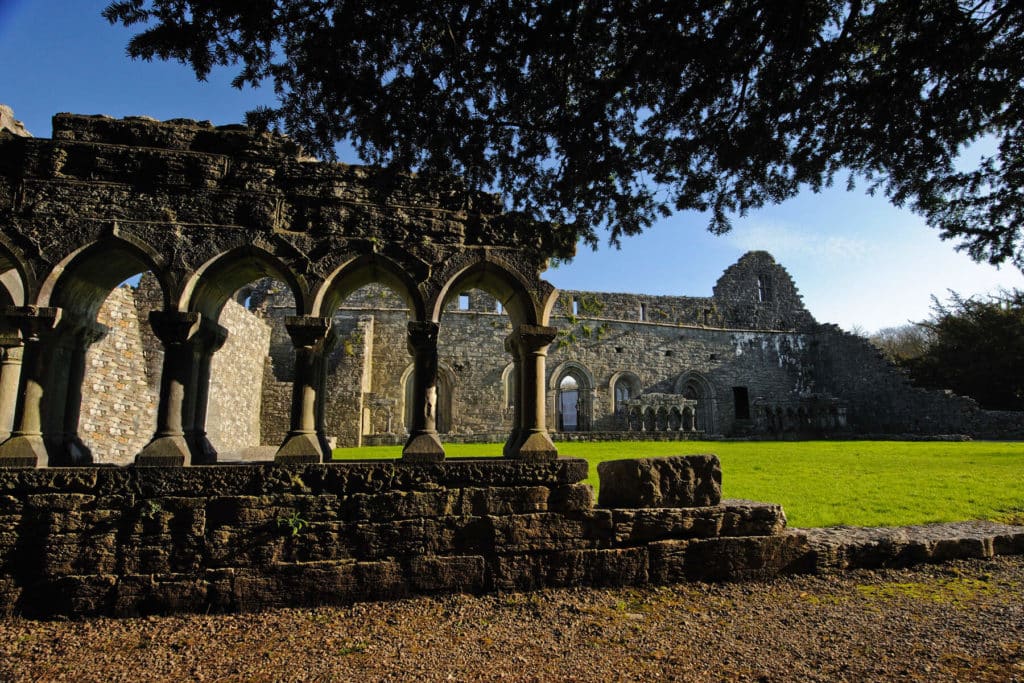 It's here that one of the great hotels of the world is located: Ashford castle. Cong is also famous for being one of the prime filming locations of the classic The Quiet Man, which starred Maureen O'Hara and John Wayne.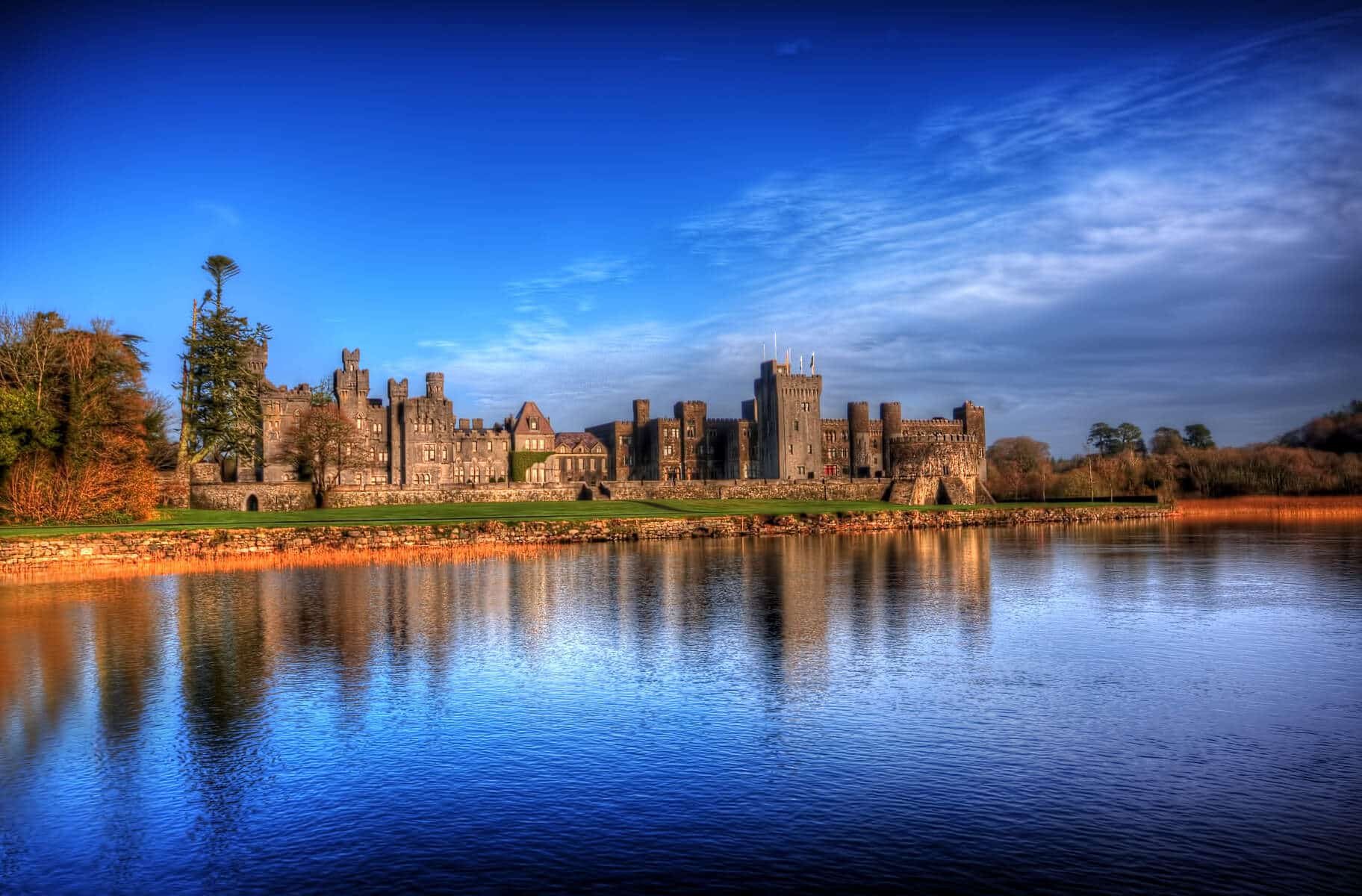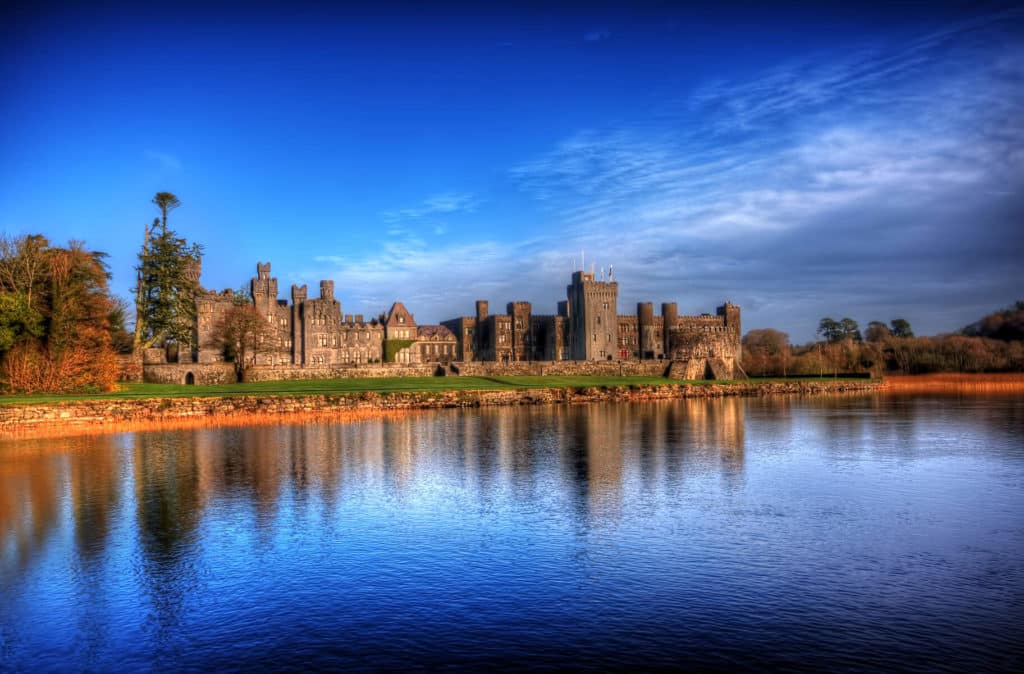 Cong is located on the banks of the Republic's largest lake, Lough Corrib and just down the road from Ashford Castle you can catch a boat which takes you on an excellent 2 hour trip.
This trip will also take you to Inchagoill Island, home to some fascinating historical sights.
We did this tour some years ago and we can highly recommend. The guides were also excellent and added some brilliant knowledge to the whole experience.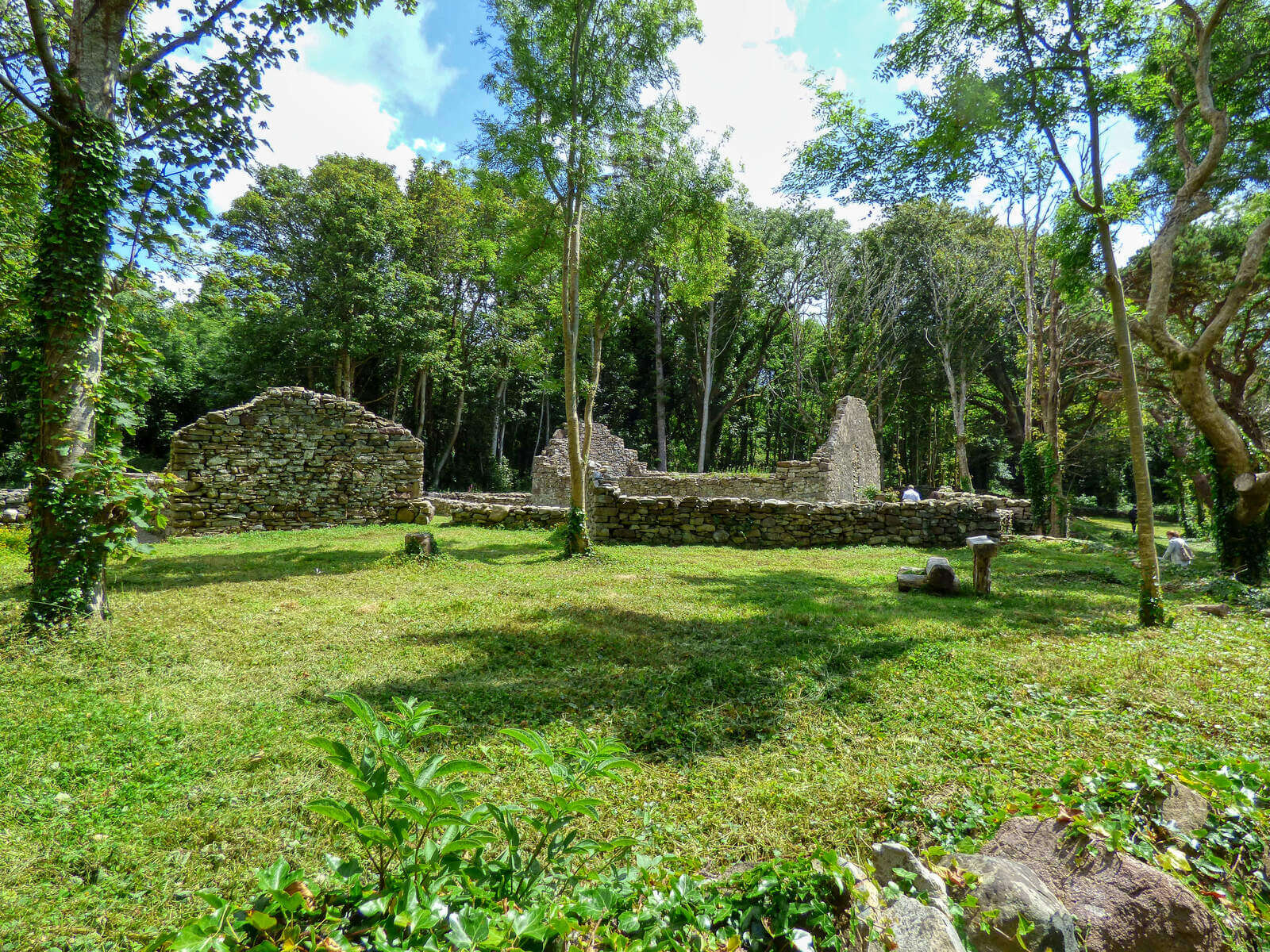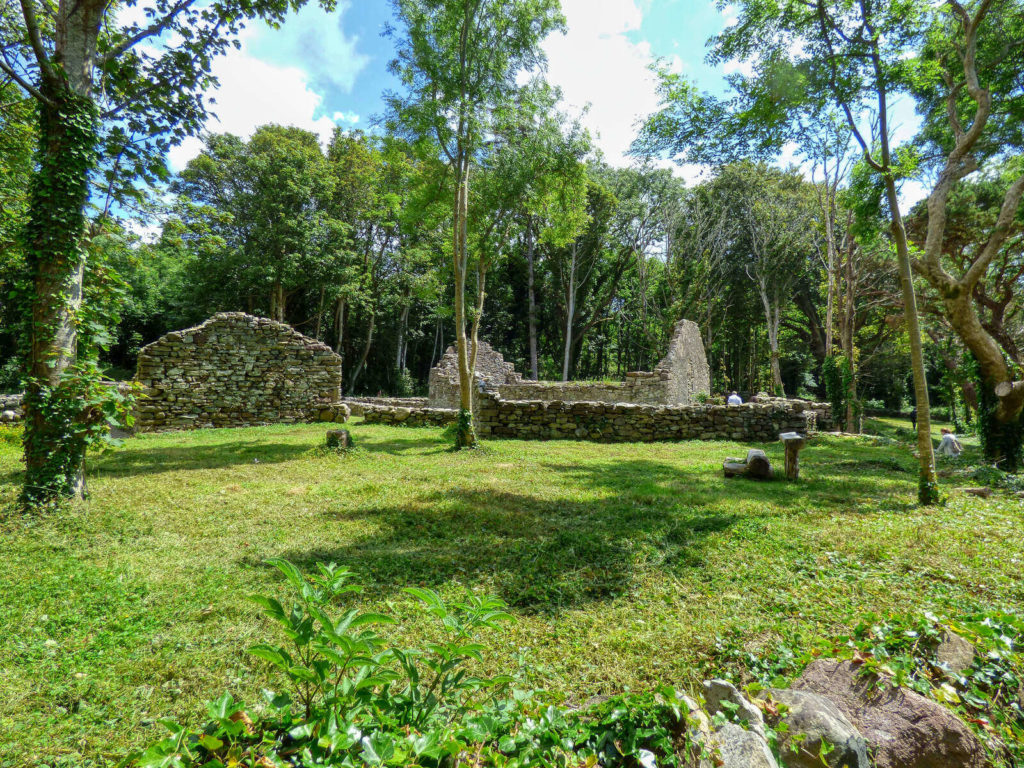 As you can tell, we love this particular area of Mayo. It offers something completely different from the more wild and untamed locations mentioned above.
This is an area often overlooked by visitors to the county, but in our opinion offers that idyllic, romantic picure of Ireland so prevalent in classic movies like The Quiet Man.
The Inishkea Islands
And finally, a location you probably never heard of, but after seeing these images you certainly want to visit on a fine summer's day.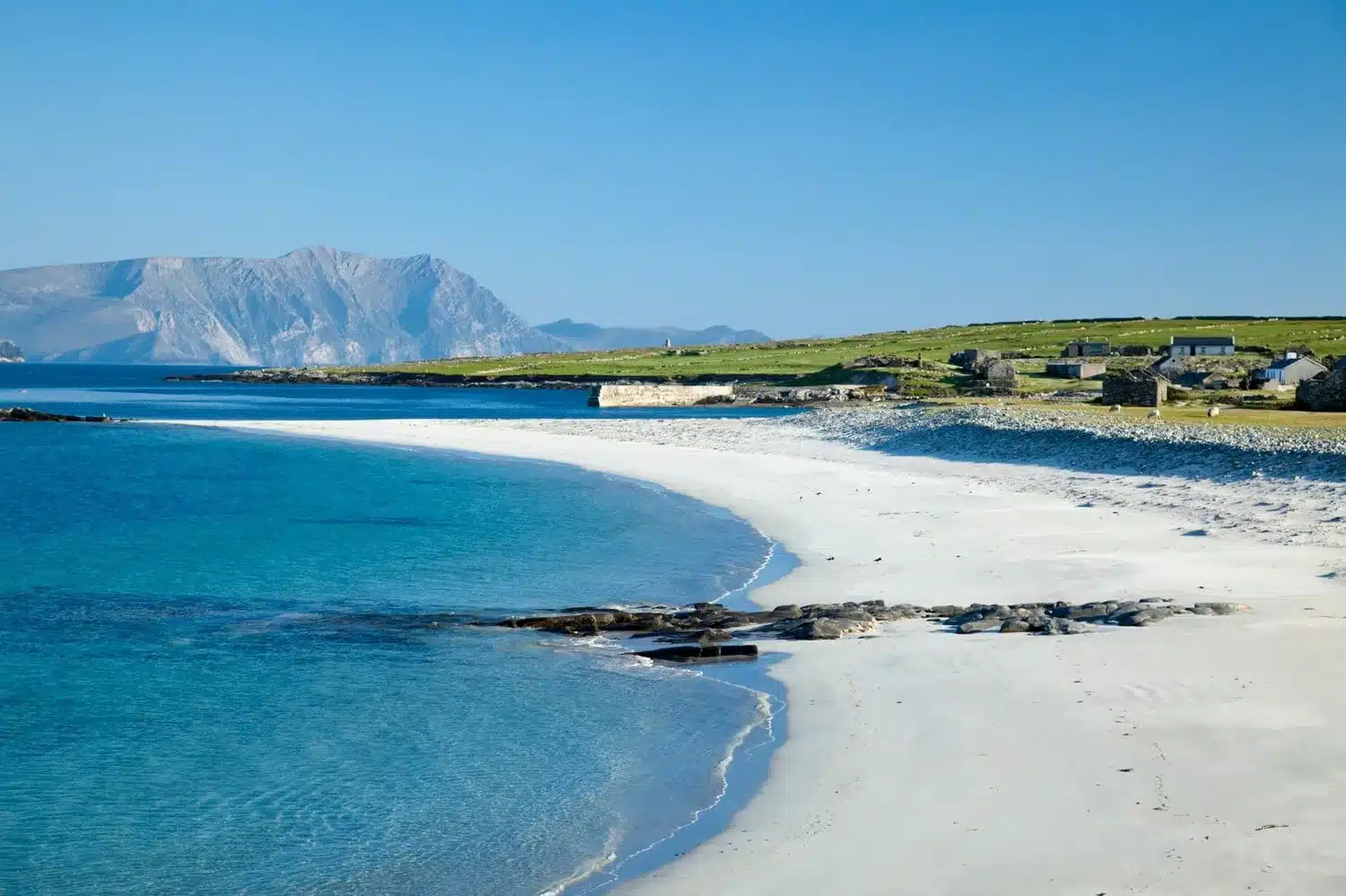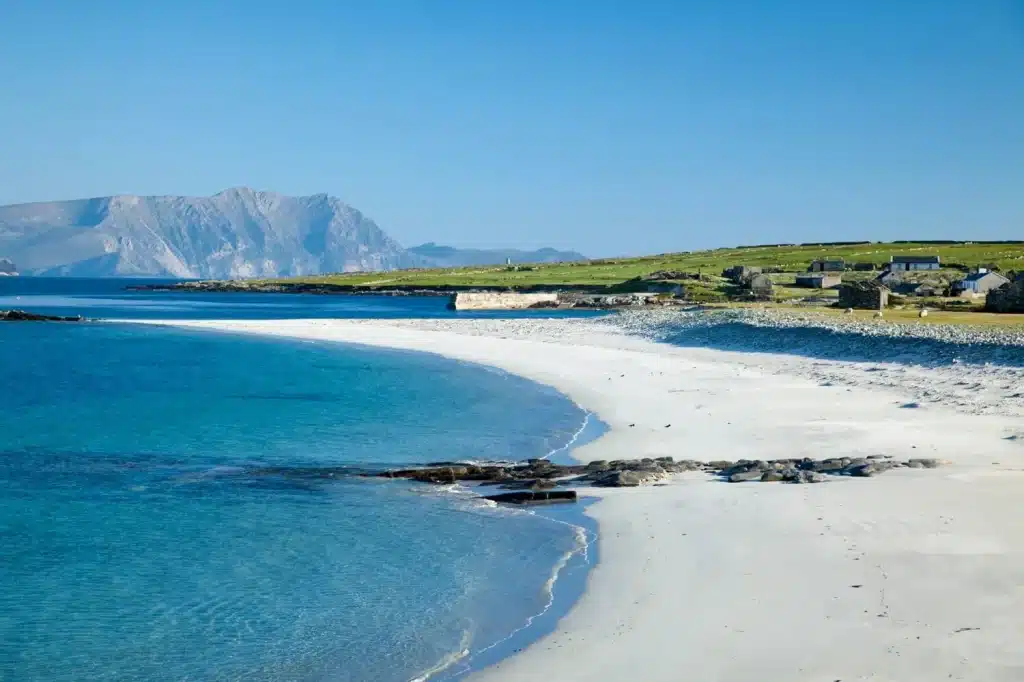 The Inshkeas are located off the coast of the Mullet Peninsula and are reachable by boat from the months of June to the end of August-weather permitting. The islands have been uninhabited since the 1920s and today you'll see the ruinis of an old village located along the shoreline.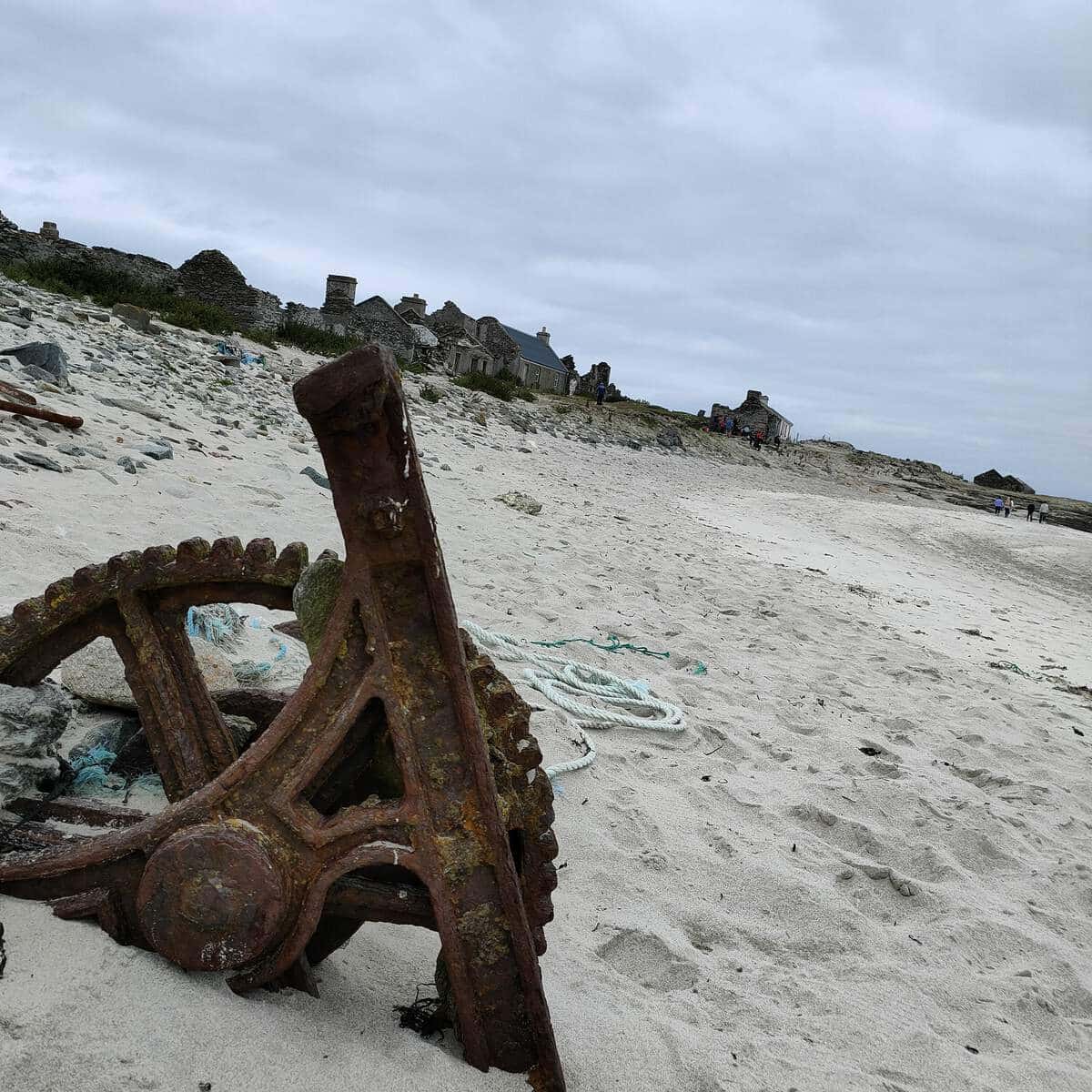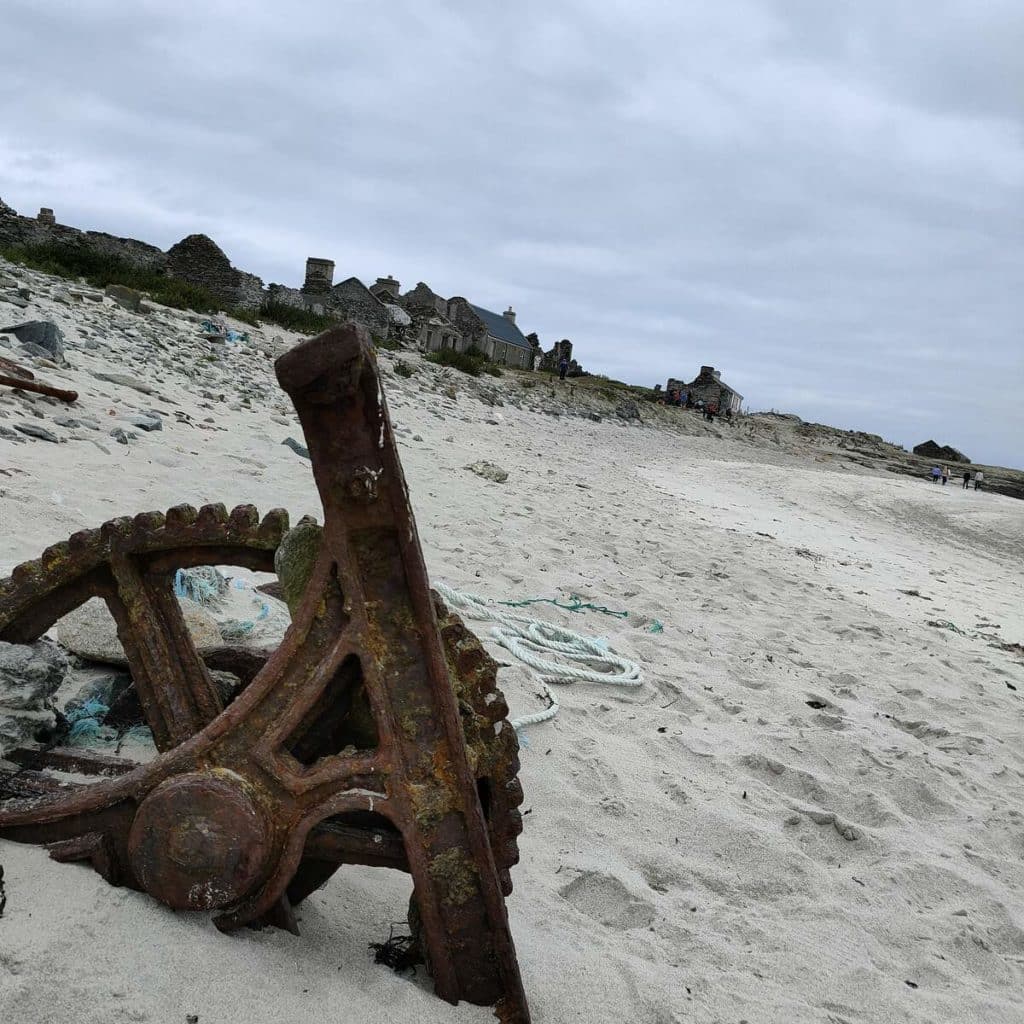 There are two main islands, Inishkea North and South, which are privately owned. Prior to the 1920s, it was a thriving fishing island, but a terrible boating tragedy ultimately lead to the island being abandoned.
The most striking feature of the islands though is the beach, with the abandoned cottages providing a dramatic backdrop.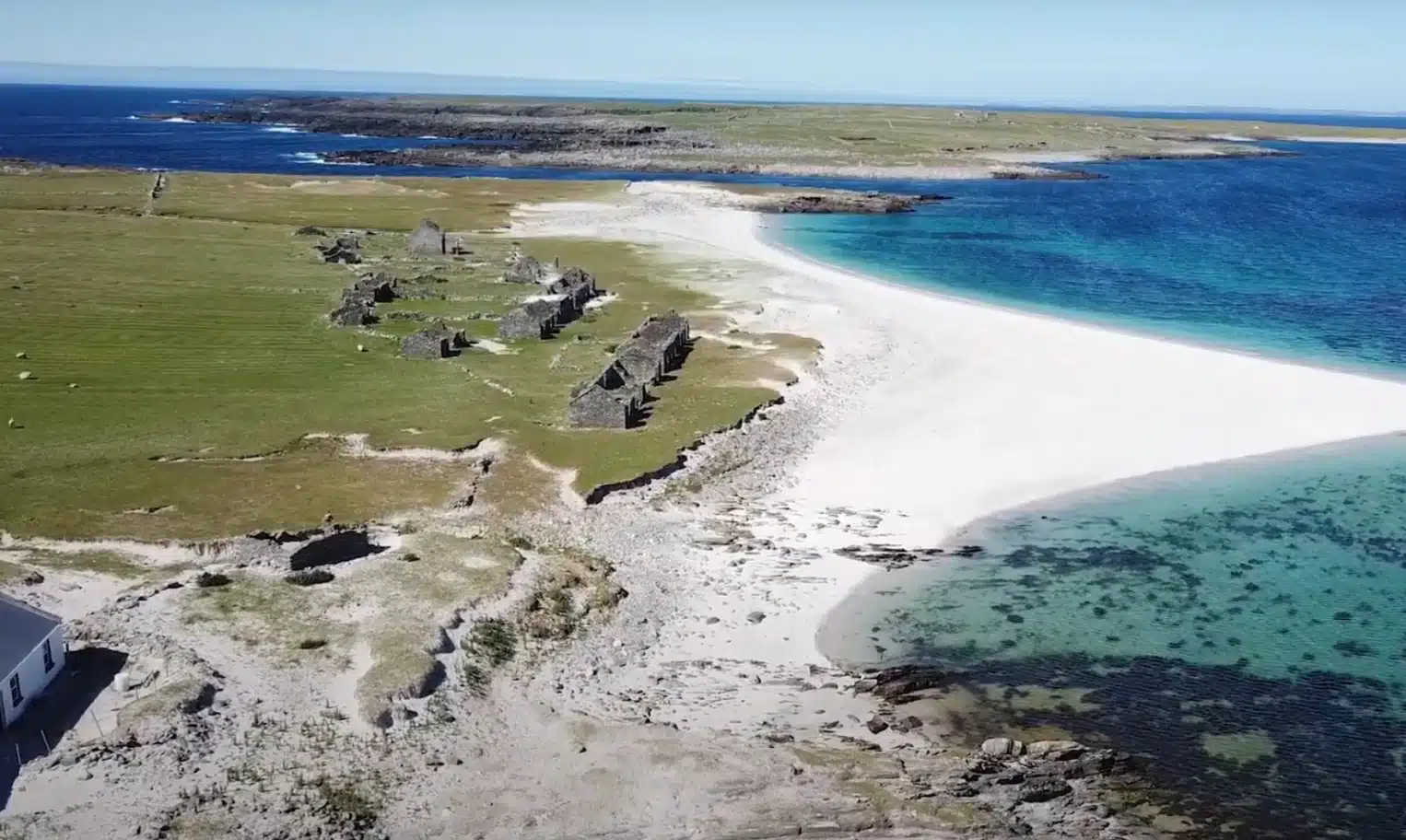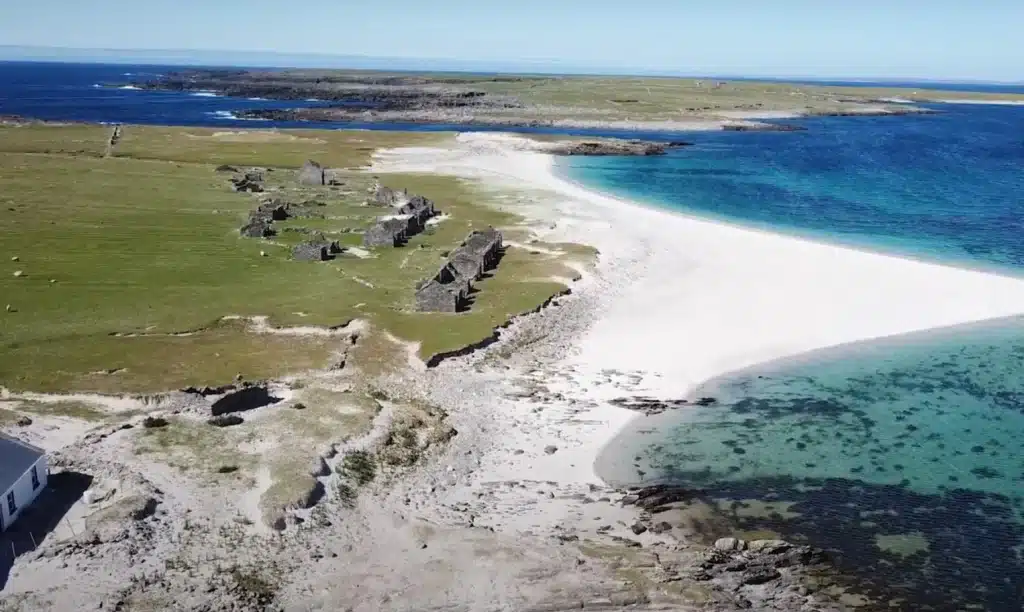 The waters seems impossibly blue and the white sands reminiscent of a beach in south-east Asia. This really is a hidden gem and a place that is so much more unbelievable when you see it in person. These lads run boat trips to the island in the summer months.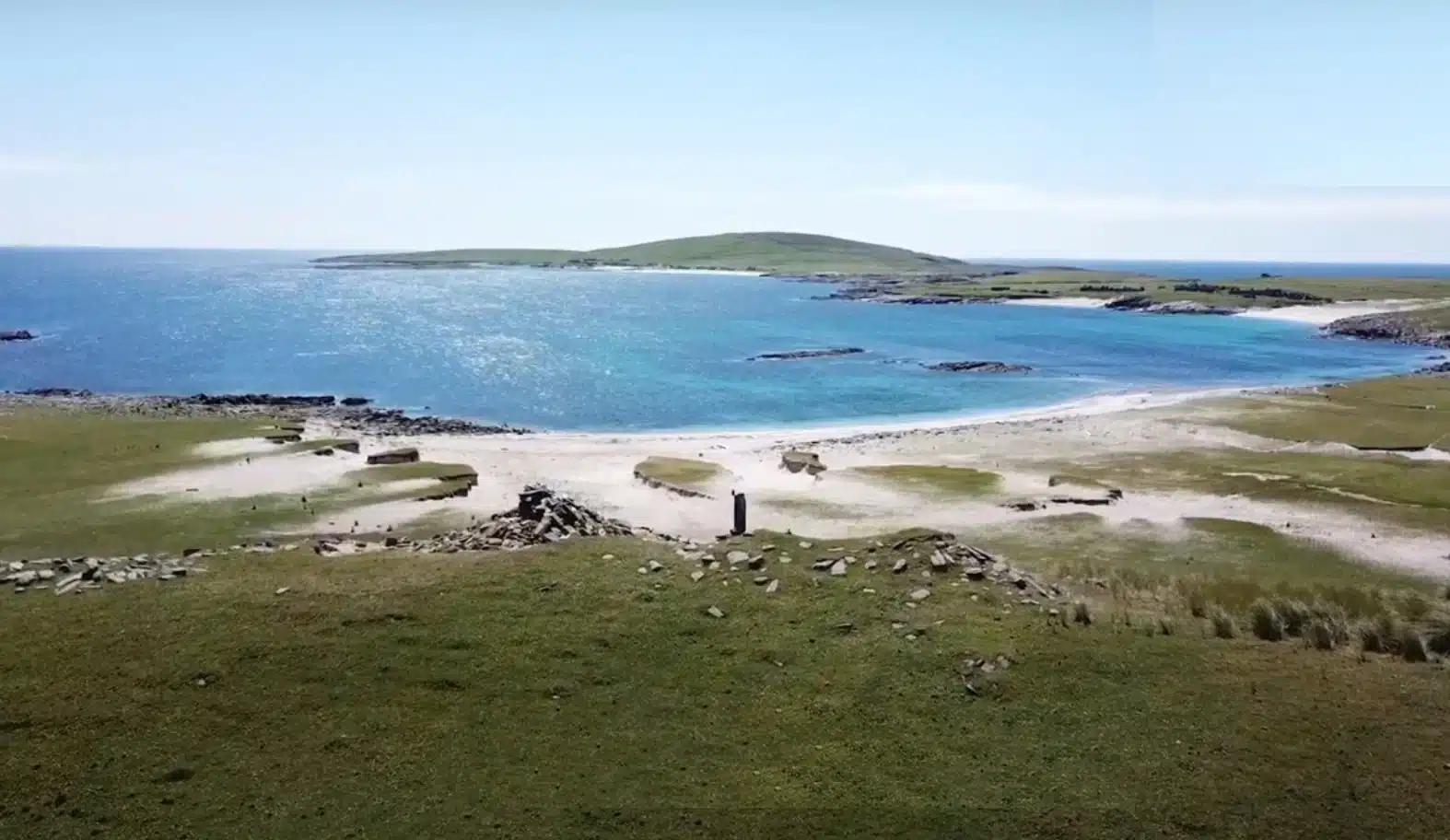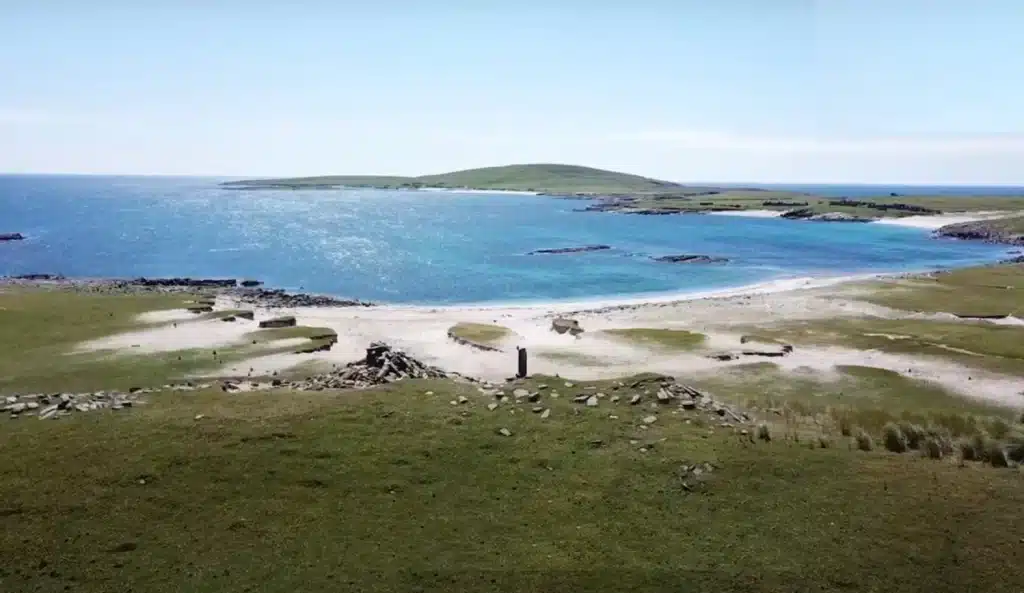 Final Thoughts
We feel the Inishkea Islands is a fitting finish to our list of the most beautiful places in County Mayo.
It epitomises most locations on our list, which all share a common feature: they are spectacularly remote and untouched natural landscapes. And that really is County Mayo in a nutshell.
We'd love to hear what you think of our list. Have we left anywhere out? Have you visited all of these places yet? Let us know in the comments below!
FAQs about County Mayo
Where are the most scenic places in Mayo?
In our opinion, the most scenic regions of County Mayo lie along the western and northern seaboards.
Regions such as Achill Island and Clew Bay are outstanding areas of natural beauty. The lake regions of the south of the county should also not be overlooked.
What are some famous places in Mayo?
Westport is the tourist hub in County Mayo, and is its most visited town. It is close to the very famous and well-known holy mountain of Croagh Patrick.
Other very well-known places are Ashford Castle, Knock Shrine and Achill Island, with some of the most stunning coastal scenery in Ireland.
The Cliffs of Croaghaun (Achill Island) are the highest in Ireland and one of the highest in Europe (688m)
What are the most unique places to visit in County Mayo?
We would argue that Wild Nephin National Park is a truly unique place, due to its sheer isolation. Other special places are Croaghaun Cliffs (with nearby Lough Bunafreva West), Doolough Valley and Clew Bay.
Clew Bay is the only bay of its kind anywhere in Ireland. Mayo is also home to Ireland's only fjord, Killary.
What are the main towns in County Mayo?
Castlebar is the county town and also its largest (populaiton 12.068). Ballina is the second largest (population 10,171) and the third largest is Westport with a population of 6,198.