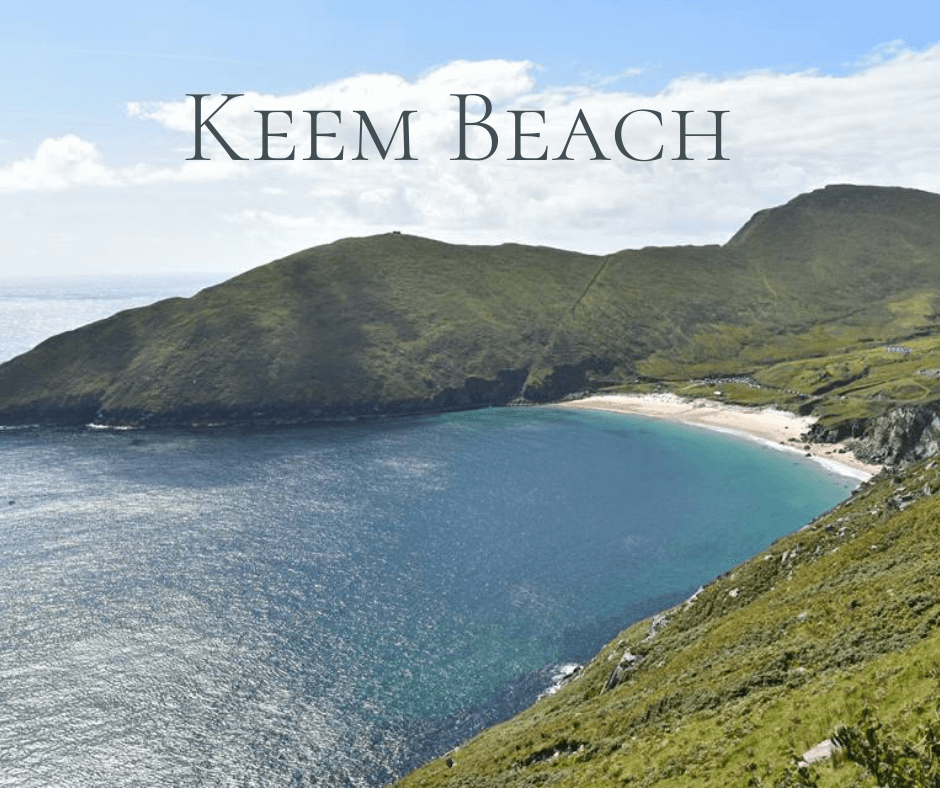 Are you thinking about visiting arguably Ireland's most beautiful beach? Here we are going to give you the most detailed guide out there to Keem Bay and Beach, Achill (by a local)
There was a time when Keem Beach & Keem Bay on Achill Island, County Mayo were relatively unknown to those not from the local area. Its isolated location on the far western end of the island making it one of Ireland's lesser visited beaches.
Why is it 'Ireland's most beautiful beach?', you might be wondering. CN Traveller has it listed as the best in Ireland, as well as number 12 in the world, so I guess such as bold claim may not be over-exaggerating.
Now, since it is a signature point along the Wild Atlantic Way, this slice of landscape perfection has being drawing more and more attention as of late.
To add to that, the wonderful Banshees of Inisherin handpicked this location for some of its most epic scenes. Little wonder, considering the jaw-dropping scenery of the area.
A Truly Special Place
Having grown up in the county of Mayo, Keem Bay is a place I have visited literally hundreds of times. For me personally, it is the greatest place on Planet Earth.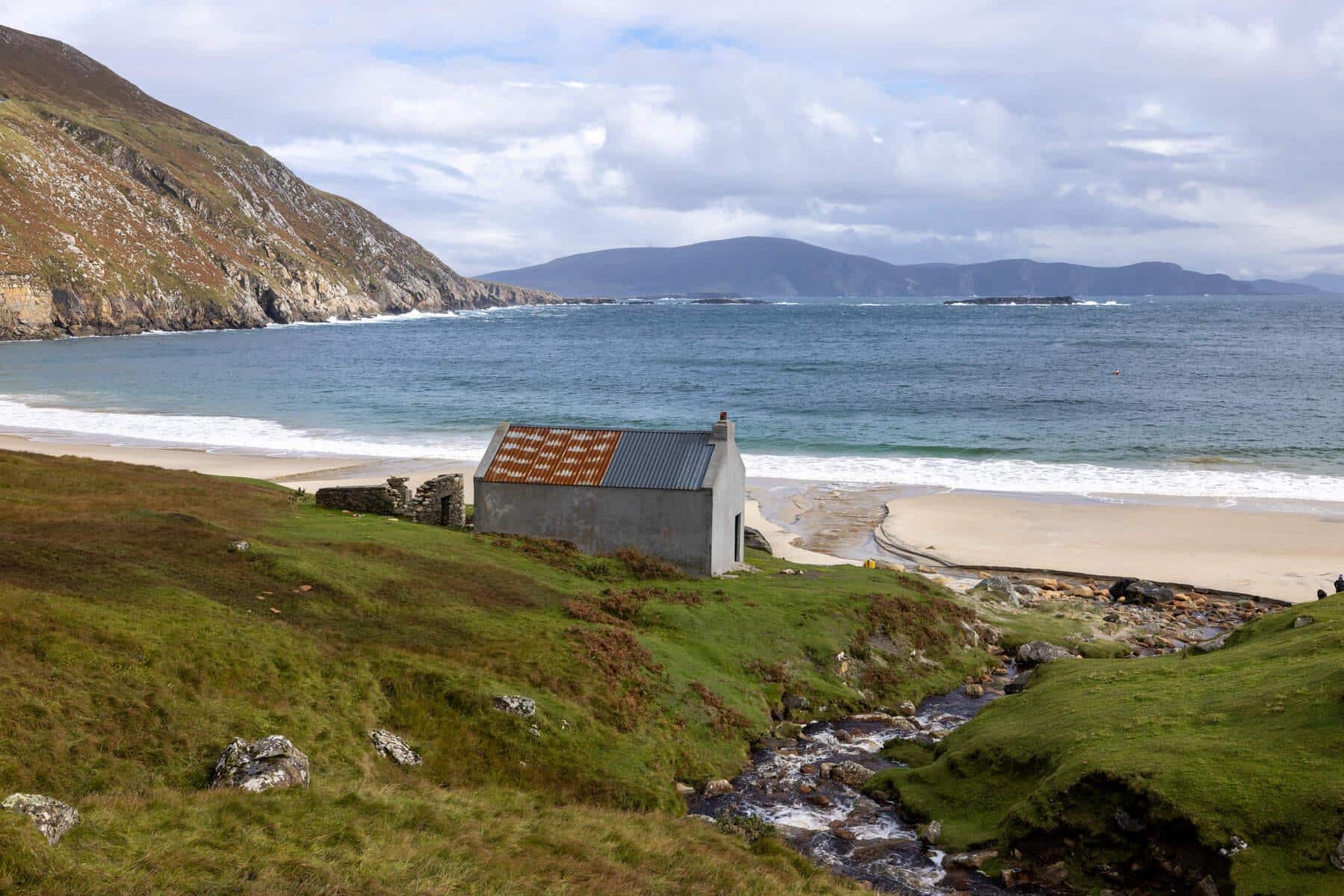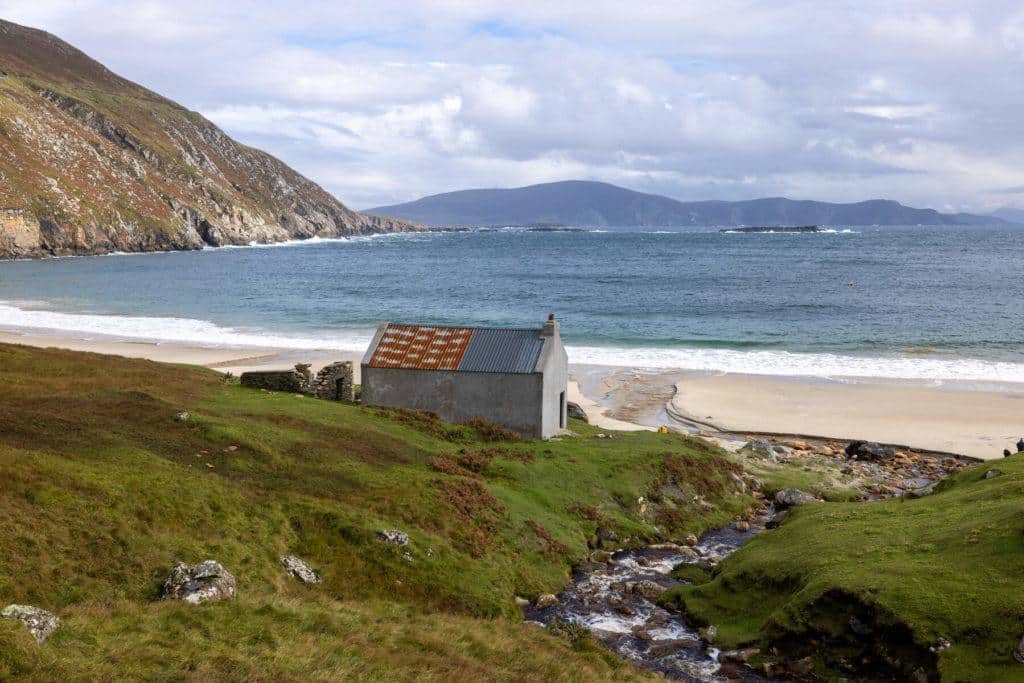 I have witnessed some incredible spectacles of nature, including numerous sightings of 8-metre long basking sharks and multiple sightings of dolphins.
I have viewed the beach from 688 metres above sea level from the Cliffs of Croaghaun. I still remember the 'wow' moment when the beach came into view for the first time along that infamous winding approach road.
This exact same reaction I have also witnessed every time I have brought guests here.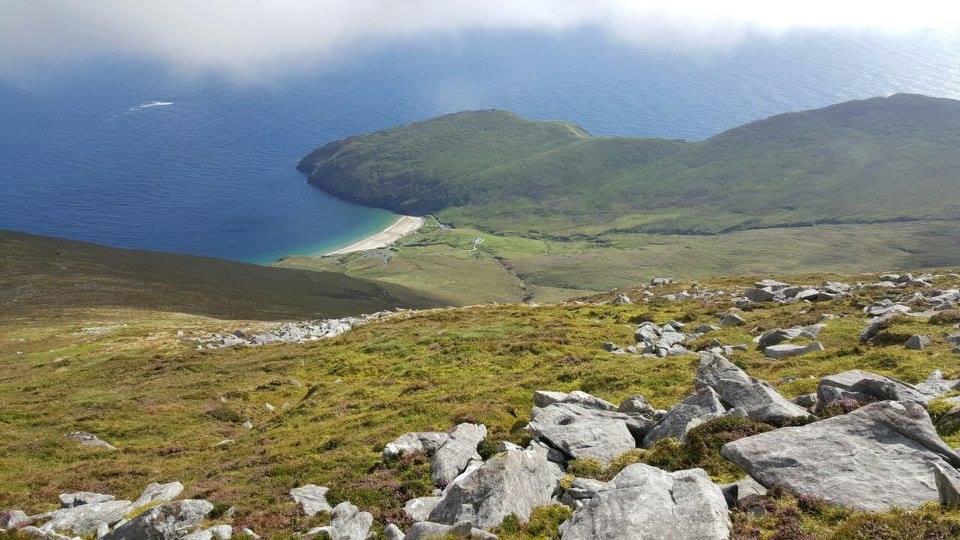 I've been to beaches all over the world, including Thailand, USA, Maldives, Portugal and many more, and without hesitation I would say that this beach is well up there with the most picturesque.
The only real difference is that the water in Keem Bay is certainly colder than those above (except for the Atlantic waters of Portugal!)
So, let's dive into our ultimate guide to Keem Beach/Bay.
Where is Keem Bay located?
Keem Bay is located on the western end of Achill Island, County Mayo. Achill Island is Ireland's largest offshore island, and is joined to the mainland via the Michael Davitt Bridge. The closest major town to Keem Beach is Westport, about 1 hr. 15 minutes away.
Keem Beach/Bay is found at the end of the R319 road i.e. the road runs out at the beach's carpark!
The beach is located in very close proximity to some of the best hiking you will find anywhere in Ireland, and some of the best cliffwalks you will experience anywhere in the world.
To the north lies the towering cliffs of Croaghaun, standing at 688 metres (2,257 feet) To the west lies approximately 8 km of sheer cliffs, coming to a dramatic end at Achill Head.
A brief history of Keem Beach/Bay area
Archaeological Discovery
In 2009, The Achill Field School made a discovery of approximately 40 dwellings, which are thought to date back to pre-famine times (early 19th century) It is believed the dwellings belonged to those who practised transhumance in the local area (moving livestock to higher ground in summer)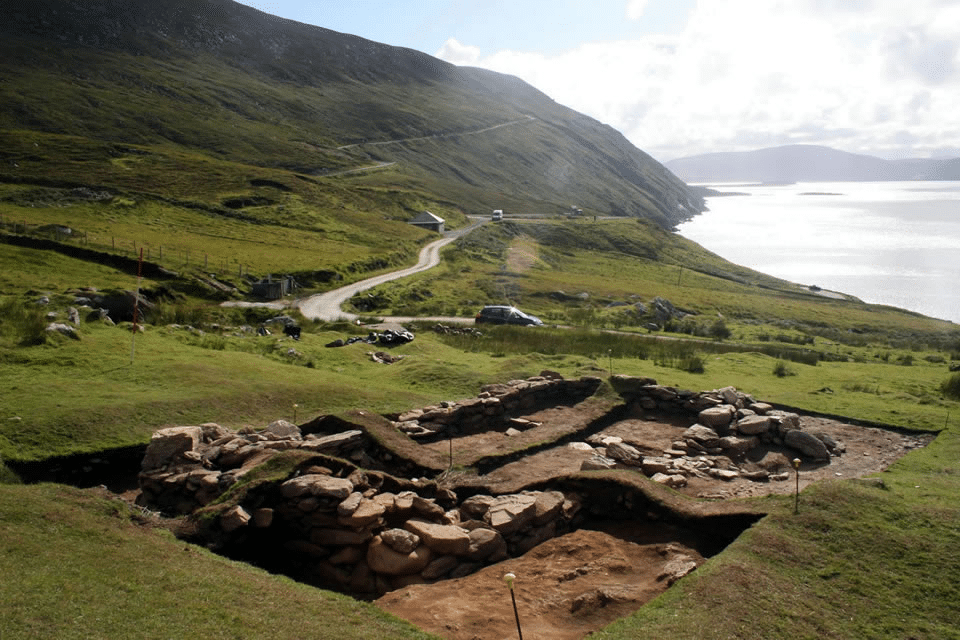 Oddly, these dwellings were a surprise discovery as there were no written records of them until they were discovered in an 1838 Ordinance Survey map.
The dwellings were thereafter abandoned, and it is now believed that the Great Famine of 1845-1852 was the event that lead to this.
They were later damaged and left to rubble by the local landlord of the time, Charles Boycott, who was in general, a not-so-popular figure at the time.
Basking Shark Fishery in Keem Bay
From the mid 1940s till the 1970s, there was a thriving basking shark fishing industry in Keem Bay. Local men went out in their Currachs (traditional fishing boats) and using harpoons, speared the enormous 8-12 metre giants.
The oil from the liver of these fish was used in various industries, from street lights to cosmetics. In any given year, up to 2,000 basking sharks could be caught. The dwindling population in the 70s lead to the closure of the industry.
Today, the basking sharks are back in large numbers and can be spotted swimming freely in the waters around the months of May and June. These giants feed on plankton, and are therefore completely harmless to humans.
Directly to the south of Keem Bay, located on Moyteogue Head is the remnants of an old lookout spot, used to spot sharks in the area. It's also a mega photo location and a great little hike from the beach.
Boycott
Charles Boycott was an English landlord sent in 1856 to lease the lands of western Achill Island. The remnants of his cottage can be found on an elevated sight overlooking Keem Beach.
If you are wondering if there is a link between this man and the term 'to boycott', the answer is yes! Due to his draconian attitude towards the local poverty stricken Irish tennants, they refused to have any dealings with him, hence the term 'to boycott'.
Why should you visit Keem Beach?
The scenery
The picture-postcard perfect location of this horseshoe-shaped beach, nestled below some towering mountains and cliffs make for some jaw-dropping scenery.
On a clear day, the emerald-green/deep blue waters in contrast to the surrounding green slopes offers some fantastic colour. As incredible as it looks from these photos, you have to see it to believe it.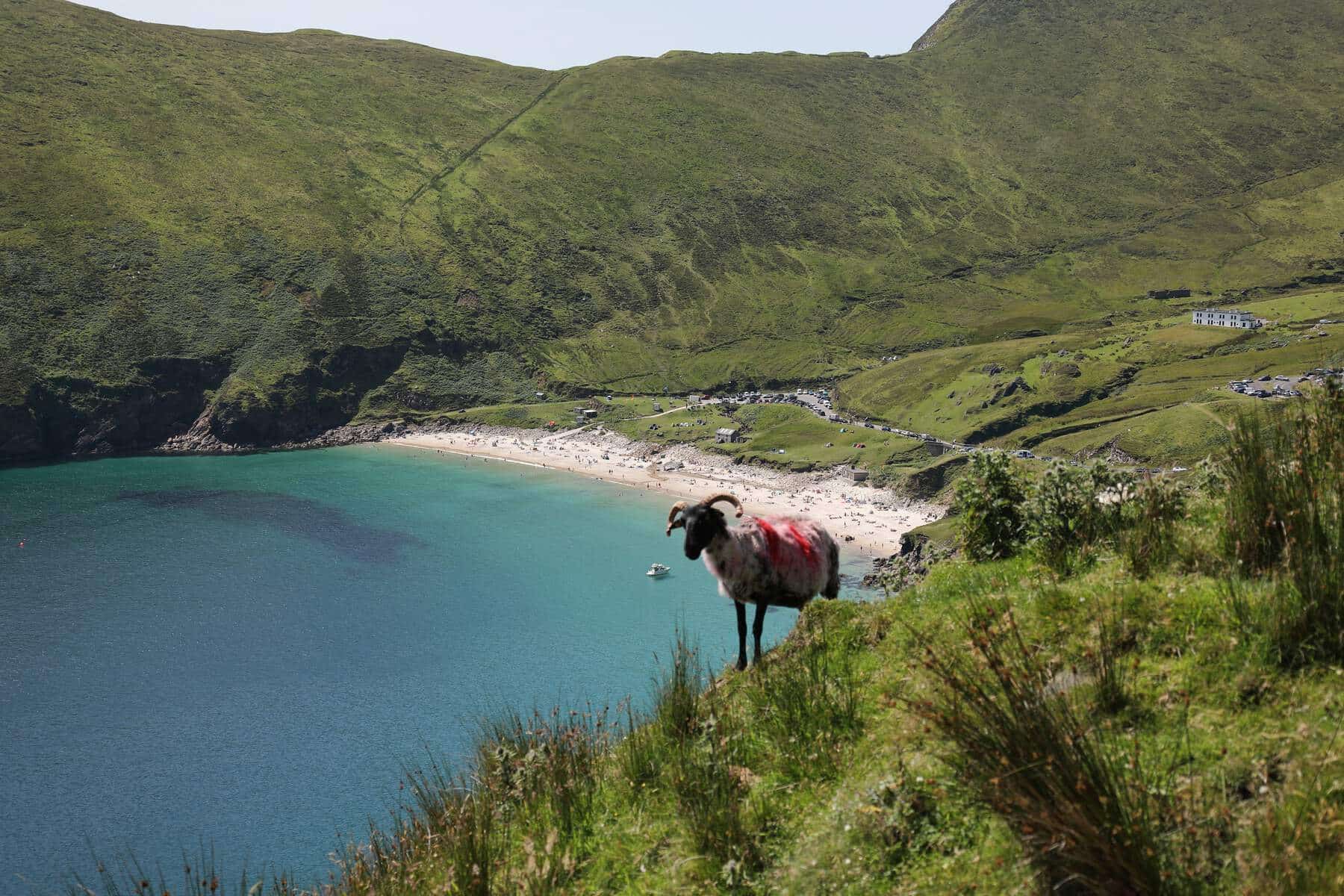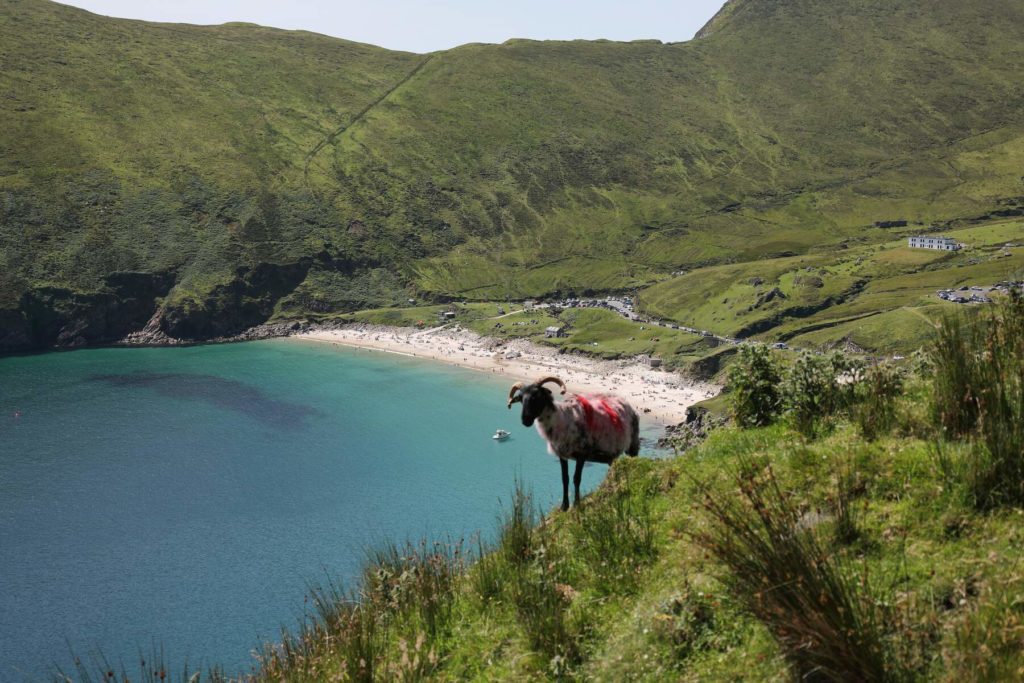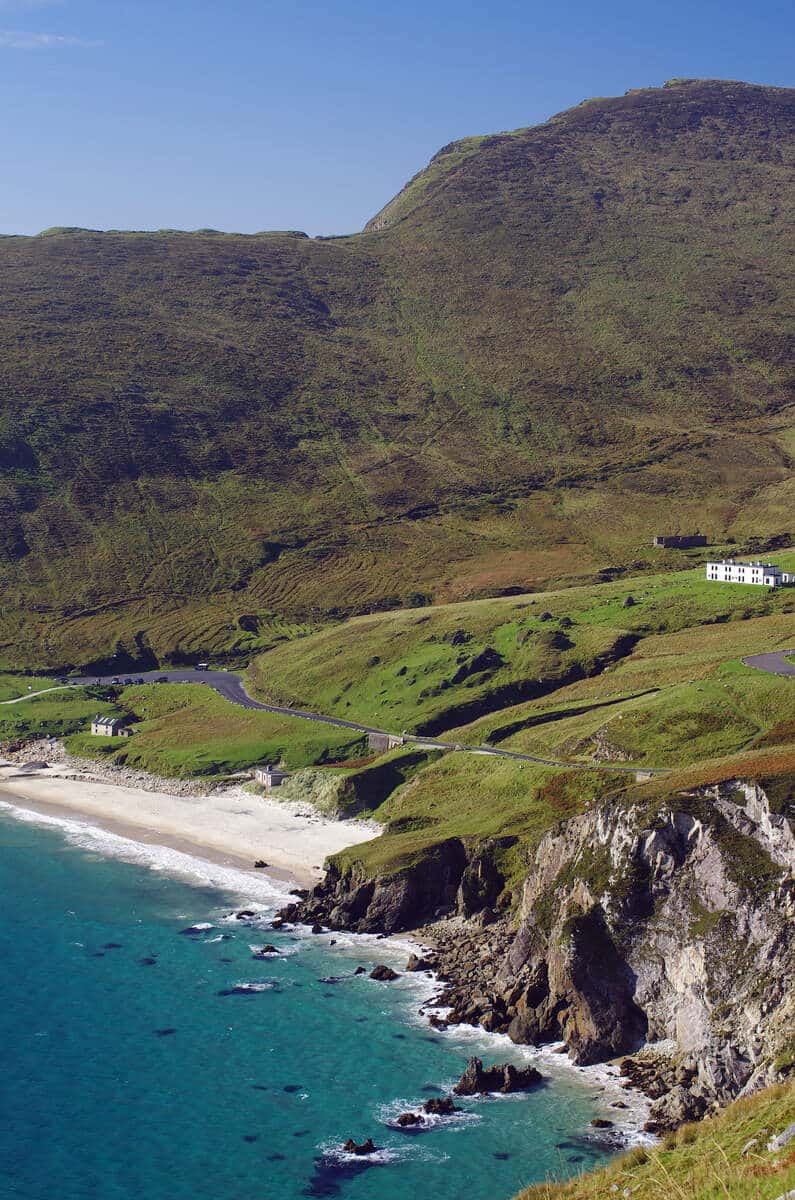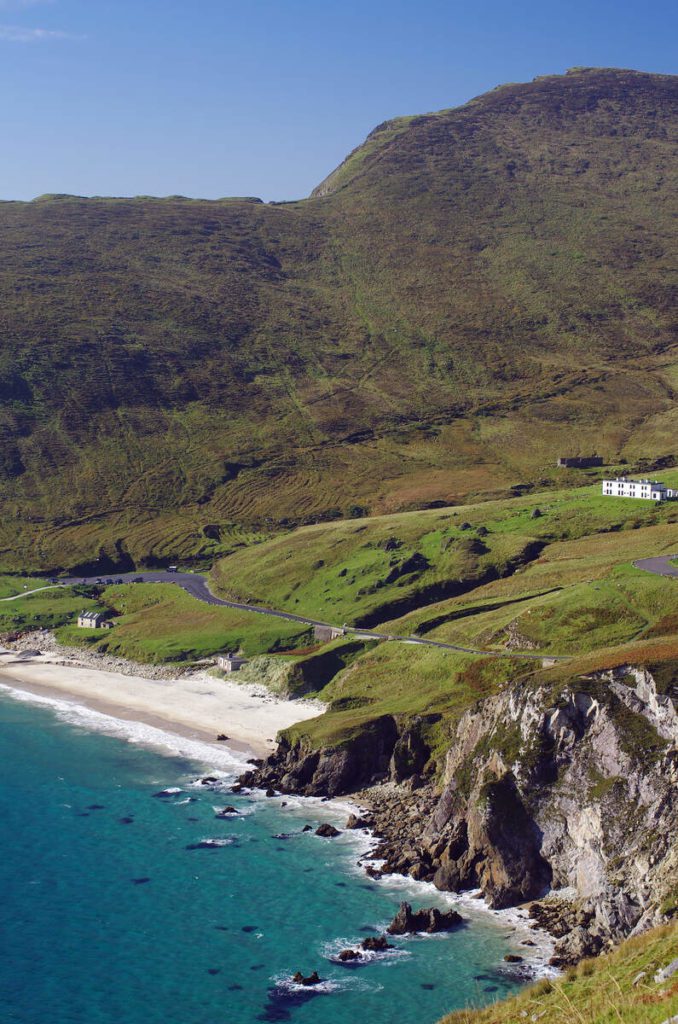 The Drive to Keem Bay
The approach road to Keem Bay makes visiting the beach a real adventure. As mentioned, there is only one road in and one road out. After you leave the village of Dooagh, heading west, you'll notice the road rising dramatically and soon you'll find yourself on a 200 metre high cliff-edge.
The narrow road adds to the adventure and it's certainly best for the driver to keep his eyes on the road at all times.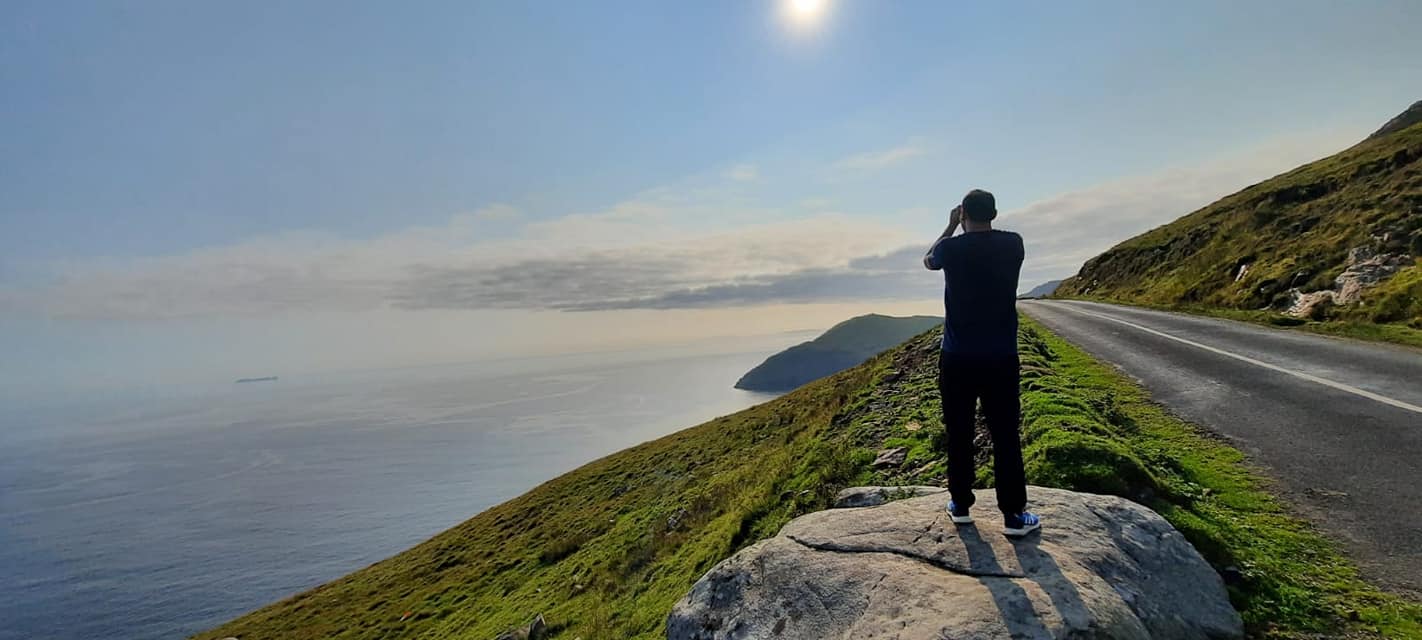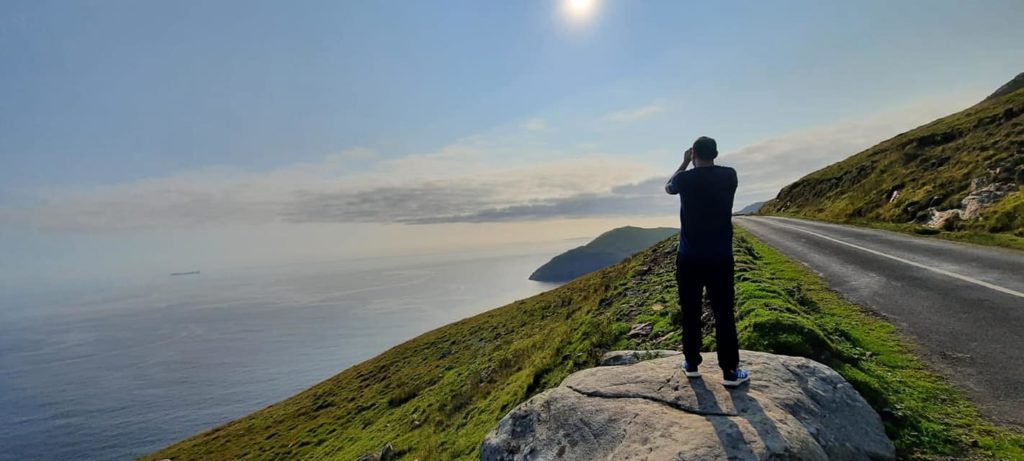 Certain parts of the approach remind me of an Alpine mountain pass with the huge drops close to the road's edge and it's important to be vigilant along this stretch.
There is a small makeshift pull-in spot near the highest point of the road for that perfect Insta shot, but the road is very narrow. If you get lucky and it's free, pull in and enjoy the magnificent view. You'll probably spot some insane sheep rambling along the cliff edge – mad devils.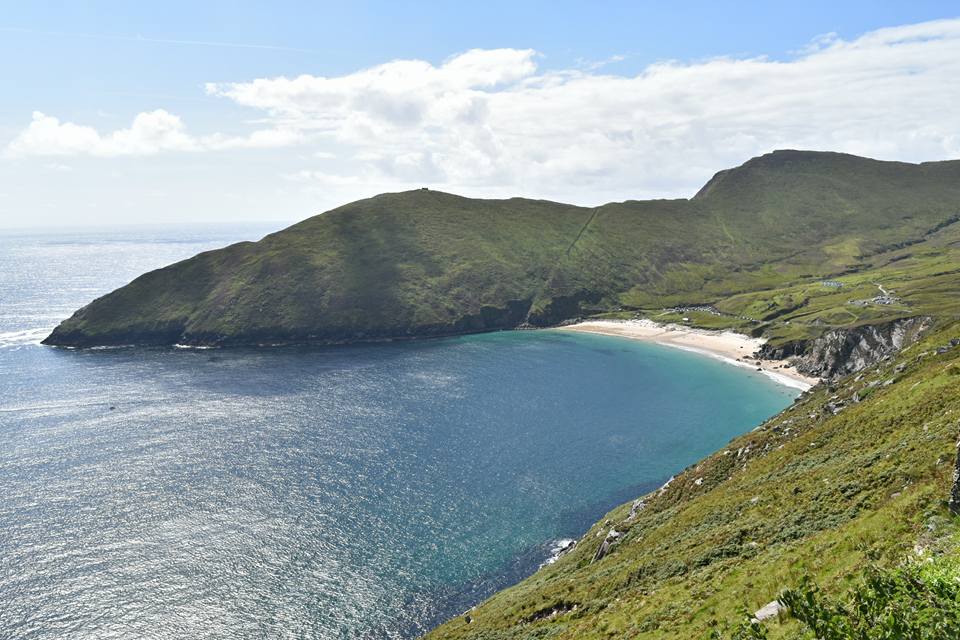 Then the road will wind its way down towards those crystal clear waters, and you'll look back the road you came with a certain sense of relief and awe.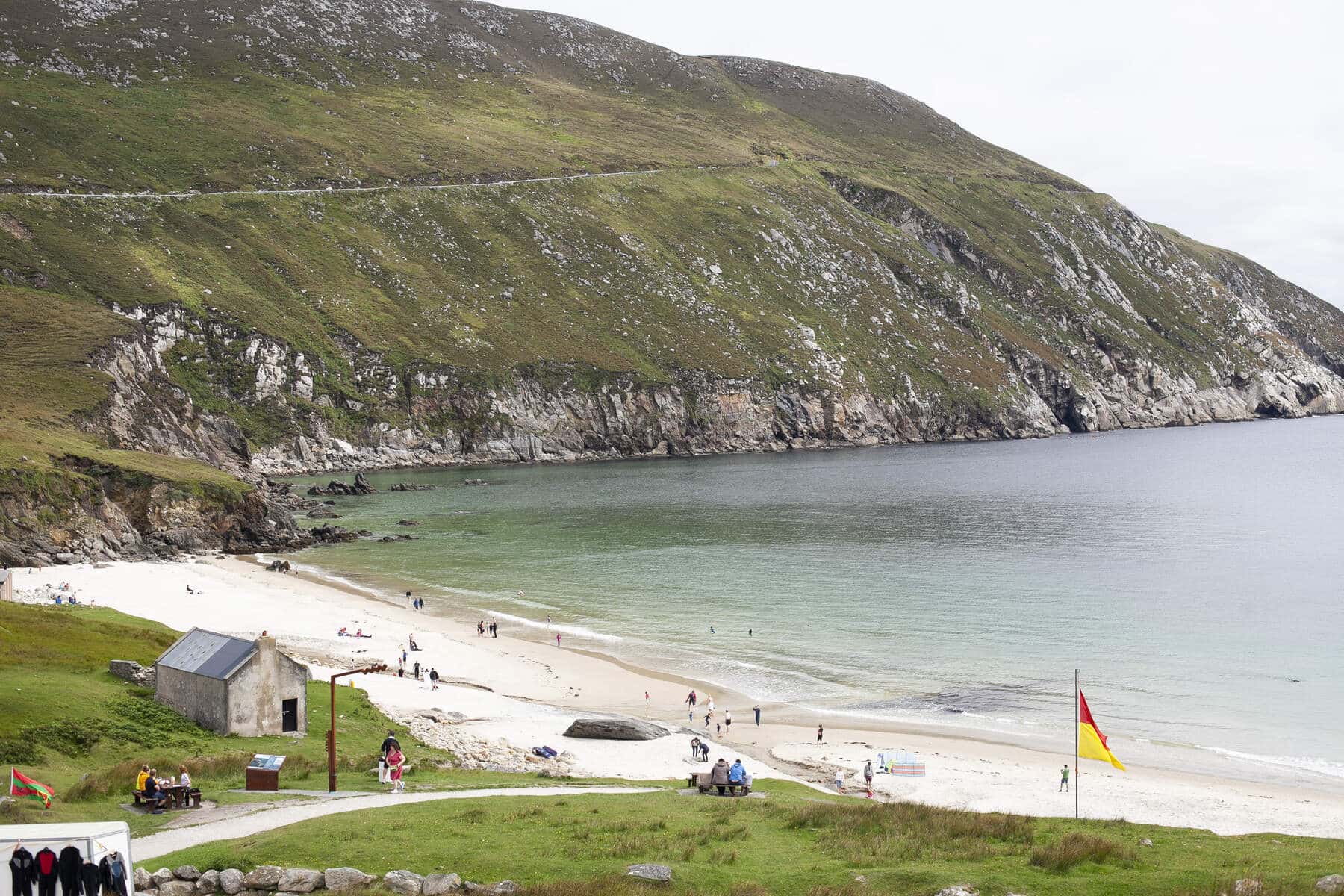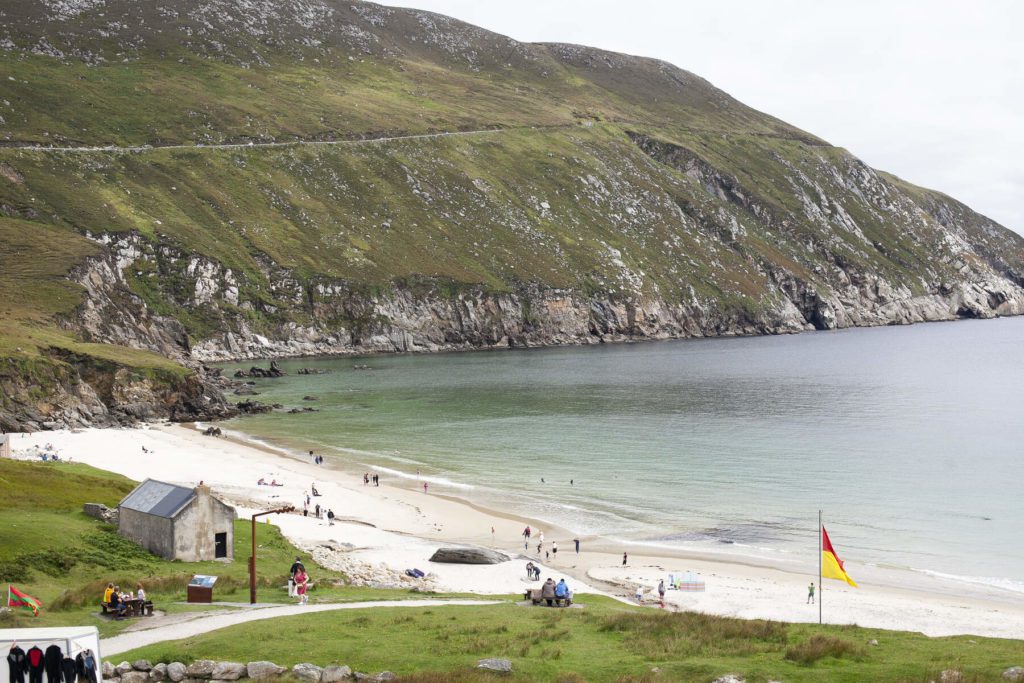 The Incredible Hiking
This whole area of Ireland has some truly incredible hiking. If you are up for exploring the highest cliffs in Ireland (and the second highest sea cliff in Europe) then we have all the info you need here. These are located just north of Keem Bay, and you'll need a good 5-6 hours to explore them properly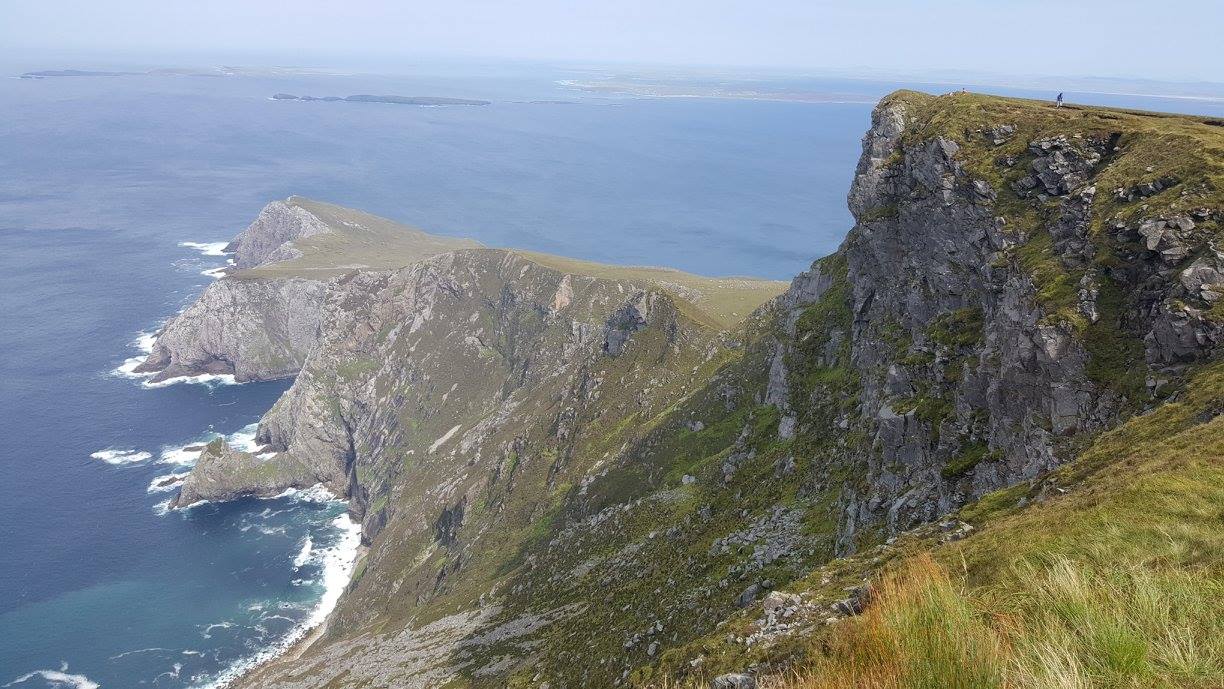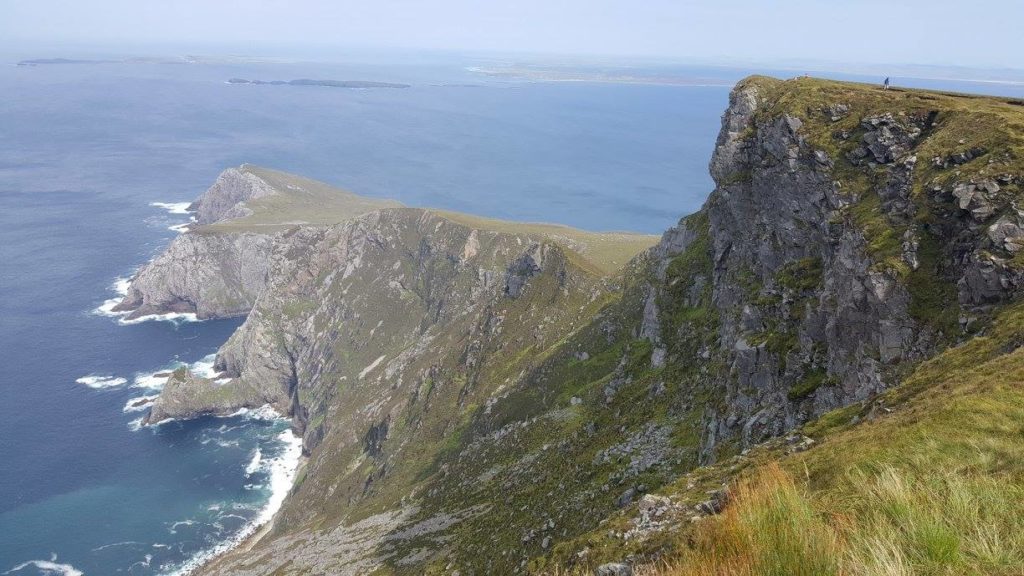 As metioned earlier, the old look-out house for basking sharks is located on Moyteogue Head. This is a great little hike and offers some phenomenal scenery of the beach and towards Achill Head.
Tip: Don't go directly up from the south side of the beach, back-track a little and follow the makeshift path: it's more tiresome than it looks if you go directly upwards!
If you would like to do a moderate hike, we would recommend traversing the cliffs of Croaghaun West, which includes the mighty Benmore (332 metres) and following this route all the way to Achill Head, which juts out into the Atlantic, reminiscent of a dragon's tail.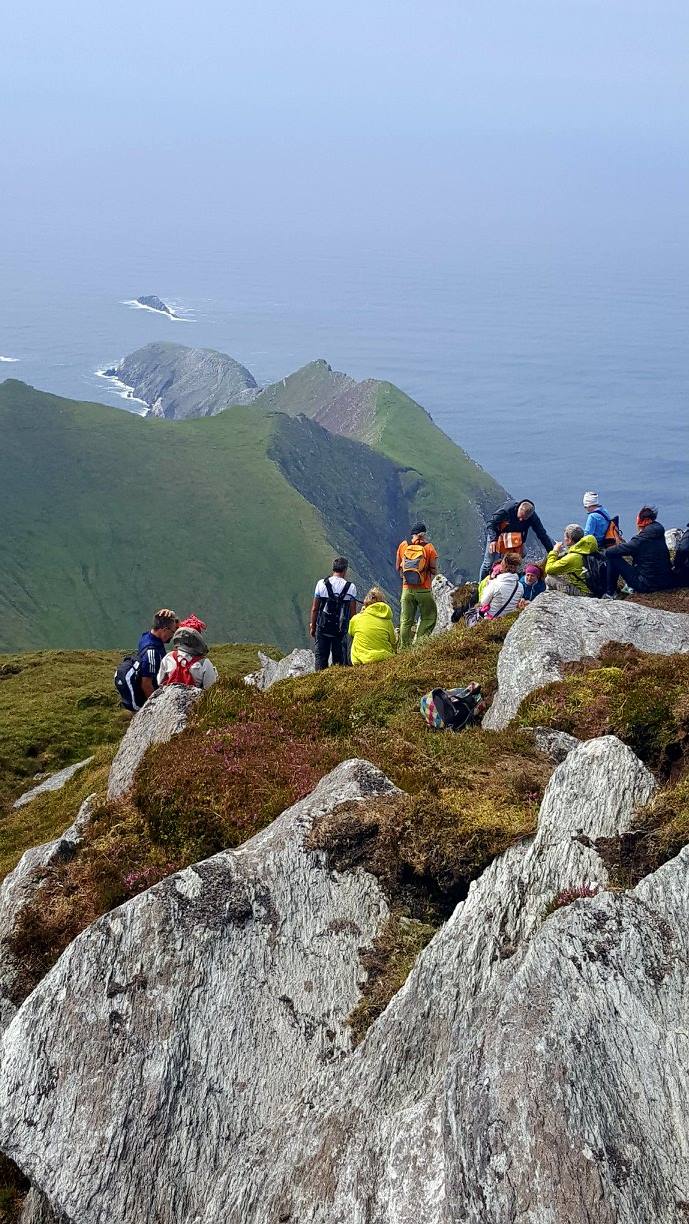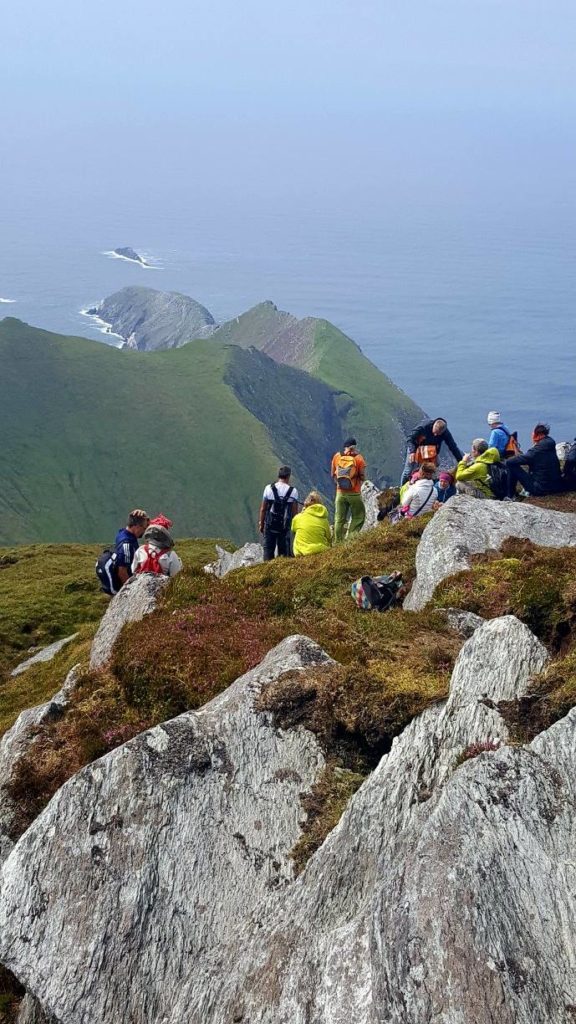 It is worth noting that the hike to the end of Achill Head is not advised, as the ridge here is less than one metre in spots.
It is also worth noting that this area should be only attempted on a calm day and extra care should be taken as these cliffs drop 100s of metres into the Atlantic Ocean.
The sheer vastness and wild nature of this landscape will leave you breathless. If you make it as far as the viewpoint to Achill Head, you'll catch a glimpse of the mighty Croaghaun, which is over 2 times the height of the cliffs you have just witnessed.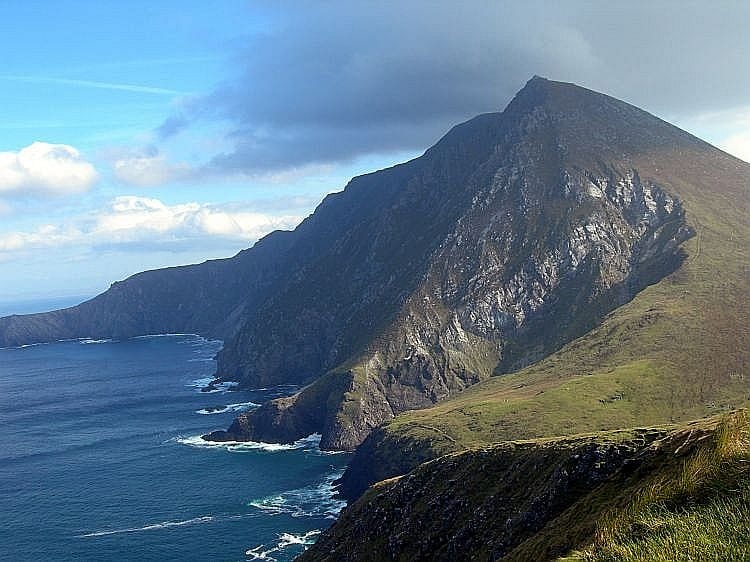 The Nature
One of the highlights of Keem Bay is the marine life on display here in the late months of spring/early summer.
If you are lucky, you'll come across a group of basking sharks, wading their way through the crystal clear waters of Keem Bay. Common dolphins are a very regular sight here also, so keep an eye out for some awesome breaches.
And remember, if you are out on a paddle-board or a kayak, keep your distance to these animals.
Keem Beach/Bay is also a paradise for snorkelling, due to the crystal clear waters and rocky terrain along the sides of the beach. Of course you'll need a good thick wetsuit if you venture in for a longer period, but prepare to see plenty of life from starfish to wrasse.
The Tranquility
Many of the photos you will see of Keem Beach & Keem Bay exude tranquility. The remoteness of the area adds to the atmosphere of this location.
The bay itself is east-facing, meaning it's sheltered from any real Atlantic swell, providing a sense of calm as you walk along its shores.
On a quiet day in the off-season, you may have the beach all to yourself, which we reckon is the best time to experience the tranquility of Keem Beach.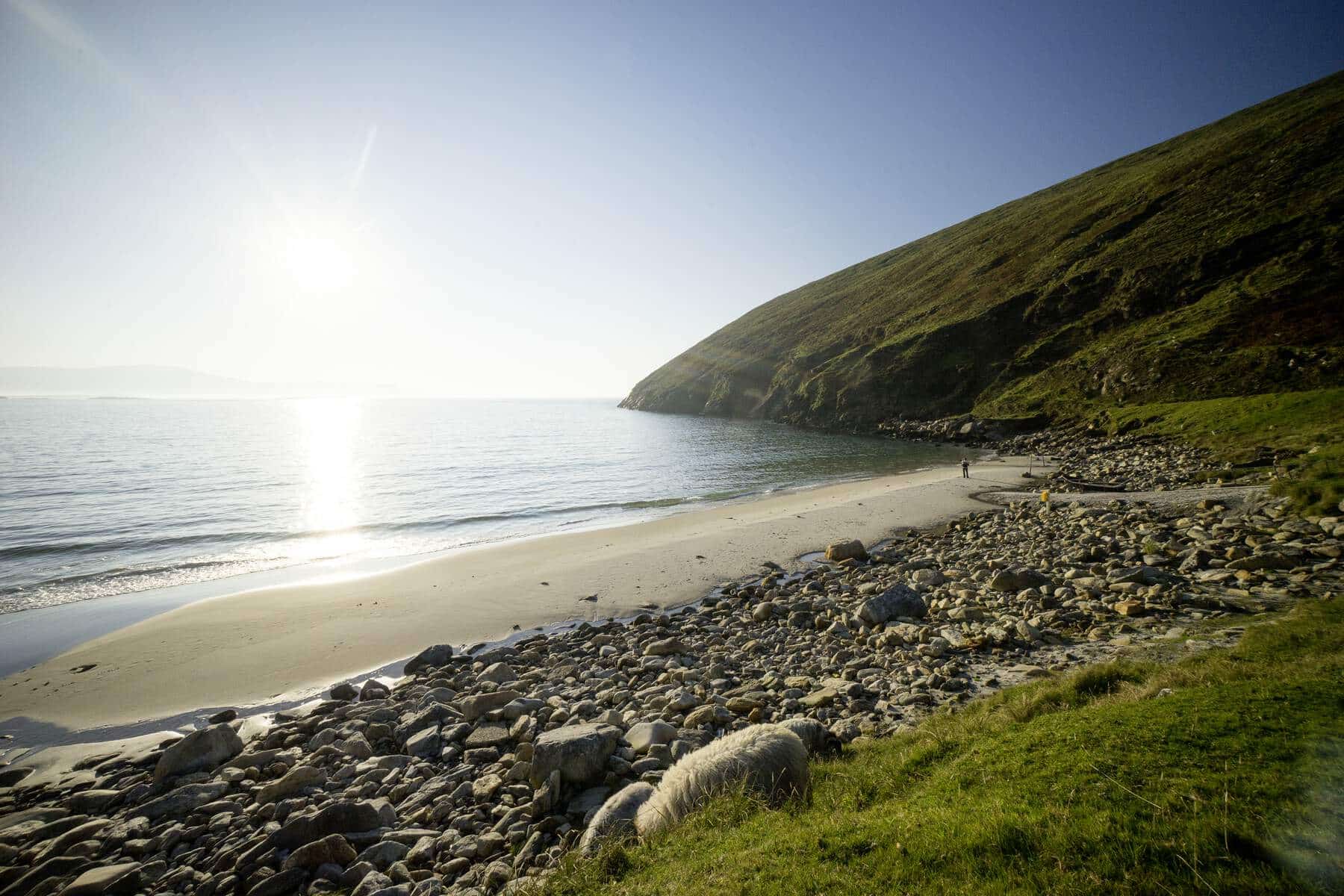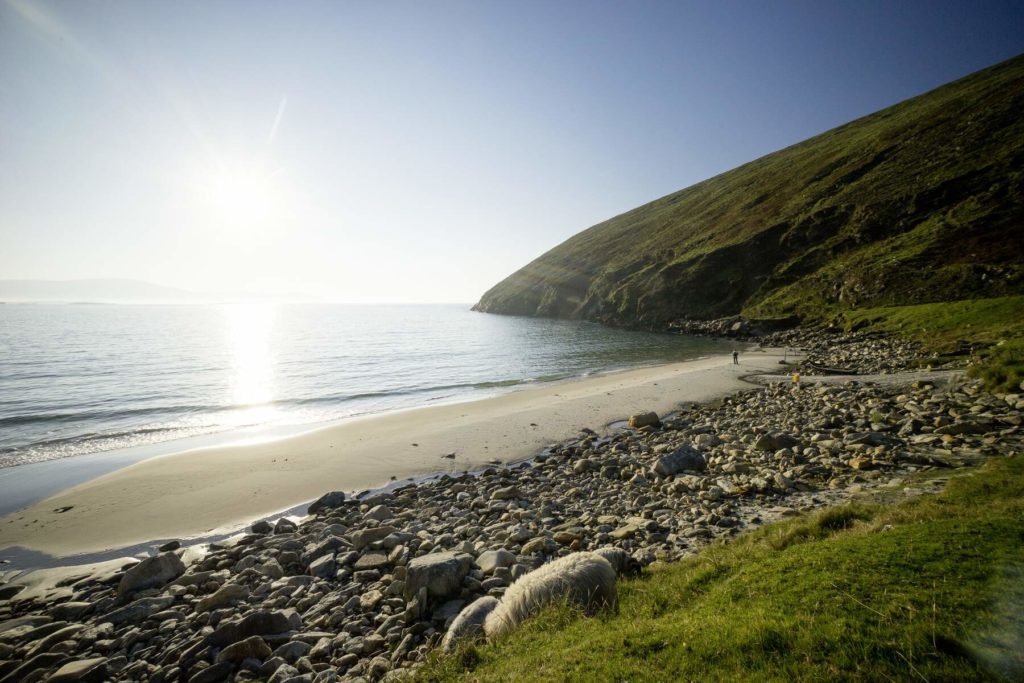 The Water Activities at Keem Bay
Swimming
Are we allowed to heap any more praise on Keem Bay? Well recently it was named as the 'No 1 wild swimming location' in the UK and Ireland, due to its 'ultra clean' waters. Not a bad accolade and one we can definitely confirm.
The waters here are pristine…but chilly. As it's surrounded by high mountains, the sun's rays don't get a chance to warm up the waters for the whole day.
But it's not freezing either. The warmest time of the year for a swim is around mid-August, with the water reaching a daily maximum of 16 to 19 degress. During a spell of warmer weather, this will go to 20 degrees easily.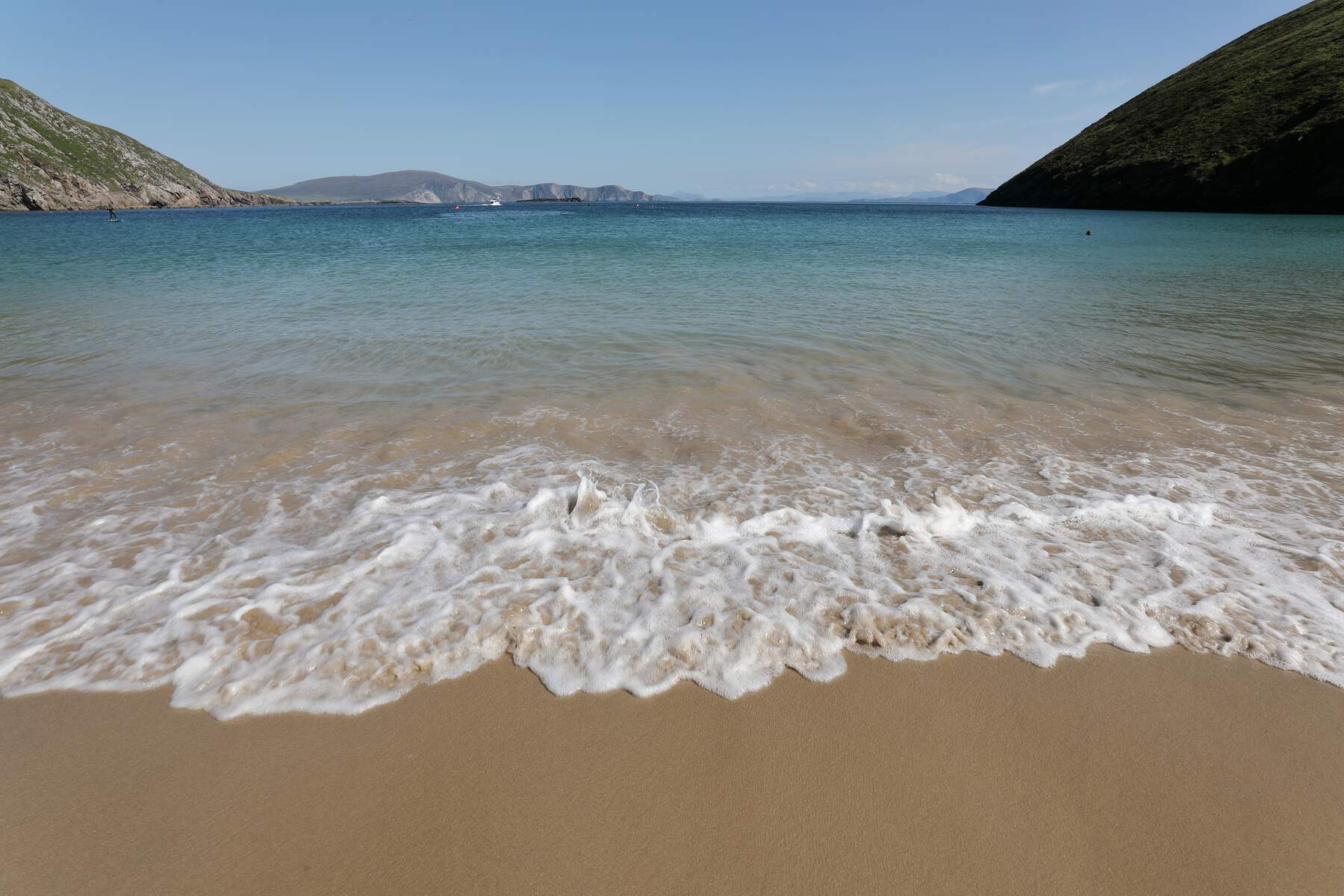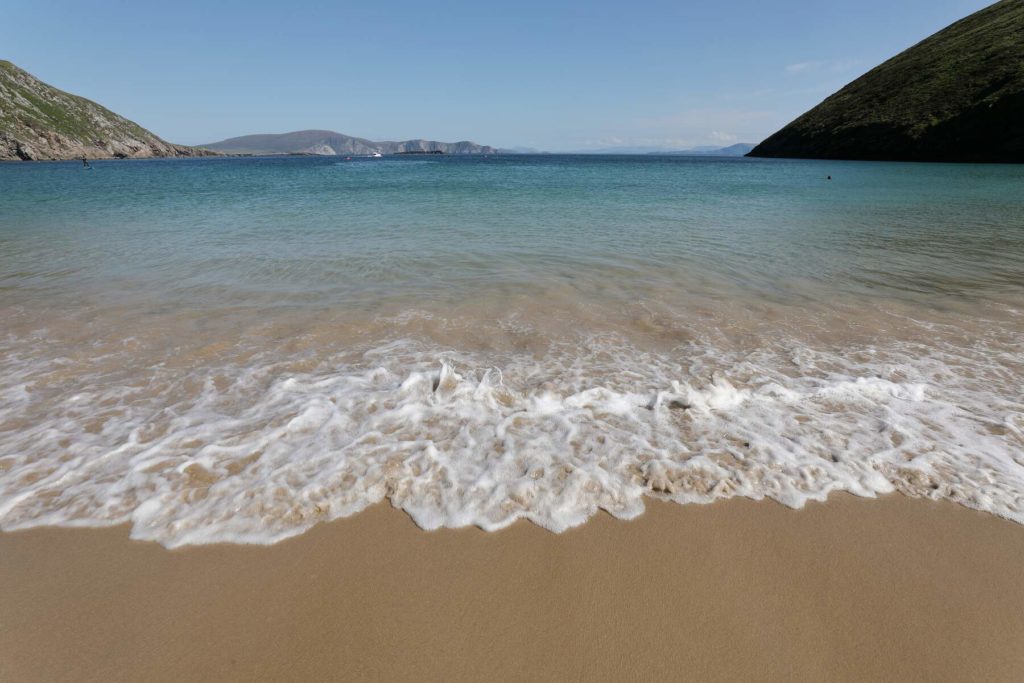 It's perfect for a paddle along the shore for the kids, as here the water can feel surprisingly warm, but when you venture in further, you'll notice the difference! Us Irish don't seem to mind it though and there's nothing more invigorating than a swim in the Atlantic.
SUP/Paddleboarding
Because of its calm waters, Keem Bay has become popular with paddleboarders in recent times. It's possible to rent paddleboards from 'Pure Magic' on Achill Island.
You'll be spoilt with some incredible views of the beach from a totally different perspective, and with those enormous cliffs and hills around you, it will be a memorable day on your board.


Sea Kayaking
Again, due to its calm waters, it's an ideal place for sea kayaking and some incredible videos have been doing the rounds lately, with many having close encounters with basking sharks and dolphins.
Many kayak around the headland of Moyteogue to witness the vast cliffs, but beware, you're in the more exposed Atlantic now!
Snorkelling
For snorkelers, there is a recommended snorkel trail which goes along the southern part of keem Bay and is doable in either low or high tide, making it suitable for beginners.
Adventure Centres
Achill Island has a whole host of water adventure experts who provide a wide range of activities, rentals and lessons, so we would highly recommend checking them out. More details are found on the Achill Tourism website here.
Some Practical Info for Keem Beach
Parking
There is a substantial parking area directly in front of the beach, but in recent years, there has been an explosion in numbers visiting in the summer months. You may get lucky and get a spot in front of the beach, but otherwise you have 3 other options:
Park at one of the two smaller parking areas a few hundred yards upslope from the main carpark
Park up beside the toilets.
Park along the road, making sure you are well in off the road (but not in the drain!)
If you must park upslope along the approach road to the beach, make sure to have the handbrake on!
Details of these exact spots you will see on my map of Keem Beach later on in the post.
Camping
You'll see many camper vans choosing this paradise location for their stop for the night, which is totally allowed. Wild camping is also allowed but there's nothing more annoying than seeing rubbish left over on this protected natural area.
If visiting in the busy months and the bins are overfilled, please bring your rubbish with you and dispose of in the bins in nearby Dooagh or Keel. Please, please bring you rubbish with you and leave absolutely no trace.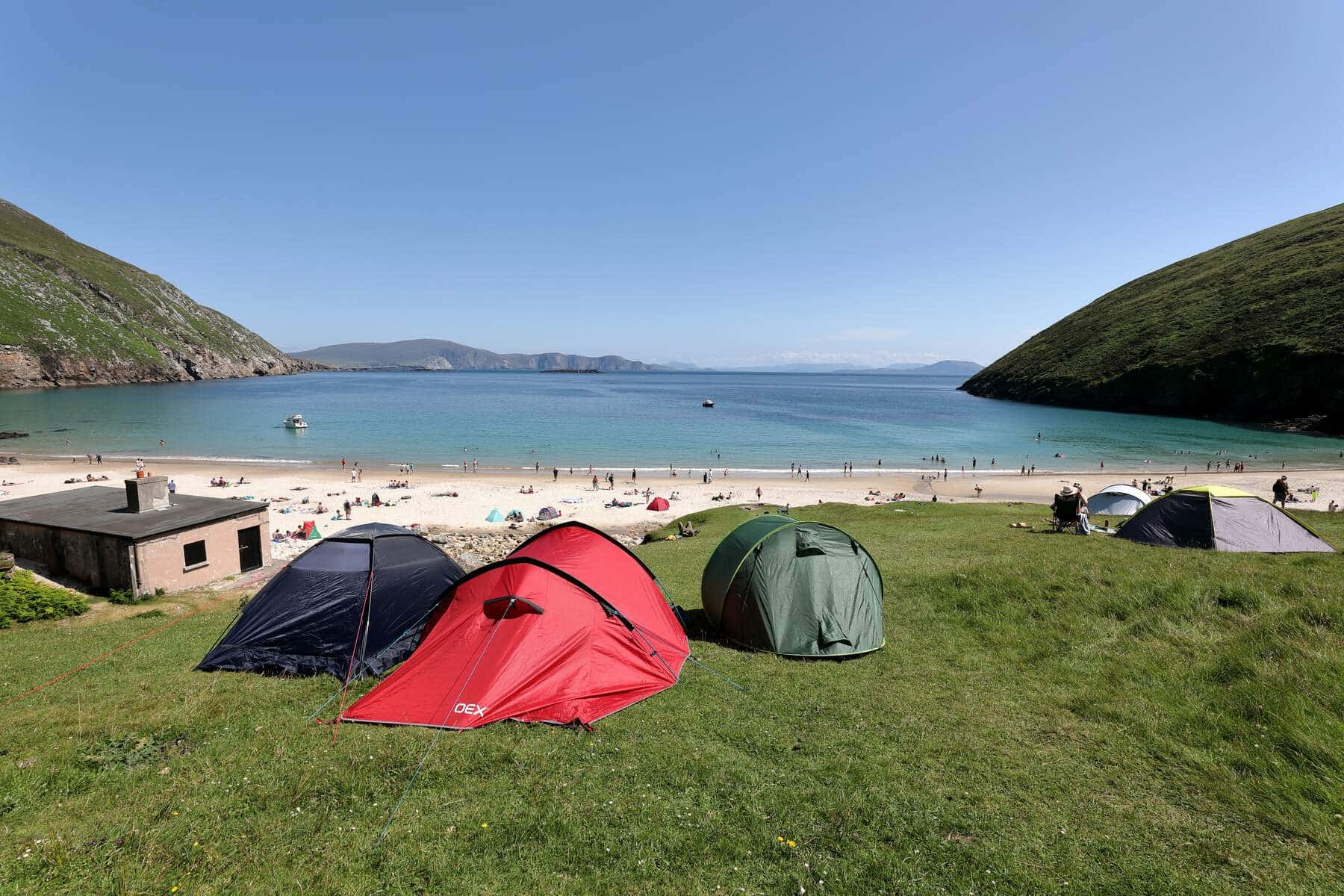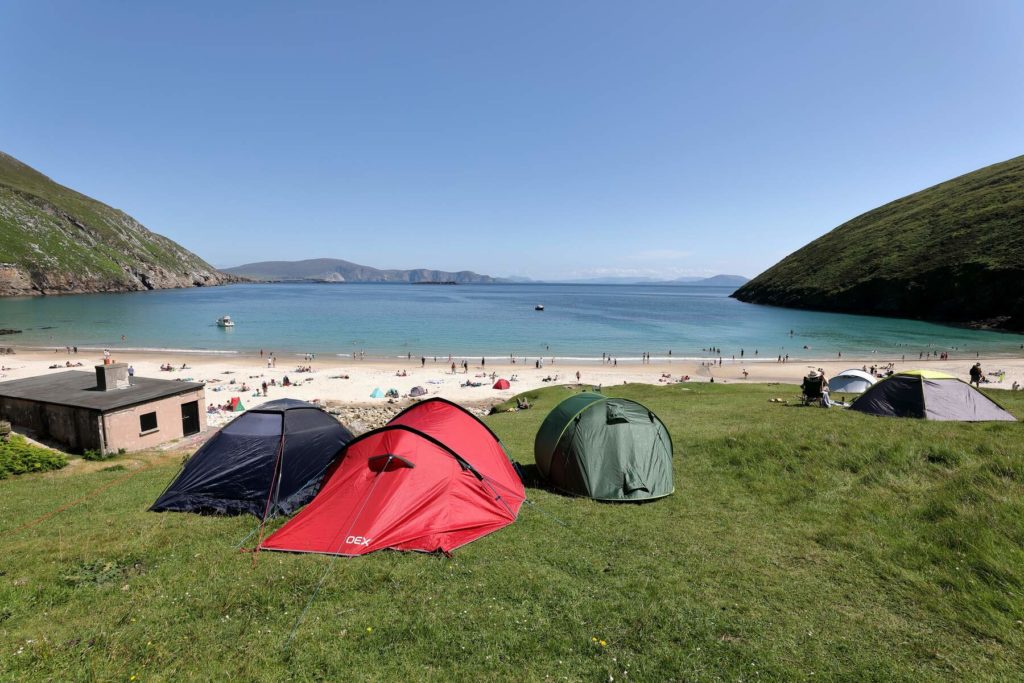 Toilets
There are toilets located just above the beach, which incidently is a remarkable place for a photo!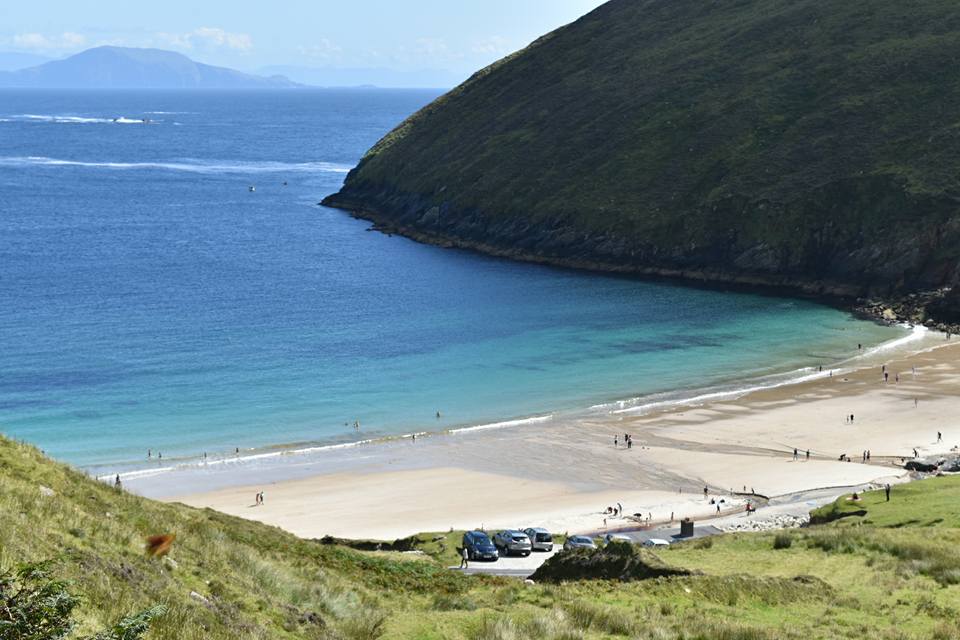 Lifeguards
Lifeguards are on duty during the summer months. For the month of June, they are on duty only at the weekend and on Bank Holidays from 12 pm to 6.30 pm.
For the months of July and August, the same times as above and every day. For September, the same times on the first weekend only.
Blue Flag Beach
Keem Beach is a Blue Flag Beach, meaning it passes all high standards of cleanliness and safety.
Food/Drink
A food and beverage van is parked near the beach during the main summer season, offering warm and cold drinks, snacks and ice cream. The nearby villages of Dooagh and Keel have a selection of good restaurants if that sea air is giving you a good appetite.
Detailed Map of Keem Beach & Keem Bay
Where to Stay Locally
If you would like to stay in the local area, then Achill has a good selection of accommodation available. The nearby villages of Keel and Dooagh have the highest concentration of accommodation, most of which are B&Bs or self-catering.
We have put together a comprehensive guide to accommodation on Achill Island, which covers everything from camping to hotels. Our best choices are here.
What to Do Nearby
Achill Island has a huge amount of things to do, from scenic drives to outdoor activities such as surfing, kitesurfing and countless more. We have put together an extensive list of things you can see and do on the island.
Have a look here for the most comprehensive list of things to do on Achill Island
'The Banshees of Inisherin' & Keem Bay House
As many of you will know Martin McDonagh's The Banshees of Inisherin chose Keem Beach as one of the locations for his latest production. Little wonder.
The house where Colm Doherty resided is located right along the shores of Keem Beach, but is a privately owned.
He also chose multiple other locations on Achill Island, including the infamous J.J. Devine pub. We have put together a post outlining all exact locations of this movie, which includes the filming locations on Inishmore. You can see these exact locations here.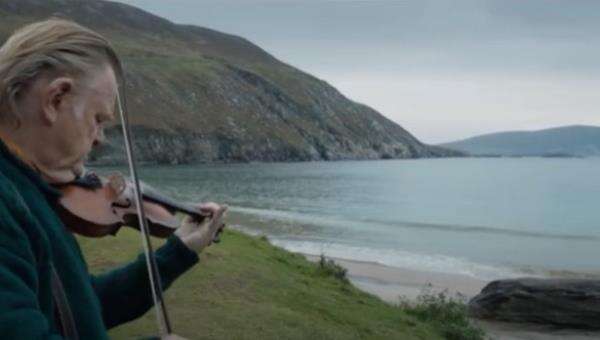 We have also put together a detailed route for you to follow if you would like to follow in the footsteps of the Banshees of Inisherin. This route will take you directly to all filming locations, while taking in all the most scenic locations of Achill Island. The exact route and itinerary are found here.
Westport
As stated earlier, the nearest major town to Keem Beach is Westport. This is an excellent base for exploring this particular part of Ireland: the wild west coast.
There are some brilliant restaurants and things to do in this town and a huge selection of places to stay. Here is our detailed post outlining our favourite hotels in Westport: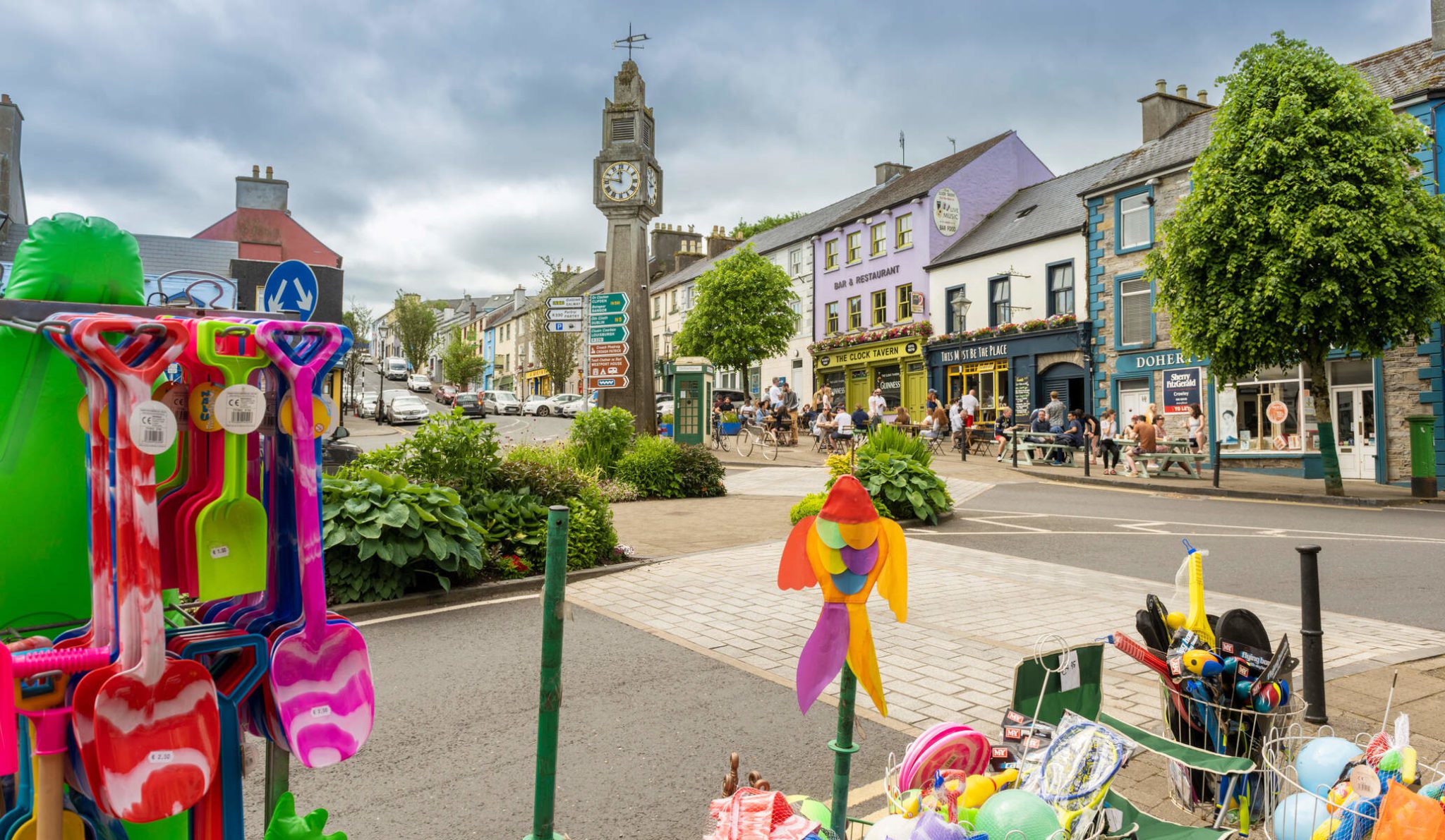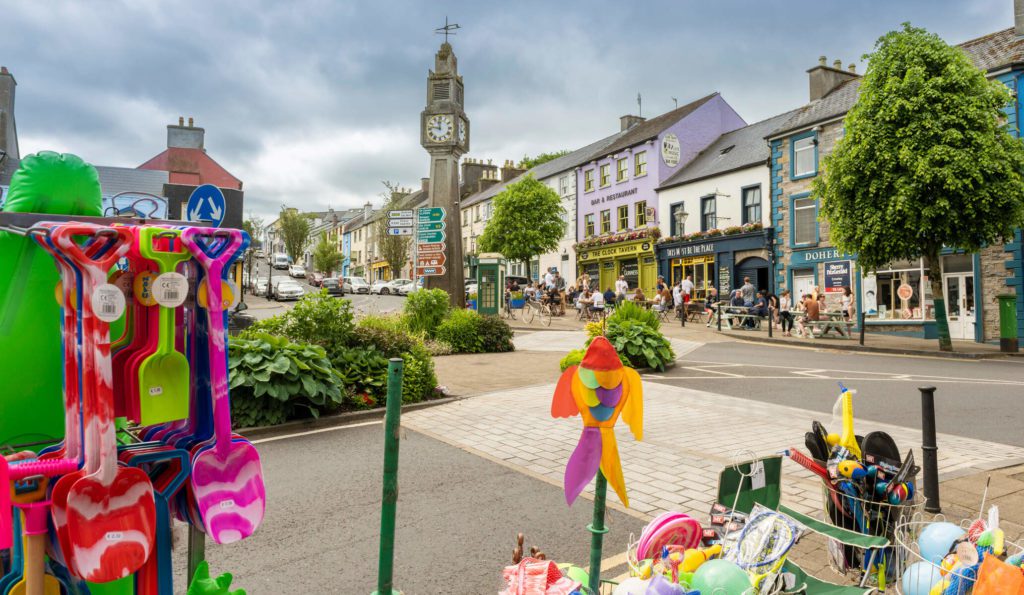 FAQs
Where is Keem Beach/Bay?
Keem Beach is located to the west of Achill Island in County Mayo, Ireland.
Where is the beach from The Banshees of Inisherin?
The beach which features in multiple scenes of The Banshees of Inisherin is Keem Beach, on Achill Island, County Mayo, Ireland.
Can you park at Keem Beach?
Yes, there is a decent-sized parking area in front of the beach. When it gets busy during the summer, you can park along the approach road, but don't forget to leave your handbrake on. You may also park a little further up, near the toilets.
Are there public toilets at Keem?
Yes, there are public toilets in Keem, which are probably the toilets with the best view in all of Ireland.
Can you wild camp at Keem Beach?
Yes, it's possible to wild camp, as long as you leave no trace. Bring home your rubbish and leave the nature as it is. Make sure you stick to the Wild Camping Code.
Can you surf on Keem Bay?
No. Keem Bay is an east-facing bay, sheltered from the Atlantic Ocean, therefore gets very little swell. You can do plenty of other activities such as SUP and sea-kayaking. Nearby Keel Beach offers some brilliant surfing.
Can you swim at Keem Beach?
Yes. Because it faces east, away from the Atlantic, you have calm and crystal clear waters to swim in. Keem has also been voted the best place to go swimming in the British Isles. Being a Blue Flag beach, it passes all regulations for cleanliness & safety, and lifeguards are on duty in the summer months.
Are the sharks at Keem Beach dangerous?
Although the Basking Sharks of Keem Bay can grow up to 12 metres in length, they are completely harmless to humans, as they feed on plankton.
Final Thoughts
We hope we have given you as much insight and information as possible into Keem Bay and left you with the impression that it should definitely be on your bucket list for things to see in Ireland.
As mentioned already, the beach has become quite popular in recent years, so if visiting on a warm day in summer, you should be prepared for the crowds.
We recommend visiting in May/June during the week or September after the kids go back to school. The weather is still mild and you'll have far less crowds.
For us, as you may have gathered, Keem Beach/Bay is a slice of paradise. The surrounding area of cliffs and mountains further add to the beauty and drama of the region.
That's exactly why we believe it be be the most beautiful beach in Ireland. We hope you can visit some day for some cracking photos and memories that will last a lifetime.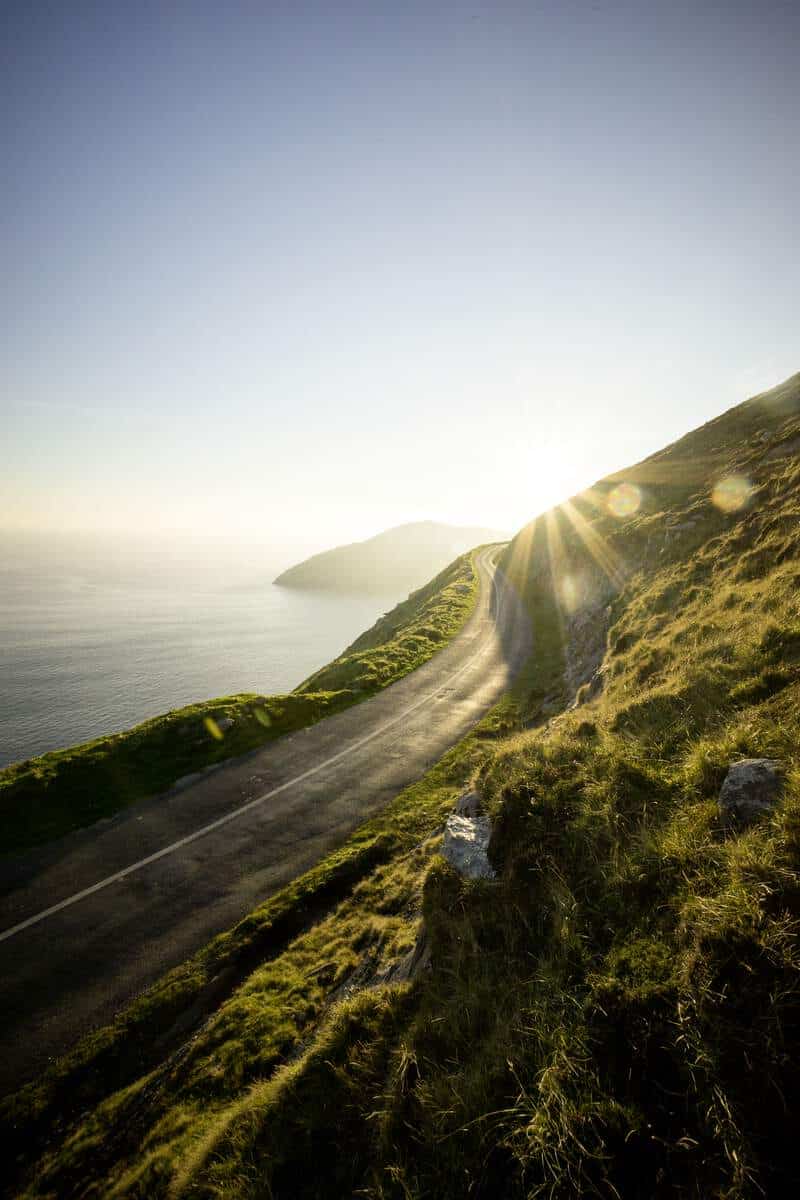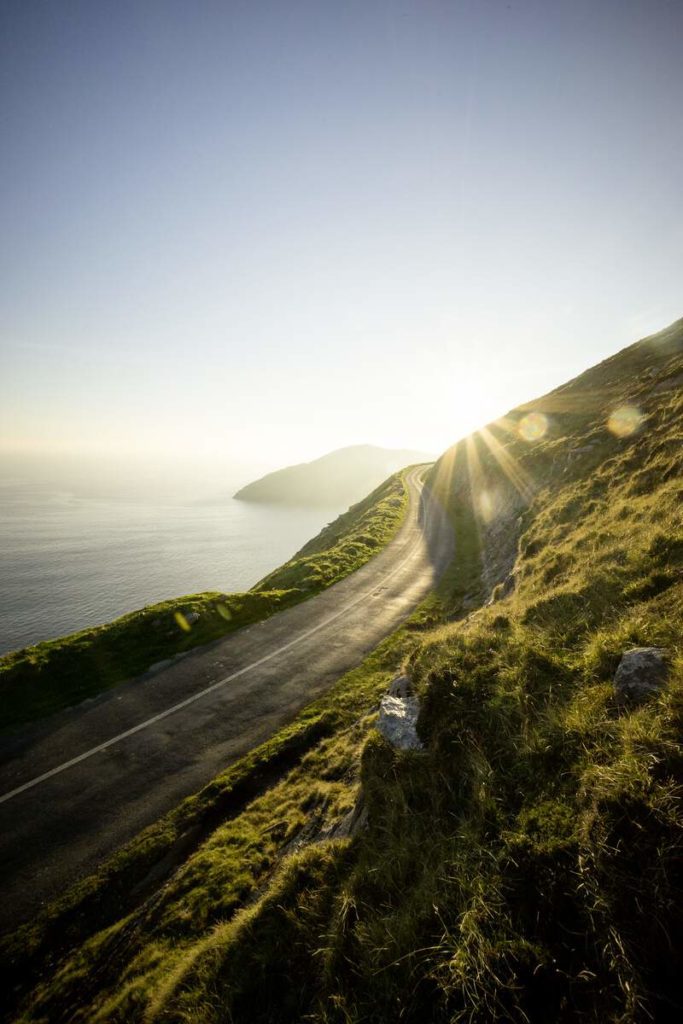 In the meantime, if you have any further questions, we'd be delighted to answer them or if you'd like to leave us a comment, don't be shy! We'd be delighted to hear from ye. Slán go fóill!