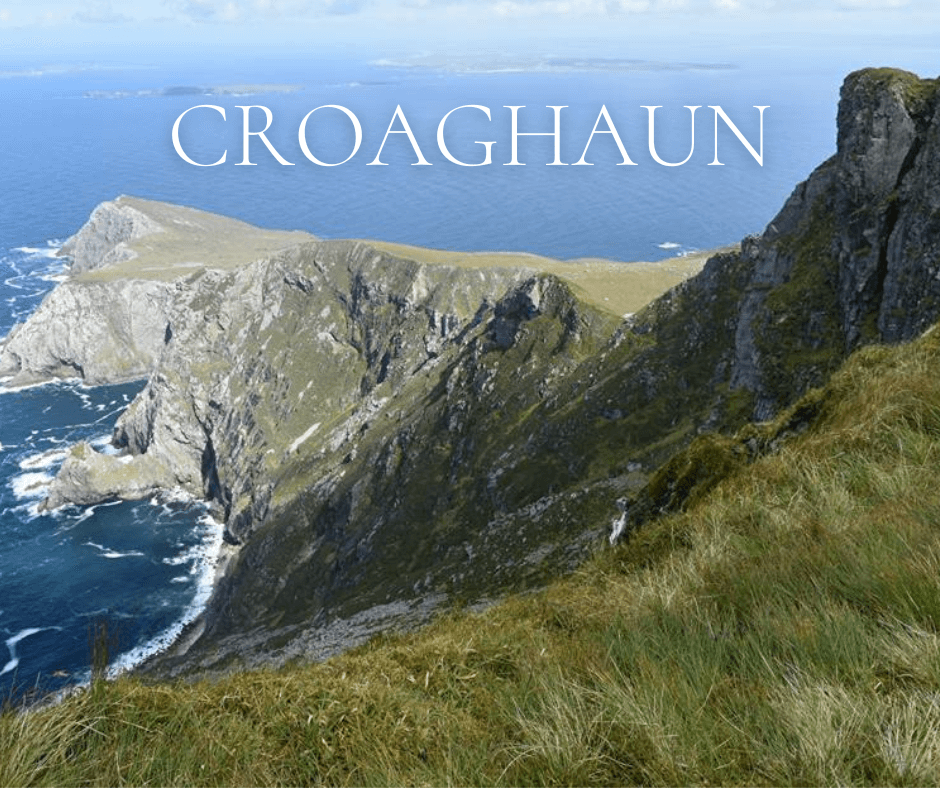 The sea cliffs of Croaghaun on Achill Island are the highest cliffs in Ireland at a height of 688 metres (2,257 feet). This puts them at over 3 times the height of the far more well-known Cliffs of Moher in County Clare.
If you would like to read our detailed hiking guide for the Cliffs of Croaghaun, click on this link. For some more general info. about the hike, just read on!
Location
These cliffs are located on the western end of Achill Island in County Mayo, on the west coast of Ireland. They are the highest point of a long stretch of cliffs which start at Moyteogue Head, stretching all the way to Achill Head along the south side of the island.
From Achill Head, the cliffs continue along the northern part of the island, where the topography rises dramatically to its highest point at Croaghaun (688m)
From here on, there is a high mountain ridge, with a sheer drop down into the Atlantic Ocean of over 600 metres for aprroximately 2.5 kms. The cliffs continue all the way to Saddle Head, with the stunning glacial lake of Lough Bunafreva adding another spectacular dimension to this landscape.
Putting their height into perspective
Compared to the mighty Cliffs of Moher, the Cliffs of Croaghaun are over 3 times the height. In saying this the Croaghaun Cliffs are notoriously difficult to photograph, hence the lack of photographic evidence to prove this.
With the use of aerial photography, Croaghaun's cliff face has began to show itself in ways never seen before. This image puts into perspective the sheer scale of these cliffs.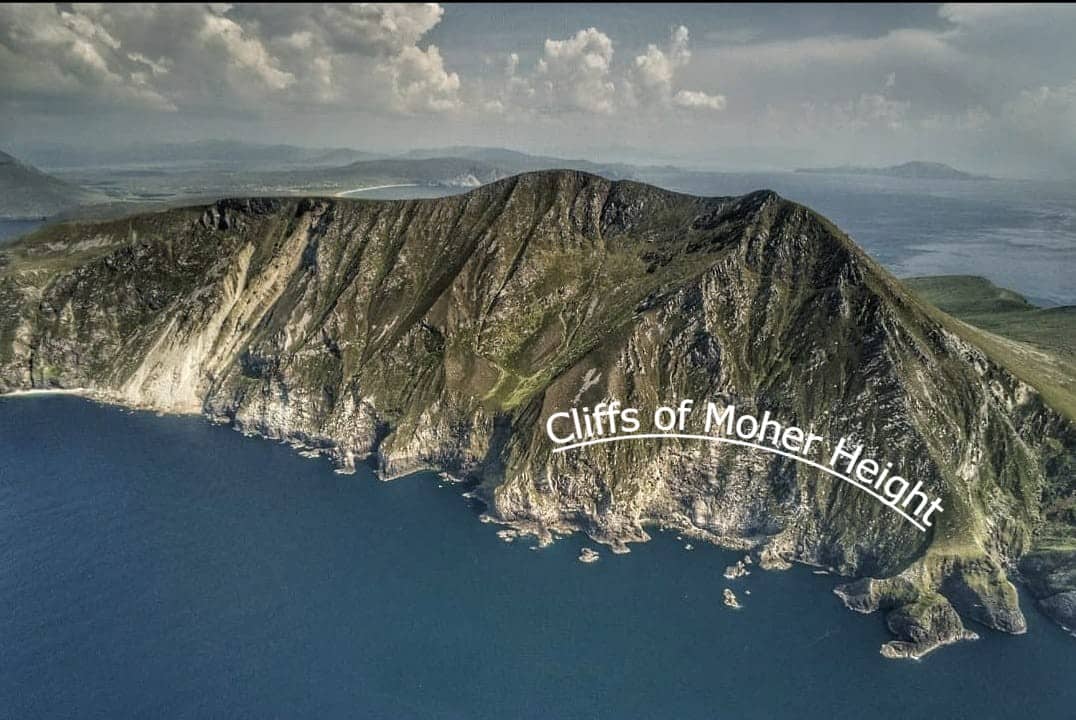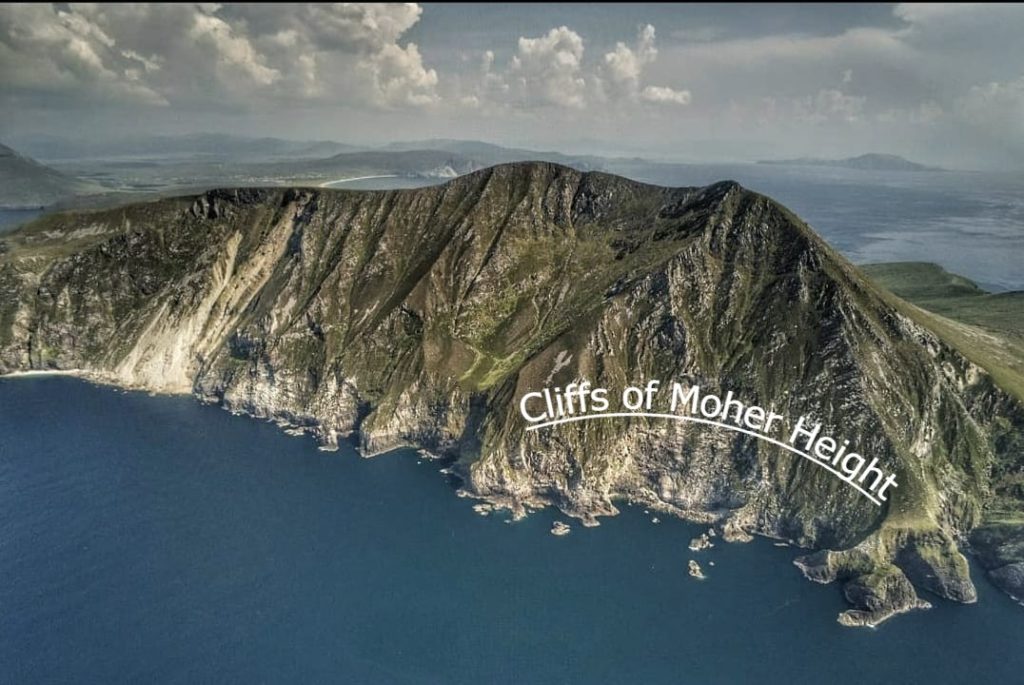 What are the 5 highest cliffs in Ireland?
This graphic shows the 5 highest cliffs in Ireland in metres. The highest cliffs are found along the Atlantic west coast, primarily in the counties Mayo, Donegal and Kerry.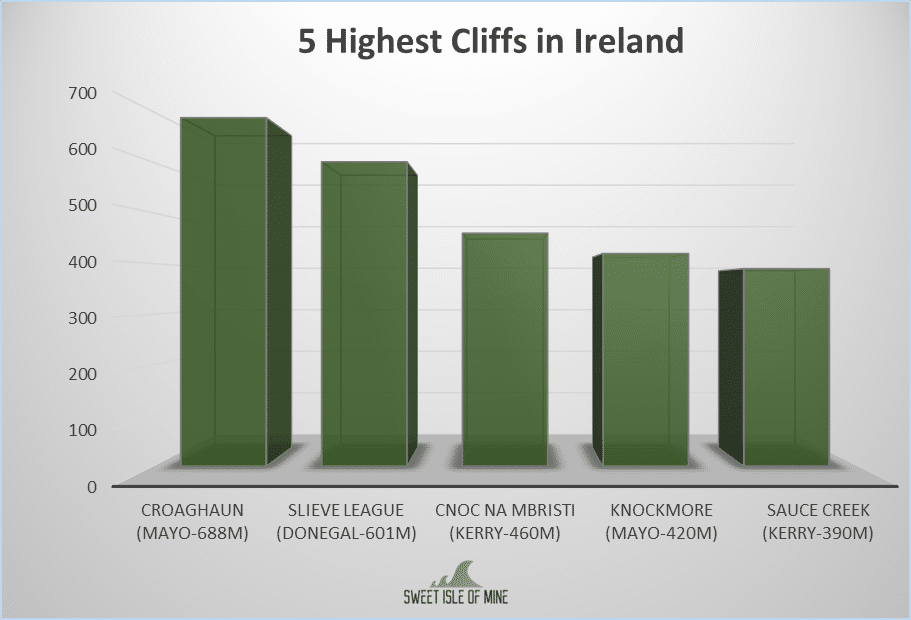 The Slieve League Debate
Let's get this one out of the way as quickly as possible. The epic seacliffs of Slieve League in Donegal are a height of 601 metres.
It has been long claimed that these are the highest, not only in Ireland, but in Europe. There's been discussions about which have the more sheer cliff-face, which are more accessible, the list is endless.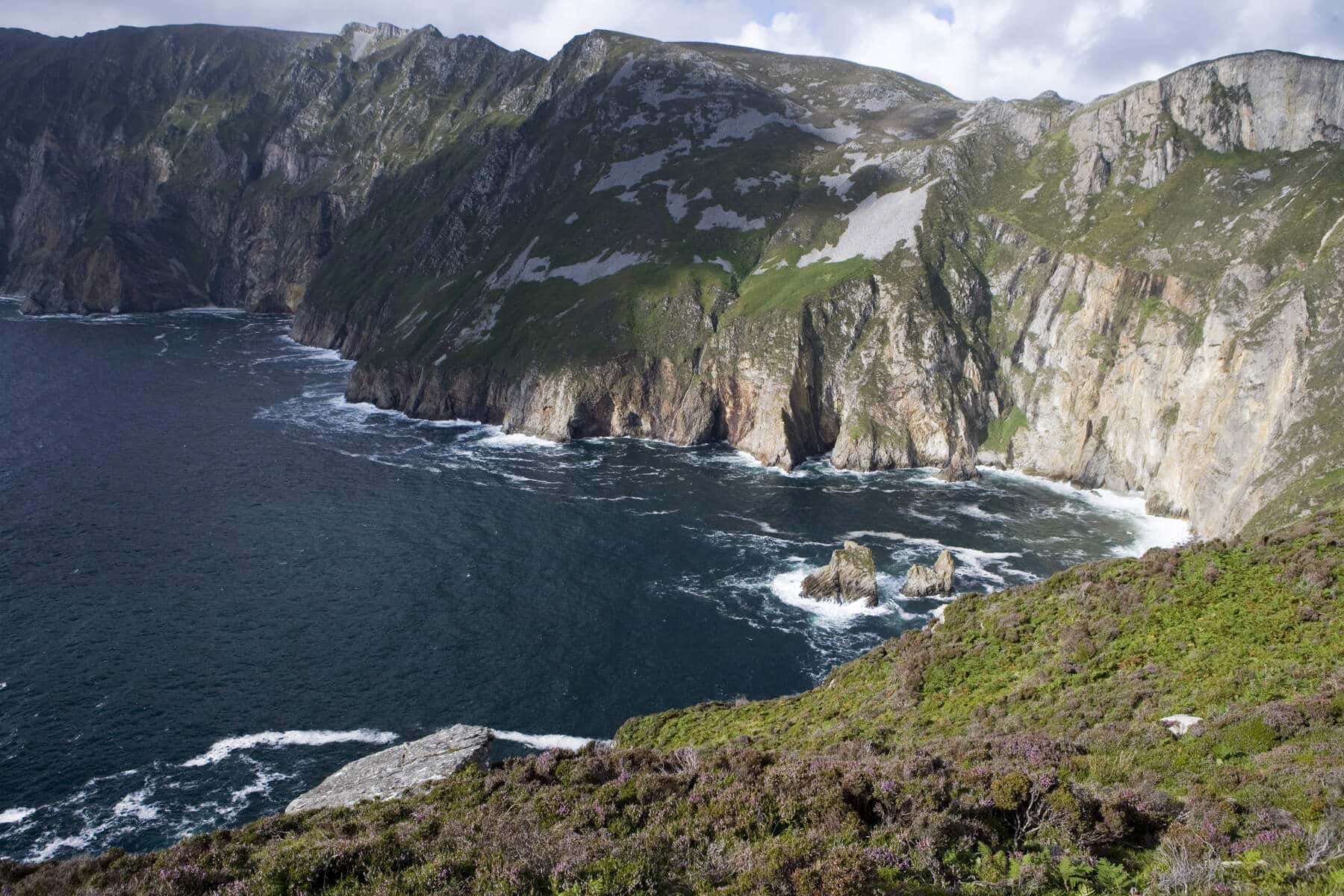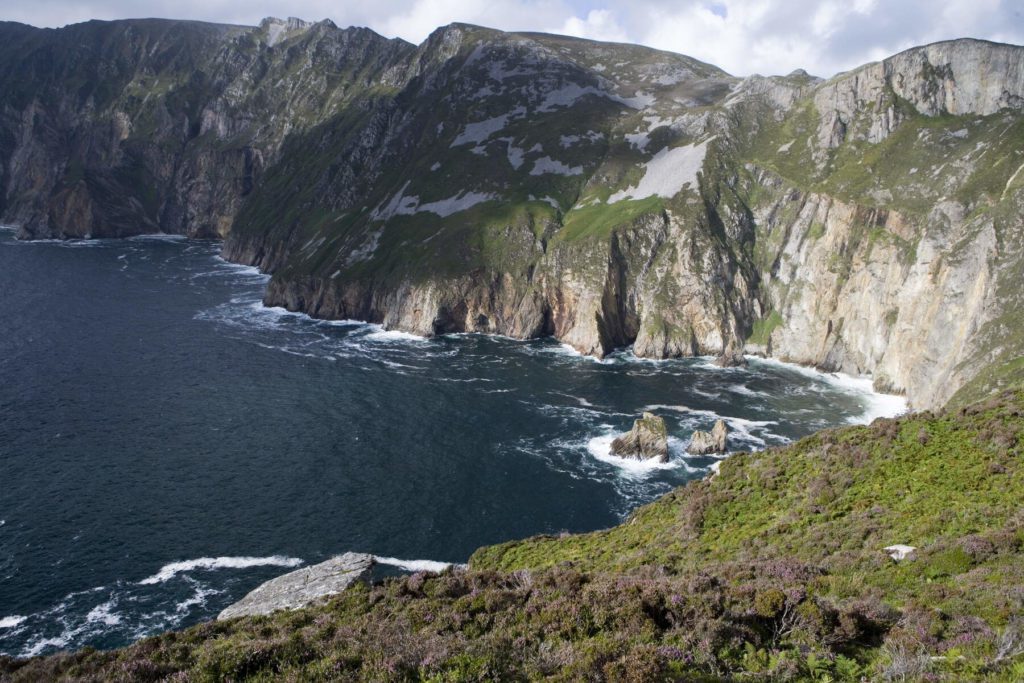 From a geographical point of view, the Croaghaun Cliffs on Achill Island, County Mayo are 87 metres (285 feet) higher than the cliffs of Slieve League, and in turn they are the highest cliff in Ireland.
This does not mean these Donegal cliffs should be overlooked. They are incredible and they are definitely more easily accessible than the Croaghaun Cliffs i.e. one can drive to a lookout point and see them without moving a muscle.
But in saying this, we feel the remote, difficult-to-access nature of Croaghaun makes this location an unforgettable experience.
A day exploring the Croaghaun Cliffs is unique, and the remnants of the last ice age further add to the experience.
The freshwater lakes of Lough Acorrymore and Bunafreva West, which are nestled under amphitheatre-like, glacially-carved rockfaces, seem completely out of sync with the marine environment you witness when you reach the summit.
What are the highest seacliffs in Europe?
Let me answer that with another question: What is the definition of a seacliff?
'A sea cliff is a steep coastal slope created by the erosive power of waves at its base'

(Bird, 1969; Zenkovich, 1967).
Going by this definition, the highest seacliff in Europe is Cape Enniberg in the Faroe Islands at a height of 754 metres.
Hornelen, located in Norway has a height of 860 metres, but as this rockface was formed through glacial erosion before the valley below was flooded by sea water, this can not be defined as a wave-eroded cliff-face. By definition, the seacliffs of Croaghaun on Achill island are the second highest seacliff in Europe.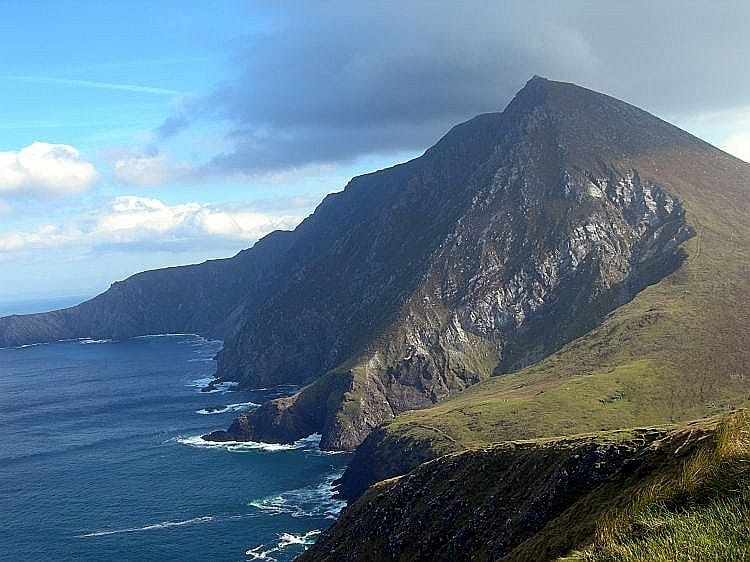 How to get to the Croaghaun Cliffs
The only way to actually see these cliffs is either by hiking to the summit, hiking to Saddle Head or viewing them from the sea. They are certainly one of the most inaccessible and remote places in Ireland and until recently were almost unheard of amongst the general public.
If you decide to hike to the summit, you have 2 options. The first being the most common one, which is to park at Lough Acorrymore lake and start the long hike from there.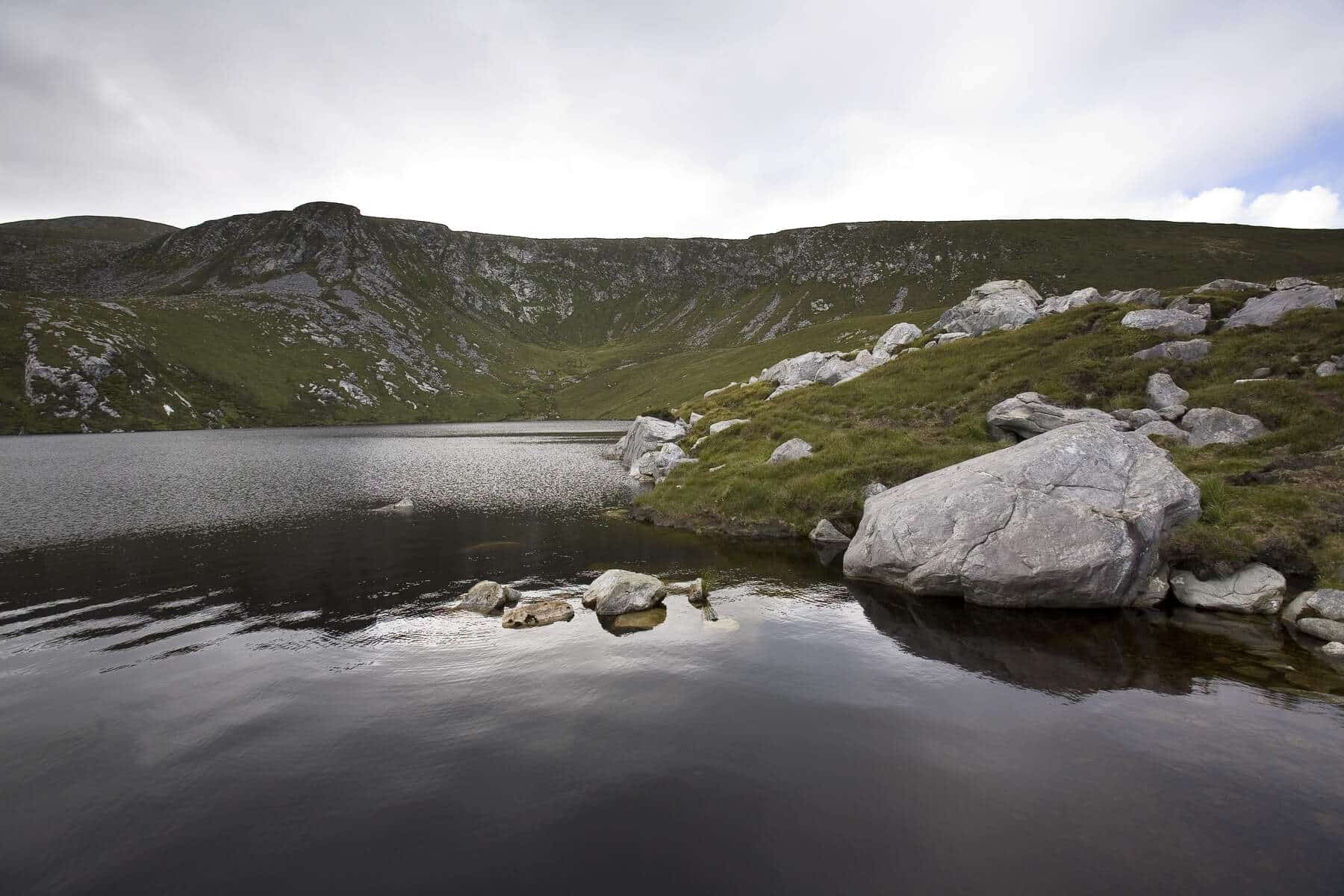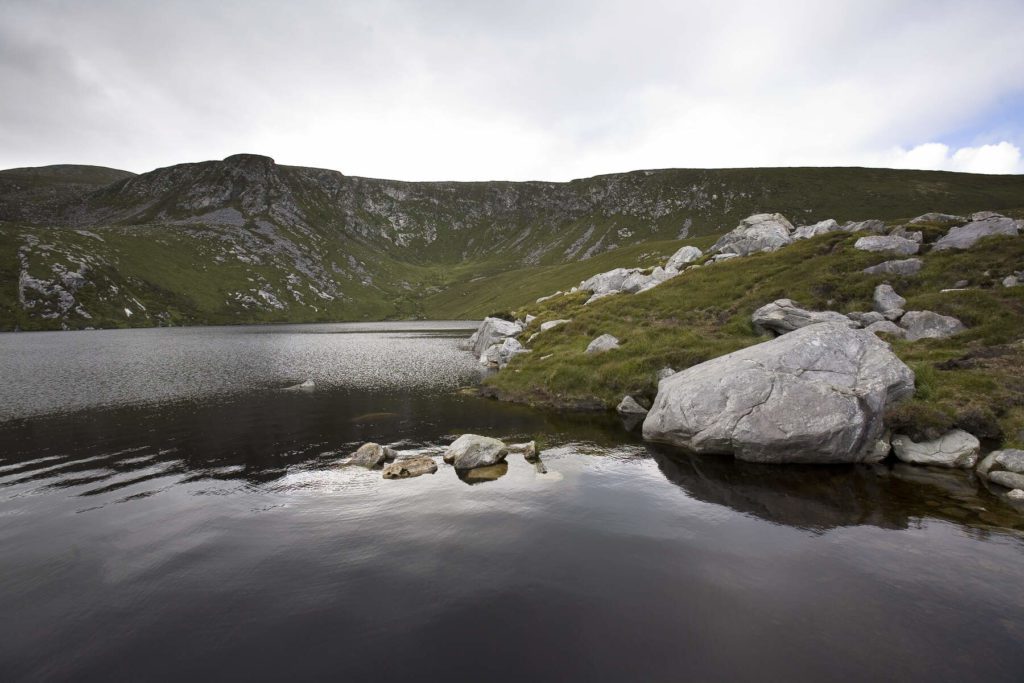 Many have also completed the hike from Keem Beach, but starting there means you will miss out on witnessing the amazing Bunafreva lake and the remnants of a crashed WWII plane. We recommend starting the hike from Lough Accorymore.
On the road to Keem Bay, take the turn for 'Lough Acorrymore and Water Treatment Works'. Exact location is here:
If you feel unsure about climbing to the summit of Croaghaun, you have the option of viewing the cliffs from a boat. This company have started boat trips to the base of the cliffs, with a good chance to see some incredible marine life, such as dolphins, whales, sharks and seals.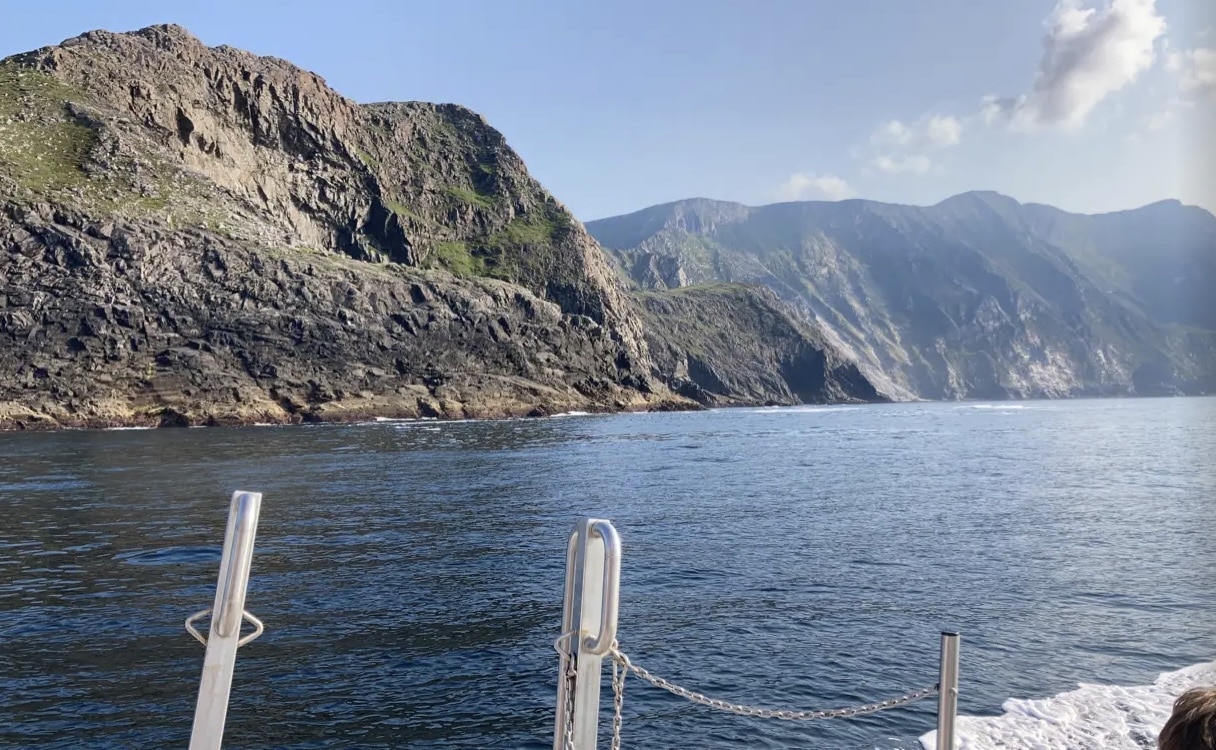 Wildlife at the Cliffs of Croaghaun
In terms of rare birds, from personal experience, we have witnessed multiple choughs (with their distinctive call) and a peregrine falcon on numerous occasions. Also, quite a rare experience was hearing the seagulls and gannets hundreds of metres BELOW us, giving an indication of the sheer height of these cliffs.
On one ocassion a common lizard was spotted, along with numerous sightings on frogs and toads in the plentiful water pools on the way to the summit.
Although not technically wildlife (although this is debatable) there is a large population of sheep on the way to the summit and they have marked out some very useful pathways (but be careful not to completely rely on these paths as many lead to very precarious areas!)
In the nearby Keem Bay, Basking Sharks are a very common sighting, particularly in the months of May/June, along with dolphins. Have a look at the harmless Basking Sharks in action here at Keem Bay. God above – can you believe this is Ireland? Seems more fitting in a tropical environment.
On a recent hike to Saddle Head, which is located northeast of the Cliffs of Croaghaun, we had the view of a storm beach located directly below the cliffs. We discovered it was a resting place for a large number of seals! This was news to us as we never even heard of seals being in this area.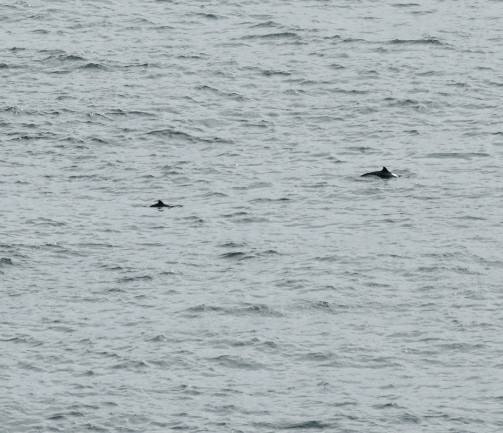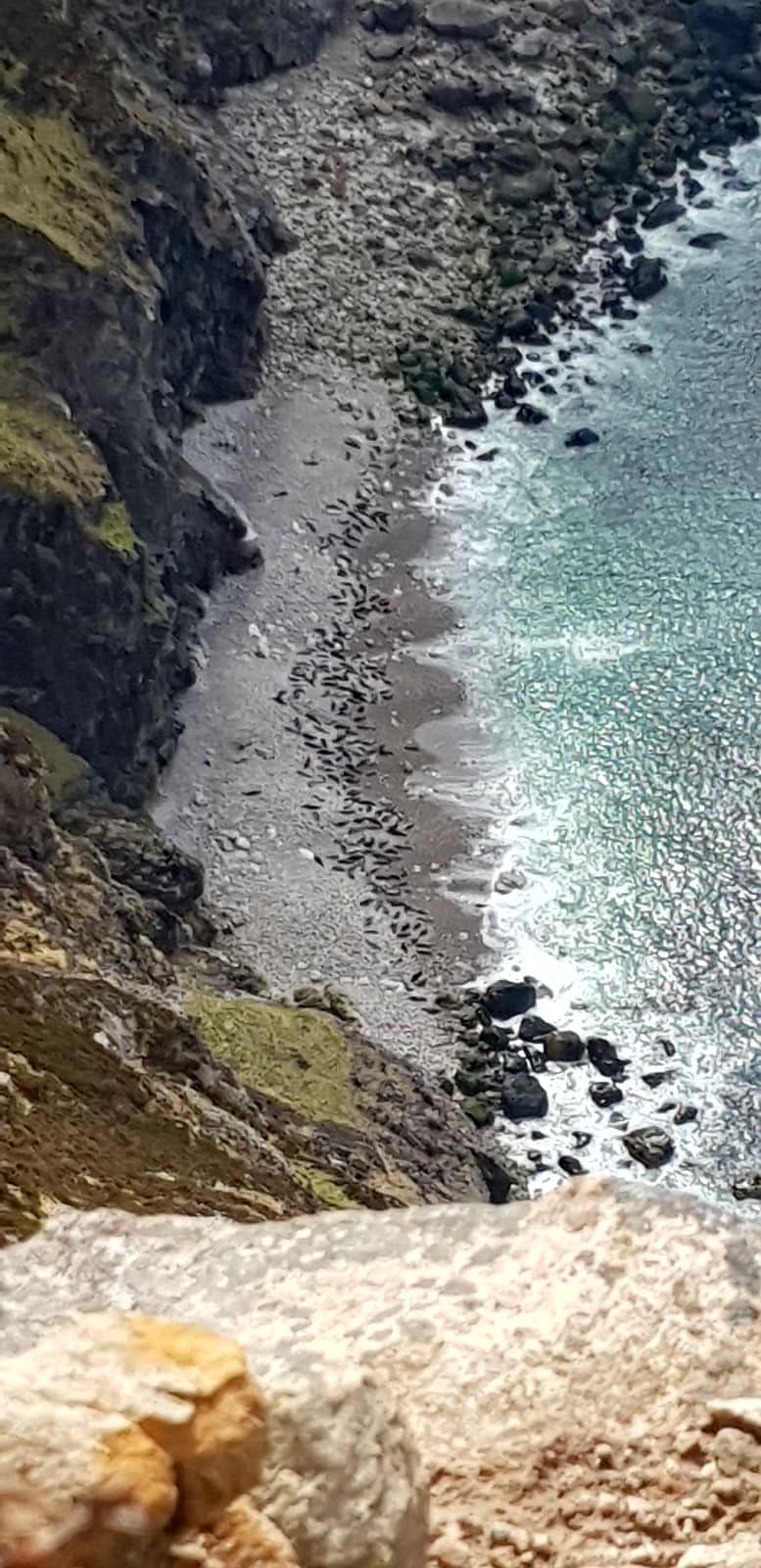 left: dolphin in Keem Bay/right: seals under the Cliffs of Croaghaun, images: sweetisleofmine.com
Hiking the Croaghaun Cliffs
The full hike will take you at least 4 hours, but realistically with stops along the way 5-6 hours. A full, detailed hiking guide has just been polished off, so click here if you are up for trying one of Ireland's greatest hikes.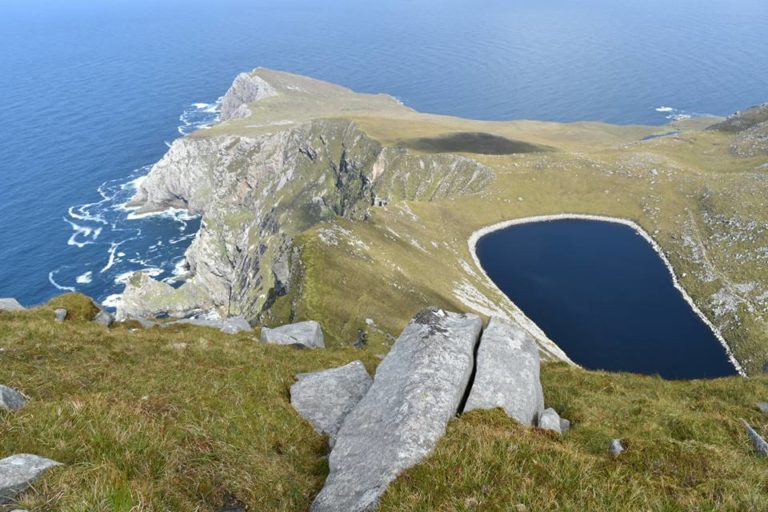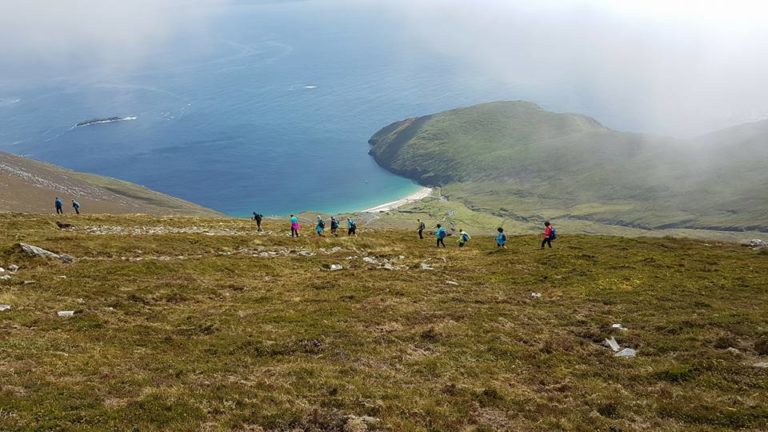 images: sweetisleofmine.com
Safety/Weather
This hike should be only attempted for those who have a good level of fitness, some prior experience hiking and a good head for heights. All of these 3 points are interlinked and of equal importance.
A potential fourth point, which goes hand-in-hand with hiking experience, is that it's important (almost vital) to have a good level of orientation. There are no defined trails on this hike. It's a long trek that needs to be planned in advance.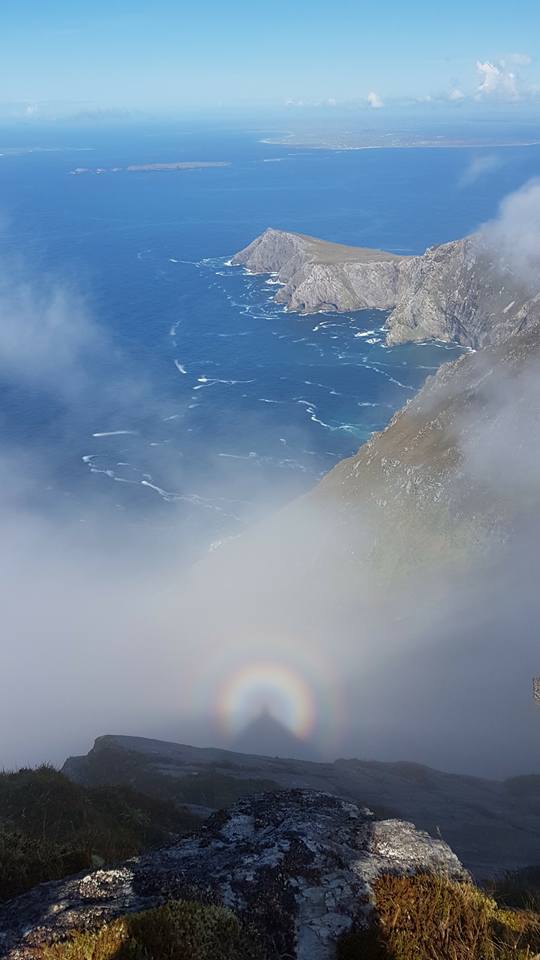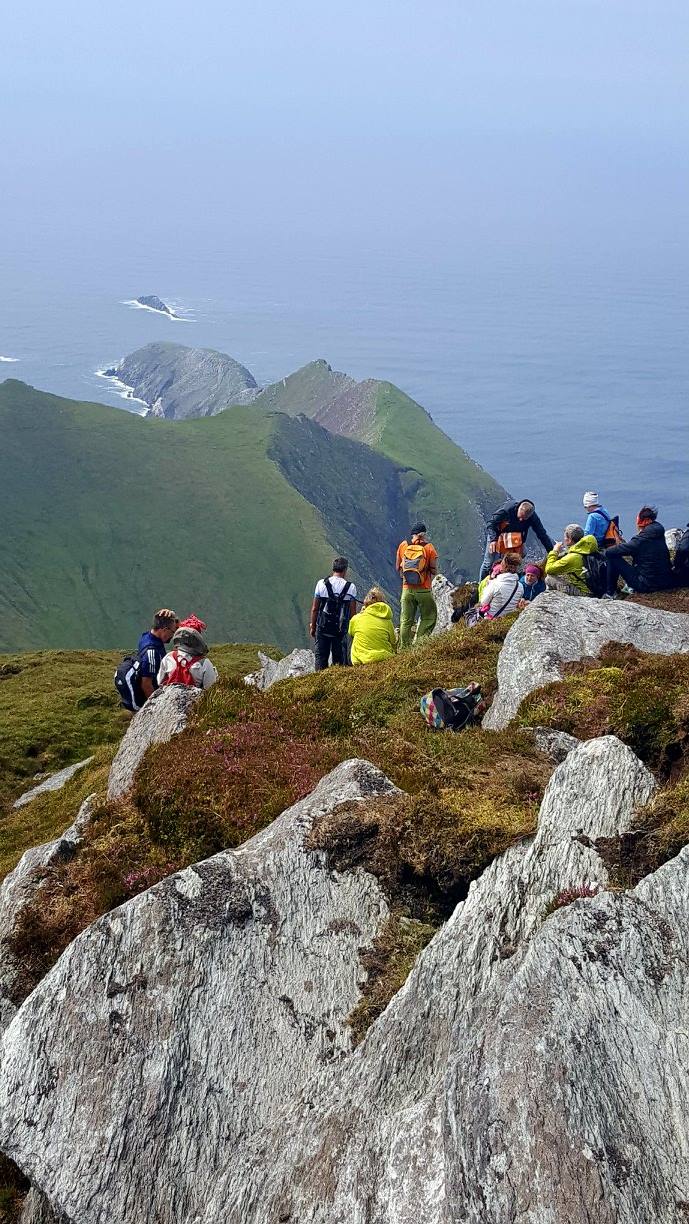 images: sweetisleofmine.com
It's vital to choose a clear/calm day for this, or at least a day where the cloud ceiling is above 700 metres. The weather here changes dramatically as its location, jutting out into the wild Atlantic Ocean, makes it notorious for rapid changes in the weather.
An insider tip when attempting any hike in Ireland is to look at 'accuweather.com'. The forecast here will tell you how high the cloud ceiling is for that day (for Croaghaun Cliffs, ideally well over 700 metres) in that location and give you a good indication if it's worth the trek.
This area is known for wind due to its exposure, so make sure you choose your day wisely.
We don't recommend a particular season for this as we have climbed it multiple times in winter on crystal clear days, as well as spring, summer. Just be careful in winter and start the hike very early as light is limited.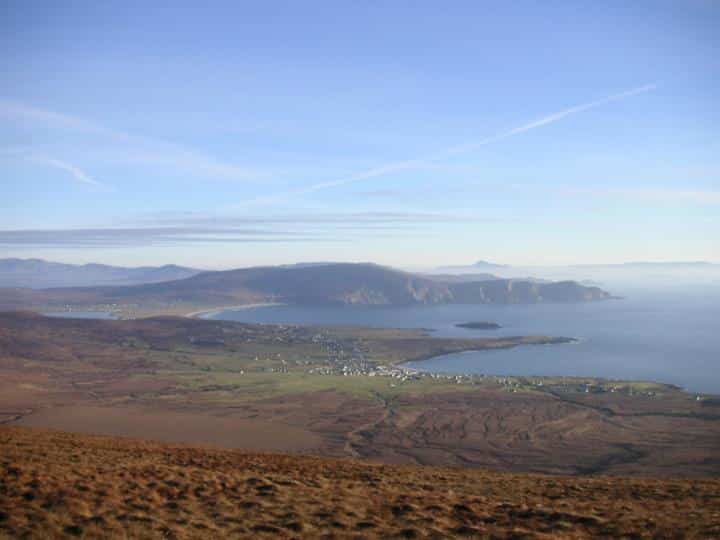 What to bring for the hike
1) Waterproof hiking boots (the whole terrain is peat/bogland)
2) Water
3) Snacks
4) Waterproof hiking trousers
5) A light rucksack
6) Raingear
7) Camera/Phone
8) Change of clothes if necessary
9) Warm gear depending on time of year/down jacket or similar lightweight warm jacket/cap
10) Walking Pole/Stick
11) Suncream (don't laugh-you'll get sunburned on a warm day up here-no doubt!)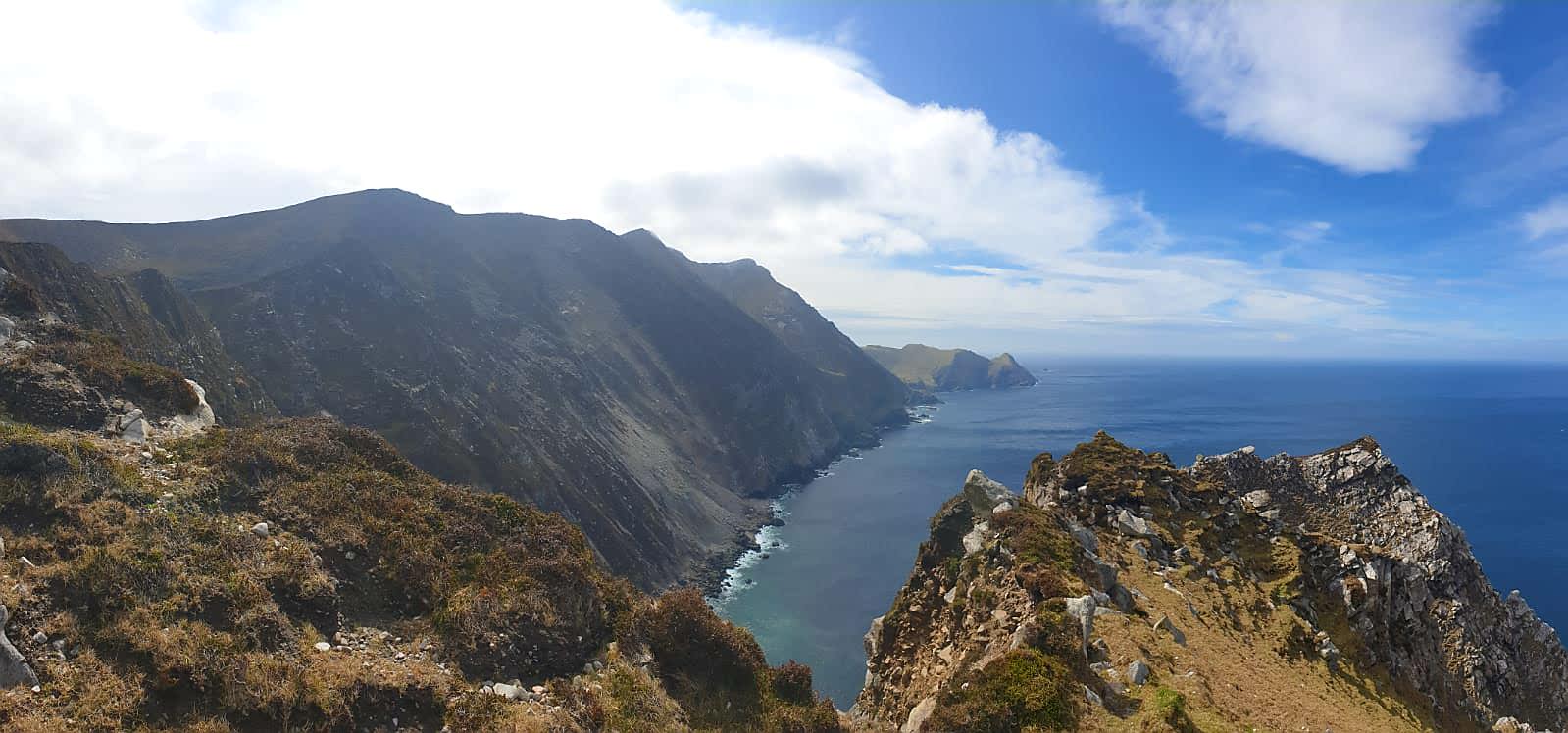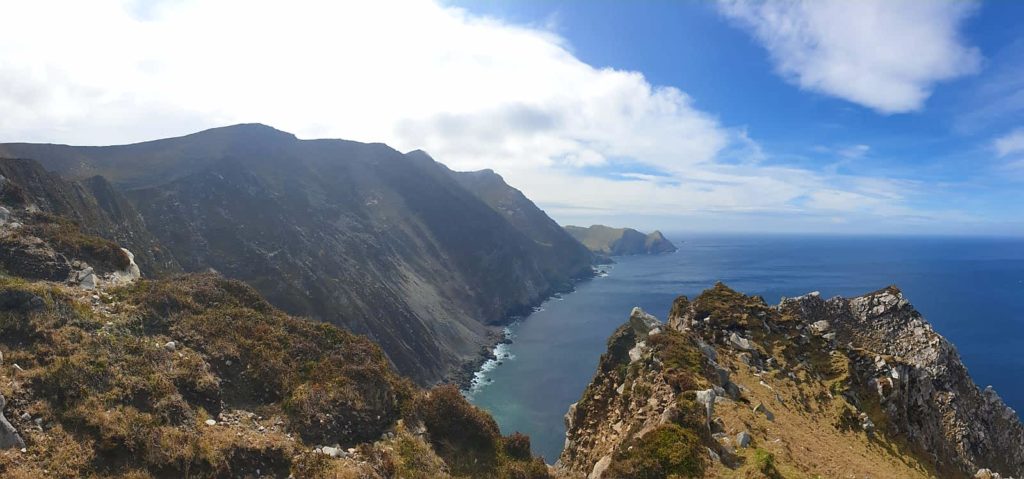 Plane Crash Remains
On the 16th June, 1950, Achill Island was shrowded in a thick blanket of fog. Locals were alarmed by the an unusual sound coming from the direction of the Croaghaun Cliffs, but because of the poor visibility, they dismissed the noise as a rumbling of thunder.
The British Royal Airforce Halifax bomber crashed into the side of the mountain, killing all 5 crew members on board. The remains of this plane can still be found today on the side of the mountain. Click here to read the fascinating story behind this tragic event.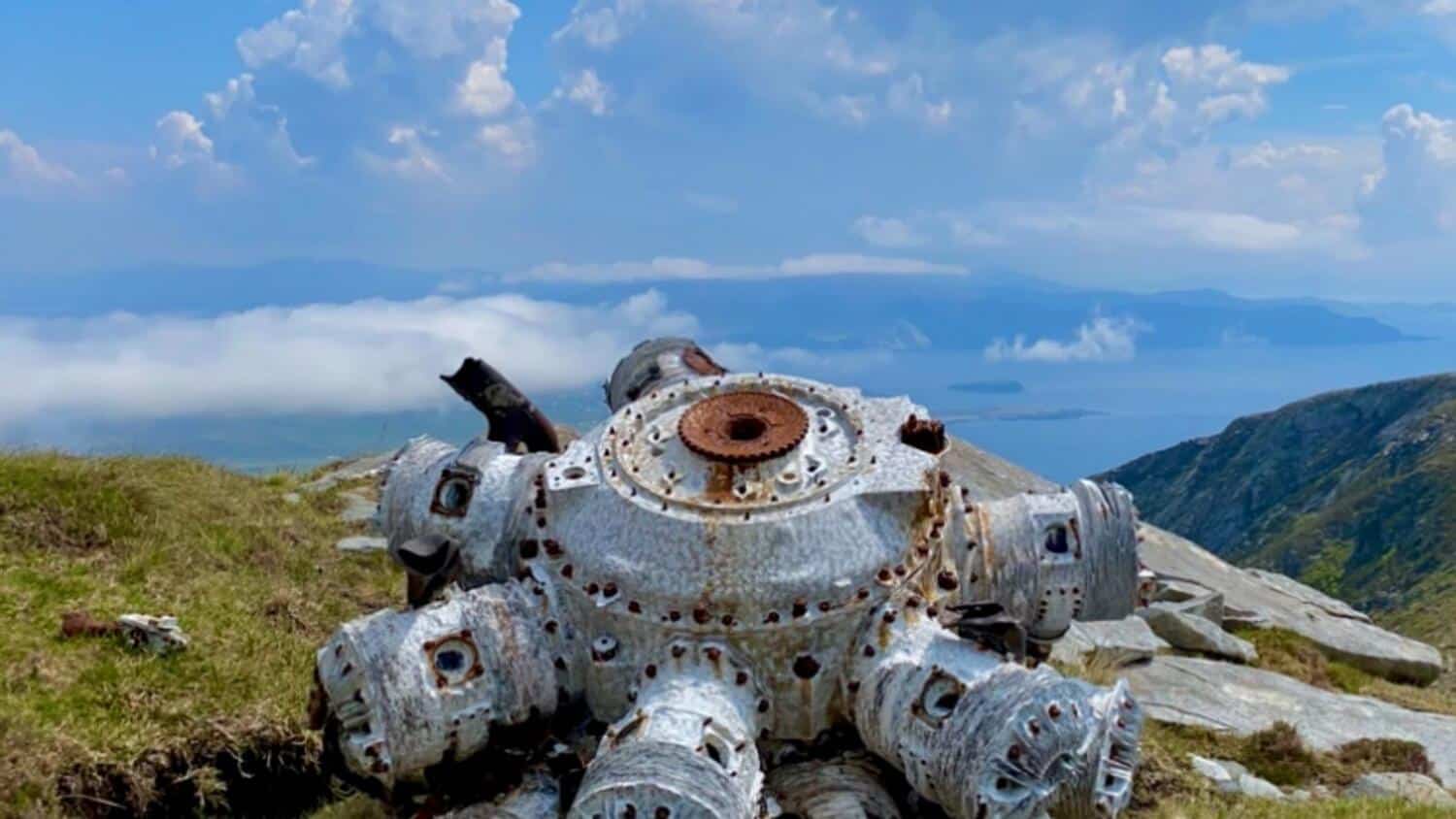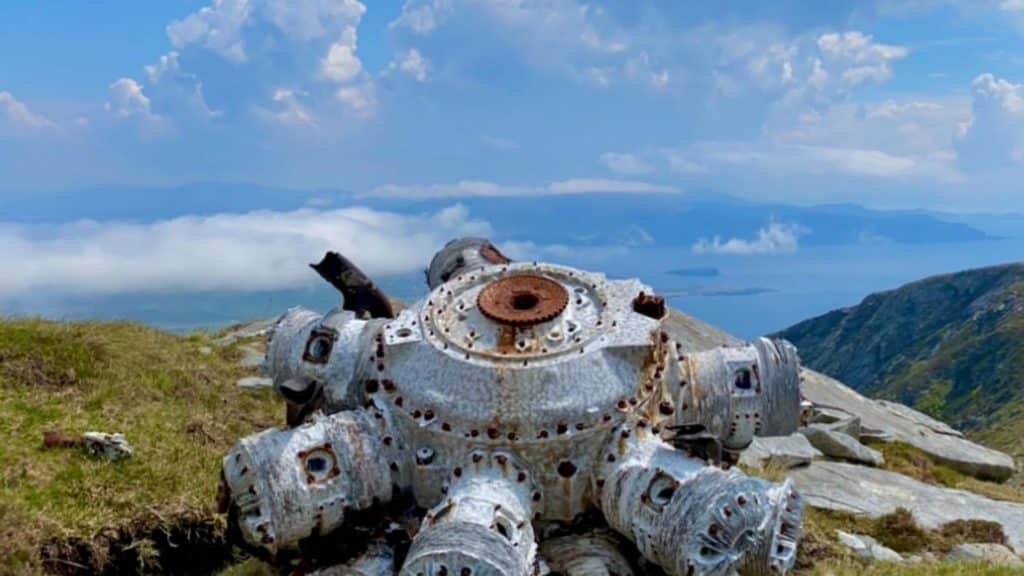 Where to stay in the area
Achill has a great selection of places to stay in and most at a very reasonable price. There are numerous bed and breakfasts scattered around the island, along with a few hotels, Air BnBs and self-catering.
We recommend staying in the village of Keel, as this is the hub of the island, located in the centre of Achill, near the enormous Keel Beach. In Keel, there are plenty good places to eat, and the beach itself is home to 3 surf schools. Here you can have a look where to stay in Keel/Achill
What to do in the local area
Achill is an adventure-lovers' dream. There are numerous activities to keep you busy in the area. From surfing, cycling and hiking to visiting some great art galleries, you'll have a lovely holiday. It is advisable to visit Achill when the weather is dry, as so much is outdoor.
If you are unlucky, take a road trip along the Atlantic Drive to witness the raw power of the Atlantic Ocean. In this post, we have outlined 17 different activites you can try out on Achill Island, with many of them being also indoors.
As you may be aware, the movie The Banshees of Inisherin was filmed on the island of Achill. Here is our tailor-made road trip, which takes in all the locations of the movie.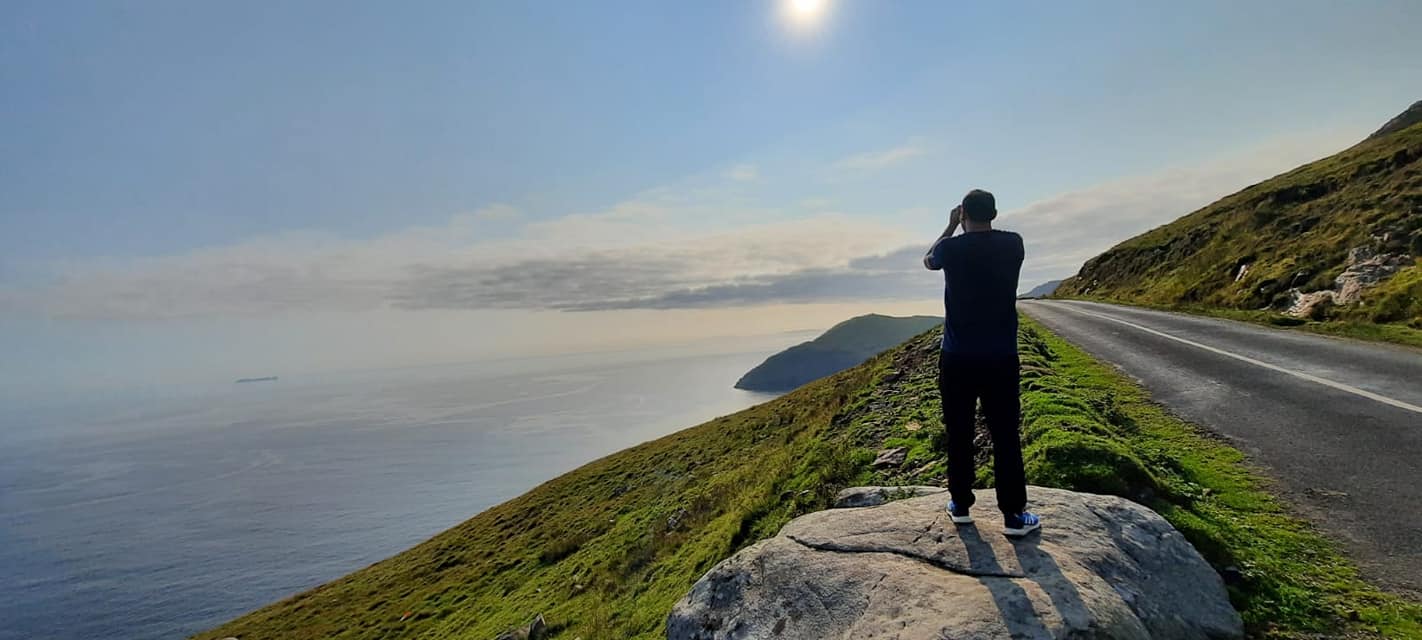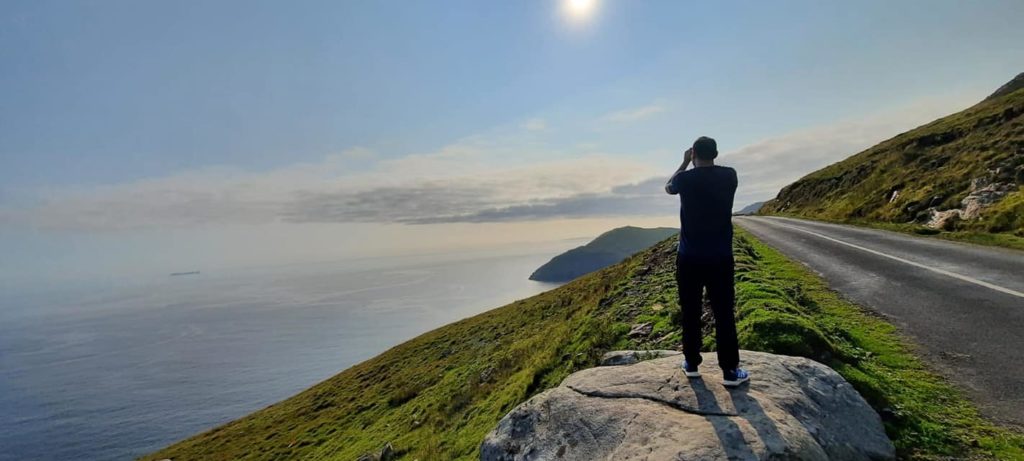 Some Final Thoughts
I think it's safe to say you get that we are fond of this area of the world! We believe it to be overlooked and a real hidden gem. This post hopes that you guys can visit the Croaghaun Cliffs, or at least witness them from the sea.
It goes without saying that we are very conscious about preserving these outstanding areas of natural beauty and are serious about keeping these landscapes clean and free from any negative human influences. Please leave no trace.
In our humble opinion, this whole western part of Achill Island should be a designated marine/coastal park. There are few places left in Europe with such spectacular, unspoilt and varied landscapes.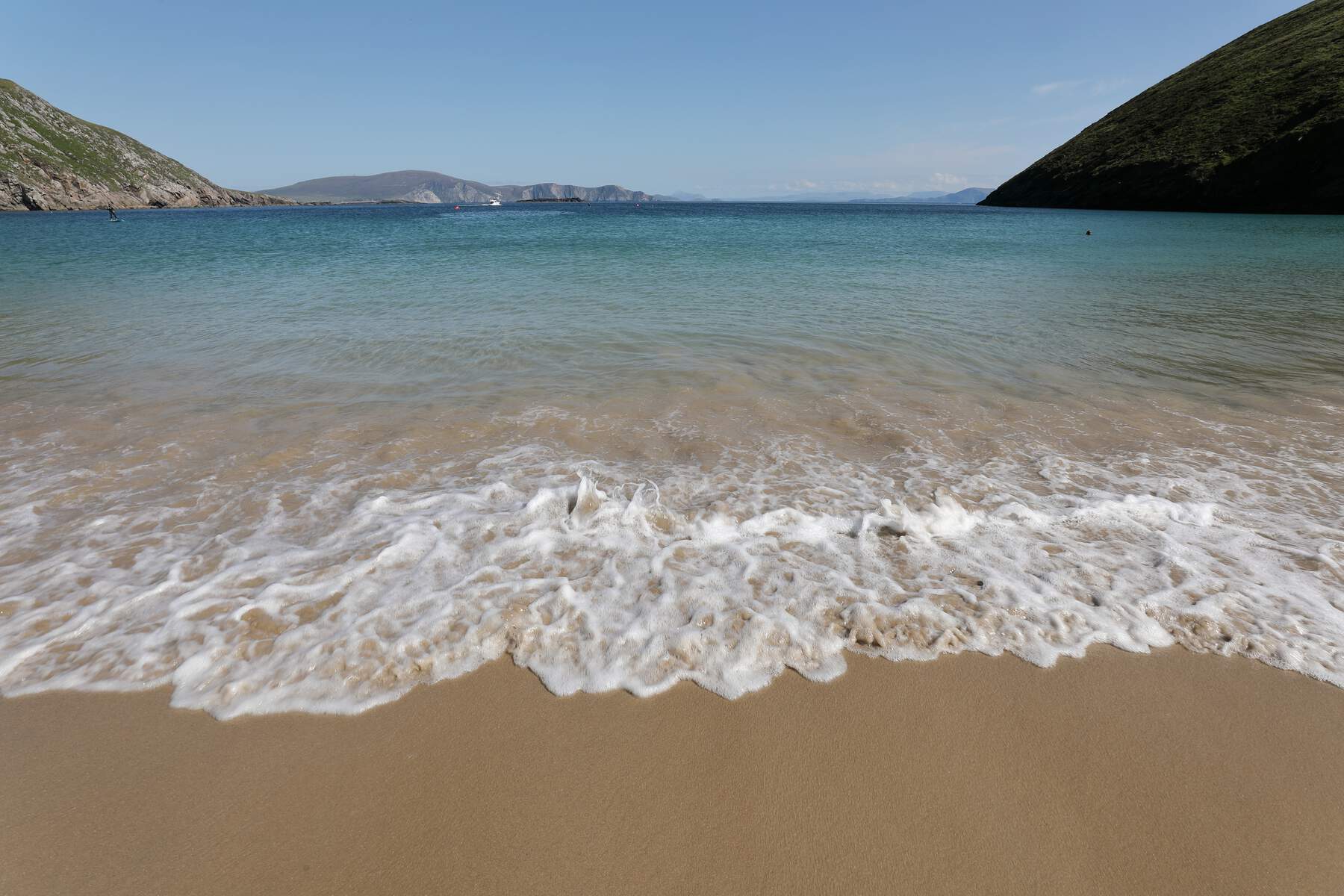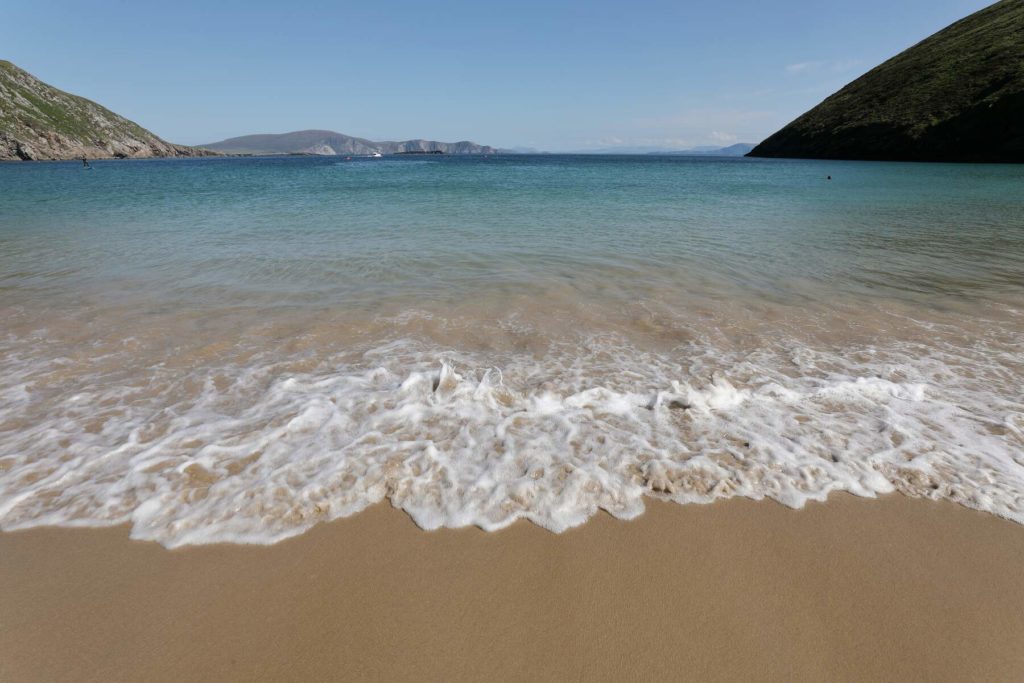 It's rare that you are able to swim in emerald green waters that are home to dolphins and sharks (which are harmless, by the way) and then a few hours later, you could be witnessing the fastest creature on Earth, the peregrine falcon, swooping at incredible speeds, on a 700-metre clifftop!
So, that's the mighty Cliffs of Croaghaun – a true hidden gem. Stay tuned for our next posts, we promise to provide you with our most honest and detailed information. Leave a comment or let us know if you are planning a trip to this area. We'd be delighted to hear from ye! Slán go fóill.