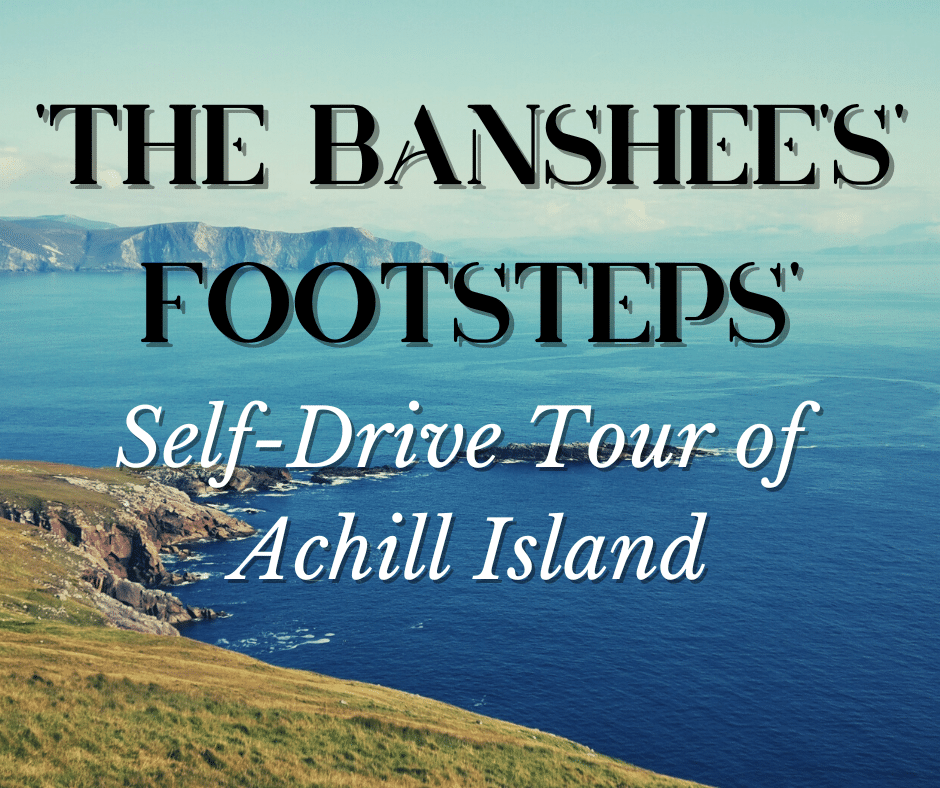 'The Banshees of Inisherin' has left quite an impression on those who have viewed it. Not alone for the storyline, but equally so for the epic scenery which this Martin McDonagh production has so generously provided us with.
In this post, we will outline the most accessible of the two islands, namely Achill, and give you some great tips and advice on how you can have a memorable and epic roadtrip on Ireland's largest island.
Achill Island – Some handy information
Achill Island is Ireland's largest island with an area of approximately 150 km² and a population of 2,500. The island is reachable by car as it is joined to the mainland by the Michael Davitt Bridge.
Achill boasts a whole host of spectacular features, from Atlantic coastlines to towering cliffs. Some world-renowned natural features include the majestic cliffs of Croaghaun (688 metres) and the multi-award winning Keem Beach. It is a outdoor-enthusiast's paradise with a huge range of activities on offer, from kite-surfing to hiking, surfing to paddleboarding.
There are virtually no trees on Achill Island. Almost two thirds of the island is covered in bog, with the remainder being occupied by plants such as heather, rhododendron and various other hardy plants which can withstand the harsh environment of the island.
Achill in recent years has seen a spurt in tourist numbers, due to the spectacular scenery, outdoor activities, wild location and a feeling of 'being away from it all'. Therefore there is a large variety of places to stay on the island, some brilliant restaurants and some equally mighty pubs.
Where to stay locally
Unless you from the Mayo/Galway area, making a flying visit to Achill won't be on the agenda. Its remote location means you'll need a 'leaba' (bed) for the night.
But, no worries, we have you covered… We have put together the most comprehensive accommodation guide you'll see for Achill, you'll find that here.
If you are planning on basing yourself in the wonderful, action-packed town of Westport, have a look at some hand-picked hotels we have chosen for the town here.
Achill Island is now reachable by bicycle via the Great Western Greenway – a cycle path which starts in Westport and follows some epic scenery along Clew Bay, passing through the charming villages of Newport and Mulranny. A direct link to bike rental can be found here.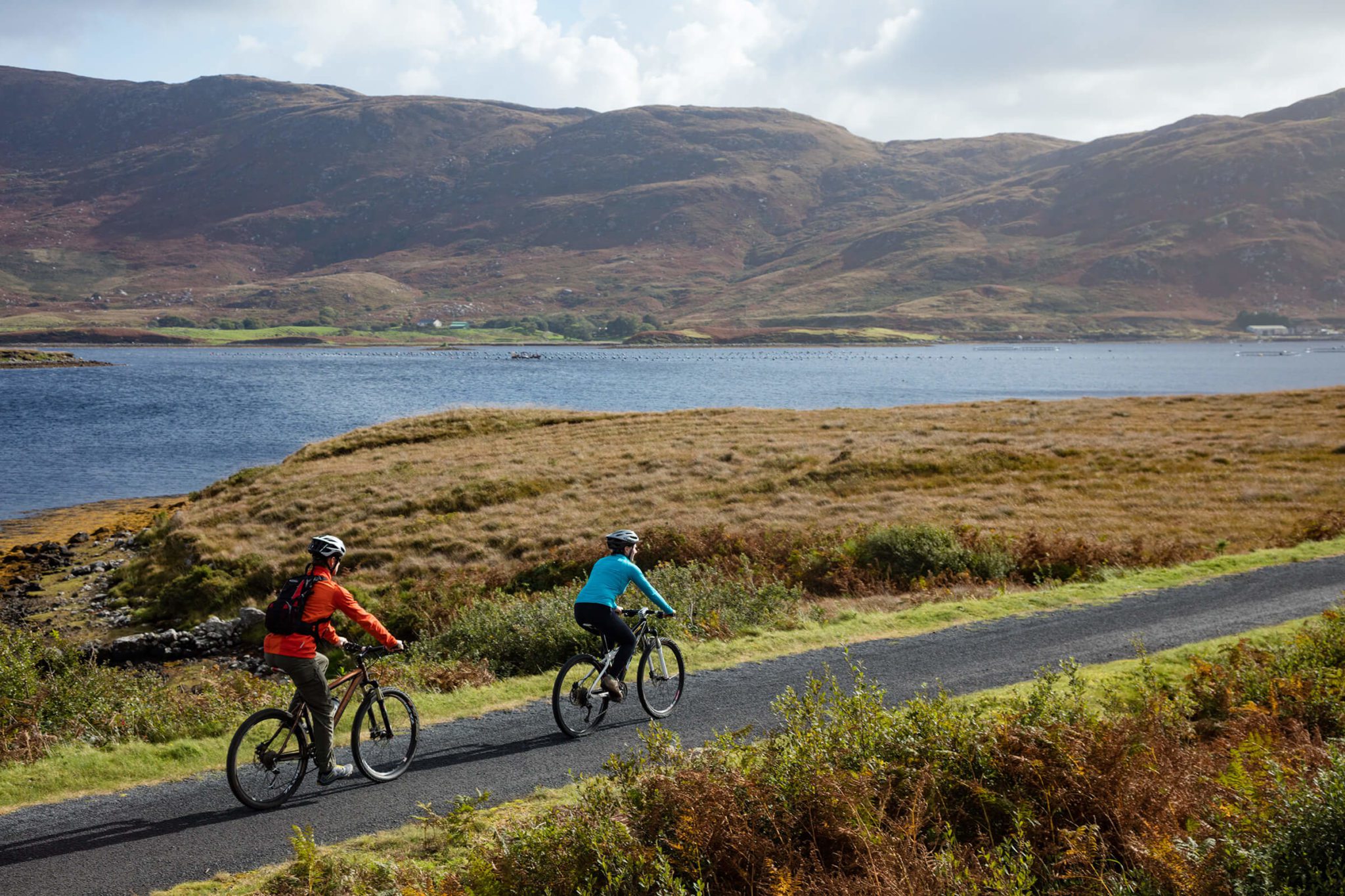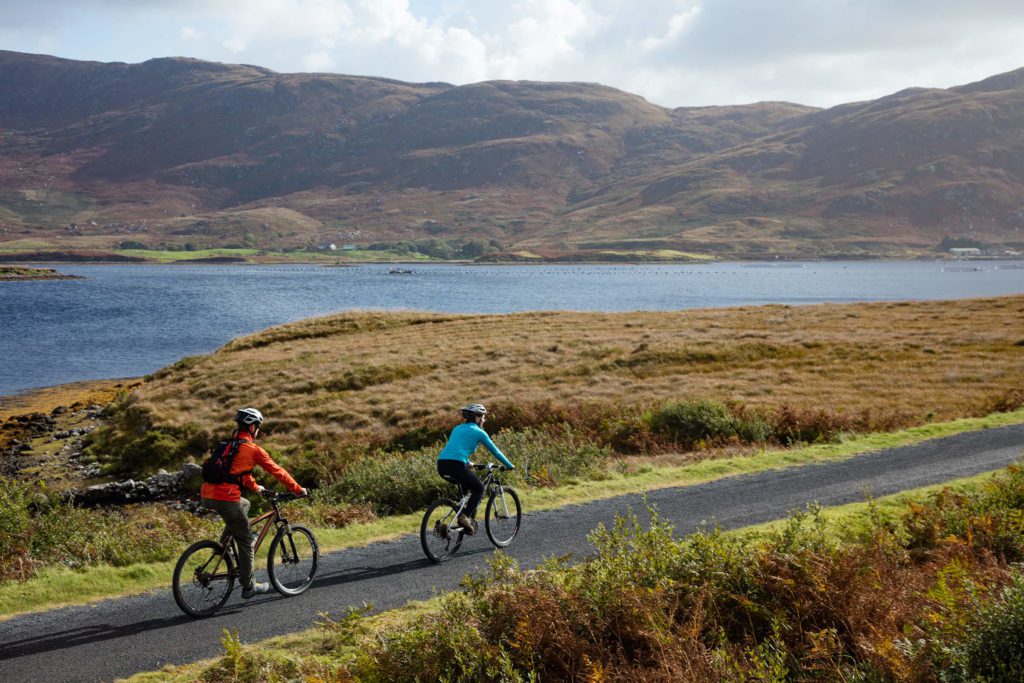 Achill is also a signature point along the Wild Atlantic Way : the world's longest defined coastal route. So, for an adventurous getaway, Achill is epic. Add the fact that a huge portion of 'The Banshees of Inisherin' was filmed here, and you have another great reason to visit.
The Banshee's Footsteps Tour:
Following 'The Banshees of Inisherin' through Achill Island
This tour can be done by car or by bicycle, the latter being for those who have a serious level of fitness. On this map every single location on Achill Island is covered which was filmed in 'The Banshees of Inisherin'.
'The Banshee's Footsteps' Self-Driving Tour:
Itinerary
1. Start off at Achill Sound. This is the first town located directly after you cross the bridge. Grab some supplies in Sweeney's Super Valu before your trip.
2. About a mile outside Achill. Take a left for the 'Atlantic Drive' and drive along the coast. Note the amazing array of wild plants on display, from fuchsia to rhododendron. If you visit in the early months of summer, this part of Achill is alive with rhododendron in full purple bloom.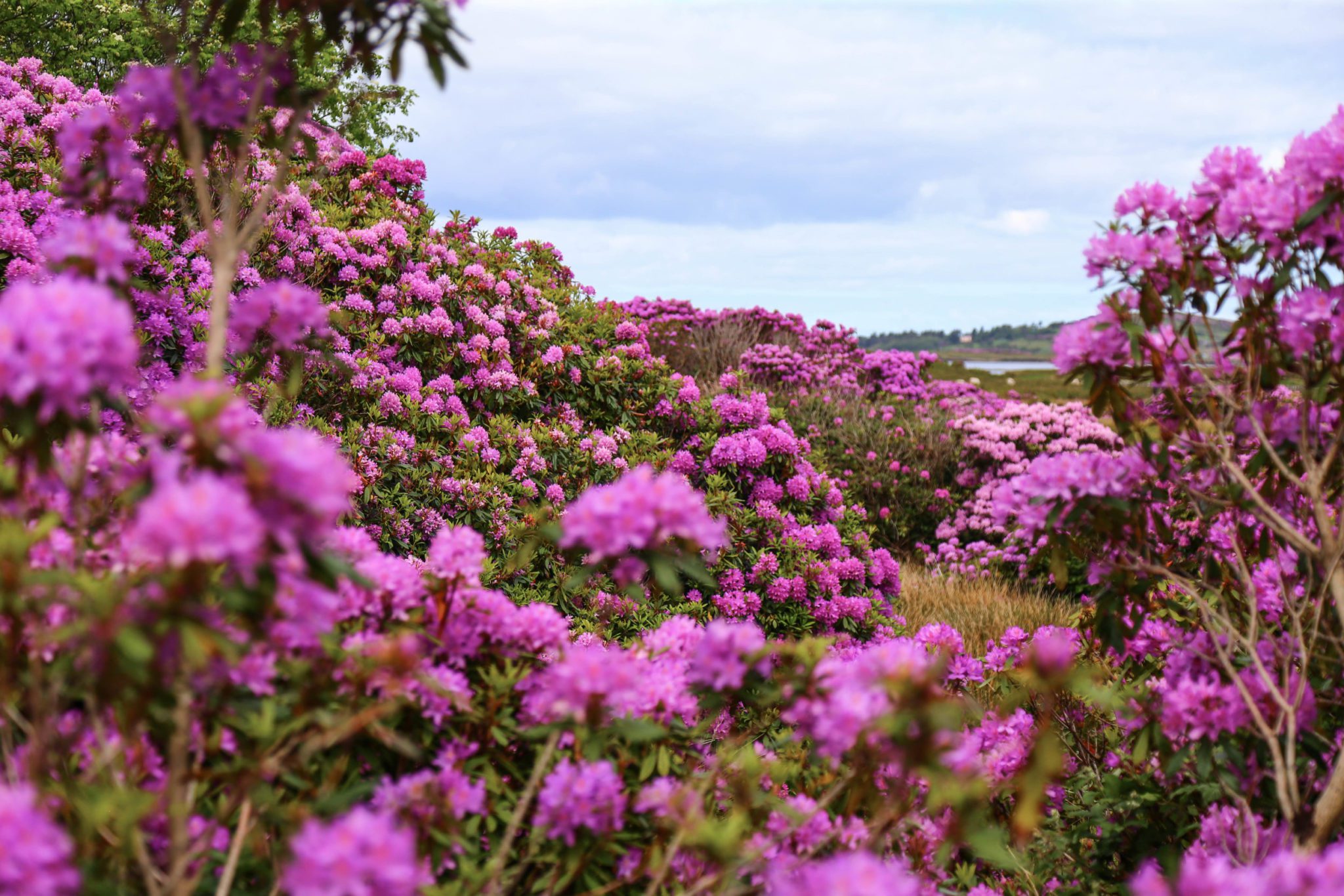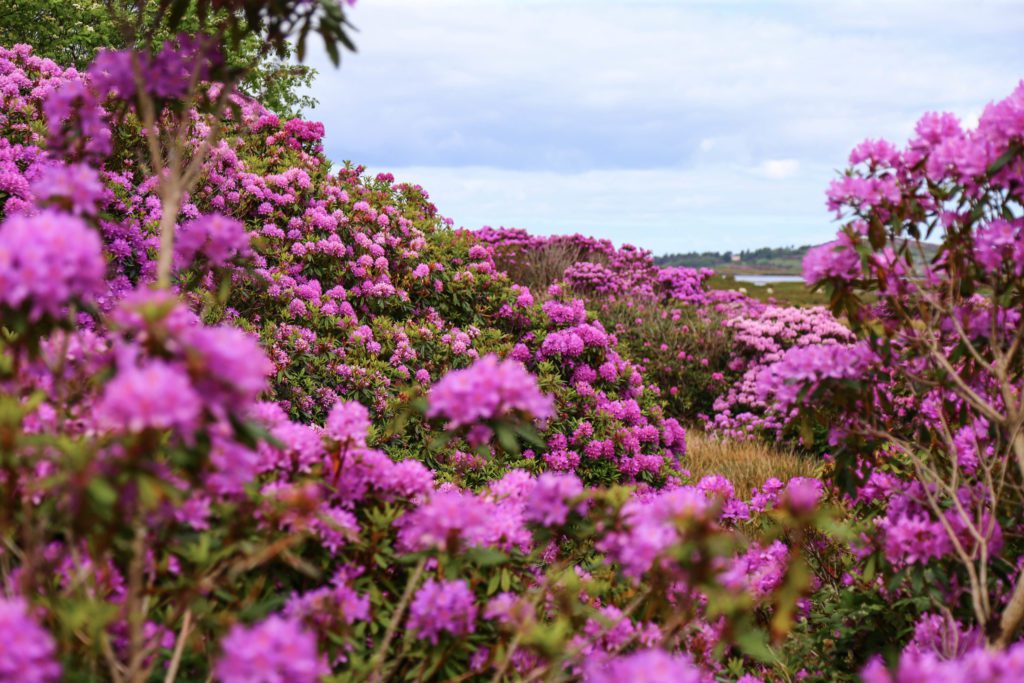 3. Make your first stop at Grainne Mhaol's castle and Kildownet cemetery. Some more detailed information is included here.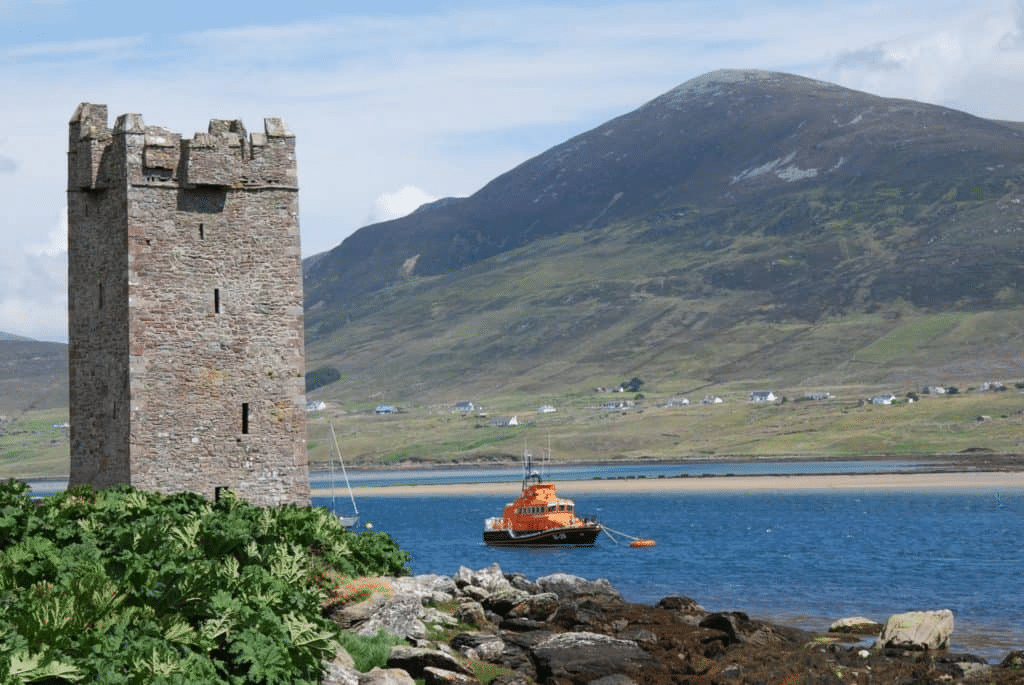 4. After this stop, the landscape changes dramatically and you will come across your first stop, where J.J. Devine's pub was purposely built at Cloughmore. Unfortunately, this temporary building has since been deconstructed. Pull in along the right for some breathtaking scenery.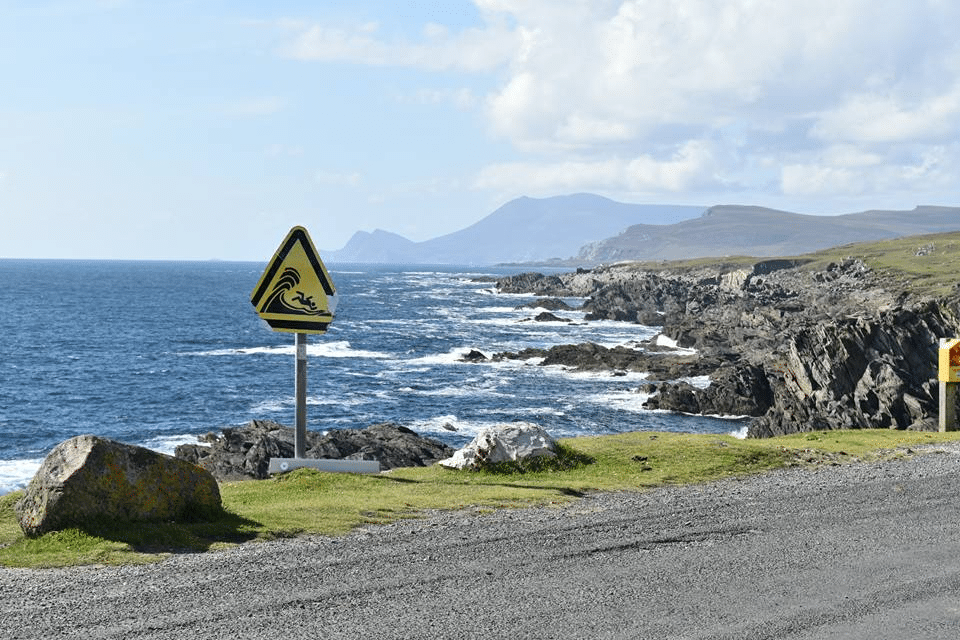 5. After Cloughmore, the road will rise slightly where it gets surprisingly close to a cliff edge. From here on, you'll be treated to some wonderful panoramic views of the coast of Achill, Clare Island and beyond.
6. The road will then start to rise to another highlight along the road, namely Ashleam Bay and its white cliffs. Pull in here for some more majestic views.


7. Continue along this serpentine road and admire the sheer raw beauty of this part of Ireland. Once again, there is one point where the road runs quite close to the cliff edge.
8. Continue along the designated route inland and don't forget to miss the turn for the Minaun Heights. Take this steep road to the top, where you will be greeted with some of the best views you are likely to see in Ireland.
We recommend parking at the TV masts and walking to the statue of Mary (you'll know her when you get to her)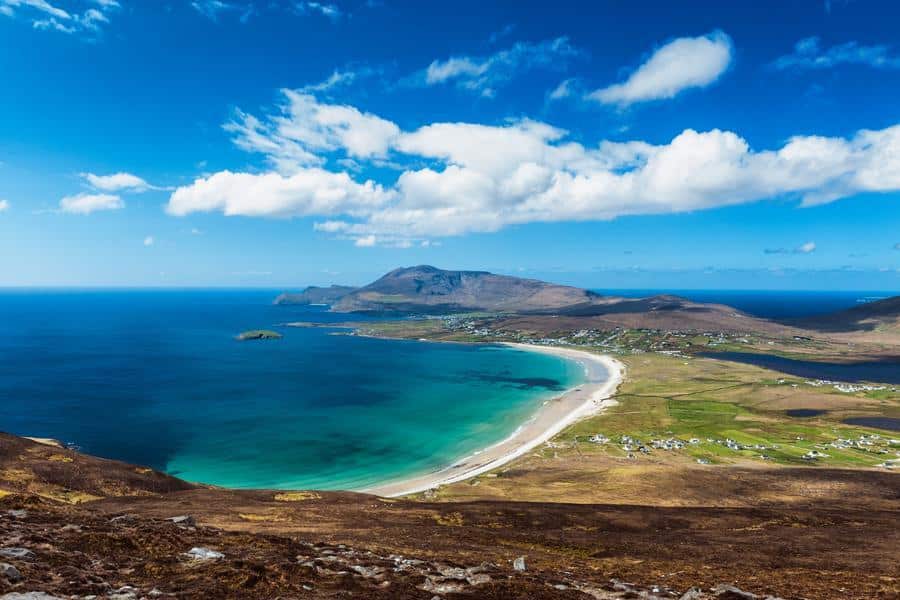 9. Drive back down the way you came and follow the route to magnificent Keel Beach. Go for a swim, catch a few waves or just enjoy your lunch on this enormous Blue Flag beach.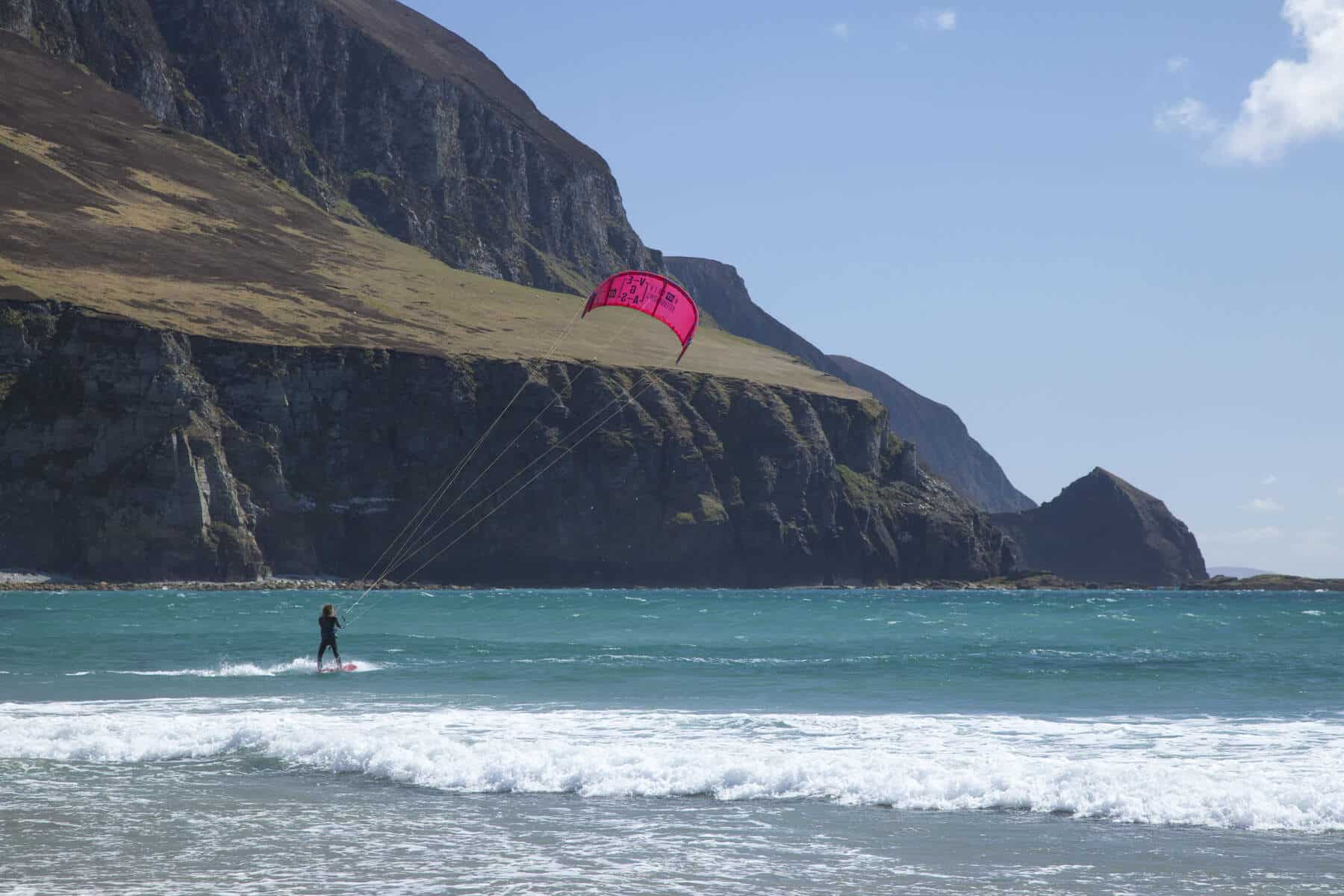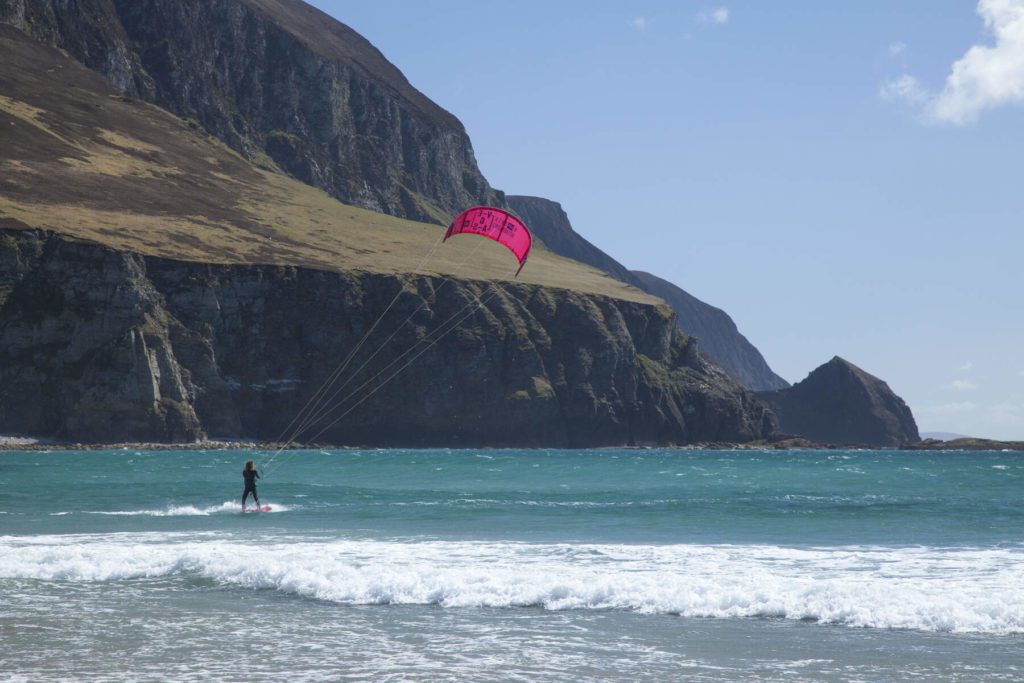 10. Back into your car and off to Purteen Pier to visit the site where O'Riordain's shop was located in the film. Unfortunately, these temporary buildings have since been deconstructed. Take some shots and it's time to brace yourself for some more epic locations.
Follow the route towards the west of the island and you will notice the road rising dramatically. Before you get to Keem Beach, don't miss the right turn for 'Lough Acorrymore and Water Treatment Works'. Drive a mile or so to the end of this road, where you will be encounter some wonderful scenery dating back to the ice age. This is where Mrs. McCormick's cottage was located in the film.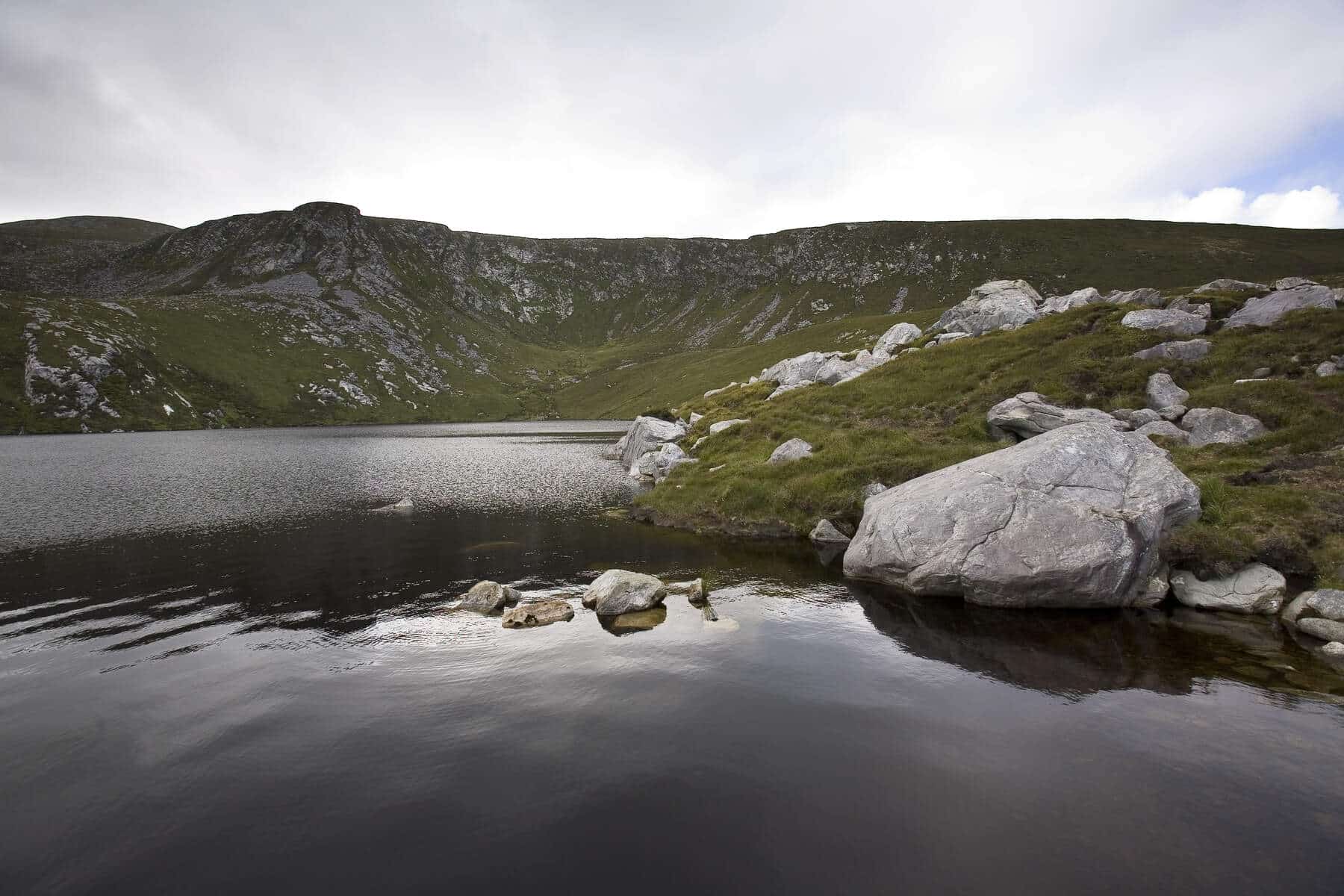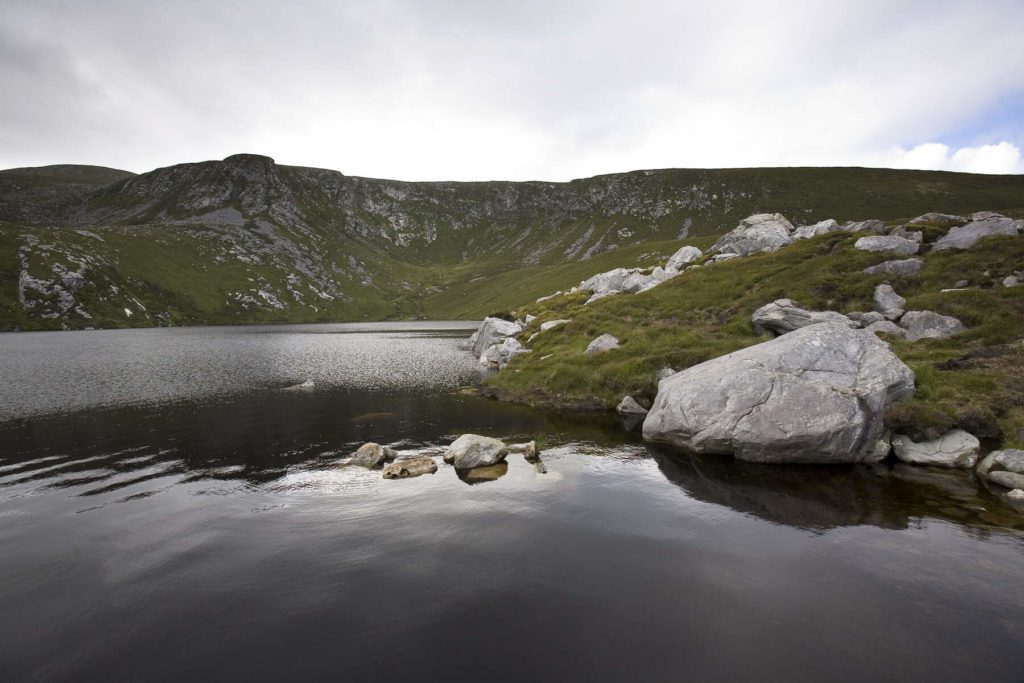 11. Back in your automobile and it's time for another true highlight, Keem Bay/Beach. Follow the route and at your own ease, drive along this breathtaking road down to Keem, where you will hopefully find parking.
Enjoy this slice of paradise for as long as you may. Maybe you'll spy a dolphin or a Basking shark in the crystal clear waters. This was the location of Colm Doherty's cottage, which can still be seen in its basic form beside the beach.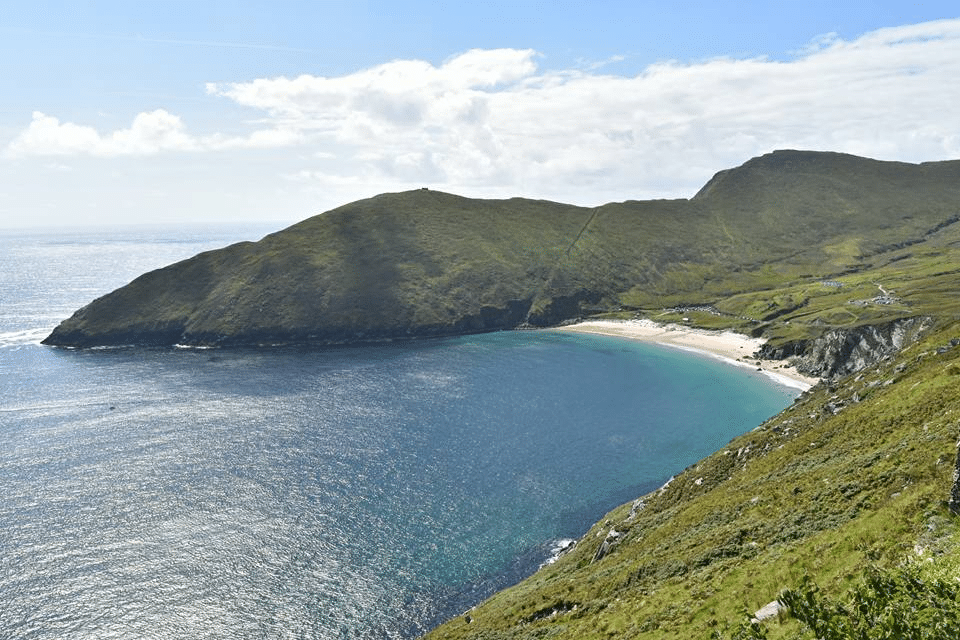 12. If you have the time, visit the final location of St. Thomas' Church, which is located completely on the other side of the island, in Doogort. After viewing this small, but beautifully located church, finish off the loop to Achill Sound.
Final Thoughts
This will be a day full of incredible scenic moments and recollection of some of the most iconic moments from 'The Banshees of Inisherin'.
For more detailed information, we have put together a very detailed post which outlines the exact filming locations on both Achill Island and Inishmore. Click here to read more.
Should you need to rent a car on your trip to Ireland, we recommend Rental Cars. This platform is similar to Skyscanner, as it searches every possibility to ensure you get the best rate.
We would recommend doing this drive on a clear day, but then again if you would like to relive the melancholic atmosphere of this particular film, then a damp, dreary day may be just what you are looking for.
In any case, enjoy the epic scenery of wonderful Achill Island. A visit you won't forget! Tell us about your adventures, leave us a comment. We'd be delighted to hear from ye. Slán Go Fóill!