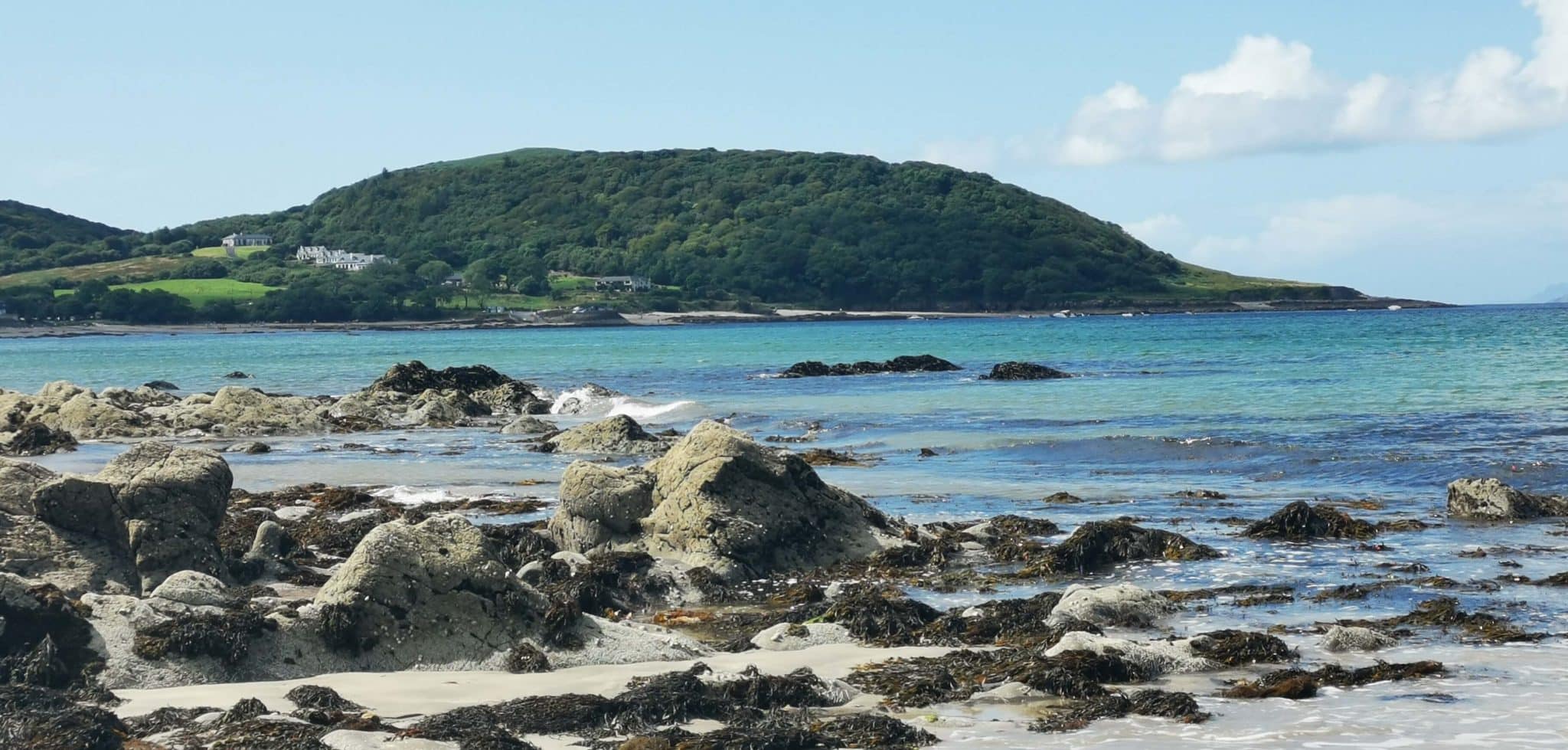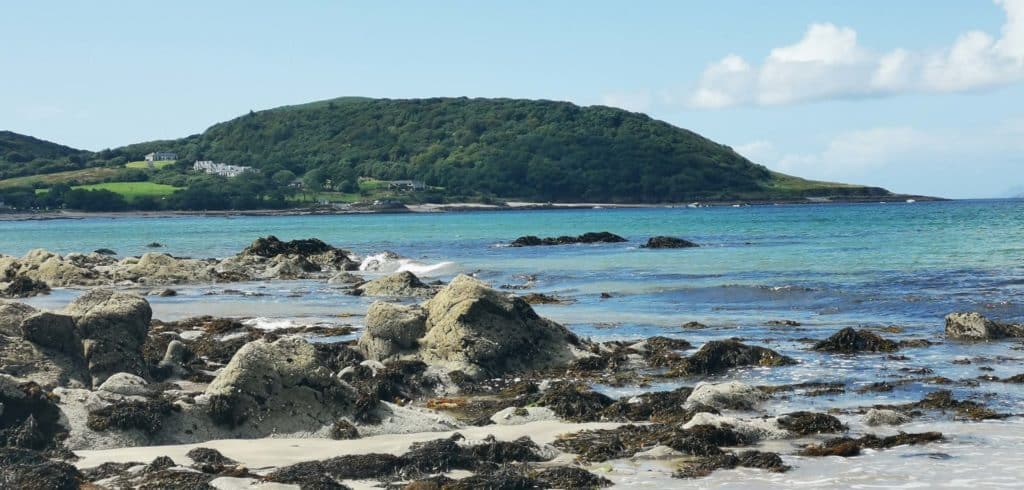 If you are planning your trip to the Clew Bay area of Mayo and are wondering about some great beaches in the vicinity, you've landed on the right page. Old Head Beach is real gem and is often overlooked by visitors to the area.
Old Head Beach is located about 2 miles or 3.5 kms from the lovely small town of Louisburgh on the south side of Clew Bay, along the world's longest defined coastal route, The Wild Atlantic Way.
It has a beautiful secluded setting, with Croagh Patrick's peak dominating the landscape to the east.
This beach is well worth a visit for so many reasons, and this post is going to outline in detail why we believe this underrated beach is one of the best beaches in Mayo.


Handy Info Before You Go
Location
As mentioned, Old Head Beach is located near the town of Louisburgh. When you leave the town of Louisburgh on the way to Westport, after 3.5 kms you'll see a sign for the beach. Take this left and follow the narrow road till you come to the car park at the bottom of the hill.
Parking
There is a decent sized car park on the left hand side when you come down the hill and to date, even on a busy day, we have always got parking there. It's nice and shaded too to keep your car cool on warm days (yes, they exist!)
Toilets
The toilets are located in the car park and are also wheelchair accessible.
Lifeguards
During the summer months, Old Head Beach has lifeguards on duty. The lifeguard season runs generally from the 30 May to the 30th August. In some beaches, this extends to the end of the first week in September. For exact information, log on to the Mayo.ie website for exact information for each specific beach.
Blue Flag Beach
Old Head Beach is a Blue Flag beach, which means it passes all high standards of cleanliness and safety.
The Beach
Old Head Beach is a long sandy beach, which during low tide stretches a good mile or so (1.5 kms). In the middle part of the beach, there are cliffs with rubble and rocks at the bottom. Because these cliffs are obviously being eroded, we advise not to settle down on this part of the beach.
The busiest part of the beach is the first section, closest to the car park, where there is a small stream and ample rock pools to keep the kids happy.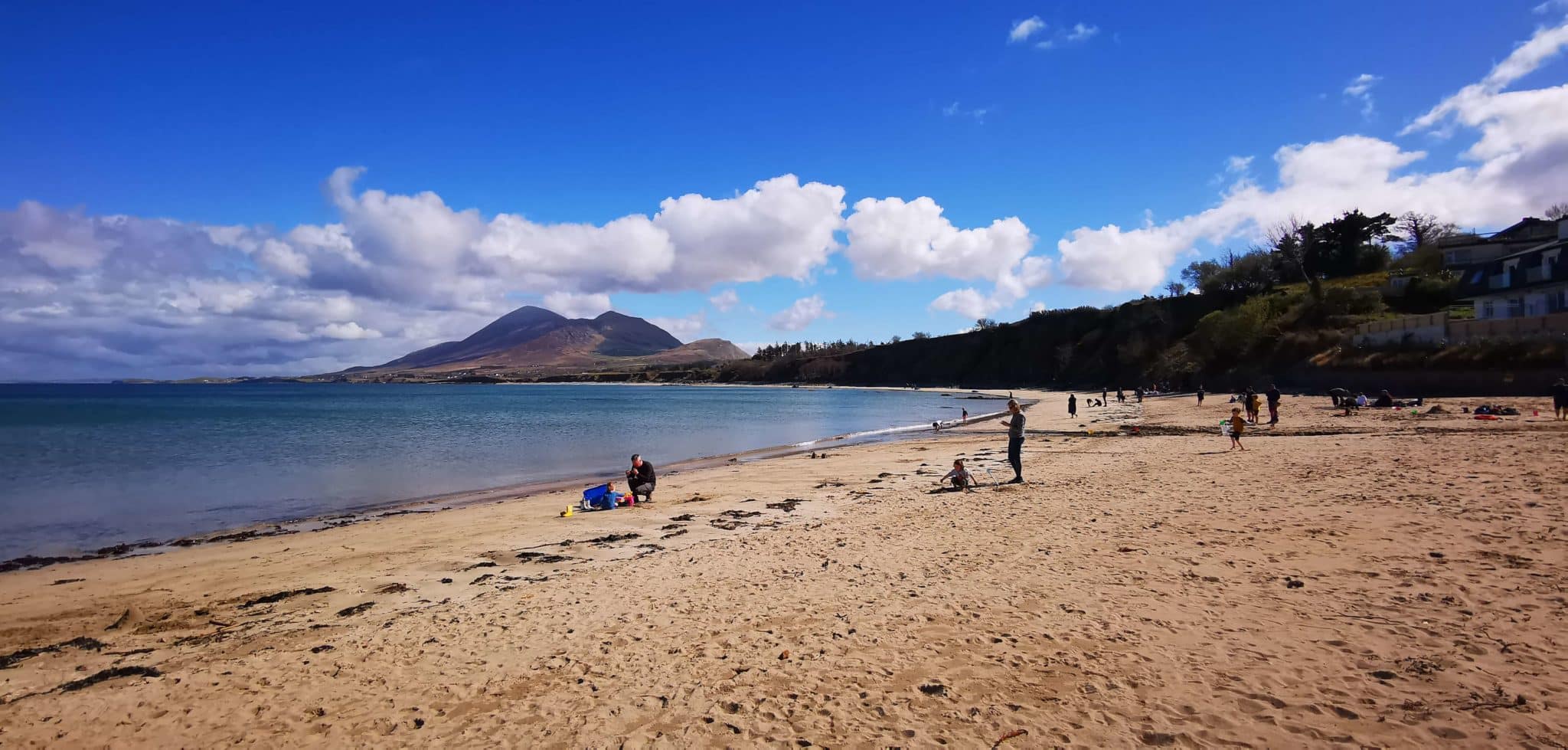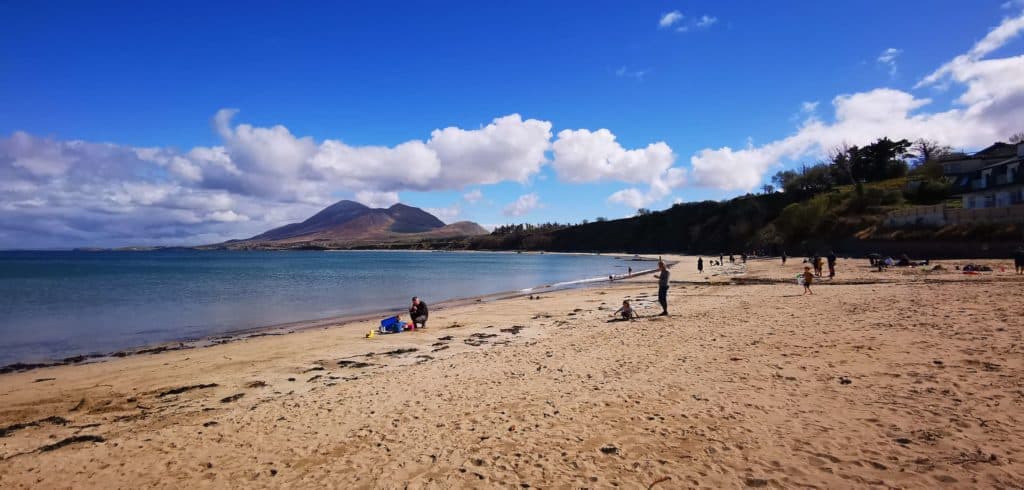 This section is also backed by a forest of beautiful Atlantic Oak, which provides some great shade for those not fond of being in the direct sunlight for too long, and of course for young kids.
To the left of the main section, you will see a pier, which is popular for pier jumping and angling. To the right, the beach extends all the way along the coast and is ideal for a walk or a run. Here the beach is always very quiet and this side is my personal favourite part of Old Head Beach.
There are some unique rocks here and some beautiful tiny coves, if you are keen to go for a nice quiet swim in the waters of Clew Bay.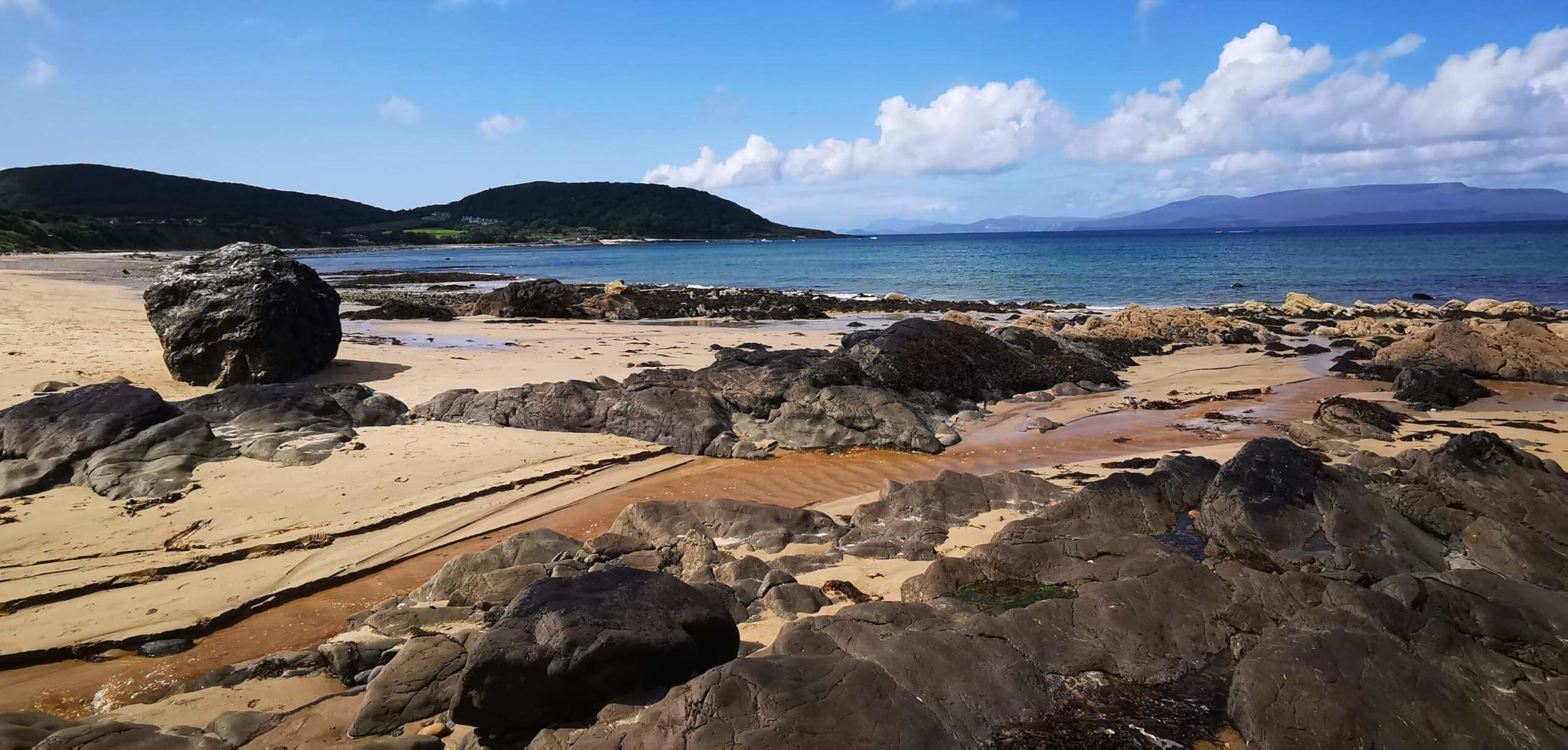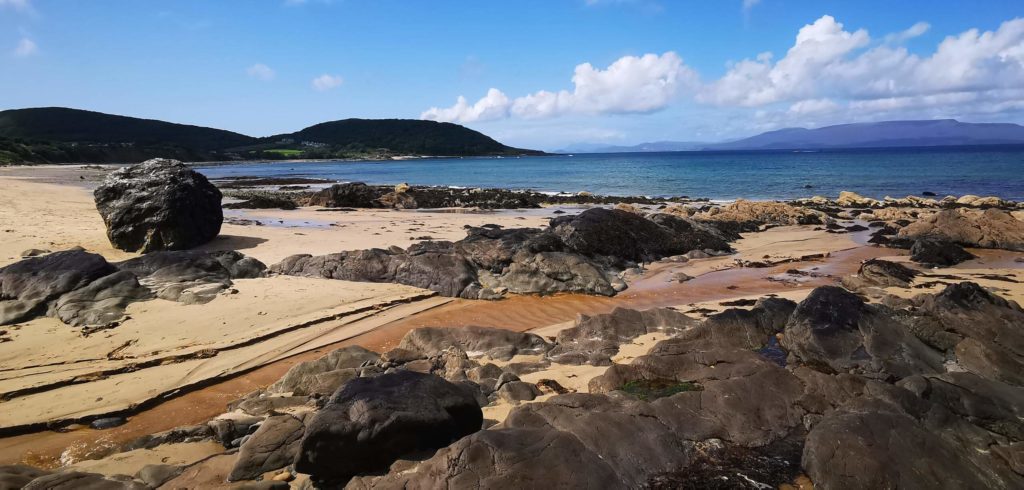 Why You Should Visit & Activities at Old Head Beach
We believe Old Head Beach offers a lot for all kinds of visitor, from kids to watersports enthusiasts.
It's ideal for kids/families
The main section of Old Head Beach, oddly enough, faces east. Most beaches in this region face westwards towards the Atlantic meaning there are quite exposed. Old Head, however, is very sheltered from any swell coming in from the Atlantic, meaning its waters are almost always calm and safe for children to paddle around in.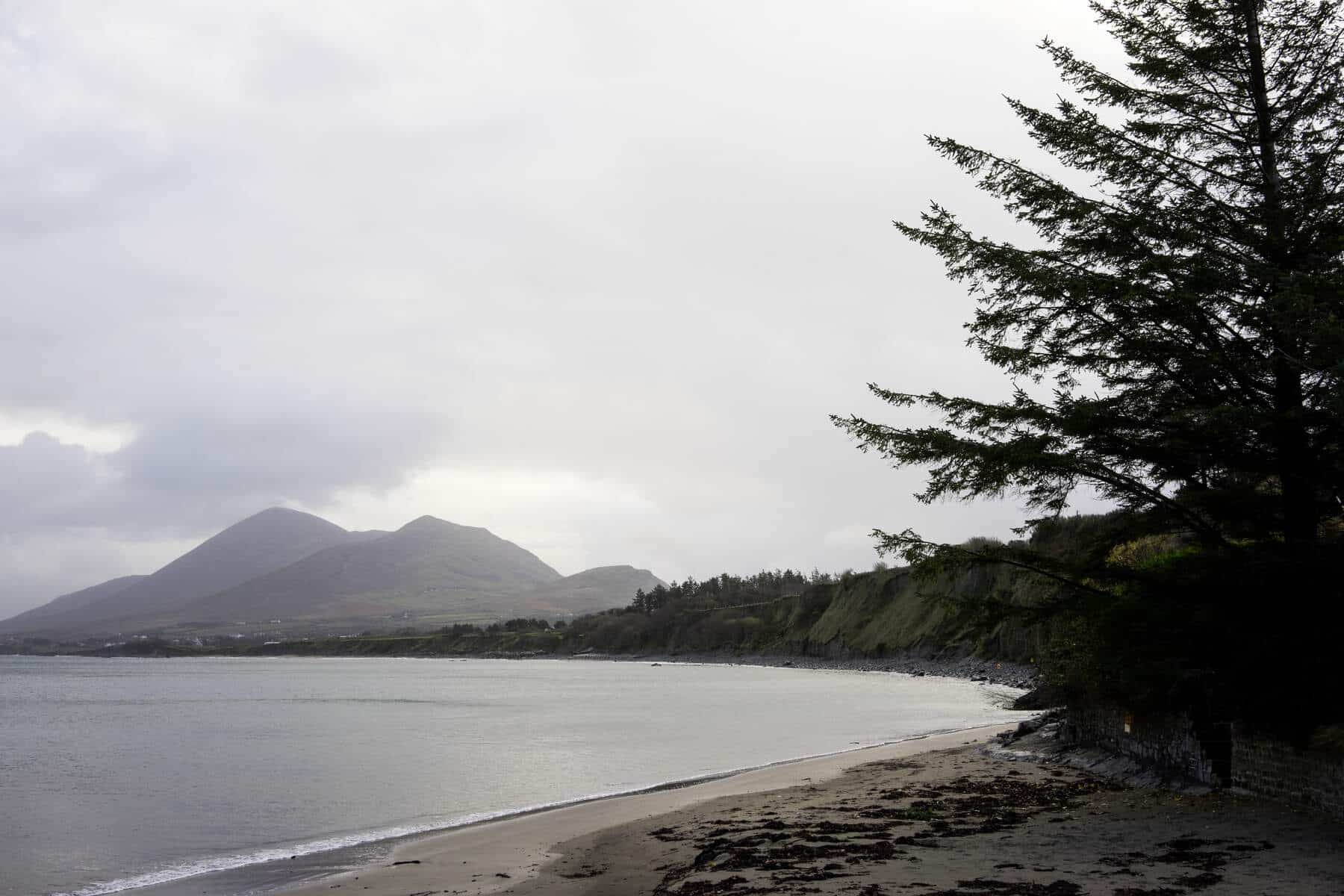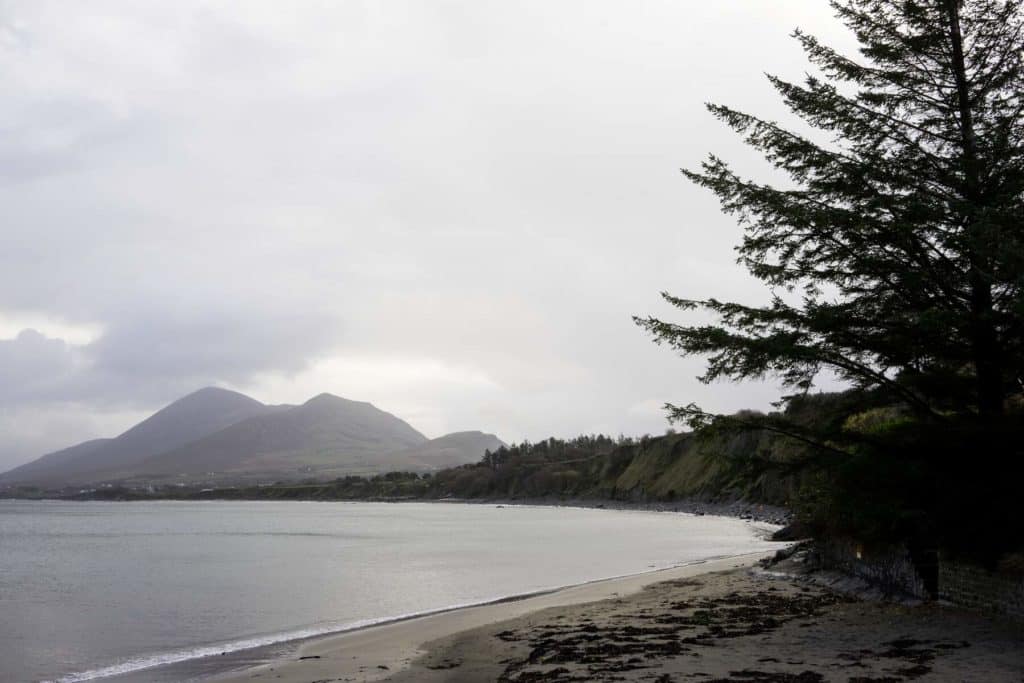 There are also loads of rockpools near the shore for your little scientists to explore on their adventure to the beach, along with a stream which runs through the beach into the bay.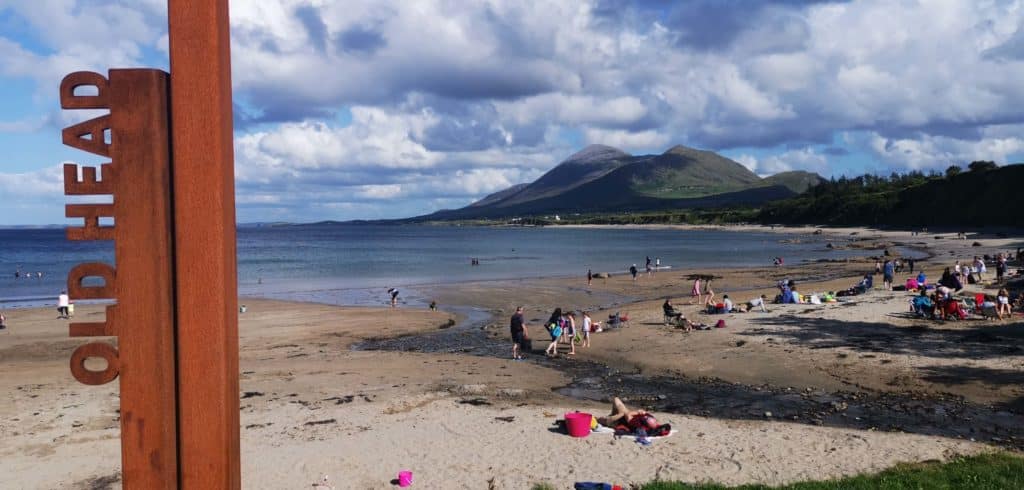 At the entrance to the beach, there are also a couple of picnic benches, which are a godsend when you want to have a sand-free sandwich.
The waters along the shore are shallow and calm for a spash around and the water does not deepen until you get well into the sea.
As mentioned earlier, there is ample shade provided by the trees if you need to keep your child away from too much exposure to the sun, and some small walls here to keep your bags as sand-free as possible (easier said than done with kids!)
It's a sheltered beach
Old Head Beach is backed by the Old Head Peninsula (obviously!) and this small hill provides a great wind-break (especially at the main section)
As you may well know, the prevailing winds in the west of Ireland are westerlies or southwesterlies, and Old Head seems to sometimes have its own micro-climate, blocking out these cool winds.
If you decide to walk towards the end of the beach, you will find the wind picks up, as it's a lot more exposed down this end.
It's a brilliant spot for swimming
Old Head is very popular with swimmers, due to its calm, clear waters. As is with every beach, precations must be taken and anybody who ventures into the sea needs to be aware of its dangers.
Overall though, overall Old Head is a safe place to go for a dip and feels more like swimming in a pool rather than in the wild Atlantic!
In the summer months, sometimes you may find some jellyfish in the water – just keep your eyes peeled!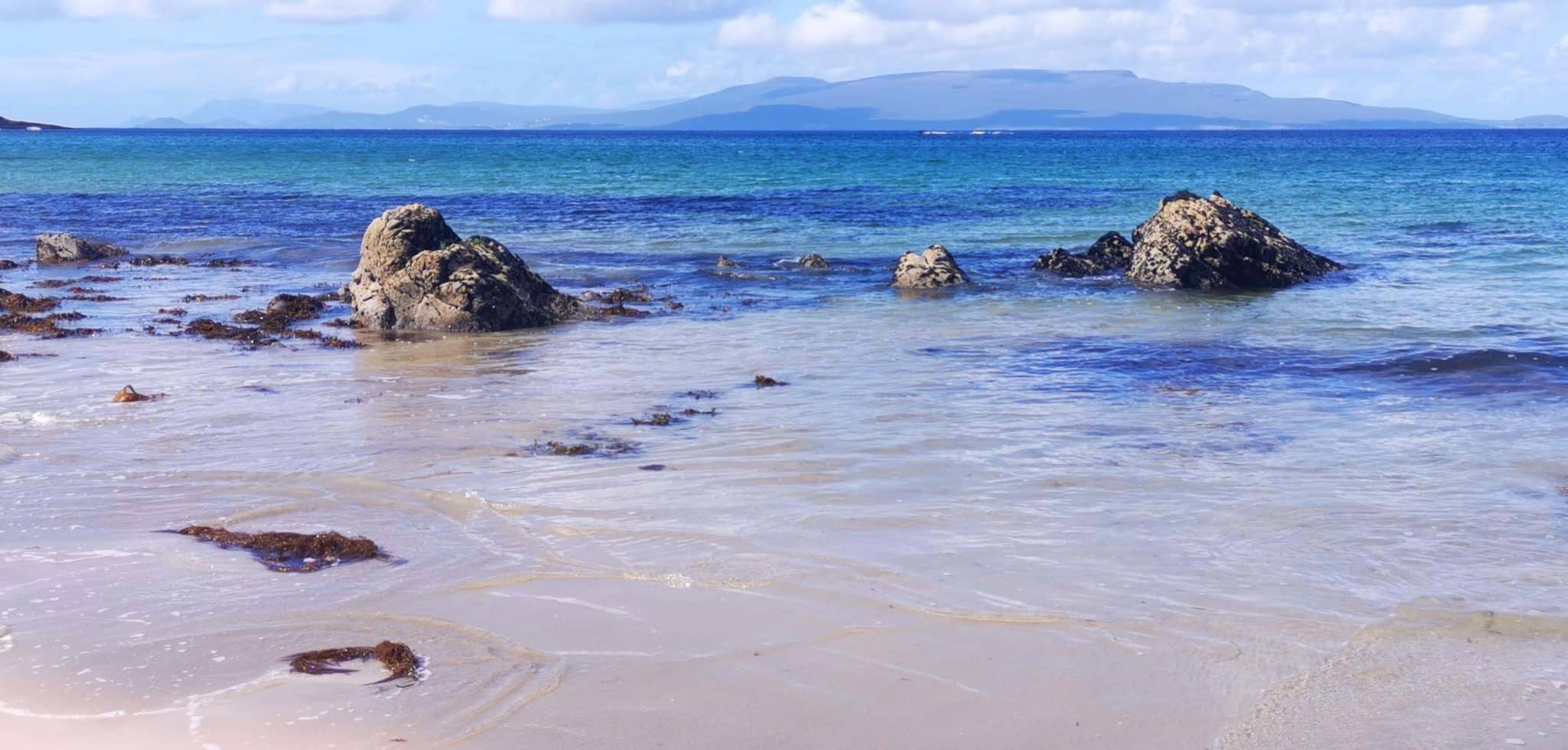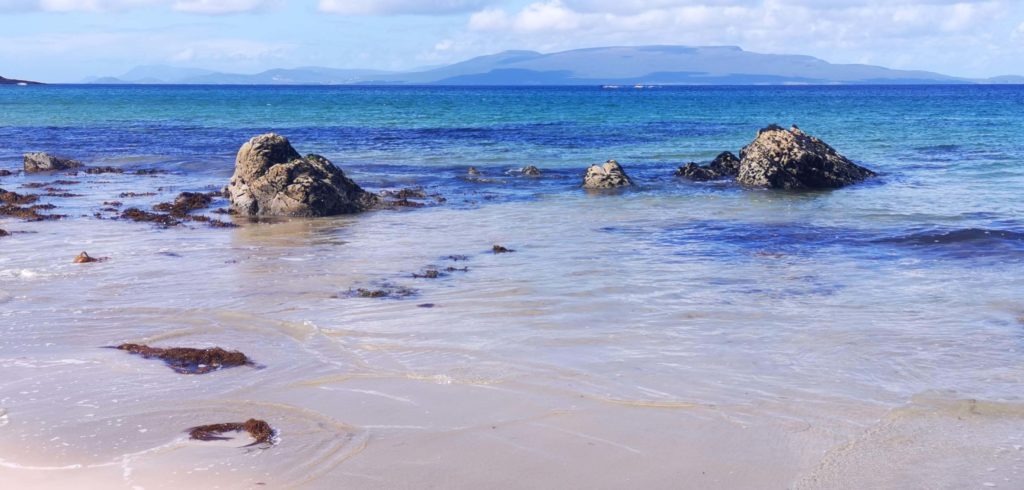 It's ideal for paddleboarding
Once again, those calm waters… Right on the beach, you'll find Summer SUP & Kayak. This company provides both lessons and rental for stand up paddleboarding and also sea kayaking. Judging by the photos on their site, this looks like a class way to spend a few hours. They do get busy during the summer, so you'd be advised to get into touch to avoid disappointment.
Insider Tip: For those of you into sea kayaking, there are some epic cliffs and caves around the corner of Old Head.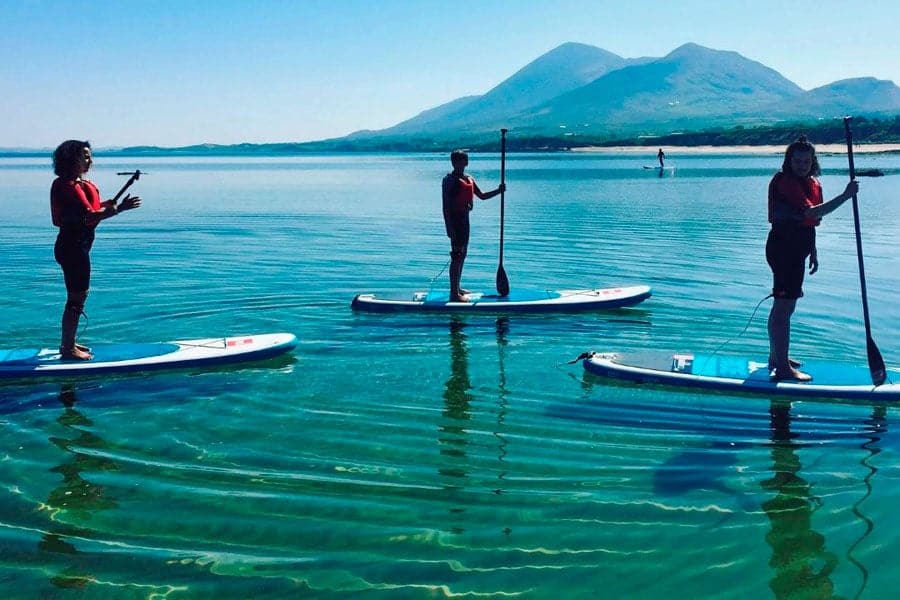 There's a sauna!
A few years back, a little Finnish-style sauna was set up on the pier at Old Head. What a great idea! It's become quite popular recently and you can book your slot online here. Don't forget that after your 30 minute session, you'll have to submerge yourself in the cool Atlantic waters. There's nothing more invigorating!
And an accompanying coffee trailer
Right next to the sauna on the pier, you'll find a well kitted out coffee trailer, which serve some hot, cold drinks and various snacks. By the way, they serve Lavazza coffee (well they did the last time I was there-delish!)
The tide usually does not come in fully
As with all beaches, it's always good to check the tides before visiting, but luckily enough the tide rarely comes in here completely. With Bertra Beach down the road, which we have covered here, the beach is almost always submerged during high tide.
That does not mean, however, you'll be able to walk the length of the beach during high tide; most of the Old Head Beach will be covered, with part of the main section being left. To avoid disappointment, check the tides here.
The views and scenery are special
Saving the best reason till last? The first thing you'll notice when you plant your feet on the golden sands is Croagh Patrick to your right. It's picture postcard perfect location with Old Head Beach in the foreground will have you reaching for your camera instantly.
Also, you'll have a wonderful view out to Clew Bay, the Nephin Beg range and the village of Mulranny on the opposite side.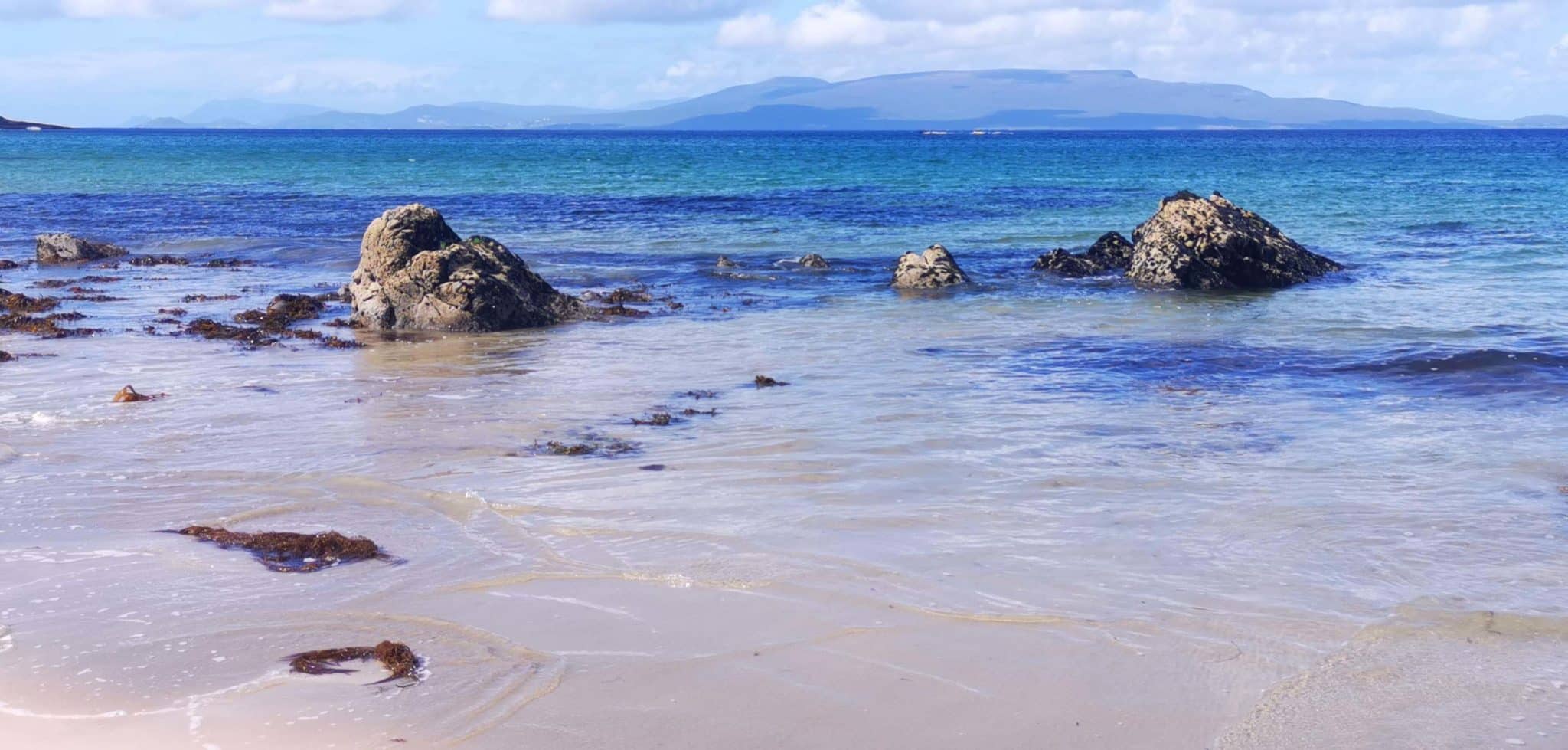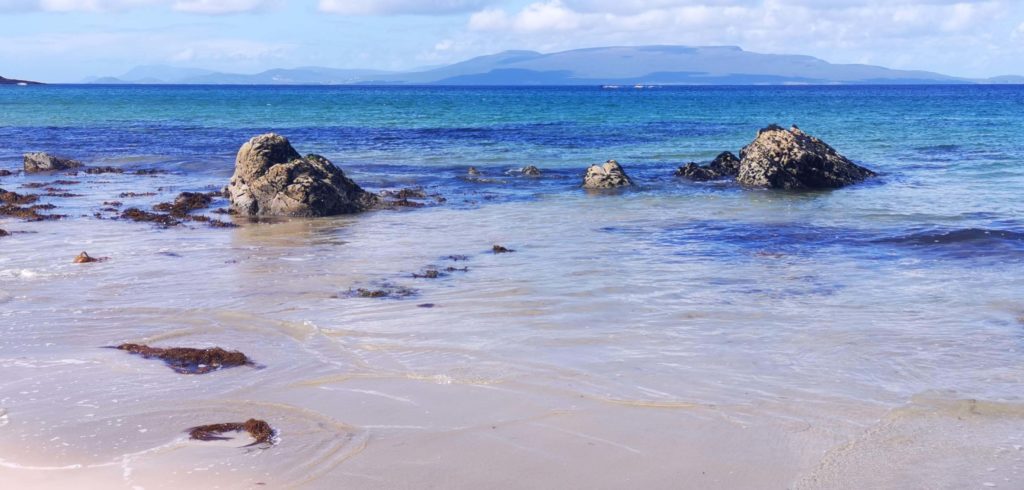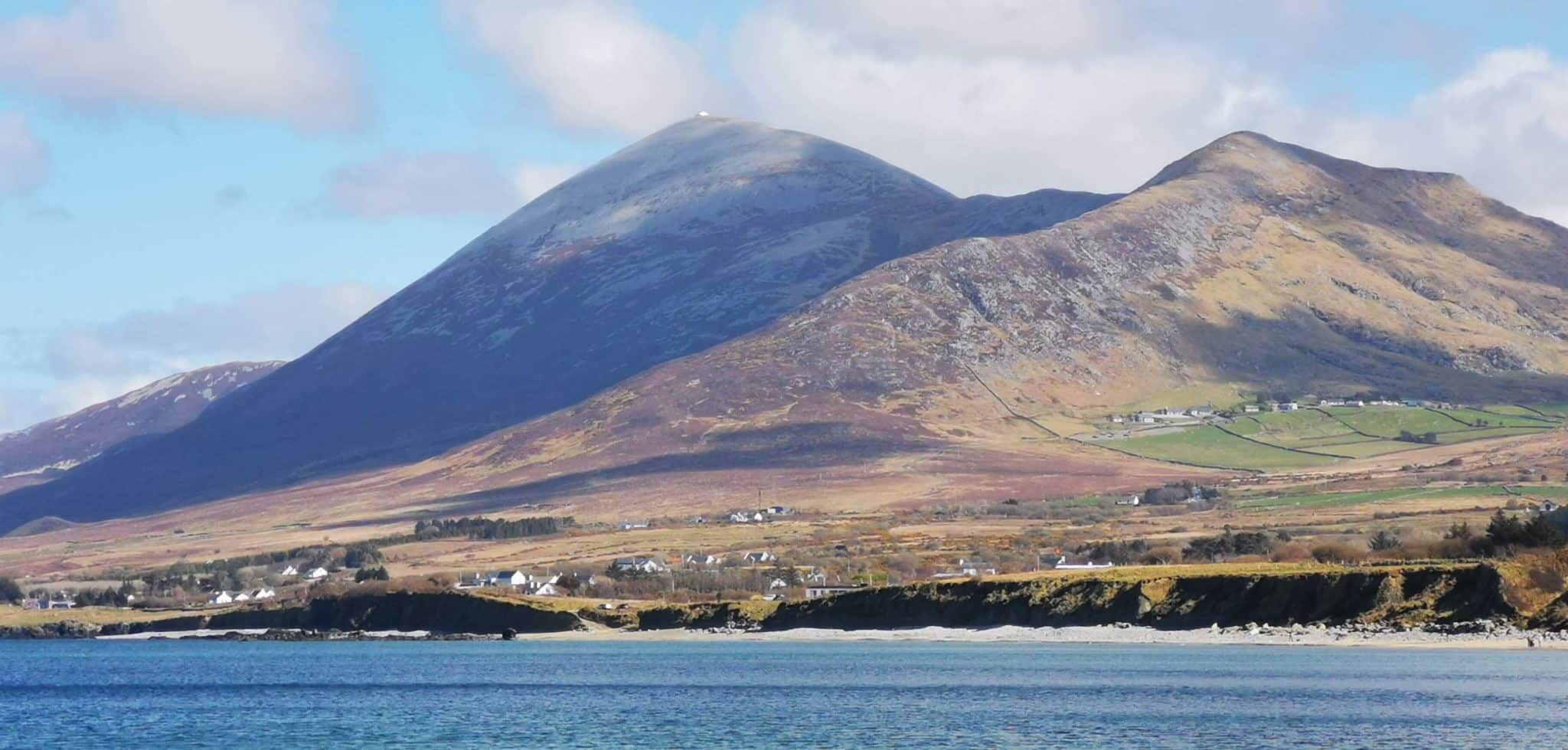 As we mentioned earlier, we recommend walking all the way down to the far right end of the beach. This side is beautiful. Looking back to where you came from, in the distance you'll see the Atlantic Oak forest nestled behind the golden sands, and on a clear day, the waters turn an amazing turquoise blue.
Every direction seems to provide a new scenic perspective and it's easy to get lost taking photos down this end of the beach. Ideally, you'd want to wait for low tide to be able to enjoy this walk properly, but we highly recommend it.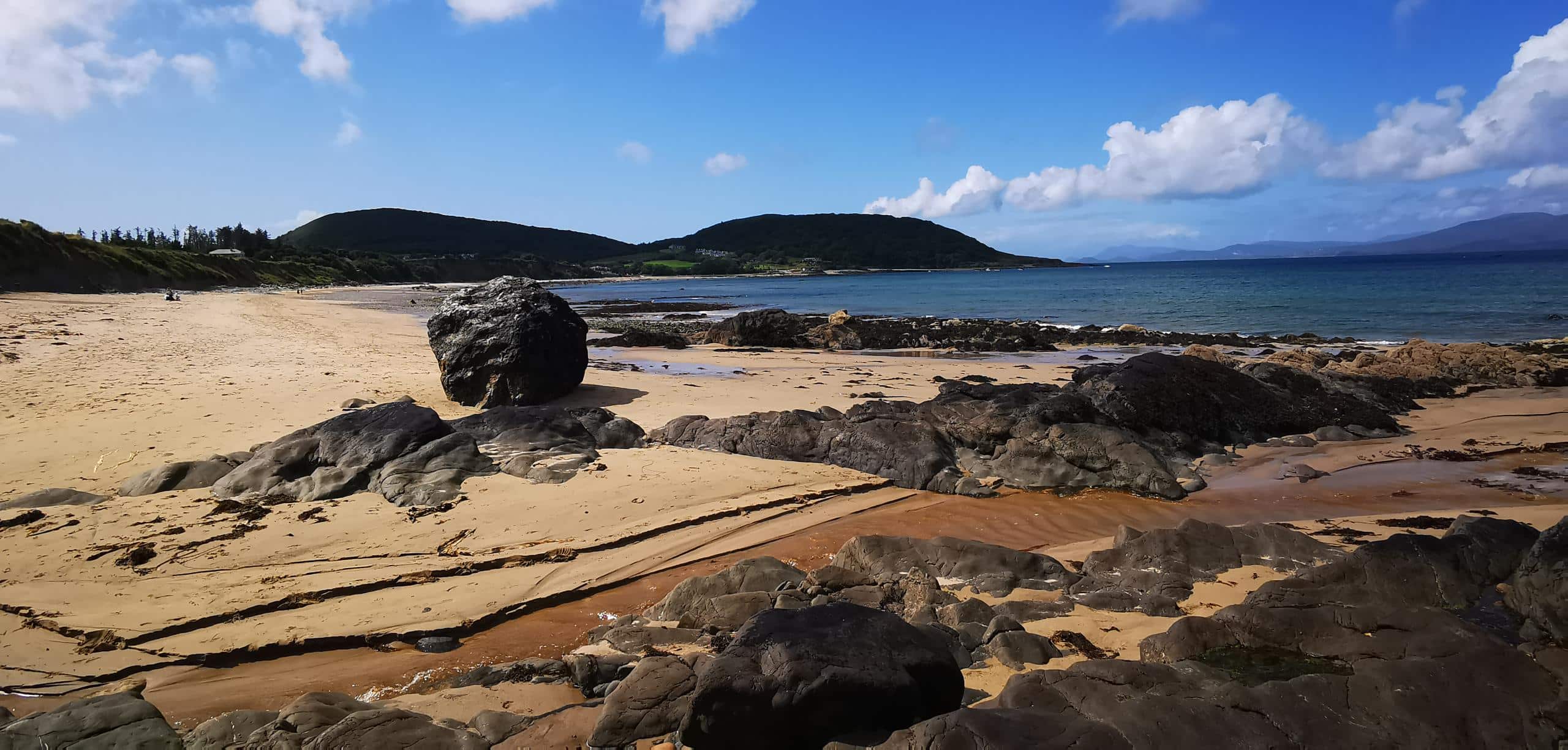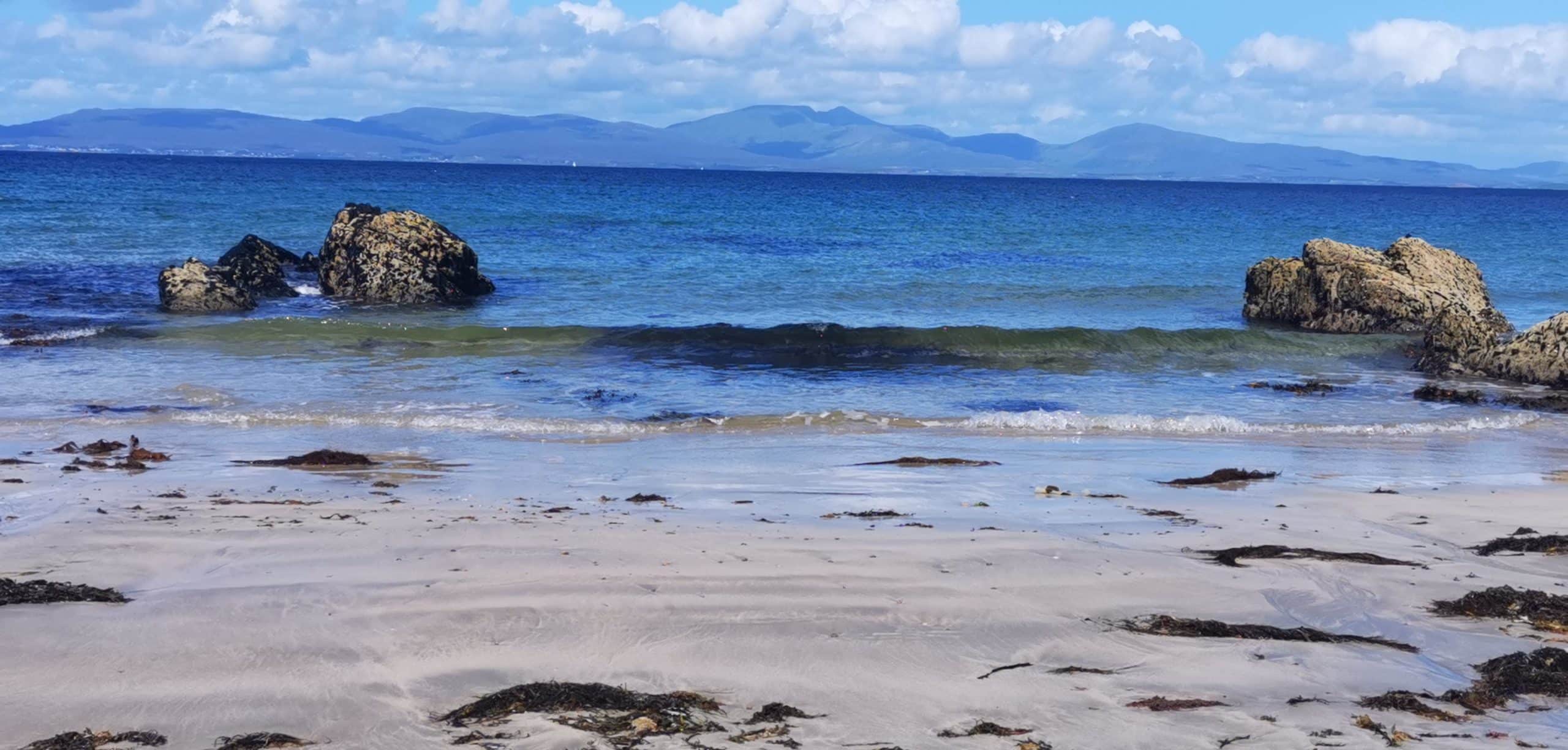 The Secret Beaches/Old Head Woods
I guess when writing a blog that is going to be online for the world to see, it's pretty ironic to have a heading labelled 'secret beach'.
In any case, if you walk behind the pier, to your left you'll see 2 beautiful beaches. These are nearly always empty (especially the second one) and offer complete peace and tranquility on a calm, summer's day.
There is one more smaller beach beyond this as well, which offers even more of the above. I'll let you adventure-minded people find that beach though!
Here the view towards the first beach from the pier: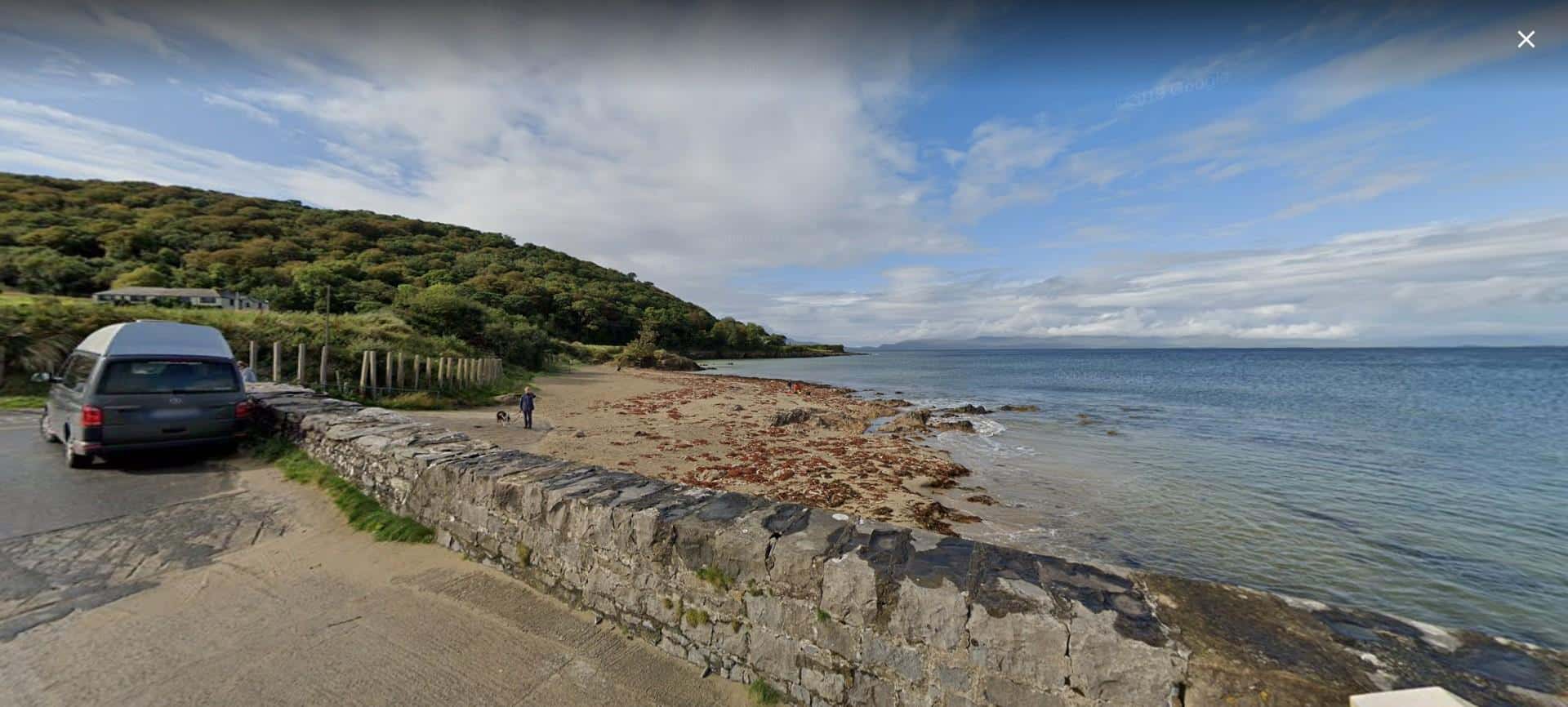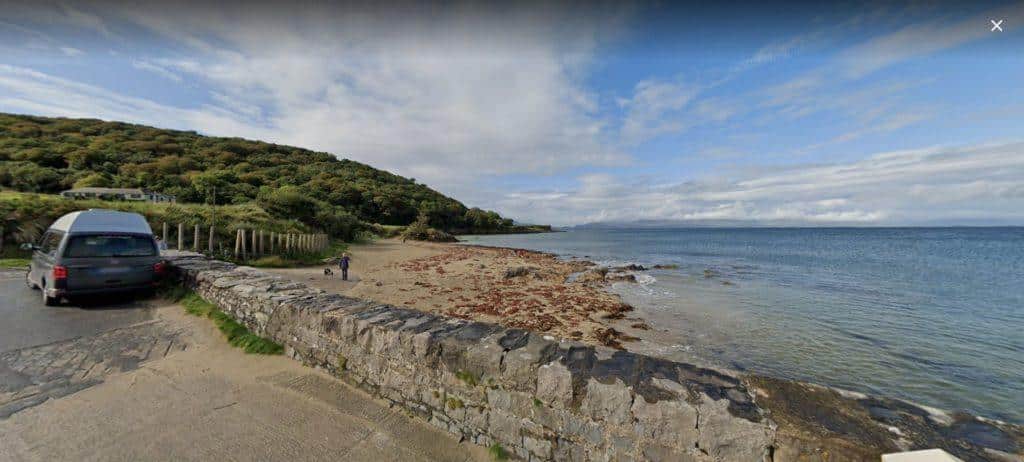 After crossing the first beach behind the pier, you'll come across a path that leads into the woods. This is a stunning walk through beautiful oak woodlands, which is also a nature reserve. There is a huge variety of vegetation here and it's hard to believe you are so close to the sea.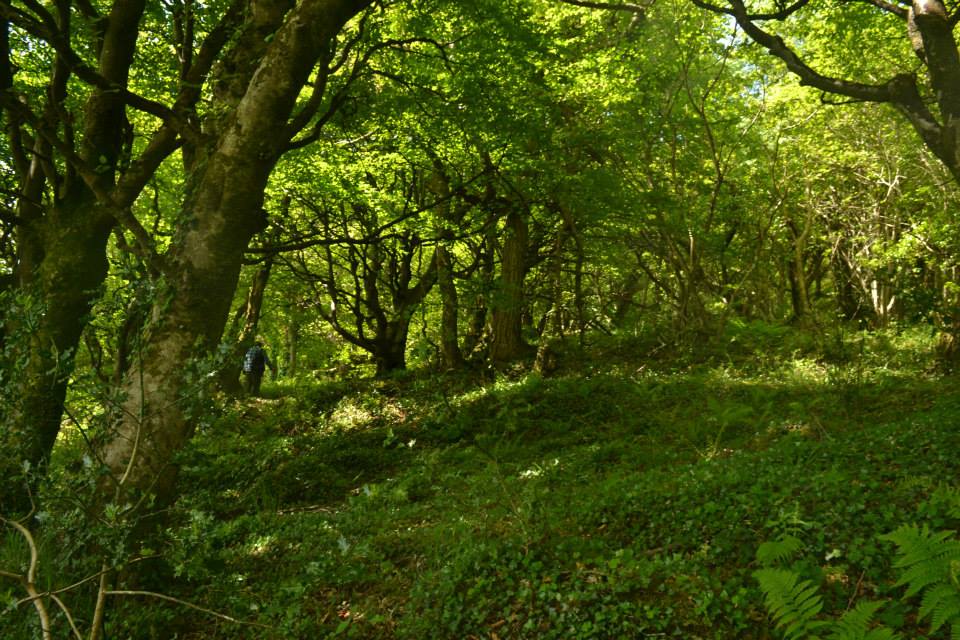 Continuing through the forest to a clearing, you'll find a spectacular view back over the beach and on to Croagh Patrick: an ideal spot for a picnic!
This whole Old Head area is very special and we really believe it's one of Mayo's true hidden gems. The dense woodland sweeping all the way down to the beach is someting very unique in the west of Ireland.
Actually, the elevated position and coastal walk beyond this woodland would be an ideal filming location! Have a look at this wonderful aerial view of Old Head:
Weather
As with any location in Ireland, you won't have guaranteed sunshine for the summer months, but if you're lucky, you'll get a spell of warm weather. The warmest months are from May to September and the water reaches its maximum temperature around the 20 August.
Last year, at the beginning of August, on a relativley warm day, I measured a water temperature of just over 20 degrees (around 70 Fahreheit). This was measured near the shore. If you venture deeper into the water, it will get cooler, but not freezing.
Check the weather for the next days here:
WESTPORT WEATHER
Where can I stay locally?
Old Head is located in quite a remote area, but there are some bed and beakfasts very close by. Here, you can see what's available close to Old Head Beach.
Louisburgh is the nearest town to Old Head Beach, and is an ideal base for exploring this wonderful part of Ireland. There are also some nice pubs and restaurants, along with being located near some other epic beaches, such as Silver Strand, White Strand, Carrowmore and many more.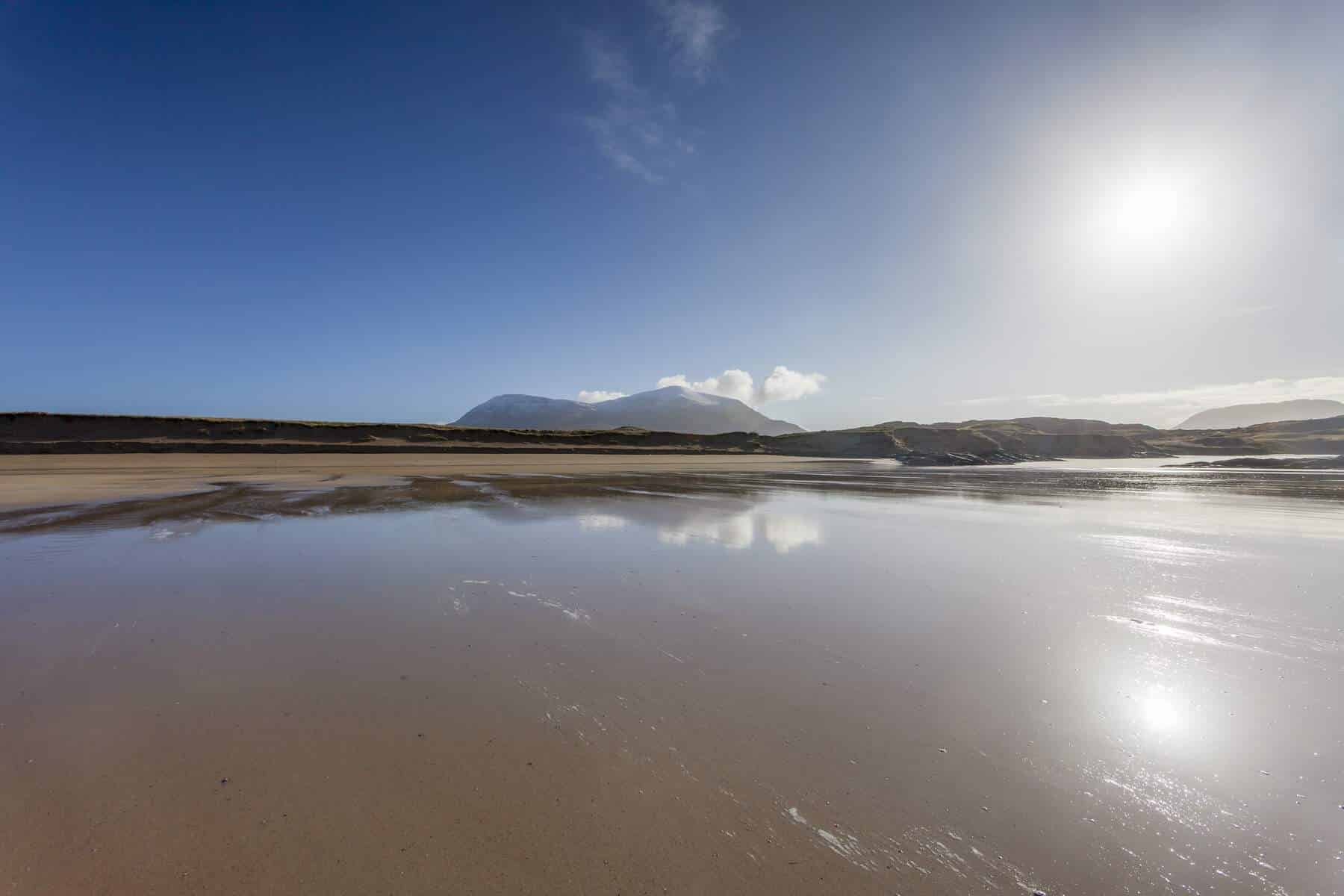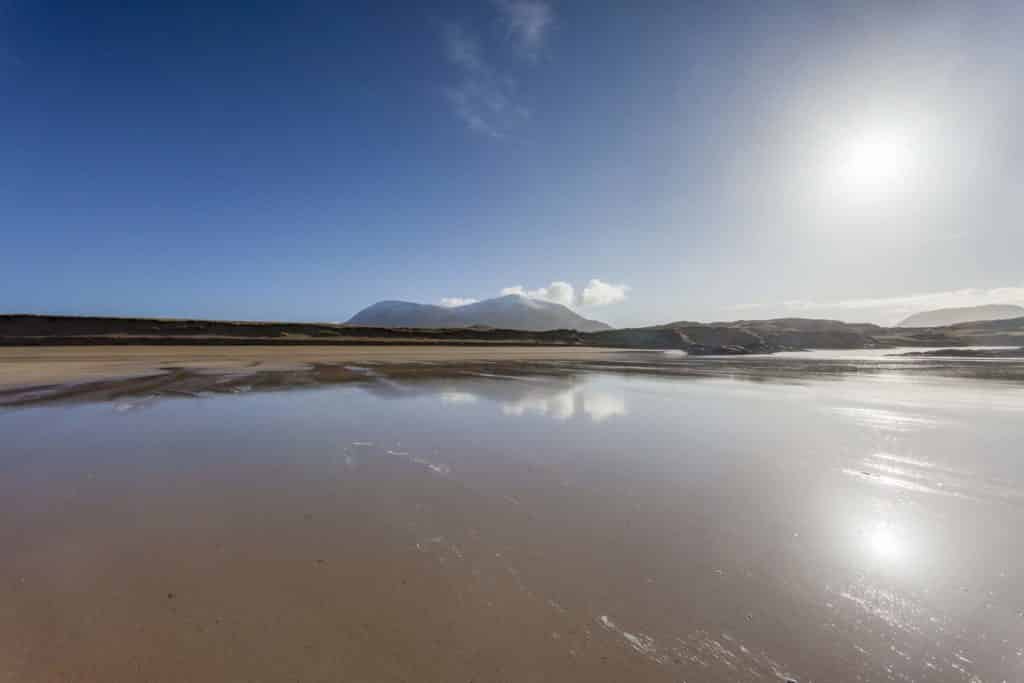 Louisburgh, by they way, offers considerably cheaper accommodation than Westport. Check out places to stay in Louisburgh here.
The wonderful town of Westport is only a 15-20 minute drive away from Old Head Beach. This town is very well-known for its lively atmosphere, fantastic restaurants and equally amazing pubs.
Throw in its location on the shores of Clew Bay and being the start of Ireland's longest cycle route (The Great Western Greenway) and you're guaranteed to have a brilliant stay.
Here, we have hand-picked our choice of the best hotels in Westport, from budget to luxury.
What to do locally
This area of Ireland is packed with things to do, especially if you love the great outdoors.
Why not climb Croagh Patrick? It's Ireland's holy mountain, and although the last section is pretty challenging, the views from the top are out of this world.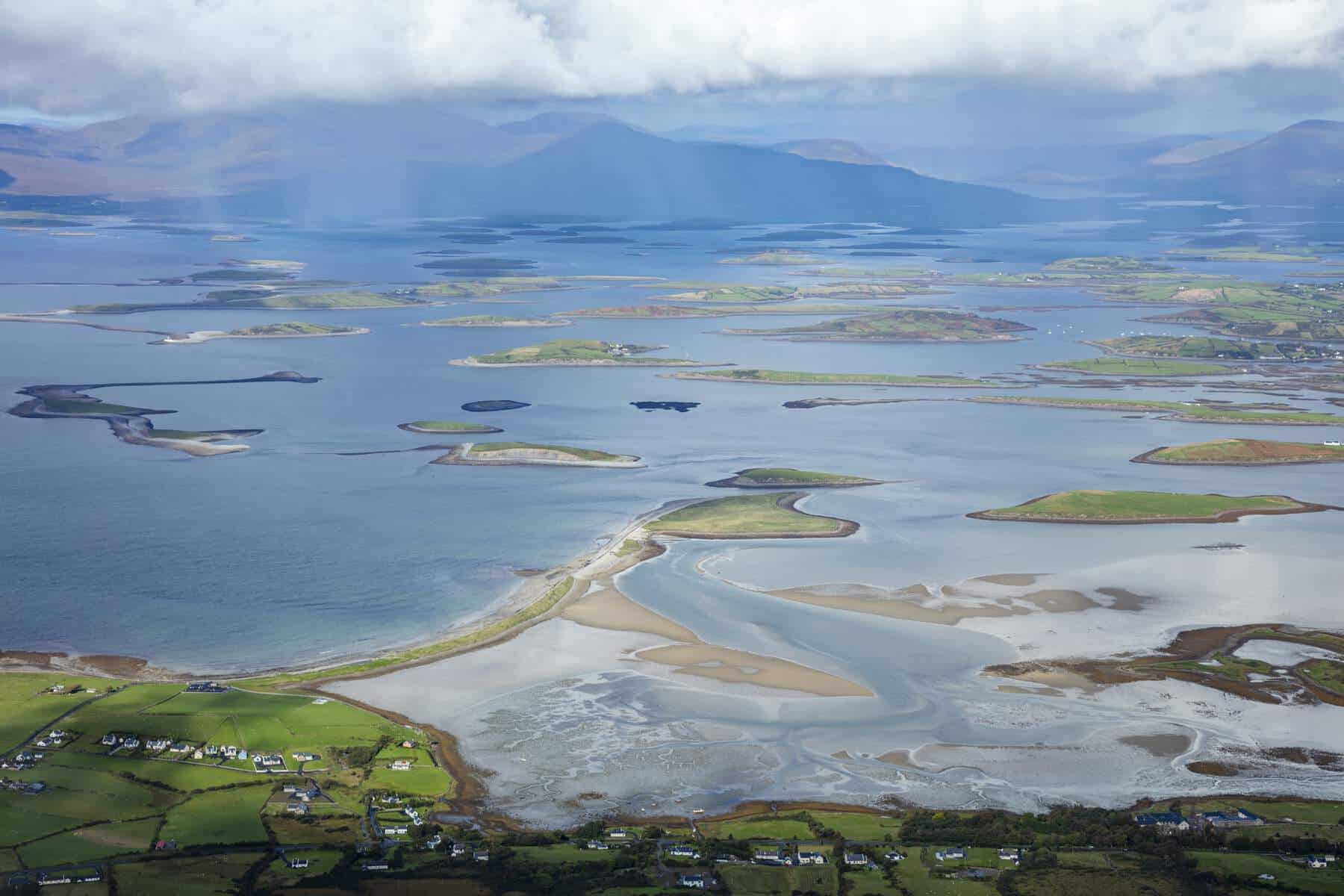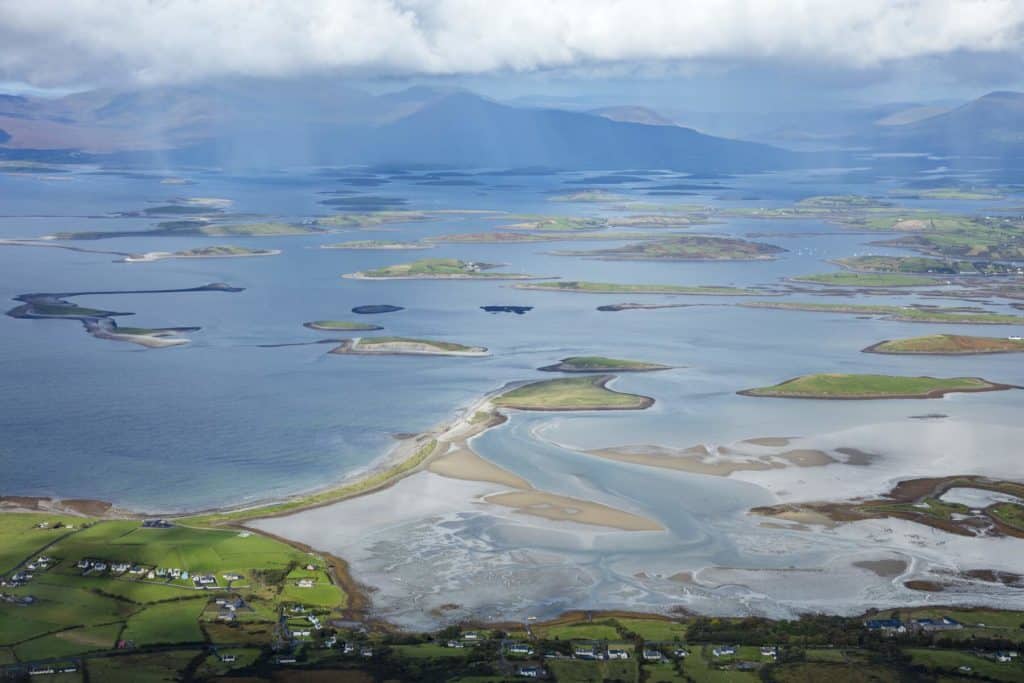 Or you could spend a few nights in Westport, and use this as a base to explore this whole area of Ireland. Westport oozes charm and there are a ton of things to see and do. This will give you an outline of the best things to do and attractions in the area. They range from visit the magnificent Westport House to renting a bike for the Greenway.
A must visit on your trip to Ireland is Achill Island, which is reachable by car. This is located on the opposite side of Clew Bay and offers some breathtaking landscapes, from some of the world's best beaches to some of Europe's highest cliffs. We have a detailed outline of what to do on Achill here.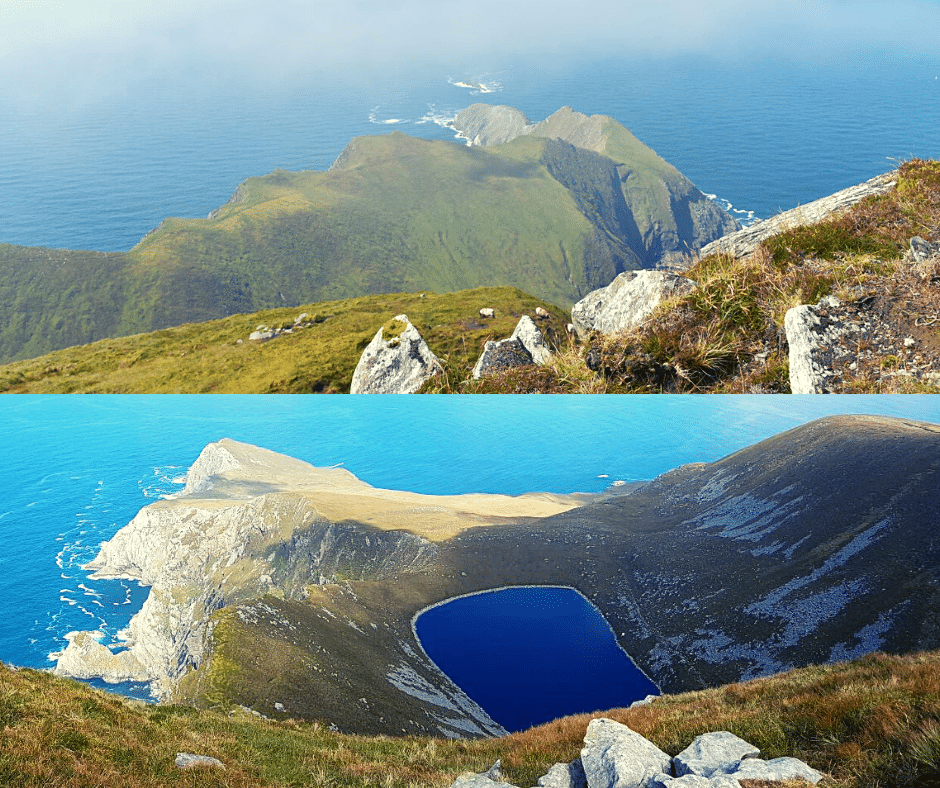 As I am sure you are very aware of, The Banshees of Inisherin was filmed on Achill Island too, and as luck might have it, we know exactly where. Click here for our detailed location guide.
An amazing way to visit these locations, while taking in all of the amazing Achill Island, is by doing this road trip, which we have planned out exactly for you.
Final Thoughts
We reckon Old Head Beach is a great place for kids, watersports, swimming or just to chill for a few hours and enjoy the wonderful views to Croagh Patrick and out over Clew Bay. The waters are clear and calm and it's also a brilliant place for a jog or a walk.
If you have visited already, please let us know if you think this is also a gem of a beach. We'd be delighted to hear from ye! Slán Go Fóill!