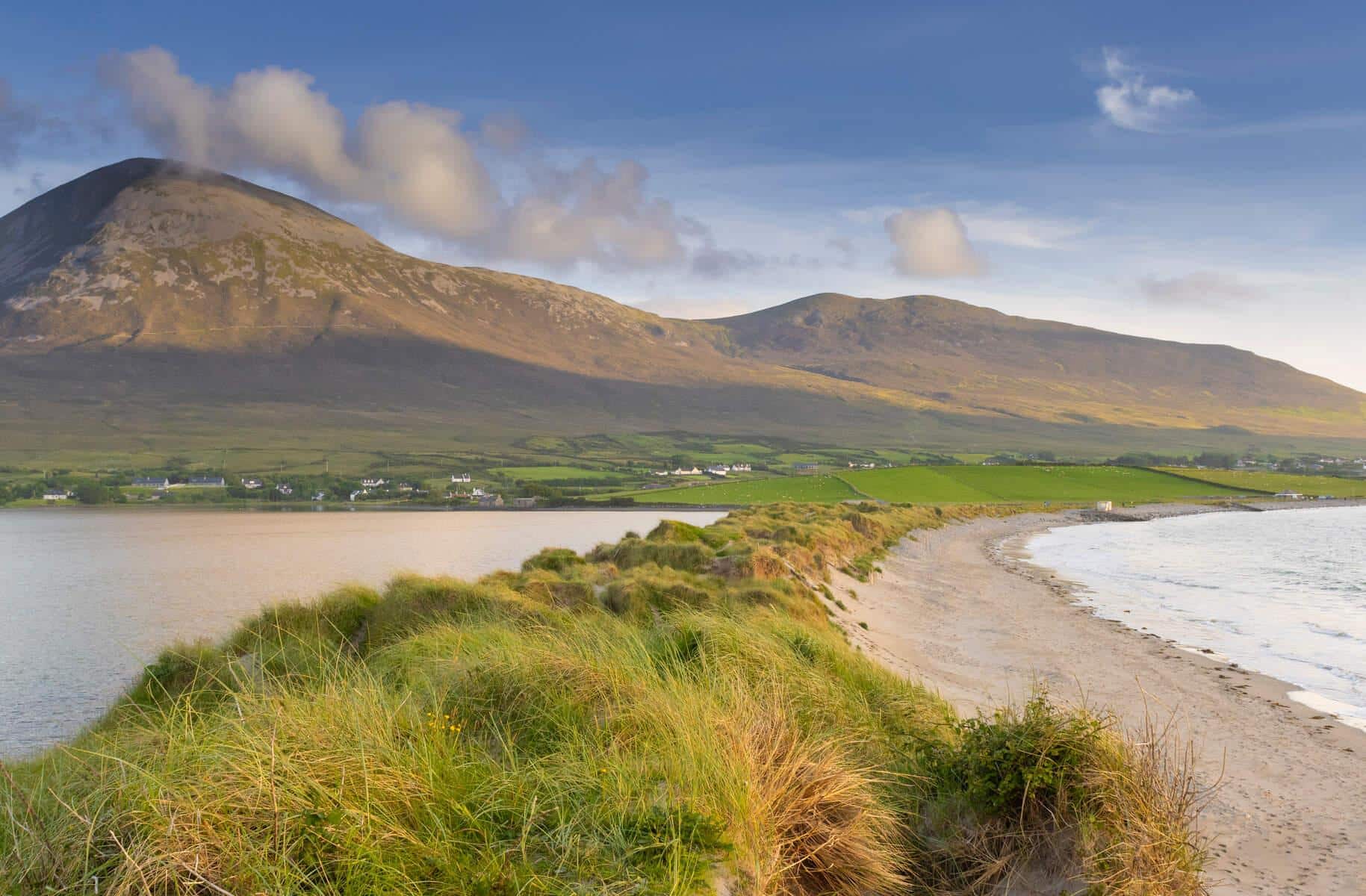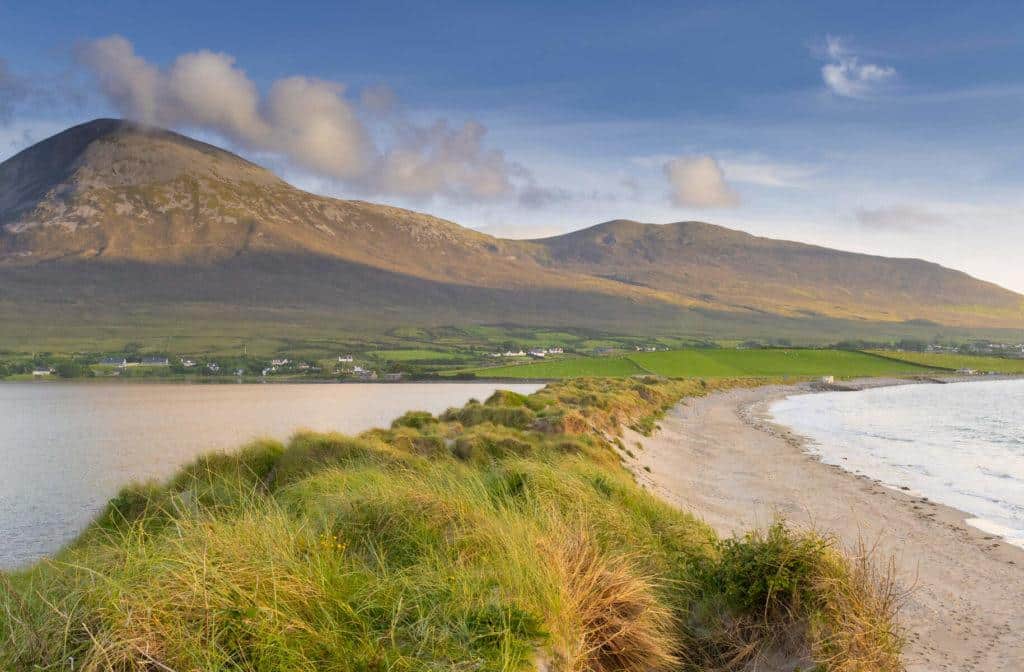 If you are planning your holiday to either Westport and Louisburgh and would like to know about nearby beaches, then you've come to the right spot. One of the best beaches in the magnificent Clew Bay area is Bertra Beach (in Irish Barr Tra, which translates as 'top of the beach')
Bertra Beach is located near the village of Murrisk on the foot of Ireland's holy mountain, Croagh Patrick, approximately 12 km from the picturesque town of Westport. It has a magnificent setting, nestled under the imposing peak of Croagh Patrick and jutting out into the unique and breathtaking Clew Bay, with its countless 'Drumlin' islands.
In this post, we are going to tell you all you need to know about Bertra Beach, along with information regarding tides and weather, to make sure you have a great day on this idyllic strand.
Some Handy Information Before You Go
Location
Bertra Beach is located half-way between the towns of Wesptort and Louisburgh, along the Wild Atlantic Way, in County Mayo, Ireland. After passing the vilage of Murrisk in the direction of Westport, with Croagh Patrick's peak to your left, you'll take a right and follow a narrow, winding road for about a mile until you come to the parking area.
Parking
There is a good sized car park right before the beach, which does get quite crowded in peak season during the summer months. There is also parking along the road, just after the main carpark and toilets.
Facilities
There are toilet facilities right next to the car park, but no disabled toilets.
In the summer months, there is usually a coffee van parked beside Bertra Beach selling a good selection of drinks, ice cream and snacks.
Blue Flag Beach
Bertra Beach is a 'Blue Flag' beach, which means it passes the highest quality standards for cleanliness and safety.
Lifeguards
During the summer months, Bertra Beach has lifeguards on duty. The lifeguard season runs generally from the 30 May to the 30th August. In some beaches, this extends to the end of the first week in September. For exact information, log on to the Mayo.ie website for exact information for each specific beach.
The Beach
Bertra Beach is a long sandy beach, backed by pebbles and smaller stones, which wash up during storms/hide tides. During low tide, it extends for approximately 2 km into Clew Bay.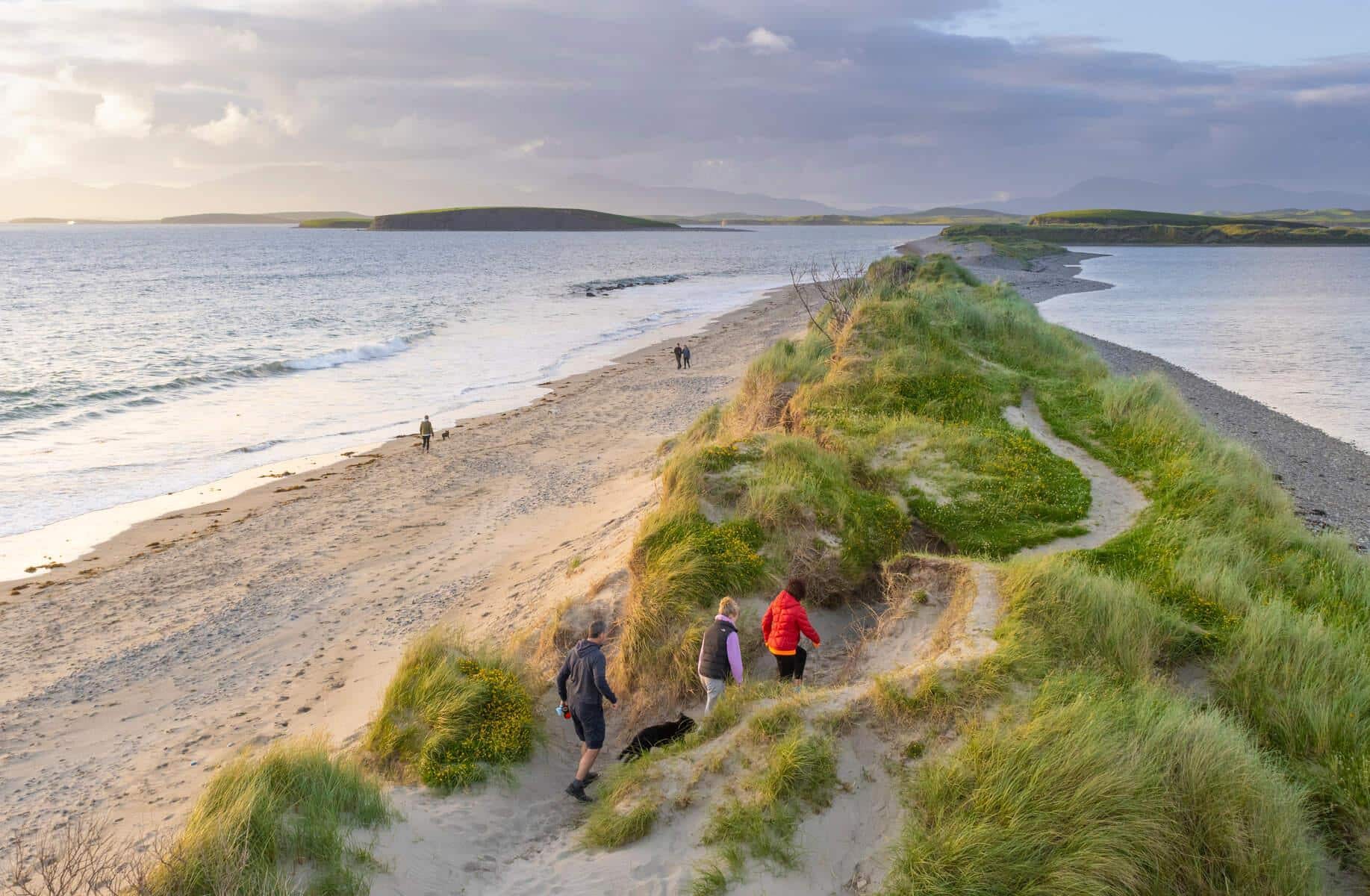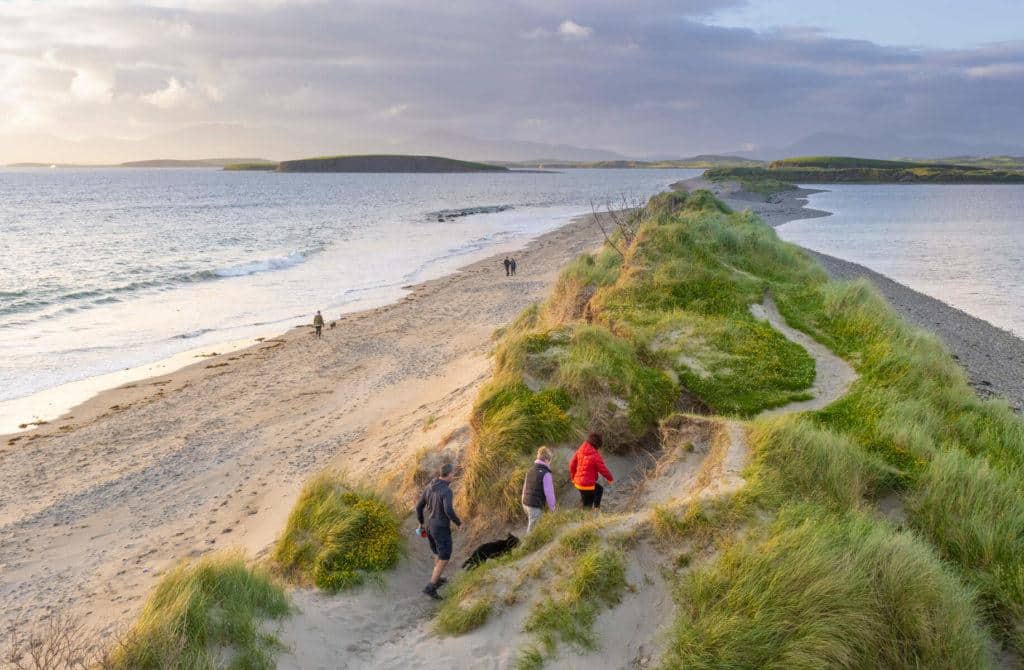 It almost resembles a hockey stick in shape as it juts out into Clew Bay, which looks magnificent from the summit of Croagh Patrick. The beach is backed by dunes, on which coarse marram grass can be found.
In recent years, this marram grass has been in decline, due mainly to a storm that breached the dunes on 2014, causing massive damage to the crop. Marram grass is vital for the dunes, keeping them stable and preventing erosion.
It is advised not to walk on these dunes, as they are currently under restoration.
The Views from Bertra Beach
One of the main reasons this beach is known far and wide is due to the stunning views in every direction.
Clew Bay's Drumlins
Walking to the end of the beach during low tide, you'll come close to the unique islands of Clew Bay.
Legend has it, there are 365 of them – one for every day of the year. These islands are actually remnants of the end of the last ice-age, where the sea level rose, flooding the land and leading to small islands being created out of existing drumlin (or glacial) hills.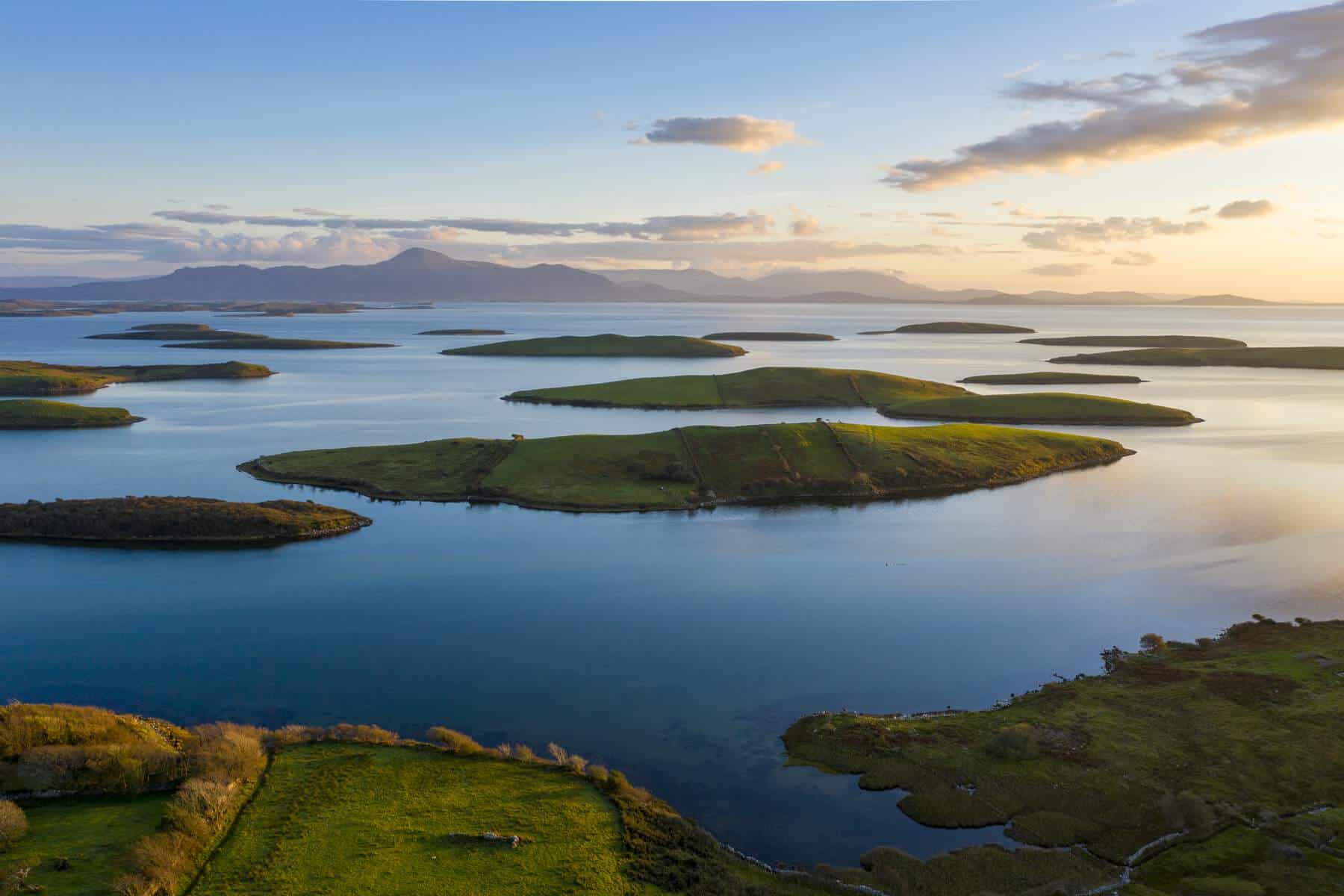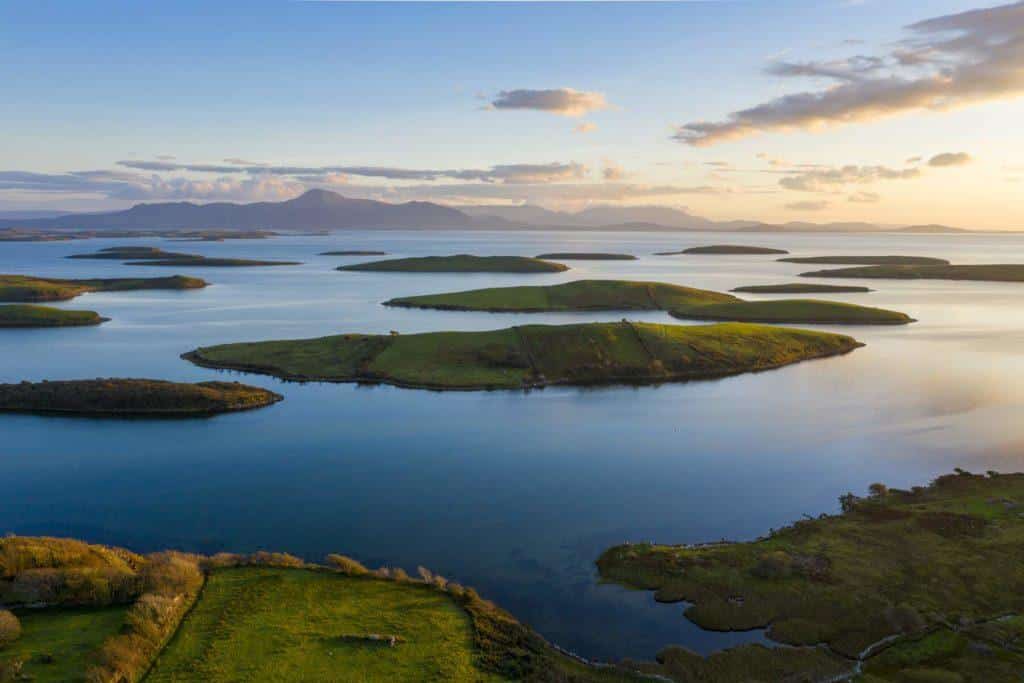 It's not unusual to see little white dots speckled across these drumlin islands. These are the sheep happily grazing on the grasses which grow on these fertile glacial soils. During low tide it's common for the local sheep farmers to move them across the sand flats and onto these islands where they spend a few happy weeks grazing away.
Croagh Patrick
As mentioned already, to the south you'll see the 765 metre high peak of Croagh Patrick, Ireland's holy mountain. 'The Reek', as it's also known as, provides a stunning backdrop to Bertra Beach. The foothills are almost neon-green in colour, and with the white sheep dotted around these green pastures, there are some great photo motives.
Croagh Patrick from Bertra Beach, Co. Mayo 😍😍🍀🍀 pic.twitter.com/XcJex9PRpc

— Ireland Before You Die (@IrelandB4UDie) December 31, 2017
The Northern Side of Clew Bay
Walking along the beach, you'll see the opposite side of the bay, with the village of Mulranny in the distance. To the west of here, you'll see the peak of Corraun Hill and further west again, you'll catch a glimpse of Achill Island, a place known for its dramatic scenery.
On a nice summer's day (yes, we have them!) the contrast of the turquoise waters of Betra, the nearby green fields dotted with sheep, and Clew Bay stretching out into the Atlantic is Ireland at its scenic best.
The Nephin Beg Range
To the northeast, you'll see the Nephin Beg Range, one of Ireland's true wilderness areas.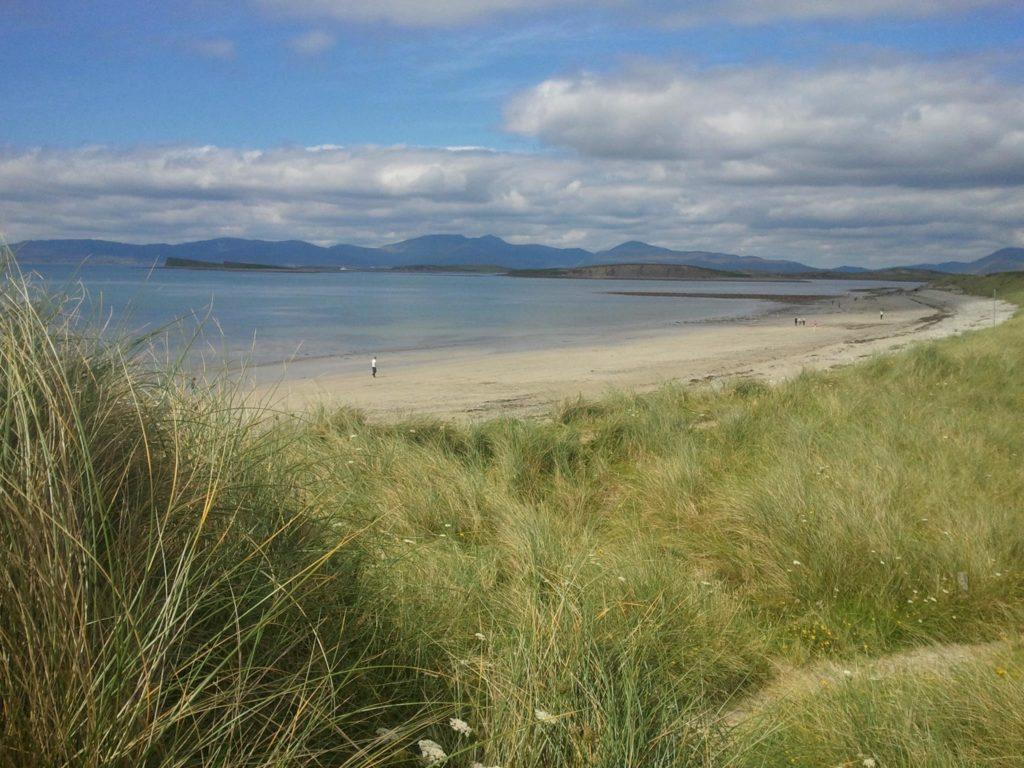 Tides
It is very common for the whole beach to be submerged during high tide so it's imperative to check the tides before you visit.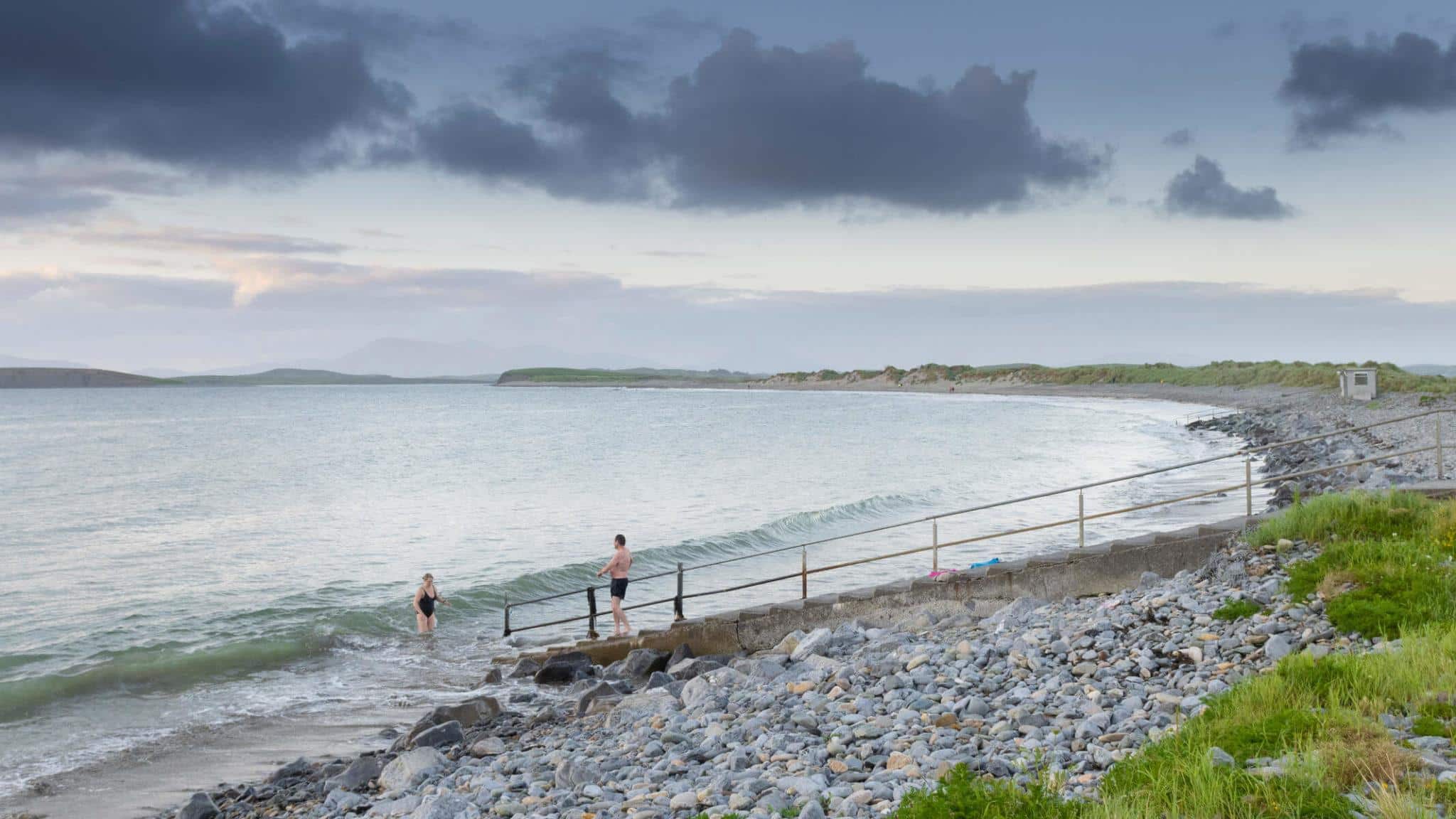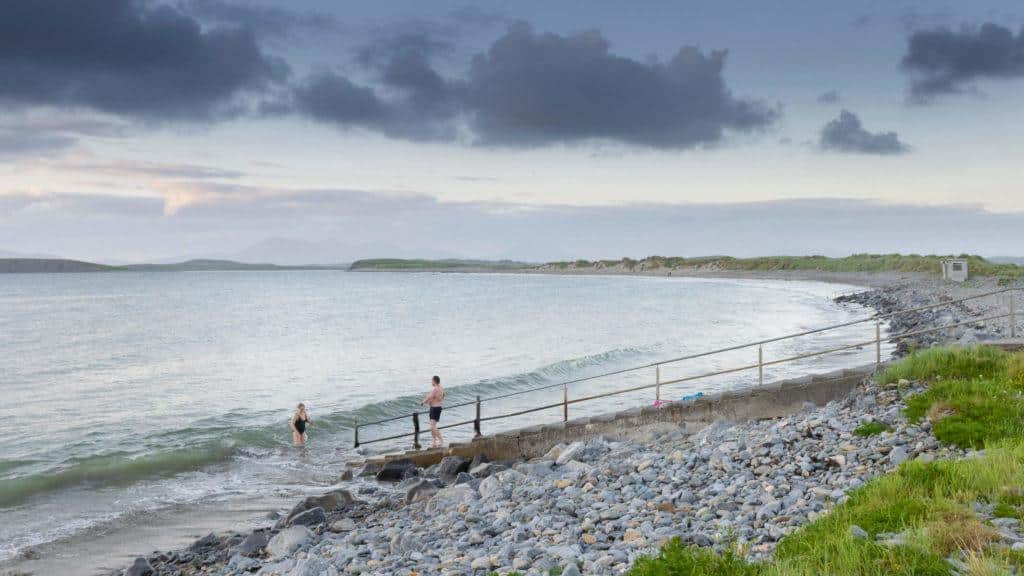 If you get caught while out walking on Bertra Beach, it is possible to walk back over the dunes, but that is not advisable as these dunes are under restoration currently.
So, have a look here before you visit to avoid disappointment.
Insider Tip
In the nearby beach of Old Head, the tide very rarely comes in completely, so this is a good plan B if Bertra Beach is submerged.
Swimming
Because Clew Bay is quite sheltered from the mighty Atlantic Ocean, Berta (and all beaches in this region) is ideal and a very popular place for a dip. Having swam there many times myself, I can say that the water is definitely on the nippy side, possibly because it's north-facing. The waters in the beaches the opposite side of the bay at Mulranny always seem a lot warmer to swim in.
But, once you're in above your belly, you'll be grand! Unless it's a particularly wild day, there are very seldom any waves here to worry about, and it's amazing to be in the water and to be surrounded by such epic scenery!
Do not swim in the waters towards the far side of the beach-there are extremely dangerous currents and whirlpools here.
Where else? #wildatlanticway #bertrabeach #comayo #lovewalksonbeach pic.twitter.com/l8UnccWK6O

— Brid McAuley (@BridMc) April 22, 2019
Water Sports/Activities
The lagoon behind the beach is very popular with windsurfers. Sometimes, you'll see people kayaking along the shore and the end of the beach is very popular for angling. On one visit, I witnessed about 100 mackerel being caught in the space of a few minutes! But be very careful if you go angling here, be very conscious of the tides.
Walking/Dogs
Bertra is a mighty beach for a good brisk walk to get some of that ultra-clean Atlantic air into your lungs. Whatever the weather, you'll feel invigorated after a stroll along the beach. It's very popular with locals, but not to sound like a broken record: look up the tides before you go!
Dogs are allowed on the beach on a leash, but please clean up any little presents your beloved four-legged creature might leave. There was talks of actually forbidding dogs at this beach as people were not cleaning after their dogs.
Remember, it's a popular beach in summer and we all know kids love to play in the sand so…leave no trace!
Weather
The best months to visit in relation to warmest air temperature are May to September. The water is at its warmest around the 20th August. Have a look here to see the current conditions in nearby Westport:
WESTPORT WEATHER
Leave No Trace
At 'Sweet Isle of Mine', we are huge advocates for keeping all natural attractions clean and sustainable. That means, use bins provided and if these are full, please either bring rubbish home of dispose of properly in the nearby towns.
Ireland's best sights are its natural attractions, so let's not spoil them.
Things to Do Nearby
Westport
Luckily, Bertra is only a 15 minute drive from the lively, colourful town of Westport. This town is a great base to explore some incredibly scenic locations, from Achill Island to Doo Lough Valley. We have created a comprehensive list of things to do on epic Achill Island. Have a look here.
If you are unlucky on your trip to Westport and it's lashing rain the whole time, have a look at our comprehensive list of rainy-day activities.
Westport, while still retaining its Irish charm, offers a huge range of other tourist attractions and activities, from visiting Westport House to cycling the Great Western Greenway.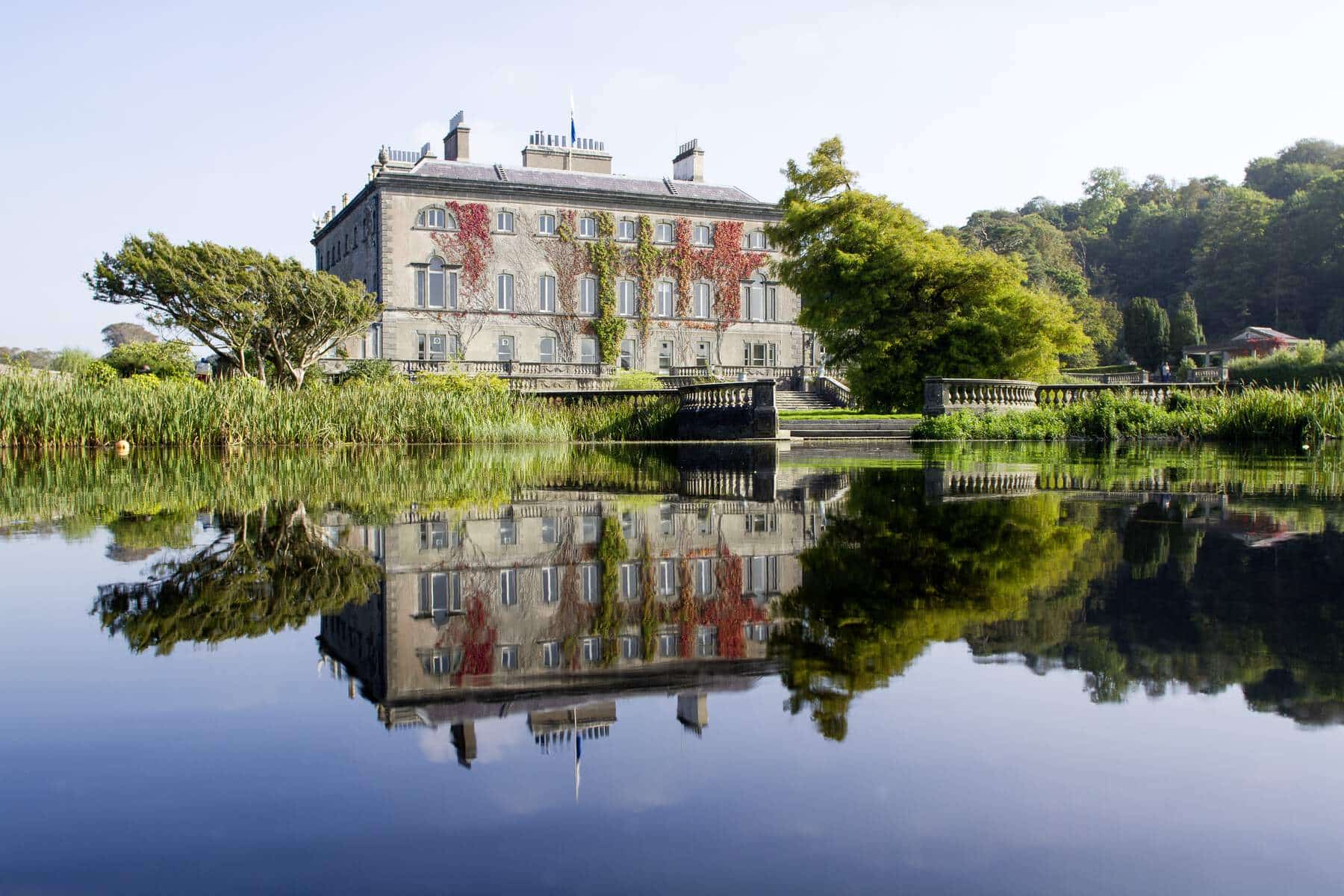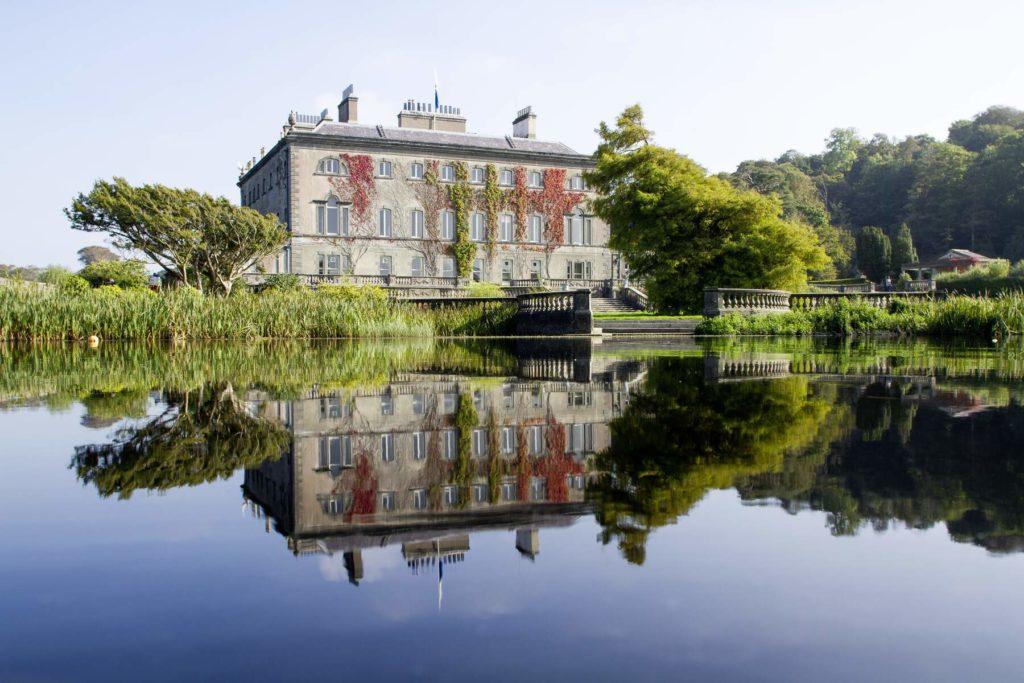 Below, you can see a wide range of possibilities from bike rental to entry into Ireland's most beautiful house: Westport House.
We also highly recommend doing the sunset cruise, which we have included in our 'One Epic Day in Westport' post. Have a look here.
The Banshees of Inisherin
As many of your will know, half of the wonderful Banshees of Inisherin was filmed on nearby Achill Island. If you would like to see exactly where, our post here outlines all exact locations.
If you feel up for an epic roadtrip on Achill, which will lead you to all of these locations, click on this itinerary here.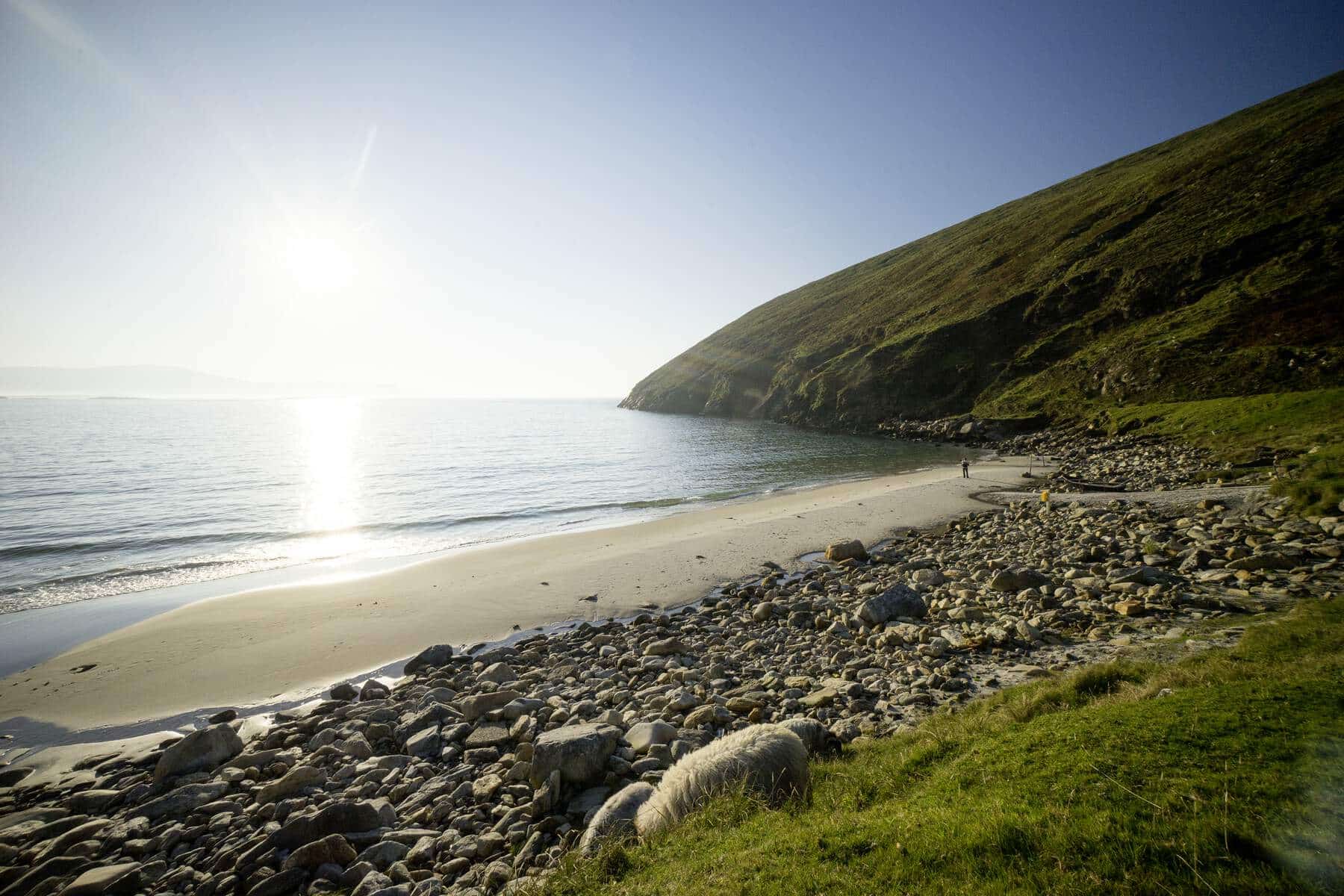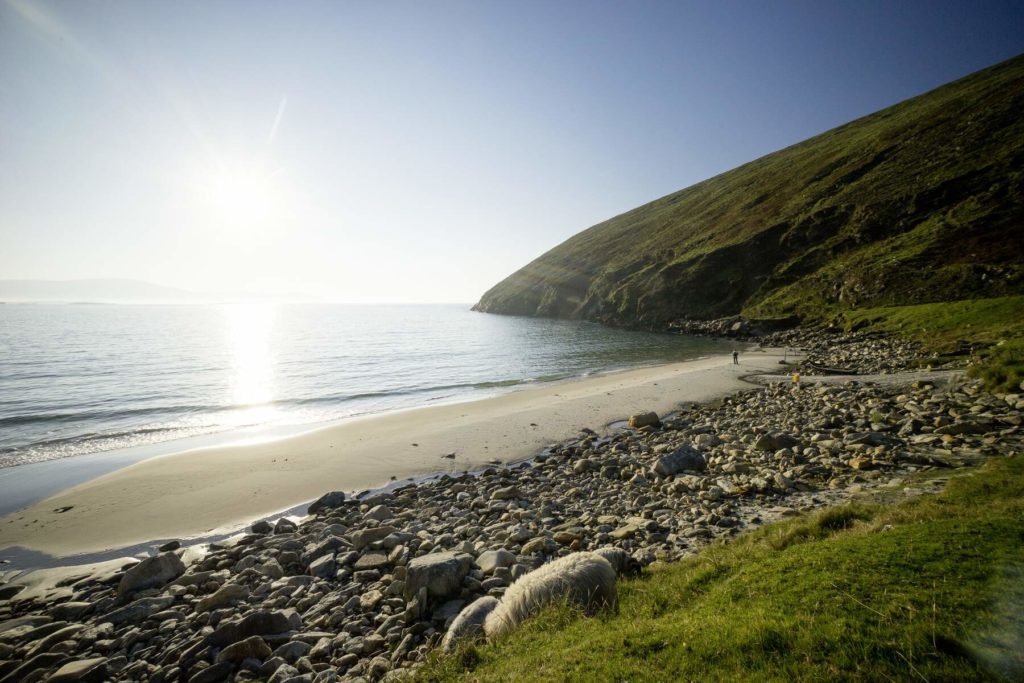 Croagh Patrick
Why not climb nearby Croagh Patrick, followed by a dip in the sea at Bertra? Ireland's iconic mountain is 5 minutes away and although it is regarded as a challenging hike, the views from the top are out of this world.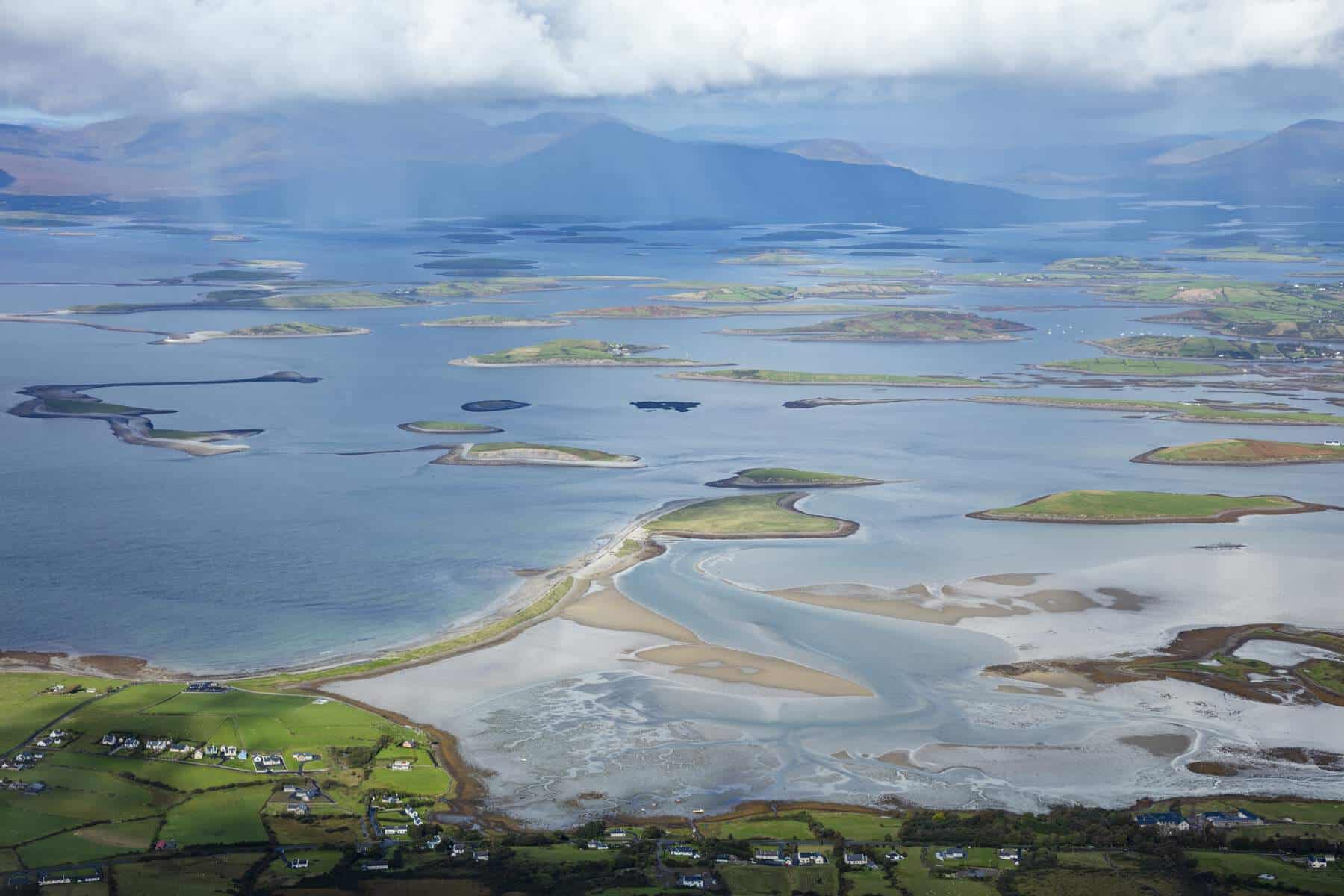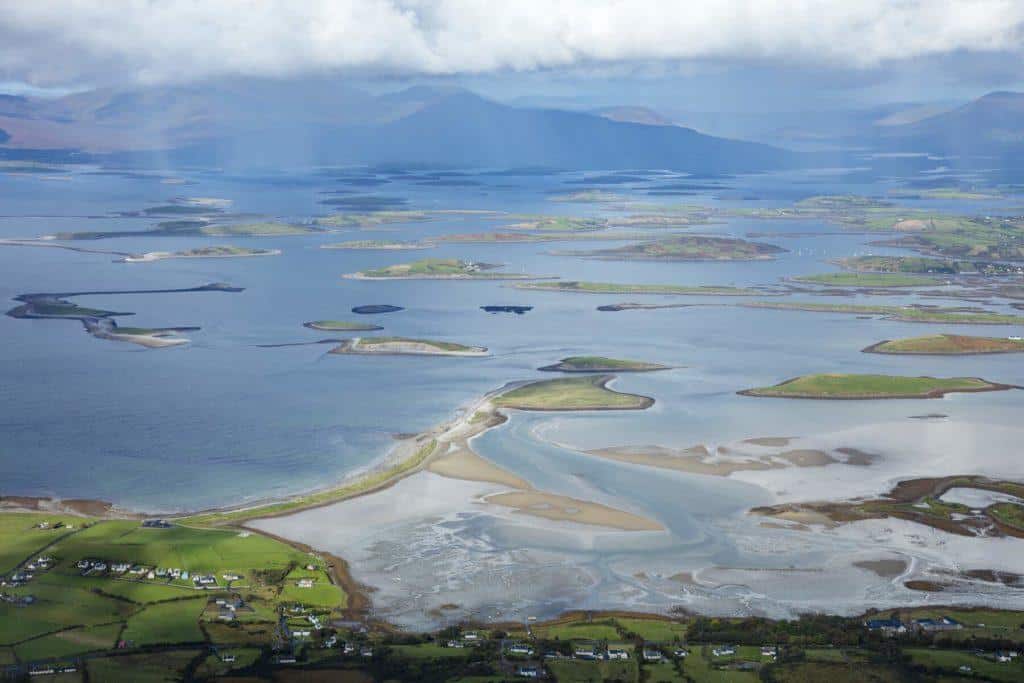 Visit Louisburgh
Louisburgh is a charming little town located west of Bertra. Nearby you'll find some breathtaking beaches such as Silver Strand, Carrowmore and many more. There are some great pubs and lovely restuarants and offers a quieter alternative to the busy hub of Westport.
Where to Stay Locally
Here, we have handpicked our best 12 hotels, from budget to luxury in the nearby Westport. Have a look here for our detailed recommendations (including family hotels)
Final Thoughts
We reckon Bertra is a lovely place to just relax on a warm day. Surrounded by beautiful mountains and fantastic coastal scenery, we're sure you'll have a great day on this fine strand at the foot of Croagh Patrick.
Let us know if you have already been there, or if you have any more questions, we'd be delighted to hear from ye. Slán go fóill!