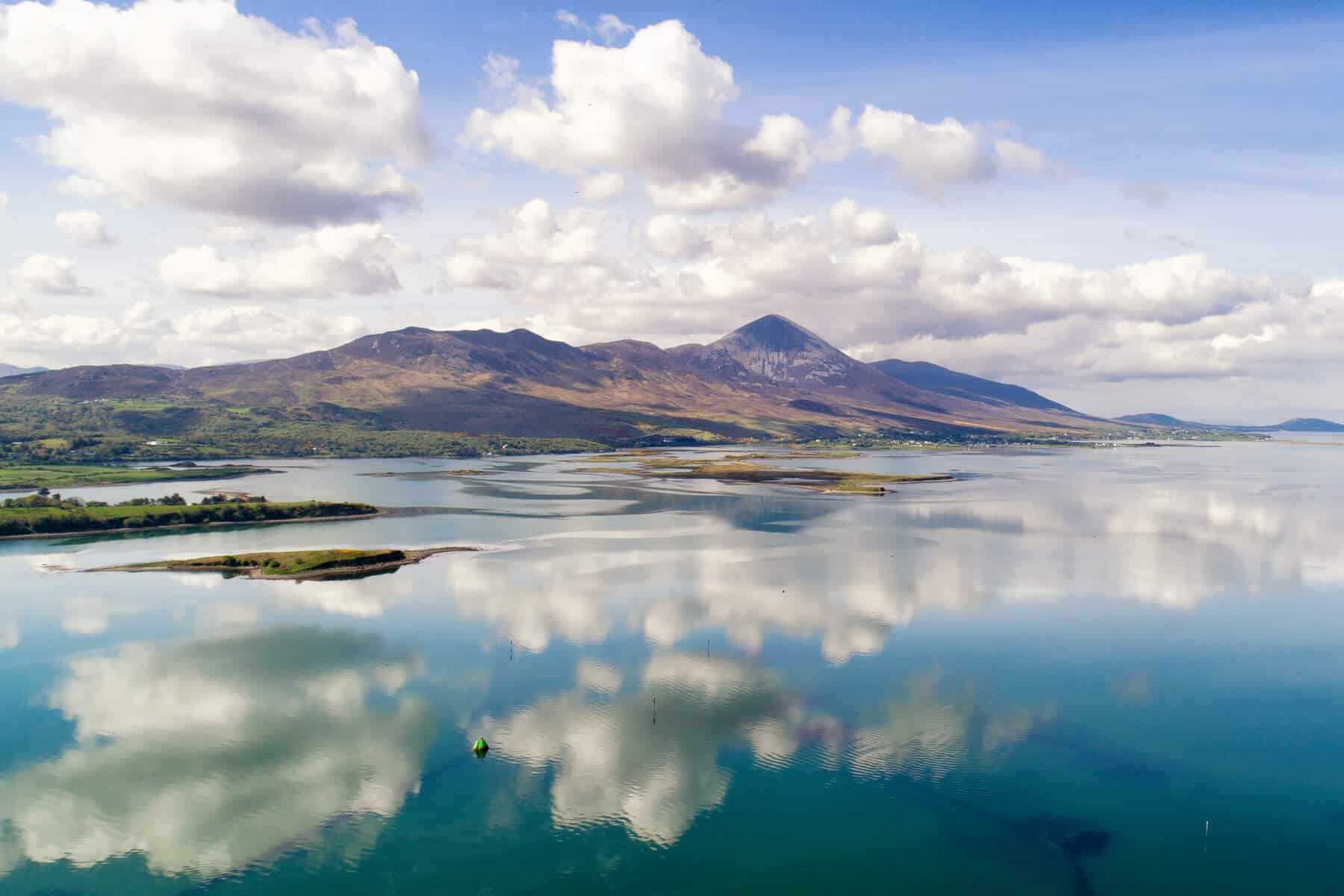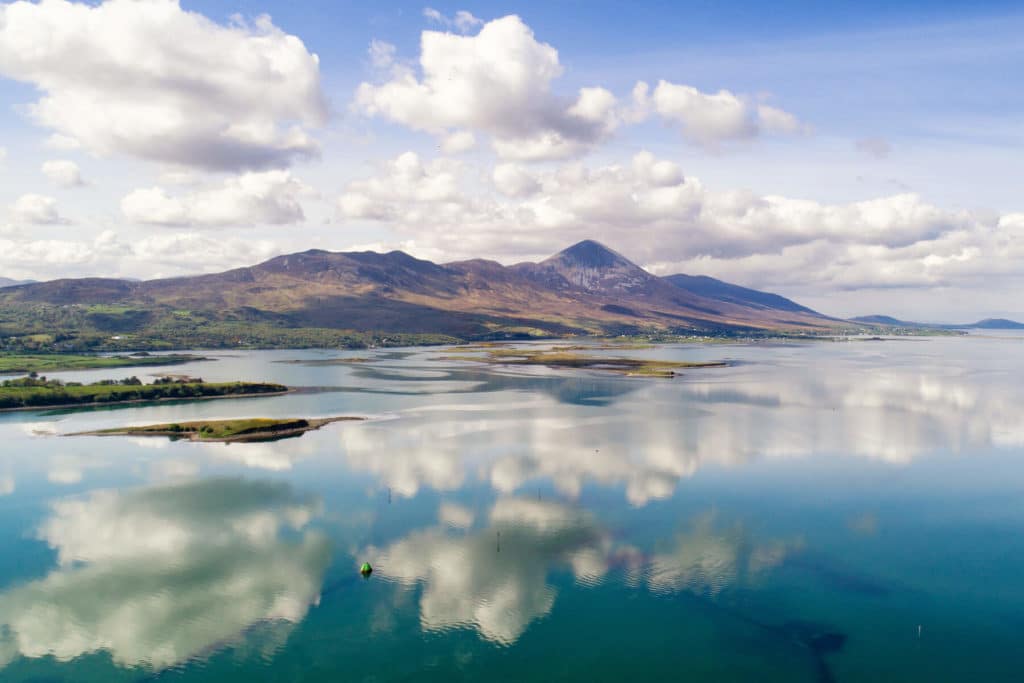 Westport and its environs are a brilliant place to spend a few days. There's a huge range of things to do, places to see, and some of the best restaurants and pubs in Ireland. But can you fit it all into one day?
We think you can definitely squeeze in a huge amount by taking on board some of our local advice and tips.
Why Westport?
When I think of Westport, I immediately conjure up images of Croagh Patrick, Clew Bay and the general colourful atmosphere around the town. It's a region that I think is often overlooked by visitors abroad, and that's a shame.
With the completion of the new dual-carriageway in 2023, Westport will be even a shorter distance from Dublin. Couple that with the fact it is also reachable by train from the country's capital, visiting Westport in County Mayo for a few days is definitely worth it. But what if your time is limited to just one day?
Do you happen to love the great outdoors? Well, this post is going to outline how to make the absolute most out of your 24 hours in Westport. It should be noted that this itinerary should be carried out on a clear day, so as to get the most out of your hike and your evening activity.
Morning
Breakfast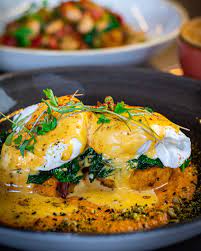 This morning you are going to climb Ireland's holy mountain-Croagh Patrick. It does not matter whether you are religiously inclined or not, the view from the top of this mountain is phenomenal. But first, it's time to get some energy for your hike. I recommend going to The Creel for a few reasons.
First of all, the food (albeit a little pricey) is really excellent. With dishes from eggs Benedict to a wide range of variations of French toast, you're belly will be nicely filled and satisfied before you climb the 765 metres of Croagh Patrick. Check out their menu here.
Another reason you should eat here is the fact that it's on the way to Croagh Patrick and at that time of the morning, you'll have no trouble getting parking in front of the restaurant.
And finally, The Creel is located about 200 metres from Centra supermarket, where you can get your supplies for your hike.
So grab some water, or any snacks you will need for your hike up Ireland's holy mountain and make your way to Murrisk, at the foot of Croagh Patrick.
Croagh Patrick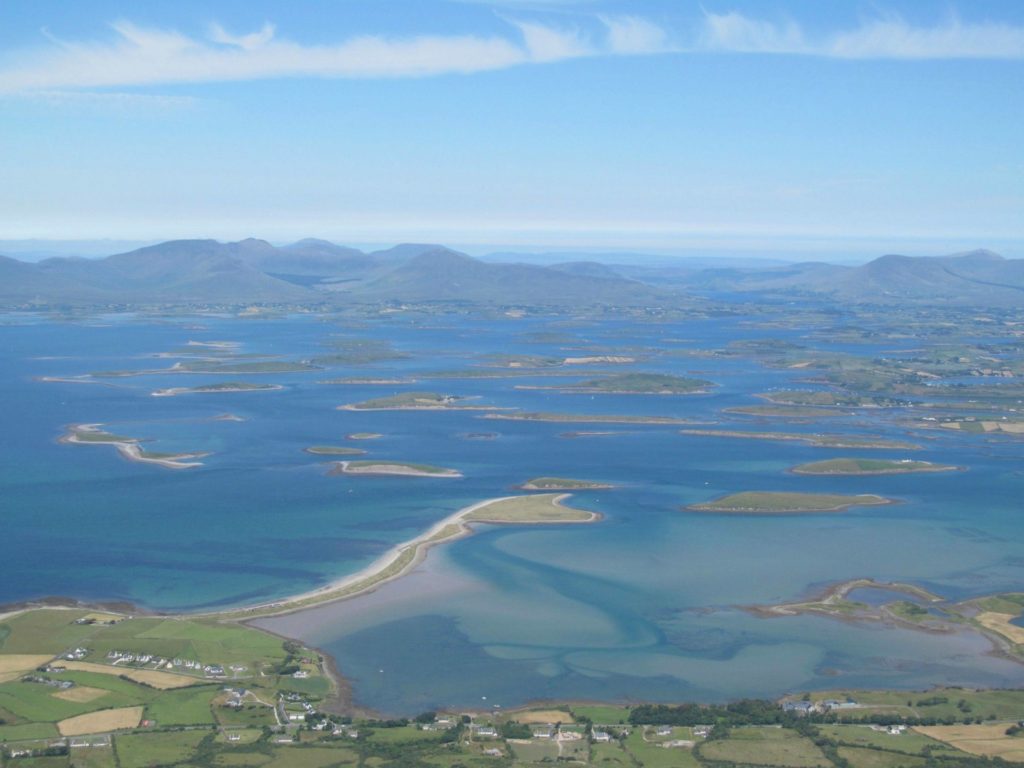 Ireland's holy mountain and Mayo's 4th highest, Croagh Patrick is located on the south side of the magnificent Clew Bay with its unique drumlin islands. They say there are 365 of these green islands-one for every day of the year.
The summit will present you with an almighty view of the bay and beyond, with panoramic views of the mountains of Connemara to the south and the Nephin Beg range to the north. Also, Clare Island and the vastness of the Atlantic Ocean will leave you in awe.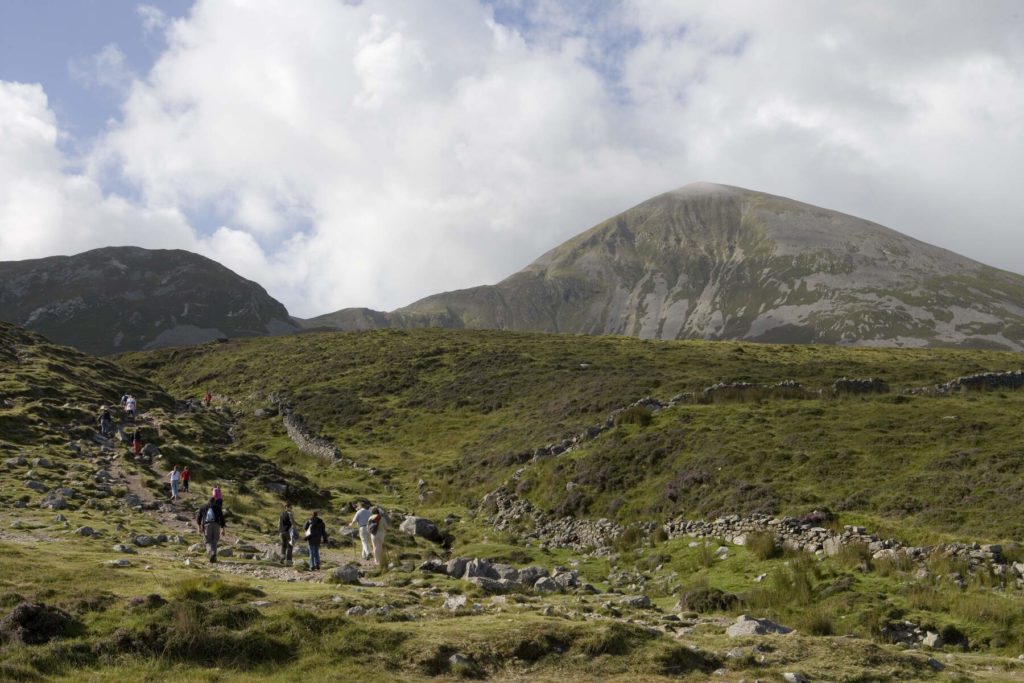 There is a large carpark at the foot of the mountain, where you have to pay. On a fine day, this gets very busy, but it is possible to park for free along the main road.
The hike itself is long and will take on average 3-4 hours to complete, depending on your lvel of fitness. The last section is the trickiest as it is steep and up to very recently (as of 2022) had a lot of loose stones, making underfoot a little challenging.
However, The Croagh Patrick Path Team has done a brilliant job in implementing natural steps, which definitely help and prevent further human erosion of the mountain.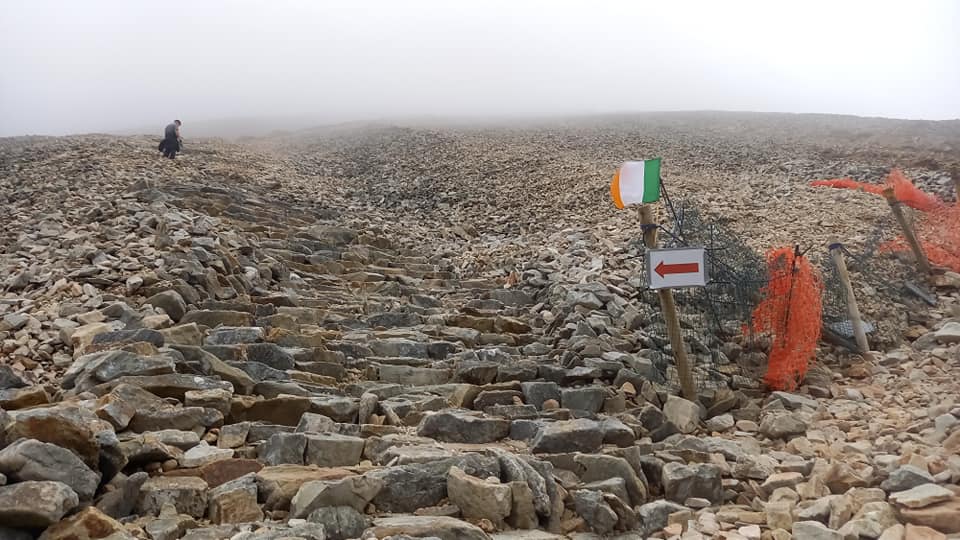 What you'll need for the hike:
Don't forget to pack an extra warm layer as it is noticeably cooler at the top. A rain jacket is always a good option too as you may get caught in a shower any time on the mountain.
Also, proper hiking boots is a must, along with walking poles. Until recently I never used a walking pole for hiking but the difference it makes is incredible.
It gives you a great sense of balance and confidence, especially for the last section and saves your knees during the descent.
If you don't have poles, it's possible to rent a stick at the bottom for 4€, and you'll get 2€ back at the end. You won't reget it.
Don't forget to bring water. It's always handy to bring a small rucksack for your water, extra layer and change of t-shirt. The outdoor shop Portwest in Westport will have a hiking rucksack, should you need one. Also, although the air is cooler at the top, the UV is higher, so don't forget your sunscreen.
The Summit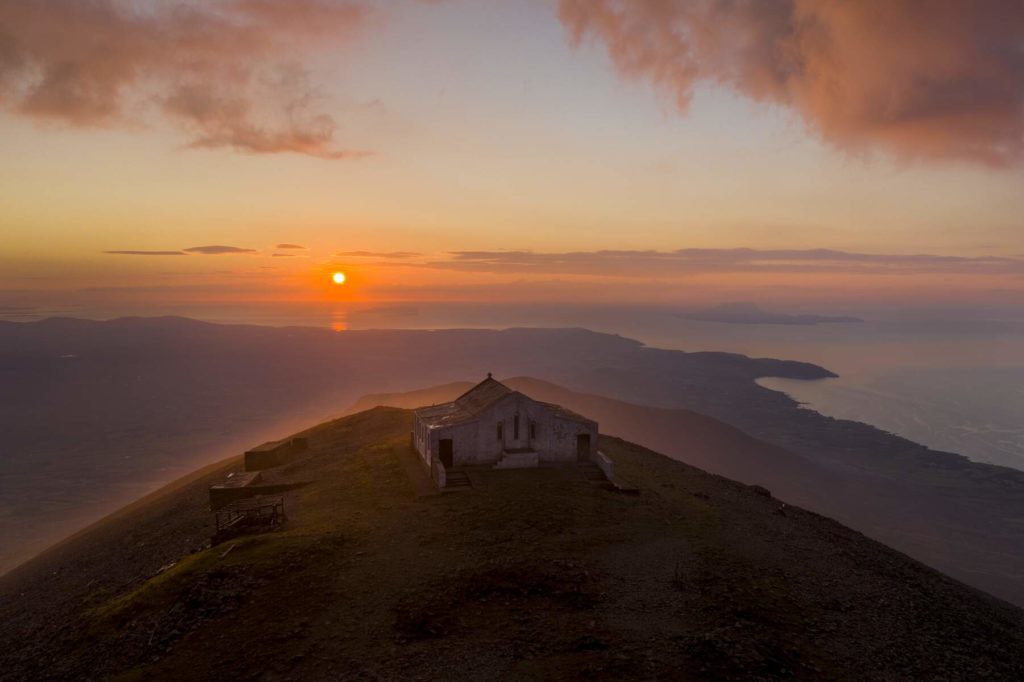 When you have reached the top, you will be rewarded with an amazing panoramic view. All the hard work will certainly have paid off. You'll see the small chapel, which is over 100 years old. With a bit of luck, it may be open.
It is believed there has been a chapel on this site since the 5th century, where it was a pagan place of worship. Festivals such as the Summer Solstice and Samhain (modern day Halloween) were thought to have been celebrated here.
Have your snack and take as many photos as you can before beginning your descent. It is worth pointing out that extra care should be taken on the way down, as the loose stones can make the descent a little tricky. Take your time.
Afternoon
Food and Beach
After having made your descent, maybe you're starving and in need of a hearty post-hike meal (and possibly a pint) I'd recommend The Tavern, just down the road. They do a brilliant burger and a great pint of Guinness-exactly what you need after the arduous hike.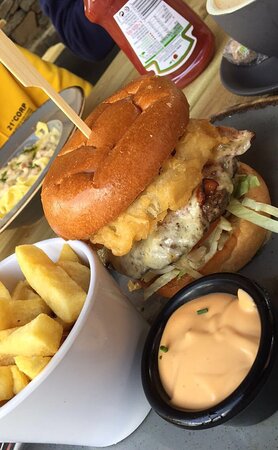 With a full belly and a tired body, why not go to the beach to relax for a while? Nearby is the beautiful Bertra Beach, a sand spit which juts out into Clew Bay. Go for a dip in the cooling waters to get the blood going again in your muscles, or just relax while taking in the turquoise waters and green islands of Clew Bay.
It is worth noting that at certain times of the year the tide comes in here completely. If it's high-tide, make your way towards Louisburgh and visit Old Head Beach, another gem of a beach where the tide does not completely come in.
For those of you who still have the urge to do something active, why not try your hand at Paddle Boarding? This beach provides this activity during the summer months. Have a look here for more information.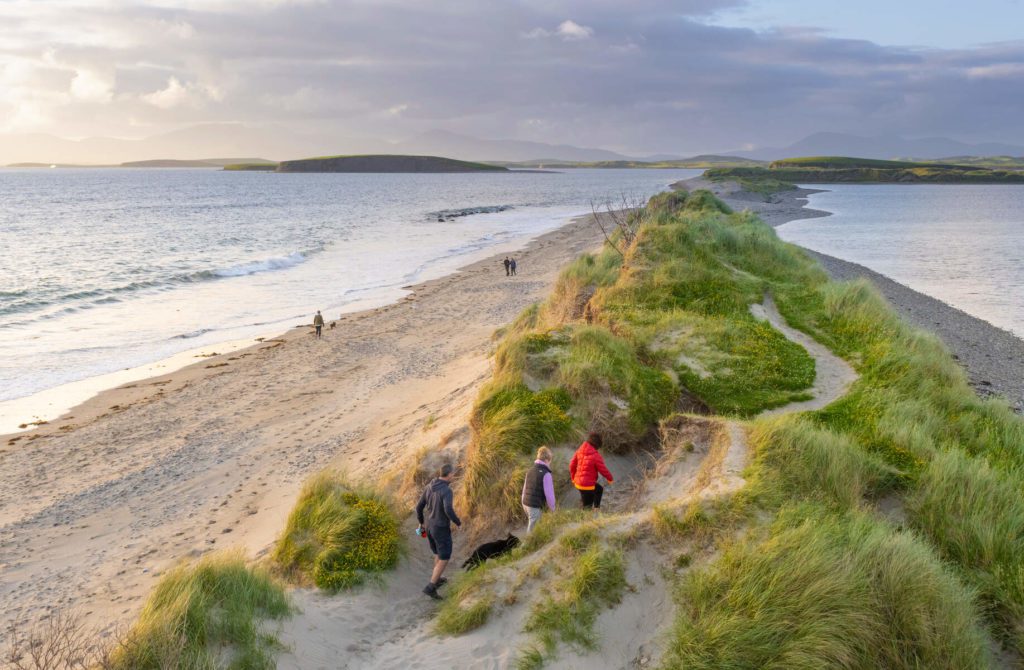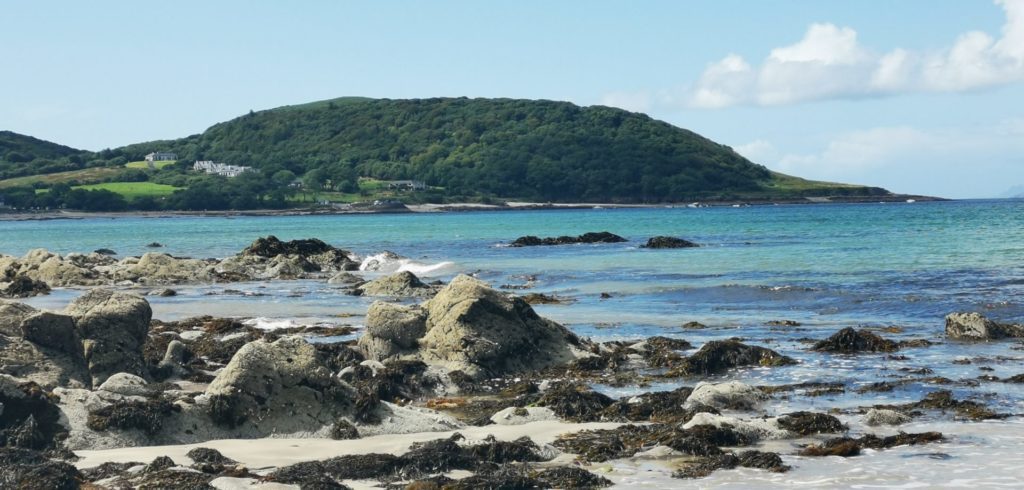 Evening
Sunset Cruise
Should we be feeling on the hungry side again, I would recommend going to The Helm restaurant, which is also located on the Quays. You'll need to be there early as you have an important boat trip ahead of you at 8pm.
They have some of the best seafood chowder, crab claws and muscles you're ever likely to eat, and I really mean that. In fact, the seafood here is locally sourced and all to die for. Check out their menu here.
This evening you are going out into Clew Bay to witness a jaw-dropping sunset, seals, John Lennon's island and the majesty of Clew Bay. This will be followed by a night of Irish music and great Guinness. What a way to cap off an epic day of adventure.
Westport Cruises run boat trips from the Quays on a daily basis until the end of October. Their Facebook page updates their schedule on a weekly basis. Check it out here. On a fine day in summer they will put on an extra sunset cruise, which leaves at 8 pm. This is highly recommended! The boat travels directly west and the sunset will leave you speechless. You can book a cruise directly here.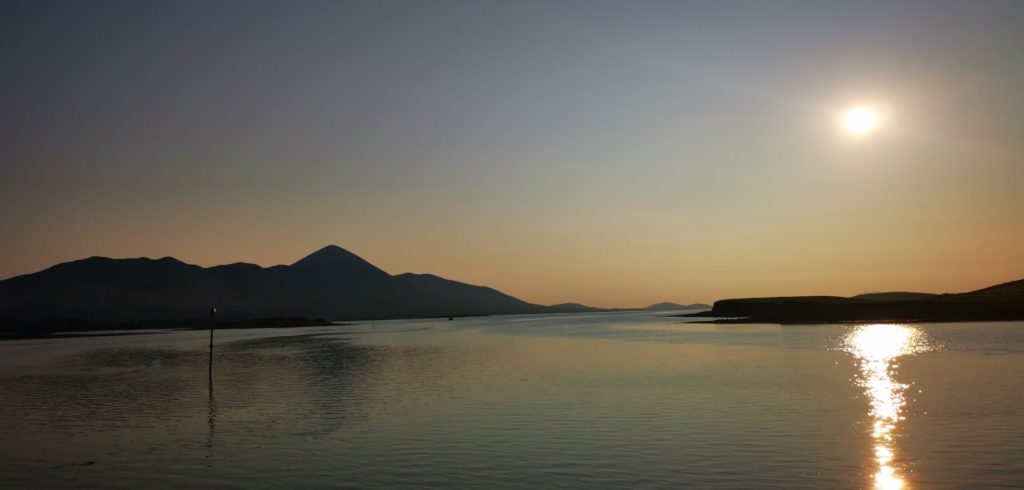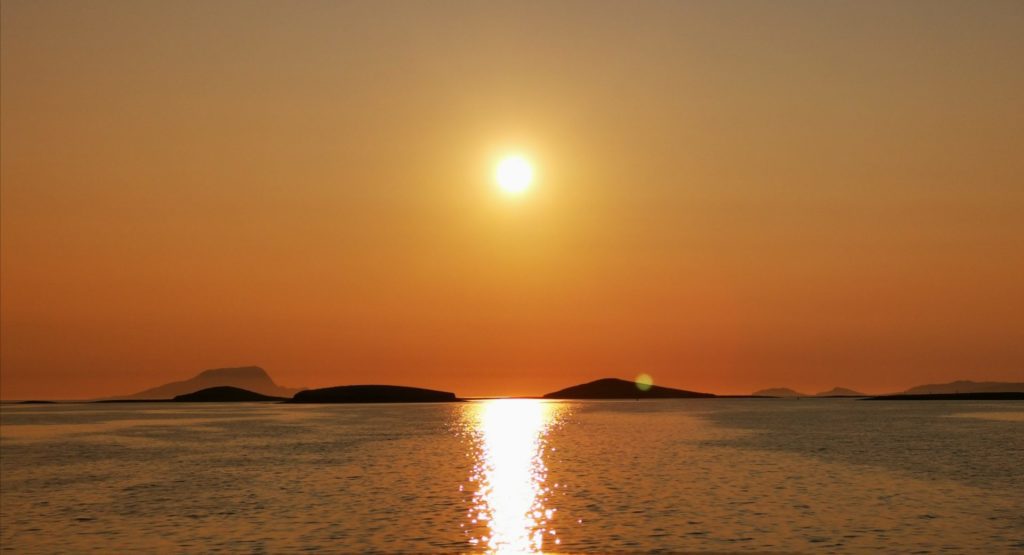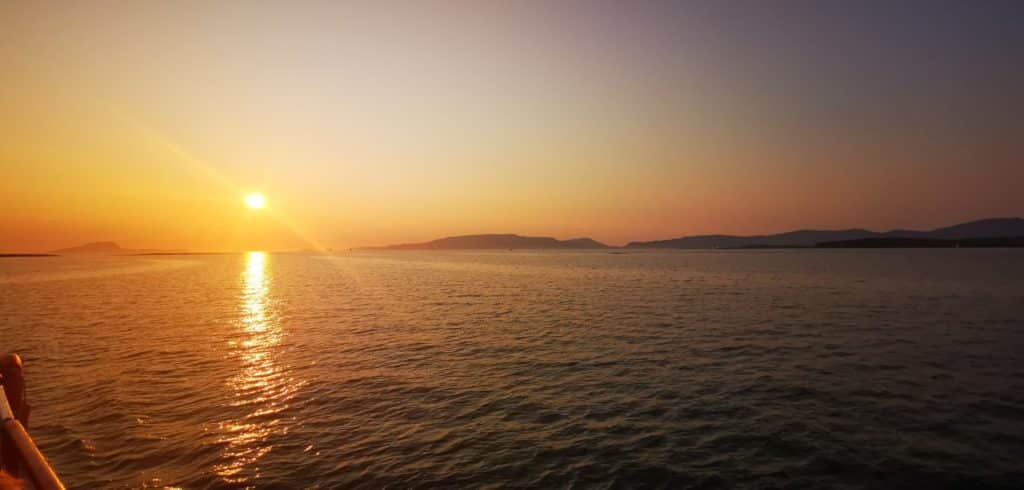 The tour itself is also really informative and you'll pass by a seal colony and the island which John Lennon and Yoko Ono purchased in 1967.
The guide will provide you with some great anecdotes about this island and its famous owners, along with interesting historical and geographical facts of Clew Bay.
The cruise will last approximately 90 minutes, so you'll be back at around 9.30 pm. Plenty of time to grab a few pints.
Night
Pubs, Pints and Craic
If you still have energy left, what better way to cap off an epic day of adventure than to visit to a lively pub in Westport? The Quays is located a few kms out of town so you'll have to make your way back in by car or taxi.
Once you're there, there are many options available. Matt Molloy's (which is owned by THE Matt Molloy of the legendary Irish band The Chieftains) is a great spot for a good music session. This place gets very busy during the summer, especially during the weekend, but midweek can be lesser so.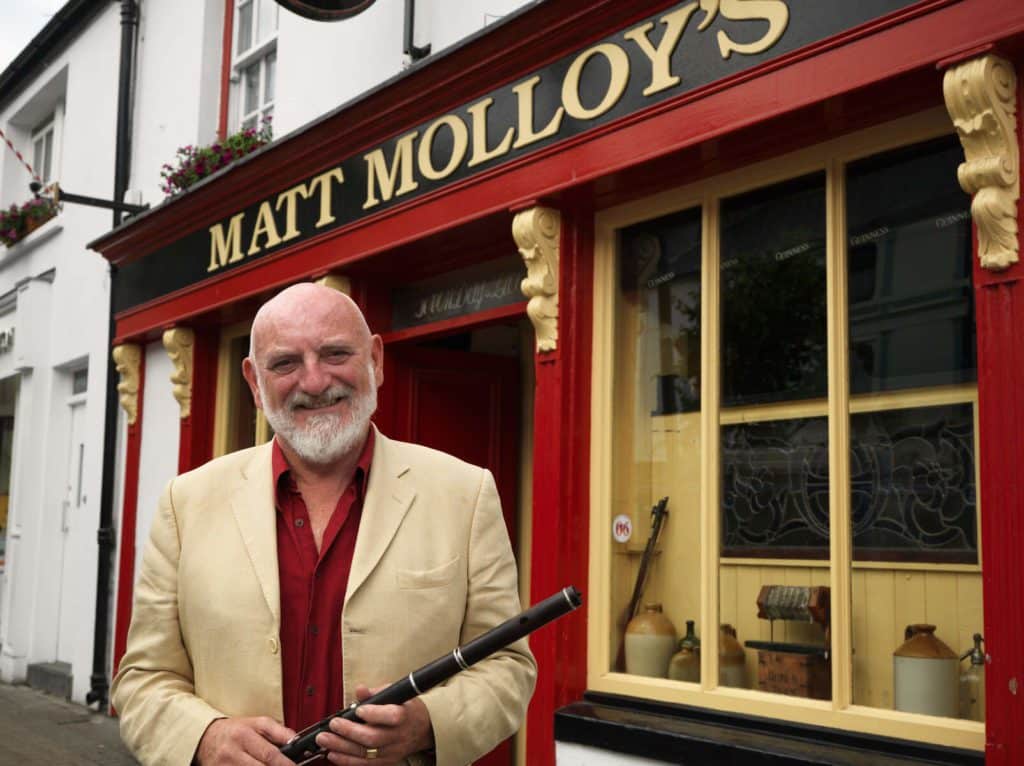 Next door is also a great pub for music, The Porterhouse. If those places are packed, Cobbler's Bar at the Octagon has a trad session on a Thursday and Sunday night. An File, directly across from the Town Hall theatre, also hosts a good session at the weekend, and is generally a quieter option than the pubs mentioned above.
If you want a more lively scene, then the Clock Tavern at the Octagon frequently has live bands or DJ sets.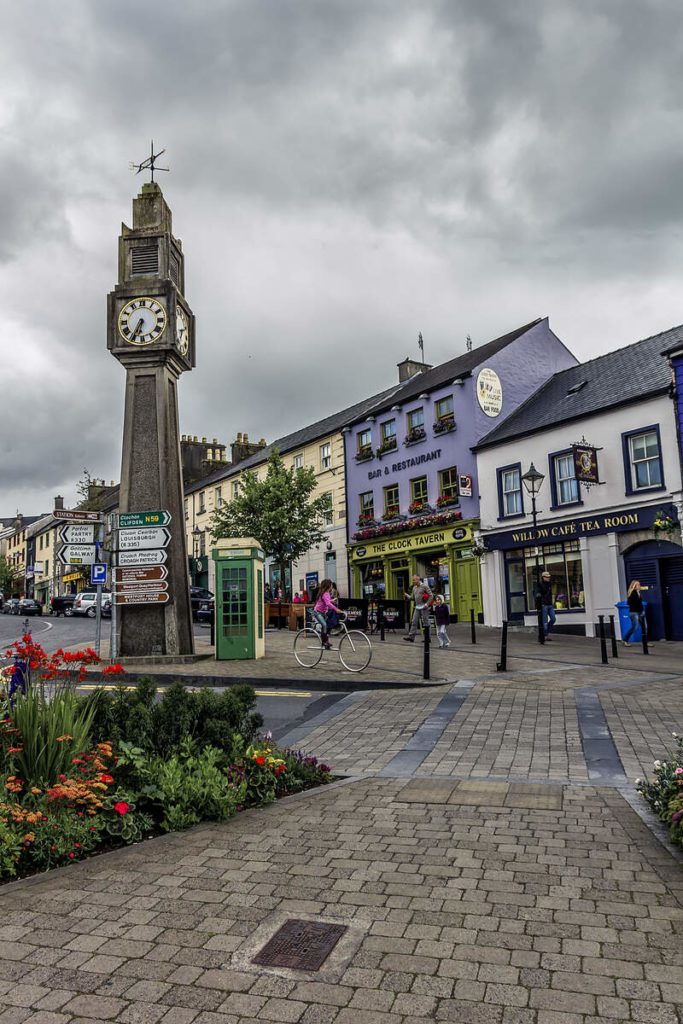 At the end of this day, you'll be certainly fit for bed. You'll look back at this day with fond memories of epic scenery, peaceful beaches, great food and great pubs. And that's really the essence of Westport, or indeed anywhere along the west coast of Ireland.
There is so much to explore, be it on a mountain summit or on a beautiful beach, and alll of these coastal towns have a huge amount to offer.
Should you be unfortunate and get a day full of rain, check out our 16 things to do on a rainy day in Westport.
Note: We also have a full guide to Westport, should you be planning on staying longer. Click here.
Other Outdoor Activities in Westport
The Great Western Greenway
The Greenway is a 44 km long cycling and walking/running trail that starts in Westport. It follows the coast all the way to Achill Island, passing through the beautiful villages of Newport and Mulranny along the way. It offeres some of the best views in Ireland and experiencing these vistas from your bicycle offers so much more than sitting in your car. You can rent bicycles in Westport. Put aside a full day for the cycle.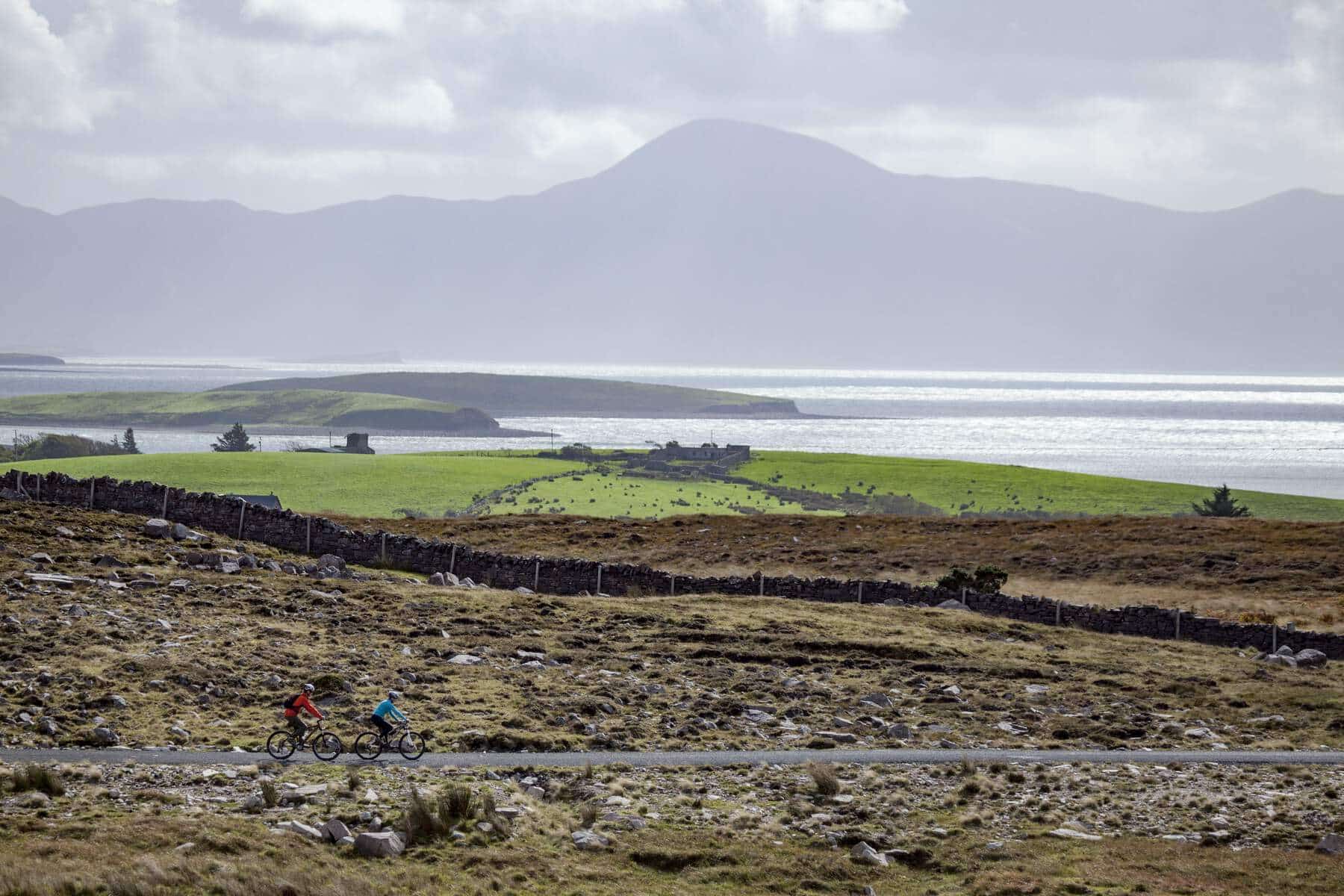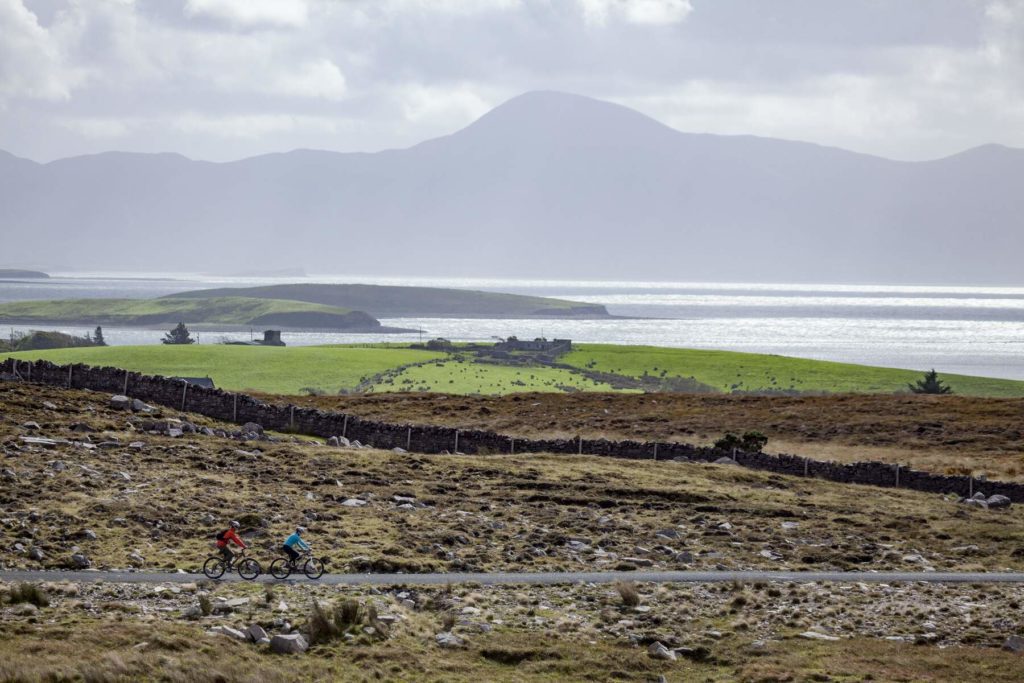 In our opinion, the stretch from Newport to Mulranny is the most scenic (shown in image above), where on one side you will pass thorugh mountain valleys, and on the other you'll witness Clew Bay, its islands and the vastness of the Atlantic Ocean in the distance.
Here, you can rent a standard bike. Here you can rent an electric bike. Our recommendation is save some money and go for the standard bicycle, as the Greenway is mostly flat, with no major climbs.
The Adventure Islands
For those of you adrenaline junkies out there. You will have to make your way to Rosmoney Pier, where you will then be brought by boat to one of the phenomenal glacial islands of Clew Bay. Other facilities available are seaweed baths and a hot tub to revitalise after your adventures in Clew Bay.
This adventure centre would be ideal for one of those days where the weather is uncertain and not too windy. Rates start at €60 for adults, excluding seaweed baths and the likes, and those under 16 pay €50. Definitely recommended for those of you after that rush and need to be actively involved in the water. Check out here for more details.
Final Thoughts
If you haven't booked any accommodation in Westport yet, here is where we reckon you should stay.
Here is also a direct link to all accommodation in the town of Westport, to save you the hassle.
I hope you'll give this day a go. It's certainly doable and one you can really knock off your Ireland bucket list. Please let us know how you got on or if you have any other tips for a perfect action-packed day in Westport. Slán Go Fóill!