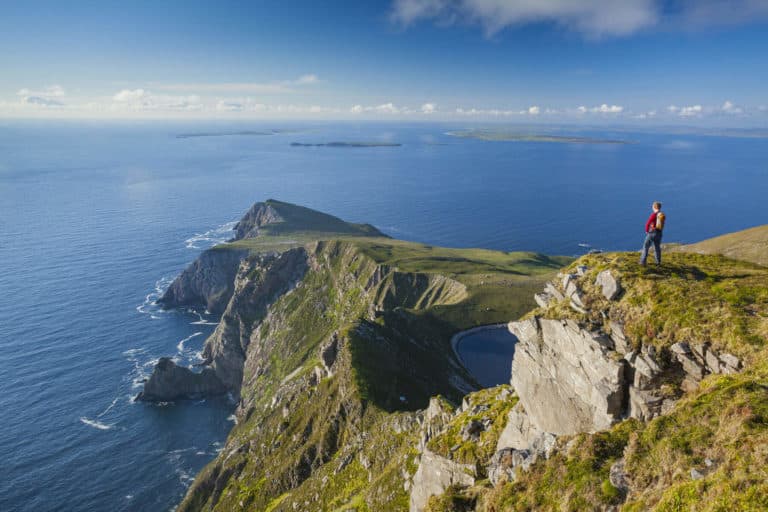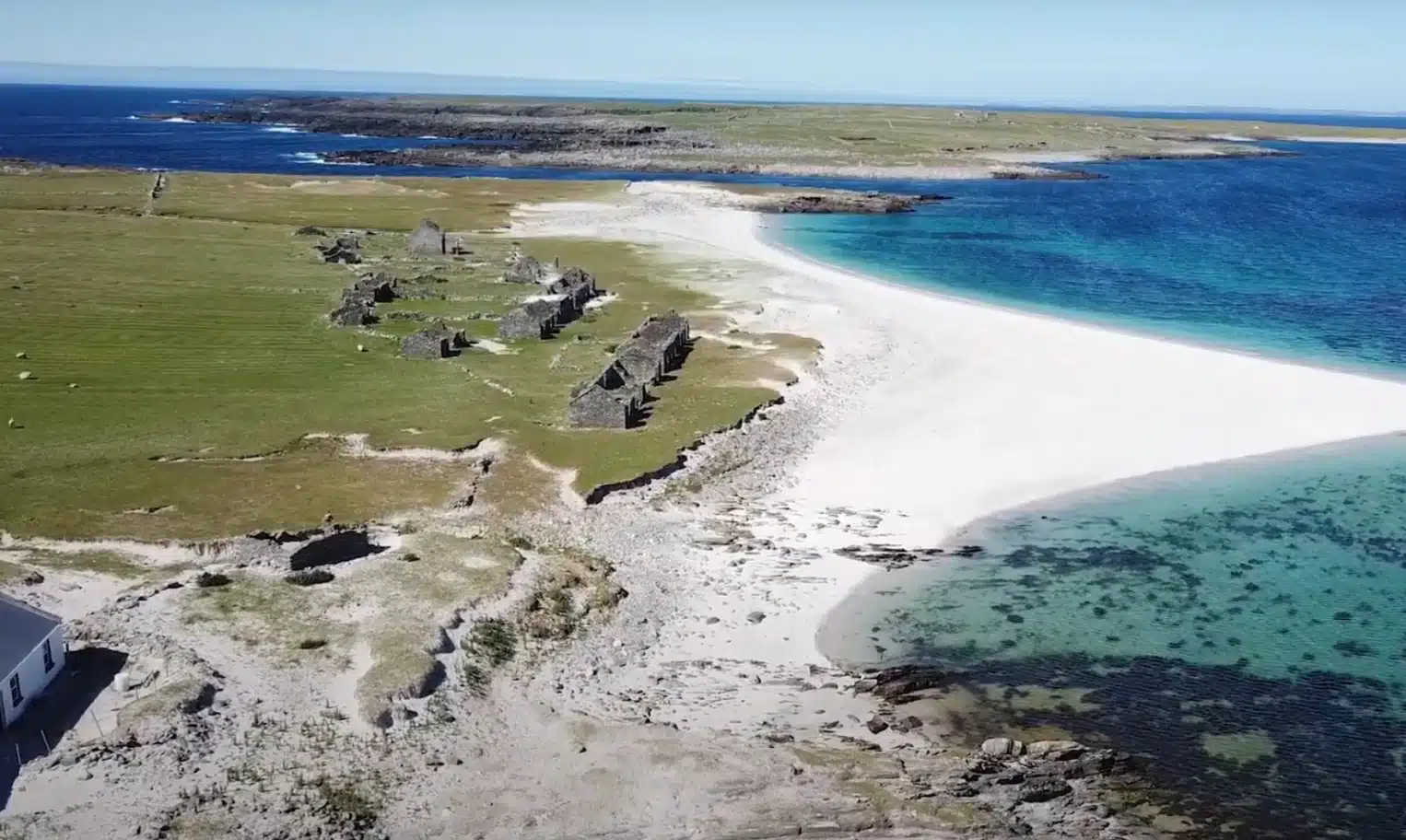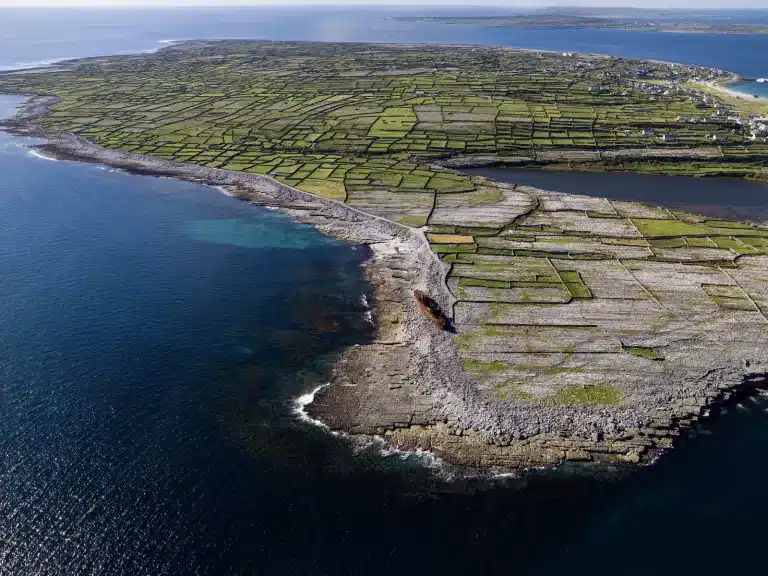 The west coast of Ireland is known the world over for its wild and majestic scenery. From its soaring cliffs and expansive beaches to its sheltered harbours and bays, there's an abundnace of landscapes to explore.
To top it all off, the islands off the west coast of Ireland offer visitors a unique glimpse into the Ireland of old. Tradition on these islands remains strong and life ticks by slowly.
Throw some jaw-dropping natural scenery into the mix and you're guaranteed to come back with impressions to last a lifetime.
As an Irishman who has visited most of the islands off the west coast of Ireland, I'm going to give you my rundown on what islands you should put on your shortlist for you trip to Ireland.
But first here's a rundown of all the islands you can reach from the mainland, by ferry or car (via bridge)
Islands off the Coast of Ireland you can visit
The list below includes all of the islands you can visit from the Irish mainland.
The larger inhabited islands such as the Aran Islands off Galway can be visited year round, but the smaller unihabited islands such as the Inishkeas off Mayo or the Skelligs off Kerry will only run during the summer months (weather dependent)
Donegal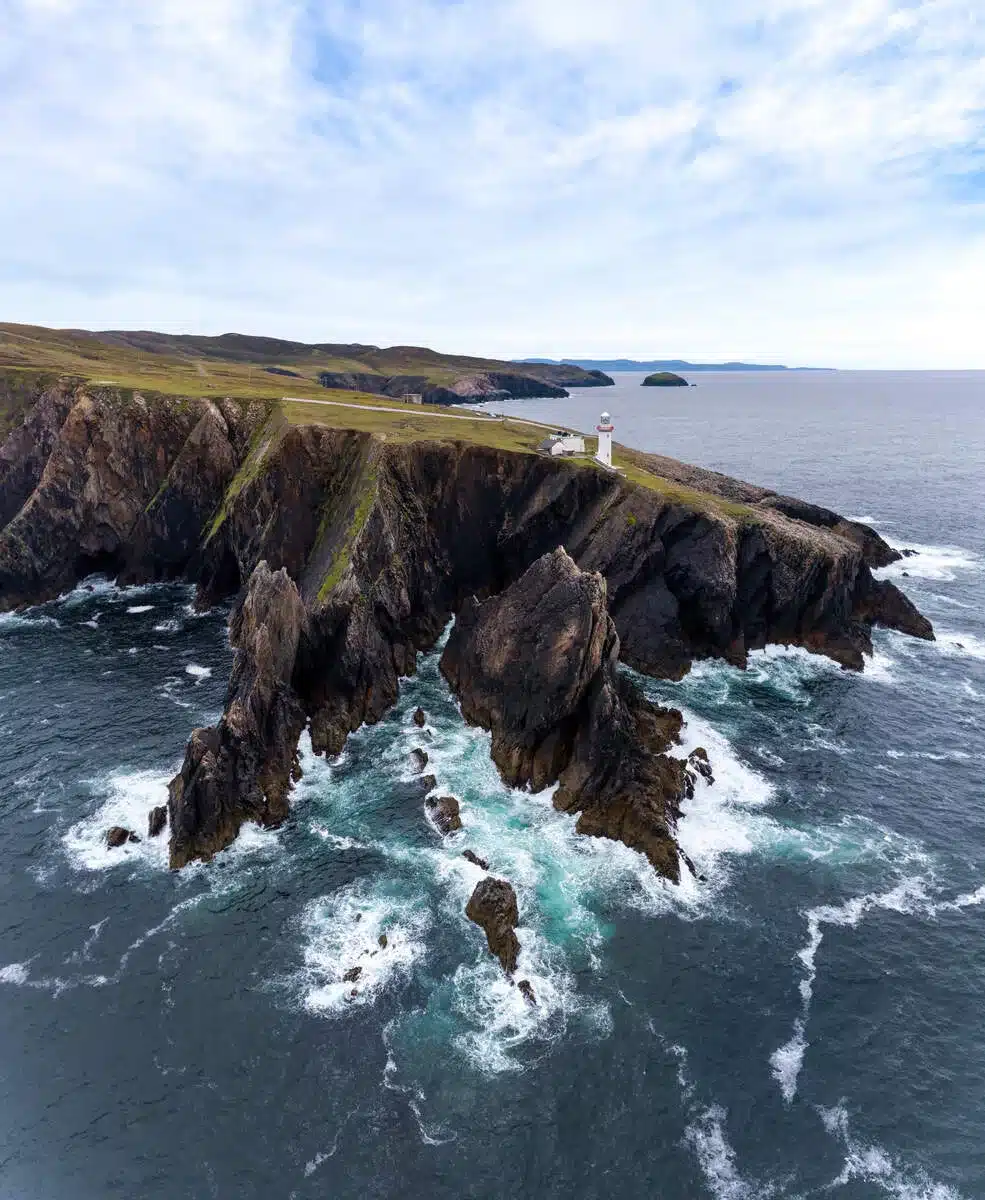 Arranmore
Tory
Cruit
Gola
Owey
Inishbofin
Sligo
Mayo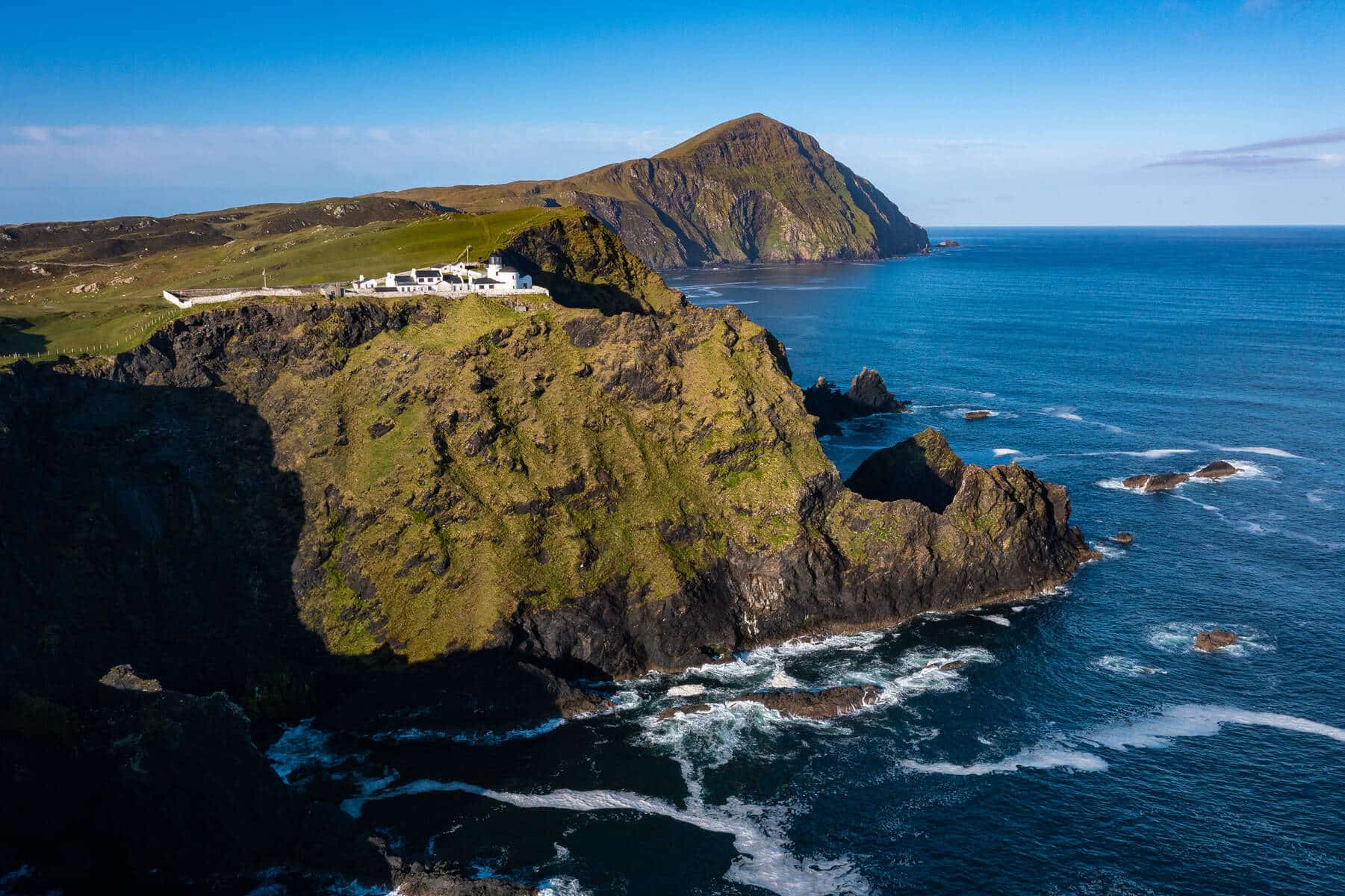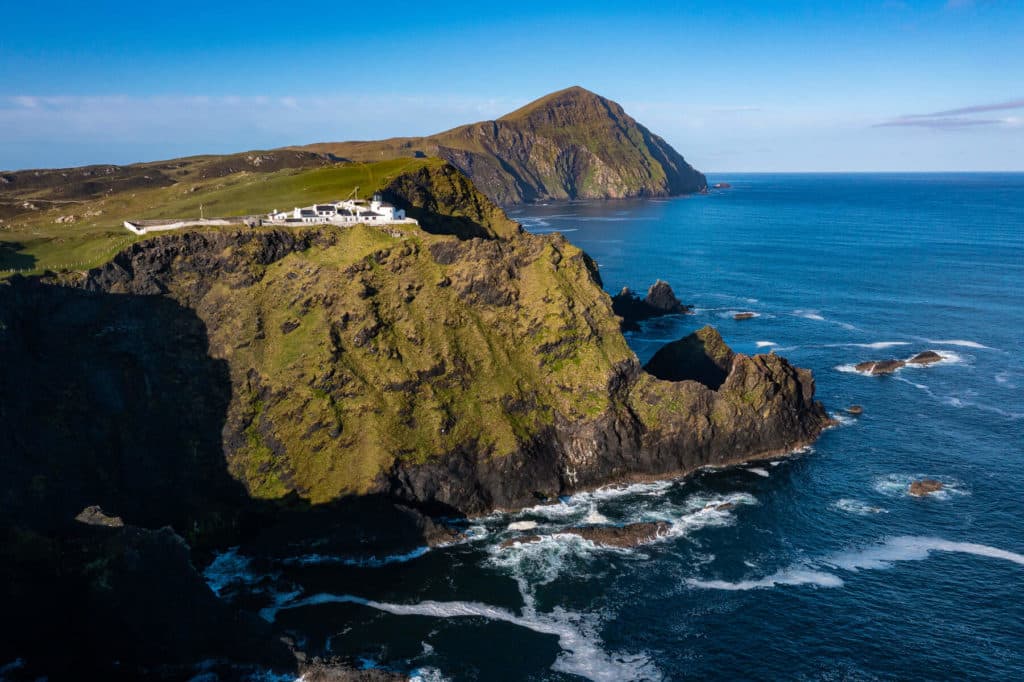 Achill (via bridge)
Inishturk
Clare
Inishbiggle
Inishkea
Collanmore
Achillbegg (access by local arrangement at Cloughmore)
Galway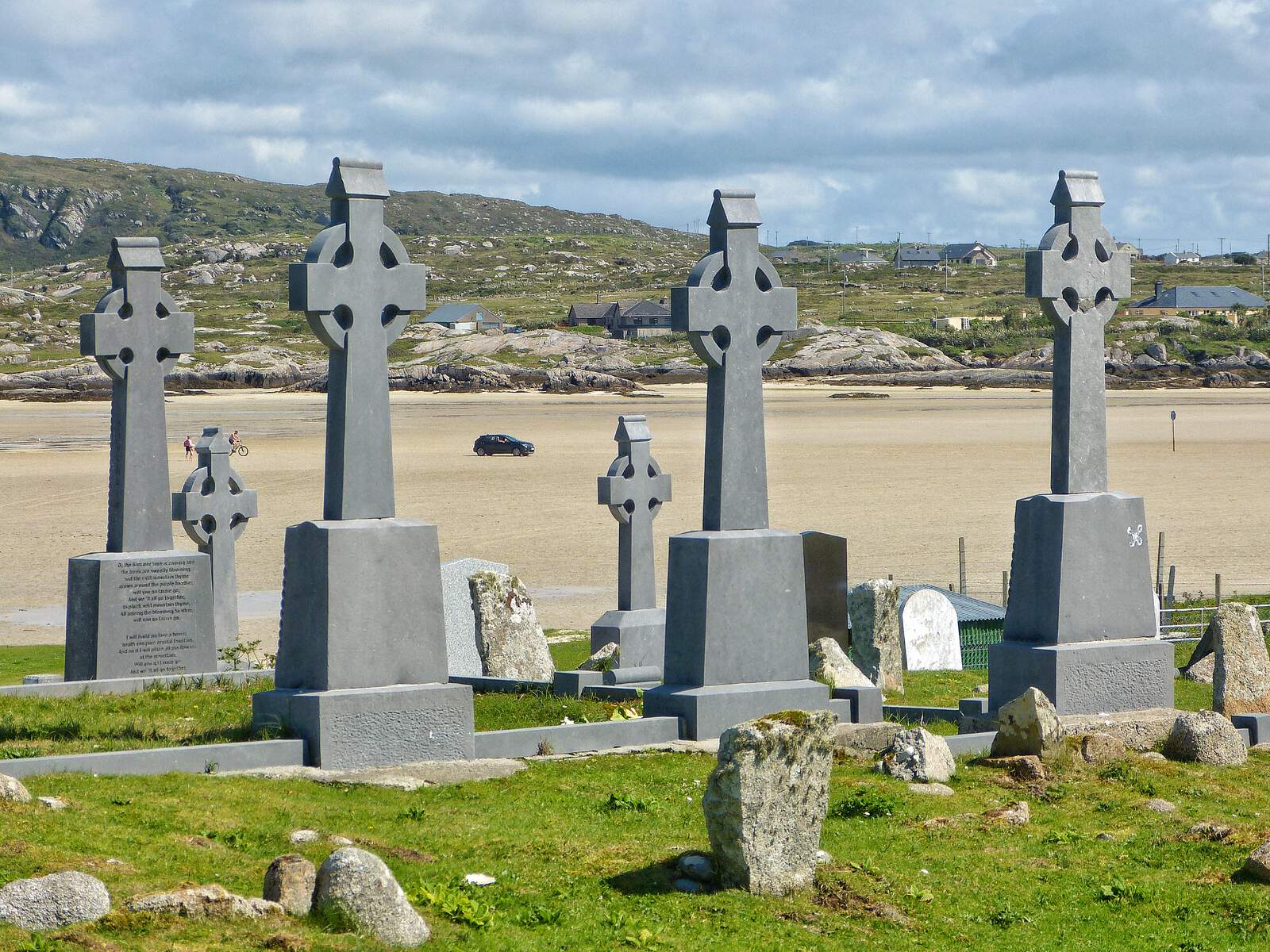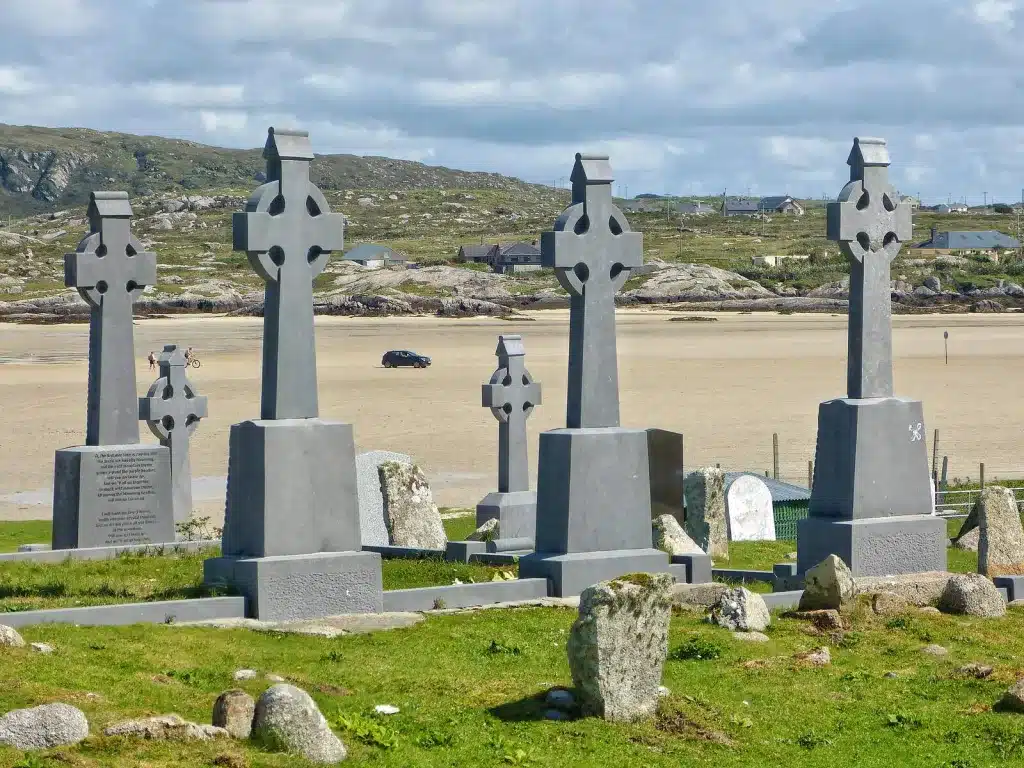 Inishmore
Inishmaan
Inisheer
Omey
Inishark
Inishbofin
Clare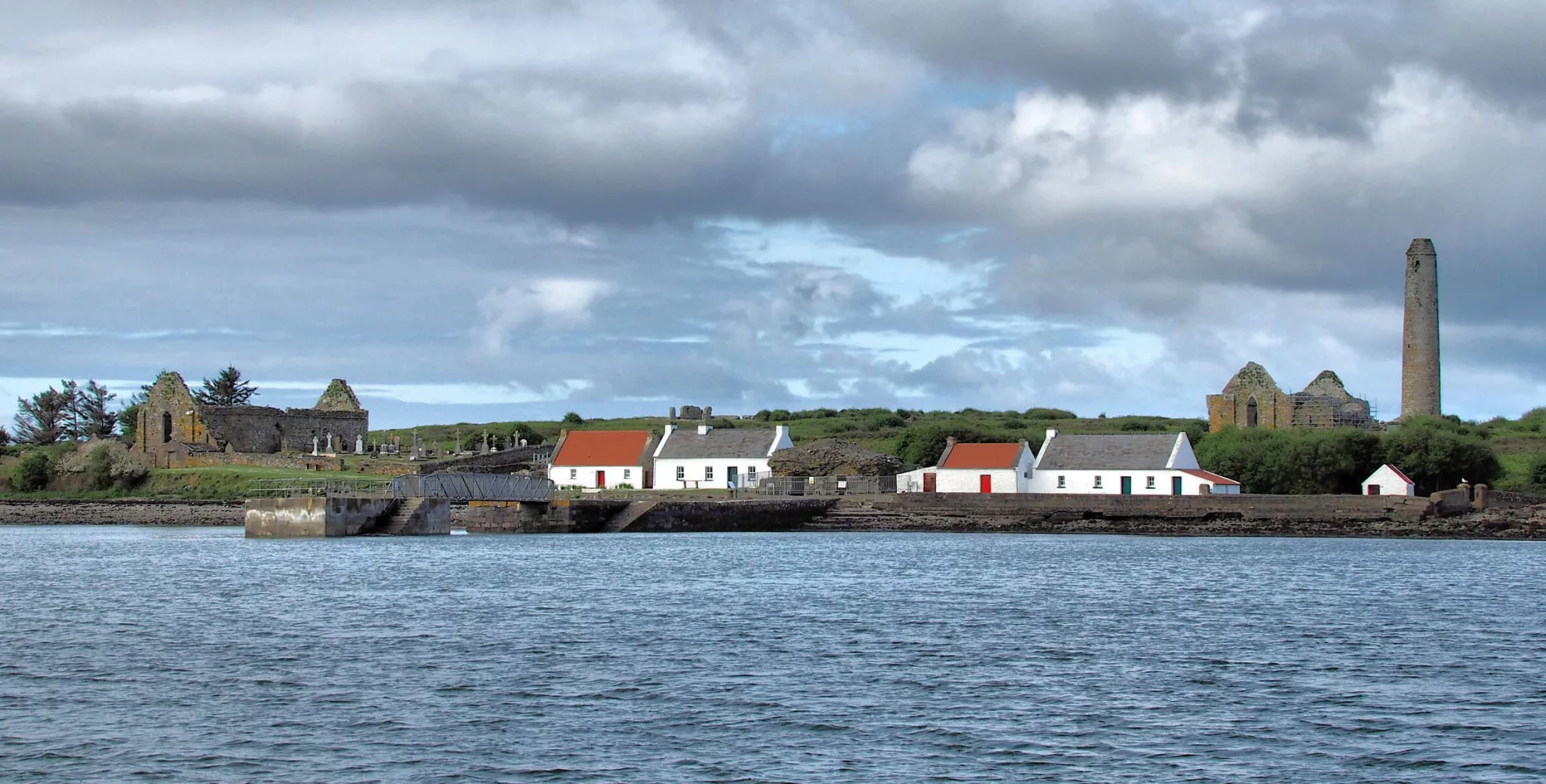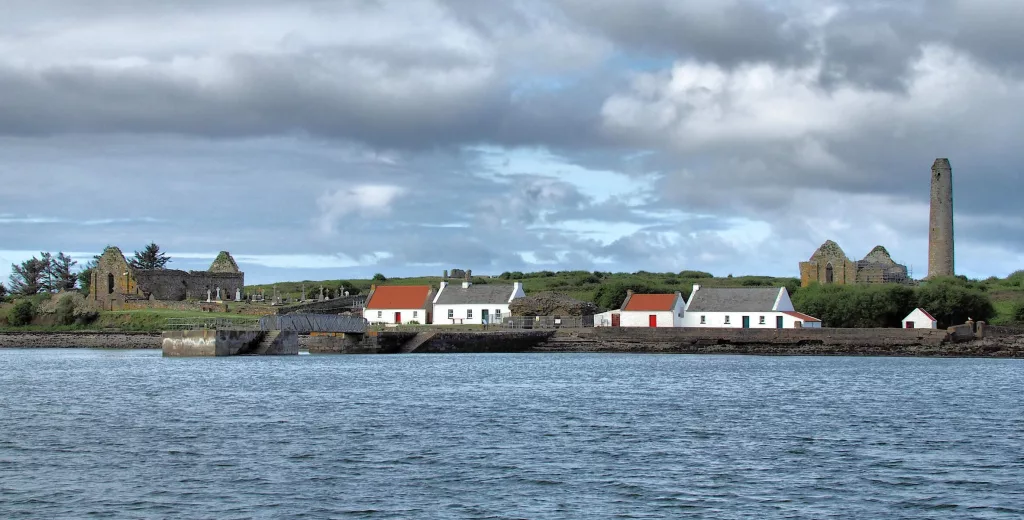 Kerry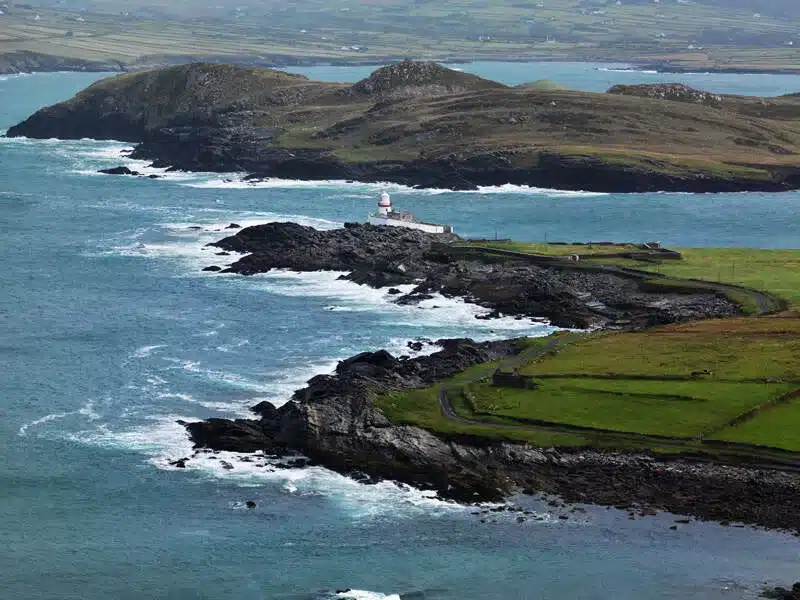 Skellig Michael
Blasket
Valentia
Abbey Island (reachable by foot)
Cork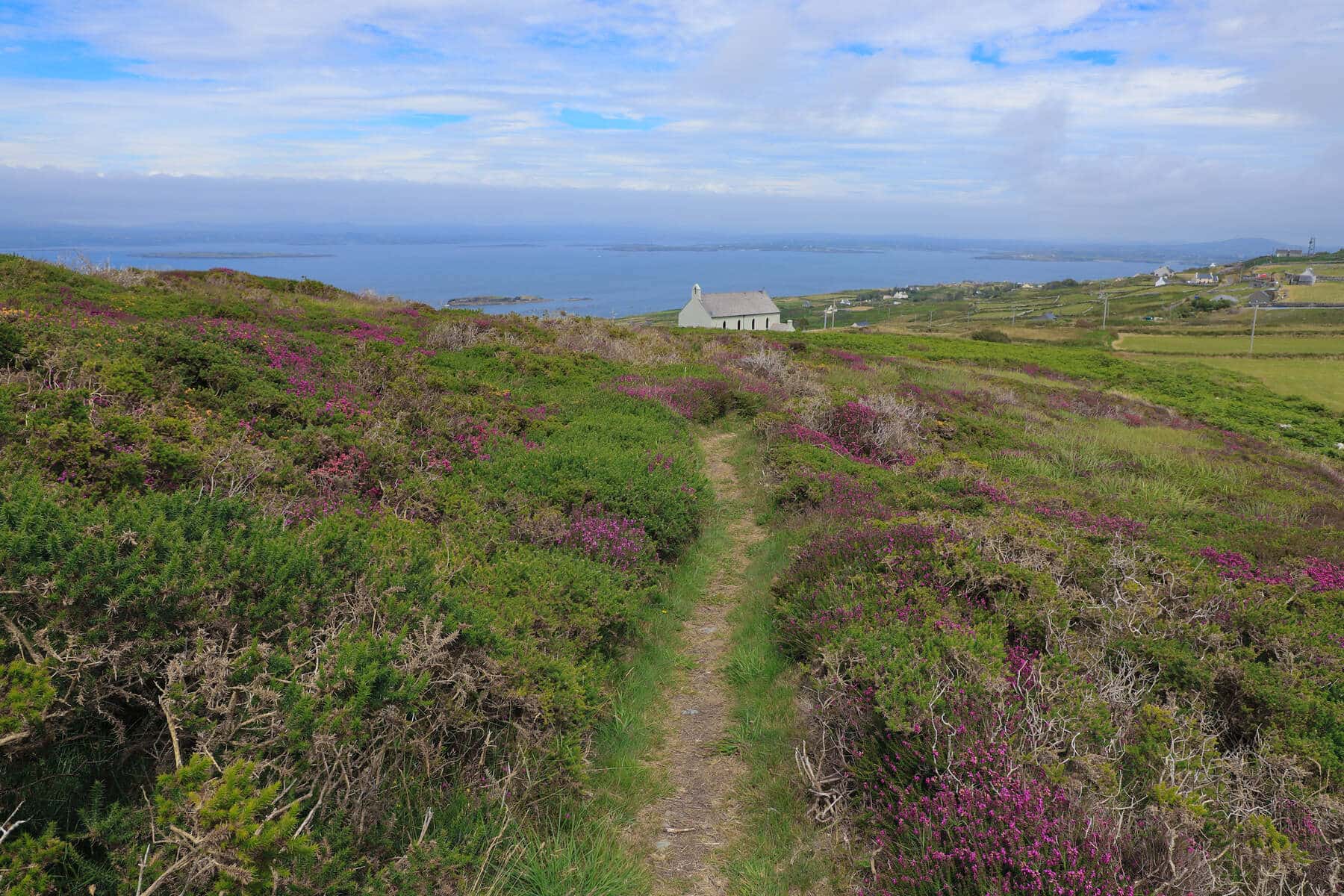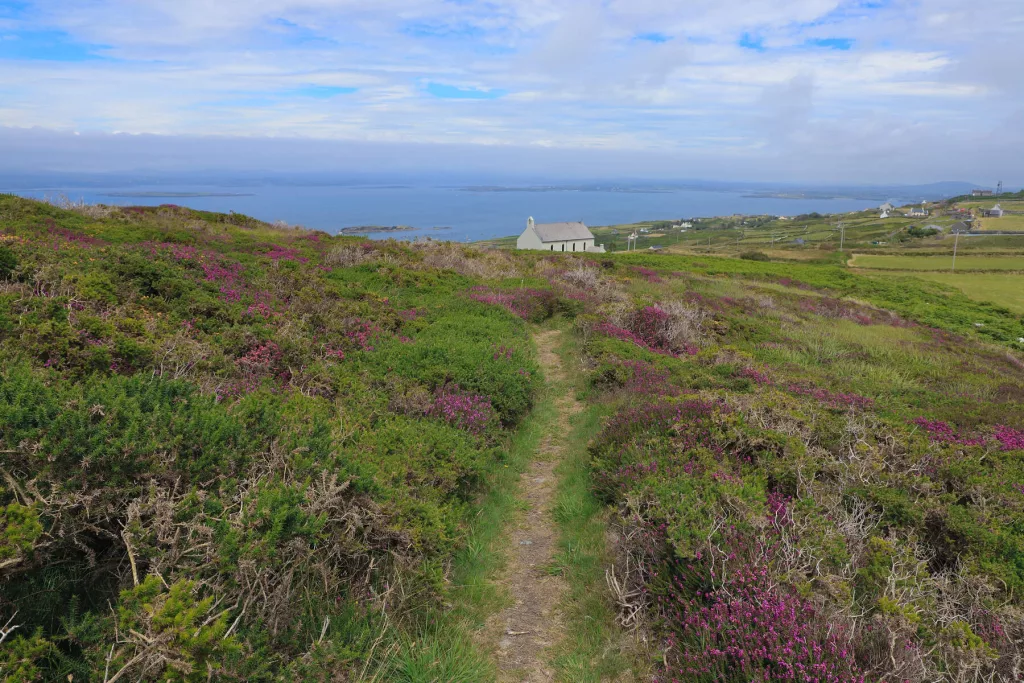 Sherkin
Cape Clear
Bere
Garnish
Dursey
Spike
Whiddy
Long
Heir
Our Favourite Islands off the Coast of Ireland
Creating a 'favourites list' is always subjective, but the ones we are about to show you are based solely on our experiences of having visited them.
Our choice is based on many factors, for example: scenic beauty, culture & history, activities available on the island and places to stay/eat/drink.
So let's get into it!
Achill Island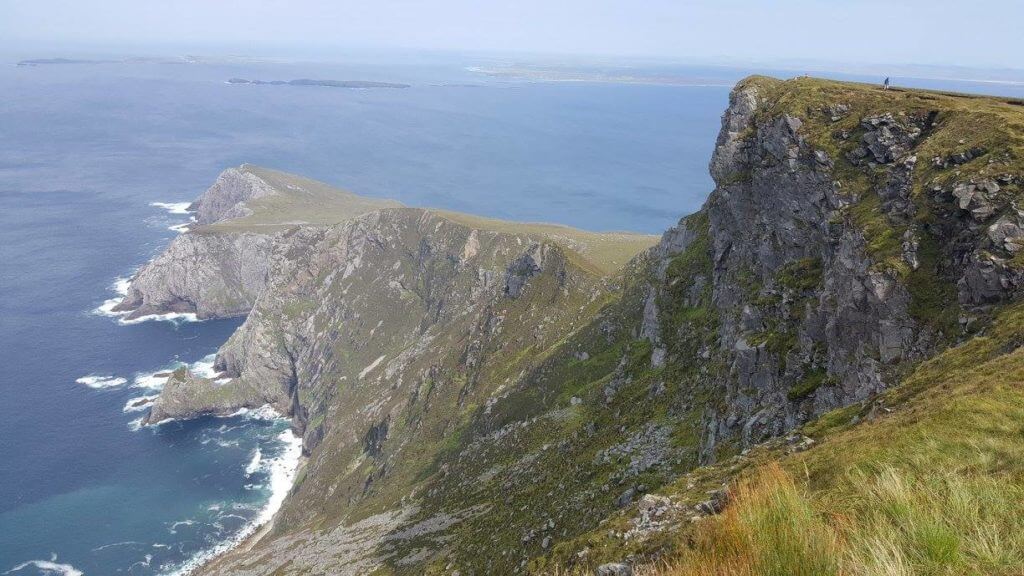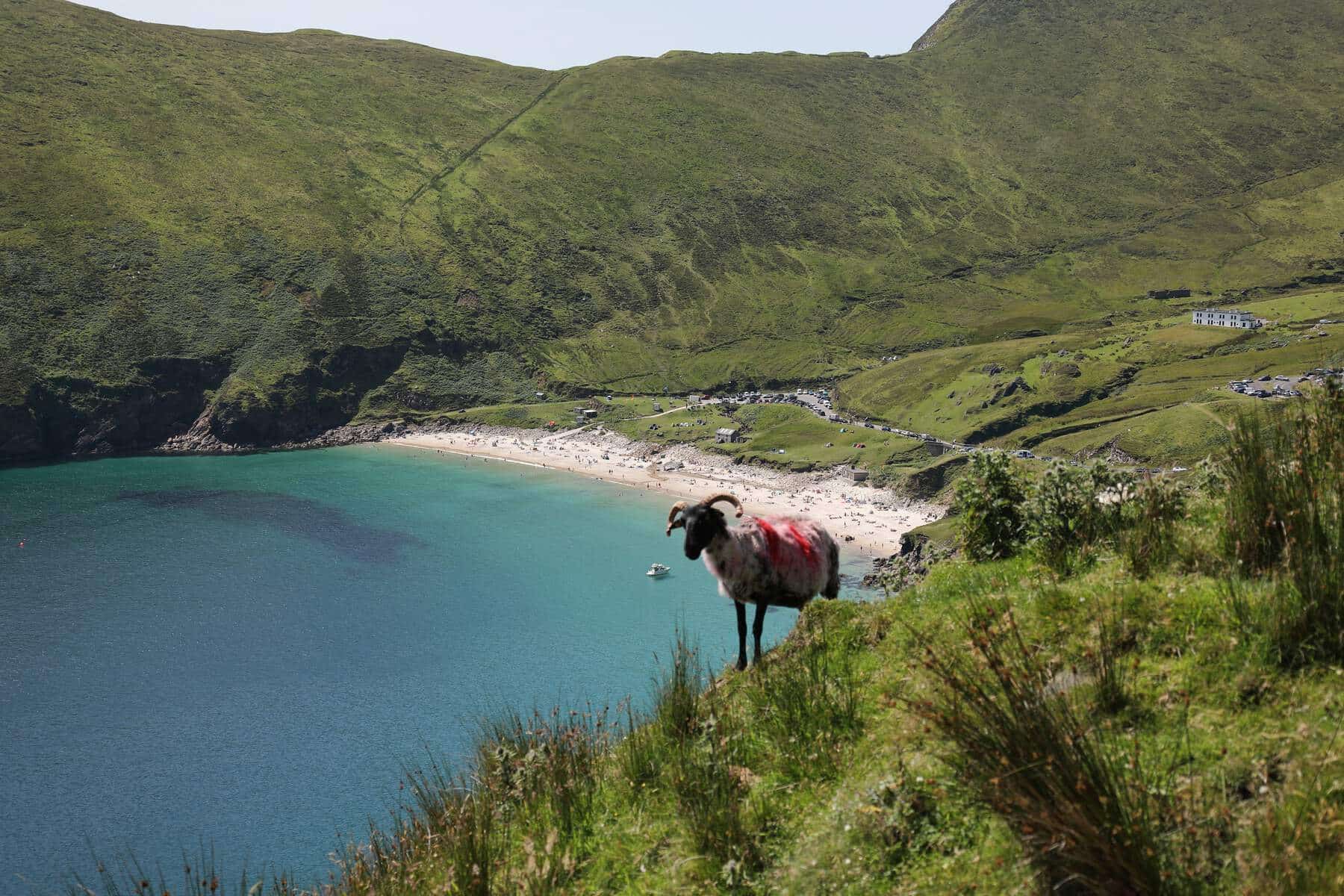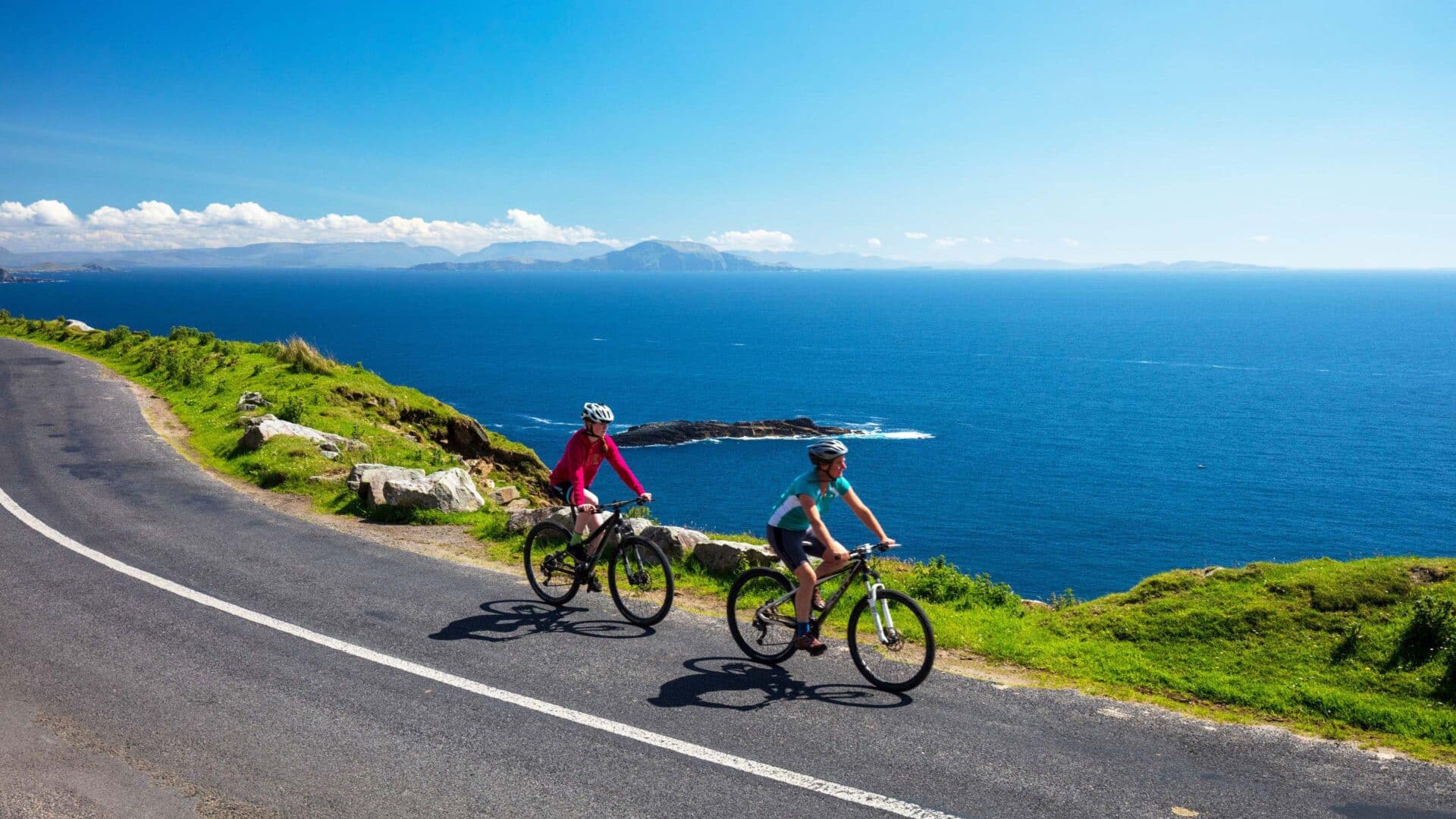 Ireland's largest offshore island, situated off the coast of Mayo, this gem is one of Ireland's true landscape highlights. Everything here is on an epic scale, from the highest cliffs of Croaghaun, to one of the world's great beaches at Keem.
For those who appreciate coastal, cliff and mountain scenery, a visit to Achill is a must. It's also a magnet for outdoor enthusiasts, attracting surfers, hikers and cyclists from far and wide to marvel at the natural surroundings.
Achill (along with the Aran Islands) is the busiest of Ireland's islands and has a great choice of accommodation on offer. Here's a detailed guide to where to stay. You'll also find some excellent restaurants and craft shops, some of many things to do on the island.
How to get to Achill Island
It's Ireland's most accessible island as is joined to the mainland by the Michael Davitt Bridge. Driving distance is approximately 40 minutes from the wonderful town of Westport.
You could also cycle to Achill along the Greenway, Ireland's largest defined cycling lane, from Westport via the picturesque village of Mulranny.
The 3 Aran Islands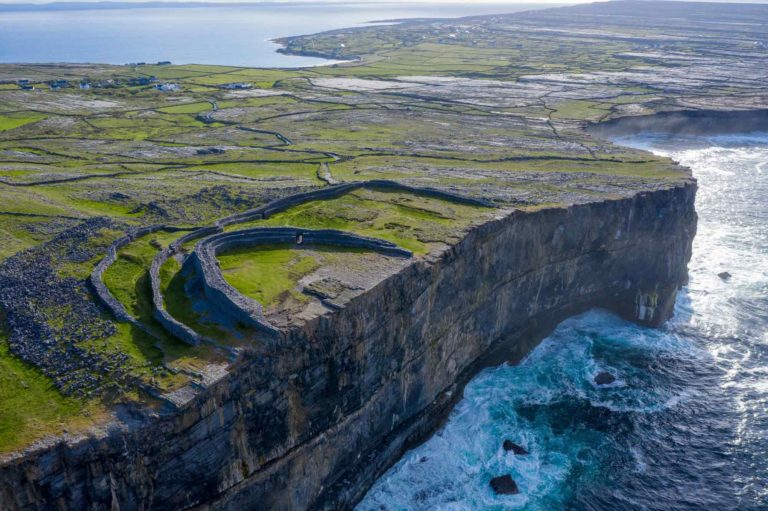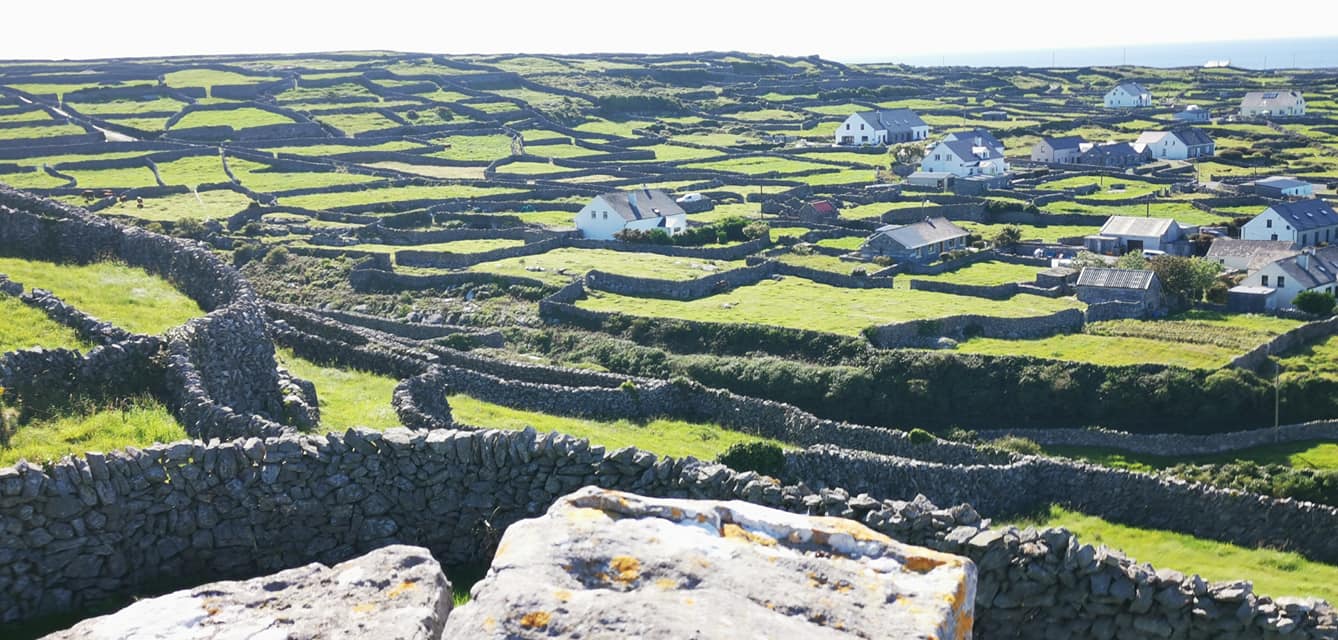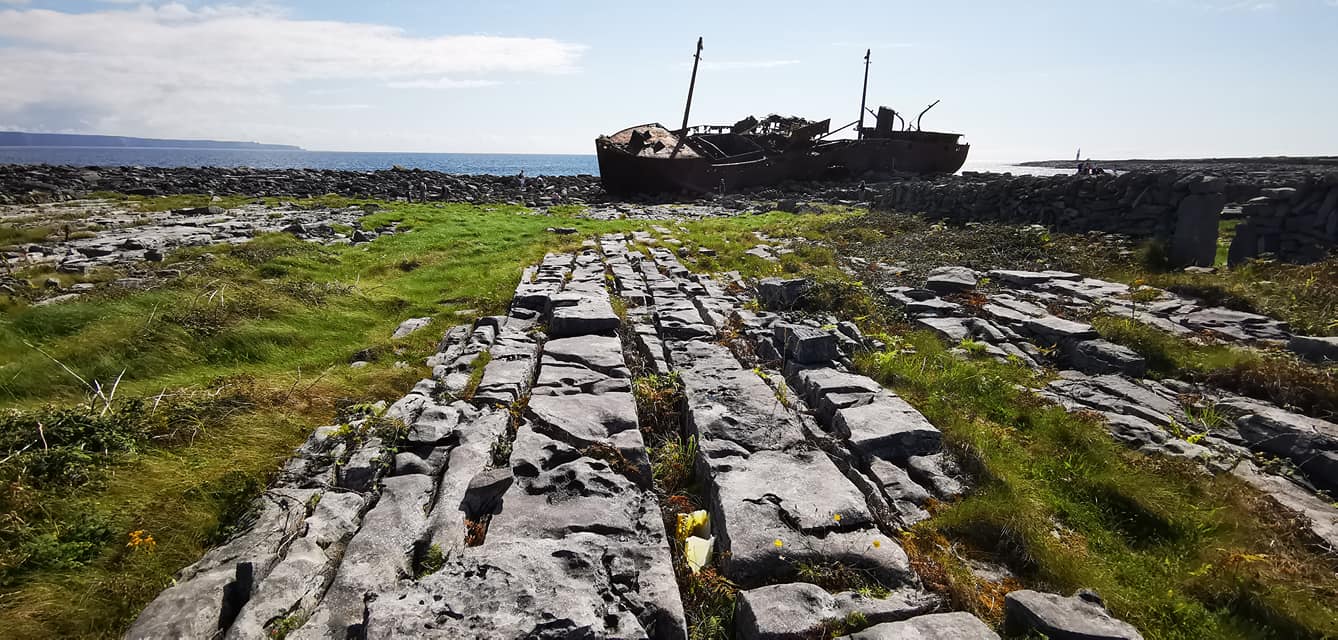 images via Failte Ireland/sweetisleofmine.com
The famous Aran Islands are located off the coast of County Galway, at the entrance to Galway Bay.
A myriad of dry stone walls await you, along with some some beautiful coastal scenery, green pastures and vast areas of barren karst landscapes.
There are 3 islands in total: Inishmore, Inishmaan and Inisheer…yes, you've guessed it: Inish means 'island'. Inishmore= 'large island', Inishmann= 'middle island', Inisheer= 'eastern island'
Which one to visit?
Inishmore is the largest, and gets the most crowds, expecially during the summer months, but it is spectacular. The prehistoric cliff-top fort of Dun Aonghasa is a must-see. We highly recommend renting a bike to get a proper feel of the island, as the island is too large to discover by foot in a day.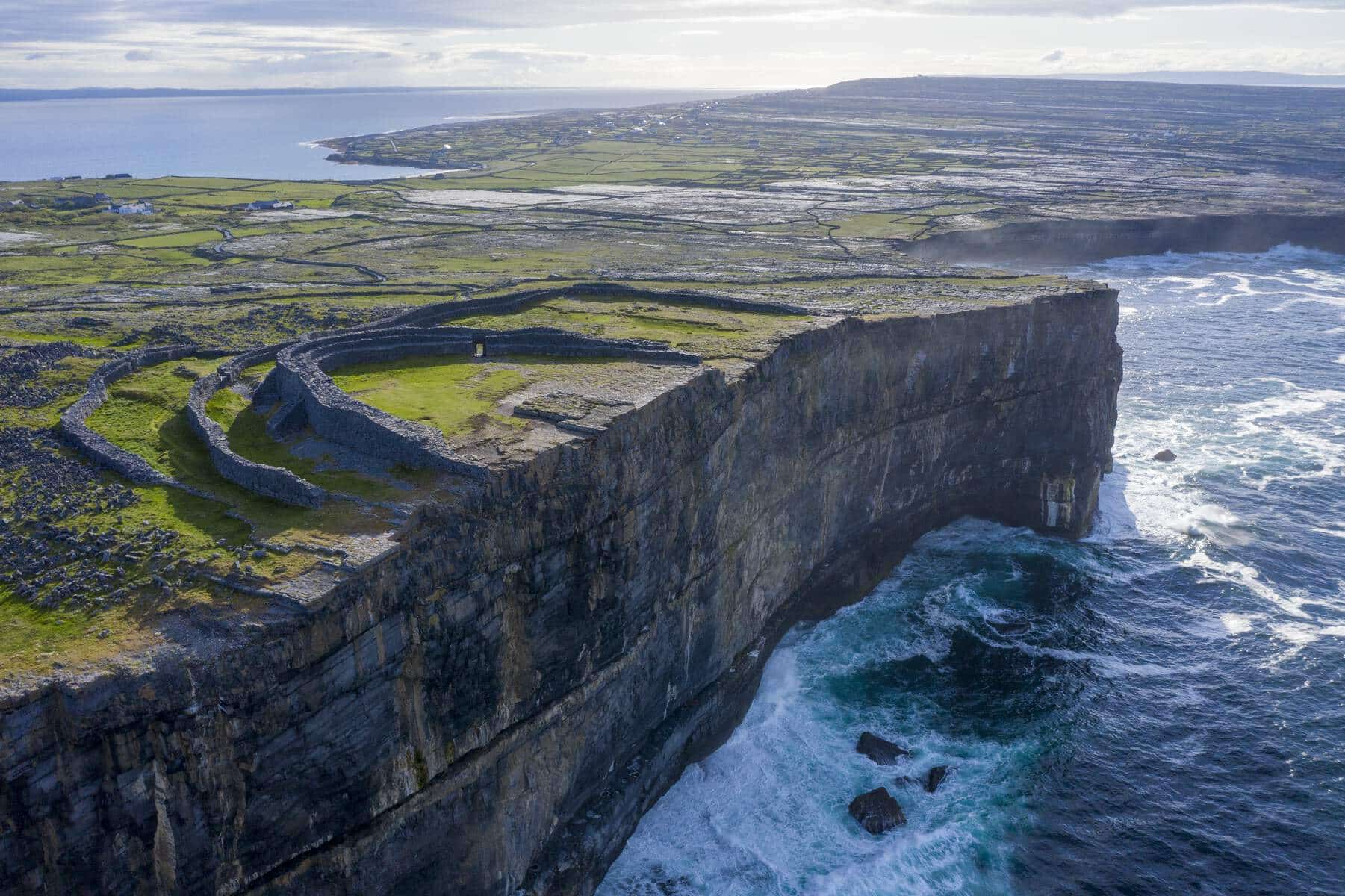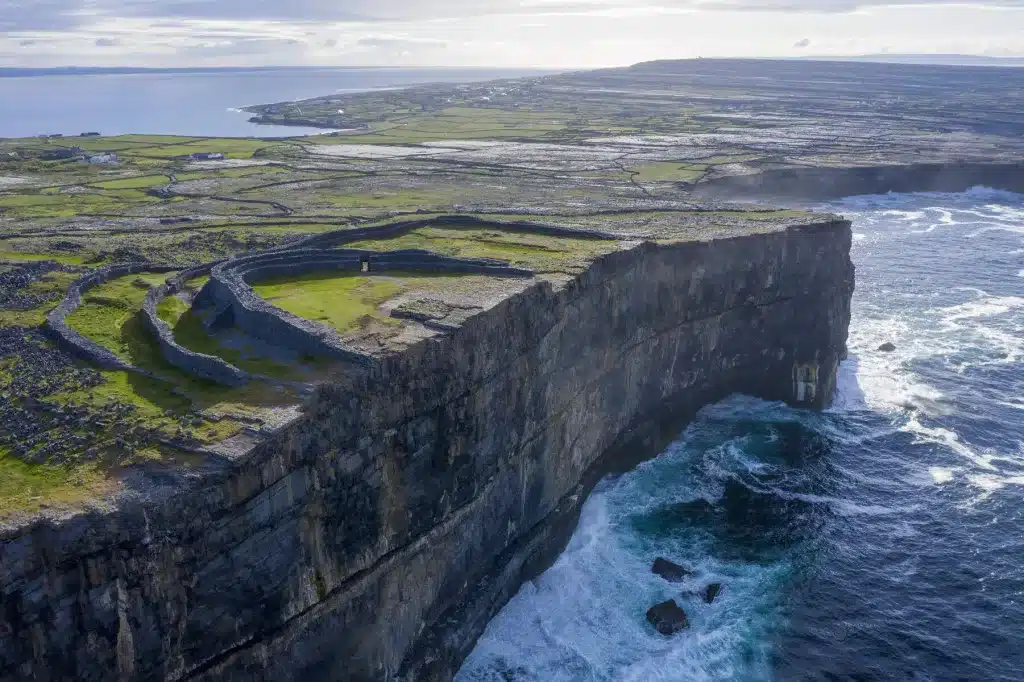 Inishmaan, or the 'middle island' is the quieter of the 3, and people are drawn to it for this exact reason. There are plenty of wonderful historic sights, beaches and looped walks to explore, all backed by a labyrinth of stone walls.
Inisheer, the smaller one, also gets quite popular on a sunny day and it's easy to see why. The trip from Doolin passes by the iconic Cliffs of Moher and setting foot on the island is a great experience.
O'Brien's Castle sits proudly on the highest point of the island and the views from this vantage point are special. Rent a bike and you'll get to experience the island's true highlights, including the mind-boggling shipwreck of the MV Plassy, which was washed up on the shore after a storm in the 1960s.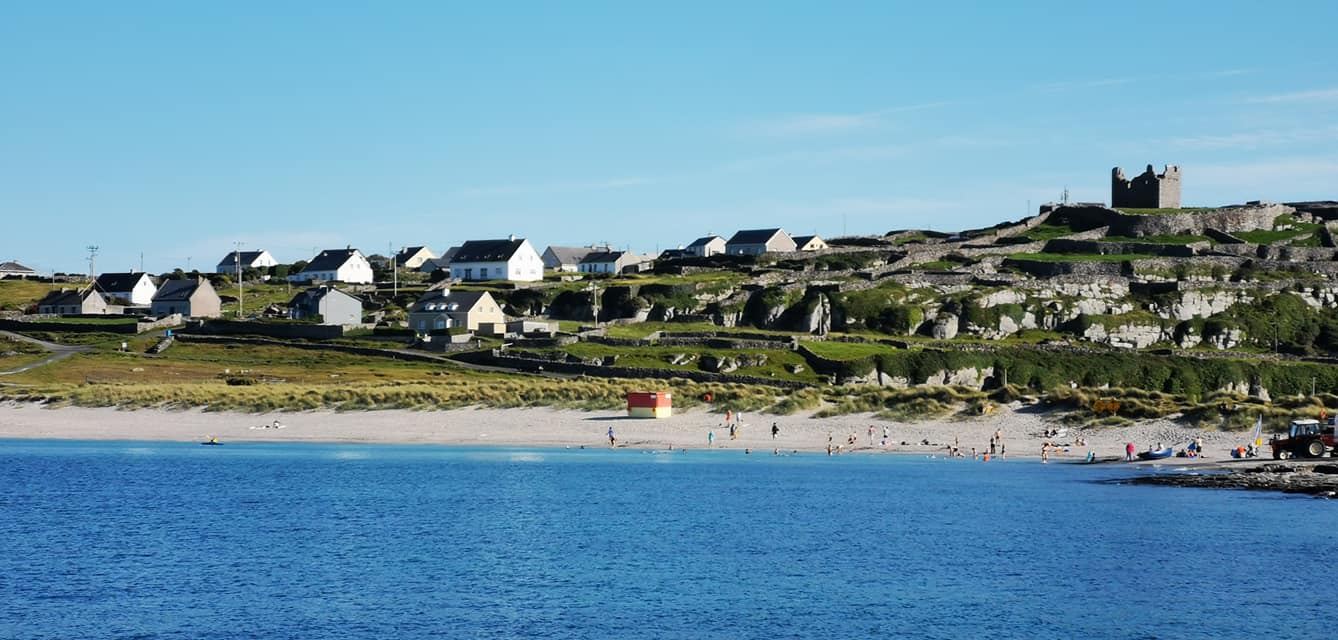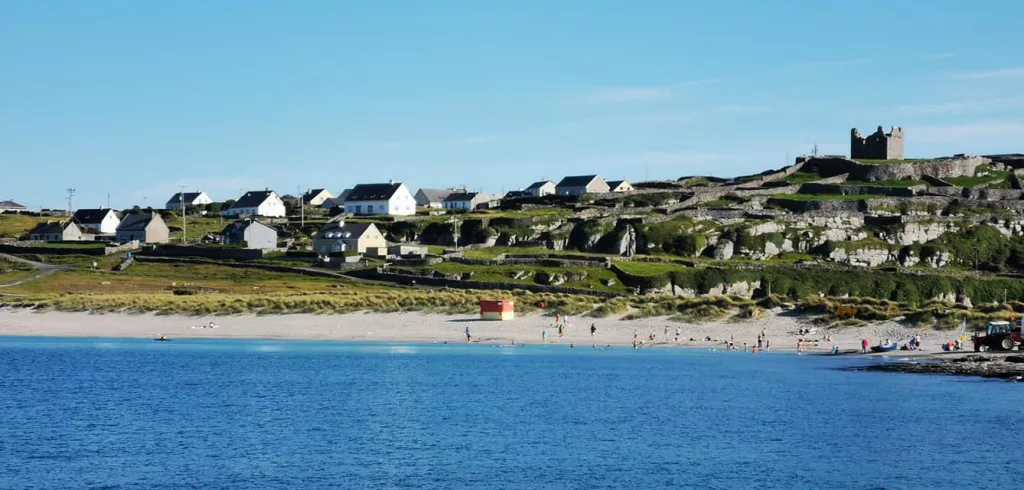 How to get to the Aran Islands
From Rossaveel: If you've access to a car, the nearest port is Rossaveel, about an hour from Galway. You'll definitely have to book the ferry in advance if it's during the summer. Tickets are here for Inishmore and here for Inisheer.
From Doolin: Dollin is located about 1 hour 40 minutes from Galway and offers ferry transfers to all islands. When we visited last year in the middle of summer, the carpark was completely full about 45 minutes before departure. Arrive extra early! Details are here.
From Galway: Aran Islands & Cliffs of Moher Day Cruise This tour will depart from the docks in Galway city centre. You'll be taken out into Galway Bay, spend some time on Inishmore and to top it all witness the majestic Cliffs of Moher from below. Must be booked well in advance.
Inishbofin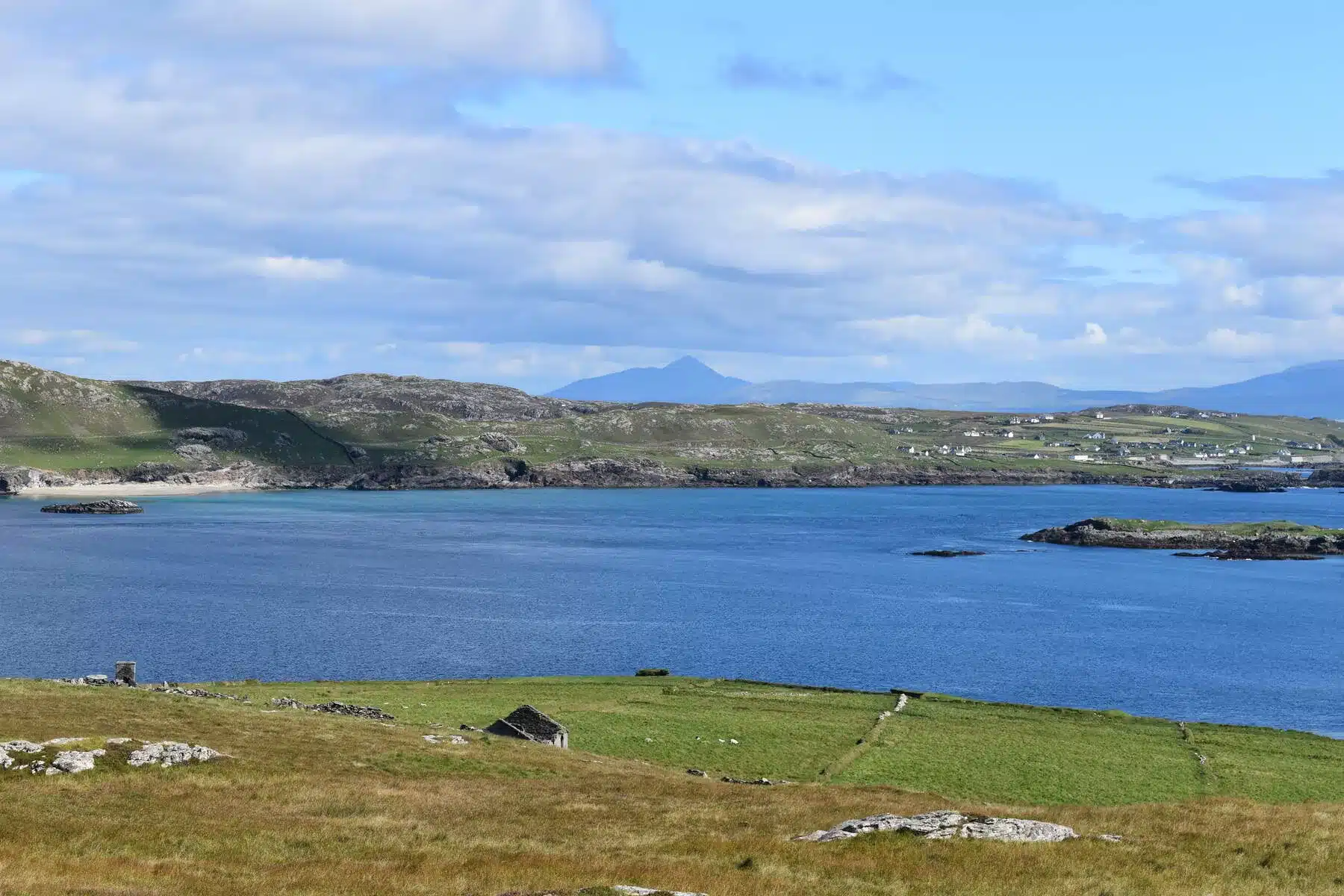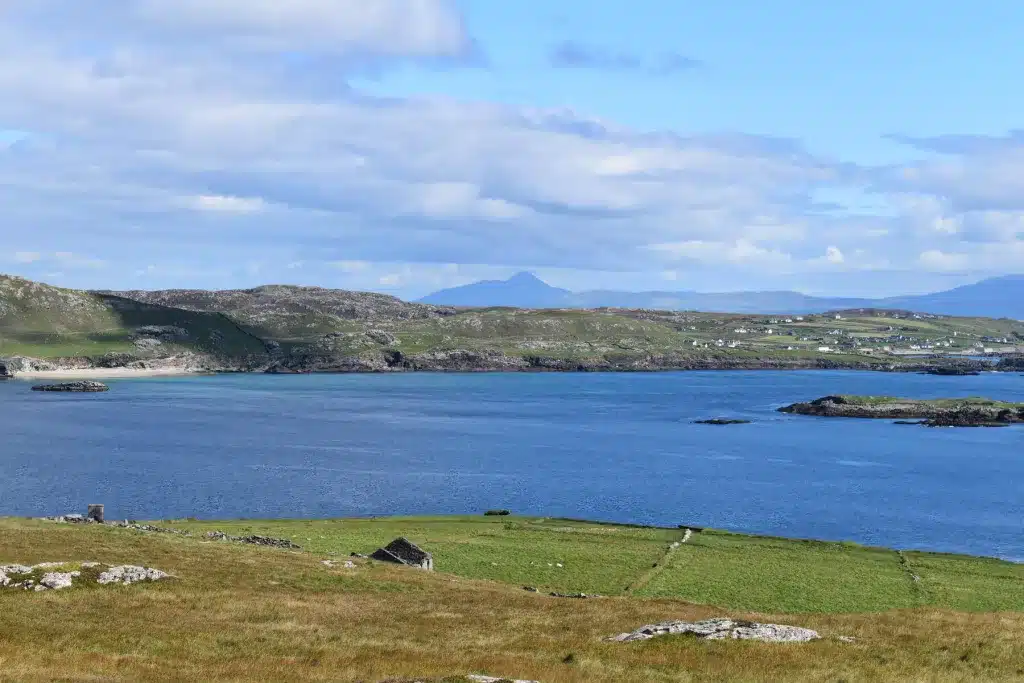 This picturesque island, located off the west coast of County Galway offers a truly unique and tranquil escape from the frantic modern world we live in. Many Irish regard 'Bofin' as their favourite of the Galway Islands, partly due to the fact that it gets considerably less visitors than the busier Aran Islands.
The name itslelf originates from the Irish words 'Inis Bo Finne' (the Island of the White Cow) Interestingly, Irish is not the main spoken language on the island.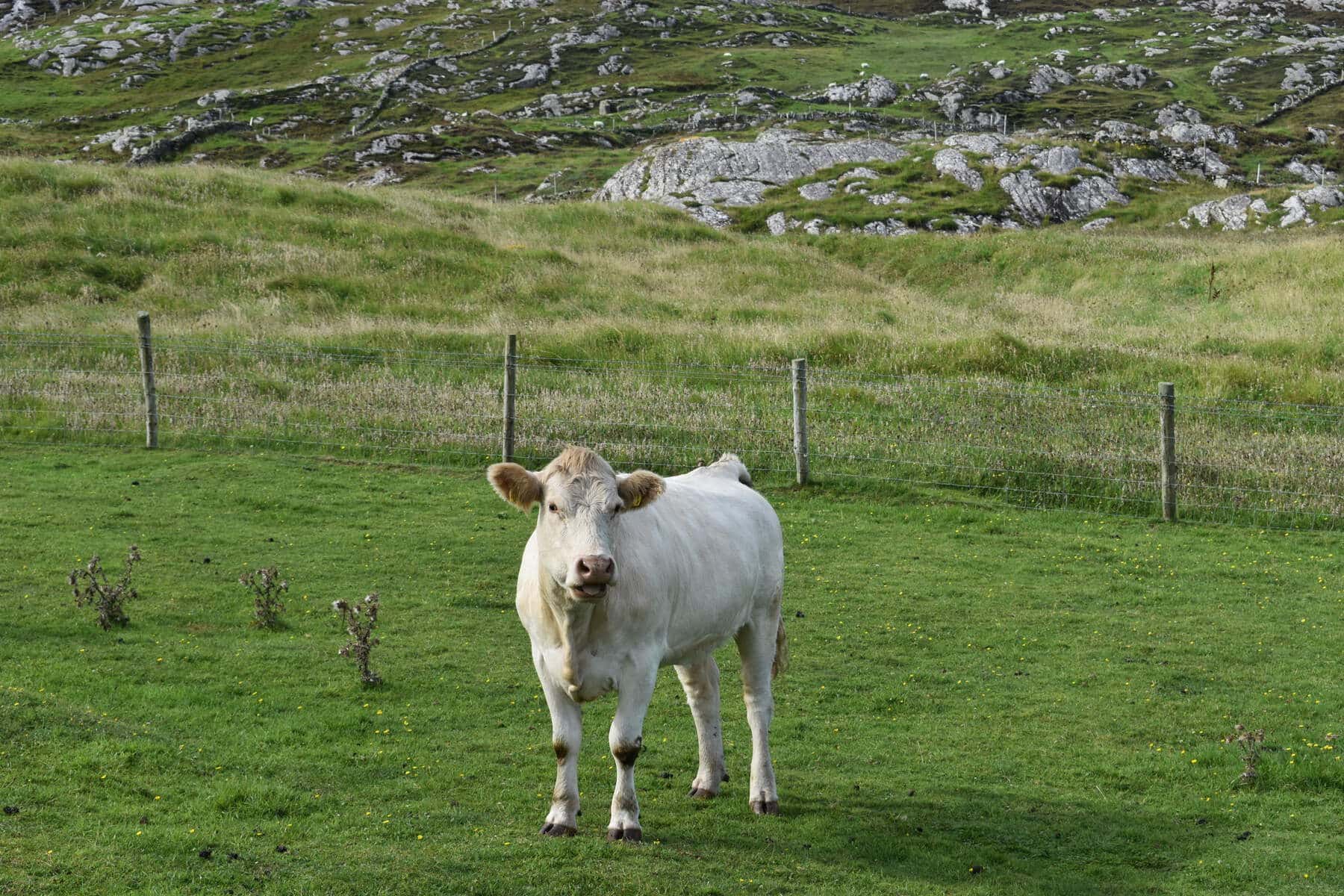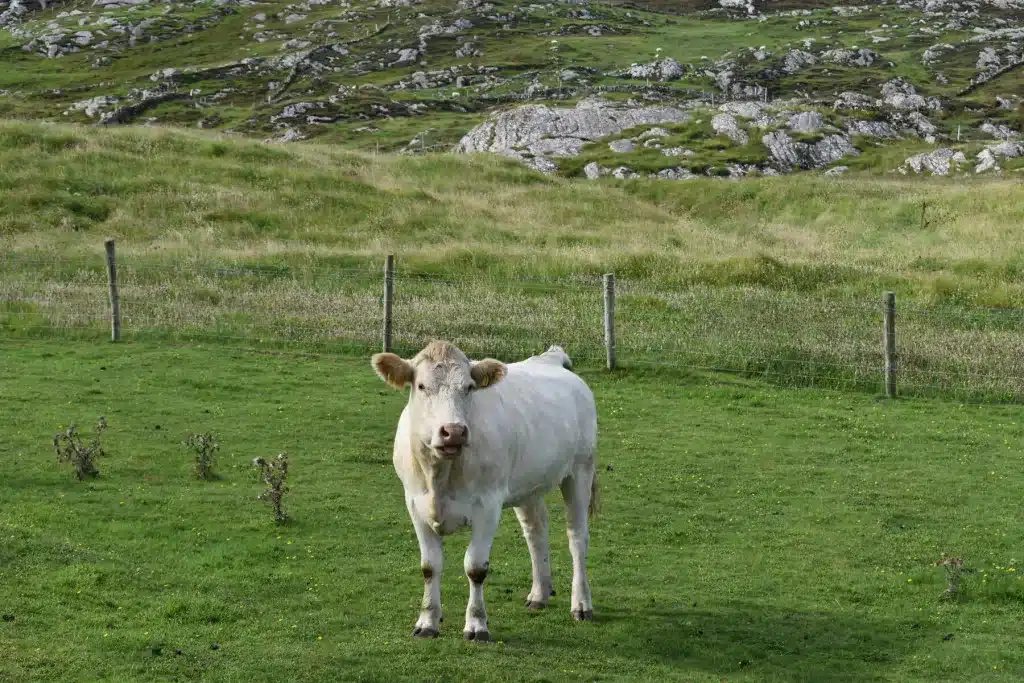 While on a recent trip there, a local islander explained to me that Irish was spoken up until the early 20th century. This changed gradually as more and more trade was being carried out with the town of Westport, County Mayo (an anglo-Irish market town)
The island is not too big and you can fit the whole lot into a day. There are 3 looped walks, and if you're keen, you can rent bikes too.
This is always my personal favourite way to explore the Irish Islands. King's are the go-to company for bike rental on the island.
The waters around the harbour on a calm day are crystal clear and you can avail of paddleboarding, snorkelling and sea kayaking, something we highly recommend. More details are here.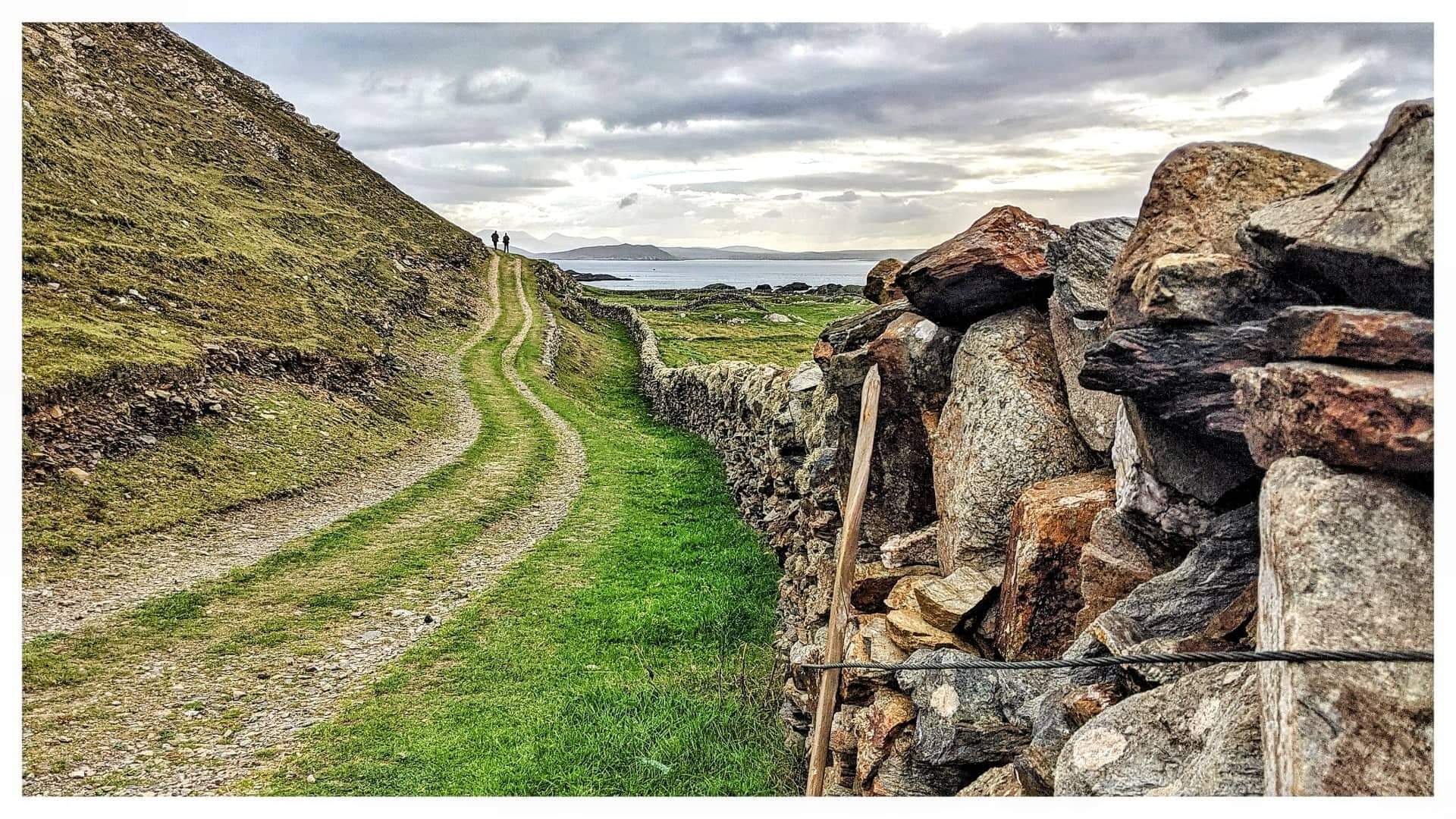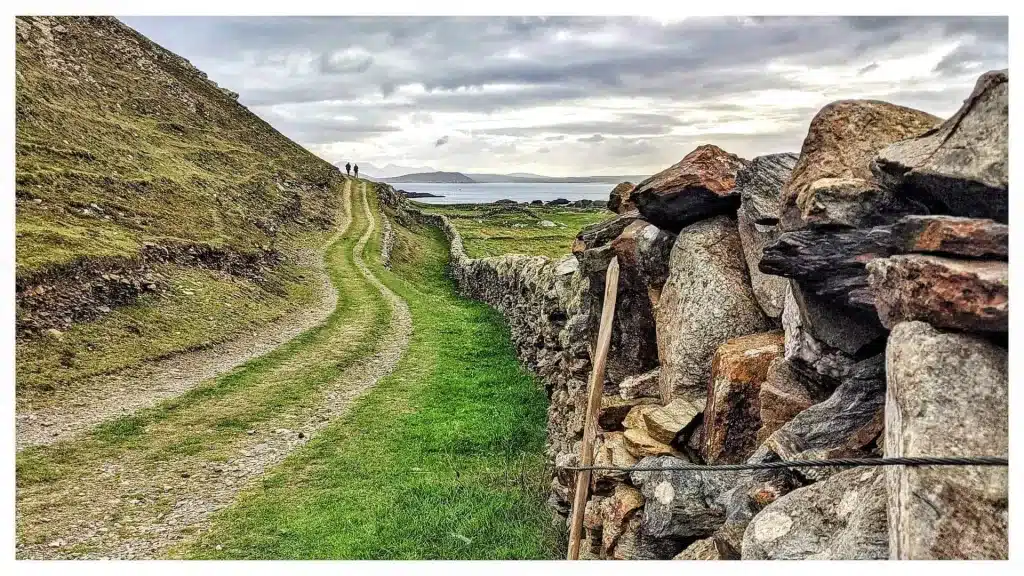 While you are out exploring the island, there are some beautifully scenic places to discover, such as the East End Beach, 2 seal colonies and some spectacular coastal formations such as blowholes and cliffs.
You'll also encounter ancient stone forts, monastic sites and Cromwell's Barracks, serving as reminders of the island's ancient roots and fascinating past.
How to get to Inishbofin
The boat leaves from Cleggan, details of which are here. If you are doing Ireland without a car, there is a full day option from Galway, which includes all transport, including bus and boat. Check the details here.
Skellig Michael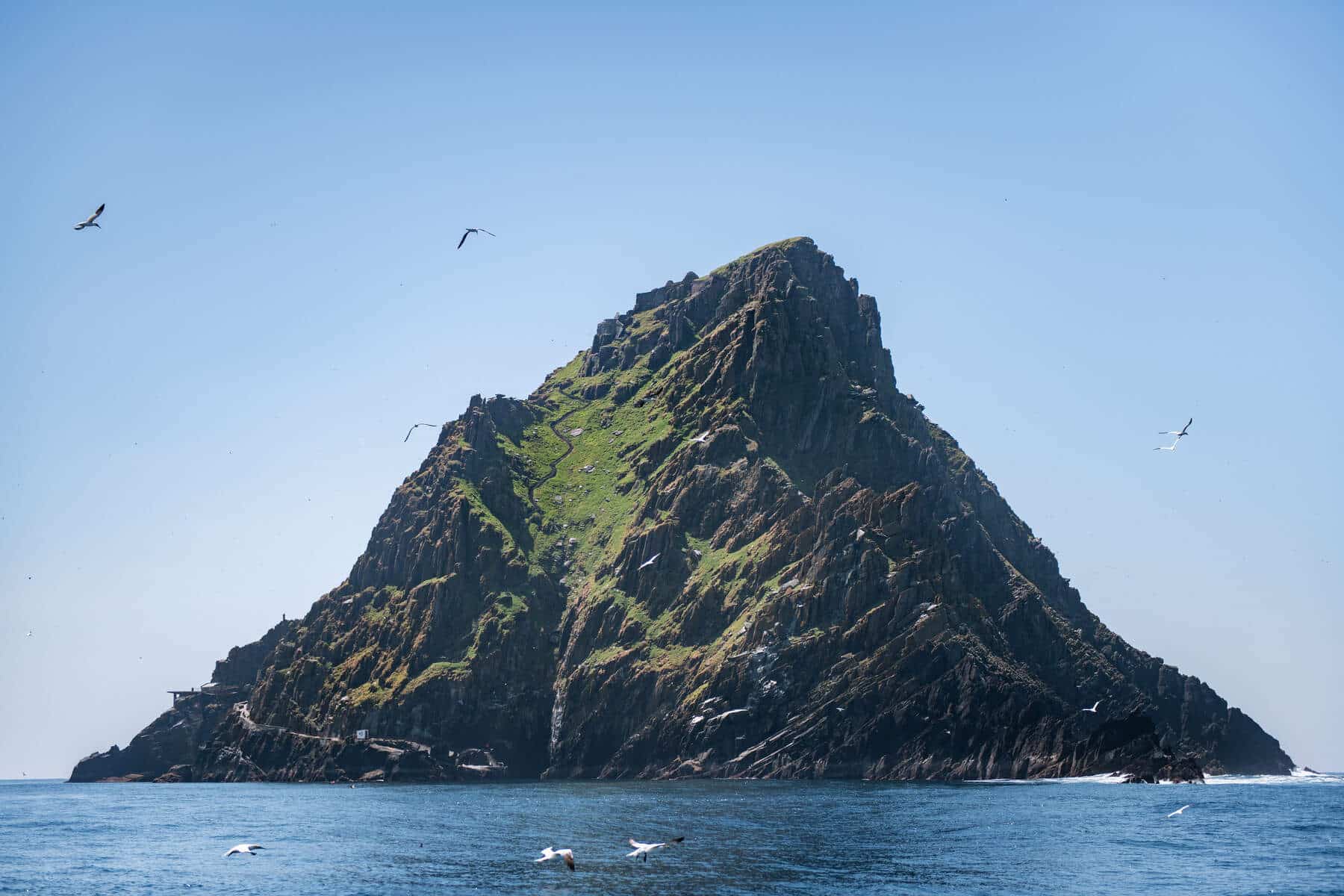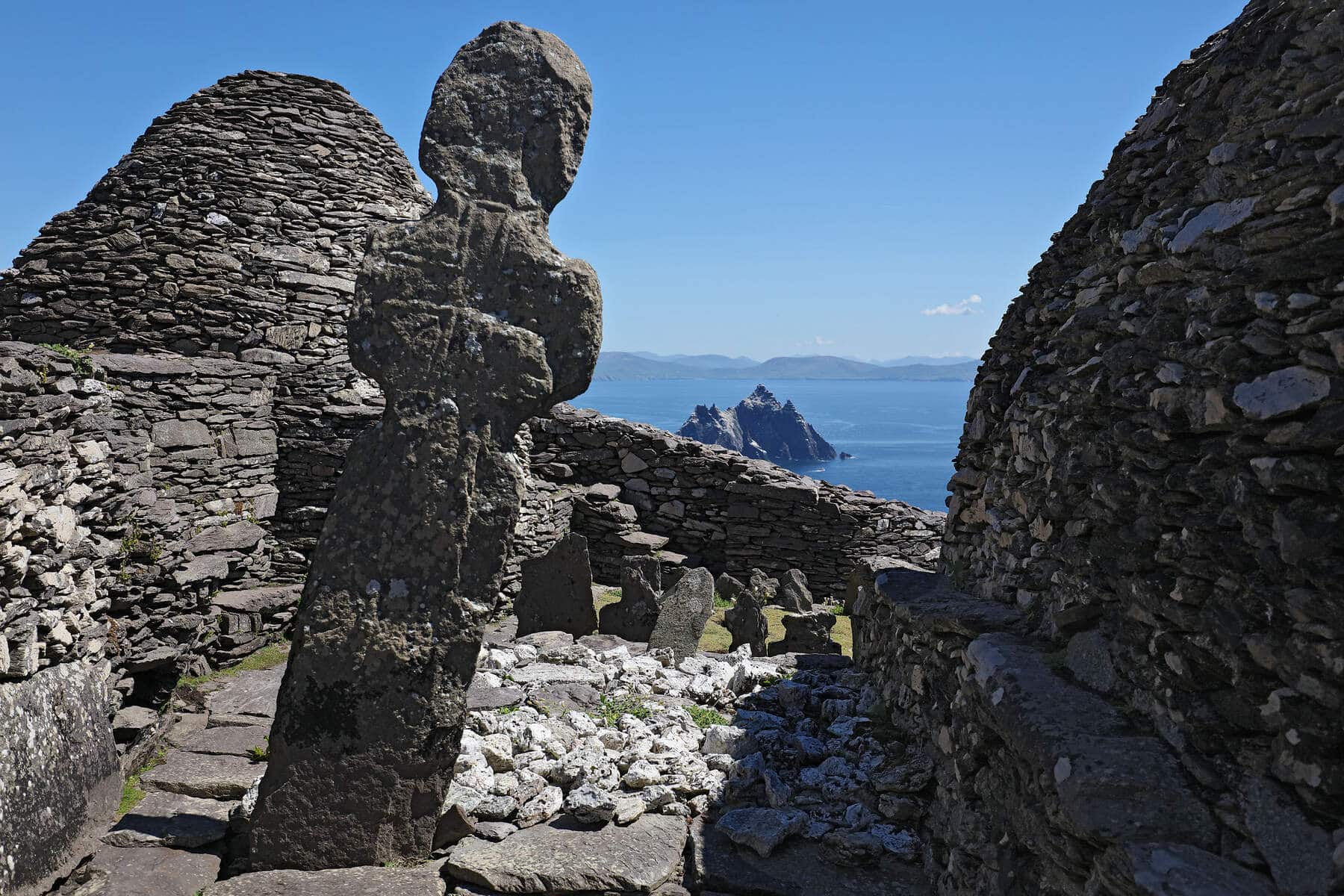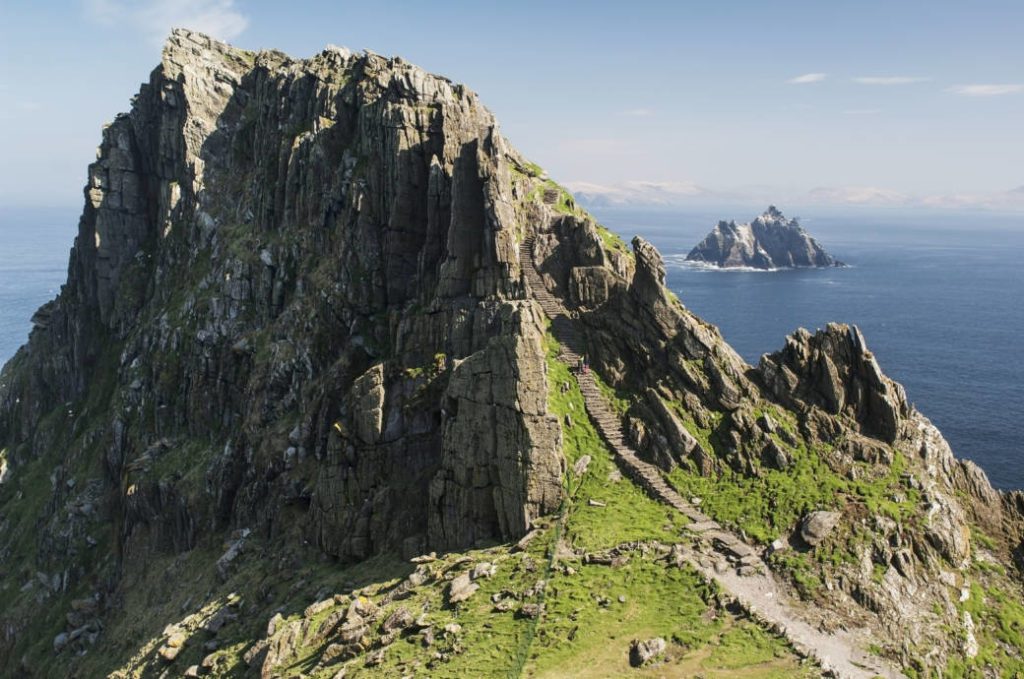 A UNESCO World Heritage site and arguably one of the world's great islands, Skellig Michael is almost otherworldly.
Rising majestically from the Atlantic Ocean, this rugged and remote sanctuary is a haven for nature's wonders. Its dramatic cliffs are awash with seabirds, from puffins to gannets and the steep, ancient stairway leads you to an incredible spectacle.
The island is adorned with the remnants of an early Christian monastery, perched precariously on a clifftop. The monks first arrived on Skellig Michael in the early 6th century AD., although the exact date of their arrival is uncertain.
They established a monastic settlement on the island, which thrived for several centuries. They lived in beehive-shaped stone huts and constructed a series of stone steps and pathways to navigate the steep terrain.
How to get to Skellig Michael
You'll have to get the boat from Portmagee in County Kerry. There are 2 tours available, The Eco tour will circle Skellig Michael and Little Skellig (home to one of the world's largest gannet populations)
The landing tour will dock on Skellig Michael and you can can explore the island in all its splendour on foot. You'll need to have a good head for heights and a decent level of fitness to climb the 618 steps!
The boats will depart in the summer season only and the trip is weather dependent, so booking in advance is key! Click here for more details.
Great Blasket Island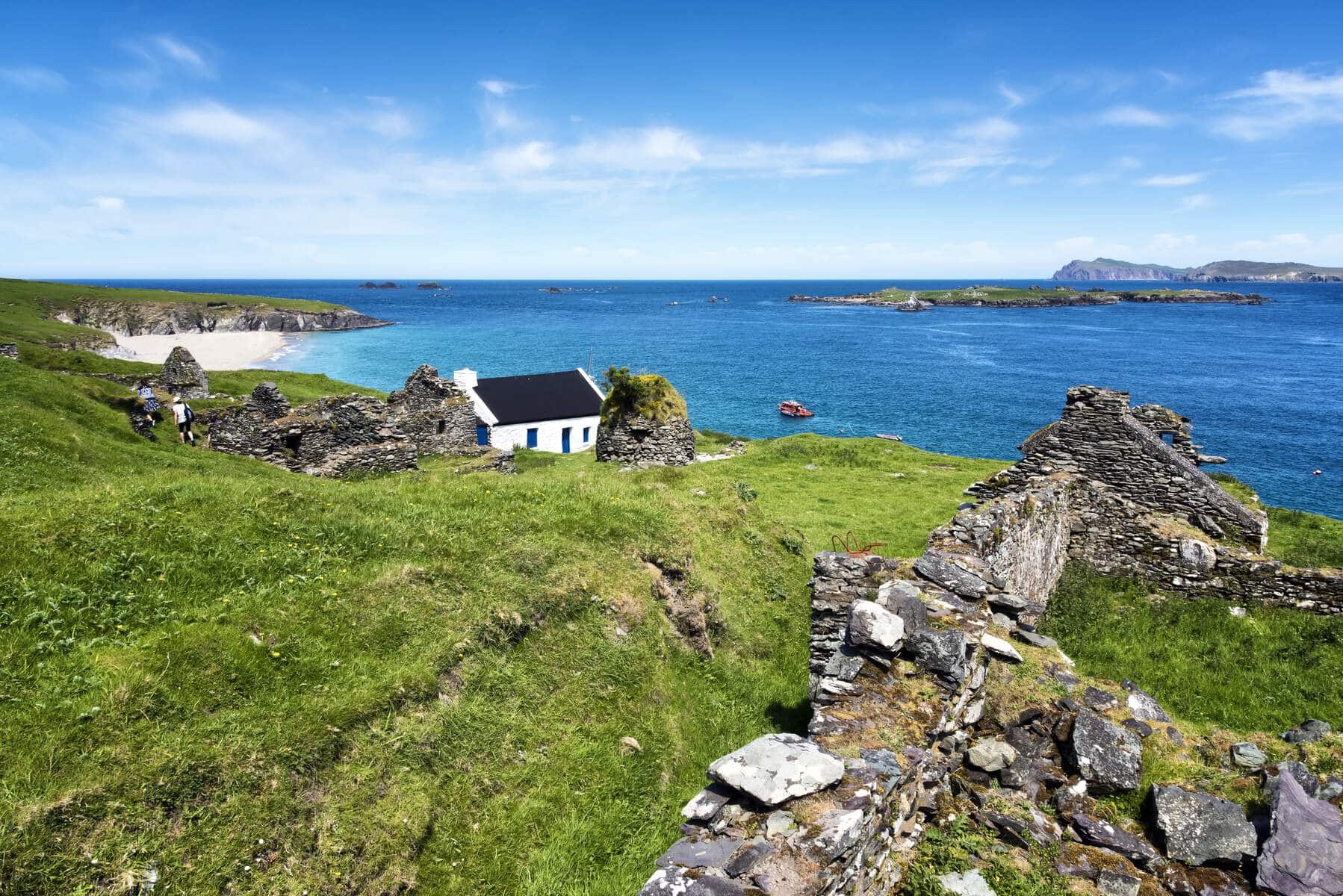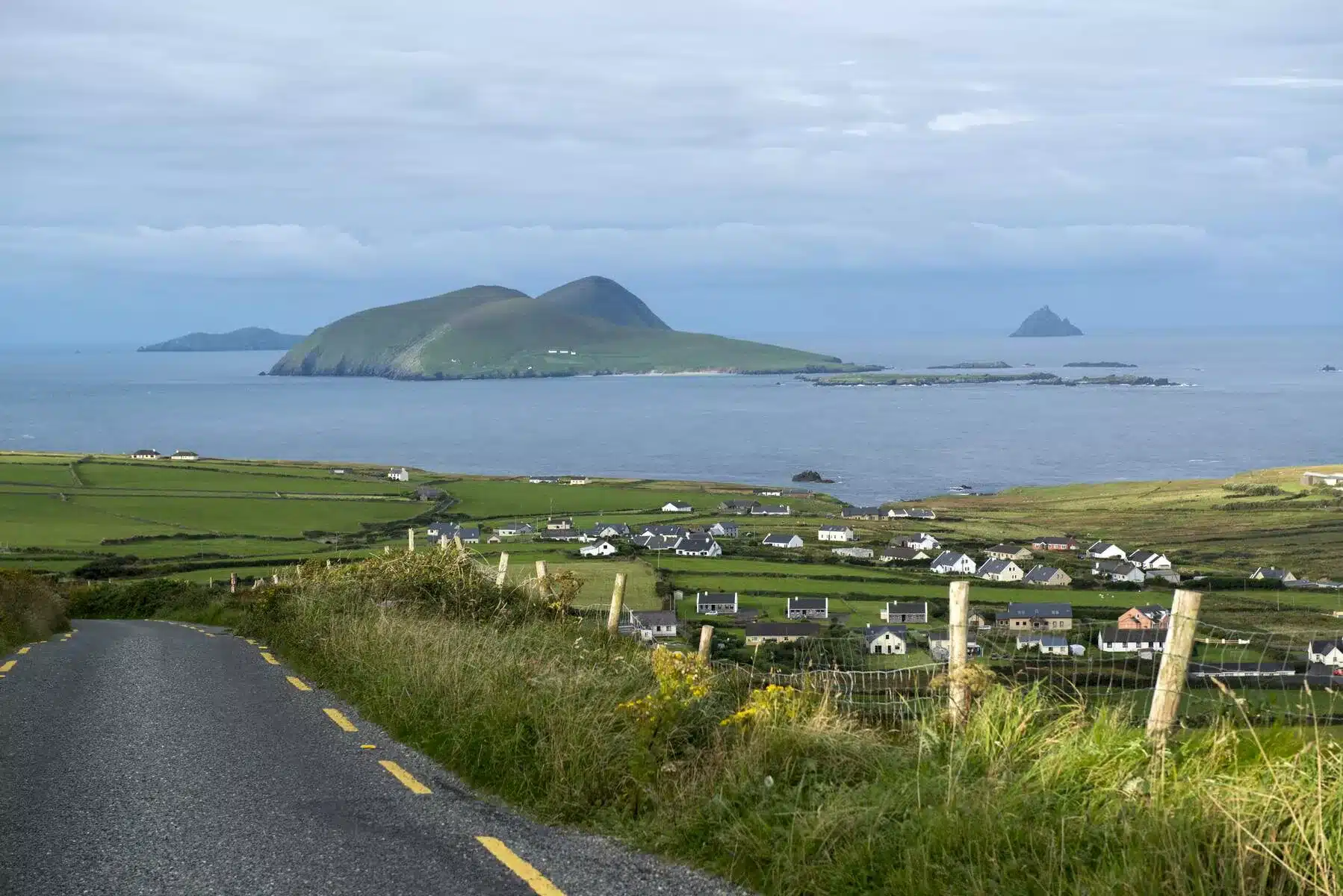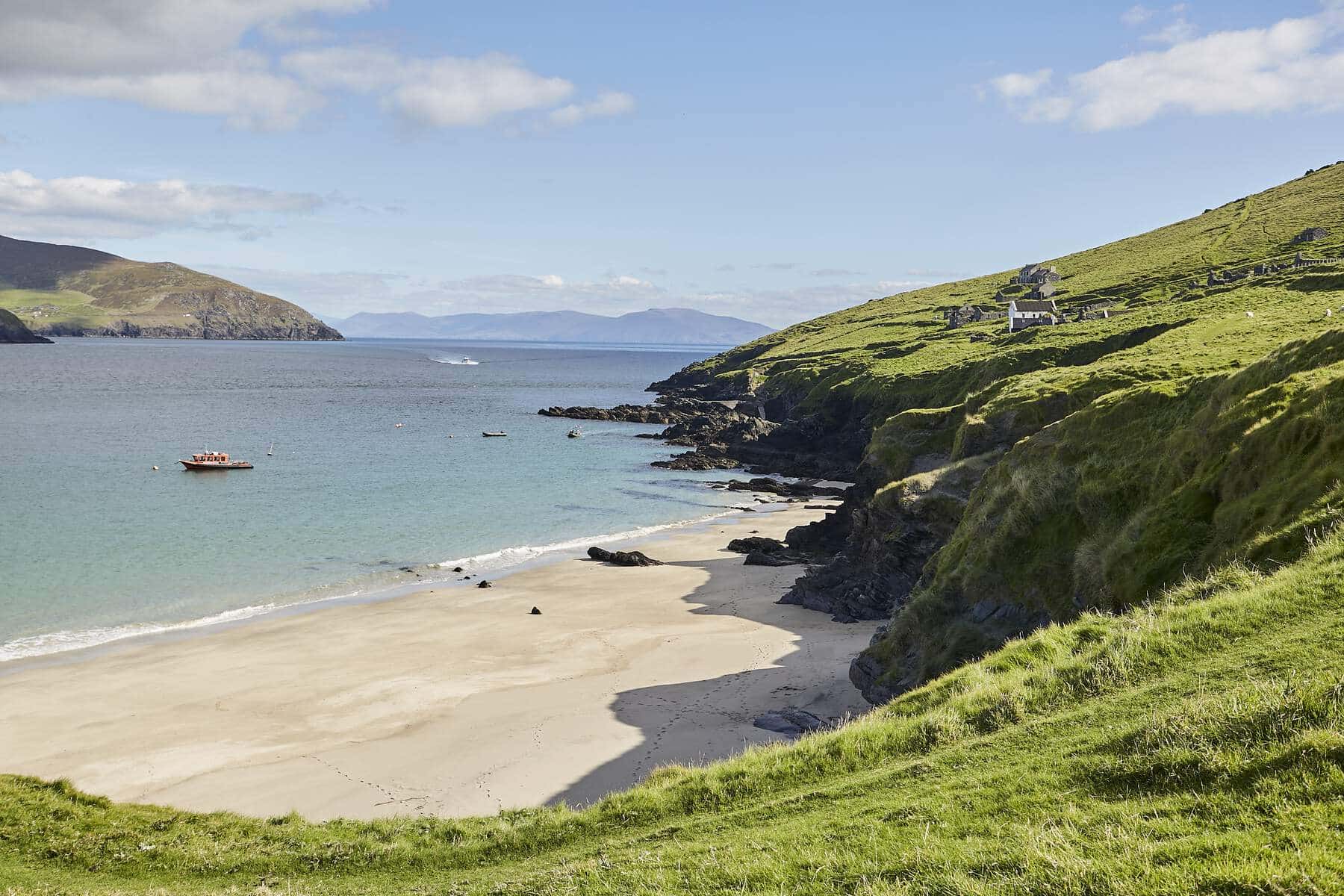 images via Failte Ireland
The Blasket Islands, located off the coast of County Kerry, are a group of six beautiful islands that have long captured the imagination of travellers and writers.
The islands were inhabited for centuries by a small population of hardy fishing and farming families who carved out a living from the harsh Atlantic environment.
In the early 20th century, a number of Irish-language writers emerged from the islands and began to document their way of life in a series of books and memoirs.
Some of the most notable include classics like "Peig" and "Twenty Years A-Growing," provide a fascinating glimpse into the unique culture and traditions of the islanders.
Today, the Blasket Islands are uninhabited and are preserved as a wildlife sanctuary and tourist destination. Should you visit, you can explore the abandoned settlements on the island and cast your eyes on the glorious An Trá Bán (White Beach)
In the late summer, hundreds of grey seals will make this beach their home. They'll settle here over the summer months and to be honest, who'd blame them?
For me personally, one of the best views I have seen along the west of Ireland is the view of Inis Tuaisceart (the northernmost island of the Blaskets) from the mainland during dusk.
The island resembles a giant sleeping and even the locals have christened this view 'An Fear Marbh', or 'The Dead Man'. As soon as you see it, you'll never unsee it!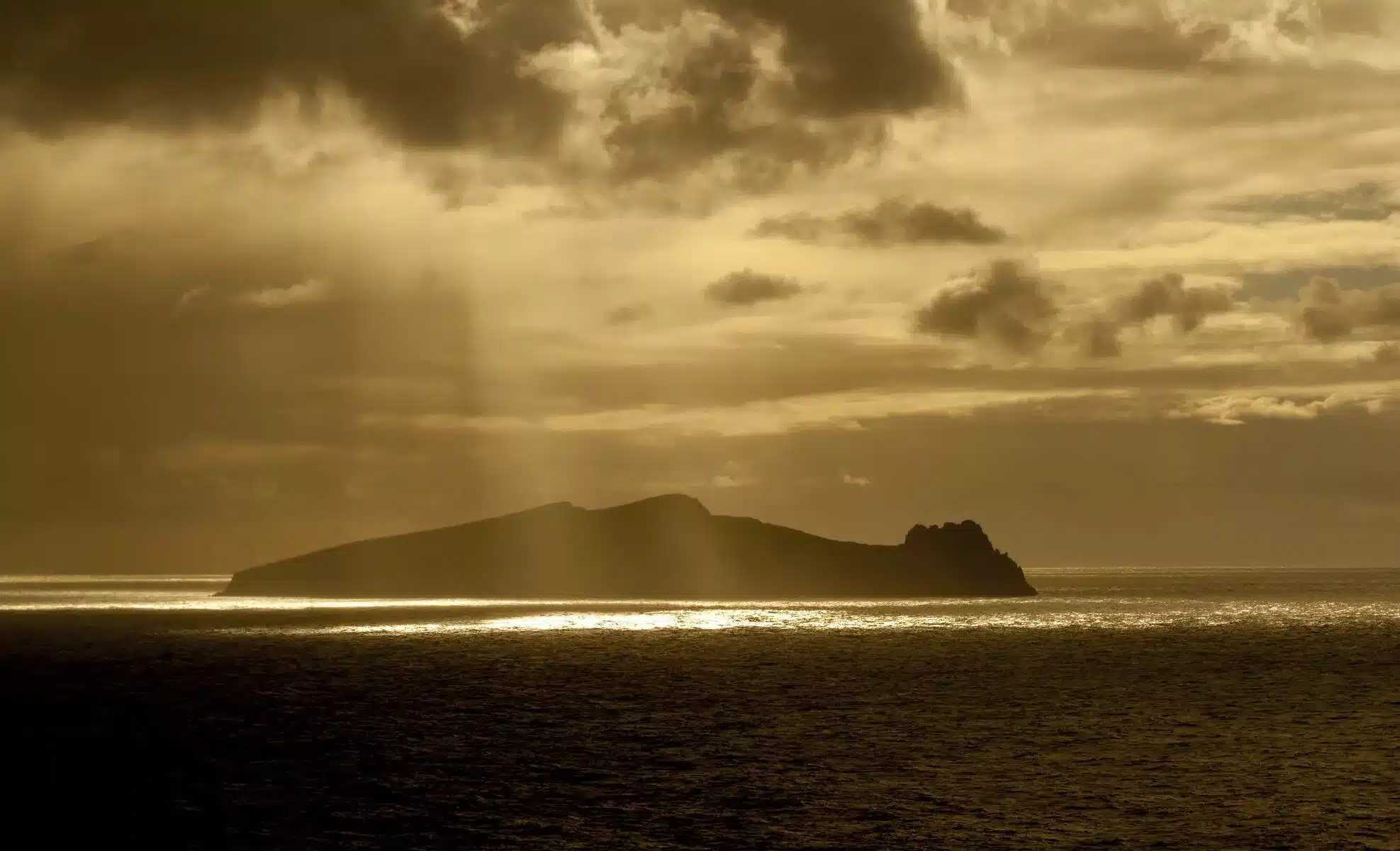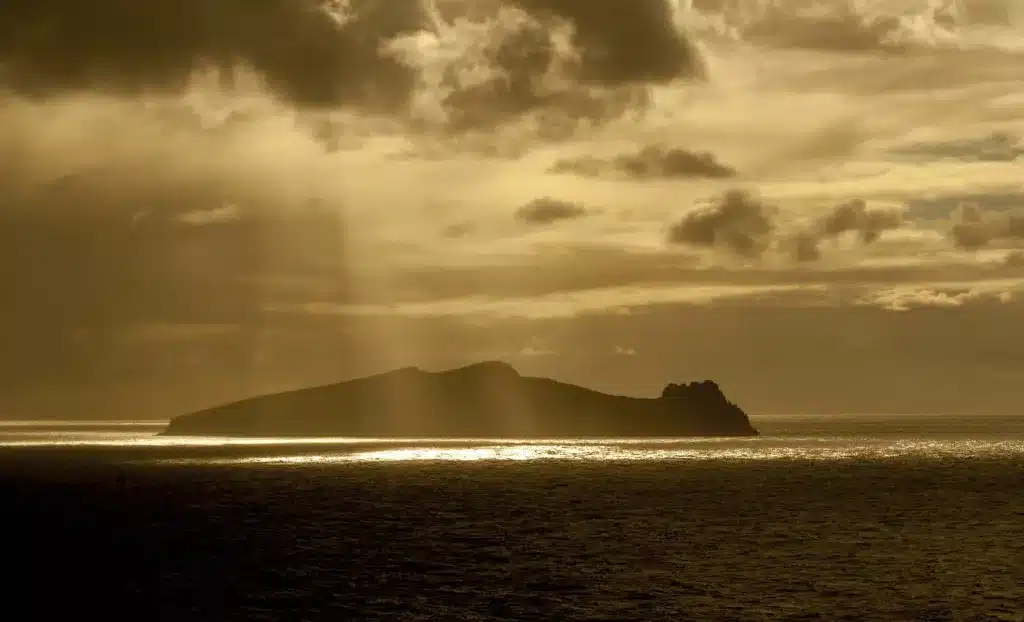 How to get to the Blasket Islands
The ferry departs from Dunquin Pier and takes 20 minutes. On the island, there is a free walking tour, which is fantastic. Remember though, the island is uninhabited, so you'll need to bring your own supplies.
On a fine day, spending some hours on this deserted island will be an experience that will live long in your memory.
Tory Island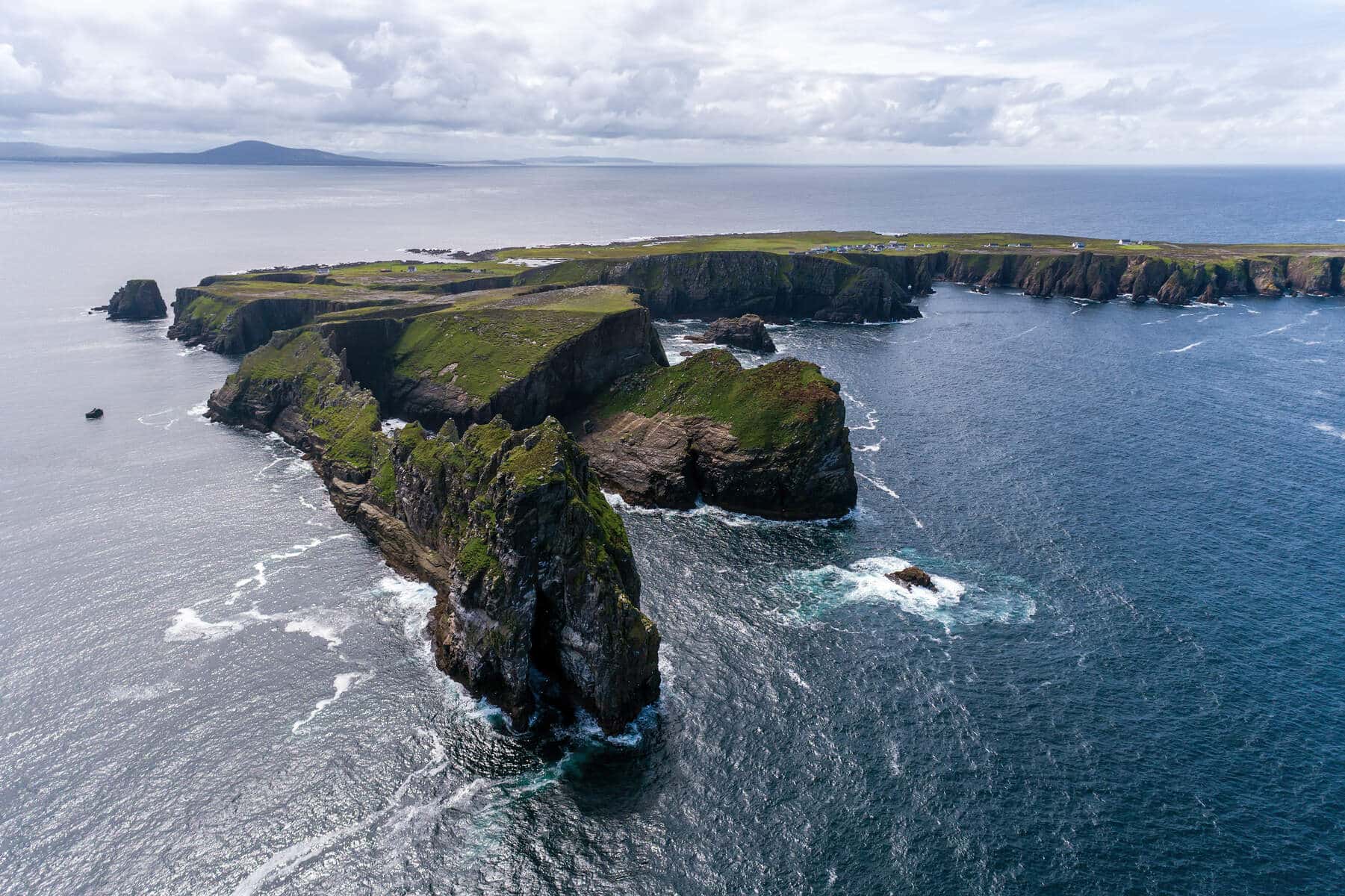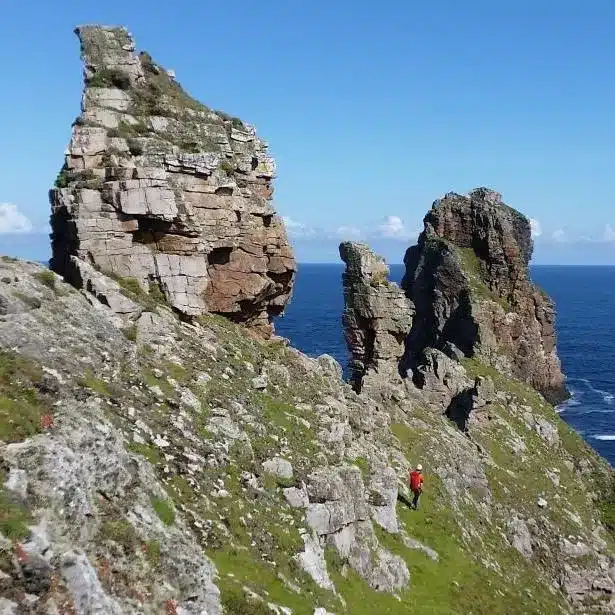 images via Failte Ireland/unique ascent
Tory Island, located off the coast of County Donegal in the west of Ireland, is a fascinating and unique island. It is regarded as 'Ireland's most remote inhabited island, due to its location, 14 kms off the coast.
The island is home to a small and tight-knit community of residents who are proud of their Irish heritage and have preserved many of the island's traditional customs and practices. The current popultion of the island is just over 100 residents.
Tory Island is also fascinating as it is the only location in Ireland to have a 'monarchy'. Traditionally, the island always had a king and the position had been occupied until 2018. In October of this year, The King of Tory, Patsy Dan Rodgers passed and as of June, 2023 his successor has not been appointed.
Visitors to the island can take guided tours led by local residents, explore the island's ancient ruins and sacred sites, or simply relax and enjoy the stunning natural scenery.
Tory has some of the most magnificent cliff scenery of any Irish island, with the uniquely spectacular cliffs of An Tor Mor springing to mind (see image above: bottom left)
Despite its small size and remote location, Tory Island has a thriving arts scene and is home to a number of talented artists and musicians. You can attend traditional music and dance performances, view exhibitions of local artwork, or even take part in creative workshops led by local artists.
How to get to Tory Island
Tory Ferry runs multiple times a day, all year round. The crossing takes 45 minutes to 1 hour. We highly recommend visiting from late spring to early autumn, on a dry day to make the most of your trip.
Sherkin Island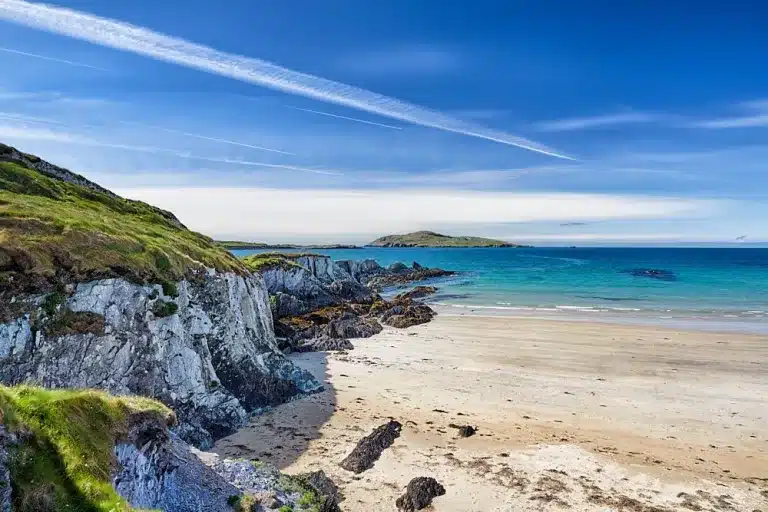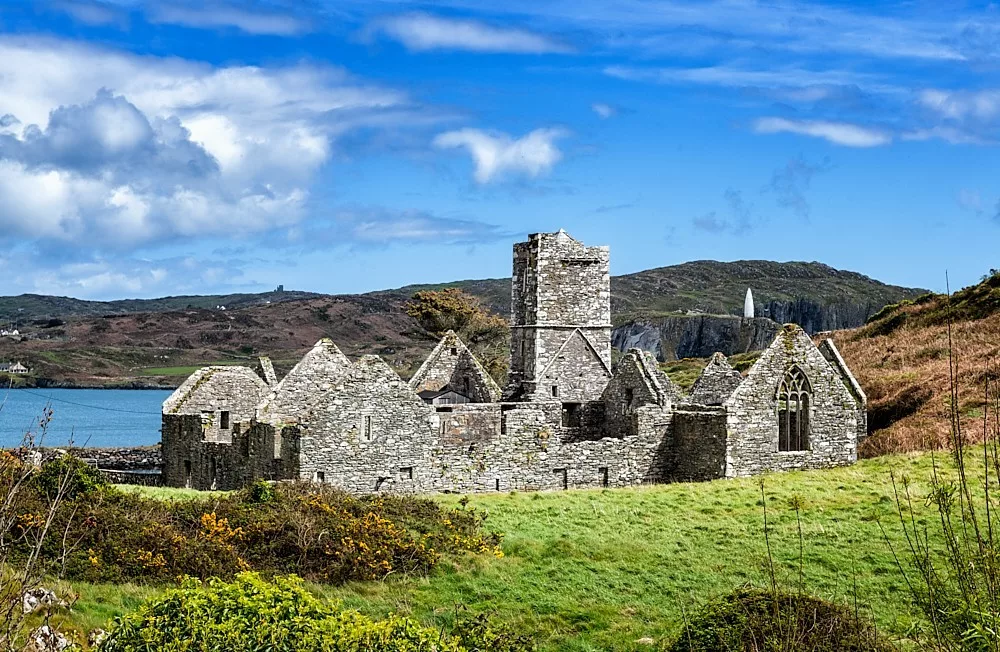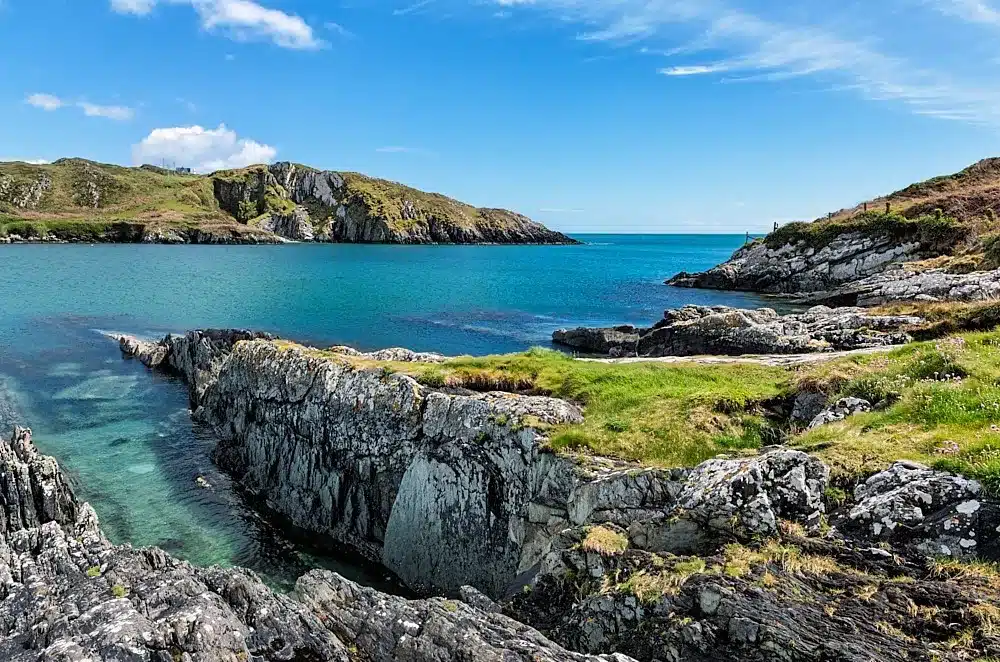 images, copyright: the wild Atlantic way
Sherkin Island, located off the coast of West Cork in Ireland, is a hidden gem that offers visitors an amazing mix of beautiful scenery, ancient history and total relaxation.
The island has a thriving arts scene and with incredible scenery at every turn, finding a decent motive will not be a difficult task.
There are plenty of scenic trails to explore too, and why not take a dip in the crystal-clear waters of Silver Strand beach. A visit the historic Sherkin Island Abbey, which dates back to the 15th century, is something we also highly recommend.
One of the most popular activities on Sherkin Island is sea kayaking, which allows visitors to explore the island's rugged coastline and spot wildlife like seals, dolphins, and seabirds up close.
This area is also a haven for whales, and it's not unusual to witness humpbacks, minkes or basking sharks in the waters around the island.
For those who prefer to stay on dry land, there are plenty of opportunities for hiking, cycling, and birdwatching, with the island being home to dozens of species of birds, including Manx Shearwater, Gannet, Fulmar and Kittiwake.
How to get to Sherkin Island
If you have decided to spend some time in West Cork, we highly recommend taking the ferry to Sherkin. Timetable and details are here. The scenery in this past of Ireland is divine and its tends to be quieter than the far more popular County Kerry (although in no way less beautiful)
Garnish Island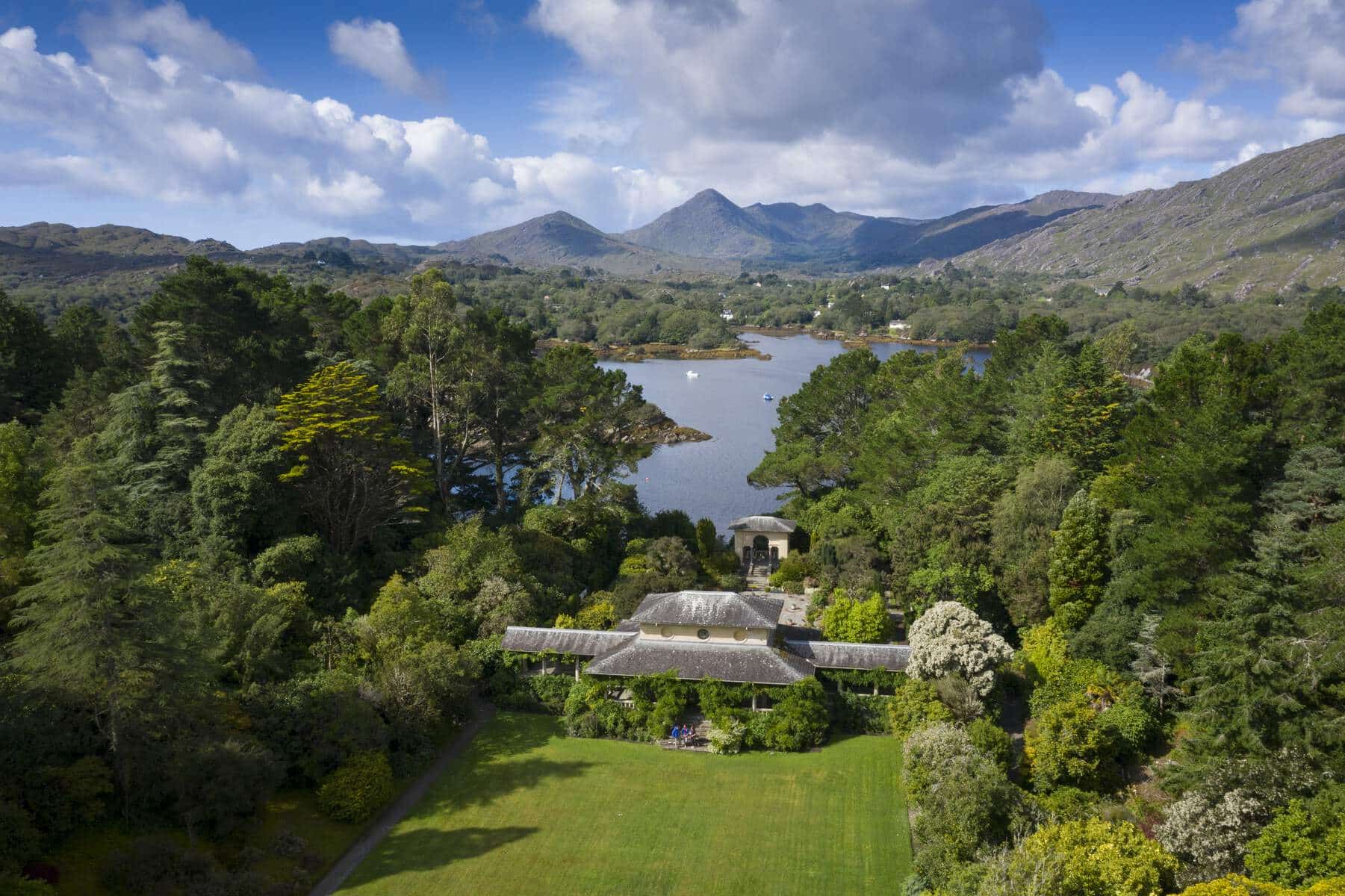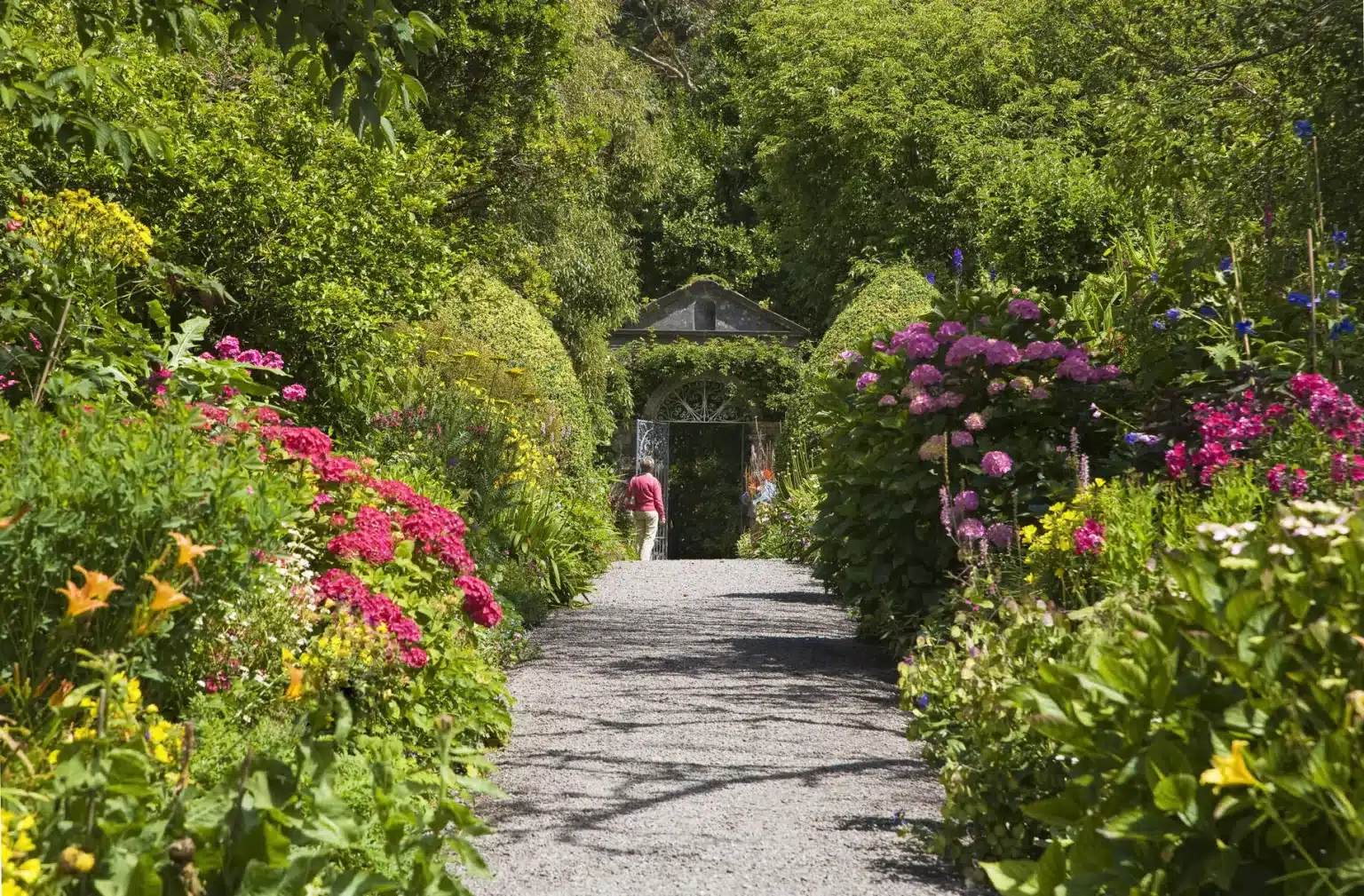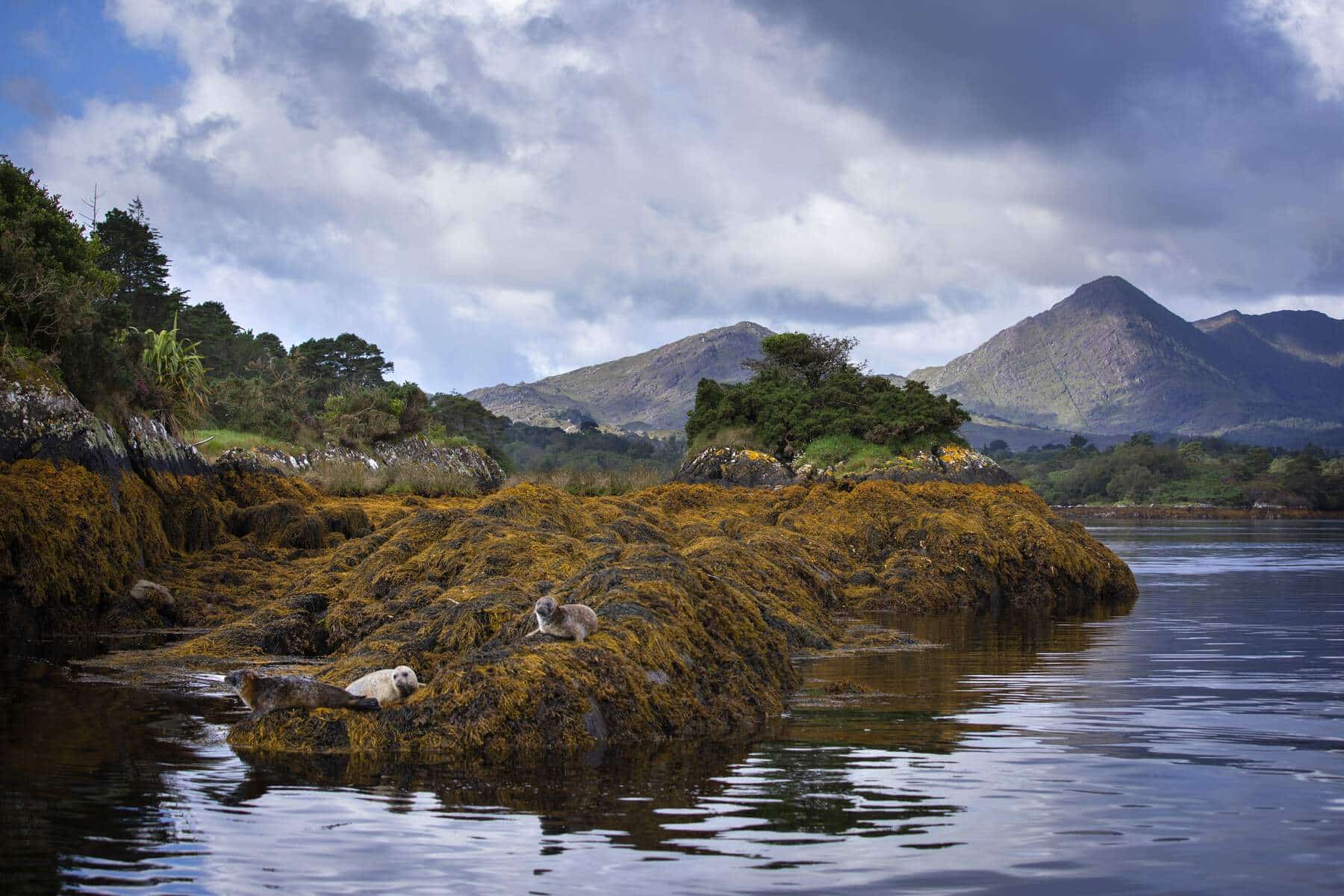 images via Failte Ireland
County Cork is home to some of Ireland most spectacular coastal scenery. Compared to the wild western islands of Ireland, things are considerably 'greener' in this part of the country.
Garnish Island is another West Cork stunner. This 'tamer' island is a horticulturist's dream. It's wide variety of plant species is testament to the effects of the mild Gulf Stream and visiting here offers something unique.
The island's gardens were created in the early 20th century by John Annan Bryce, a wealthy Scottish businessman who fell in love with the island's natural beauty and saw its potential as a garden paradise.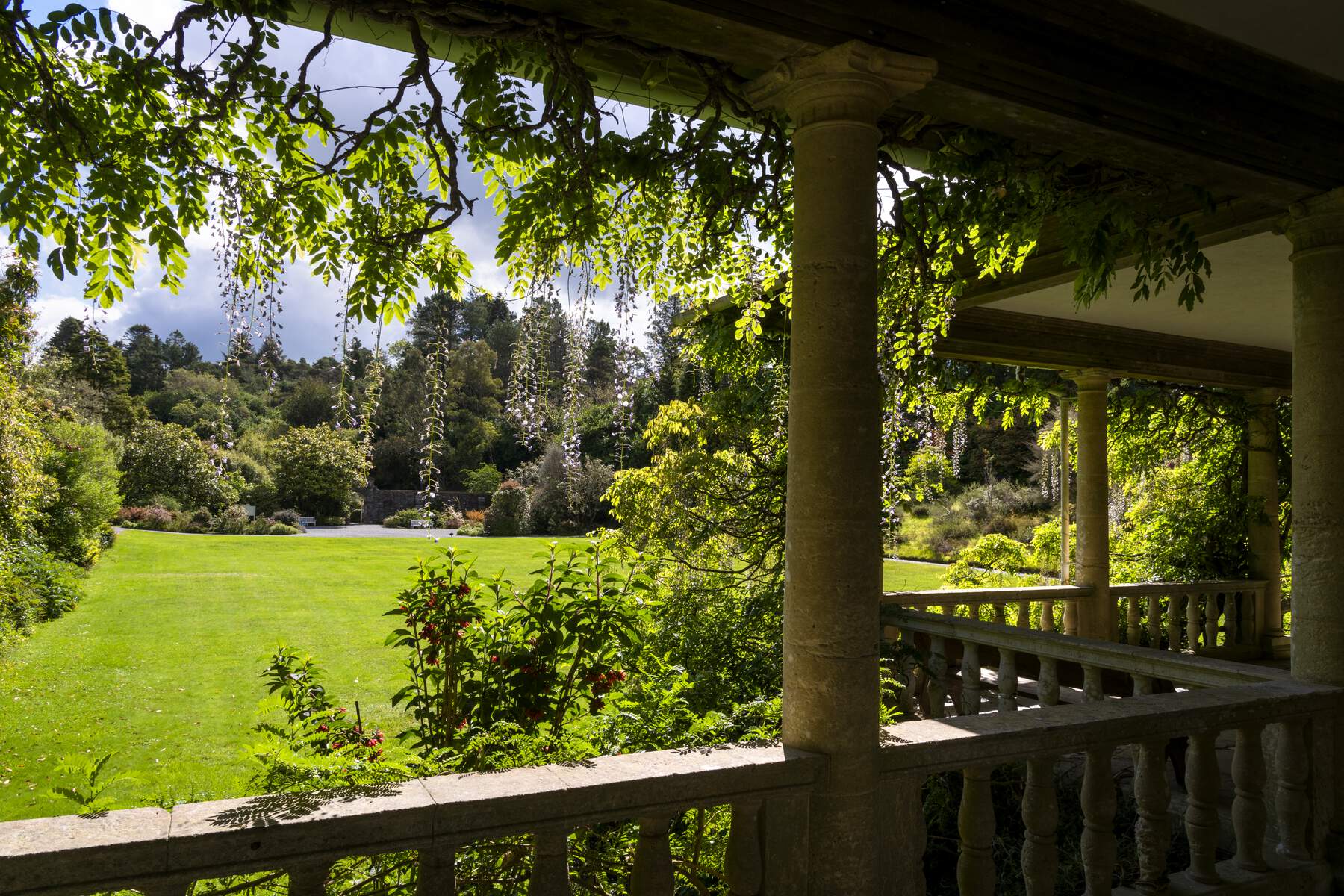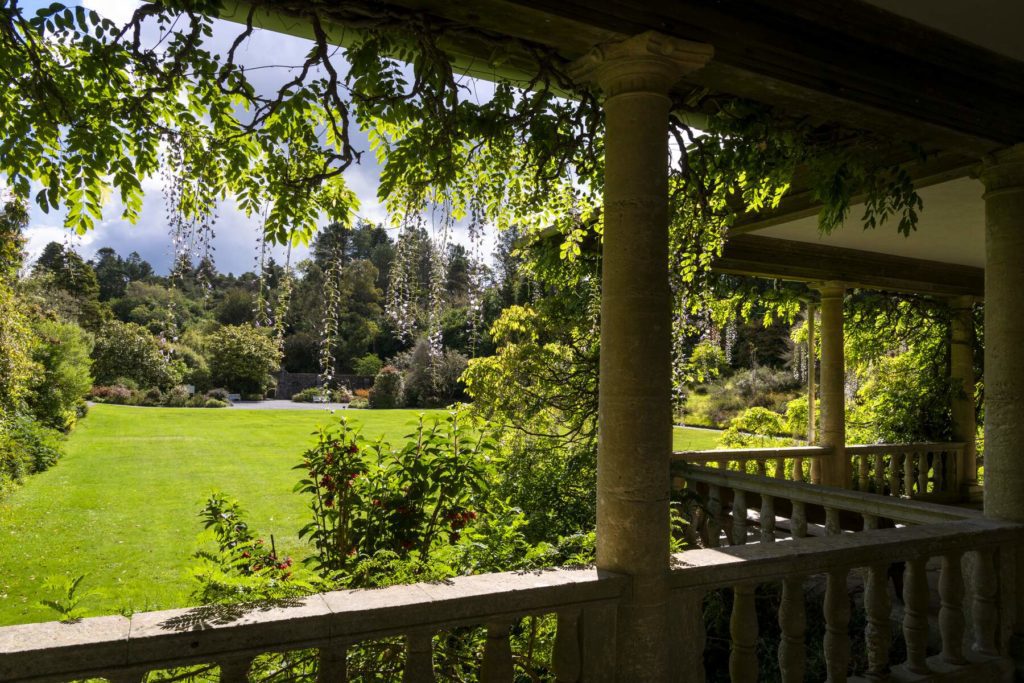 Highlights of the gardens include the Italian Temple, a small pavilion that offers stunning views of the bay, and the Martello Tower, a historic fortification that was used to defend the island.
In addition to its stunning gardens, Garnish Island is also home to a number of rare and exotic plants, including Japanese maples, Himalayan blue poppies, and Chinese tree peonies.
You can learn more about the island's flora and fauna at the island's small visitor center, which contains exhibits on the island's history and ecology.
The island is also home to the fist successful bredding of the magnificent White Tailed Eagle in Ireland in over a century. If you're lucky, you'll catch a glimpse of the spectacular bird of prey in action, swooping for fish in the clear Atlantic waters.
How to get to Garnish Island
A short scenic trip out on Banrty Bay will get you to Garnish in just 15 minutes. The waters around here are calm, so those who suffer from motion sickness should not have too many issues. Ferry times are here.
The Inishkea Islands
And finally, a location you probably never heard of, but after seeing these images you certainly want to visit on a fine summer's day in the west of Ireland.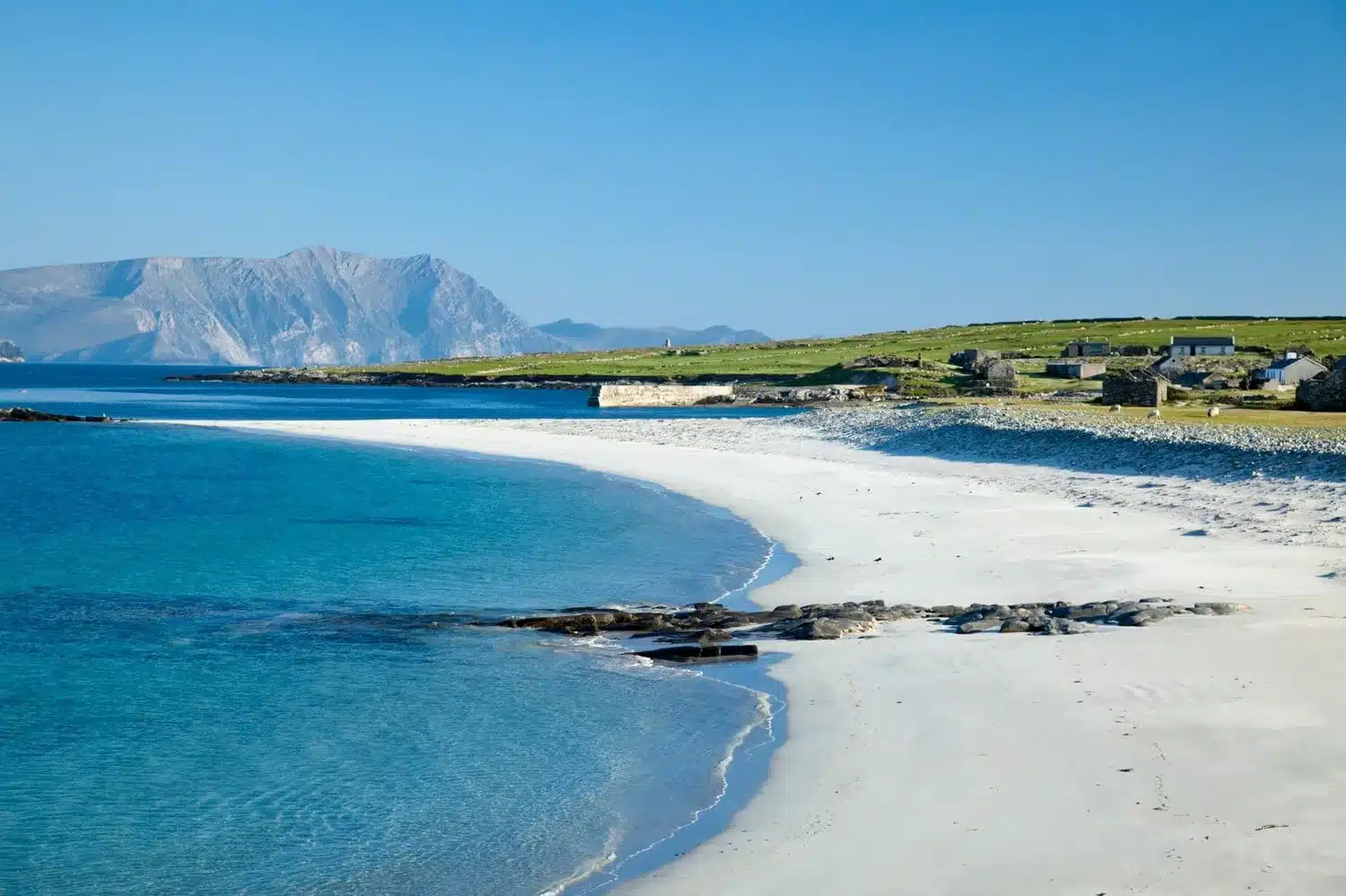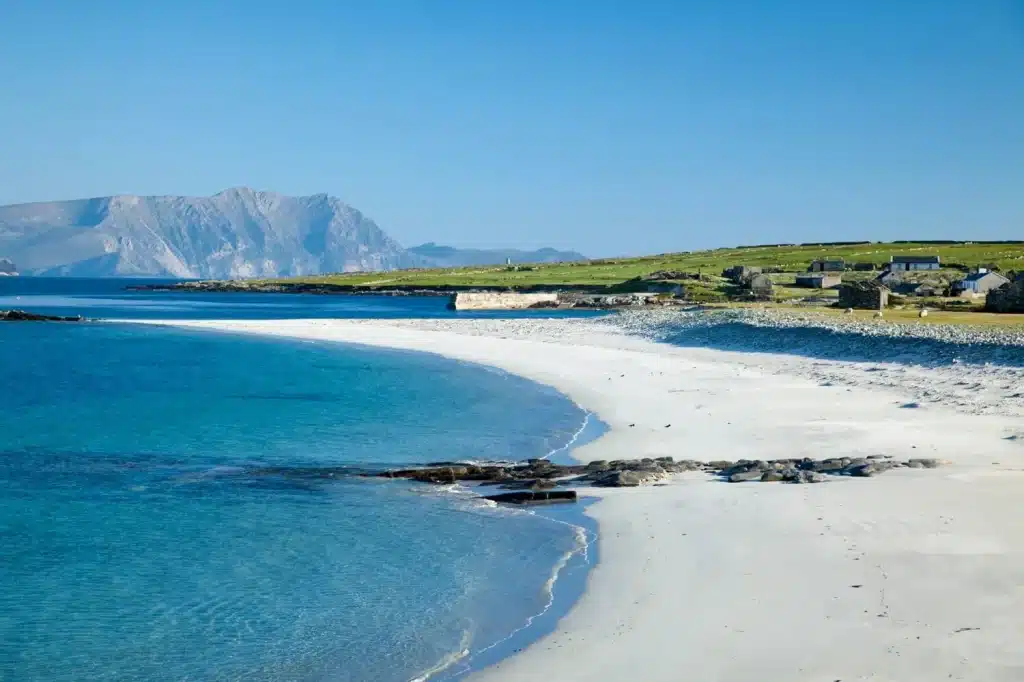 The Inshkeas are located off the coast of the Mullet Peninsula in County Mayo and are reachable by boat from the months of June to the end of August, weather permitting. The islands have been uninhabited since the 1920s and today you'll see the ruinis of an old village located along the shoreline.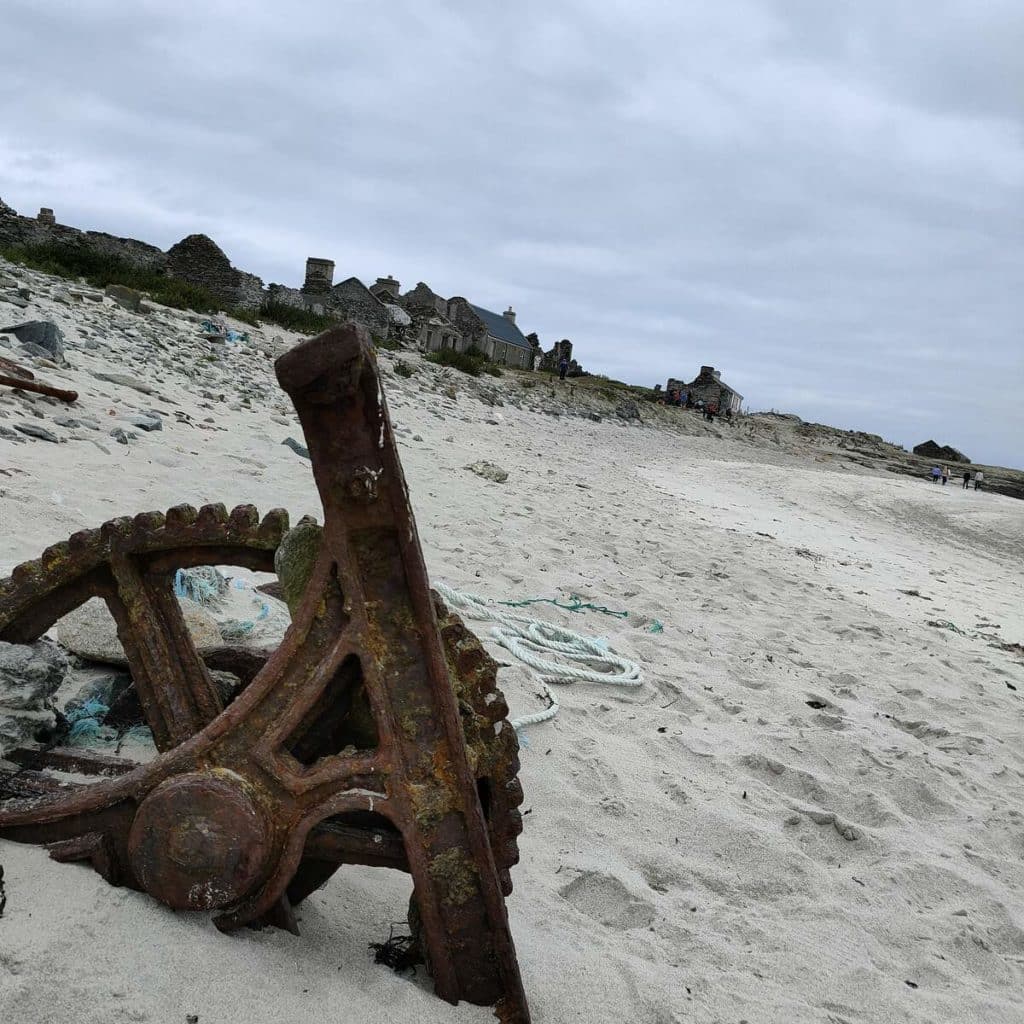 There are two main islands, Inishkea North and South, which are privately owned. Prior to the 1920s, it was a thriving fishing island, but a terrible boating tragedy ultimately lead to the island being abandoned.
The most striking feature of the islands though is the beach, with the abandoned cottages providing a dramatic and haunting backdrop.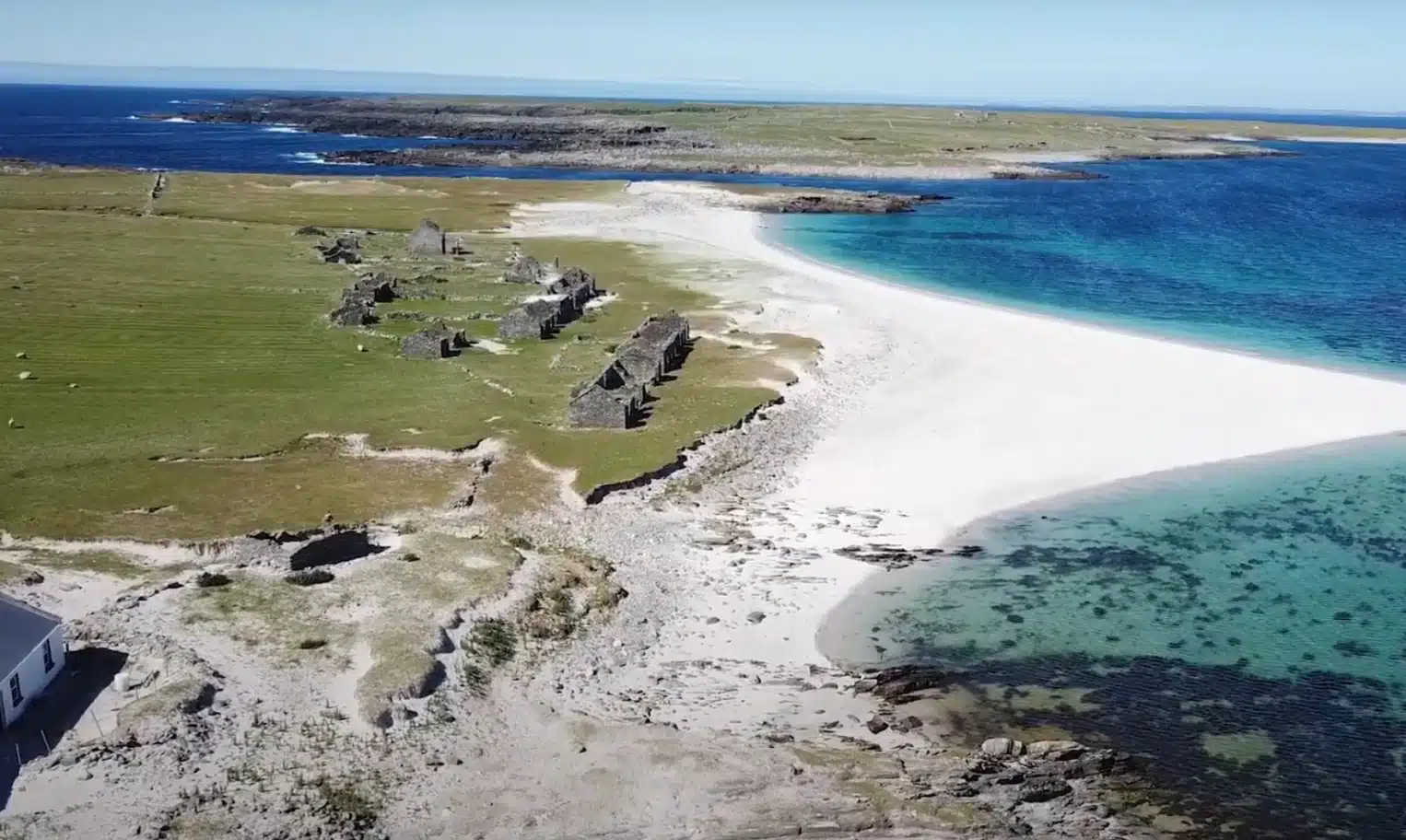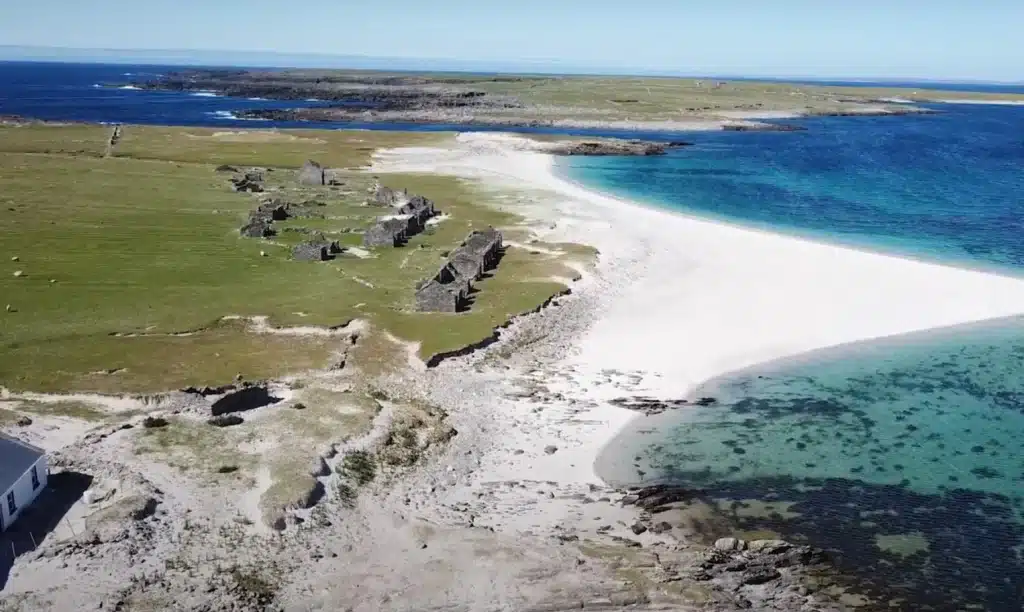 The waters seems impossibly blue and the white sands reminiscent of a beach in south-east Asia. This really is a hidden gem and a place that is so much more unbelievable when you see it in person. These lads run boat trips to the island in the summer months.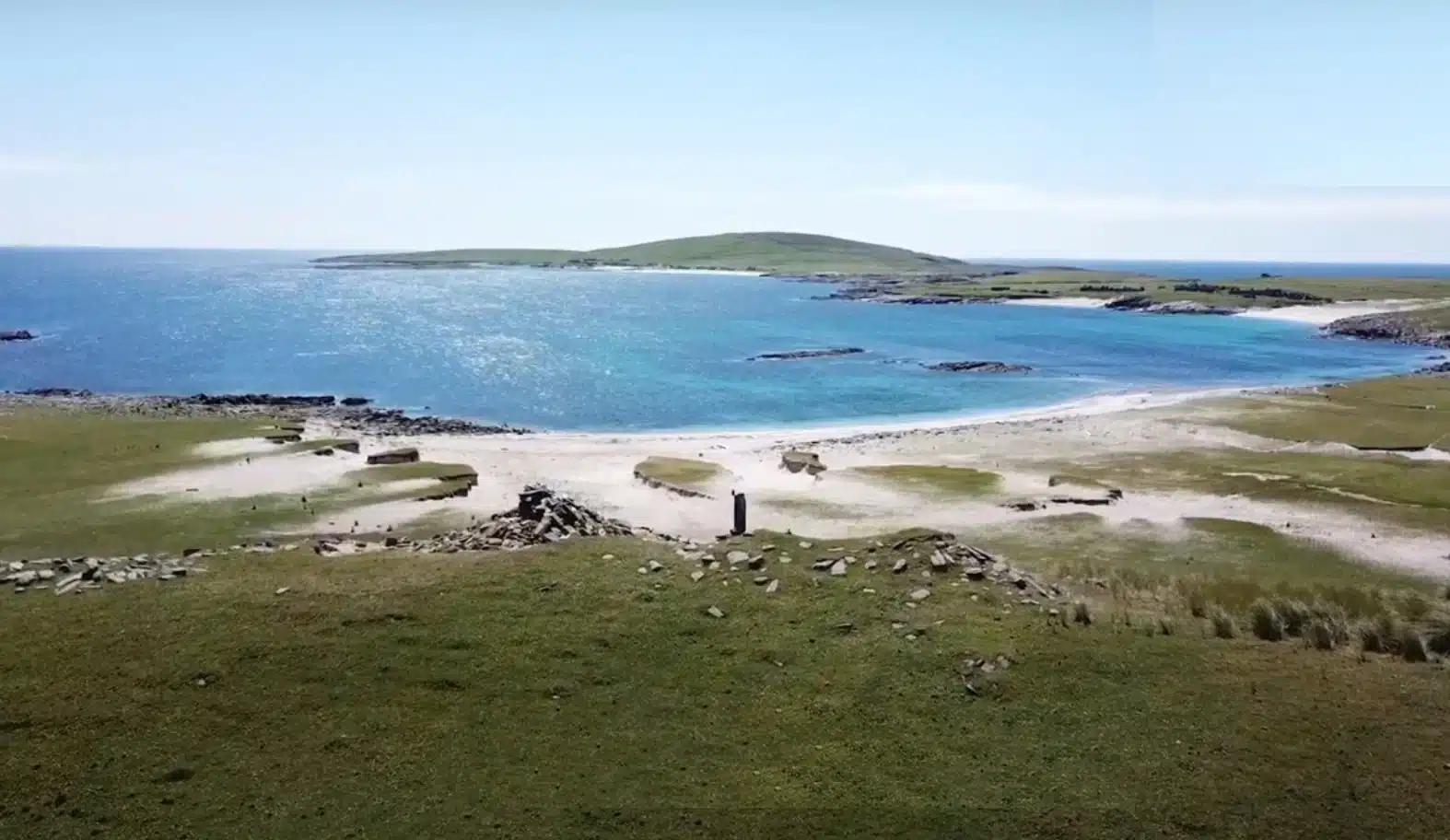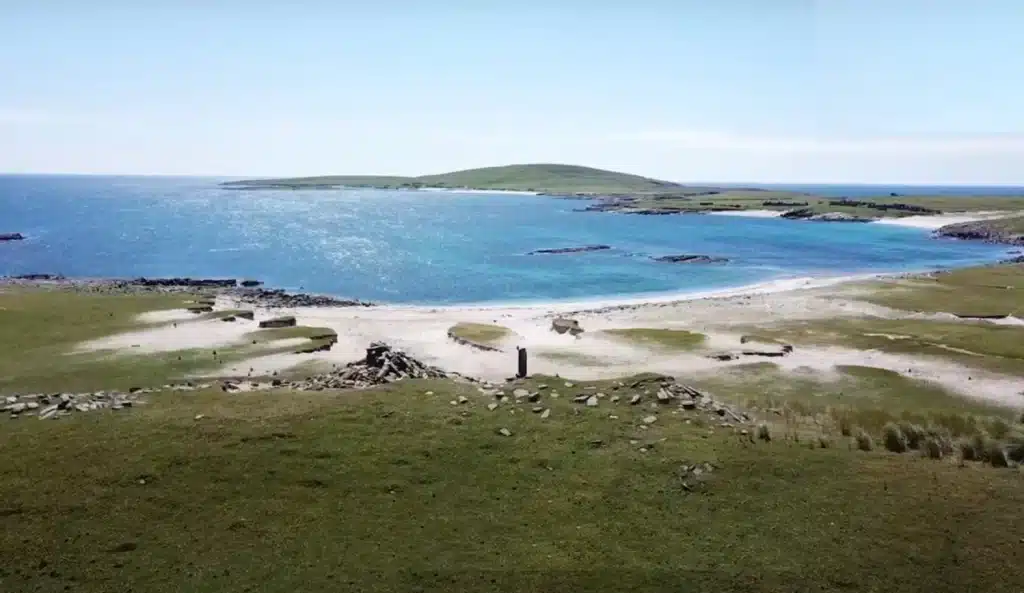 Similarly to the Great Blasket, this is a sanctuary for grey seals, who will settle down here in the autumn and winter months.
One of the most striking landscapes you will notice if you decide to take a trip to the Inishkeas is the enornous cliffs of Croaghaun on Achill Island. These cliffs are notoriously difficult to view, unless you make the 688 metre trek. Seeing them from this vantage point is a rarity and a truly stunning spectacle.
How to get to the Inishkeas
These lads run boat trips to the island in the summer months. You'll also get a fascinating guided tour of the island and have time for a swim or just relax. There's also a children's treasure hunt!
Final Thoughts
That wraps up out list of the west of Ireland's most spectacular islands. Each of the islands listed above offer something special. Islands such as the Aran Islands or Achill will be busy during the summer months, but the Inishkeas or Great Blasket will be reminiscent of visiting a deserted island.
A visit to the west of Ireland, in our humble opinion, is not complete without a visit to one of the offshore islands. In fact many claim that this is the absolute highlight of their holiday and prioritize it on their return trip.
Have we forgotten any islands on our list? We'd be delighted to hear your opinions or if you hae recently visited any of these places, let us know!
FAQs
What is the largest Irish island?
Achill Island (Oileán Acla) is Ireland's largest offshore island with an area of 145 square km (56 square miles) It is Ireland's second most populous island (2,700 inhabitants), after Great Island in Cork Harbour. Achill is also home to Ireland's highest seacliff (Croaghaun: 688 m)
What are the 3 islands off the coast of Ireland?
The Aran Islands is an archipelago of 3 large islands located off the coast of County Galway. Known for their endless stone walls, prehistoric clifftop forts and ever-present Irish culture and traditions, the islands offer a glimpse into the Ireland of old.
What is the name of the island where Star Wars was Filmed?
Skellig Michael, an uninhabited island off the west coast of Kerry was the chosen location for many scenes of the 2015 installment: Star Wars: The Force Awakens.