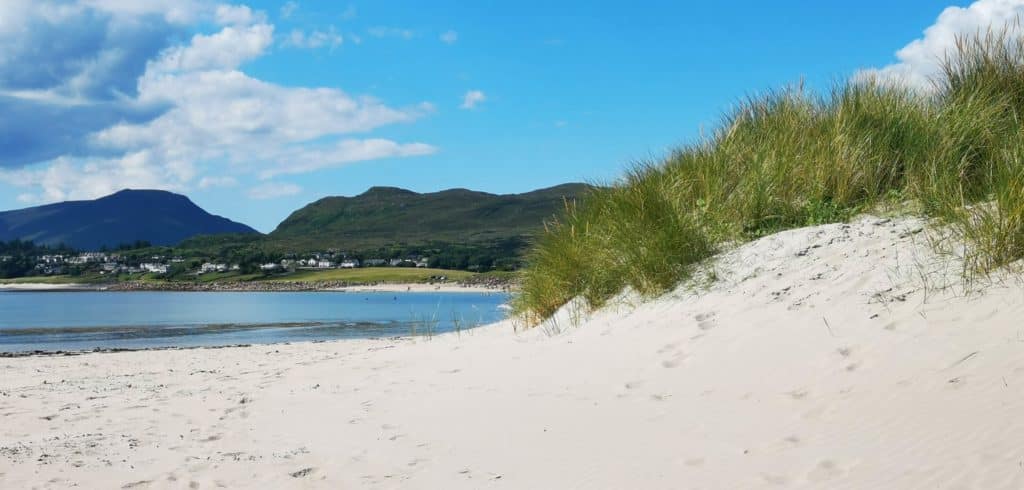 Are you planning on visiting County Mayo and are curious about which beaches to visit? We can certainly help out here.
Being a local from County Mayo, I am going to give you a comprehensive, honest guide to what I believe to be the best beaches in the beautiful county of Mayo in the west of Ireland.
Including all its intricate bays, beaches and cliffs and headlands, the length of Mayo's coastline is an astoninshing 1,168 km – making the the county with the longest coastline in Ireland.
Mayo's beaches range from being completely exposed to the wild Atlantic Ocean to beautifully sheltered coves. There are also 2 surprisingly brilliant beaches we love, which you may or may not have heard of, but we'll get onto those later.
Our 15 Favourite Beaches in Mayo
The word 'favourite' is very subjective, here's a look at some factors we took into consideration when coming up with our list:
How scenic is the beach?
How unique is the beach?
How safe is the beach?
How clean is the beach?
How suitable is the beach for swimming?
How suitable is the beach for watersports?
How suitable is the beach for walking/running?
How suitable is the beach for kids?
What facilities are at the beach? (toilets/parking etc.)
With those factors in mind, let's dive into what we believe to be the 15 best beaches in Mayo.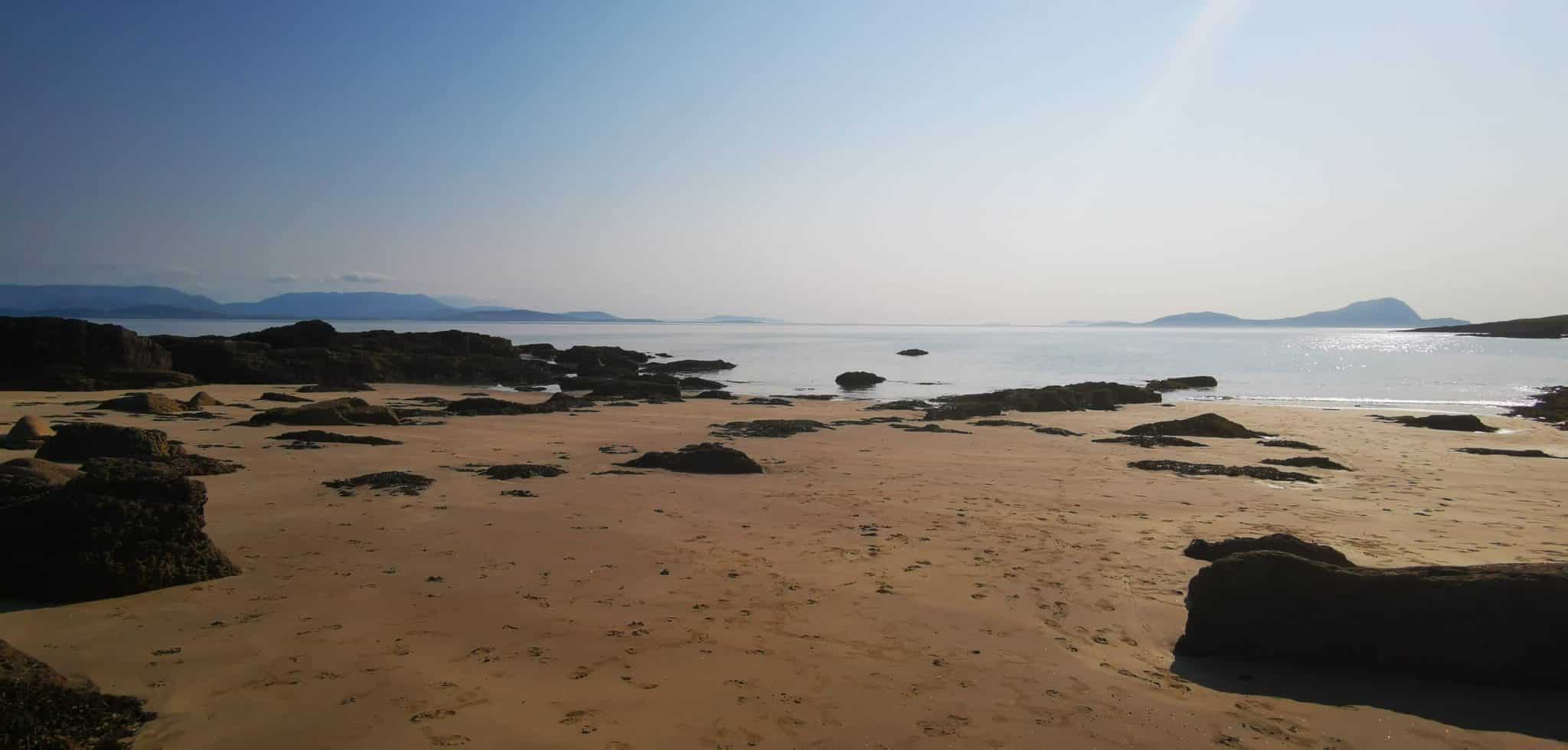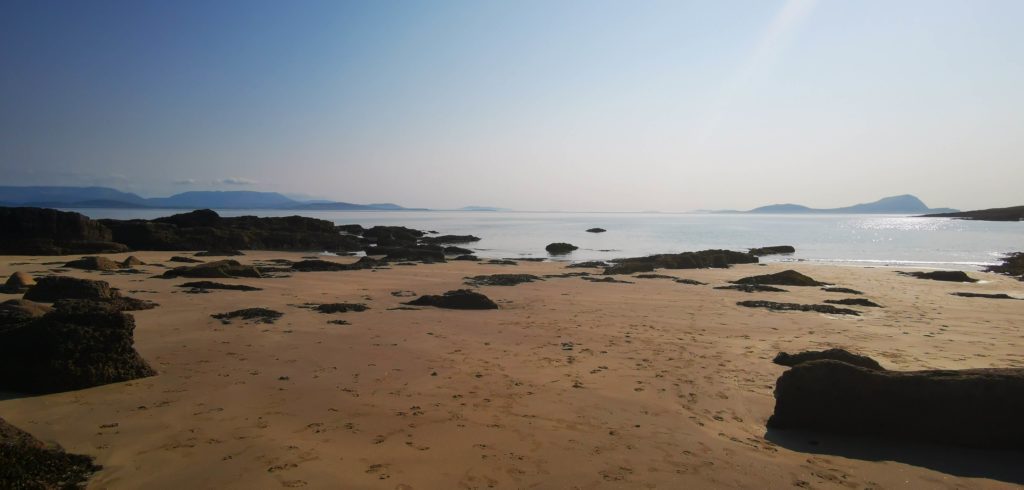 Keem Beach – one of the world's great beaches
What a place to start…Keem Beach is a beautiful crescent-shaped beach tucked away on the west coast of Achill Island.
With its sparkling turquoise waters and fine white sand, it's a stunning spot for swimming, watersports walking and just relaxing.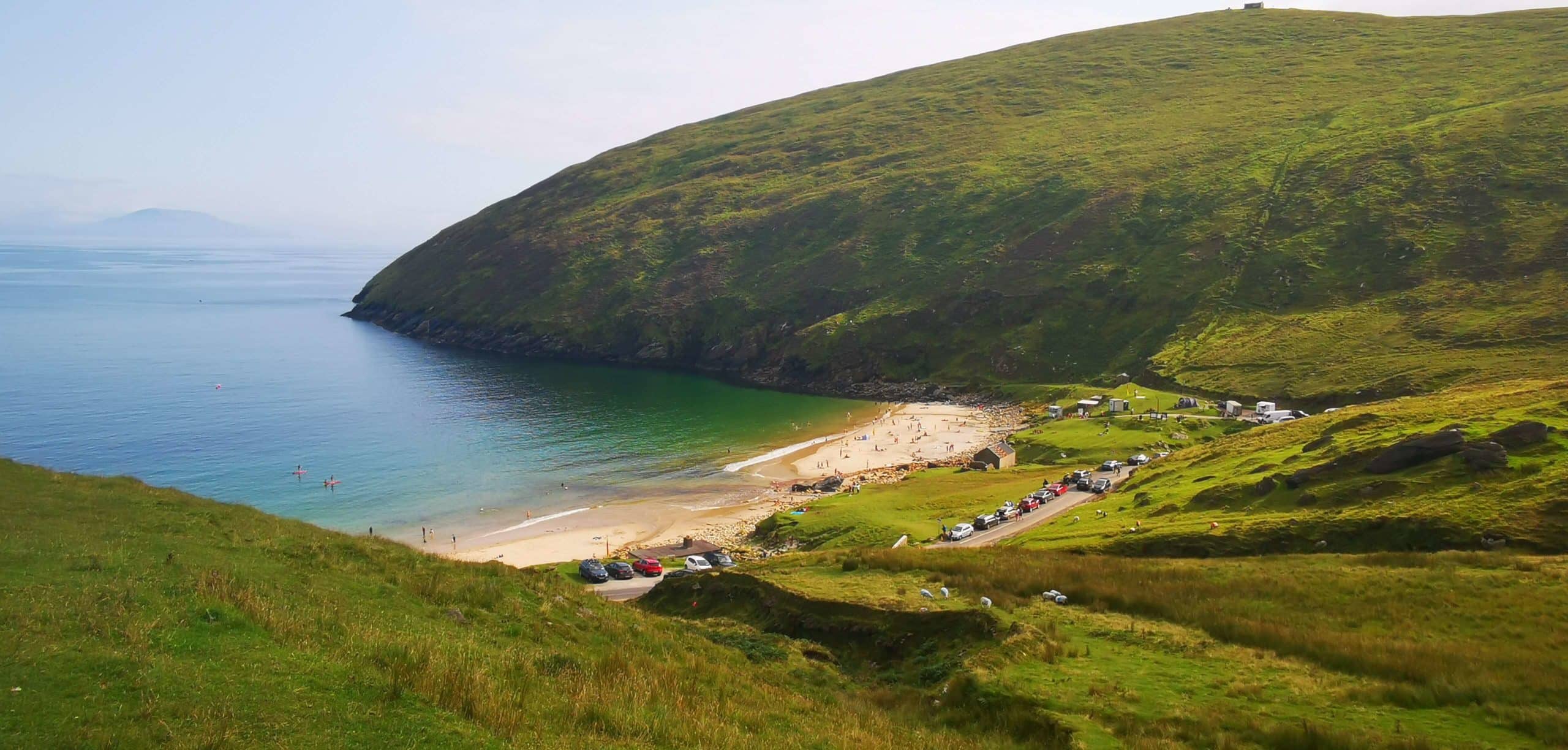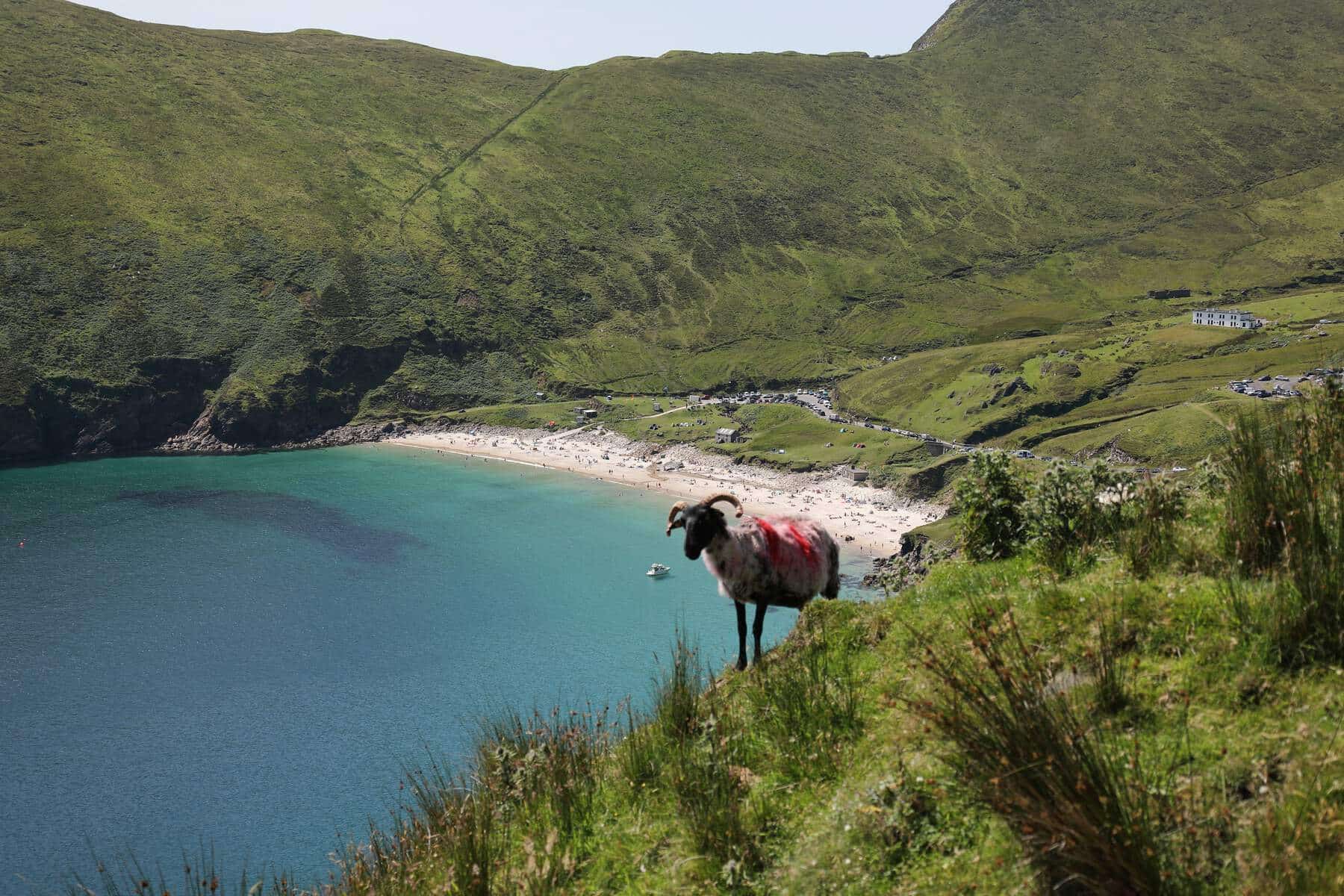 Let's not forget the dramatic scenery of the surrounding cliffs and mountains, the Cliffs of Croaghaun reaching an astonishing height of 688 metres.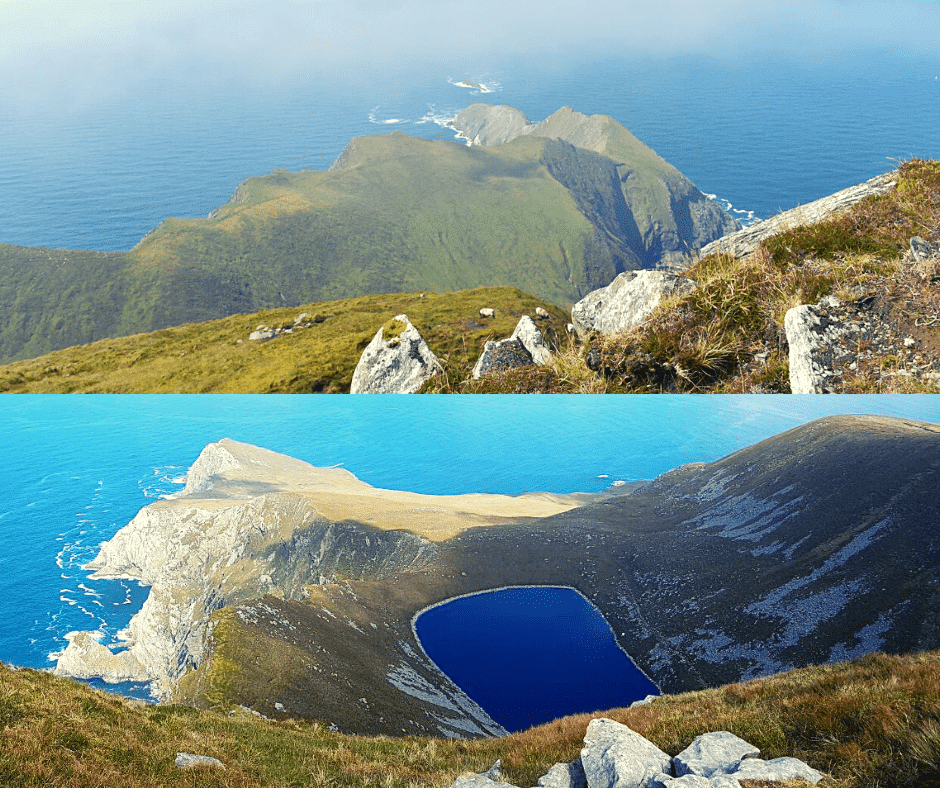 A popular destination for families and indeed anyone who appreciates natural beauty, Keem Beach is also home to an abundance of marine wildlife such as basking sharks and dolphins.
Whether you're looking to hike, swim, or simply relax and soak up the stunning views, Keem Beach is an absoulte must-see on your trip to Mayo.
No wonder Martin MacDonagh chose this slice of paradise for the most iconic scenes of The Banshees of Inisherin.
Keel Beach – an epic beach for watersports, walking and cliff views
Keel Beach is a wide, expansive sandy beach situated on Achill Island, Ireland. With its long stretch of golden sand and awesome waves, it's a popular spot for surfing and other water sports.
The beach is also backed by the towering Minaun Cliffs, creating a dramatic and picturesque landscape, making it truly one of the best beaches in Mayo.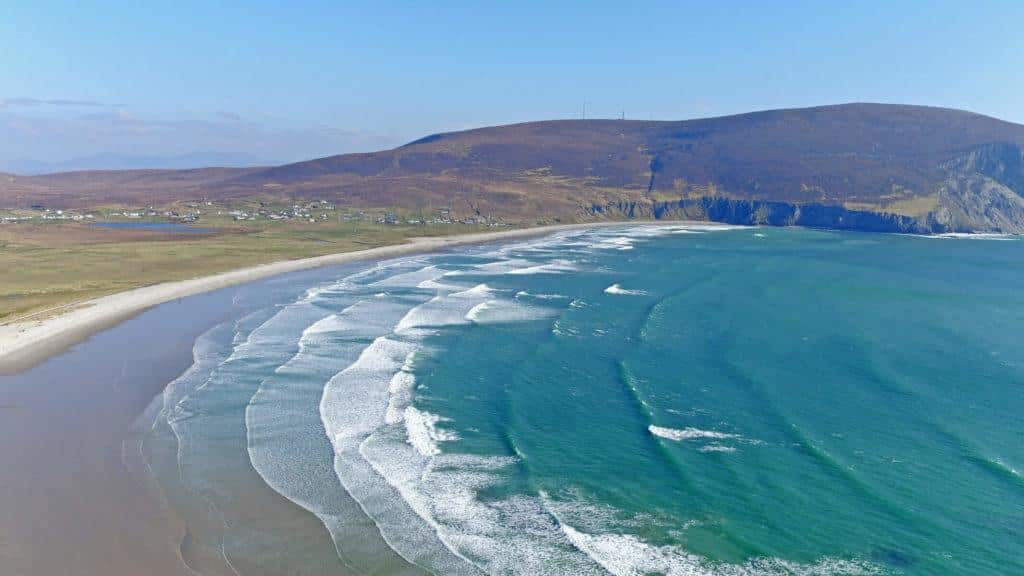 Keel Beach is a great place for a leisurely or lively stroll, a dip in the sea, or just taking in the breathtaking views.
The beach is easily accessible, with a large car park, camping site and facilities nearby.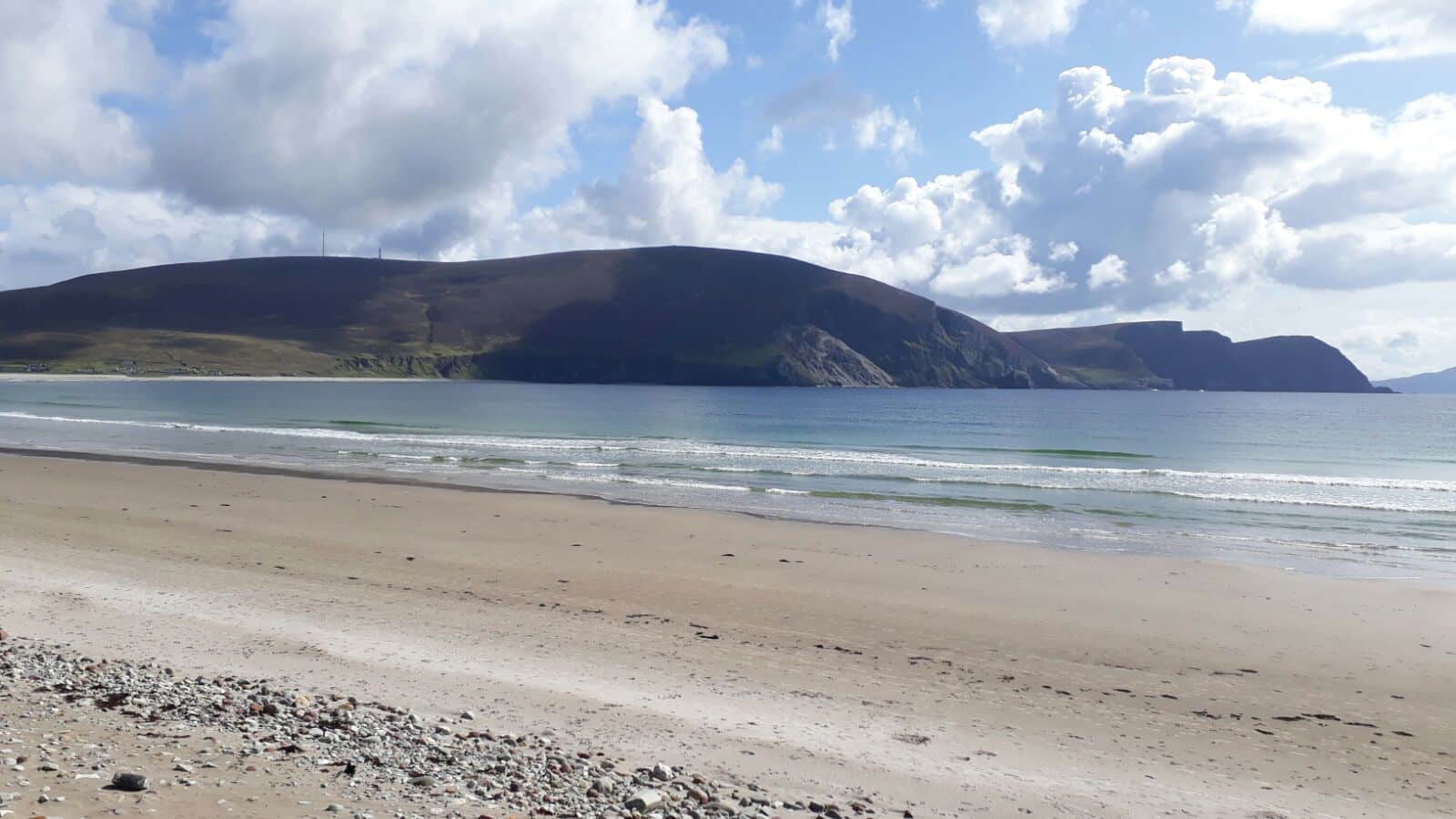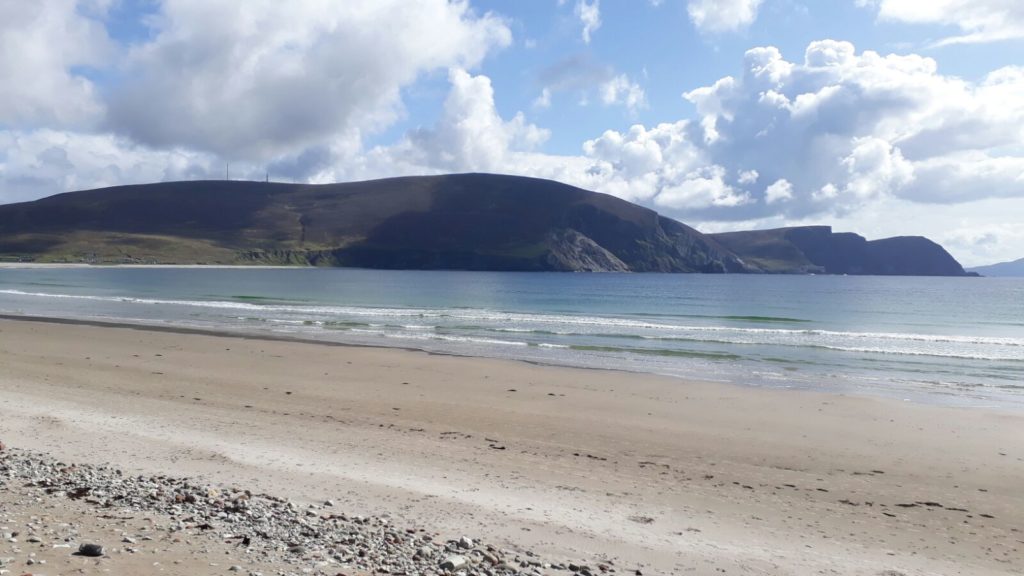 Whether you're a beach lover, walker or a nature enthusiast, Keel Beach is a beautiful destination to explore on Achill Island.
Have a look at our comprehensive guide to Keel Beach here.
Old Head Beach – a beautiful sheltered beach and ideal for kids
Old Head Beach is one of our favourite beaches in Mayo, especially in recent years as we have discovered it is a brilliant beach for kids.
It faces away from the Atlantic Ocean, meaning it rarely gets any significant waves. The western end of the beach is backed by a substantial hill, which provides a micro-climate, blocking out the pervailing westerly or southwesterly breezes.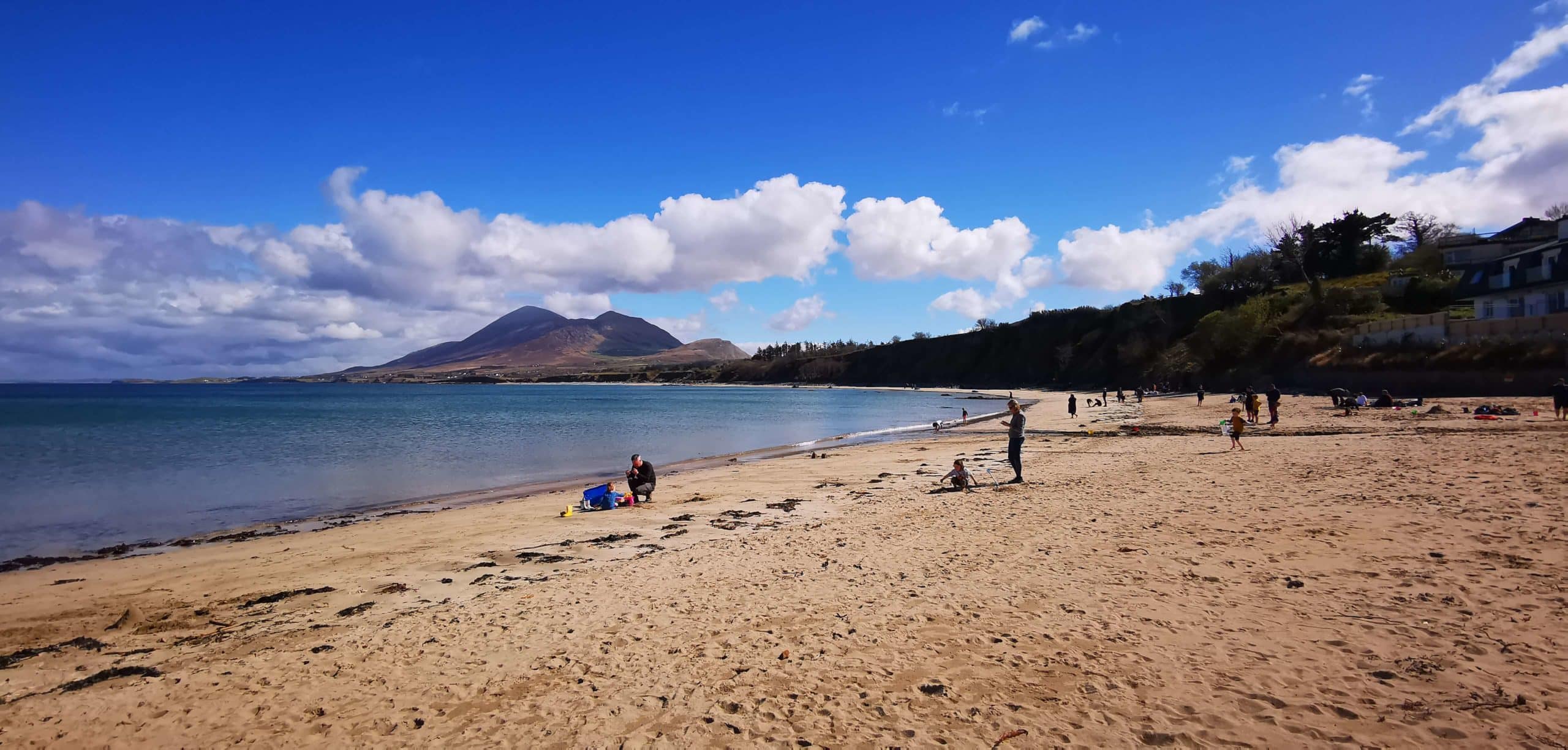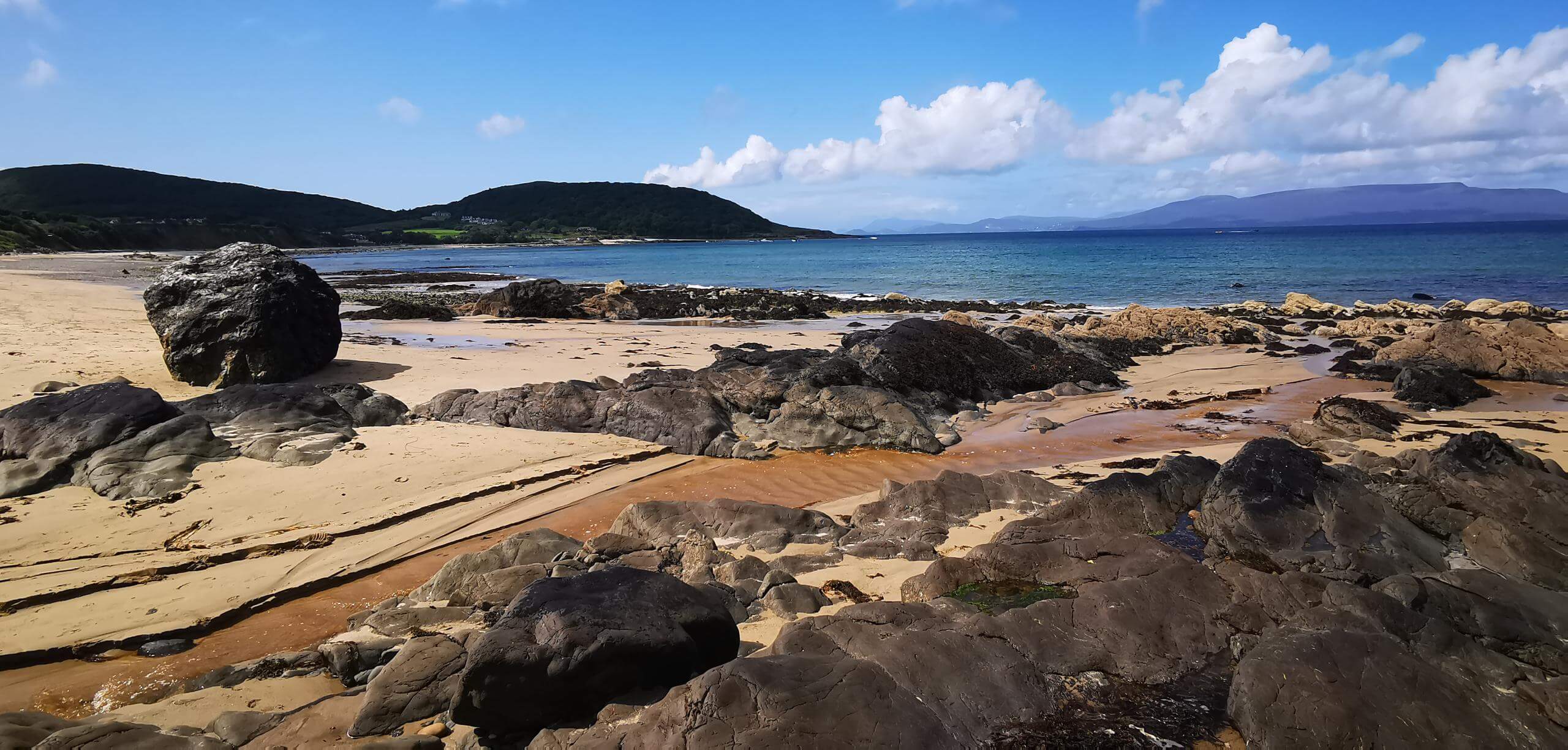 A gem of a beach with phenomenal views of Croagh Patrick and Clew Bay with its hundreds of glacial islands.
There is also some wonderful walking through Old Head Woods and on to Old Head Peninsula.
Throw in the chance to learn Paddleboarding on-site, along with the option to relax and detox in a sauna (also on-site) and this beach really packs a punch.
Certainly one of the best beaches in Mayo. We have a comprehensive guide to Old Head here.
Bertra Beach – for wonderful views of Croagh Patrick
A stunning 'sand-spit' that juts proudly out into the Atlantic Ocean, this beach is popular in summer with local 'Coveys' (residents of Westport) and visitors alike.
Bertra Beach offers beautiful vistas out over the whole of Clew Bay, from Rosmoney Lighthouse to the distant cliffs of Achill Island, along with the imposing peak of Croagh Patrick.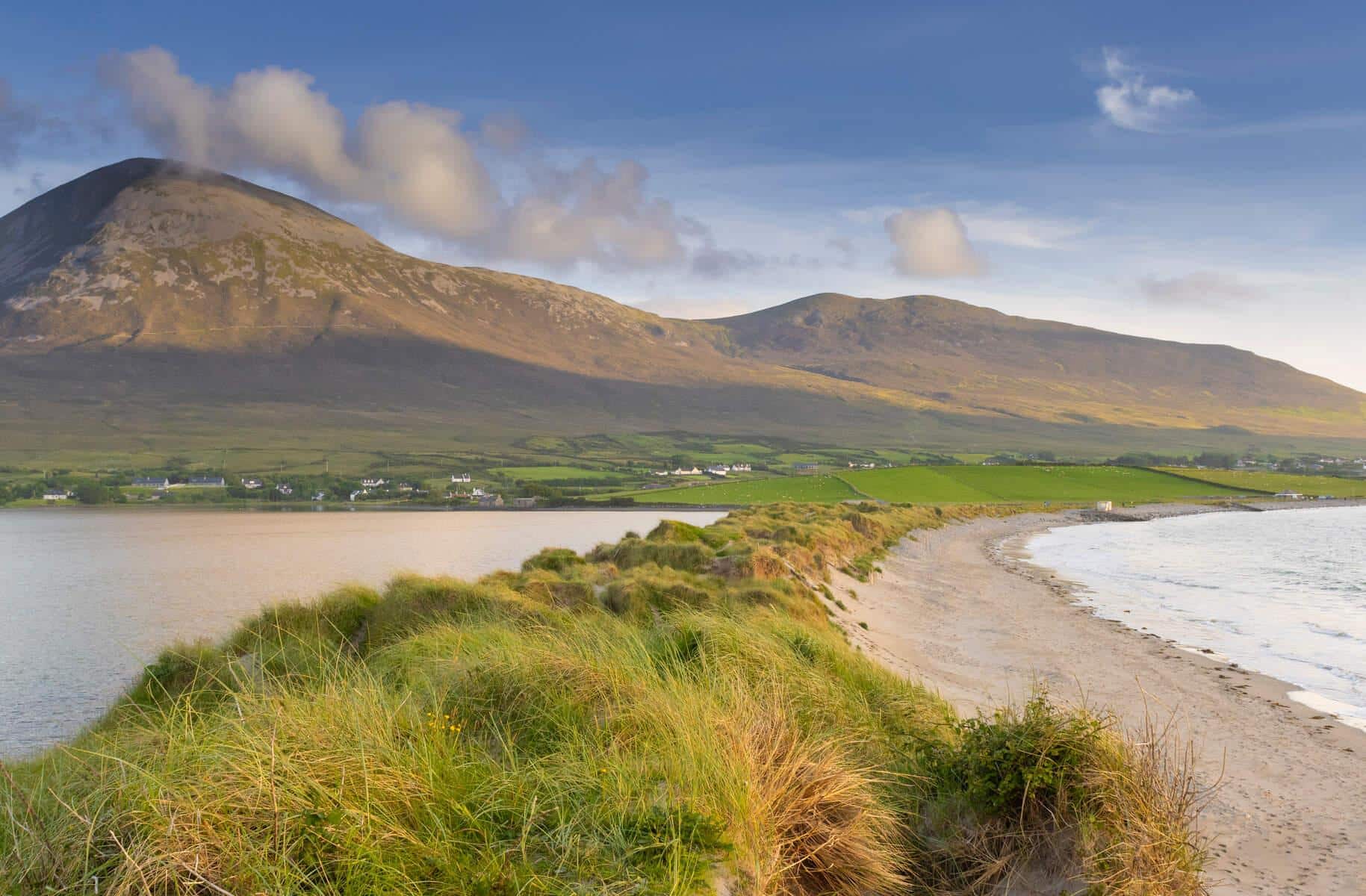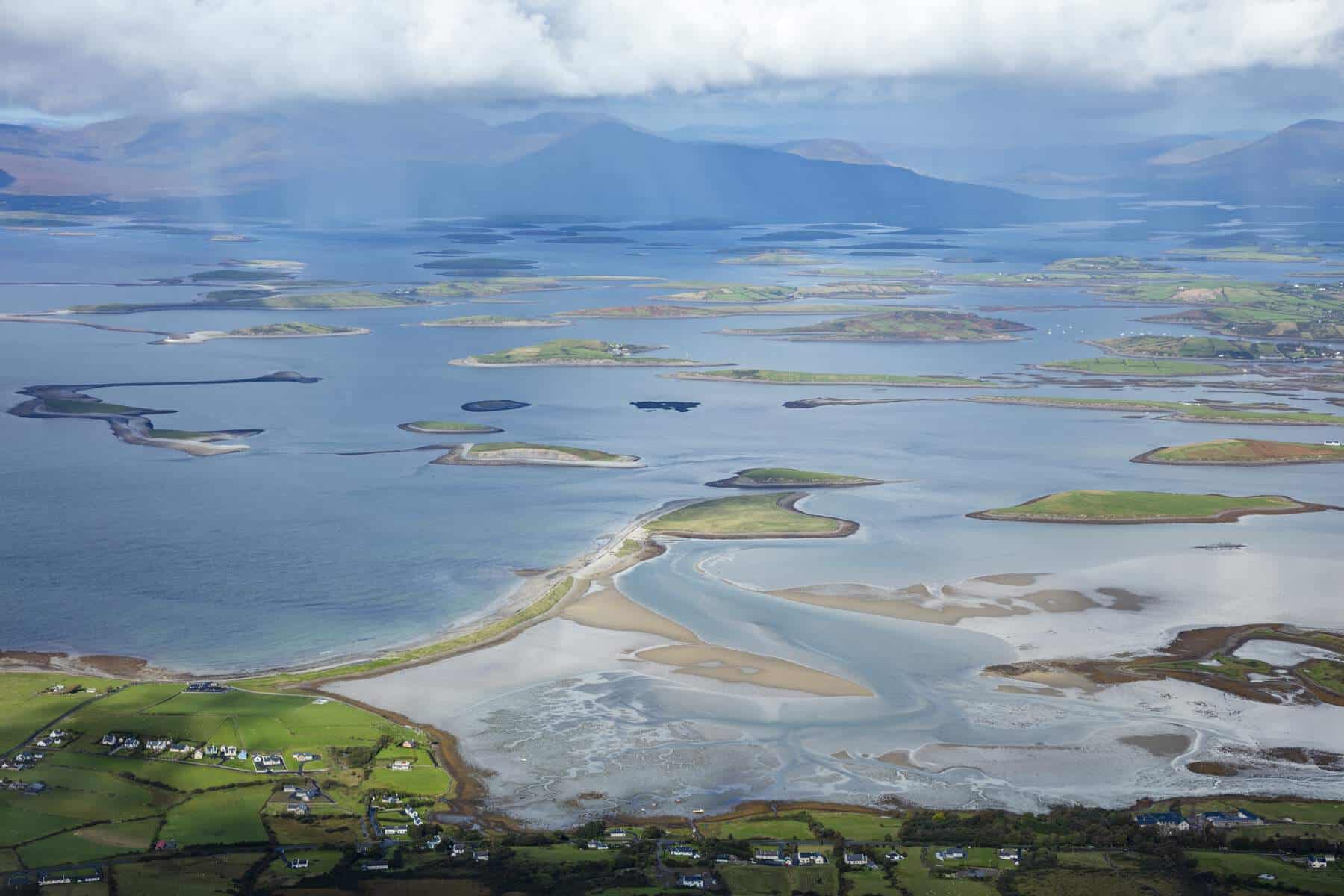 On a clear day you'll be able to spot the chapel on top of Croagh Patrick and the thoughts of climbing it will definitely cross your mind. By the way, we highly recommend this-the views are out of this world.
We have a comprehensive guide to Bertra including tides and parking here.
Beach on the Inishkea Islands – an almost tropical-looking beach in spectacular isolation
Although I personally have not been to these islands, I know plenty who have. The one thing they all have in common when they speak about their experience is how incredibly beautiful the beach is.
Just look at these images! Sometimes it really is mindblowing how beautiful some of the beaches along the west coast of Ireland are.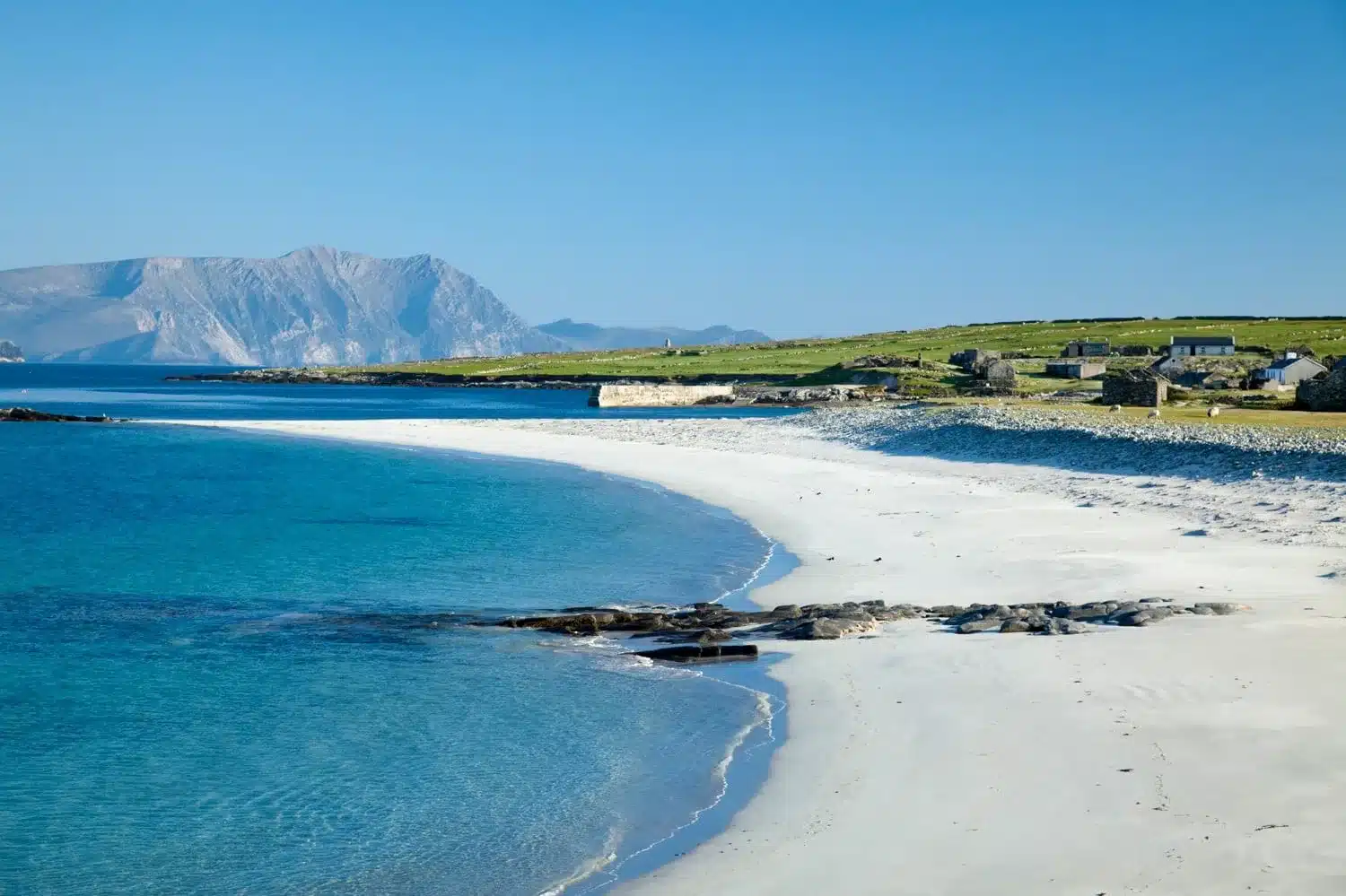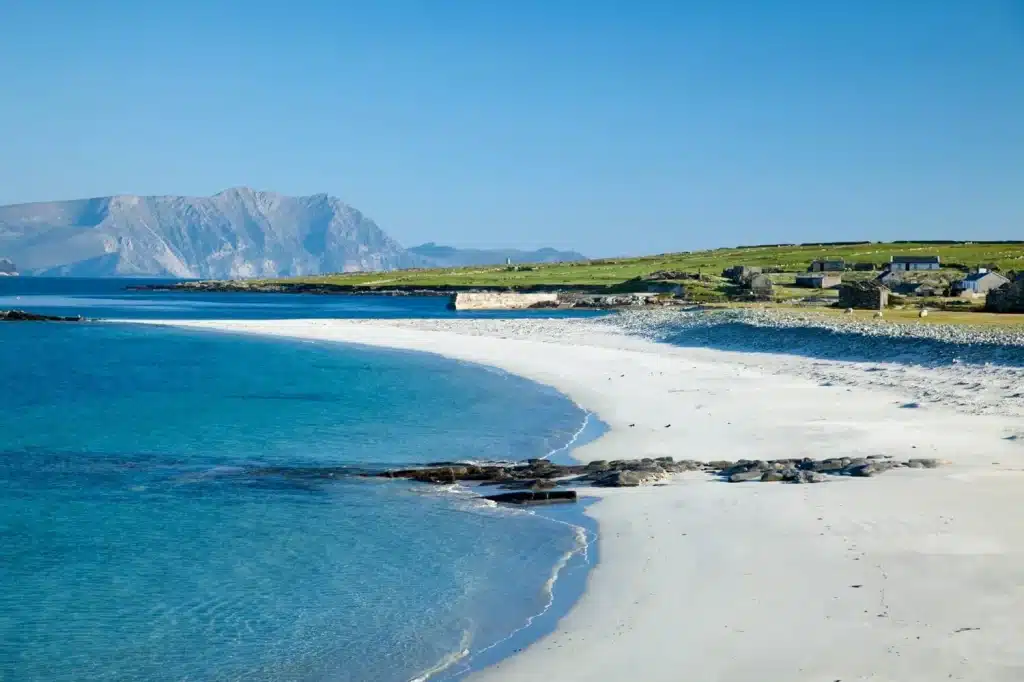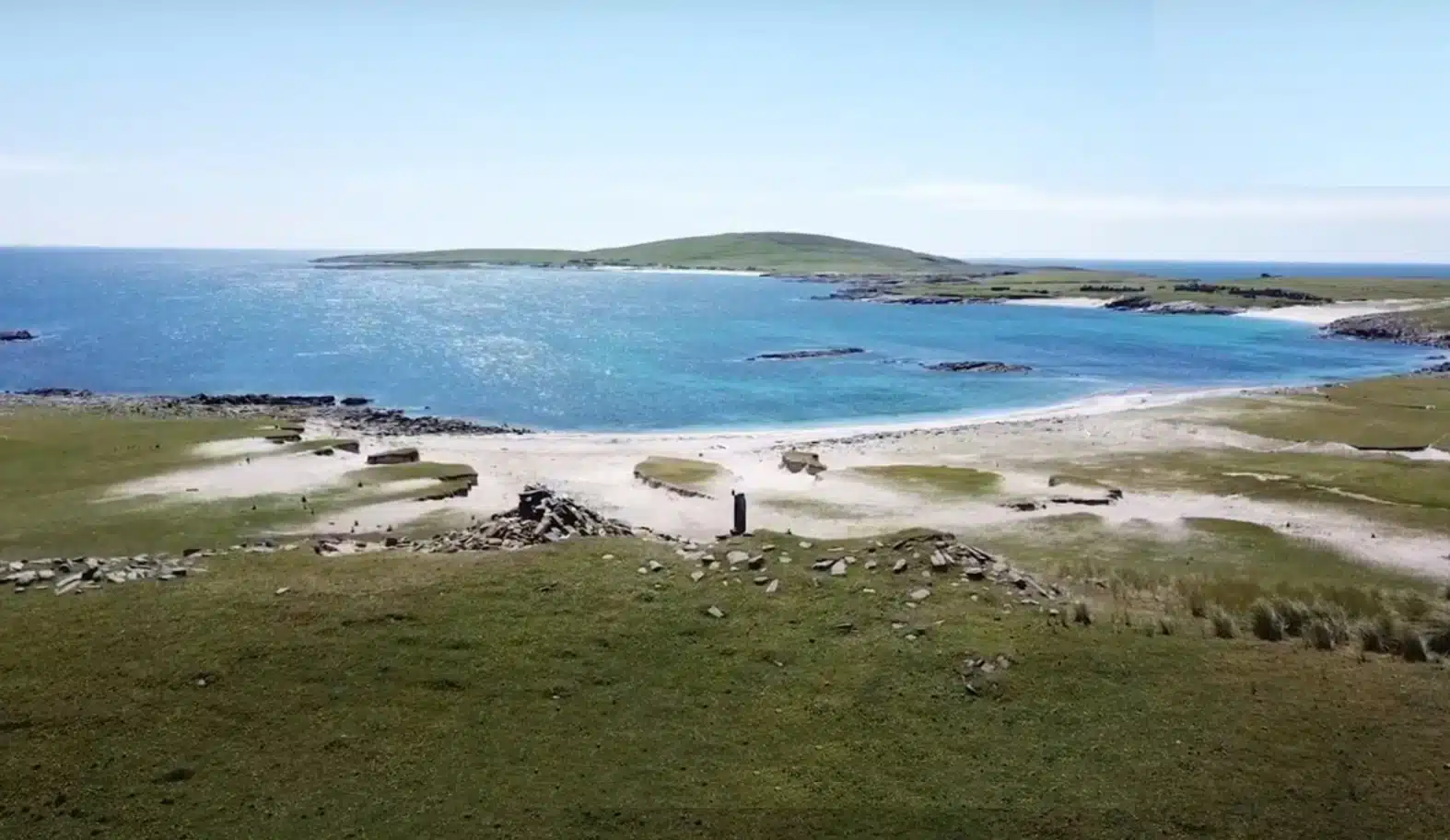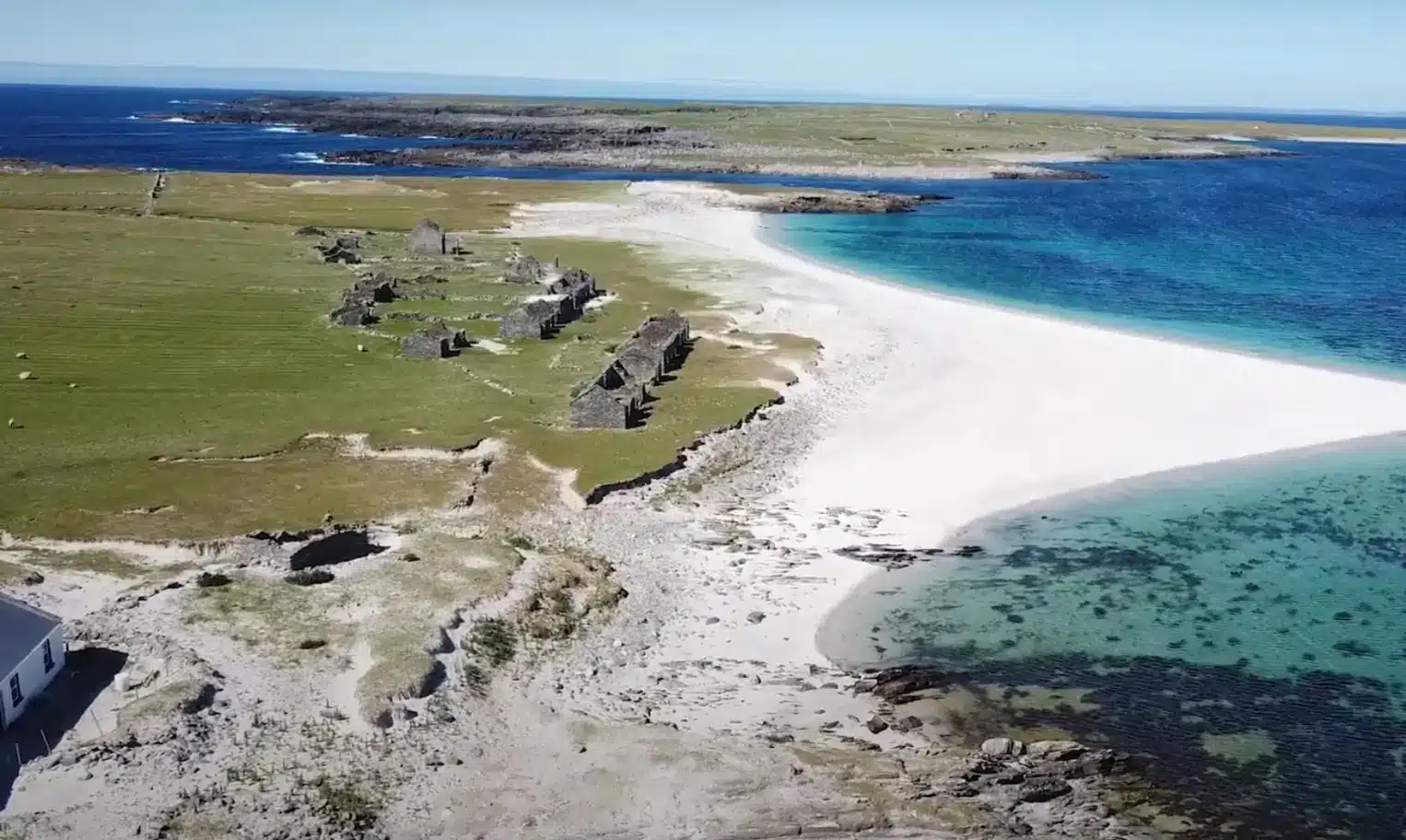 'If only we had the weather for them', you'll hear being said. Well, I guess if we had the weather, then they may be overdeveloped and not as clean and pristine as they are now.
These islands are uninhabited and are reachable by boat. These lads here run trips out to the Inishkea Islands, a trip I'll have to do this summer.
Annagh Beach – a beautifully secluded beach with spectacular scenery
Annagh Beach is an absolute hidden gem and a real experience just to get there.
One of Ireland's most remote and hidden beaches and located on the amazing Achill Island, this is only accessible by foot. To the east and west you'll see the 2 towering peaks of Slievemore and Croaghaun resepctively.
Just behind the beach, you'll see the large freshwater lake of Lough Nakeeroge East, which happens to be the lowest Corrie (glacial) lake in Ireland (16m above sea level)
Folklore has it that this area is also haunted, with accounts of sightings and encounters with other-worldy figures.
It didn't seem to bother this man though who set up camp one night and went on to experience the incredible beauty of Croaghaun Cliffs the following day.
Time for surprise beach number 1! This is one of my favourite beaches, not just in Mayo, but anywhere in the west of Ireland.
This beach is the one we chose for our title photo for this post. This is not the main blue flag beach in Mulranny.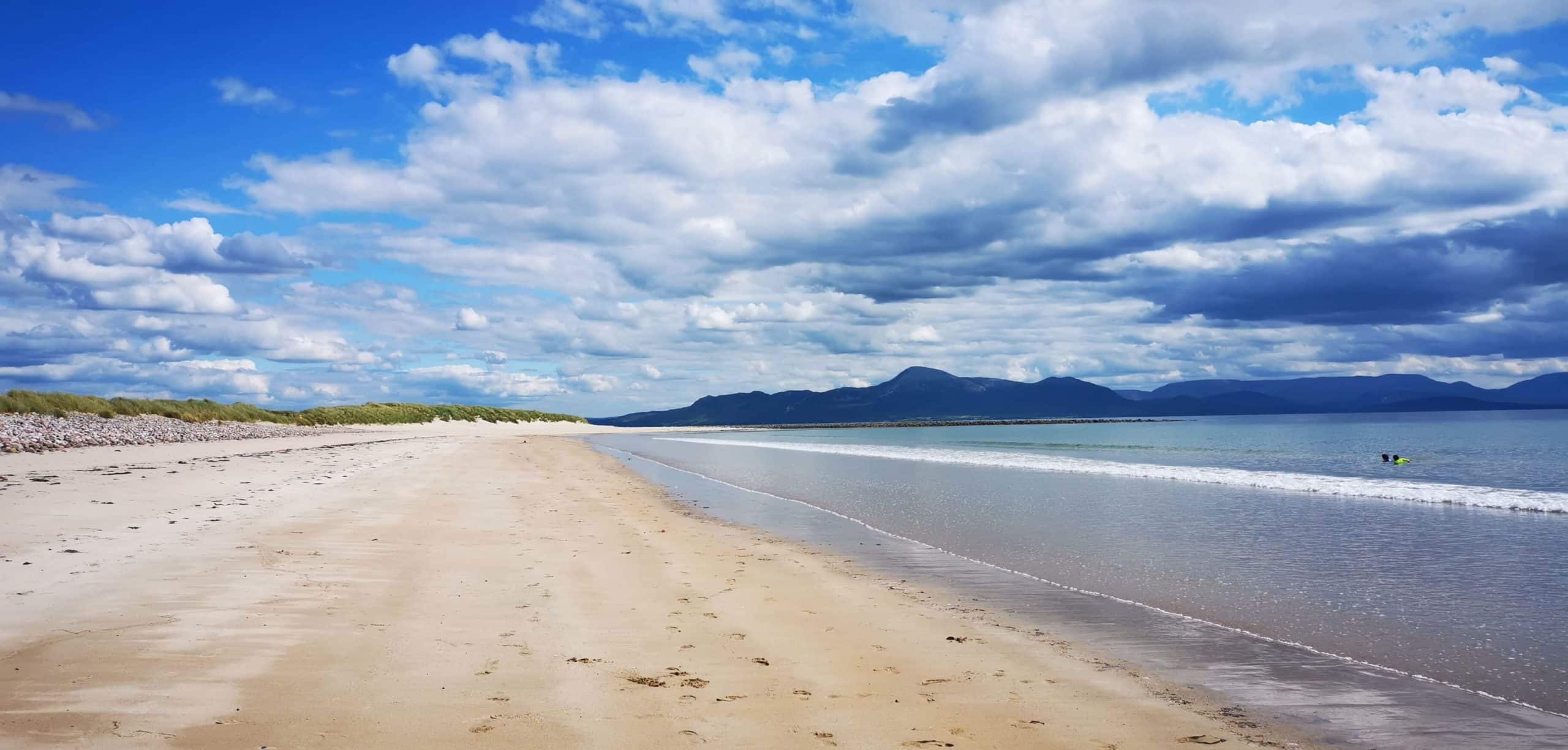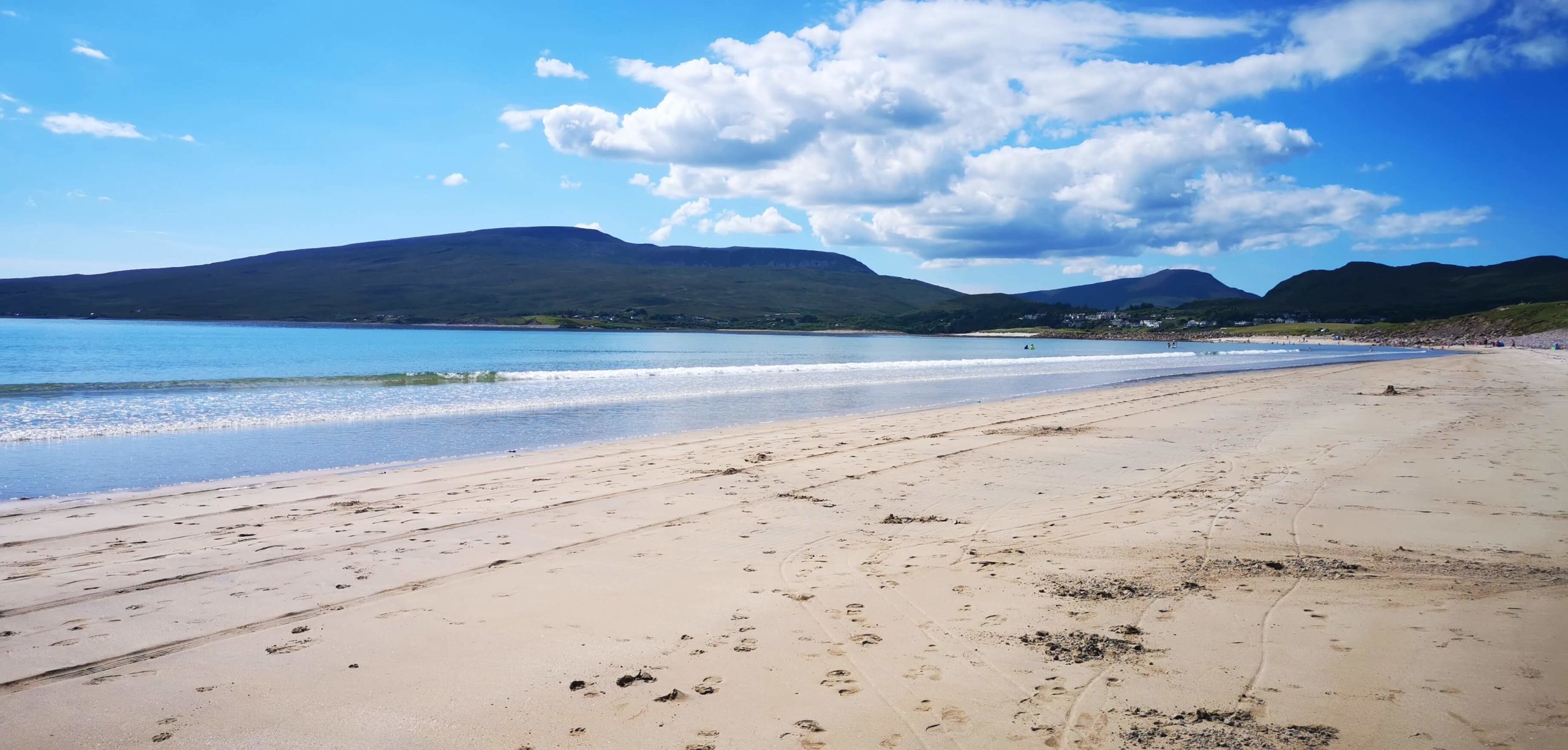 It's a proper adventure to get there, its location is here. You'll have to drive to Mulranny Golf Course clubhouse and then either park there and walk the rest, or drive thorugh the golf course and park at the beach.
Either way, you'll have to be wary of golfers teeing off from the first hole! Should you decide to drive down, the road is very, very bumpy. You'll have to take it very easy but it's only a half a mile or so.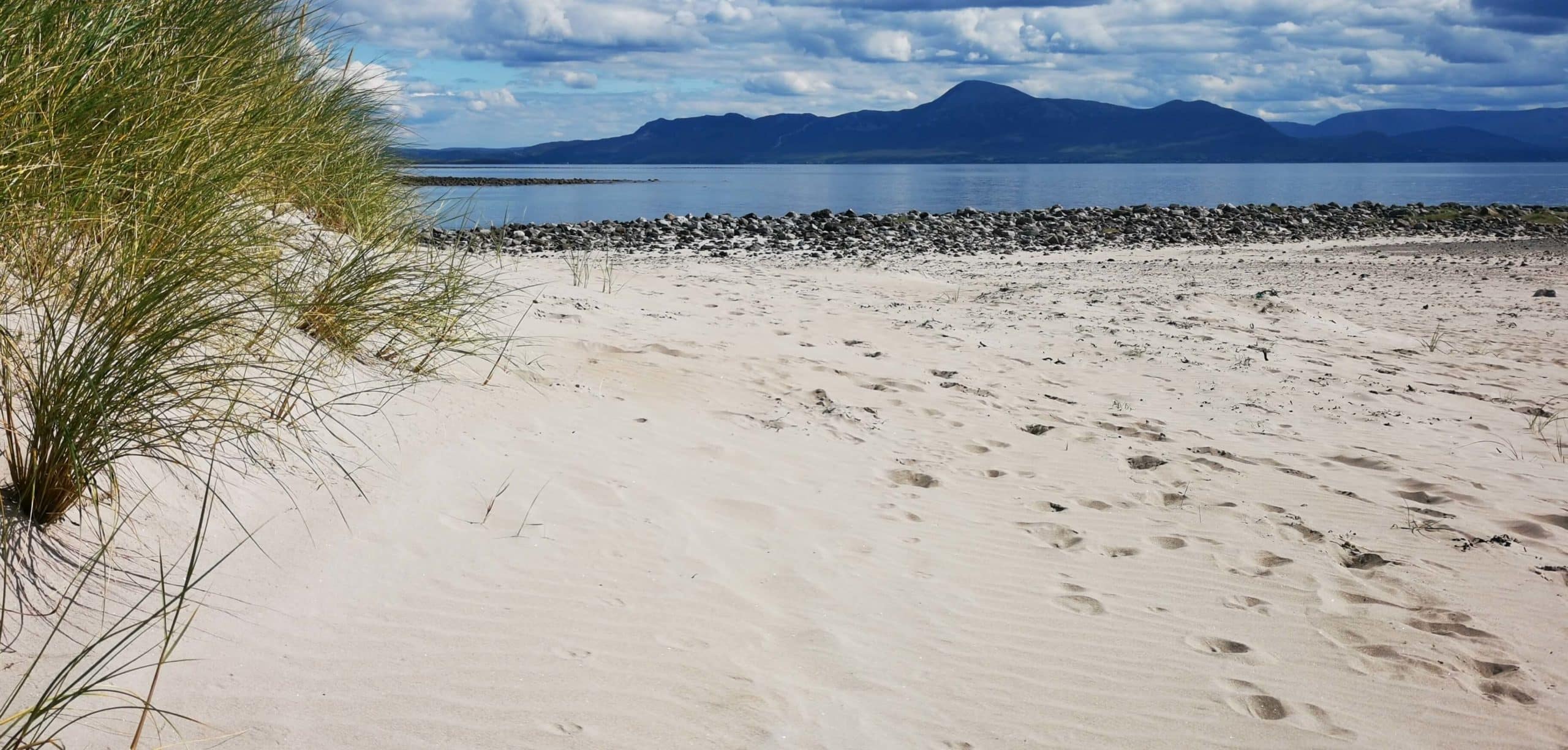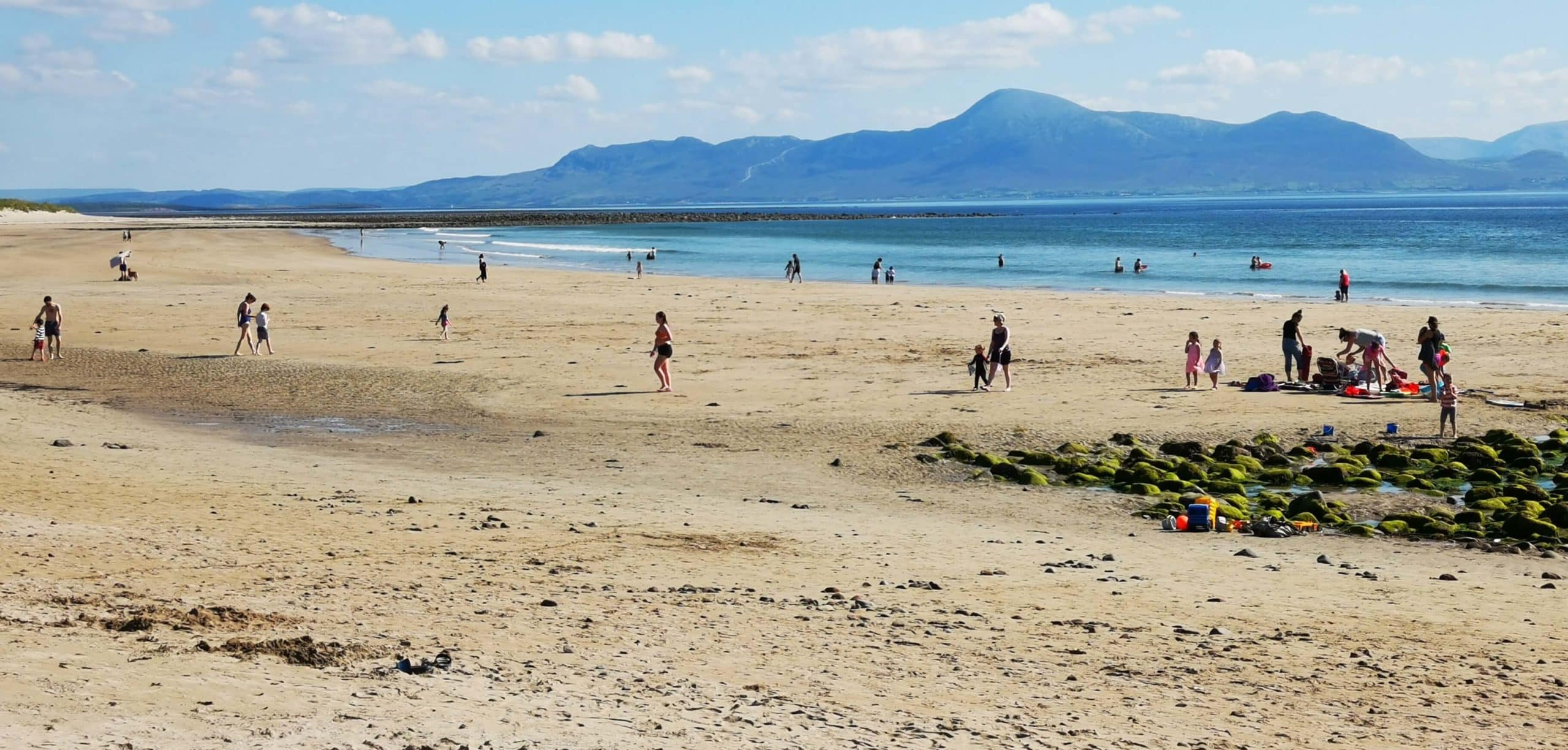 The views here are beautiful over Clew Bay to the peak of Croagh Patrick and the Sheefry Hills. To the west you'll see Clare Island and the the vast Atlantic in the distance.
The beach is full of small tidal rockpools for the kids and on a fine day the water here warms up to near bath temperatures!
The water in the sea also warms up very nicely at south-facing Polranny, especially towards the late afternoon on a fine sunny day.
Here, we made a video of the beach, which shows the parking area and the road that leads to it:
It should be noted, however, that this is not a Blue Flag beach and one has to be aware before heading into the water.
Like many beaches along the west coast, rip currents can be an issue, so take care. If unsure about the dangers of rip currents, have a look here.
The far end of the beach is my personal favourite spot. The sands are blinding white and there is an adjoinng second beach around the corner.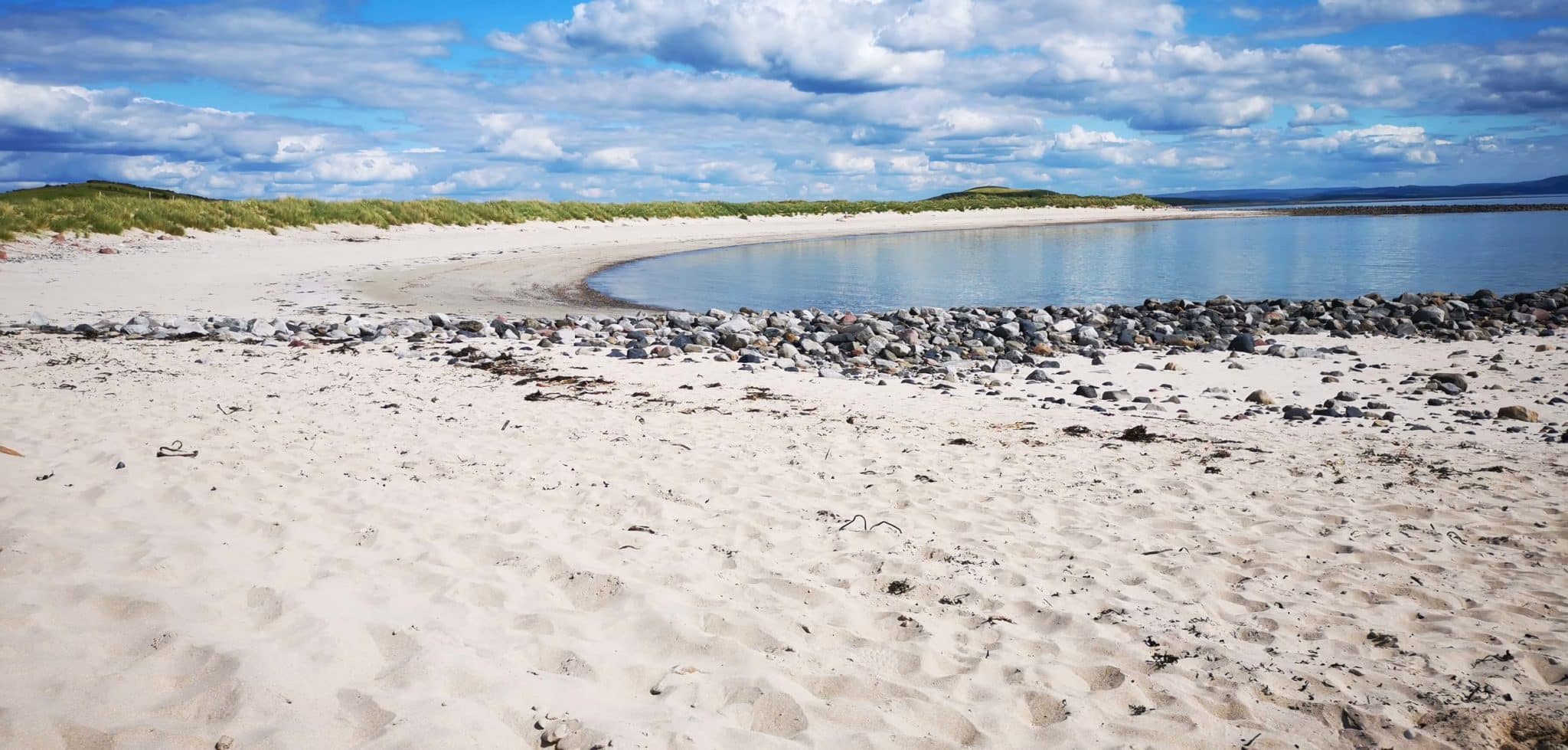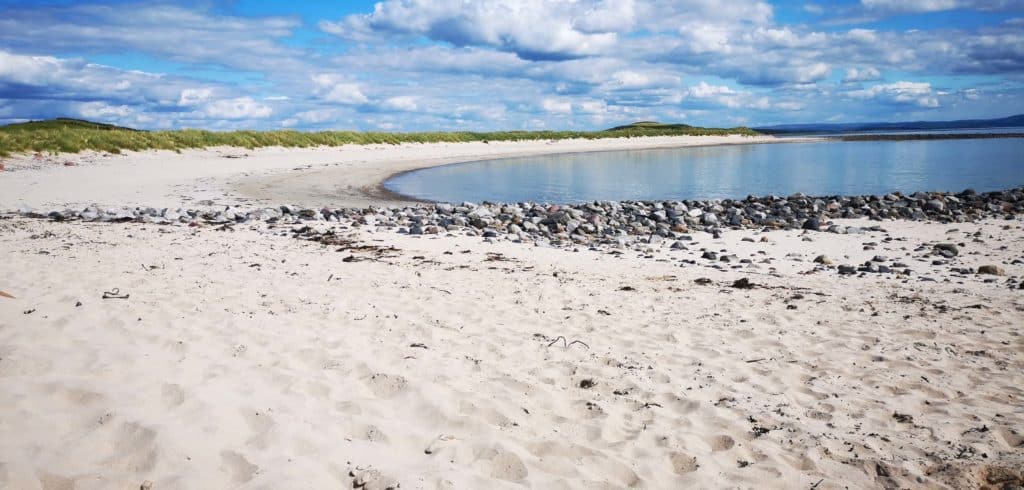 Polranny Bay Beach is ideal for a long stroll along the shallows on a warm summer's day, with breathtaking views all around you. A real hidden gem and undoubteldy one of the best beaches in Mayo.
Pontoon Beach – a completely underrated lake beach with warm waters
Time for surprise beach number 2! Who said the best beaches all have to be at the sea?
Located here on the shores of Lough Cullin, this sandy beach is just perfect for kids or indeed anyone who is not a fan of waves or venturing into the sea.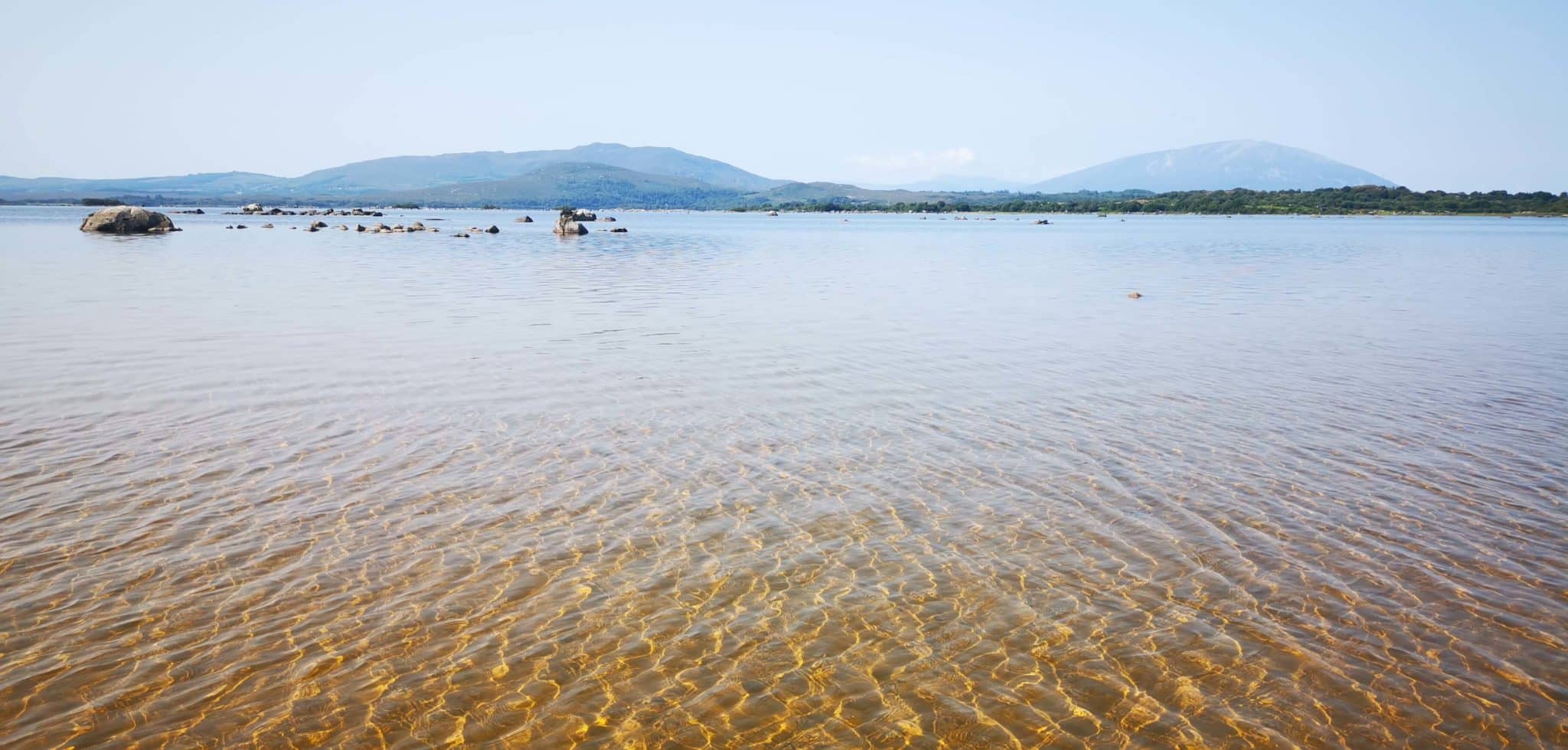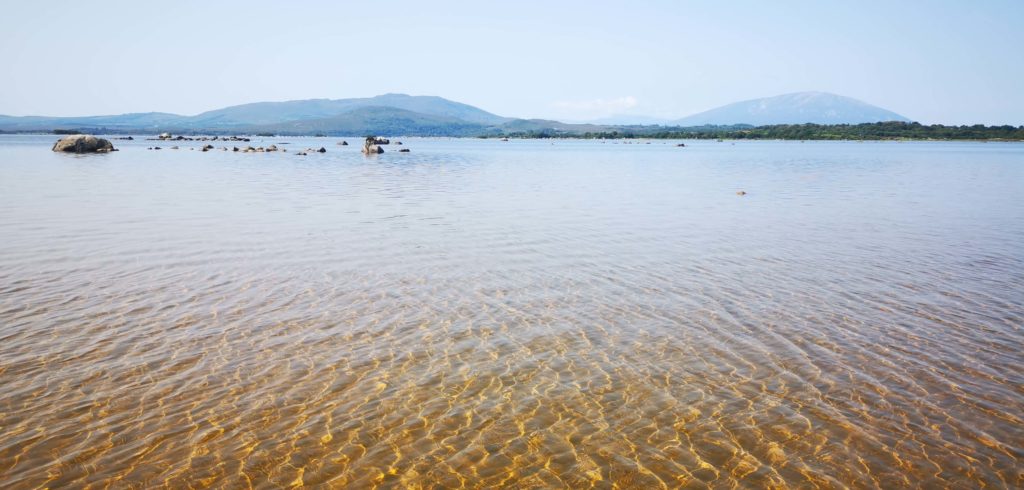 The water here is so shallow, you can happily paddle around here for hours. Underfoot is also sand, but one of the most incredible things about this beach is its warm waters.
I measured a water temperature here last summer at 11 o'clock in the morning of 24 degrees Here's the proof!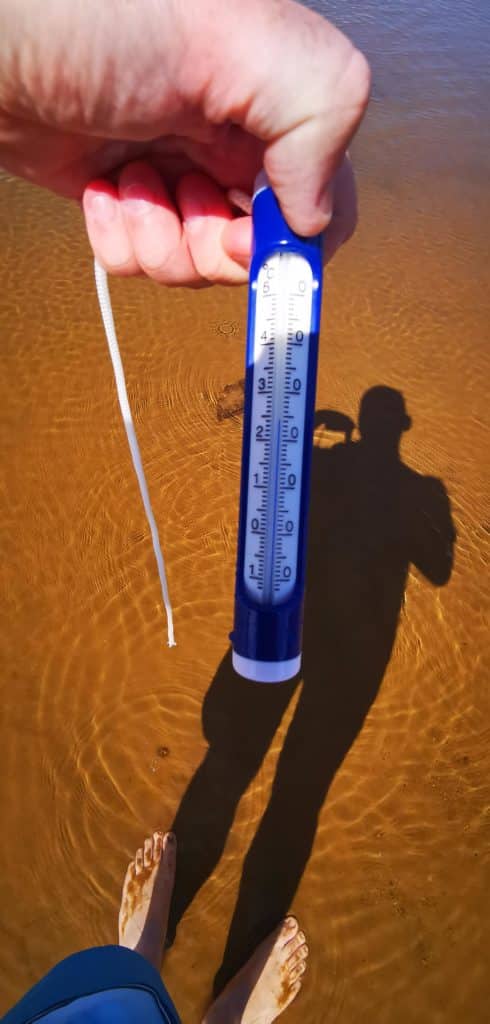 You can see from above how shallow the water is, making it just ideal for kids to splash around, making your job as a parent a lot easier!
The views out over the lake and of Ireland's tallest free-standing mountain, Nephin, makes this a really scenic location to spend a few hours. There's also a decent amount of parking in front of the beach.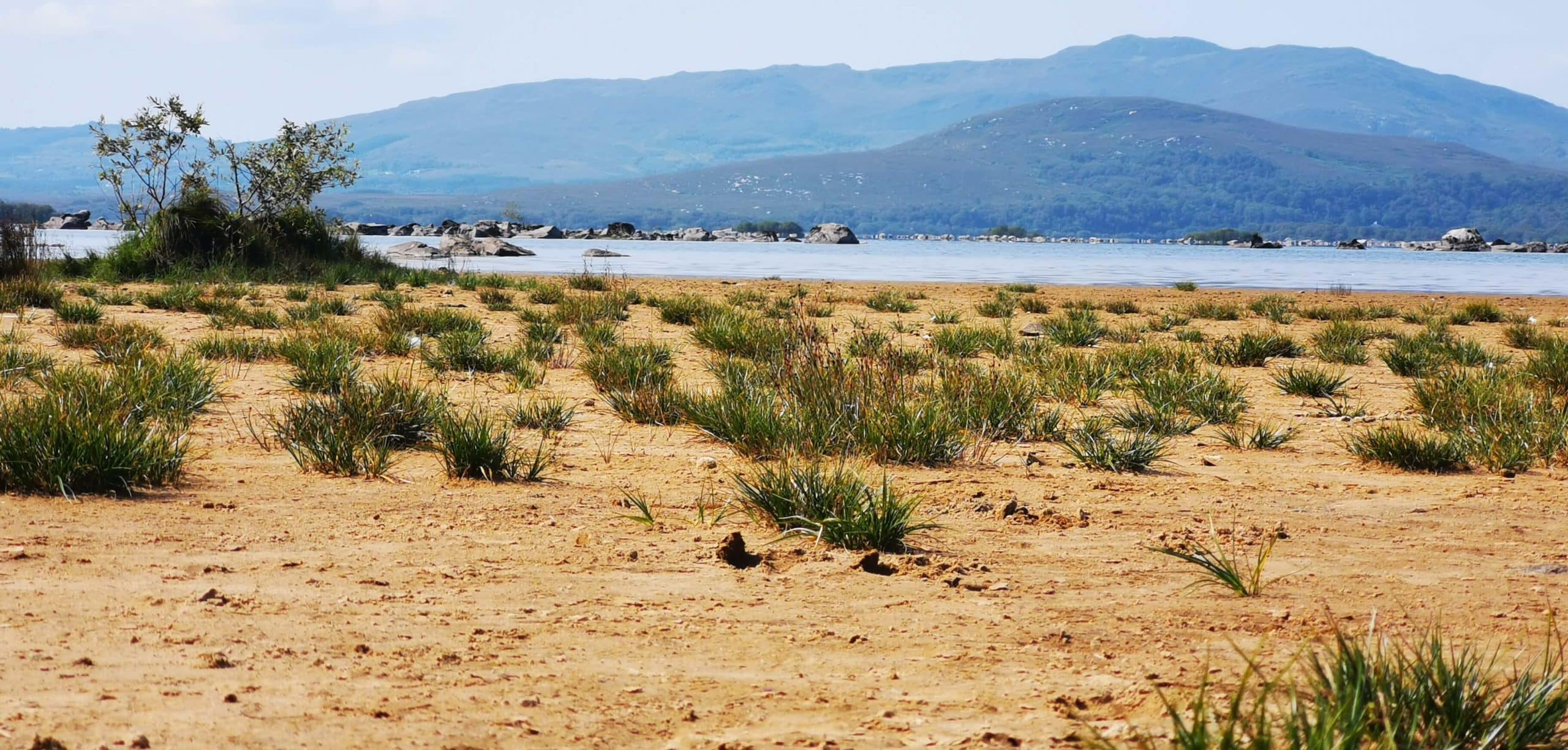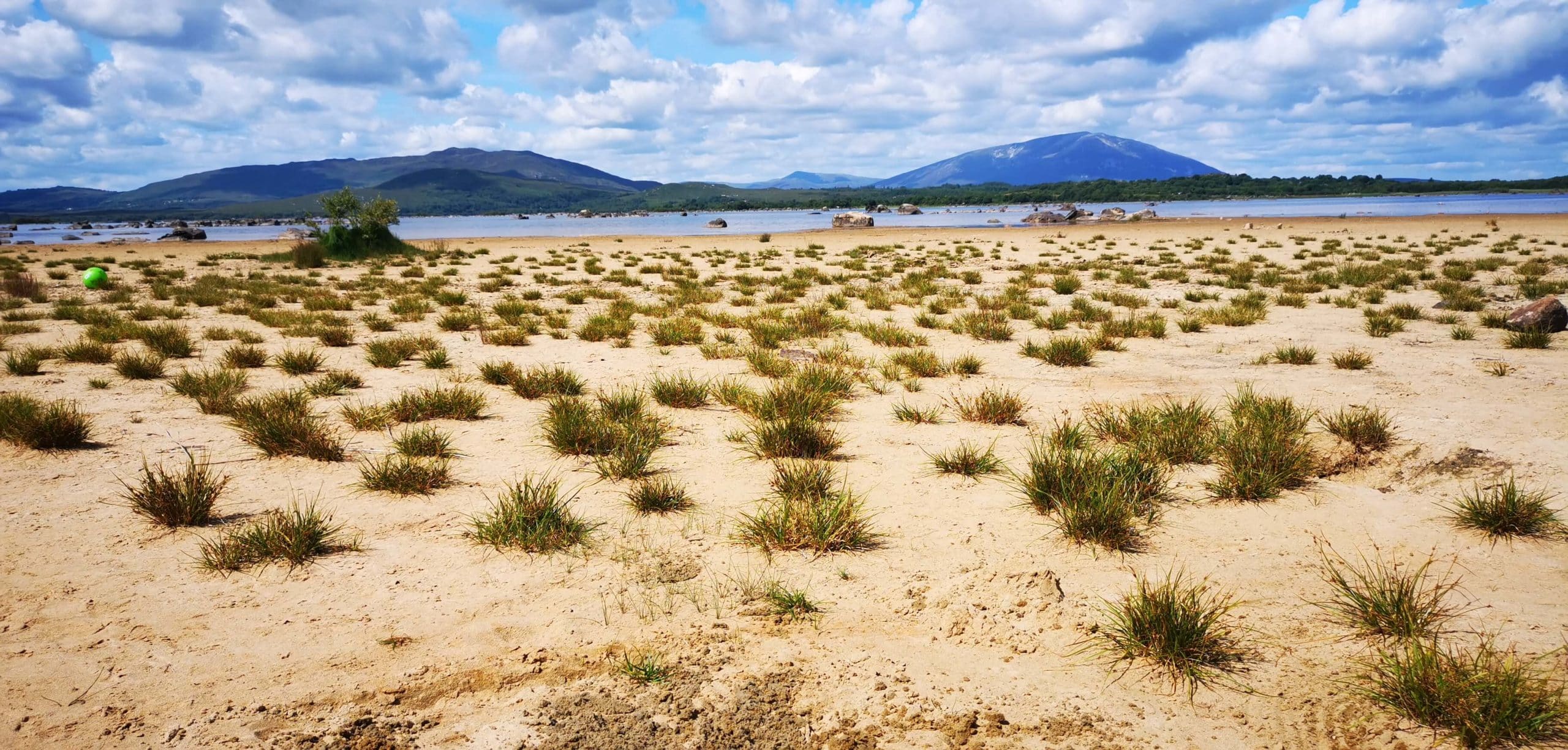 Insider tip: At the far side of the beach there is a path that leads through some high reeds and on to some beautiful small, secluded beaches. A great spot to just relax an maybe have a little power nap!
Portacloy Beach – a beautiful remote beach with stunning hiking
Located in northwest Mayo, this gorgeous horseshoe-shaped beach is a real gem. It's a northfacing beach, and protected on both sides by cliffs, meaning it's generally lovely and calm and ideal for swimming.
One of the big attractions of this beach is the stunning Portacloy Cliff walk. You can park at the beach and then walk past the old harbour to meet the trail.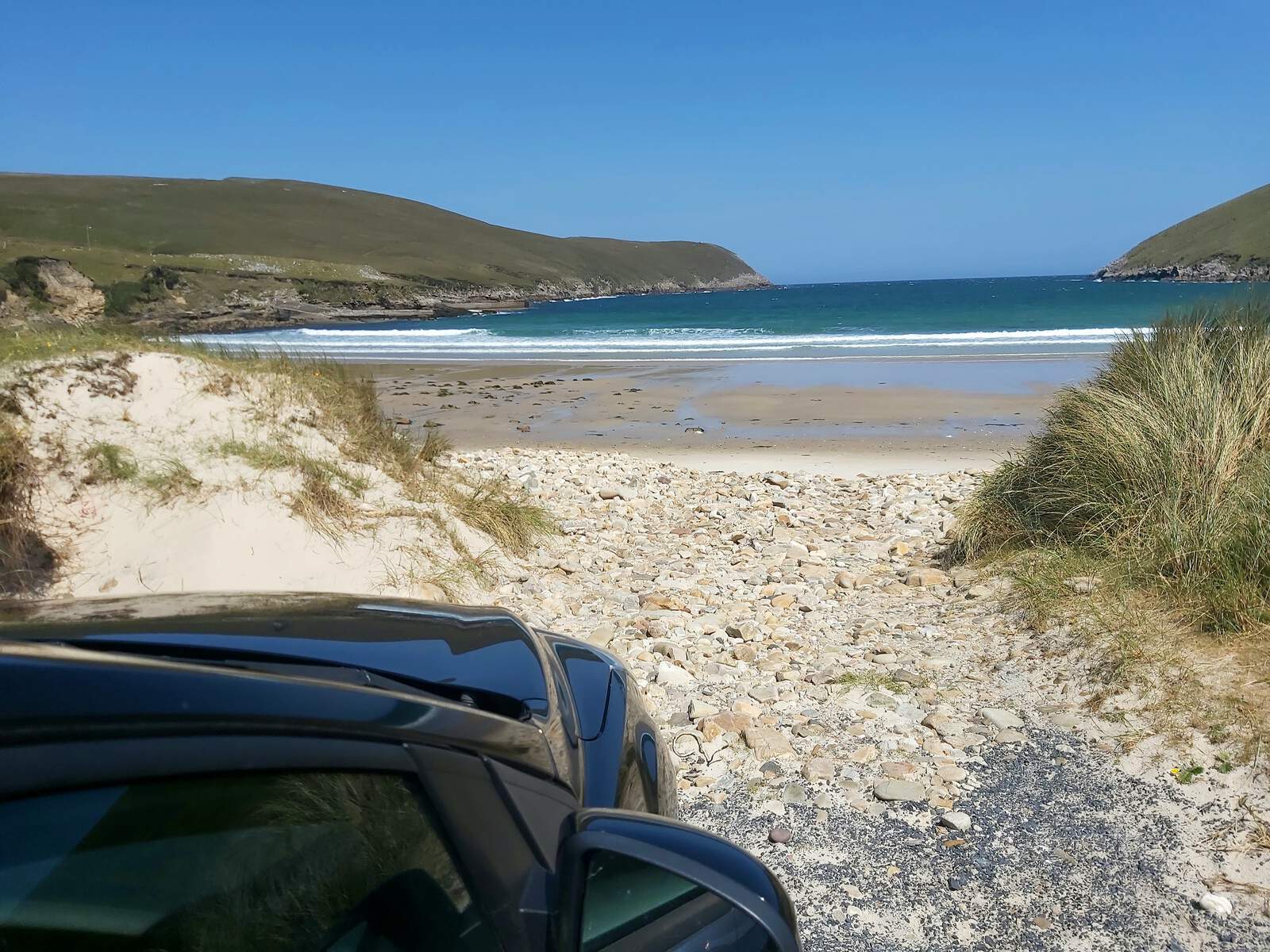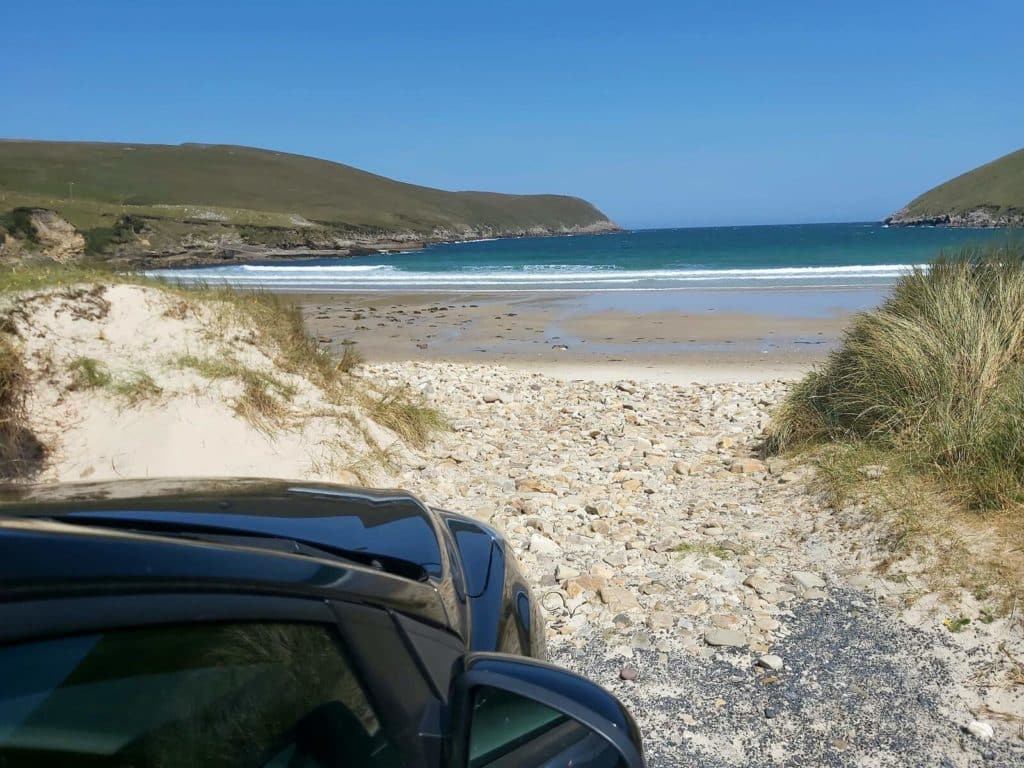 This is a spectacular walk, which takes in the huge cliffs of Benwee Head (255m) and offers great views of the wild, rugged north Mayo coast.
Portacloy is a wonderful beach and almost never gets busy, offering a brilliant alternative to some of the busier Clew Bay beaches.
In combination with the cliff walk, it's a great spot to spend a nice warm afternoon and certainly deserves to be on the list for one of the best beaches in Mayo.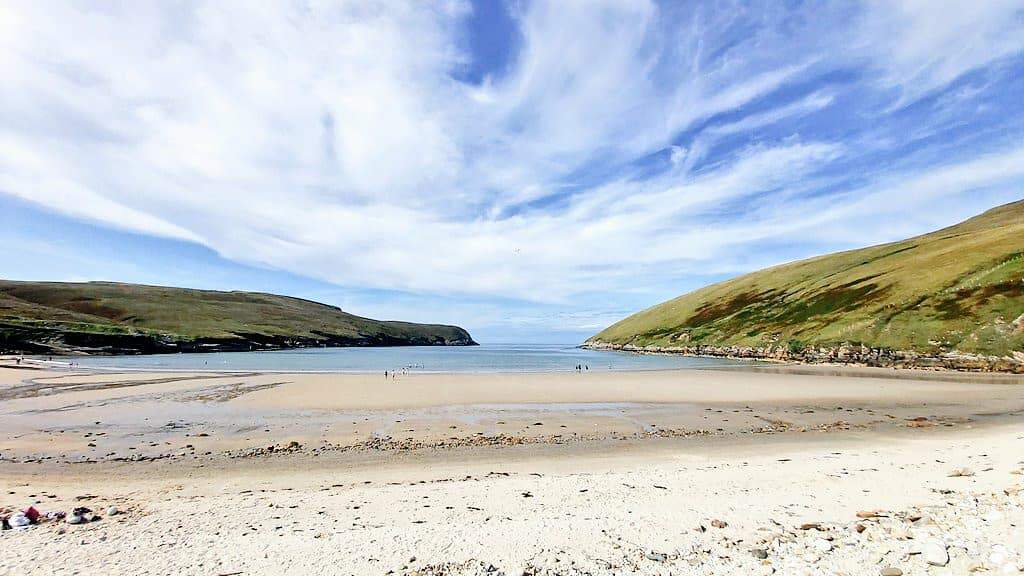 Silver Strand – for those who appreciate spectacular west of Ireland scenery
Silver Strand is located at the entrance to Killary Fjord, in south west Mayo. The nearest town is Louisburgh, a good 20 minutes away by car.
This must be not just one of the best beaches in Mayo, but one of Ireland's great beaches. It is wide, open and wild and faces straight out into the mighty Atlantic Ocean, backed spectacularly by Connaught's highest mountain, Mweelrea (814m)
On a warm, bright day the sea just glistens in hues of turquoise and deep blue, making it incredibly inviting for an invigorating dip. The wild and windswept sand dunes offer a lovely windbreak if you want to read or just relax.
There's a decent sized carpark too and the drive down to the beach is just Ireland at its very best: small green fields sitting under high mountaintops with little white dots speckled around the open landscape – the sheep happily grazing away.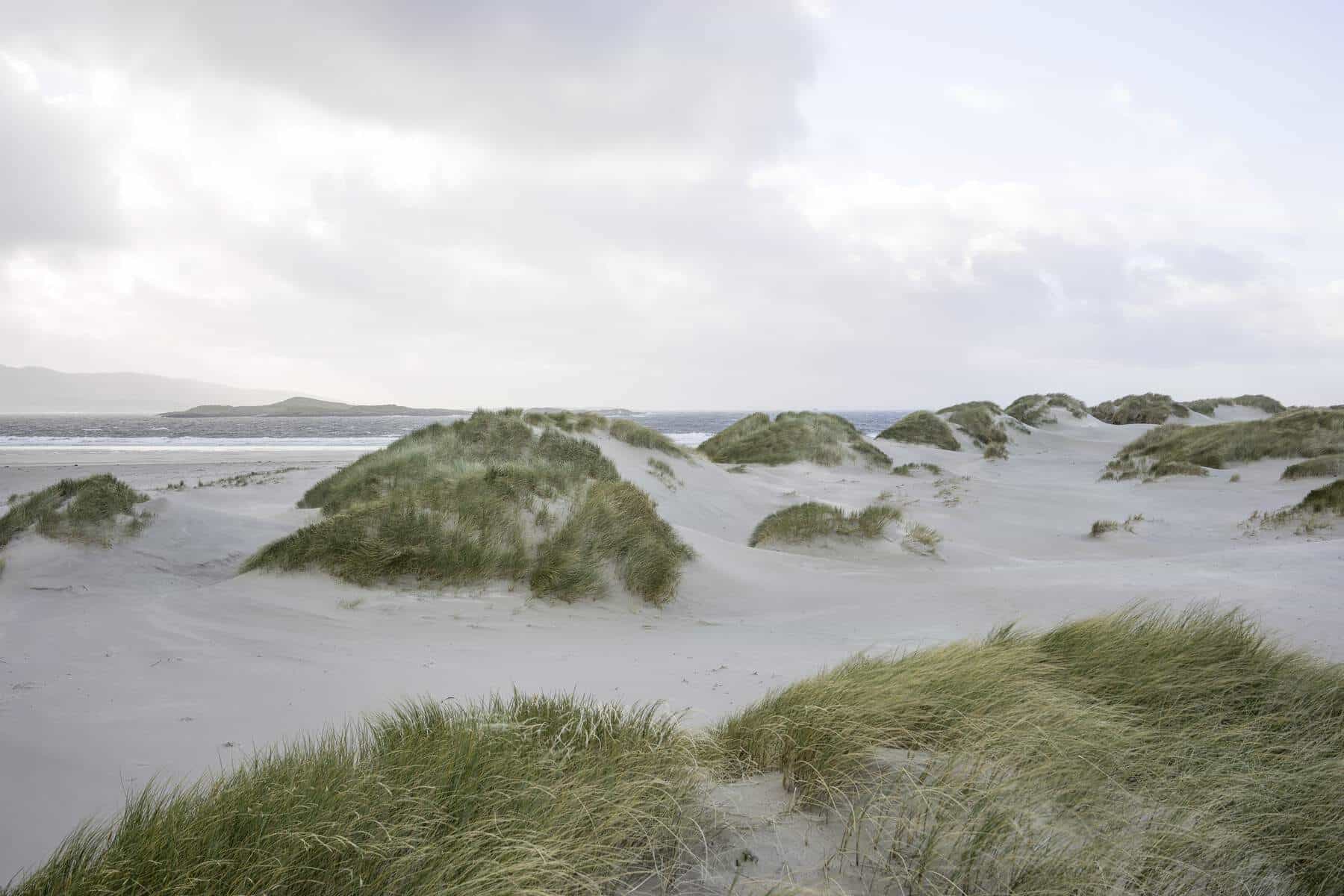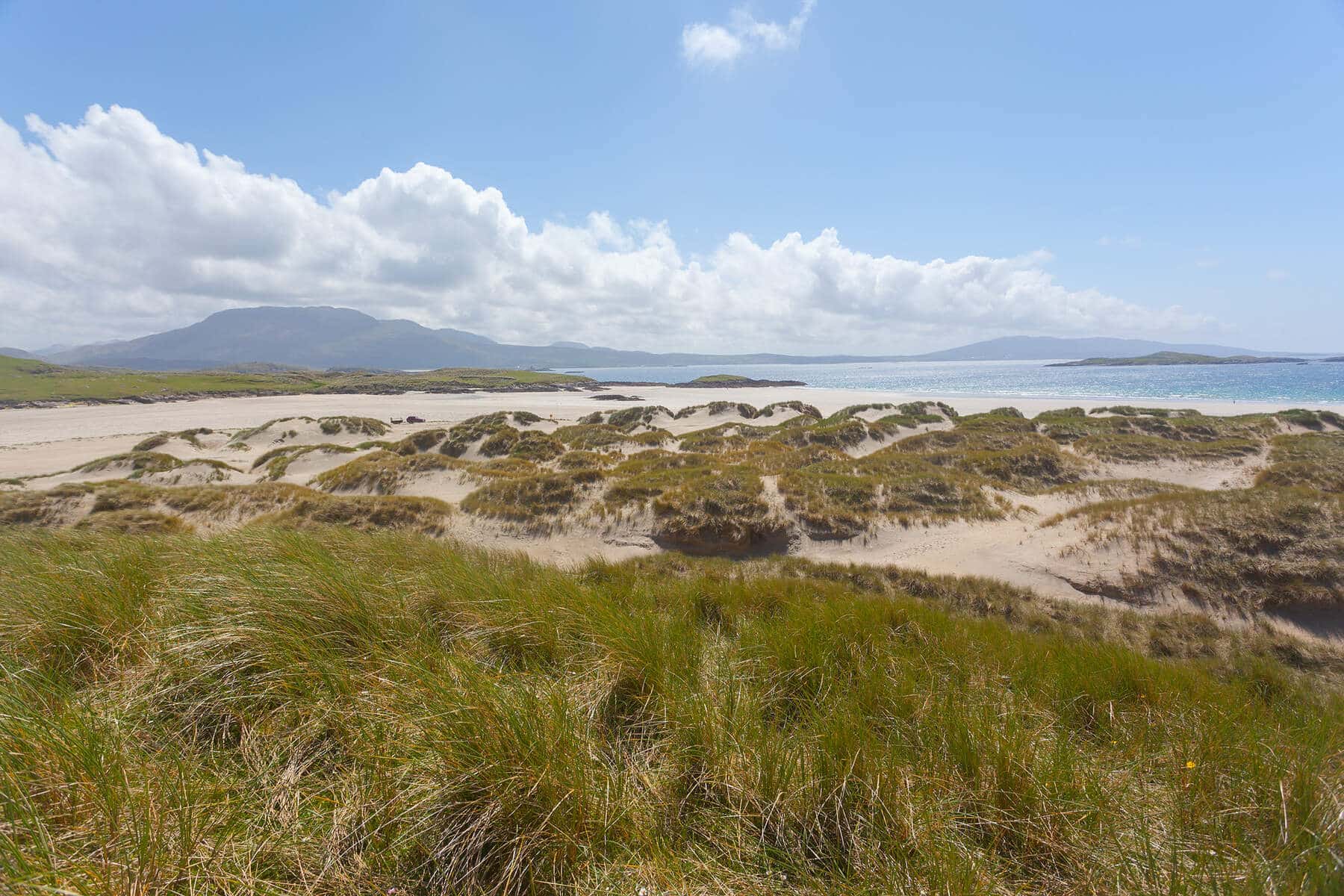 You'll notice remants of the past too along the road: traces of old potato ridges; a stark reminder of the famine which affected the area in the mid 19th century.
This beach is one you have to see with your own eyes and is personally one of my own favourite spots in Mayo.
White Strand – an enormous, wild and expansive beach
The next-door neighbour to Silver Strand, White Strand is an absolute whopper of a beach! White Strand is easily 3 kms in length and from the time you park your car in the very substantial carpark till you get to the sea, all you'll want to do is sit down!
This beach reminds me of those enormous castaway beaches you read about in books like Treasure Island. It's wild, exposed and faces directly west towards the Atlantic Ocean, offering amazing views of Clare Island and beyond.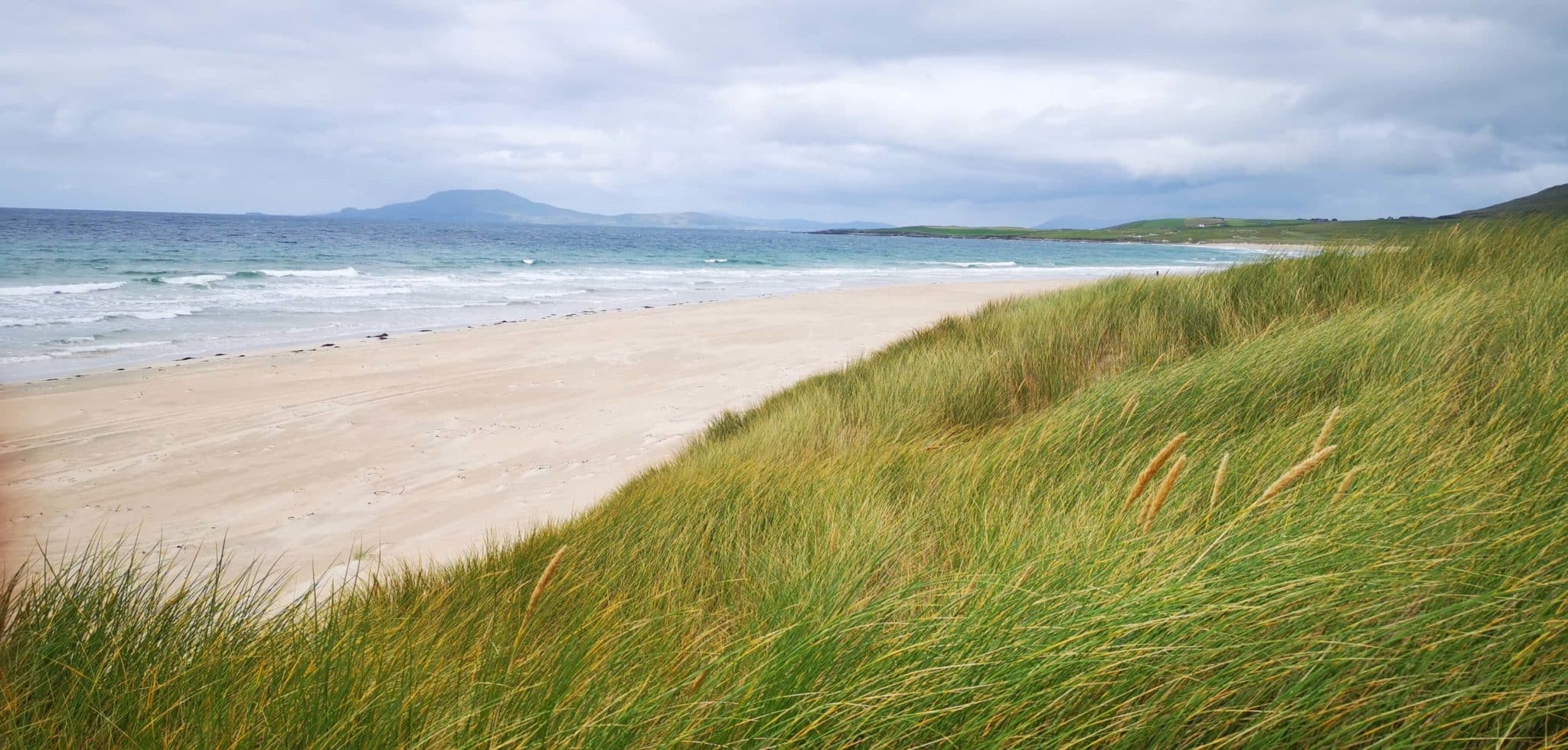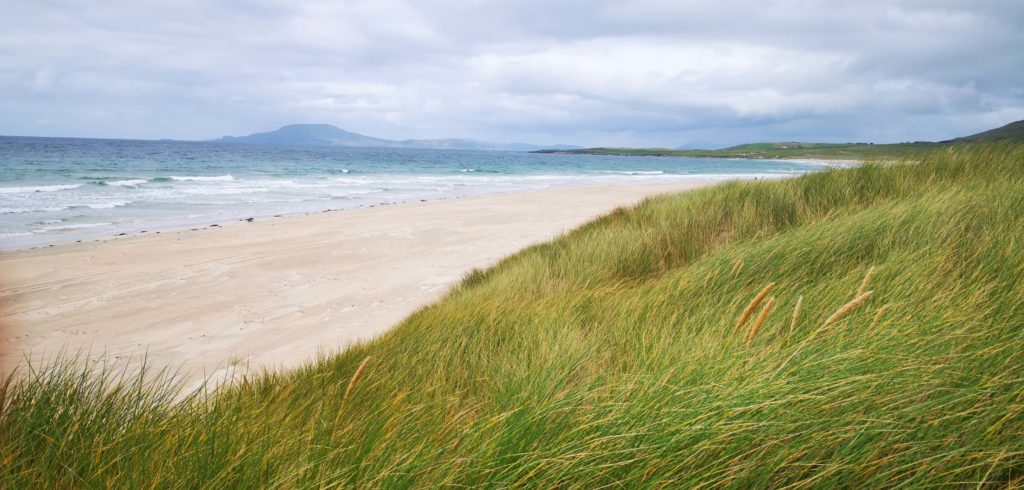 Everything here is on a massive scale; the dunes, the views, the beach, the waves. If you would like to clear your head, going for a walk here will certainly help.
You'll have to take your shoes off though first to cross the little stream near the beach's entrance.
Walking to the most southerly end of the beach offers a great expansive view over the whole beach, as does making the little hike up the dunes.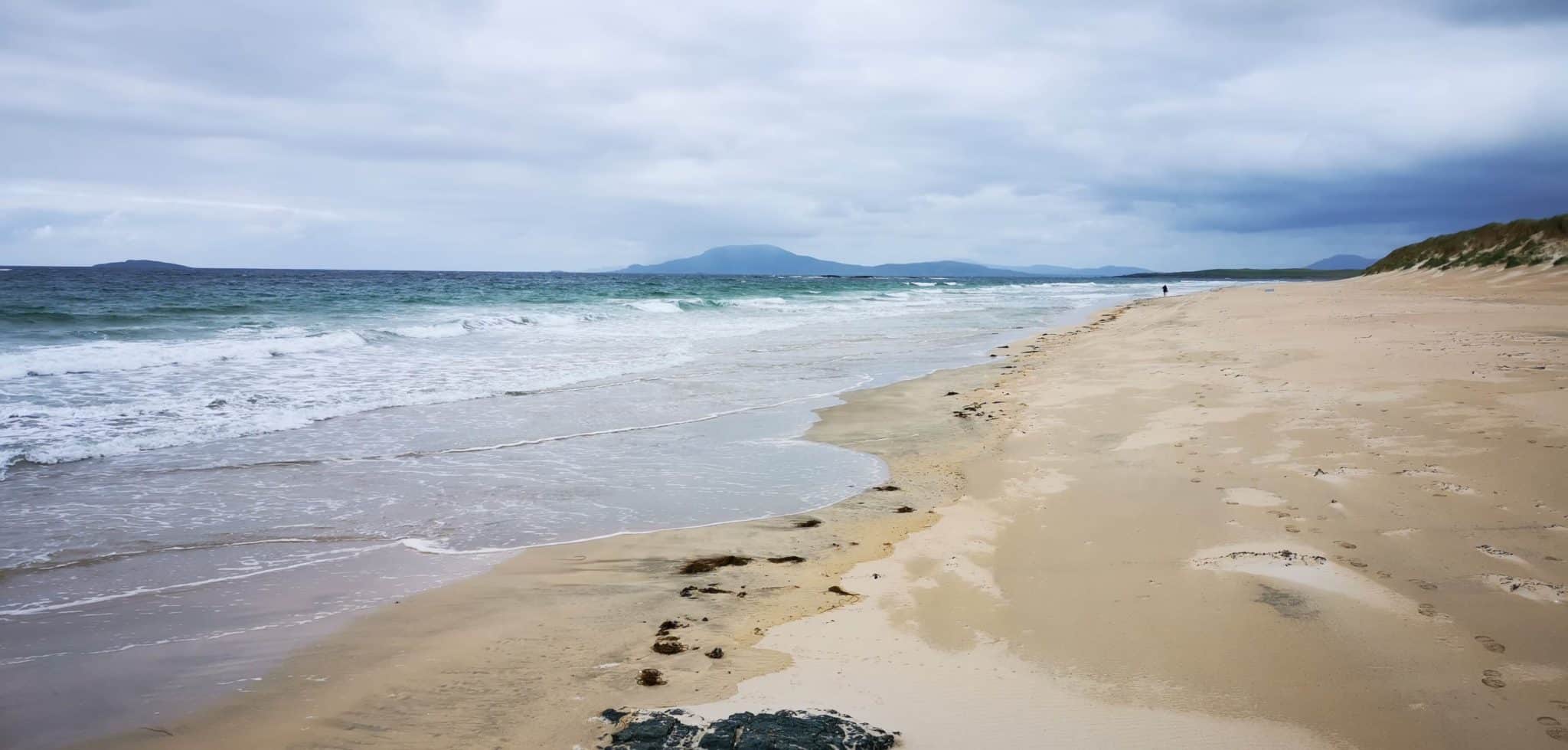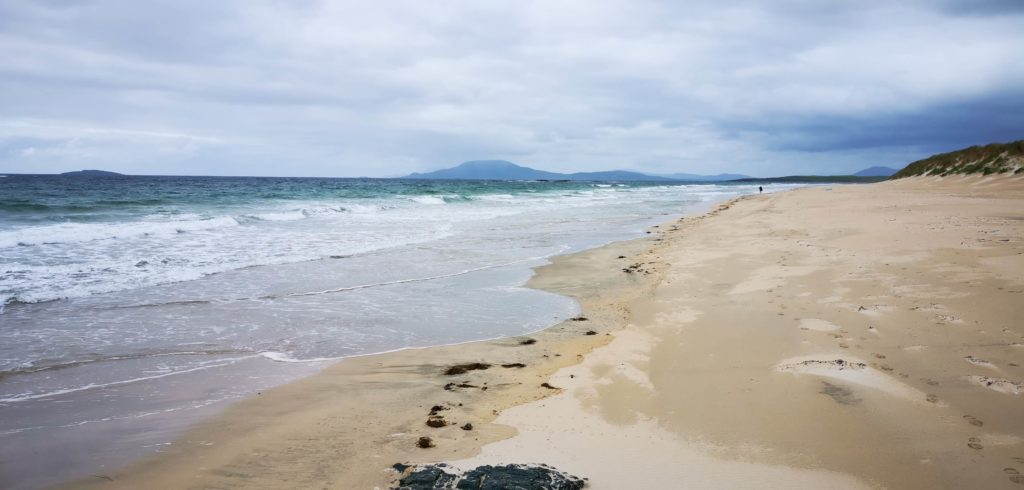 Just like Silver Strand, White Strand is not a Blue Flag beach, so we cannot comment on whether it is safe to go swimming.
We would highly recommend this beach however for a good, long walk to get that pristine Atlantic air into your lungs, therefore making this one of the best beaches in Mayo and the west of Ireland for walking.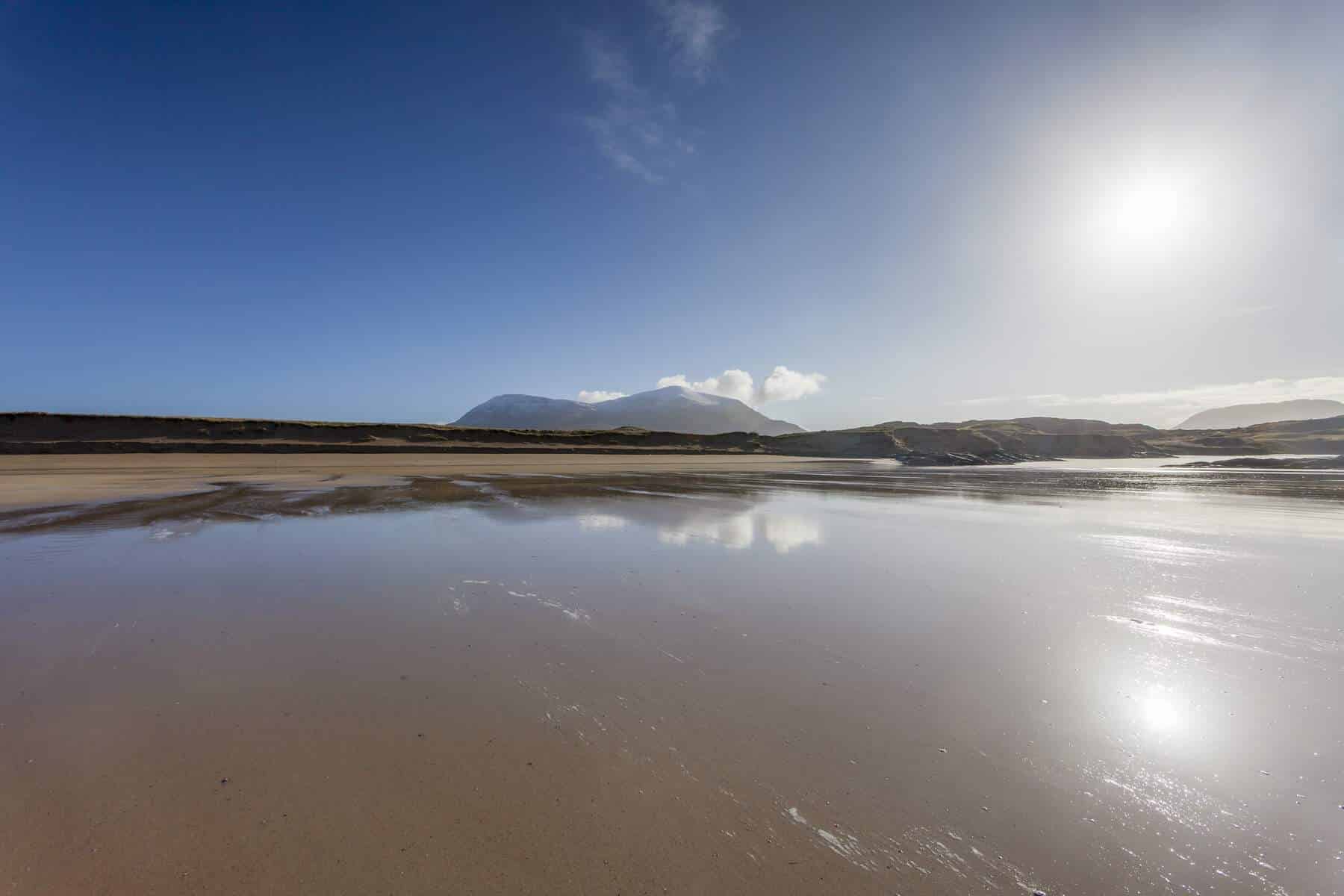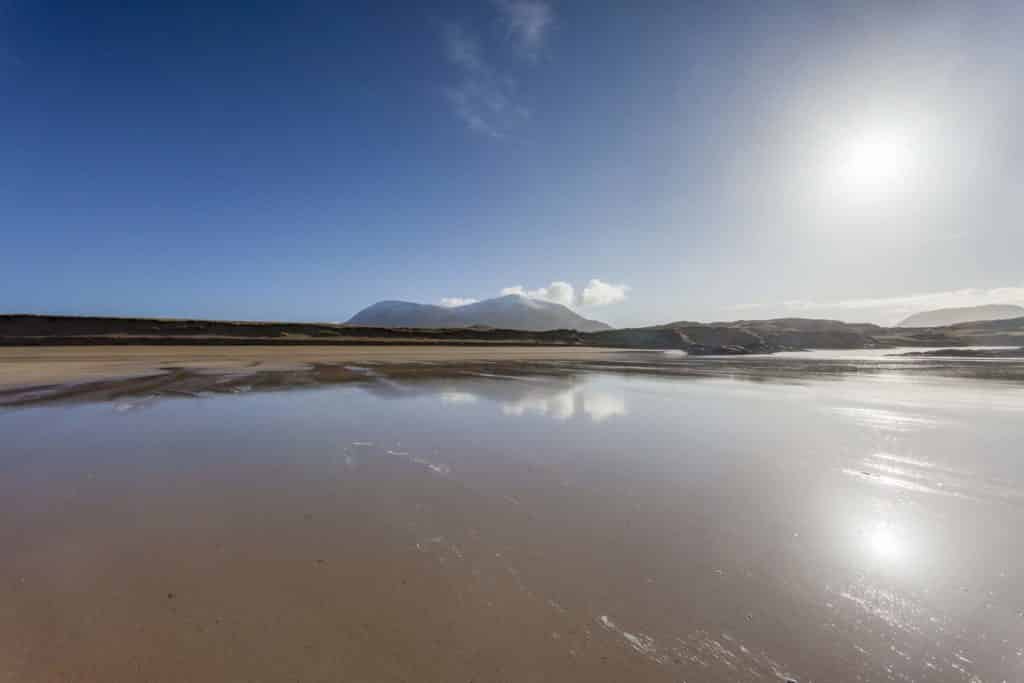 Say hello to the huge number of local sheep in the nearby fields for me next time you're there!
Carrowmore Beach – a Clew Bay gem with wonderful views
Carrowmore Beach is another stunning beach located along magnificent Clew Bay.
There's just something very special about all beaches in the Clew Bay area. The views for starters are wonderful, from each beach you get a different perspective of Croagh Patrick and Clare Island. You seem to spot even more of the islands of Clew Bay with each new beach you visit.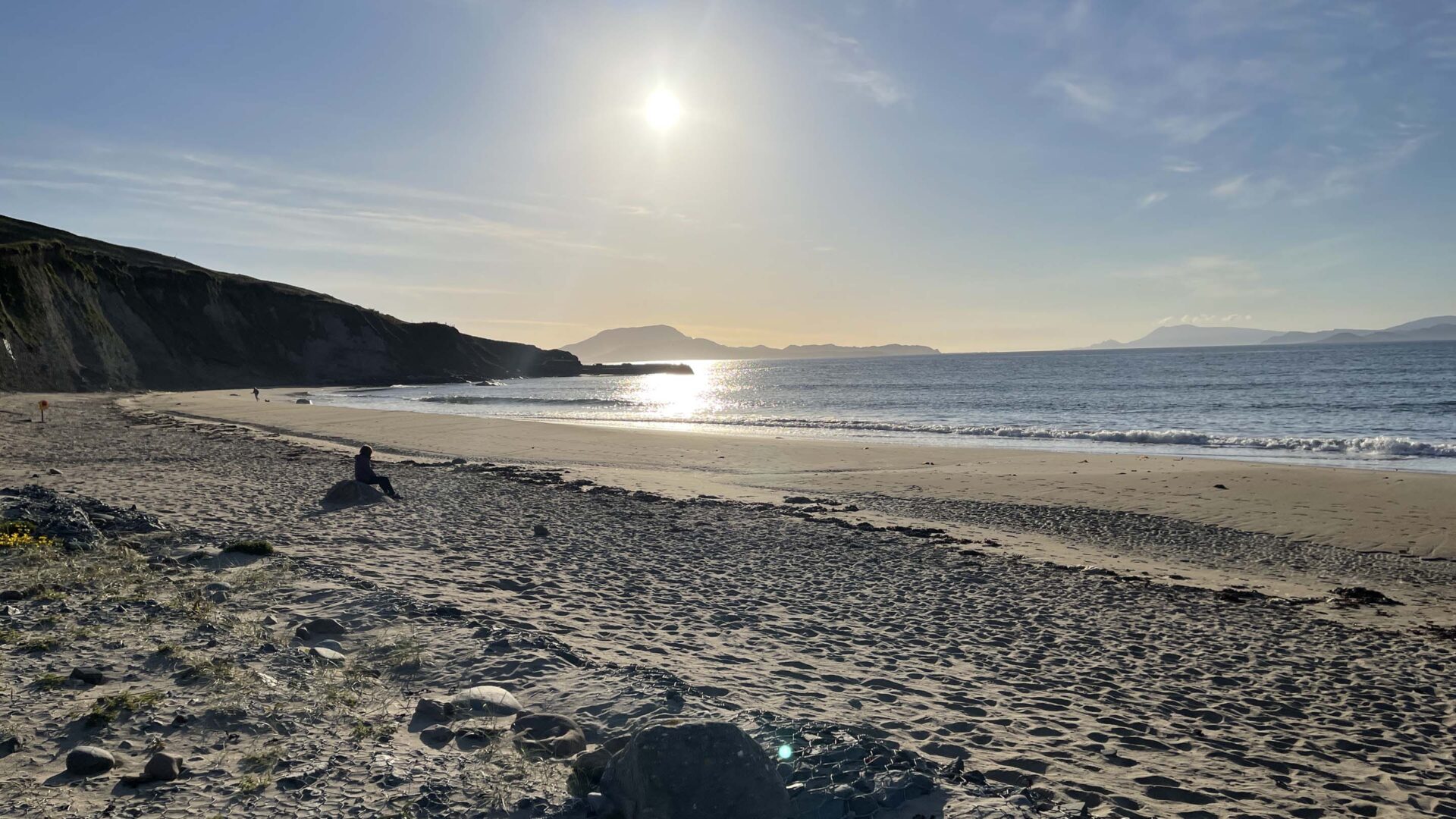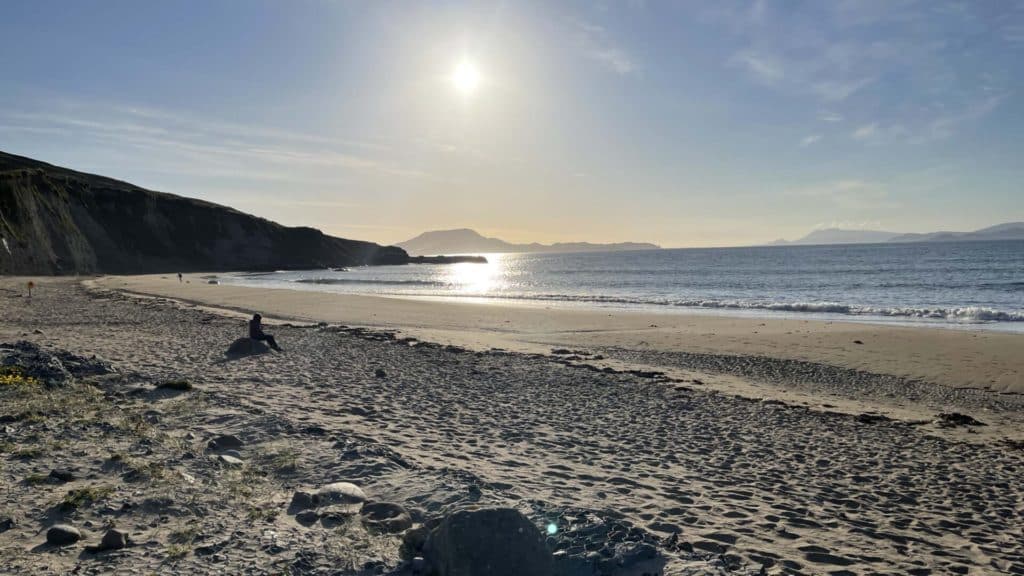 Carrowmore is located not far from the picturesque village of Louisburgh and offers all the necessary facilities you need, from toilets and ample parking to picnic benches.
It's a good, long sandy beach which is backed by huge dunes. It also rarely gets busy and if conditions are right, it's known to get some great waves for surfing. You'll find the latest surf report here.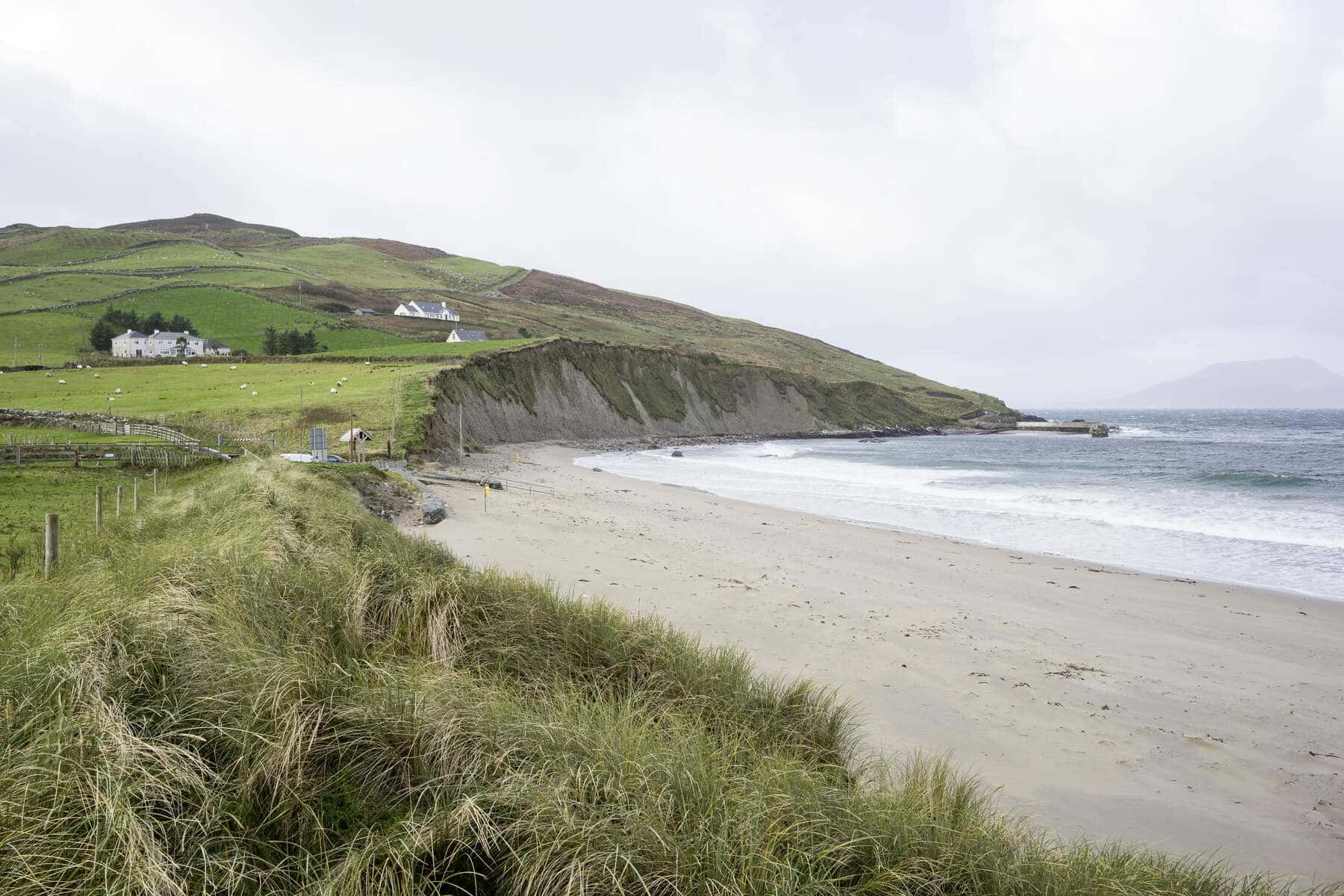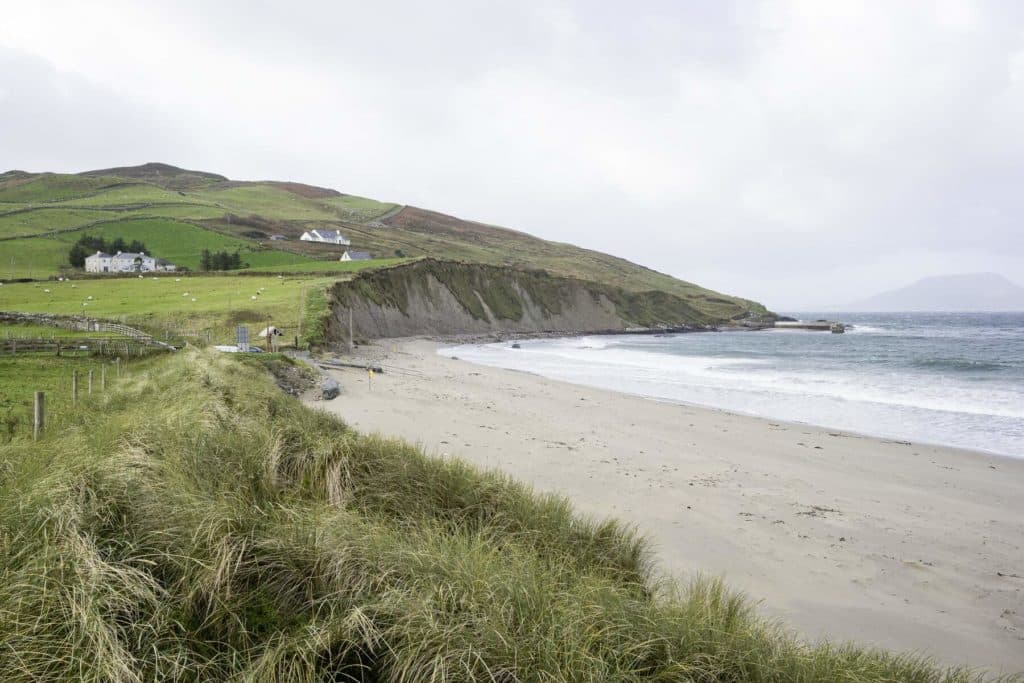 An ideal beach to spend a few hours walking, relaxing or just taking in the stunning views. Because it's large and wide and quite unknown, it's also great for throwing a ball around or practising your hurling passes.
Elly Beach – 2 beaches in 1: perfect for kids and surfers alike
Belmullet is often overlooked as a holiday destination and that's a real shame. Located in the far northwest of the county, Belmullet peninsula is packed with some of the most amazing beaches in Mayo.
When people talk about Elly Strand, some will say it's a great beach for surfing and others will say it's a lovely sheltered beach for the kids.
The truth is there are 2 beaches in this area. The east-facing Elly Bay beach is beautifully sheltered and gets virtually no waves. It's a Blue Flag beach and possesses some pristine white sands along with wonderfully shallow, calm waters.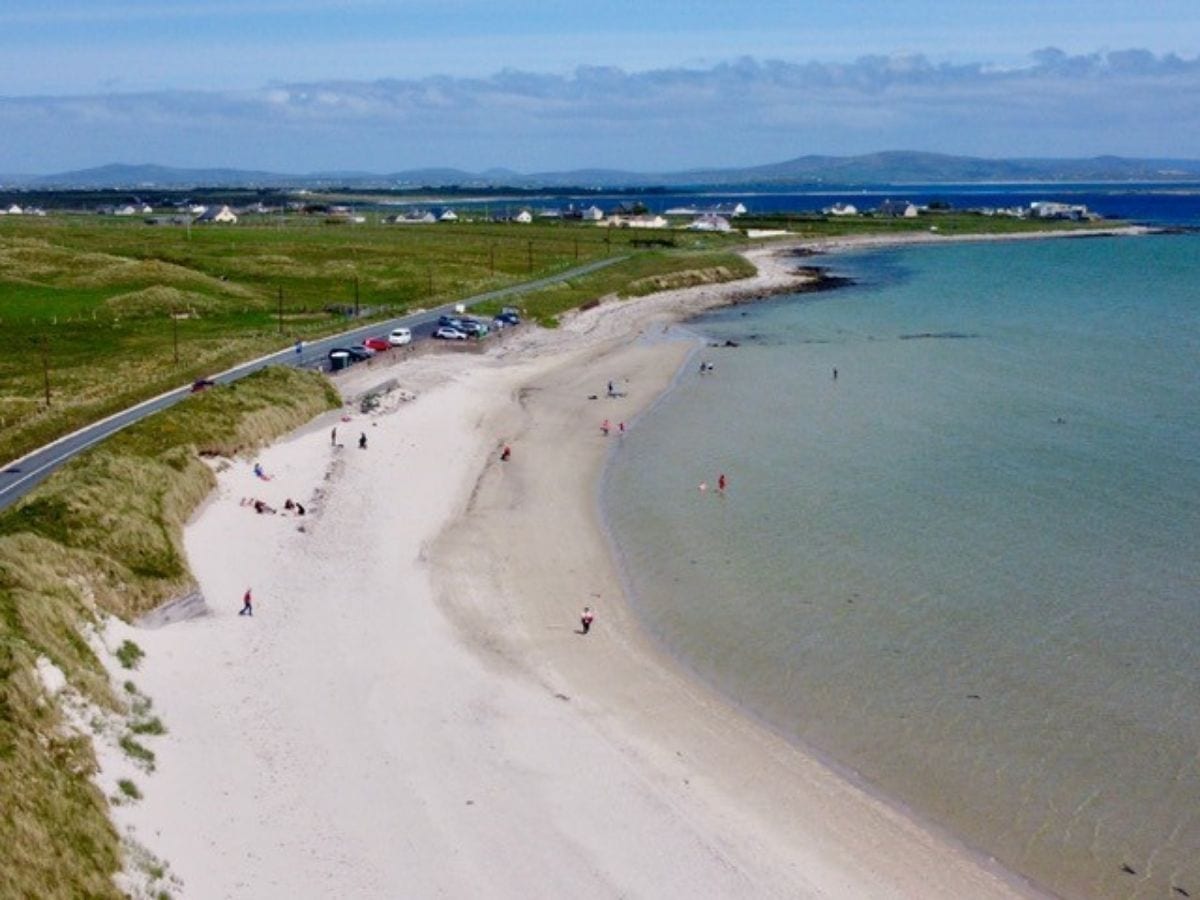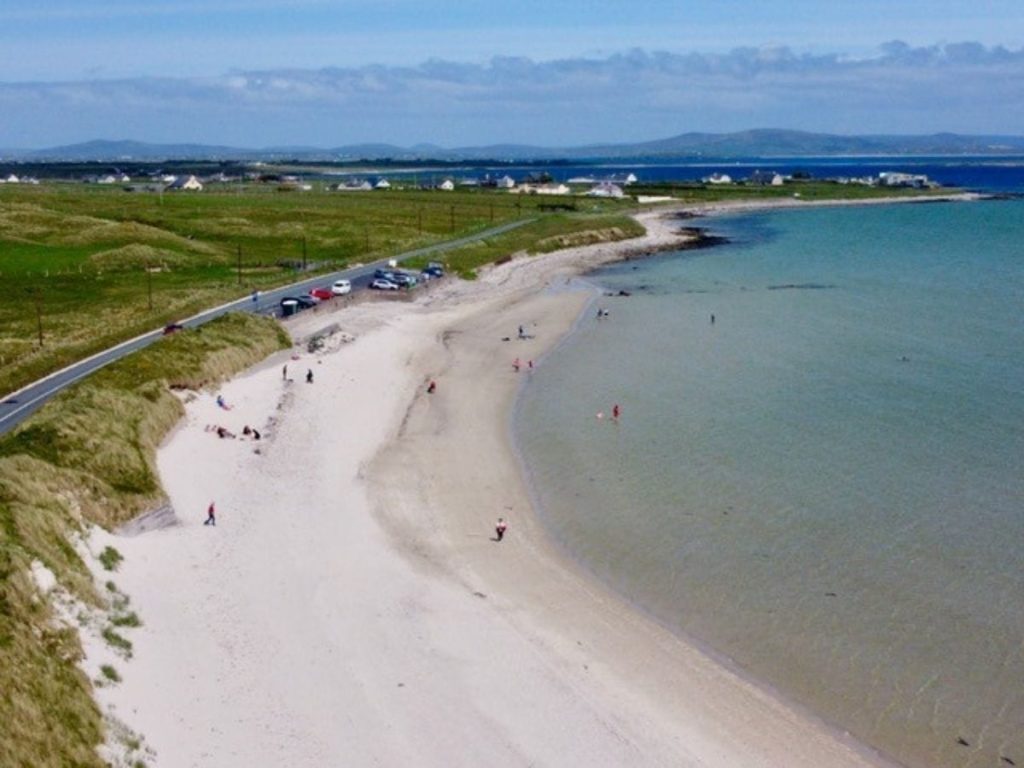 At the other side of a narrow strip of land, not 300m wide, is a vast, open expansive beach which faces directly west, offering some epic waves for surfing, windsurfing and kitesurfing. Check the surf report here.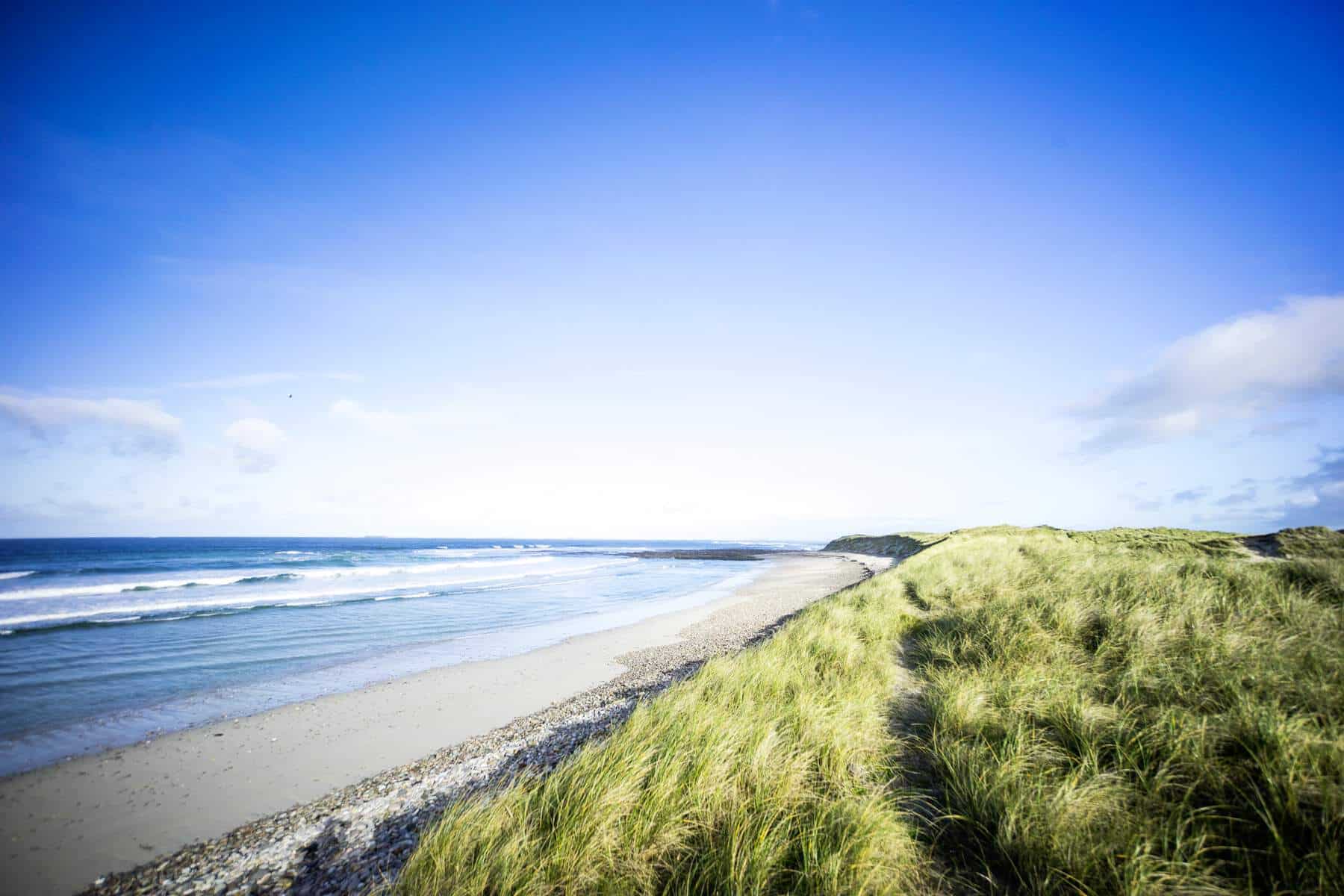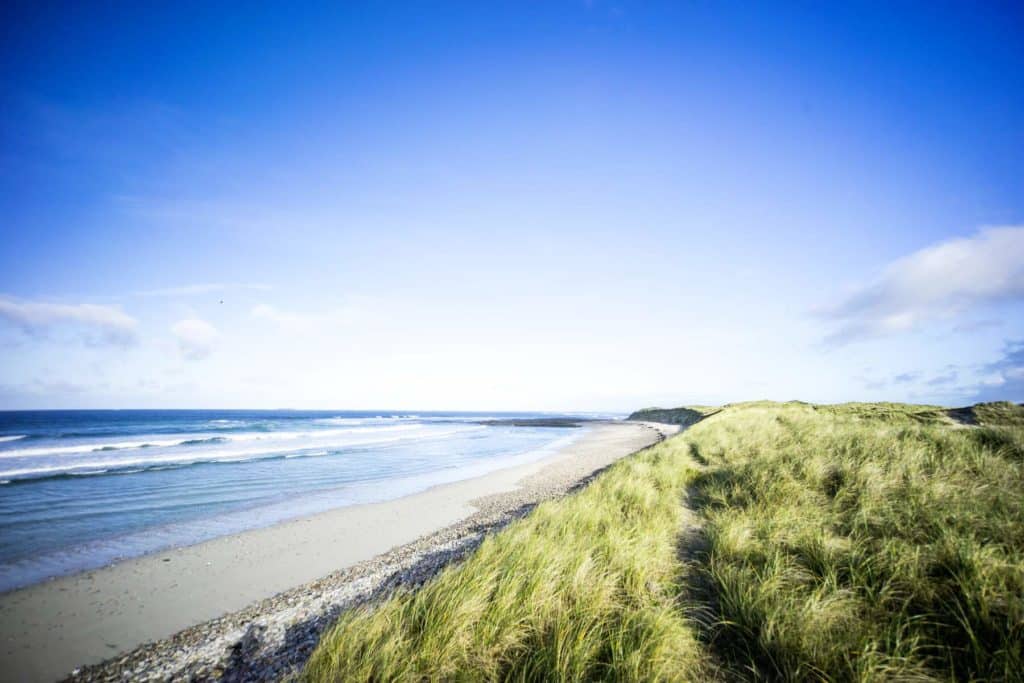 This beach stretches for a good 2-2.5 kms and offers stunning views towards the distant cliffs of Achill Island with Croaghaun rising dramatically out of the ocean.
What about that for a day out? The choice of 2 completely different beaches within walking distance of one another. They are both located here.
Beach to Claggan Island – uniquely beautiful
Remember at the top of this post we mentioned that a beach's 'uniqueness' is factored in when we came up with our list?
I think it's safe to say that Claggan Bay Beach definitely falls into that category. Located near beautiful Belmullet, this long, narrow stretch of strand links Claggan Point to the mainland.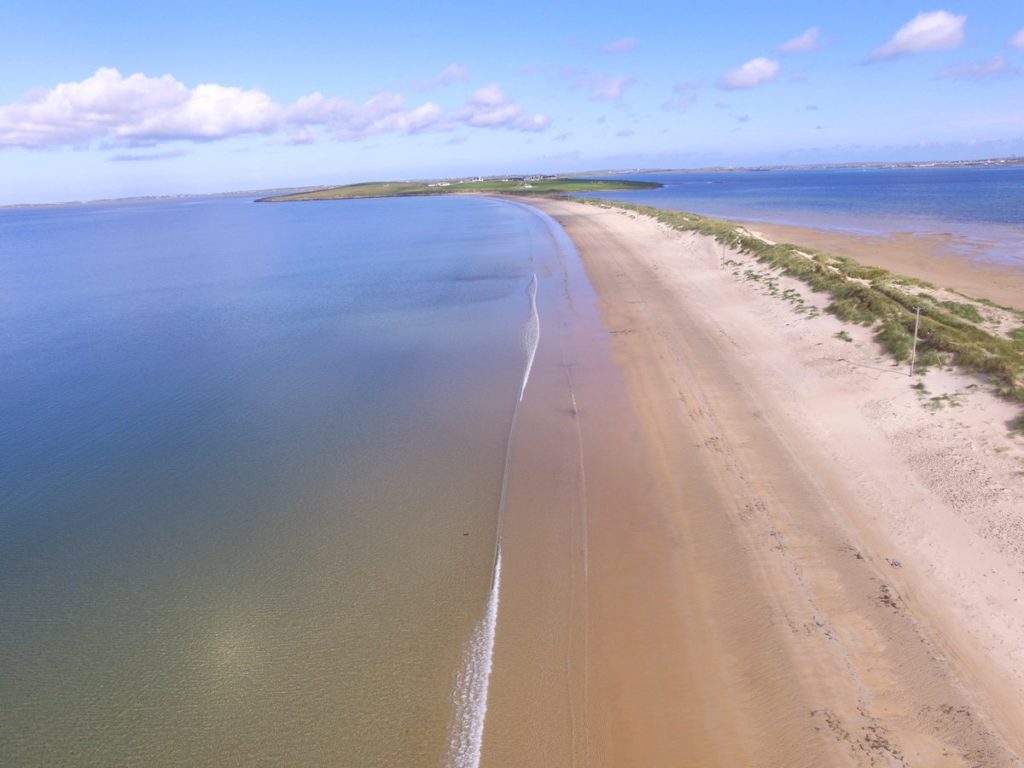 This narrow strip of land is no more than 20 metres in width and it's possible to drive the very bumpy road along the sand dunes out to Claggan Point. Here, you'll find the former Belmullet coast guard station, now offering luxury accommodation, along with glamping pods.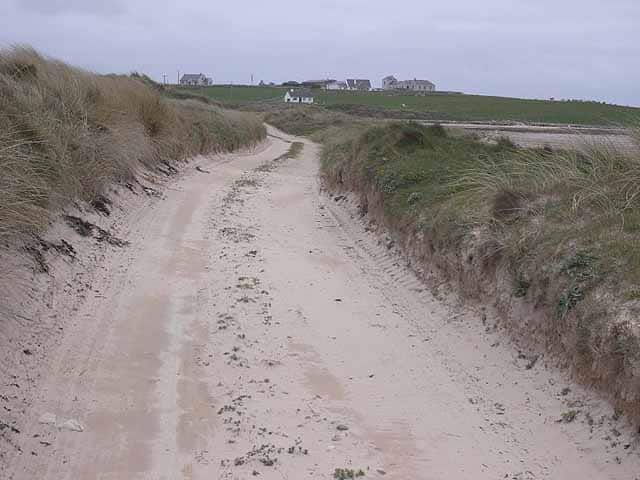 Throw in a dip in the waters of Claggan Bay before a brilliant breakfast, what's not to like? You can chek out more details here.
We believe the beach at Claggan Bay to be a real hidden gem and one of the best beaches in Mayo. It' also a signature point on the Wild Atlantic Way, which shows its significance as a must-see destination.
Doolough Beach – a vast beach famous for horse racing
Last, and by no means least, is the spectacular Doolough Beach. Located just down the road from Claggan Bay, this enormous beach will be well-known to those into horse racing.
Every year as part of the Geesala Festival, the Doolough Races take place, usually in the middle of August. 'Horse Racing Ireland' claim Doolough to have the 'best turf in Ireland for horse racing'.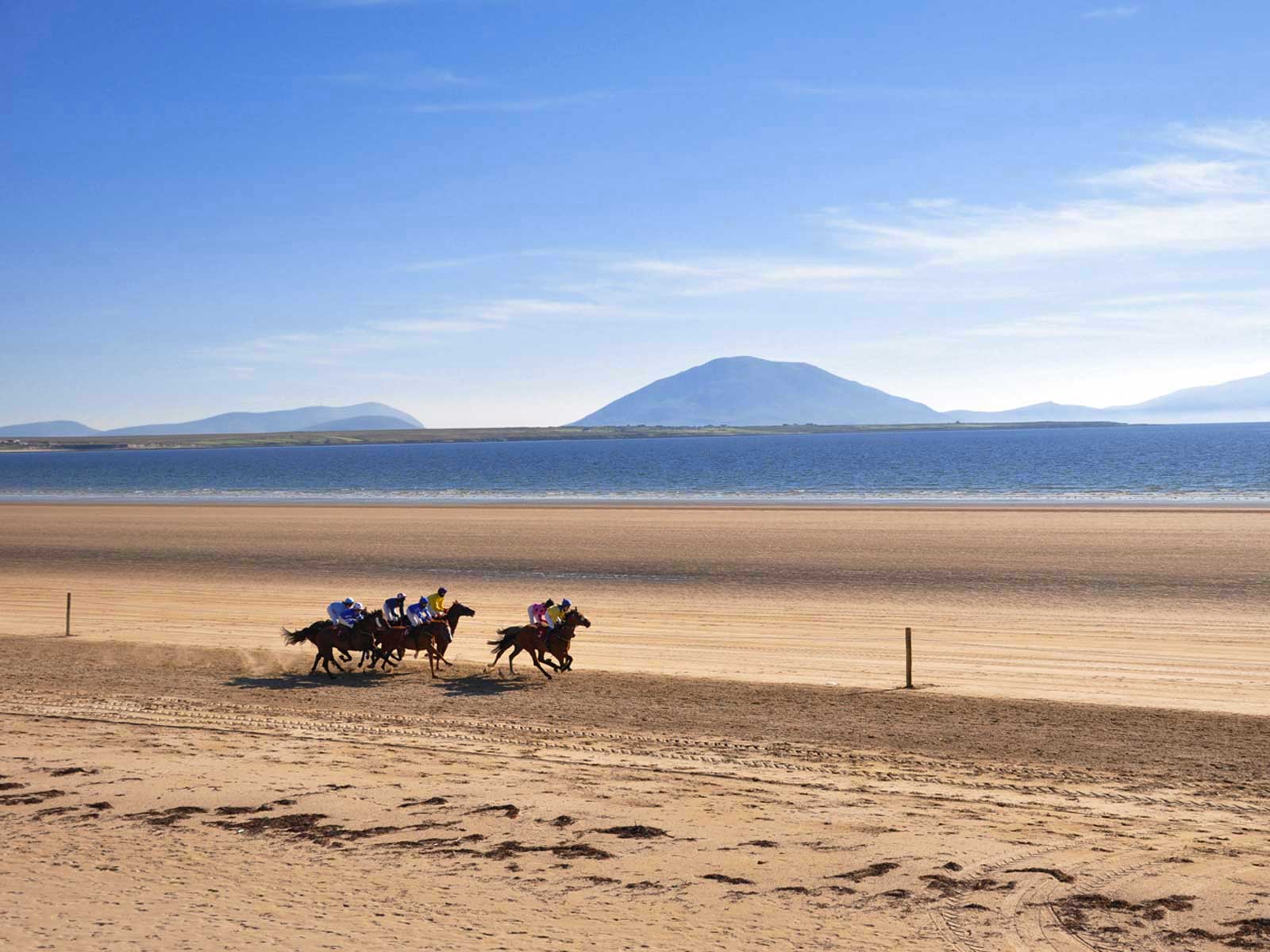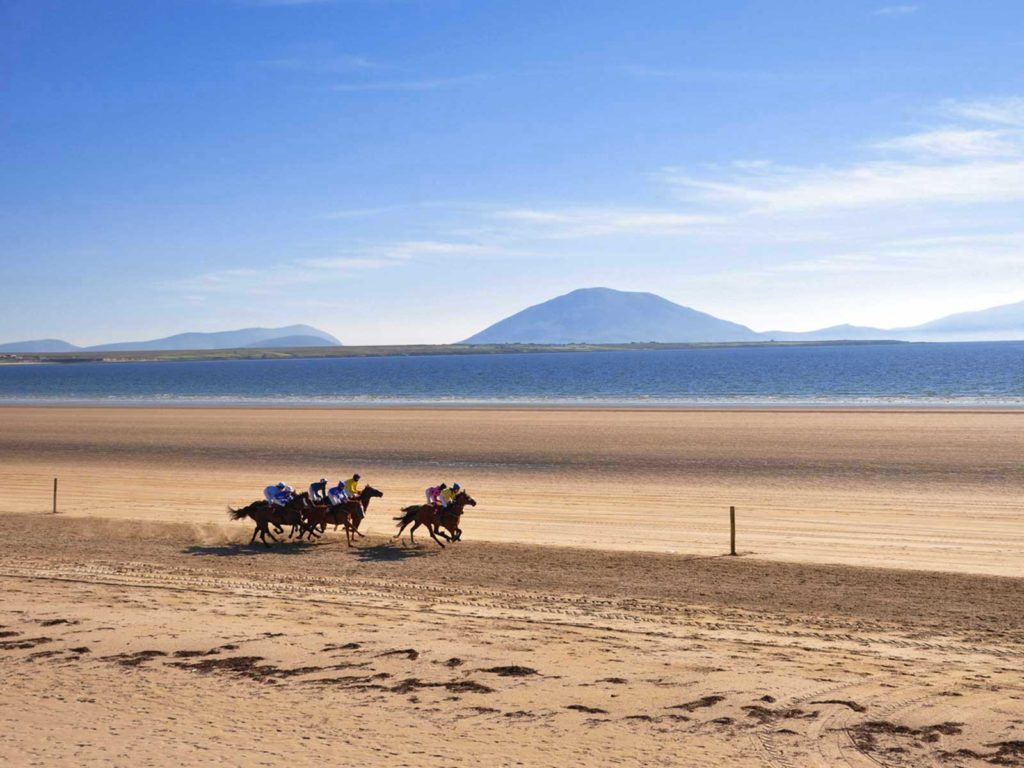 These races are said to have also inspired John Millington Synge's masterpiece, 'The Playboy of the Western World'.
On a warm summer's day, the waters will glisten a beautiful light blue and due to its relatively sheltered location, this beach is ideal for kids. The panoramic views over towards Achill Island are breathtaking and in a similar vein to White Strand, this beach has a wild, raw quality to it.
A truly wonderful beach to finish up with and one of our favourite less-visited spots in Mayo.
Where to Stay in Mayo
Westport
The most popular town in Mayo is Westport, and for good reason. The town itself offers loads to do and the surrounding areas are begging to be explored.
It's also the starting point of Ireland's longest and most beautiful cylce lane The Greenway, along with being close to many of the best beaches in Mayo.
We have put together a comprehensive list of the best hotels in Westport, from budget to luxury. We have also personally stayed in almost all of them. Click here for more details.
Achill Island
Basing yourself on Achill Island will allow you to explore the huge range of beaches and outdoor activities available on the island. We have put together a comprehensive post which outlines all forms of accommodation on Achill, from b&bs to hotels, campsites to holiday homes. Click here.
Should you be considering staying in another location in Mayo, here is a direct link to hotels and b&bs in the county.
Final Thoughts
Apart from the beach on the Inishkea Islands, we have visited all of these beaches and each offer something special.
If we were asked which one we believe is the best beach in Mayo, it would be an incredibly difficult decision to make!
I have witnessed some incredible spectacles of nature at Keem Bay, which included witnessing basking sharks and dolphins swimming within a few feet of each other. I have had many long summer days at the beach near Mulranny. It's very hard to say…
In terms of spectacular beauty, the nod would have to go towards Keem. Every time I drive down that appraoch road, I'm still amazed by its beauty. The fact that the highest cliffs in Ireland are so close by adds an extra layer of magic to that whole area of western Achill.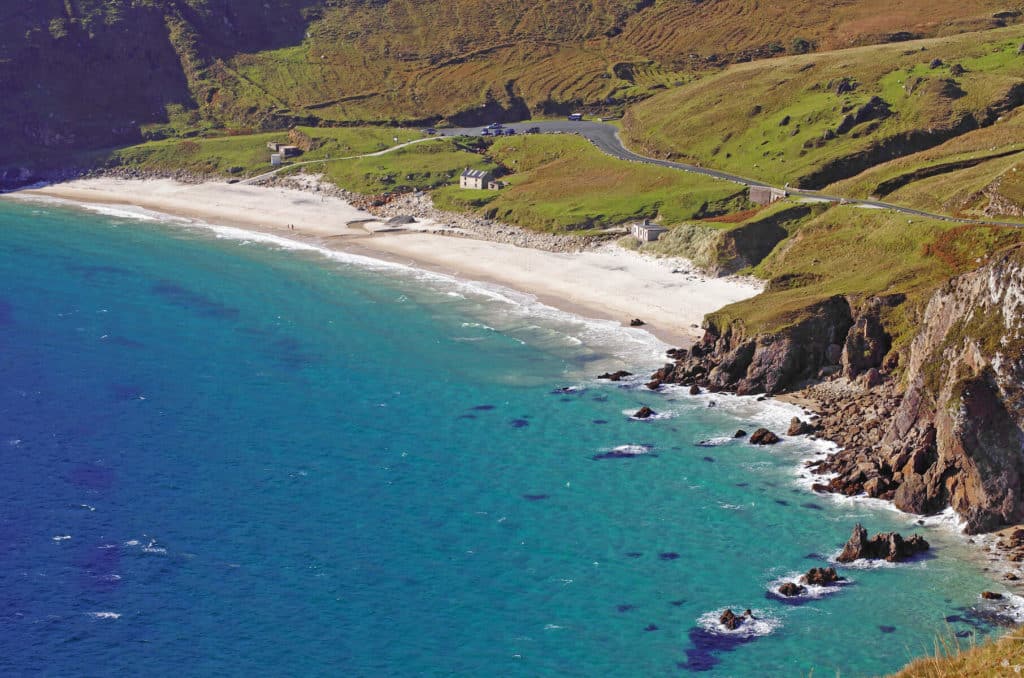 And that wraps up out list of the best beaches in County Mayo. If you are curious about Ireland's other landscapes, from its soaring cliffs to its mountains, click here.
What do you think is the best beach in Mayo? Is there a beach we've forgotten on the list? Please let us know in the comments below!
FAQs
How many blue flag beaches are in County Mayo?
There is a total of 9 Blue Flag beaches in Mayo, the most famous being Keem Beach on Achill.
Where are the best places for beaches in Mayo?
We believe the Clew Bay area and Achill Island possess the best beaches in Mayo.
What is the best beach for swimming in County Mayo?
In 2022, Keem Beach on Achill Island was named the best beach to go wild swimming in the British Isles.
What is the best beach in Mayo for kids?
We believe the best beaches in Mayo for kids are Old Head Beach, Elly Bay Beach and Pontoon Beach on Lough Cullin.
What is the nearest beach to the town of Westport?
Bertra Beach is the nearest beach to Westport. It is located in Murrisk at the foot of Ireland's holy mountain, Croagh Patrick. It is also a Blue Flag beach, passing all high standards for safety and cleanliness.