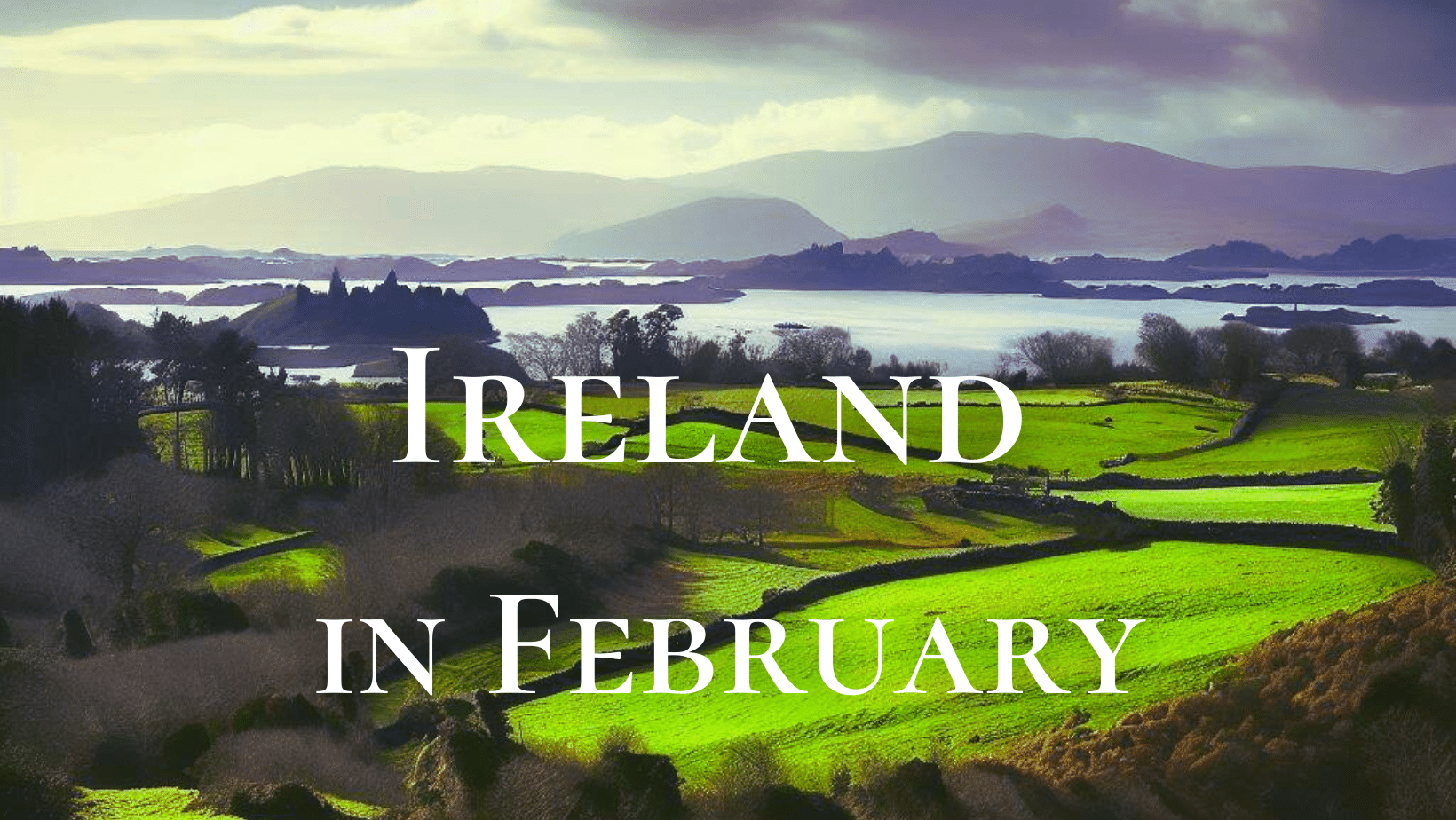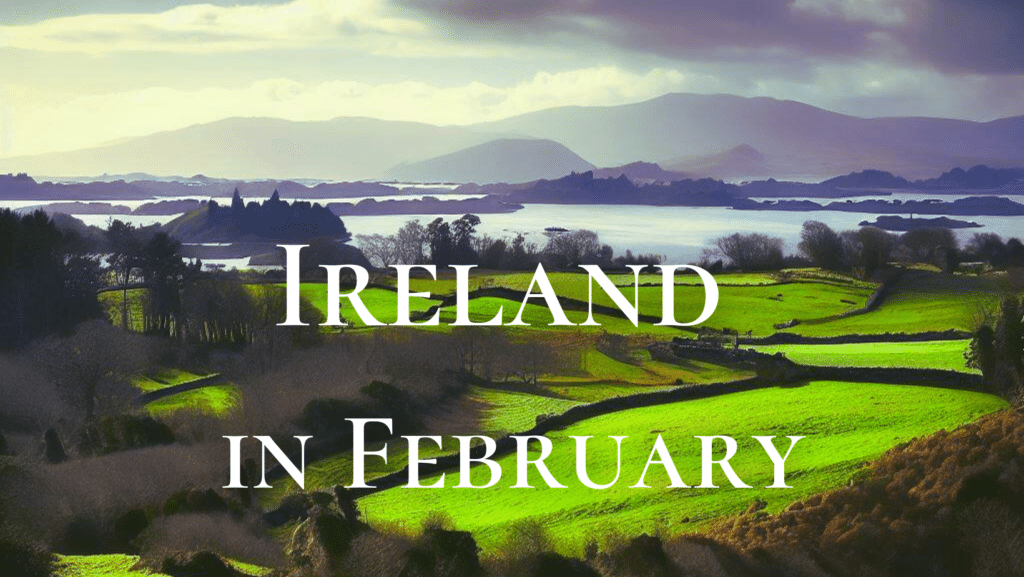 Thinking about visiting Ireland in February? As an Irishman, I am going to give you my honest opinion on why I believe February may not be an ideal month to visit, unless you've your mind set on visiting certain places and attractions.
As we already mentioned in our previous post about visiting Ireland in January, we are stong advocates for Ireland being best enjoyed in the spring, summer, early autumn months. These months will give you the best chance of experiencing Ireland's greatest asset: its landscape.
A study by Ireland's official tourism board, Bord Failte, concluded that 91% of tourists visitied Ireland to experience its magnificent landscapes.
So, this begs the question: Is it really worth while visiting Ireland in the middle of winter when the weather is mainly cold, wet and windy and daylight hours are reduced significantly?
The answer to the above question (in my humble opinion of having grown up in Ireland) is no. But…there are some other brilliant activities you can enjoy if you decide to visit in February.
Things to consider before visiting Ireland in February
The Weather
Similarly to January, the weather (on average) in February can be described as cold, wet and windy. The east will get less rainfall than the west, but temperatures in the former will be lower.
According to Ireland's official meteorological agency, Met Eireann, the average temperature for February ranges from 4.2 to 7.5 degress Celsius (around 44 Fahrenheit). These numbers are practically identical to January.
Daylight Hours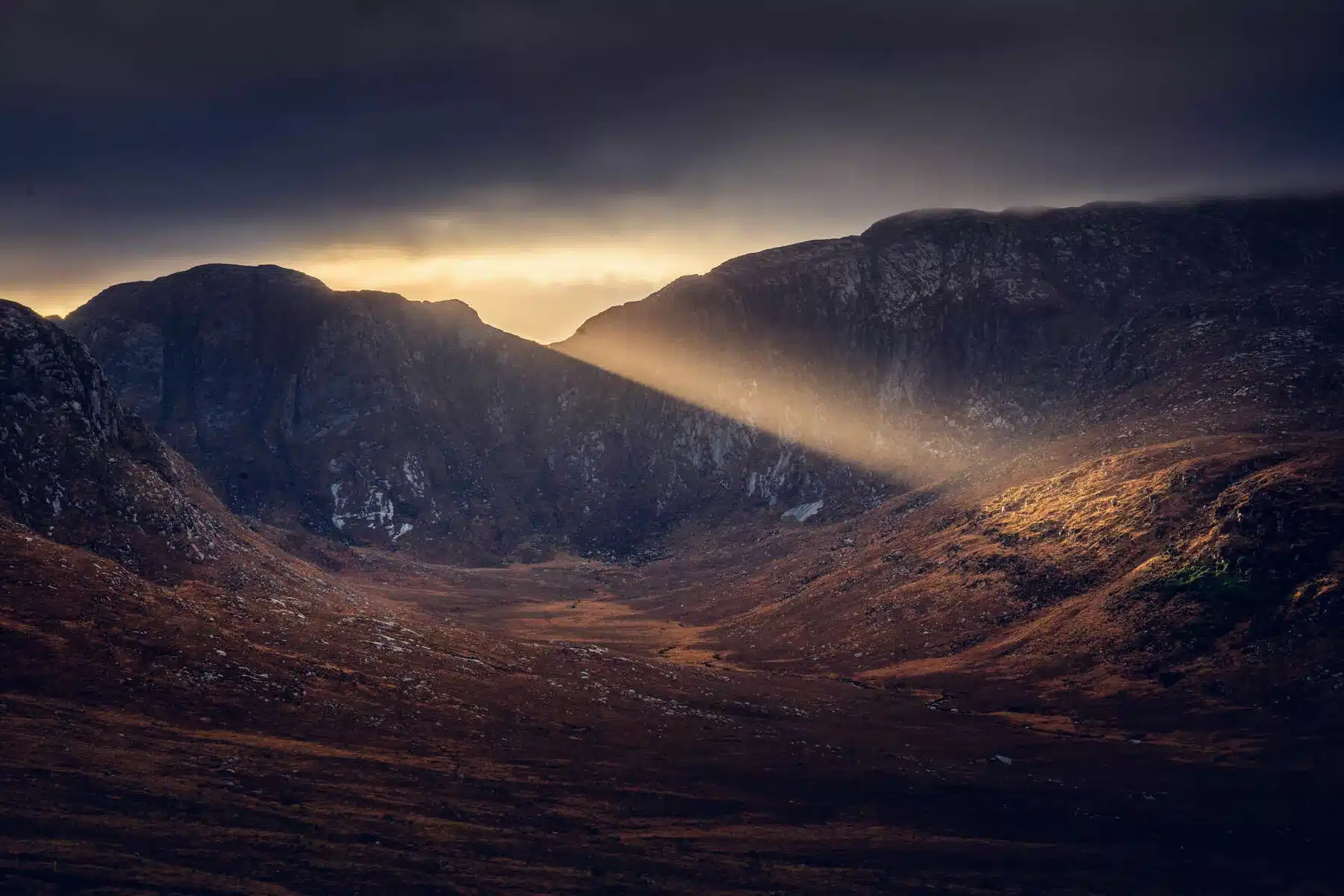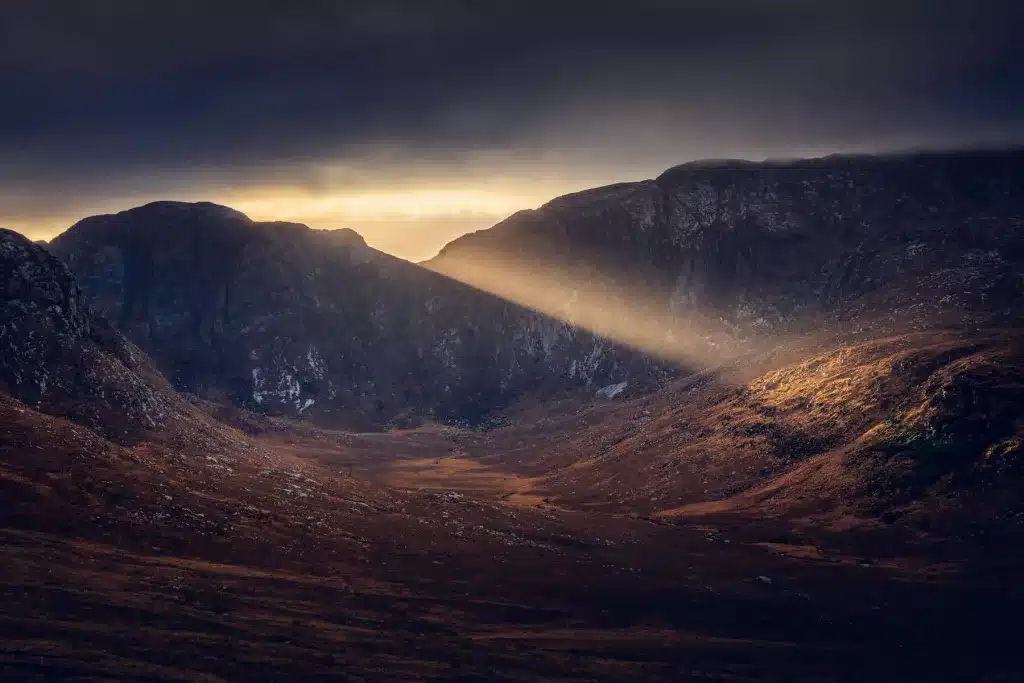 Here, you will notice a difference to January, but daylight hours are still significantly reduced. We're still in the winter season and Ireland lies in at an latitude of 33° 00′ N. This means long winter nights, and short summer ones.
The Price of Accommodation/Flights
One of the best (if not the best) reason to visit Ireland in February is the great deals you can snap up. Hotels are significatly less expensive than in the summer months. Exactly how much, we will get to a little later.
Flights are known to be a lot cheaper in the month of February than in summer months also, especially as the demand is quite low.
Crowds
Anyone visiting Ireland in the winter months will notice that there are significantly less tourists around than in summer, which means you'll get to explore many of Ireland's most visited attractions stress-free.
In saying that, you'll get some crowds in attractions like the Guinness Factory, but nowhere near the same as in July, August.
If you're a culture vulture and are very fond of a leisurely stroll through musuems and galleries, followed by a pint of Guinness in a cosy Irish pub, then February will be ideal!
What's on in Ireland in February
This is where February potentially may be a better time to visit than January. There's more on.
For example The Dublin International Film Festival takes place, which is a substantial event, hosting over 100 screenings; everything from shorts to feature lengths.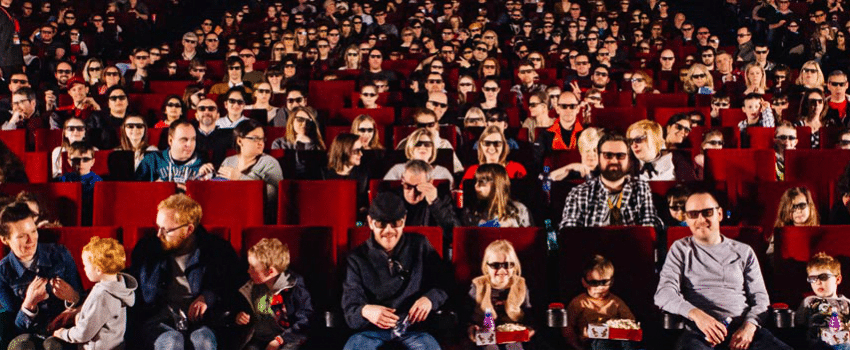 Then there's Tedfest, a daft and brilliant festival which takes place on the Aran Islands, honoring Ireland's legendary comedy: Father Ted. You'll find lads dressed up as nuns, women as priests, lovely girls competitions and Guinness aplenty.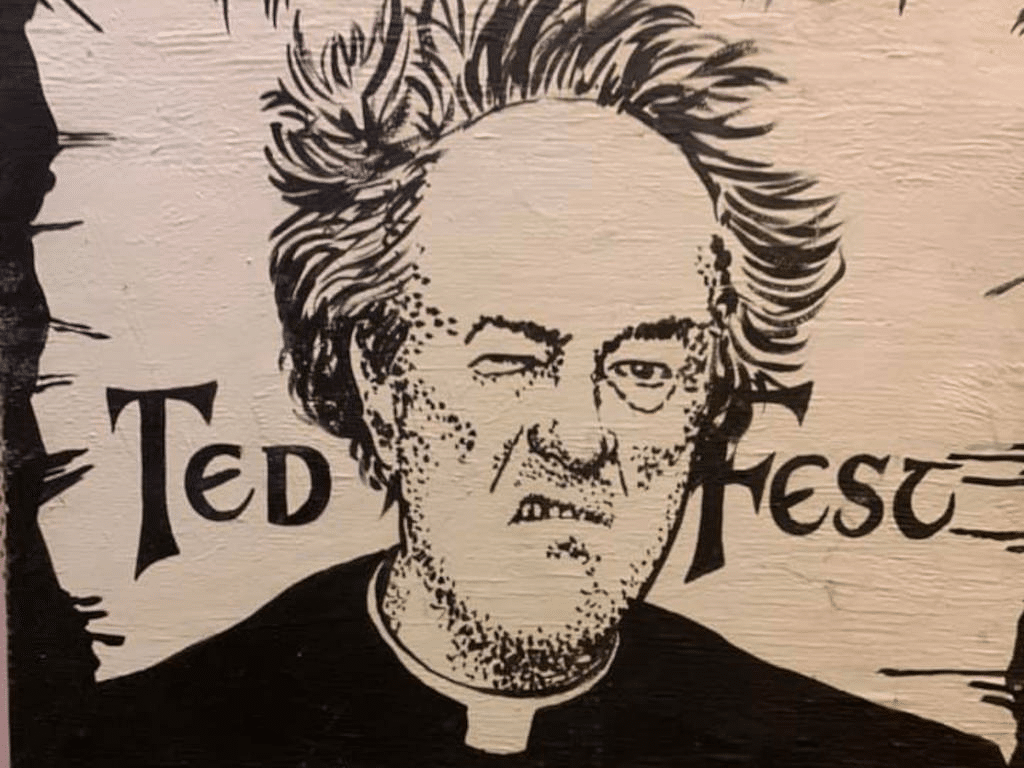 There are also some other noteworthy festivals, such as The Gathering Festival, a wonderful celebration of Irish music and arts, with many of the biggest names in Irish music present.
All in all, there are some great events to enjoy, mainly centred around performing arts and music.
Some Attractions/Bed & Breakfasts may be closed for February
Similar to January, some accommodation won't be available. Many B&Bs close their doors for the quieter winter months. However, you'll find practically all hotels will be open.
Depending on the attraction, some may also be closed for February. It's worth keeping an eye on the National Parks' website, as many visitor centres will be shut. Click here for exact details.
All major attractions in Dublin, such as the distilleries and Guinness stay open year-round, so nothing to worry about here.
St. Brigid's Day – Ireland's new public holiday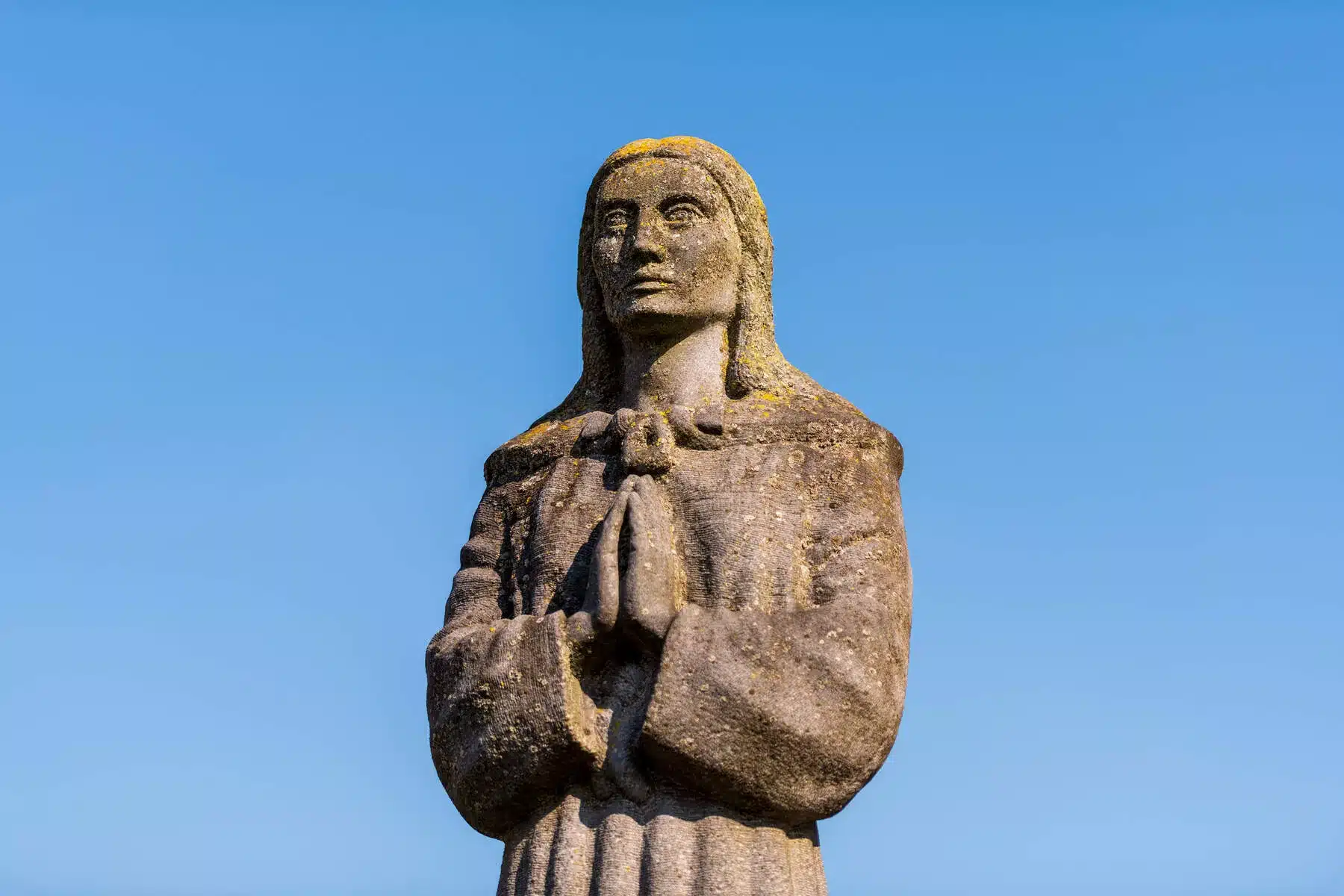 As of 2023, Ireland has a new public holiday in honour of St. Brigid, Ireland's female patron saint.
St. Brigid's Day is celebrated on February 1st, which marks the beginning of spring in the Celtic calendar. This means that, in Ireland, schools and all public buildings will be closed on this day.
The day is celebrated by making St. Brigid's crosses, which are woven from rushes and hung in homes and churches for protection and good luck.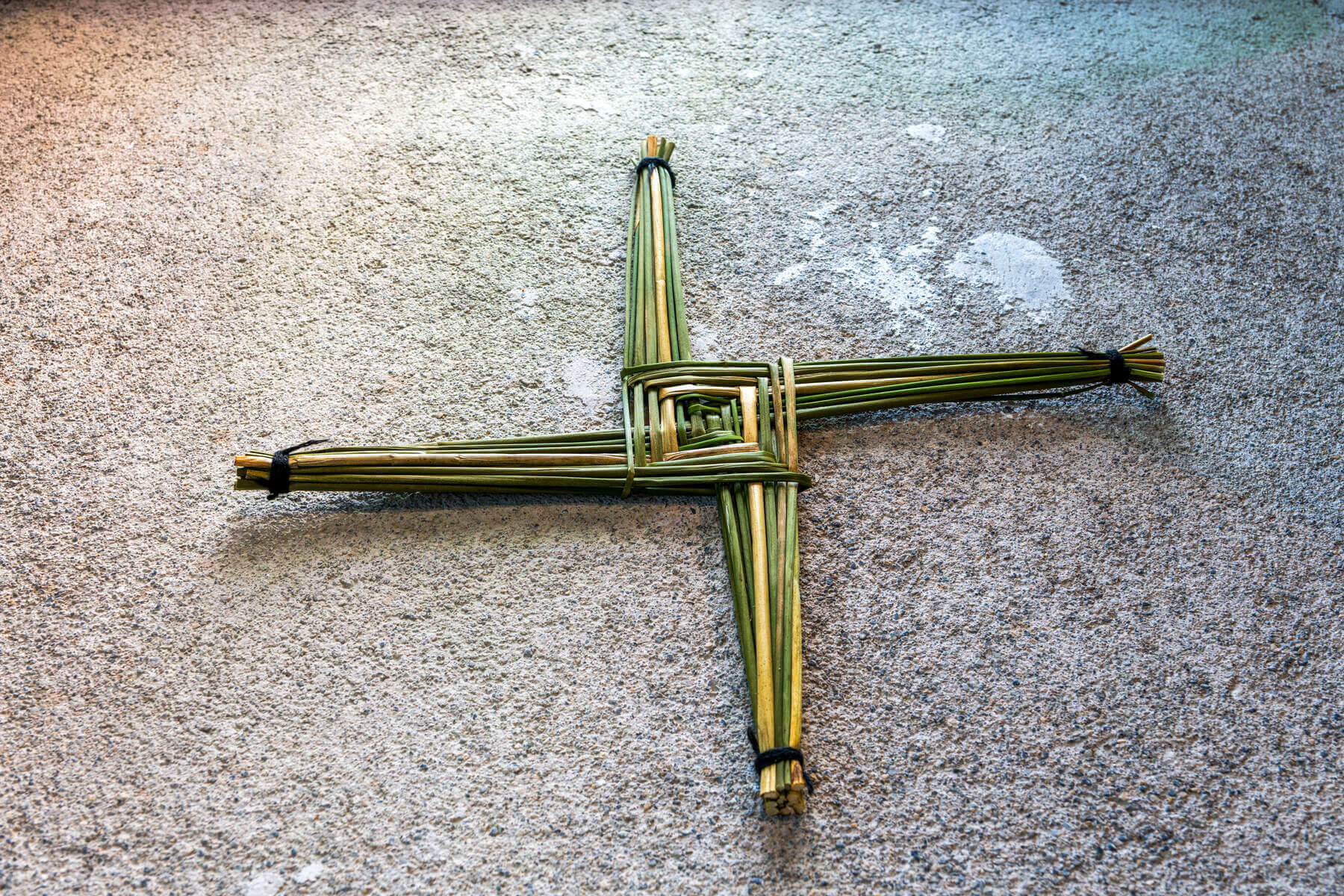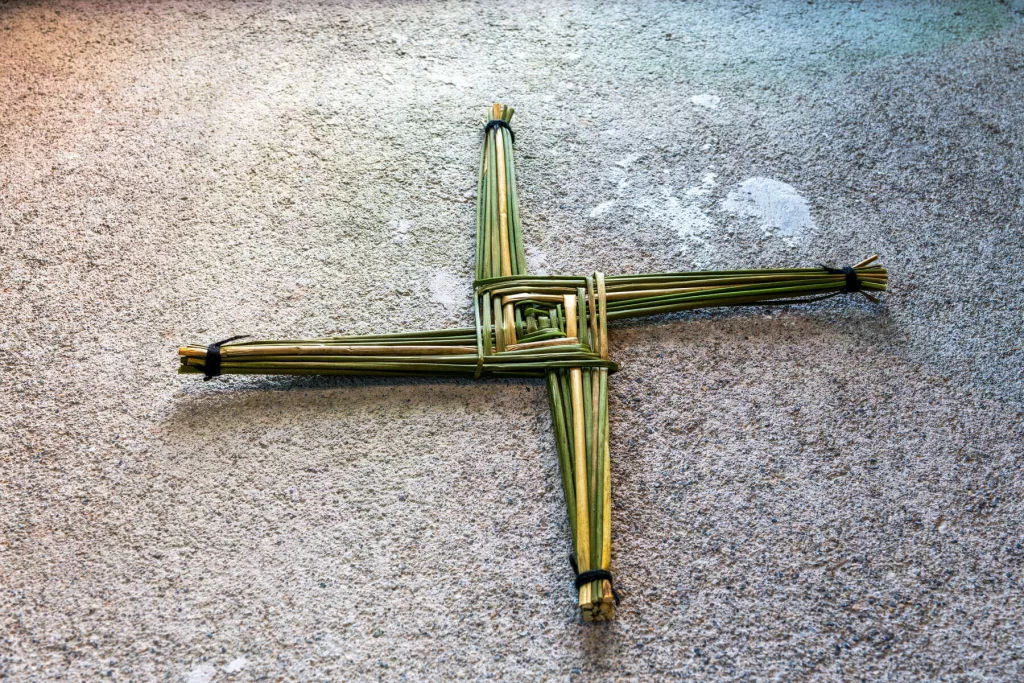 As a boy growing up in Ireland, this was a big event in school, with everyone competing to produce the best crosses, many of which looked more like spaceships than actual crosses!
The holiday has pagan origins and was originally known as Imbolc, which celebrated the return of the sun and the lengthening of the days.
If the 1st of February falls on a weekend day, the following Monday will be a day off work and school. This applies for St. Patrick's Day and all others too. Ireland does bank holidays very well indeed!
The Weather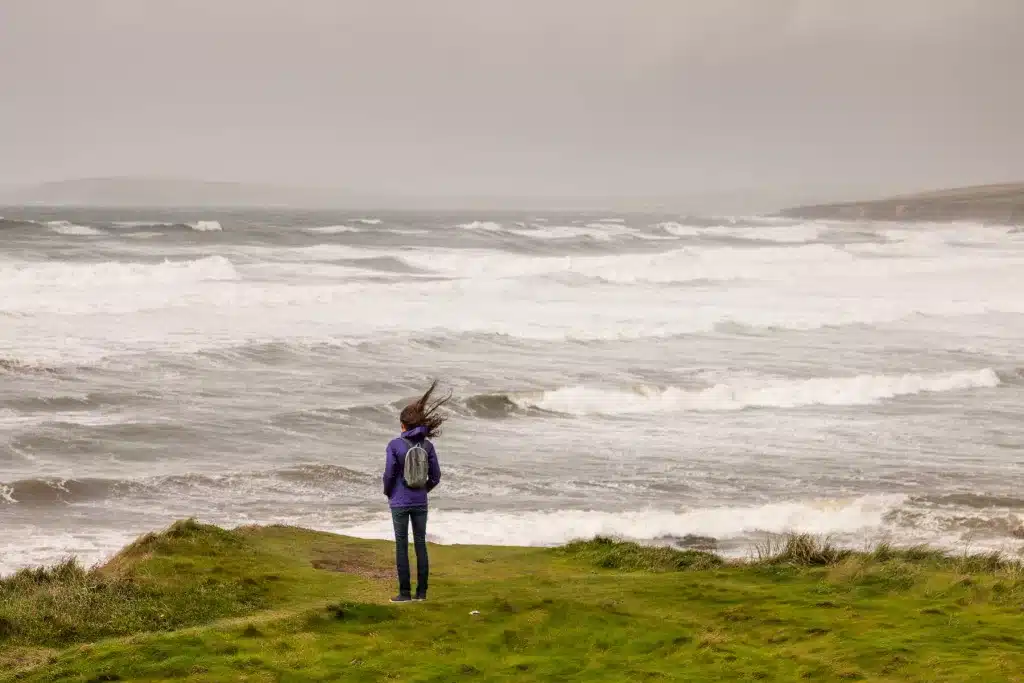 We mentioned the weather being the main factor for avoiding visiting Ireland in winter, but how cold or how wet is it exactly?
We will be looking at four important factors in relation to the weather in Ireland in February: temperature, number of rainy days and rainfall. The fourth and often overlooked factor is how the weather actually feels; this is related to wind and the wind chill factor.
Dublin
Dublin, located on the east coast of Ireland, has a long term average temperature for February of 5.3 degrees Celsius (42 Fahrenheit) Expect rainfall on at least 13 days of the month, and an overall precipitation total of 48.8 mm. (source: Met Eireann) (This makes February the driest month of the year in Dublin, but also the joint coldest)
Cork
Cork, Ireland's second largest city, is located on the southern coast of Ireland. Cork has a long term average temperature for February of 5.7 degrees Celsius (42 Fahrenheit) Expect rainfall on at least 17 days of the month, and an overall precipitation total of 97.8 mm. (source: Met Eireann)
Galway
Galway is no stranger to the rain, because of its westerly Atlantic location. Galway has a long term average temperature for February of 6.7 degrees Celsius (44 Fahrenheit) Expect rainfall on at least 17 days of the month, with a total of around 95 mm. (source: Met Eireann)
Derry City
Derry City is located in the far north of the country, and is one of the colder cities of Ireland, with a average February temperature of 5.5 Celsius ( 42 Fahrenheit) Expect at least 14 days of rain, with around 71.1 mm of precipitation for the month. Snow is more likely in Derry because of its northerly location. (source: Weather Atlas)
Real Feel/Wind Chill
On paper these temperatures look quite decent for winter and in comparison to many other continental European countries, they are a lot higher.
Alpine countries such as Austria, Switzerland and Eastern European countries will see daily averages well below freezing in February. So, shouldn't Ireland be an ideal destination in winter?
'Ideal' is subjective. Many who come from a country with significantly colder winters will maintain that Ireland 'feels' so much colder. Ireland's marine location ensures the air is almost always laden with moisture, and in combination with wind, makes it feel a lot colder than it actually is.
In saying that, if you come from a country where climate conditions are similar to Ireland, you won't mind the Irish weather at all!
Does it snow in Ireland in Febraury?
There seems to be a massive misconception about this. I have read in multiple places that winter in Ireland is apparently characterized by rain and snow… Rain for sure, snow is very rare.
Ireland is unfluenced by the Gulf Stream, and this stops us from having severely cold winters. It's quite common to see a sprinkling of snow on higher ground during the winter months, but on ground level it's very seldom.
When it does snow though, Ireland looks magical: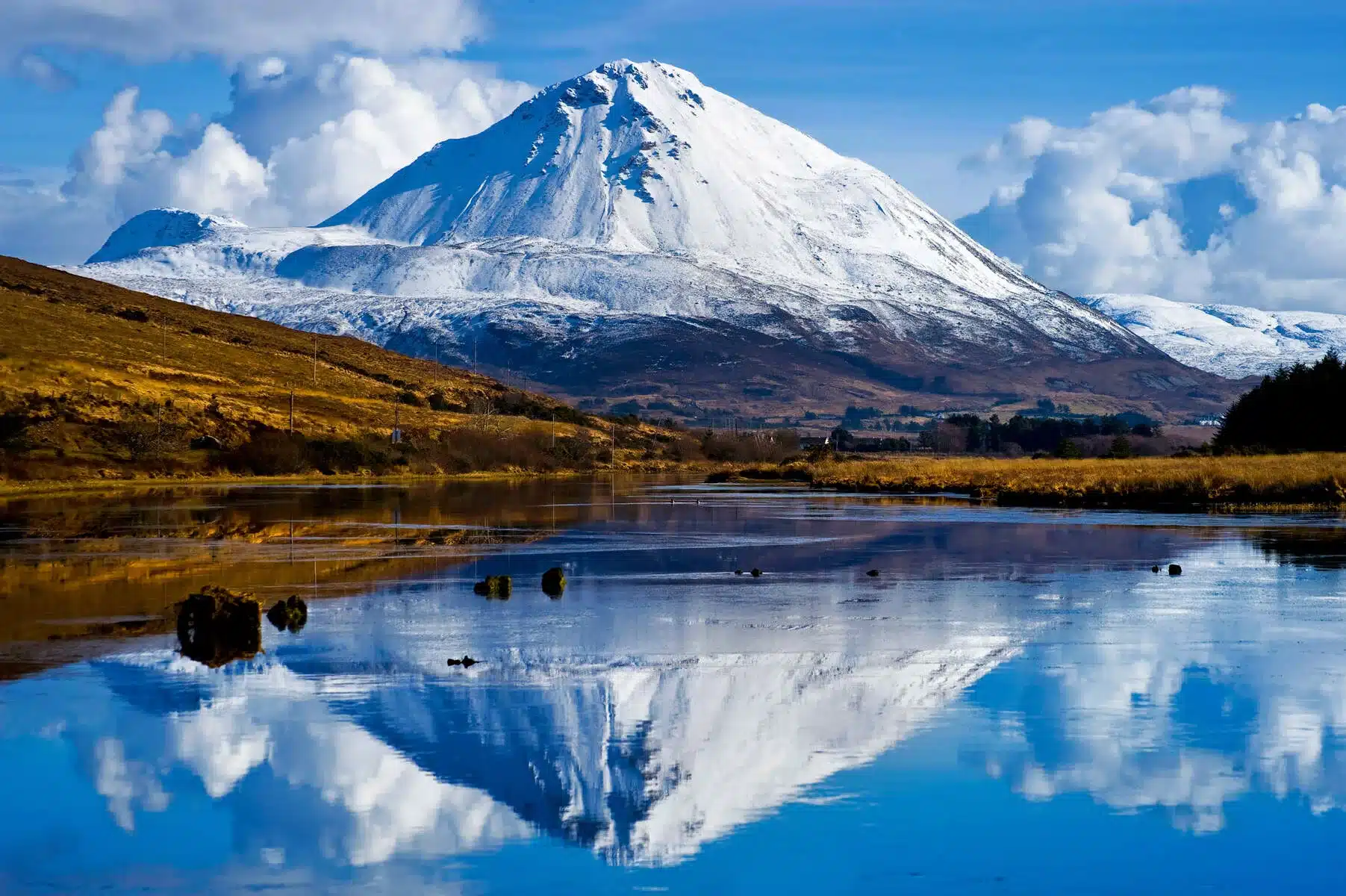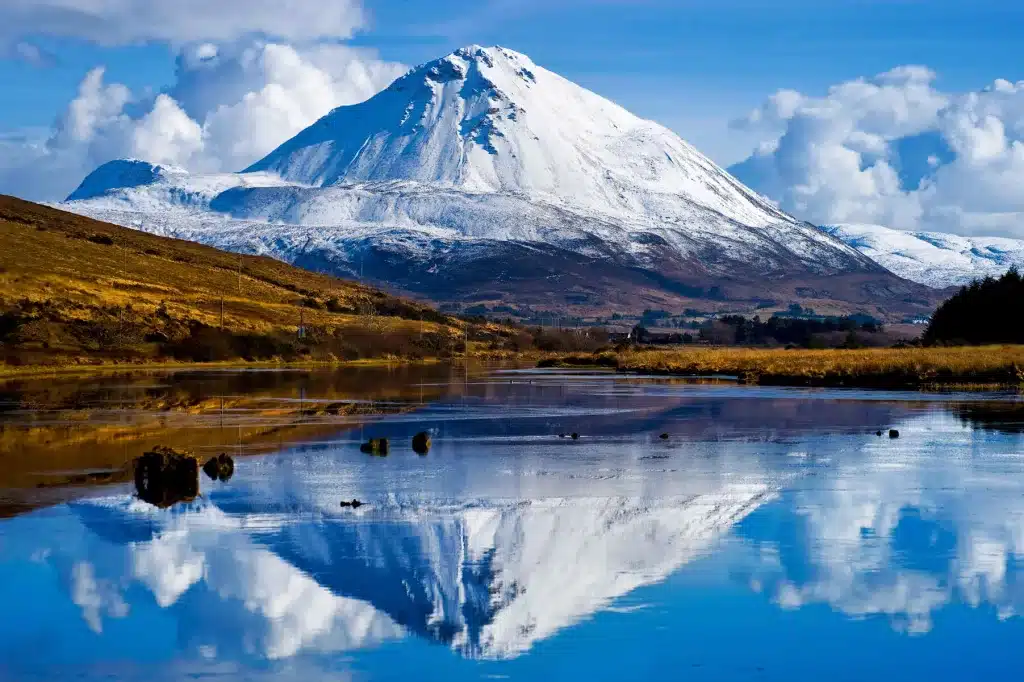 Contrary to many continental European countries, winter tyres are not compulsory in Ireland. In fact snow is so rare, when it does come, it's common for schools to close and people are advised not to travel on the roads!
Daylight Hours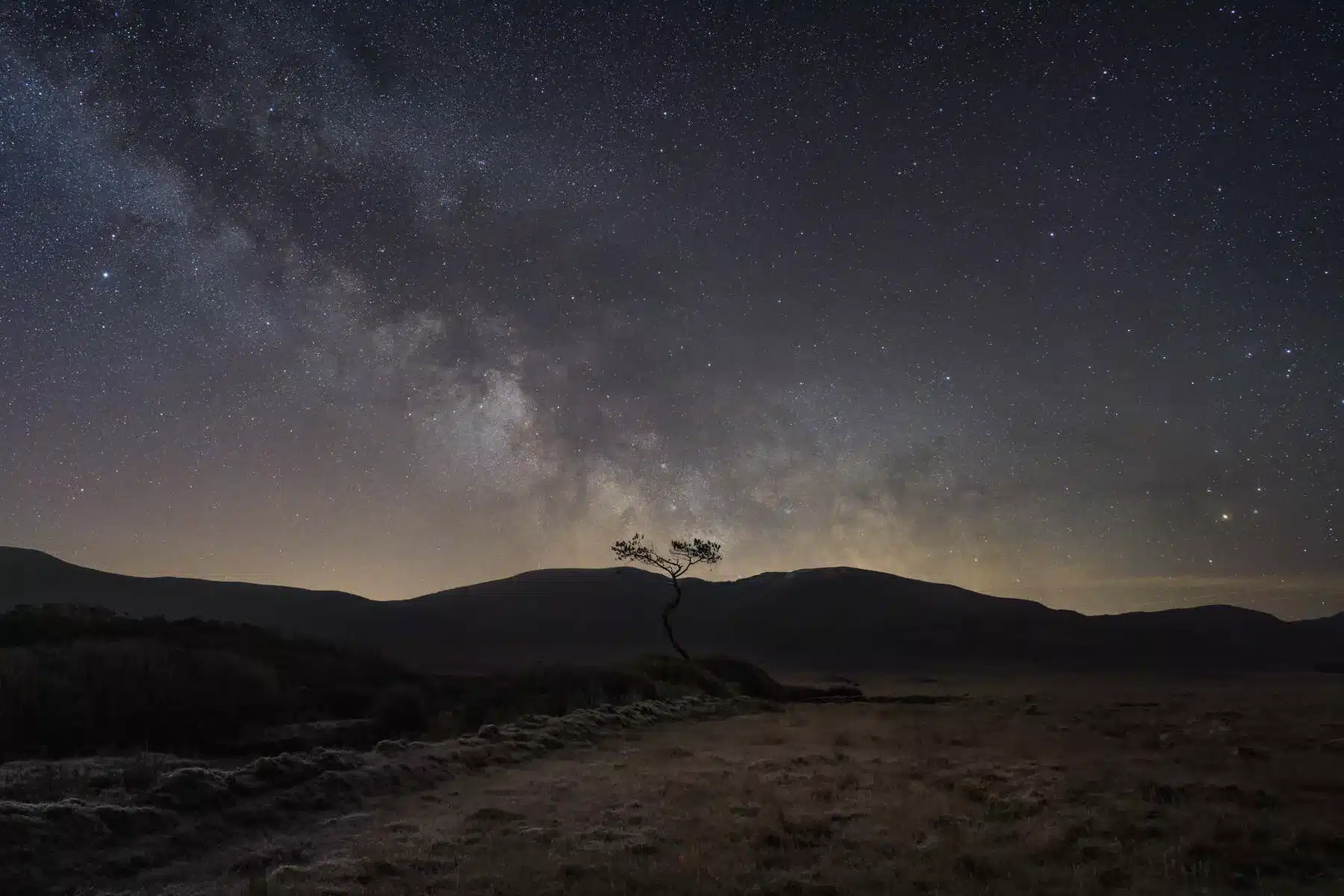 Daylight hours are restricted in February, but certainly better than in December and January.
In Dublin at the start of February, the sun will rise at 8:10 am and set at 17:07, giving a total day length of approx. 9 hours. In Galway, sunrise is at 8:20 and sunset at 17:19, giving a total of also around 9 hours (source: time & date)
The difference seen at the end of this short month is big. In Dublin expect the days to be close to 2 hours longer and in Galway the same. In saying that, days are still quite short, so best get cosy in a warm pub with a pint of the 'Black Stuff', while listening to some lovely Irish tunes.
The Prices
Flights
If looking for flights, if you book well in advance, you'll find that air tickets are very reasonable compared to the busier summer months. Demand is lower this time of the year and you should be able to get a good deal.
Have a scan around here to get an idea of the prices for February:
Accommodation
Now this is where you'll save loads. Till not I know I've been harping on about the difference in price between winter and summer, but in a country which is known for being expensive, isn't this a deal breaker for many?
The graph we compiled below gives an overview of the average hotel room rates by month from 2022.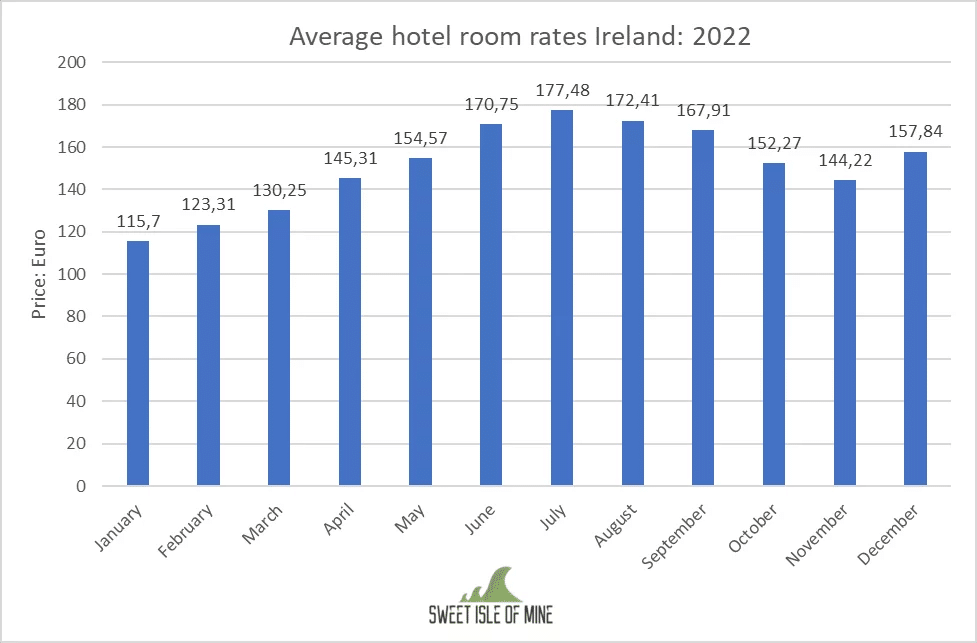 You'll notice that you'll be paying over 50 euros extra per night in the summer months.
For example, a week's accommodation in February would set you back around €860, while the same in July would work out at €1, 239. Remember, your flights will be a lot more expensive in July also.
It is also worth noting here that this is the national average. There's a good chance that a lot of hotels in Dublin will be more expensive than the price listed above. In saying that, you'll have a better chance of getting a good deal in a hotel in winter, in midweek for example.
Here is a direct link to the best hotel deals.
What to do in Ireland in February
So, as you have already gathered, we believe February is not an ideal month to visit Ireland if you'd like to experience the Great Outdoors or go on a long, scenic road trip. However, February is ideal for a city trip. Especially to Dublin.
Visit Dublin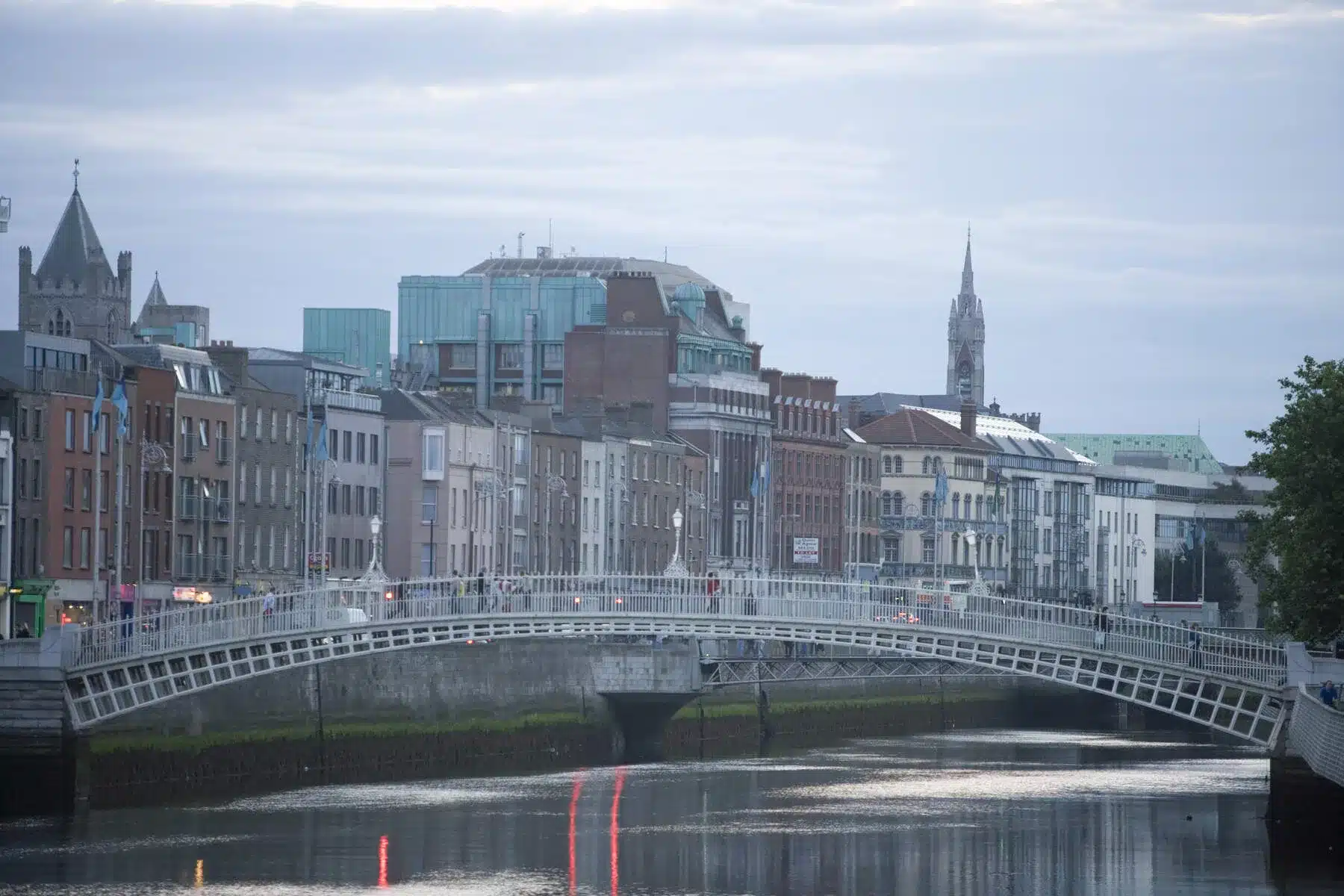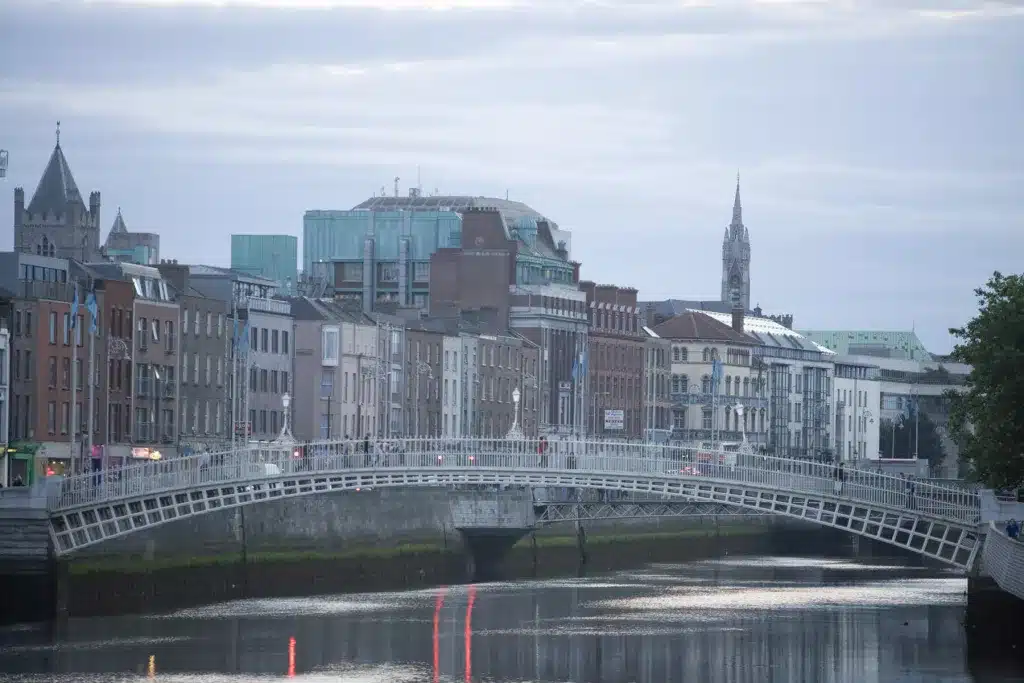 Visiting Dublin in February is, in your view, the best thing to do in Ireland in February. Expect less crowds, better prices on hotels and flights and all attractions will be open.
Visit the National Museums of Ireland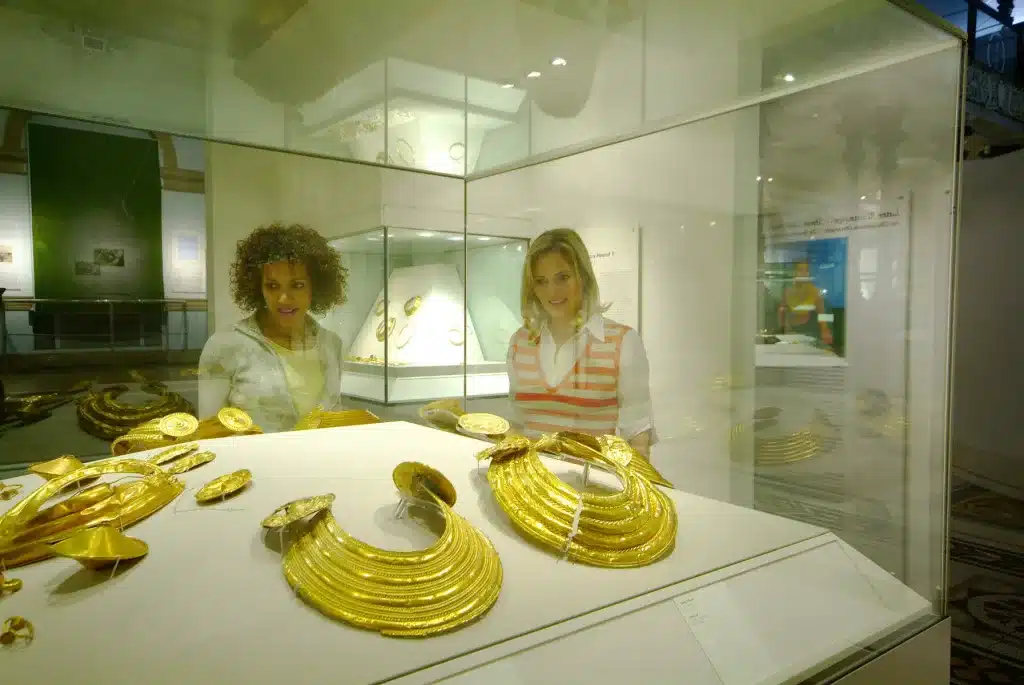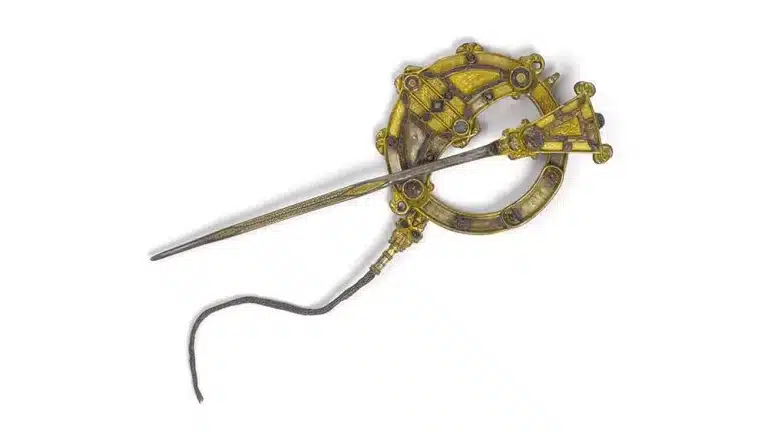 Admission is free of charge! There are 3 museums: Art, Archaeology and Natural History. Details of each are here. My personal favourite is the National Museum of Archaeology.
This museum is fascinating and holds some wonderful artifacts from the Stone Age to the Viking Era and so much more. One of the most standout items on display must be the 'bog bodies'; creepily well-preserved bodies dating back over 2,500 years.
You'll also see some beautiful treasures such as the Tara Brooch and the Ardagh Chalice, masterful pieces created over 1500 years ago.
Visit the Book of Kells/Trinity College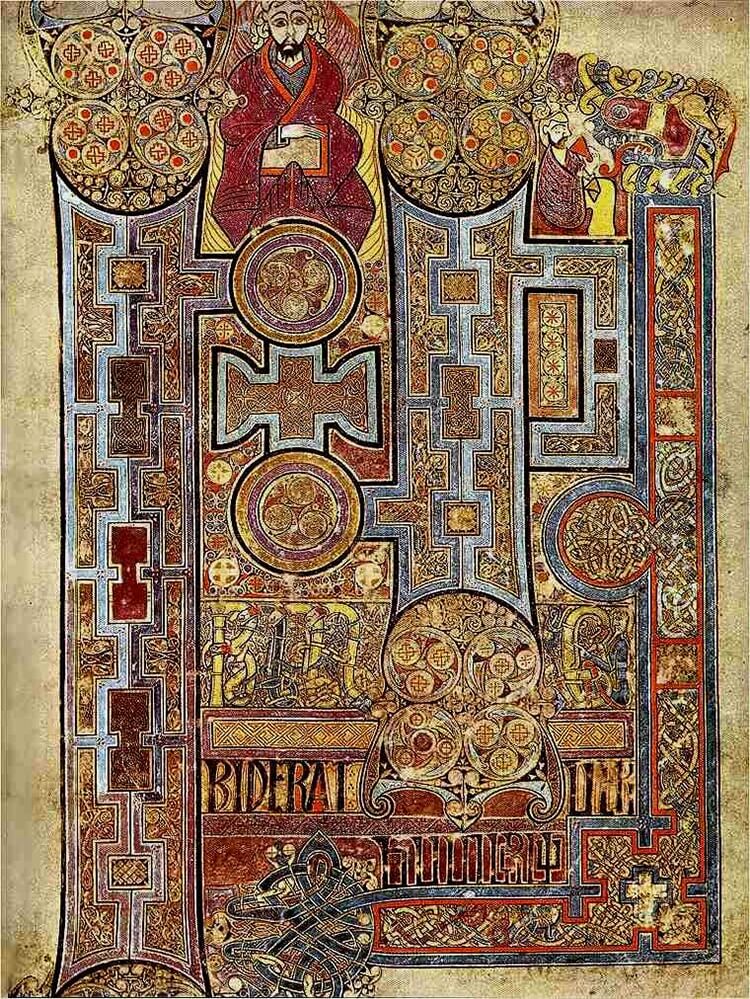 There is one absolute must on your trip to Dublin: visiting the 'Book of Kells' and the 'Long Room' library. You'll need to book this all-in-one ticket in advance, there is no chance of just showing up and being able to view. (Details below)
It is located in the beautiful Trinity College in the city centre, and includes one of the most breathtaking pieces of literature known to exist. It was crafted by monks in the year 800 AD on the island of Iona, and contains the 4 Gospels in incredible illustrated form. Every day a new page is turned.
For many, the tour of the Long Room, which is included in the ticket price will be just as spectacular, not just because it resembels the library in the 'Harry Potter' movies, but for the majesty of the structure and design of the interior.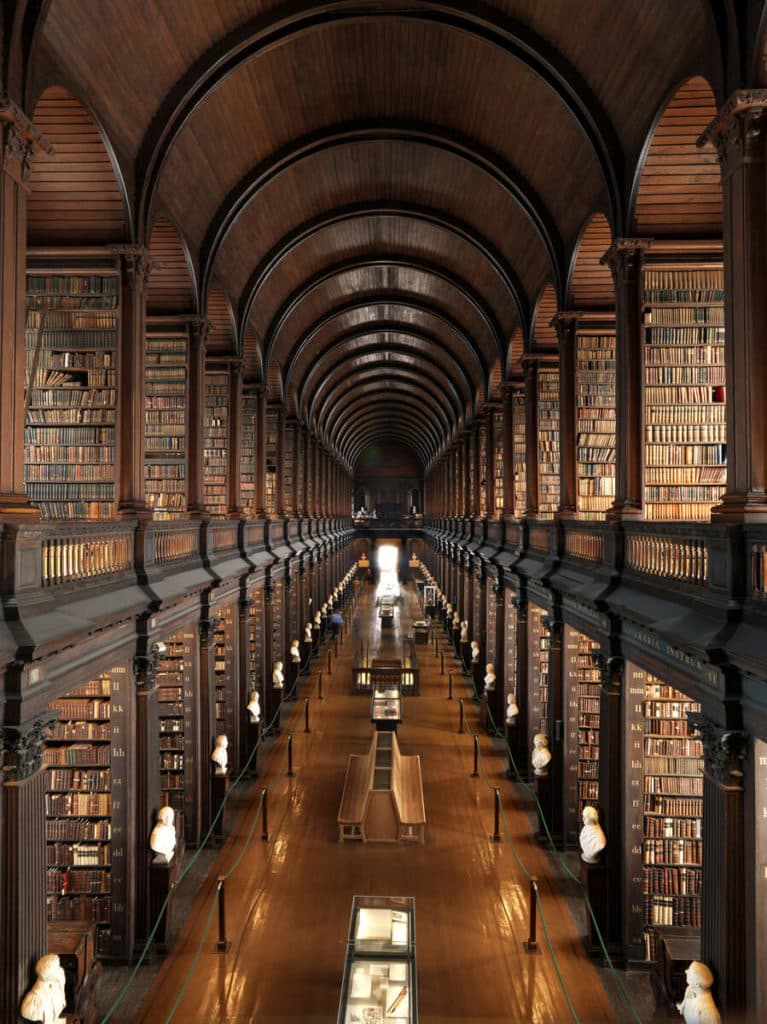 The oldest harp in Ireland is also on display in the Long Room, along with the busts of over 40 well known philosophers, historical figures and writers, including Aristotle, Plato and Wolfe Tone. You can get a fast-track combination ticket for the Book of Kells and Dublin Castle here.
Visit Kilmainham Gaol Museum:
This former prison is now a museum that tells the story of Ireland's struggle for independence. Visitors can explore the cells where famous political prisoners were held, including Eamon de Valera and Michael Collins.
Visit The Little Museum of Dublin
This quirky, cool museum tells the story of Dublin's social, cultural, and political history through the 20th century. You'll see over 5,000 artifacts donated by Dubliners, including a letter from Samuel Beckett and a pair of Bono's sunglasses.
You could easily get lost here and it's an ideal alternative to those not particularly inclined towards the larger museums such as the National Museums.
Visit the Guinness Storehouse to sample that world famous stout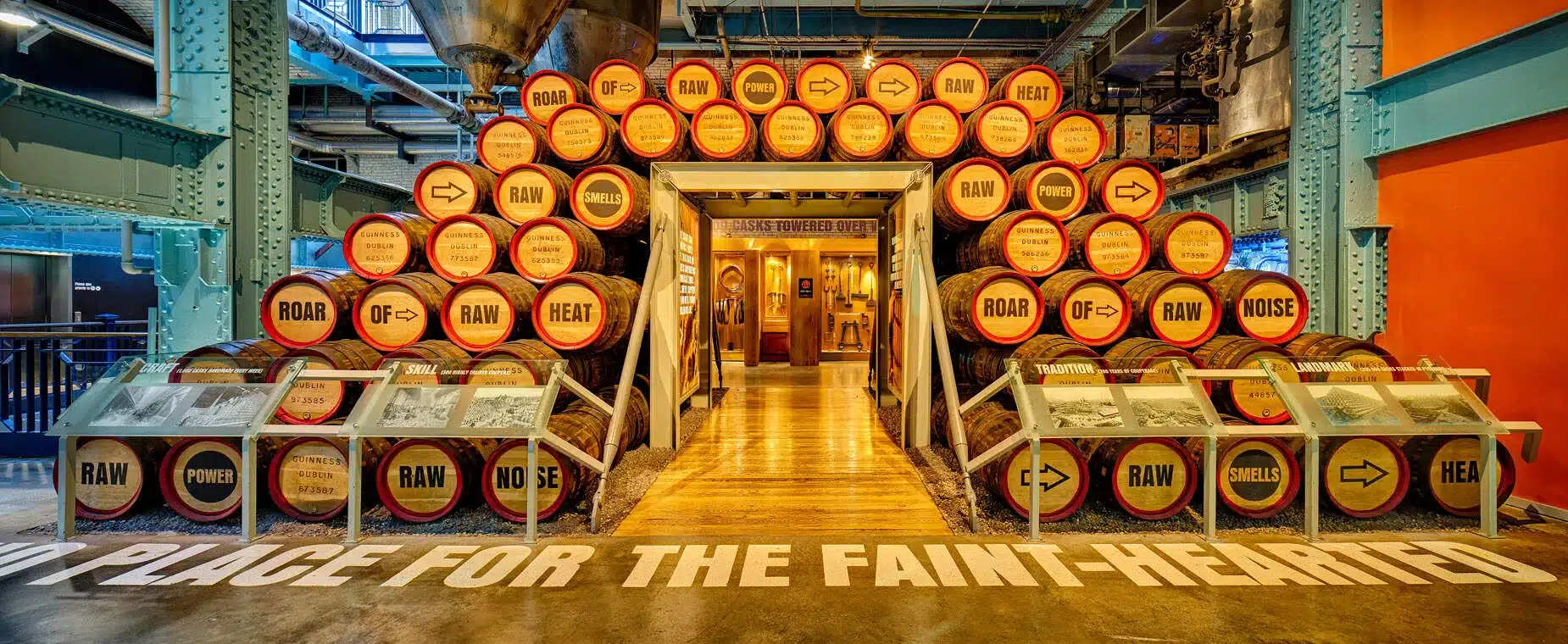 Does this drink need an introduction? I'm sure the vast majority of you out there, no matter where you come from, have heard of the famous black stout.
Why not pay a visit to the museum to get an insight into just how iconic this drink is? You'll be treated to a free pint at the end and finish up with wonderful panoramic views out over Dublin.
This is a great experience and one you'll be amazed at the sheer scale of both the visitor centre and the brewery itself. It's almost like a city within a city. You can book tickets here.
Visit the Jameson Distillery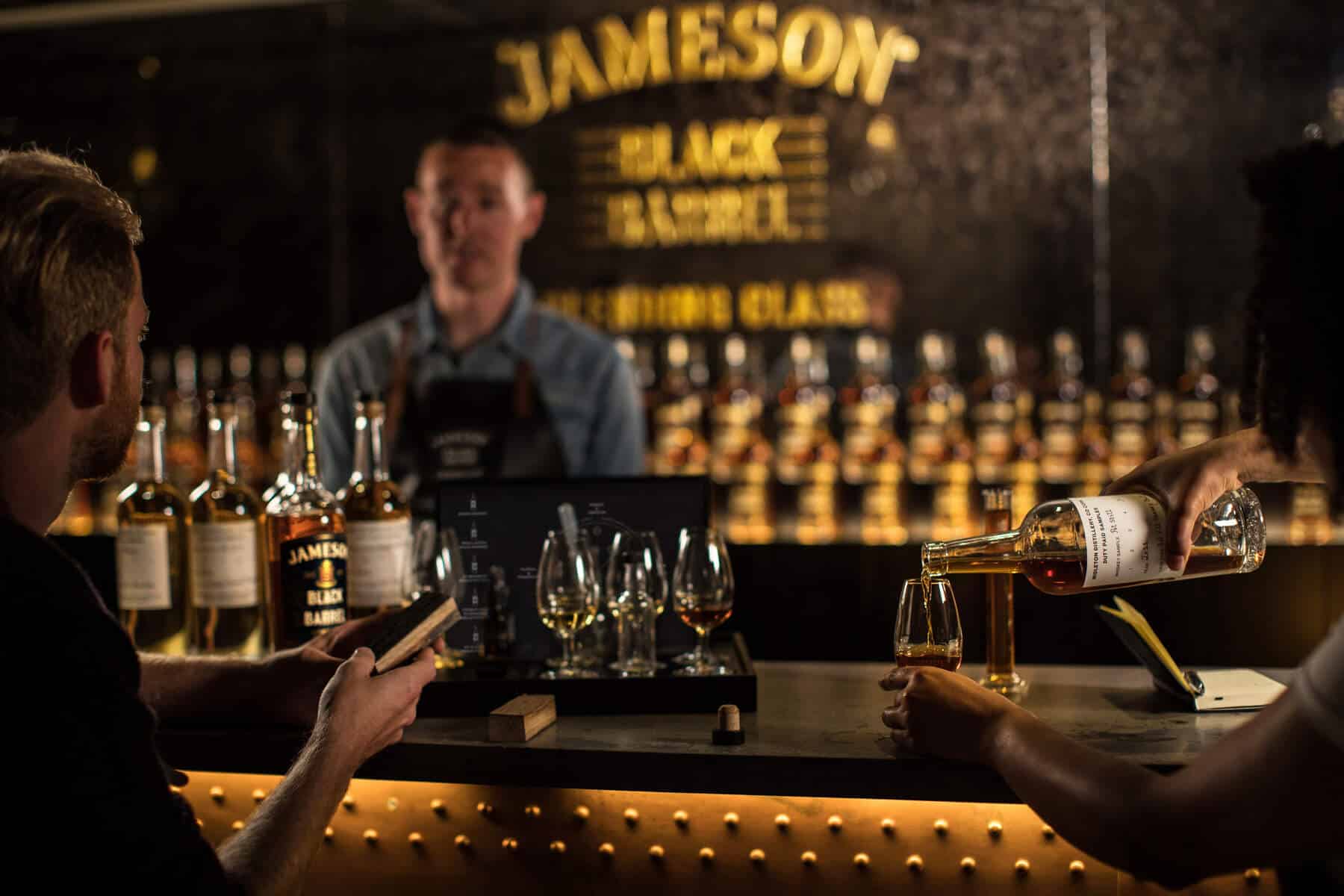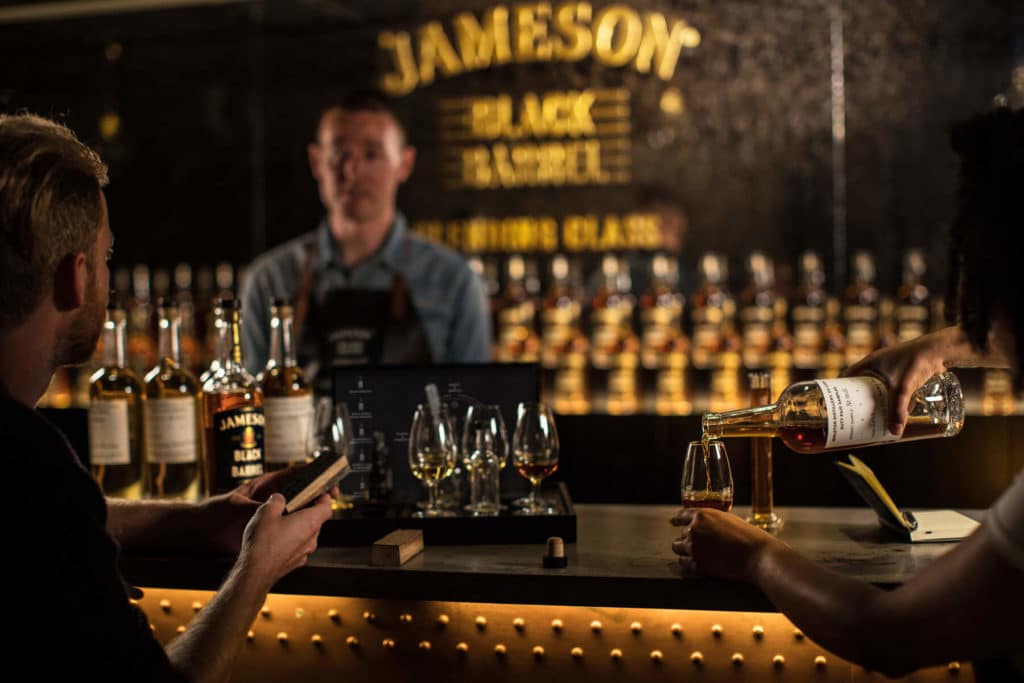 Any whiskey lovers out there? The world-famous Jameson whiskey (along with many others) originates from Ireland and this brilliant distillery will give you a great insight into the whole process of distilling and the cultural aspects behind the iconic drink.
Having visited numerous times myself, I highly recommend and it is a nice alternative to the busier Guinness Storehouse. You'll get to sample plenty of whiskies and you'll also try some American bourbons, purely for comparative and educational purposes…
Did you know: Whiskey is the anglicized version of 'Uisce Beatha', an Irish phrase meaning 'the water of life'. Also, in Scotland, it's spelled 'whisky', whereas in Ireland 'whiskey'!
The tour I did was great, as the guide was great fun and the group was small, adding to a nice cosy atmosphere in this lovely location. You can buy your tickets directly here.
Visit the Irish Whiskey Museum
This interactive museum offers visitors the opportunity to learn about the history of Irish whiskey, taste different varieties, and you can even blend your own!
Watch a performance at the Abbey Theatre/Go to a gig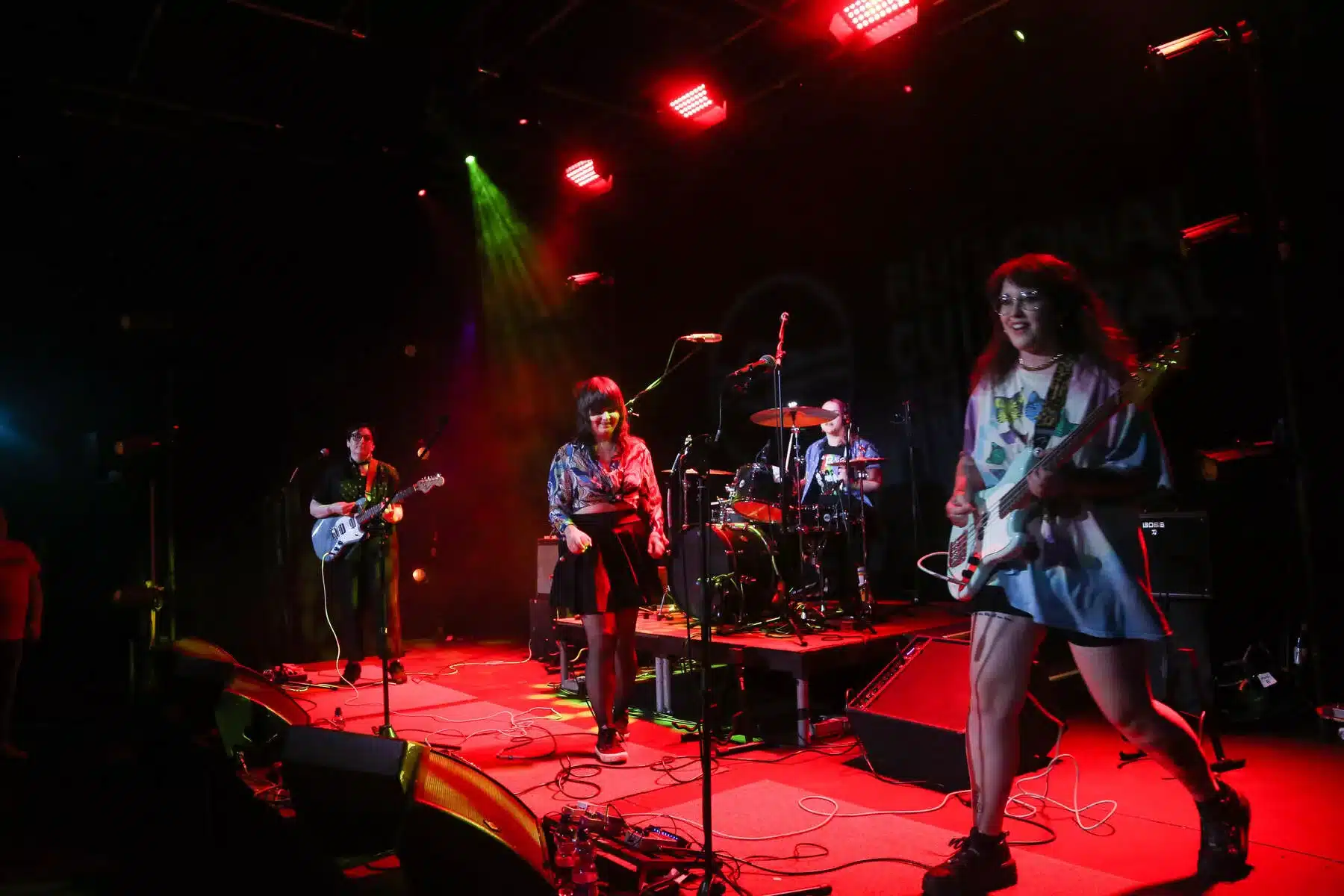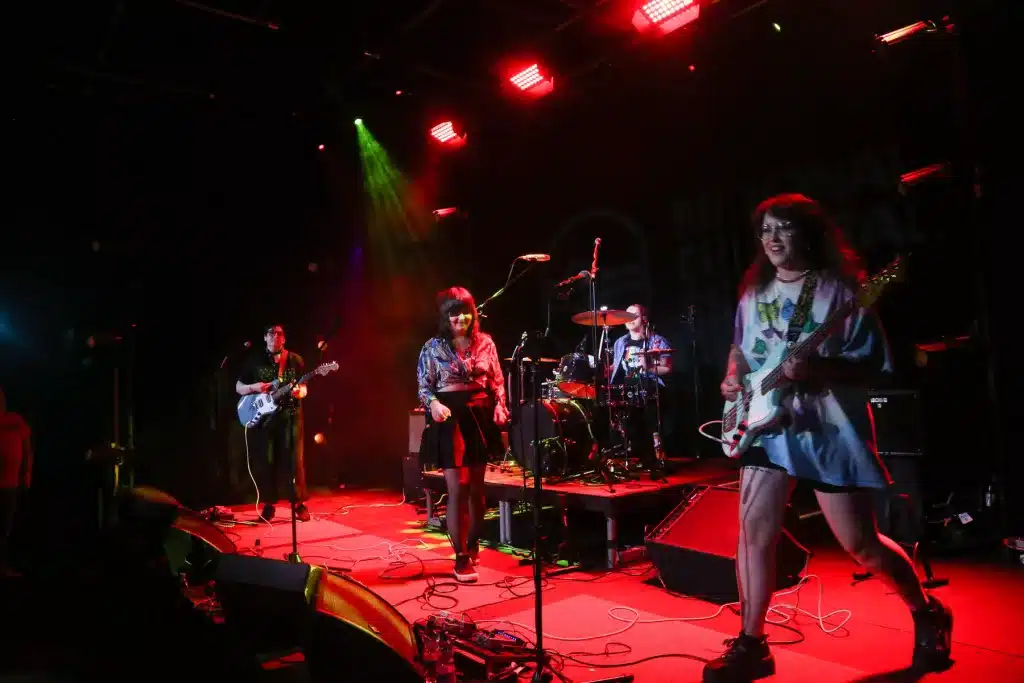 The Abbey Theatre is the national theater of Ireland and offers a range of productions throughout the year. From classic Irish plays to contemporary works, there's always something great to see.
There's always a gig on in Dublin, no matter what. From comedy clubs to samba night or just a good rock gig in Whelan's pub, you'll definitely find something to tickle your fancy. Click here to check out what's on in Dublin.
Visit a nice cosy pub to warm your bones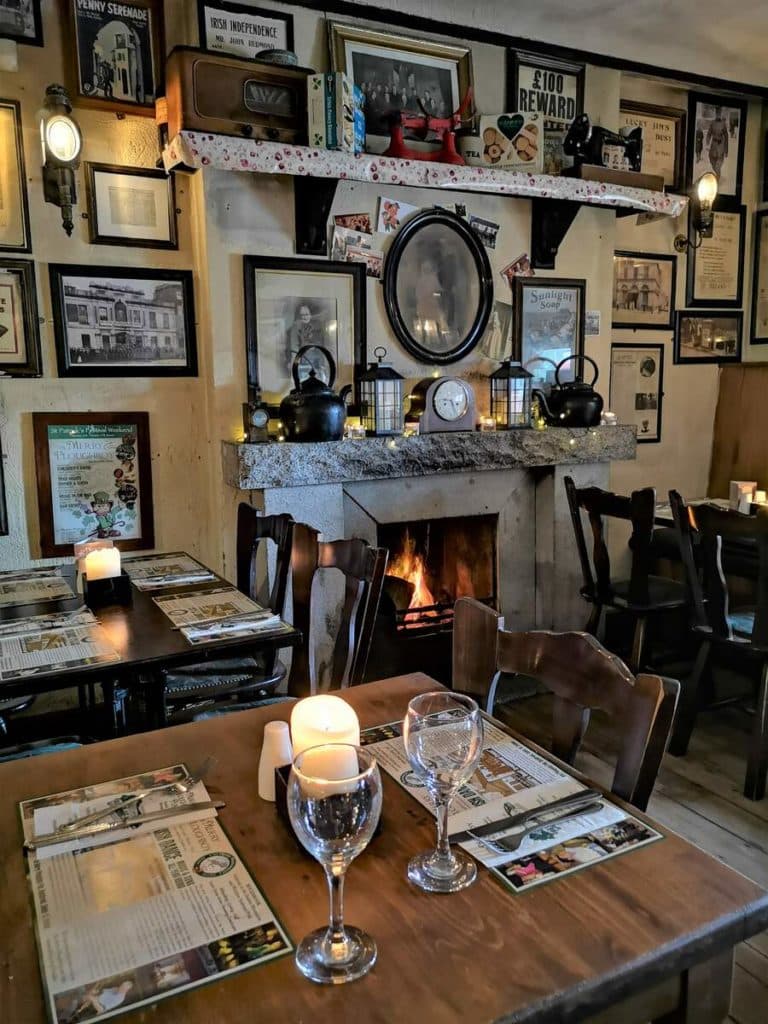 Dublin is famous for its lively pub culture, and it's not hard to see why. The city is home to countless pubs (almost 800 in fact!), each with its own unique character and atmosphere.
Dublin's pubs are more than just places to have a pint in – they're an integral part of the city's social scene. From traditional pubs with cozy nooks and crannies to modern, trendy bars, there's something for everyone in Dublin's pub scene.
Our favourite pubs for a more traditional pub experience are: The Brazen Head, The Palace Bar or O' Donoghues (a pub made famous by the Dubliners). These historic pubs have been serving pints for centuries and really are the essence of Old Dublin.
Some other favourites of ours are: The Stag's Head, Toners, and Doheny & Nesbitt. Classic dark-wood interiors and epic Guinness!
You can even go on a private pub crawl tour, details of which are here.
Do the Howth Head Cliff Walk (if weather permits)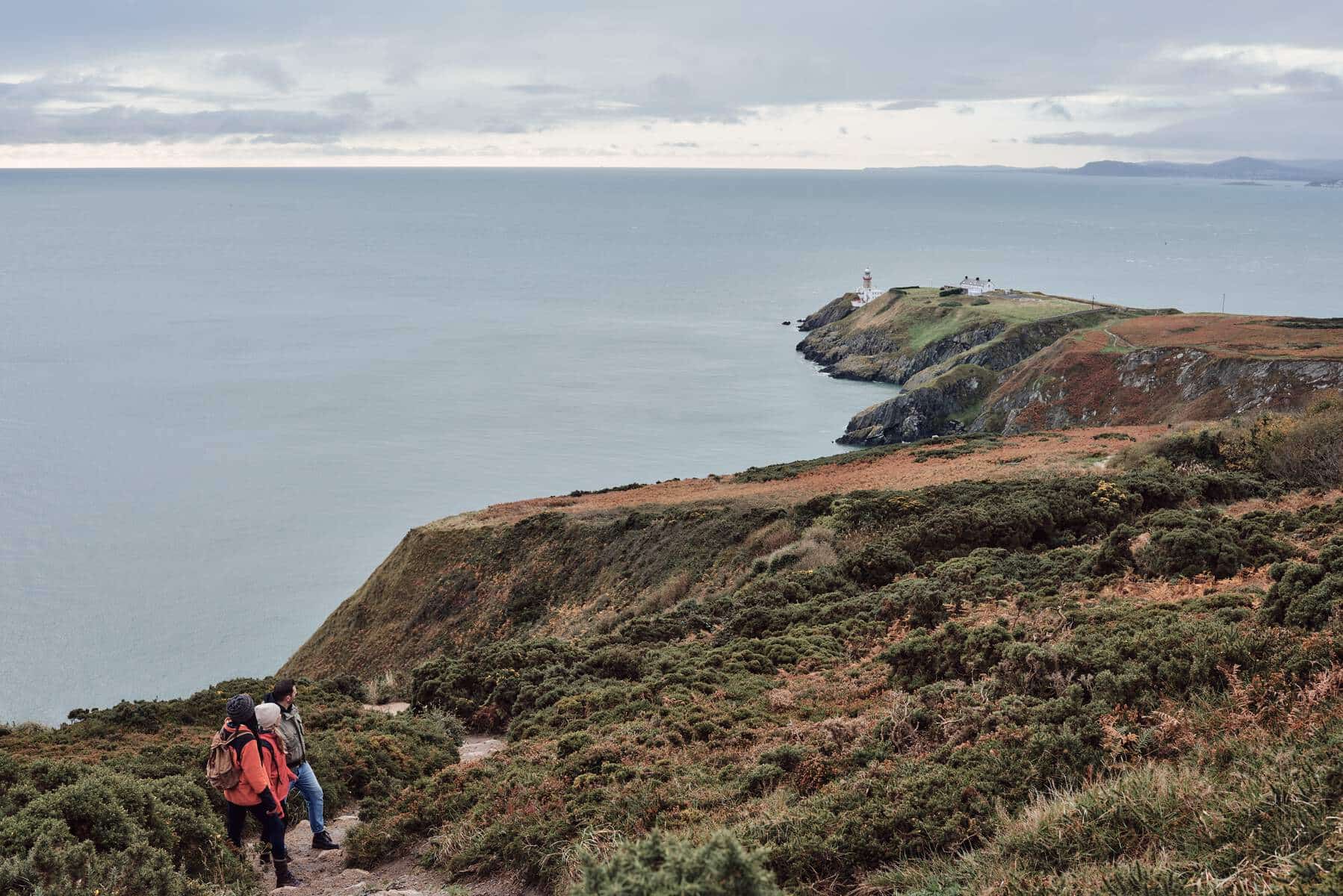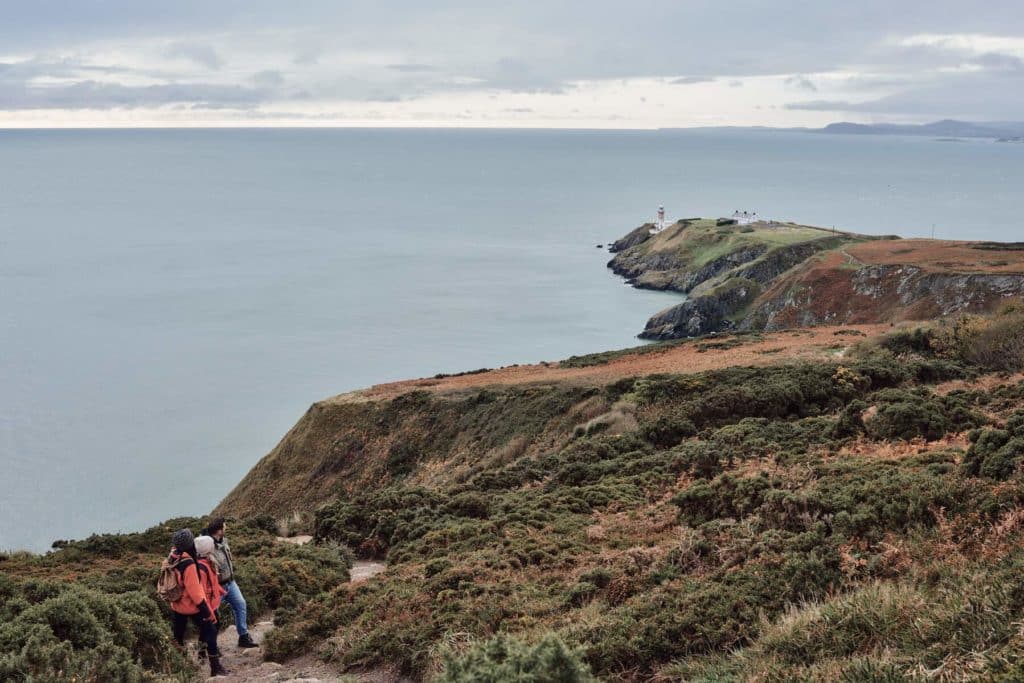 Dublin lies on the east coast, which has some beautiful scenery, walks and trails. If you get lucky and the weather is on your side, you can take a daytrip to Howth, a charming seaside village known for its top seafood restaurants and the Howth Head walk
The views are stunning over the Irish sea and the islands of Ireland's Eye and Lambay Island. You'll also have cracking views south along the whole coast to the Wicklow Mountains and beyond. You can get the DART train from the city centre to Howth and only takes a half an hour.
Avail of the Dublin Card
Here's a great money saver. If you are not sure about what attractions to visit in Dublin, the Dublin Card offers entry into over 35 locations in the city, including Guinness and Jameson, amongst many more.
A great solution if you want to squeeze in as much as possible into a limited timeframe. You can hop, skip and jump to whatever attraction your heart desires. You can get the card here.
Other Places to Visit in Ireland in February
Galway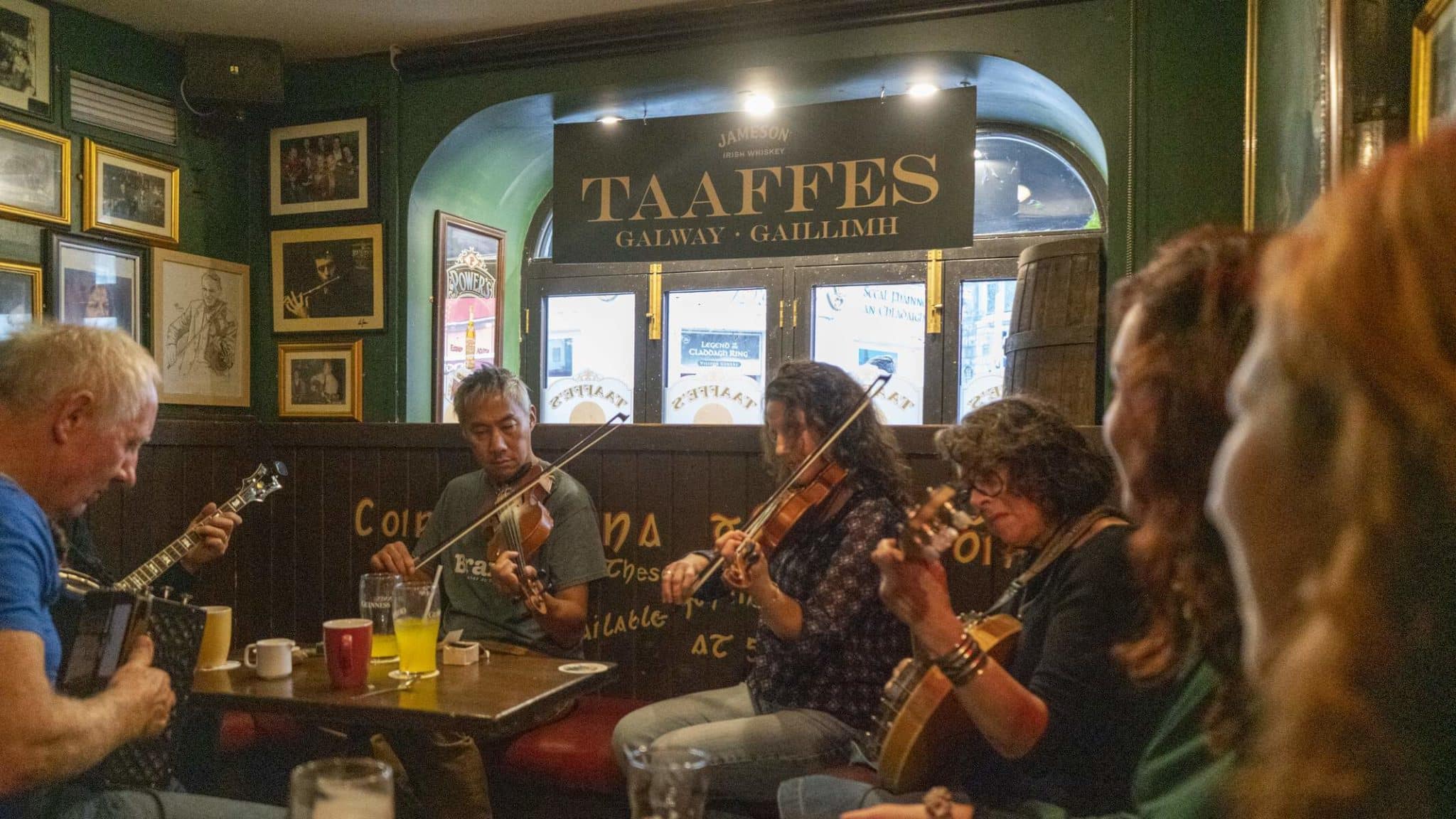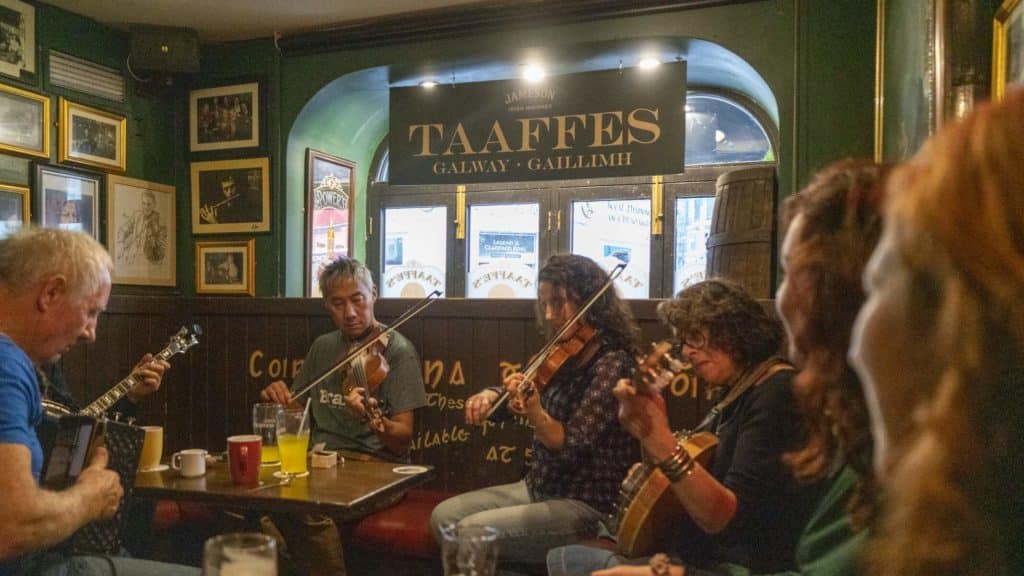 Galway is located on the west coast of Ireland and many claim it is the cultural hub of Ireland. In terms of museums, there is quite a limited selection, but in terms of pubs and great life, there's loads. If you are planning to visit the Cliffs of Moher, Galway is an ideal base.
Cork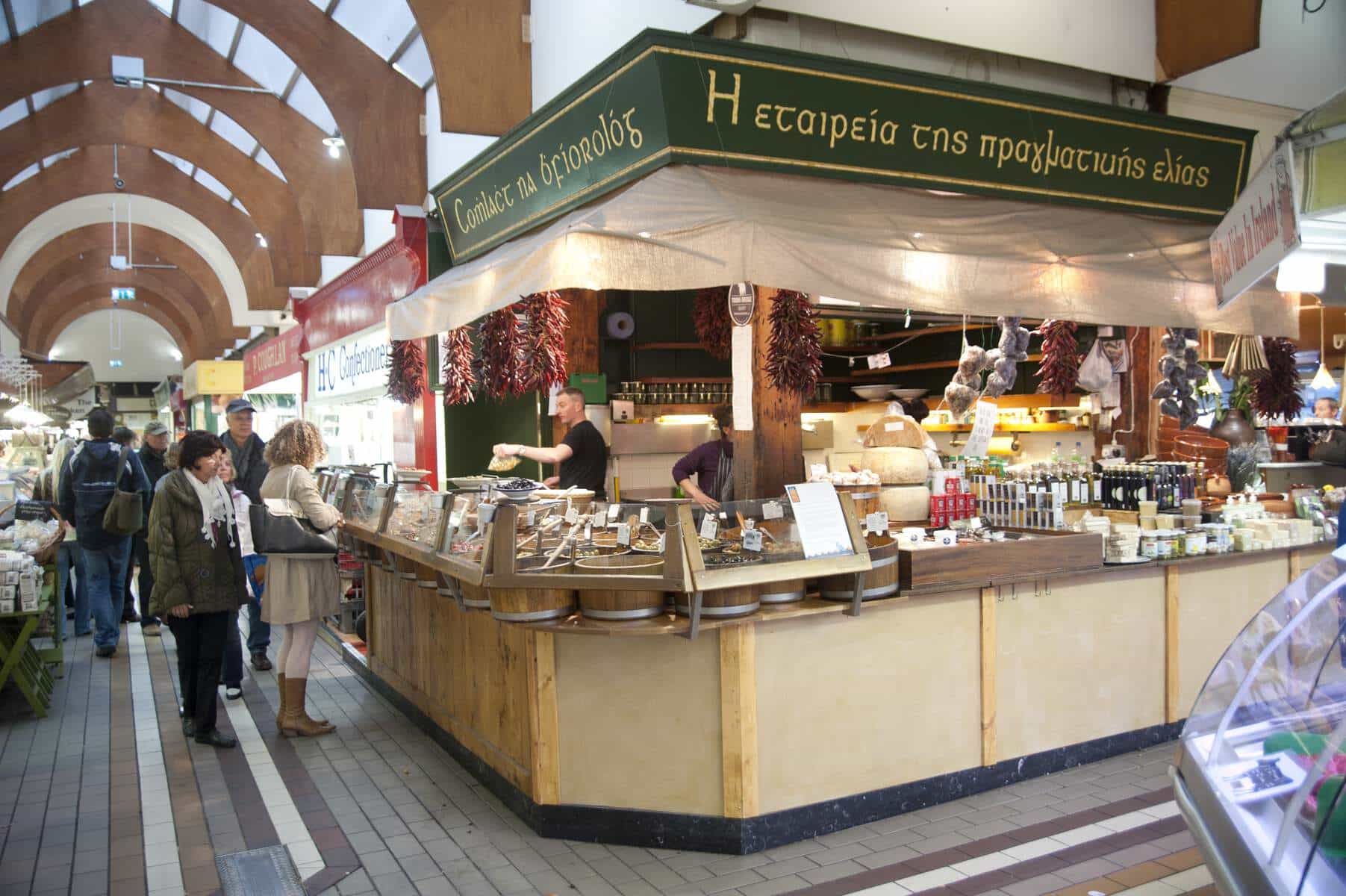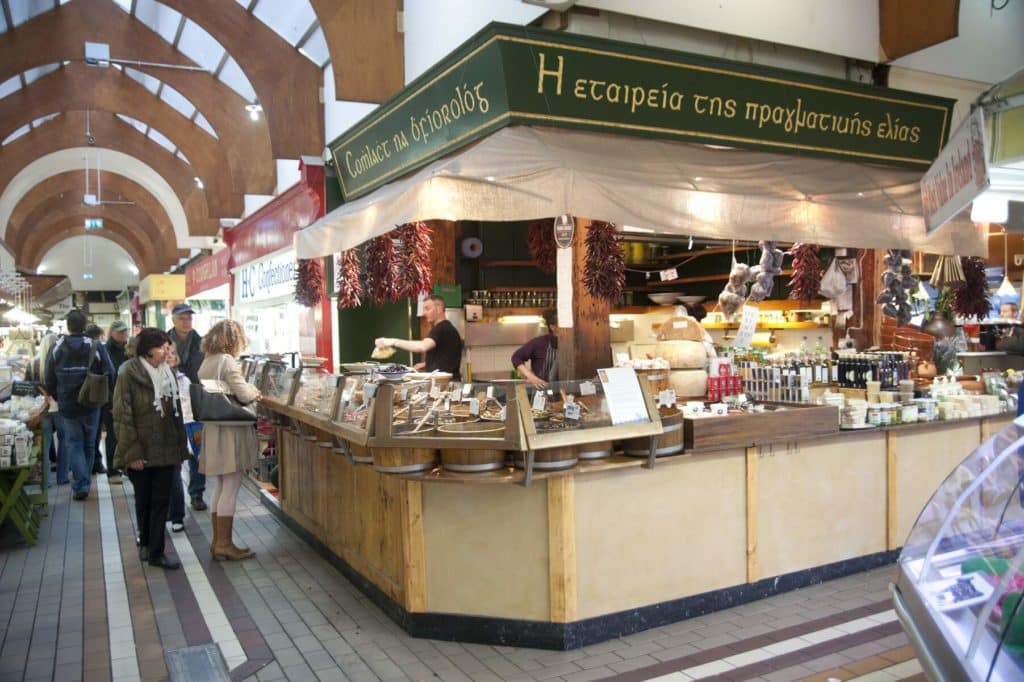 In a similar vein to Galway, Cork is a lively cultural hub and certainly worth a trip for a night or 2. You could certianly fit in the English Market and the wonderful St. Finn Barre's Cathedral on your trip to Cork and spend the evenings in one of the many cosy pubs dotted around Ireland's second largest city.
Cork is around 3 hours by car or train from Dublin.
What you'll need to wear in Ireland in February
You'll need to pack well for your trip to Ireland in February. From having grown up in Ireland, here is what we reckon are the practical essentials. The fashion items, we'll leave to you!
Waterproof walking shoes (like these)
An insulated rainjacket (like this)
Warm thermal layers
Warm socks
A large canopy-style, windproof umbrella (like this)
Warm sweaters
Warm trousers, jeans
Warm caps
Important: A down jacket (with real down) is not a good idea, unless you plan on wearing it inside a rain layer. The air in Ireland in February is humid, and with there being a high chance of rain, the last thing one you should be doing is walking around with a wet down jacket!
The oversized windproof umbrella is almost a must in Ireland. For anyone who has visited in the winter months (or indeed the warmer months!) the wind sometimes causes the rain to fall sideways!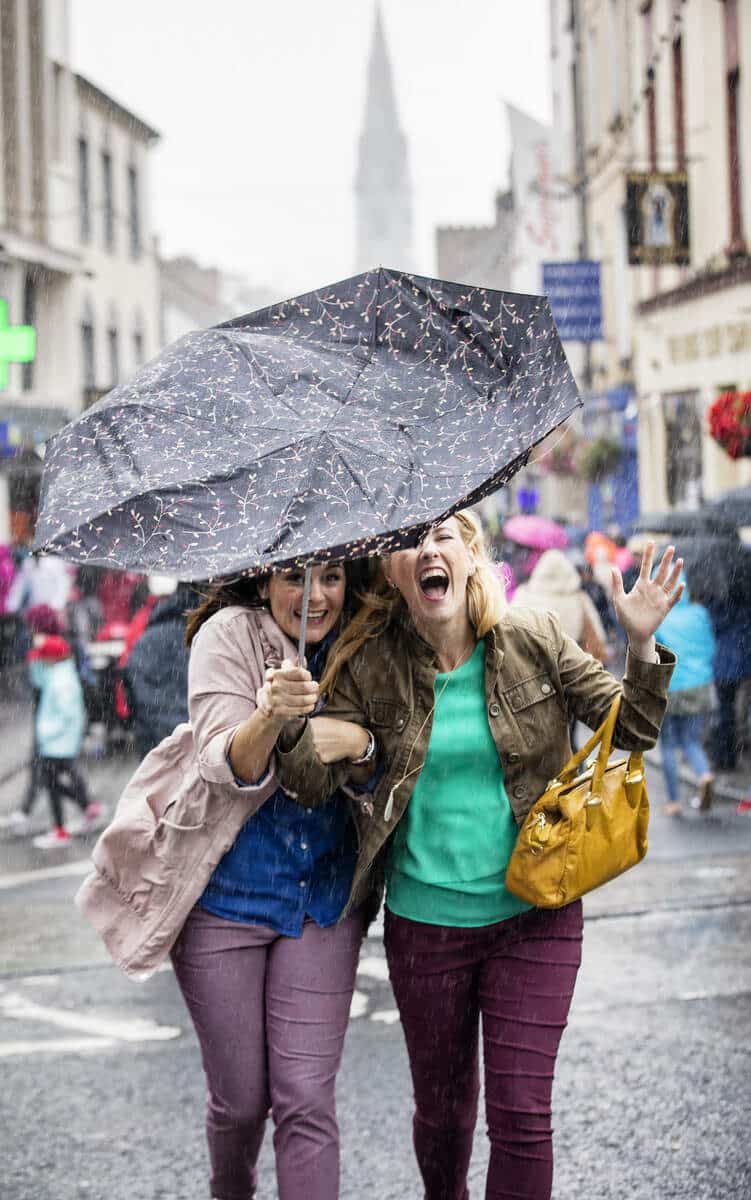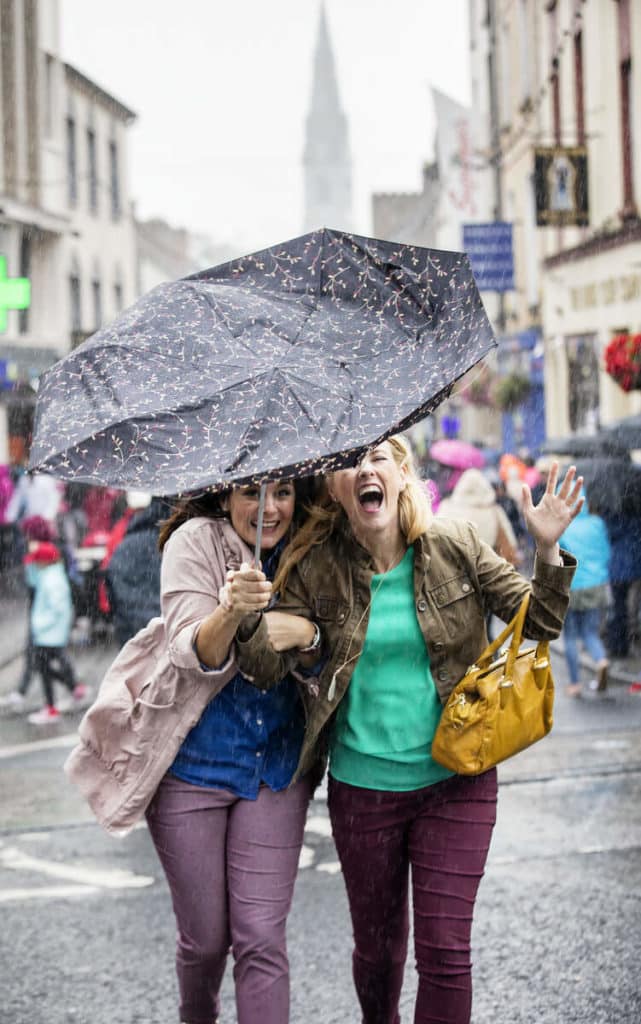 In the pubs and restaurants in the evenings, you'll notice the locals will dress well, but not overly formal. I guess dressy-casual would describe it best.
What we think: Is Ireland worth visiting in February?
Insant reaction says no, but if Dublin has been on your travel list for a while and you've a few days to spare, then yes, go for it!
However, if you want to really experience Ireland for its beauty and see the best of the country, we highly recommend visiting in the late spring, summer or early autumn (fall) months.
Tourists do visit during the February and if you decide to yourself, you can expect a scattering of visitors here and there, mainly in Dublin. Because schools in many countries will have midterm break, there'll be more around than in January.
These days, a good deal goes a long way and visiting in February to avail of the cheaper hotels and airfares could be a dealbreaker for many.
Summary: Pros & Cons of Visiting Ireland in February
Pros of Visiting Ireland in February
Cons of Visiting Ireland in February
Good Deals on Accommodation
The Weather
Less crowded than in summer
The Short Days
Excellent time to visit cities
(especially Dublin)
Some Attractions, B&Bs Close
Days slightly longer than December/January
You won't see Ireland at 'its best'
sweetisleofmine.com
Final Thoughts
So, that was our brutally honest assessment on visiting Ireland in February. We focused mainly on the city of Dublin, as we firmly believe this is the best place to visit in Ireland in February.
If you decide to visit Ireland's capital, you'll have an excellent time. Dublin is a cracking place for a city trip. Practically all attractions are indoor and no matter what your into, you'll find an activity to keep you happy, day or night.
If a trip to Dublin is on your mind, have a look below on skyscanner; they compare thousands of possibilities, finding your best deal to visit one of Europe's liveliest and youngest destinations: the city of Dublin.
FAQs
Is Ireland worth visiting in February?
February is one of the quieter months to visit Ireland. It's still winter so the temperatures won't go much higher than 7, 8 degress Celsius. In saying that, you will get some great deals on hotels and flights this time of year.
Is Ireland still green in February?
Cerain areas of Ireland, for example along the southwestern coasts will stay green most of the year, although there will be significantly less grass growth in the winter months, and the trees will be bare. The best months to witness the world-renowned greenery of Ireland are from May to September.
What is the best thing to do in Ireland in February?
Because February is still in the winter season, the best thing to do in February in Ireland (in our opinion) is to visit the cities, especially the capital, Dublin. You'll get better deals on hotels and flights and the crowds will be significantly less than in summer.