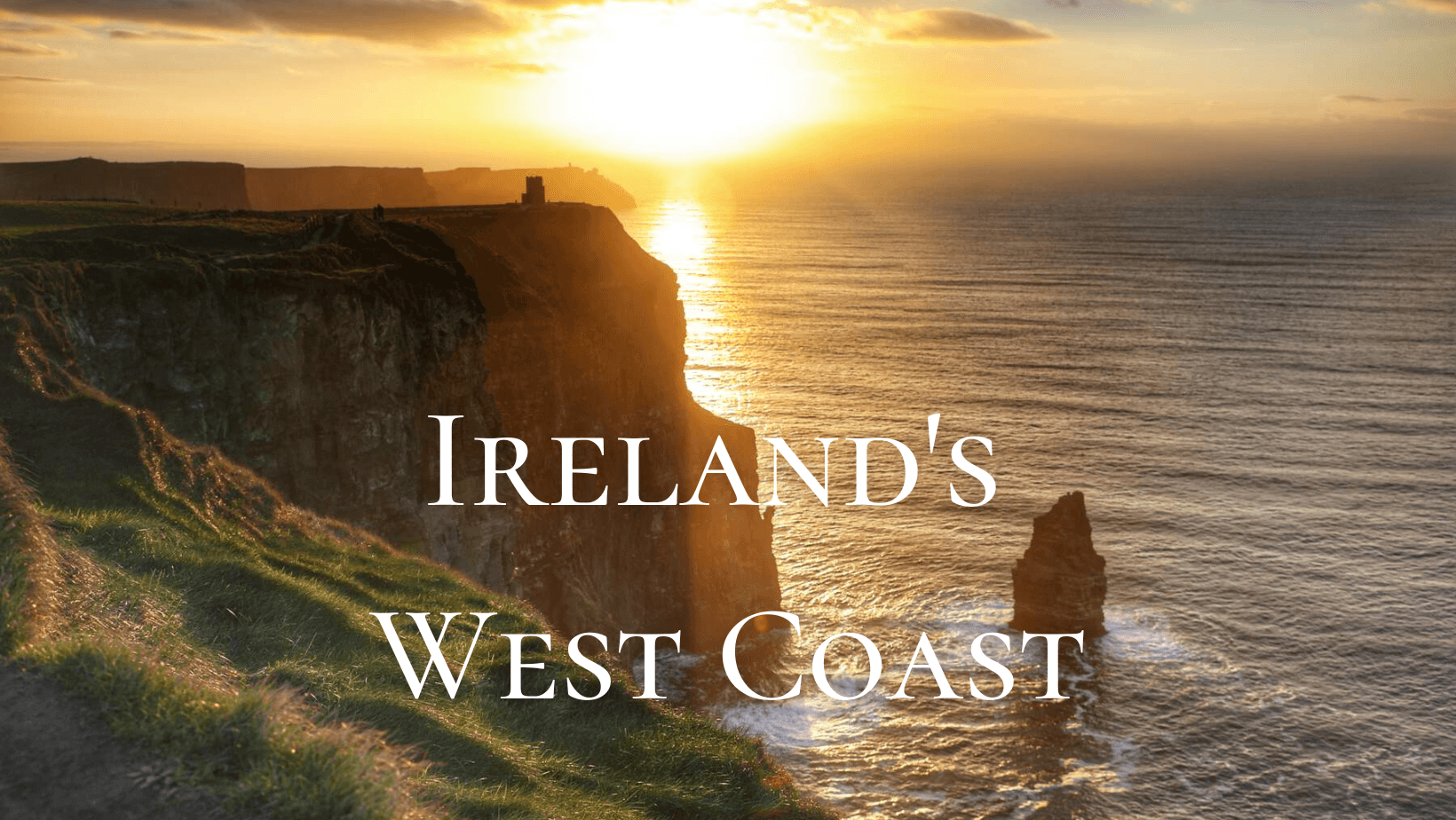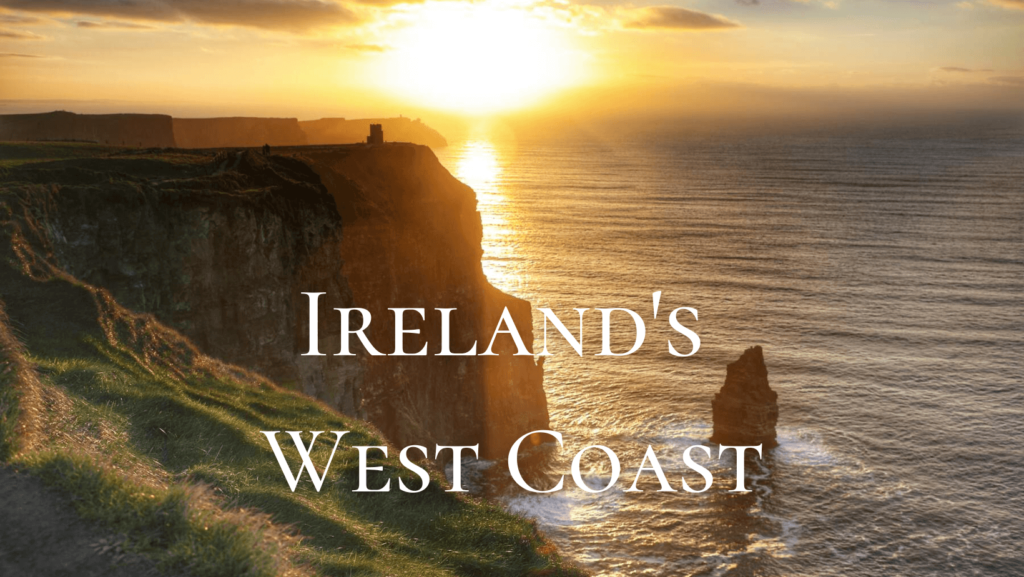 The West Coast of Ireland is a breathtakingly beautiful stretch of land that stretches from Donegal in the north all the way down to Cork in the south.
It is a rugged and wild landscape, where the Atlantic Ocean meets the coastline with great force, creating dramatic cliffs, sweeping bays, and secluded beaches.
The west coast of Ireland is a place where the beauty of nature is inescapable, where the variable weather conditions provide an incredible spectrum of ever-changing light.
It is a place of nature and tradition, where the people are warm and welcoming, and where in many places, the Irish language and culture still thrive today.
As a person who grew up in the west of Ireland, I'm thrilled to present you with an overview of the West Coast of Ireland, including where to visit, how to get around and where we believe are the best bases for exploring this magical area.
How to use this guide:
In this guide we have gone into a lot of detail. We've covered everything from where to stay to where to visit. We highly recommend using the Table of Contents to navigate your way around this post.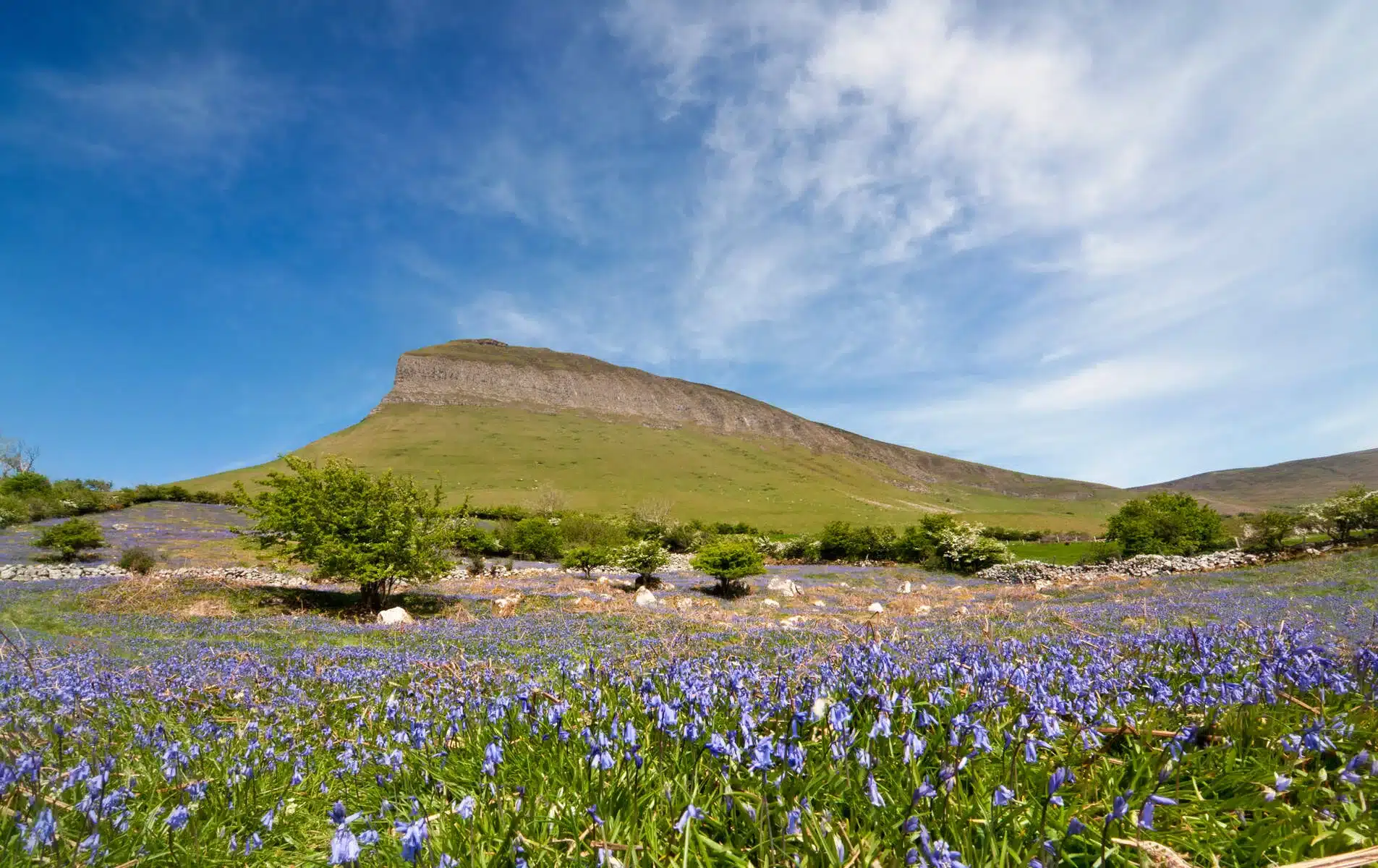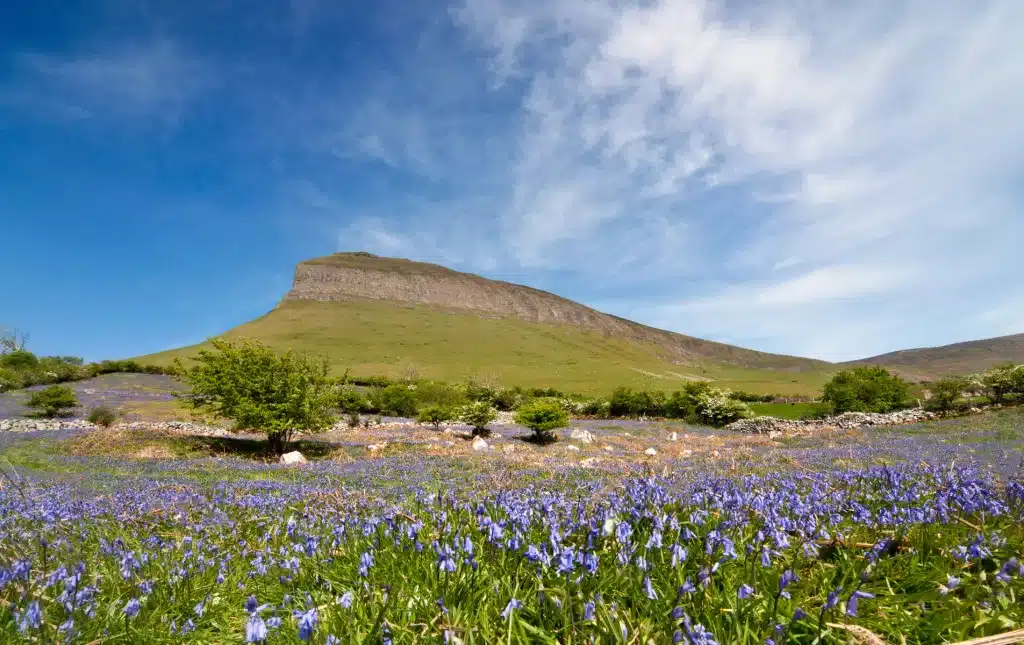 West Coast of Ireland Maps
Where exactly is the West Coast of Ireland?
Below, you will see a general outline of the west coast of Ireland, starting in the north of the country in the Inishowen Peninsula, County Donegal.
Then it follows along the intricate bays and inlets of the county of Donegal to Sligo and then westwards along the county of Mayo. South of Mayo is County Galway.
Moving further south, the west coast continues to the County of Clare, followed by Kerry in the southwest, while the last section we see taking in the southwest coast of County Cork.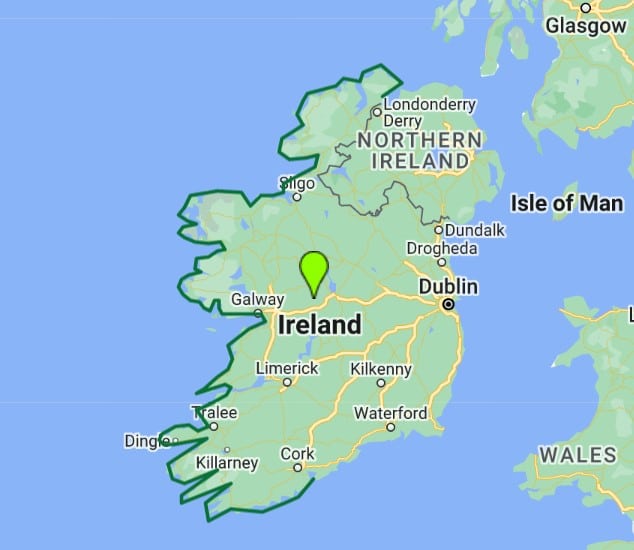 Map of main towns along the West Coast of Ireland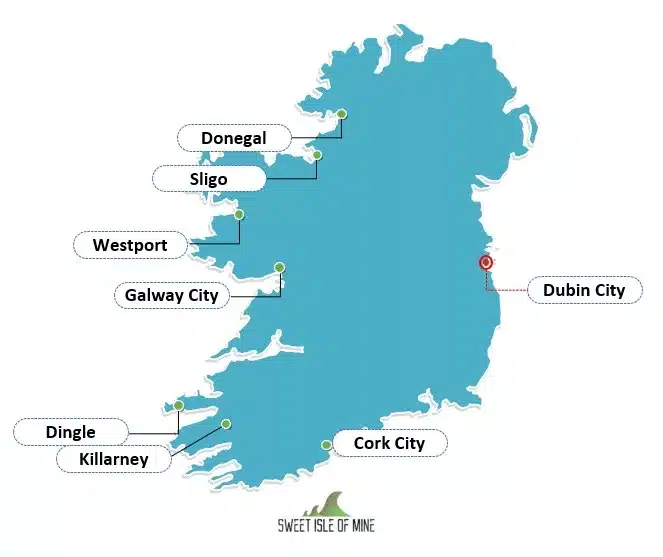 The above graphic shows the island of Ireland, with the main towns along the west coast of Ireland. The towns of Wesport, Galway, Dingle and Killarney are the most visited and offer a fantastic base for exploring the nearby beautiful areas.
Sligo and Donegal are also popular coastal towns with Sligo being one of the larger towns along the west coast.
How to get to the West Coast of Ireland
Air
Ireland West Airport, Knock is located in County Mayo and although is quite a small airport, it serves many airports in the UK, some in Europe and as of 2023, there are connections to the USA over London Heathrow. All destinations you'll find here.
Shannon Airport is located in County Clare, in close proximity to many well-known attractions such as the Cliffs of Moher and Galway.
It services many European and UK detinations and also has direct flights to the USA. A relatively small airport, which offers a lot more comfort than the busier Dublin Airport.
Dublin Airport is Ireland's largest and has connections to a huge variety of places worldwide. Most tourists who arrive in Ireland will arrive through Dublin.
From Dublin to Westport is a driving time of approximately 3 hours, due to a new bypass road at Castlebar, which has sped up the trip by about 15 minutes.
From Dublin to Killarney, it's about 4 hours and to areas in the northwest of Ireland, around the same driving time.
Cork Airport is located in the south of the country and also services many European and UK destinations, but does not fly directly to the USA. For those wishing to base yourselves mainly in the south west, Cork and Shannon would be ideal options.
Kerry Airport is one of the smallest on our list and services Manchester and London, as well as a few European destinations. There are also flights from Dublin to Kerry.
Donegal Airport, certainly the smallest and most scenic on our list, services Dublin twice a day, and offers some good connections to UK and European airports.
Train
There are train stations in the towns of Killarney, Tralee, Galway, Westport, Ballina and Sligo, all of which connect to the main train stations in Dublin.
It is highly recommended to book ticket in advance as it is cheaper and you are guaranteed a seat. Early morning and early evening trains can get busy and you may end up standing for the duration of your trip.
Click here for details.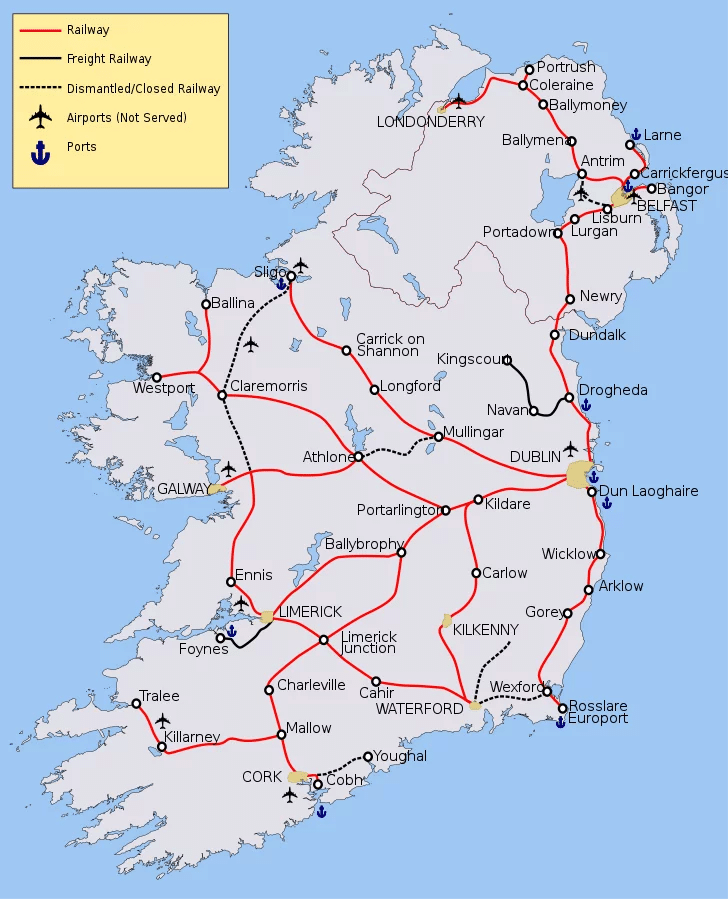 Bus
One of the best options to get around Ireland without a car is by bus. The main bus operator in Ireland is Bus Eireann.
Bus Eireann has an extensive network of routes throughout Ireland, more so than the train network, and are generally speaking, cheaper.
The go-to website for checking timetables, planning your journey and booking tickets is www.buseireann.ie
Other bus carriers which operate between the main towns and cities are Citylink and GoBus. Sometimes their rates work out cheaper than Bus Eireann, so worth looking into before your trip. Click here for details.
Car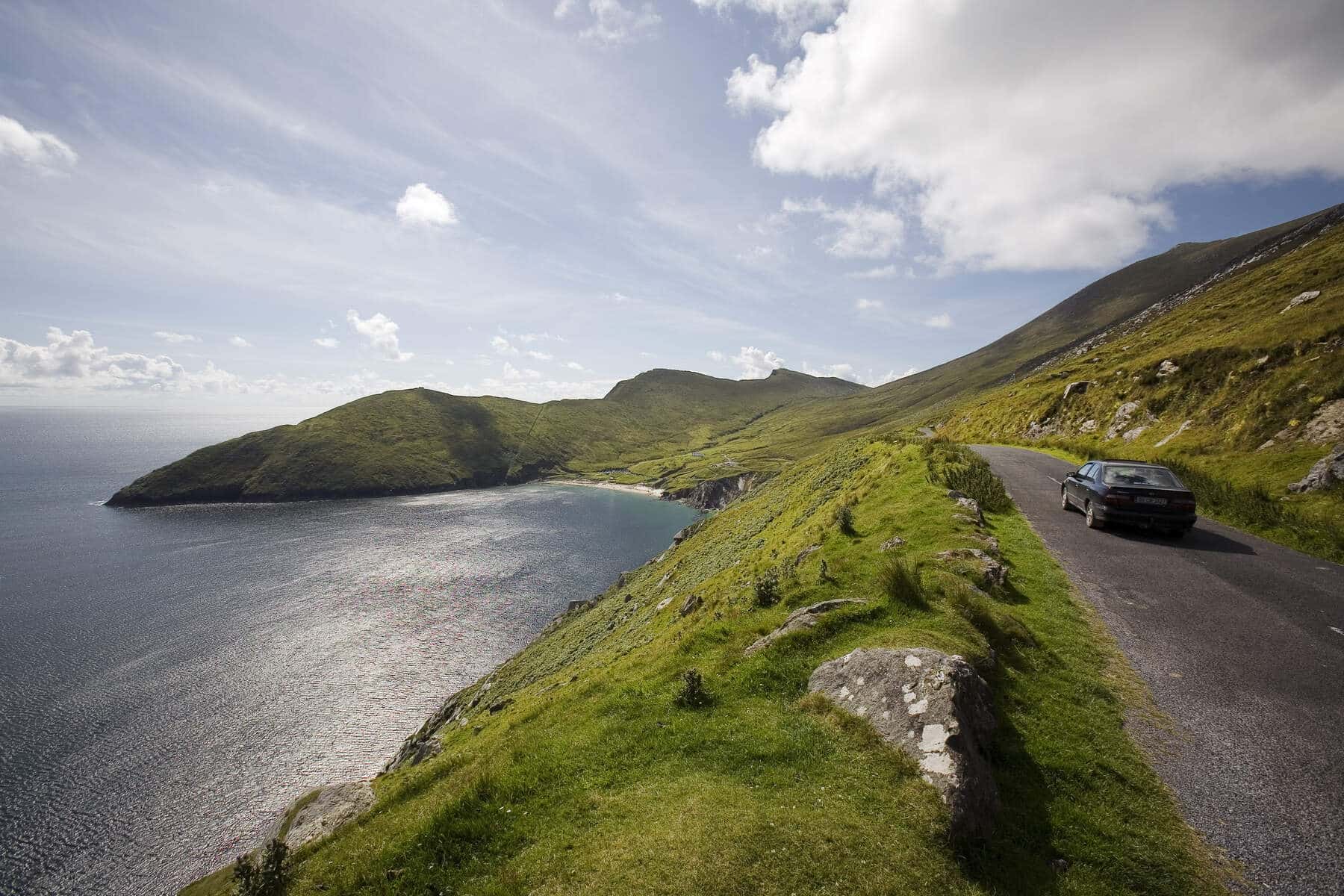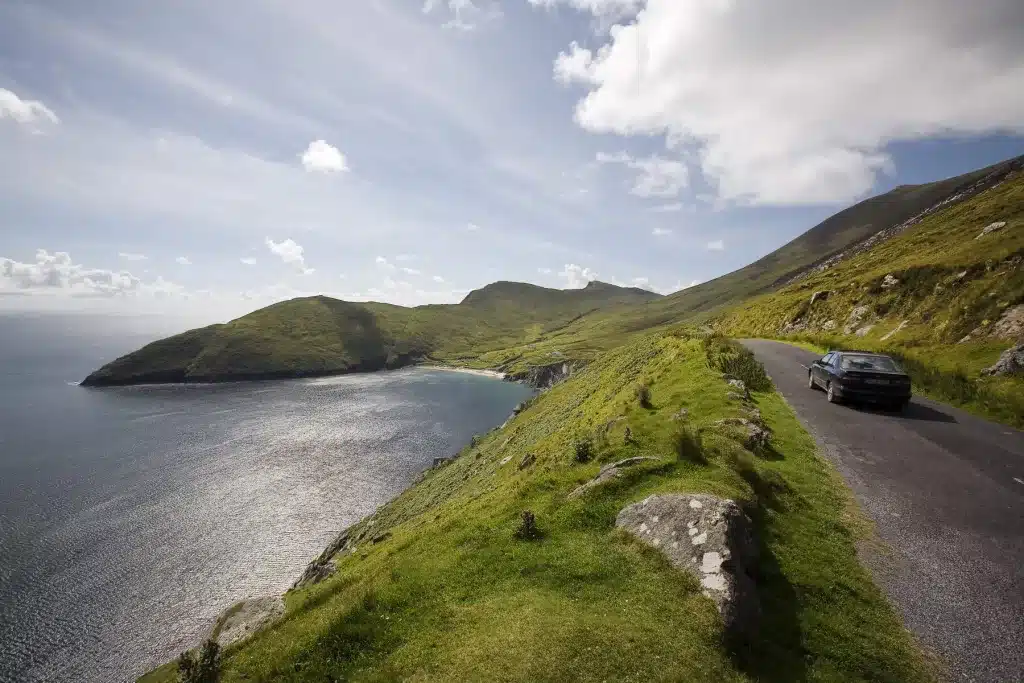 Renting a car in Ireland is an incredible way to explore all the fine landscapes, towns, castles and historical sites. But, it has become quite expensive of late to rent in Ireland. Why not combine renting a car with using public transport?
This link shows you all places in Ireland where you can rent a car.
We recommend using Rentalcars, as we have done in the past. They are similar to 'skyscanner', and will scan thousands of rates to get the best deal, also on insurance. Have a look below to see what's on offer:
Towns/Cities on the West Coast of Ireland
Westport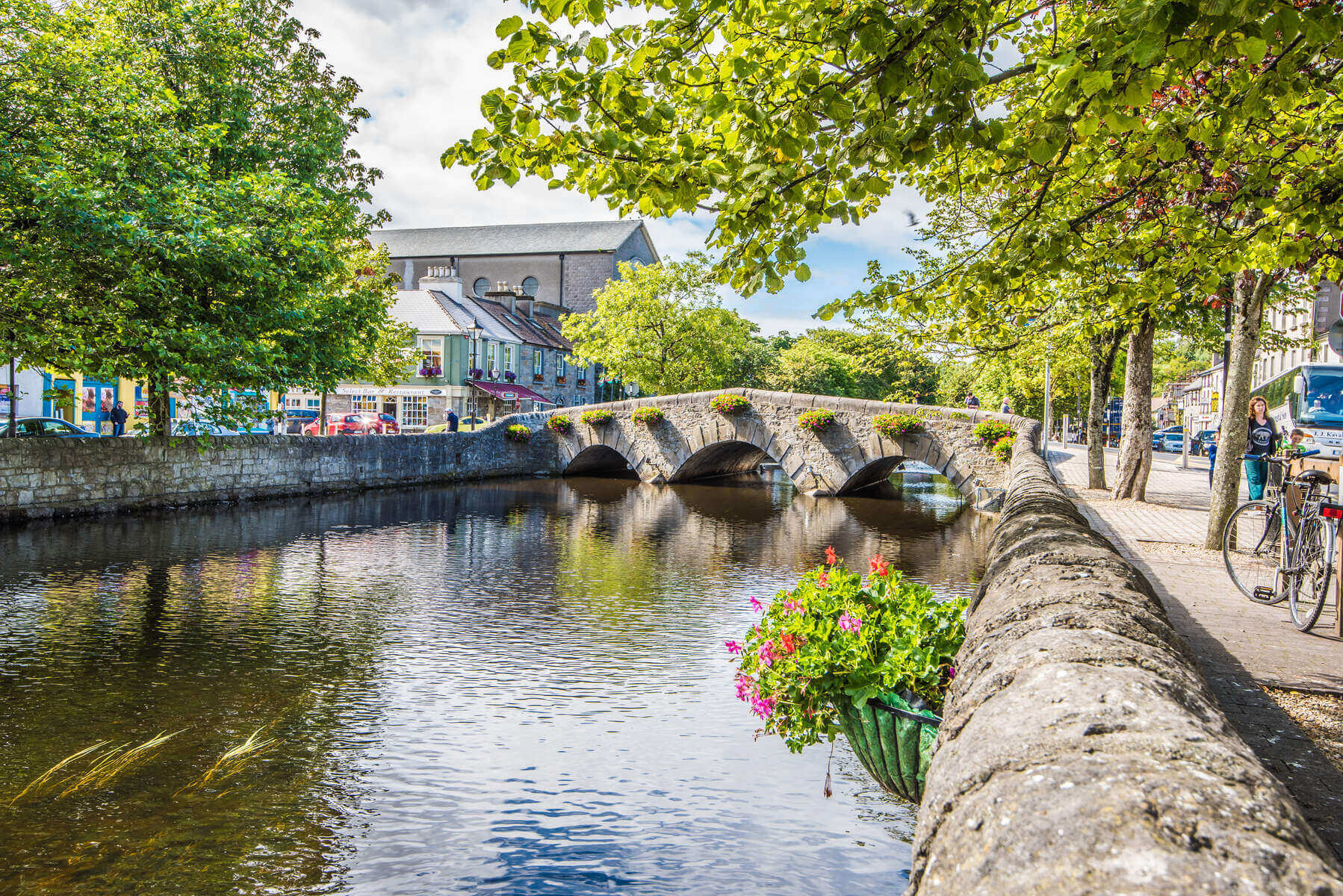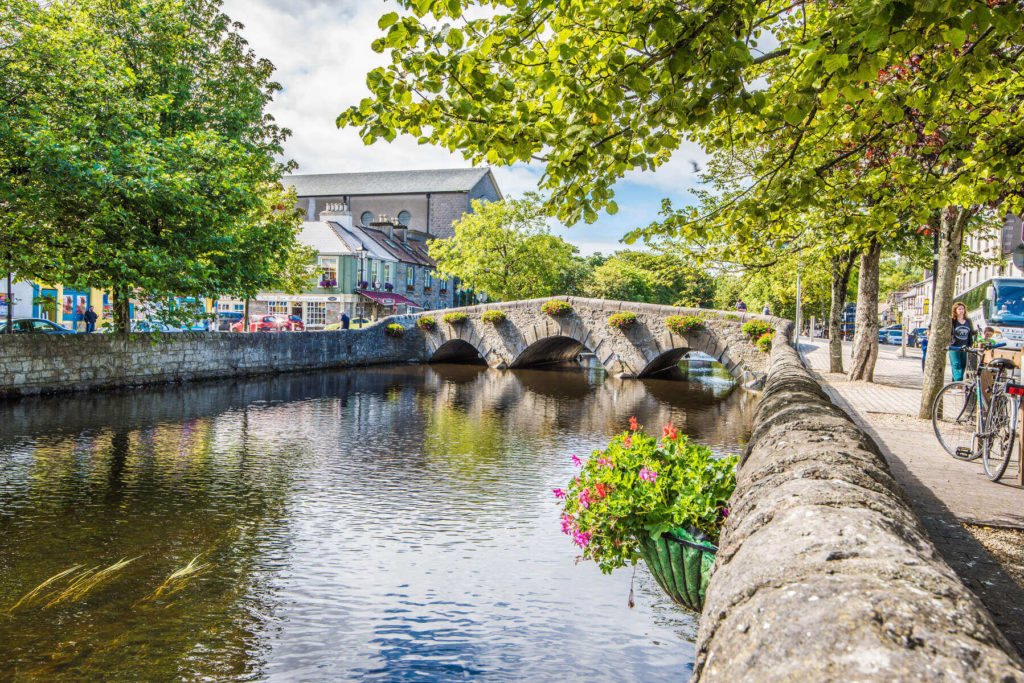 Westport, located in County Mayo, offers a taste of everything that is great about the West of Ireland, including colourful streets, mighty pubs and delicious restaurants. Nearby, you'll find some beautifully scenic beaches, such as Bertra and Old Head.
If a more active holiday is your preference, why not tackle the mighty Croagh Patrick, located just outside the town. The mountain offers a great challenge and arguably Ireland's greatest views over the uniquely beautiful Clew Bay.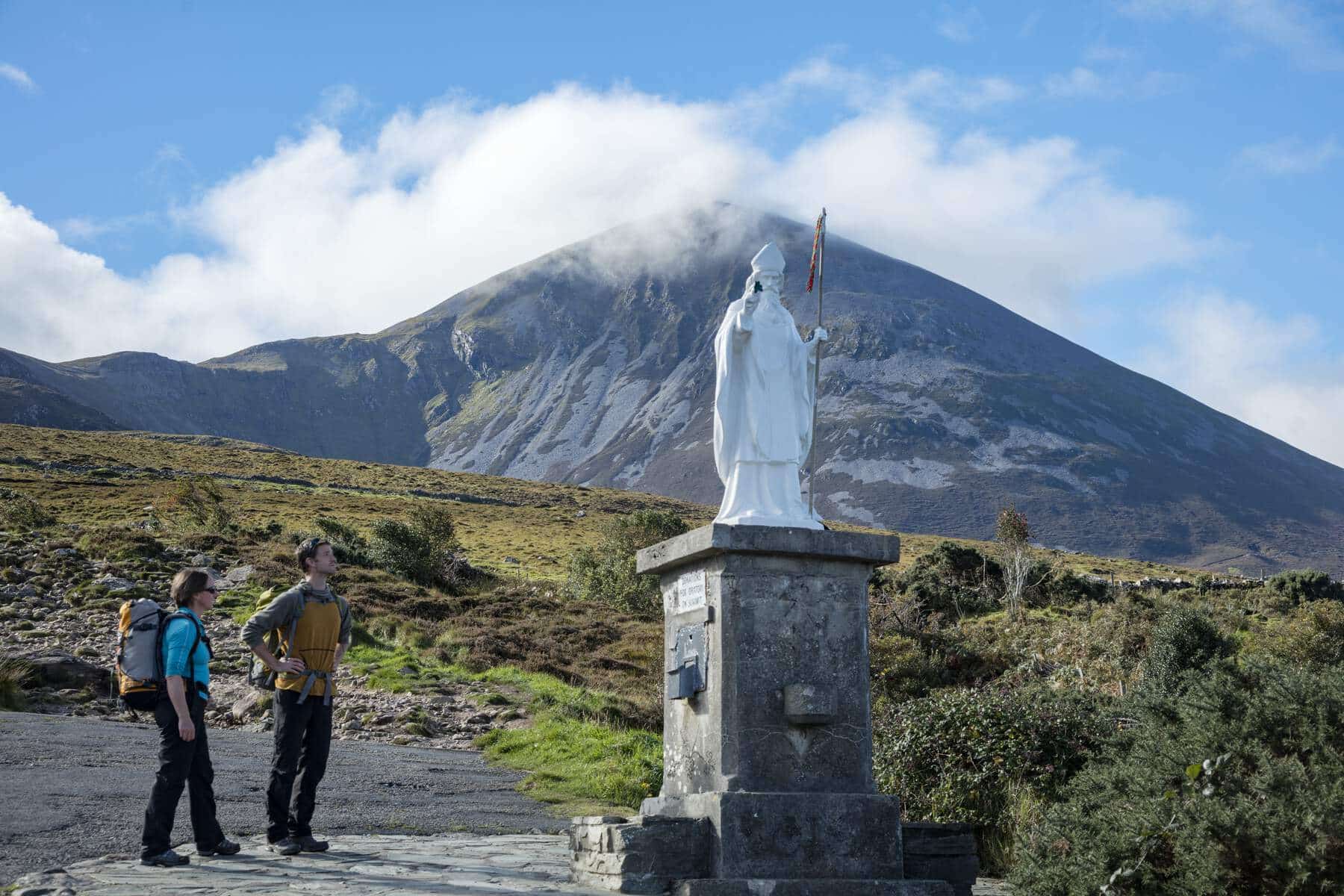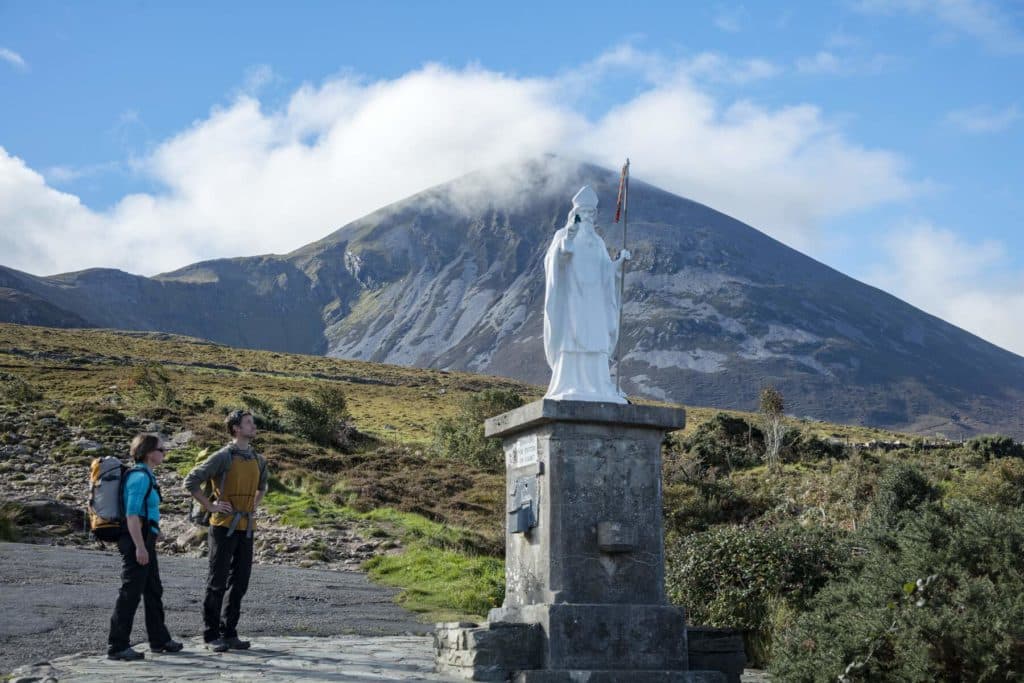 Then, there's The Greenway, Ireland's longest designated bike lane. This follows through some breathtaking coastal scenery, passing through the villages and Newport and Mulranny on the way to Achill Island.
From Westport, you can venture on some epic road trips that will leave some long-lasting memories. The island of Achill is less than an hour away and this, we feel is a must-see for anyone who visits the country. From the highest cliffs of Croaghaun, to one of the world's great beaches, Achill offers so much.
Sligo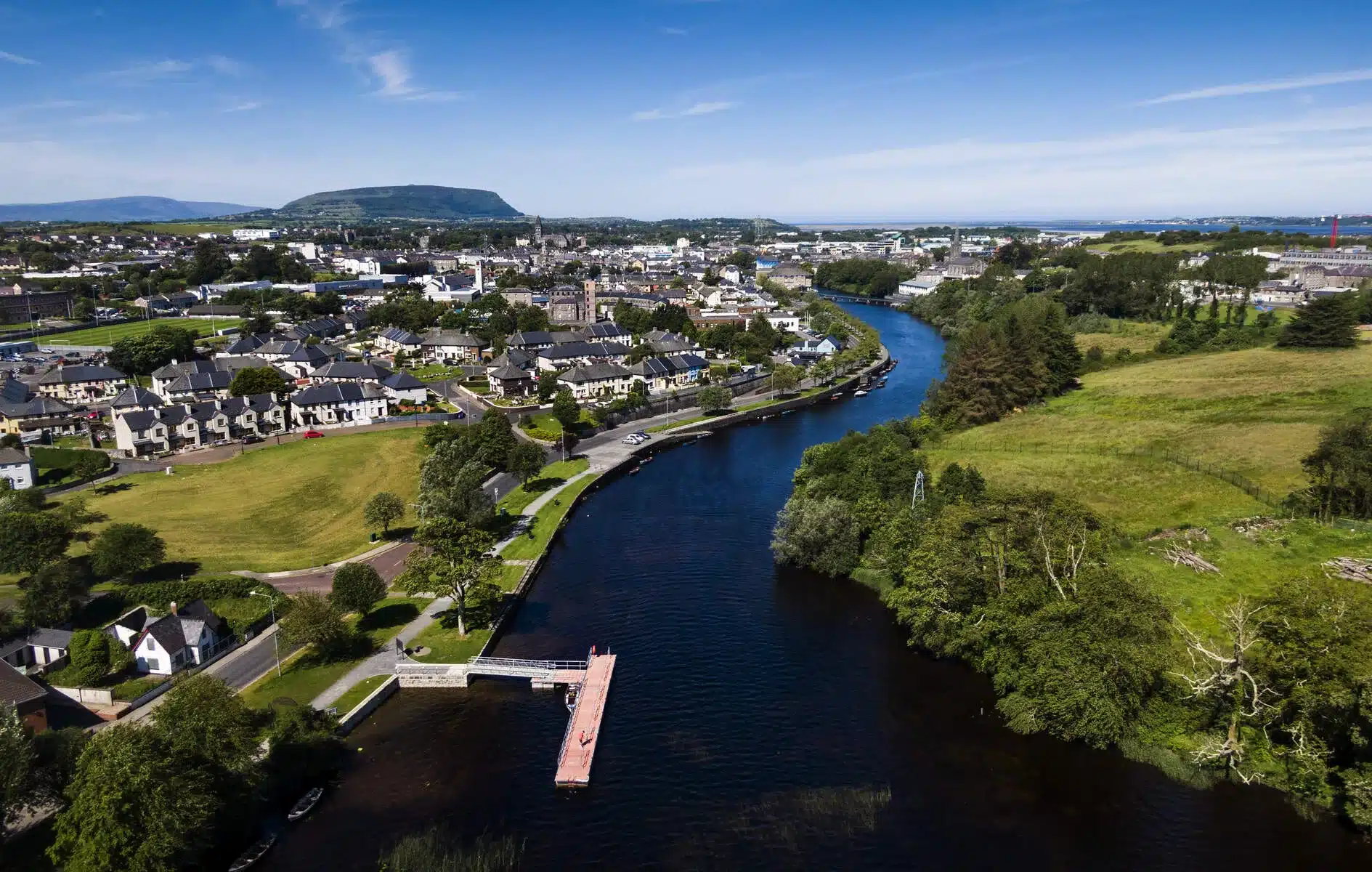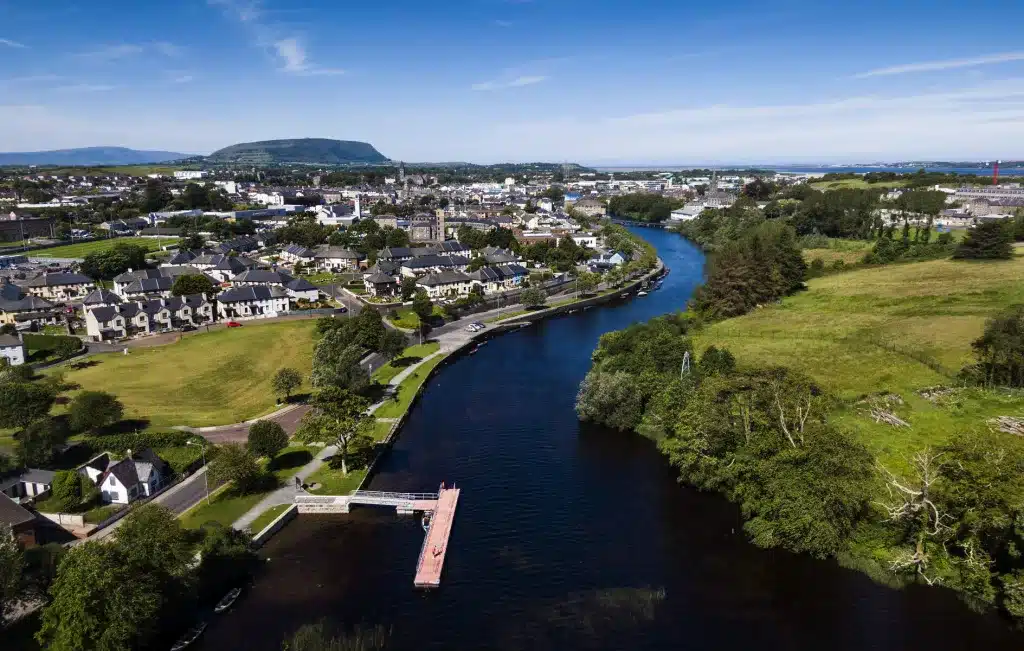 Sligo of late has become a busy town for tourists also and also has its fair share of great places to stay, pupbs and restaurants.
It also offers some excellent nearby outdoor activities such as surfing and hill walking, with the stunning nearby 'Table Mountain of Ireland', Ben Bulben, providing a spectacular backdrop to the town.
Sligo is located in a very underrated little pocket of Ireland, with mountain scenery which is truly unique and offers some great walking. The nearby county of Leitrim, with its lakes and hills, has long been a county known for great walking, with stunning Glencar, and the Gleniff Horseshoe springing to mind.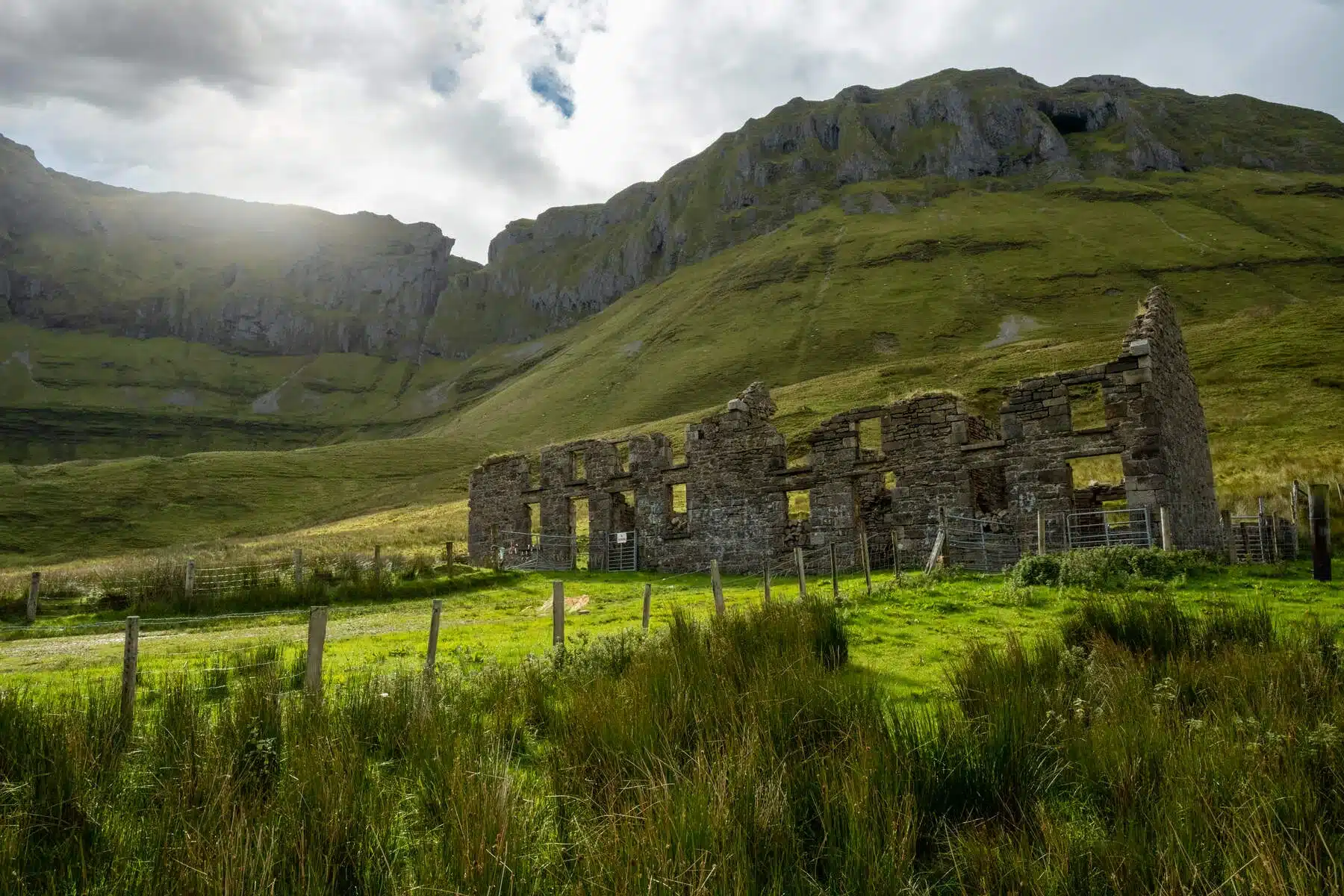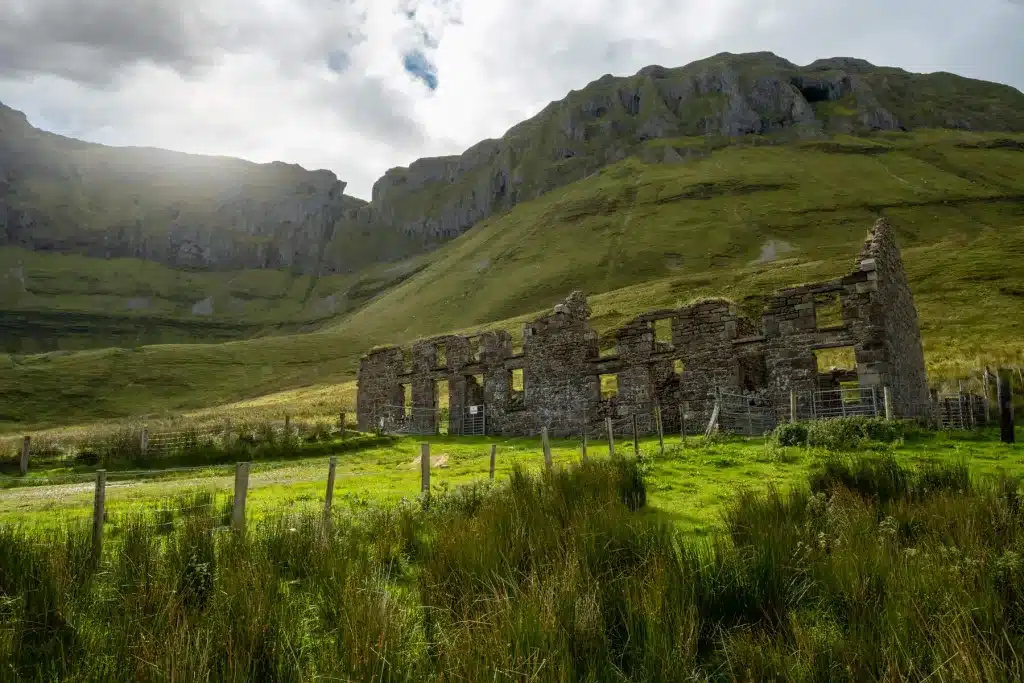 Near to Sligo town, you may have heard of the surfing town of Strandhill, a household name in the surfing world. Let's not forget Easkey and Enniscrone, the former known worldwide for its 'barrels'; the wave all surfers dream about!
For the extremists out there, you may have heard of the 'Mullaghmore wave'. In fact this wave is so iconic, it's not uncommon for surfers in Hawaii to just drop everything and fly to Ireland just to catch it!
Donegal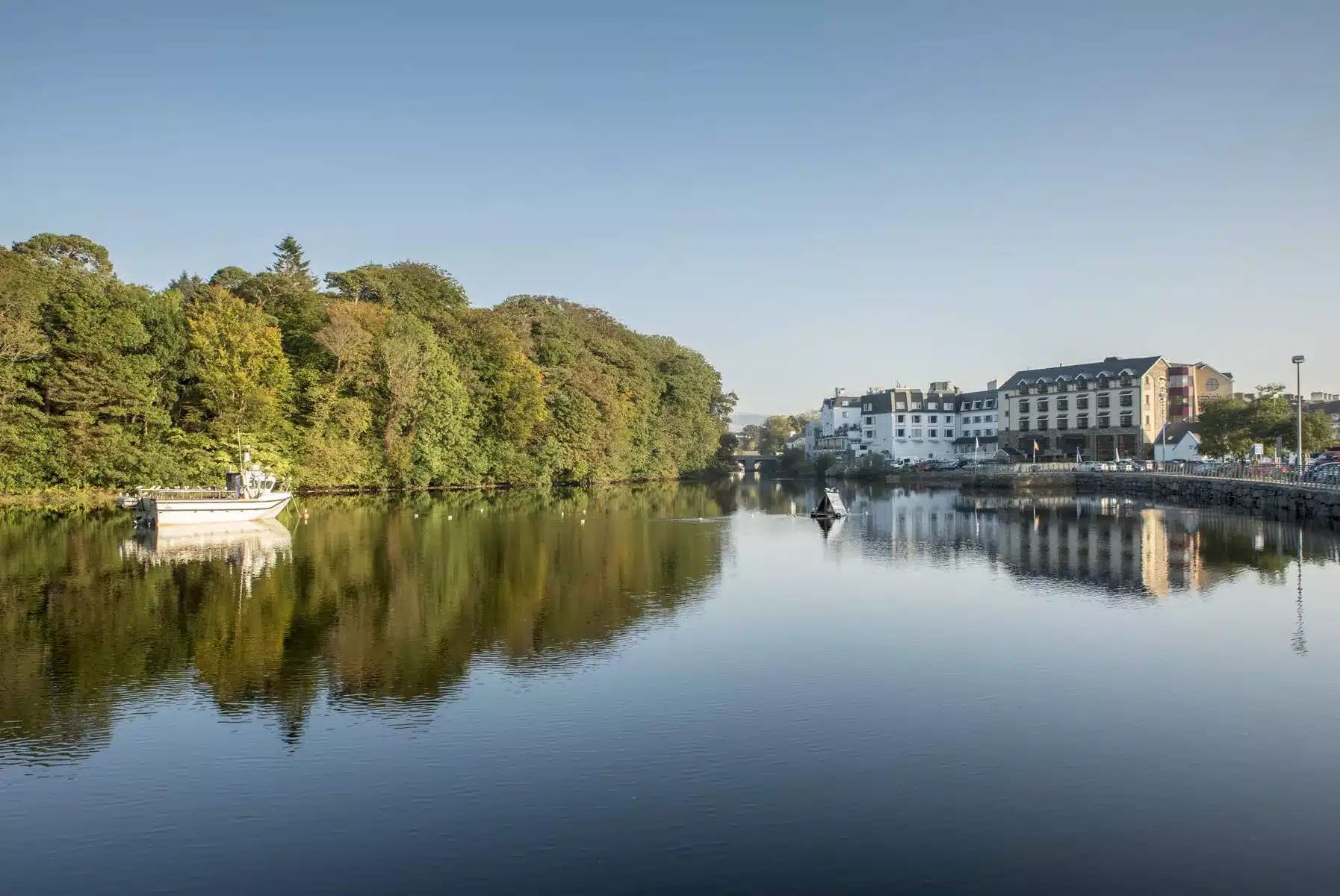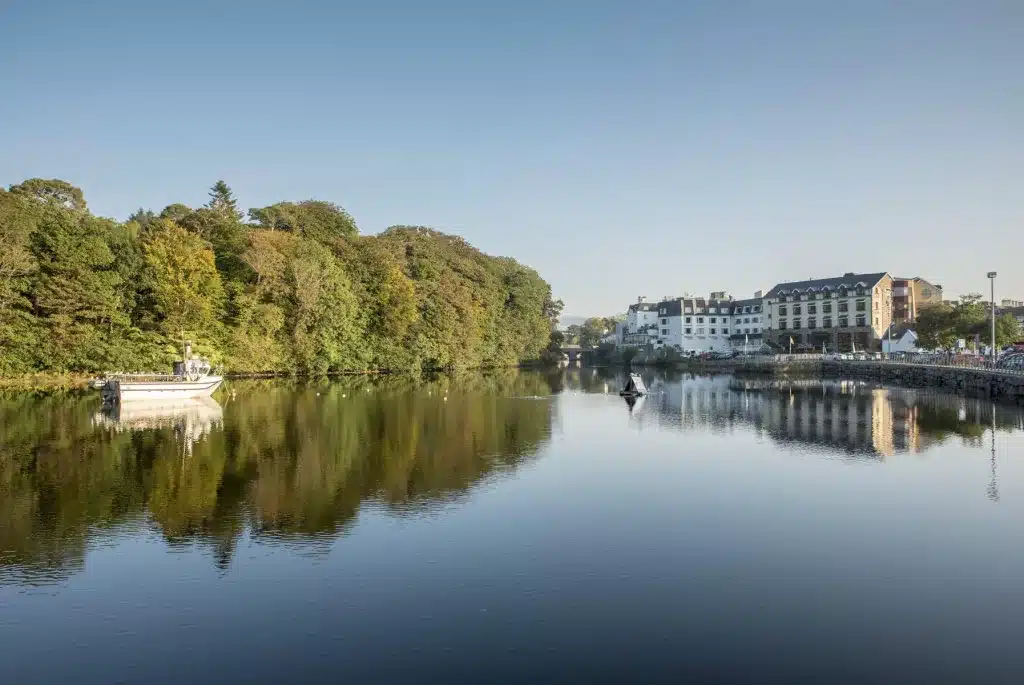 Donegal town and county are often overlooked as a tourism destination, and this is a big mistake.
The county boasts some of the best beaches and coastal scenery anywhere to be found in Ireland and for those who appreciate the Great Outdoors and vast, open landscapes, visiting this county should be high on your agenda.
The town itself is quite small, with Donegal castle being the main attraction. Donegal is a good base to explore the cliffs of Slieve League (601 metres) and during the summer months, there'll be good life around the town, with many pubs offering some traditional Irish music.
Many would argue that the county of Donegal, with its beautiful beaches, enormous cliffs and offshore islands is Ireland at its very best, and it would be hard to disagree.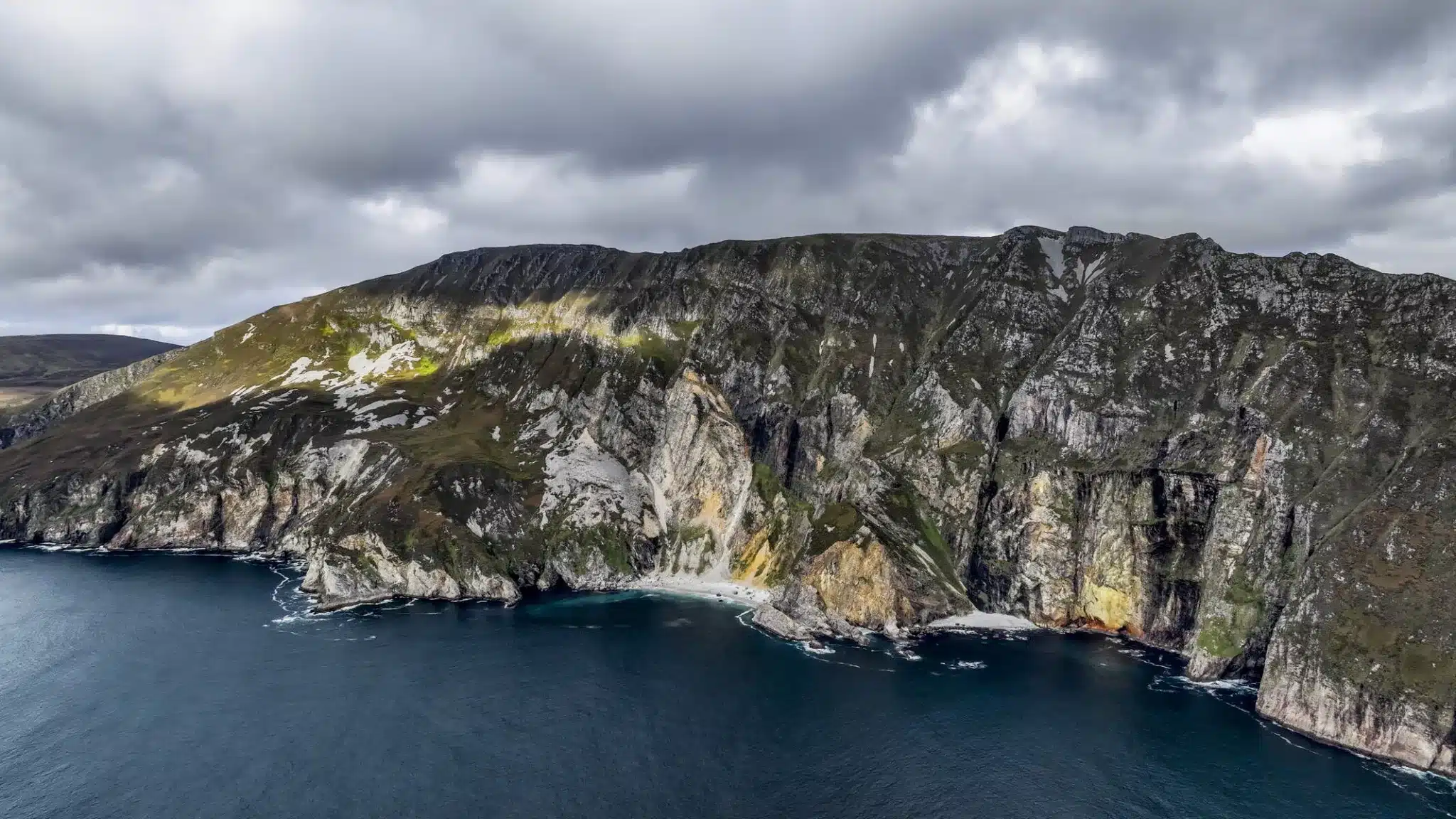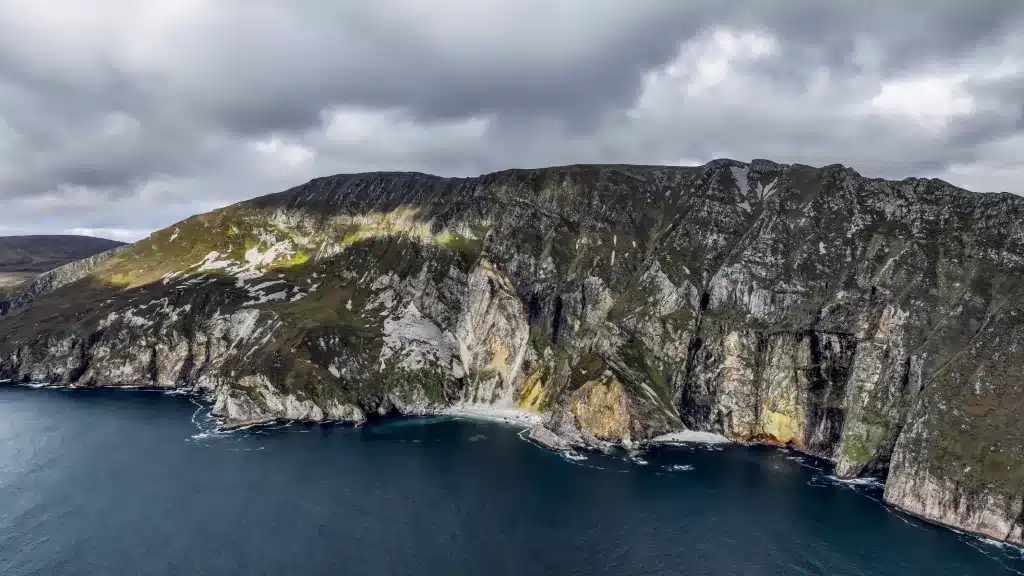 Galway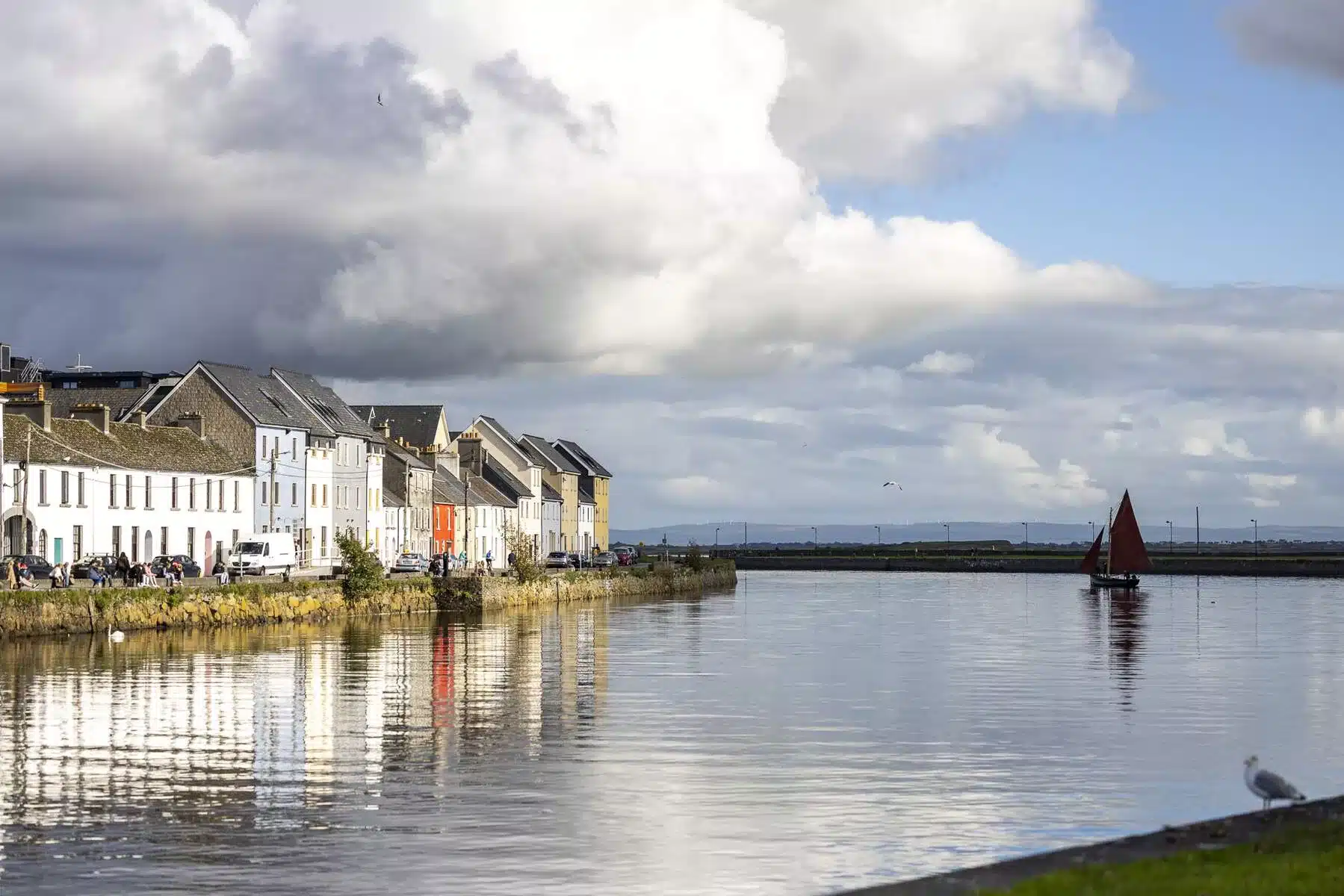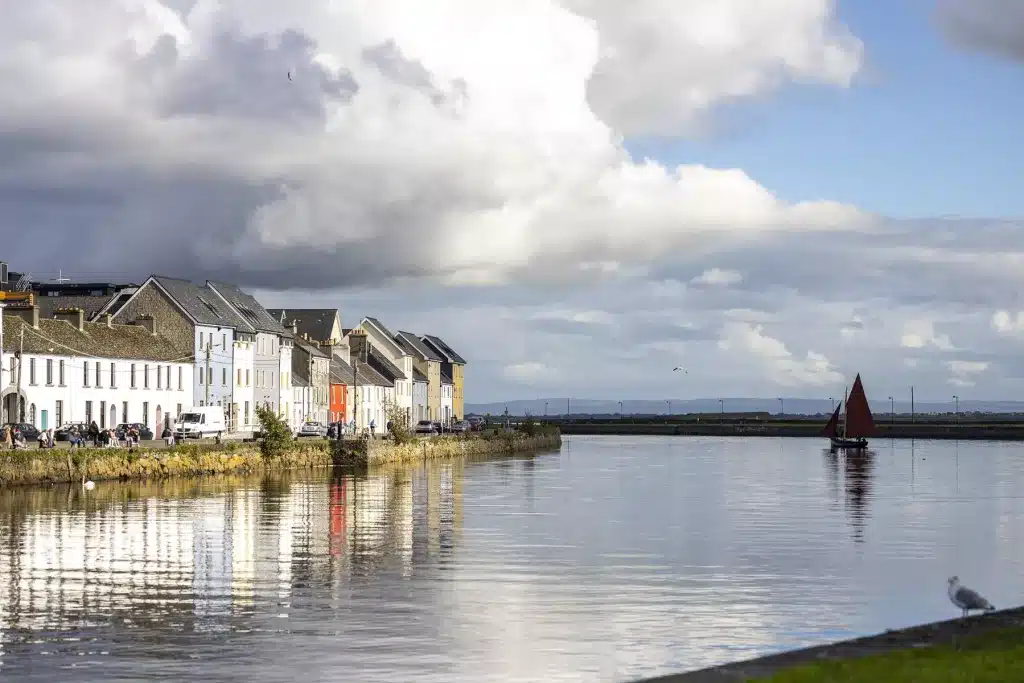 The largest settlement along the west coast of Ireland, Galway is a very popular vibrant and picturesque city. It is known for its scenic location, rich history, and lively cultural scene. The city is surrounded by breathtaking landscapes, including the Connemara Mountains, Wild Atlantic Way, the Cliffs of Moher and the Aran Islands.
Galway's bustling streets are lined with colourful buildings, quaint cafes, and traditional pubs where you can enjoy live music and warm hospitality. The city is home to several historic landmarks, including the Spanish Arch, Galway Cathedral, and the 16th-century Lynch's Castle.
Galway also hosts several festivals throughout the year, such as the Galway Arts Festival and the Galway Races, which attract visitors from all over the world. Overall, Galway City is a must-see destination.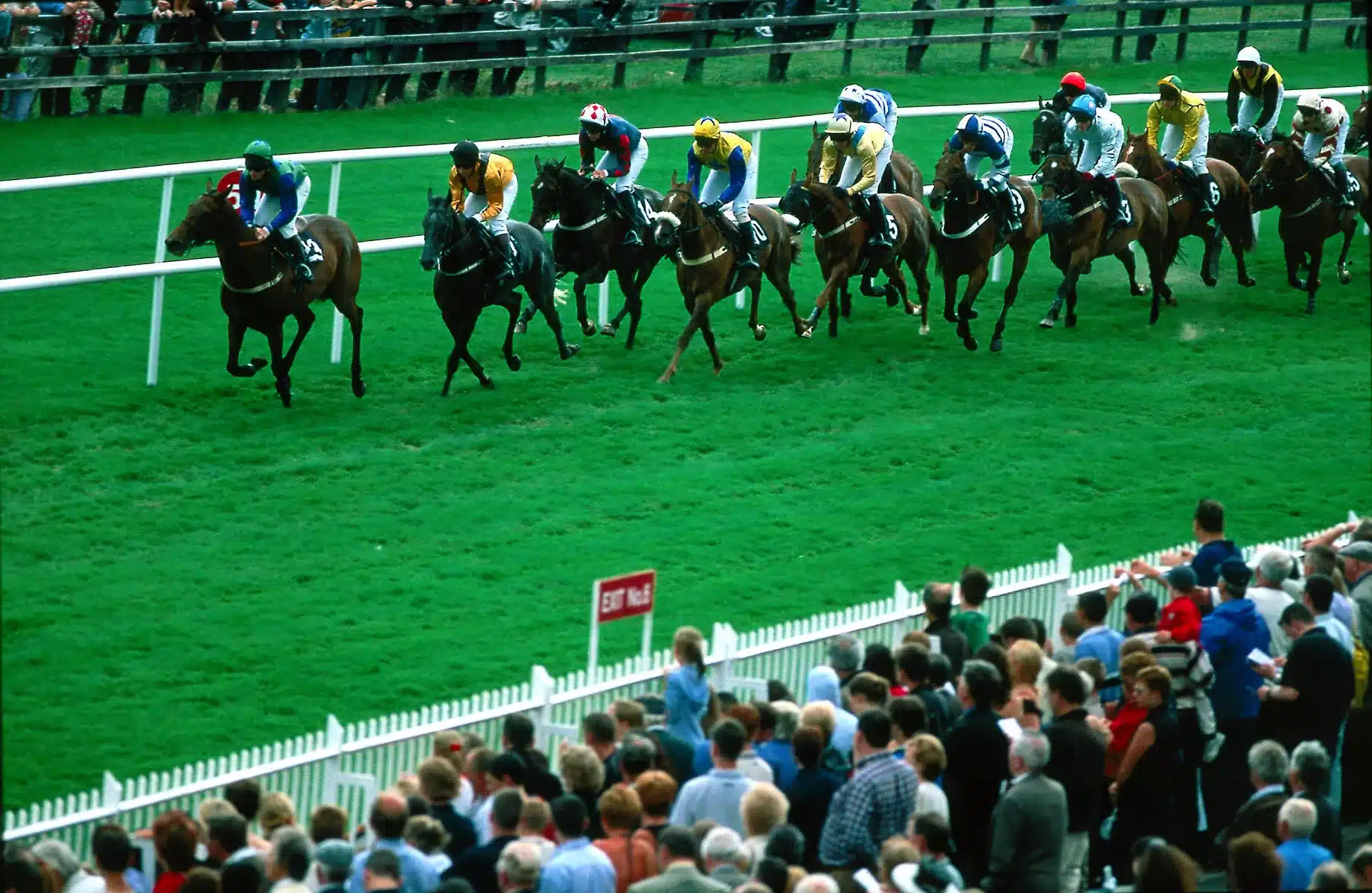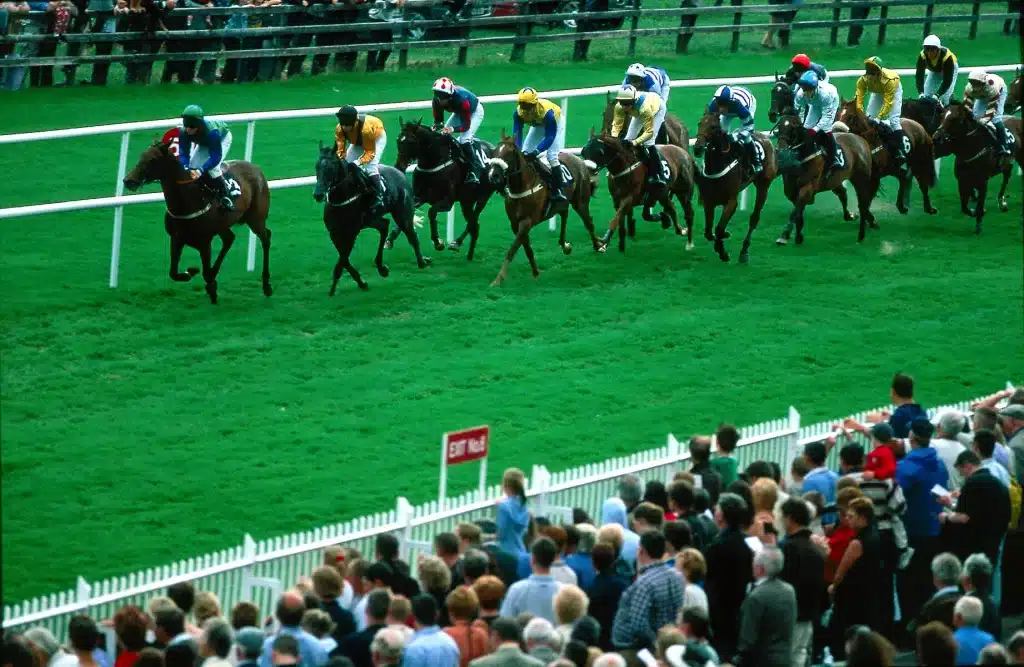 It gets very busy in the summer months and the streets come alive with buskers and various other street performers. This, coupled with the fact that you are near some of Ireland's true landscape highlights, makes it an ideal destination.
Killarney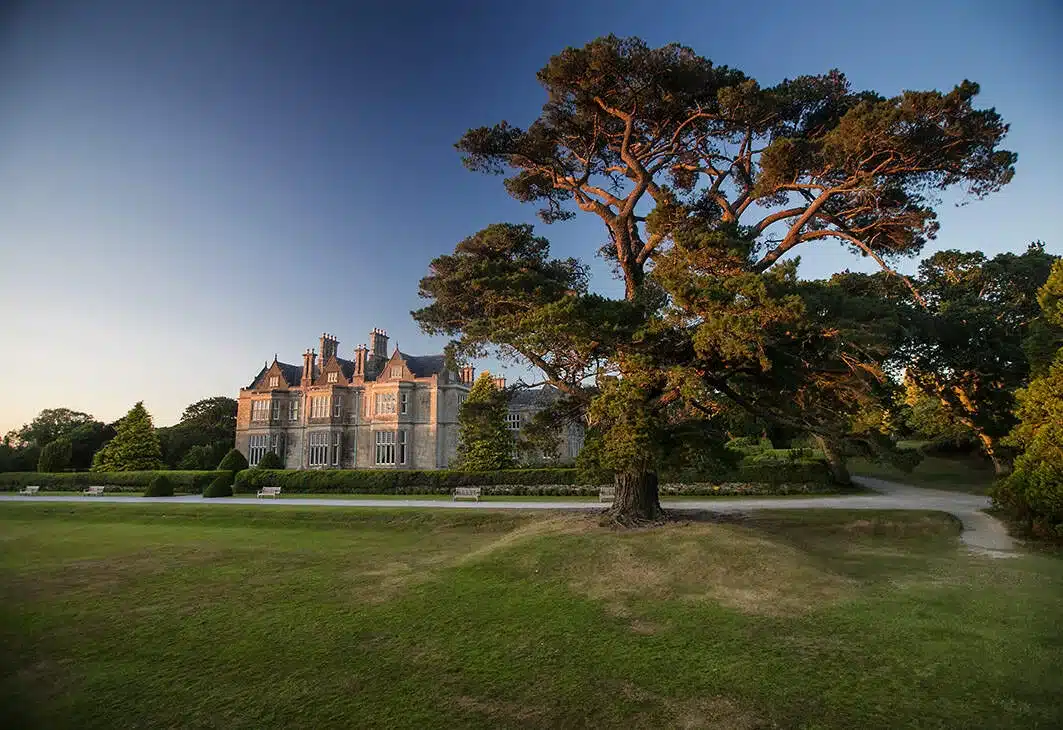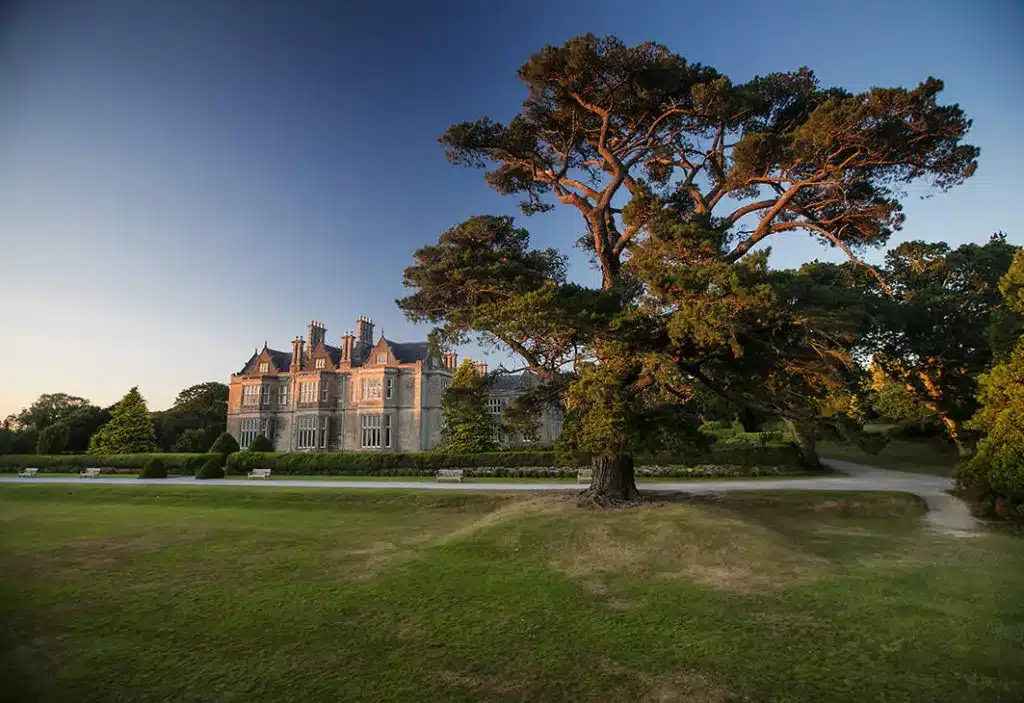 Killarney is a picturesque town located in County Kerry, Ireland. Nestled in the heart of Killarney National Park, it is surrounded by stunning natural beauty and offers visitors a unique blend of history, culture, and outdoor adventure.
The town itself is a great mix of traditional Irish architecture and modern amenities, with colourful buildings lining the streets and a bustling town centre filled with shops, restaurants, and pubs.
Visitors can explore the nearby lakes and mountains, take a horse-drawn carriage ride through the park, or visit historic landmarks such as Muckross House and Ross Castle.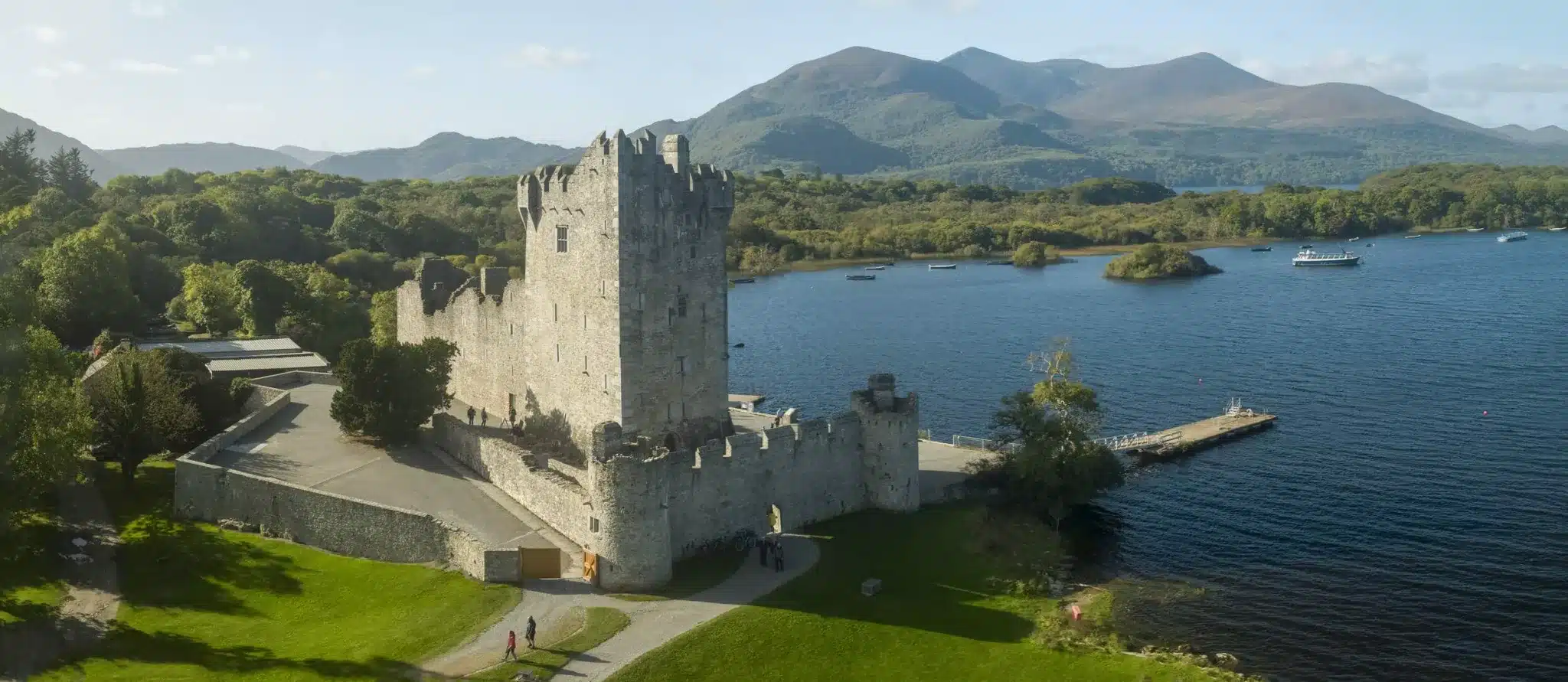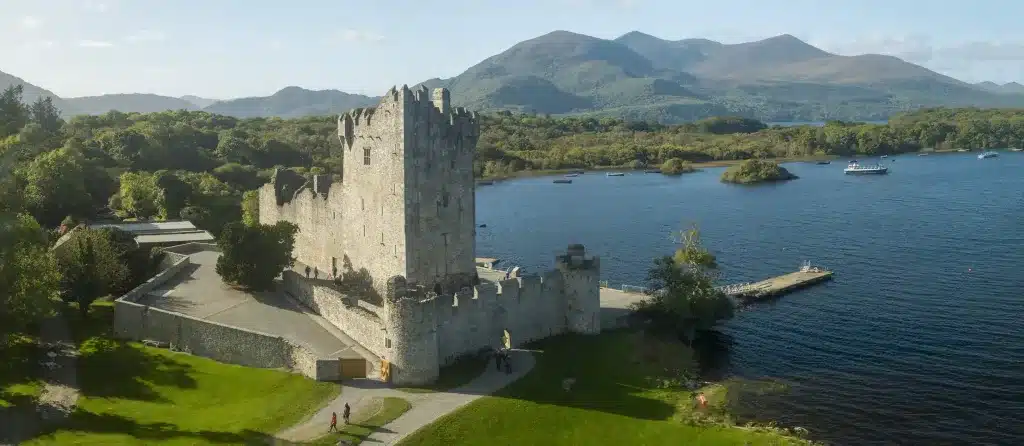 Killarney is also a popular destination for music festivals, with traditional Irish music and dance performances held throughout the year.
With its stunning scenery and lively atmosphere, Killarney also is very popular in the summer months and is the traditional starting point of the iconic 'Ring of Kerry', a 180 km road through some phenomenal coastal and mountain scenery.
Dingle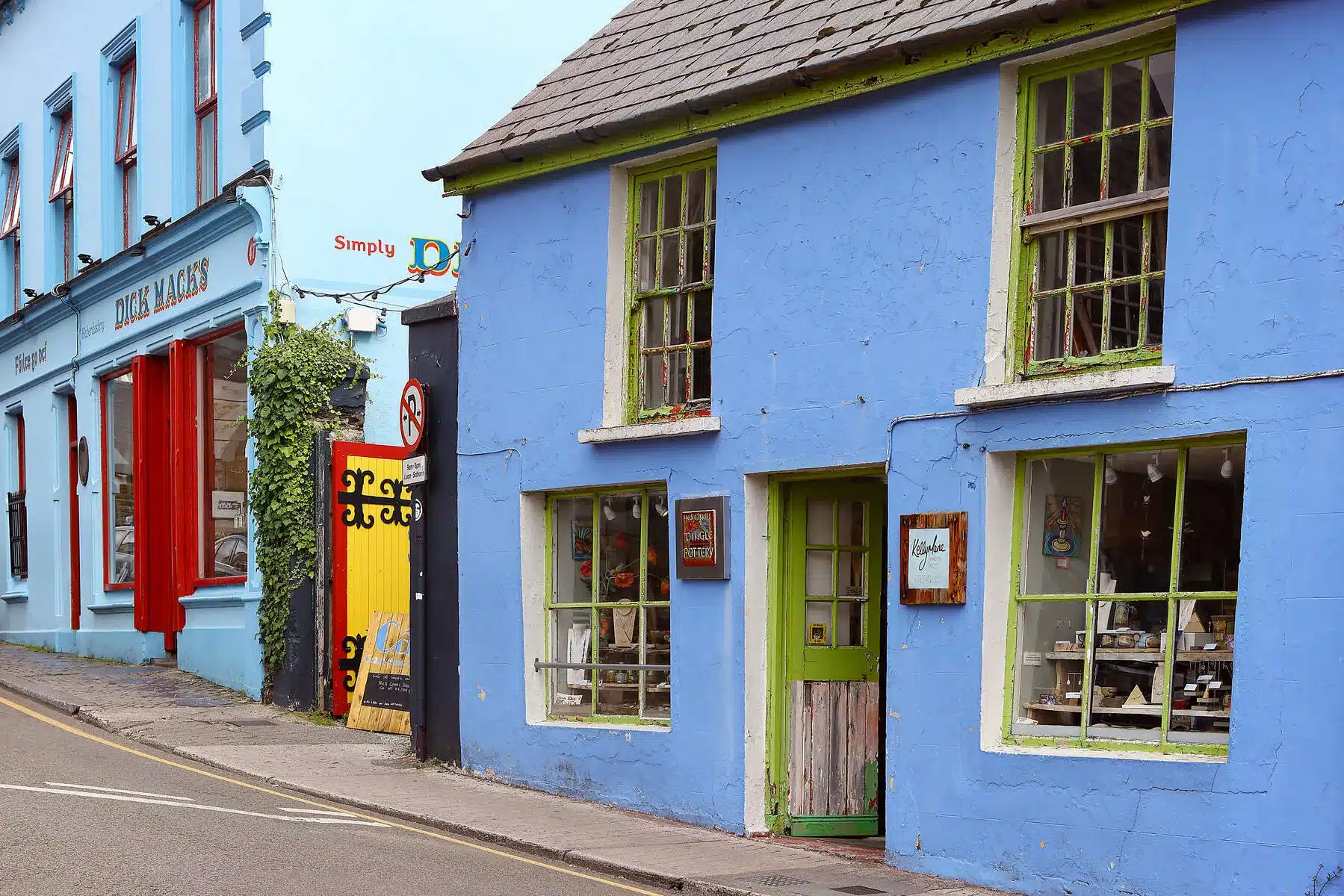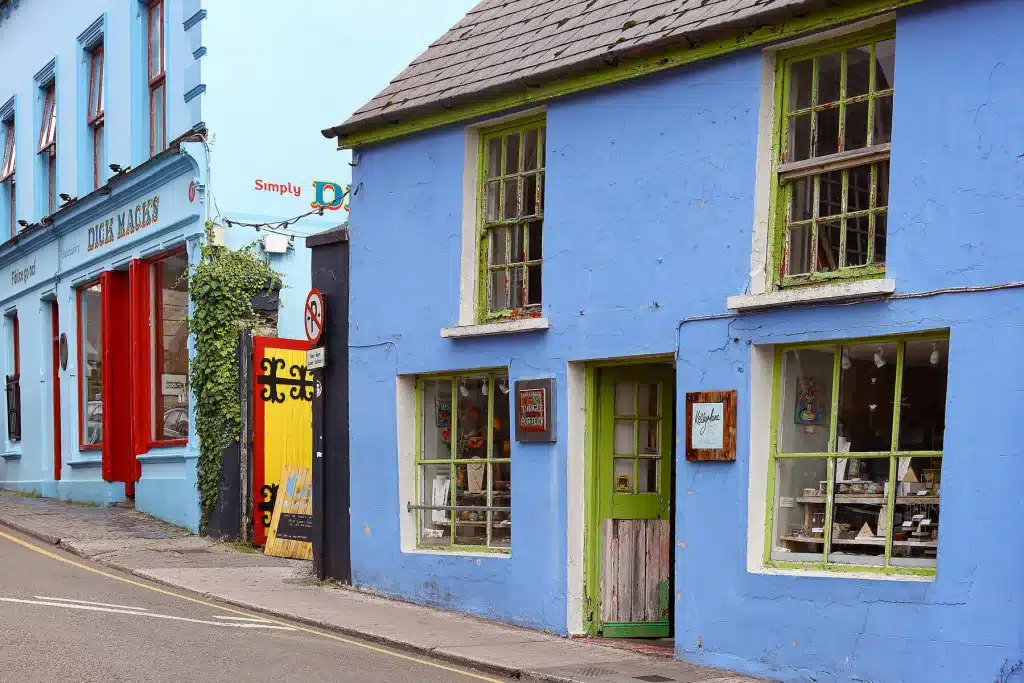 Dingle is a beautiful, small coastal town located also in County Kerry. Nestled between rolling hills and the Atlantic Ocean, Dingle boasts great scenery, with rugged cliffs, pristine beaches, and some of that iconic emerald green countryside we are all so familiar with.
The town itself is a charming and colorful hub of activity, with quaint shops, traditional pubs, and cozy cafes lining its narrow streets. Dingle is also renowned for its vibrant music scene and rich cultural heritage, with ancient archaeological sites and Irish-speaking communities still thriving in the area.
Take a stroll along the picturesque harbour, watch fishermen bring in their daily catch, or drive along one of our favourite roads to Slea Head, which offers stunning views of the rugged coastline and the Blasket Islands.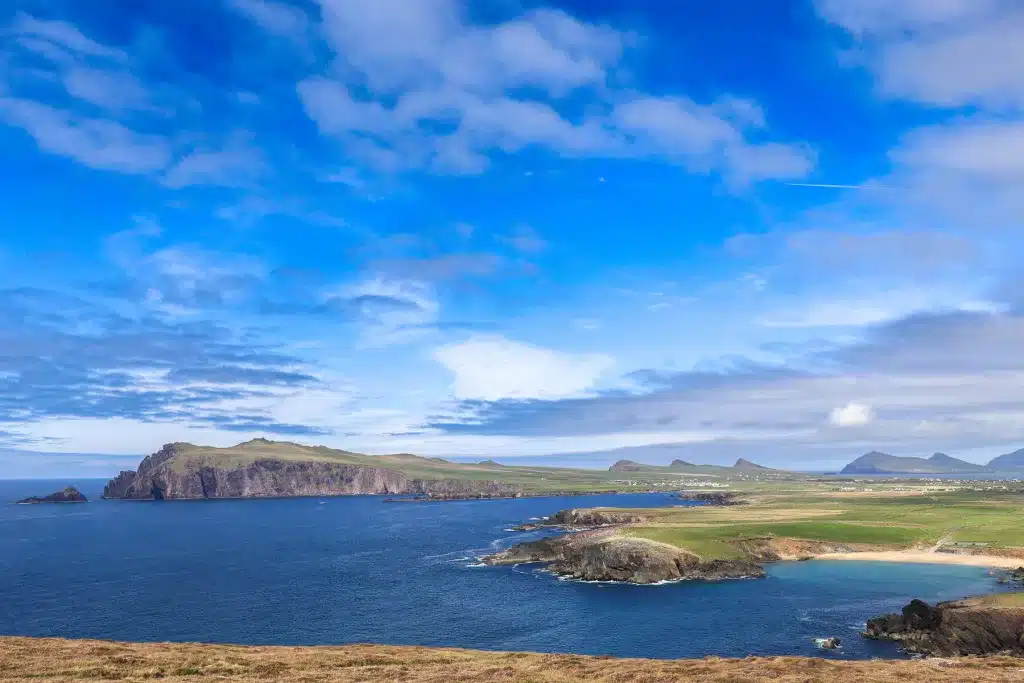 Nearby, you'll also find some beautiful beaches, such as Inch Strand, Ventry or Coumeenole.
Although a popular summer destination, Dingle has never lost its charm. In a similar vein to some of the smaller towns we have mentioned, such as Westport or Donegal, Dingle offers a little bit of everything, from fantastic food and lovely quaint pubs, to breathtaking nearby scenery.
West Coast of Ireland Weather/Climate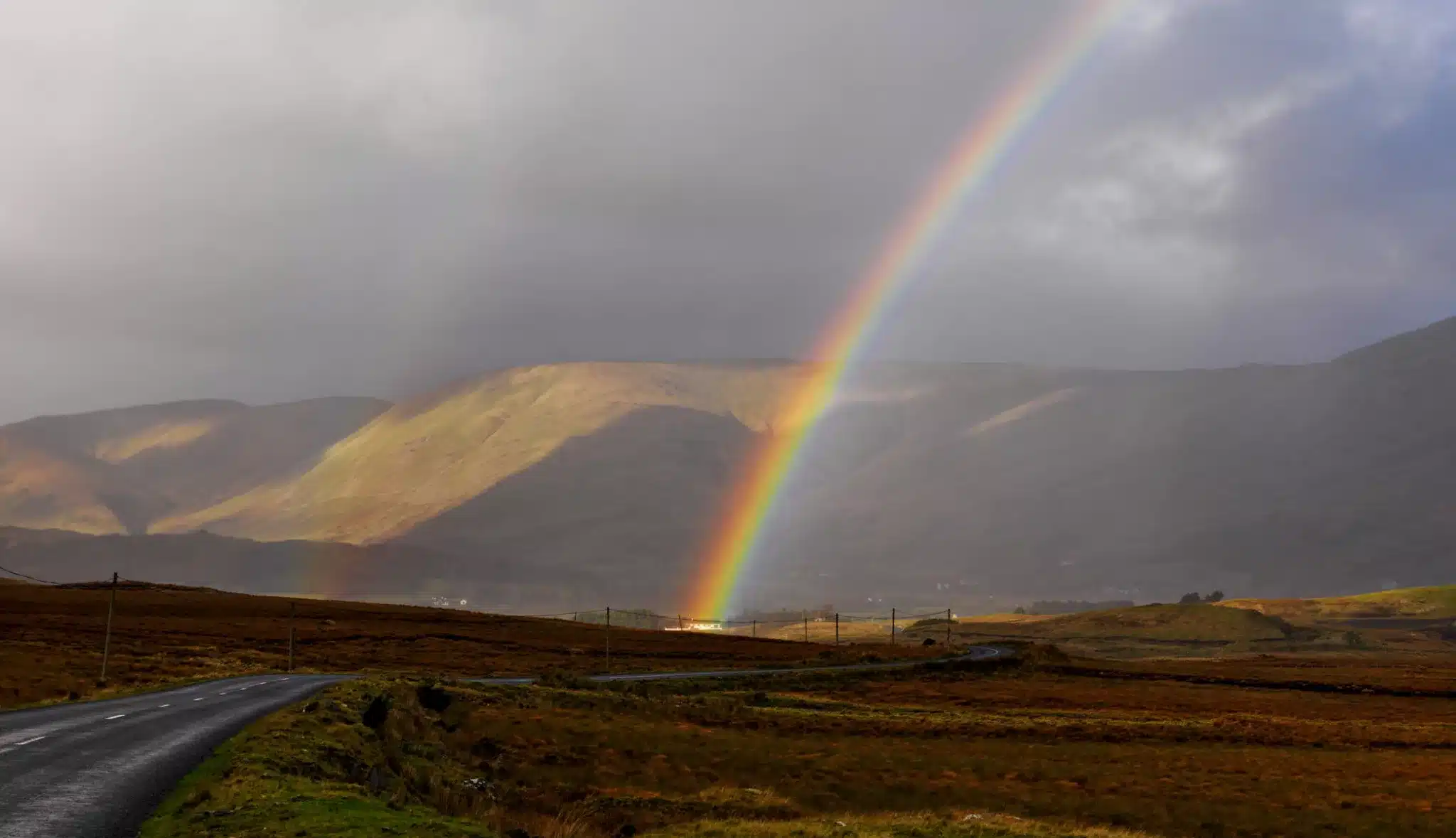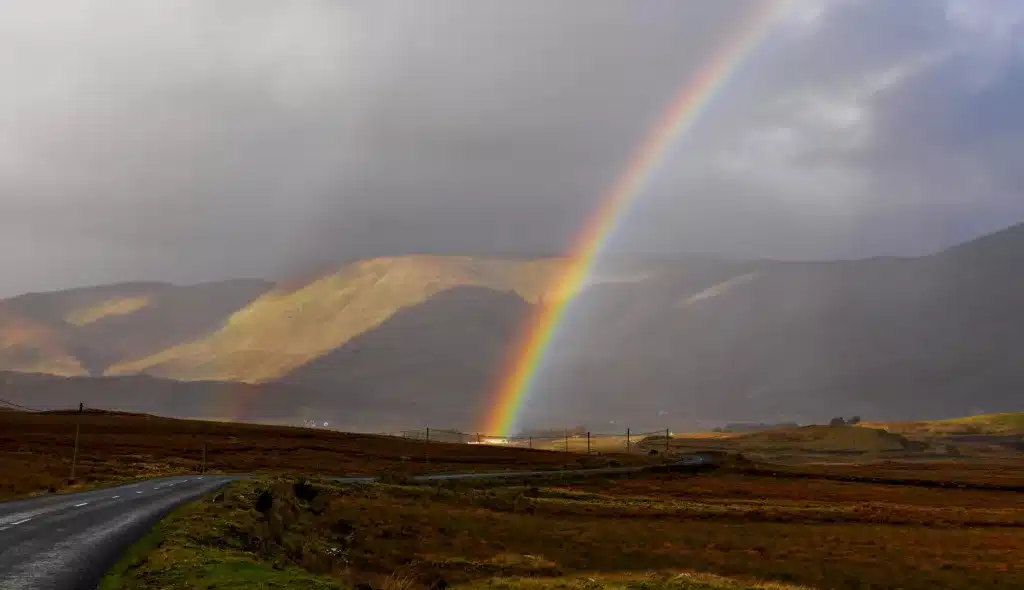 The weather/climate along the west coast of Ireland can be described as changeable, with no extremes in temperature.
The prevailing winds are westerly or southwesterly, and therefore are laden with moisture, which of course only means one thing: rain!
It rains quite often on the west coast of Ireland, more so than the east, but snow is rare. Expect to see a sprinking of snow on high ground if you decide to visit in the winter months.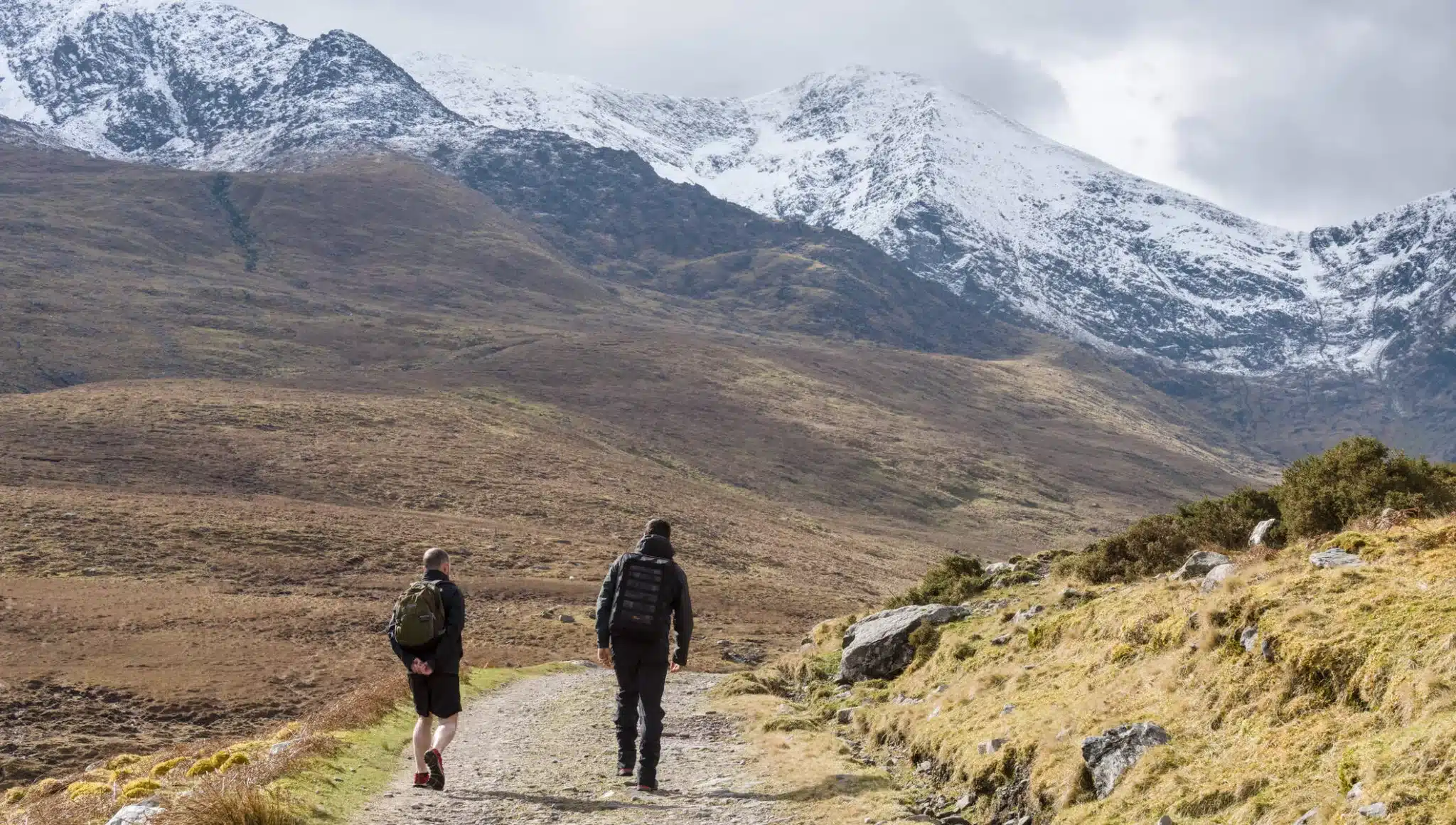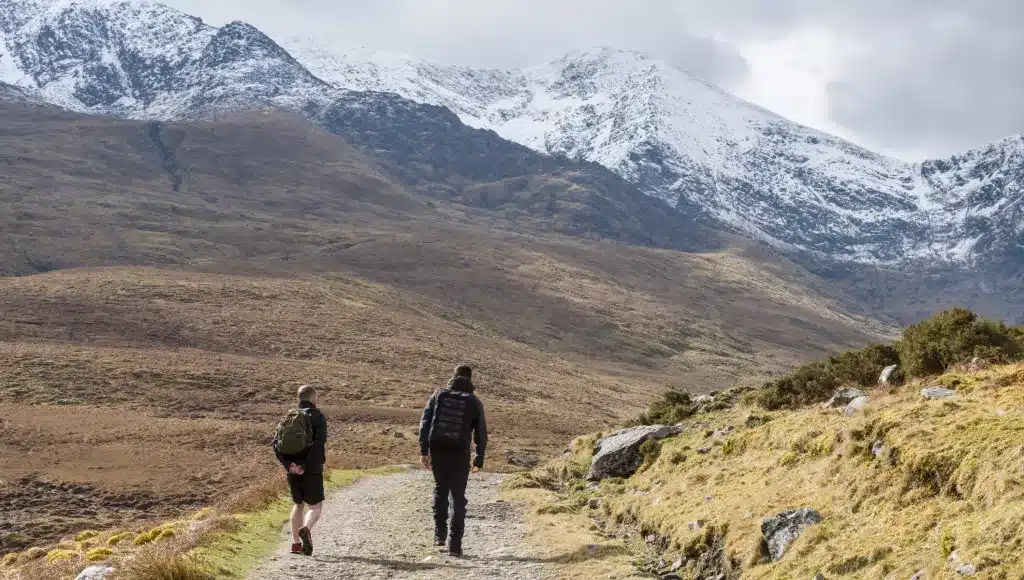 For example, Finner Camp, located in Donegal receives an average of 130 mm of rain in January and its driest month is June with 72.3 mm (source: met.ie)
Valentia Island, located in the southwest in County Kerry receives 170 mm of rain in January, and its driest month is May, with 93.5 mm of rain. (source: met.ie)
Although the weather is quite changeable, there are no extremes in temperature and that's due to the Gulf Stream, which acts almost like a thermostat, regulating the temperature and keeping it frequently within the range of 7 to 20 degrees (45 – 68 Fahrenheit)
But there can be spells of beautiful warm weather too! In summer it is very common to go above the 20 degree mark, but 30 degrees I'm afraid is very, very rare.
When the warm, settled weather does come, the whole west coast almost seems like a HD movie, with the sea glistening in blue and the beaches almost looking tropical.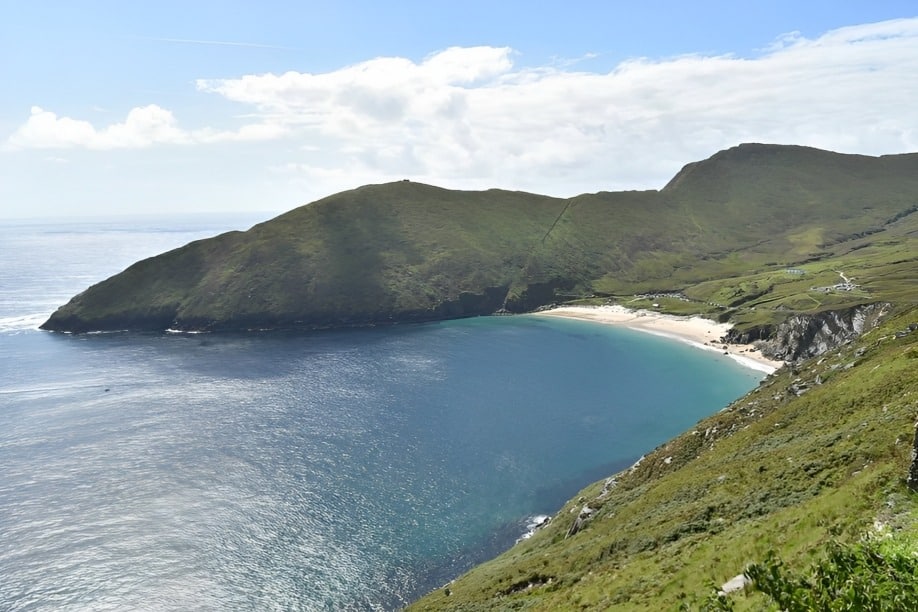 Based on weather data and my own experience of actually living there, the most settled weather is generally speaking May and June, along with the month of September (as we like to call it, 'the back to school weather')
Click on to the next page to continue reading about the best places to visit on the west coast.
Best places to visit on the West Coast of Ireland
There is a huge amount of sights and regions to explore along the west coast of Ireland and it is almost impossible to mention every one. The list we are about to show you will try to encompass everything that is magic and unique about this part of the world.
Cliffs of Moher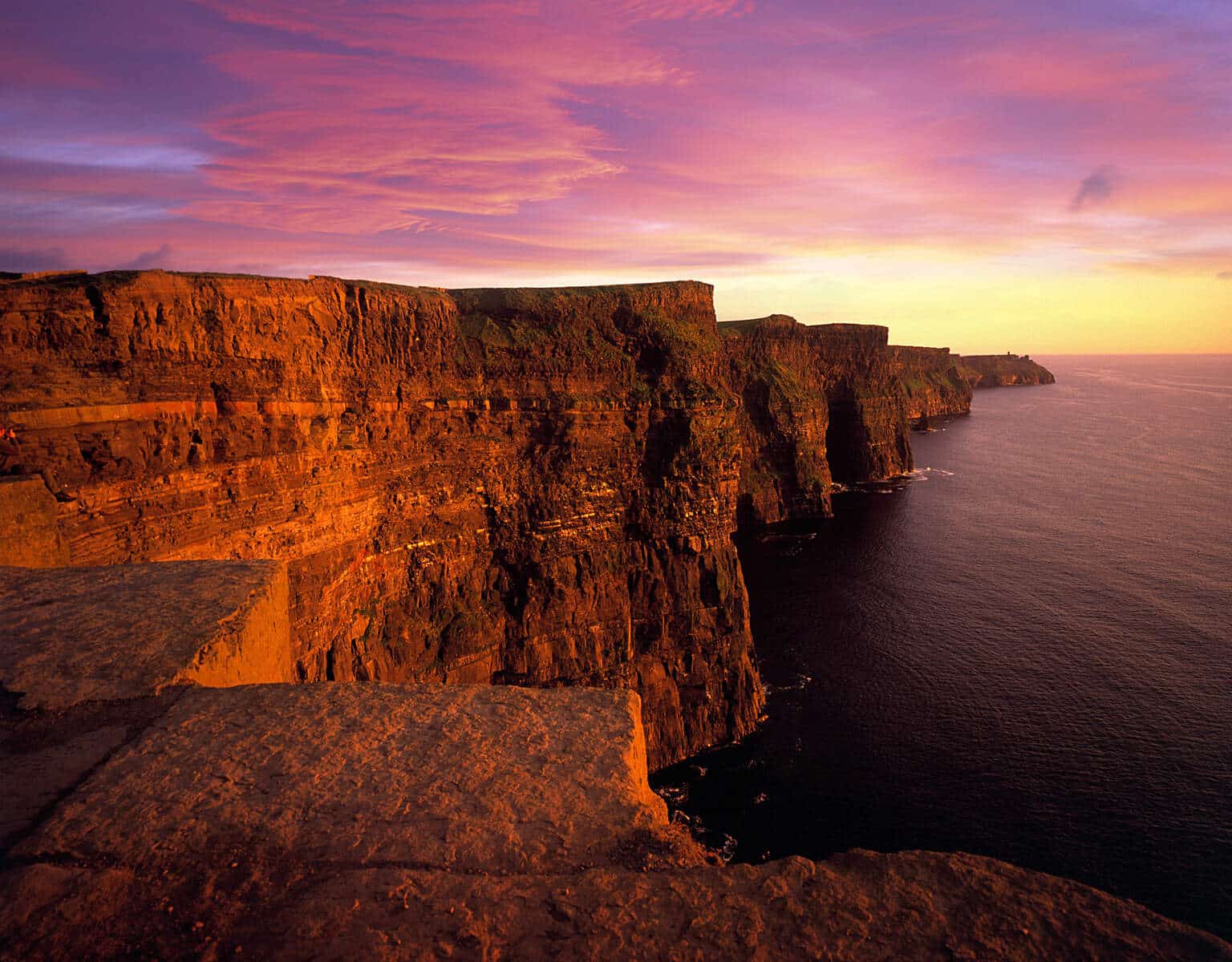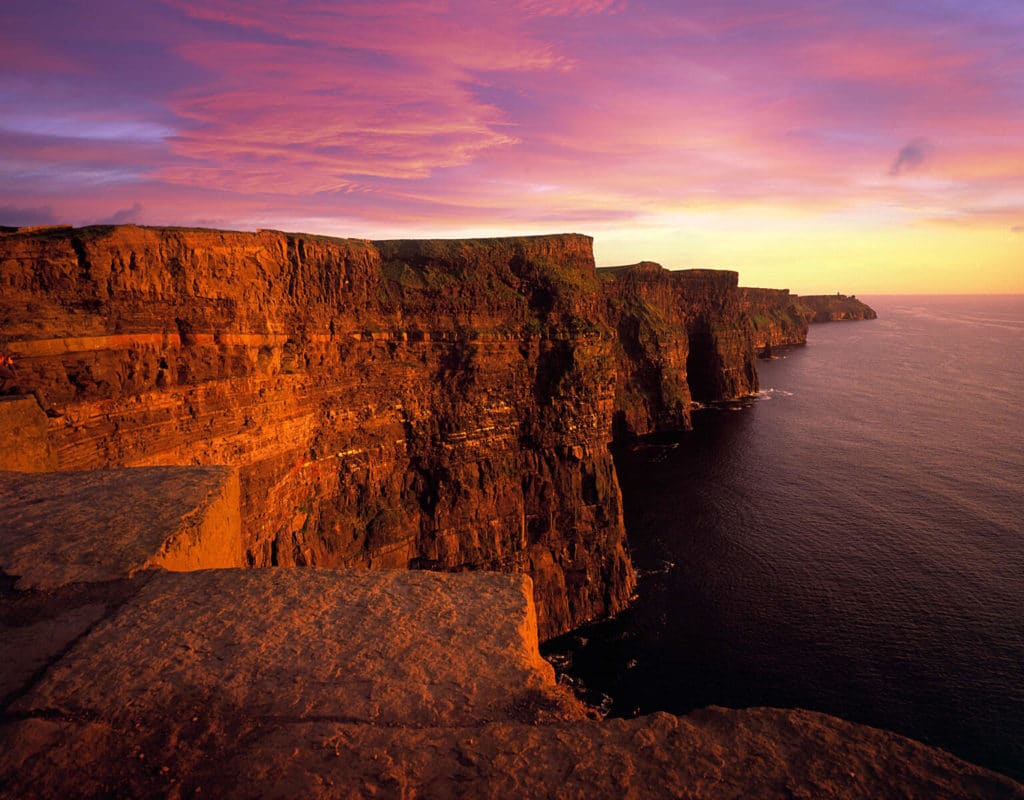 The Cliffs of Moher are a true natural wonder located on the western coast of Clare, towering 214 meters above the Atlantic Ocean and stretching for over 8kms. With their dramatic sheer drop and breathtaking views, the cliffs are Ireland's most visited natural attraction.
The cliffs are located near to the Burren National Park, a unique limstone region famous for its diverse flora, fascinating caves and almost lunar appearance.
Achill Island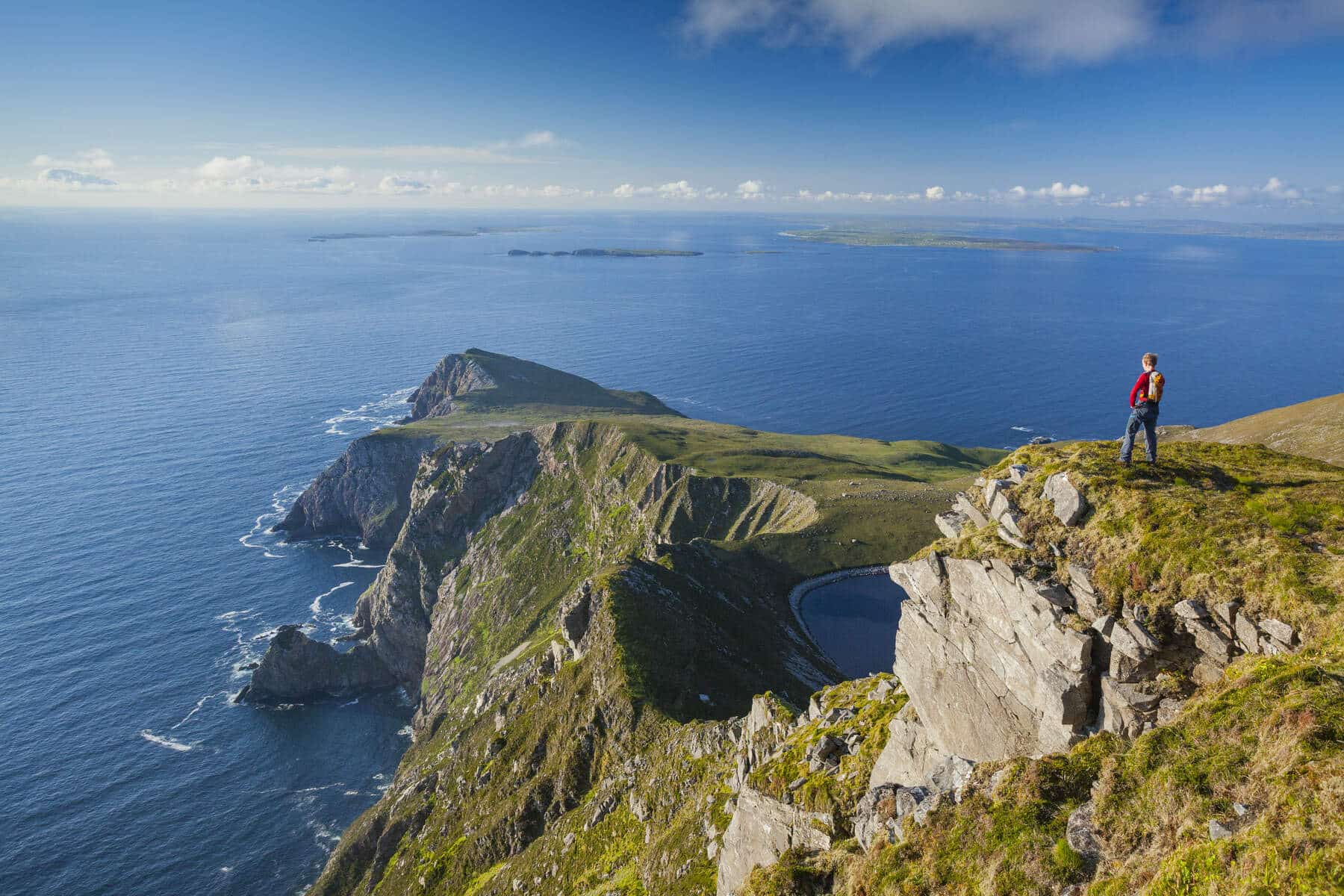 Achill Island, Ireland's largest island, is a rugged and beautiful island located off the west coast of County Mayo. It is known for its stunning natural scenery, highest cliffs, sandy beaches, and crystal-clear waters.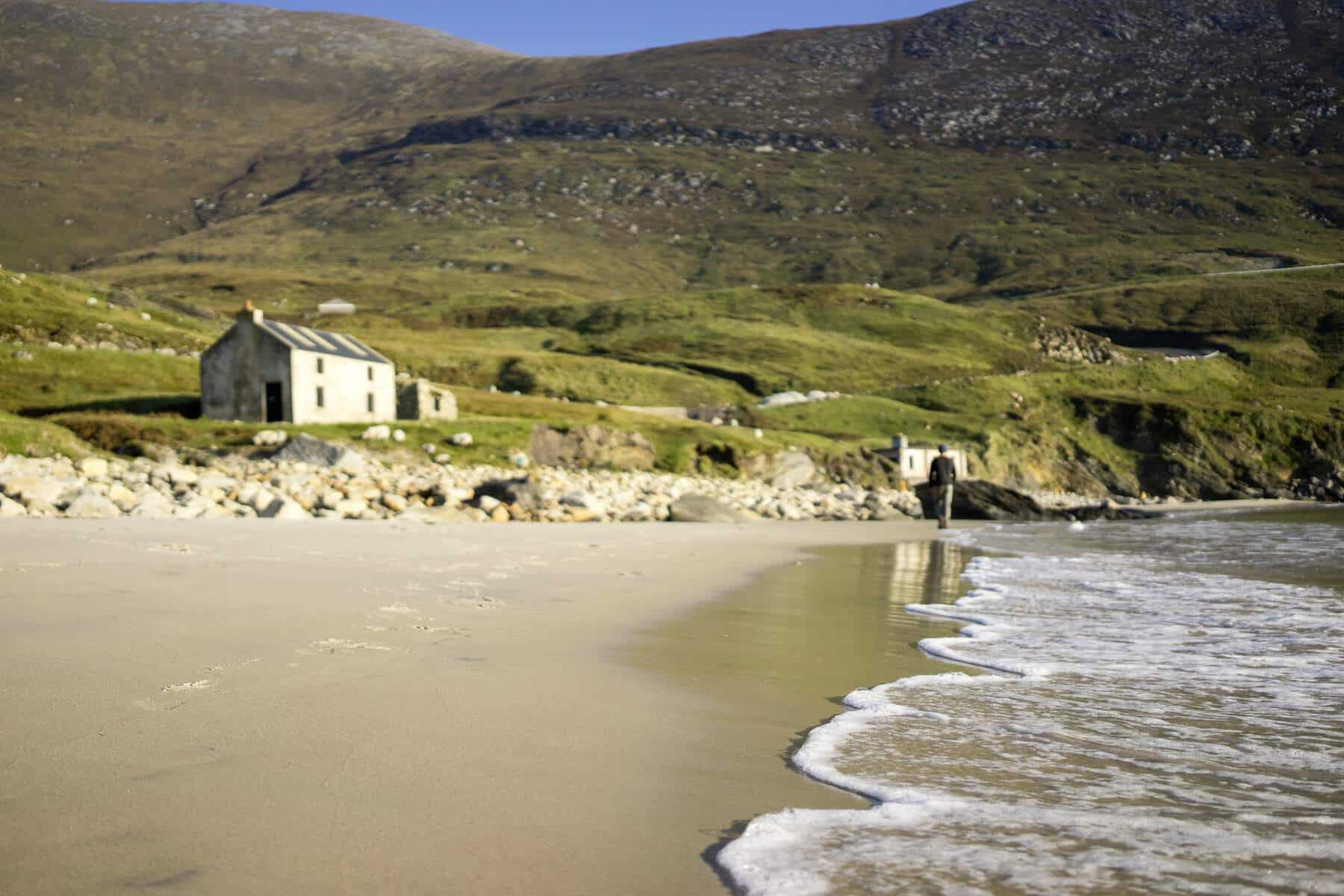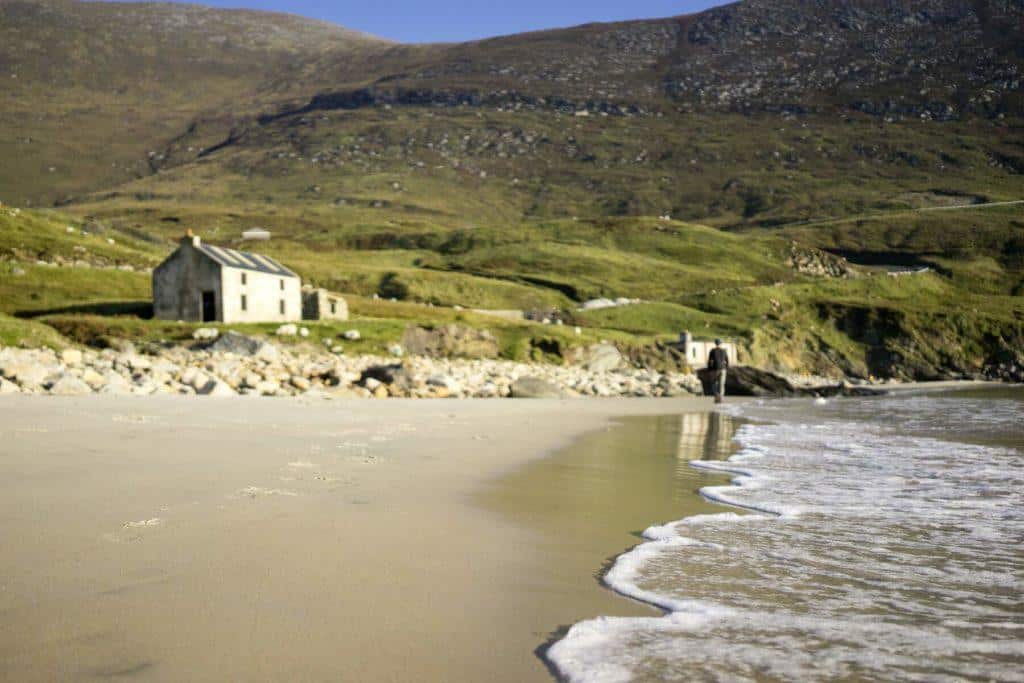 Despite its remote location, the island offers plenty of opportunities for outdoor activities, such as hiking, surfing, fishing, and cycling. Achill also was also chosen as one of the prime filming locations of The Banshees of Inisherin.
It also has a rich cultural heritage, with historic sites and traditional Irish music still thriving in the area. We feel, a must-visit to anyone visiting the country.
Slieve League Cliffs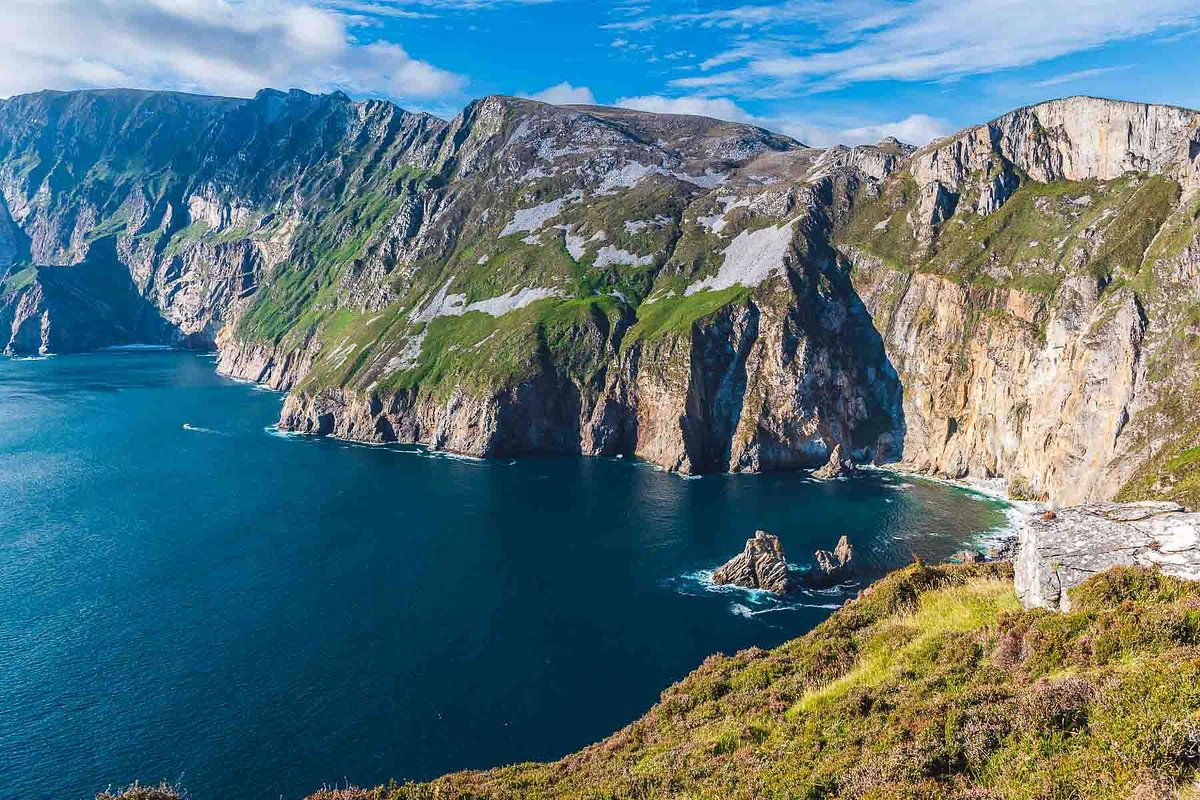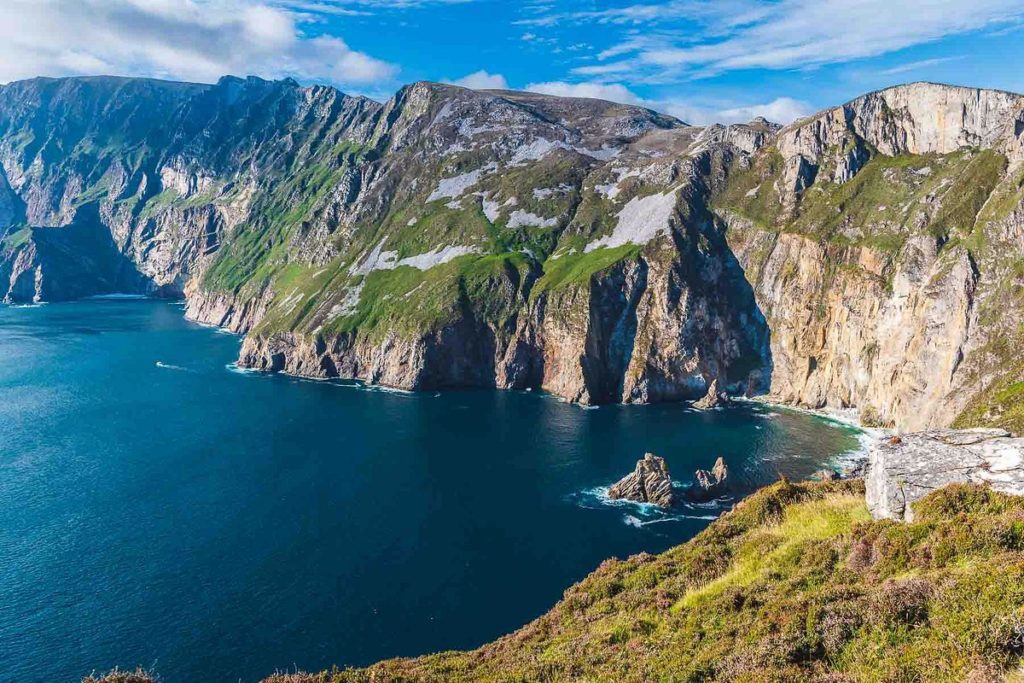 Slieve League is another natural wonder of Ireland, famous for its towering sea cliffs that rise over 600 metres above the Atlantic Ocean. Expect incredible views and a dizzying cliffwalk that will leave you amazed at the sheer scale of the landscape.
A breathtaking natural attraction located in a county full of wonderful scenery: County Donegal.
The Aran Islands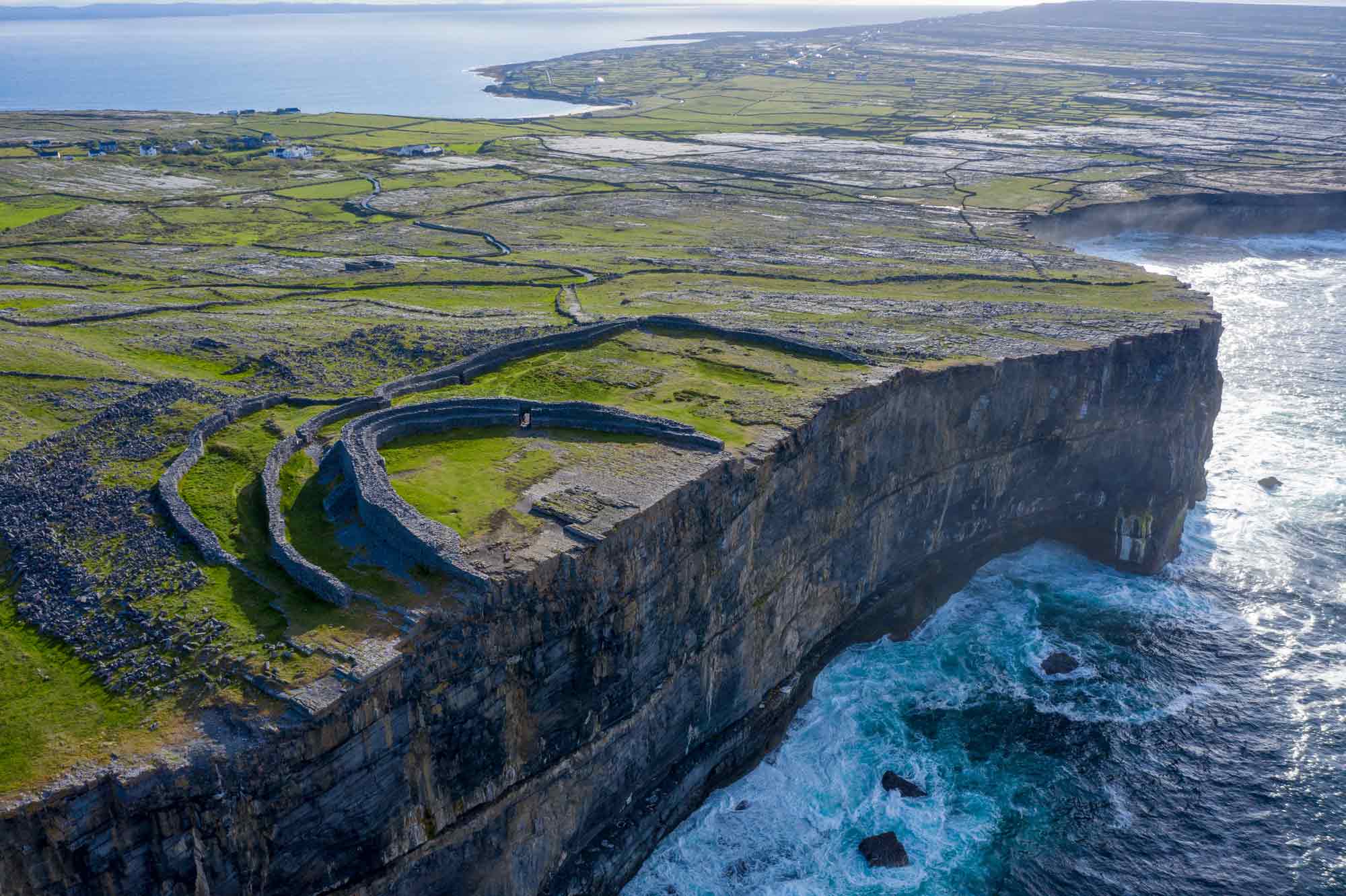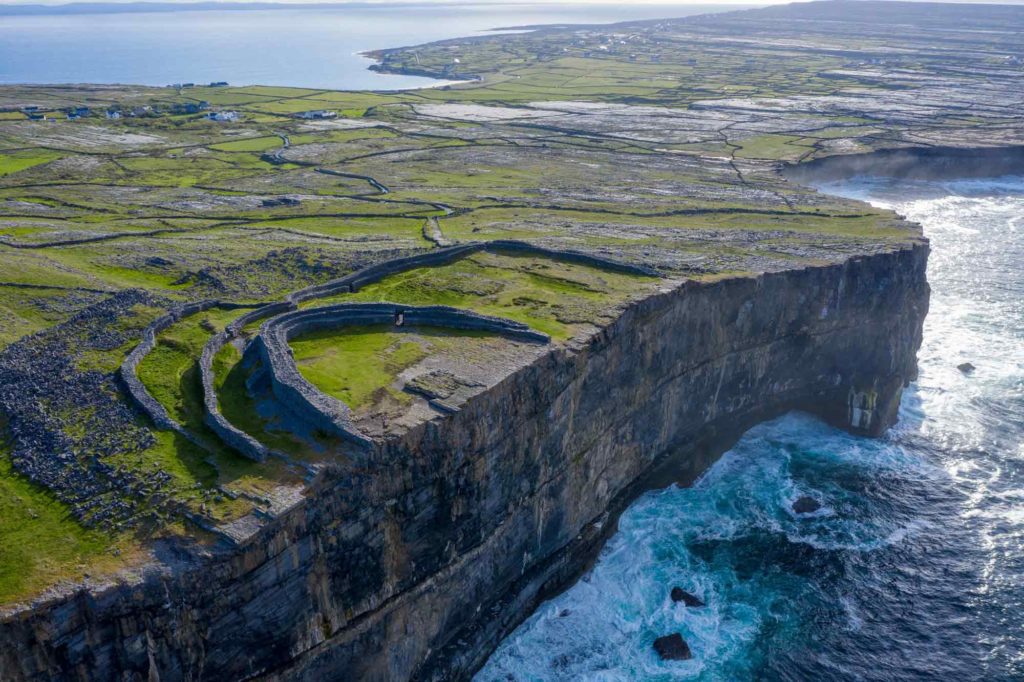 The Aran Islands are a group of three rugged, windswept islands located off the west coast of Galway.
Known for their stunning scenery and rich cultural heritage, the islands offer visitors a glimpse into traditional Irish life, with centuries-old stone walls, thatched cottages, and ancient ruins dotting the landscape.
The Aran Islands are also famous for their unique language and culture, with many residents speaking Irish as their first language. Visitors can explore the islands on foot or by bike, taking in views of the wild Atlantic coastline, rugged cliffs, and pristine beaches.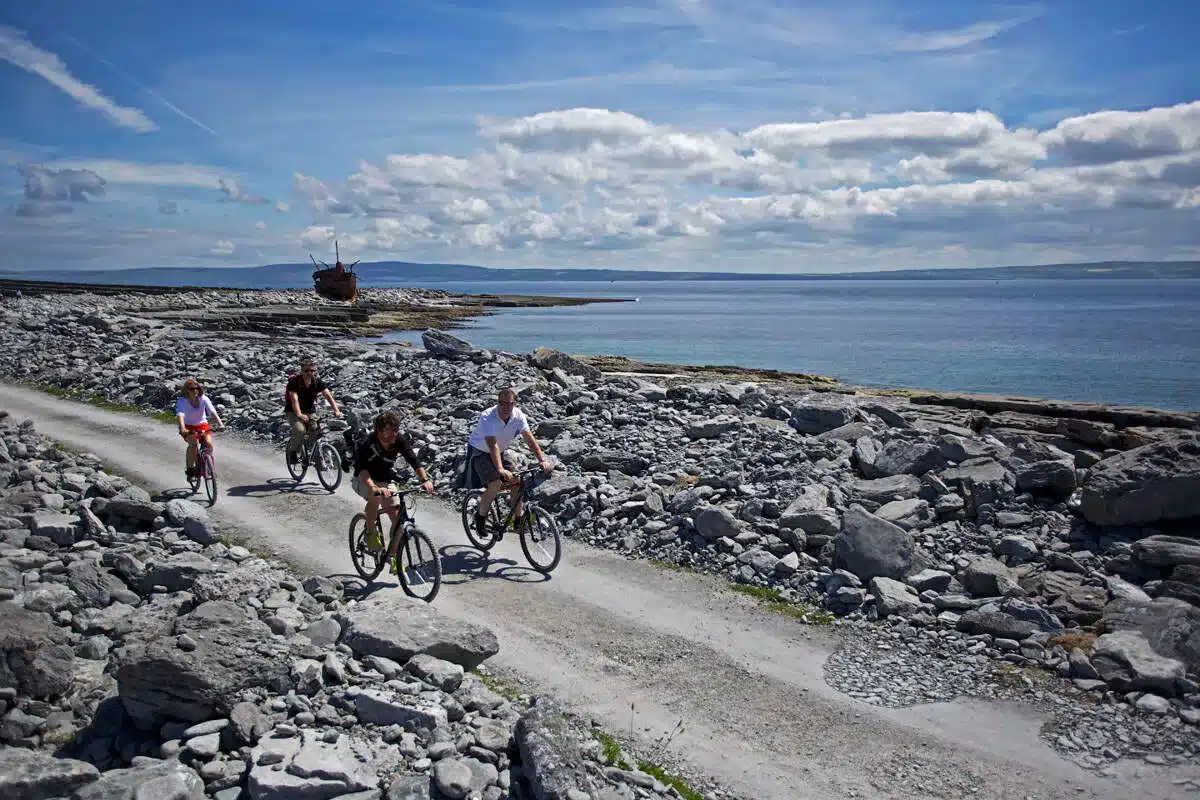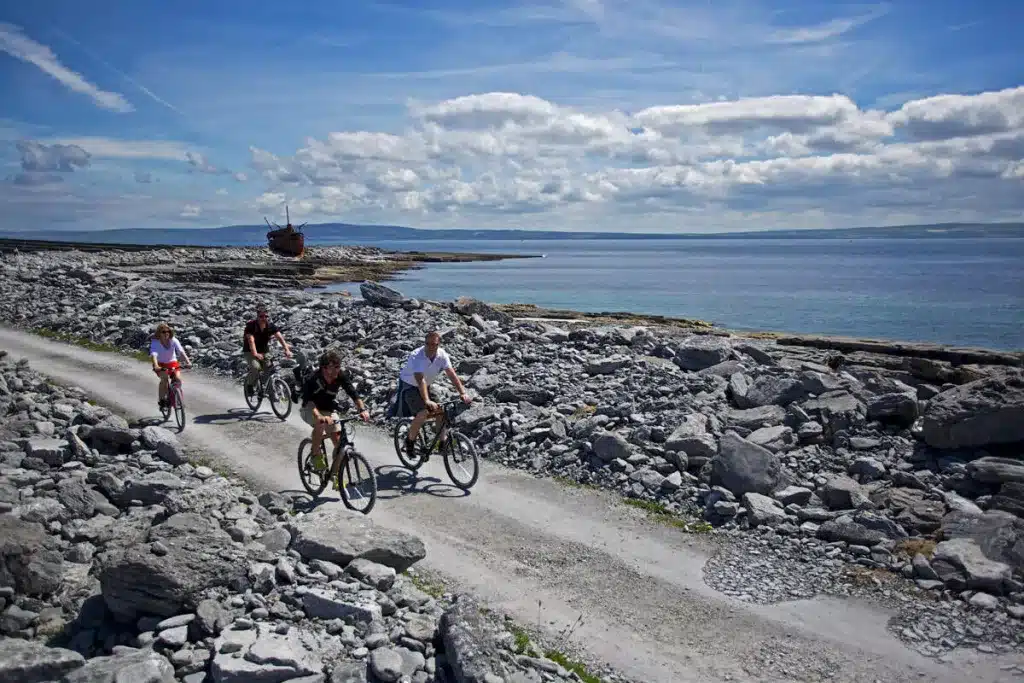 Our favourite is the smallest island of Inisheer, a delightful island that can be covered in a few hours by bike. Expect a myriad of stone walls and incredible vistas over the Atlantic Ocean and the Cliffs of Moher.
Connemara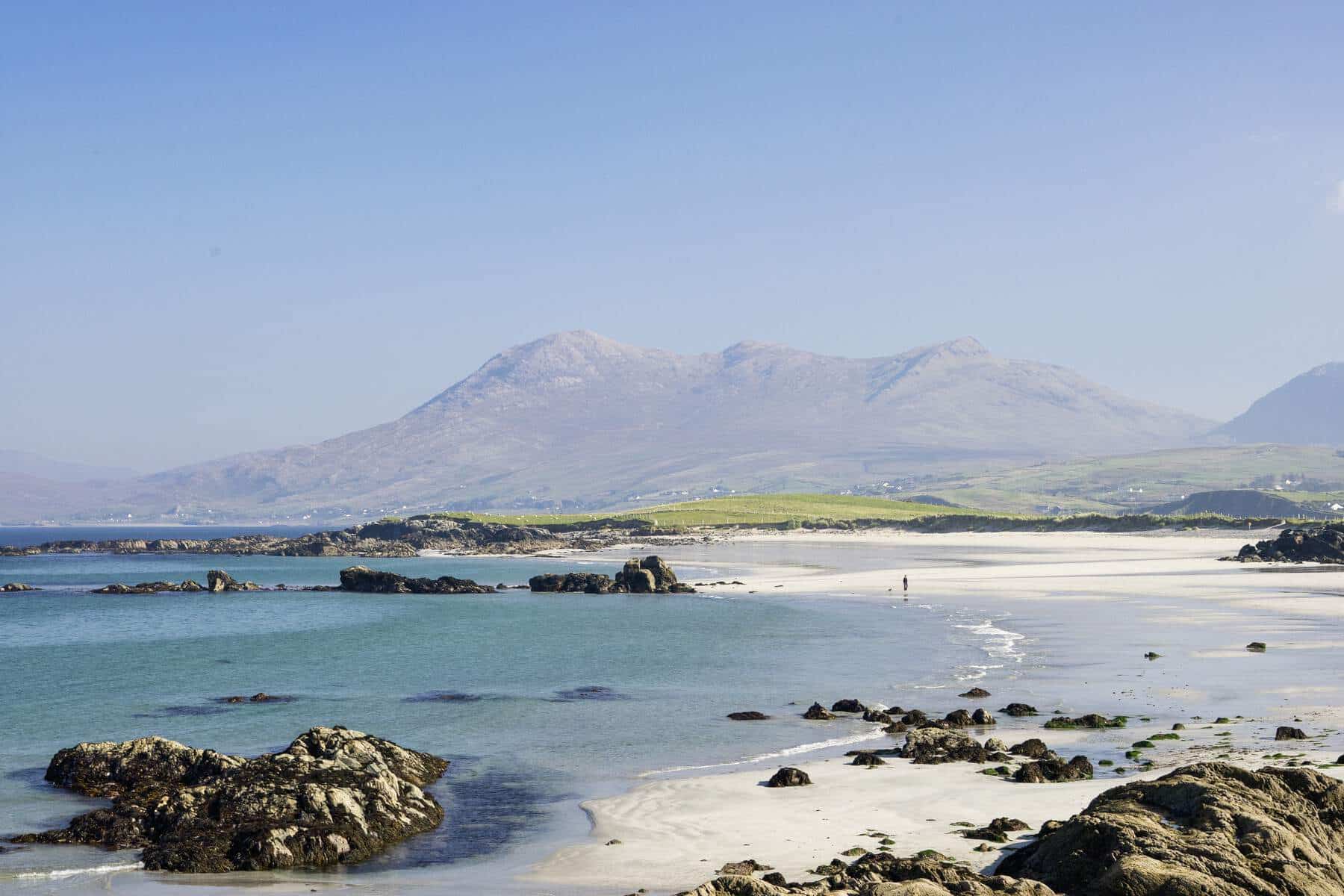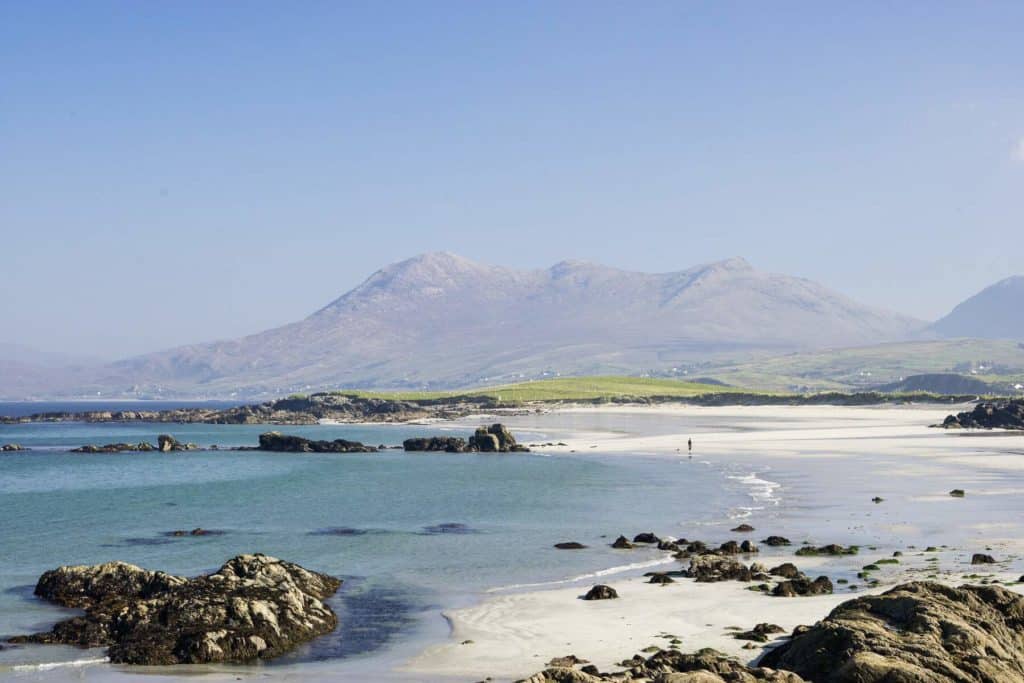 One of my favourite (if not my favourite) region along the west coast of Ireland.
Connemara is a rugged and scenic region in the west of County Galway, known for its incredibly varied landscapes, from the mountains of the 12 Bens to the exceptional, almost tropical in appearance beaches, this region has it all.
Pay a visit to Connemara National Park and take on the Diamond Hill trail. Here you'll witness true west of Ireland magic, with Connemara ponies grazing away and panoramic views as far as the eye can see to the 12 Bens mountains and the Atlantic Ocean beyond.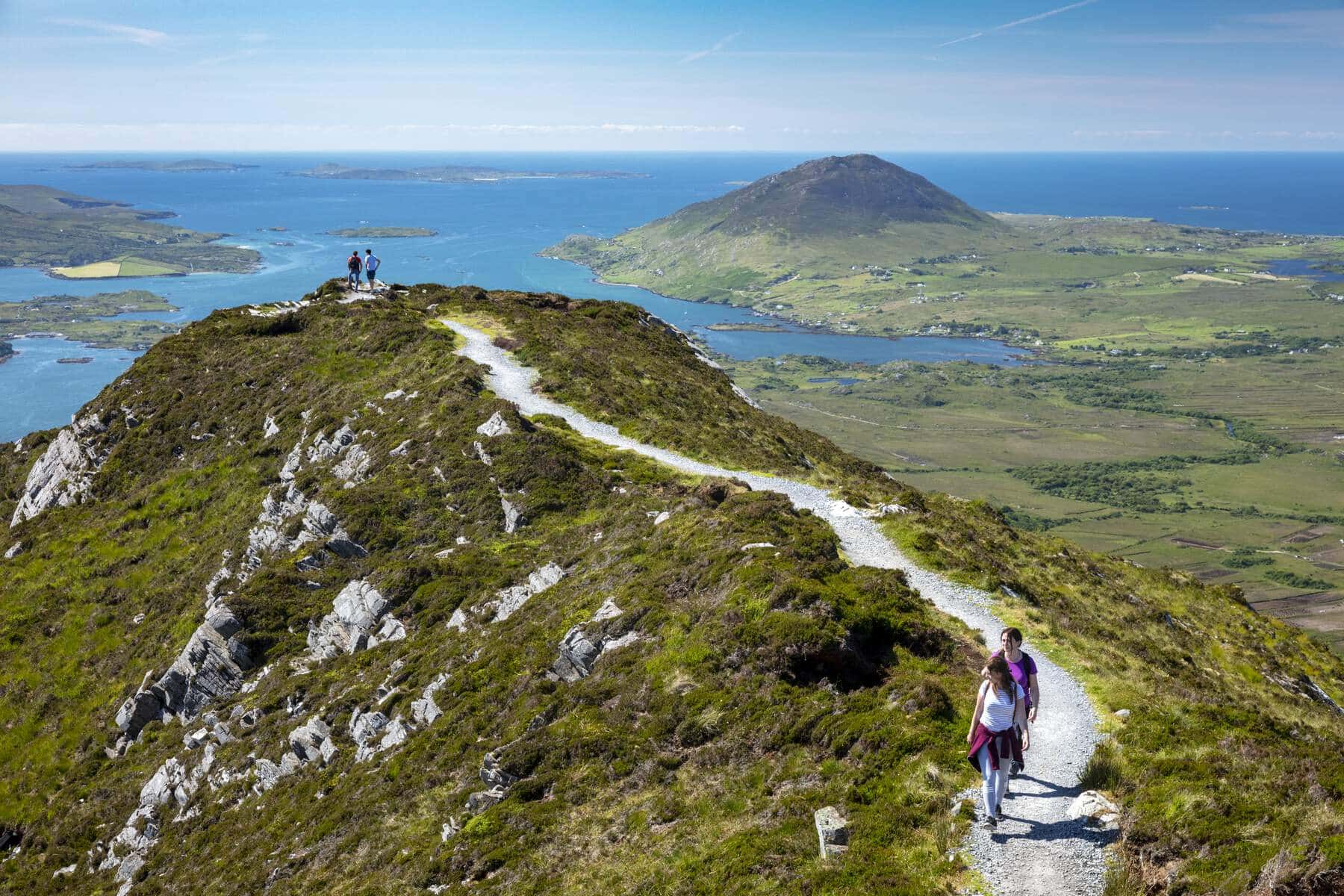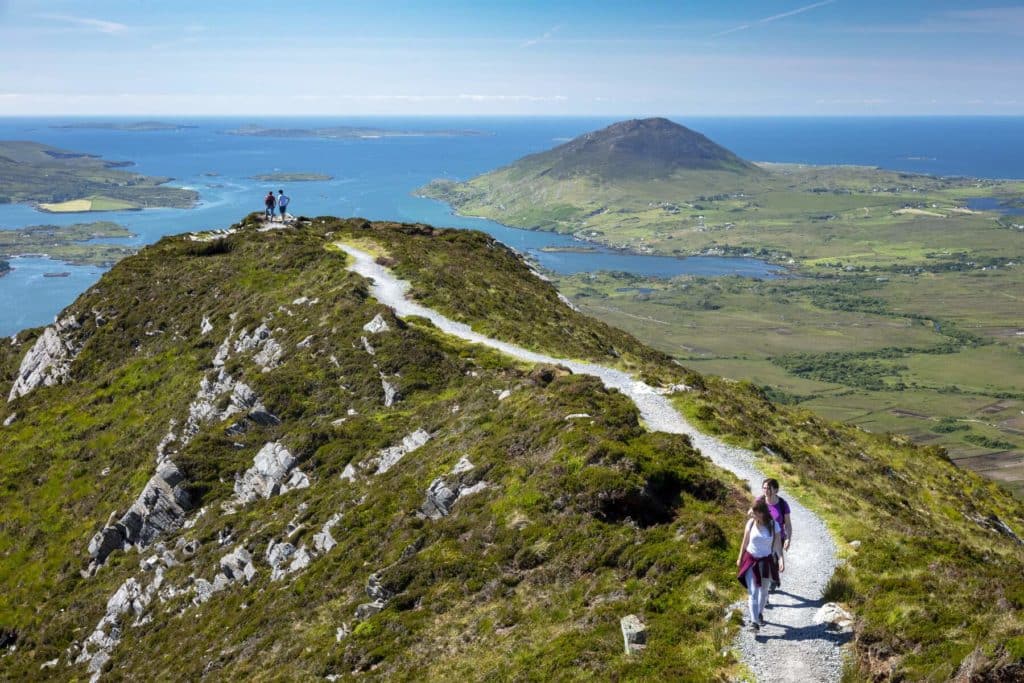 Don't forget to take in the nearby Kylemore Abbey, a stunning castle nestled on some magical lake and mountain scenery.
Slea Head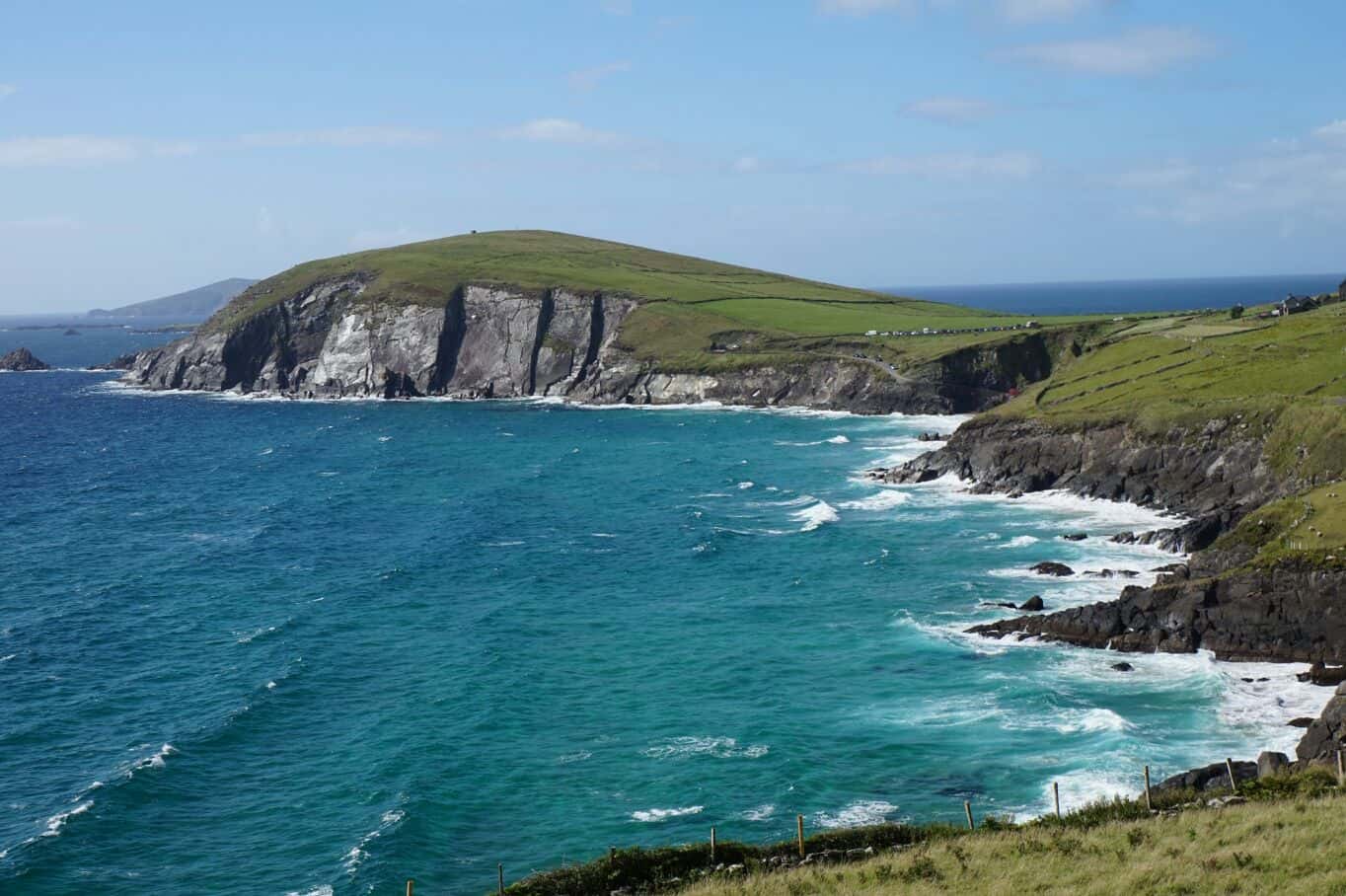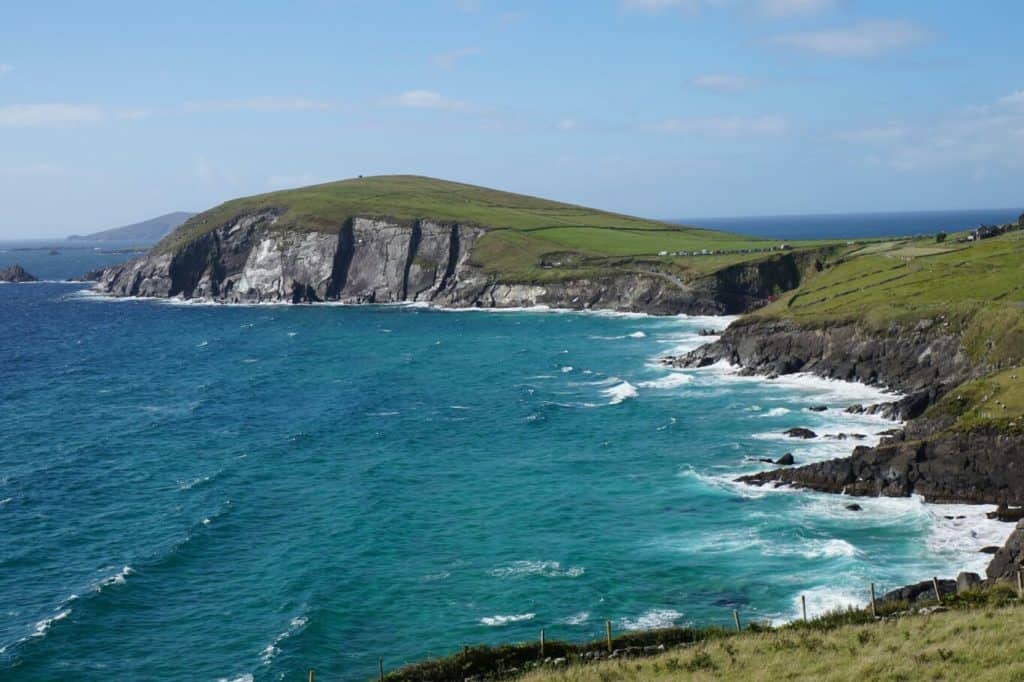 Slea Head is a scenic coastal drive located on the Dingle Peninsula in County Kerry, offering exceptional views of the Atlantic Ocean, rugged cliffs, and the Blasket Islands.
Like Connemara, Slea Head is also a 'Gaeltacht' region, where the main language in use is Irish. The region is known worldwide for its high density of prehistoric sites, testament to the incredibly rich history and culture in the area.
The Ring of Kerry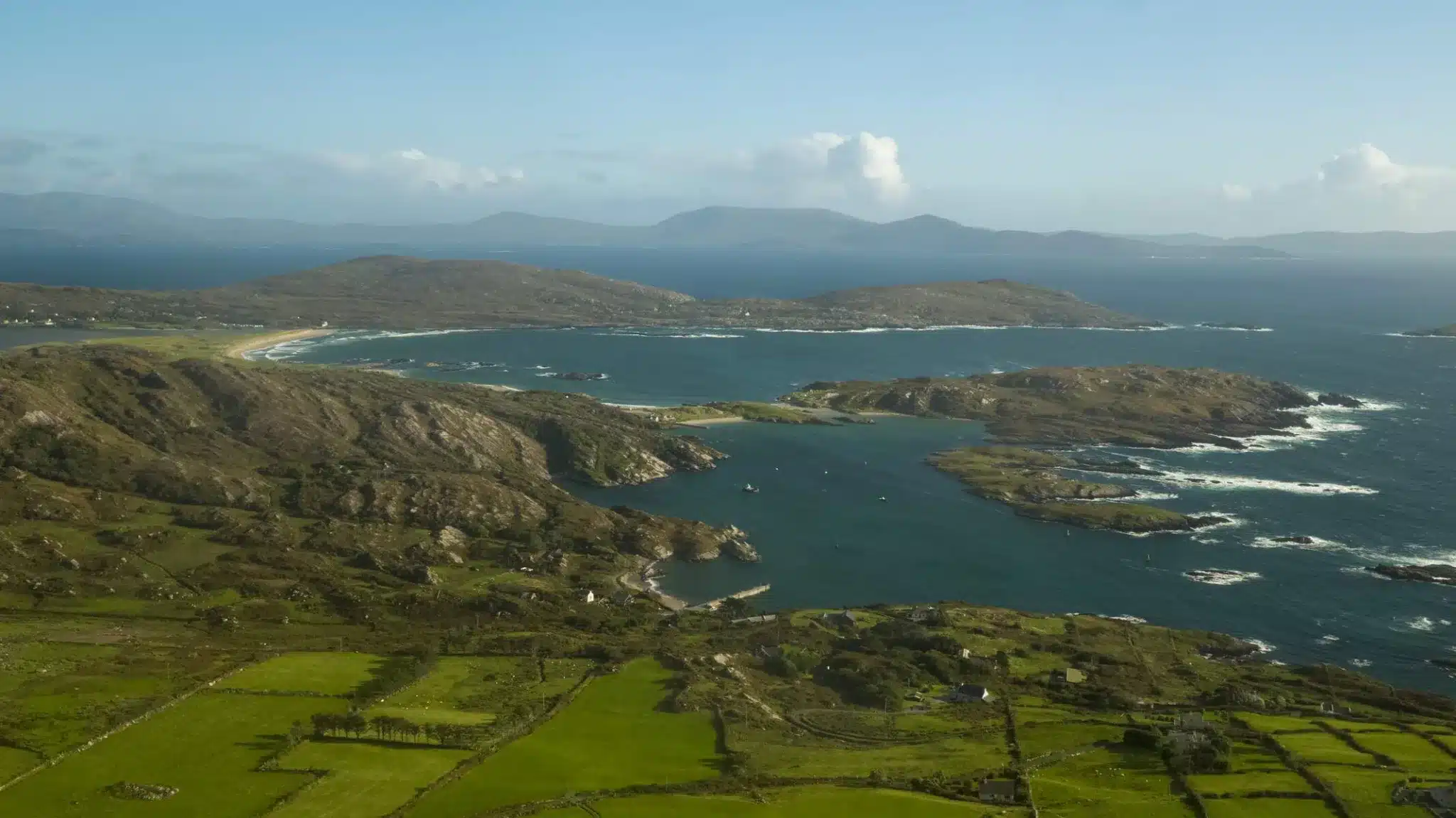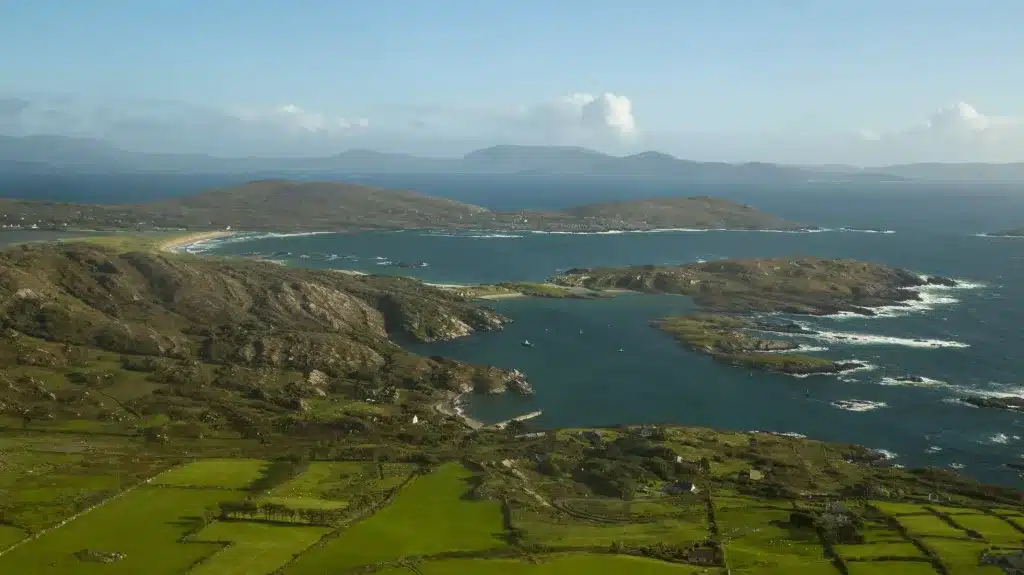 Perhaps one of Ireland's most known tourist attractions, the Ring of Kerry has been bringing tourists to Kerry for many's a day, and for good reason too.
In no way overrated, this 180 km circular driving route starts traditionally in Killarney. The road passes some magnificent scenery. Expect practically every landscape feature you can imagine, from beaches to bays, mountain valleys to lakes.
Skellig Michael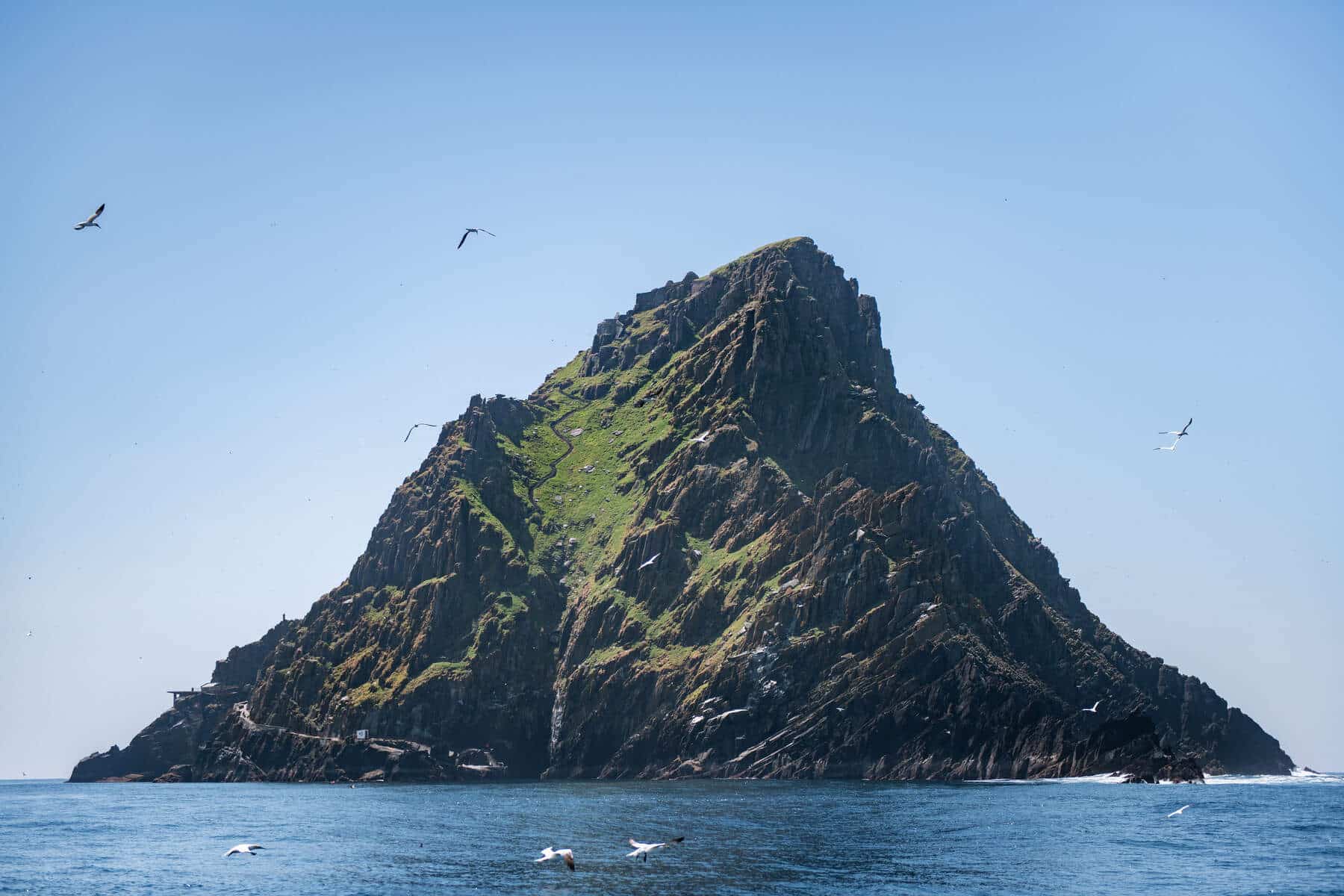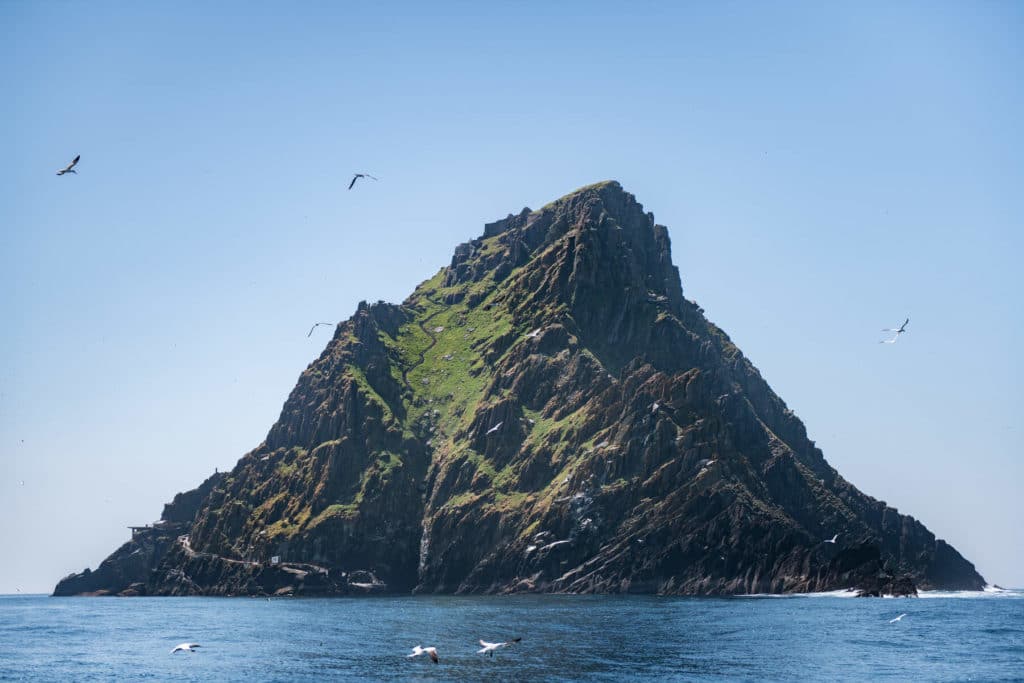 Skellig Michael is a small, rocky island located off the coast of Ireland, known for its ancient monastic settlement and stunning natural beauty. It is also a designated UNESCO heritage site.
Reaching over 200 metres in height, a trip to this island is an absolute must, be be warned, you'll have to book in advance and the trip is weather dependent! Truly one of Ireland's landscape and historical highlights.
Clew Bay/Croagh Patrick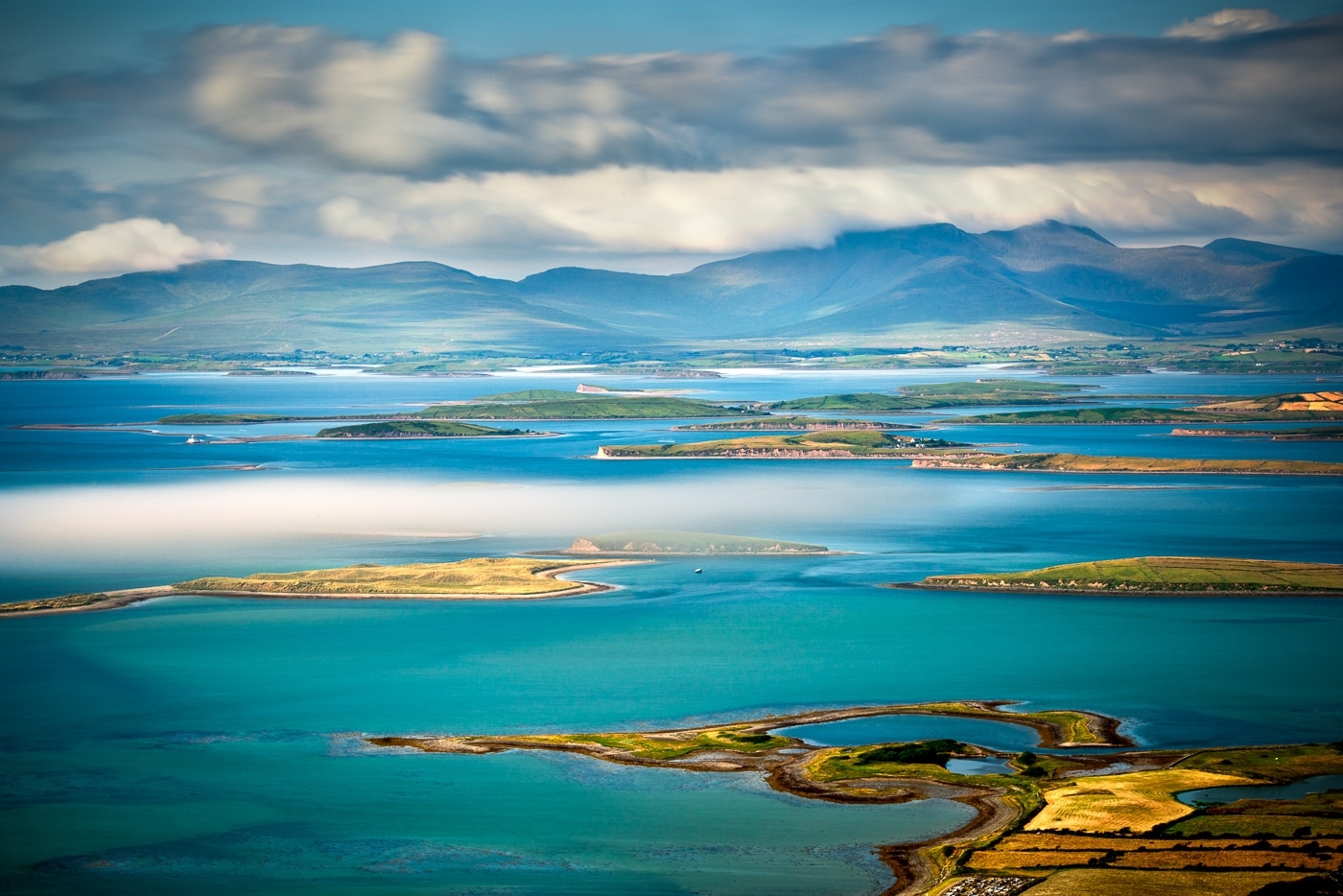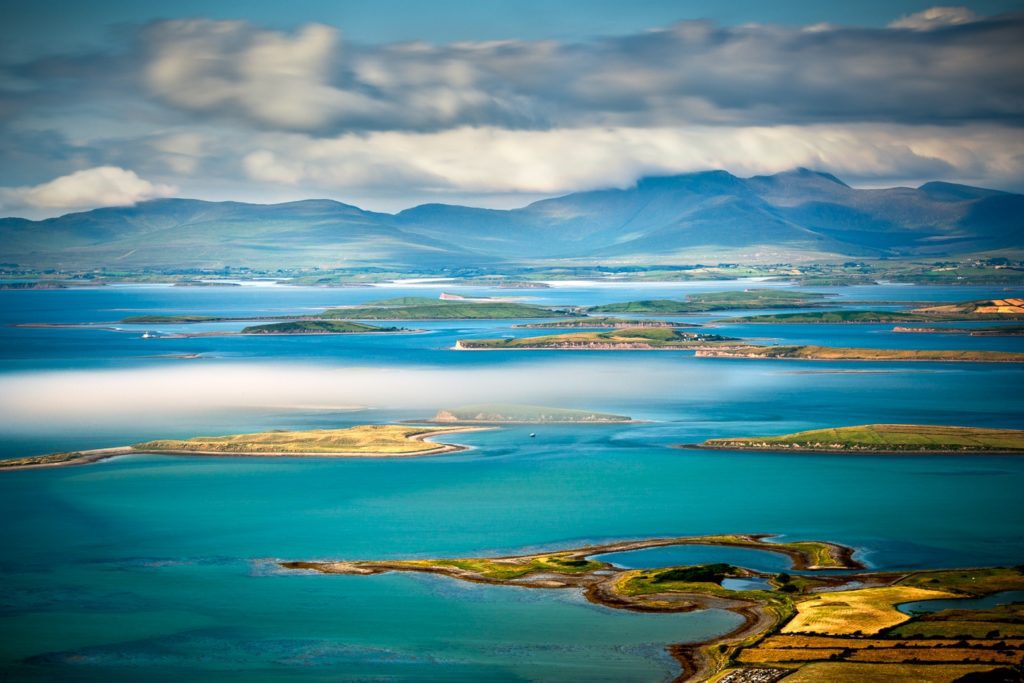 Clew Bay is a uniquely picturesque bay located on the west coast of Ireland, in County Mayo. It is known for its stunning natural beauty, with 100s of islands scattered throughout the bay and a backdrop of rolling hills and Croagh Patrick
Croagh Patrick, Ireland's holy mountain, overlooks Clew Bay and is Ireland's most climbed mountain. It's a steep climb but the reward at the summit will leave you in awe.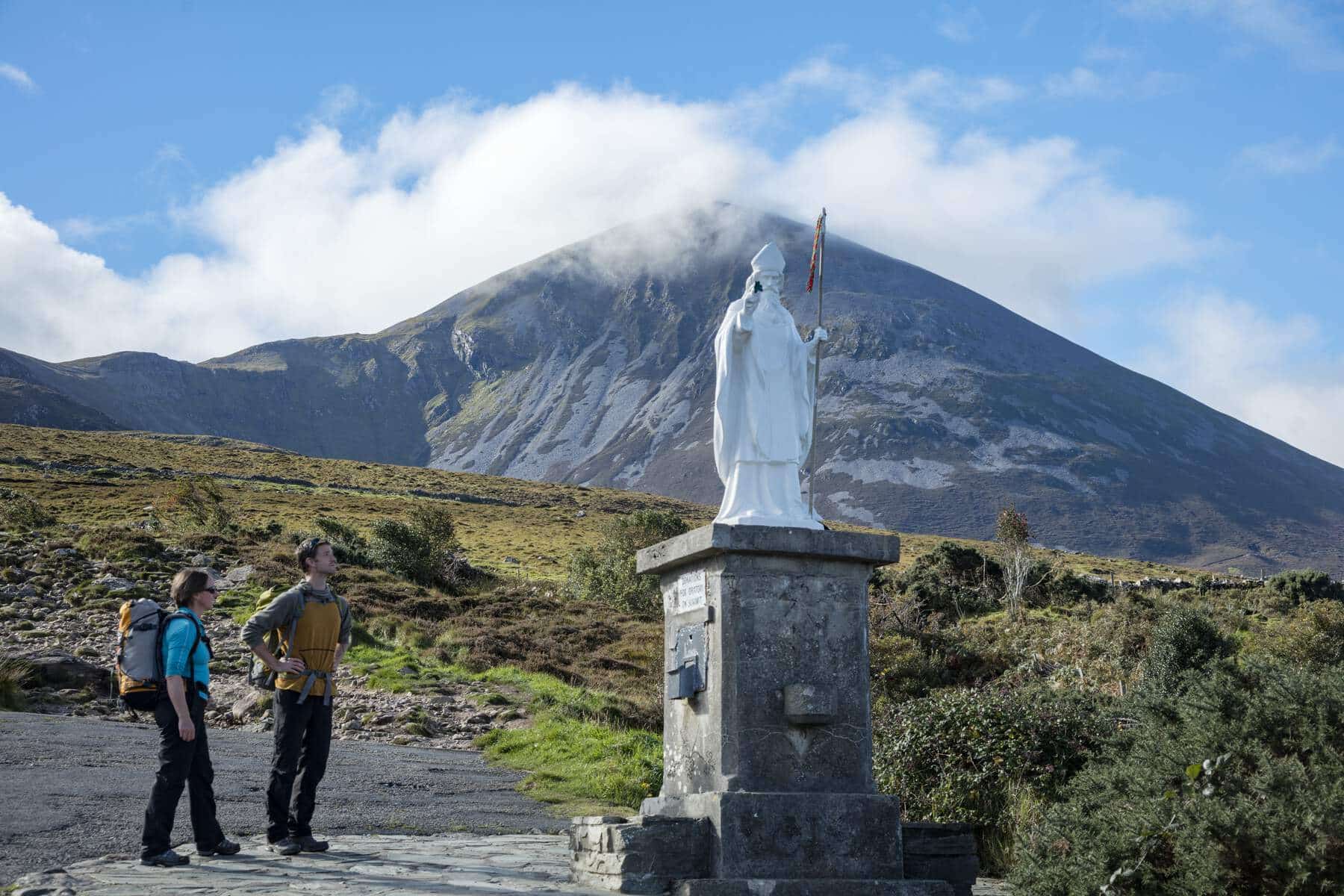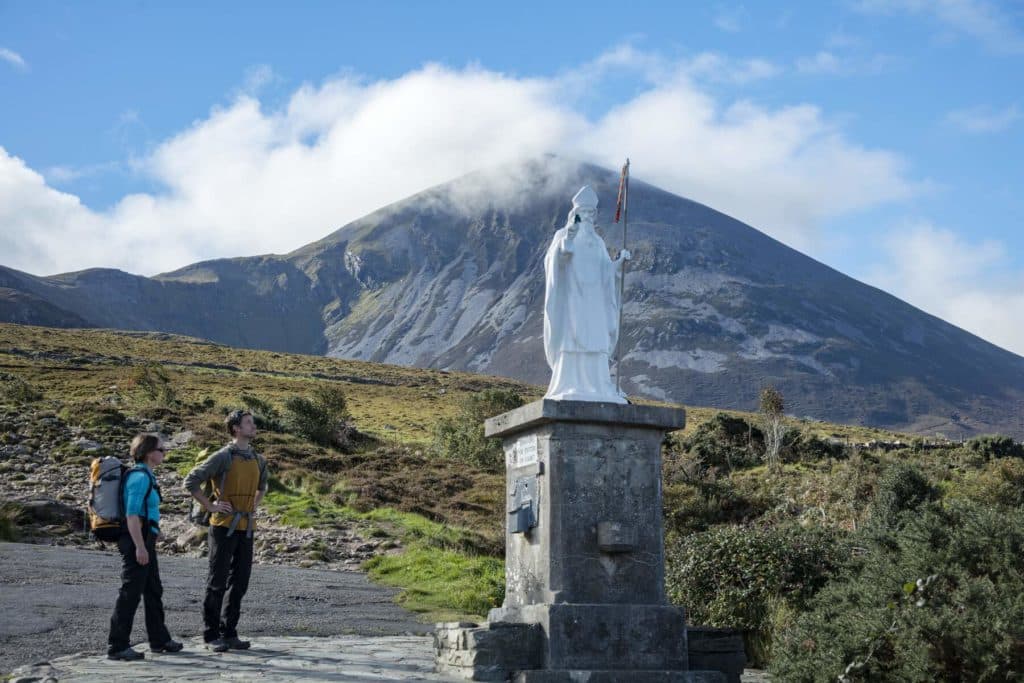 The mountain is famous for its association with Saint Patrick, who is said to have fasted and prayed on its summit for forty days. We have a detailed guide to Croagh Patrick here.
West Cork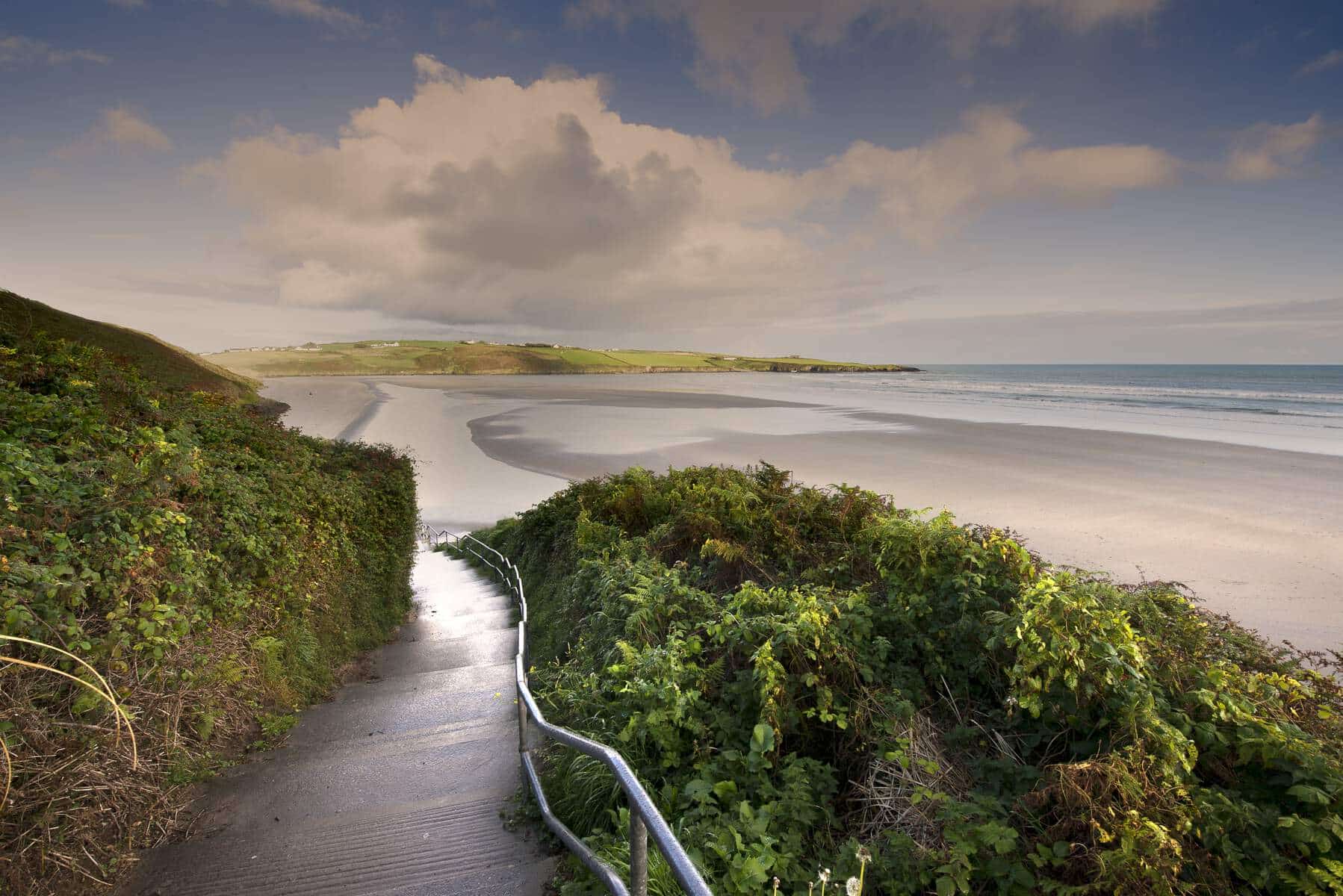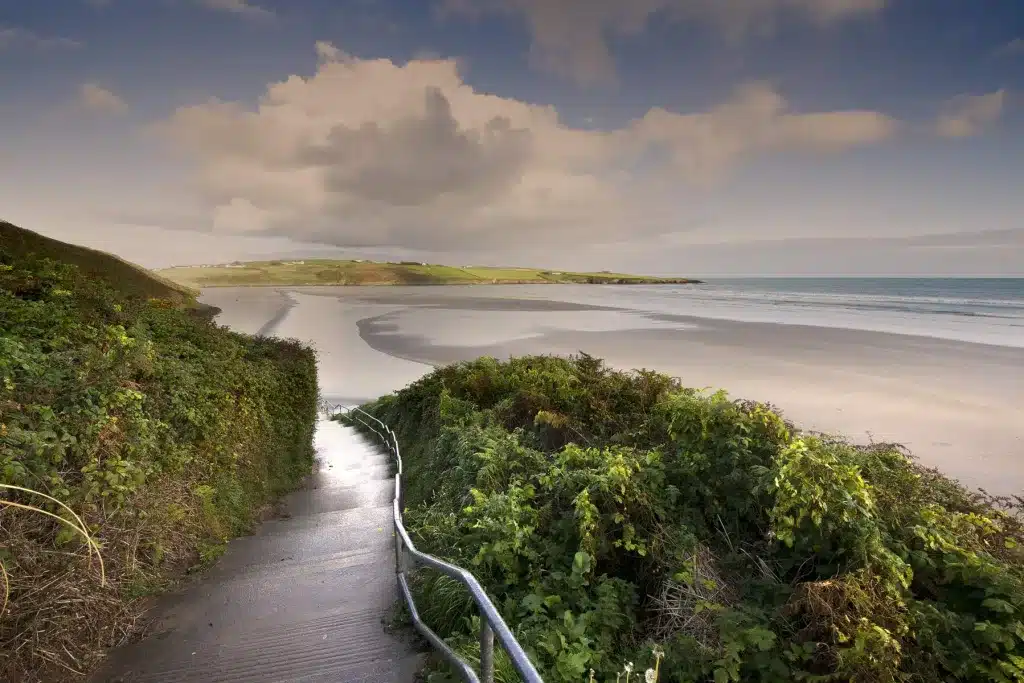 Sometimes overlooked due to its close proximity to the very popular county of Kerry, West Cork offers some phenomenal coastal scenery. This part of Ireland is known for its fertile green pastures and coupled with the drama of the Atlantic, makes for a very special region on the west coast of Ireland.
Here, you will find Ireland's most southerly point, Mizen Head. Irish tradition and language is strong here with the towns of Bantry, Clonakilty and co. offering a brilliant base and a true west of Ireland experience.
The Donegal Coast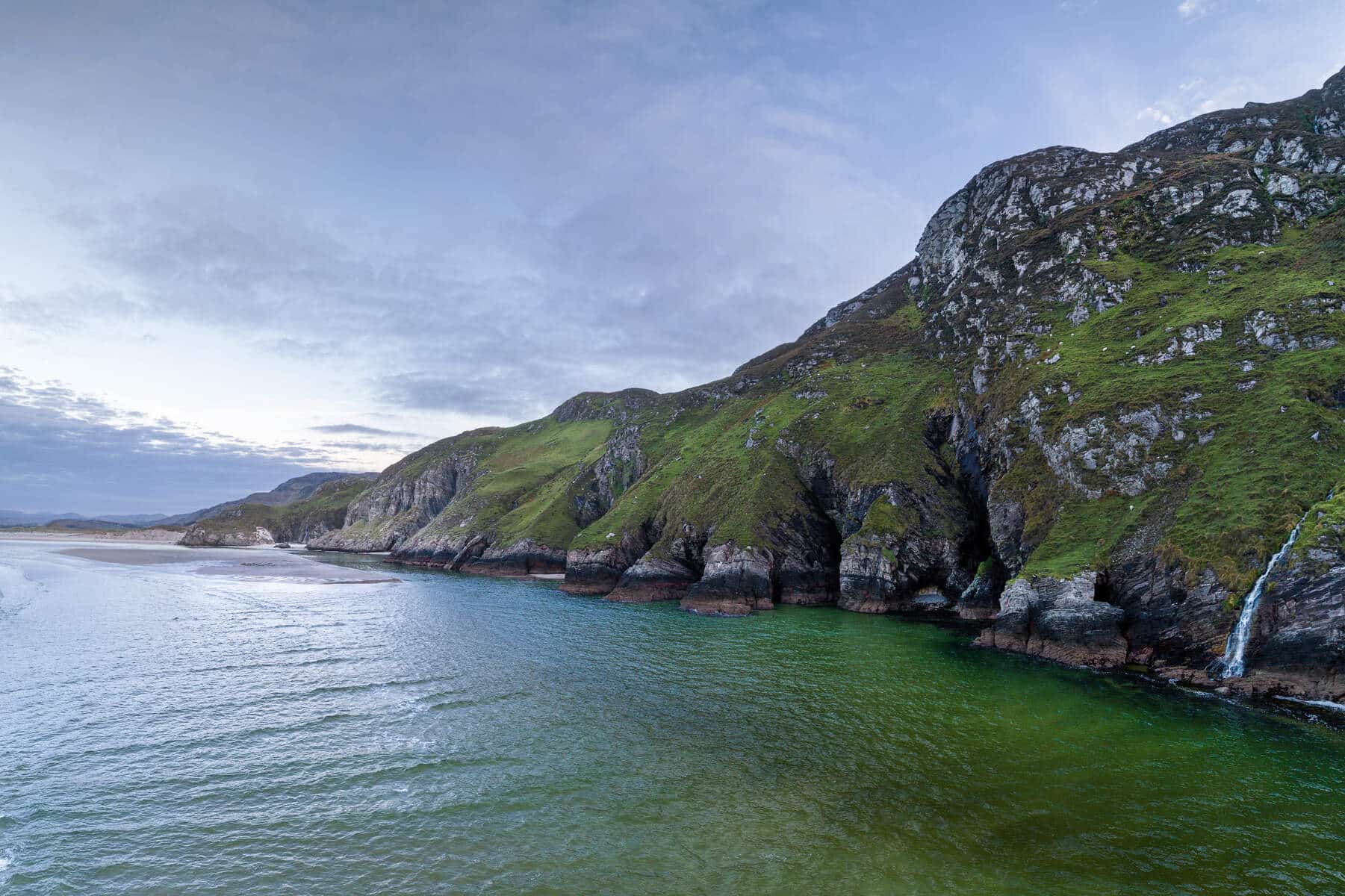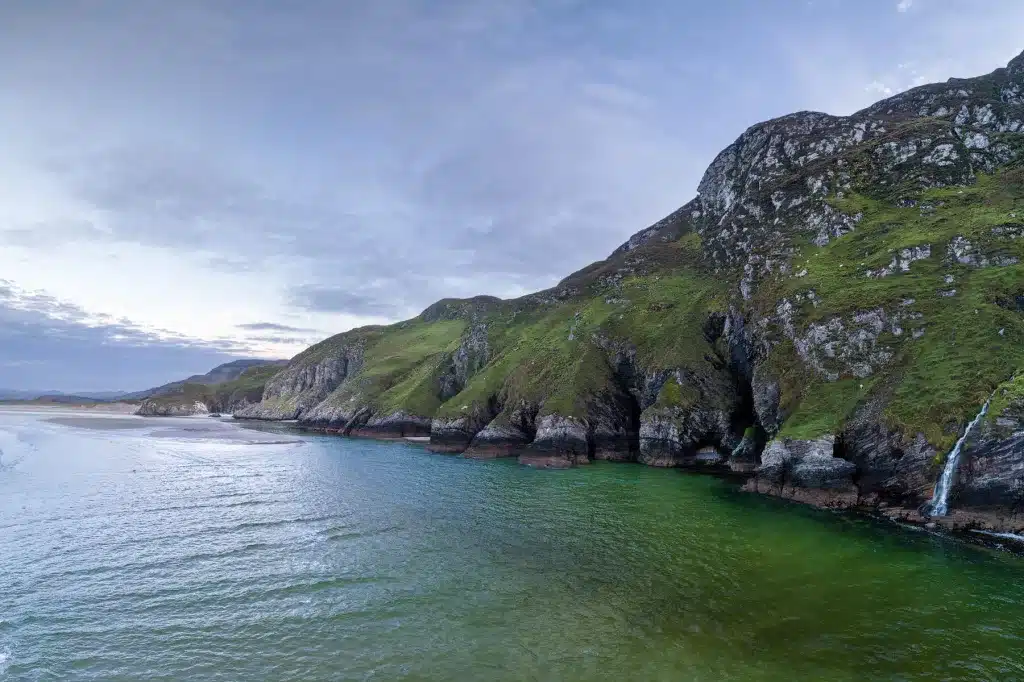 The coast of Donegal, with its fine beaches, soaring cliffs, beautiful bays and headlands must be one of Ireland's true hidden gems.
In no way less beautiful than the far more popular destinations of Kerry or Galway, a trip to the beaches west of Glenties or Gweedore, or indeed the Bluestack or Derryveagh mountains, will leave impressions for a lifetime.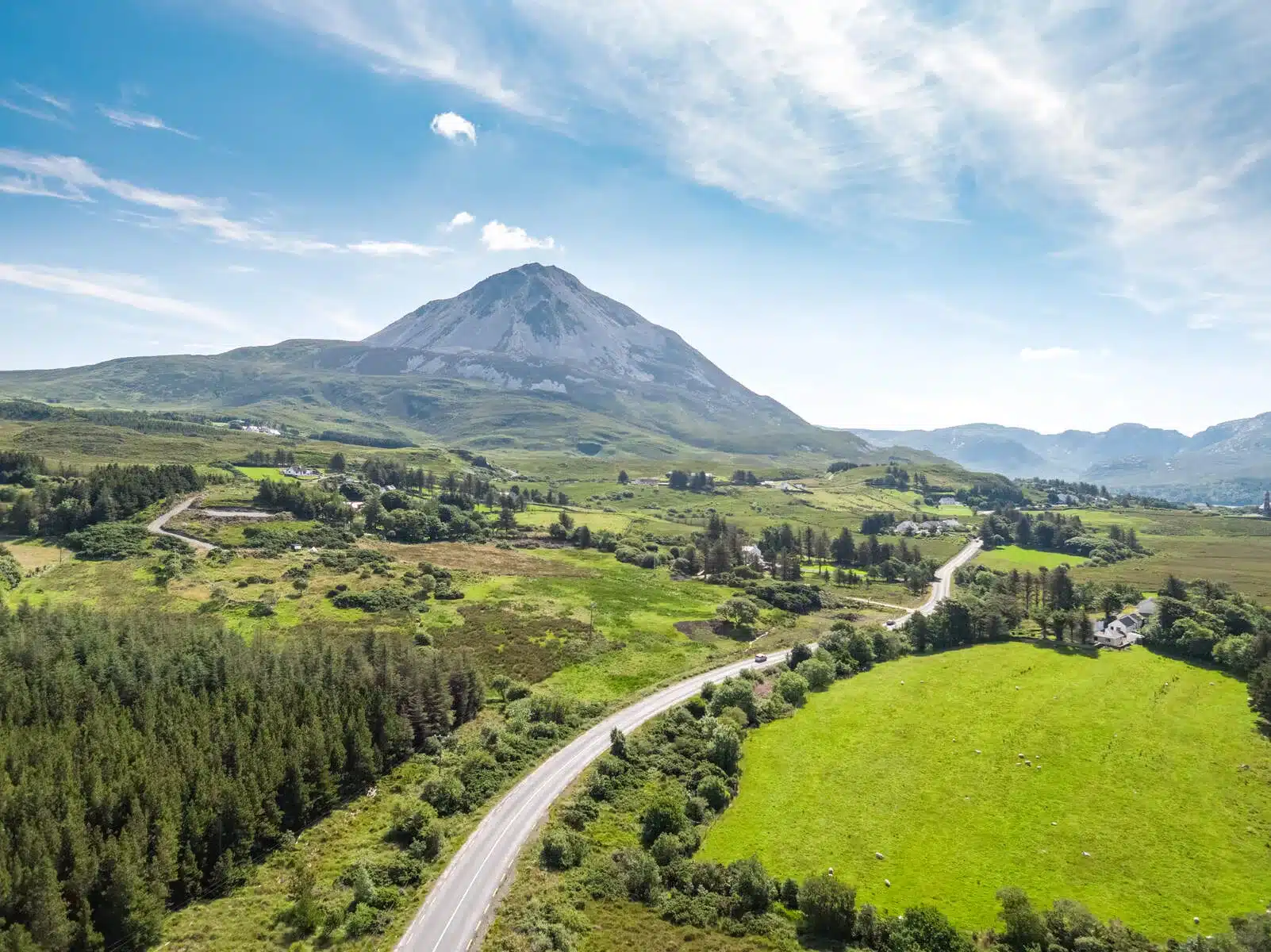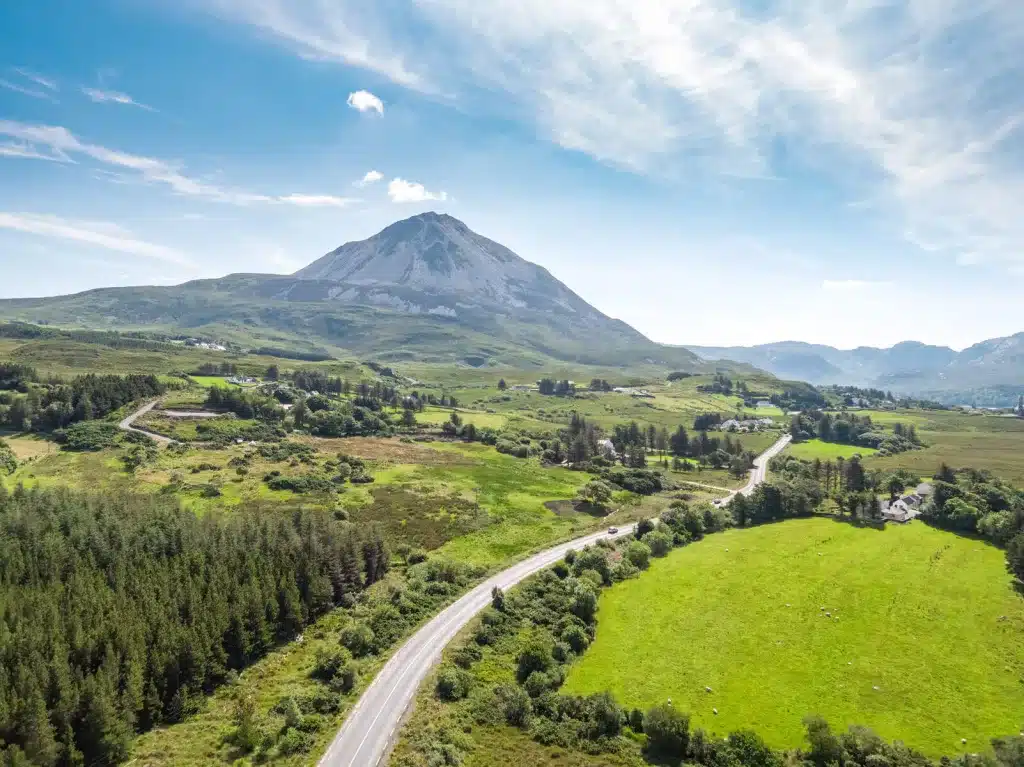 Culture is stong up here too, with the Irish language being heard daily (although with a very strong dialect!) and the county is known for producing some of Ireland's most well-known musicians, with Enya and Clannad springing to mind.
One of Ireland's true hidden gems?
A West of Ireland Roadtrip: The Wild Atlantic Way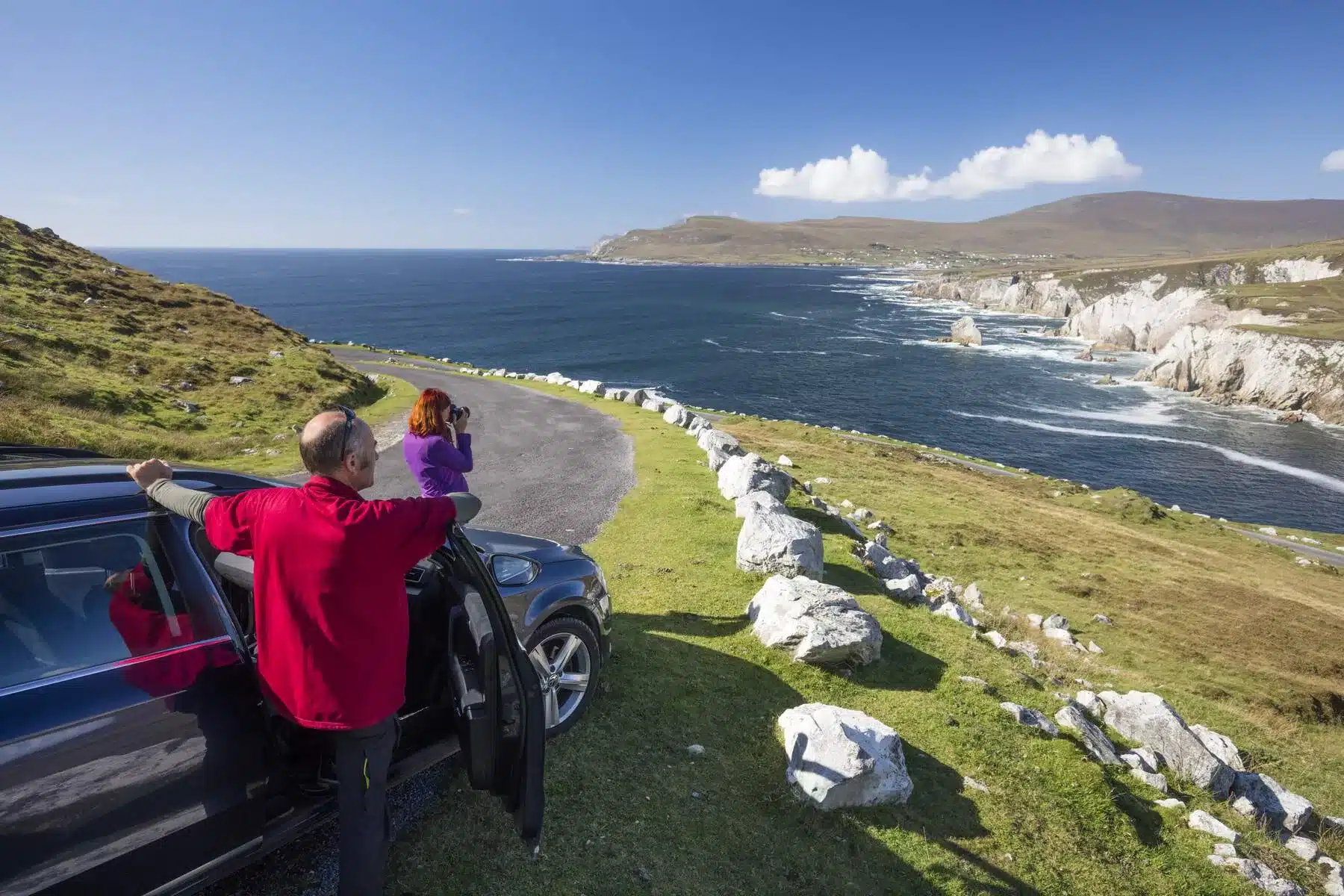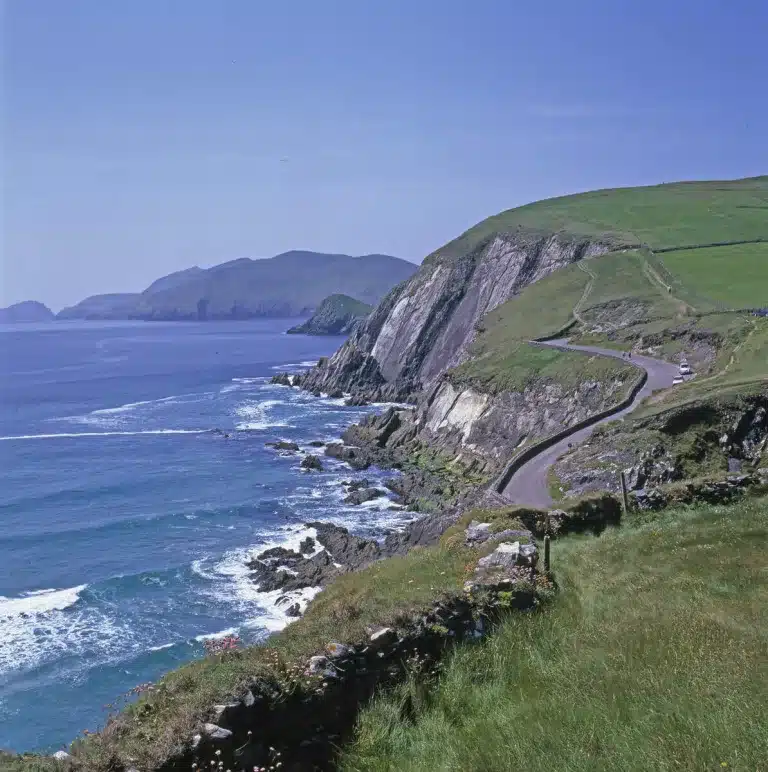 After reading a sample of some of the best places to visit along the West Coast of Ireland, are you starting to feel a little overwhelmed about where to visit?!
Why not take the whole lot in and go on the road trip of a lifetime?
The Wild Atlantic Way is a beautiful and rugged coastal driving route that spans over 2,500 km. It starts on the northern tip of Donegal and ends in County Cork.
Along the way, you'll get to experience all the highlights mentioned above, and so many more landscapes, towns and sights that are impossible to fit into one single article.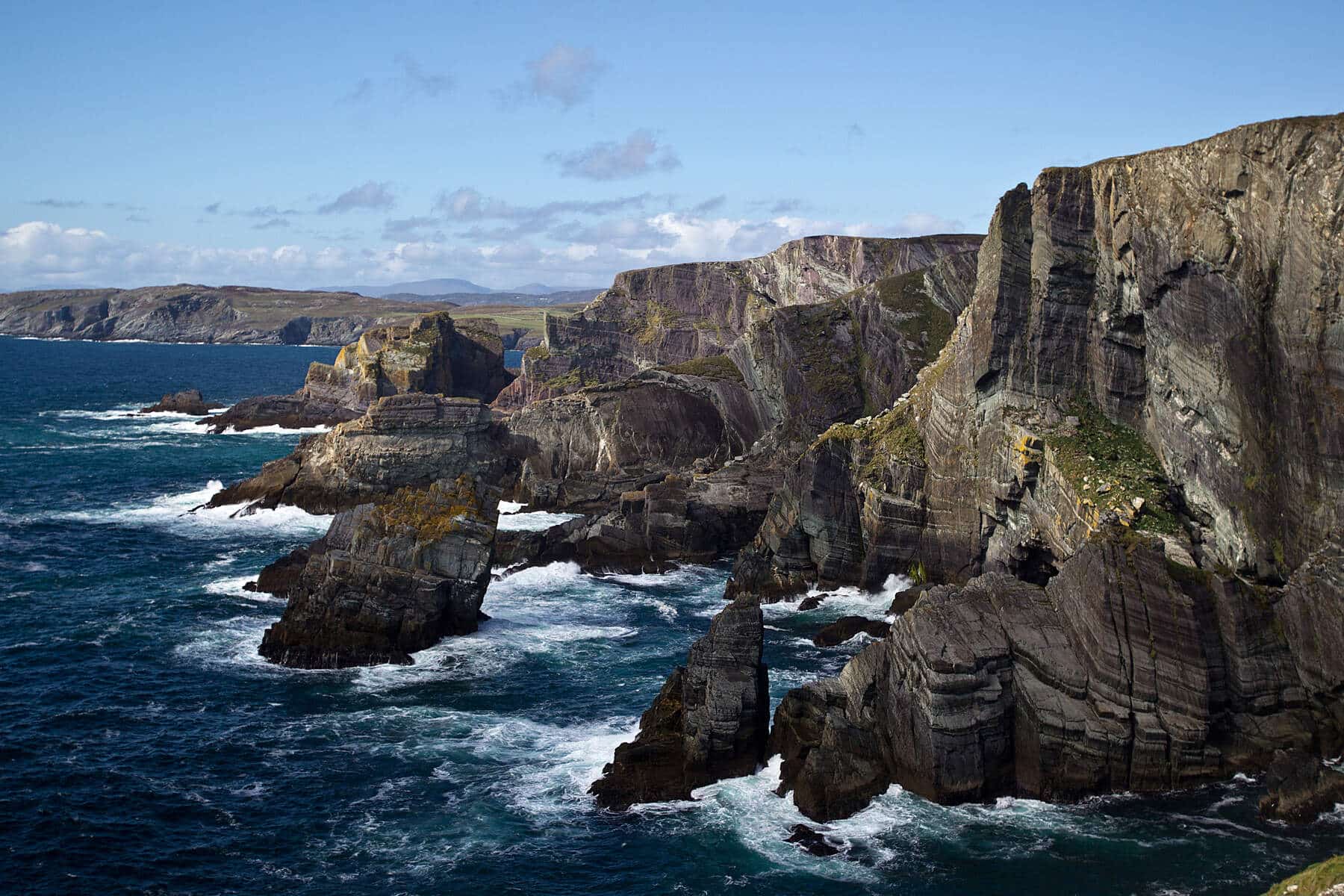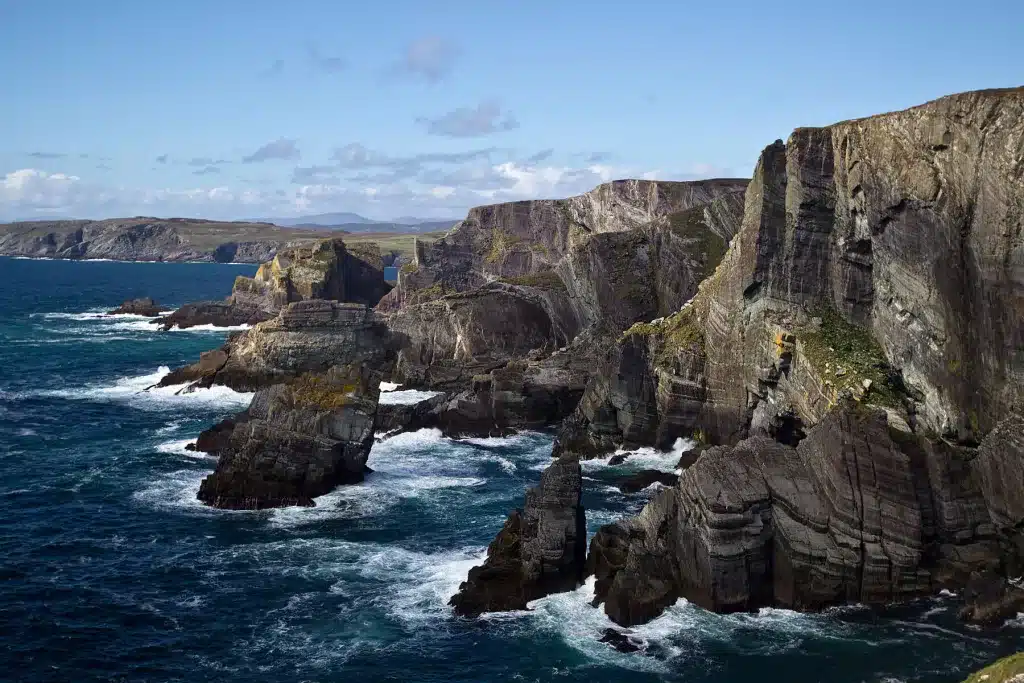 You'll also experience the rich cultural heritage of Ireland's west coast, from traditional music and dance to ancient archaeological sites and Irish-speaking communities.
Due to the sheer scale of this journey, we would recommend taking at least 2 weeks to take it all in, but these 2 weeks will leave memories and impressions you won't be forgetting in a hurry.
Islands off the West Coast of Ireland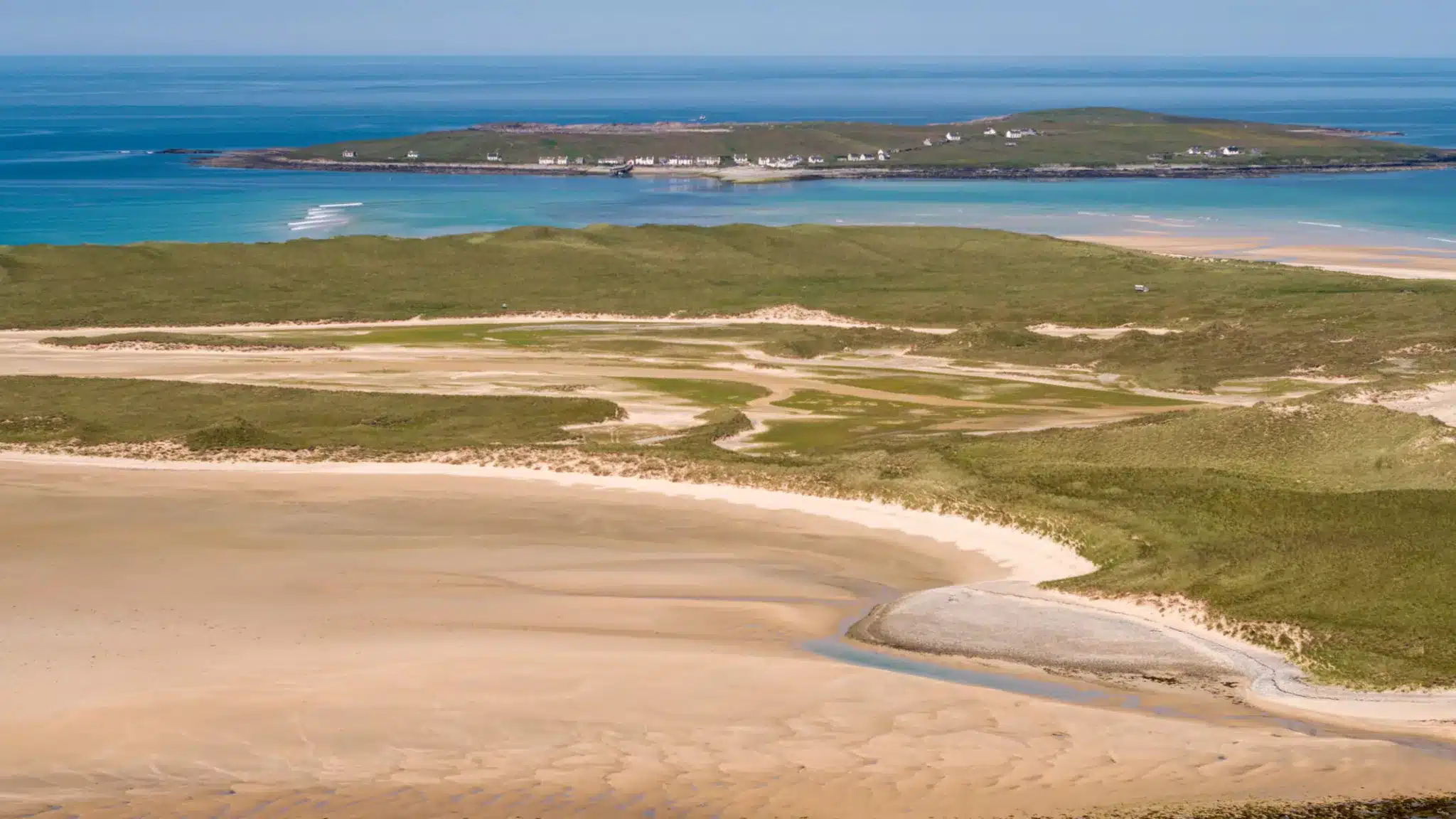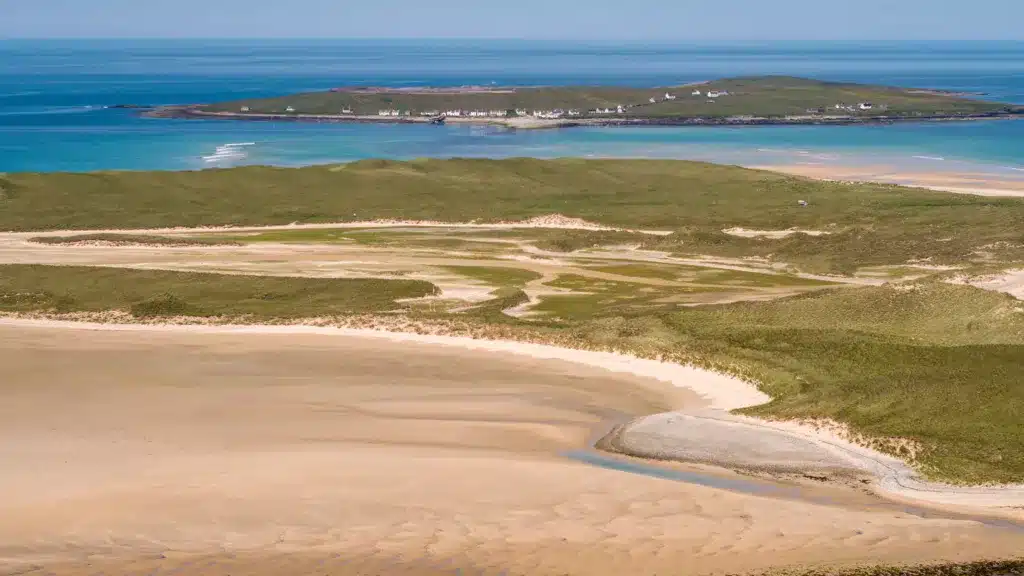 As cultrally rich as the western shores of Ireland are, taking a trip to one of the offshore islands offers even further immersion into the old Irish way of life.
Starting from the county of Donegal and working our way south, here is a list of islands you can visit by boat or car (via bridge)
Donegal
Arranmore
Tory
Cruit
Gola
Owey
Inishbofin
Sligo
Mayo
Inishturk
Clare
Inishbiggle
Inishkea
Caher
Collanmore
Achillbegg
Galway
Inishmore
Inishmaan
Inisheer
Omey
Inishbofin
Clare
Kerry
Skellig Michael
Blasket
Valentia
Abbey Island (reachable by foot)
Cork
Sherkin
Cape Clear
Bere
Garnish
Dursey
Spike
Whiddy
Long
Heir
Many of the above islands feel like their are stuck in their own time zone, adhering to a different pace of life we may all be used to. You'll hear Irish still spoken and the old traditions still being carried out.
A day (or longer) on an offshore Irish island is a must on your visit to the west coast of Ireland.
We have the best of these islands covered in detail here.
Best Beaches on the West Coast of Ireland
In all honesty, I could go on all day listing the best beaches along the west coast of Ireland, but here are a few of our very favourites:
Inchydoney Beach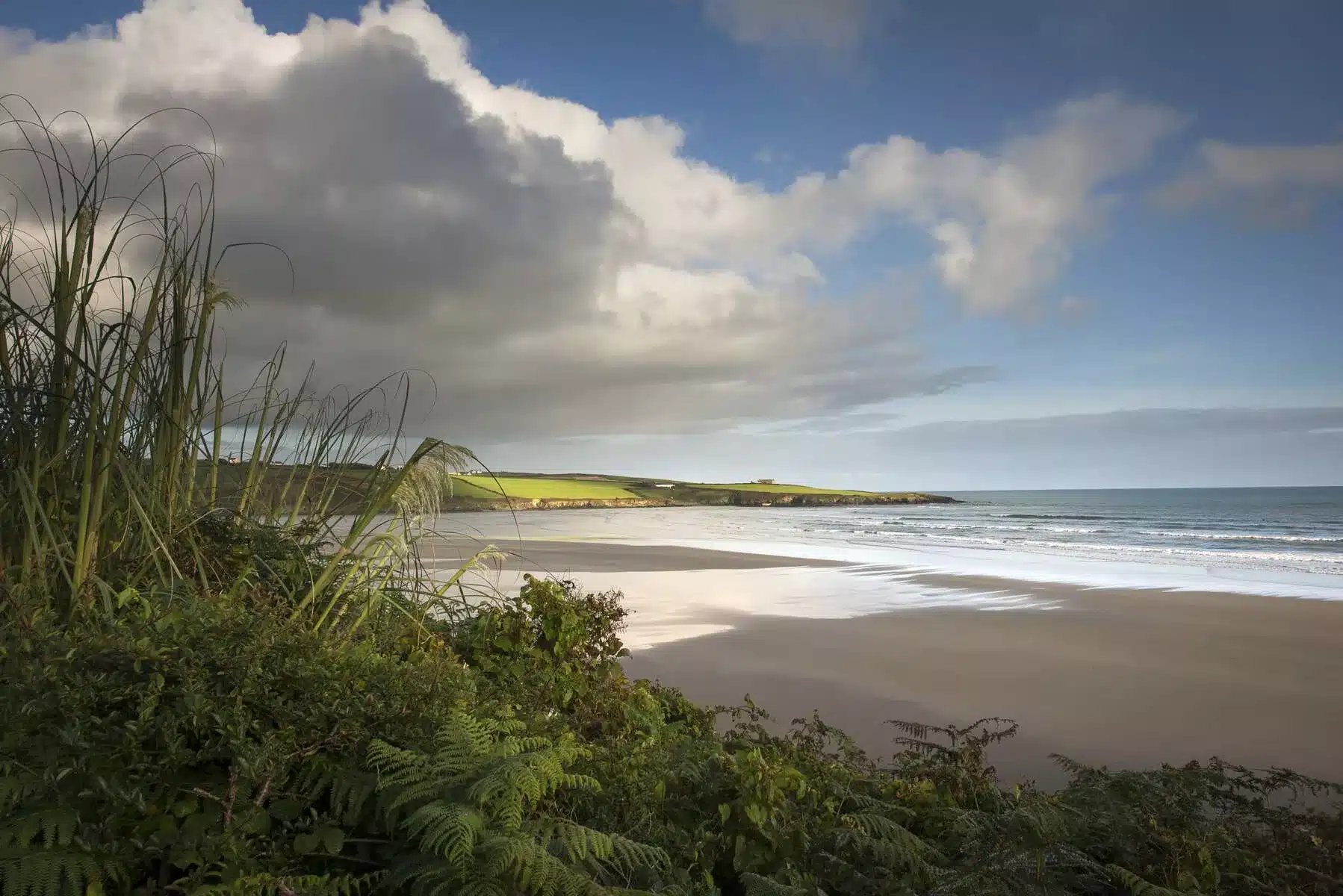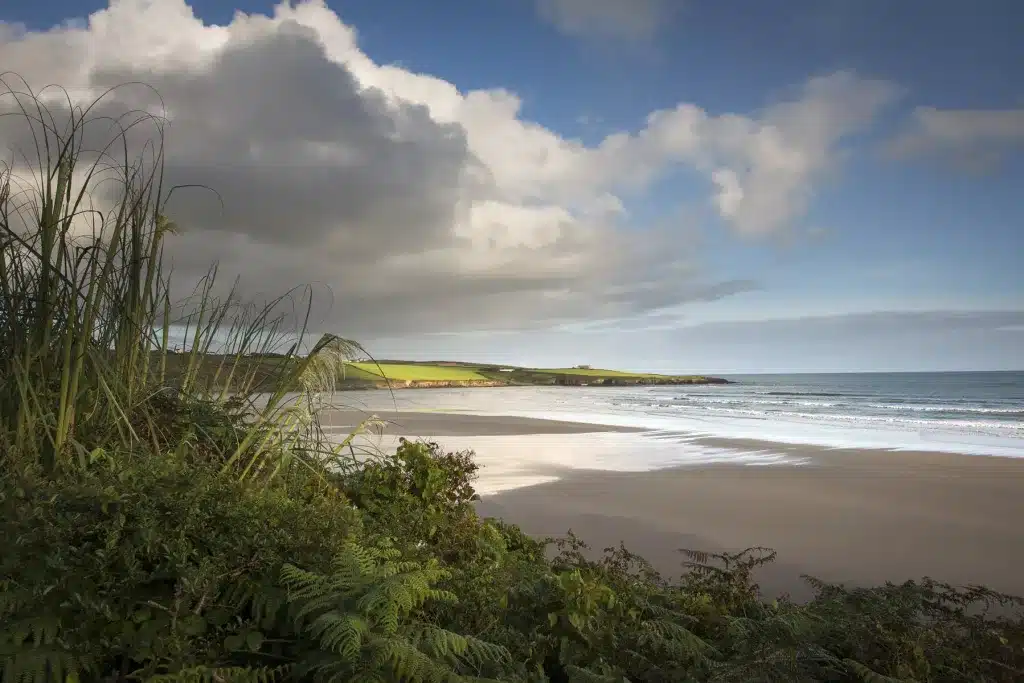 Located near Clonakilty, County Cork, Inchydoney Beach is a long and sandy beach that is perfect for swimming and surfing. On a fine summer's day, you'll be amazed with the almost turquoise waters in contrast to the beautiful surrounding green hills and pastures.
Lahinch Beach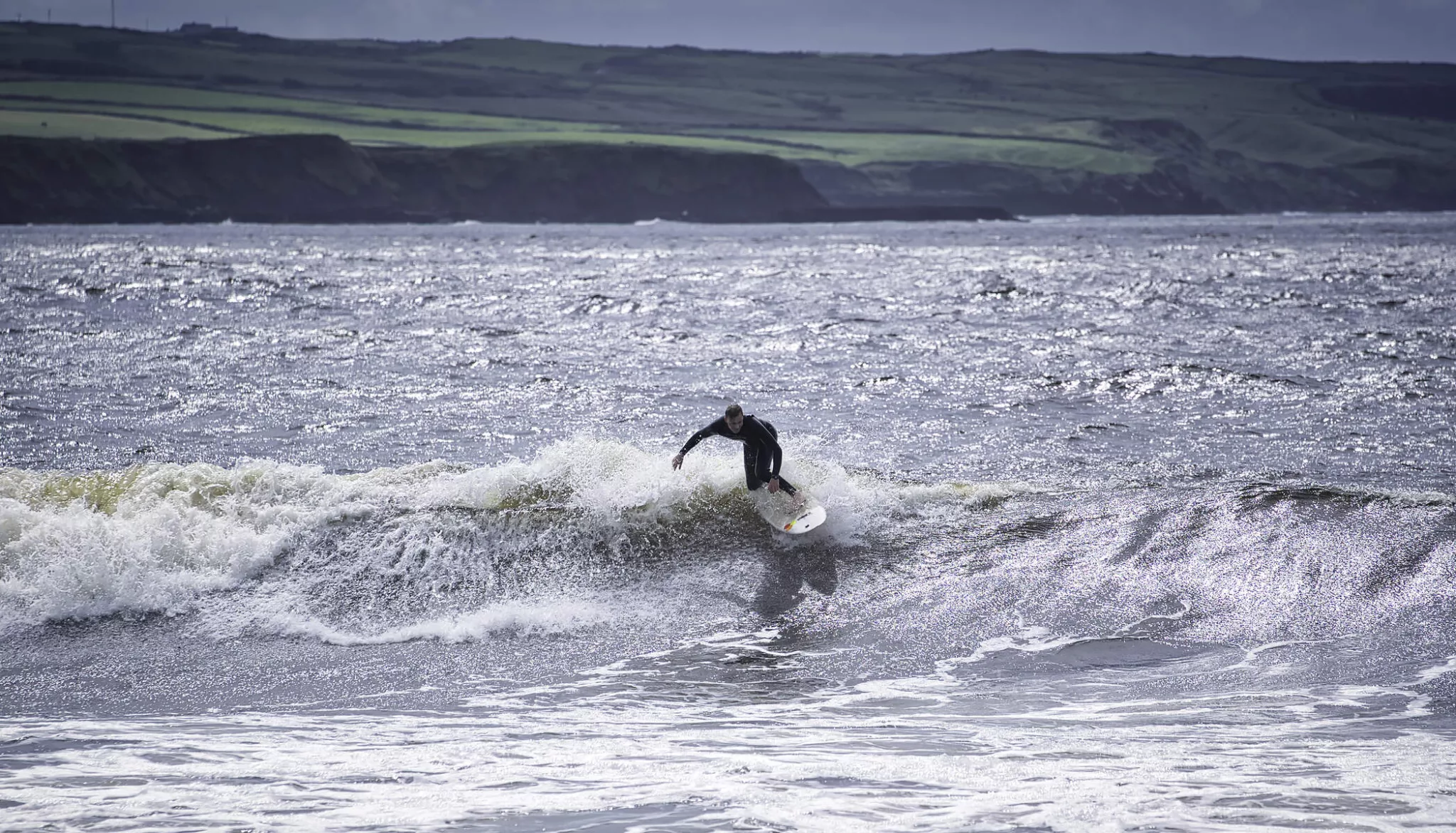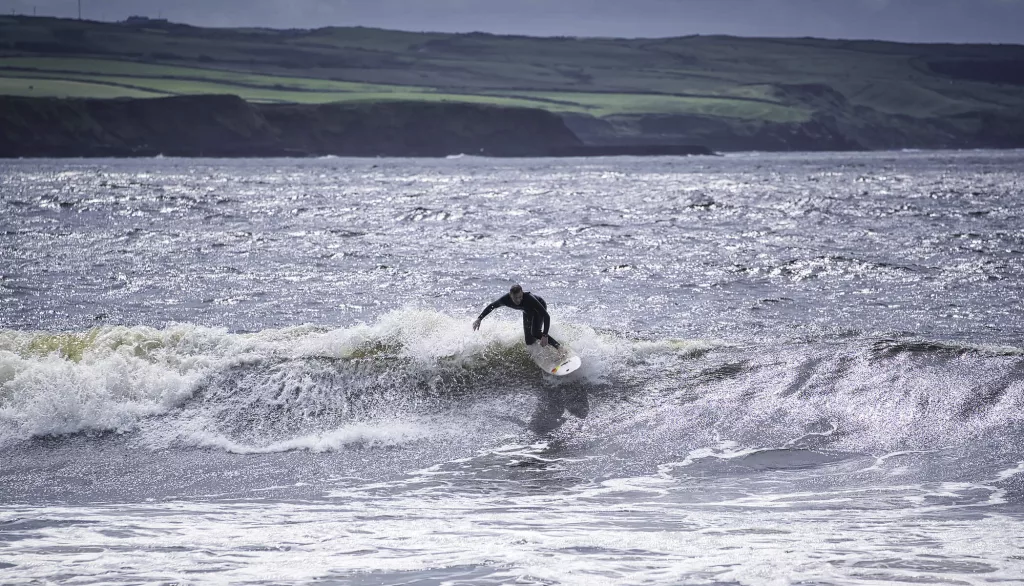 Lahinch Beach is situated in County Clare and is a well-known spot for surfing. This beach has great waves for beginner and experienced surfers alike.
Keem Beach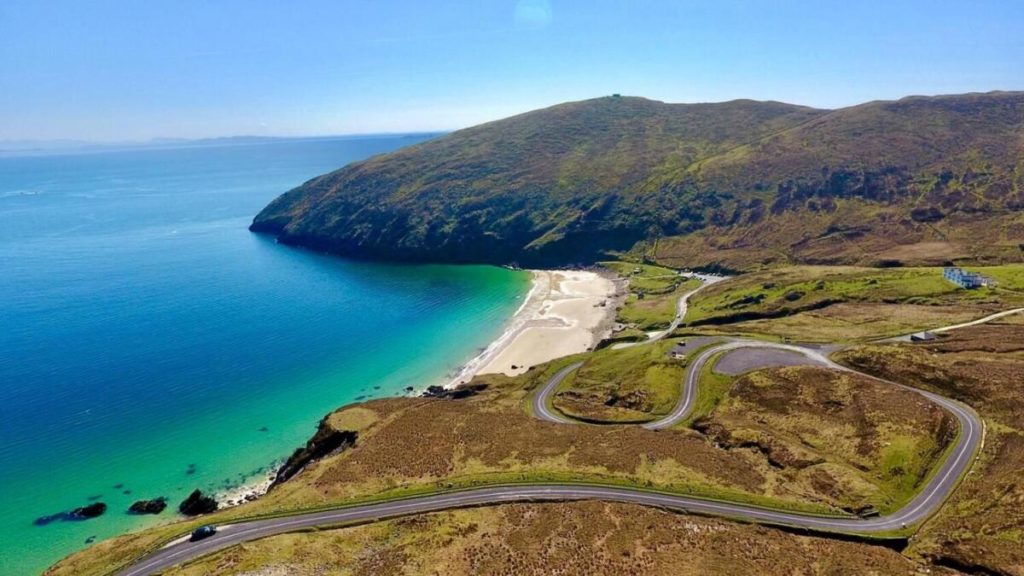 Keem Beach is situated on Achill Island, County Mayo, and is known for its crystal-clear water and white sand. It is surrounded by enourmous cliffs and offers unrivaled marine life, such as basking sharks and dolphins.
We have a full guide to Keem here.
Keel Beach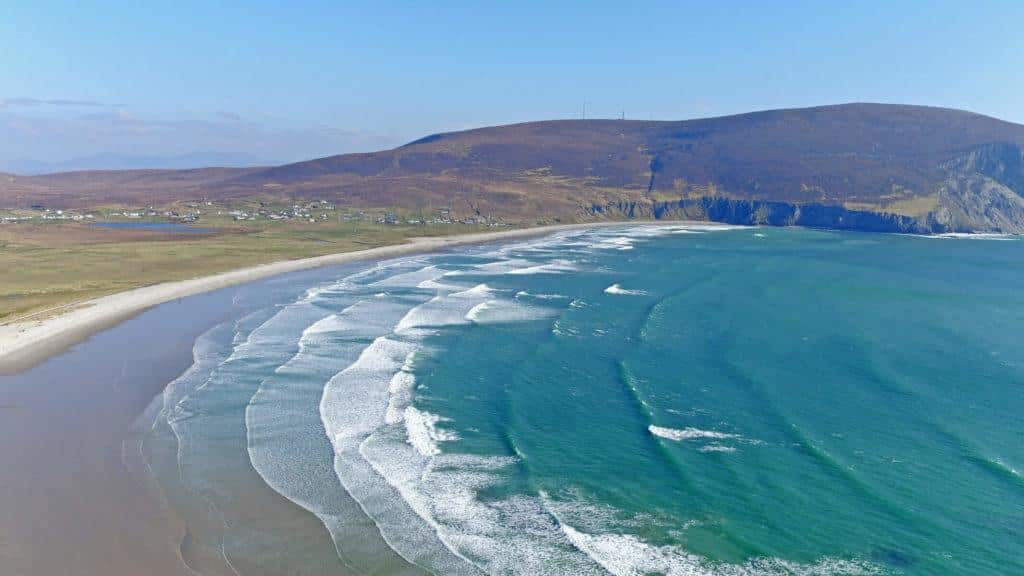 Located once again on amazing Achill Island, this long sandy beach is located under some enormous cliffs, and offers fantastic panoramic views of the Atlantic, as well as being a mecca for watersports enthusiasts.
We have a full guide to Keel here.
Silver Strand (Mayo)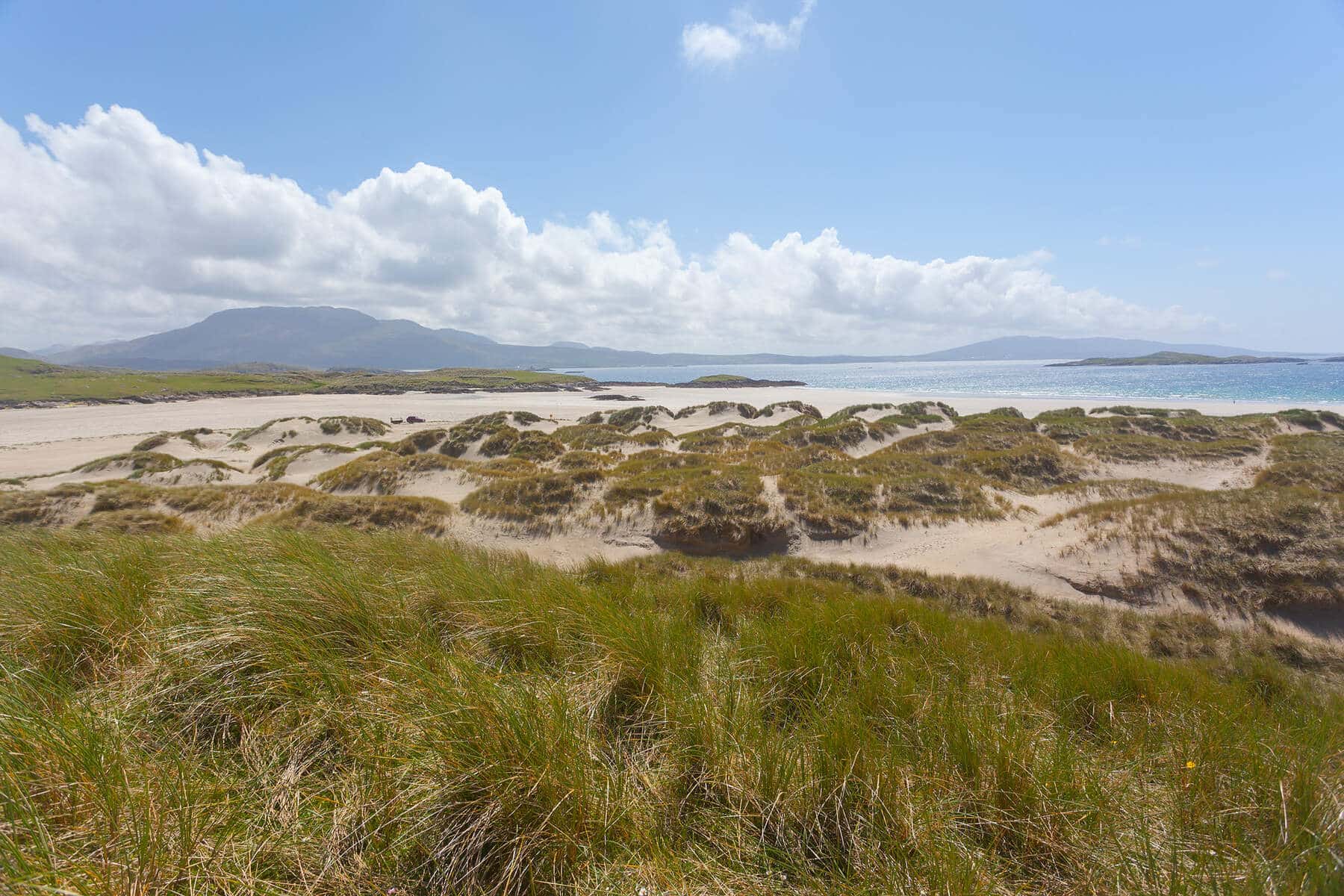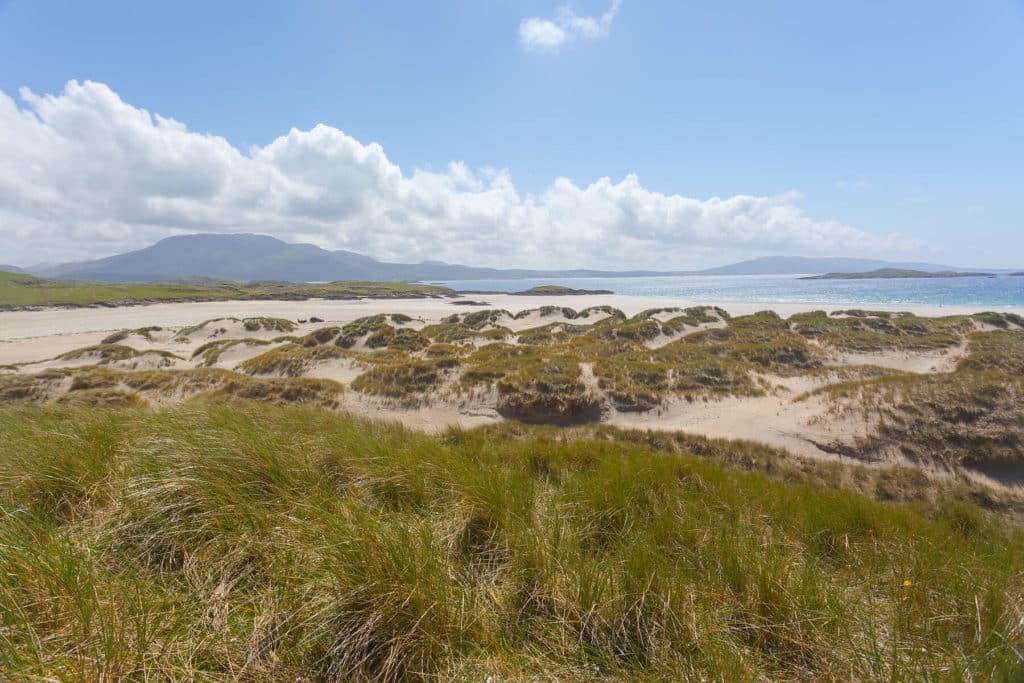 Silver Strand is located in south County Mayo, at the mouth of Ireland's only fjord, Killary. In a very remote location, this beach is wide and expansive, beautifully nestled under Connacht's highest peak, Mweelrea.
Have a look at our 15 best beaches in Mayo here.
Coumeenoole Beach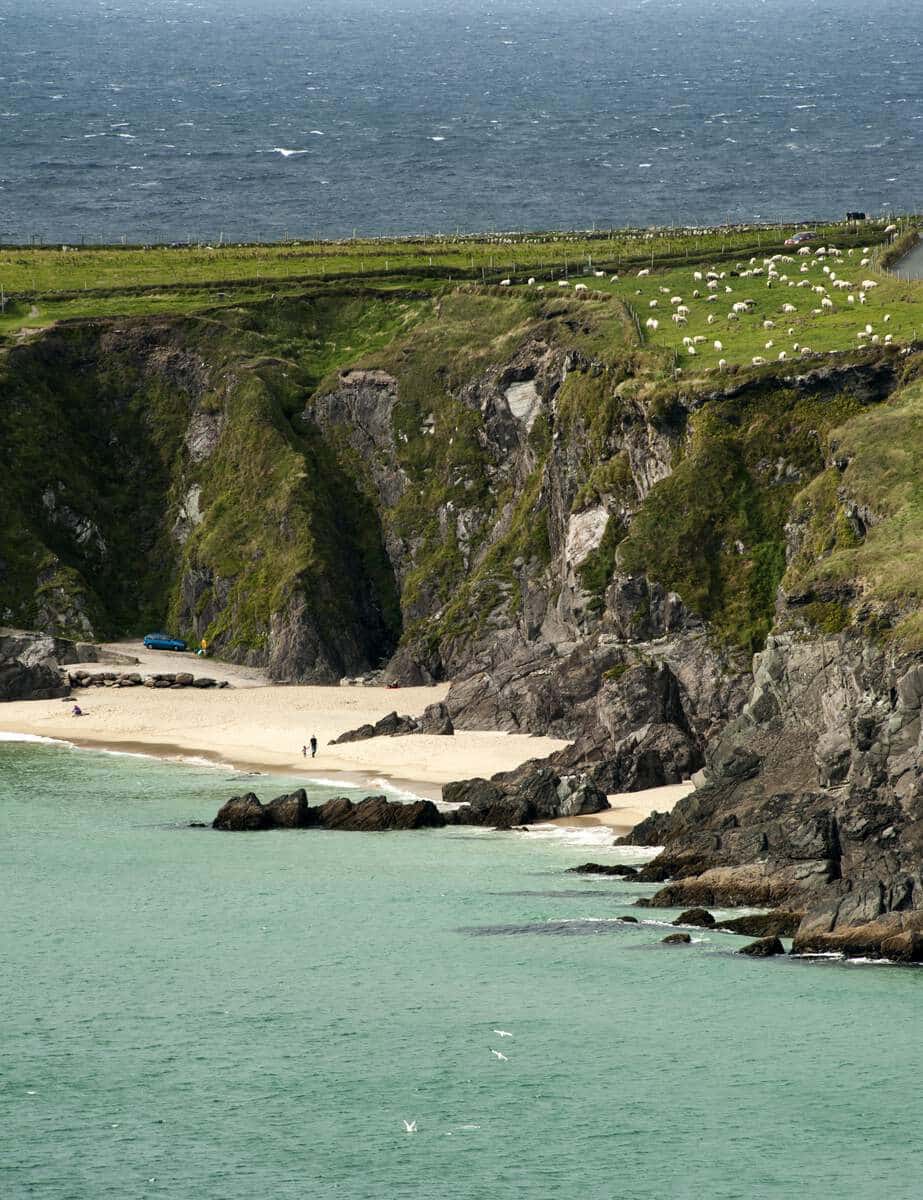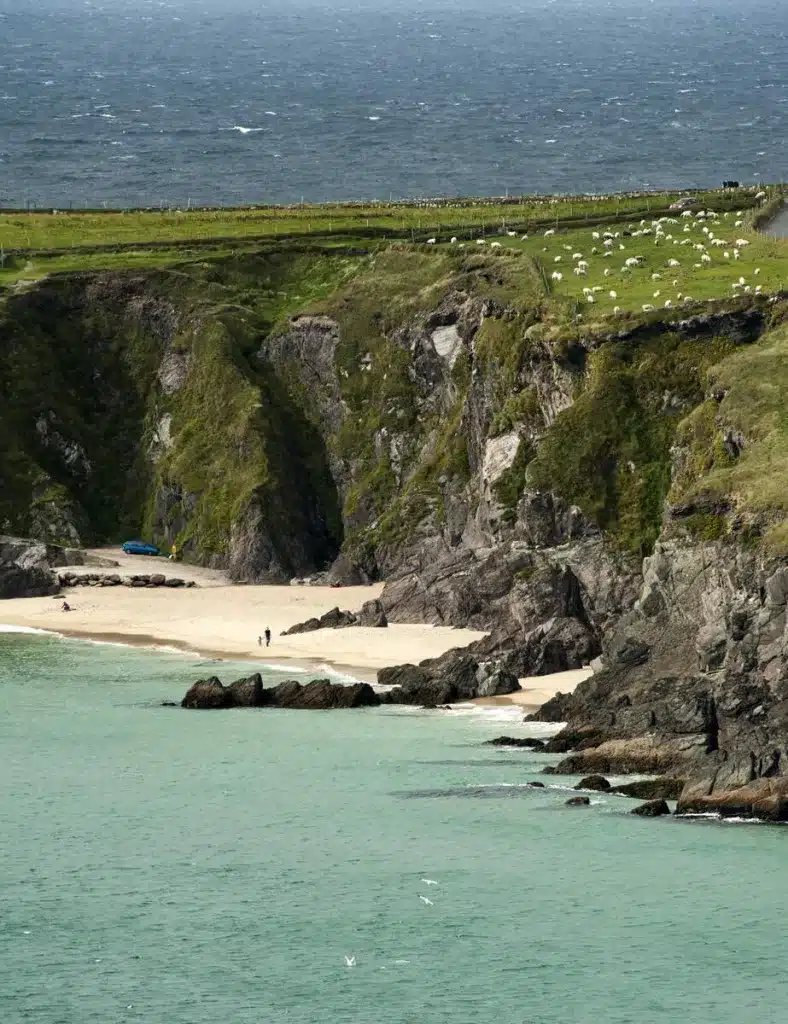 Located on the Dingle Peninsula, County Kerry, Coumeenoole Beach is a wild storm beach that offers breathtaking views of the rugged coastline. The beach is not ideal for swimming, but it's perfect for taking in the surrounding views of Slea Head.
Barleycove Beach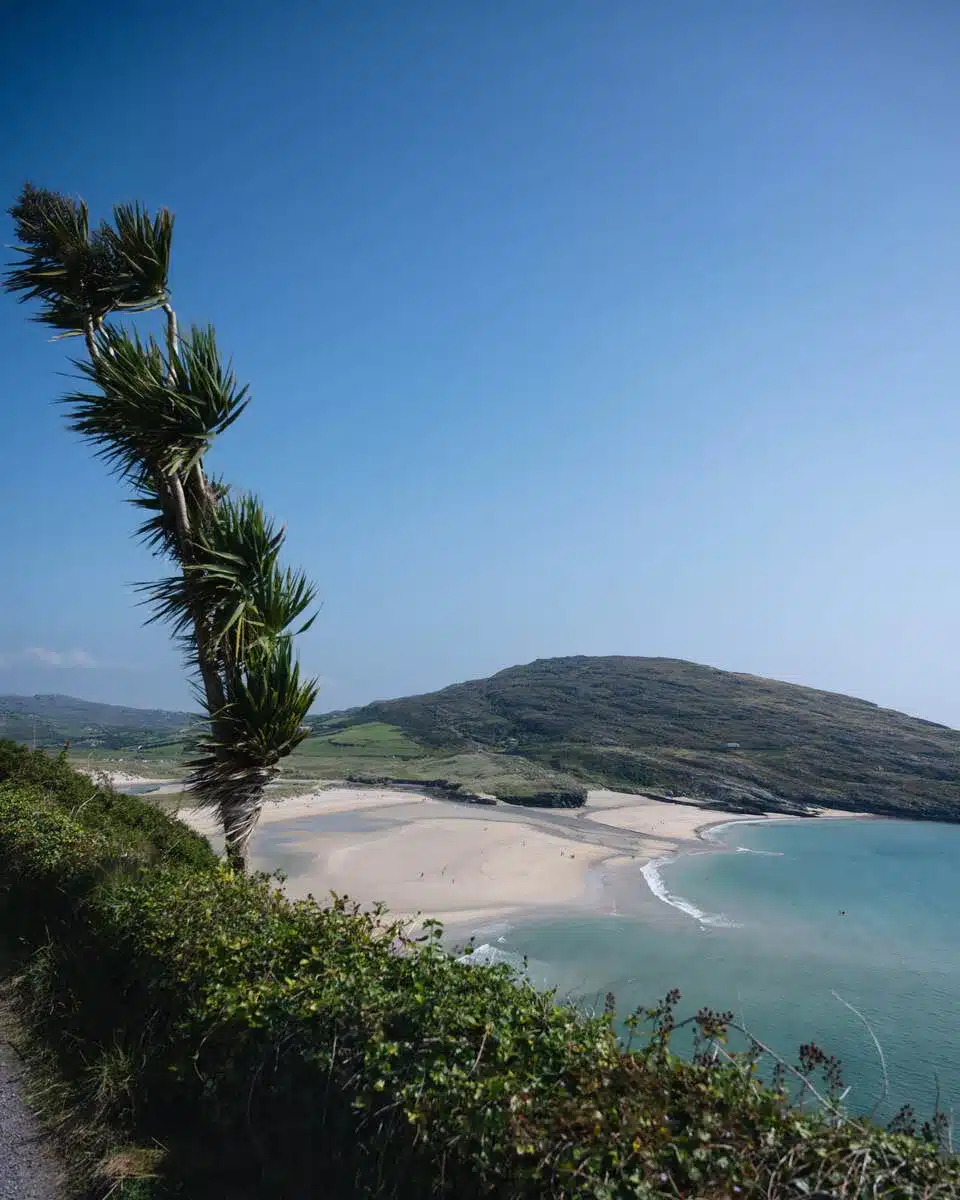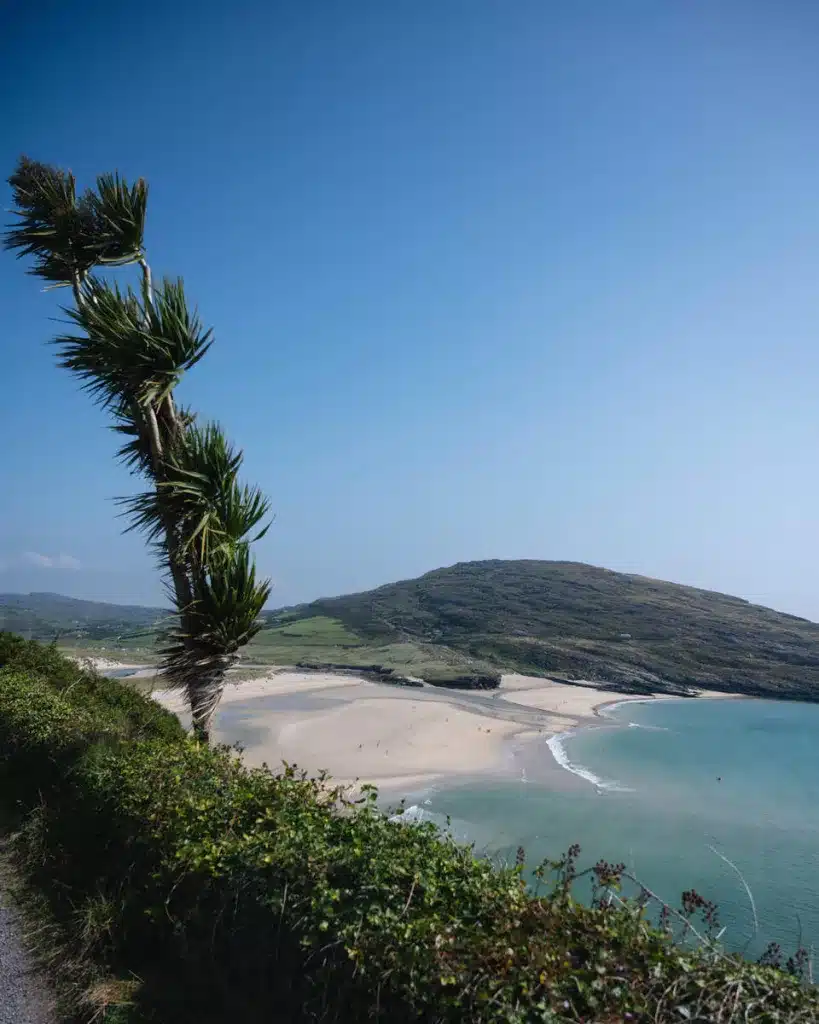 Barleycove Beach is located in County Cork and is a popular spot for families. The beach is wide and sandy, and it offers plenty of space for kids to play. The water is shallow, making it safe for swimming.
Dogs Bay/Gurteen Beaches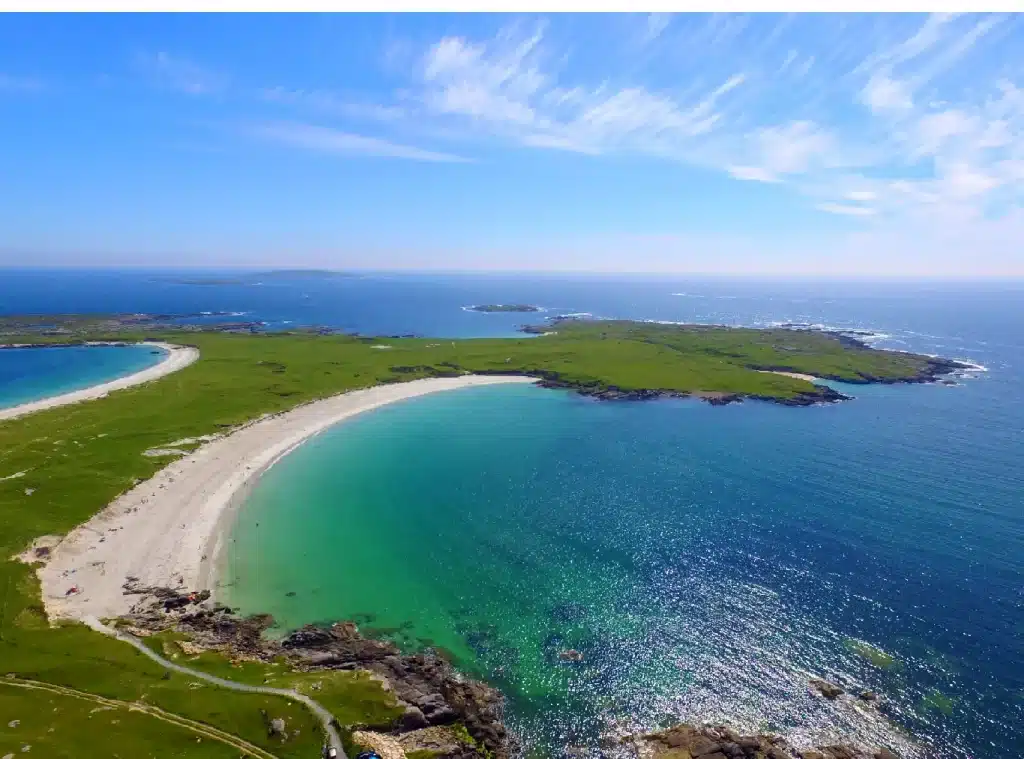 Dogs Bay Beach is a stunning horseshoe-shaped beach located in Connemara, County Galway, Ireland. This beach is known for its incredibly white sand and its nearby sister beach, Gurteen, which is equally as impressive.
Glassilaun Beach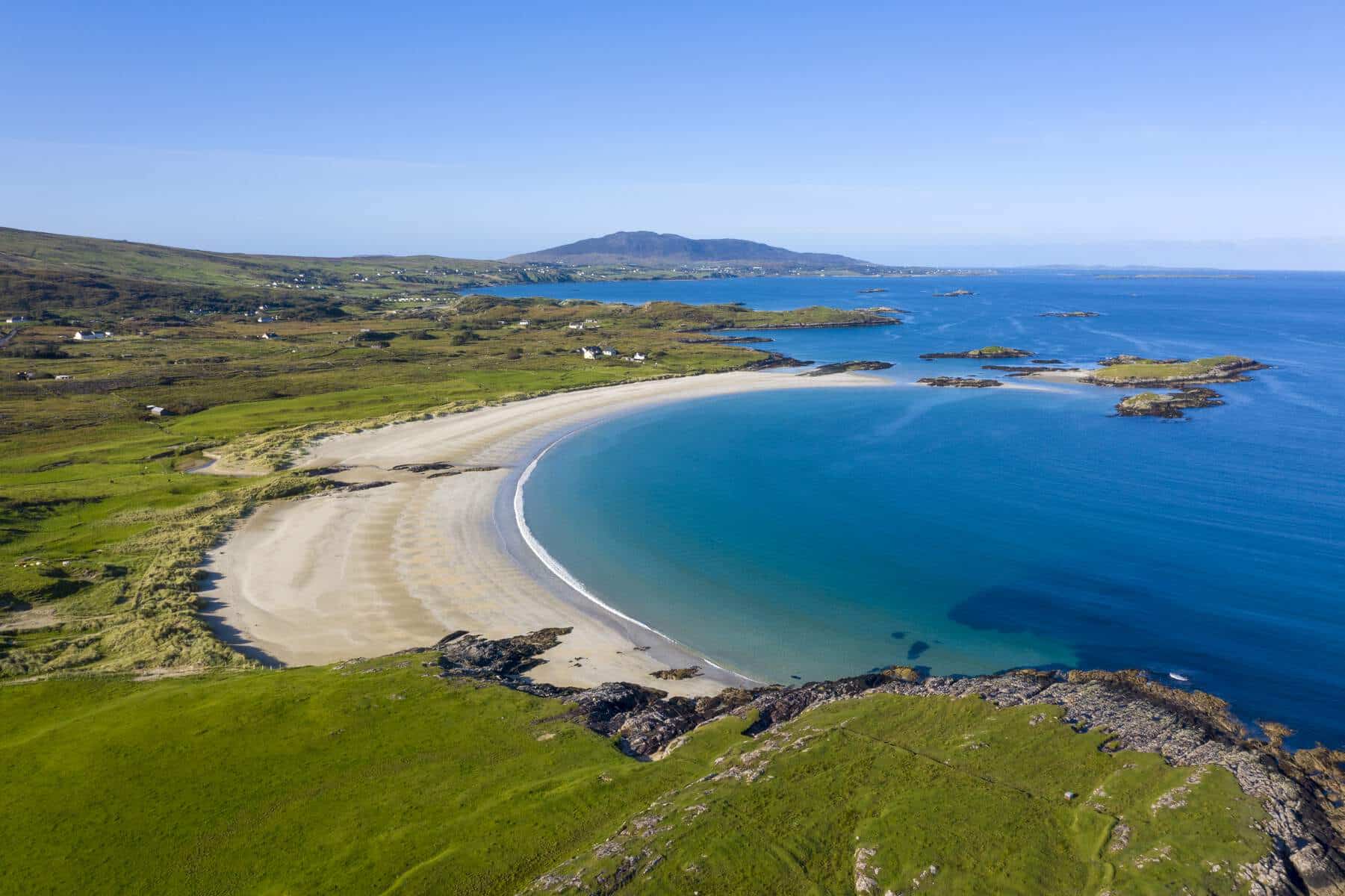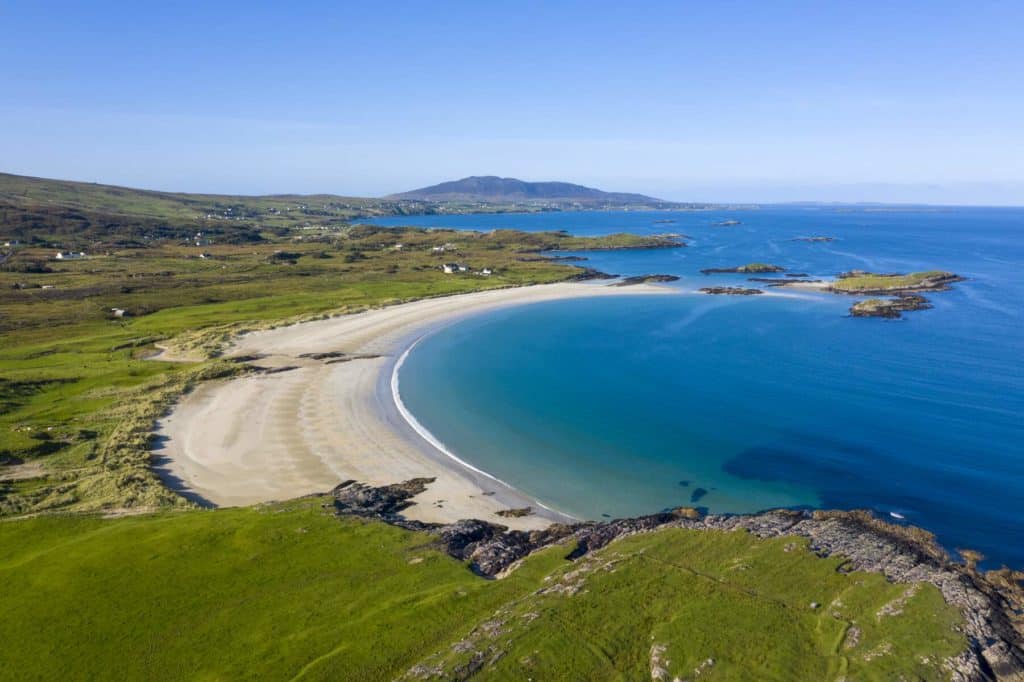 Located in spectacular Connemara, this beautiful stretch of sand is a feast for the eyes. Its white sand and surrounding greenery epitomises everything that is wonderful about the west coast of Ireland.
We have a full guide to Glassilaun here.
Rossbeigh Beach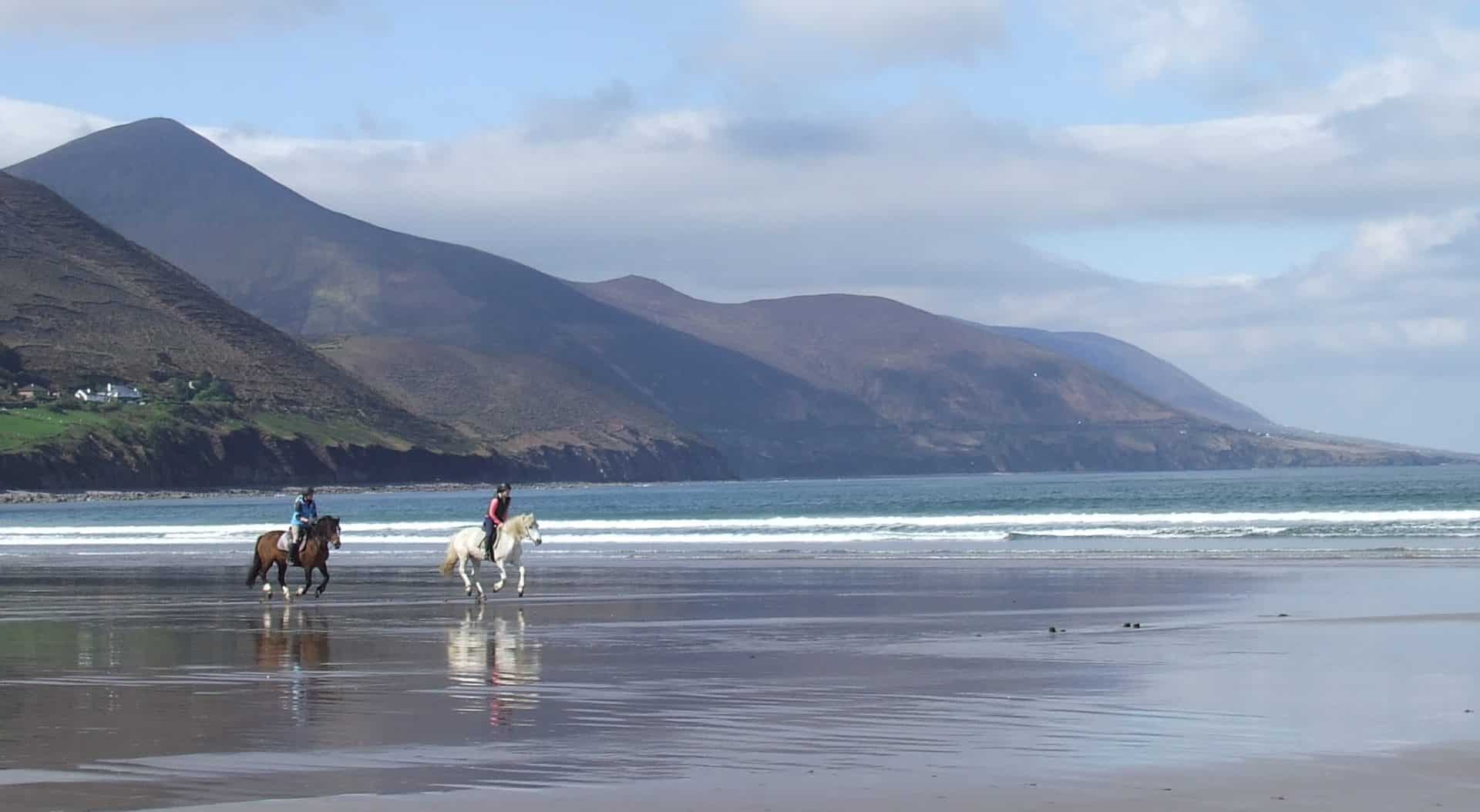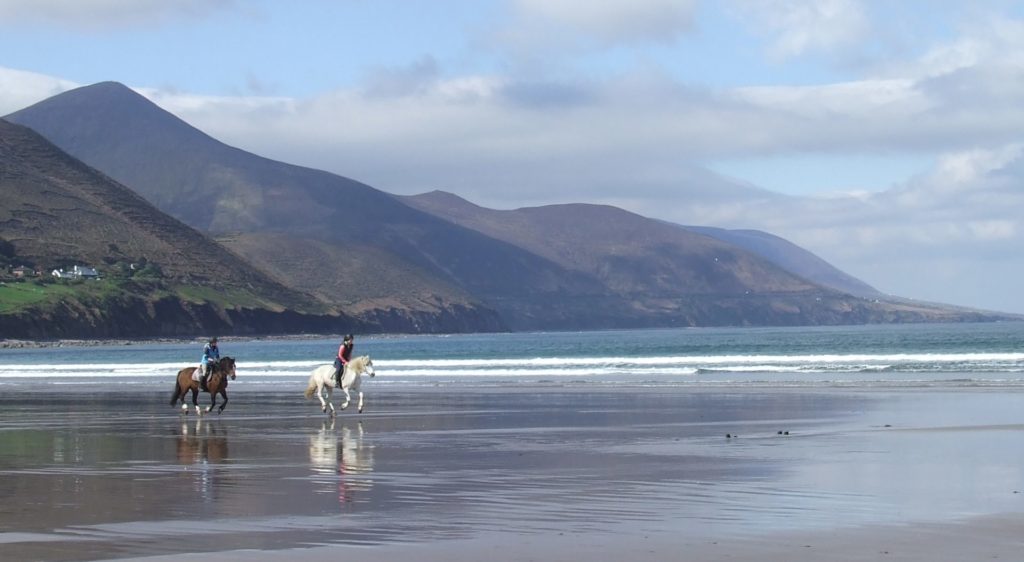 Rossbeigh Beach is located in County Kerry and is a long and wide sandy beach that is perfect for long walks. The beach offers spectacular views of the Dingle Peninsula, the surrounding mountains and is a great spot for swimming and surfing.
Silver Strand (Donegal)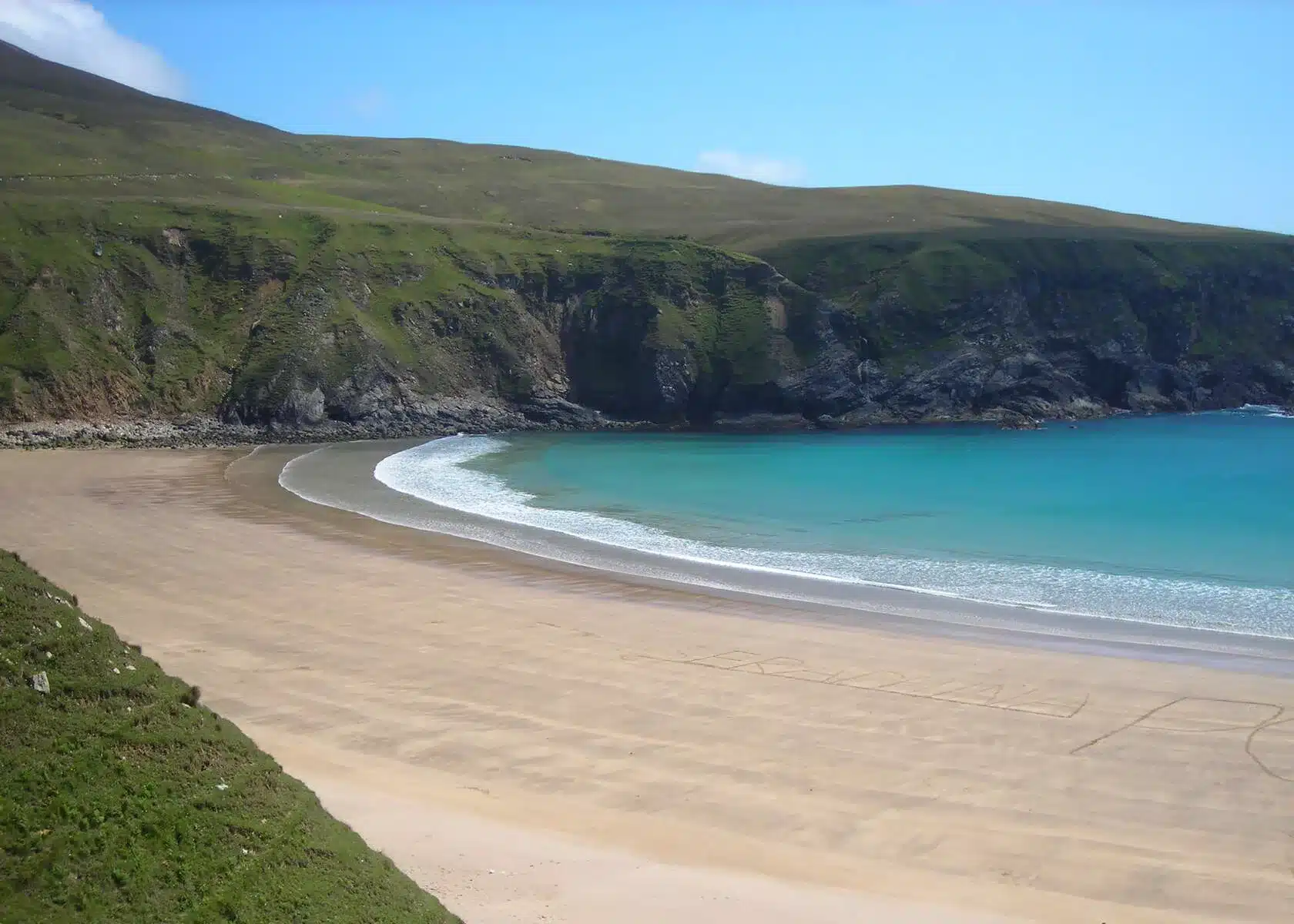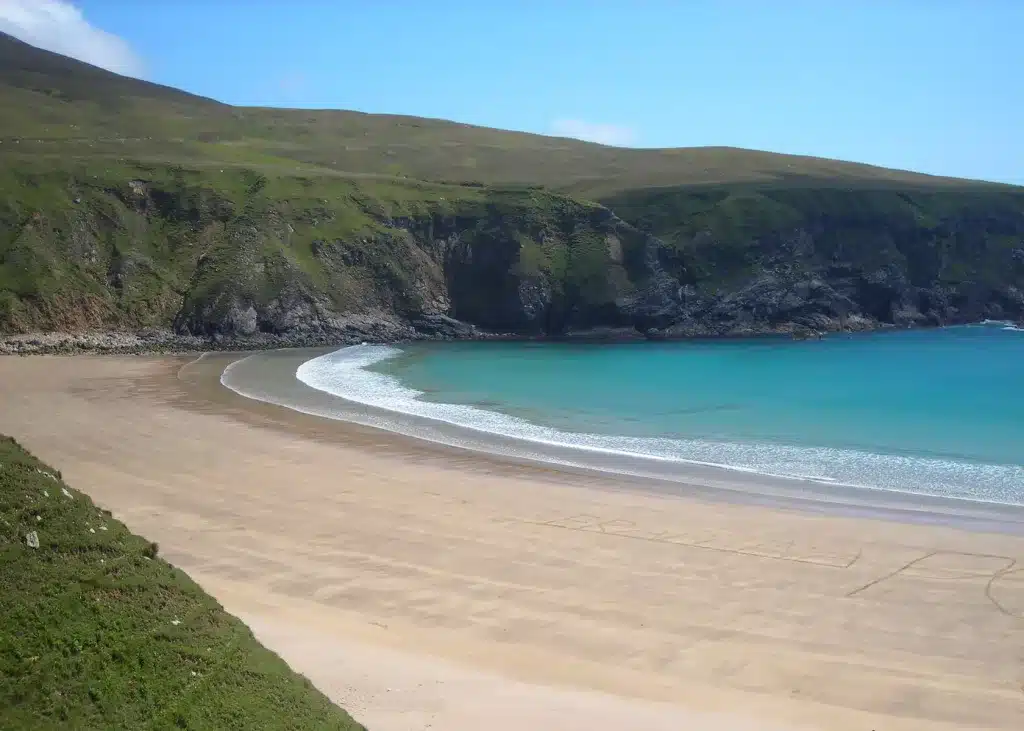 Silver Strand is a beautiful, secluded beach located in Malin Beg, a small village on the west coast of County Donegal. It is a magnificent horseshoe shaped beach backed by magnificent cliffs.
Kinnagoe Strand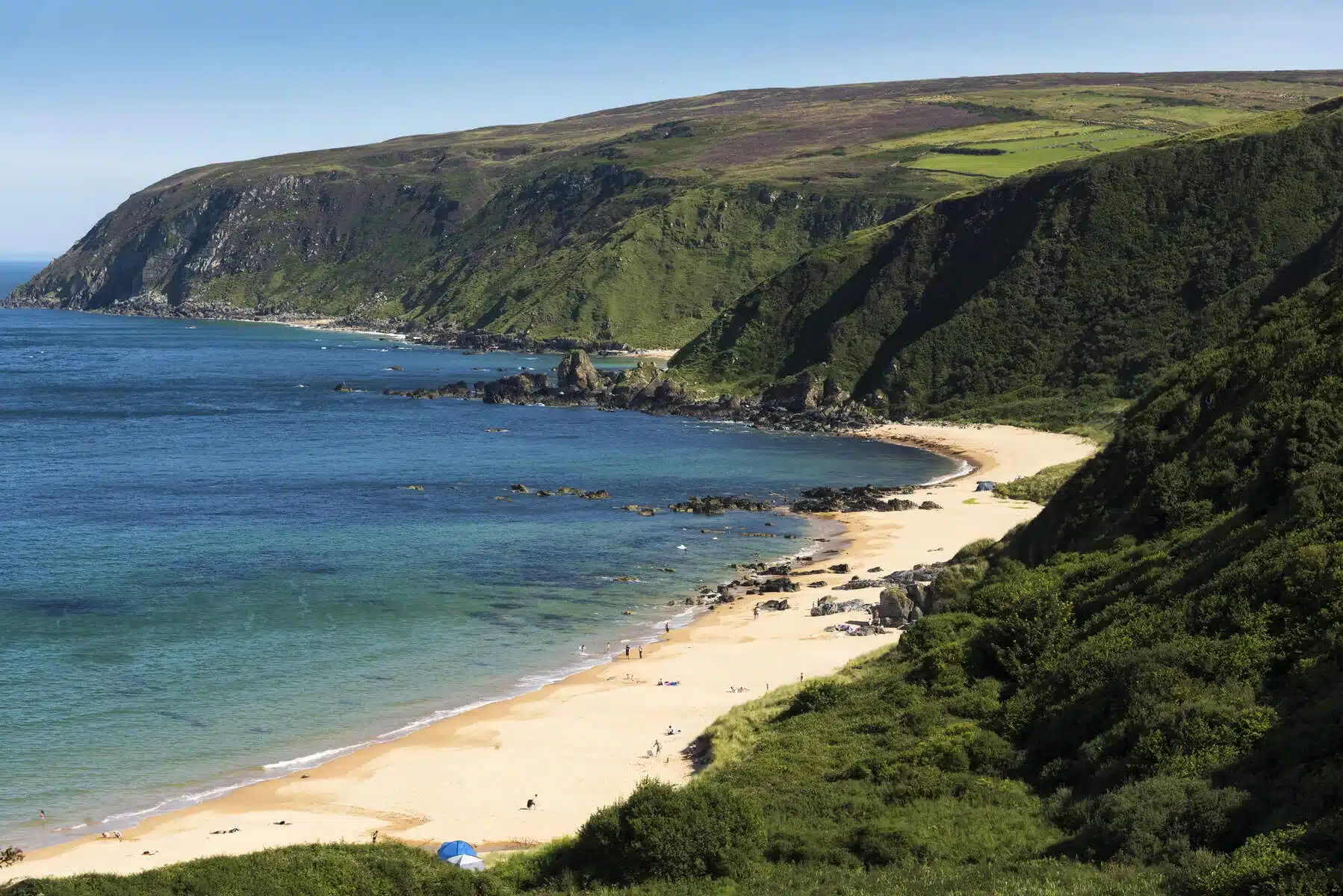 Kinnagoe Strand is a secluded beach also located in Donegal on the Inishowen Peninsula. It is known for its breathtaking surrounding scenery as well as being a very popular surfing spot.
Strandhill Beach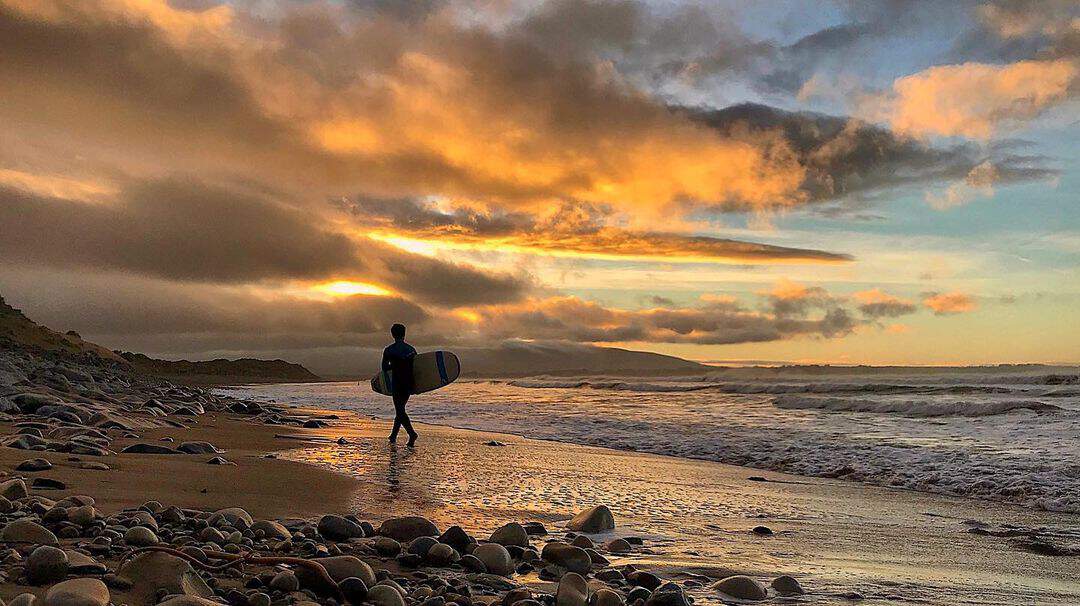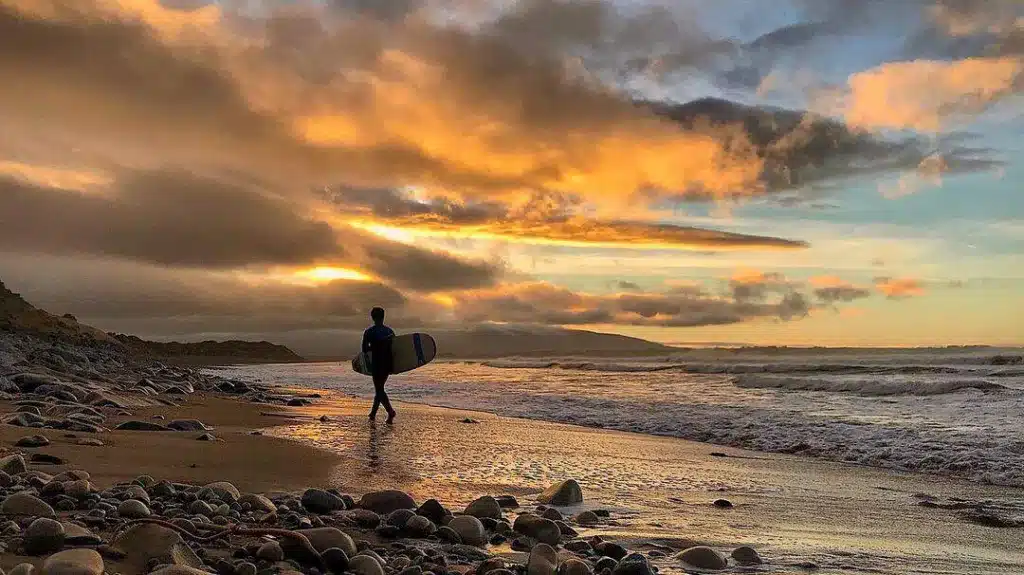 Strandhill is located in the county of Sligo and is world-renowned as one of the best surfing beaches. A long, wide beach, it's also ideal for a good, brisk walk to get that pure west of Ireland air into the lungs.
Where to Stay on the West Coast of Ireland
The 6 towns detailed previously provide a great variety of places to stay. Below, we have our choice of the 3 best hotels in each location, from budget to luxury:
Westport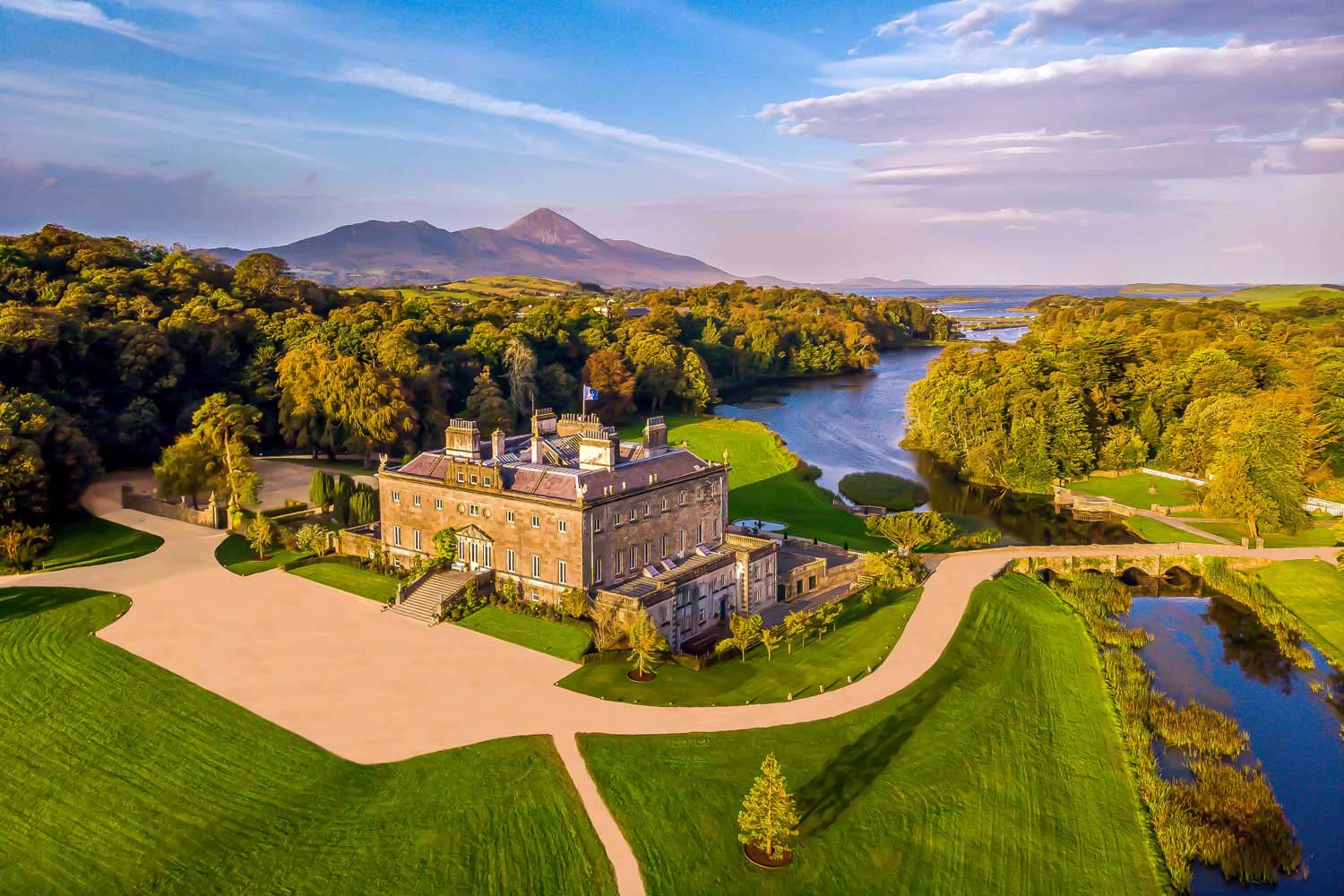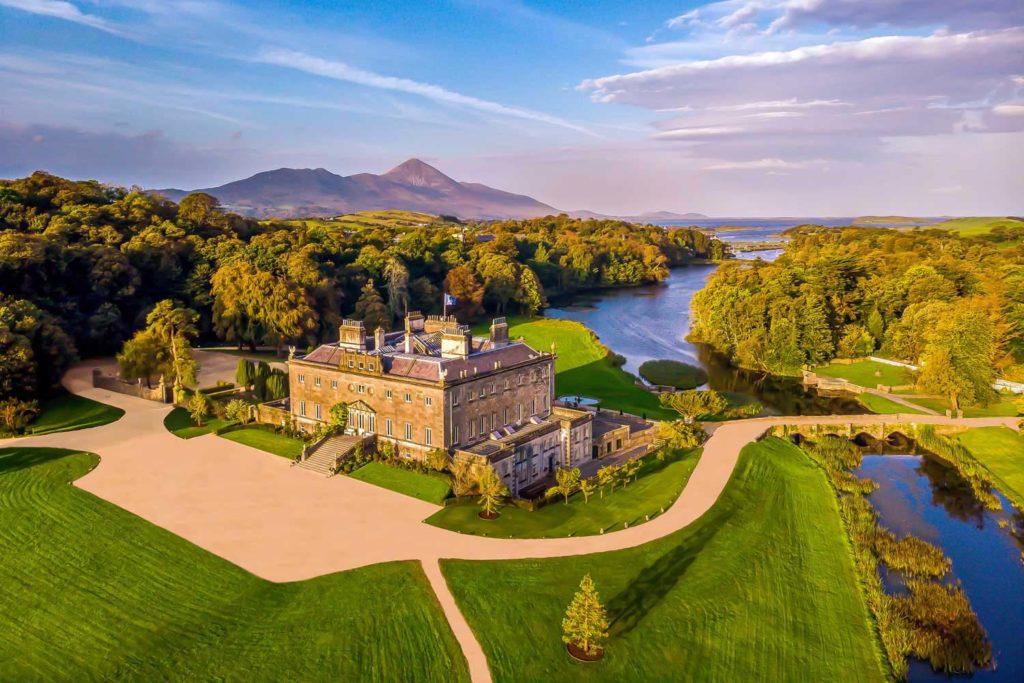 We have a very detailed guide to the best hotels in Westport, from budget to luxury. Click here for more details. Off the bat, here are our favourite 3:
Sligo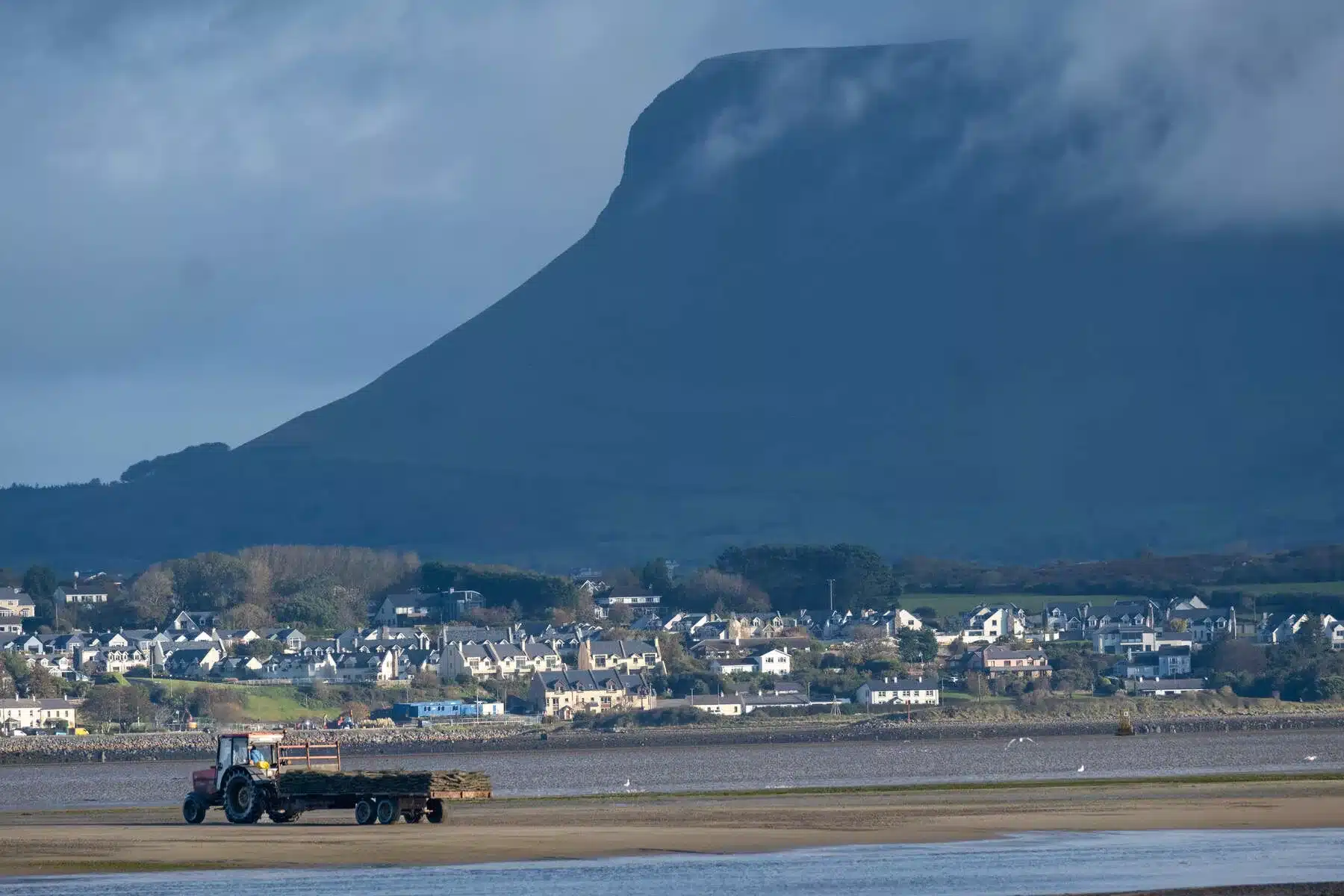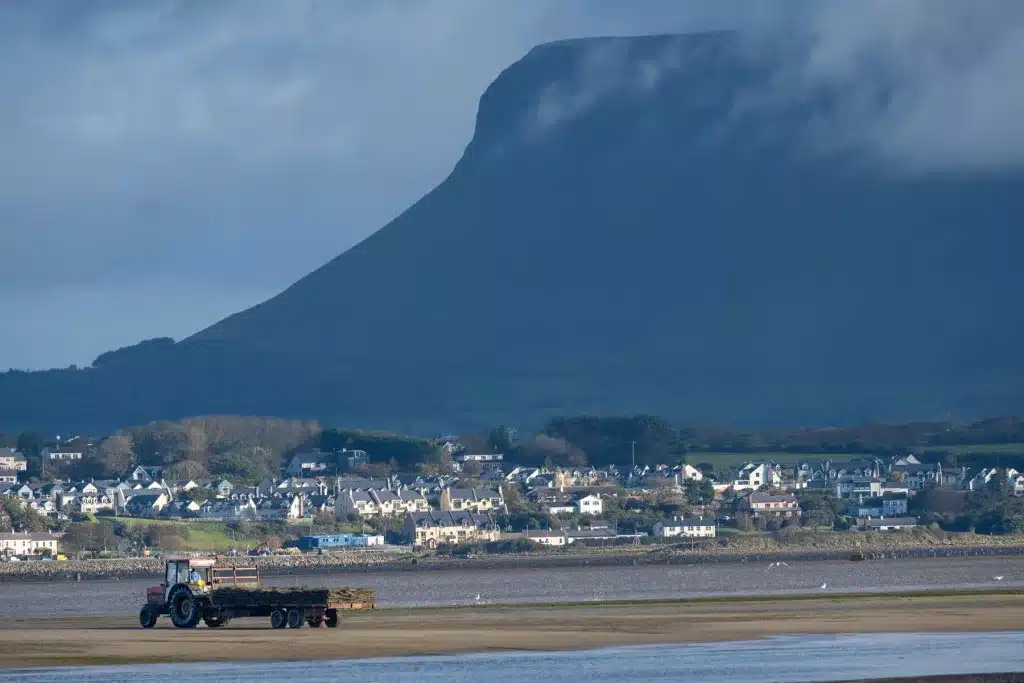 With a population of around 20,000 Sligo is one of the larger towns along the west coast of Ireland.
An ideal stopover if travelling north to Donegal, or as a base for exploring the local area. Nearby, you'll find some excellent hiking, walking and watersports.
Here, our top 3 hotels:
Donegal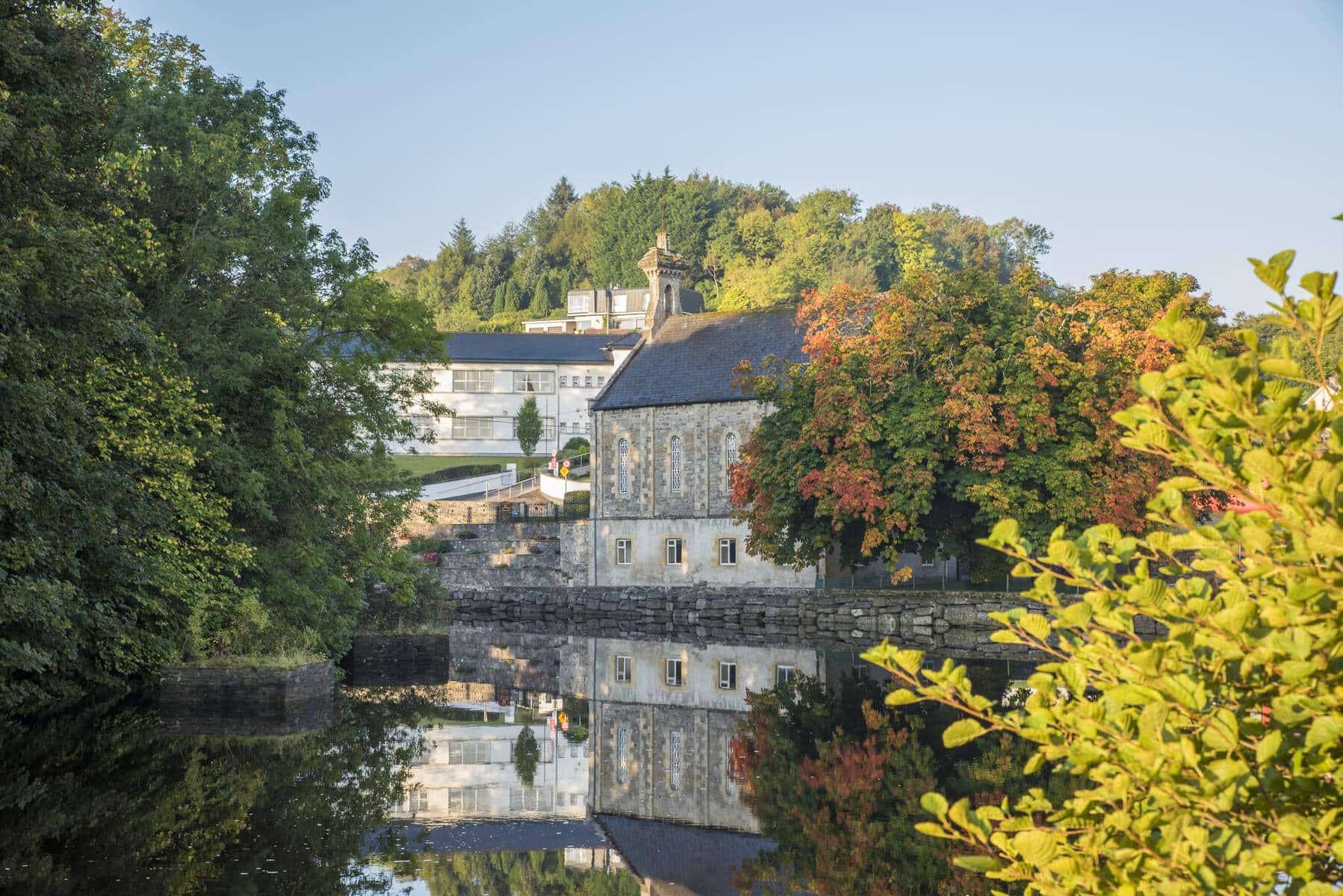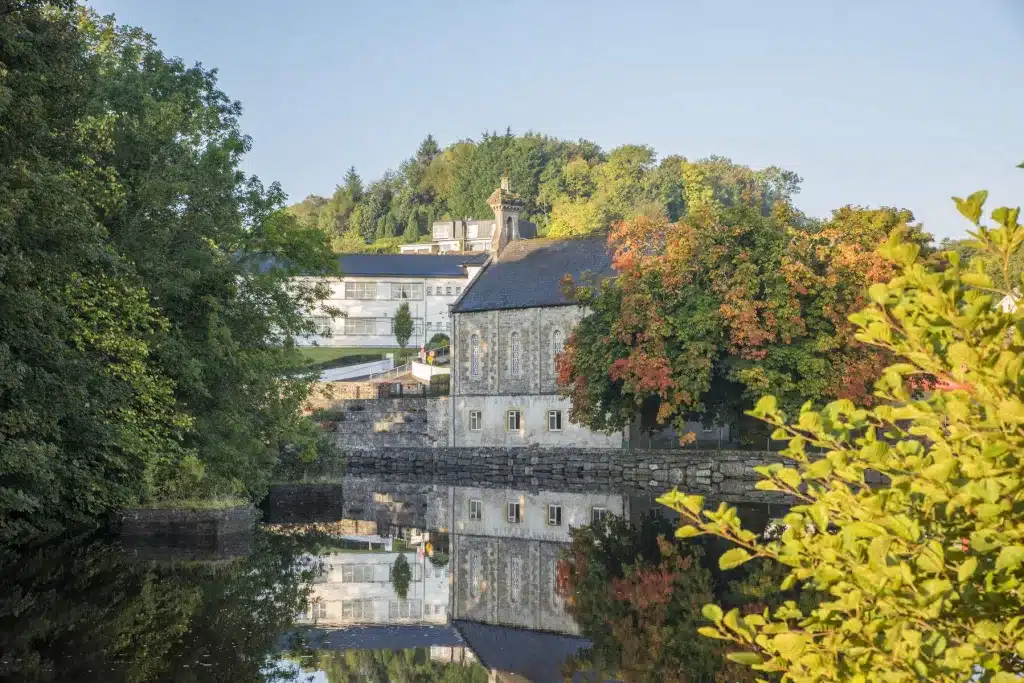 A small town located in the south of the county of Donegal, the town is lively in the summer months, with plenty of the well-renowned traditional Irish music to be heard in the local pubs.
A great town for exploring the majestic coastline and mountains of the county. Here, our top accommodation picks:
Galway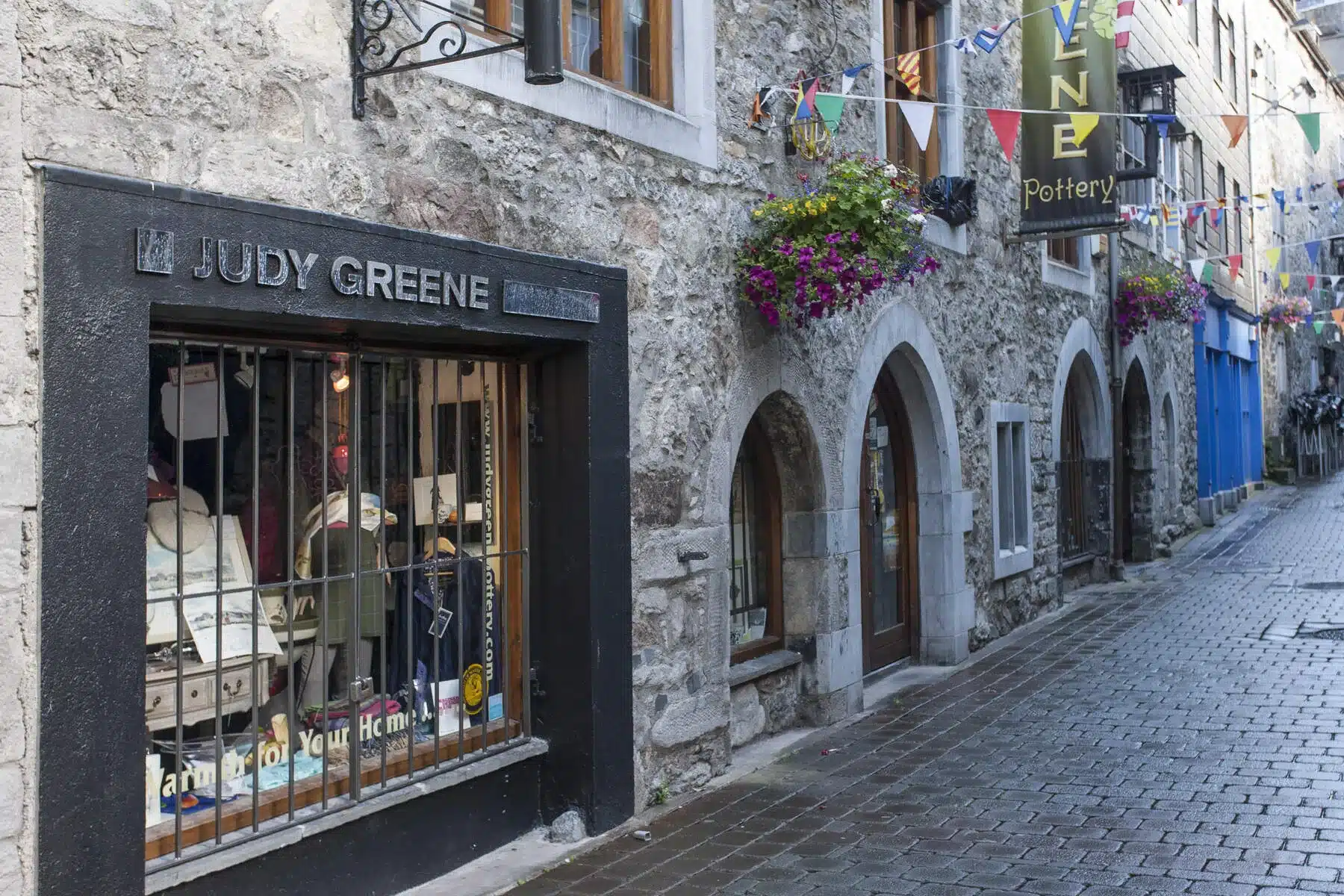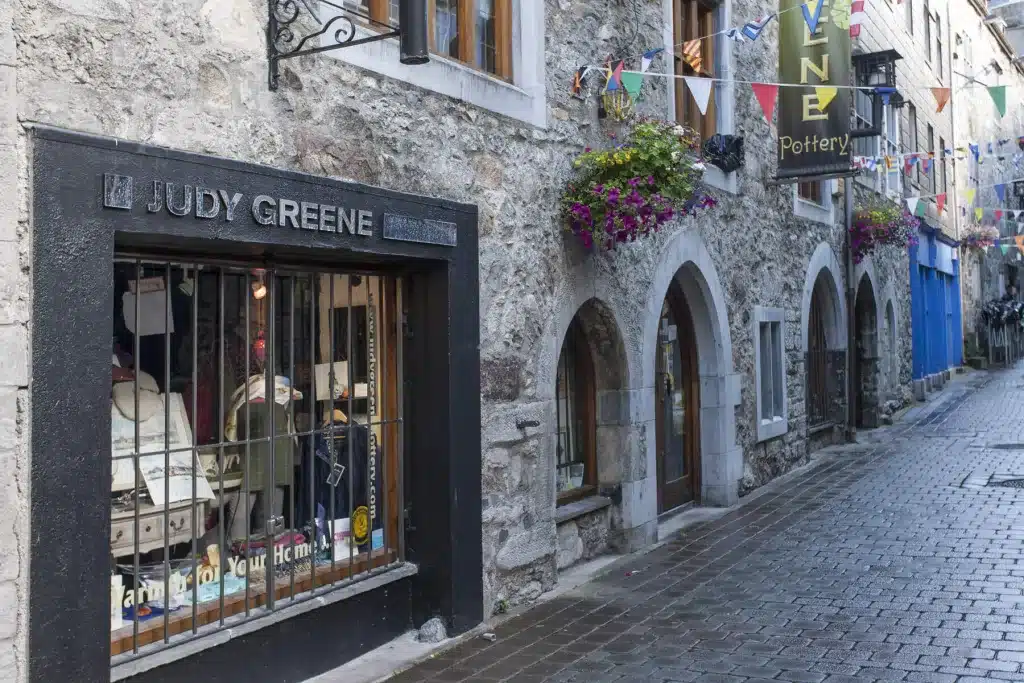 The City of the Tribes, Galway is a busy, bustling place in summer so expect prices to be a little higher than other smaller towns.
An incredible base for exploring some of Ireland's best known landscapes, such as Connemara, the Cliffs of Moher and the Aran Islands. Here, our picks of the best places to stay:
Killarney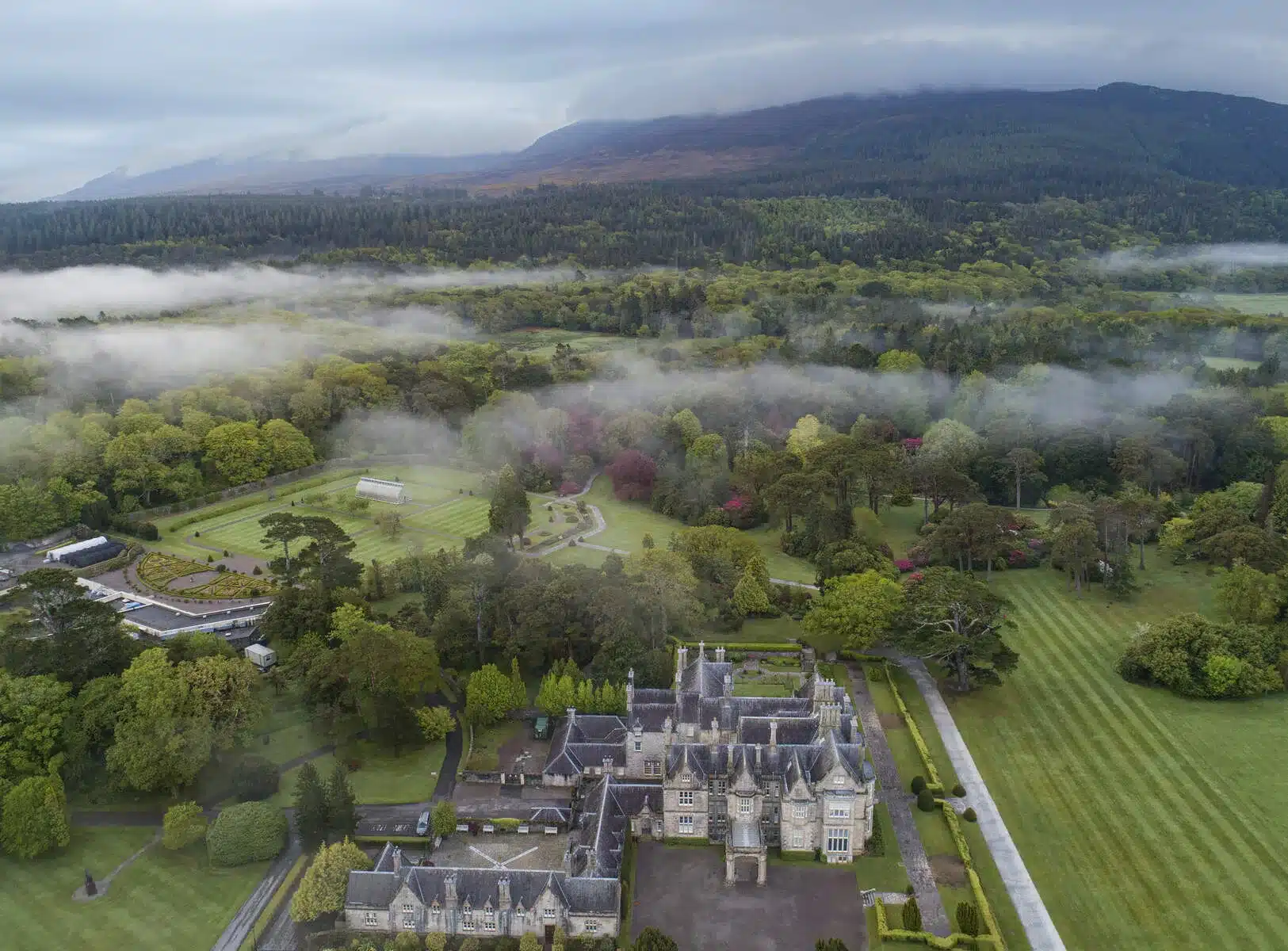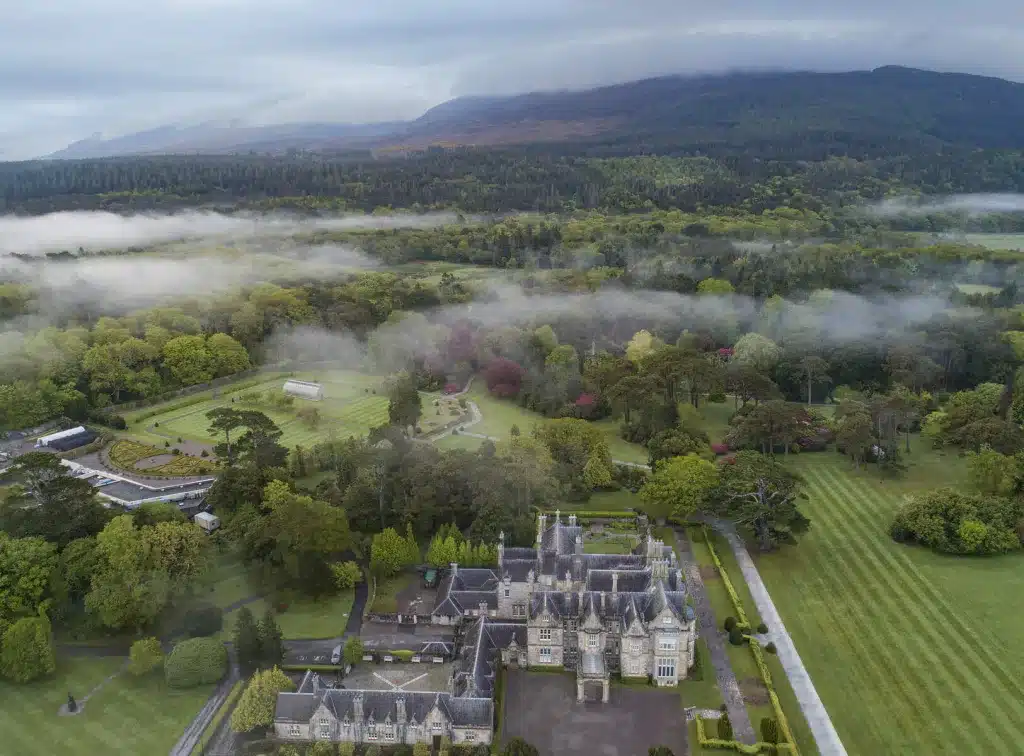 Perhaps the tourism hub of Ireland, there certainly is no shortage of places to stay. A beautiful town to spend your holiday in, surrounded by breathtaking landscapes, drives, hikes and tons more.
Here, our choice of the best places to stay:
Dingle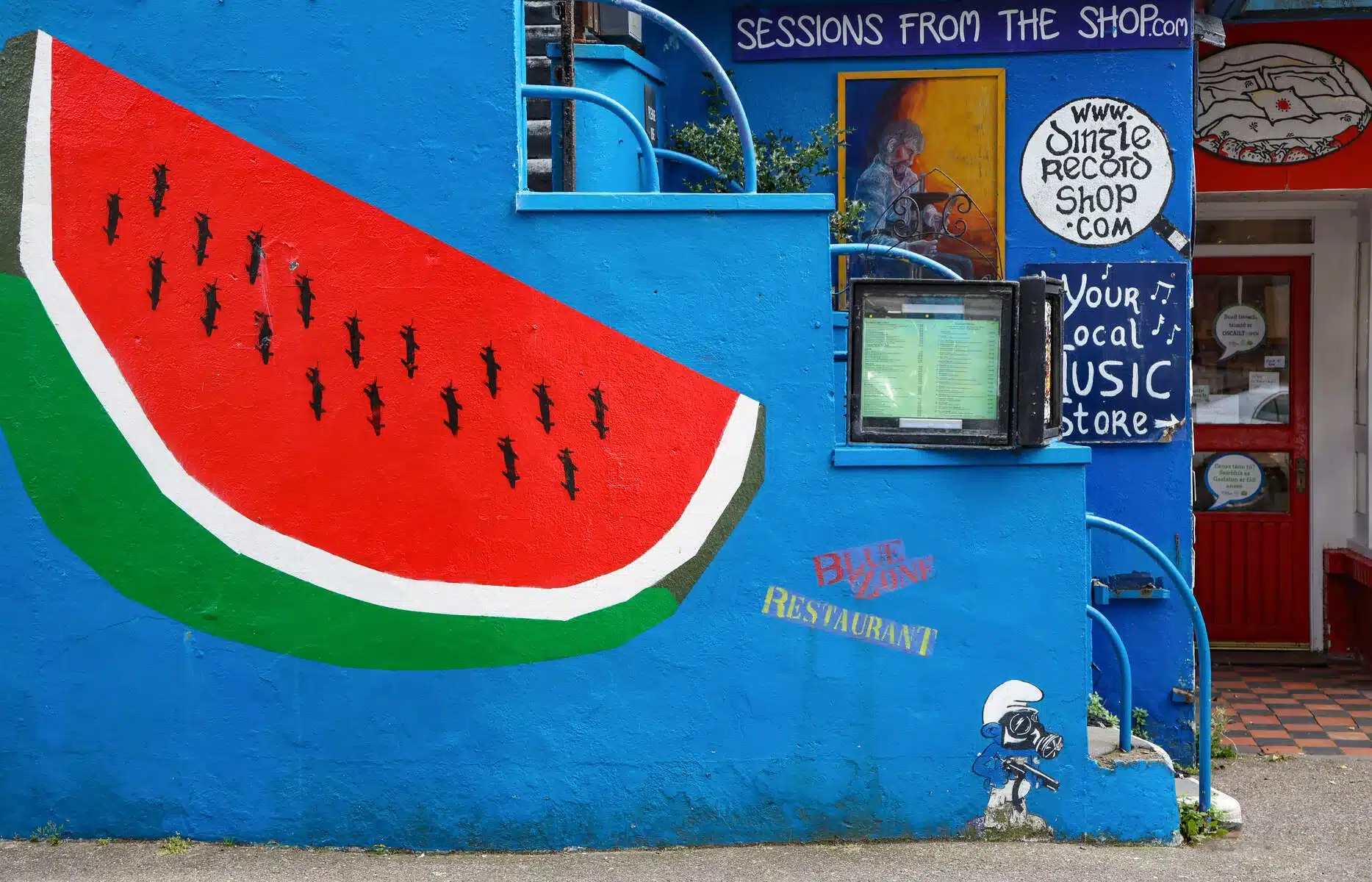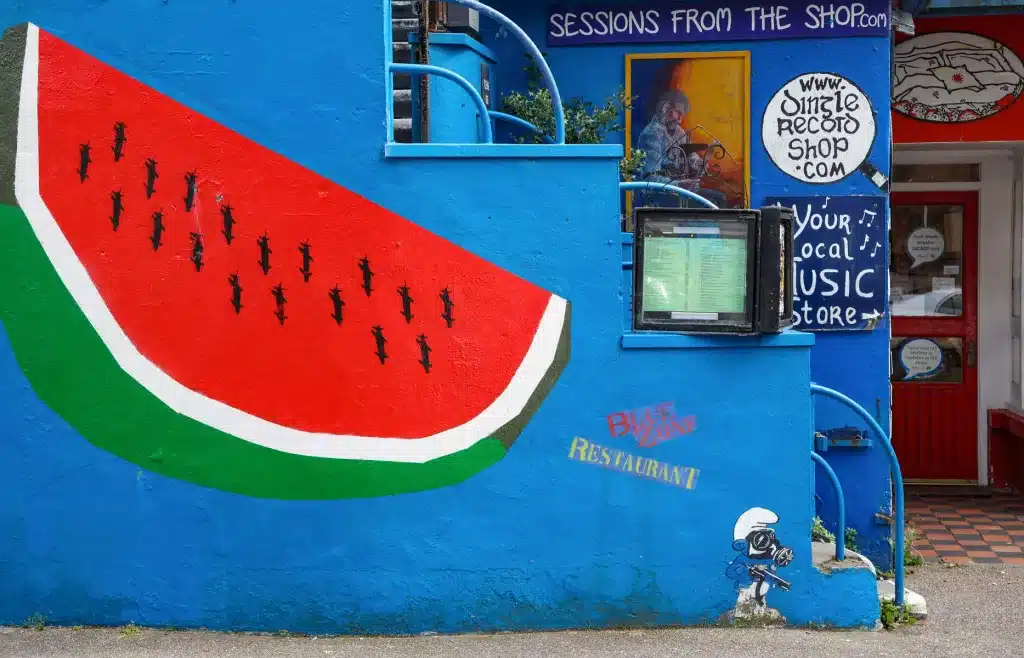 An incredibly charming coastal town, with an vast array of things to explore nearby. Known for some excellent b&bs, along with some of the best pubs you'll find in Ireland.
Here, our choice of the best places to stay:
West Coast of Ireland Tours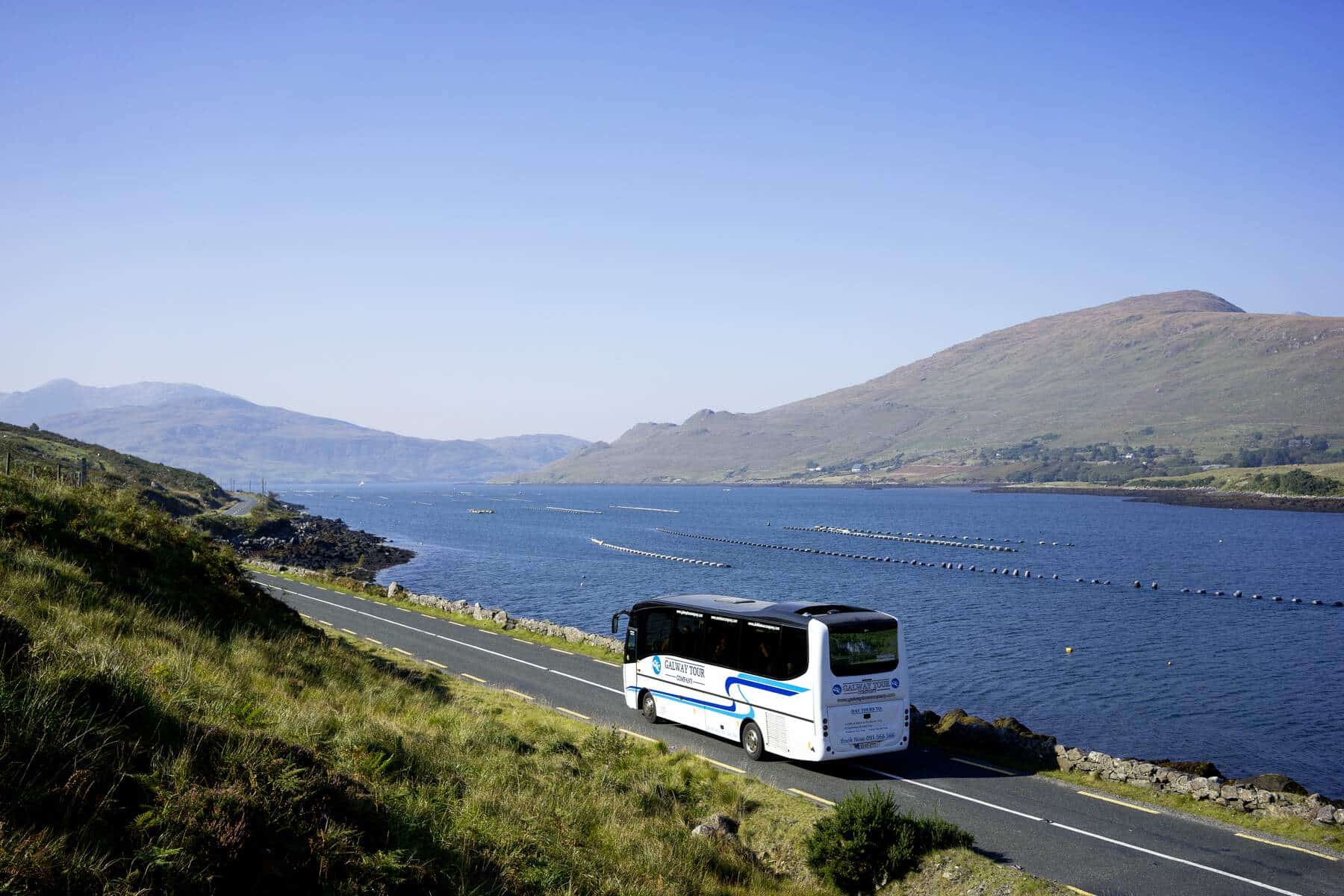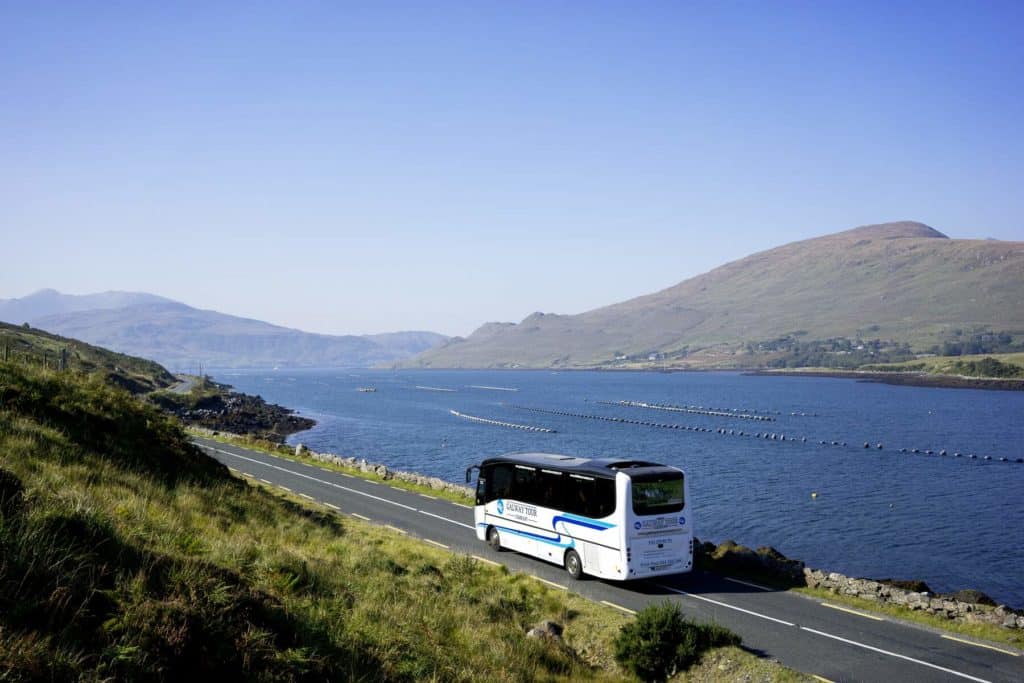 Many believe that the best way to explore Ireland is by renting a car. There's a lot of truth in that. You'll get to explore at your own pace, and go to some of the off-the beaten-track locations, which is what travelling to Ireland is all about.
But what if, for whatever reason, you may not be willing to travel Ireland by car. the good news is that in recent times, day trips i.e. bus tours, have become quite popular. It's even possible to visit the Cliffs of Moher from Dublin in one day!
Below, you'll see a link to all possible bus tours in Ireland. If there is a single one I would pick from the list, it would be the Cliffs of Moher cruise and trip to the Aran Islands…an incredible insight into all that is magical about the West of Ireland.
Click here to find your favourite tour.
Map of West of Ireland Highlights
Final Thoughts
The West Coast of Ireland is a feast for the eyes, along with being culturally and historically fascinating. We hope you are left with some great impressions and that one day you'll get to experience this beautiful part of the world some day.
We would welcome any questions or queries you may have, so if you are wondering about what routes to take on your road trip or need any other advice, please leave a comment below. We'd be delighted to help!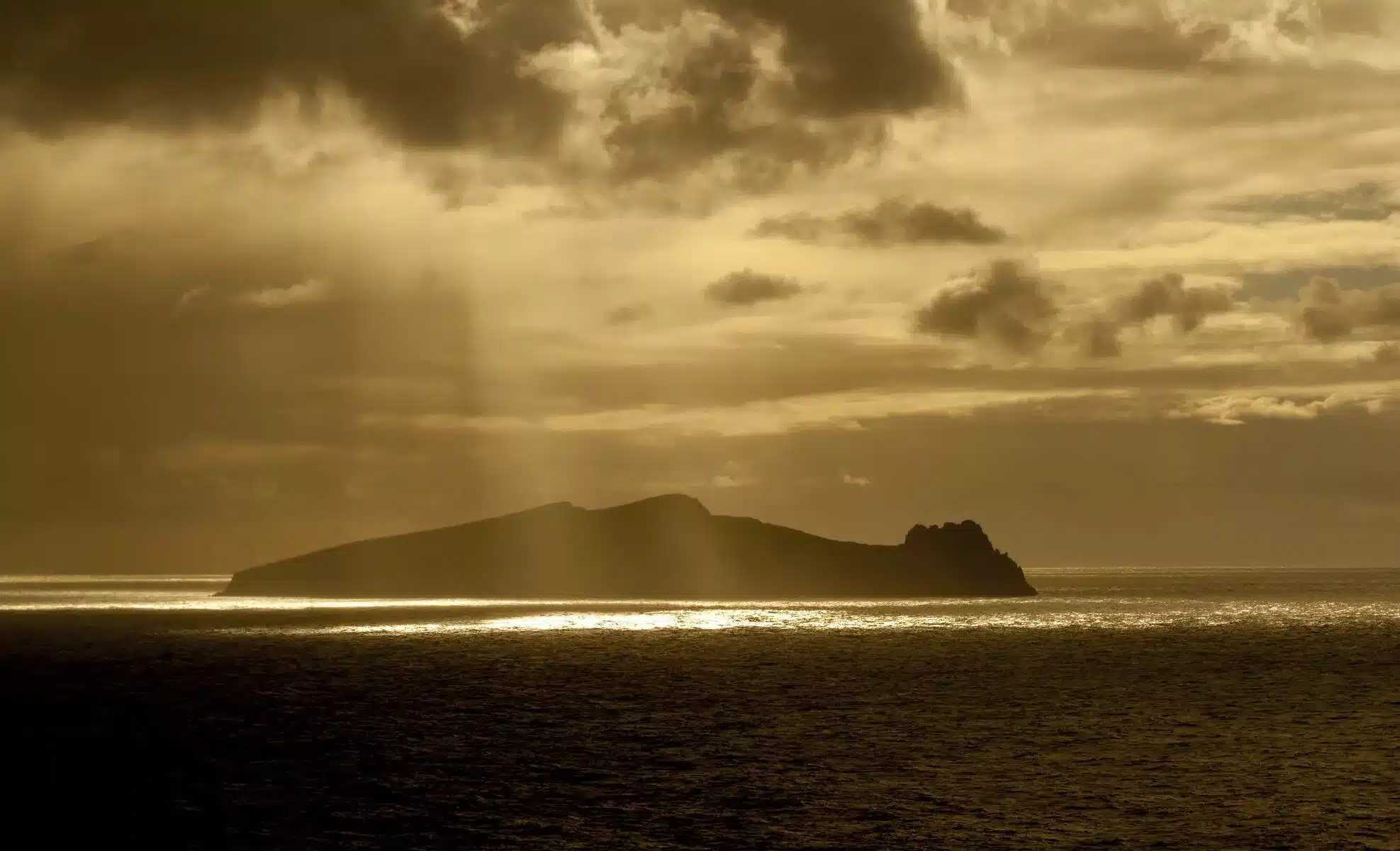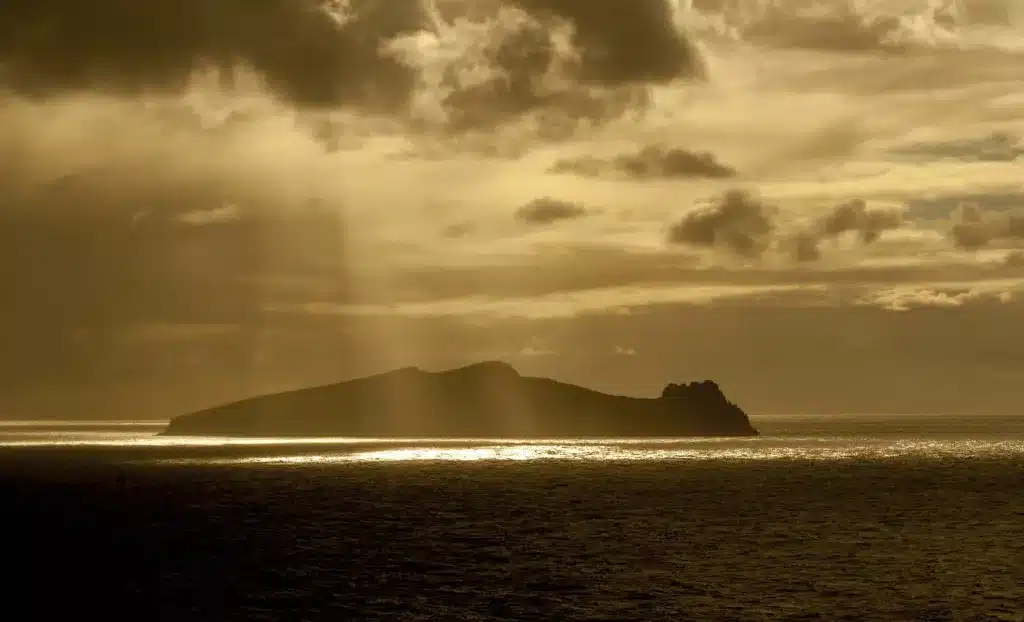 FAQs
What is the most beautiful place along the west coast of Ireland?
There is such a selection of incredible lanscapes to discover from the north of Donegal all the way down to West Cork. We recommend driving the Wild Atlantic Way to take it all in.
You won't be disappointed wherever you go. Some of the landscapes you can't miss are the Slieve League cliffs, Achill Island, Connemara, Cliffs of Moher, Slea Head, Ring of Kerry and offshore islands such as the Aran Islands.
Where should I stay on the West Coast of Ireland?
We reckon the towns of Westport, Killarney, Dingle, Galway and Sligo are great lively towns with lots of accommodation on offer and within close proximity to many beautiful landscapes.
How long is the West Coast of Ireland?
The Wild Atlantic Way is the world's longest defined coastal road and stretches the whole length of the west coast, covering a length of 2,500 kms.
Is it always rainy and windy on the West Coast of Ireland?
Not always, but it does get its fair share of wind and rain, especially in the winter months. The weather can be described as changeable, with showers frequent and no extremes in temperature.