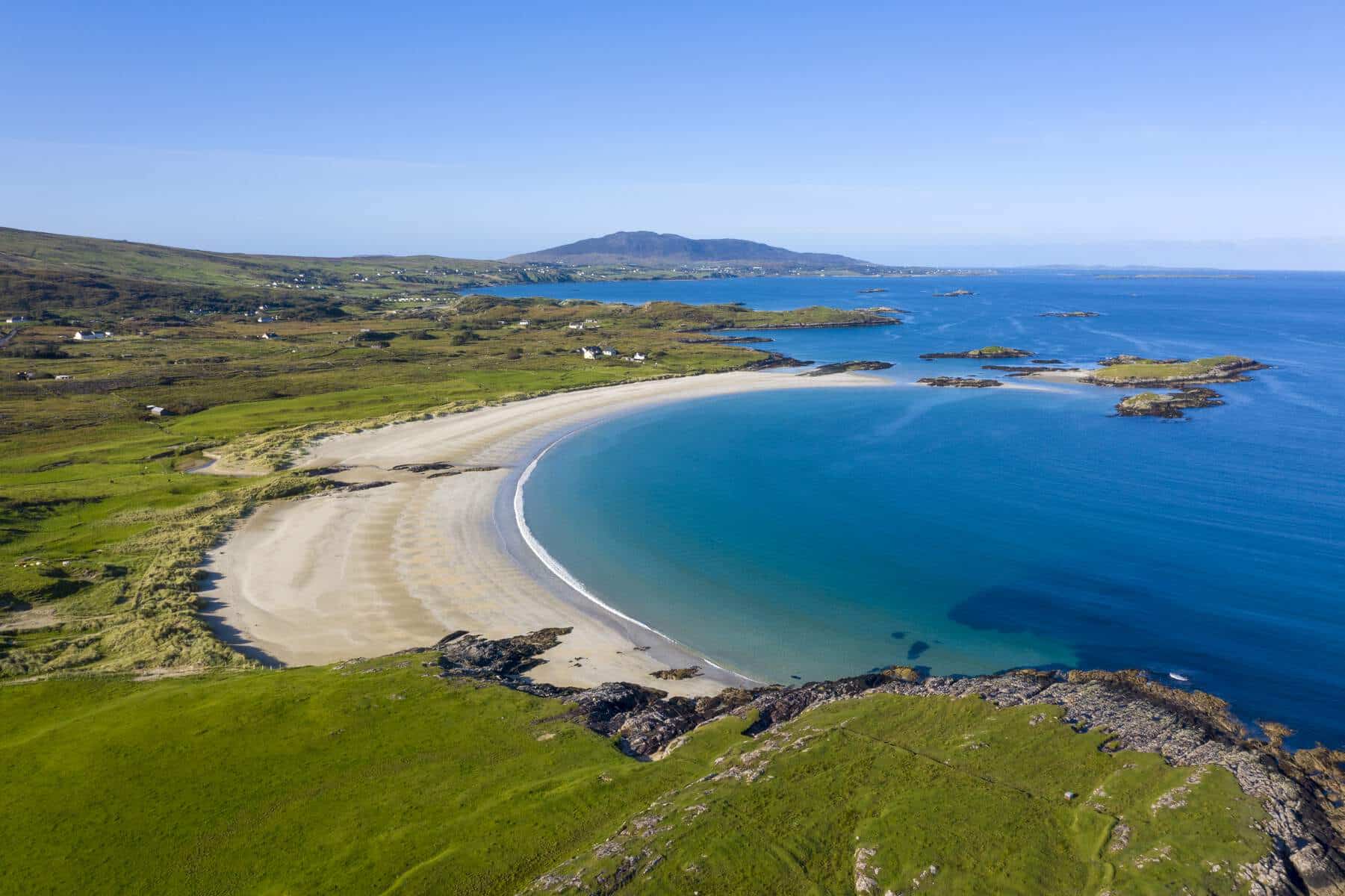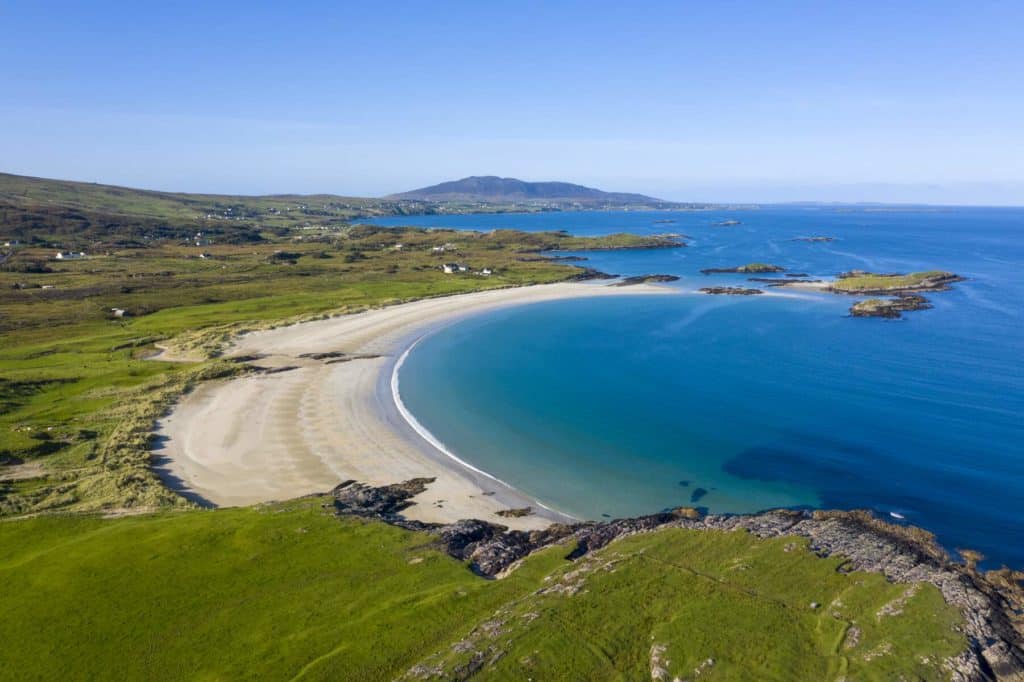 Are you thinking about visiting the beautiful Glassilaun Beach in Connemara, County Galway? Then you've landed in the right spot! Here, we're going to tell you everything you need to know about this wonderful strand and why we think it's definitely worth a visit on a fine day.
The West of Ireland is full of hidden gems and Glassilaun Beach will leave you asking yourself if you are actually in Ireland at all? You'd be forgiven for thinking you were in a more tropical clime. This truly is a breathtaking strand.
In the midst of all the raw, rugged and stark beauty of Connemara, you'll find this beautifully serene slice of Irish paradise nestled perfectly at the entrance to Killary Fjord.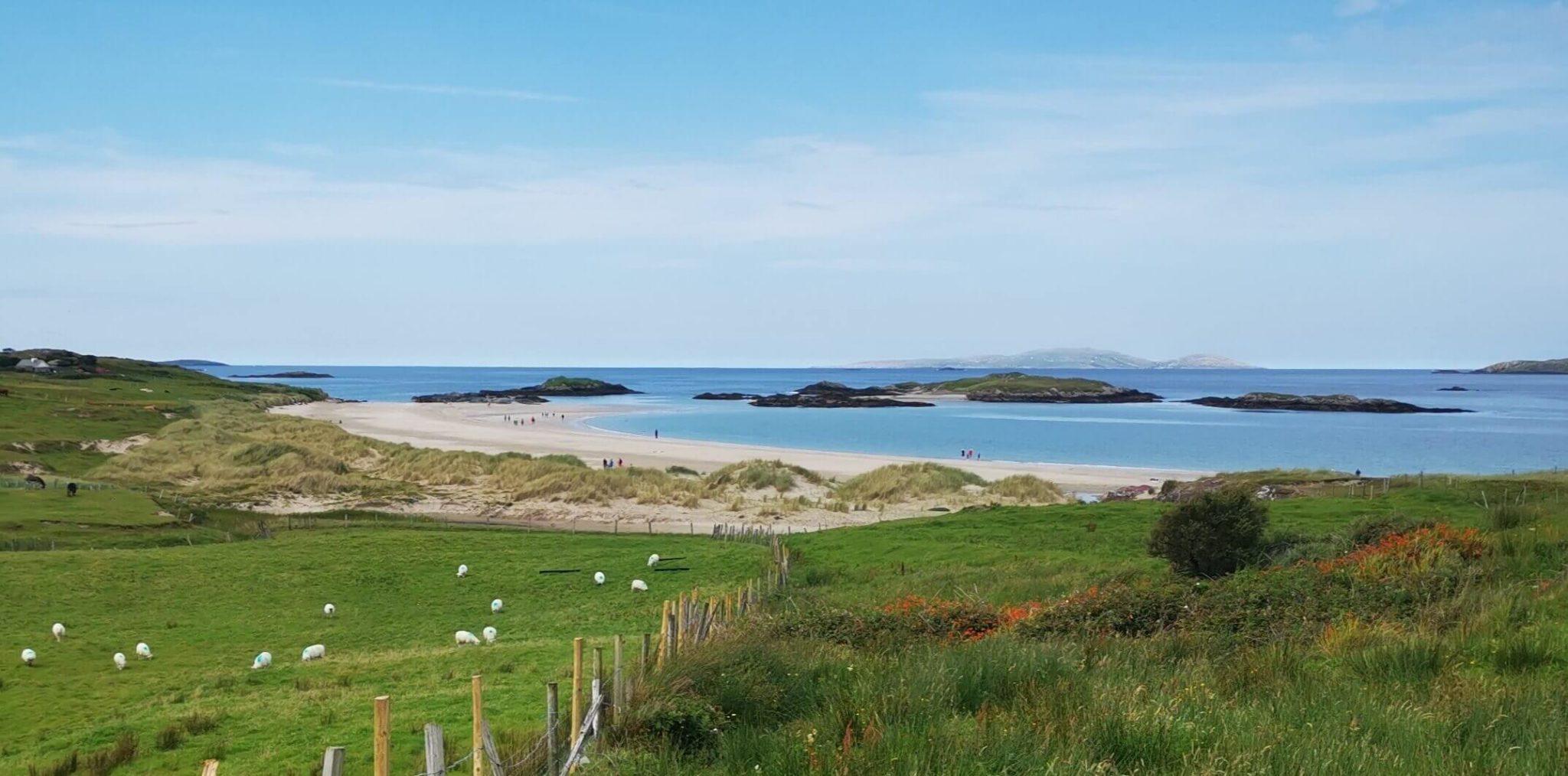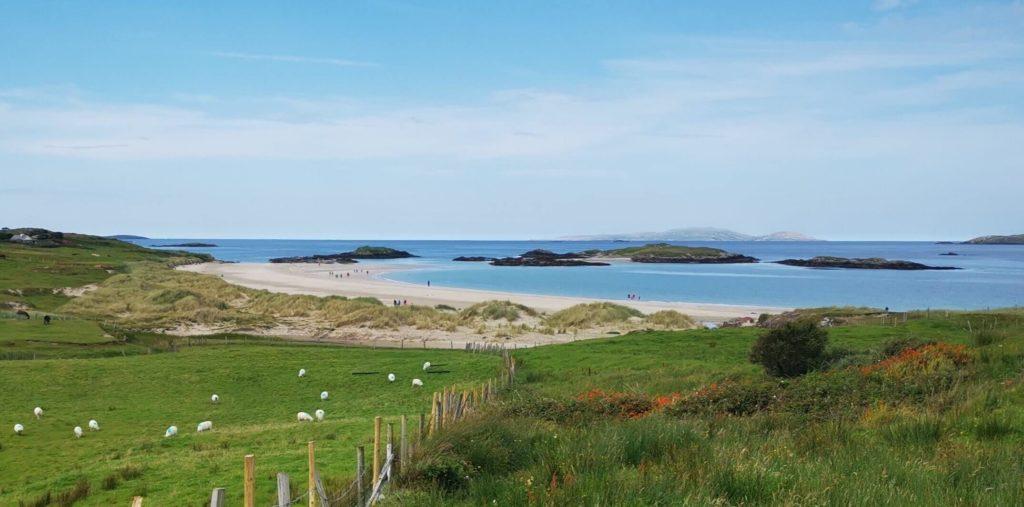 On a sunny day, you'll be amazed by Glassilaun's crystal clear turquoise waters and bright white sands, which are backed by idyllic green fields speckled with dots of white; the local Connemara sheep grazing away without a care in the world.
We have visited Glassilaun Beach multiple times. On the very first occasion, I was nearly knocked off my feet; not only by its beauty, but by a good fresh gust of wind straight in from the Atlantic Ocean!
Needless to say, the times that prodeeded this were a lot calmer and left a lot of great memories (& drone photos)
Some Handy Information Before You Go
Due to its rural location, it's good to know how to get to Glassilaun, along with some other important info before you make the well worthwhile trip.
Location
Glassilaun Beach is located in one of the most spectacular regions in Ireland, Connemara. In fact, it's located on the far west coast of Connemara, near the mouth of Killary Fjord, Ireland's only fjord. Exact location is here.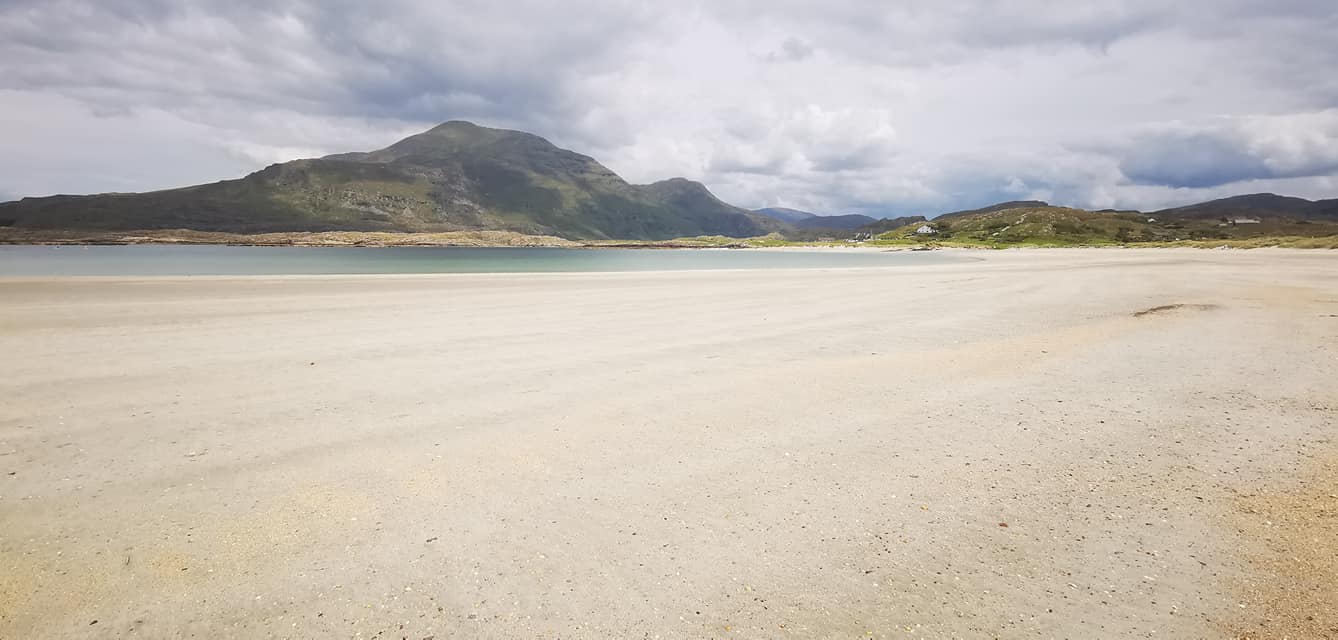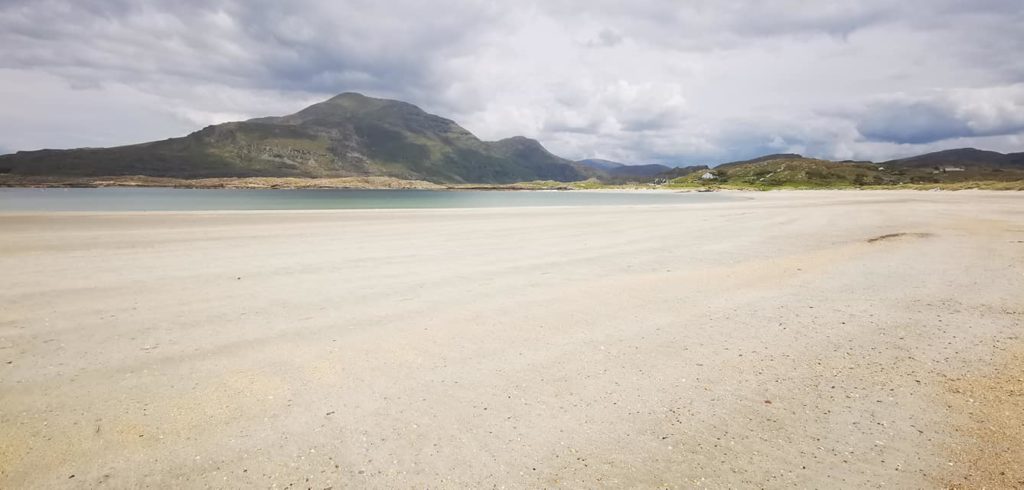 Beautiful Connemara
This whole region of Ireland is stunninly beautiful and we believe it to be a must-visit for those who appreciate wild, untouched Irish landscapes (like we do)
Nearby you have the vast, open expanse of Connemara with its mountains, hills and hundreds of lakes, providing a stunning backdrop.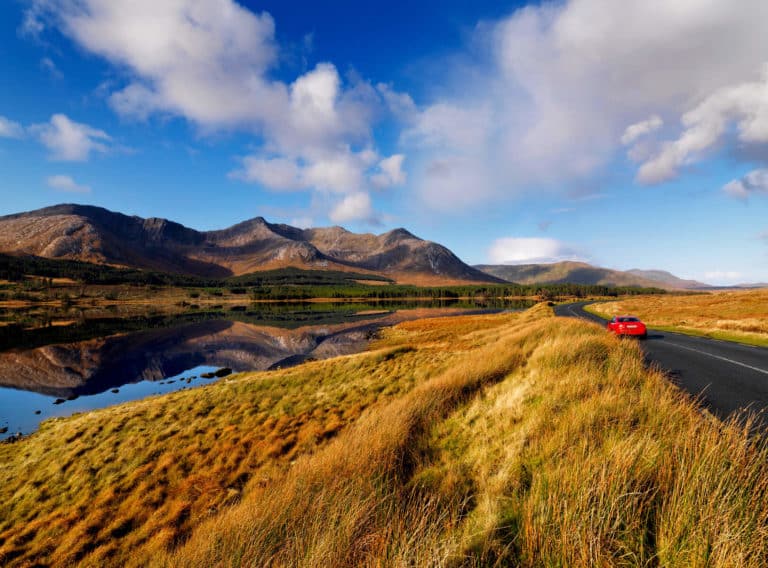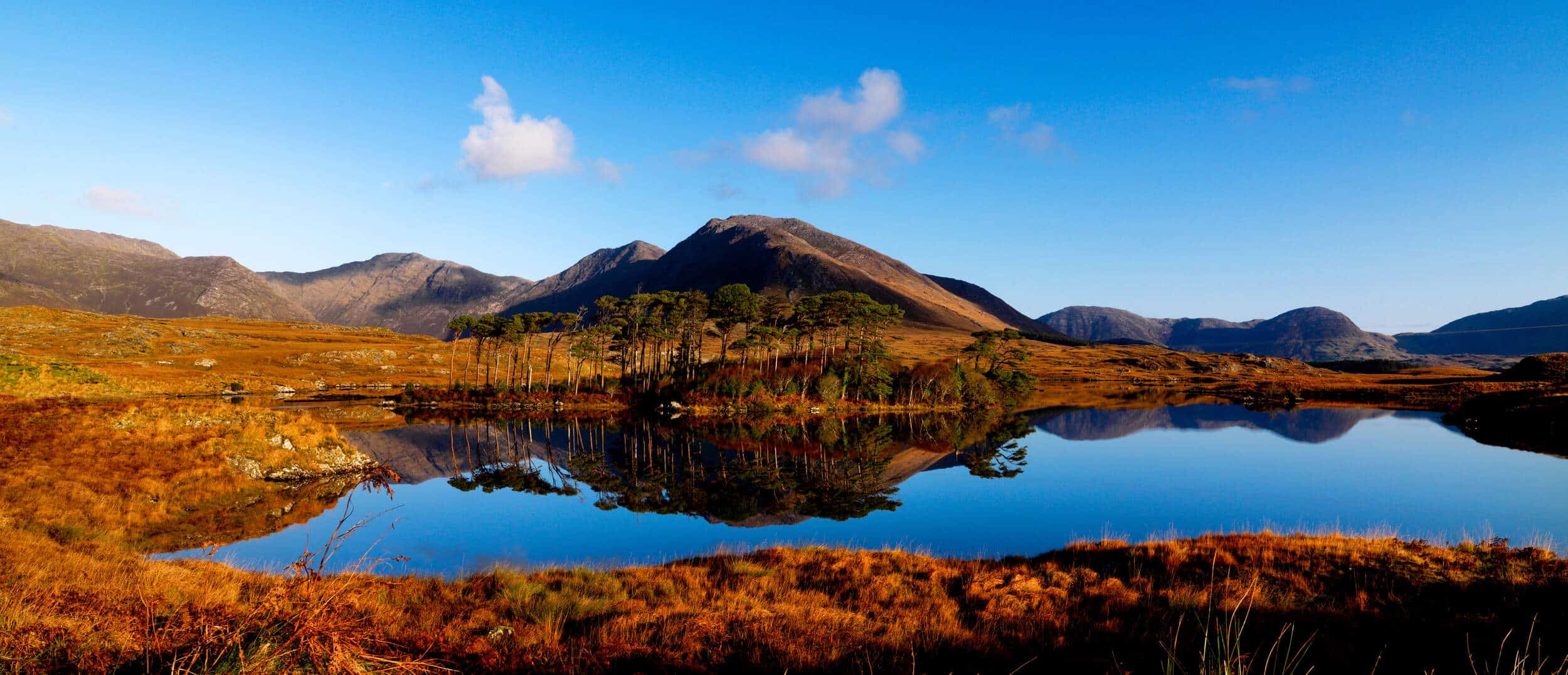 In contast to this, the whole coastline is dotted with beautiful white sandy beaches, such as Renvyle just down the road. To the west, you'll be greeted with panoramic views of the many intricate bays and islands along with the vast Atlantic Ocean.
A Very Remote Location
I guess what also makes Glassilaun Beach special is that it is so remote. The nearest villages are Renvyle, Leenaun and Letterfrack (approx. 20minutes away); all definitely not urban centres by any stretch of the imagination. Whatever direction you are coming from, it will be a long drive.
From Westport, it's a good 50 minute drive and from Galway at least 1 hour 40. But as both of these drives are very scenic, you'll find yourself making plenty of photo stops along the way.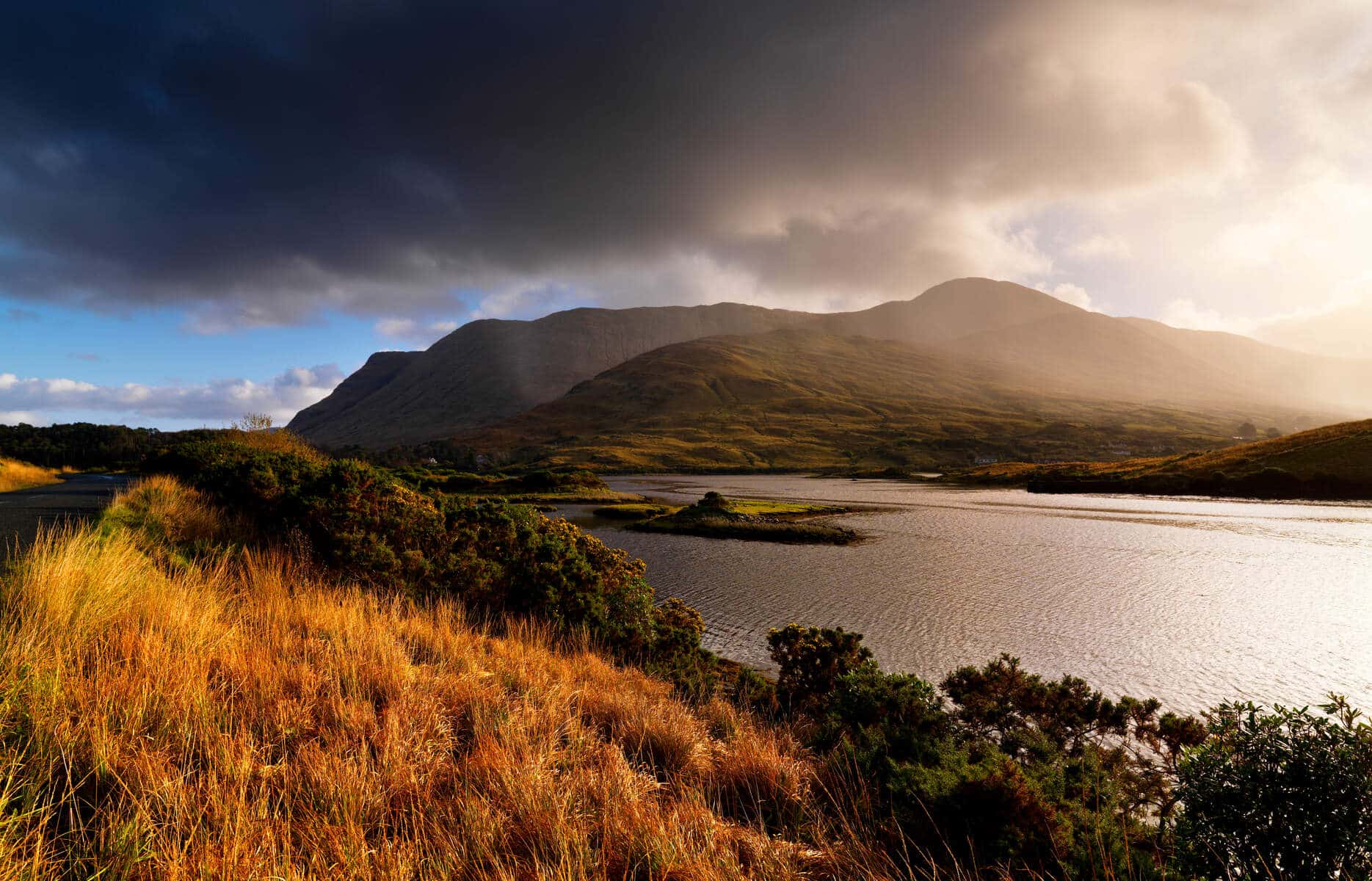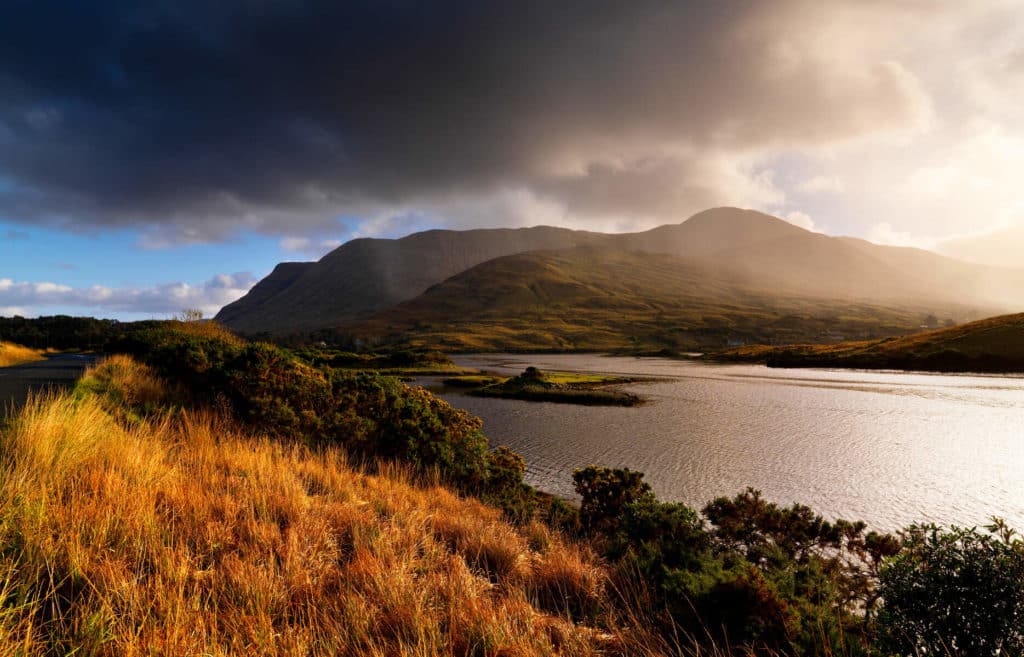 Parking
On a busy day, parking is hard to come by. Yes, there is a very small carpark just off the very narrow road which leads to the beach, but there's a good chance you'll have to park along the approach road. Be sure however that you leave space for cars to be able to pass i.e. you're parking at your own risk here!
Toilets
During our last visit in 2022, there were 2 portable toilets. In fact, this is a good time to mention that, apart from the toilets, there are no facilities on the beach or near the beach.
You'll need to bring food, drinks with you (and leave no trace after)
Due to its remote location, you'll have to come properly prepared if you plan to spend the day here. The nearest shop is 15 minutes away: Rogan's of Renvyle, should you need any basics such as snacks and water.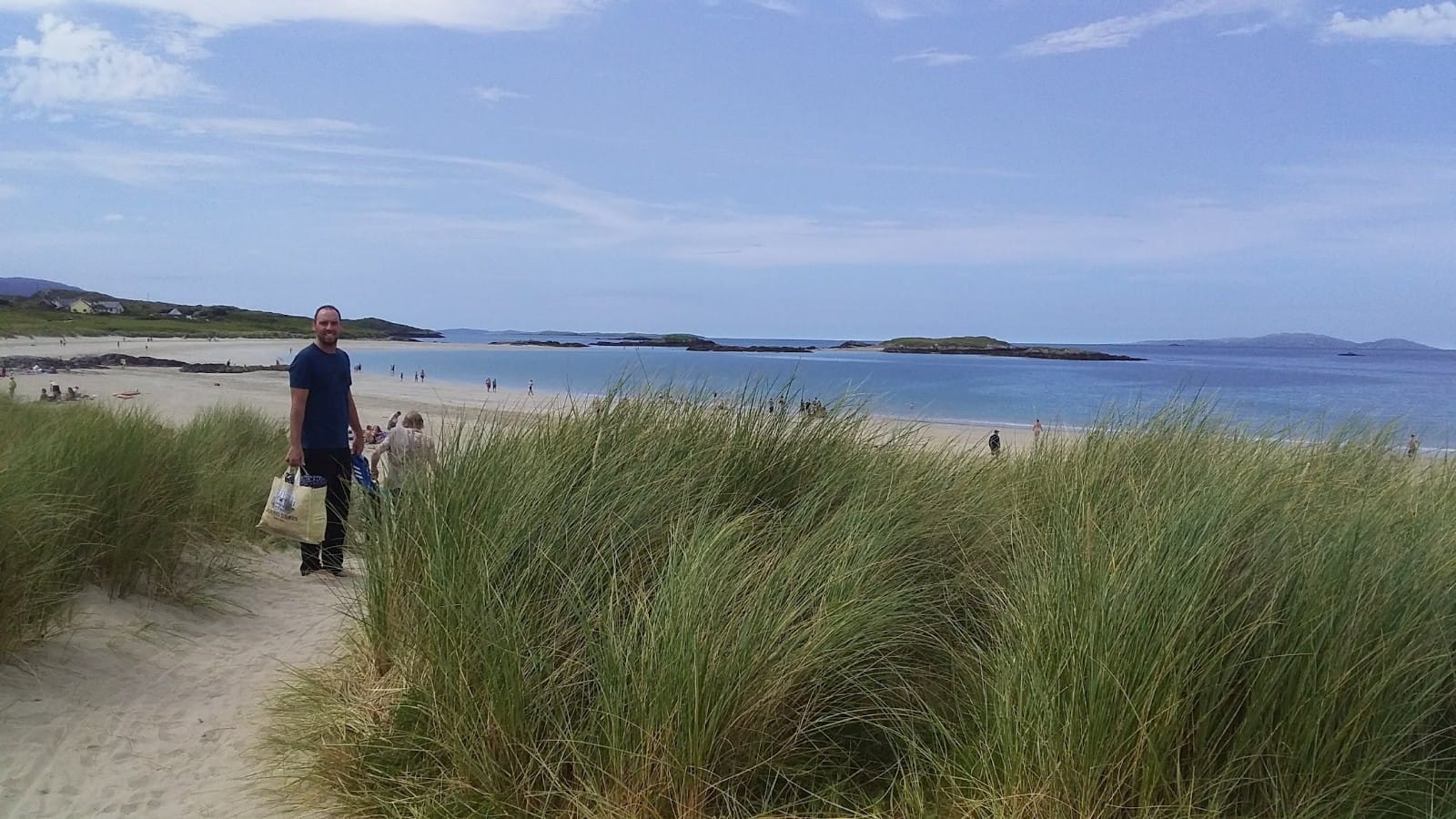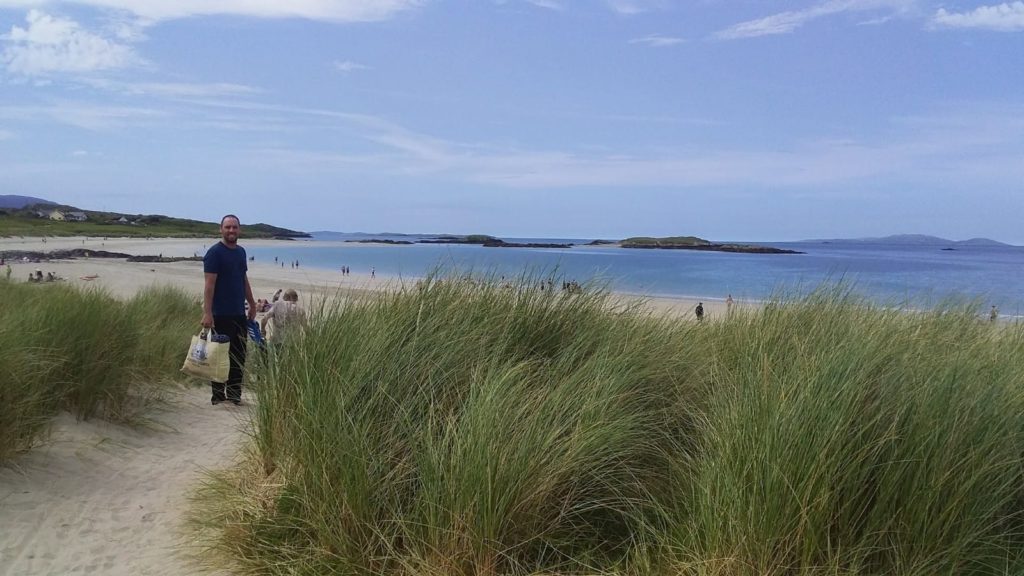 Please bring any litter with you and leave no trace.
Dogs
As with all beaches, dogs must be kept on a leash and any droppings removed. You'll find many kids playing away in the sand here, so any little dog presents are not appreciated.
Also, it's detrimental to the local marine environment. You'll have to bring your own bags too as there's none at the beach.
Weather
As with all places in Ireland (and particularly along the west coast) it's impossible to say you'll be guaranteed sunshine on your trip, but visiting in the months of May to September will mean there's a better chance of good weather at Glassilaun Beach.
Beaches in Ireland are used slightly differently to those countries which lie further south. As the weather seldom gets very hot, you'll have a limited number of days to go bathing.
But when it's warm, you just have to make the most of it. Even the Connemara cows agree…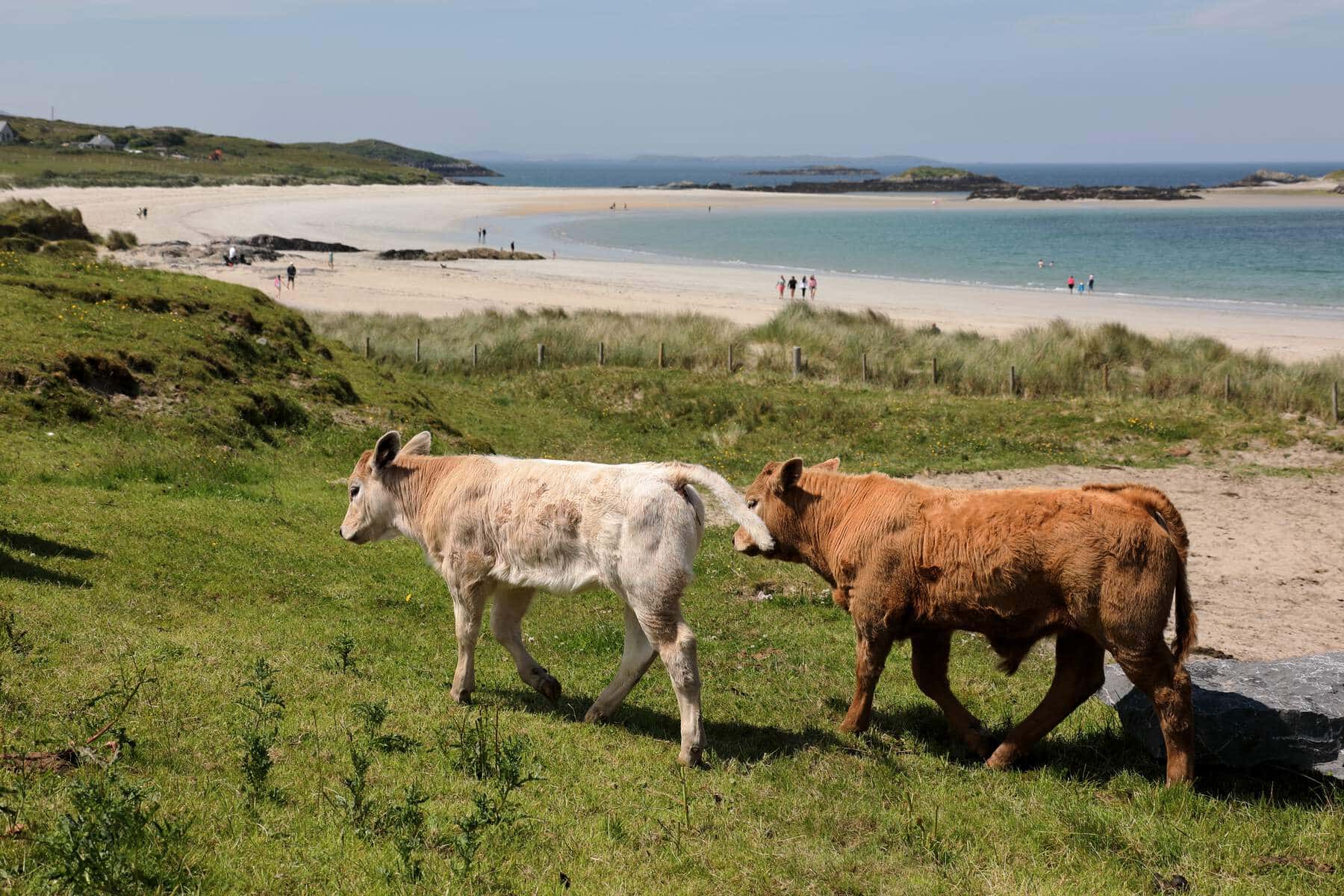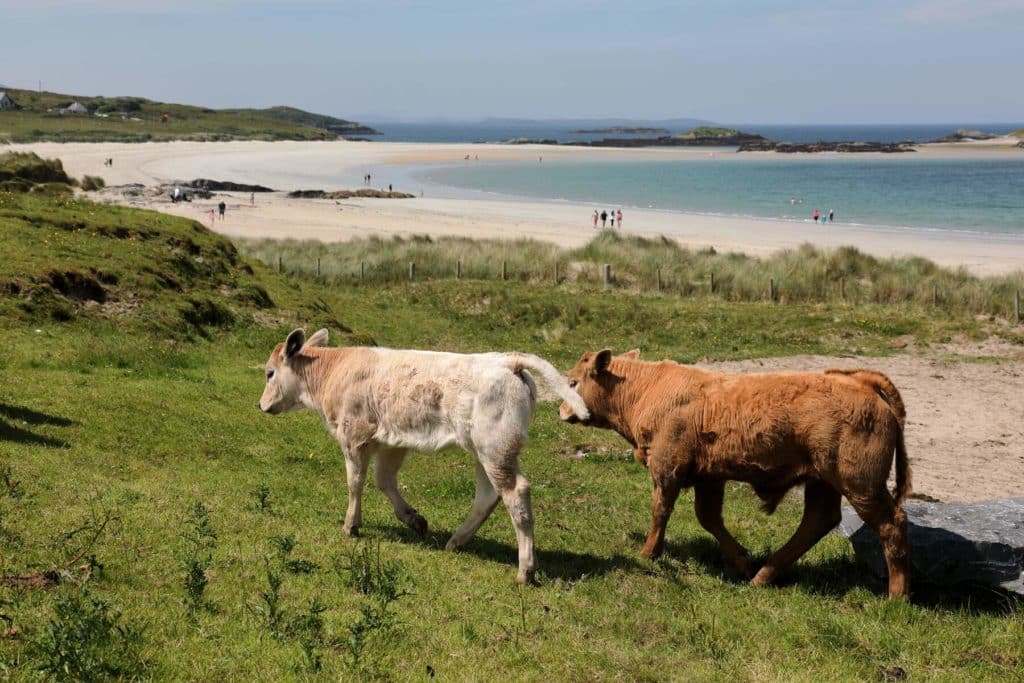 In saying that, the Irish love to go for a good brisk walk on the beach. There's nothing better to clear the head and get some incredibly clean Atlantic air into those lungs.
At a place like Glassilaun Beach, with the marine and mountain views around you, it'll be a walk to remember!
If you are planning to visit soon, here is a look at the forecast for the next days:
RENVYLE WEATHER
Lifeguards
There are no lifegaurds on duty in this beach, even in the summer months.
The Beach
Glassilaun Beach is a beautiful 1km long crescent-shaped beach, which is nicely sheltered from the Atlantic Ocean due to its north-facing allignment.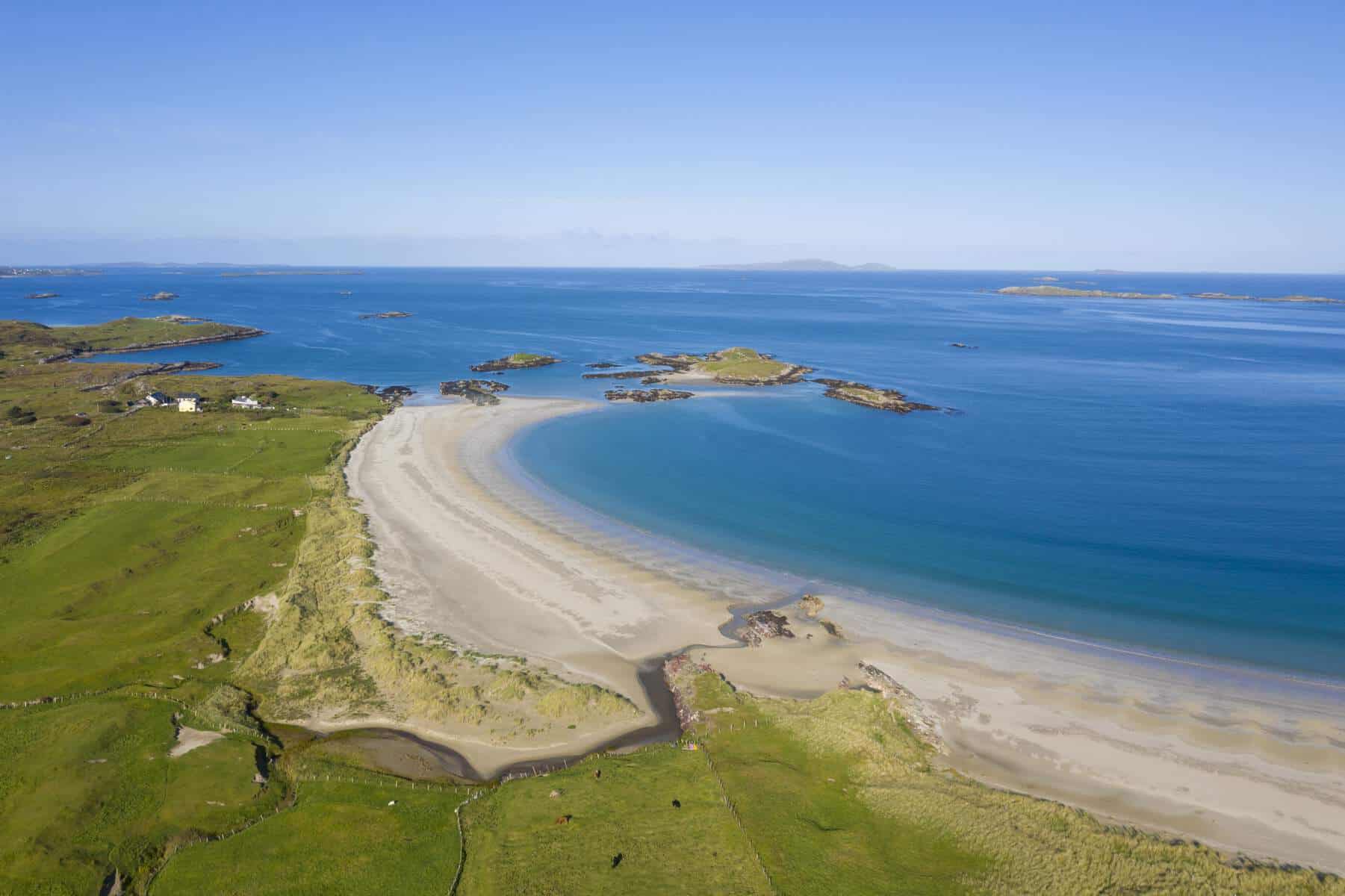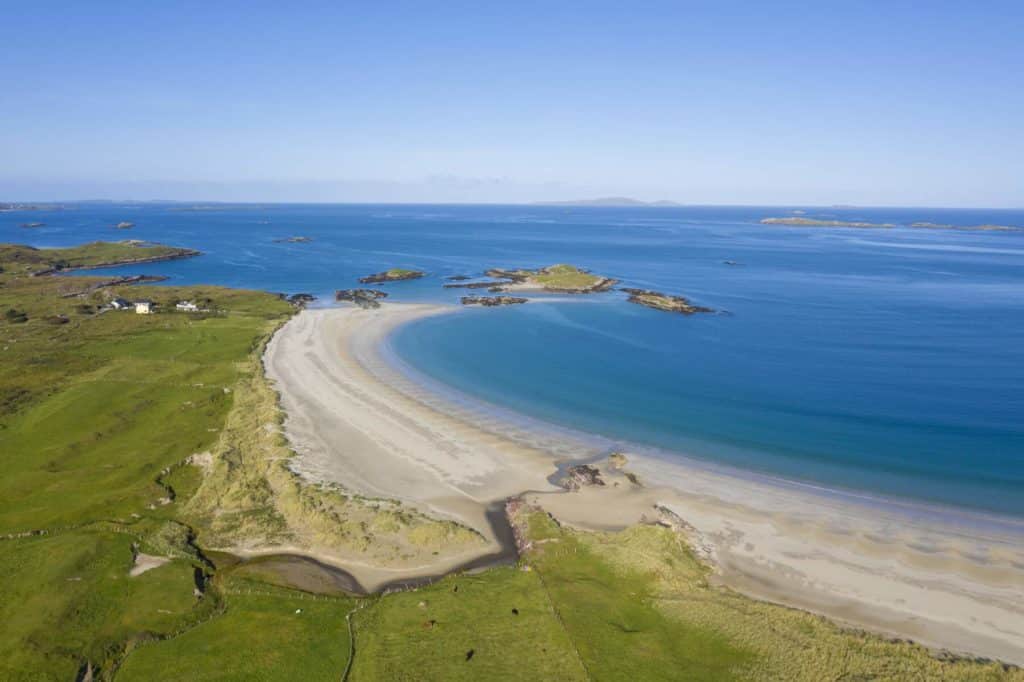 On a bright day, the sand appears almost white in colour and the water is completely transparent. You'll see plenty of shoals of little fish zooming around in the shallows if you decide to go for a paddle.
The sand is very fine and the beach is incredibly clean. Towards the far side there are tons of rock pools to keep your little scientists occupied.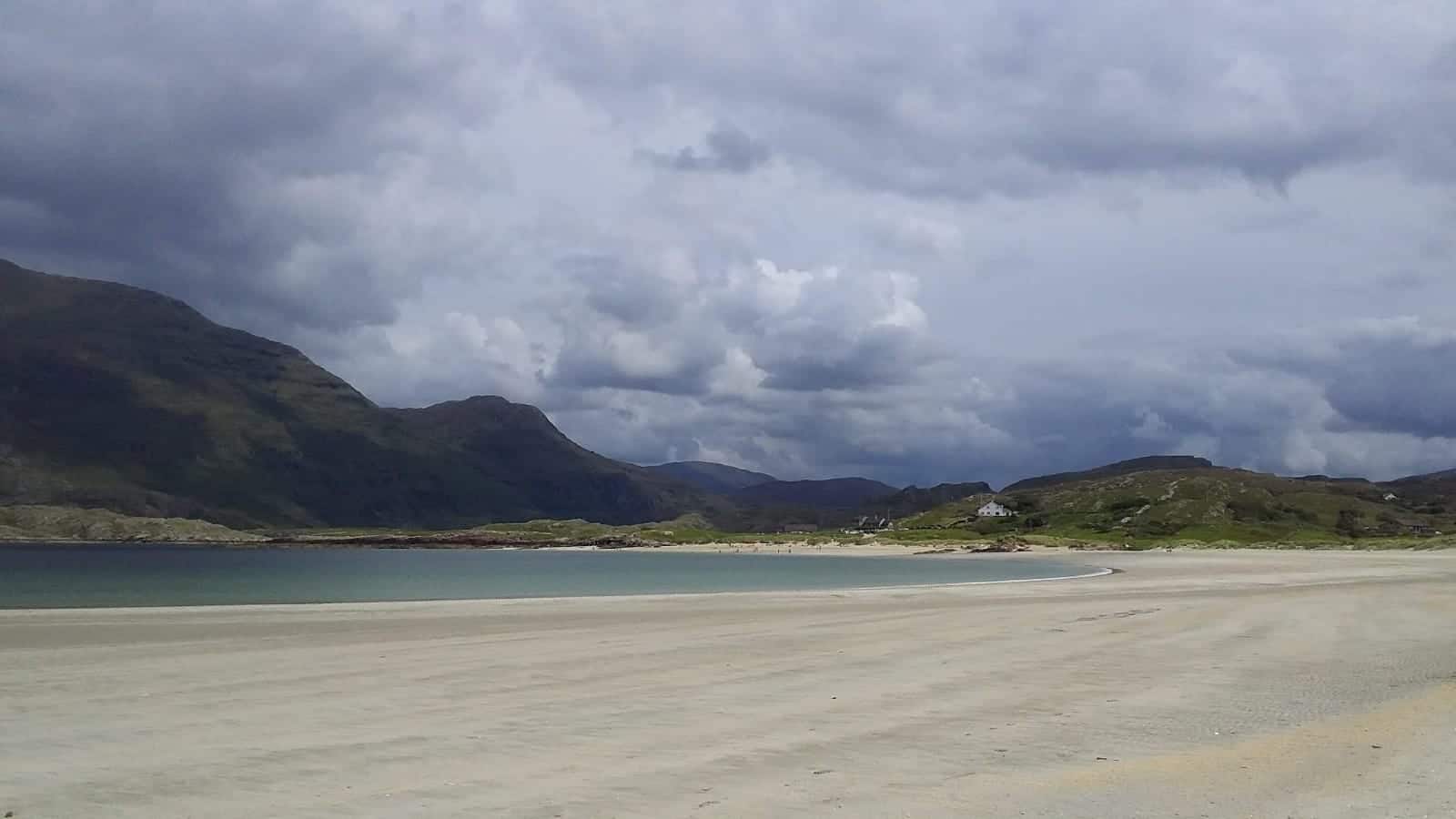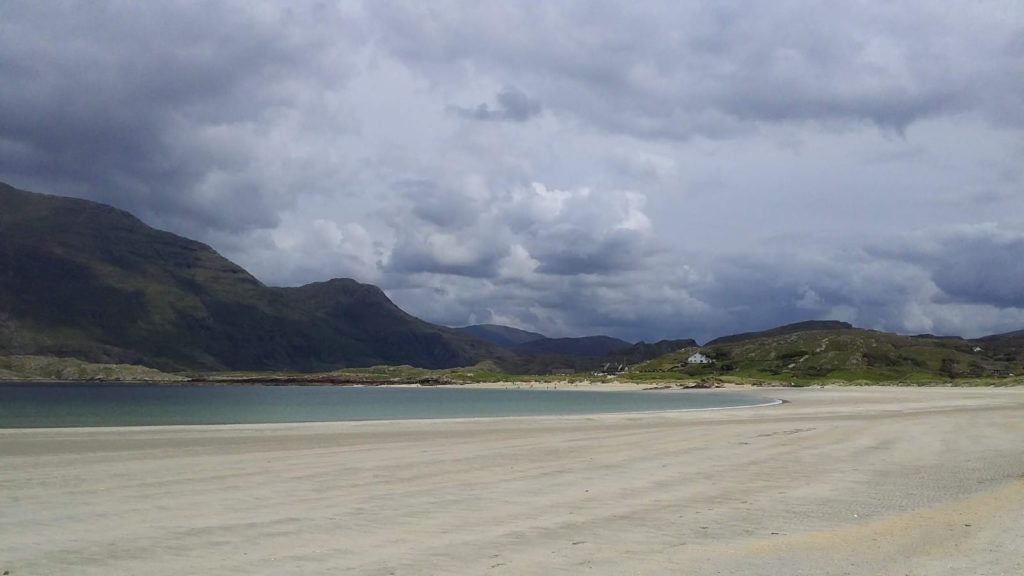 Also at the far end it's possible to reach a small island via a sandbar, which is highly recommended. The views from here are beautiful, but just make sure you don't get caught when the tide comes in again. See below for aerial video of this section.
The Views
One of the very special features of Glassilaun Beach must be the vistas which surround you when you walk along the shores.
To the north, you'll see the mighty peak of Mweelrea, Connaught's highest peak, rising straight up from sea level to a height of 2,671 feet. At the foot of Mweelrea, you'll be able to make out the entrance to Killary Fjord.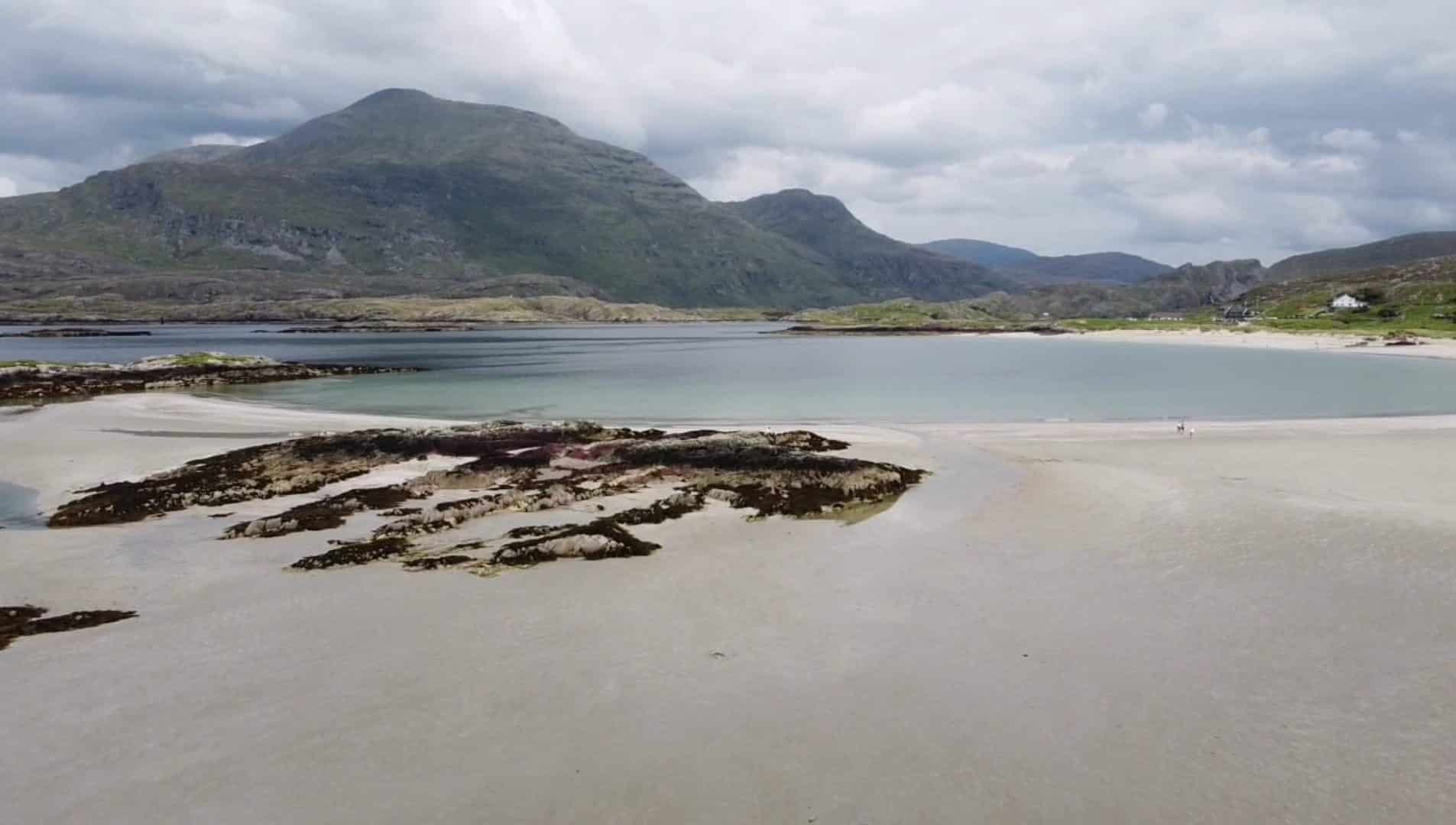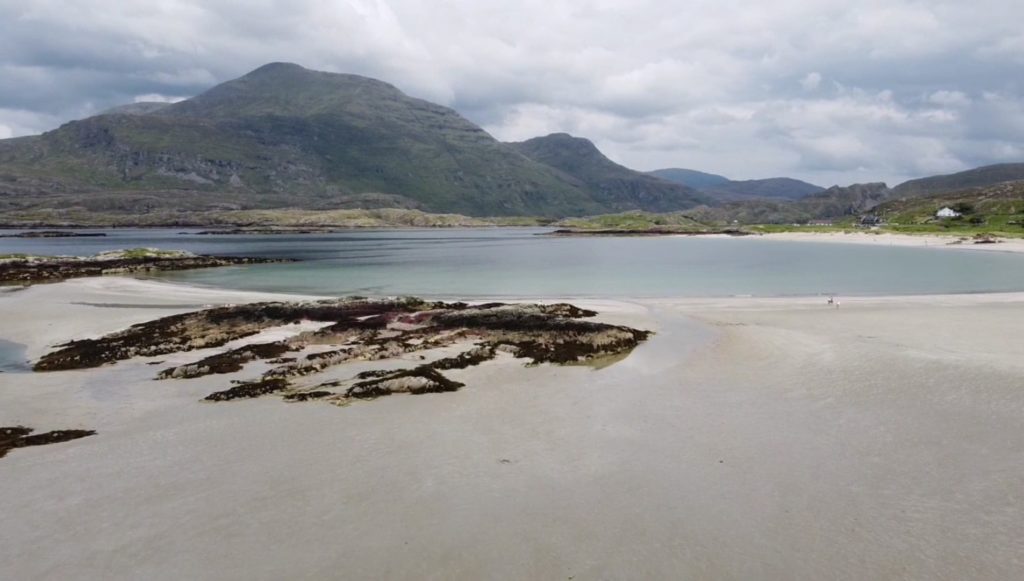 To the south you'll see Garraun Hill, a typically craggy Connemara mountain with its peat and rocky surfaces.
Further off in the distance towards the east, you'll see the Sheeffry Hills and Partry Mountains.
Looking out to sea, you'll catch sight of the intricate coastlines of small islands and inlets. On a clear day, almost directly north, you'll be able to make out Clare Island, with the cliffs of Knockmore (461 metres) rising out of the water almost resembling a whale's back.
Activities on Glassilaun Beach
Swimming
As there are officially no lifeguards on duty on this beach, it's difficult to say for sure if swimming is safe or if there are any currents to be aware of.
Having visited numerous times and been in the water, I can say from personal experience that the waters were very calm and there were no waves. I did visit mostly on a calm, clear summer days though.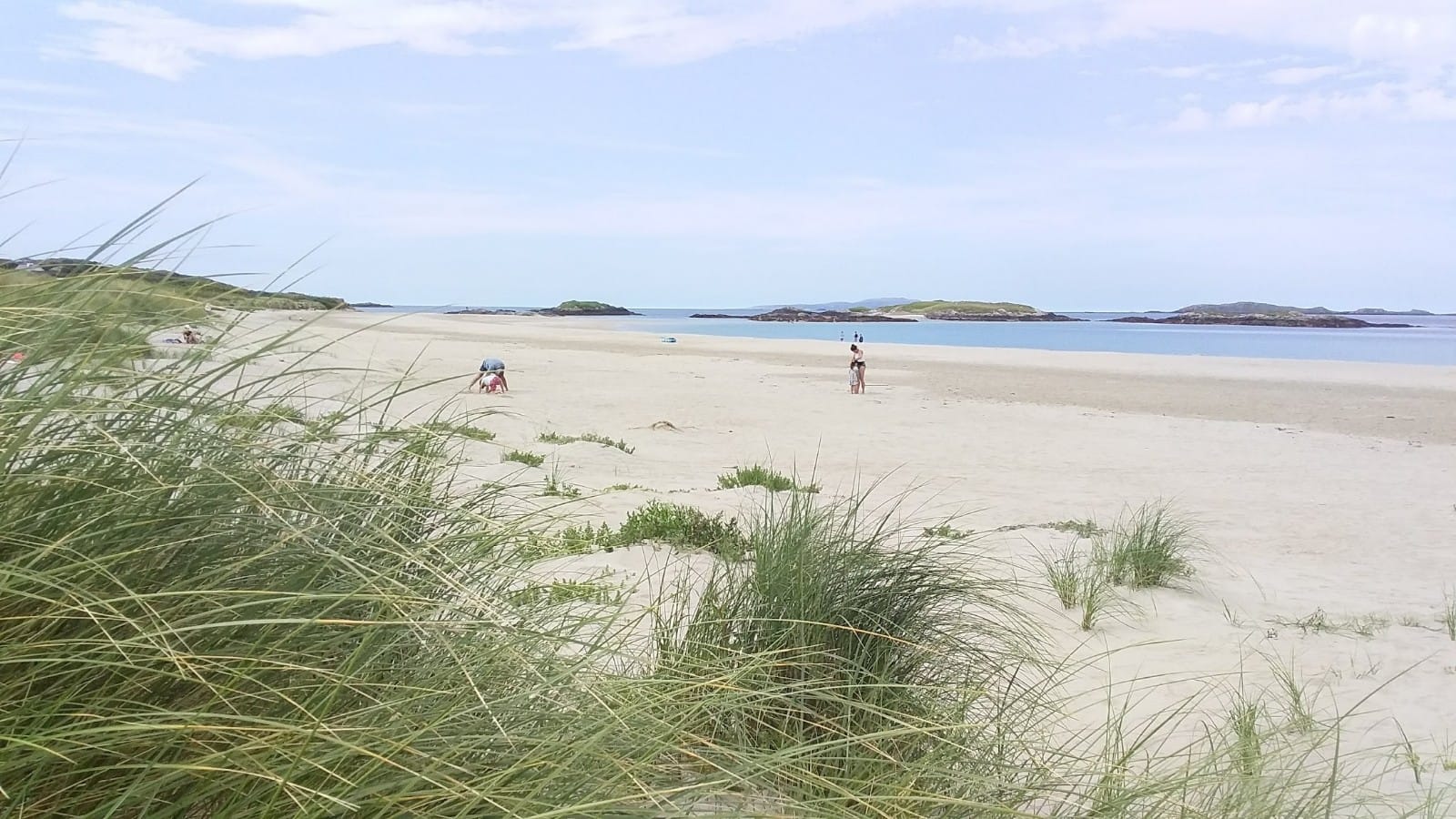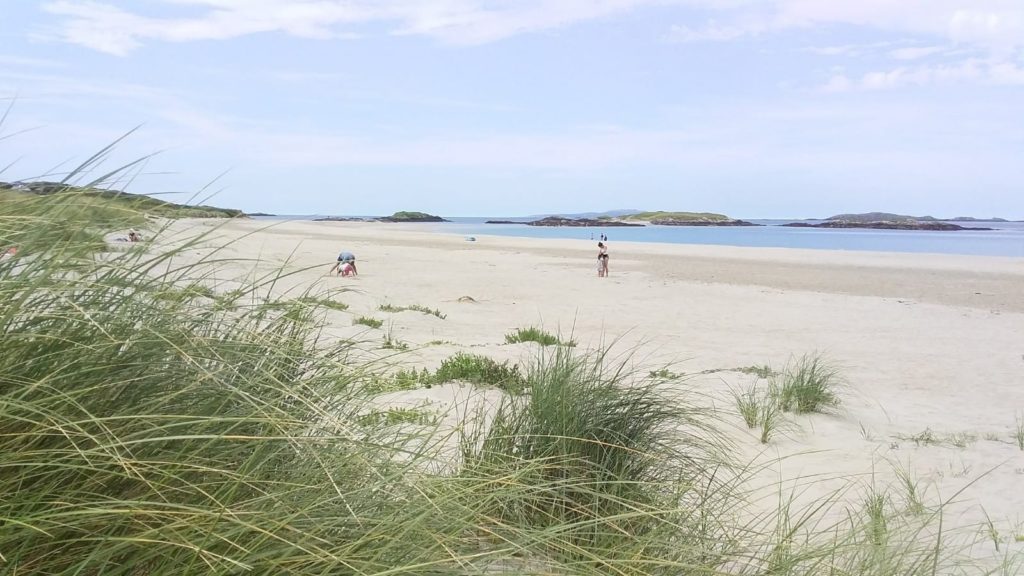 One thing I noticed was that the waters were definitely cooler than those found around the north side of Clew Bay (Mulranny in particular)
Glassilaun is a north facing beach, and to the south is Garraun Hill, both factors which may have an effect on the amount of sunlight hitting the waters.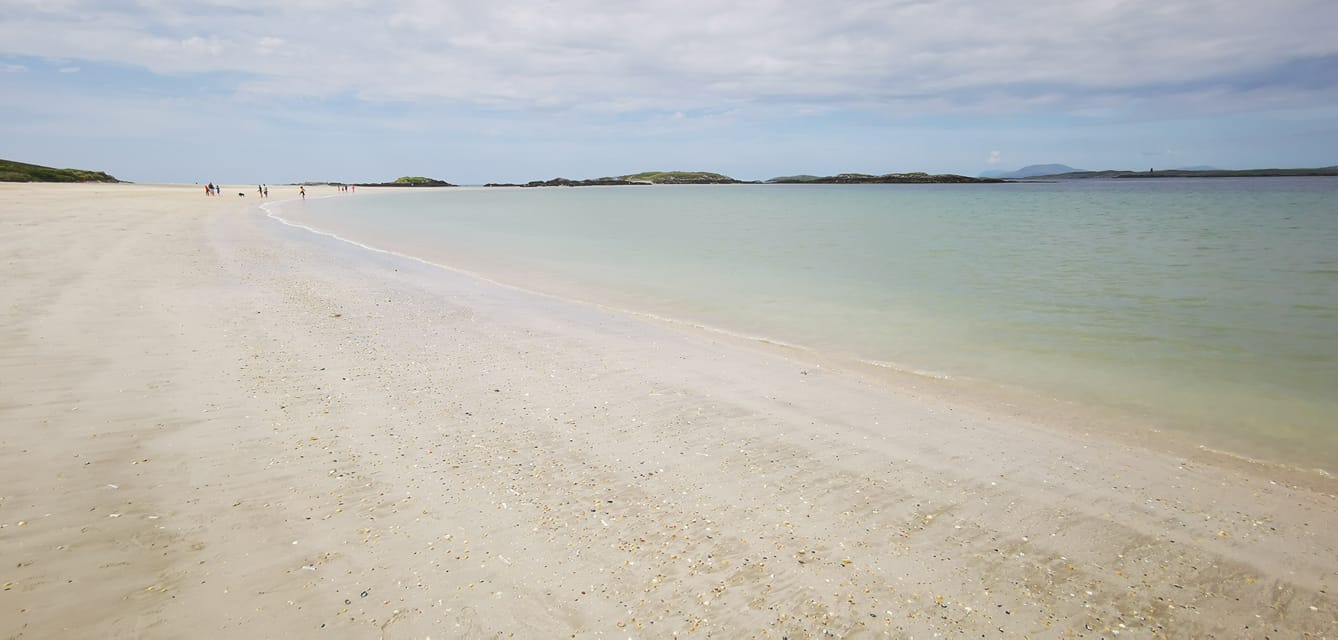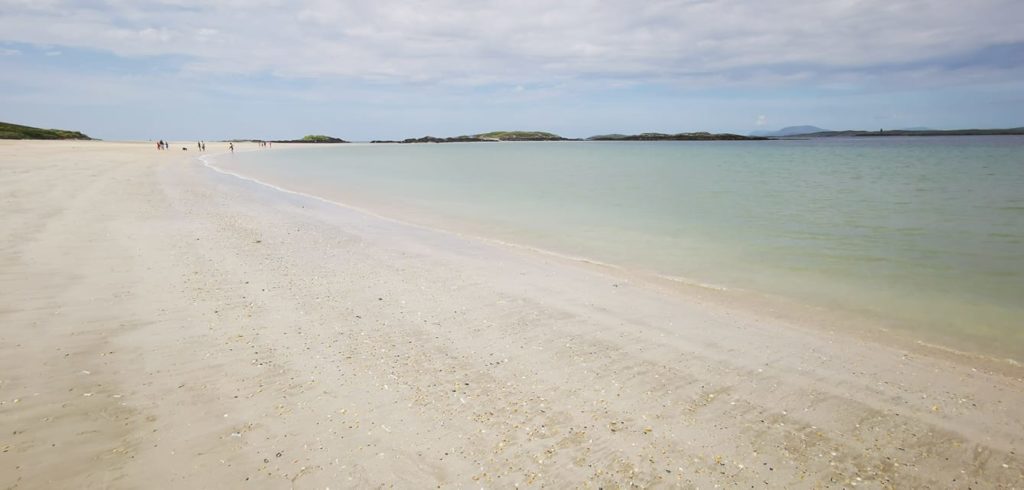 Paddleboarding/SUP
Due to its calm waters, Glassilaun Beach seems ideal for SUP. While there we did see one in the water and it all seemed calm and ideal.
Kayaking
Similar to SUP, the waters in the bay seem ideal for kayaking and seems a great location to explore the intricate coastlines, including the many coves, islets and headlands.
Diving/Scubadive West
Scubadive West are based on site and for years have been running a wide range of courses, along with a shop for all your diving needs. Due to the clear, calm and ideal waters at Glassilaun, it seems perfectly fitting to have such a facility literally on the beach. Check out these guys here.
Walking
Glassilaun Beach is just ideal for a quiet stroll of indeed a good brisk walk, depending on your mood. The bright sands, happily grazing sheep and gently lapping waves would clear the most cluttered of minds.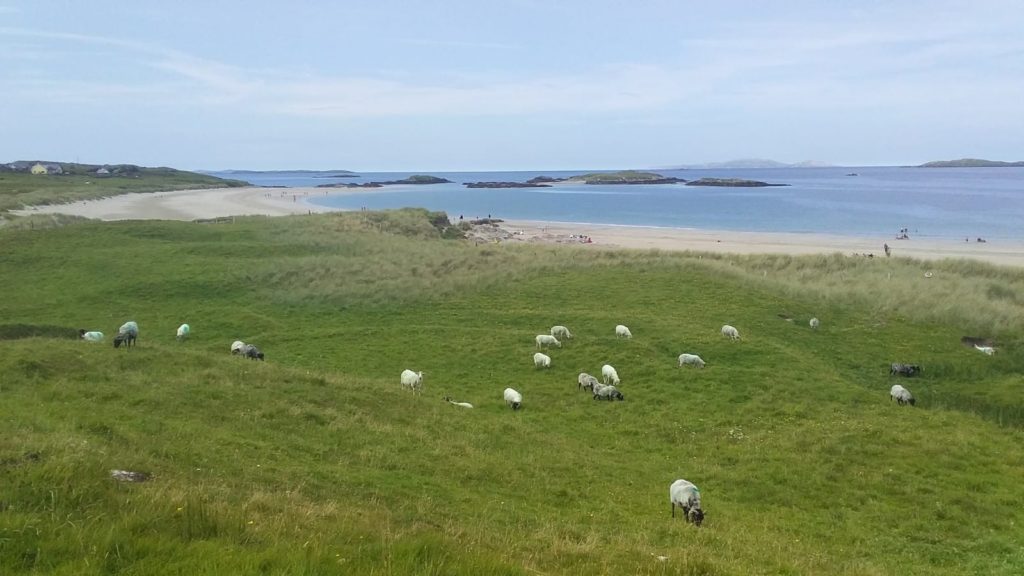 Insider tip: At low tide you can walk to an islet over towards the far side of the beach. But be careful, this narrow stretch of sand is covered during high tide. You have been warned!
This really is a magical place, with the tiny patch of green grass in perfect contrast to the dark rock and crystal clear waters.
Relax
Have you been exploring the Wild Atlantic Way and those Irish roads have your head in a spin?! Then park your car and just grab a quiet spot near those dunes and just relaaaaxx…Beach therapy doesn't cost a penny and will get you to your happy place in no time!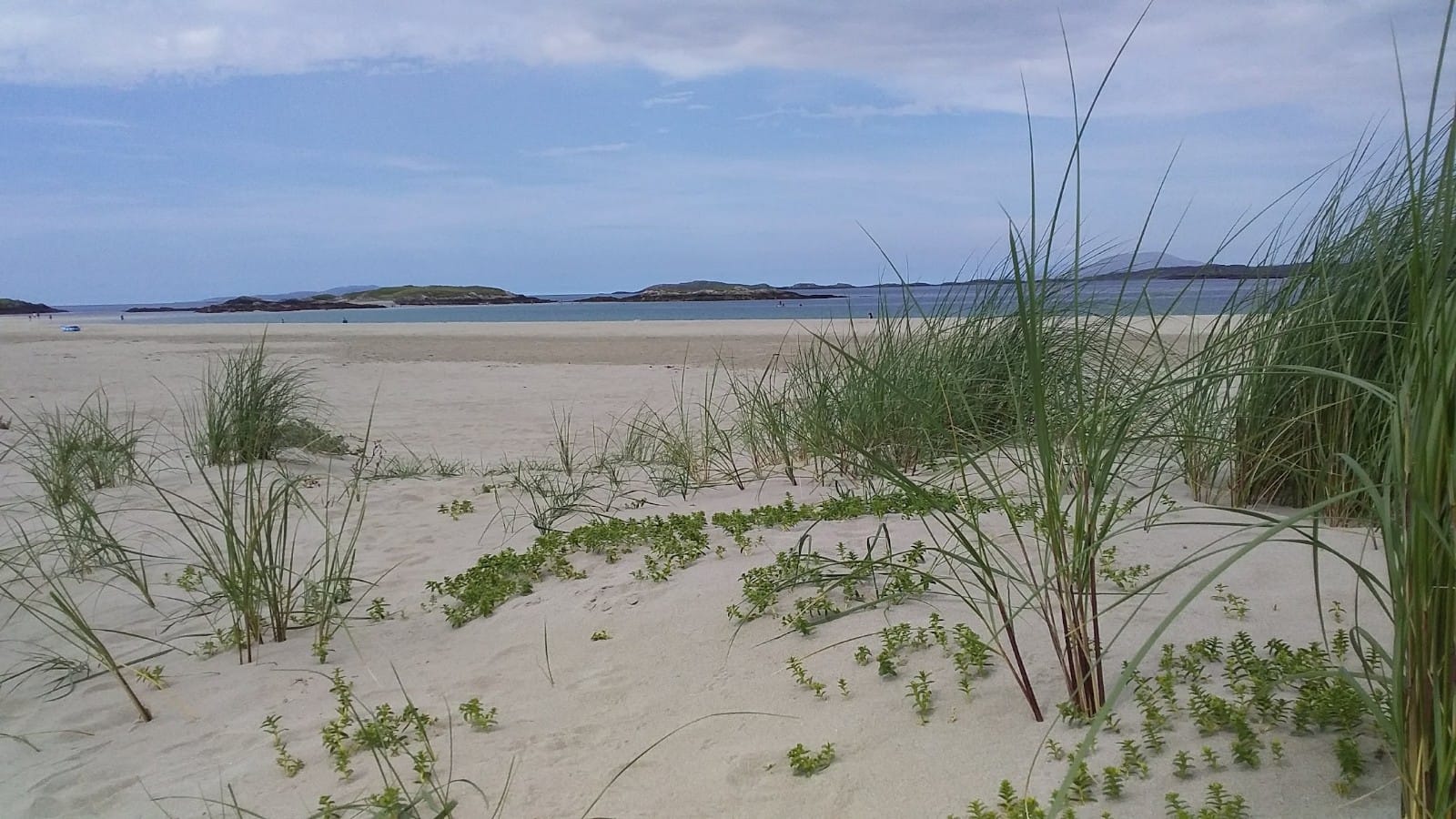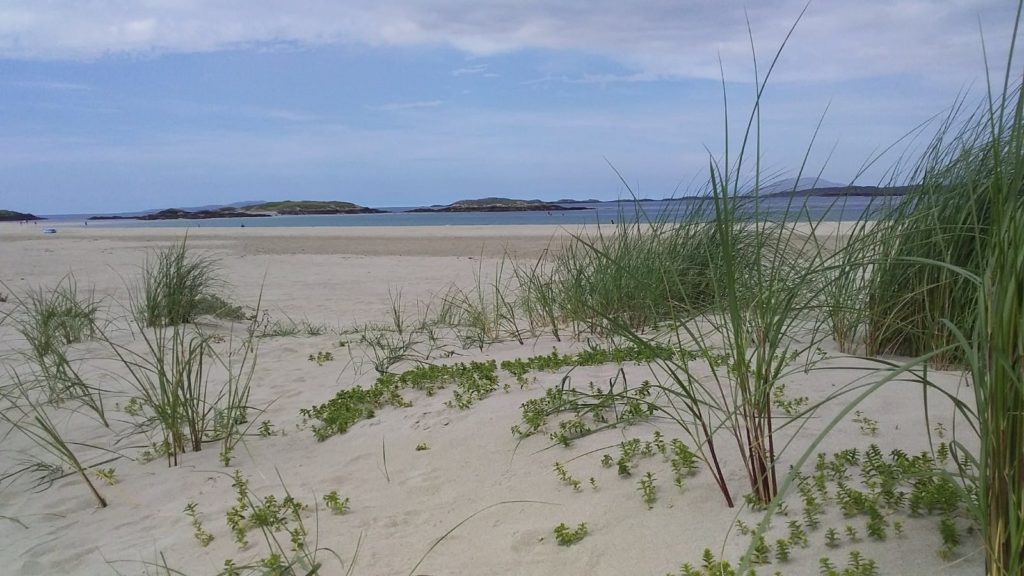 Flying your drone/photography
The beach and surrounding scenery will provide you with some stunning drone footage, as well as being ideal for landscape photography.
Having a quick scan around the web for some images of this area, it's really incredible how beautiful the west of Ireland is. The ever changing light promises some wonderful shots; the sun skimmming across the hills, valleys and beaches, with the contast of the water adding a whole different dimension.
Check out this incredible footage of Glassilaun Beach from 'Ireland from Above':
Glassilaun, with the looming mountains all around and the vastness of the Atlantic Ocean will make your job as a photographer a whole lot easier!
Things to Do Nearby
Connemara
One of our favourite places in Ireland, actually scrap that, in the world, is Connemara. This region is located west of Galway City and is, many may claim, the real heart of Ireland. Here, Irish is spoken on a day to day basis and Irish tradition is still going strong.
And by the way, the scenery here is awe-inspiring. There is practically every geographical feature you could imagine, from the mountains of the Twelve Bens of Connemara to the magical lakes and interlinking streams. We believe some days exploring Connemara is a must.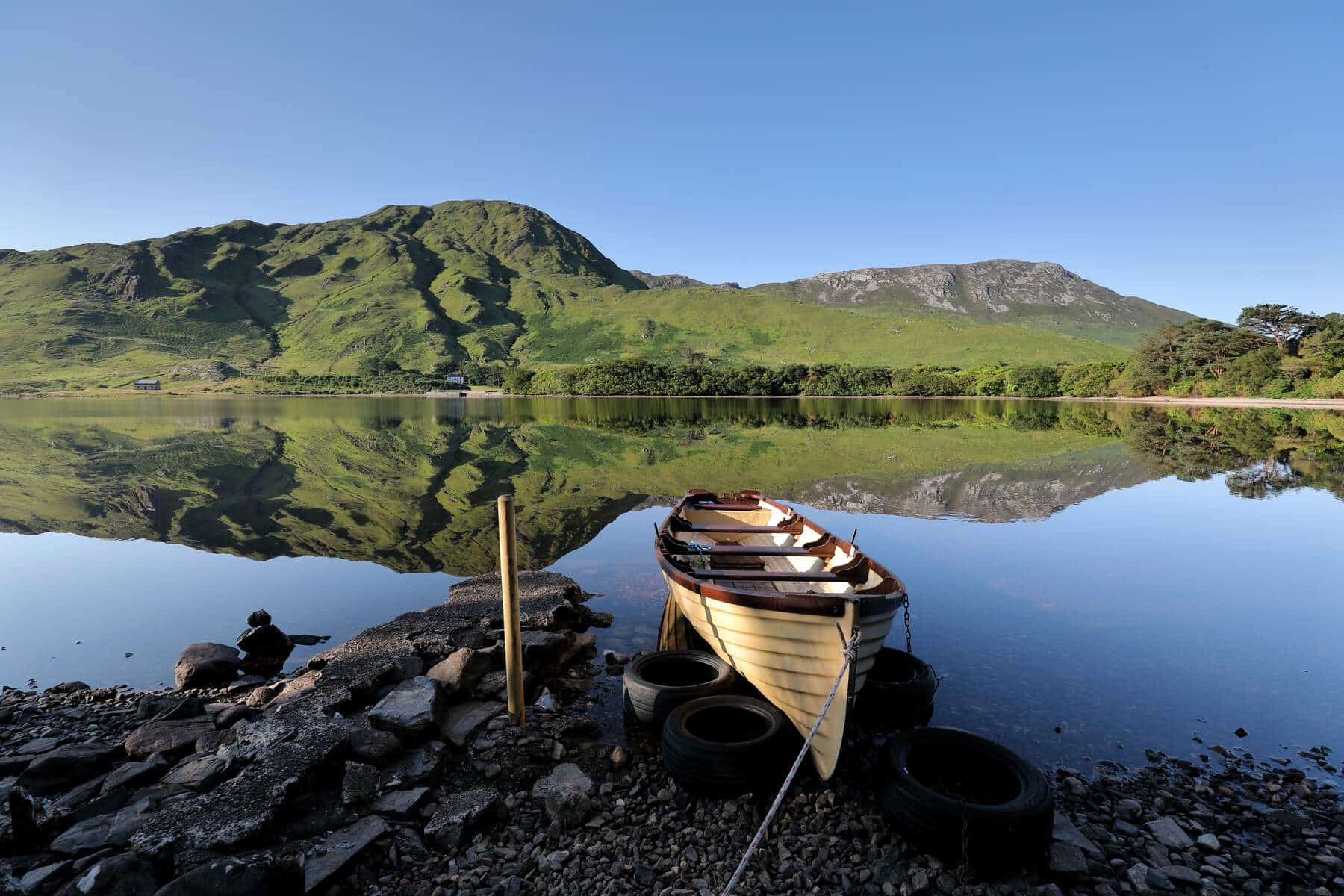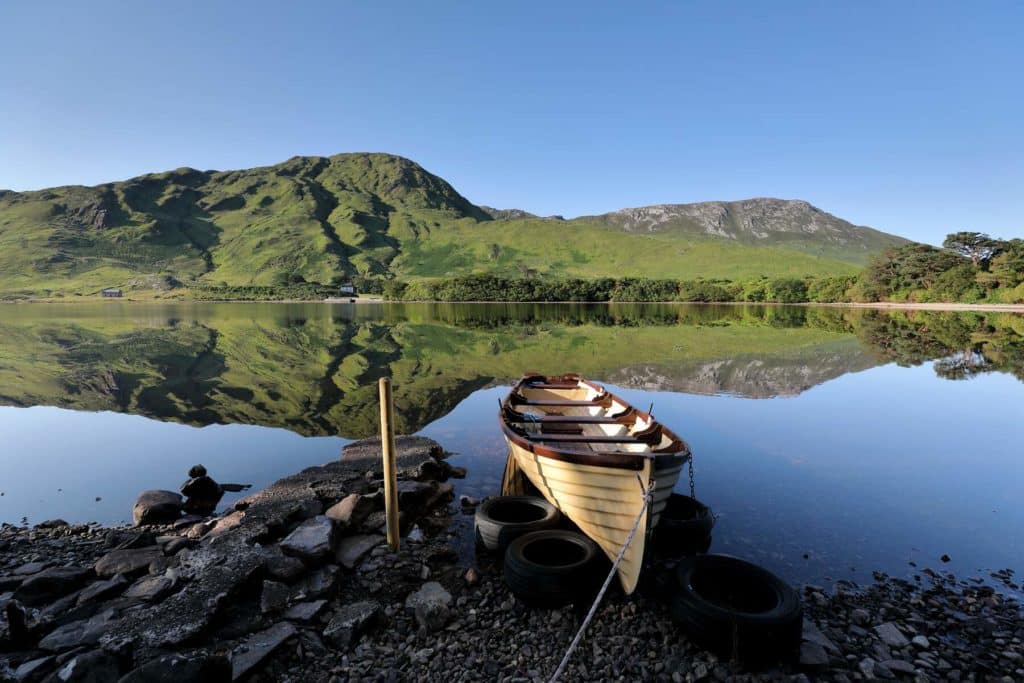 The Connemara National Park visitor centre is located approximately 20 minutes away by car and is well worth a visit. The interpretive centre is certainly worth a look and provides some great insights to the local traditions and history and includes some very informative audio visual guides.
It's also where the Diamond Hill trail starts, which offers amazing panormaic views over the whole Connemara coast and mountains.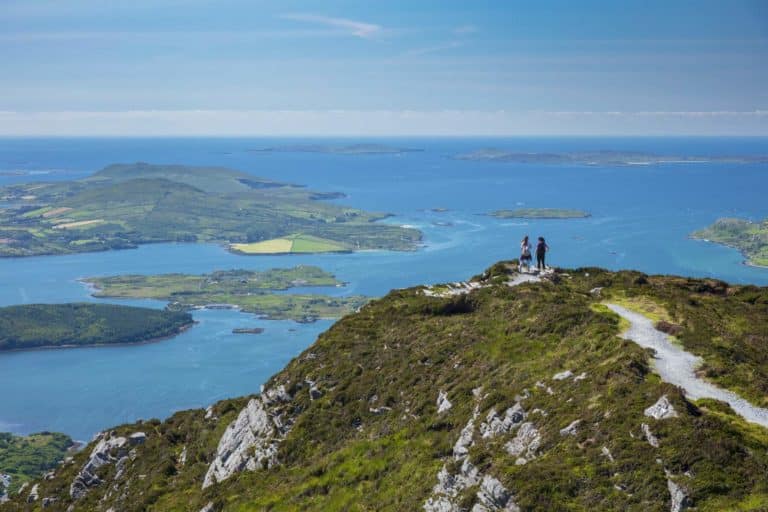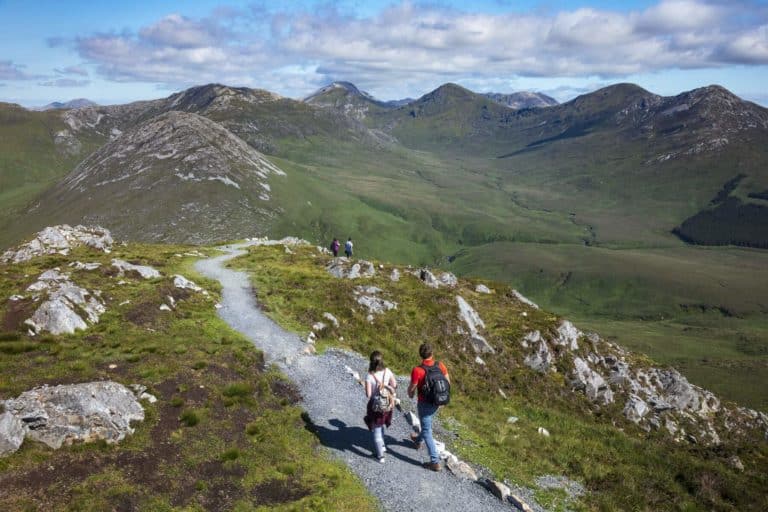 Kylemore Abbey
The world famous Kylemore Abbey and Gardens is located only 20 minutes away from Glassilaun Beach. This spectacular castle was originally built in 1868 and was the private residence of Mitchell Henry, an English doctor.
In the year 1920 the Benedictine Nuns acquired the house and subsequently set up a monastery. In the years that followed the nuns educated Catholic girls and became an international boarding school right up until 2010.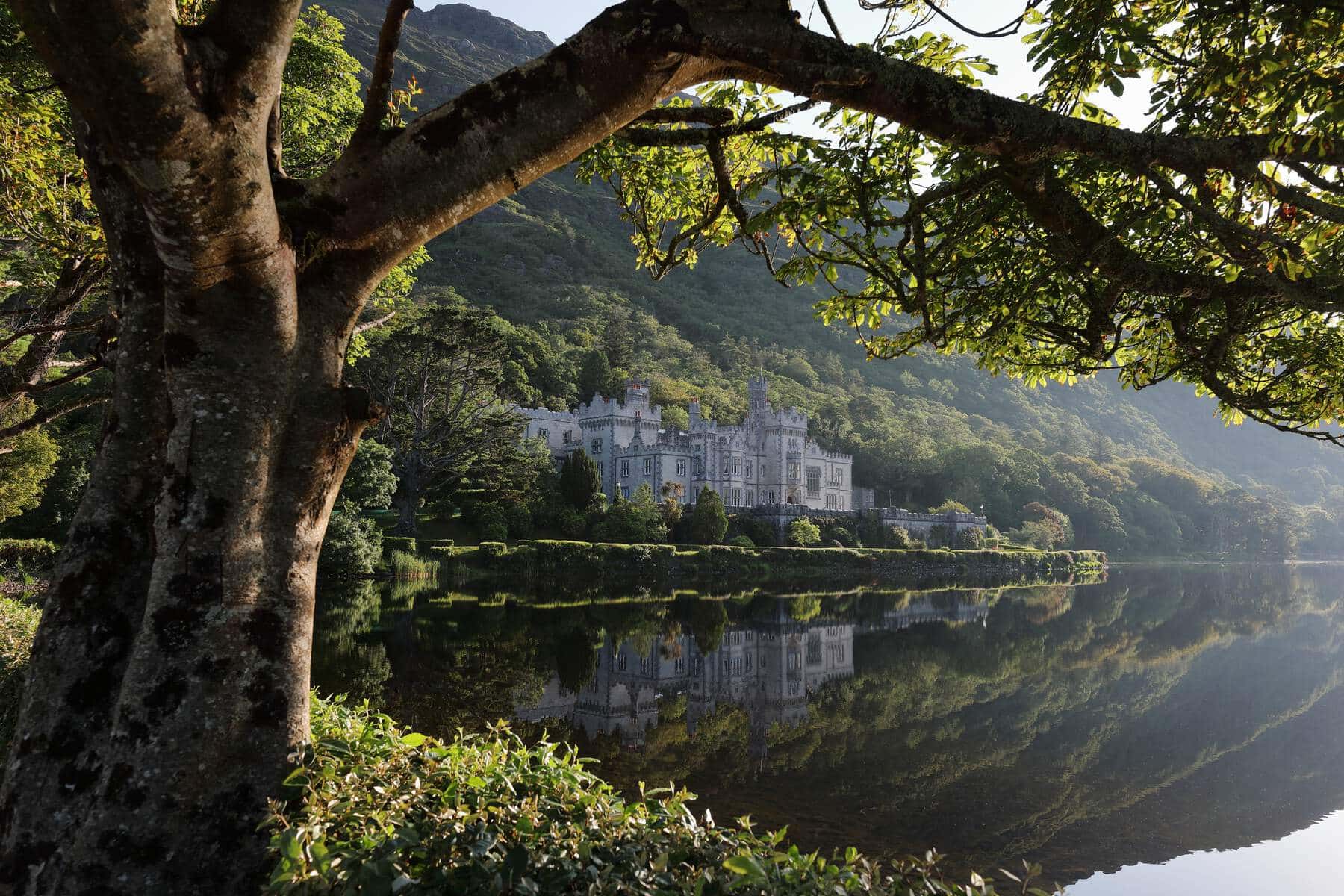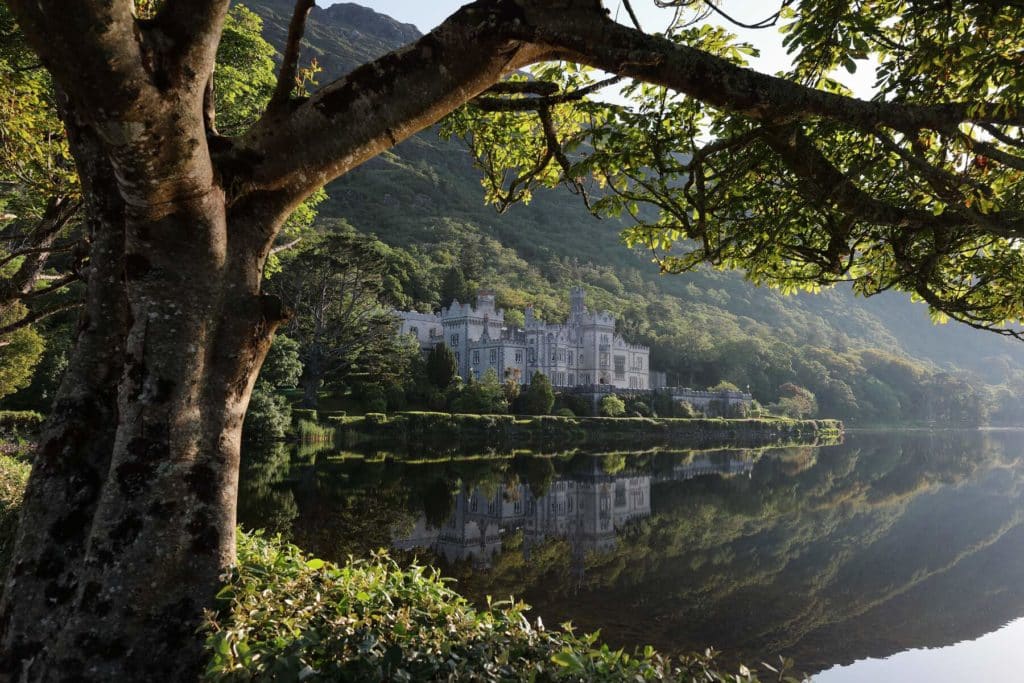 The house is currently open to the public, along with the must-see gardens and a delightful Gothic chapel. How about visiting early in the morning before the throngs of tourists start to arrive and then visit Glassilaun Beach in the afternoon?
That's exactly what we did on our last visit. That night was spent then enjoying the food and pubs in Westport town. A perfect day?
Should you want to partake in a wonderful daytrip from Galway City and driving is not really on the agenda, there are some great tours available here:
Get the Boat to Inishbofin
If you are settled in this part of Ireland for a few days, a trip we would highly recommend is to the beautiful island of Inishbofin, off the coast of County Galway.
Here, on this remote island, you get to experience a different way of life and some wonderful beaches, cliffs and ultimate quiet and relaxation.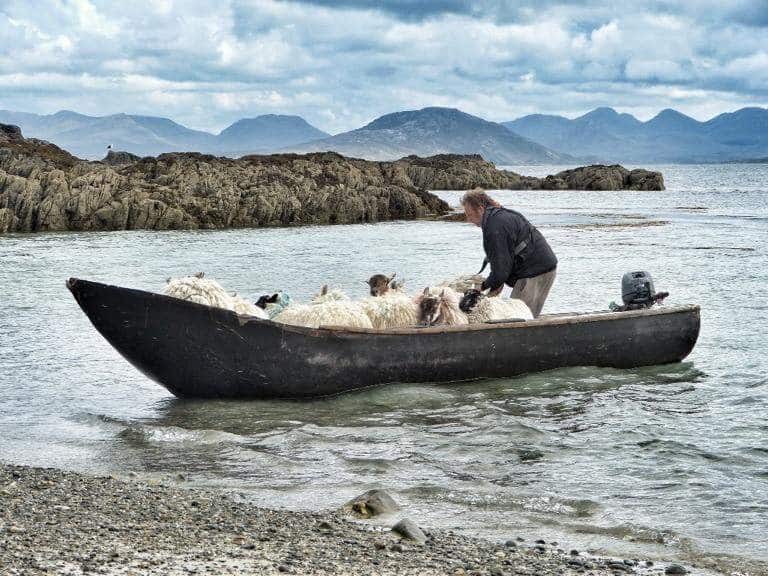 The nearby harbour of Cleggan, about half an hour away, is where you board. All times and details are here.
Where To Stay Nearby
The Glassilaun Area
As already alluded to more than once (!), Glassilaun is in a very remote area. In this region, however, there is a splattering of Bed and Breakfasts and top notch hotel with an outdoor swimming pool! Have a look here.
There is also a camping site on nearby Renvyle Beach. It is worth noting at this point that there is a sign on Glassilaun which prohibits wild camping or camping of any sorts. By the way, Renvyle is just as spectacular…We'll get to that beach in the not to distant future…
Westport
Westport, County Mayo is located approximately 50 minutes away by car.
If you have been following us to date, you may have noticed we love Westport and strongly believe it is a great base to explore so many incredible locations like Glassilaun, along with countless more beautiful locations.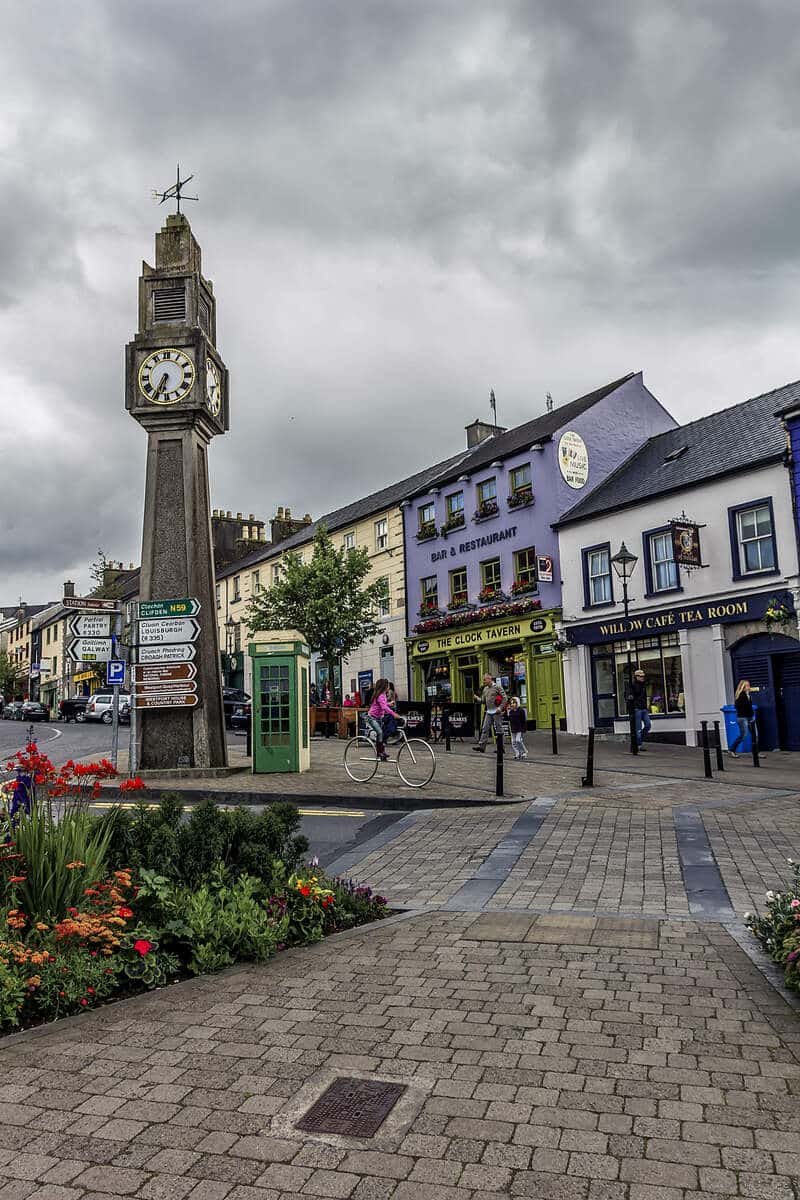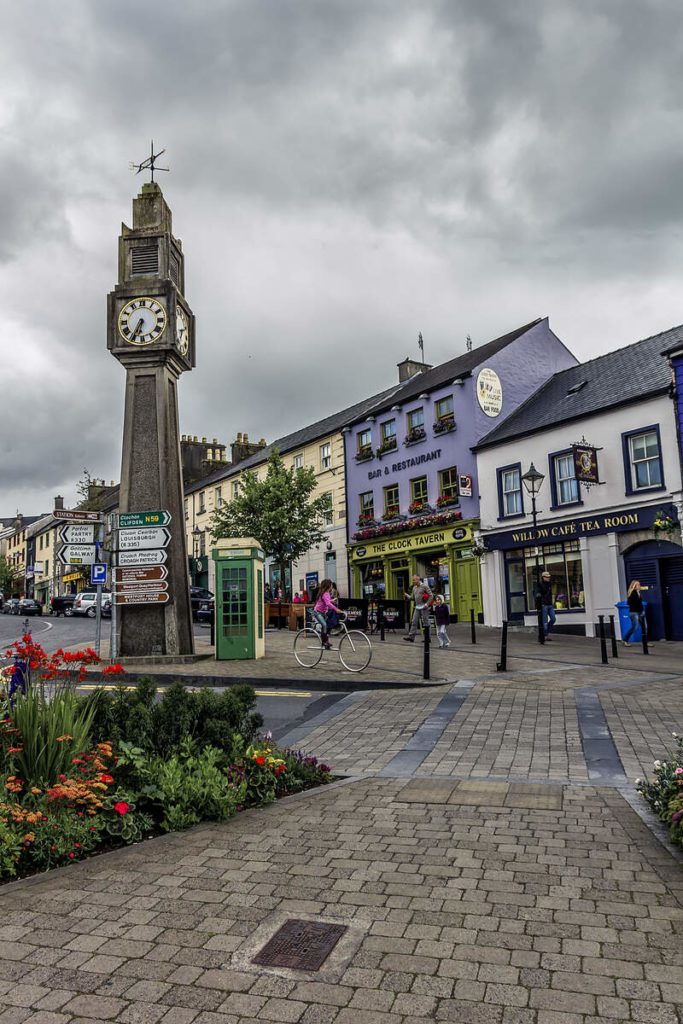 That's why we have hand-picked our favourite hotels in the town. We have stayed in almost all of them, so we are going from first-hand experience. From budget to luxury, check out our top 12 favourite hotels in Westport here.
Final Thoughts
So that's our rundown on the wonderful Glassilaun Beach. We believe it to be a real hidden gem and if you are lucky enough to get some good weather, we highly recommend visiting.
Why not combine a visit to this beach with visiting the majestic Connemara region? You'll have a trip to remember.
Leave us a comment below if we have not mentioned anything or if you just have any questions. Have you been to Glassilaun Beach yet?