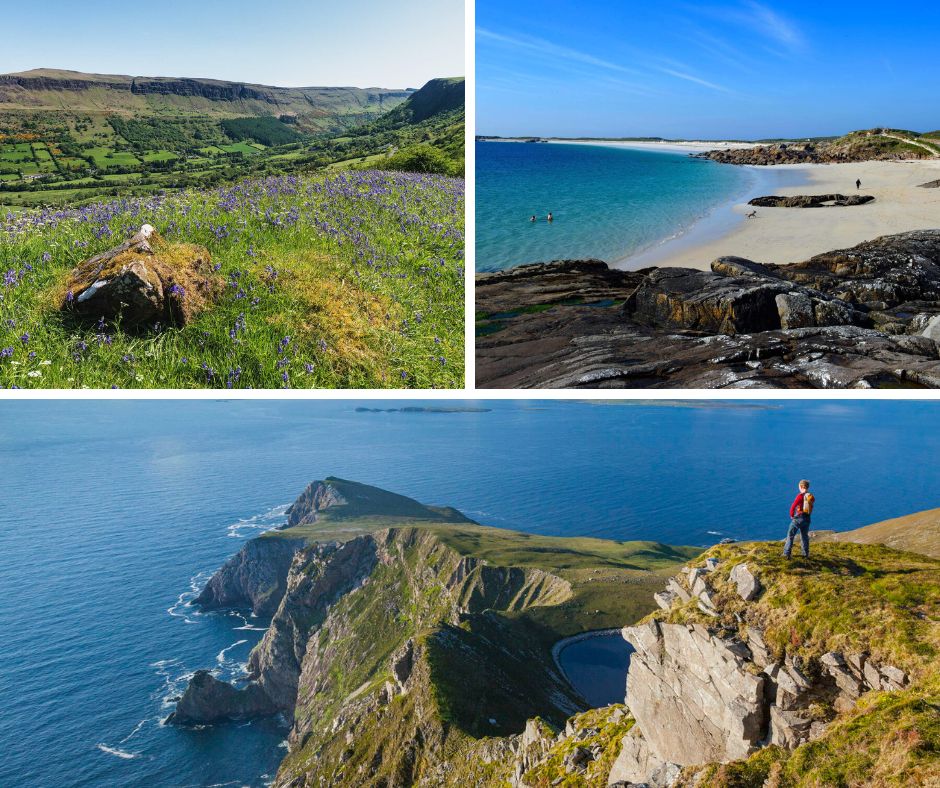 May is regarded as one of the best months to visit Ireland. The days are long and on average it's the driest month of the year for most regions of the country.
In comparison to the peak summer months of July and August, accommodation, flights and general prices are slightly lower. Coupled with this, you won't have throngs of tourists at every main attraction.
A study by Ireland's official tourism board, Bord Failte, discovered that 91% of tourists visited Ireland to experience its beautiful landscapes, therefore visiting in May will give you a great chance of discovering the Emerald Isle in all its glory.
However, as I am an Irishman myself, I must point out from experience that not every May turns out nice and sunny! This little island is nestled in the North Atlantic, so rain is never too far away. When planning a visit to Ireland, it's all about giving yourself the best chance of good weather and we believe May provides this.
So without any messing around, let's get into it!
Things to consider before visiting Ireland in May
The Weather
May is officially the first month of summer in Ireland.
Expect highs of 16°C/61°F and average lows of 9°C/48°F (source: Met.ie)
Here is a snapshot of some real life weather data, taken from Dublin in May of 2023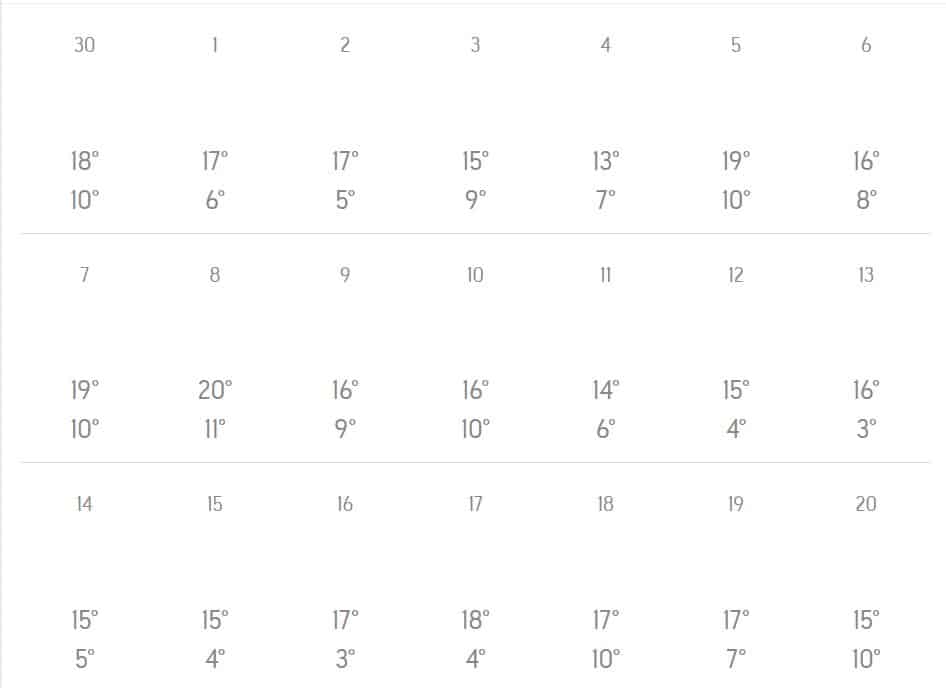 Daylight Hours
The month of May is characterized by long summer days, particularly towards the end of the month.
Expect 15 hours of daylight at the start of May and 16.5 hours towards the end of the month. So in reality, if the day starts out muggy and clears by lunchtime, you still have a good 9 hours of daylight left to explore.
The Price of Accommodation/Flights
Let's call a spade a spade, in recent years, Ireland has become an expensive country. May though still offers cheaper prices for accommodation, flights and car rental than during the peak season.
Demand is lower, giving you a better of selection of places to stay, whatever your budget may be. We highly recommend booking flights (if possible) up to 6 months in advance to give yourself the best shot of getting a good price.
Recently I discovered this aggregator tool below, which provides you with the exact final price of your ticket, with no hidden fees. There's nothing I hate more than hidden fees.
Crowds
While May will not be a quiet as the previous 2 months, you should still be able to discover many attractions at a relatively relaxed pace, without throngs of visitors around.
It is worth noting however that the first weekend of the month is always a holiday weekend, which in Ireland means the Monday is free i.e. schools, banks etc. are off on this day.
Main sights such as the Guinness Storehouse and Cliffs of Moher will always attract a big crowd, but the more rural areas of the west of Ireland will have a nice number of tourists, without it ever feeling overcrowded.
What's on in Ireland in May
The ancient Celtic festival of Bealtaine is still celebrated in Ireland, albeit in a more modern form. Incidentally, the word 'Bealtaine' is Irish for May.
This is a month long event with a ton of events held throughout the country, from music to art, poetry recitals to wine and cheese tasting. You are almost guaranteed to come across one of these events on you trip to Ireland in May.
All details are here.
Other events taking place in Ireland in May are:
Litfest
Leenane mountain walking festival (highly recommended!)
Riverfest (Limerick)
Music in Drumcliffe
Bray Jazz Festival
You'll find a full list of events here.
The Weather in Detail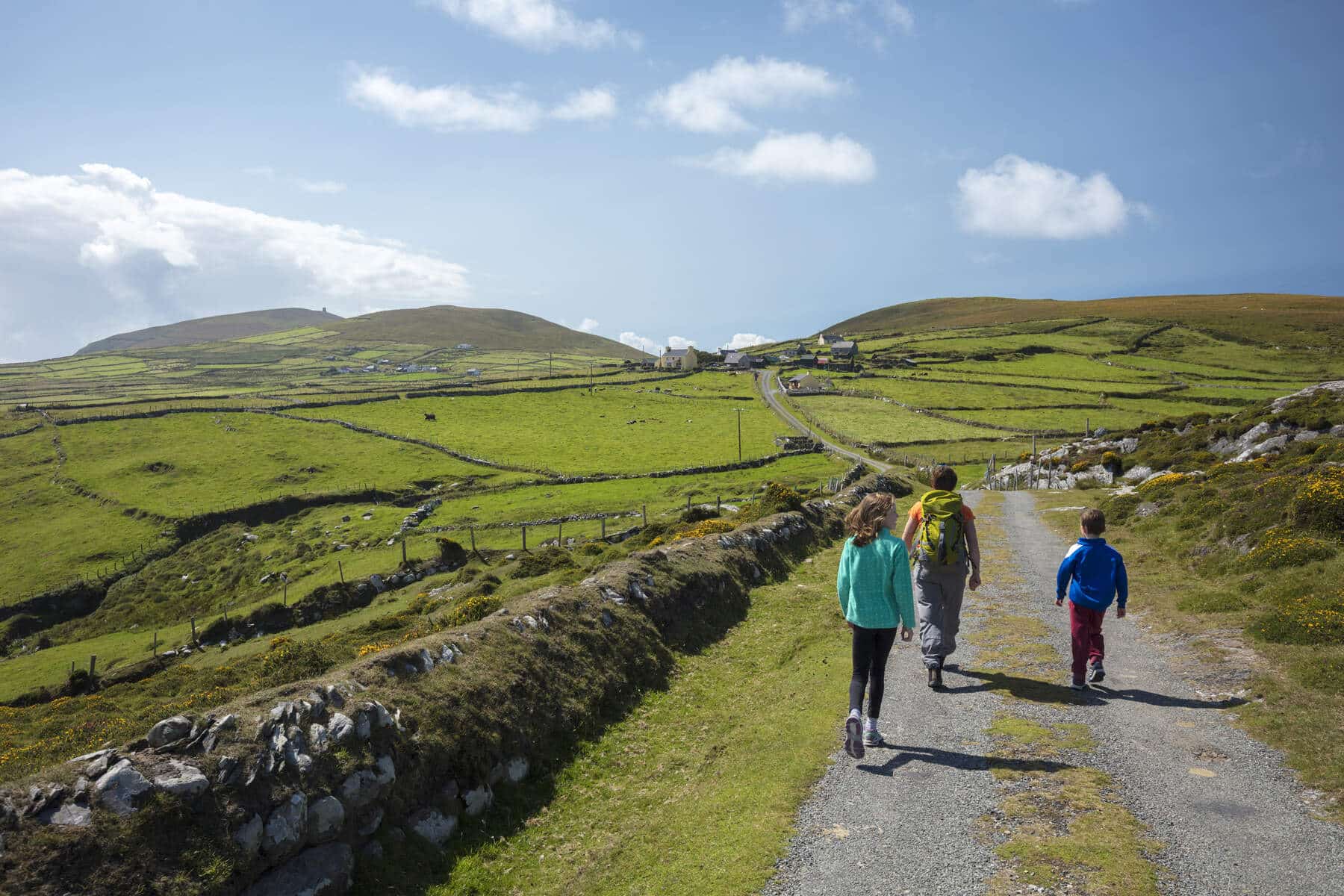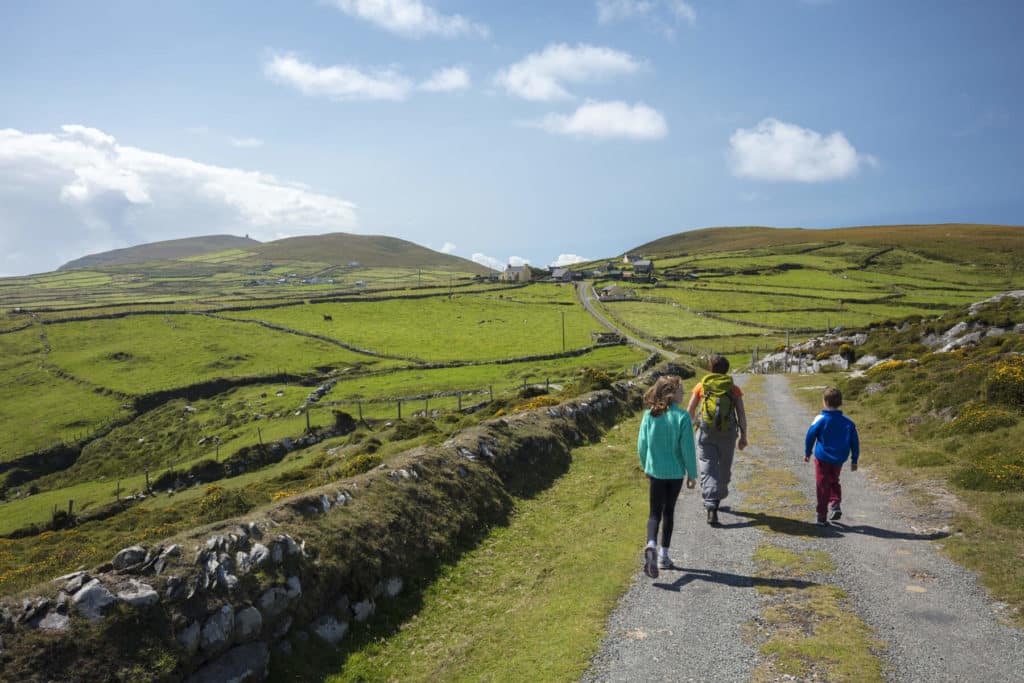 The weather in Ireland in May can be characterized as being mild and generally dry, with a better chance of longer, warmer spells than the previous months of March and April.
The weather in May 2023 was 'warm, dry and calm with a sunny finish' (Met Eireann) Some stations saw no rainfall for 20 days.
For our long term averages, we chose 4 weather stations in the four corners of the country to give the best overview.
We will be looking at four important factors regarding the weather in Ireland in May: temperature, number of rainy days and rainfall. A fourth and often overlooked factor is how the weather actually feels; this is linked to wind/wind chill factor.
Dublin
Dublin, located on the east coast of Ireland has a long term average temperature for May of 11 degrees Celsius (52 Fahrenheit)
Expect rainfall on at least 11 days of the month, and an overall precipitation total of 58 mm. (source: Met Eireann)
Record high temperature for May in Dublin: 26.8 (80.2 Fahrenheit)
Cork
Cork, Ireland's second largest city, is located on the south of Ireland. Cork has a long term average temperature for May of 10 degrees Celsius (50 Fahrenheit)
Expect rainfall on at least 10 days of the month, and an overall precipitation total of 73 mm. (source: Met Eireann)
Record high temperature for May in Cork: 23.6 (74.5 Fahrenheit)
Galway
Galway is notorious for rain, because of its Atlantic coast location. May however is one of the driest months in Galway.
Galway has a long term average temperature for May of 11.6 degrees Celsius (53 Fahrenheit)
Expect rainfall on at least 12 days of the month, and an overall precipitation total of 70 mm. (source: Met Eireann)
Record high temperature for May in Galway: 26.7 (80.1 Fahrenheit)
Derry
Derry City, located in the far north of the country, is one of the cooler cities of Ireland, with a average May temperature of 11 Celsius (52 Fahrenheit) Expect at least 12 days of rain, with around 52 mm of precipitation for the month.
Record high temperature for May in Derry: 25.7 (78.3 Fahrenheit)
Real Feel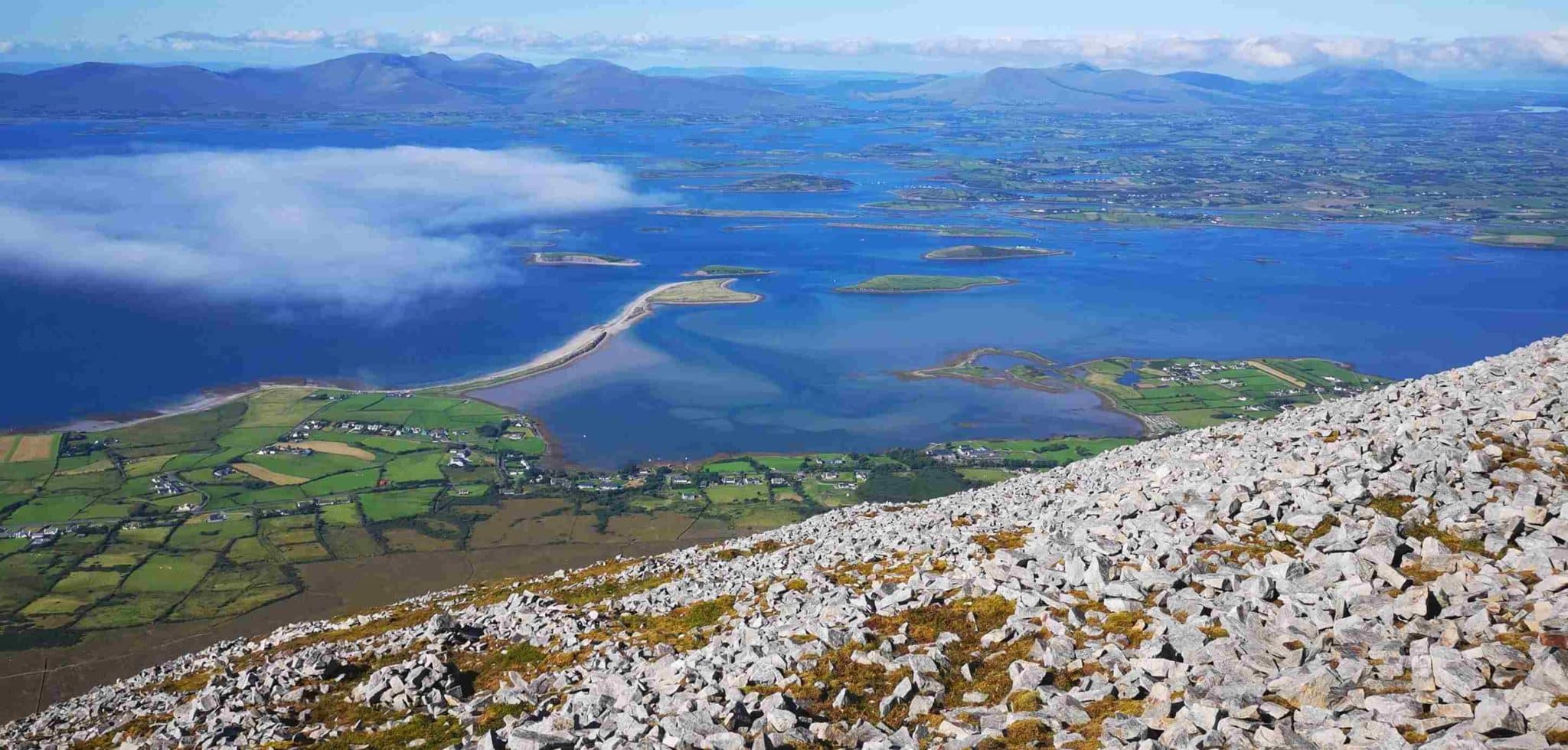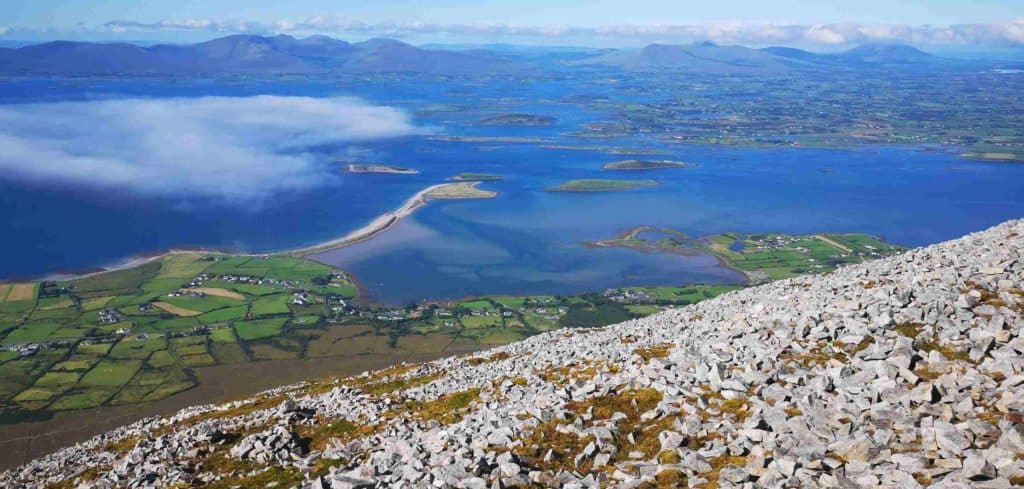 Generally speaking, if there is a spell of warm, settled weather in May in Ireland, it will feel perfect, with a nice breeze complimenting the warm sunshine. The sun is getting stronger, so the UV index will hover around 4-6 (moderate) in any sunshine. Expect higher values on the mountains/near water.
The wind tends to be be stronger along the coasts. You'll notice if you are along the east coast and the breeze is blowing from the east over the Irish Sea, it can feel quite cool. Here, we advise a good windproof jacket.
Daylight Hours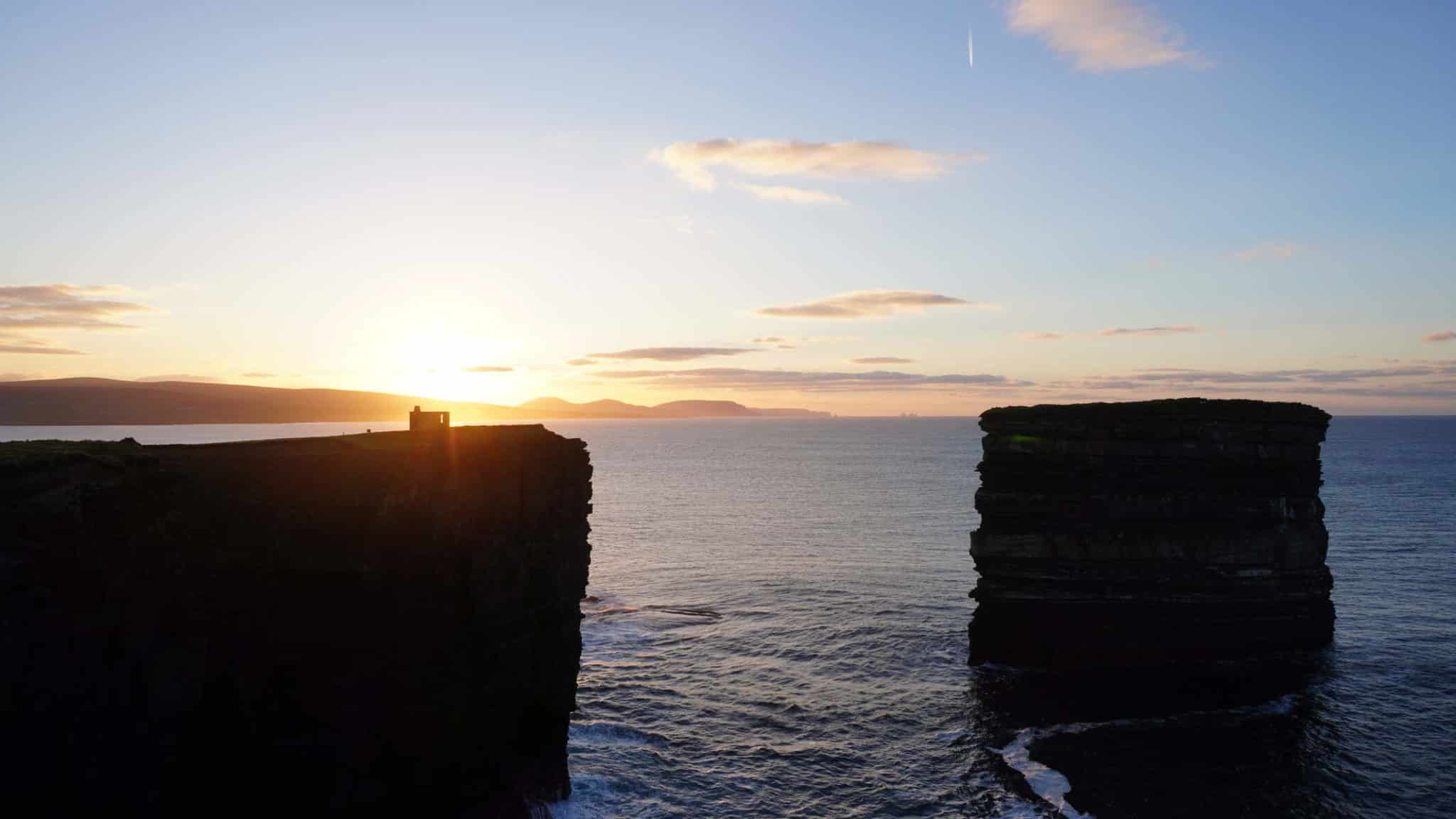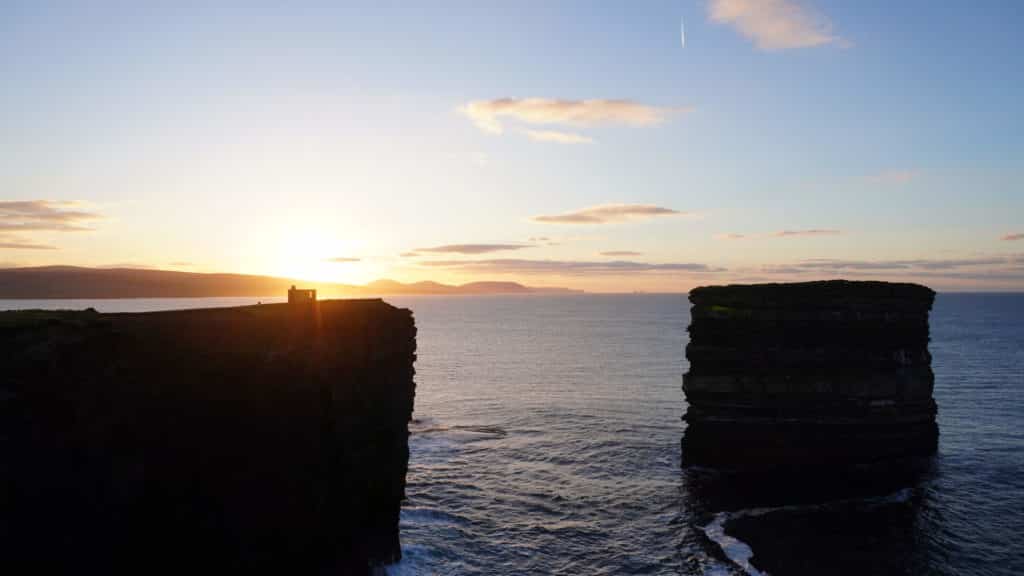 Longer days is one of the main advantages of visiting Ireland in May. In Dublin at the start of the month, the sun rises at 5.51 am and sets at 8.53 pm, giving over 15 hours of brightness.
This increases to over 16.5 hours in Dublin by the end of the month.
In Galway at the start of the month, the sun rises at 6.03 am and sets at 9.04 pm, giving also around 15 hours of brightness.
By the end of the month, the sun won't set until after 9.52 pm in Galway and as it's west-facing, it does not get truly dark till well after that, give over 16.5 hours of brightness! This allows for a full day of exploring the wonderful west coast.
The Prices/Cost of Visiting Ireland in May
Below, we have compiled data from Ireland's official travel agency, 'Bord Failte'. Our graph shows the average rate per hotel room per month (2022) in Ireland.
May is when accommodation prices start to noticeably increase in Ireland with our graphic below showing average prices per night over the 150€ mark.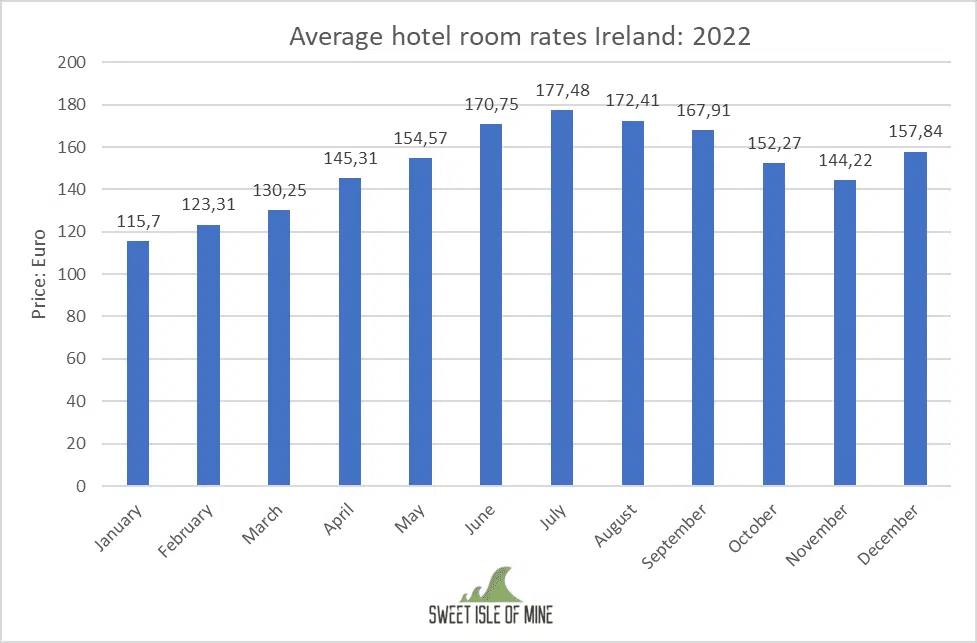 In saying that, there's still a 20 € difference per night compared to peak, which if staying in Ireland for a week or 10 days makes a big overall difference.
That 200 € saving will get you into the Guinness Storehouse, enable you to have a good night out and still have a bit left over for some snacks.
Dublin, on average, will be slightly higher than the average price quoted above, being the capital and all. But, if you've been following us, we believe a night or maximum 2 is enough in the capital.
Once again, we highly recommend booking well in advance. Hotels are limited in Dublin. Click here to see what's on offer.
What to do in Ireland in May
Start off with a night or 2 in Dublin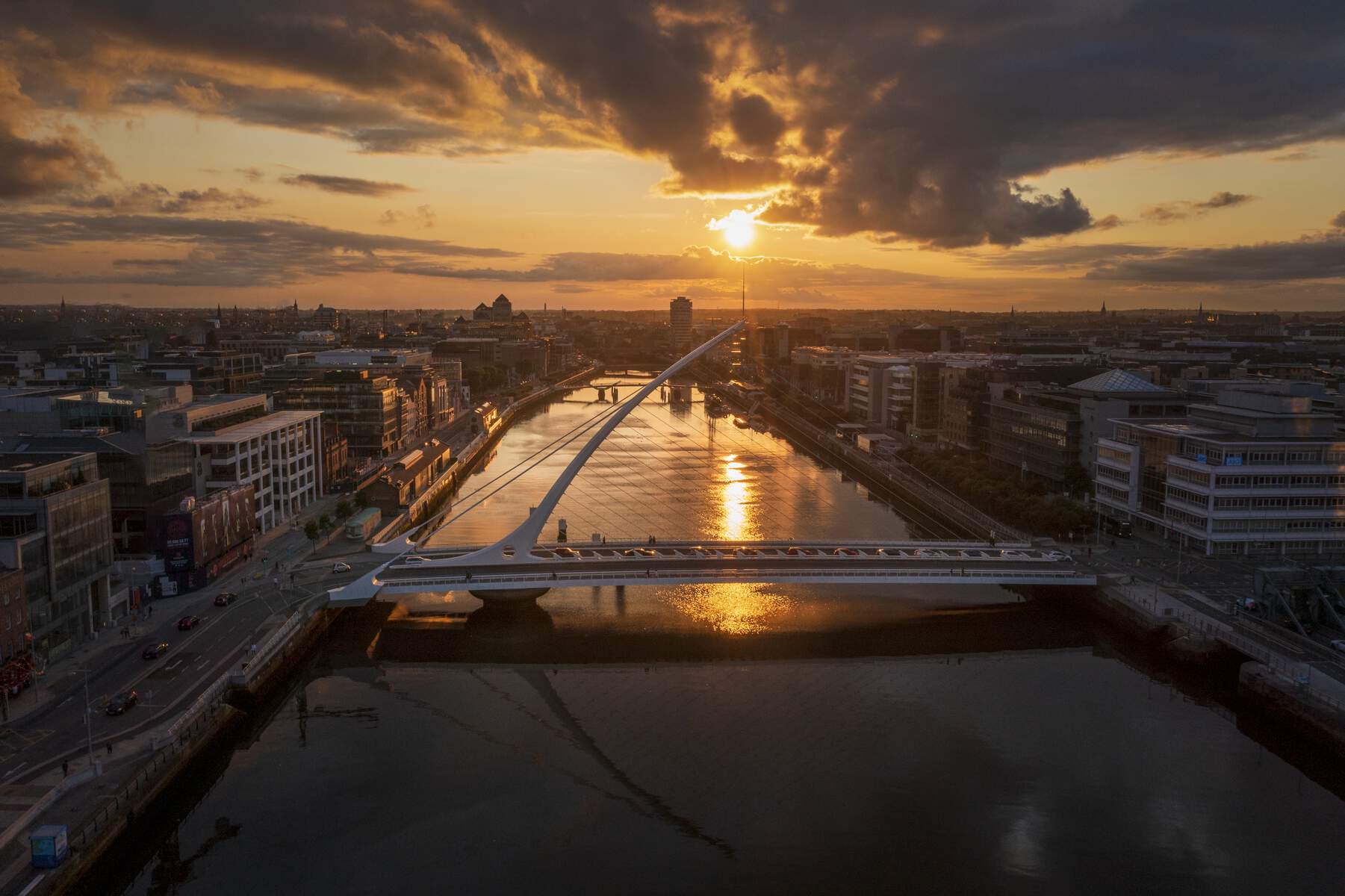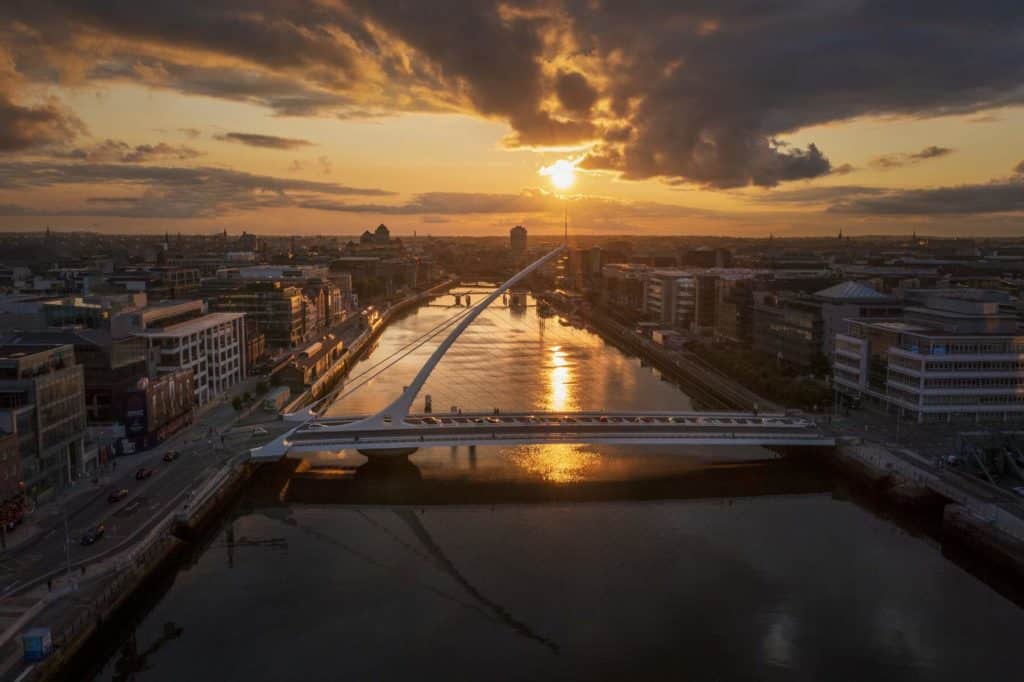 Dublin, being Ireland's capital, is definitely worth a visit. But we highly advise against spending all your time there. The countryside and coastal regions offer that true Irish experience which every craves on their visit. Dublin is also frightfully expensive.
If on a budget, remember all National Museums are free of charge! Here are our favourite things to do in Dublin:
Visit the National Museums of Ireland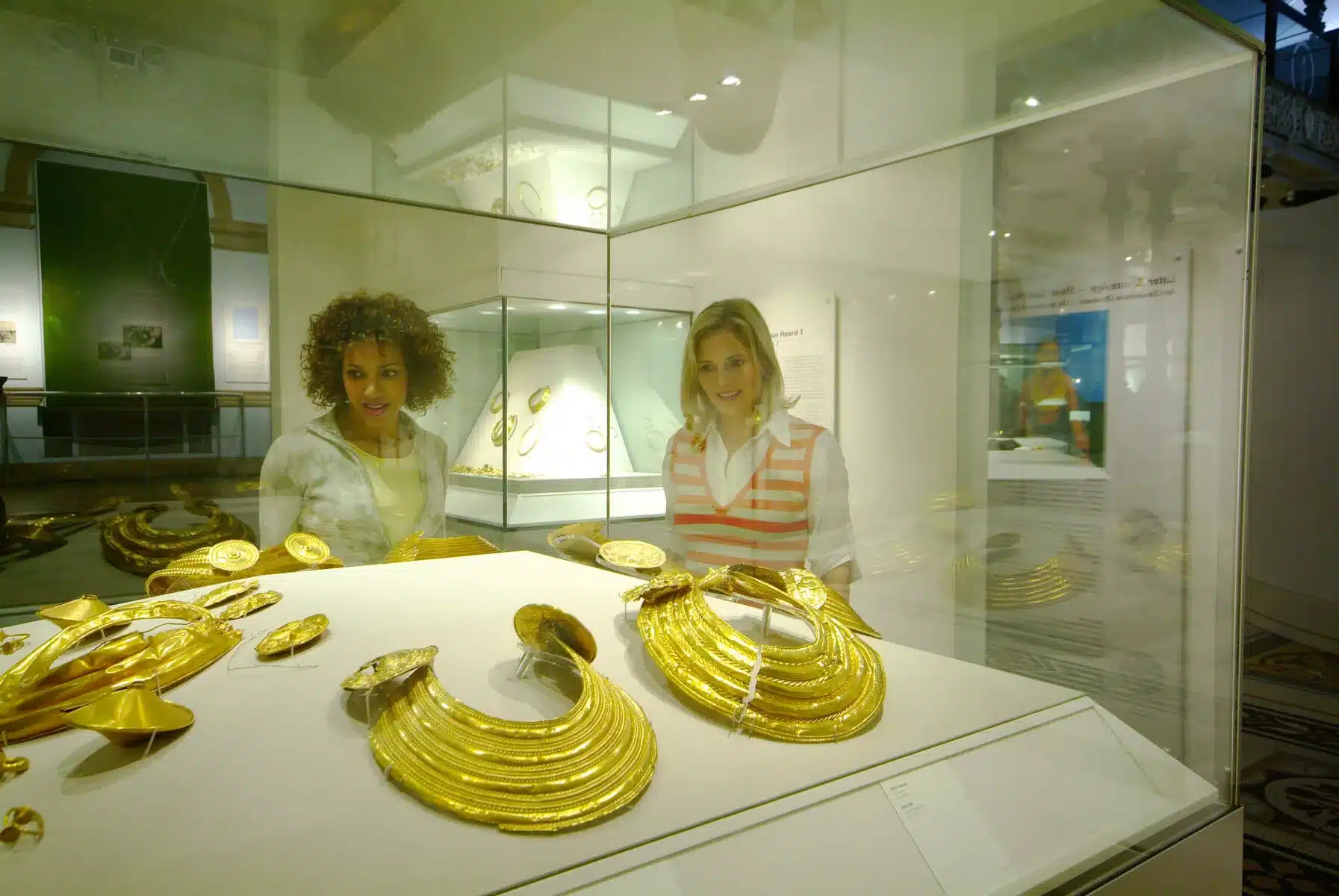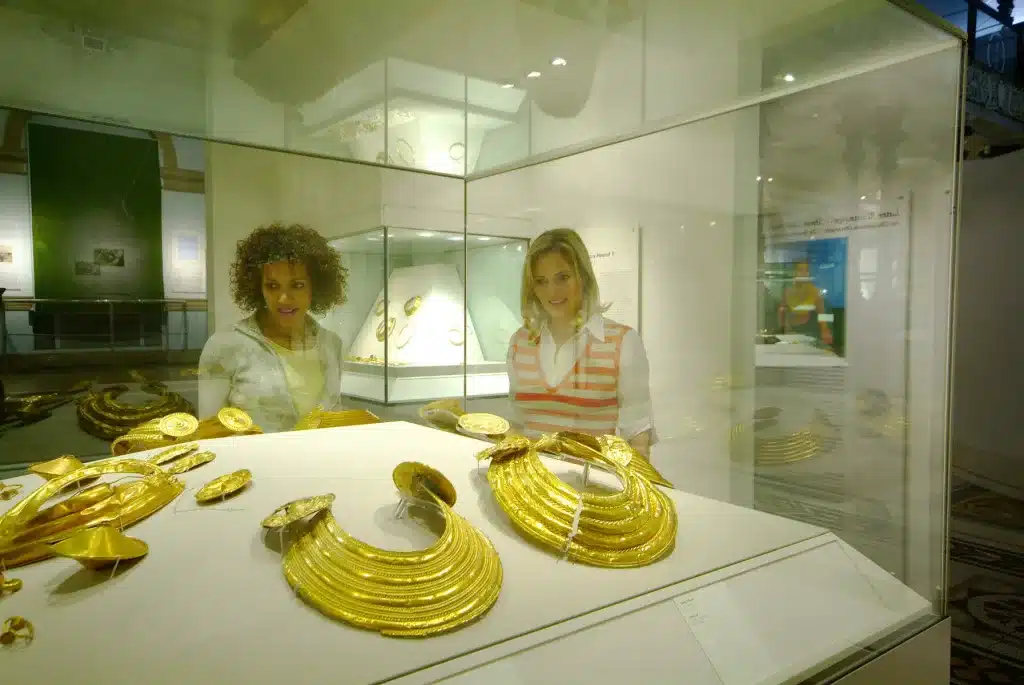 There are 3 museums in total, all which have no admission fee: Art, Archaeology and Natural History. Details of each are here. My own personal favourite is the National Museum of Archaeology.
This museum is an amazing insight into Irish history and holds some wonderful artefacts from the Stone Age to the Viking Era plus lost more. One of the most standout items on display must be the 'bog bodies'; creepily well-preserved bodies dating back over 2,500 years.
Visit the Book of Kells/Trinity College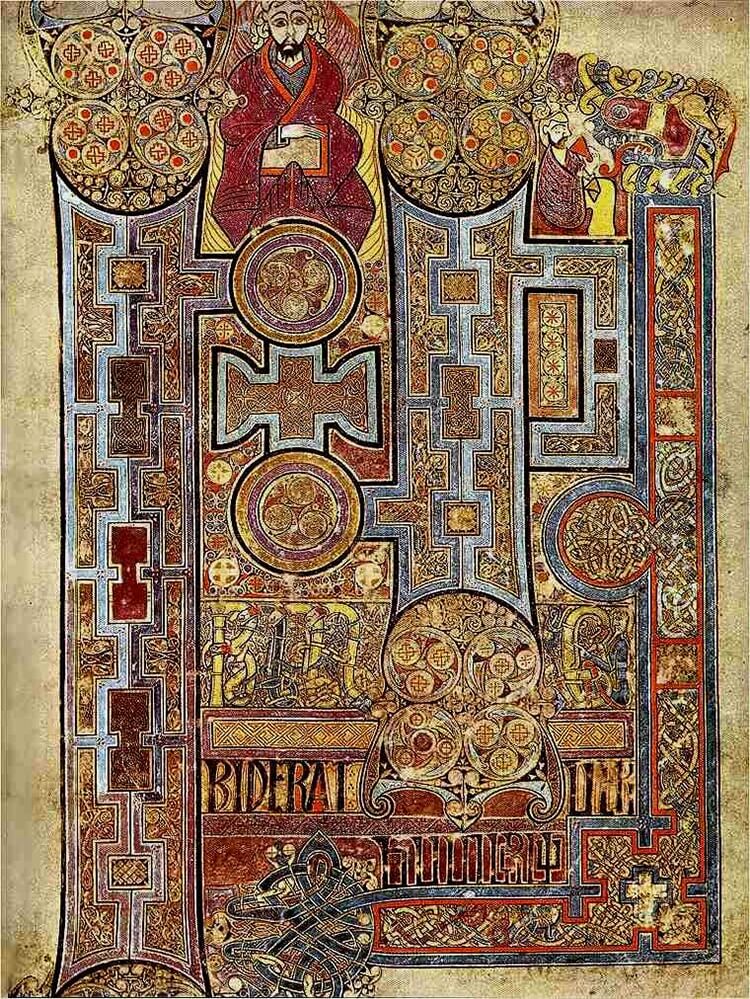 In my view, this is a must-see on your trip to Dublin. You'll need to book this attraction in advance, as it is always in high demand and there is no chance of just showing up and being able to view. 
This is one of the most popular tours in all of Ireland.
The book is located in Trinity College, Dublin city centre, and includes one of the most beautiful pieces of literature known to exist. It was crafted by monks in the year 800 AD and contains the 4 Gospels in detailed illustrated form. Every day a new page is turned.
For many, the tour of the Long Room, which is included in the ticket price is just as spectacular, not just because it resembles the library in the 'Harry Potter' movies, but for the majesty of the wooden structures and design of the interior.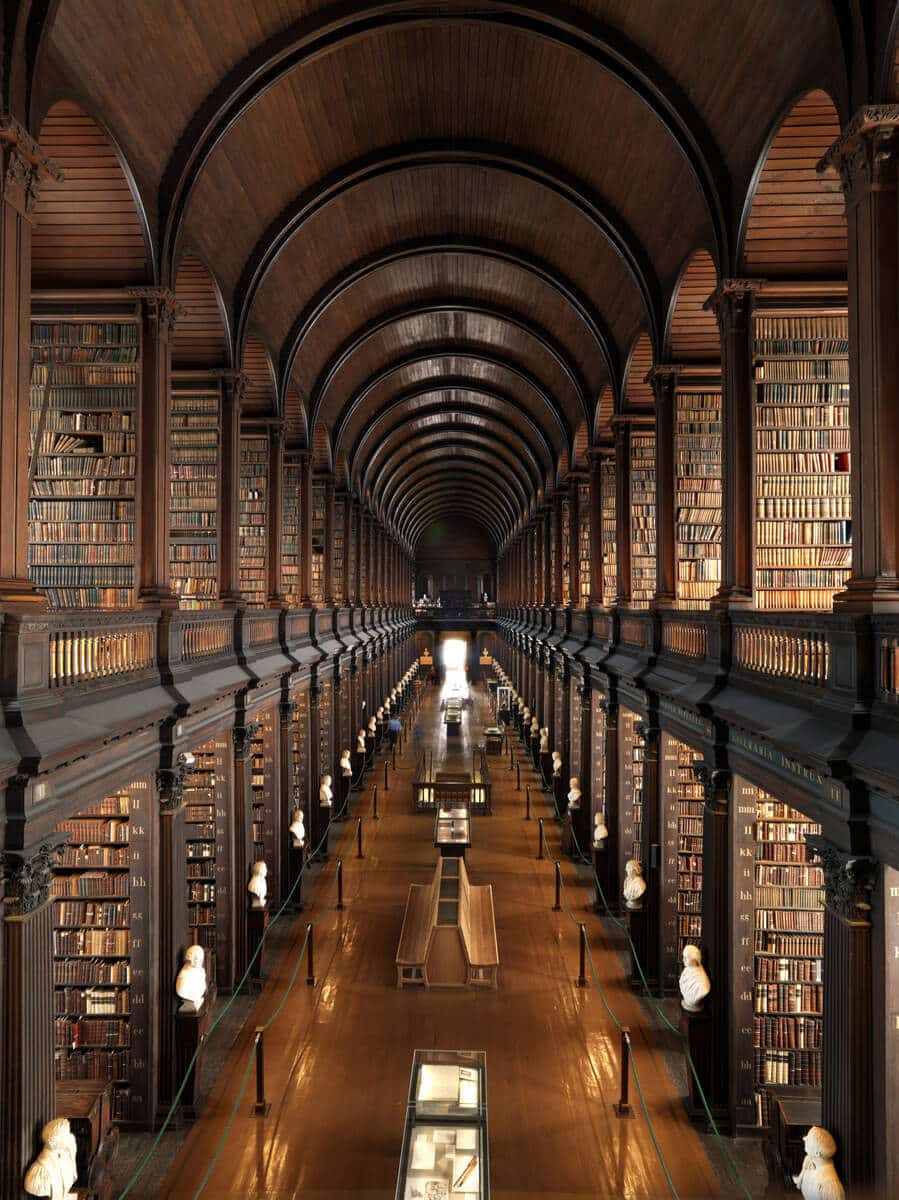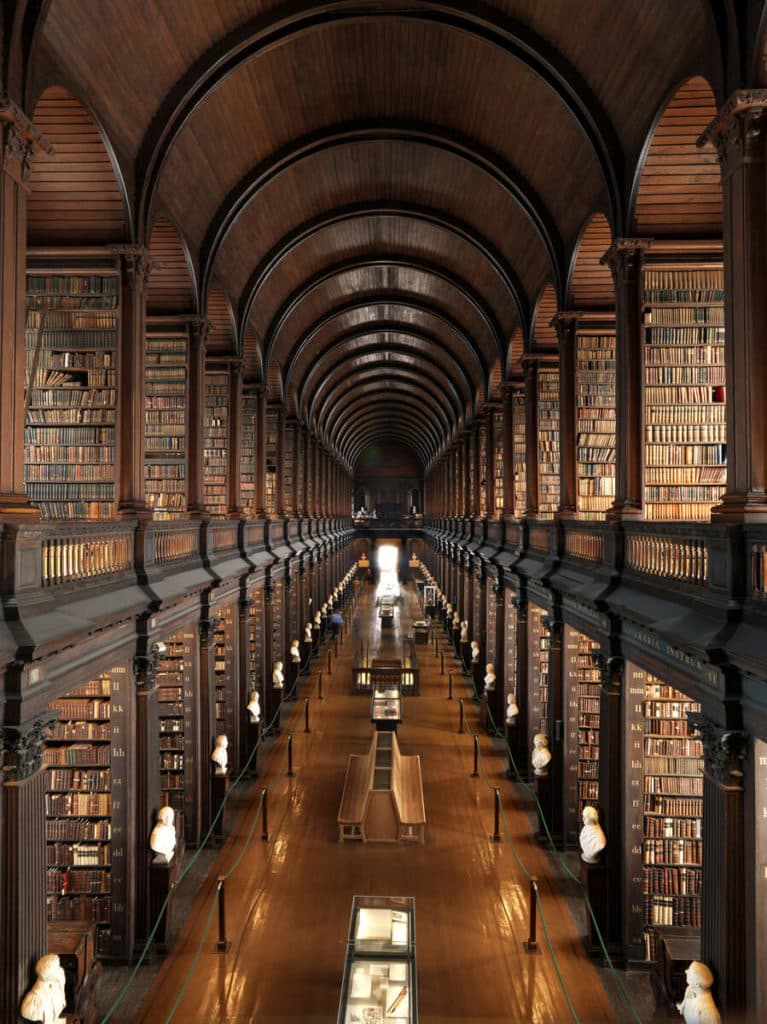 The oldest harp in Ireland is also on display in the Long Room. Here is a fast-track combination ticket for the Book of Kells and Dublin Castle here.
Visit the Guinness Storehouse to sample the 'Black Stuff'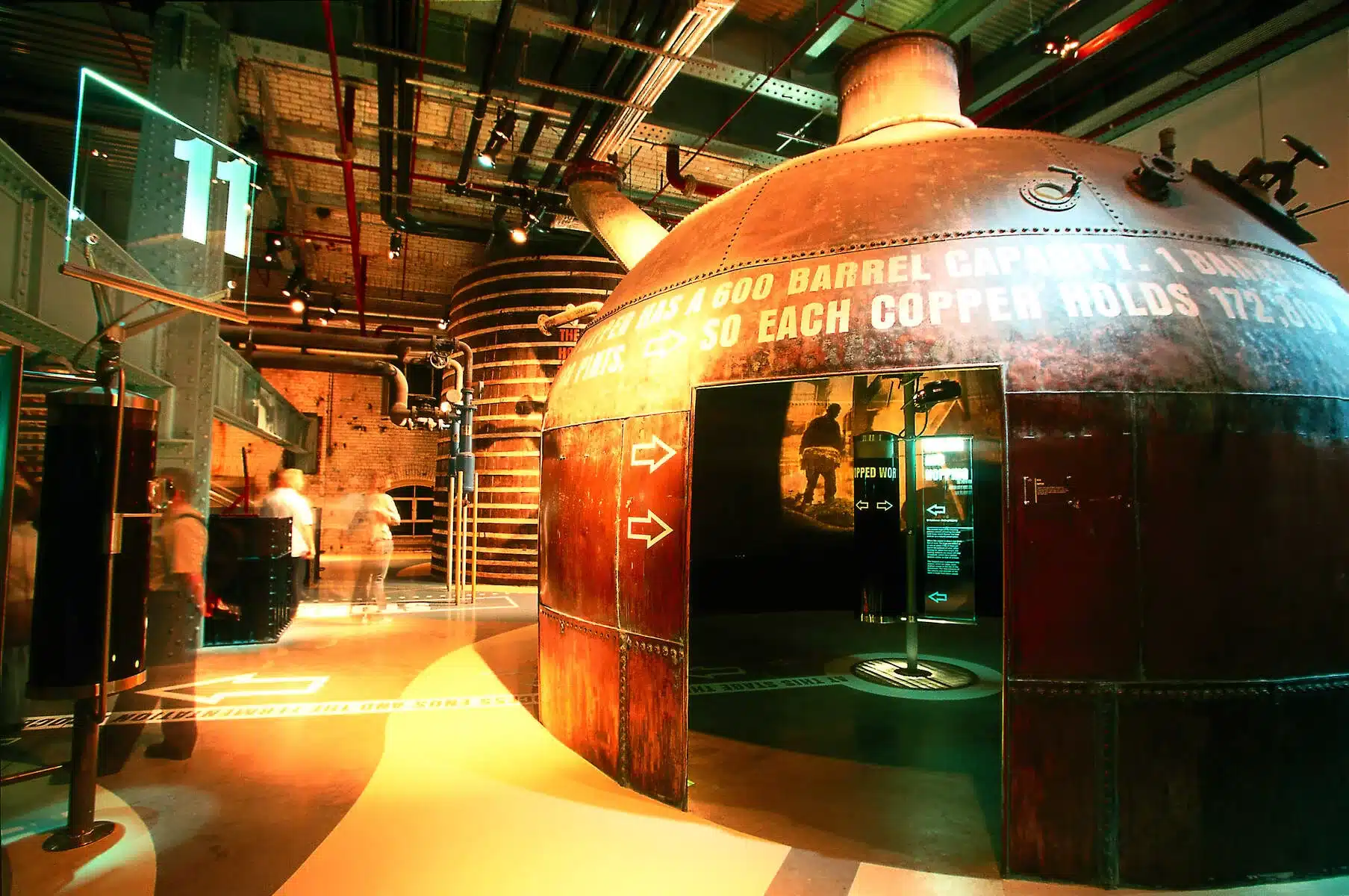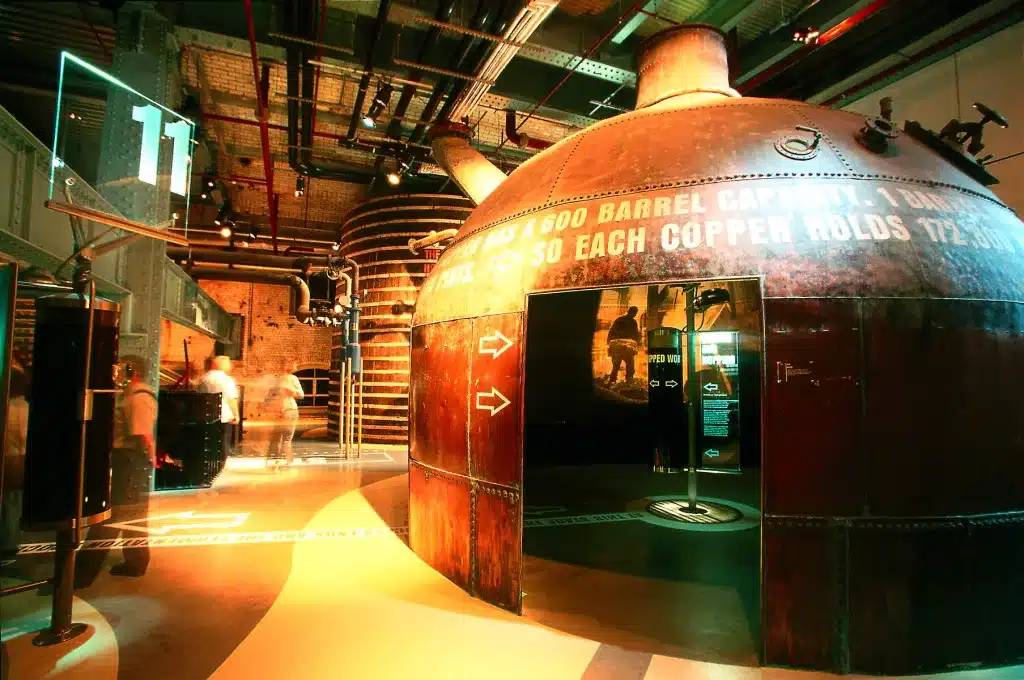 Guinness holds legendary status in Ireland and beyond. Why not visit the museum to get an insight into just how legendary this drink is? You get a free pint at the end and be treated to great views out over Dublin from the sky bar.
As touristy as the Storehouse is, I still enjoy the experience and one you'll be amazed at the sheer scale of both the visitor centre and the brewery. It's a city within a city. You can book tickets here.
Other Sights in Dublin Worth Visiting
There are numerous sights to see in Dublin, including the fascinating Kilmainham Gaol, The Little Museum of dublin & The Jameson Distillery. Not to mention some great pubs, my personal favourites being The Long Hall, Gravediggers and Doheny & Nesbitt.
This link will give you direct access to pretty much all attractions in the city of Dublin, with ratings and reviews.
Insider Tip: To avail of many of the wonderful attractions on offer, we highly recommend the Dublin Card. This card will allow you access to over 35 attractions in the city, at a greatly reduced rate. You can purchase it here.
Visit the West of Ireland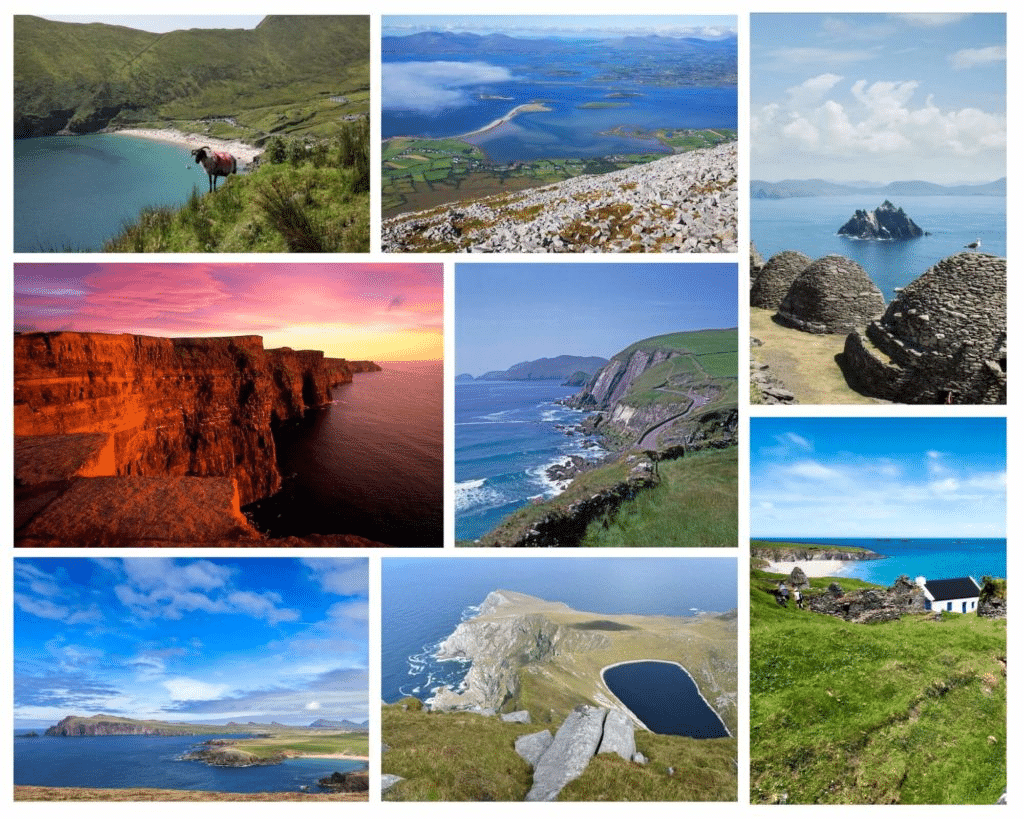 No trip to Ireland is complete without driving as far west as you possibly can! The warmer temperatures, longer days and vibrant green landscapes await you and are just begging to be explored.
You'll notice that when leaving Dublin, the traffic decreases dramatically and you'll feel yourself leaving the stresses of modern life behind you.
The grass is growing at a rapid rate and the plants and wildflowers are in full bloom. When the sun shines along the west coast, you'll be amazed at the contrasting colours; blinding greens pastures sweeping down to wide open golden strands.
You may be wondering, 'This sounds great, but where exactly should I visit?'
In a nutshell, anywhere along the western seaboard i.e. North Donegal to South Cork. The good news is, there is a designated coastal road (The Wild Atlantic Way) which brings you on a 2,000 km trip all along the coast.
Related Read: Best Places to Visit, West Coast of Ireland
In fact, it's the longest defined coastal road in the world. If you are lucky enough to have 2-3 weeks to spare, then rent a camper van or car and get on your way.
For hiring a car, we recommend Rental Cars.
If you don't have this amount of time to play with, you'll have to decide on a region that takes in beautiful landscapes, authentic Irish culture & great food and pubs. Therefore, we highly recommend visiting the west of Ireland, namely the regions of Mayo and Galway.
County Mayo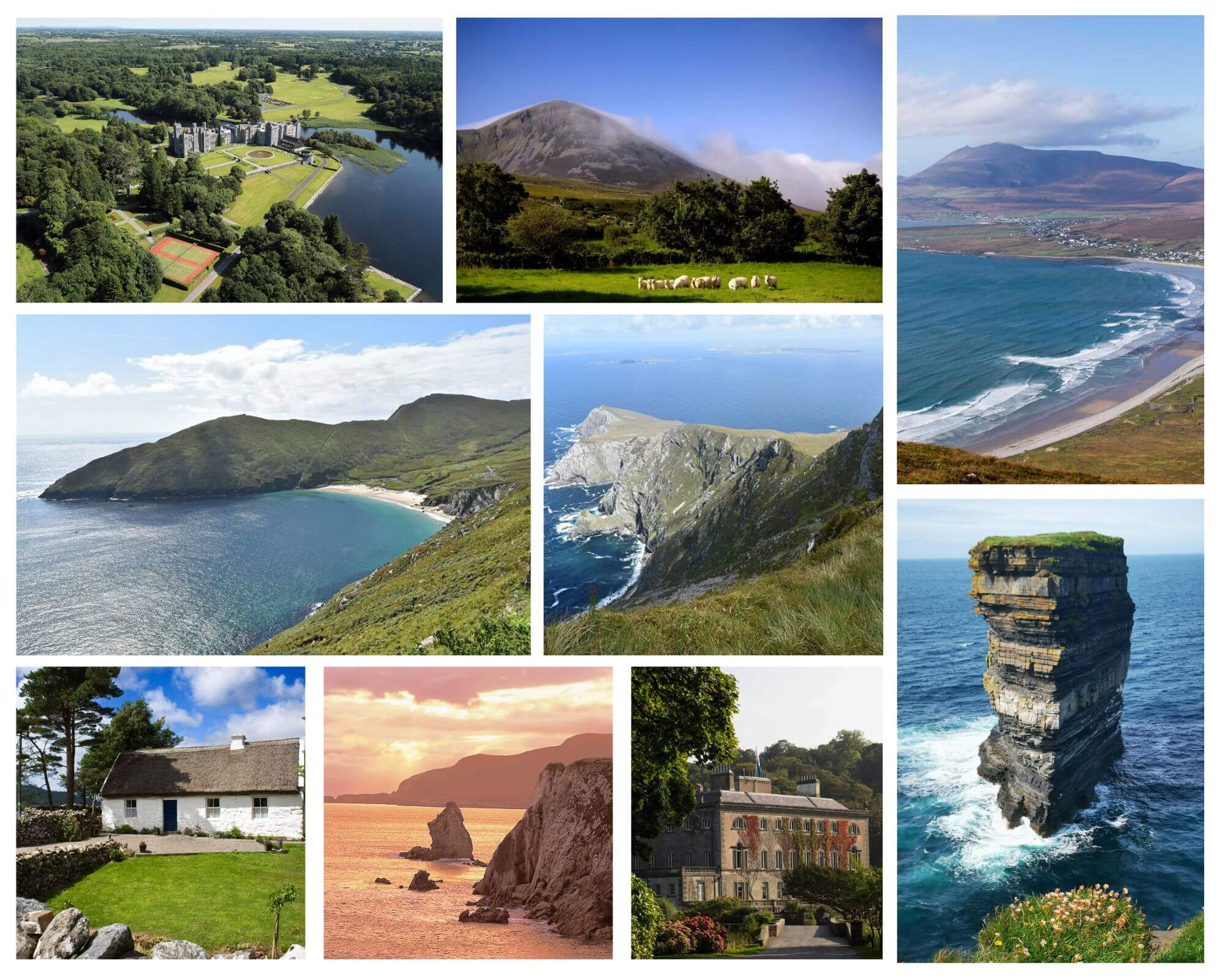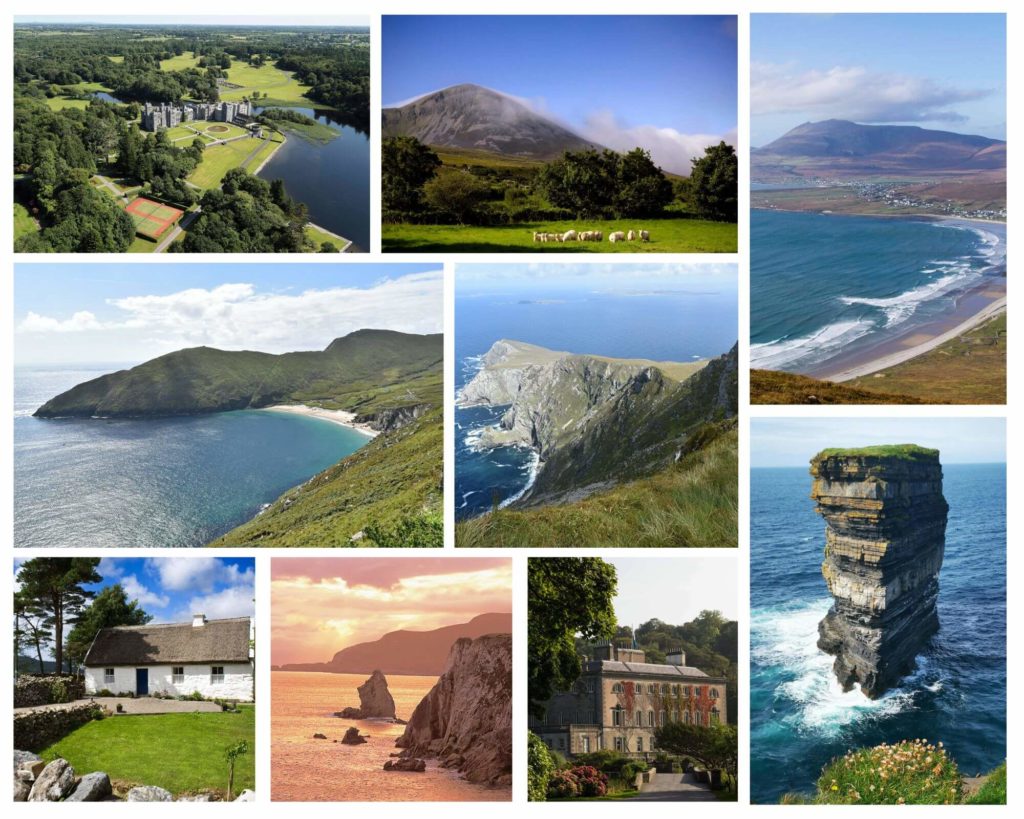 County Mayo is Ireland's third largest county. It's home to some of the world's highest sea cliffs, one of the world's great beaches and has some of the wildest, most unspoilt landscapes you'll find anywhere.
Yes, Mayo is a nature lovers' paradise and is often overlooked as a destination. Traditionally, tourists will flock to Kerry and Galway and then make their way back to Dublin, which is a pity. Ireland has so much more to offer.
Mayo offers less crowds, truly remarkable landscapes and outdoor activities, such as climbing Croagh Patrick. It also possesses Ireland's longest coastline, with incredible natural formations like Dun Briste at Downpatrick Head.
Why not have a look at our in depth guides to Mayo, its attractions and where to stay here.
County Galway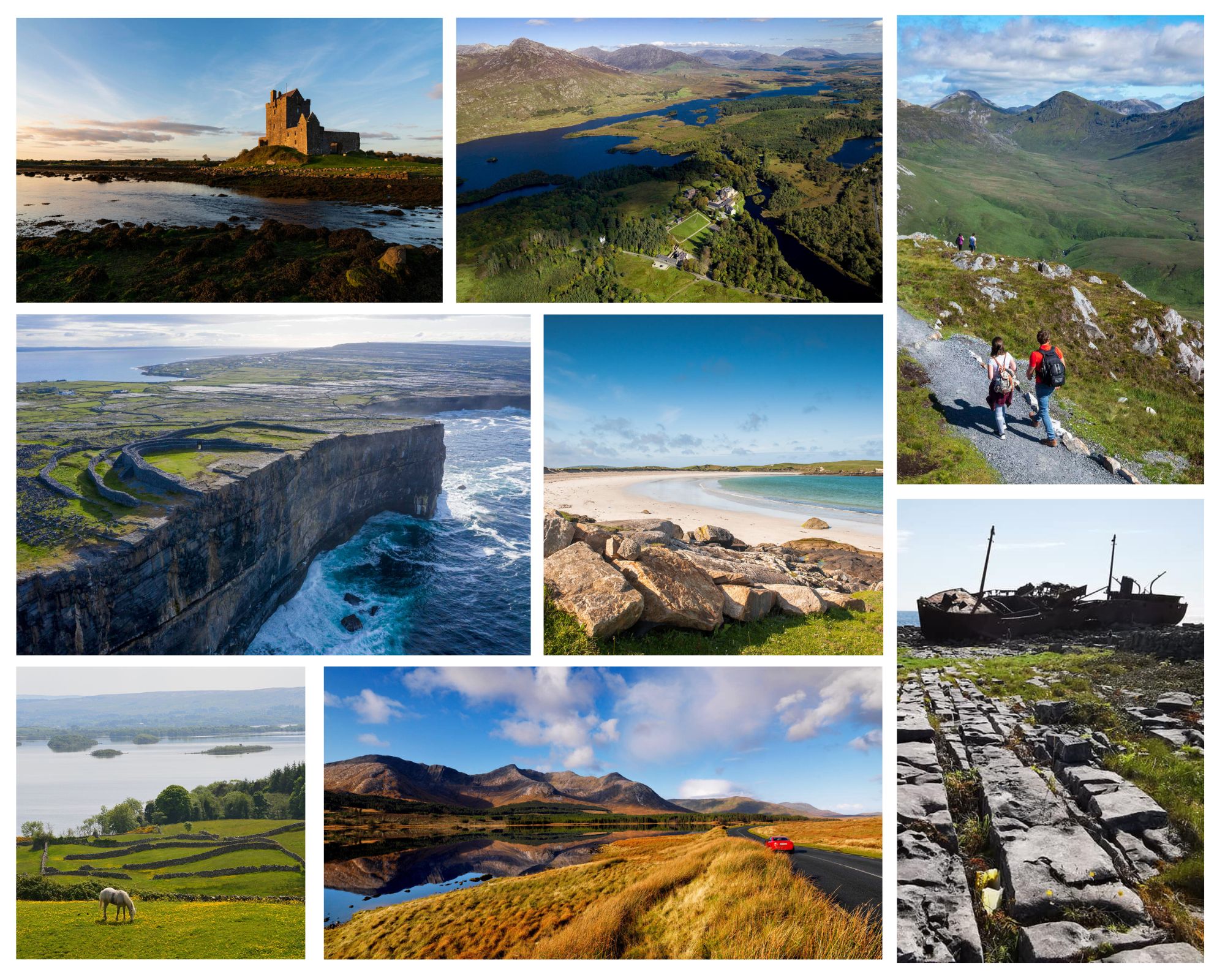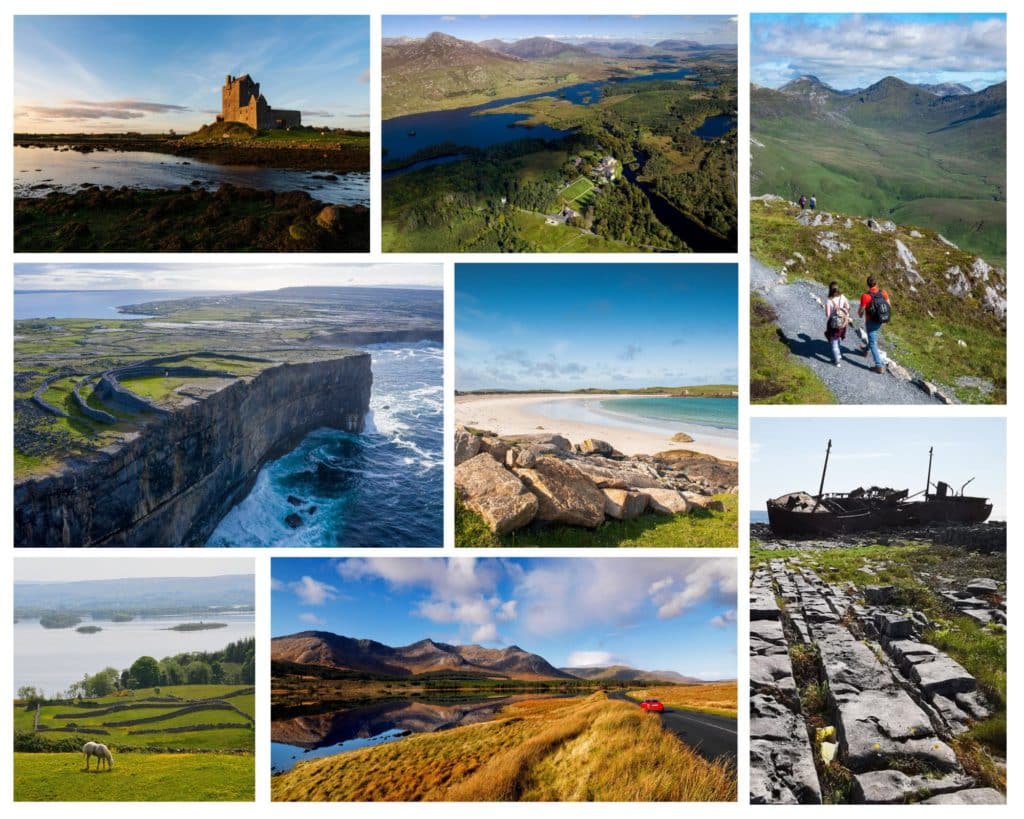 The next door neighbour to Mayo, Galway offers all of the above, including proximity to the world famous Cliffs of Moher in County Clare and the Aran Islands.
Many of you will be aware of County Galway's capital, Galway city. This is a bustling place and many claim is the cultural heartbeat of Ireland. With its countless festivals, great pubs and restaurants, Galway is a mighty place to base yourself.
Throw in the fact that there are some remarkable natural landscapes on your doorstep, you'll be hard pressed to find a better city for a few nights.
Take in magnificent Connemara National Park, and get active on Diamond Hill.
Or if you get some fine weather, pay a visit to some paradise beaches in Connemara.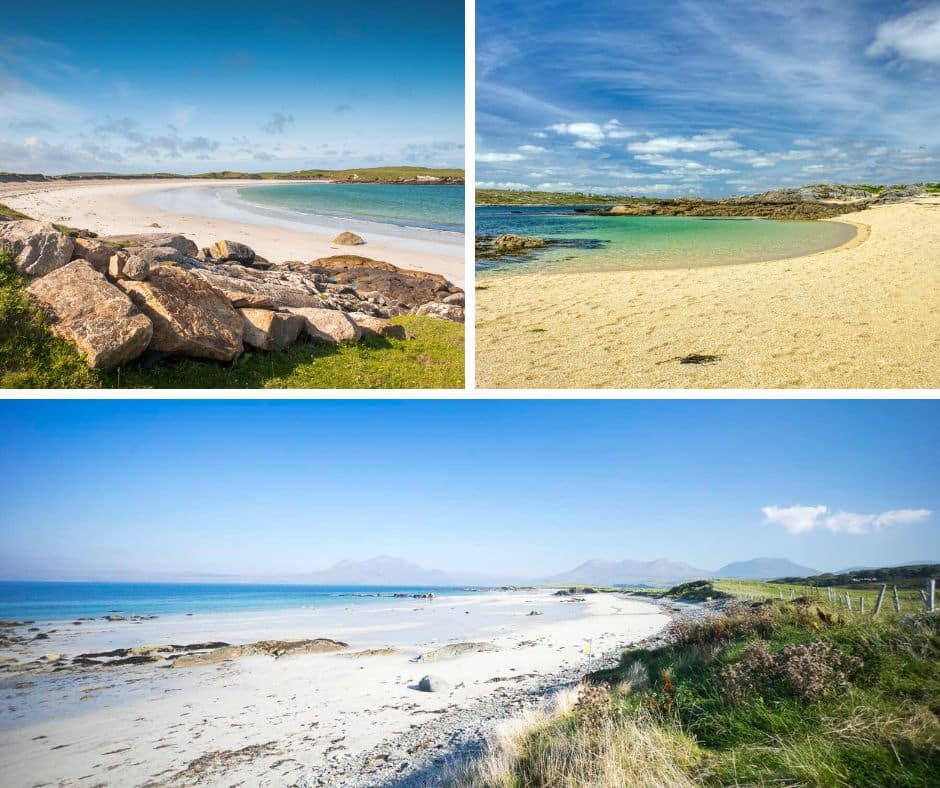 Connemara is a region we can't recommend enough, take a few days to explore the region. It's also one of the last remaining strongholds of the Irish language. All in all, a complete Irish experience.
Have a look at our detailed guides to Galway here.
The Best Things to do in the West of Ireland
If you are looking for some must-see attractions and sights in the west of Ireland, we have put together a 'best of' compilation, which will give you a good overview on what's on offer. All these places we have personally visited and are those we believe you should put on your Ireland itinerary.
Here are the 19 best things to do in the west of Ireland.
What you'll need to wear in Ireland in May
You'll need to pack a good variety of things for your trip to Ireland in May. While there is a good chance of good weather, it's Ireland so rain is something you should always consider.
From having grown up in Ireland, here is what we reckon are the practical essentials. The fashion items, we'll leave to you!
Waterproof walking shoes
A rain/wind jacket
Sun cream
Sweaters: light to medium weight
Warm/waterproof trousers for hiking/walking
Jeans
T-shirts (including sports t-shirts for outdoor activities)
Light thermal layer (just to be safe!)
Baseball cap
Proper waterproof hiking gear if planning a climb + hiking boots
In the pubs and restaurants in the evenings, you'll notice the locals will dress well, but not overly formal. I guess dressy-casual would be the best description. Most men will wear jeans with t-shirt/polo/shirt and women will wear jeans with a t-shirt/stylish top/blouse.
Our Thoughts: Is May a good month to visit Ireland?
May is one of the best months to visit. Weather-wise we recommend visiting towards the end of the month to give yourself the best chance of warm weather.
May offers reasonably good deals on flights, accommodation and is approximately 15 % cheaper than peak season. The island is also not as crowded. In conjunction with the weather being more stable, everything seems to come together nicely to make May one of the very best times to visit the Emerald Isle.
Here, some pros and cons of visiting Ireland in April:
Pros of Visiting Ireland in May
Cons of Visiting Ireland in May
Last month before prices get noticeably more expensive
The weather may be iffy (it's Ireland after all!)
Less crowded than peak months of July, August
Prices start to get higher (especially in Dublin)
Weather can be glorious
Attractions begin to see more crowds
Fantastic long days,
ample chance to explore
Higher demand for flights and accommodation
sweetisleofmine.com
So, what do you reckon? Is it time to dig out the big ol' suitcase and start packing? We understand that many just won't have the luxury of taking holidays in May, but if the chance arises, we say go for it!
Your questions answered about visiting Ireland in May
Is May a good month to visit Ireland?
The weather can be glorious in May in Ireland, making it perfect to explore the stunning landscapes on offer. You won't have the same crowds as in summer either, and accommodation and flight prices are more reasonable. All in all the stars align to make May an ideal month to visit.
How hot is in Ireland in May?
Average temperature hovers between 7 and 15 Celsius (45 – 60 Fahrenheit) Highs of up to 20 Celsius are common in sunshine. The record high for Ireland in May is 28.4 Celsius (83 Fahrenheit)