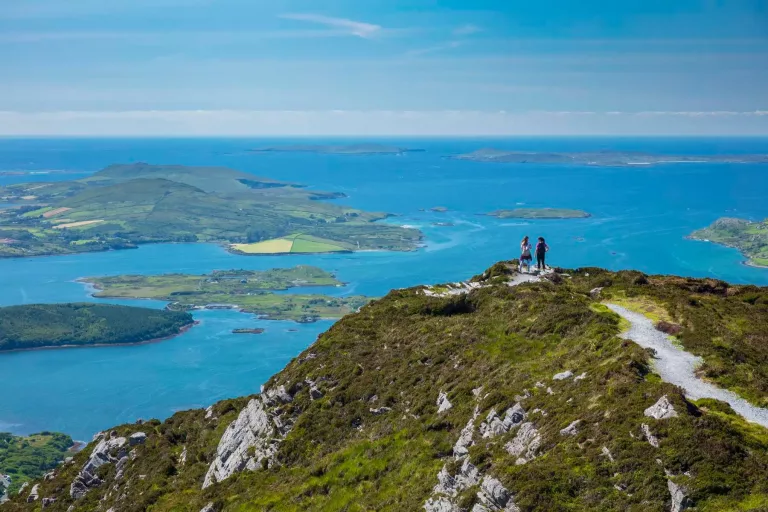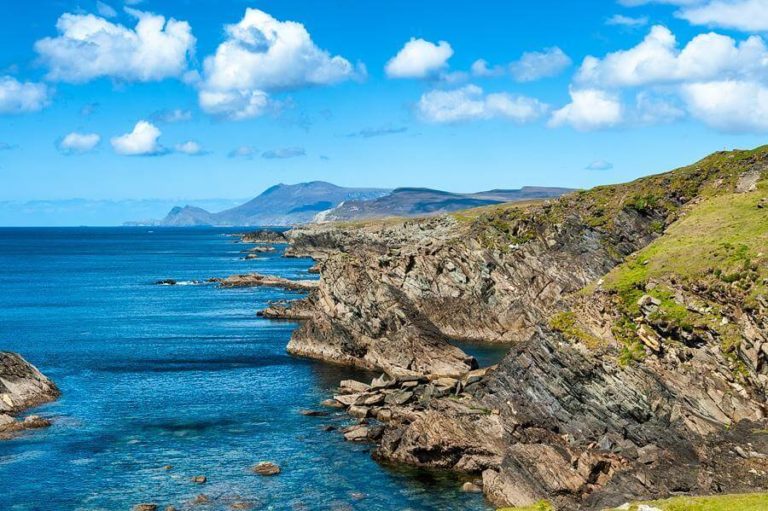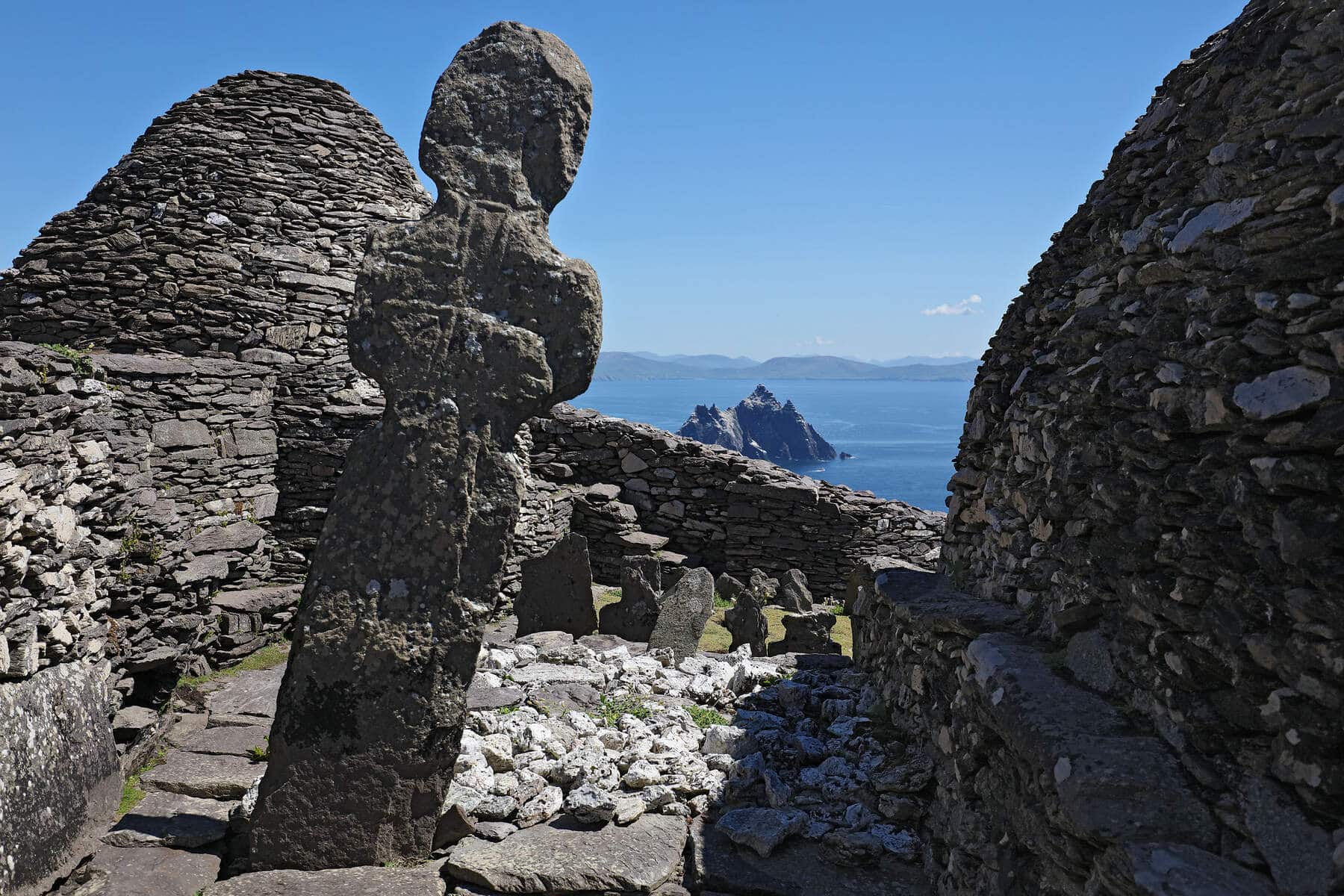 The wild and wonderful West Coast of Ireland is a place everyone should visit at least once in their lifetime. I have toured the length and breadth of this beautiful region and am also lucky enough to call it home.
From enormous cliffs to sheltered bays and coves, it's an area of contrasting landscapes. It's also regarded as the most 'Irish' region of Ireland, owing to many age-old traditions which are still practiced today (like the Irish language)
If you are curious about visiting the West Coast of Ireland and are wondering where to visit, you've landed in the right spot!
After having visited these locations (and many more) multiple times, I'm delighted to share with you my top 11 places to visit along the West Coast of Ireland.
West Coast of Ireland Map
Places To Explore on the West Coast of Ireland
Cliffs of Moher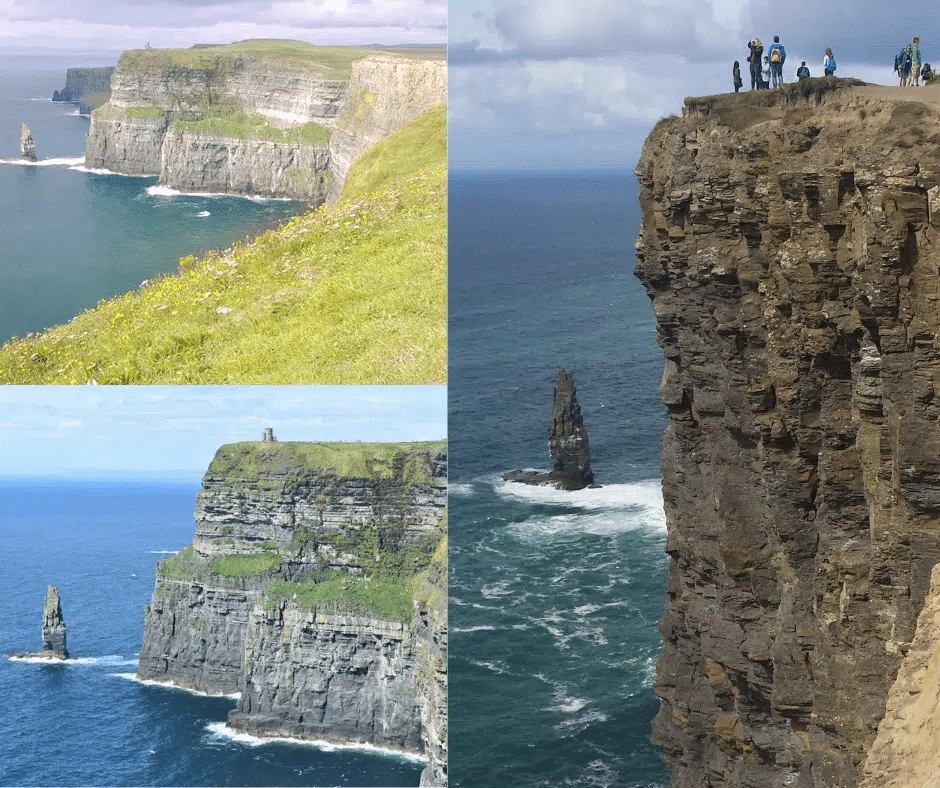 The sheer scale of these cliffs are a sight to behold. Located in the county of Clare, the world famous Cliffs of Moher are an 8 km stretch of some of the finest coastal scenery you are likely to see anywhere in the world.
These cliffs reach a height of 214 metres and plunge vertically into the wild Atlantic Ocean.
The cliff face seems to act as a giant wall, protecting Ireland from the might of the Atlantic Ocean, while the 30,000 strong bird colony of 30 different species adds another interesting dimension to the experience.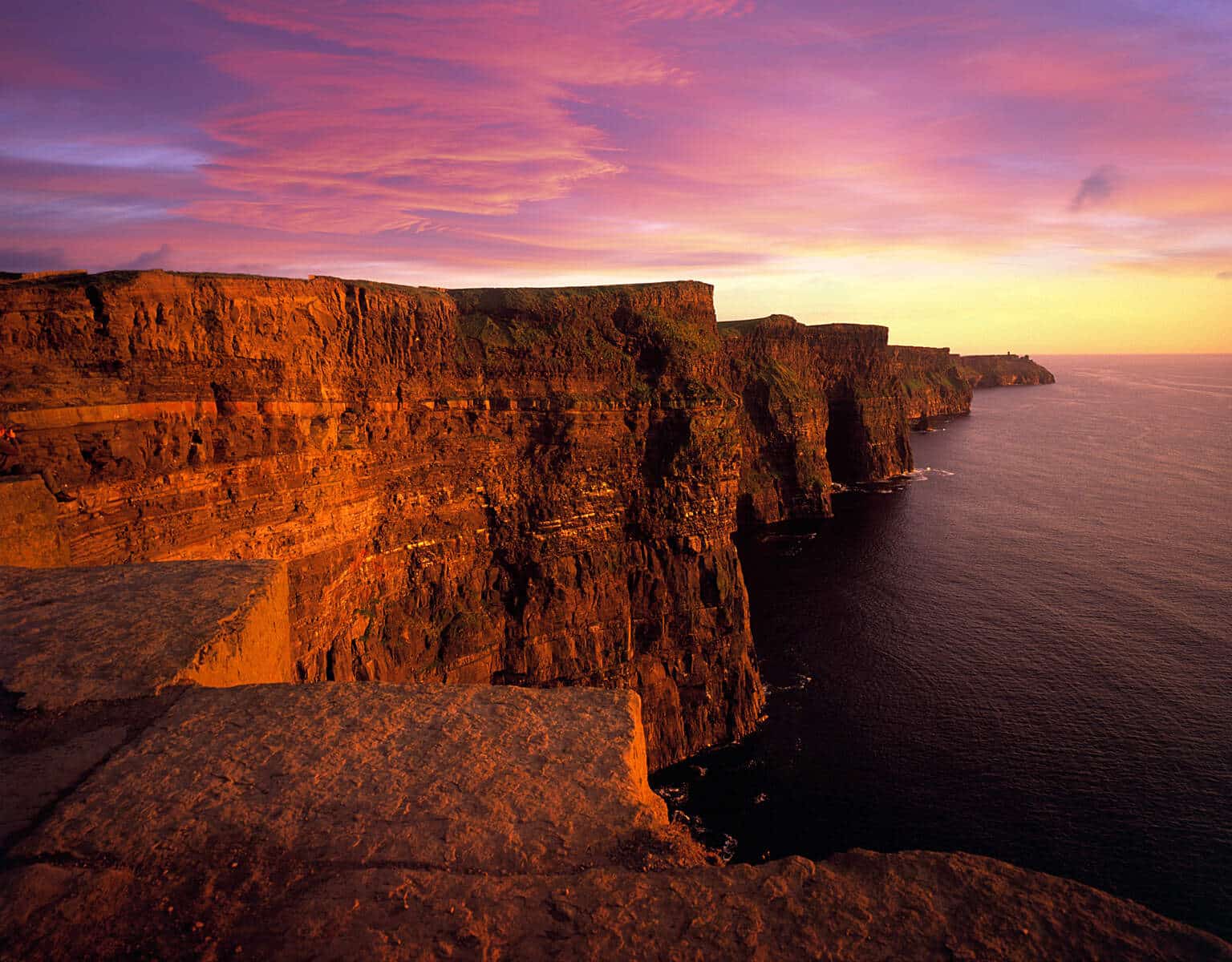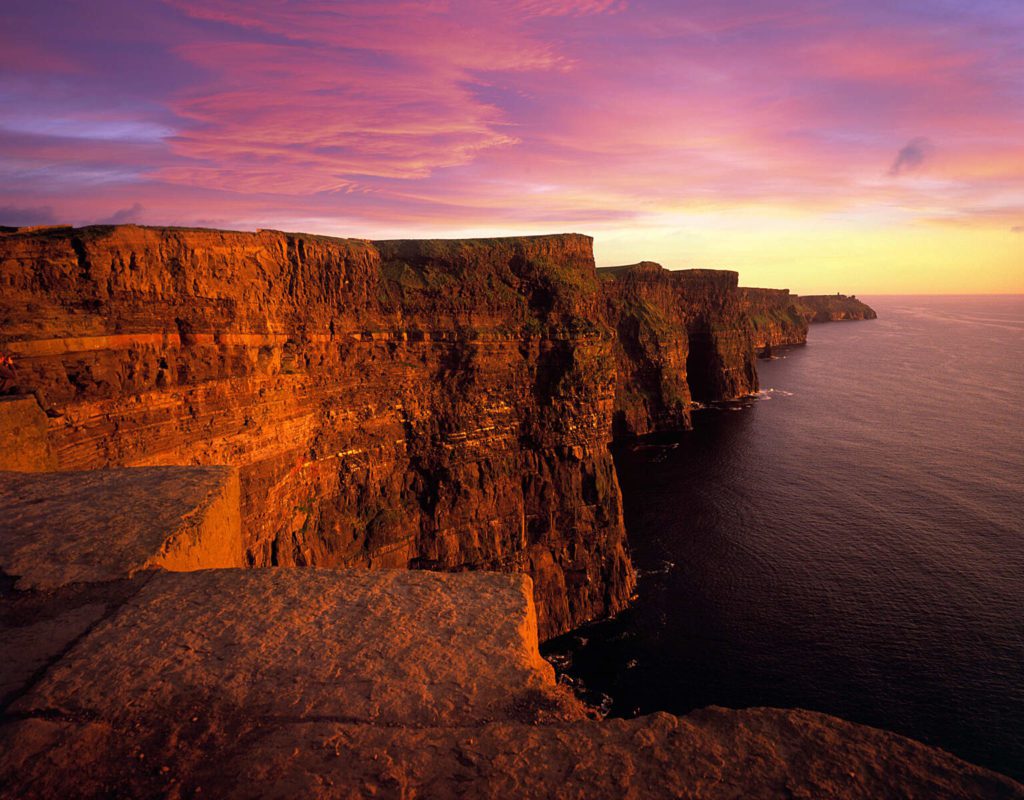 They are also Ireland's most visited natural attraciton, welcoming over 1 million tourists a year. So, if visiting in the summer months, expect crowds.
Here are our best tips for visiting the Cliffs of Moher:
Visit the cliffs either very early of later in the day to avoid the crowds
When you arrive, go firstly up the steps to the right, towards O'Brien's Tower. Here is the highest point of the cliffs. Then make your way back down again and turn right to follow this path along the cliffs in a southerly direction, as far as you can go. The photo opportunities of the cliffs from this persepective are often overlooked and in my opinion, make for the best shots. Notice Branan Mor sea stack, the iconic rock seen in many Hollywood productions such as Harry Potter and the Half-Blood Prince.
The sun will come around and shine on the cliffs from mid afternoon onwards (on average, depending on the time of year). This makes for the best photo opportunities and makes visiting the cliffs later in the day the best option.
A wonderfully unique way to visit the cliffs is by parking in Doolin and taking the Cliffs of Moher Coastal Walk.
The further south you walk, the less crowded it gets and the photo opportunities here are immense.
Do not go off the designated walking paths, accidents have happened in the past.
If you arrive at the cliffs by car, you must park at the cliffs and pay for this.
Parking starts at 7 € per adult, with kids free, if you book online. It's cheaper to park between 9 and 11 am. Book here.
Go to the visitor centre first, have a quick trip to the toilet here if you plan on spending the next hours on the cliffs.
How to get to the Cliffs of Moher:
Should you decide on renting a car, we recommend Rental Cars, as we have found they are the most comprehensive car rental comparison tool (like skyscanner for rental cars!) Driving time is approx. 1.5 hours from Galway.
If you are based in Galway, then you can avail of the many bus tours on offer to the cliffs, some of which include a magnificent boat trip to the base of the cliffs.
Here, you'll find the best tours from Galway.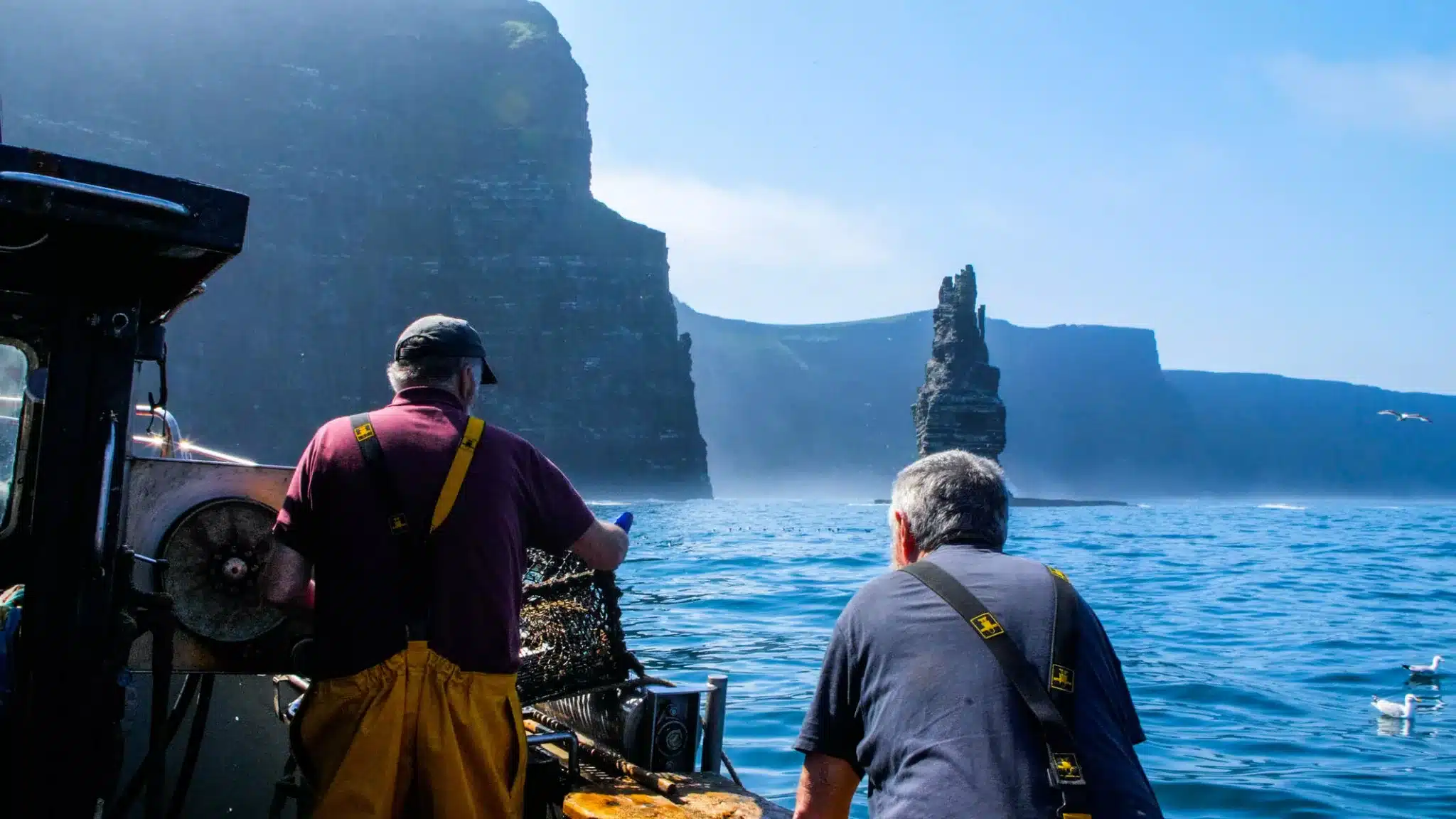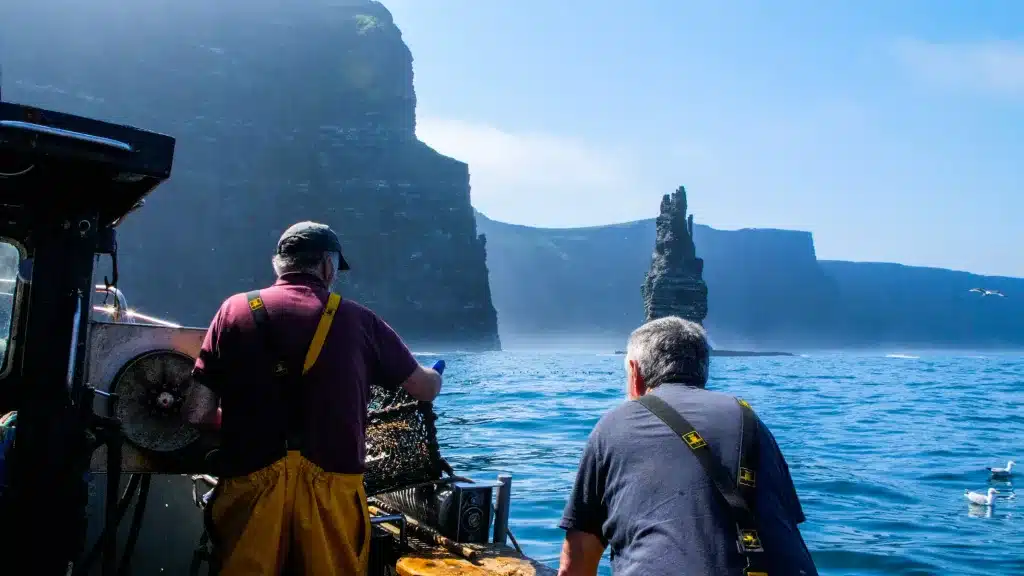 The Aran Islands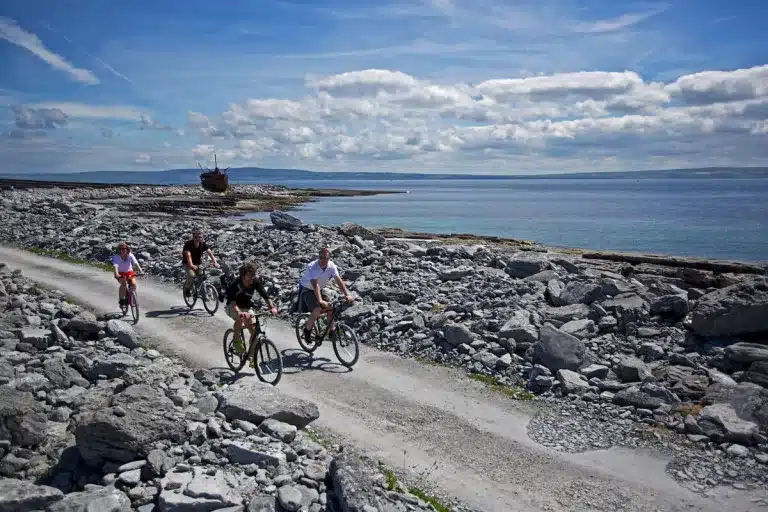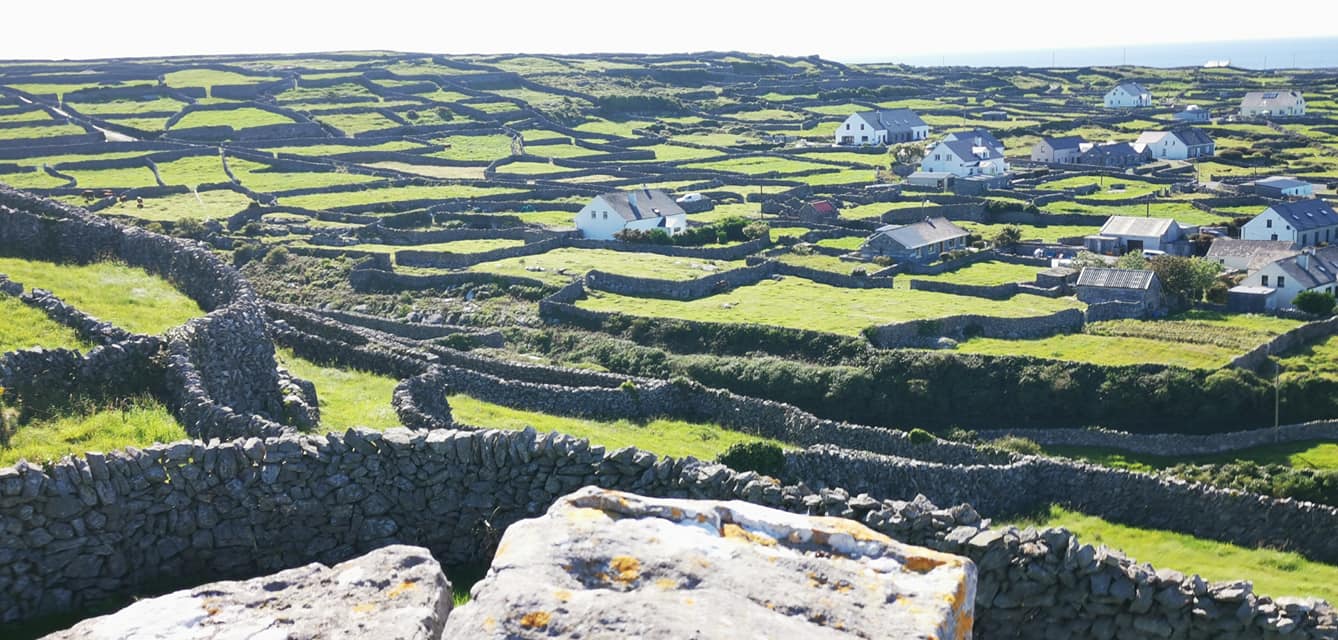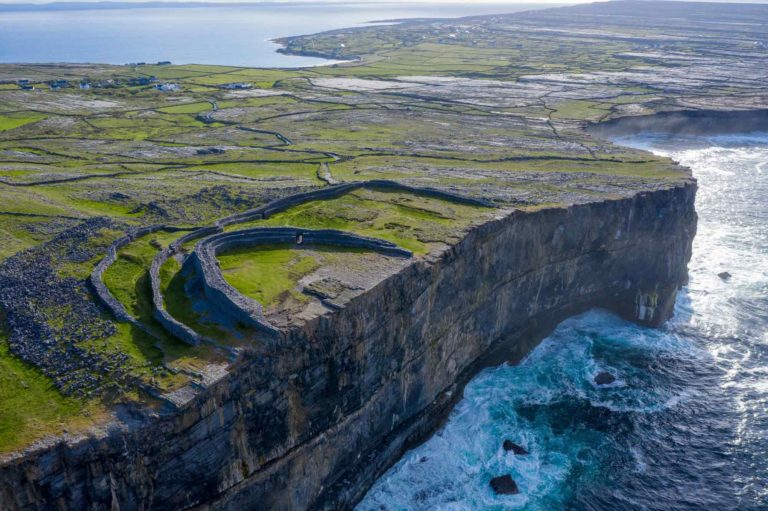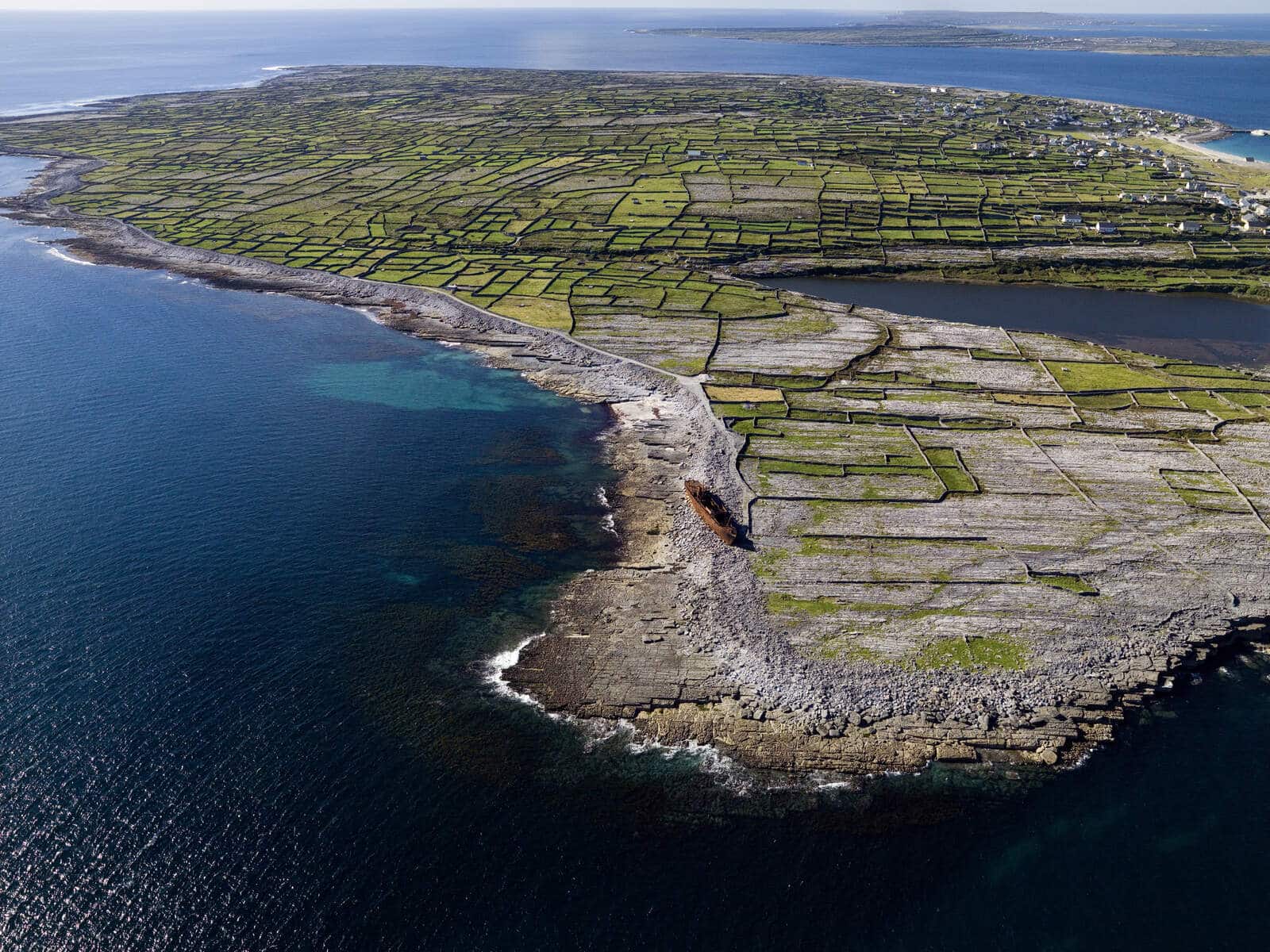 The islands of Inishmore (largest), Inishmaan and Inisheer (smallest) are located off the coast of County Galway and are popular amongst tourists for a variety of reasons.
Being one of the most westerly points of Ireland, and being relatively unaffected by British rule over the centuries, the islands have maintained many cultures and traditions.
You'll hear Irish spoken amongst the friendly locals, but they'll be able to converse in English too. Tourism, fishing and to a small extent farming are the main sources of income on the island.
The islanders are accostomed to self-sufficiency and you'll be amazed at the lengths they went to to make their living through farming. As the landcape here is mainly barren limestone, seaweed was used to 'create' a layer of soil on which grass seed was planted.
These fields were then lined with 1000s of kilomentres of dry stone walls, all built by hand. A incredible achievement and a sight you must see with your own eyes!
Inishmore is home to the spectacular prehistoric cliff-top fort of Dun Aonghasa. My personal favourite island is Inisheer, an island filled with spectacular scenery, history and an unbelievable shipwreck.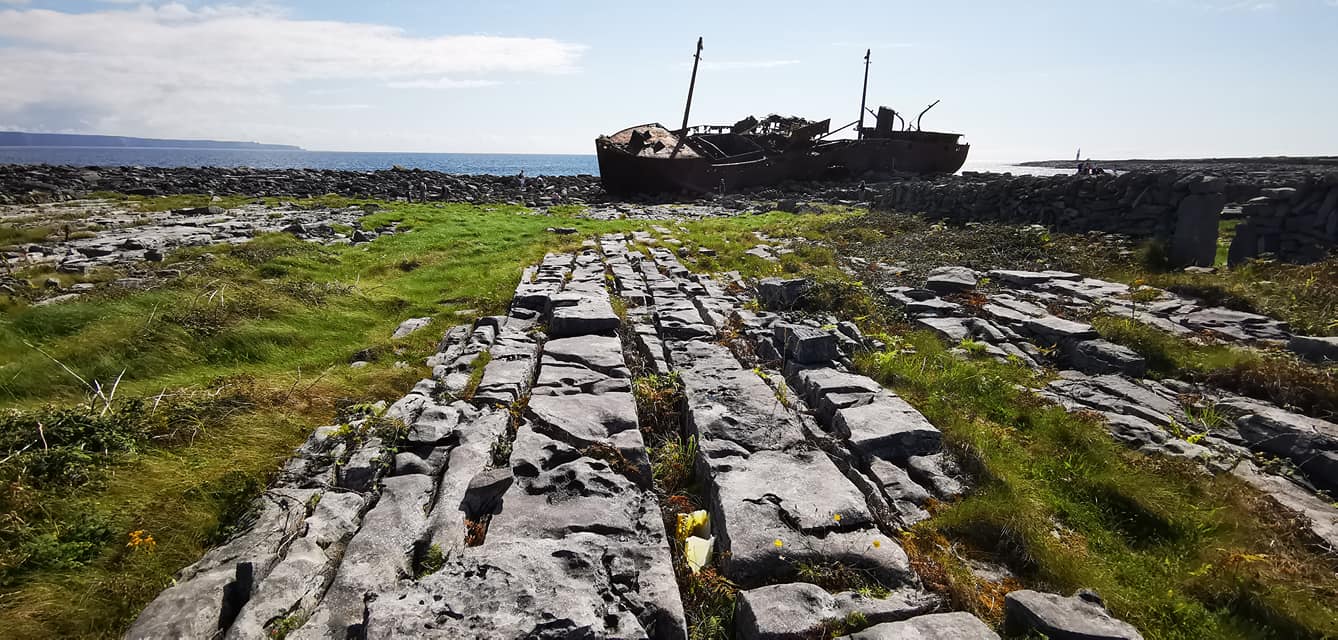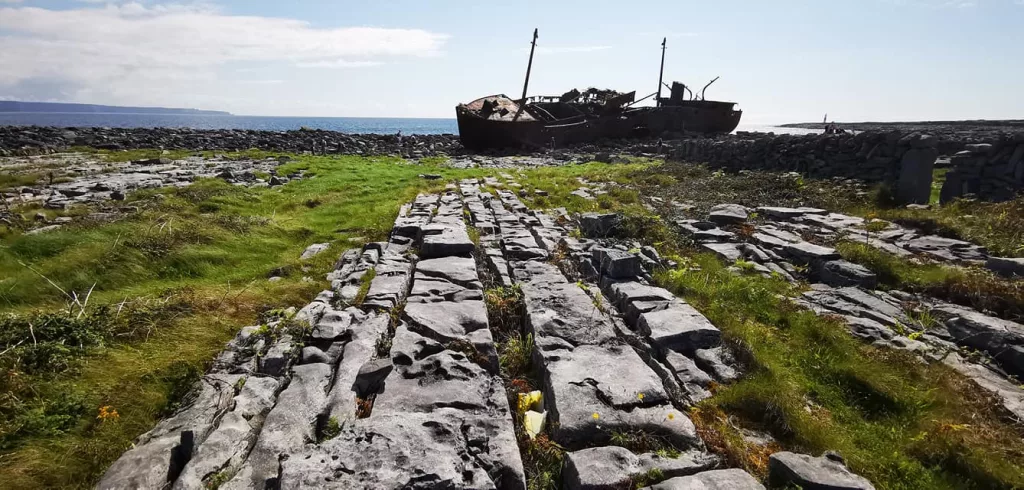 How to get to the Aran Islands
There is no car ferry to the Aran Islands.
From Rossaveel: If you've access to a car, the nearest port is Rossaveel, about an hour from Galway. You'll have to book the ferry in advance if it's during the summer. Tickets are here for Inishmore and here for Inisheer.
From Doolin: Dollin is located about 1 hour 40 minutes from Galway and offers ferry transfers to all islands. When we visited last year in the middle of summer, the carpark was completely full about 45 minutes before departure. Arrive extra early! Details are here.
From Galway: Aran Islands & Cliffs of Moher Day Cruise This tour departs from the docks in Galway city centre. You'll be taken out into Galway Bay, spend some time on Inishmore and to finish off you'll witness the majestic Cliffs of Moher from below. Must also be booked well in advance.
Achill Island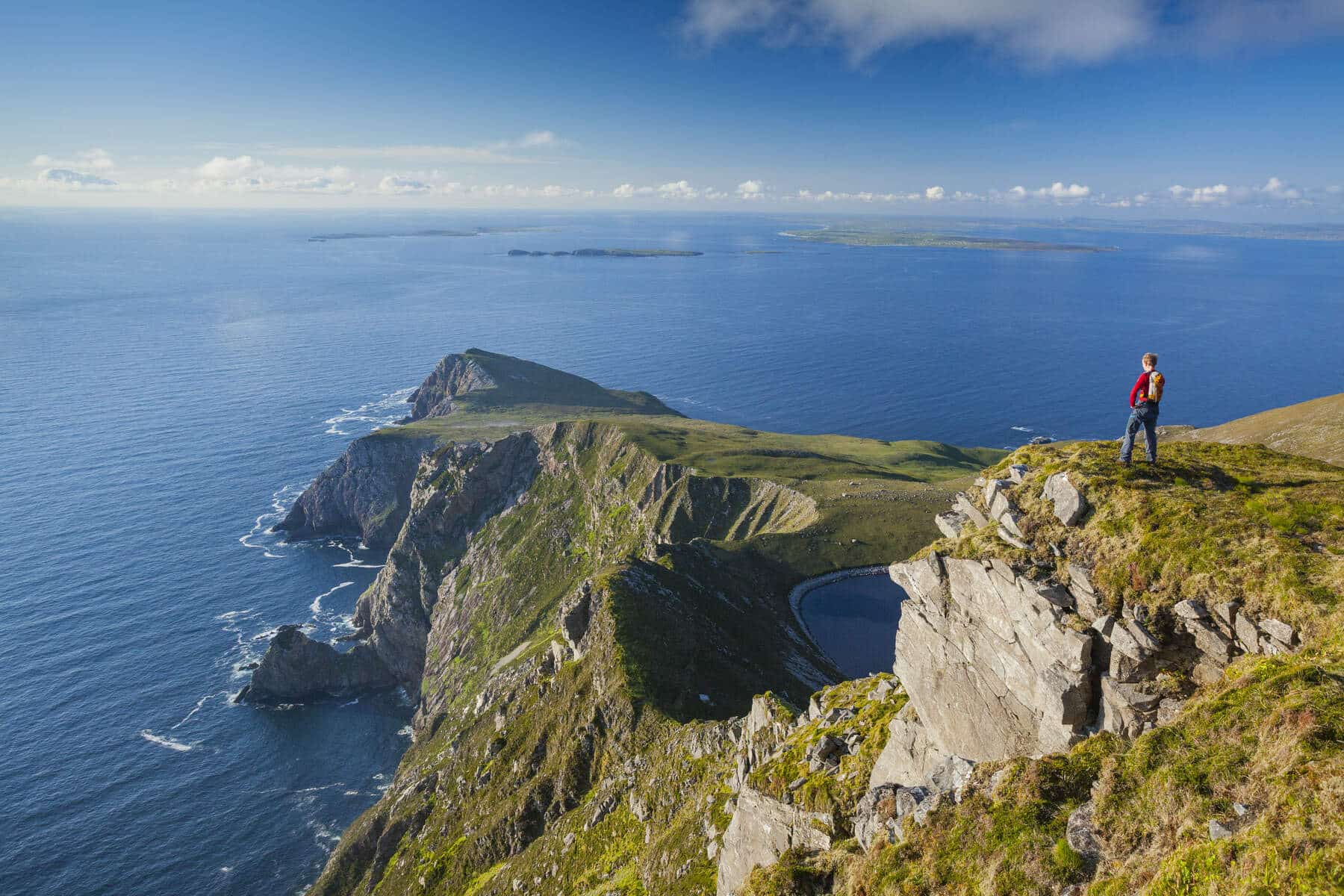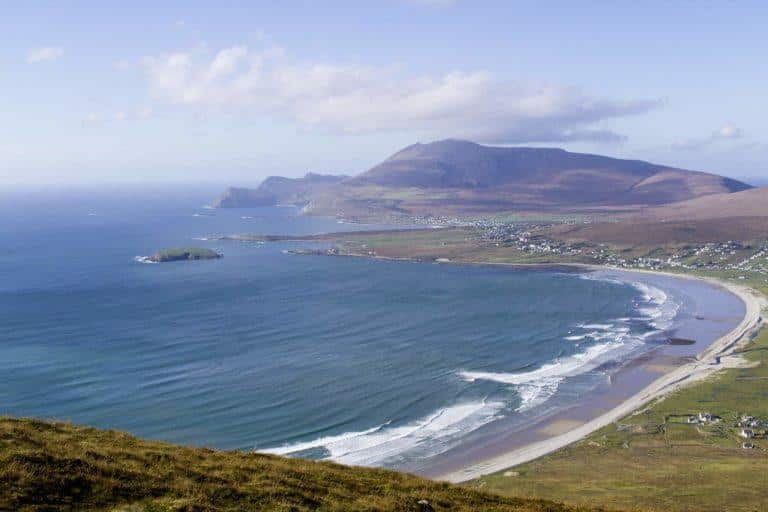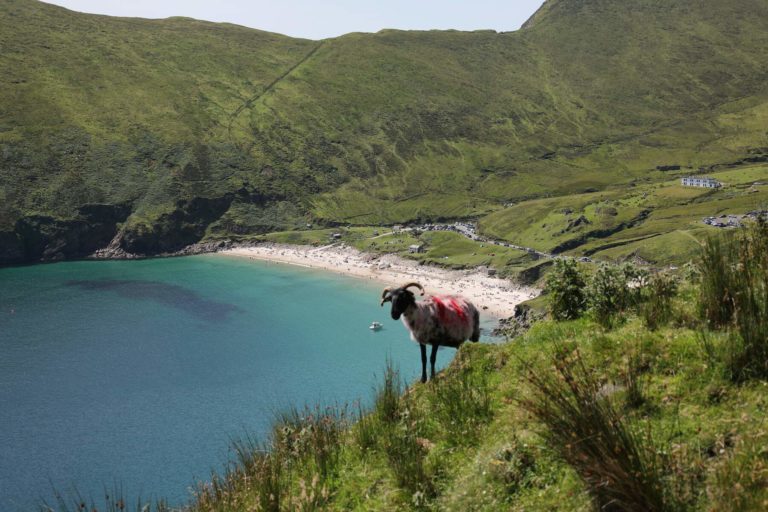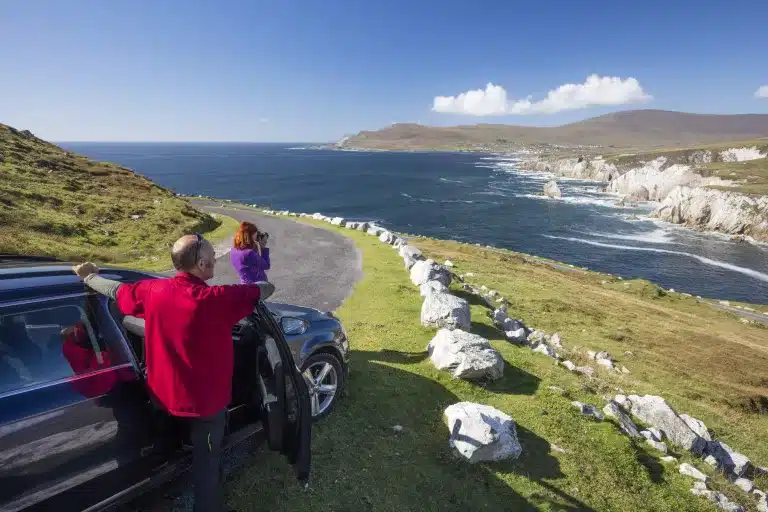 images: sweetisleofmine.com/Failte Ireland
Located off the coast of County Mayo in the far west of Ireland, Achill is Ireland's largest island. The island is joined to the mainland via a short bridge, making it the most accessible of all Irish islands.
Where to start with Achill? It's my personal favourite place in all of Ireland. Landscapes include one of the world's great beaches, Keem, Ireland's highest and Europe's second highest seacliffs at Croaghaun.
For adventure lovers, there's kite surfing, surfing and a plethora of other watersports. There's also some of the best coastal hiking you'll find anywhere.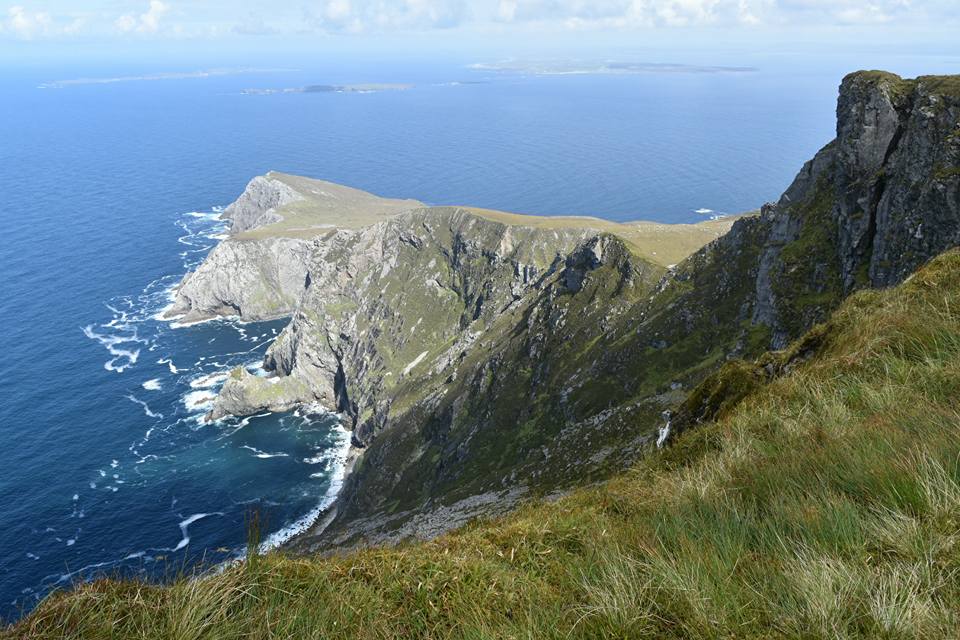 You'll also find some of the best coastal drives in Ireland on Achill, offering you panoramic photos that will no doubt end up on your living room wall!
There' a good selection of places to stay too and a good choice of restaurants. Actually… instead of harping on about how great Achill is, jump over to our Achill Island guide here.
With all this natural beauty on display, it sounds like a place you'd see on the big screen, and that's exactly what recently happened. Martin McDonagh's The Banshees of Inisherin chose the epic landscapes of Achill for the backdrop of his production. We have all locations here.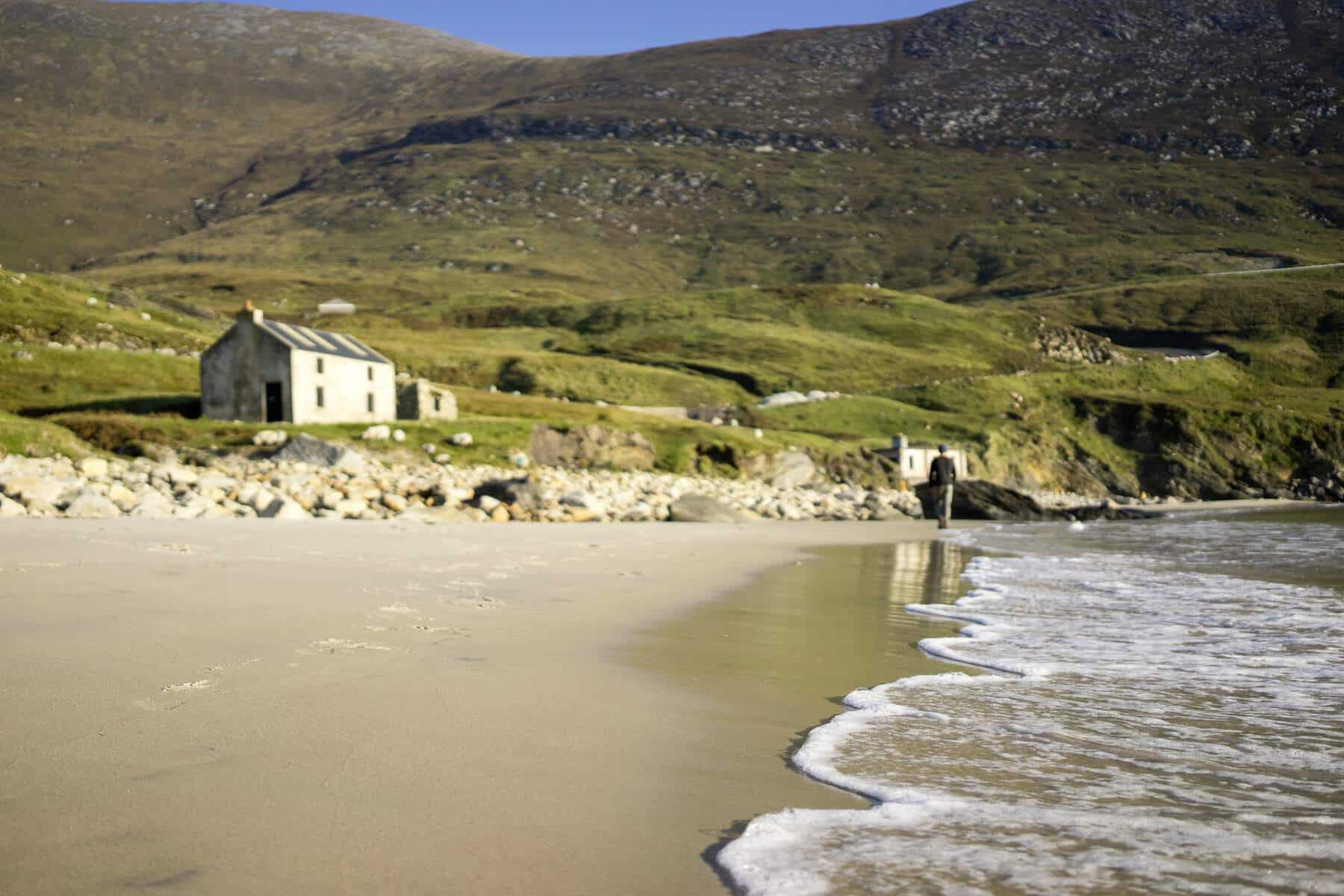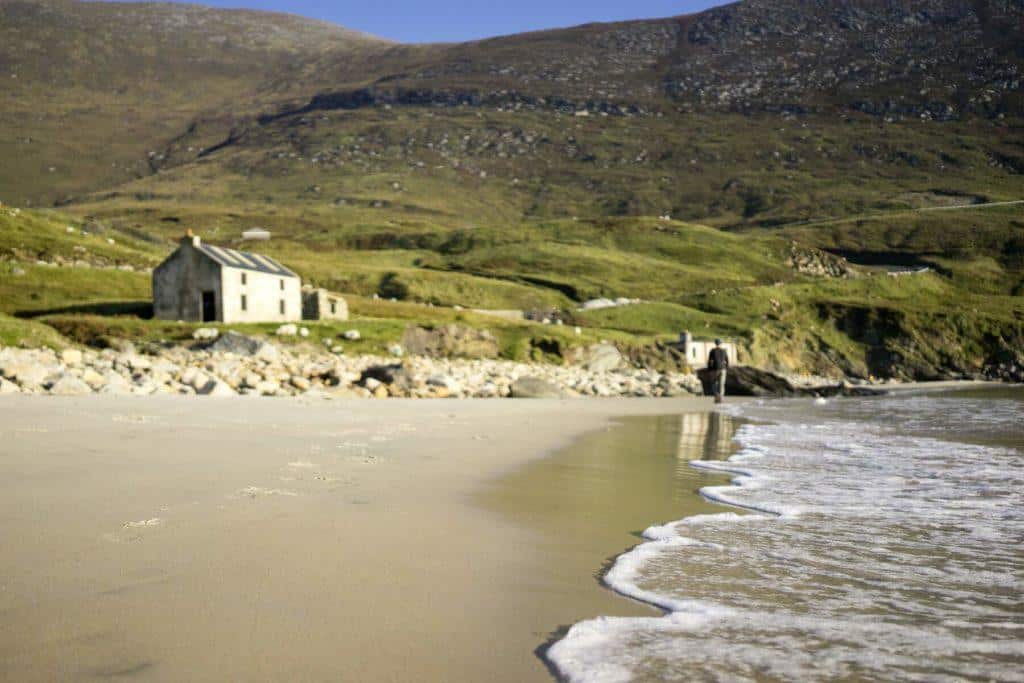 How to get to Achill Island
So, the island is joined to the mainland via the Michael Davitt Bridge. The island is located west of one of our favourite Irish seaside villages, Mulranny.
The charming town of Westport is approx. 1.5 hours from Achill, an ideal day trip.
This part of Ireland is also known for the Great Western Greenway, a 44km cycle lane which starts in Westport and finishes on Achill. This is one of our favourite things to do in Mayo, as it takes you through some beautiful west of Ireland coastal and countryside scenery.
The Ring of Kerry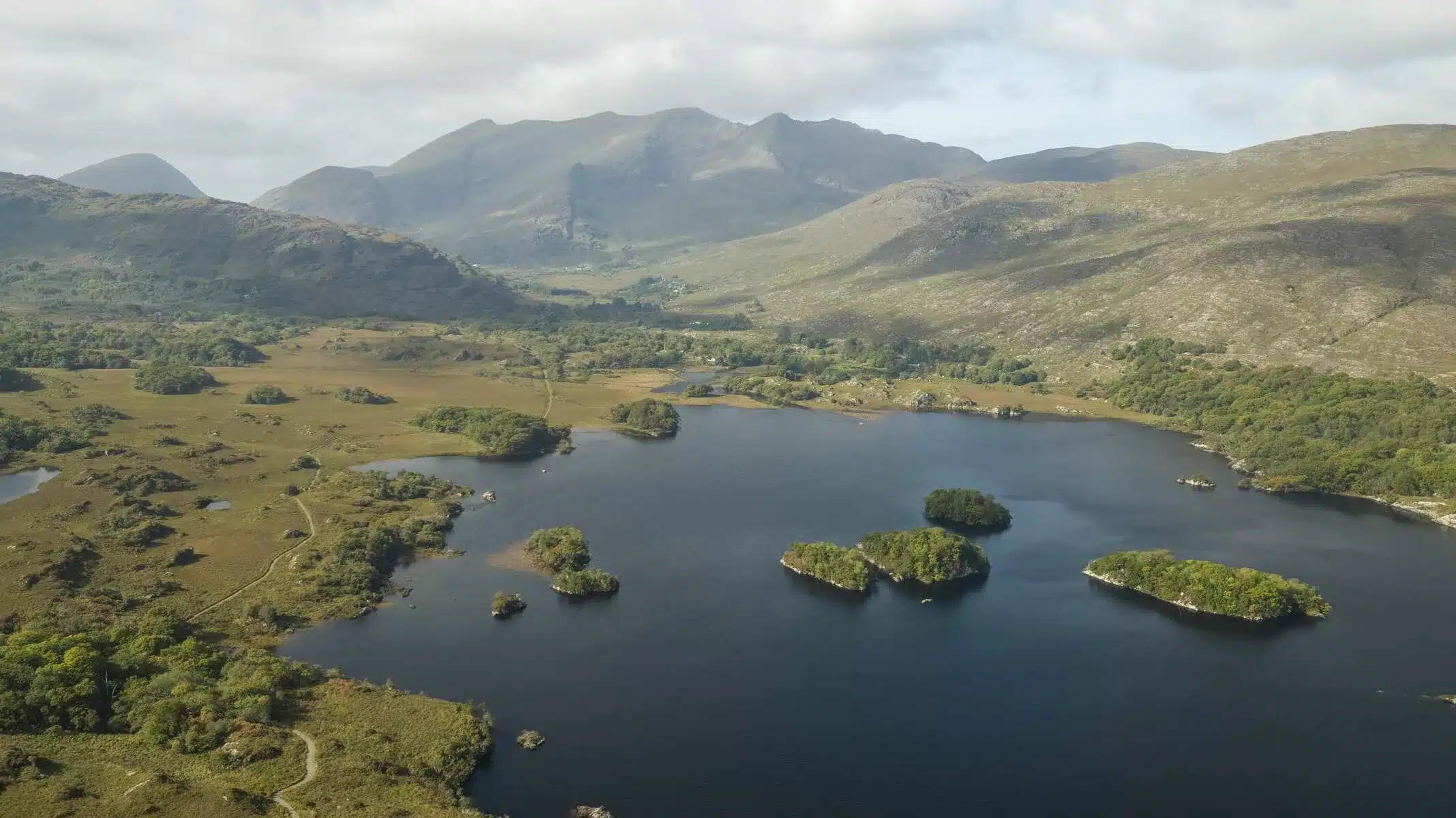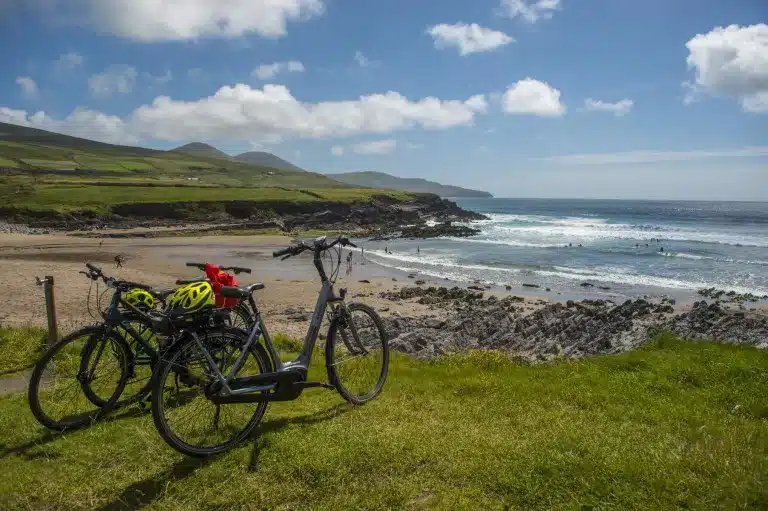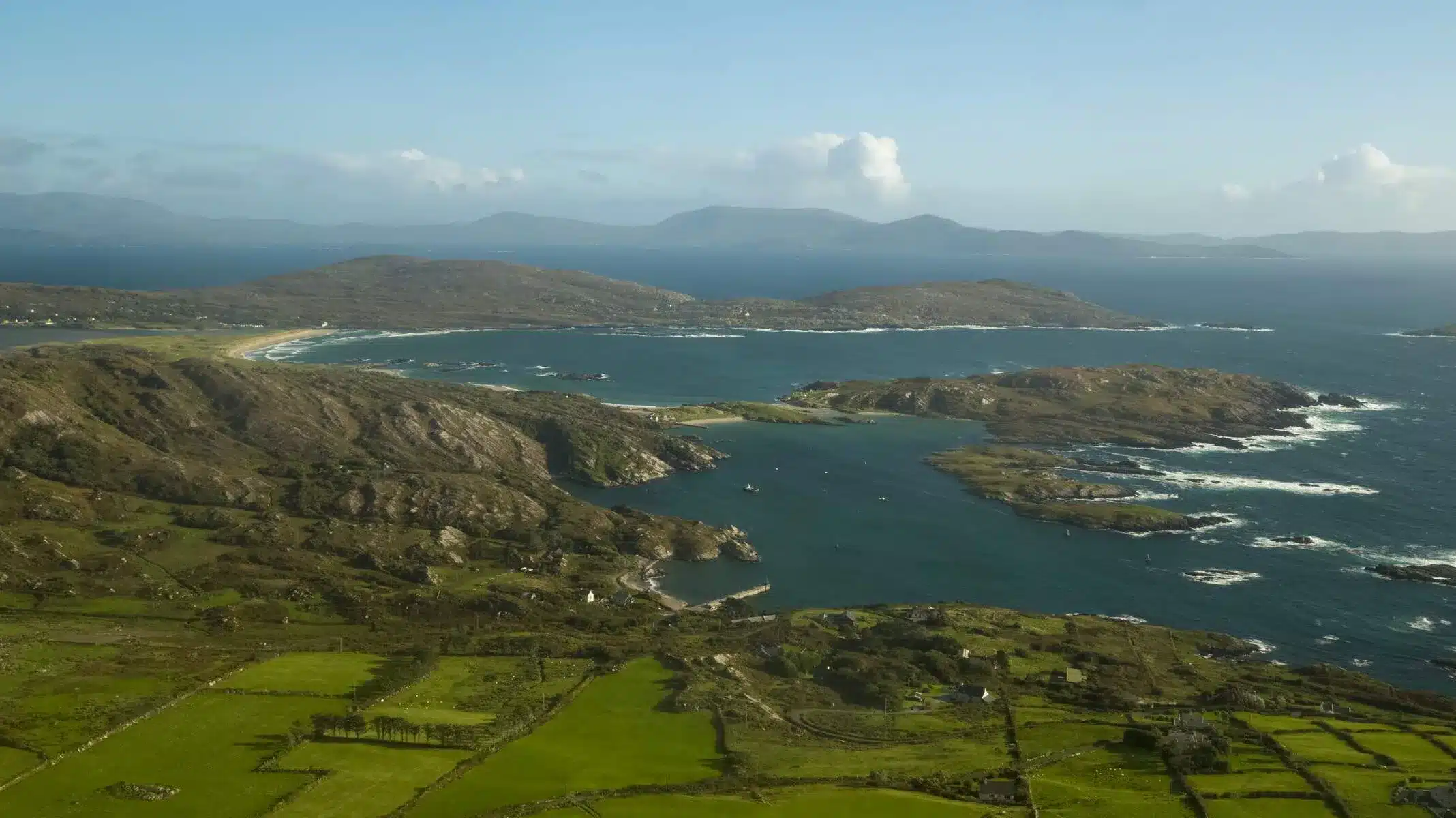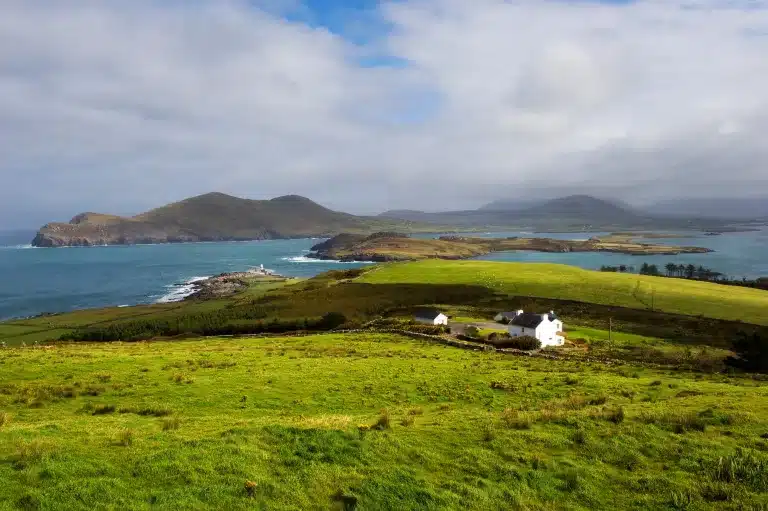 images via Failte Ireland
Ireland's most iconic and visited road, The Ring of Kerry is the ultimate road trip.
Located on the Iveragh Peninsula in County Kerry, this 179km (111 miles) circular route takes in some of the most breathtaking scenery you'll find in any part of Europe.
What makes it so special?
In my opinion, having driven 'The Ring' numerous times, it's the sheer variety of landscapes you'll come across.
Starting point is the town of Killarney and driving anti (counter) clockwise, you'll encounter the lakes of Killarney National Park, panoramic coastal vistas, beautiful cove beaches and idyllic villages such as Sneem and Cahersiveen.
The last leg will see you rising in elevation and witnessing Ireland's highest mountain range, The McGillicuddy Reeks and catch a glimpse of Ireland's tallest mountain, Carrauntoohil.
Then on the way back down the valley, you'll come across the special 'Lady's View' viewpoint. Better have a decent memory card for your camera!
Finish off with by skirting the shores of the lakes of Killarney and a stopoff at Muckross House and Gardens to top off a remarkable day of scenery.
Sounds incredible? The Ring of Kerry is famous for a reason and in summer you'll find the road to be quite busy. Why not try it in May or September, when the crowds are less and the weather is normally at its driest?
How to get to the Ring of Kerry
Air
There is a small airport near Killarney which connects with Ireland's largest airport, Dublin. Scan around here for flights.
Drive
Should you wish to drive the Ring of Kerry at your own pace, there is car rental available in Killarney. Why not rent for a day or 2?
This is something we do frequently when we visit a certain location. Going for a small car is ideal as if you are using Killarney as a base, you won't need to be hauling any luggage around.
Scan around here for cars and rates.
Bus Tours
Being a popular tourist destination, there are plenty of organized tours available and this gives you a more relaxed alternative (and elevated views)
You'll find a tour to meet your needs and budget here.
Slea Head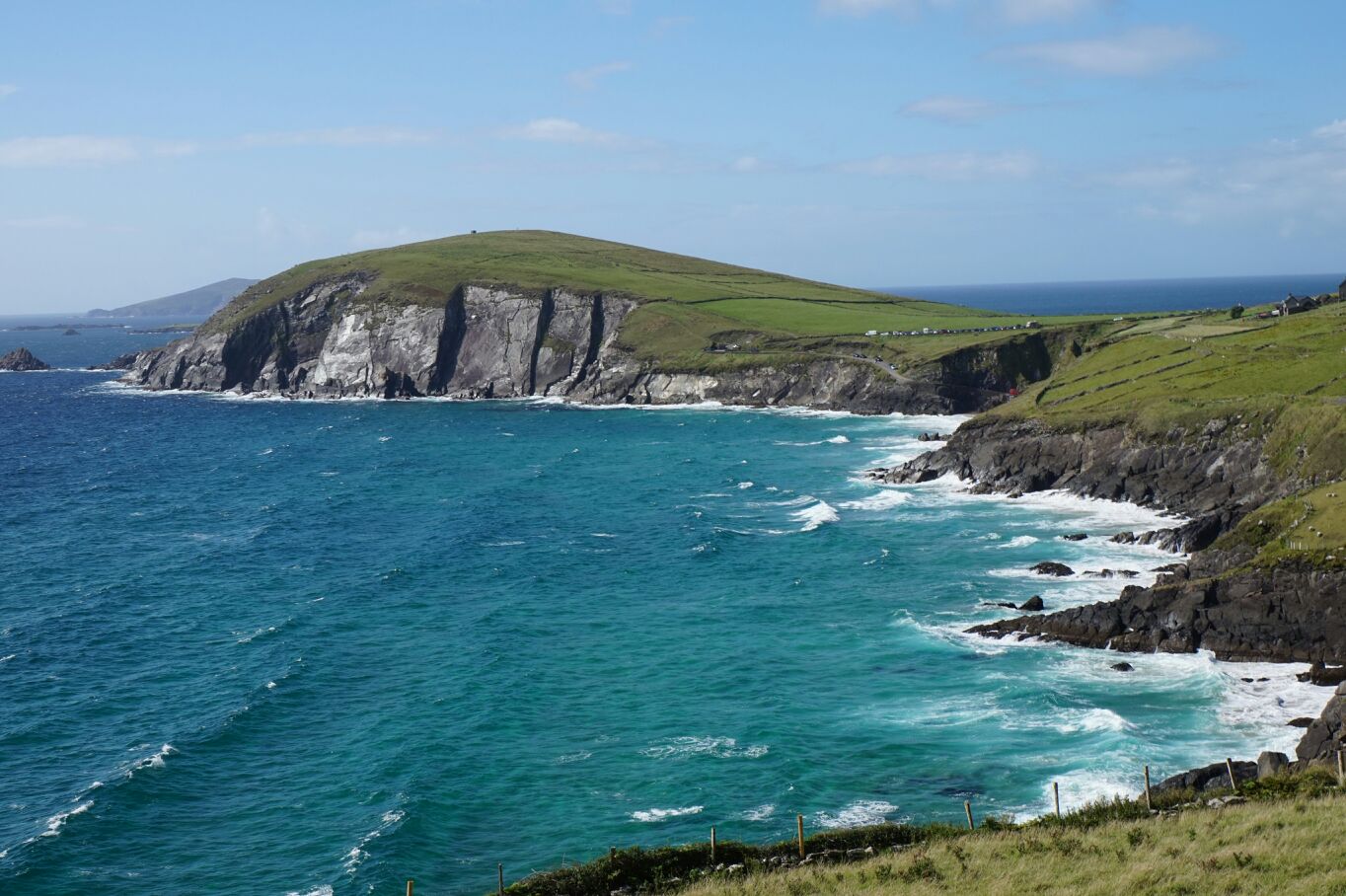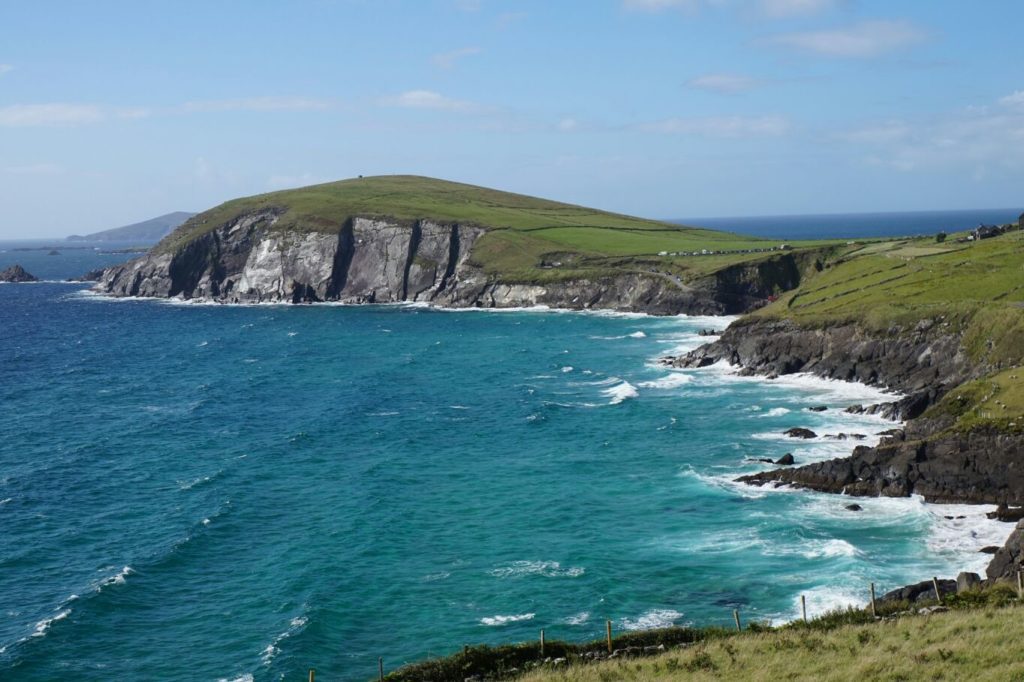 Staying in County Kerry, one of our very favourite places in all of Ireland is Slea Head, located on the western end of the Dingle Peninsula.
The lesser known sibling of the famous Ring of Kerry, this region should certainly not be overlooked. In a similar vein to 'The Ring', expect some breathtaking coastal scenery.
The land around this part of the world is especially green and you'll come across many recognizable postcard images of verdant hills sweeping down to rocky shorelines. The 47 km long circular route starts and ends in the lively seaside town of Dingle.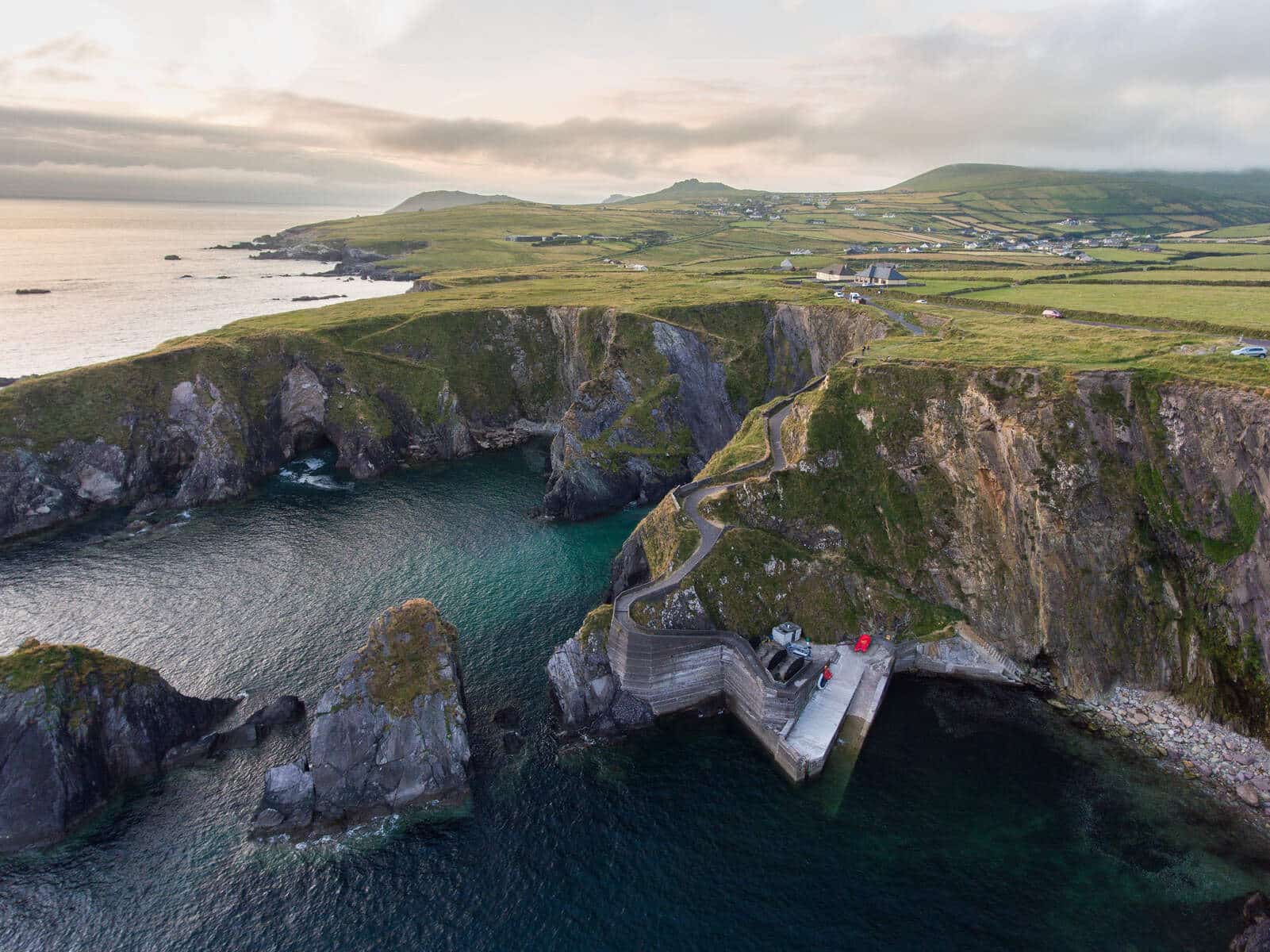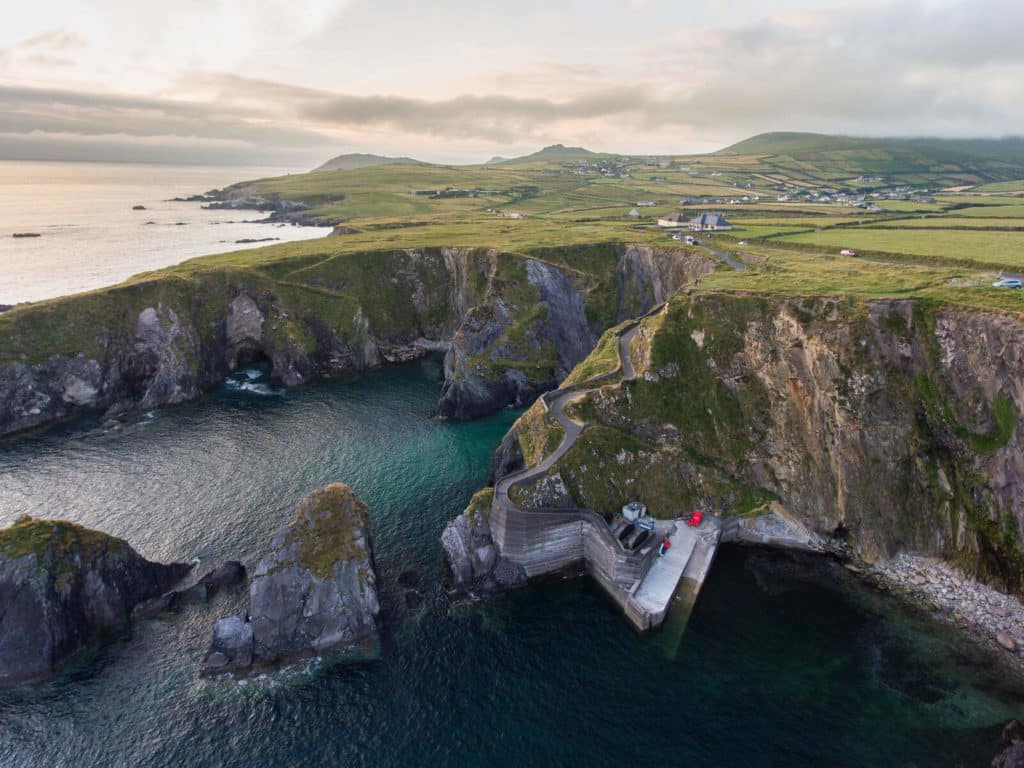 Like the Aran Islands, Slea Head is also a 'Gaeltacht' region, where the main language in use is Irish. The region is known worldwide for its high density of prehistoric sites, testament to the incredibly rich history and culture in the area.
From arguably Ireland's most picturesque pier, Dunquin Harbour, the views out to the Blasket Islands are magnificent.
North of Great Blasket, you'll make catch a glimpse the northernmost island, Inis Tuaisceart of nicknamed locally An Fear Marbh (The Dead Man). So called, because the island resembles the outline of a giant sleeping!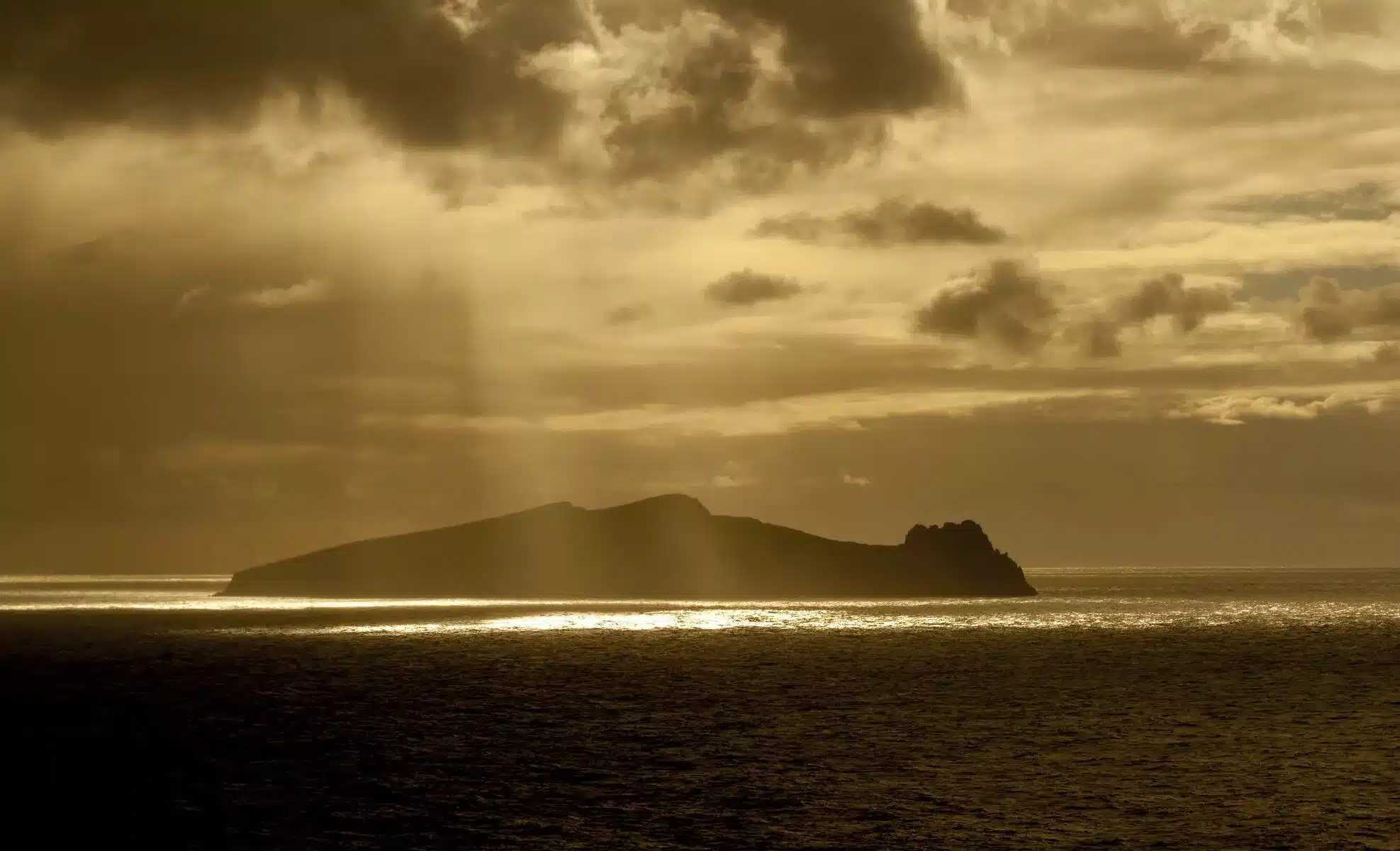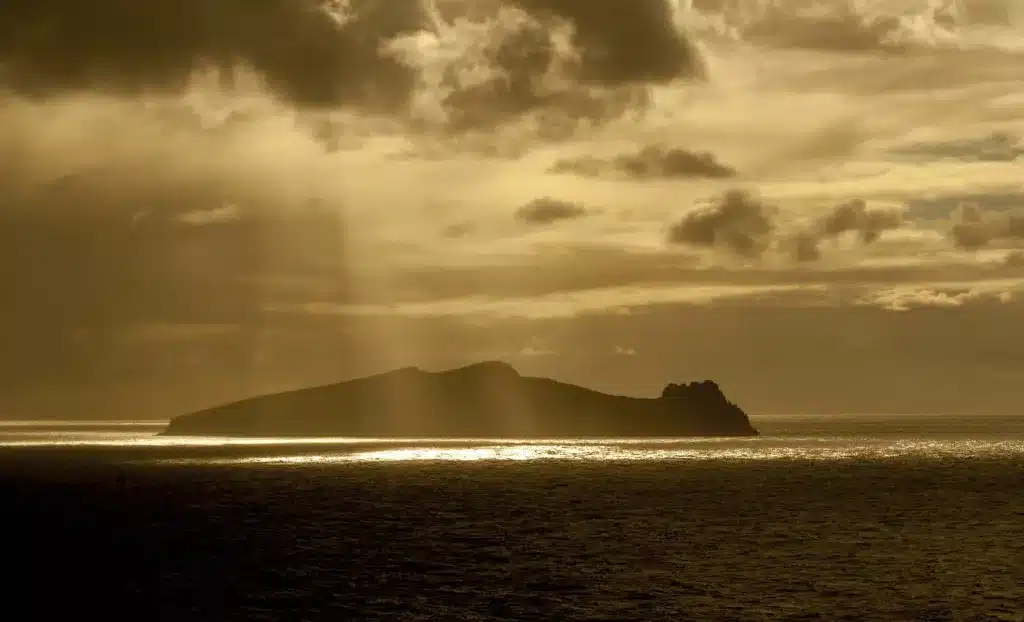 How to get to Slea Head
Killarney is located approximately 1 hour from Dingle, where the Slea Head drive starts. This makes for an excellent day trip if based in the town of Killarney.
There are a limited number of organized tours available, one of which starts in Killarney. Details are here.
Connemara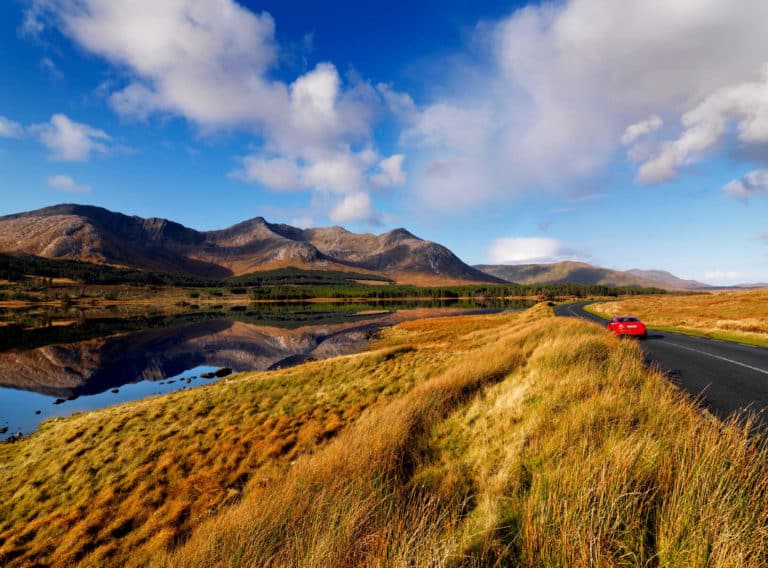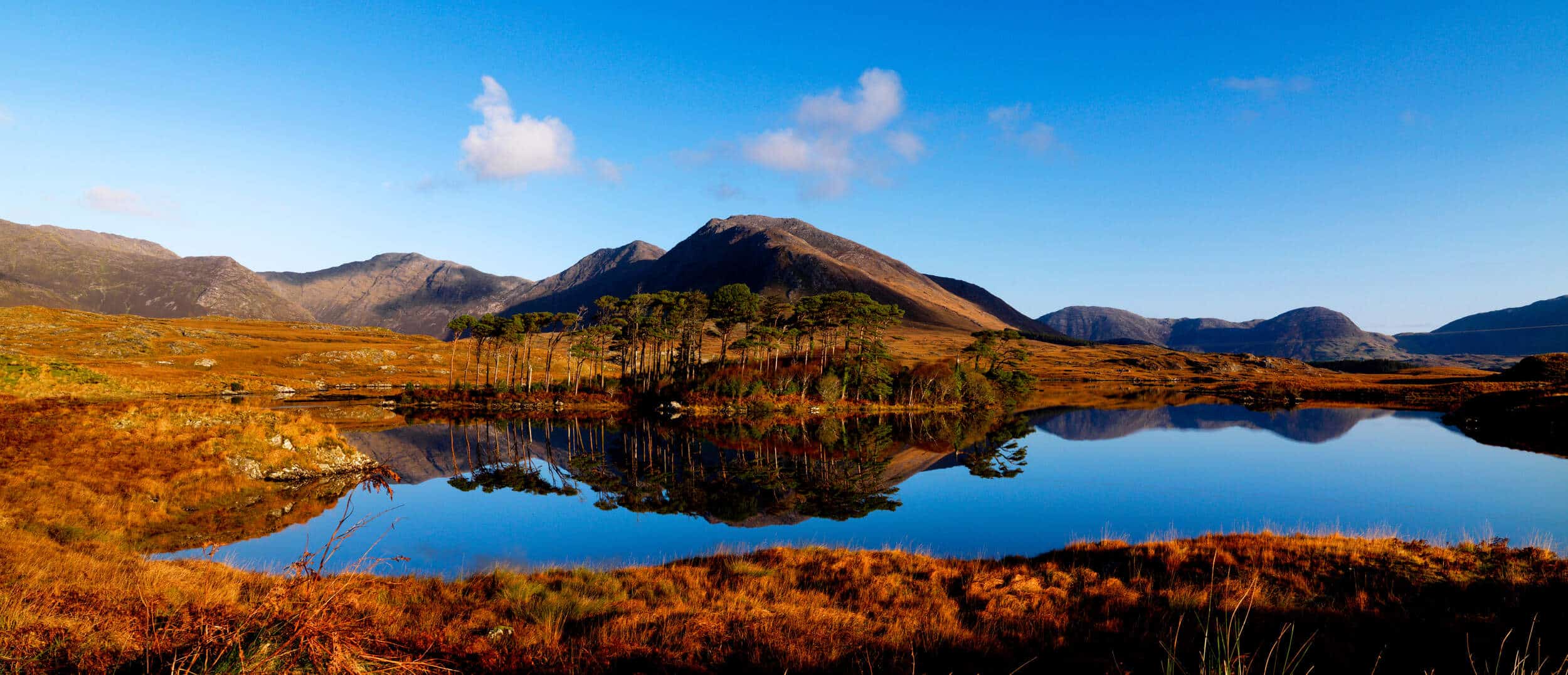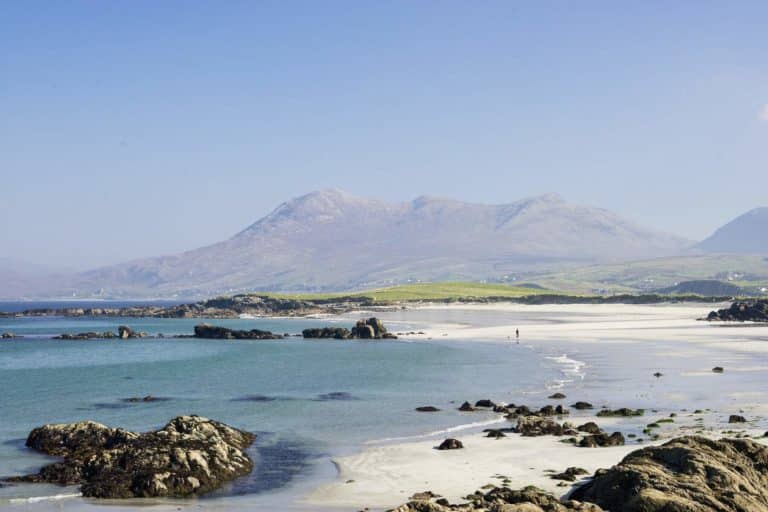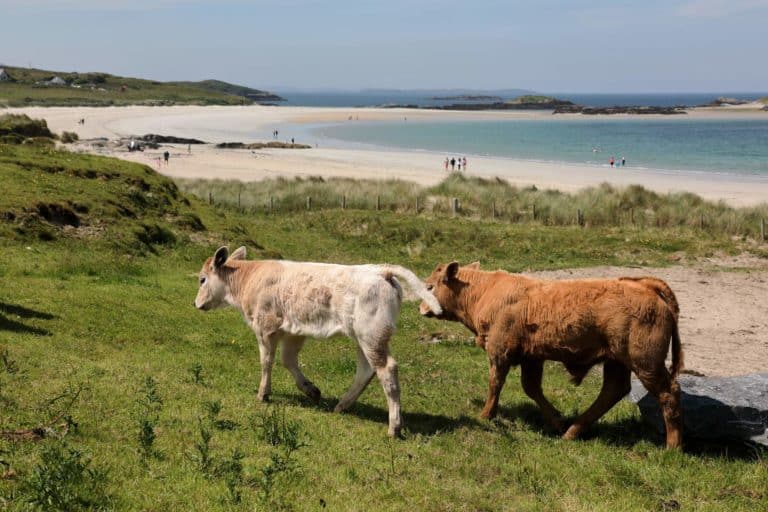 images via Failte Ireland
"Wild mountainous country," "in every way magnificent".
This is how Oscar Wilde interpreted the majestic landscape of Connemara, County Galway. Phrases like 'wild romantic', 'barren beauty' have tried to explain the uniqueness of Connemara. All in all, it's a place you have to experience with your own eyes.
The wild West of Ireland offers some of the country's best scenery. What makes Connemara so special is that you have practically every landscape feature you ever learned about in Geography class!
The majestic 12 Bens mountain range rises above a vast area of almost dersert-like wilderness. There are more lakes than you could ever count, many which are interlinked with streams teaming with salmon and trout.
These almost dersert-like bog landcapes come to life in the summer months with heather, gorse and endless wildflowers filling the air with a sweet aroma.
Then, when you think you've seen it all, you come acrosss beaches so idyllic that you'll wonder if you are in Ireland at all. The image below is one of our favourites: Glassilaun.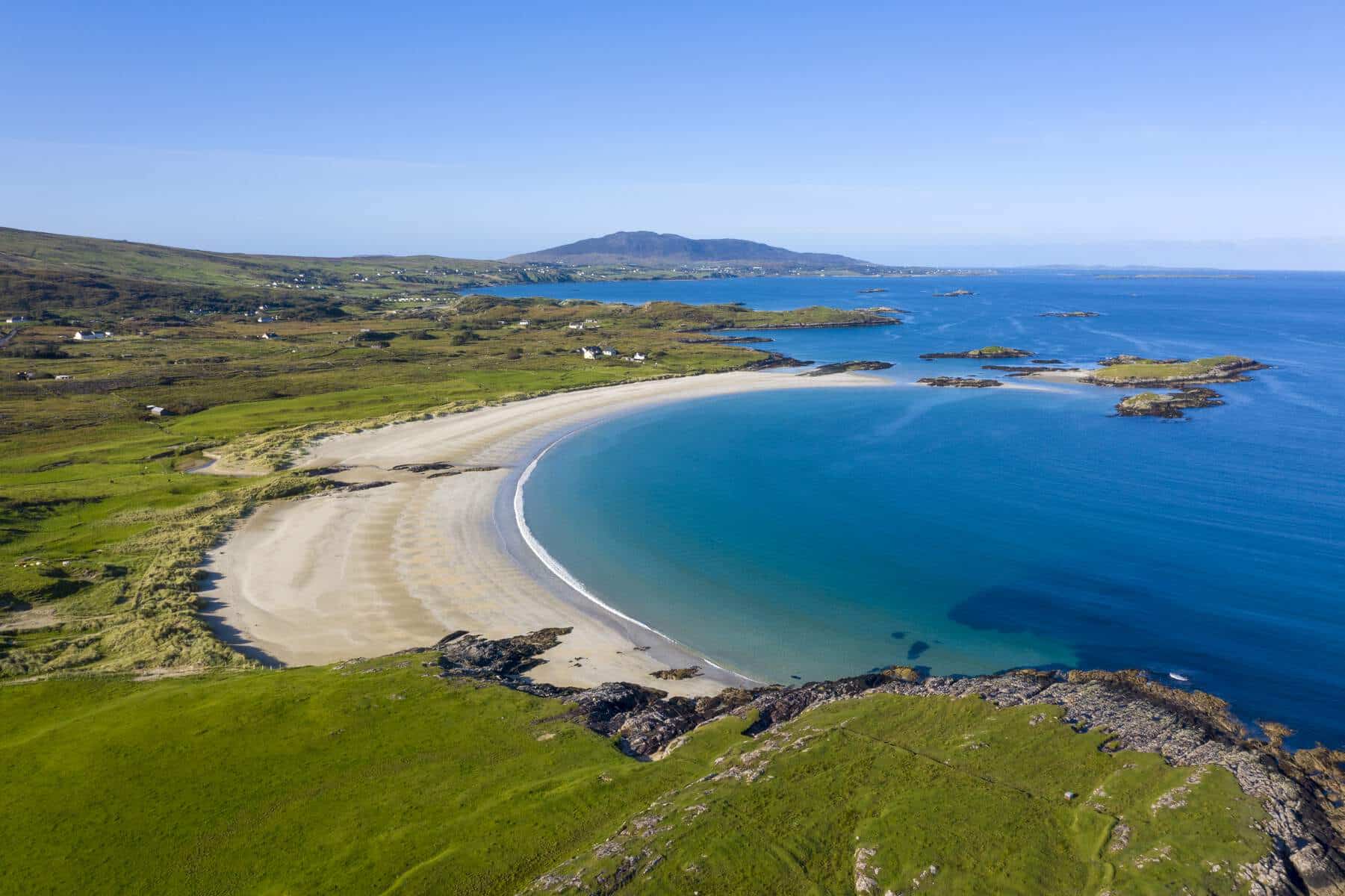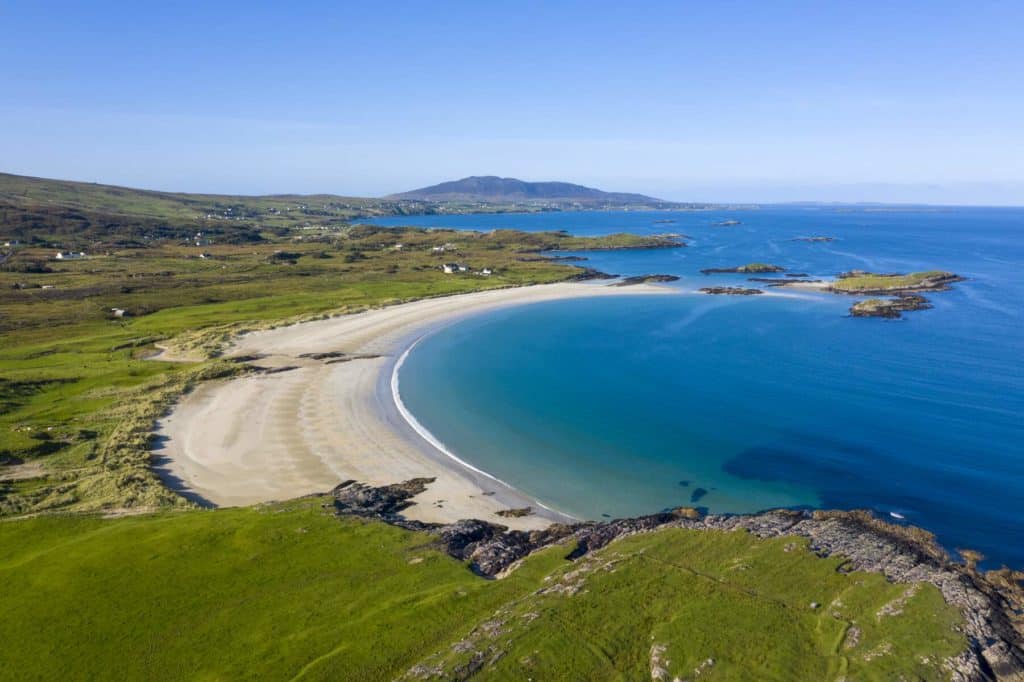 In the midst of all this beauty, Kylemore Abbey, possibly Ireland's most beautiful building, sits perfectly on the shores of Pollacapall Lough. Surrounded by a myriad of vegetation, and boasting its own beautiful gardens, a trip here we highly recommend.
To take all of Connemara in in a short time is practically impossible. I have personally been there more times than I can count, and every time I visit, I stumble across something new.
However, a day trip to Connemara National Park is something we highly recommend. We have Connemara National Park covered in detail here. It's also located practically next door to Kylemore Abbey!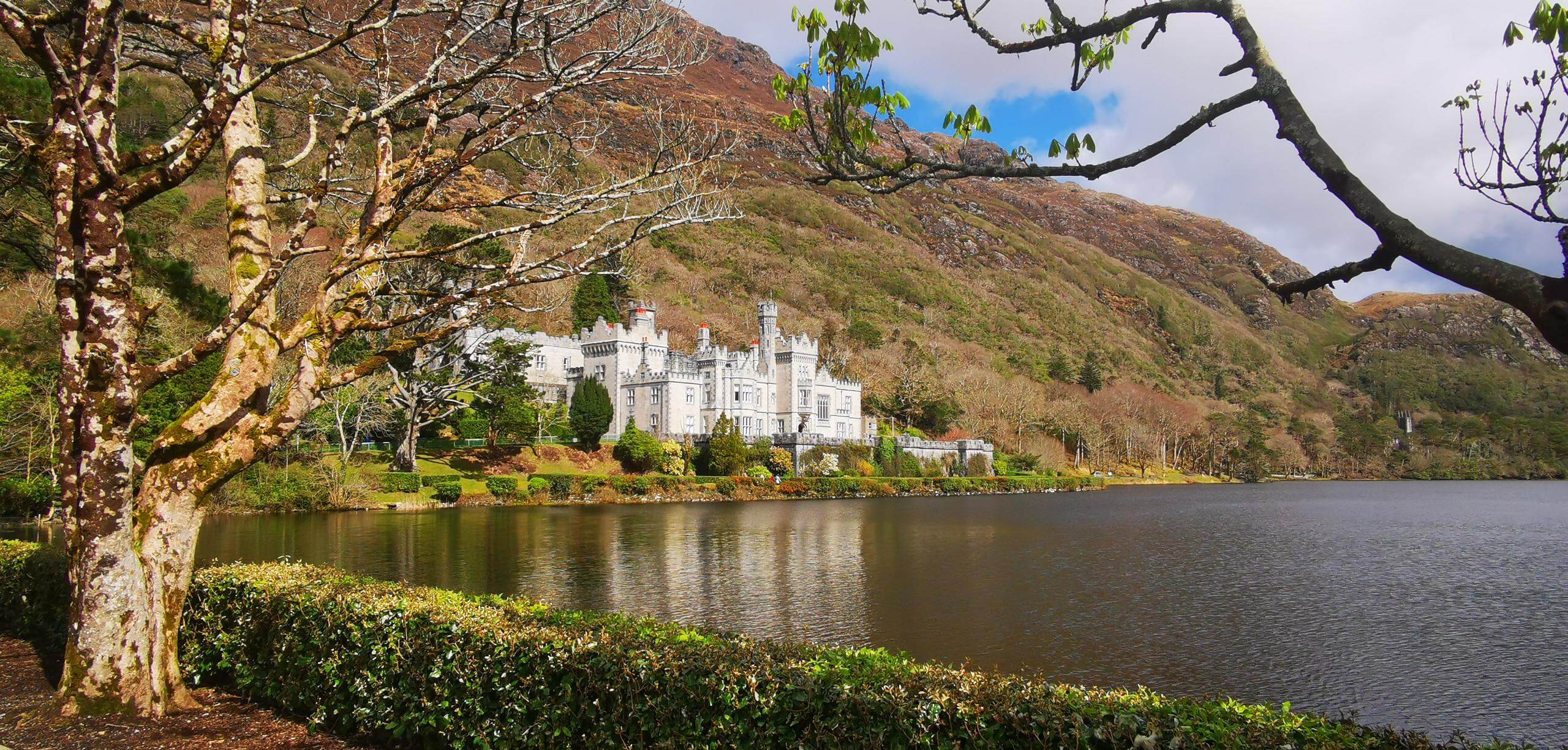 How to get to Connemara National Park
Car
If you are based in Galway, you MUST visit Connemara. Now, if the weather is bleak and rainy, Connemara will show its dreary side, but if the weather is good, you'll experience Connemara in all its splendour.
We have a route planned for you taking in our highlights of the region.
Click here for our recommended route
Organized Tour: 2 Best Options
Guided 3 Hour Tour of Connemara with 3-hour stopover at Connemara National Park This 5-star rated tour is an excellent mix of sights and hikes.
Connemara & Kylemore Abbey Full-Day Guided Tour This very popular and highly rated tour will allow you to witness the wildness of Connemara, with its countless lakes, mountains, beaches and intricate coasts.
Slieve League Cliffs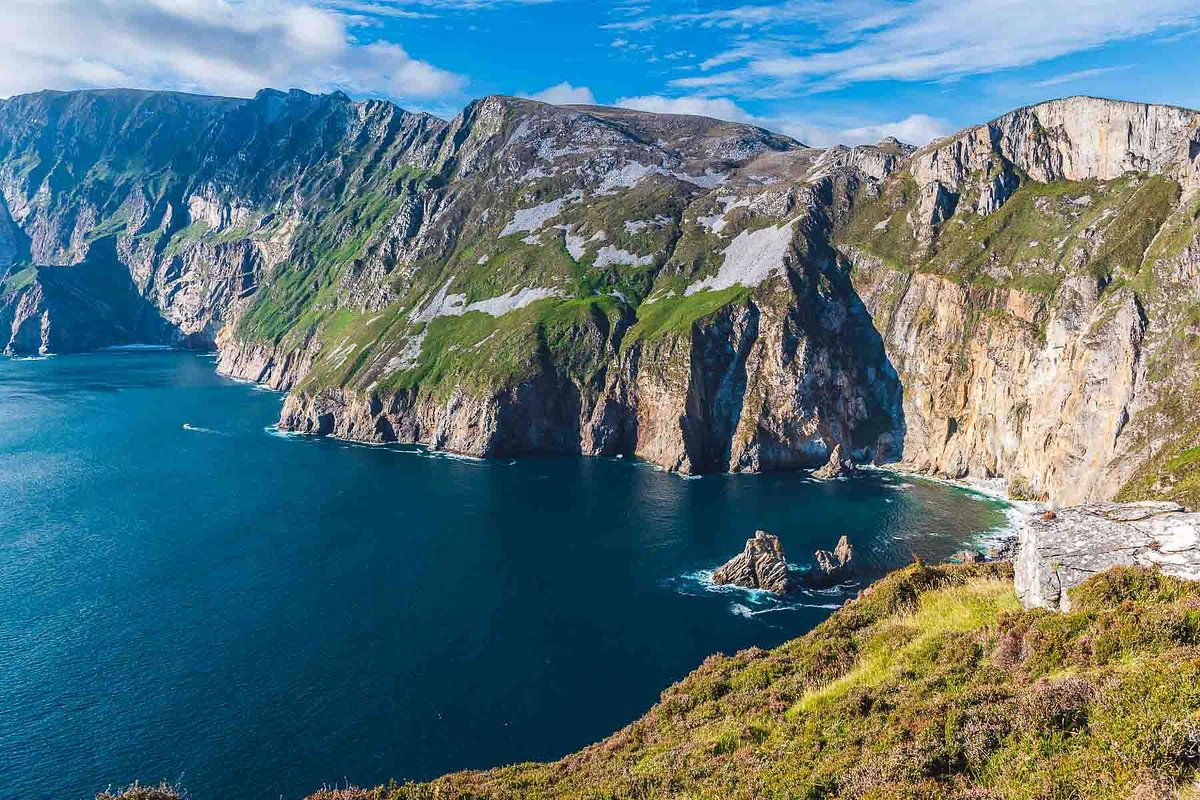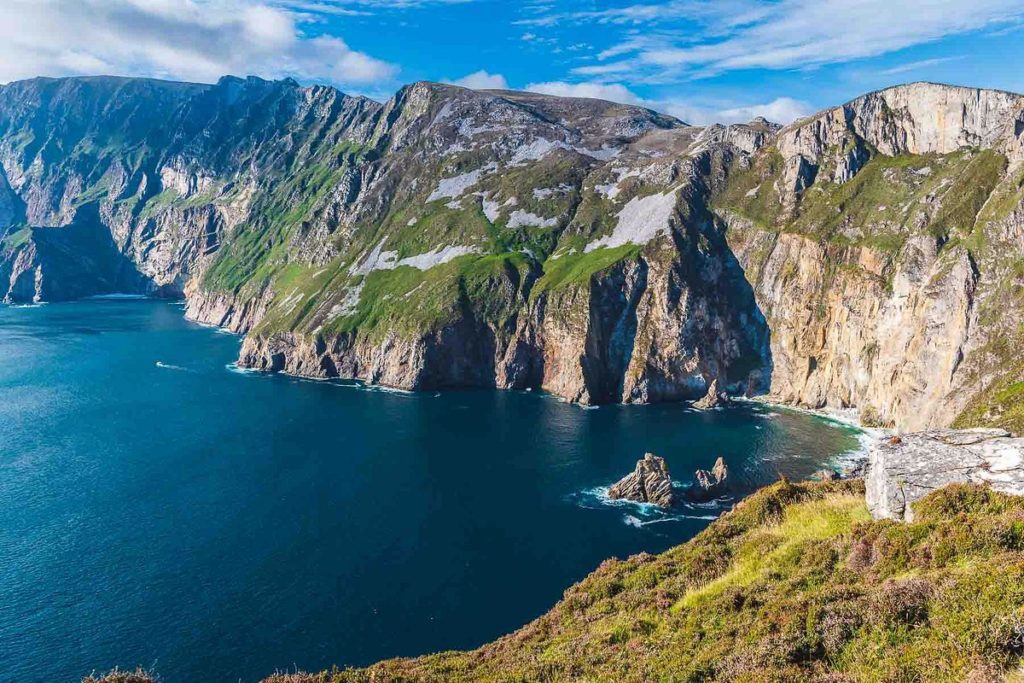 Ireland really is the land of epic cliffs. The whole west coast is the best region to witness the unrelentless power of the Atlantic, and no better place to see where it has left its mark than at the magnificent cliffs of Slieve League in County Donegal.
At a maximum height of 601 metres (1,972 feet) this expansive rockface is far less visited than the Cliffs of Moher and are over three times their height, making them Ireland's second highest.
Contrary to Ireland's highest on Achill Island, Croaghaun, Slieve League are accessible and a wonderful short coastal drive west of Teelin.
Slieve League has some of Ireland's most breathtaking views and when I visited, I took on the hike up to the top of the cliffs. Bear in mind, it was a windstill day, so taking on such a hike in wild and windy weather is something we do not recommend.
Slieve League is also famous the 'One Man's Pass', aptly named and only for those with a very good head for heights! The video below will give you an idea…
How to get to the Slieve League Cliffs
Car
You have to make your way to the cliffs by car. They are located in a very remote area of southwest Donegal, approximately 30 minutes from the small port town of Killibegs
Following the road west of the nearby village of Teelin, there is a choice of 2 carparks. The lower carapark is a good 40 minute uphill walk to the viewing plantform and the upper is located right next to it.
Unfortunately the upper carpark is miniscule, and only has space for a few cars.
Another option would be to park for free at the Slieve League Visitor Centre and get the shuttle from there.
Scenic Boat Trip
Another excellent way to experience these magnificent cliffs is by boat. There is a boat which leaves from Killibegs harbour and offers a wonderful guided tour by a local. Details are here.
Clew Bay/Croagh Patrick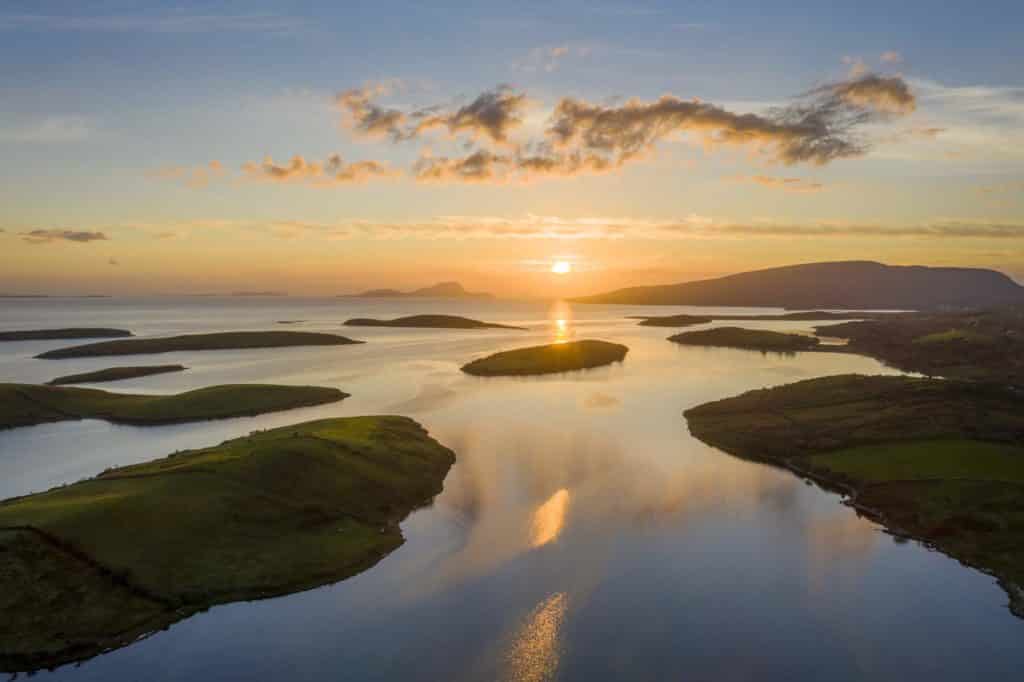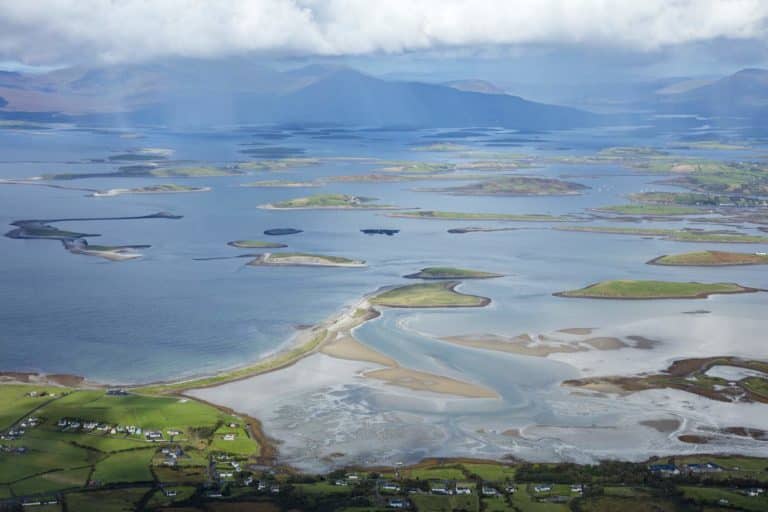 images: sweetisleofmine.com/Failte Ireland
Clew bay is located in the county of Mayo, in the west of Ireland. Many claim this is Ireland's most beautiful bay.
One thing for certain is that Clew Bay is certainly Ireland's most unique bay. Known for its 365 glacial islands (one for every day of the year as the locals say) Clew Bay is a wonderfully sheltered bay, and in our view offers a wealth of things to do and see in a relatively small area.
Take for example the town of Westport, located on the southeastern shores. This town is full of excellent restaurants, pubs and places to stay , while offering plenty to do also. Attractions such as Westport House are great days out for young and old.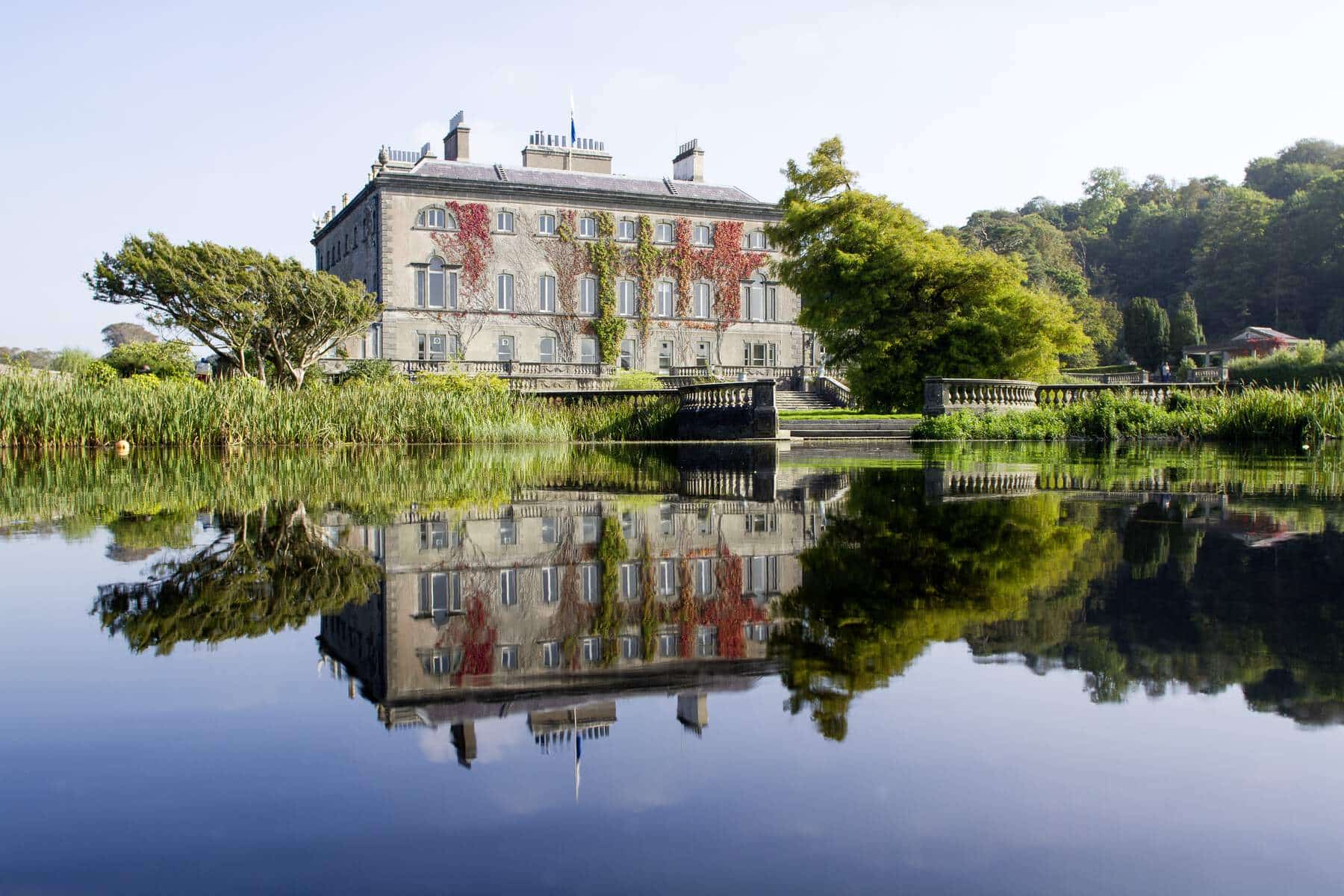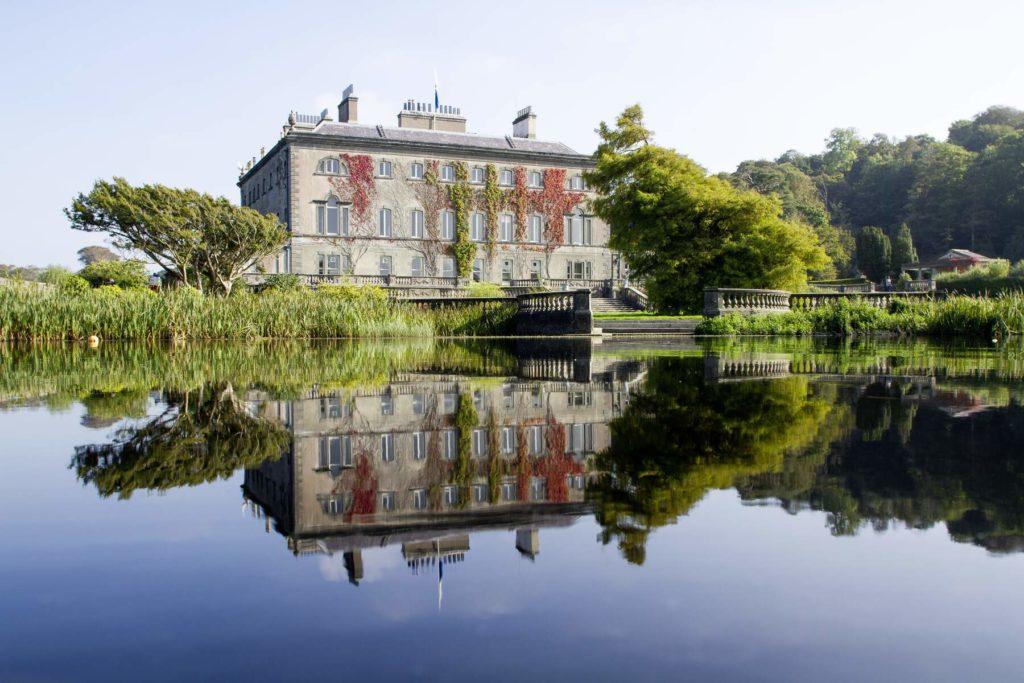 Then, no less than 10 miuntes away, you have Ireland's holy mountain, Croagh Patrick, rising high above the bay. This famous mountain is one of the very best activites to do on your trip to Ireland (we have a full guide here by the way)
The view from the top of Croagh Patrick over the whole of Clew Bay and its islands is special and one you won't forget in a hurry.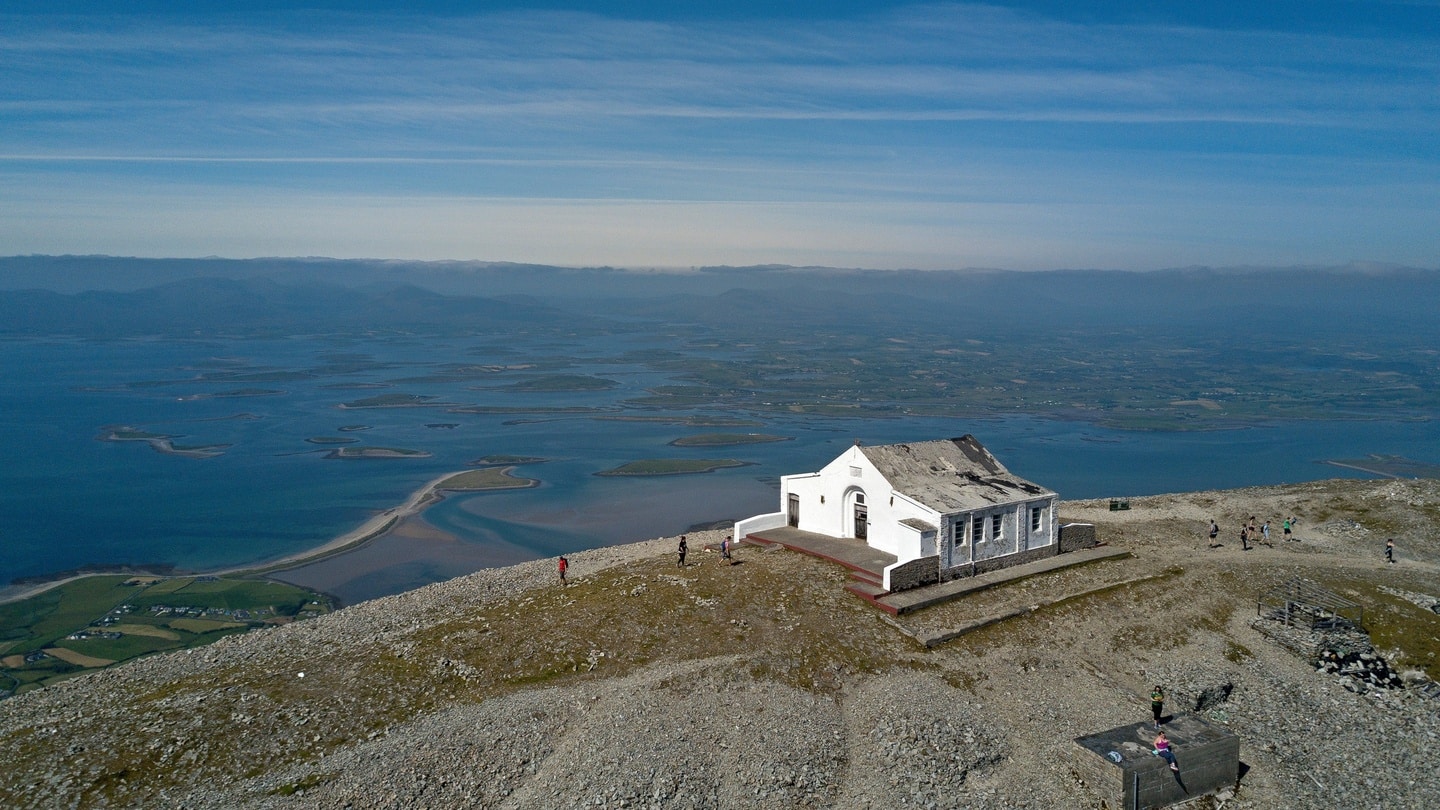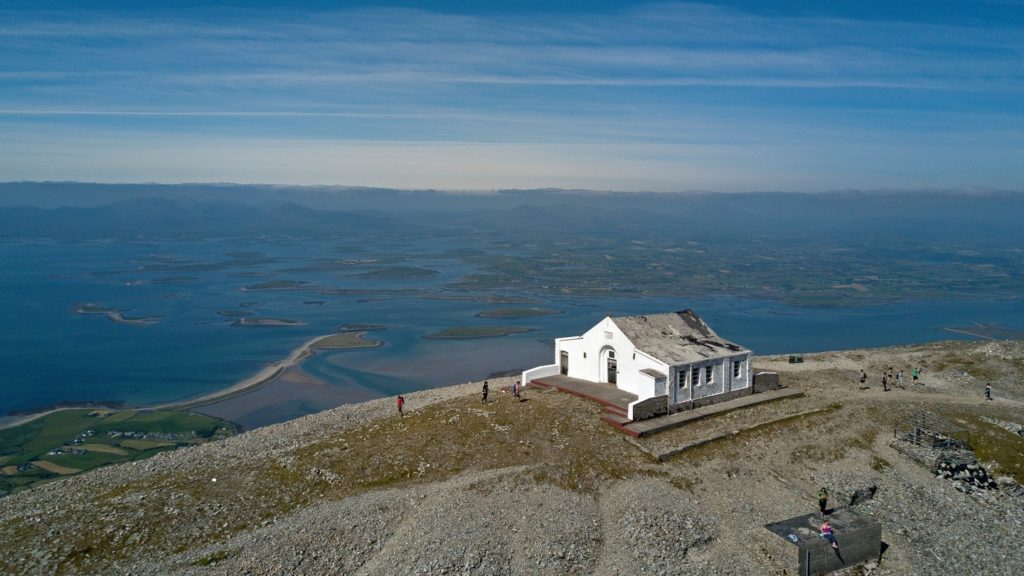 The bay itself is home to a selection of brilliant beaches, from Old Head to Bertra. Across the water, explore Mulranny and further on, you'll reach Achill Island.
To top it all off, Ireland's longest cycle lane takes in the whole eastern and northern shores, The Great Western Greenway, offering panoramic views over the bay.
Having grown up near Clew Bay, I can safely say a holiday in this region during a spell of fine, warm weather will tick so many boxes. Whether you are an outdoor enthusiast, a foody or someone who enjoys a road trip with beautiful west of Ireland scenery, Clew Bay is a must visit.
How to get to Clew Bay
Car
If you are touring through Ireland by car, using the town of Westport, Newport or Mulranny as a base would be the best option. It's a good 3 hr, 15 min drive from Dublin. The new Castlebar bypass road (2023) has cut the journey by 10-15 minutes.
From Galway by car the journey takes about 1 hr. 20 mins.
Train & Bus
There is a train connection from Dublin to Westport, details of which are here. This could be a great option for those not keen on renting a car.
There are also plenty of bus connections from the major surrounding towns and Galway, details of which are here.
West Cork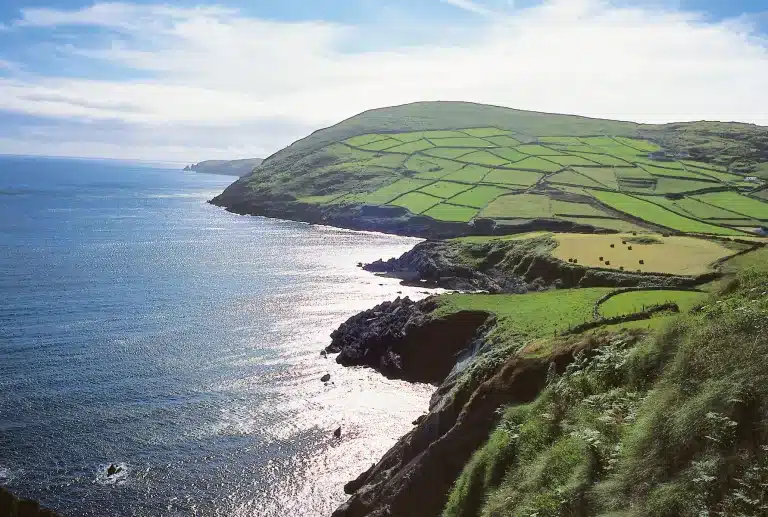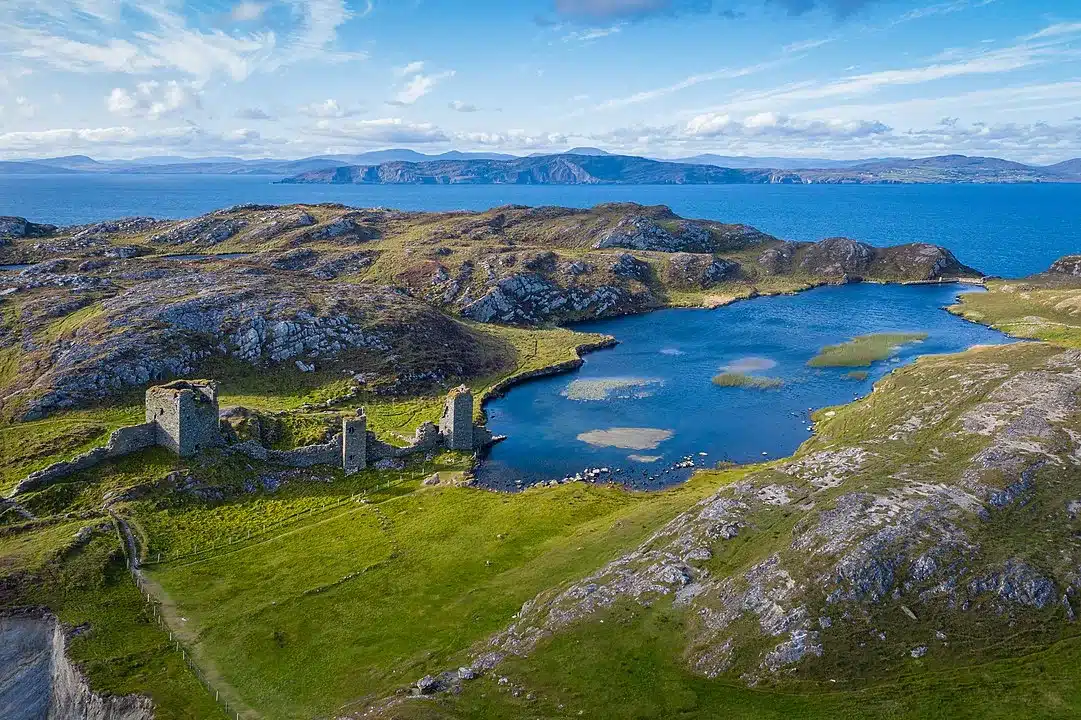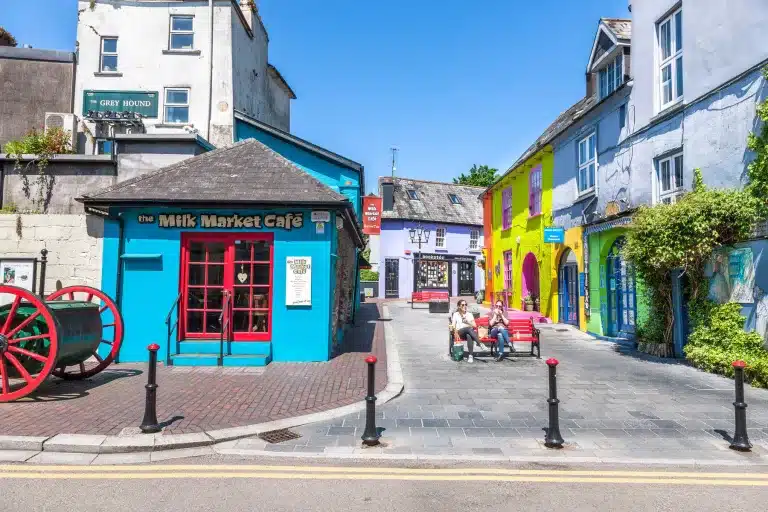 images via Wiki Commons/Failte Ireland
West Cork offers a unique blend of natural beauty, history, and culture. Known for its rugged coastline, rolling, green hills, and colourful towns and villages, West Cork is one of our very favourite regions in Ireland.
One of the most popular towns in West Cork is Skibbereen, which is home to a number of historic sites, including the Skibbereen Heritage Centre, which tells the story of the Great Famine and its impact on the local area.
While you're there, why not explore the nearby Lough Hyne Nature Reserve, which is home to a diverse range of marine life and is a popular spot for kayaking and snorkeling. But it's not just any old kayaking…
Lough Hyne is famous for its night-kayak tour, where you will witness the incredible phenomena of bioluminescence, light caused by the chemical reactions of organisms under the water. Just imagine this sight on a starlight night. Details of the tour are here.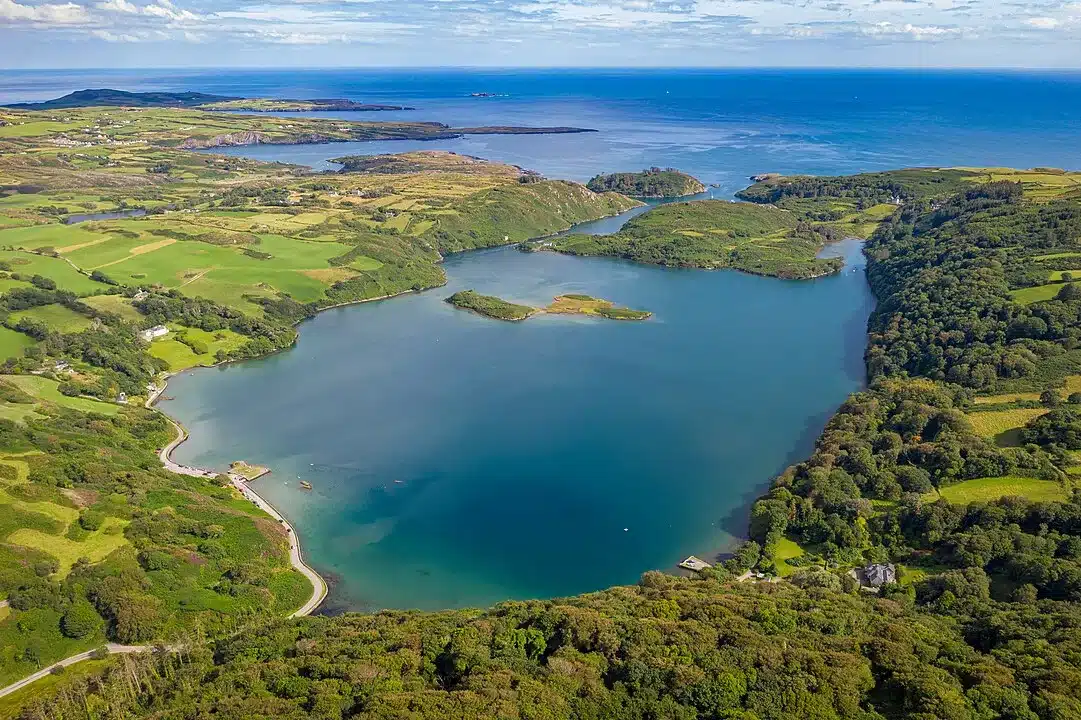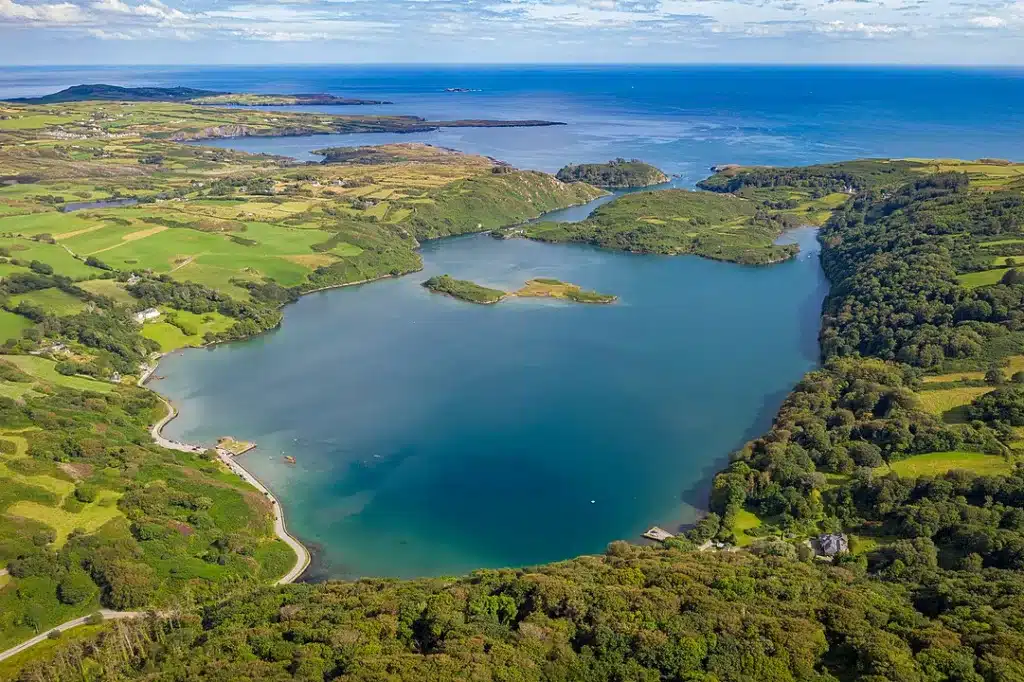 Another must-see destination in West Cork is the charming town of Kinsale, known for its colorful buildings, scenic harbor, and award-winning seafood restaurants. Walk the town's historic streets, visit the impressive Charles Fort, or just enjoy a pint of Guinness in one of the many lively pubs.
For those of you who love the Great Outdoors, West Cork offers plenty of opportunities for hiking, cycling, and fishing, with the Sheep's Head Way and Beara Way both offering stunning views of the surrounding coastal landscapes.
If you want to experience the unique culture and traditions of rural Ireland, West Cork is home to a number of lively music festivals, including the Baltimore Fiddle Fair and the Skibbereen Arts Festival.
How to get to West Cork
The town of Bantry is located around 1.5 hours from Cork City, Ireland's second largest city.
West Cork is a vast, rural area and the most efficient way to explore the region is by car.
There are also numerous bus services from Cork city to the main towns of Skibereen, Baltimore and Bantry, including other towns and villages in West Cork. Click here for more details.
Skellig Michael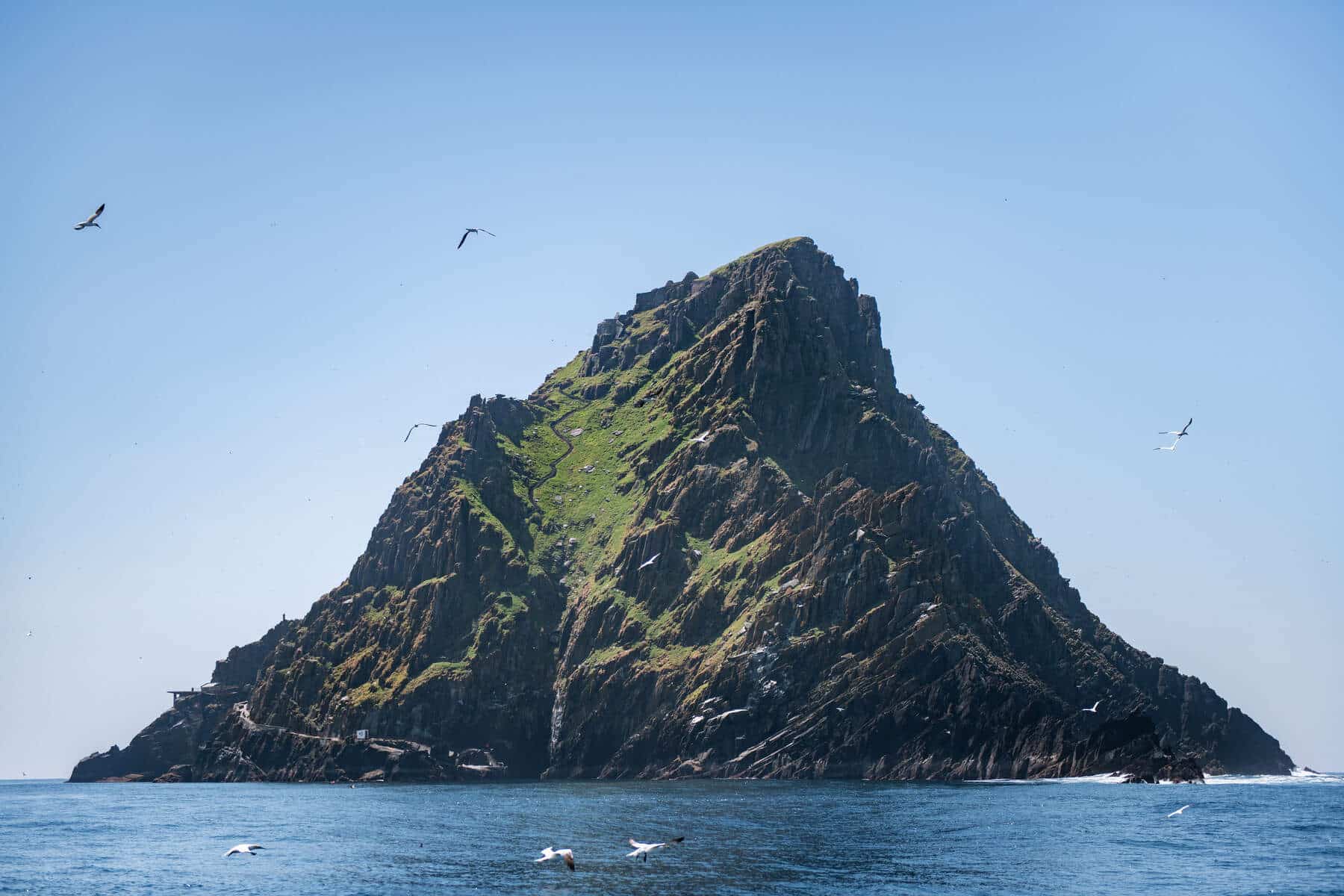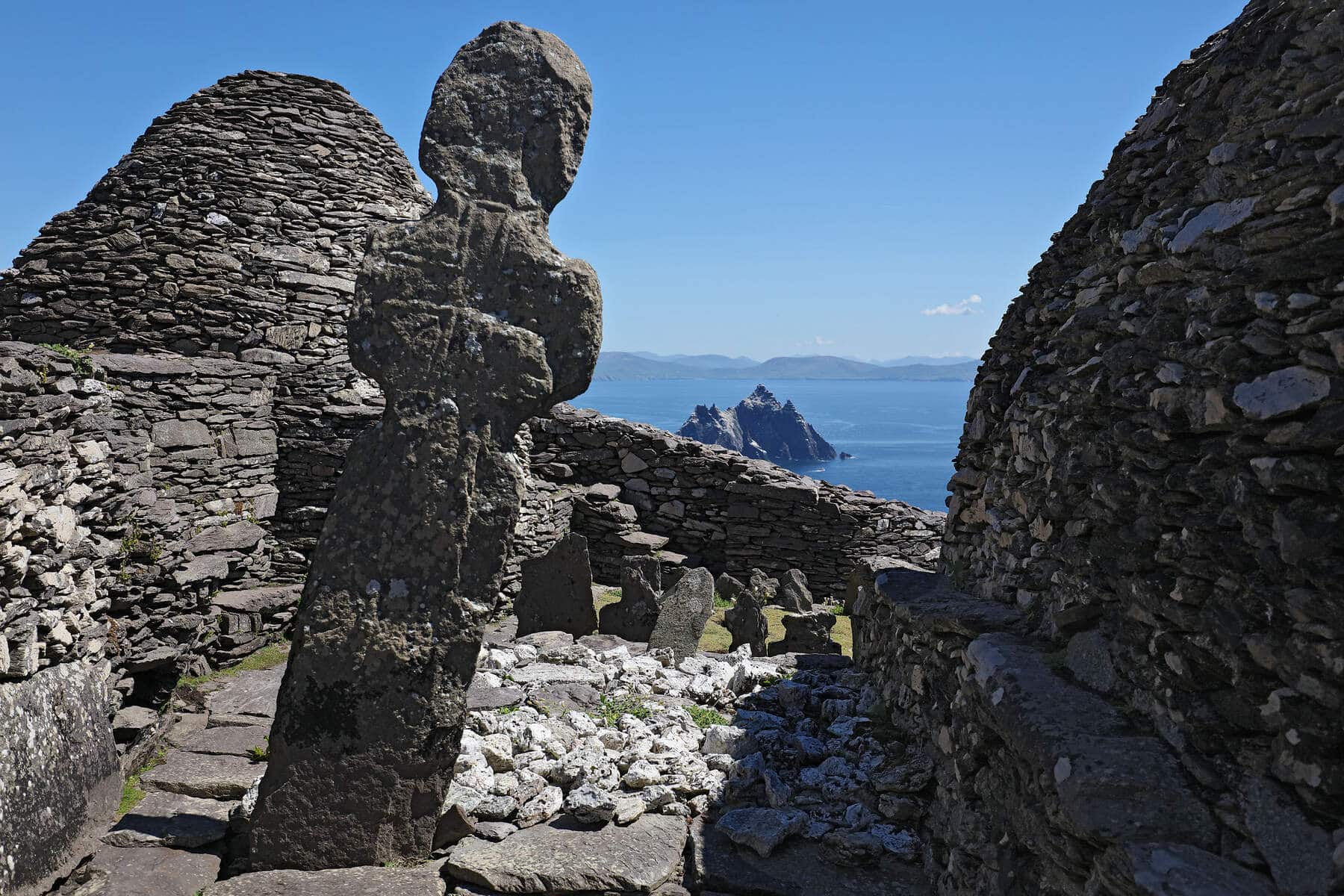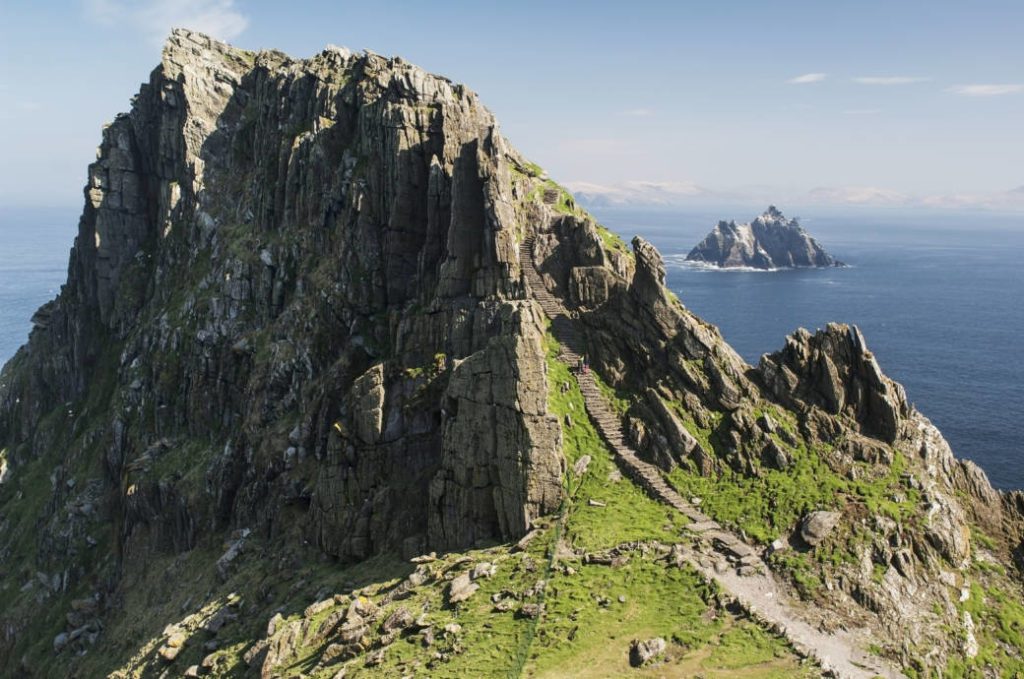 A UNESCO World Heritage site and arguably one of the world's great islands, Skellig Michael is a truly spectacular sight.
Rising majestically from the Atlantic Ocean, this rugged and remote rock is nature at its very best. Its dramatic cliffs are covered with seabirds, from puffins to gannets, and the steep, ancient stairway leads you to an incredible spectacle.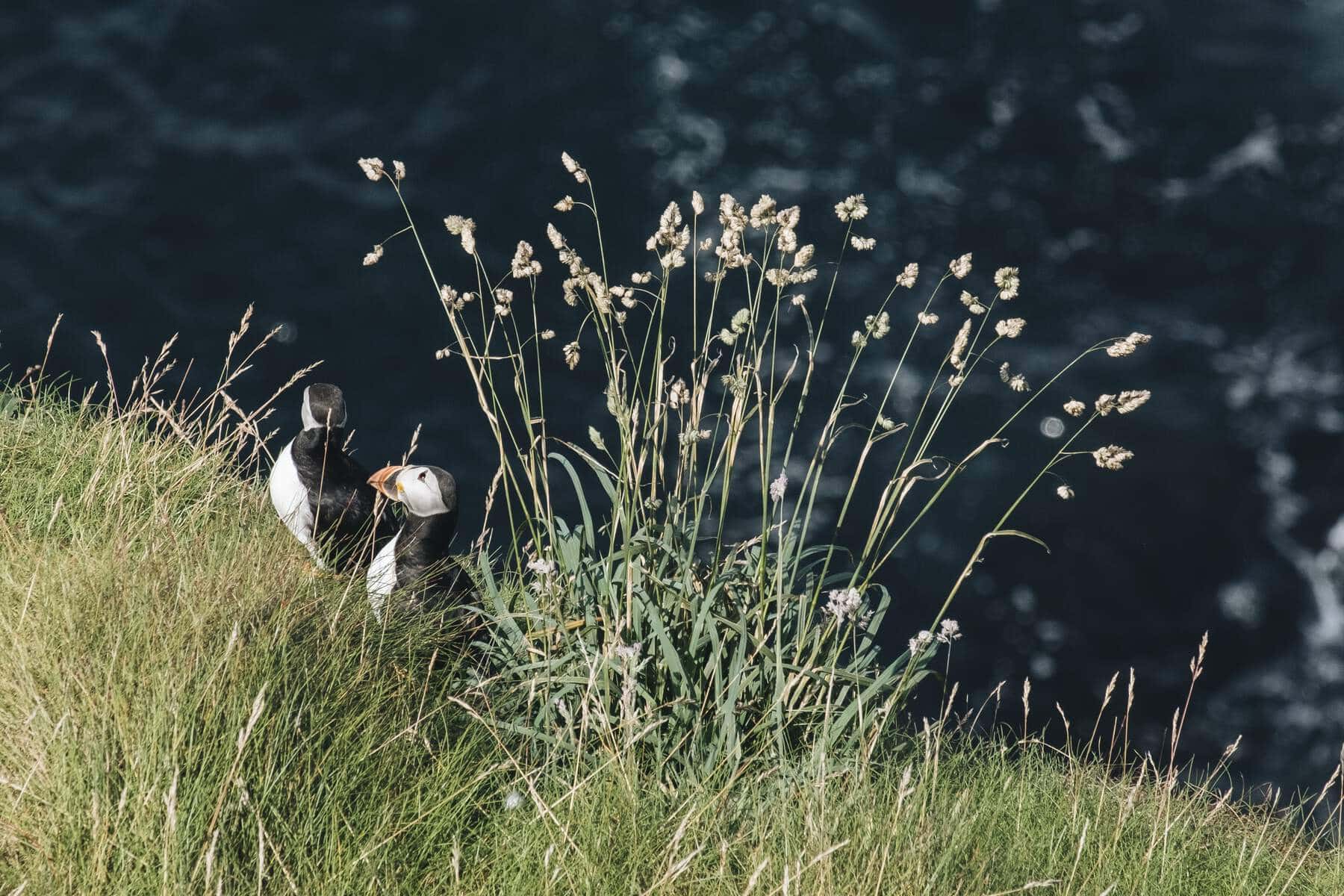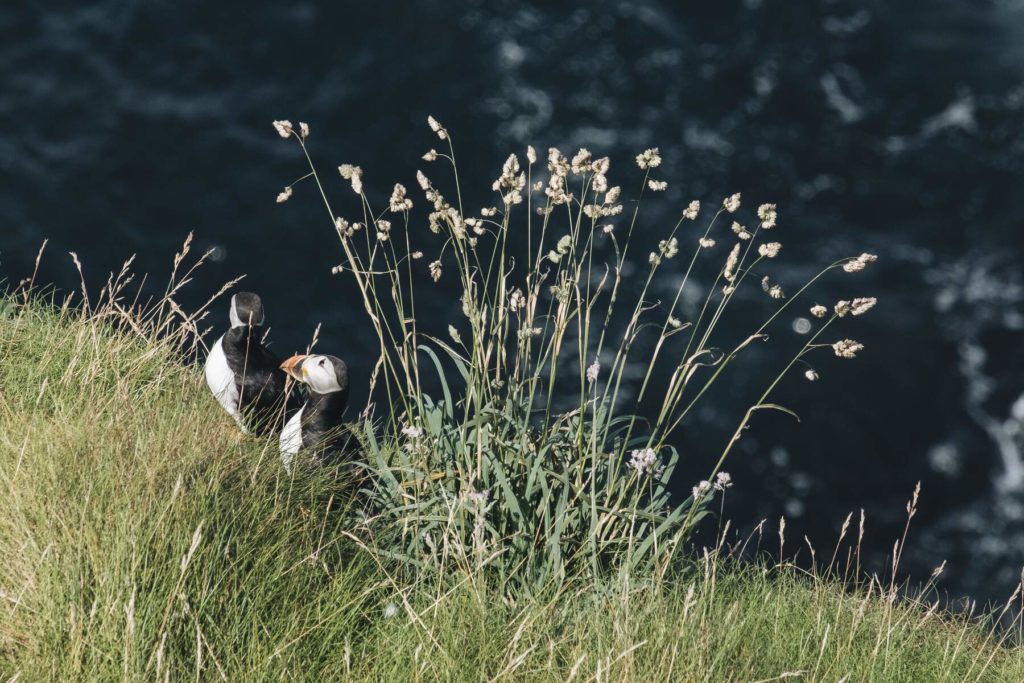 The island contains the remnants of an early Christian monastery, perched precariously on a clifftop. The monks who called these beehive-shaped huts their home first arrived on Skellig Michael in the early 6th century AD.
They established a monastic settlement on the island, which thrived for several centuries and constructed a series of stone steps and pathways to navigate the steep terrain.
The monks here were completely self sufficient, using whatever food source was available to them, mostly in the form of fish and from vegetables they grew on the terraced gardens.
They dedicated their lives to God in the harshest of environments and visiting the islands, as well as being spectacular, is a moving and spiritual experience.
How to get to Skellig Michael
The boat leaves from Portmagee Pier in County Kerry. There are 2 tours available, The Eco tour circles Skellig Michael and Little Skellig (home to one of the world's largest gannet populations)
The landing tour brings you directly to Skellig Michael and you can can explore the island in all its splendour on foot. However, you need to have a good head for heights and a decent level of fitness to climb the 618 stone steps!
The boats depart in the summer season only and the trip is weather dependent, so booking in advance is key! Click here for more details.
The Wild Atlantic Way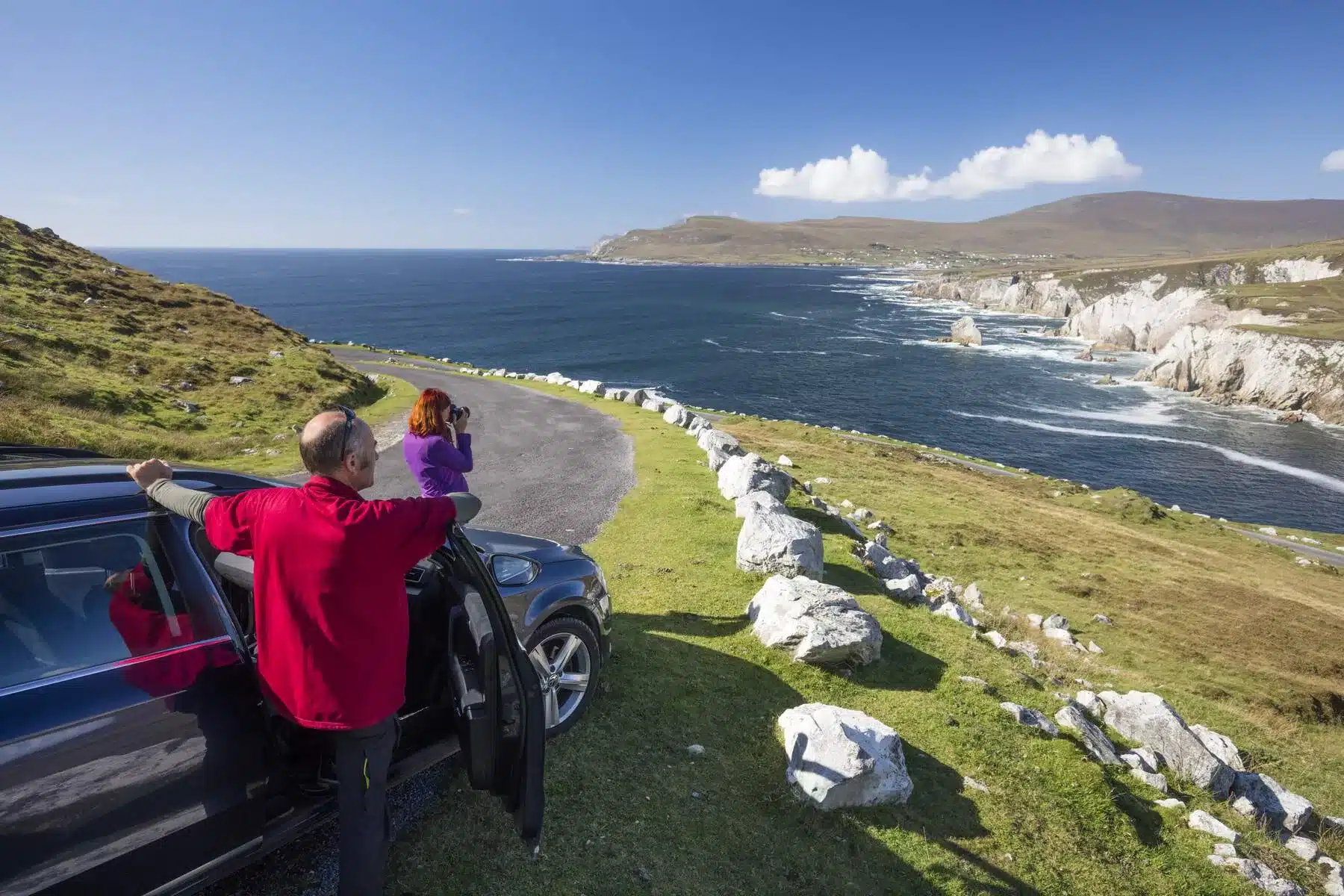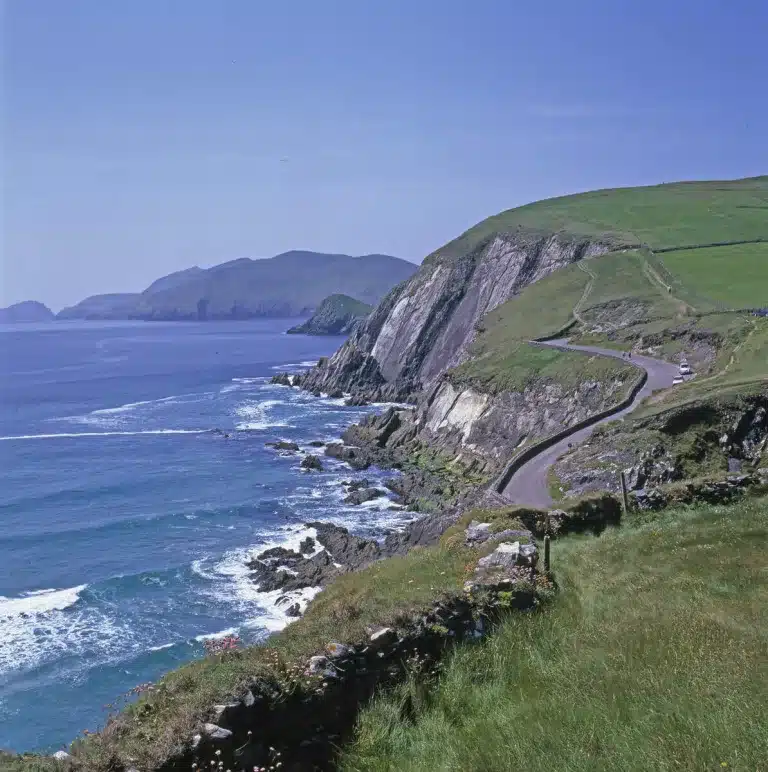 Are you planning on spending a few weeks on the West Coast of Ireland? If so and you don't mind driving too much, why not take on the world's longest defined coastal route, The Wild Atlantic Way?
The Wild Atlantic Way is a coastal driving route that spans over 2,500 km. It starts on the northern tip of Donegal on the Inishowen Peninsula and ends in Kinsale in County Cork.
Along the way, you'll get to experience all the highlights mentioned above, and so many more landscapes, towns and historical sites that are impossible to fit into a few paragraphs.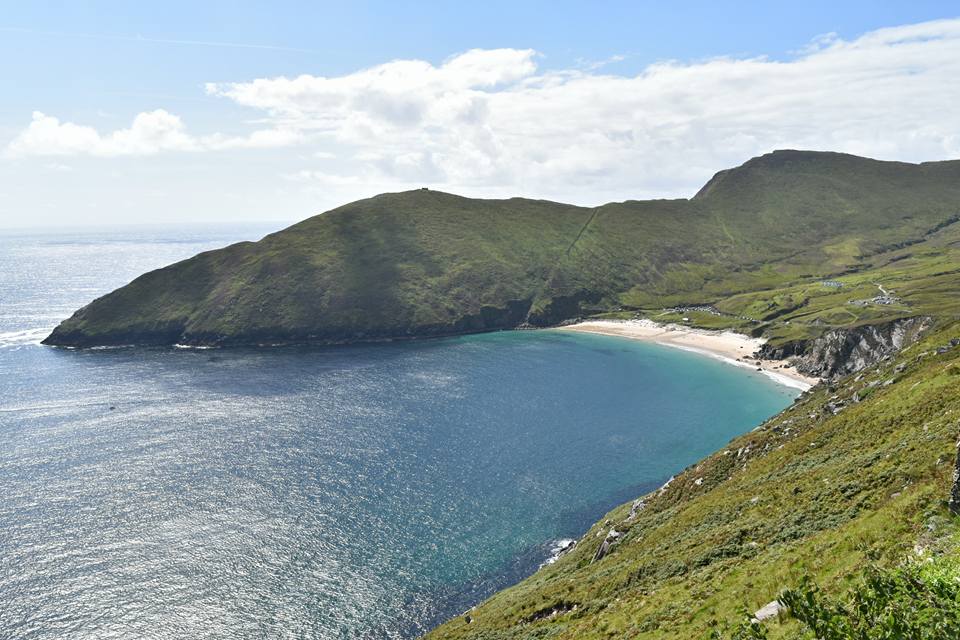 You'll need at least 2 weeks to take it all in, this means driving an average of almost 180 km in one day, on Irish roads! Ideally, choosing longer wil give you way more scope and a chance to take it all in.
Or, deciding to take in a few main stages of the Wild Atlantic Way would be a sensible option.
For example, using Galway as a base would give you huge scope to explore the countless nearby sights. The same can be said for the towns of Westport or Killarney.
In any case, you'll be embarking on the road trip of a lifetime.
Final Thoughts
We hope we have given you a good general overview of the incredible variety of landscapes on offer along the west coast of Ireland. Deciding which places to visit is tricky but we strongly advise to pick your bases wisely.
By doing this, you'll have the days and nights well filled with countless cultural and scenic attractions that will create memories to last a lifetime.
The west is the best, and is the true representation of Ireland. In our opinion, there are few places in Europe that are as untouched as the wilds of Connemara or the beauty of Slea Head.
We would love you help out with any queries you may have so drop us a mail or leave a comment below. Good luck with your west of Ireland holiday plans!
FAQs
What is considered the West of Ireland?
The counties of Mayo, Galway and Roscommon are considered the western regions of Ireland. On the other hand, the West Coast of Ireland relates to the whole western seaboard, from Donegal to Cork.
What is the largest city along the West Coast of Ireland?
The city of Galway is the largest settlement along the west coast, with a population of 79,934 (2016). This number rises by around 20,000 in September due to the large number of students attending the city's two universities.
What is the most beautiful place along the West Coast of Ireland?
The Wild Atlantic Way takes in some of the most spectacular coastal scenery to be found anywhere in the world. Sights such as the Cliffs of Moher, The Ring of Kerry, Connemara and Achill Island are truly unique and beautiful places.