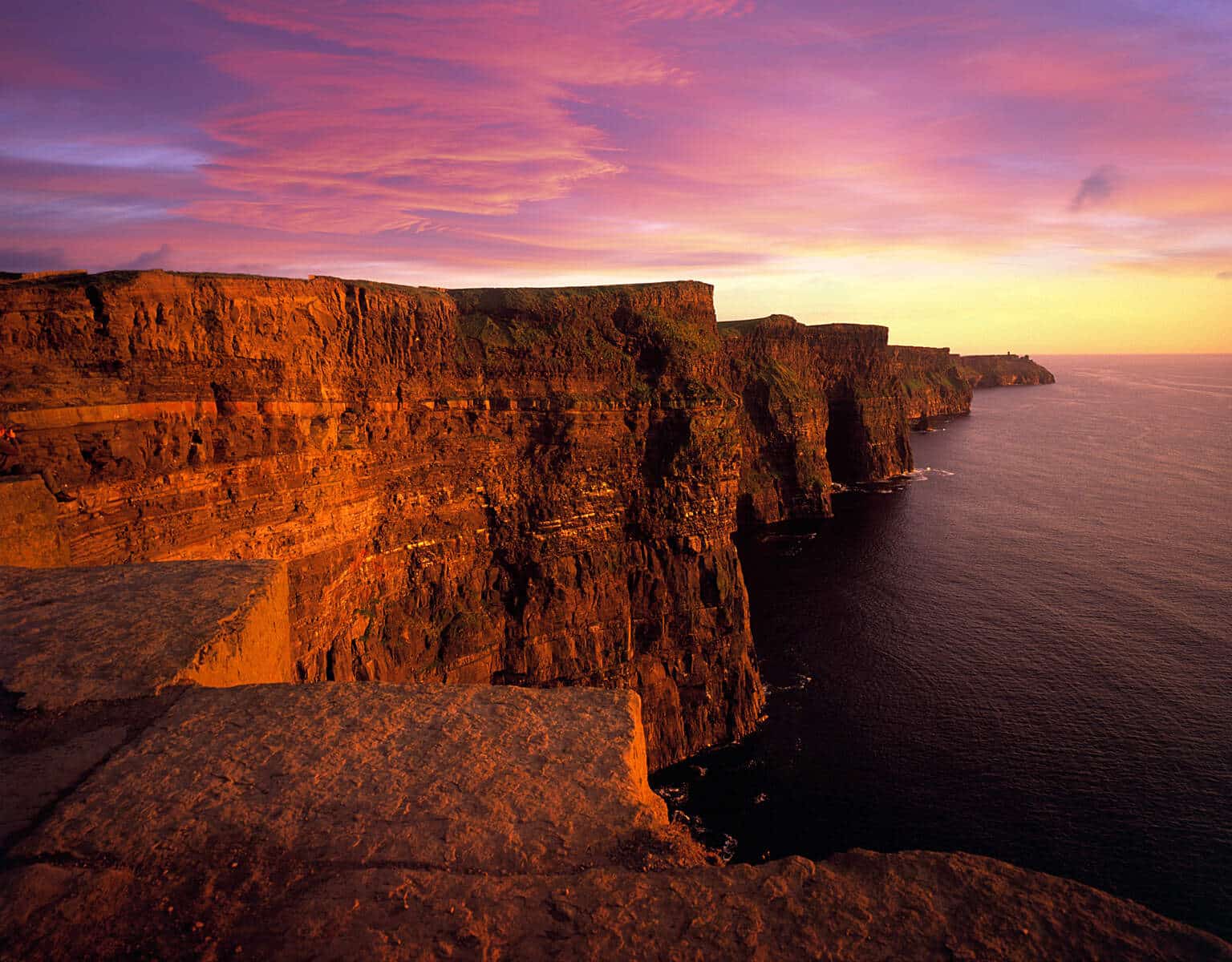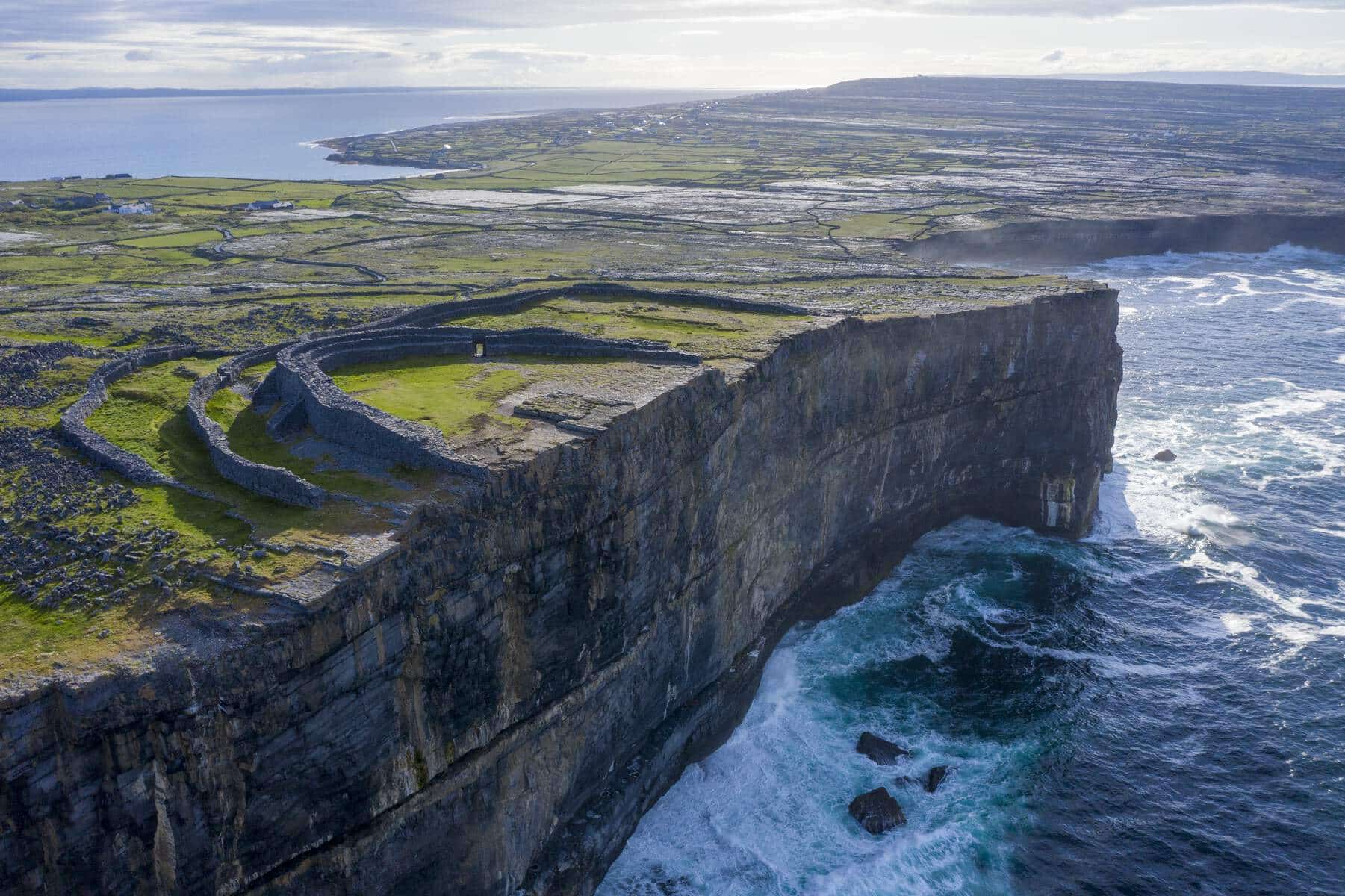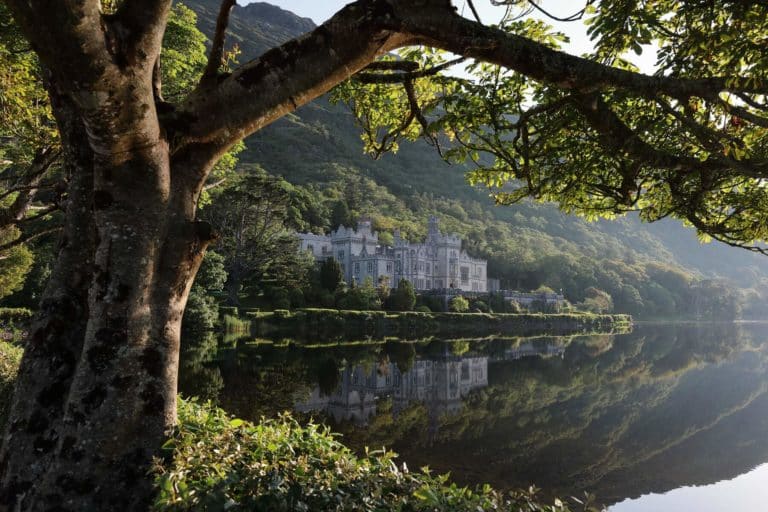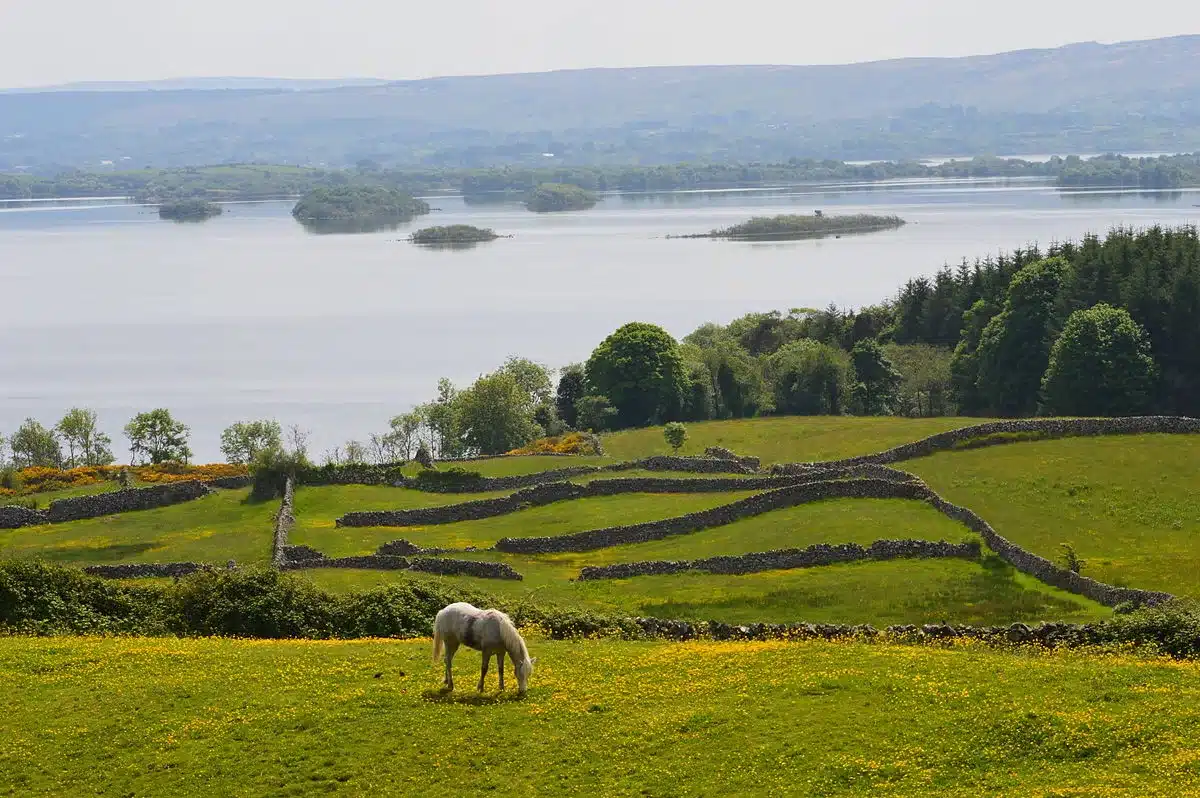 The city of Galway is located on the west coast of Ireland, a region known for its outstanding natural beauty. Galway is regarded by many as the cultural heartbeat of Ireland. It also enjoys an excellent location, being close to many of Ireland's most iconic sights.
Luckily I lived in Galway for 7 years and have visited these regions more times than I can count. The list below is where I believe you must visit on your trip to Galway, from personal experience.
The 10 Best Day Trips From Galway
If you have chosen to spend a number of nights in Galway, you've made a great call! The city is perfectly located, with a wealth of natural wonders to explore, which will create memories to last a lifetime.
Galway City is located in the county of its namesake. The landscapes vary hugely from east to west, with the westernmost region of Connemara being one of Ireland's true landscape highlights.
If you are planning an extended holiday to the western regions of Ireland, we highly recommend exploring Galway and Mayo. In our eyes, these regions offer visitors an amazing mix of culture, scenery, great food and traditional pubs.
If your time is limited, no worries! Here are some excellent day trips from Galway, either with or without a car.
The Cliffs of Moher
Connemara Region
Connemara National Park (Visitor Centre & Diamond Hill Trails)
The Aran Islands
The Burren National Park
Lough Corrib/Cong
Castles & Abbeys
Bunratty Castle & Folk Park
Inishbofin
Father Ted Locations
The Cliffs of Moher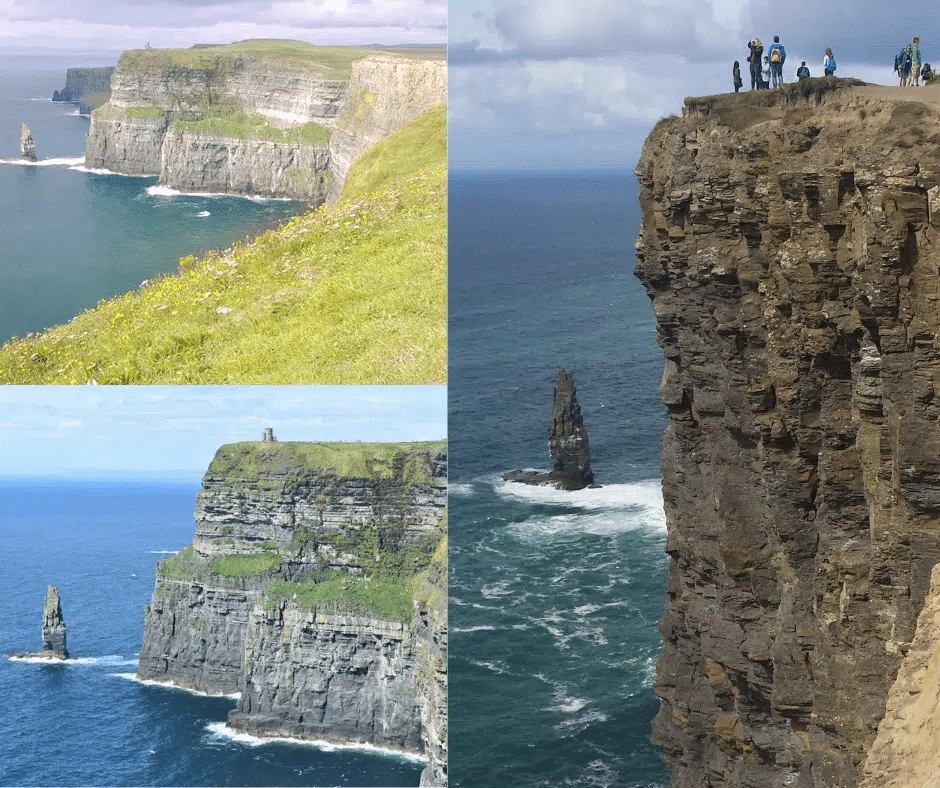 The Cliffs of Moher is Ireland's most visited natural attraction, welcoming over 1 million tourists each year. It's easy to see why; the cliffs are jaw-dropping.
They stretch for a distance of 8 kms (5 miles), dropping vertically into the pounding Atlantic and reach a maximum height of 214 metres (around 700 feet).
A spectacle of nature for sure, and if time is limited, visiting the Cliffs of Moher should be high on your priority list. Visiting the Cliffs is technically free of charge, although if you arrive by car, you'll have to pay for parking.
How To Get There By Car
Luckily we have covered this topic in detail here.
In short, there are a few different options, including the most scenic route and over the motorway. We have completed a scenic looped route numerous times, which offers the perfect mix of coastal and countryside landscapes, which also takes in the Burren National Park.
Day trips from Galway to the Cliffs of Moher
Cliffs of Moher Half Day Express Trip This trip will give you full access to the cliffs and visitor centre and is ideal or those with limited time. You'll get 2 hours at the cliffs.
Cliffs of Moher Cruise & Aran Island Day Trip This full-day trip also takes in our favourite Aran Island, Inisheer, after witnessing the magnificent Cliffs of Moher from below (an unforgettable experience) Expect a day with memories and photos to last a lifetime.
Cliffs of Moher, Burren and Historical Tour This 13-hour tour is full of fascinating landscapes and sights. As well as the cliffs and the Burren, you'll visit prehistoric burial mounds, Celtic crosses and pass through the world-famous town of Lisdoonvarna
The Connemara Region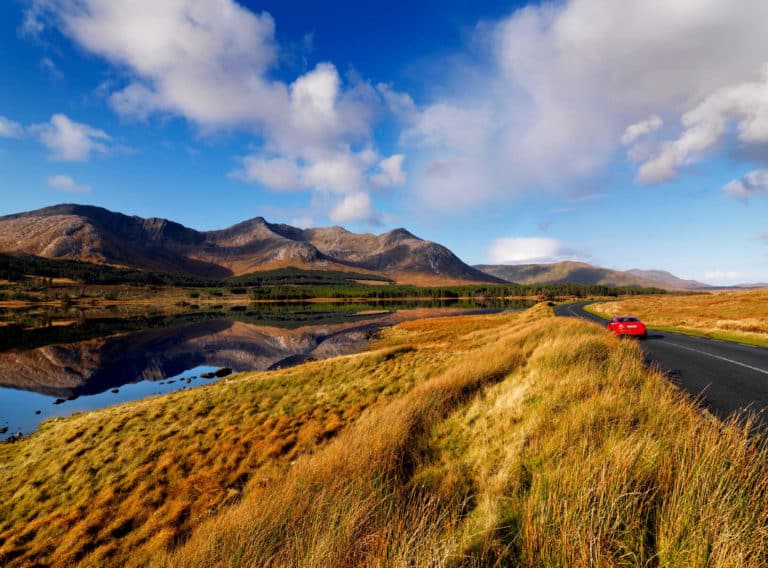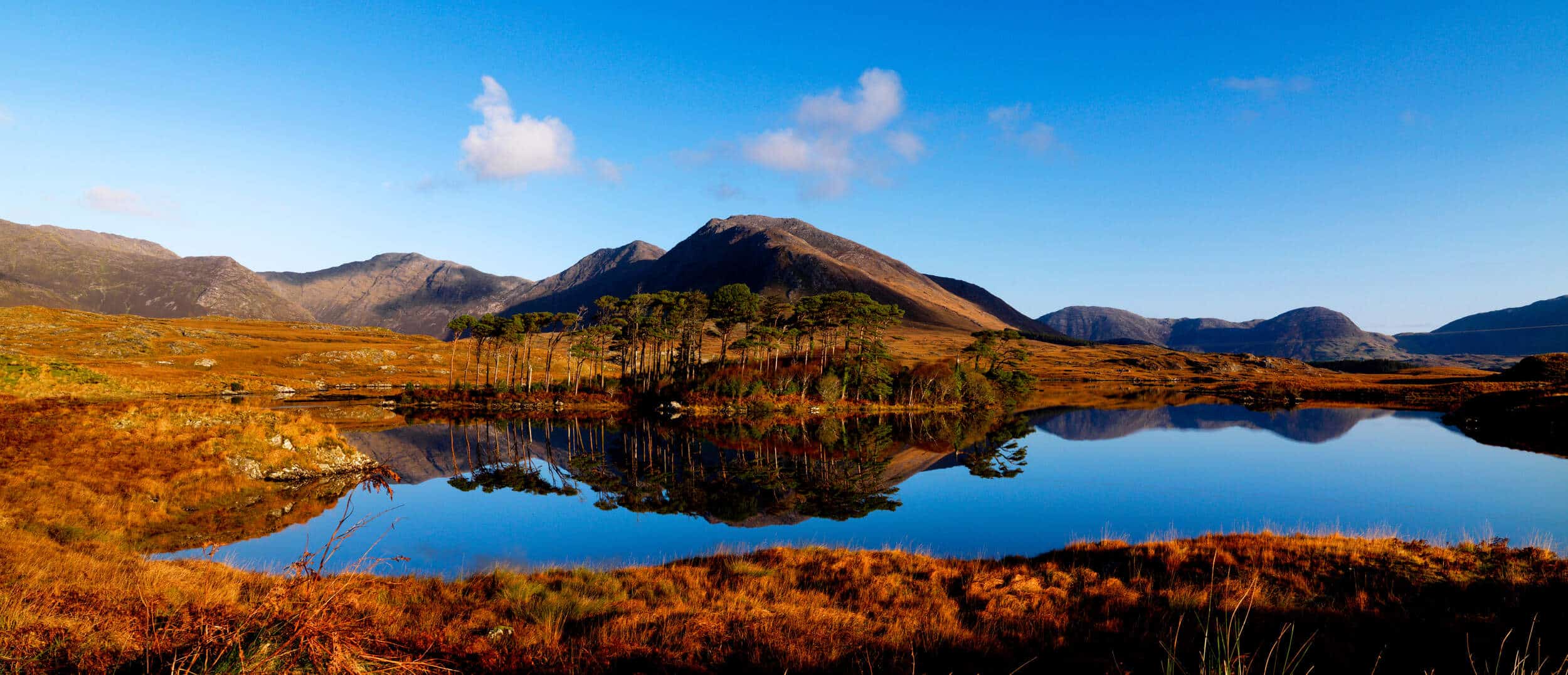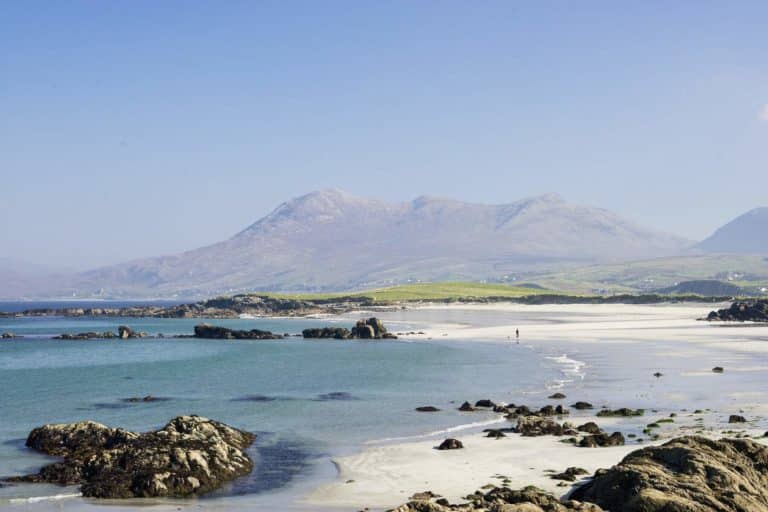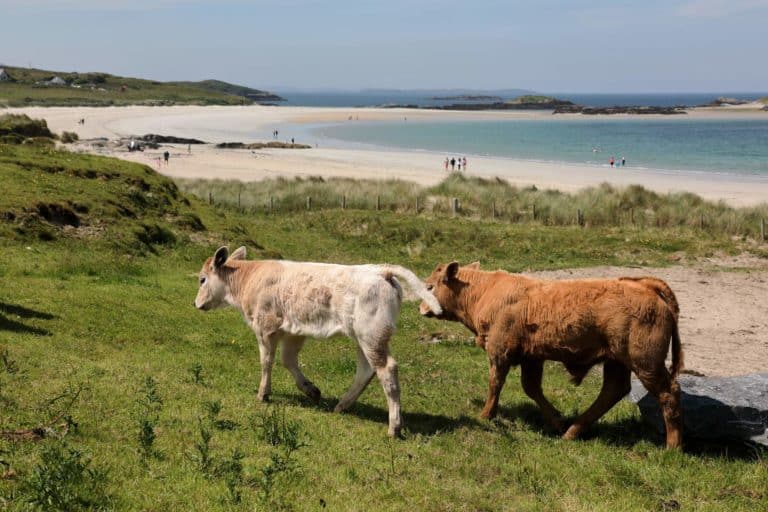 Images via Failte Ireland
Connemara is a large region which starts west of Galway City and stretches all the way to the Atlantic shores.
It's an area known for its inspiring landscapes, which range from rocky mountains and green valleys to some of the most pristine beaches you're likely to see anywhere. Connemara is a Gaeltacht region, meaning the mother tongue is Irish (Gaelic).
Do not fear though, the locals also speak English!
Connemara is one of our favourite places in Ireland and we highly recommend spending as much time as possible here. In terms of sheer variety of landscapes, there are few regions to match it.
How To Get There By Car
The route we are about to show you we have completed numerous times. After trying different options over the years, we settled on this route as we feel it offers the most in terms of scenery and stopovers.
You won't fit all of Connemara into one day, but our route will make sure you'll see the best of it.
Should you wish to return to Galway the same day, we highly recommend setting off good and early to get the most of it. The ideal time of the year would be April to the end of September.
Click here for our recommended route.
Total riving time is approximately 4 hours. With stops along the way, calculate a full daytrip of approx. 10 hours.
Day trips from Galway to Connemara
Maybe you'd like to kick back and enjoy the views from the comfort of a luxury tour bus. Here are some great day trip options:
Connemara & Kylemore Abbey Full-Day Guided Tour This very popular and highly rated tour will allow you to witness the wildness of Connemara, with its countless lakes, mountains, beaches and intricate coasts.
You'll also have a good 2 hours to explore the magnificent Kylemore Abbey and Gardens, one of our favourite places along the west of Ireland.
Connemara National Park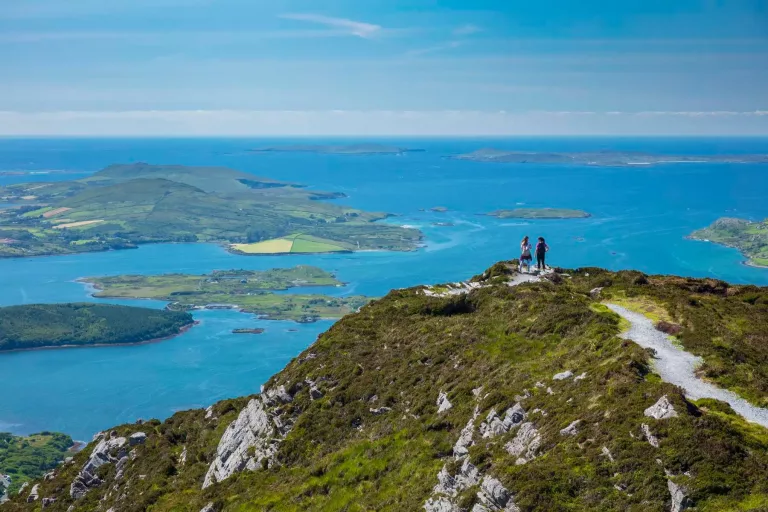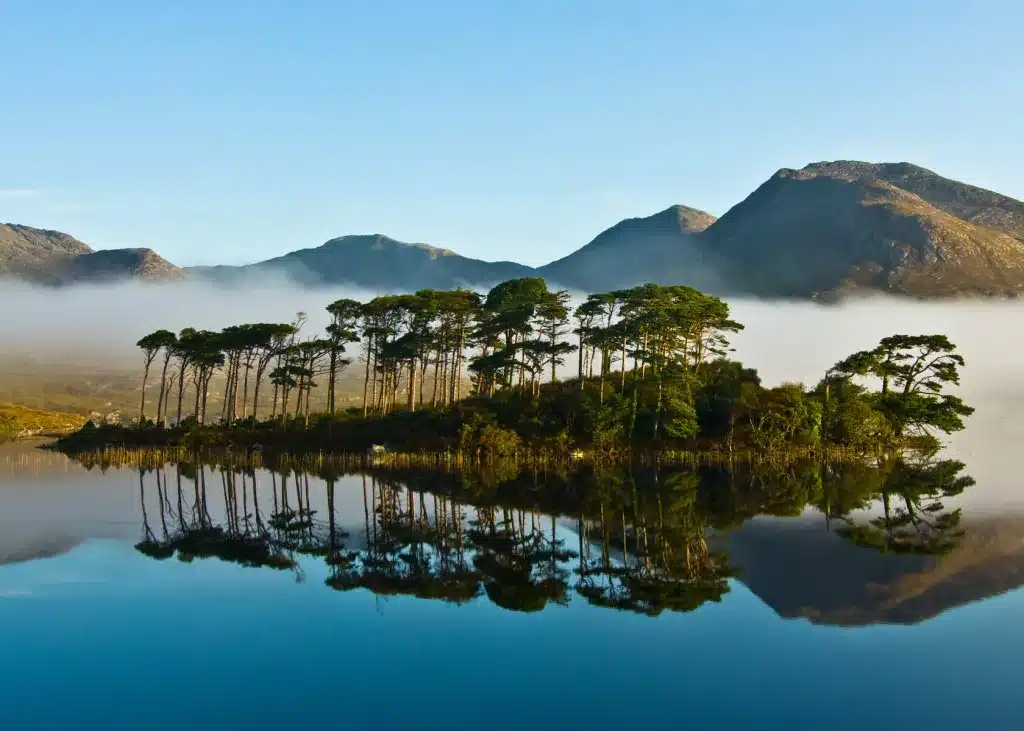 images via Failte Ireland
This trip is for those of you hikers or walkers out there, or indeed for anyone who enjoys spending time in the Great Outdoors.
Connemara National Park is located in the north-western region of Connemara. We believe the park ticks a lot of boxes.
The magnificent Diamond Hill, a moderate climb, offers spectacular views over the mountains and coastal landscapes. The park also has a series of other easier trails, some of which are ideal for children.
Speaking of children, there's a good sized green area out the back of the visitor centre, along with a great playground. We have Connemara National Park covered in detail here.
How To Get There By Car
It will take you around 1.5 hours to reach Connemara National Park by car, by driving the most direct route. You can also take the route mentioned above in the 'Connemara Region' section, to take in the best of the scenery.
Day trip from Galway to Connemara National Park.
Guided 3 Hour Tour of Connemara with 3-hour stopover at Connemara National Park This 5-star rated tour is an excellent mix of sights and hikes.
You'll take the scenic route through Connemara and then have 3 hours – a generous amount of time to hike Diamond Hill or take on some of the easier trails on site, along with the visitor centre.
The Aran Islands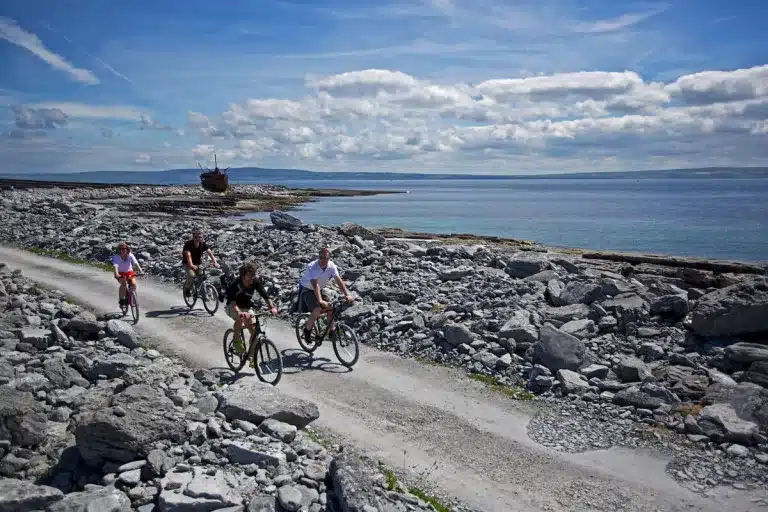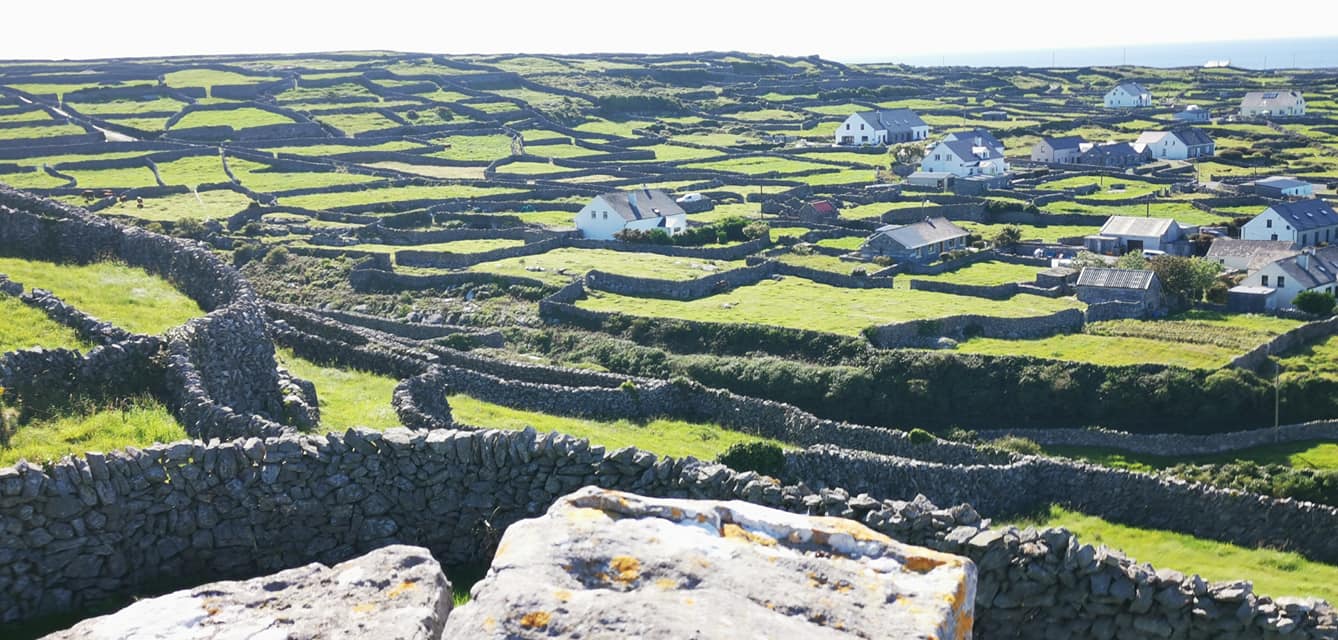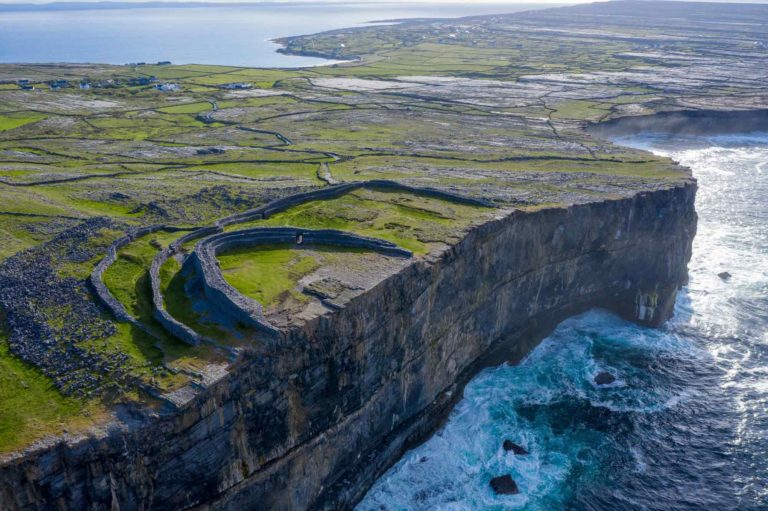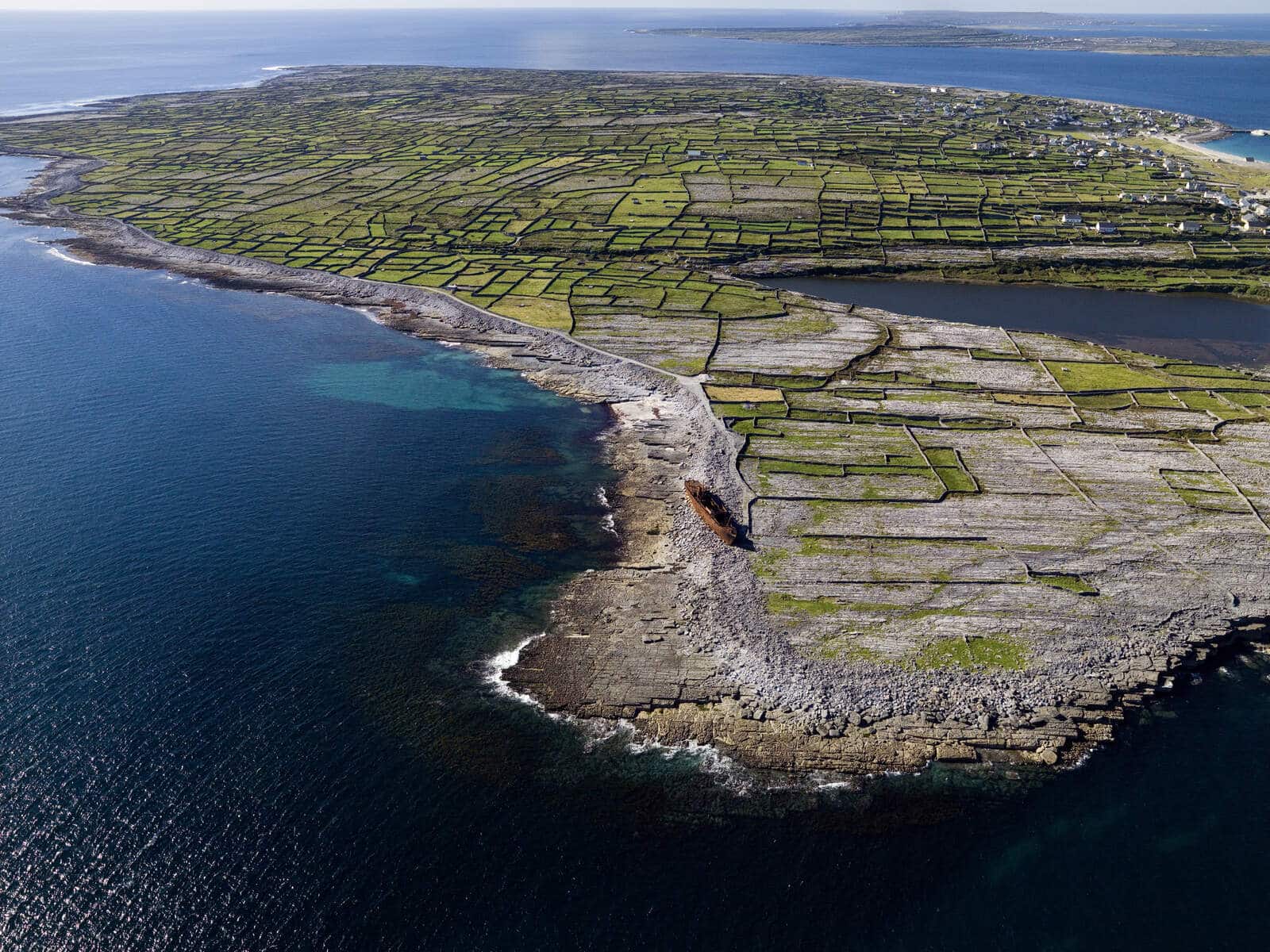 images via Failte Ireland/sweetisleofmine.com
The iconic Aran Islands are located off the coast of County Galway, at the entrance to Galway Bay. There are 3 in total, Inishmore, Inishmaan and Inisheer. (Inish means 'island')
Here, Irish culture is strong and Irish is the language of choice. Expect a myriad of stone walls, spectacular beaches and ancient clifftop forts that will leave you in awe.
We have visited all islands numerous times and I can't decide which one I prefer! Inisheer is the smallest and because of this, you can explore the whole island in one day.
On the other hand, Inishmore has the world-renowned Dun Aonghasa fort, a truly unique historic sight and also a must-see.
Whichever one you decide to visit, here is how you get there:
How to get to the Aran Islands
From Rossaveel: If you've access to a car, the nearest port is Rossaveel, about an hour from Galway. You'll definitely have to book the ferry in advance if it's during the summer. Tickets are here for Inishmore and here for Inisheer.
From Doolin: Doolin is located about 1 hour 40 minutes from Galway and offers ferry transfers to all islands. When we visited last year in the middle of summer, the carpark was completely full about 45 minutes before departure. Arrive extra early! Details are here.
Day trips from Galway to the Aran Islands
Aran Islands & Cliffs of Moher Full-Day Tour This massively popular tour will allow you to experience 2 highlights in one day. The tour must be booked well in advance in the high season (June to mid September)
From Galway: Aran Islands & Cliffs of Moher Day Cruise This tour will depart from the docks in Galway city centre. You'll be taken out into Galway Bay, spend some time on Inishmore and to top it all witness the majestic Cliffs of Moher from below. Must be booked well in advance.
The Burren National Park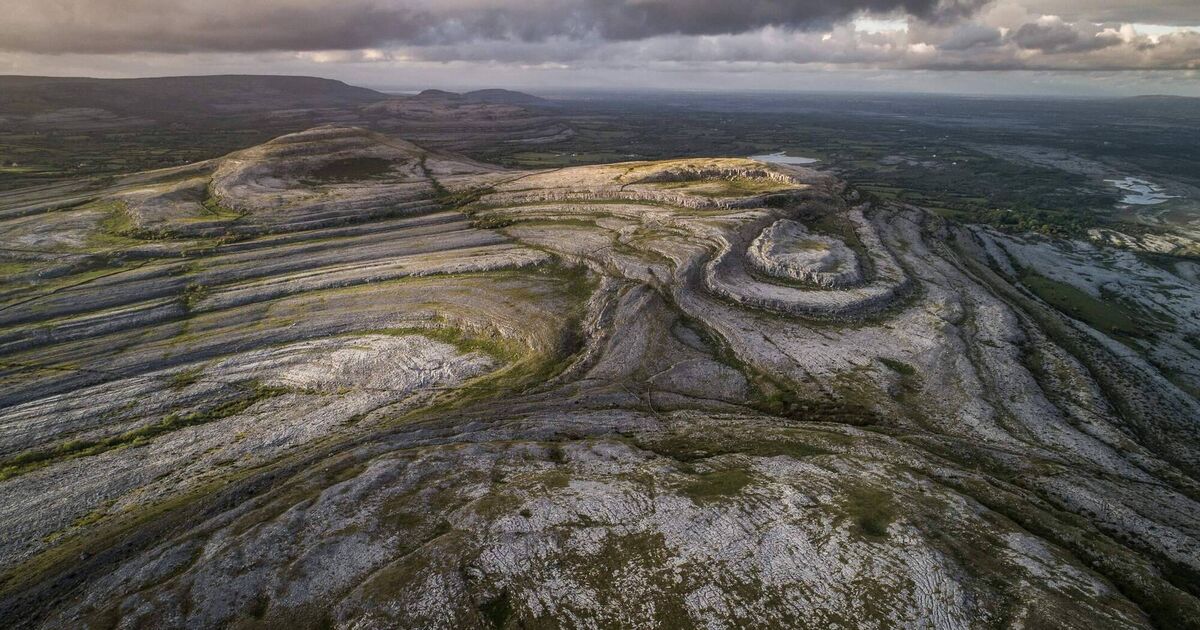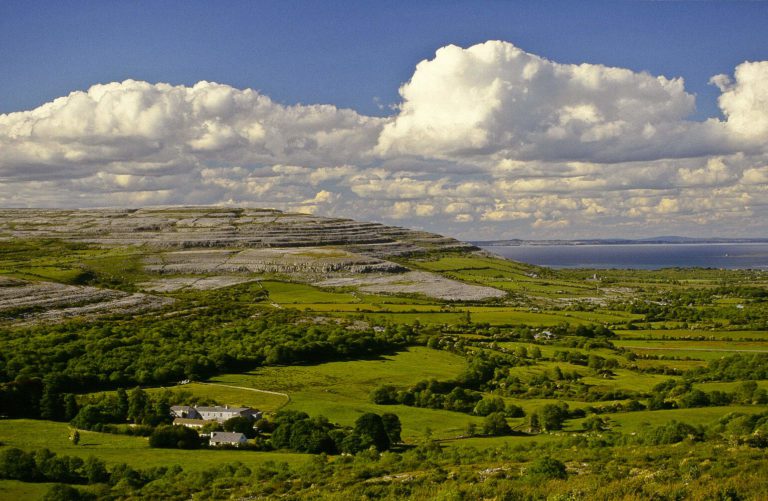 images via Failte Ireland
The Burren is located south of Galway, in County Clare. This karst (limestone landscape) is a UNESCO Geopark, owing to it truly unique, almost lunar quality.
But it's not just all bare rock. The Burren is also teaming with life. It is one of the few places in the world where you'll find both Alpine and Mediterranean flora growing side by side. In fact, over 70% of Ireland's 900 native plant species are found here.
It's a starkly beautiful region, along with being home to some of Ireland's most impressive megalithic sights, such as the Poulnabrone Dolmen.
How To Get There By Car
This link will bring you to an excellently planned route, which will take in the inland regions of the Burren, while also guiding you to the beautiful coasts along Black Head.
You could also take a slight detour to the Cliffs of Moher to make the most of your day.
Day trips To The Burren From Galway
Full-day Burren and Cliffs of Moher tour This is both the highest rated and best value tour to the Burren.
You'll be given ample time at the Cliffs of Moher (2 hours), a stopover at Dunguaire Castle and Doolin Pier, along with passing by many historic castles and abbey ruins.
You'll also be driving through the heart of The Burren, witnessing the landscape with its endless stone walls. A solid tour in our eyes, and a tour you'll have to book in advance.
Lough Corrib/Cong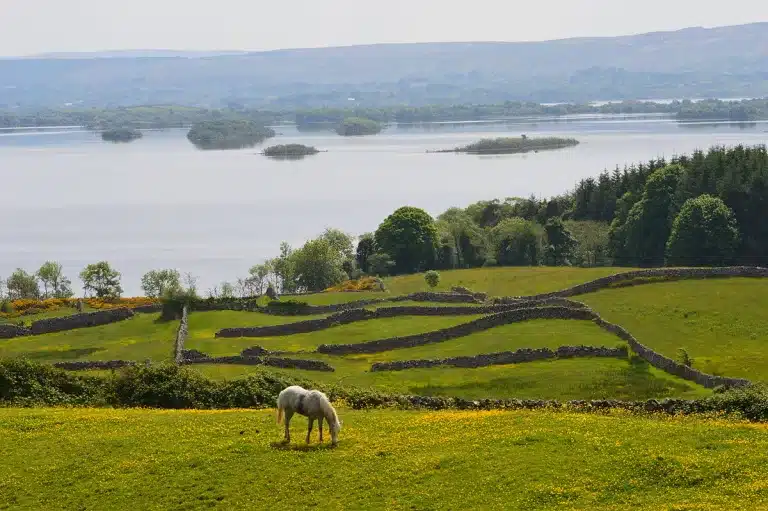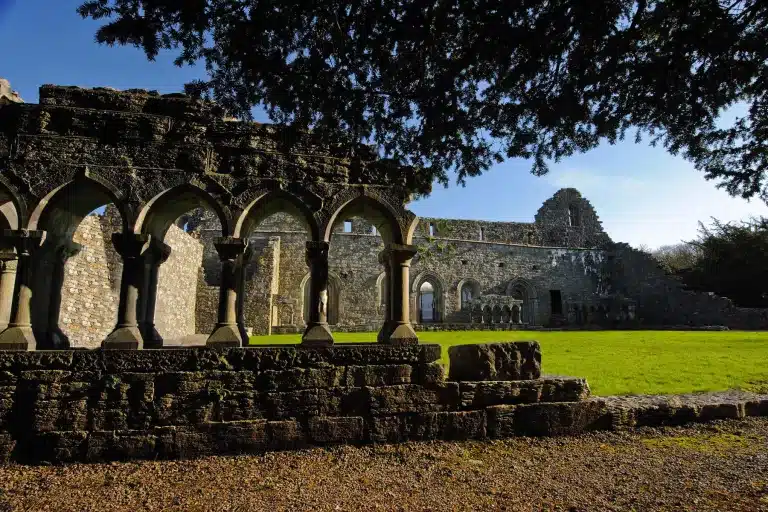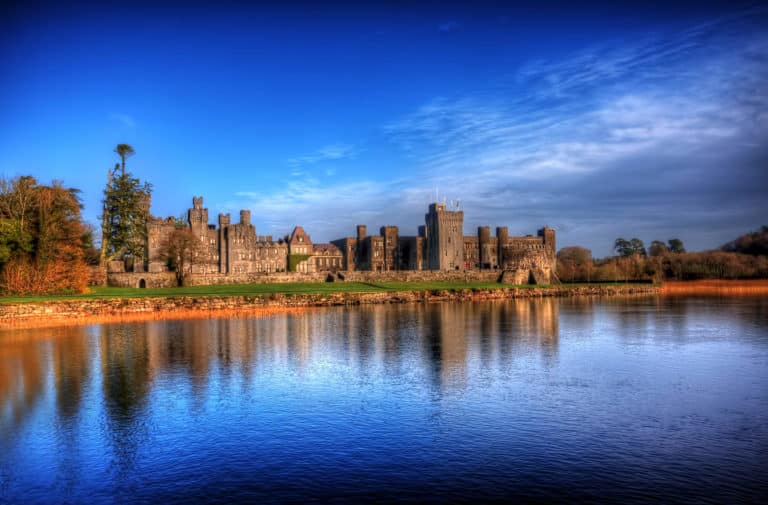 images via Failte Ireland/sweetisleofmine.com
Often an overlooked region, Lough Corrib is an area we personally love.
The Republic of Ireland's largest lake, it covers an impressive area of 68 square miles (176 square km) At the northern shore of the lake, you'll find the quaint, world-famous village of Cong.
Cong is home to one of Ireland's greatest castle; Ashford. Sitting spectacularly on the shores of Lough Corrib, there are few hotels to match it.
Cong is also renowned as one of the prime filming locations of John Ford's The Quiet Man, starring Maureen O'Hara and John Wayne.
Step back in time and witness the classic thatched cottages, and pay a visit to Cong Abbey. From here you can explore the dense woods which border Ashford Castle, and you'll be spoiled with lovely views over Lough Corrib.
How To Get To Lough Corrib By Car
Because it is such as vast lake, you won't manage to take it all in in one day, but we have a route which we highly recommend taking. It takes in some classic west of Ireland scenery, with sheep-dotted, rolling green hills and those endless stone walls.
You'll also be taking in some breathtaking wilderness on route, including a mountain pass and the beautiful lake of Lough Nafooey. One of our favourite road trips in the west of Ireland.
Day trips from Galway to Lough Corrib/Cong
Connmera and Cong Full-Day Trip This excellent tour will take in 3 of arguably the west of Ireland's most beautiful lakes (certainly my personal favourites) These include Lough Nafooey, Lough Inagh and Lough Corrib.
You'll get a stopover at Cong and also at Ireland's most photographed castle: Kylemore Abbey.
Castles & Abbeys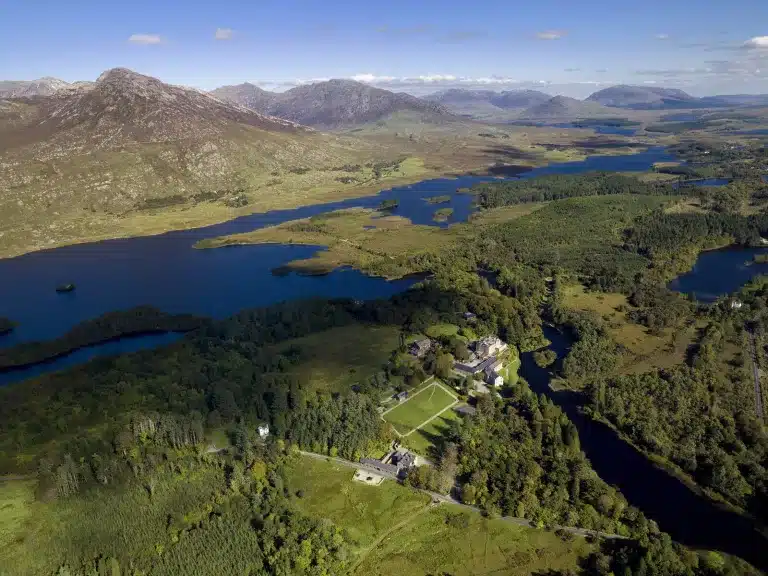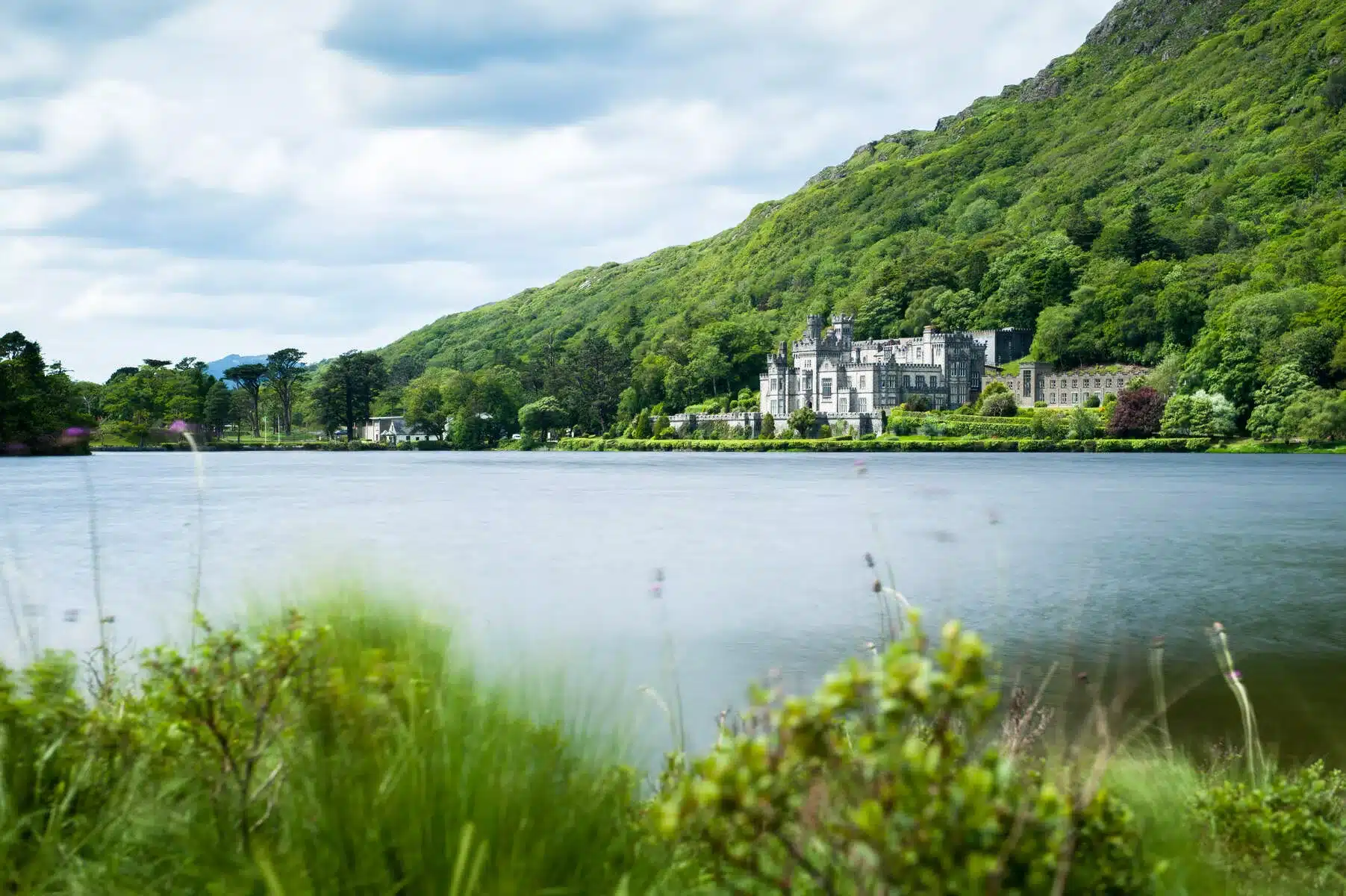 No trip to Ireland is complete without a visit to a castle! And the good news is, there are thousands of them!
Better still, the most beautiful of all is within an hour and a half of Galway, the almost-too-perfect Kylemore Abbey.
There are countless other ruins you will encounter if you are out and about in the countryside, from Norman castle ruins and abbeys, to the the uniquely Irish round towers.
How To Reach These Castles By Car
This link shows you where many of the most-known castles near Galway are. For example, you could tie in these castles with the trip outlined above to Lough Corrib, and you'll find that many are located on the outskirts of the city.
Day trips from Galway to some nearby castles
Castles of Connemara Full-Day Tour This castle-themed tour will make sure you experience all that is special about an Irish castle.
You'll get to visit Aughnanure castle ruins, Kylemore Abbey with its Gothic church and gardens (entry included) along with a stopover at Ballynahich Castle Hotel & Gardens. Having stayed there myself some years back, I remember having one of the best meals I ever enjoyed.
The tour will also take in the Sky Road, one of the signature points and highlights of The Wild Atlantic Way.
Bunratty Castle & Folk Park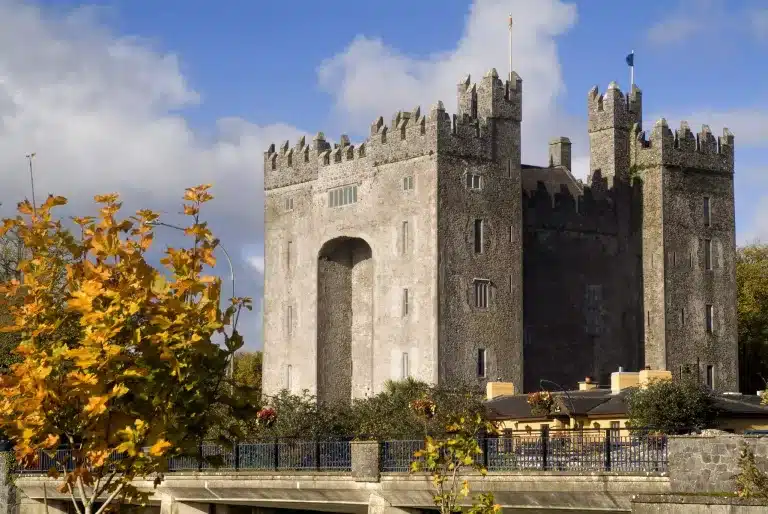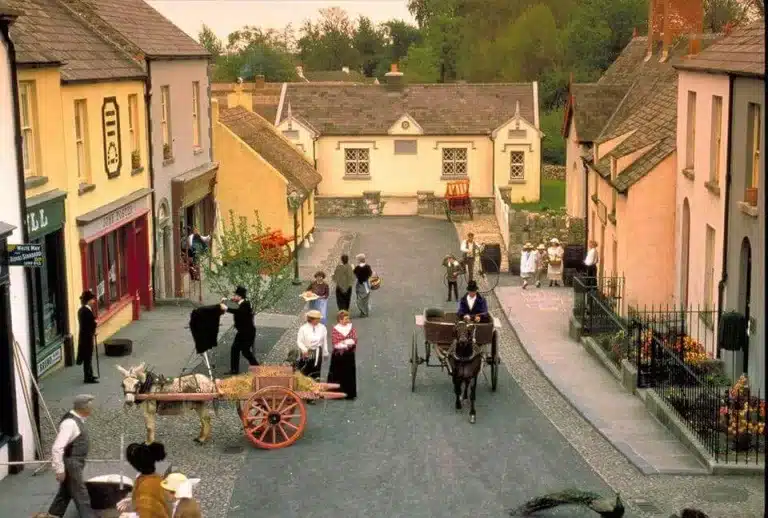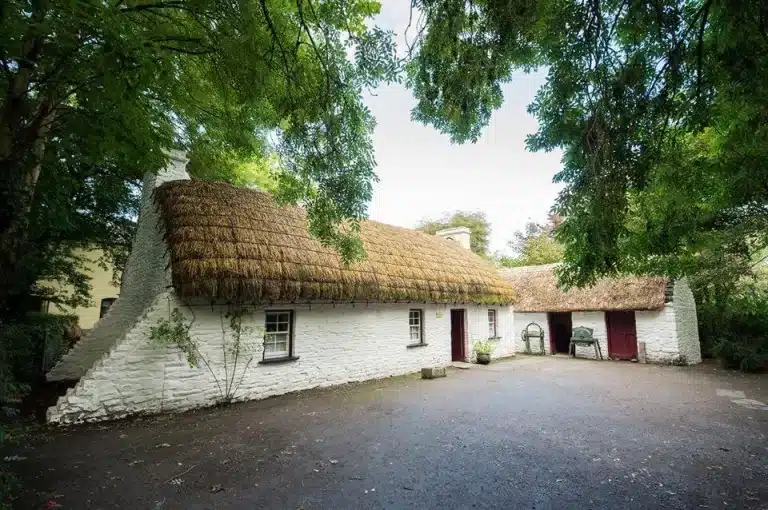 images via Failte Ireland/Adare Manor
While on the topic of castles, there are few in Ireland to match the majestic Bunratty, located just over an hour south of Galway.
The castle dates back to the 15th century and is incredibly well-preserved. Right next door, you'll find Bunratty Folk Park, one of my favourite things to do in County Clare.
The folk park includes a huge variety of old Irish buildings, from thatched cottages to a whole 19th century street with working pub! There are also some resident animals on site, such as Irish red deer and Irish wolfhounds (within a sensible distance of each other of course!)
Both attractions are included in one ticket. You can buy it directly here.
How To Get There By Car
You can drive directly south along the M18 (motorway) to Bunratty (approx. 1 hour driving time)
Or…you can take the route we have completed numerous times.
This route is in combination with the Cliffs of Moher and we have completed it numerous times. We planned as follows:
If the weather is promised good in the morning, make the most of it and visit the Cliffs of Moher. Should the weather be a little iffy in the afternoon, then visiting Bunratty Castle and Park after the cliffs is ideal.
Apply the opposite rule should the weather be promised bad in the morning, with improvement in the afternoon. By the way, this type of weather is very common in Ireland, and we have had to put this plan in place numerous times!
If the weather just looks terrible in general, a visit to the castle and folk park is certainly worth it (with a good rain jacket)
Day trips from Galway to Bunratty Castle
Unfortunately there are no guided bus tours that operate from Galway, but you can get there by public bus. Details are here.
Inishbofin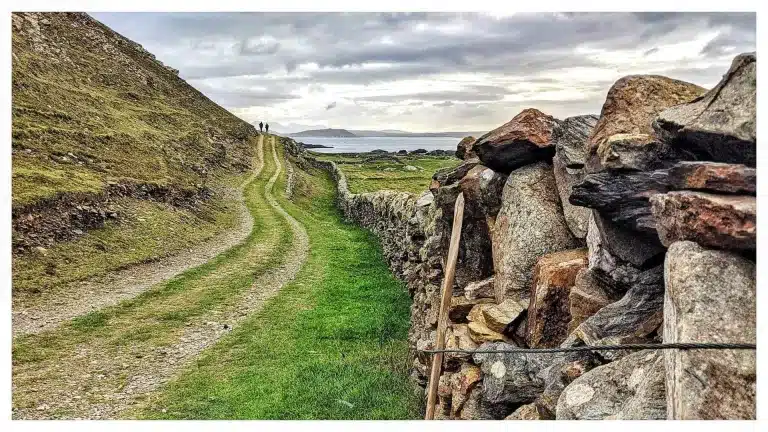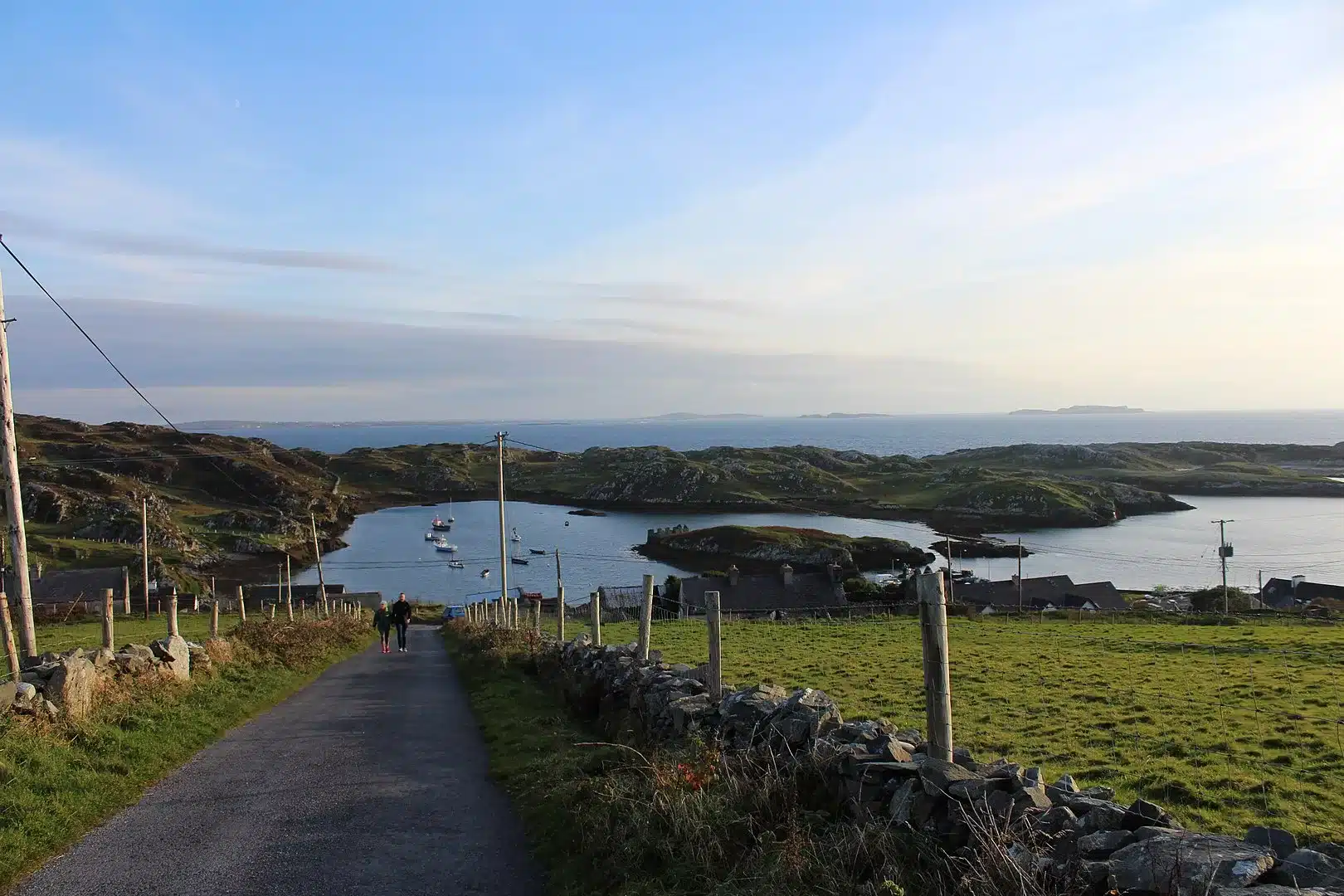 The wonderful Inishbofin is located off the west coast of Connemara. Translated as 'Island of the White Cow', many Irish regard it as their favourite of all Irish islands.
Less visited than the far more popular Aran Islands, Bofin offers that escape from the hectic pace of modern life we all know too well.
The island can be explored by foot or by bike, the latter being my personal favourite. You'll be treated to hidden beaches, stone walls, a seal colony, spectacular coastal scenery and pure peace and quiet. You can also enjoy some excellent fresh seafood on the island.
The ferry departs 3 times daily from Cleggan, from March to September.
How To Get There By Car
You'll have to drive to Cleggan on the western coast of County Galway. Google Maps says it'll take a good hour and a half but I would personally plan an extra half hour or so.
The first ferry departs at 11.30 giving you ample time in the morning to reach the harbour. In July and August an extra 10 am ferry departs. Aiming to be there at least 30 minutes in advance will give you peace of mind.
Make sure to book tickets in advance!
The last ferry departs the island at 5 pm, giving you a good 5 hours to explore the island.
Day trips from Galway to Cleggan
There are unfortunately no guided tours to Inishbofin.
However, there is a Citylink bus service which operates from Galway, where you'll arrive in time for the first ferry. The bus will be there for you when you arrive back on the mainland in the evening too. Details here.
Father Ted Locations Tour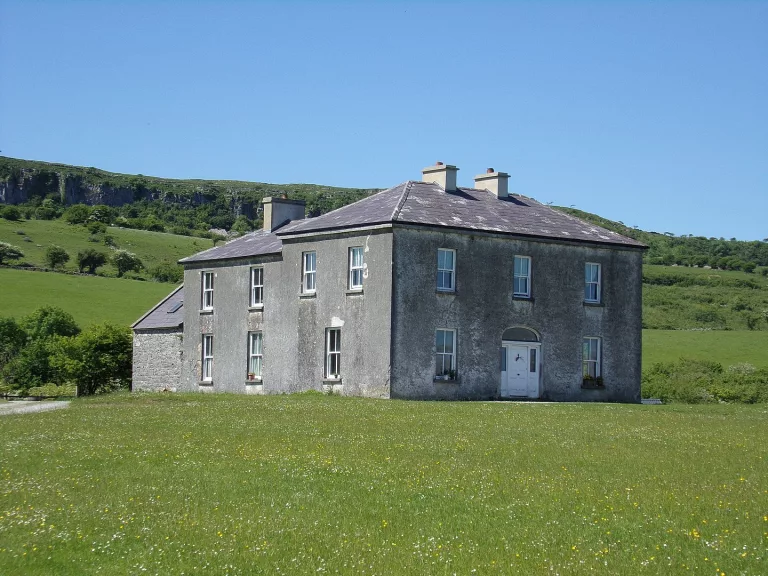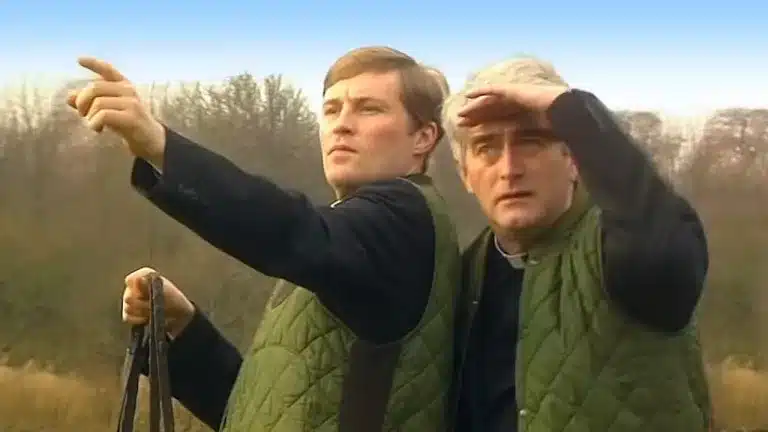 Who's Father Ted? Father Ted was the main character of one of Ireland's most iconic and hilarious TV shows, named simply Father Ted.
The show centred around 3 priests marooned on an island off the west coast of Ireland. Ted was (arguably) the more sensible of the 3, Doughal was an awful eejit and poor old Jack was awful fond of the bottle…
In any case, they were so lazy that if there was work in the bed, they'd sleep on the floor.
If you've grown up in Ireland or the UK in the 90s, you'll be well aware of Father Ted, and if you're looking for a bit of craic on your holiday to the west of Ireland, why not visit some of the filming locations?
These lads here will happily bring you around and cater for any of your Ted needs, be it in the form of a hen party or a custom tour.
Wrap-Up
So, you'll have noticed there is a wealth of places to discover within a few hours of Galway. We recommend bookmarking this page, it'll come in handy to get an overview of what routes/tours to take when you're there.
If you would like to see our pick of the best places to visit in County Galway, we have a detailed top 10 guide here.
We'll finish off with some of the most frequently asked questions we have received down through the years about Galway. We hope you have a excellent time in Galway, it's a place I have very fond memories of!
FAQs
How many days in Galway is enough?
We recommend 3 to 4 nights minimum. With this amount of time, you'll easily take in everything the city has to offer, while also being able to explore the huge variety of sights on its doorstep.
Why is Galway so popular?
Galway's thriving cultural scene, its great selection of pubs and restaurants, coupled with its prime location near some of Ireland's most iconic landscapes and sights, make it a very popular destination.
It has also been voted numerous times as the most welcoming/friendly city in the world.
What are the best months to visit Galway?
The months of July, August sees the warmest weather, but also the biggest crowds and highest prices. Visiting in the shoulder months (April, May and September) will offer you better prices, less crowds and decent weather.
What's the best pub in Galway?
The Crane, located off Dominick St., is a must-visit on your trip to Galway. You'll be treated to some of the finest Irish music you're likely to hear, all in classic Irish pub atmosphere, topped off with some cracking Guinness.