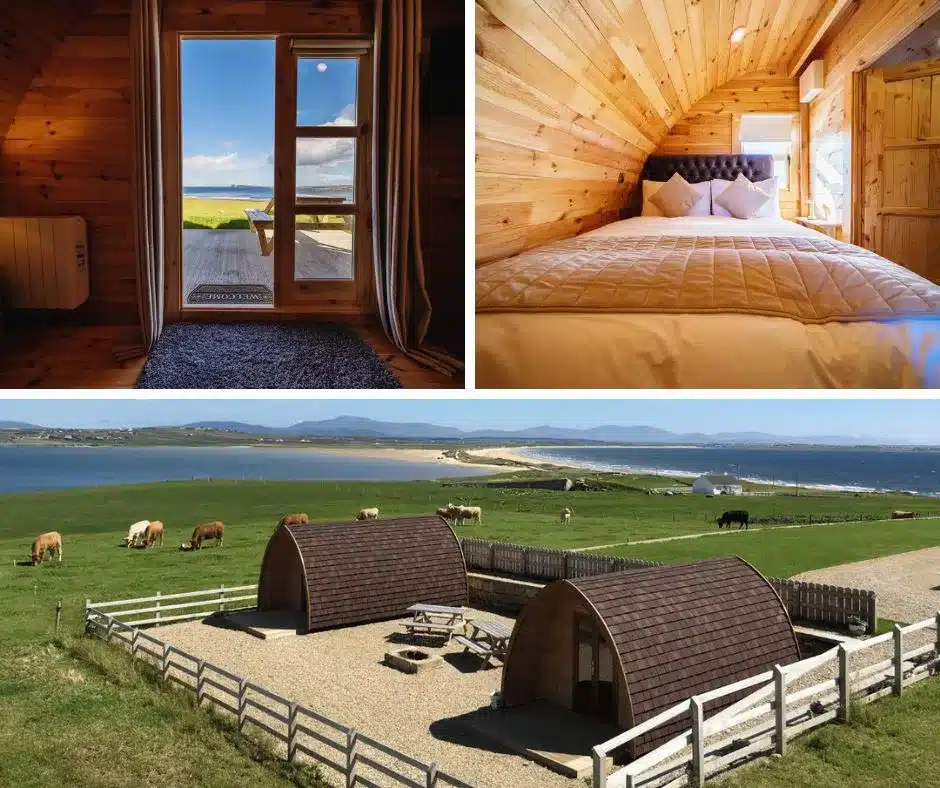 If you are interested in finding out where the best glamping sites in Mayo are, our guide is going to point you in the right direction.
County Mayo is an excellent location to go glamping. It has tons to offer e.g. the Wild Atlantic Way, many beautiful beaches and excellent hiking, along with the charming town of Westport.
Glamping is ideal if you like the idea of camping, but prefer to have a more comfortable (and dry) place to sleep for the night. It's also a real adventure for the kids and offers something a little different than your standard hotel experience.
This guide is going to tell you what we believe are the best places to go glamping in County Mayo. From 'hobbit huts' to spectacular coastal views, you'll realise that glamping really is an excellent alternative to some of the more expensive accommodation options out there.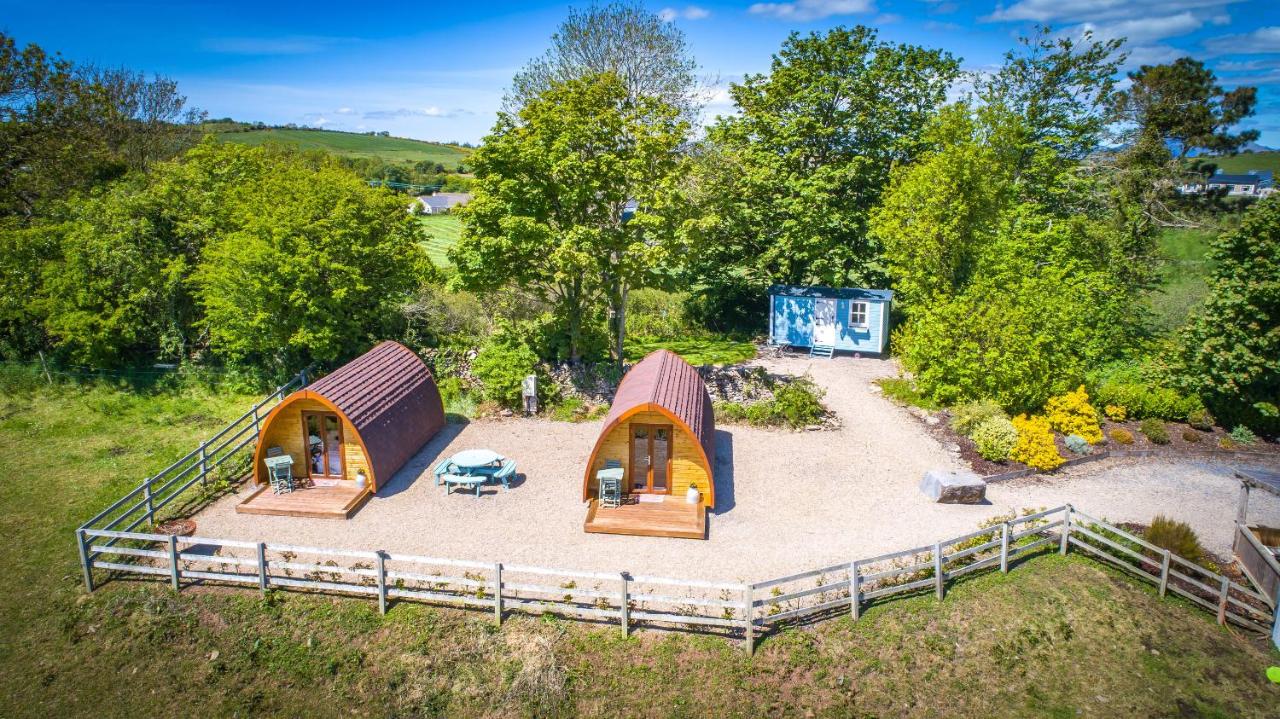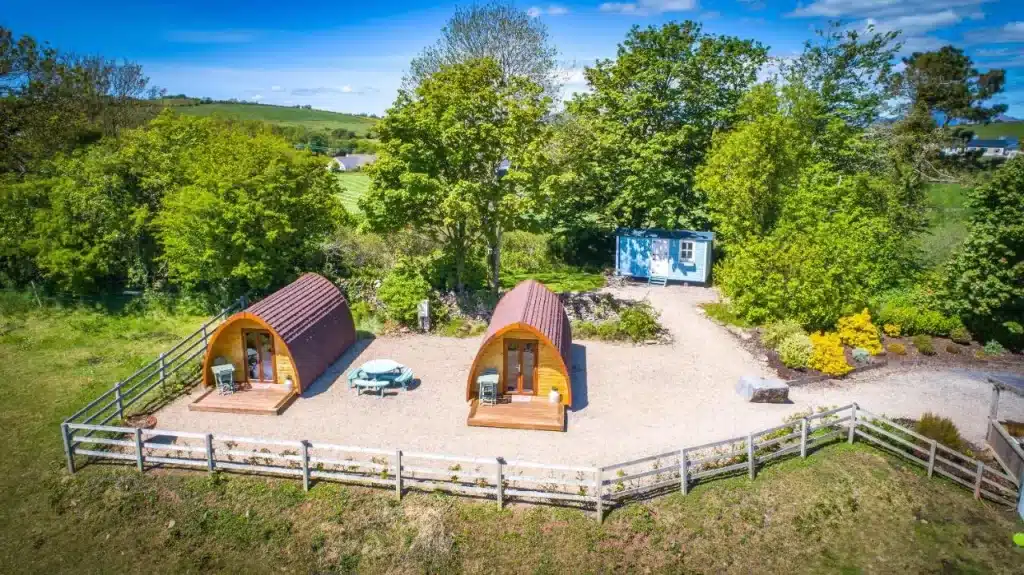 Our Tips for Glamping in Mayo
Glamping sites will have a limited number of pods, so booking well in advance is key, especially in the busier summer months.
Practically all glamping sites are in rural locations and are self-catering, so make sure you go shopping in advance!
Not all sites will cater for bachelor/stag/hen parties, so check in advance with owner.
Check in advance if bedlinen, towels etc. is provided, as well as what utensils, cooking appliances are available.
Our Favourite Glamping Sites in County Mayo
Ceide Glamping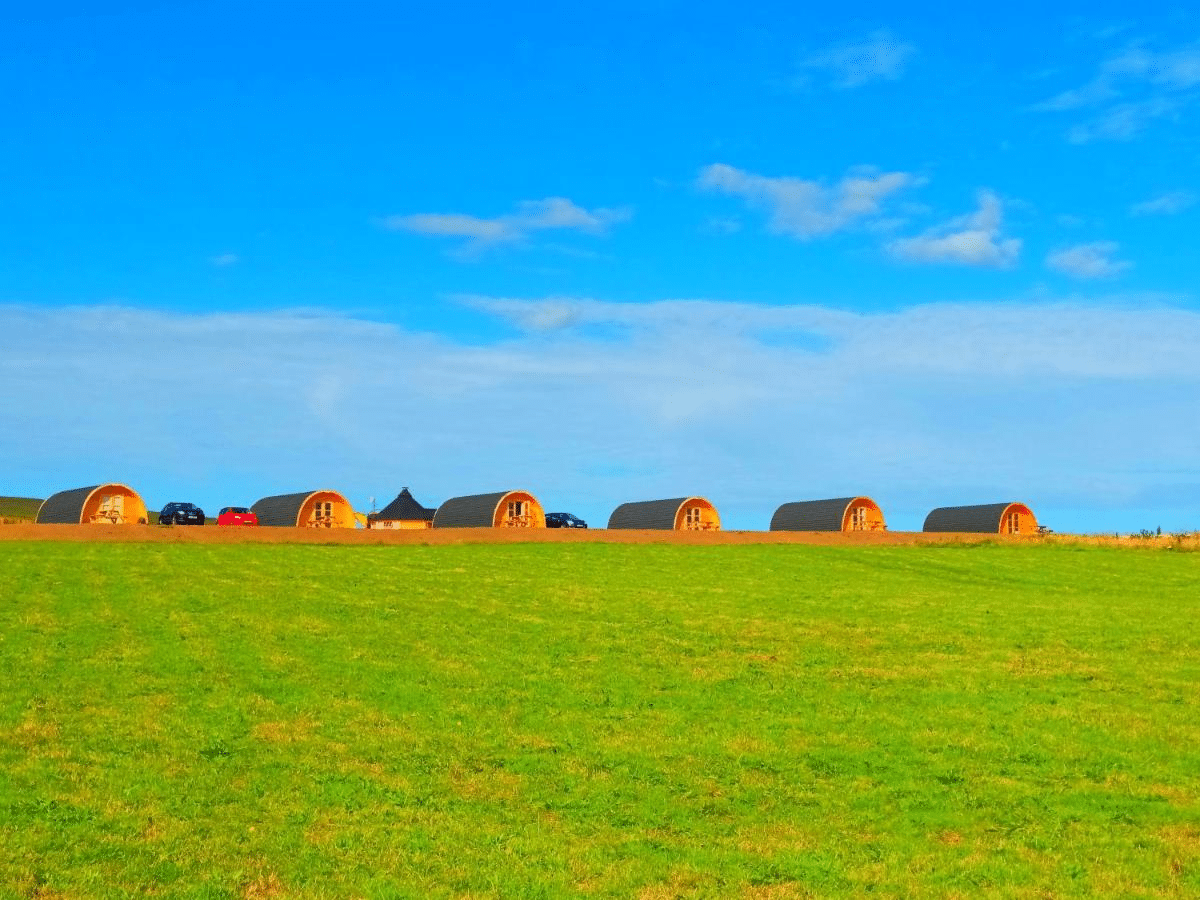 A rating of 9.7 says it all. Ceide Glamping enjoys a spectacular coastal location close to beautiful Ballycastle beach with incredible views out to Downpatrick Head and the Atlantic Ocean.
Imagine waking up to these views in the morning.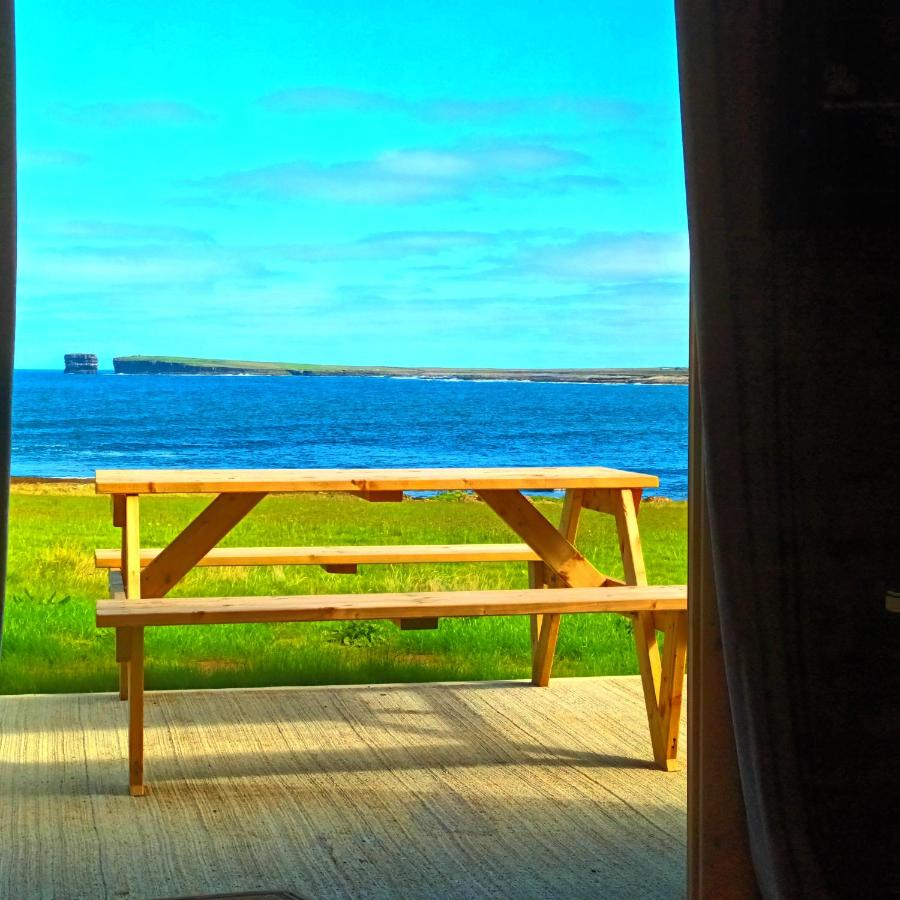 There are 6 luxury glamping pods in total (28m² in size), each with a double bed and ensuite bathroom. The sitting/dining area consists of a sofa bed and small kitchen with every appliance and utensil you'll need. Complimentary tea, coffee, sugar, milk, jam and butter is provided.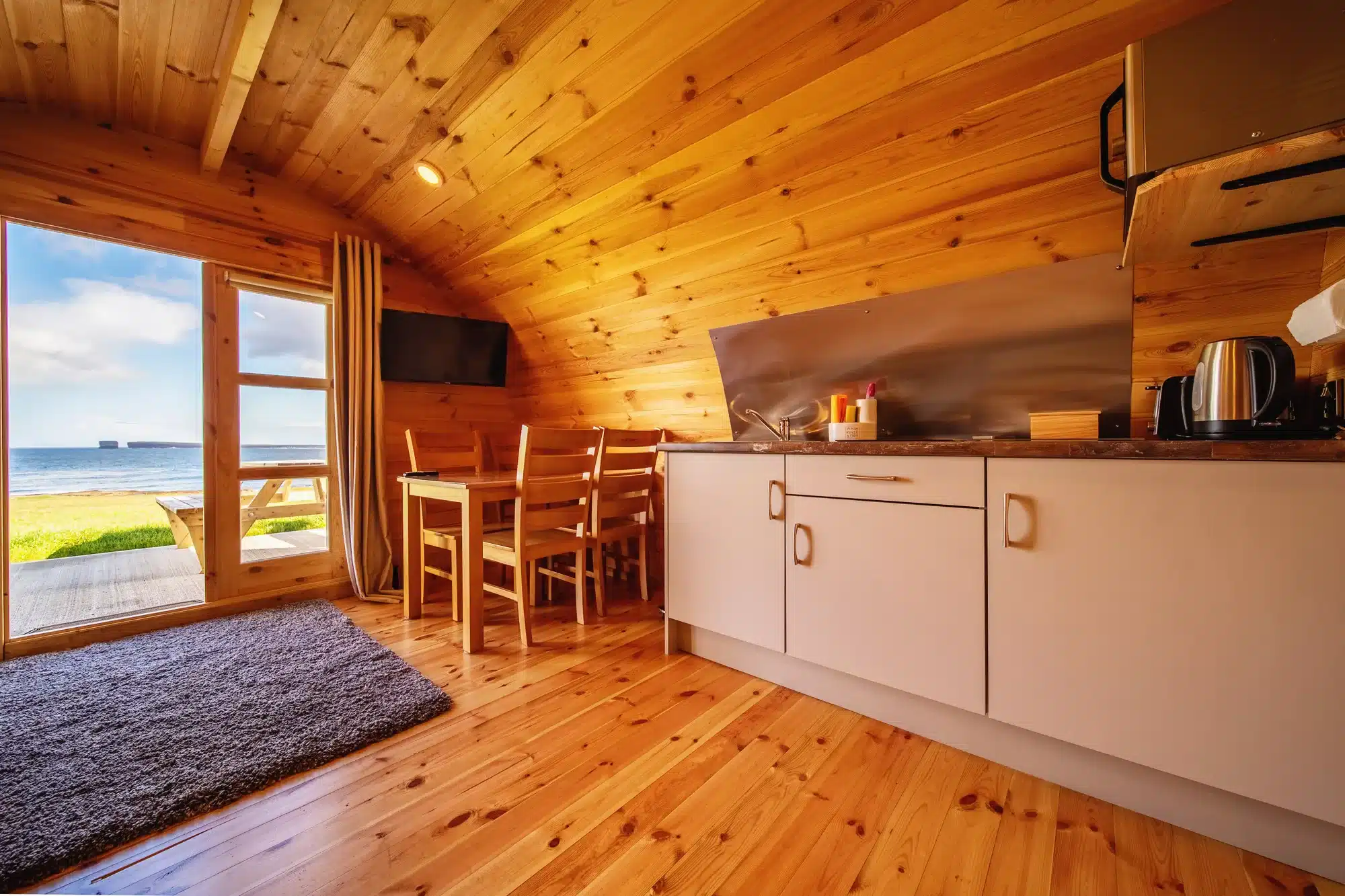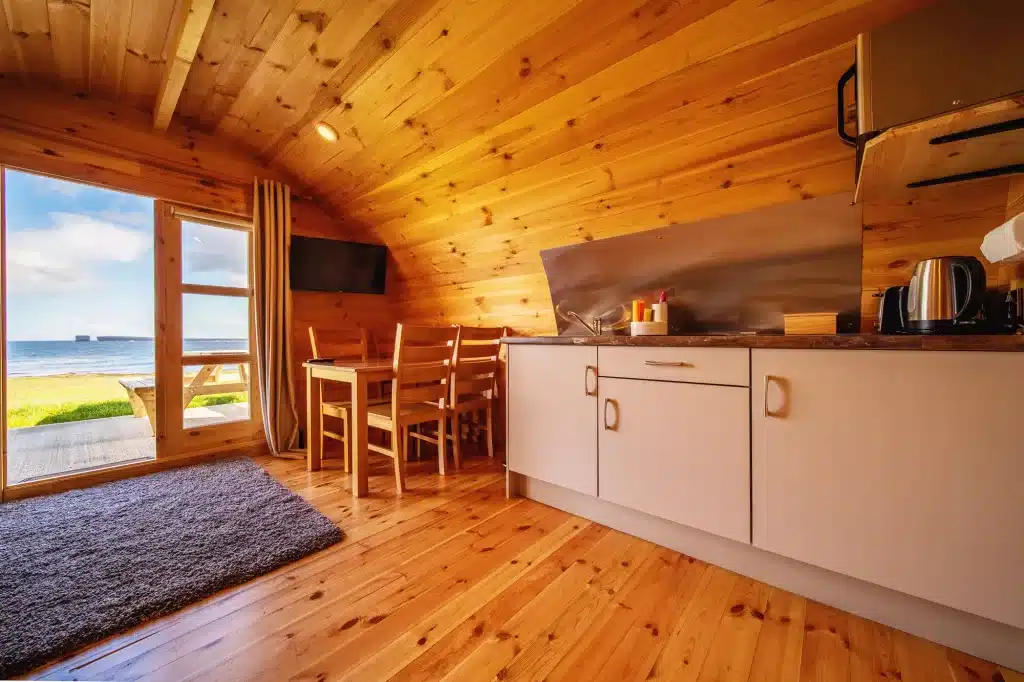 For the colder months, electric heating is available in all pods as well as WIFI and a smart TV to keep you entertained on a soft day. The accommodation is located on the Wild Atlantic Way and is an ideal stopover for a night, near Ceide Fields, Dun Briste and Downpatrick Head.
Useful Info
Nearby Ballycastle town has a small grocery store (McNamee's), where you can get everything you'll need.
Downpatrick Head (must-see) is a 15-miunte drive.
Ceide Fields visitor centre and Neolithic site in an 8-miunte drive.
Guests say:
"The property was really spotlessly clean, had all the amenities you would need. Beautiful views out over the sea towards Downpatrick Head. Very comfortable bed, excellent shower, perfect little kitchen. Really couldn't ask for a nicer more comfortable place to relax for a few days."
Prices during the summer are 160 Euros per night, with each pod sleeping up to 4 persons.
Geraghty's Farmyard Pods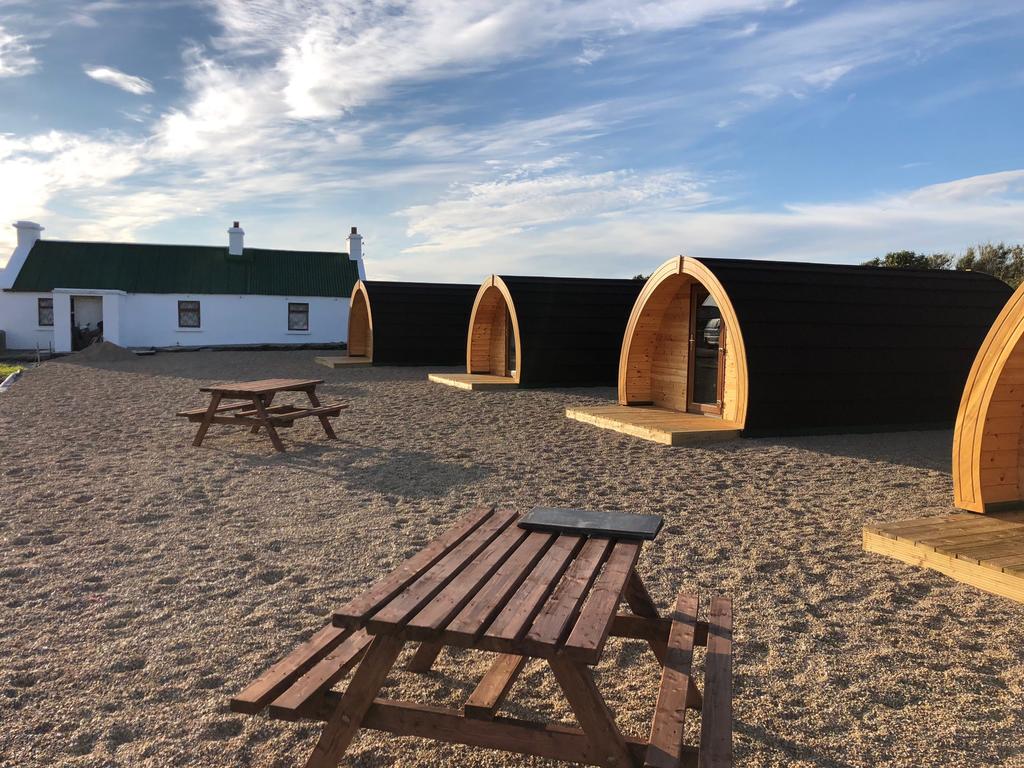 Another North Mayo glamping site with a massive rating of 9.4, Geraghty's is idea for those who wish to explore the beautiful region of Belmullet.
Geraghty's is located within walking distance of the lively town of Belmullet and a couple of hundred yards from the iconic tidal pool. The wooden pods are also located on a small farm with views over Blacksod bay.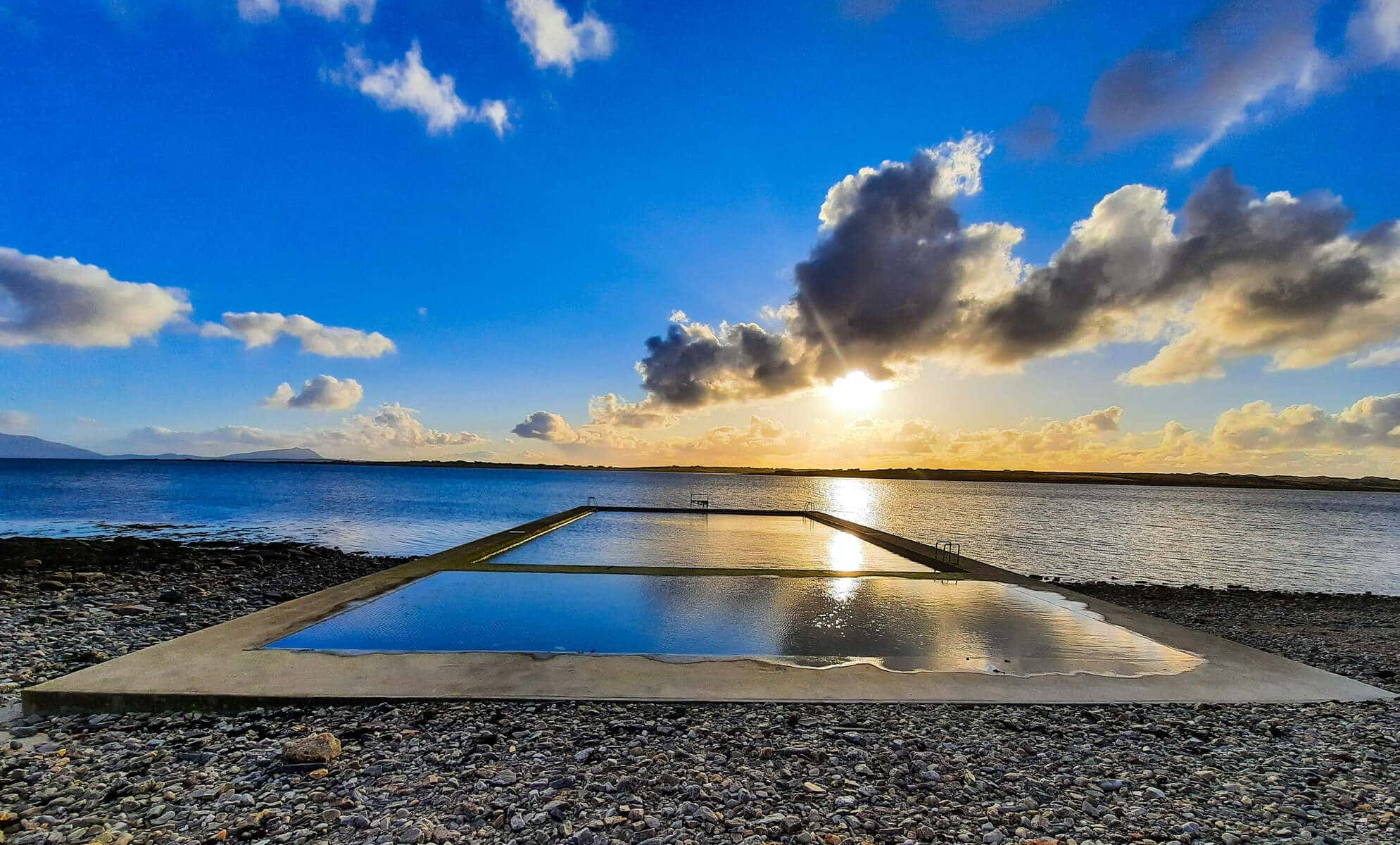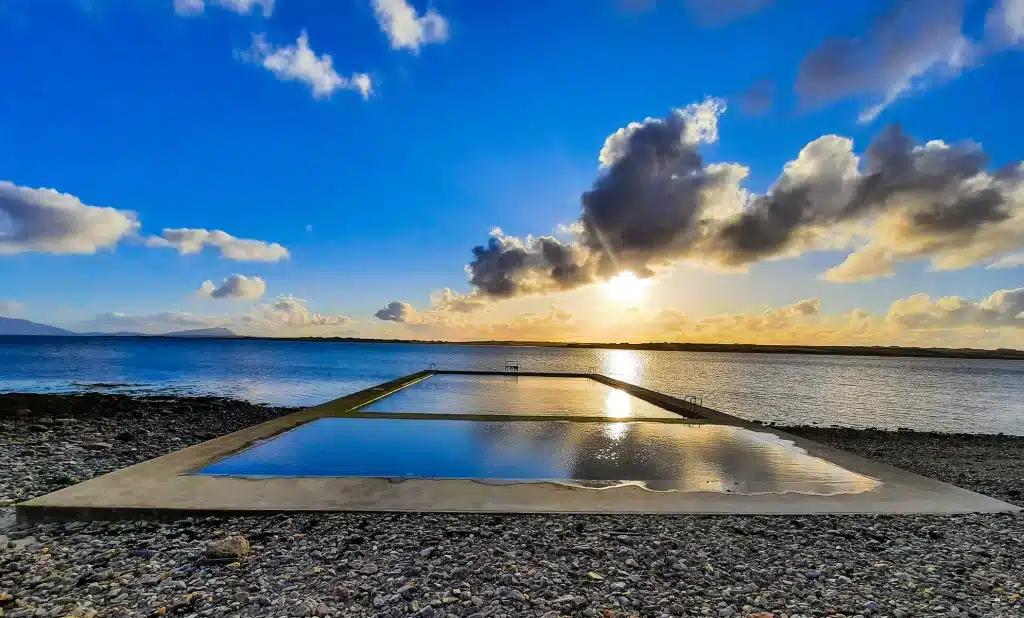 The pods have a fully equipped kitchenette with dining area, a microwave, kettle, and a toaster. Some units feature a terrace and/or a patio with mountain or garden views. Other facilities include ensuite bathroom, WIFI and a communal kitchen. There are board games available also, which is a lovely touch.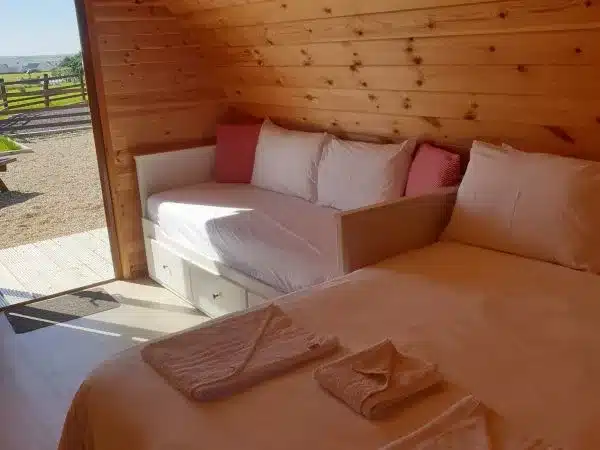 Useful Info
Belmullet is within walking distance and has plenty of shops, pubs and places to eat.
The Belmullet Tidal Pool is a unique place to go swimming in summer
There is a great selection of beaches nearby, including the unique Cleggan Strand and Elly beaches.
Guests say:
"Fantastic communal self catering kitchen facilities right next to the pods. Well stocked and even had lots of board games to keep kids busy. Pods lovely and clean and warm with modern en-suite bathroom with shower."
Prices start at a very reasonable 110 euros per night midweek.
Further Space at Belmullet Glamping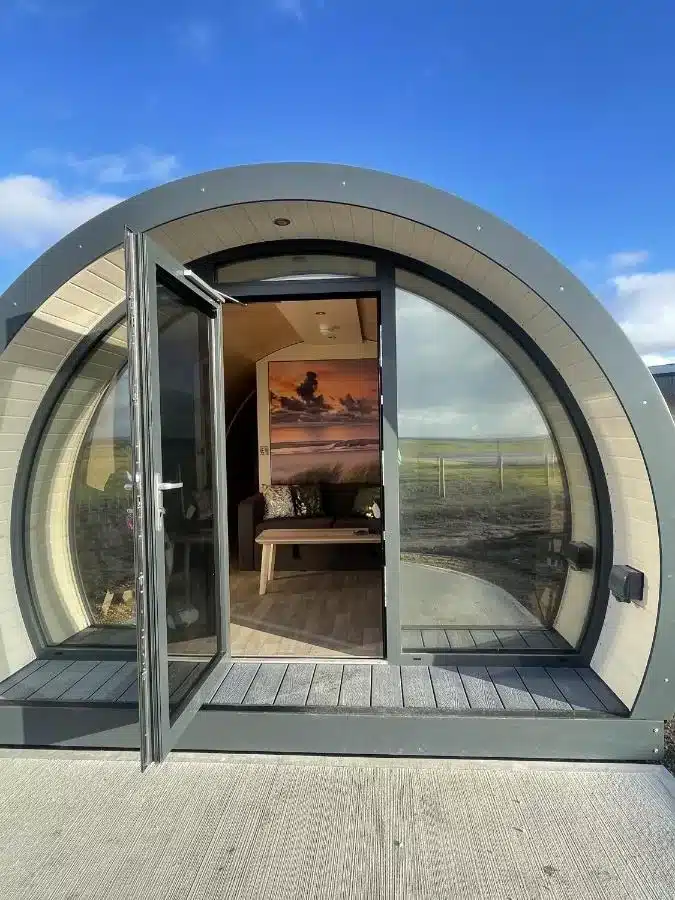 We're staying in the stunning region of Belmullet and going over to a state-of-the-art glamping site, with another massive rating of 9.2.
'Further Space' offers visitors luxury glamping, with an almost futuristic twist. Instead of trying to put this into words, have a look at the photos below.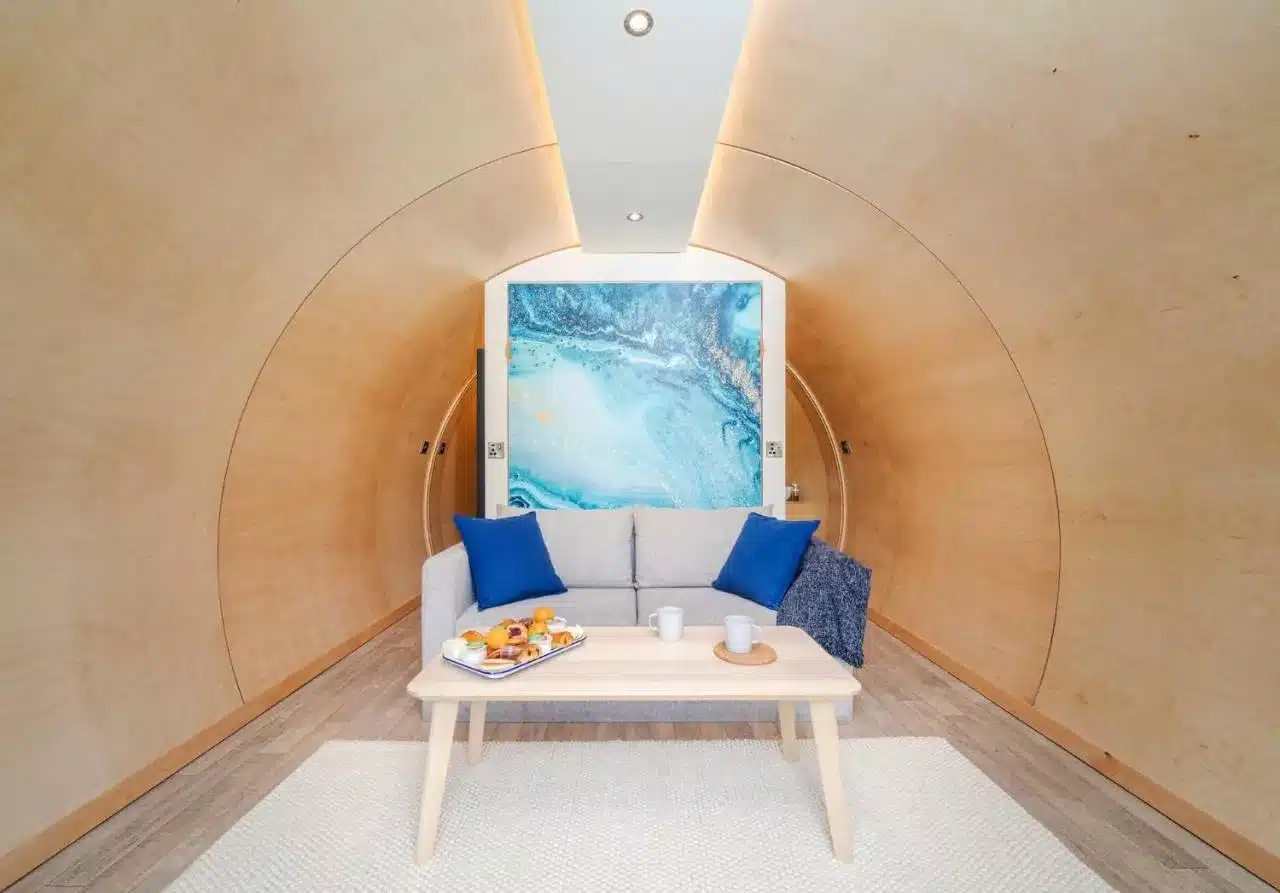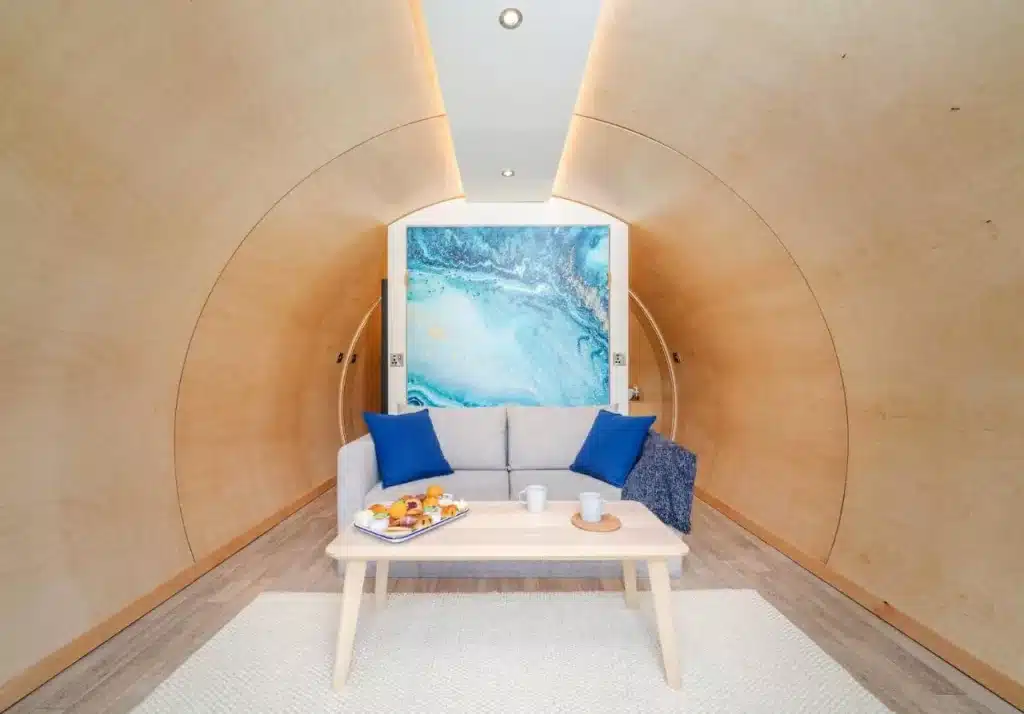 There are 4 pods in total and each include a bedroom, bathroom with a shower, a seating area and a kitchenette with a toaster. Towels and bed linen are provided. There's also an outdoor fireplace.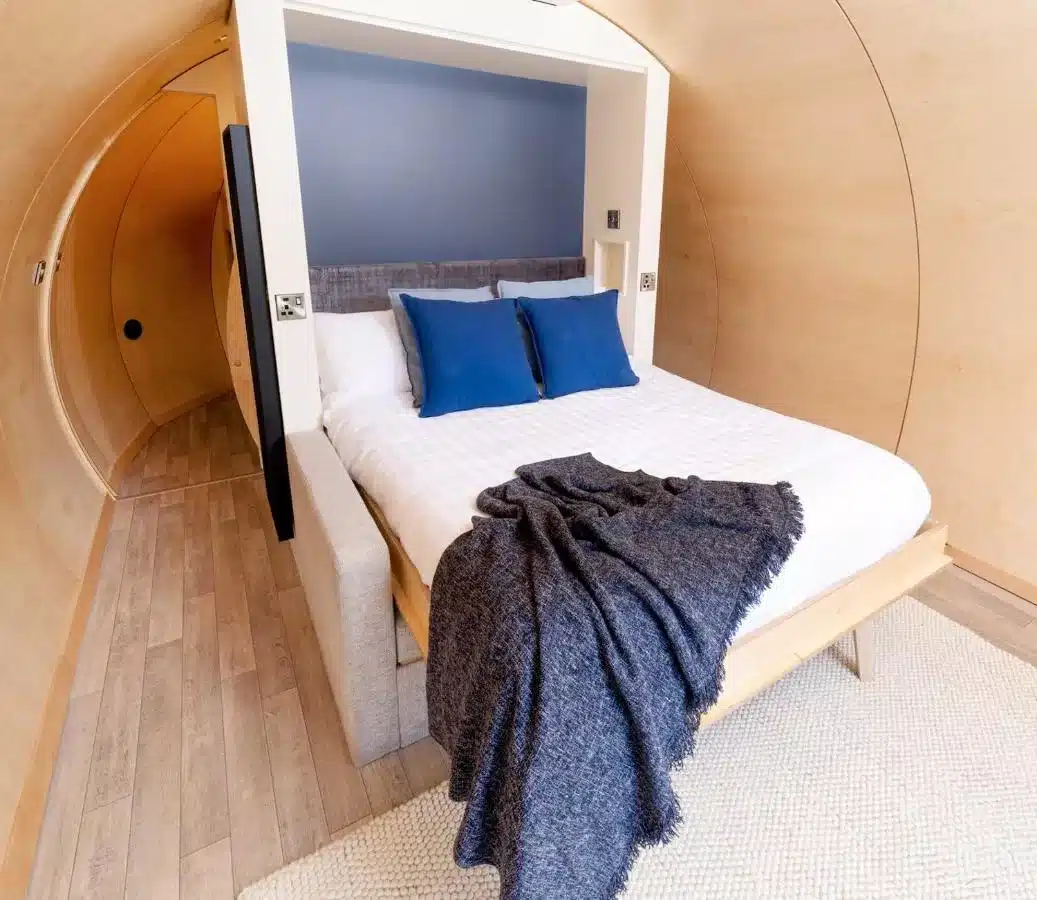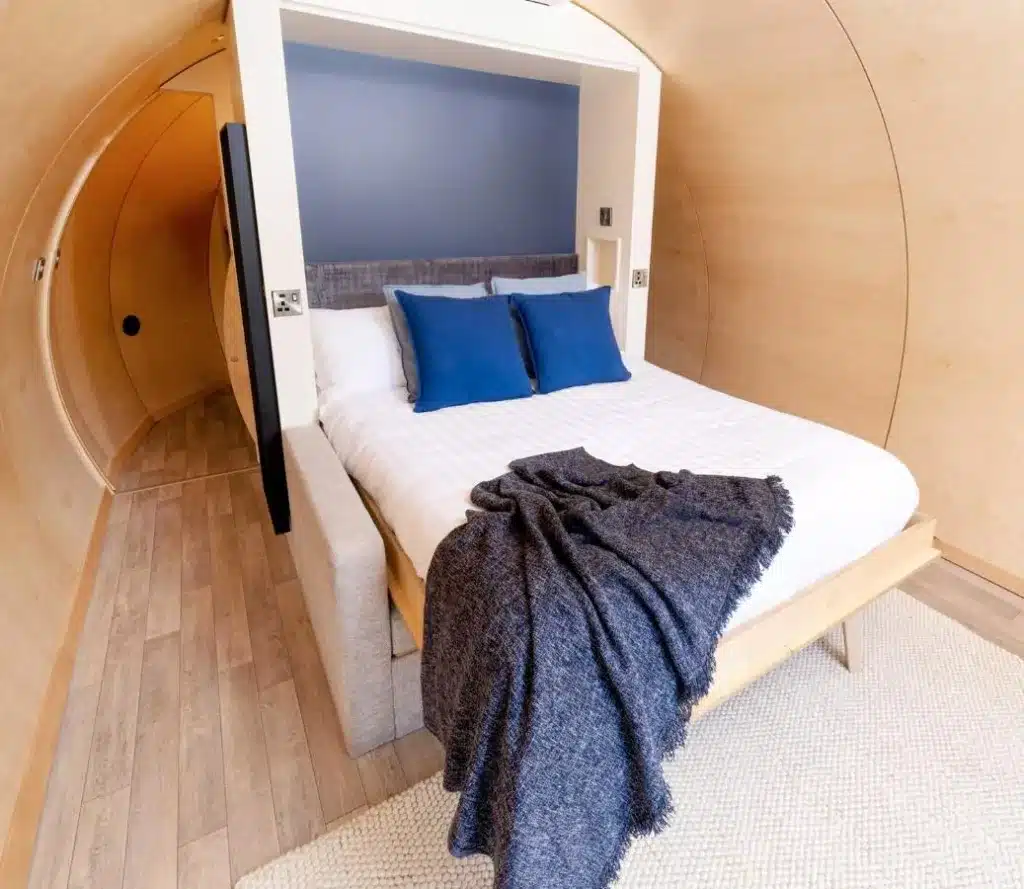 A lovely touch is the space-saver fold-down queen-sized bed for your comfort and this adds a certain luxury feel to the place. You're also within a mile or 2 of the stunning Belmullet coastline, with the spectacular must-see Dún na mBó on your doorstep.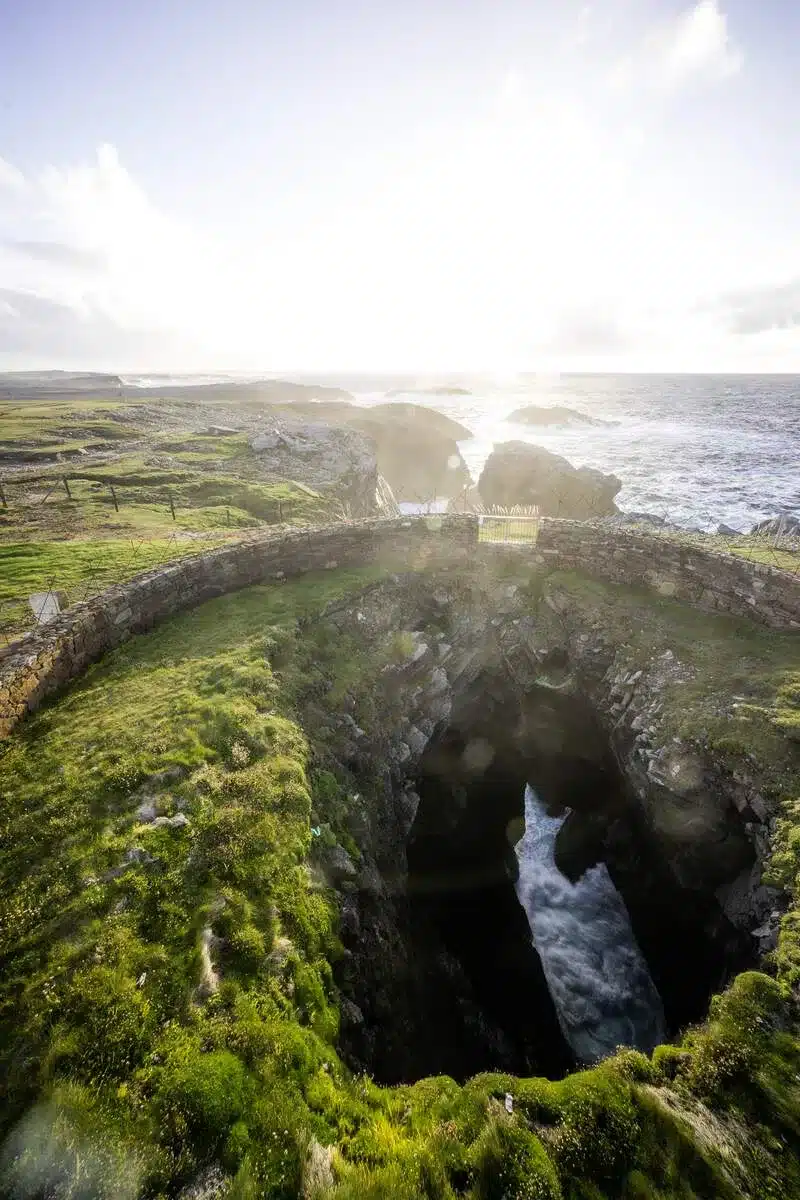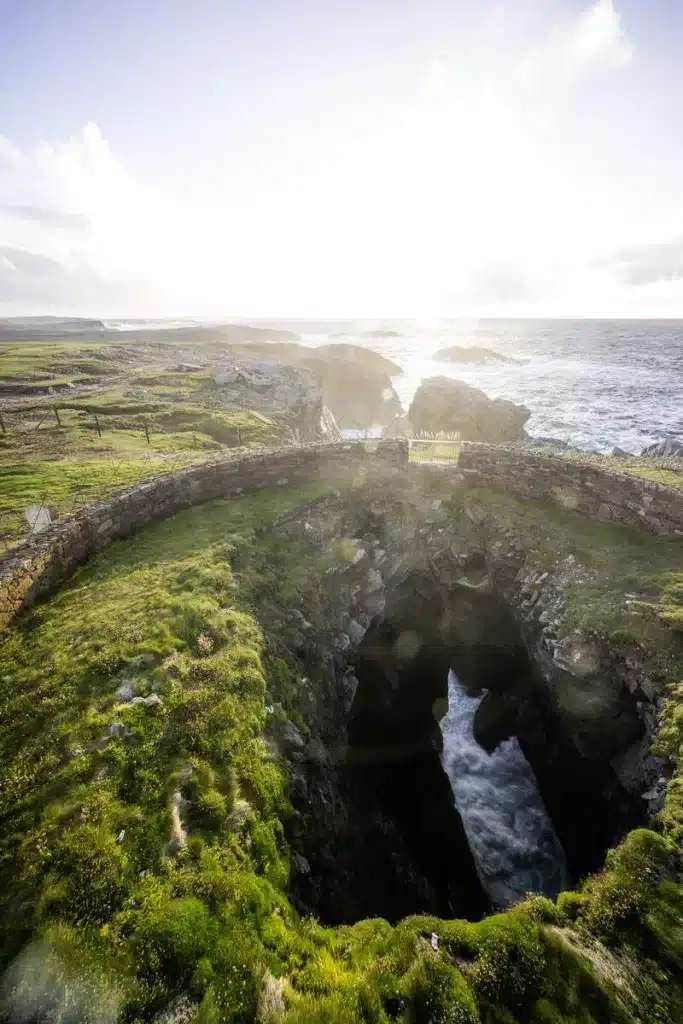 Also, right next door is Lavelle's bar with shop attached! Sounds like a perfect spot for a bit of wild Atlantic exploring, followed by a few pints in the evening.
Useful Info
The town of Belmullet is only 5 km away by car and has a good selection of pubs and places to eat
Belmullet is a beautiful stretch of the Wild Atlantic Way and this glamping site would be ideal for a stopover, before heading over to Downpatrick Head and Ceide Fields.
One of the world's great golf links courses is within in few minutes drive: Carne.
Prices start at around 170 Euros per night. The pod will sleep 2 adults and a child.
Guests say:
"View from site is amazing, really peaceful setting and 5 mins drive from Belmullet ,where we dined at the Talbot Hotel where we were accommodated with no reservation ,nice food and lovely staff ,lots of beautiful scenery in this area"
Westport Glamping at Doon Angus Farm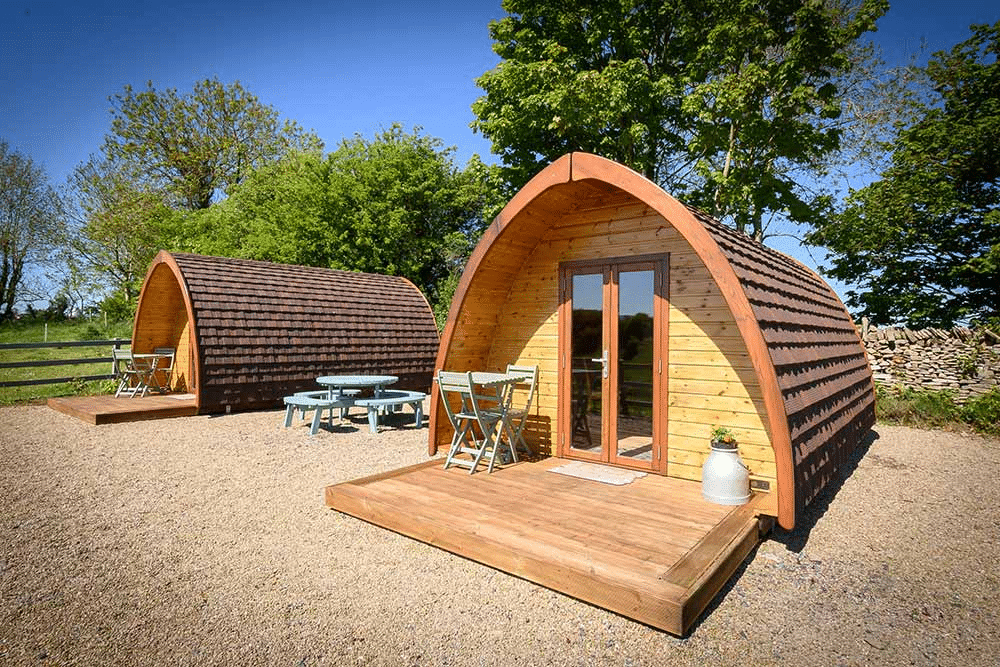 It's over to Westport we go now and to once again a highly rated glamping site. Doon Angus is located in the Mayo countryside, only 5 km from Westport, on an Angus cattle farm to be precise.
It's a real experience to glamp on a working farm in the Irish countryside and this makes Doon Angus a unique and special experience. Its proximity to everything Westport and the Clew Bay area have to offer makes it a solid choice.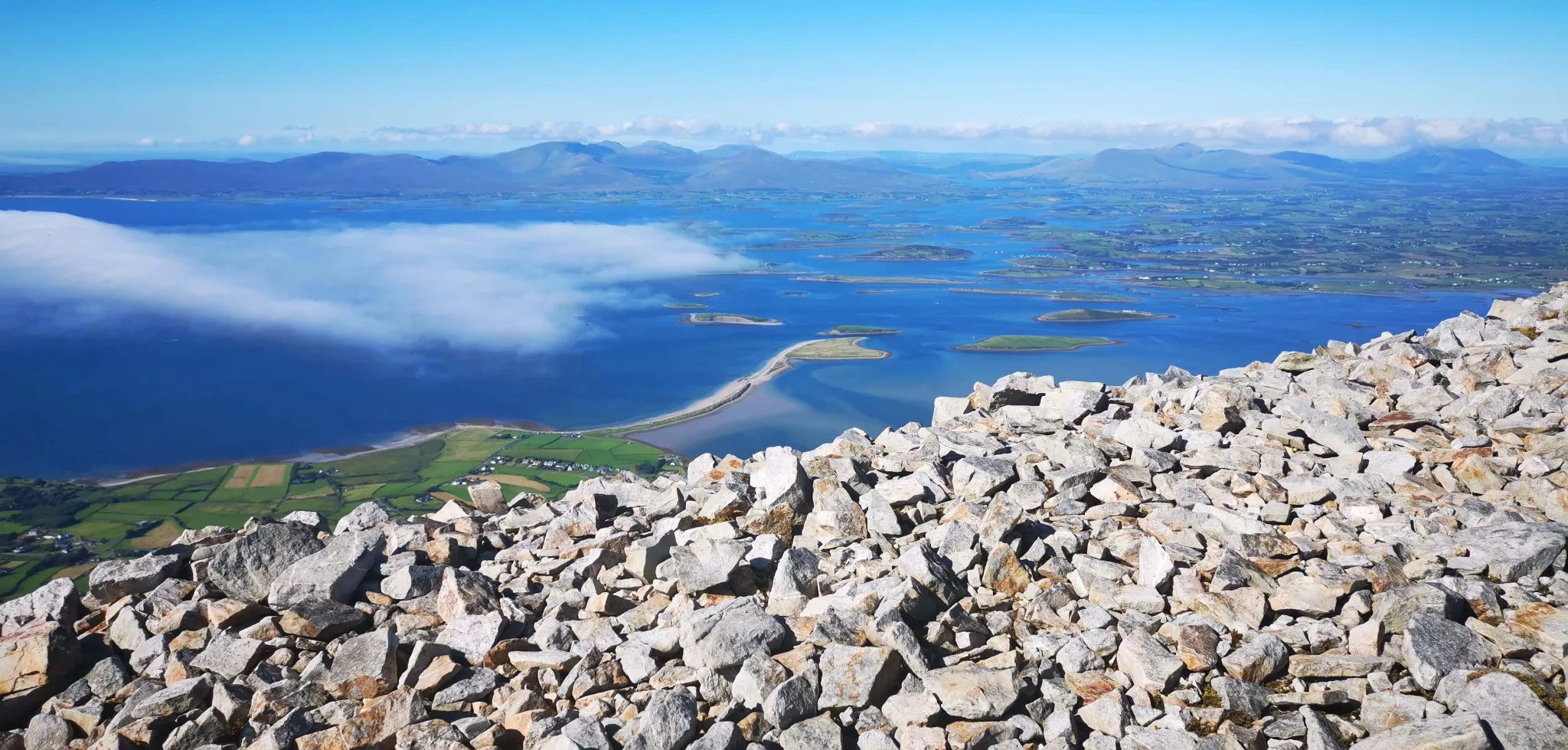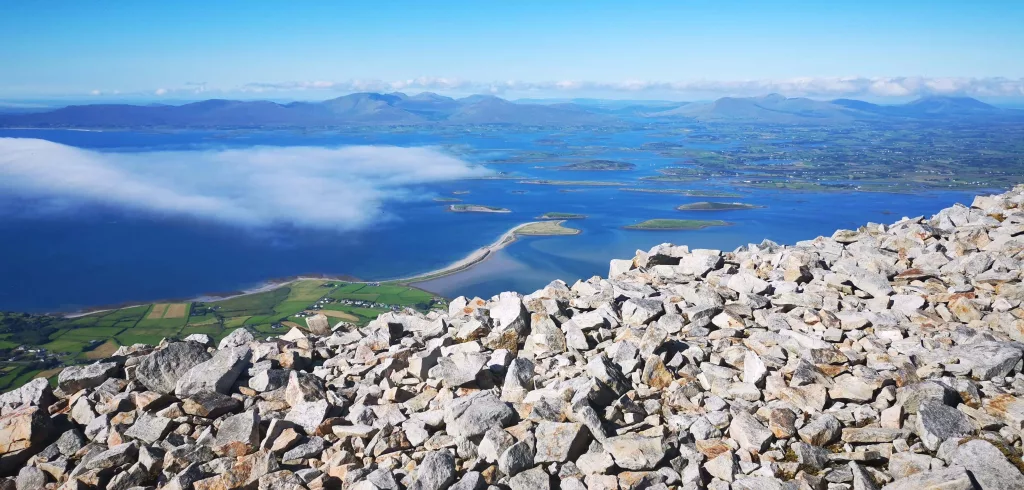 There are 2 pods and a very quirky shepherd's hut, all with stunning views over the drumlin countryside. Bedlinen, toilet paper etc is provided and towels at an extra cost. There's also an ensuite toilet. On site there is also a converted barn, with cooking facilities, board games Tv etc and an outdoor bbq area.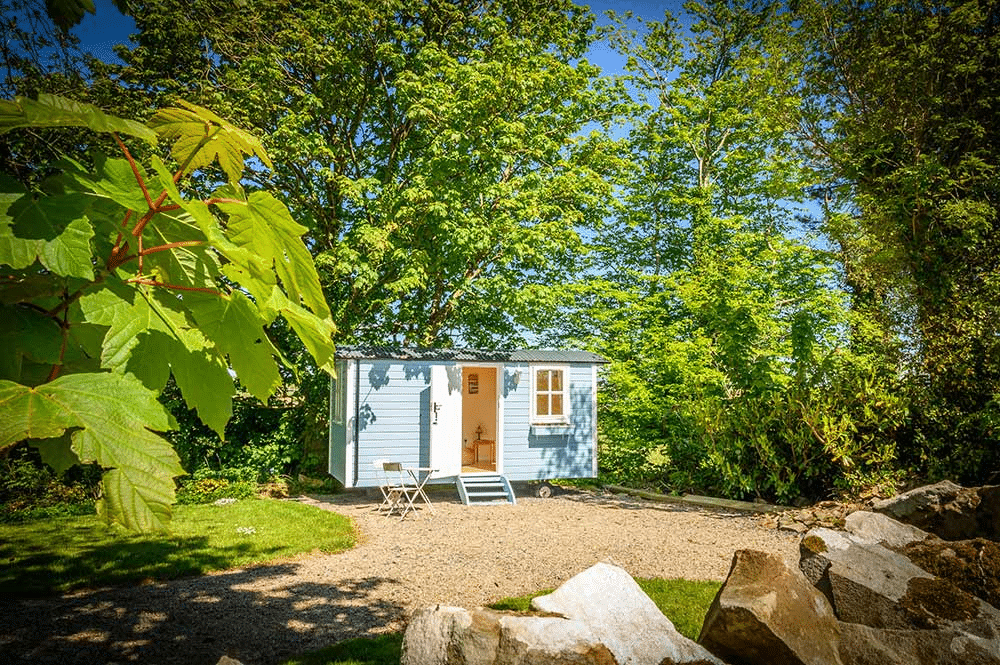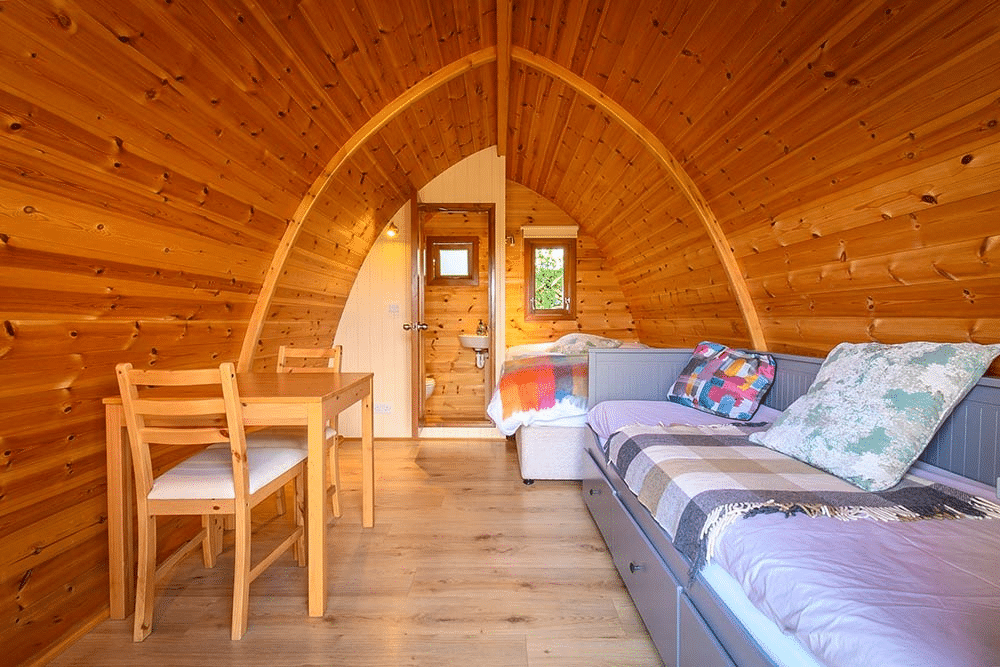 Useful Info
Westport is only a few minutes away by car, where you can get whatever supplies you need.
Doon Angus is within 15 minutes of the Clew bay area, an area of incredible natural beauty, including beaches, Croagh Patrick, Clare Island, Achill and much more.
Prices start from 120 Euros per night and each pod sleeps up to 4 persons.
Guests say:
"Very comfortable pod in a brilliant location for visiting Westport. The kids loved the animals and the fresh eggs each morning were a treat. The indoor facilities had everything we needed and the private bathroom was great."
Mayo Glamping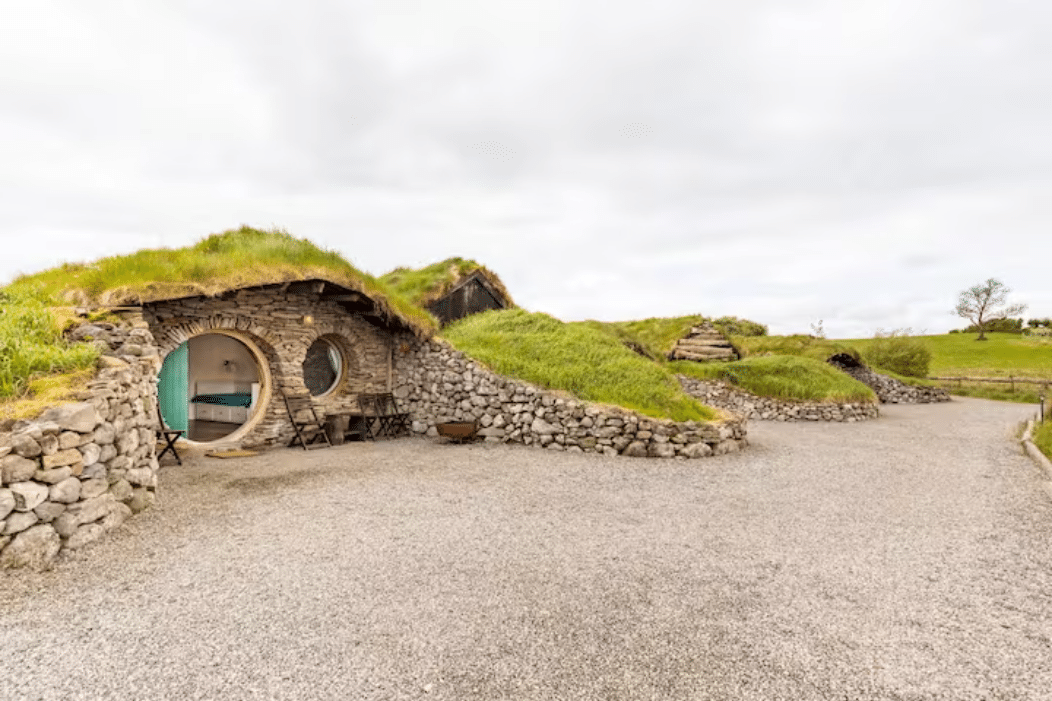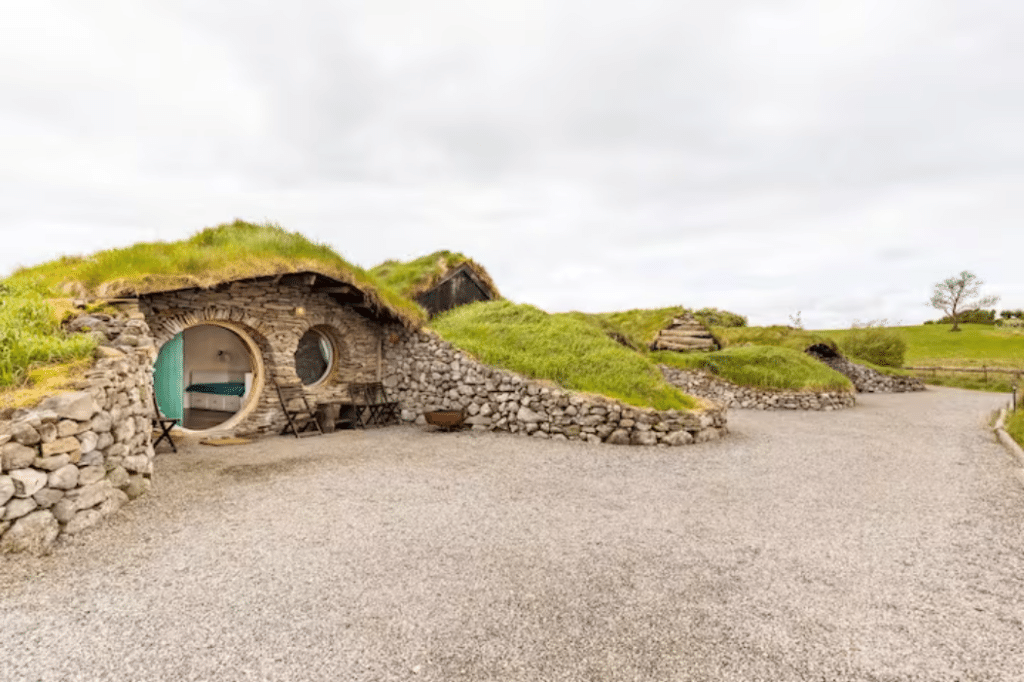 Mayo Glamping (located near Castlebar) takes camping to a whole new level by offering a range of beautifully designed, eco-friendly accommodations. You can choose from a cosy A-frame cabin, a fairy hut or a truly unique hobbit hut (yep, with round doors)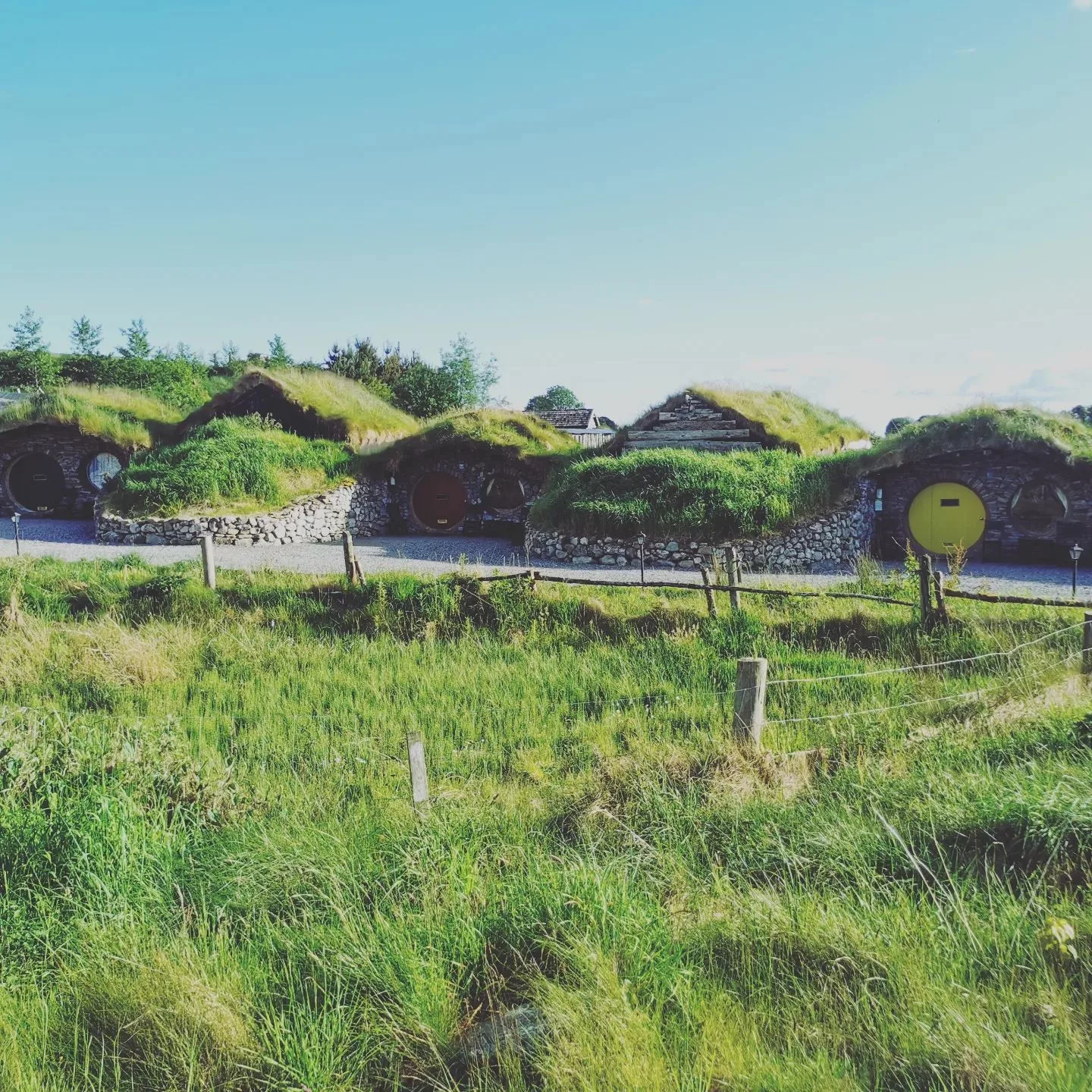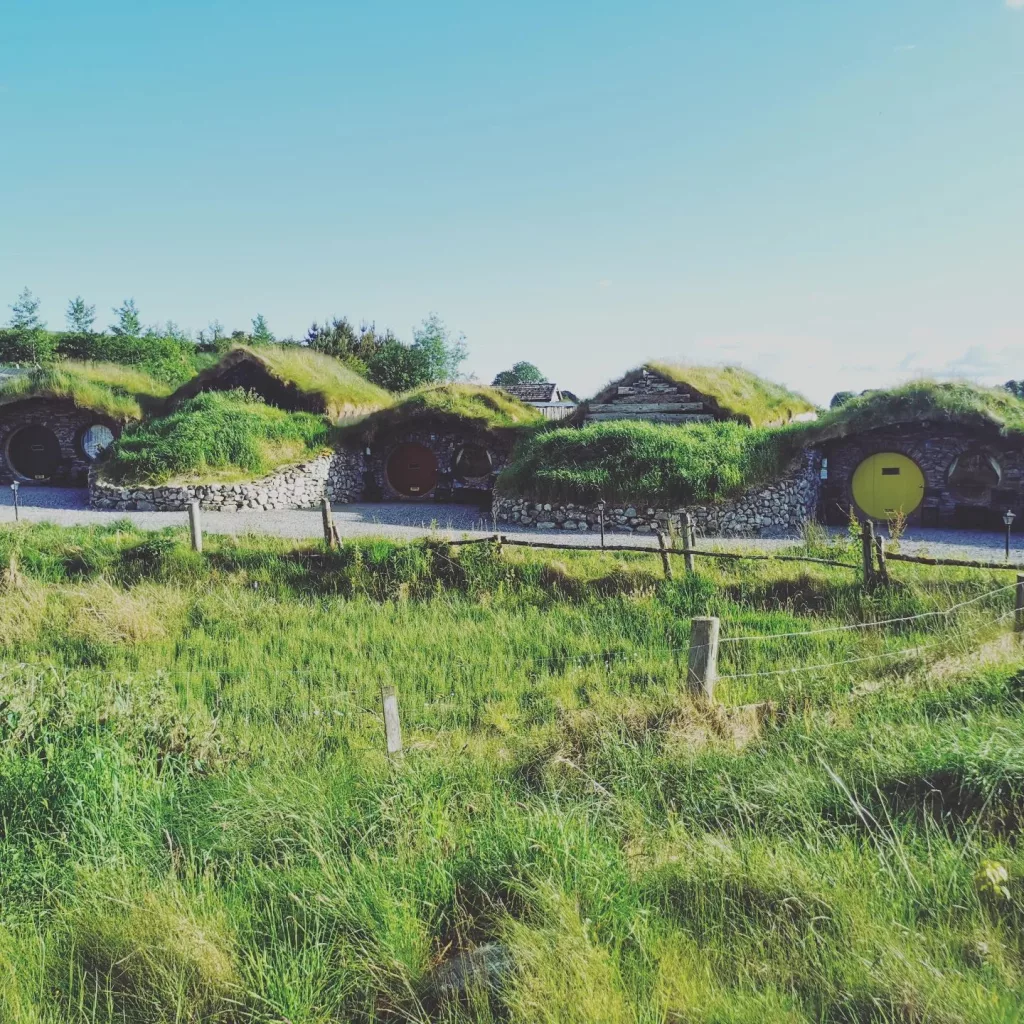 Each accommodation is thoughtfully equipped with comfortable beds, modern amenities, and charming décor that seamlessly combines rustic charm with contemporary comfort. Oh, and there's also a sauna and a hot tub.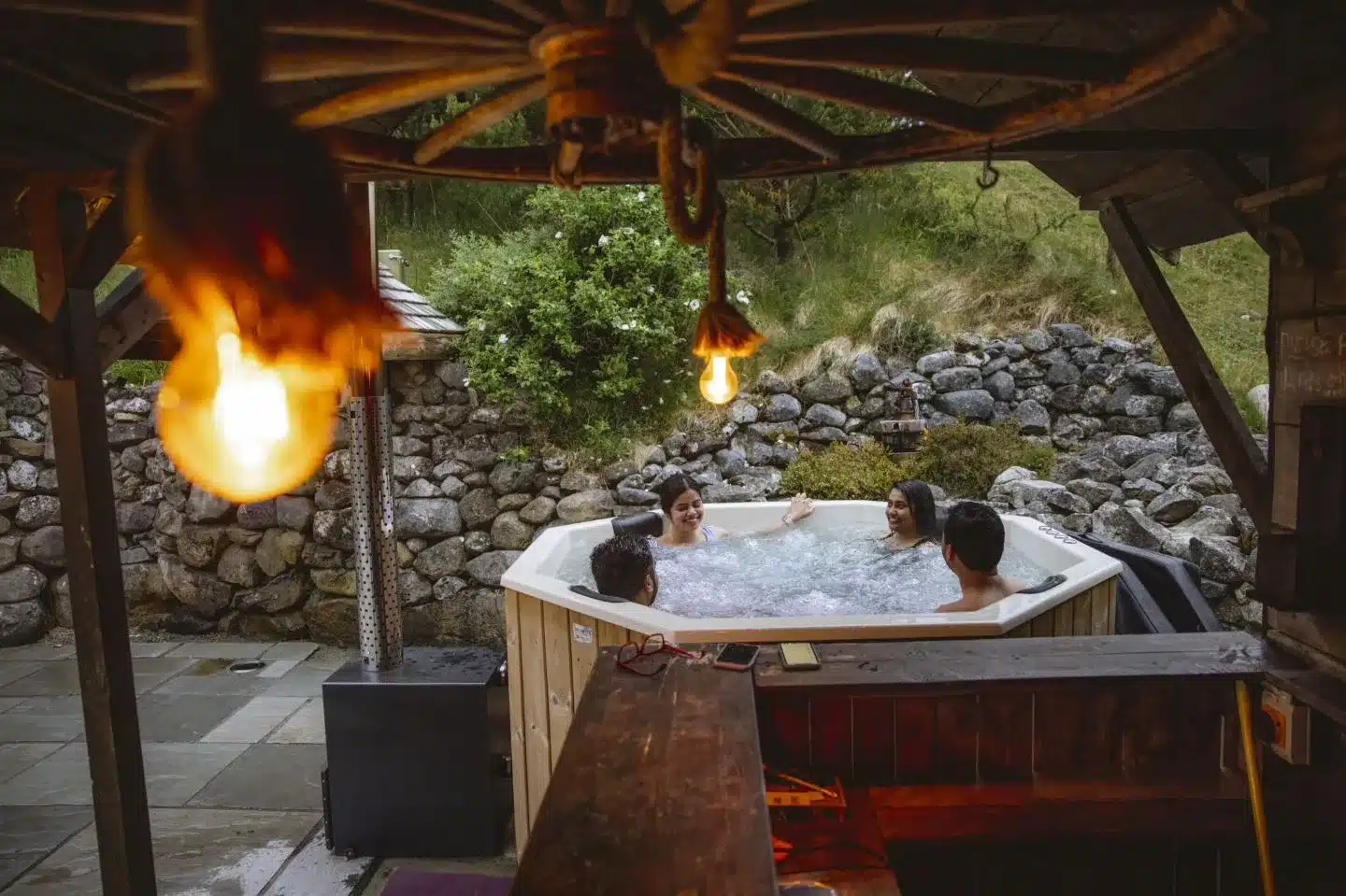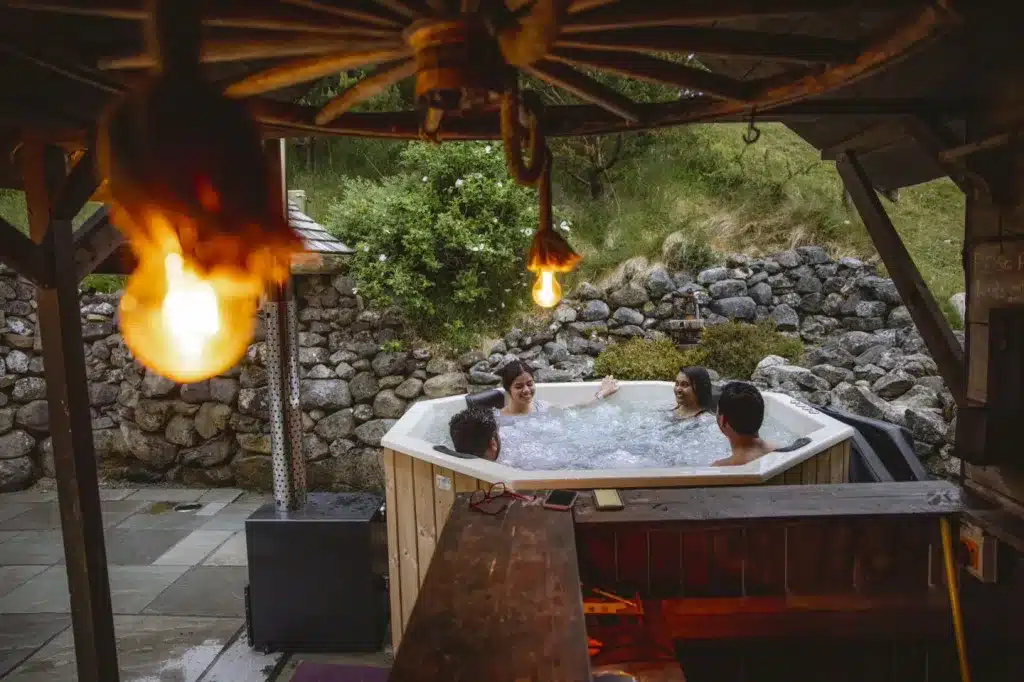 Communal Hub: The heart of Mayo Glamping is its communal hub, a welcoming space where guests can come together to relax, socialize, and cook. The hub features a fully equipped kitchen with all the necessary utensils and appliances, a dining area, and comfortable seating where you can unwind by the fireplace.
Fire Pit and BBQ Area: Nothing beats the experience of cooking and sharing stories around a crackling fire. Mayo Glamping provides a designated fire pit and BBQ area where guests can enjoy outdoor meals.
Useful Info:
The nearest large town is Castlebar (10-15 minute drive)
Westport is a 25 minutes drive
Croagh Patrick: 35 minutes by car.
Guests say:
"I absolutely loved it here. Way nicer than any hotel would be. So unique. Beds are very comfortable, and glamping houses/pods immaculate."
For more details, click here.
Teach Greannai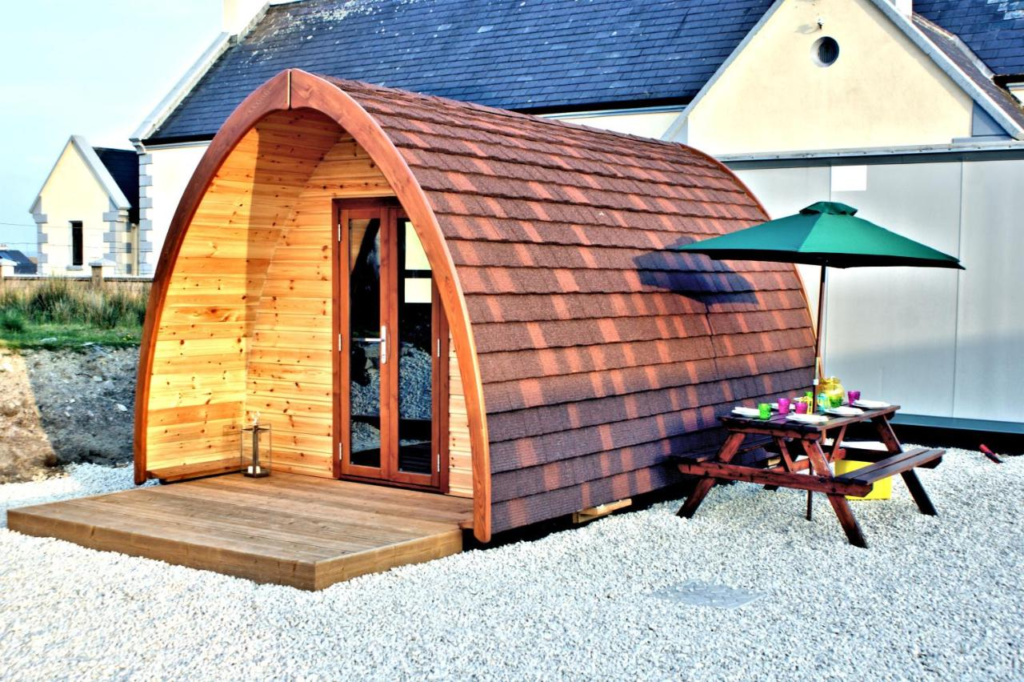 A real little gem of a place. There's only the one pod and it's located on the property of Teach Greannai, the local community centre in the village of Curraunboy, near Rossport, in the north western corner of Mayo.
But this is no old community centre. They serve meals daily, which include a continental breakfast and have designated steak evenings!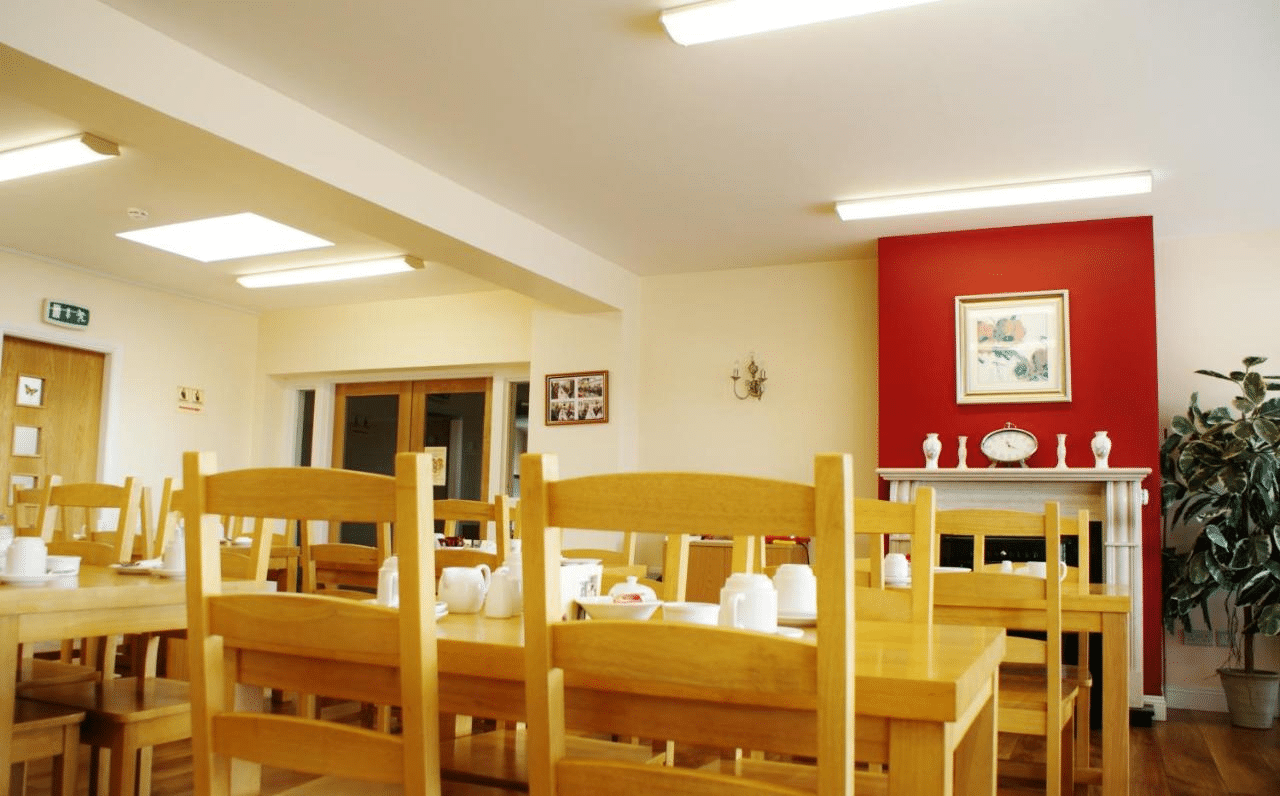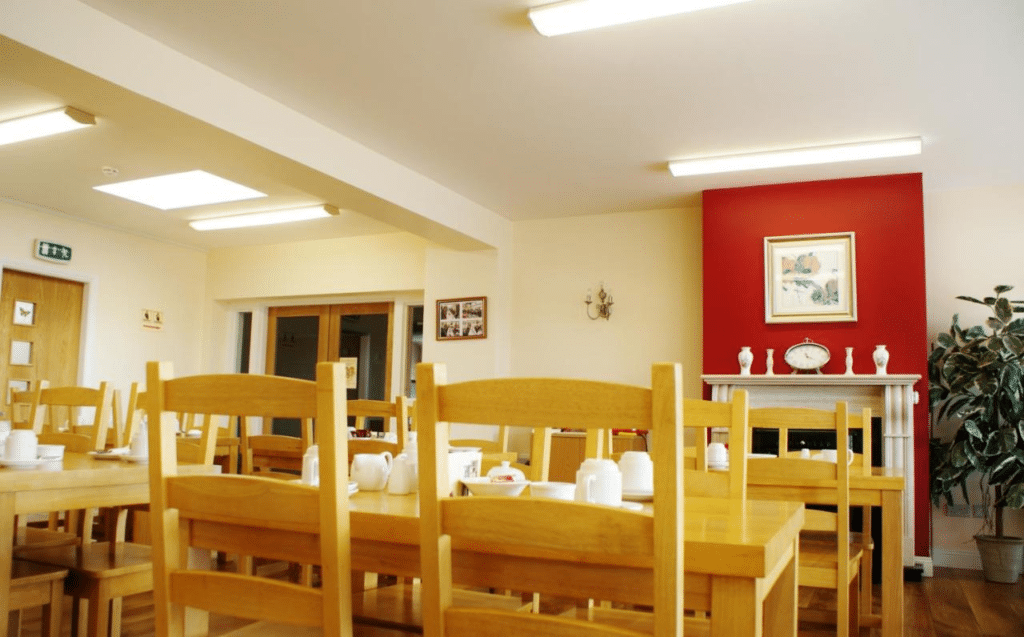 The pod sleeps 2 and the owners provide towels and bedlinen. In my opinion, this accommodation is perfect for those who wish to do the Carrowteigue loop walk. The trailhead for this spectacular coastal walk is only 1 minute away by car.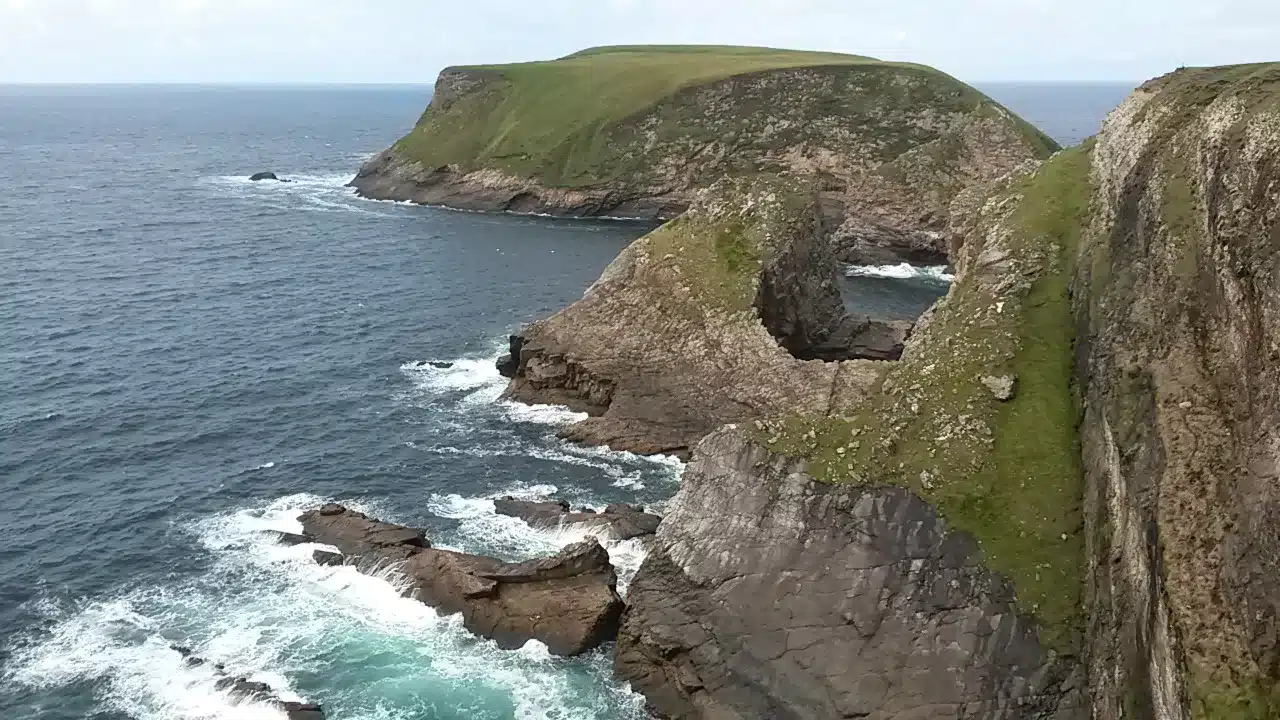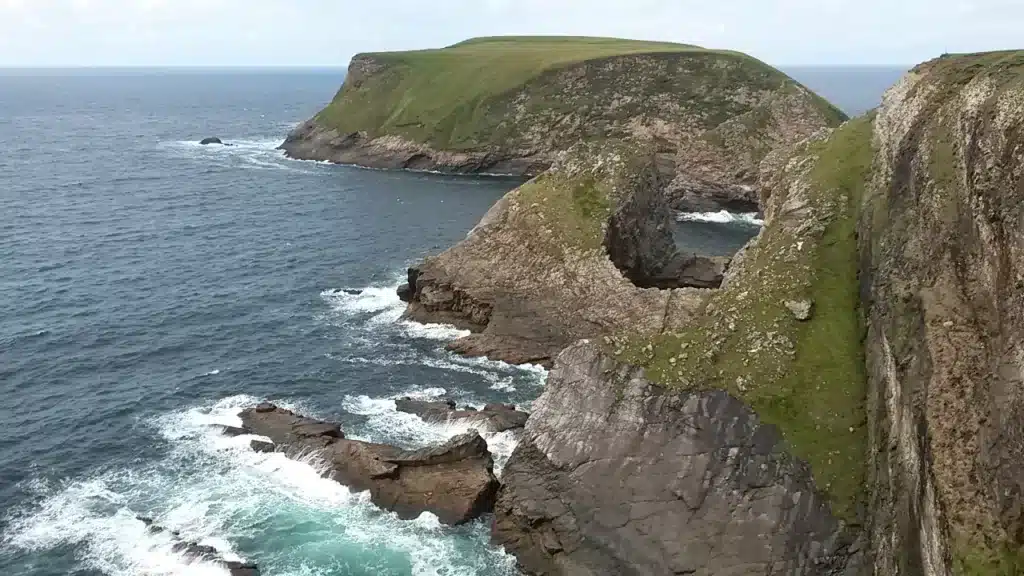 Useful Info
Belmullet is approximately 25 minutes away by car.
This area is home to some incredible beaches, with Rinroe and Portacloy close by.
This is an ideal base for exploring Carrowteigue and Benwee Head, in our eyes on of Ireland's true hiden gems.
Guests say:
"Everything – the hospitality was second to none. We were spoiled by the host."
Prices are a very reasonable 75 euros per night for the pod.
Riverside House Glamping Caravan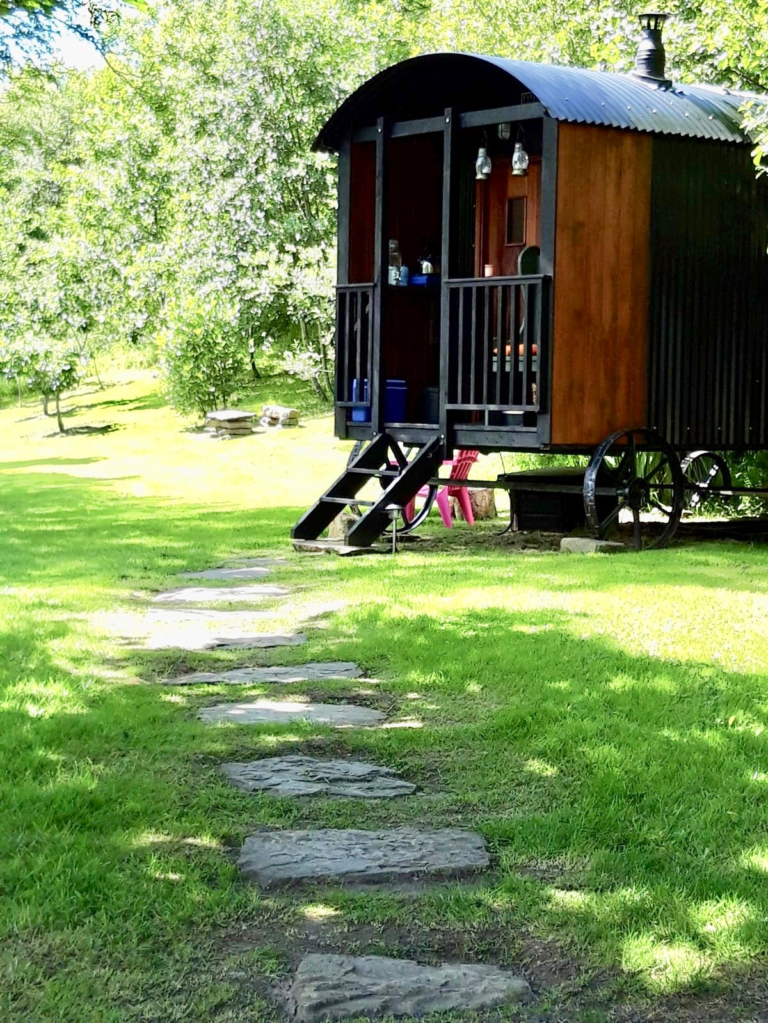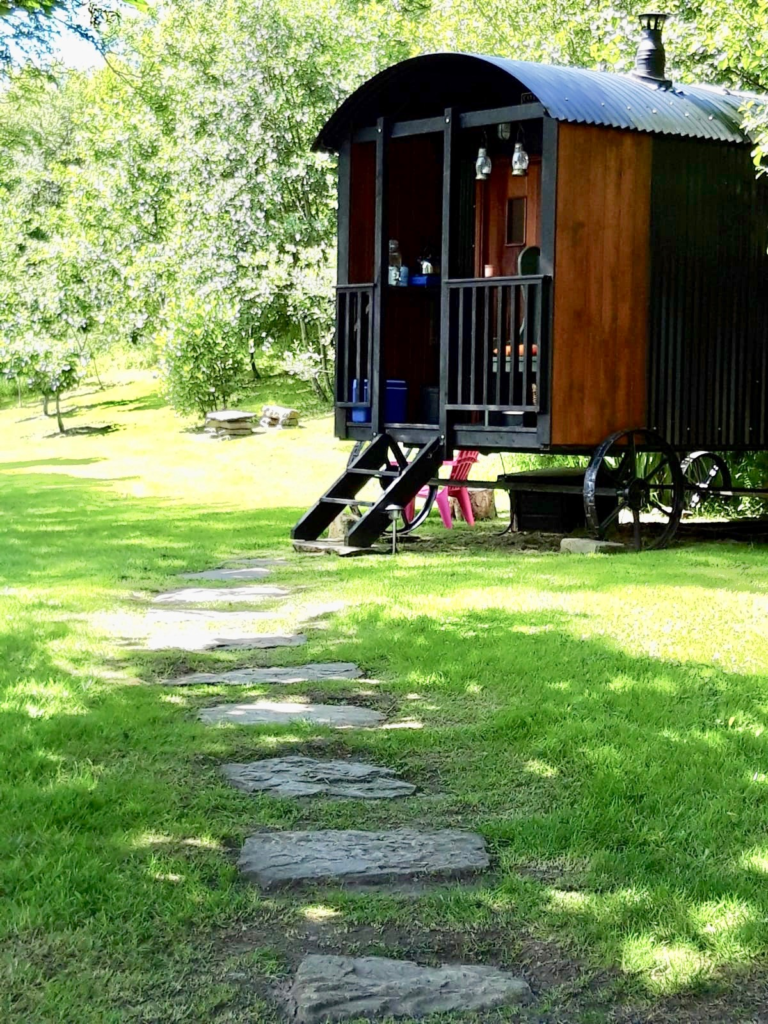 Riverside House is a 200 year old Georgian house, located on the banks of the Black Oak river, in the picturesque village of Newport.
Newport is perfectly located on the Greenway, Ireland's longest cycling route. It's also a lively little town and is a nice quieter alternative to the busy Westport. Although there is less accommodation here, it's significantly cheaper than Westport.
The accommodation in question here is a small caravan located in the garden of the property. It comes equipped with a wood-burning stove and you'll have the sound of the fast flowing Black Oak river and the birds to keep you company.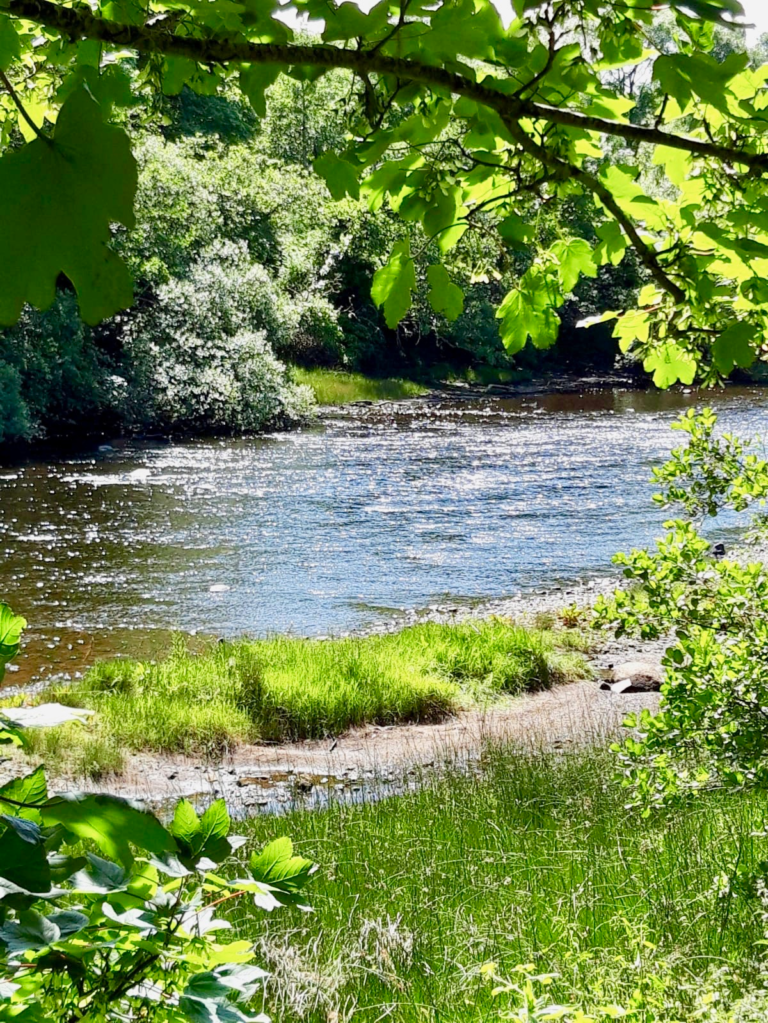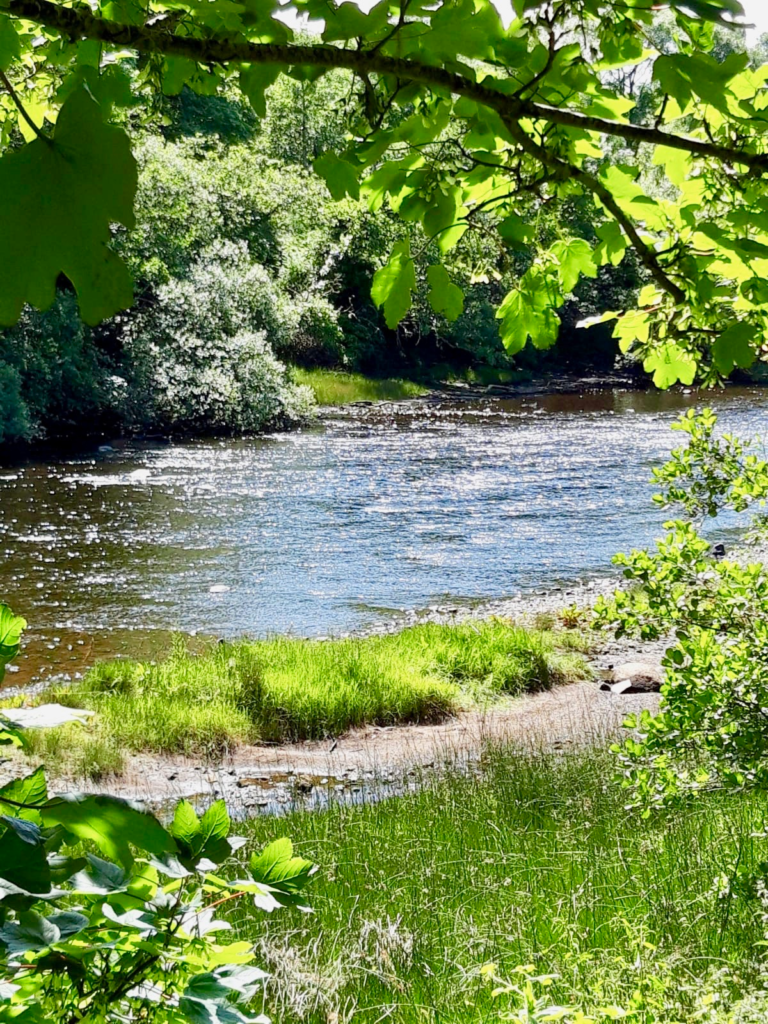 There's also a variety of other accommodation on the property, such as the tastefully converted stables, along with 2 lovely rooms in the main house. Why not avail of the delicious breakfast offered by the host?
This accommodation exudes elegance and tranquillity and its location along the river, next to the Greenway makes it an excellent option for those wishing to have an active stay in the region.
Useful Info
The property is located in Newport, which has a good supermarket, plenty of pubs and some nice good places to eat, like the Grainne Mhaol. This pub/restaurant also has frequent live music.
Newport is located between Westport and Mulranny, making it idea for cycling the Greenway.
Newport is well-known for its fishing, the Black Oak river known for its salmon and trout. Clew Bay Charters also run deep-sea fishing trips in the summer months.
Guests say:
"Stayed in the stable, it was very cosy, and had everything that you needed. Erica so welcoming and helpful. Will definitely be back"
Prices are at around 100 Euros during the week and the caravan sleeps 2 persons.
Belmullet Coast Guard Station Pods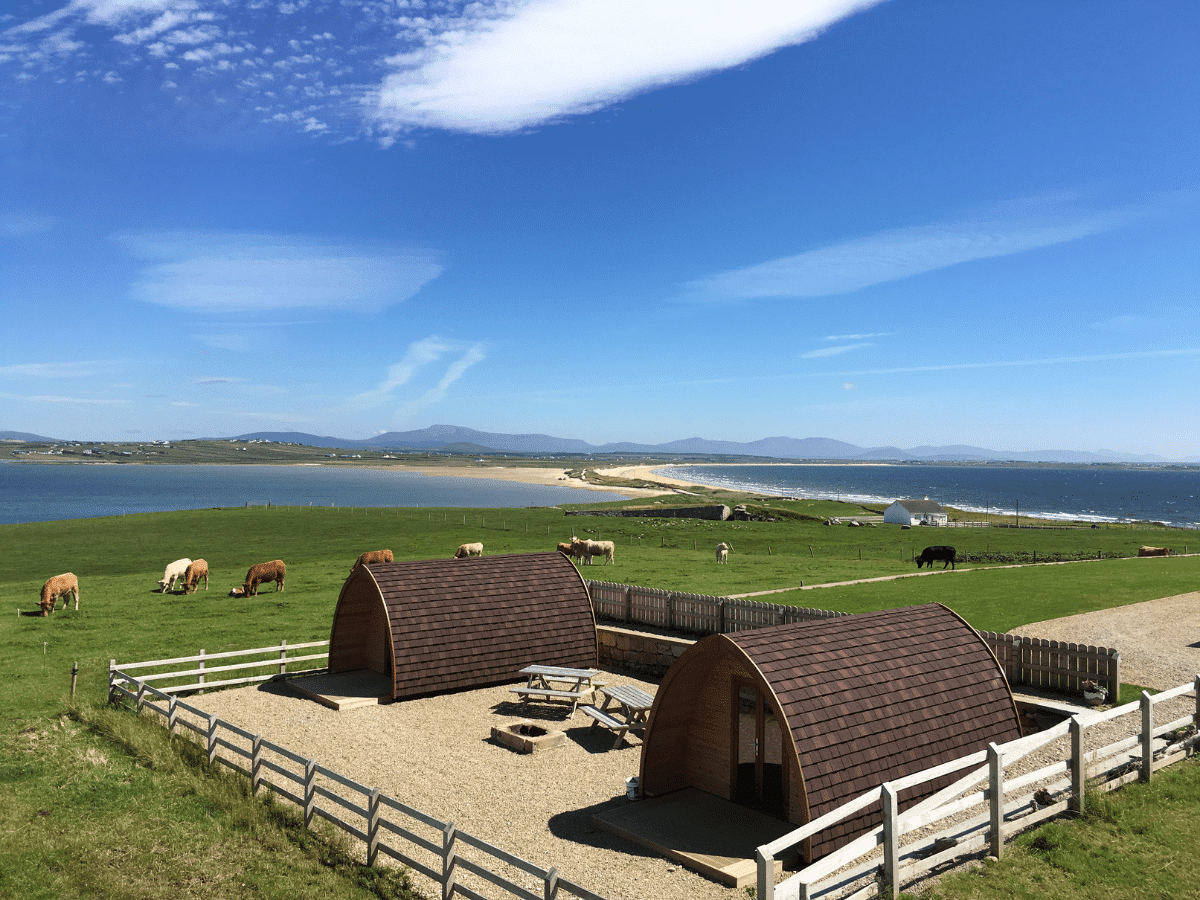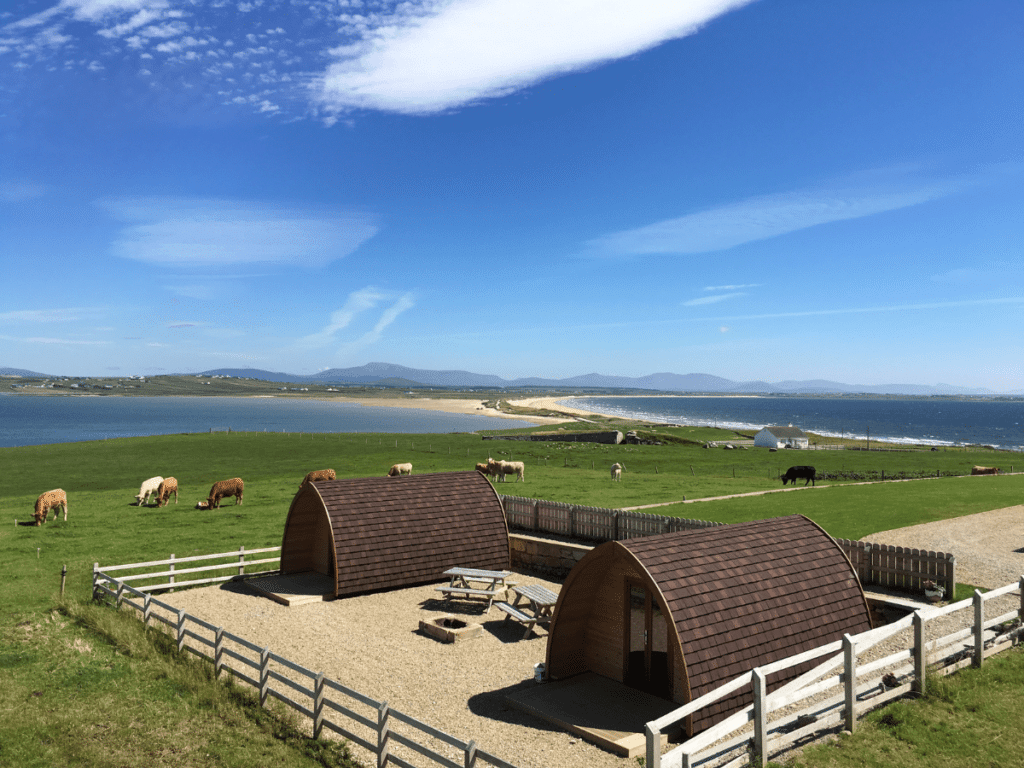 Located on Cleggan Island next to one of Mayo's most unique beaches, what once was a coast guard station is now luxury accommodation. There are different options available on site here.
The first is the converted station, which offers luxury self catering and the other option is the 2 glamping pods. Here, you'll find all you need, from comfy beds to ensuite bathroom. Cooking facilities are also available in the converted barn.
There's also a substantial outdoor area, which offer truly spectacular views out over Cleggan strand, the Atlantic and Achill island.
Useful Info
The drive out to Cleggan island is a real experience, as the one road follows a sandspit.
The nearest town is Belmullet, 20 minutes away, so make sure you do your shopping beforehand!
Cleggan island, altough small, has some beautiful farmland and seeing the cows out grazing along the Atlantic is a unique experience!
More details here
The Studio in the Countryside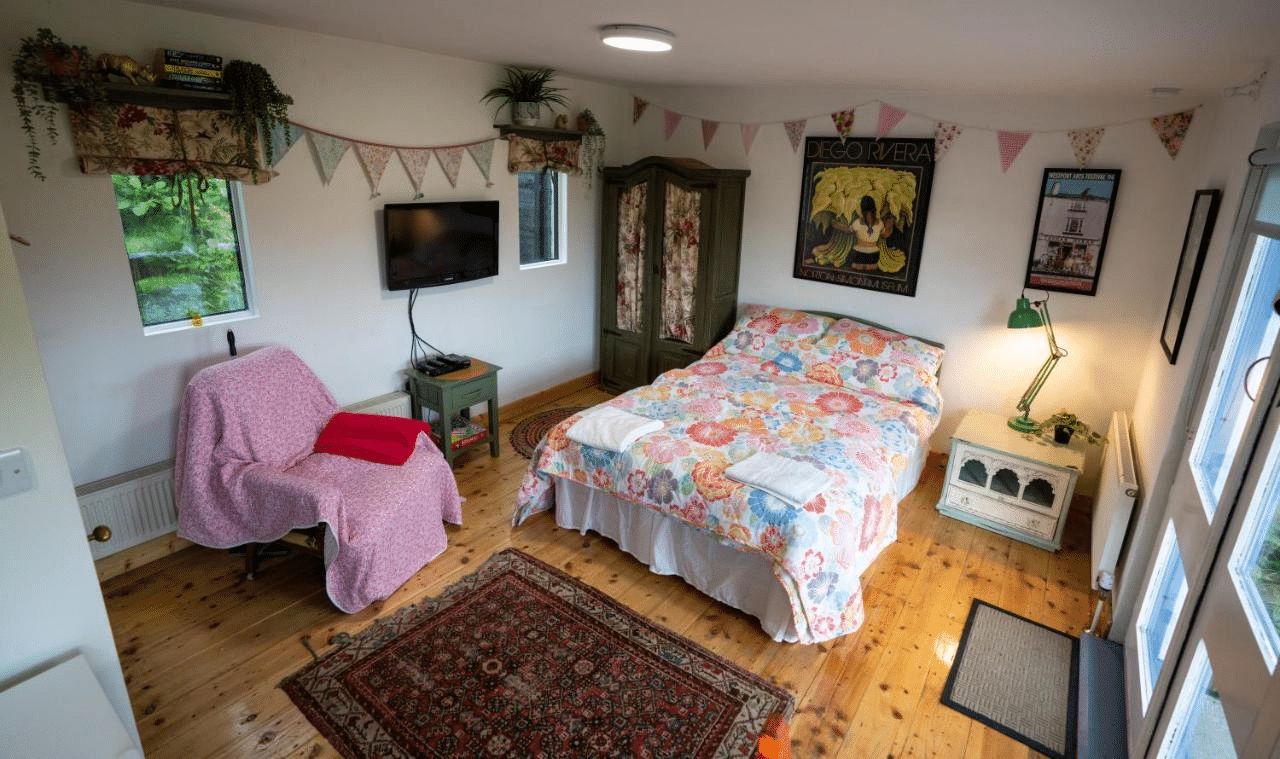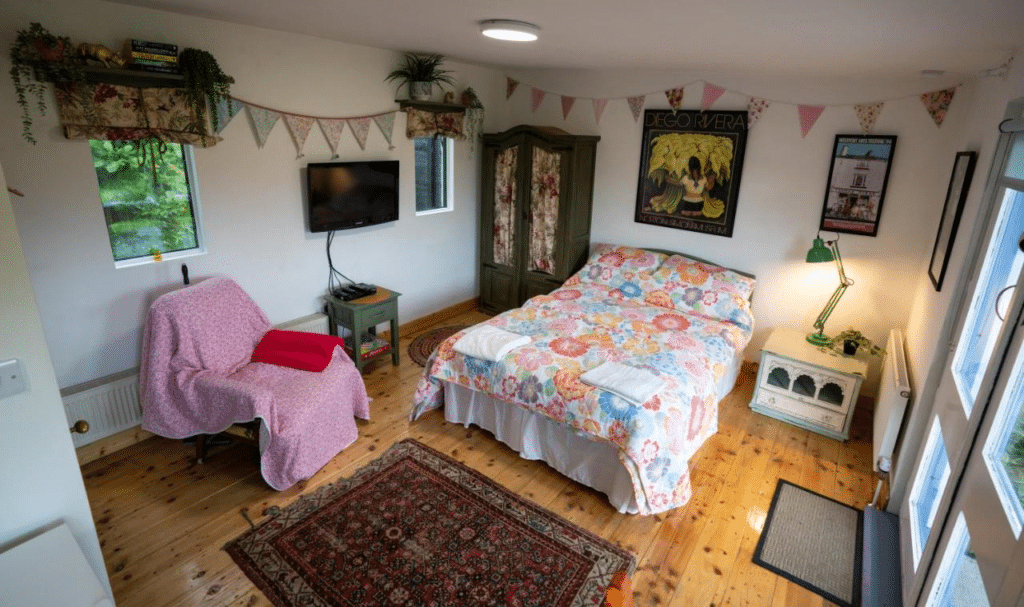 To finish up, one last unique property, located 10 minutes from the town of Westport. The Studio in the Countryside may not be your classic glamping pod-type place, but it sure is different.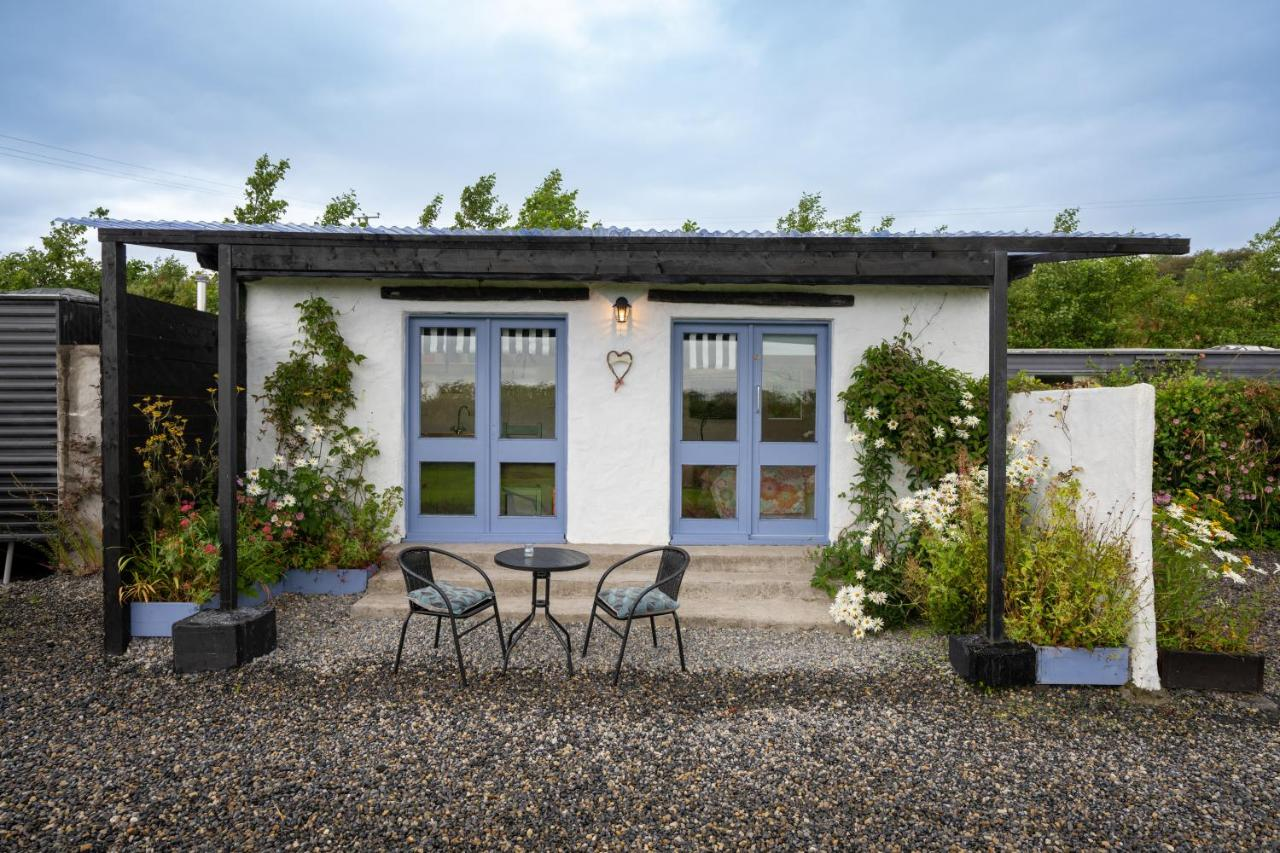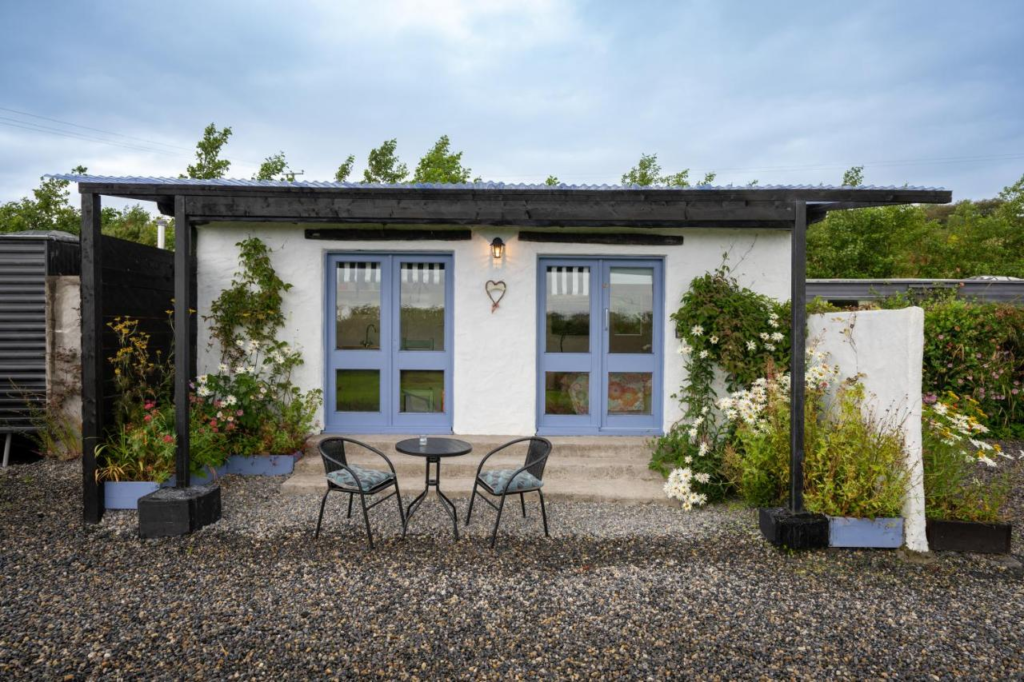 Located in the middle of the countryside, this studio has pretty much every comfort you would ever want, from an ensuite bathroom to a super-comfy bed and armchair.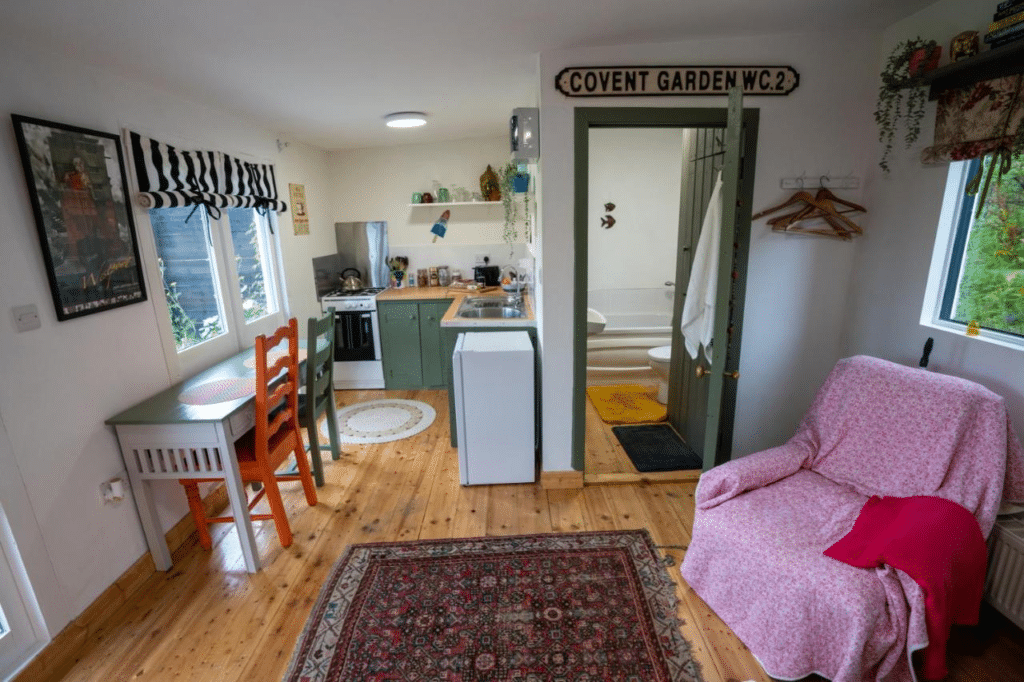 There's also a kitchenette, as well as a relaxing outdoor patio area. It's a minimum 2 night stay, with a very reasonable price of 100 Euros per night. The studio sleeps 2 and is ideal for a quirky couple getaway, while being within a few minutes of Westport and all the Clew Bay area has to offer
Final Thoughts
You'll notice that these properties have higher reviews than most other forms of accommodation within the area, and with some hotels becoming unaffordable in the summer months, my personal opinion is that glamping is an excellent alternative.
All of the regions these sites are located in offer so much for an amazing experience. Have you stayed in any of these places before? If so, let us now how you got on!