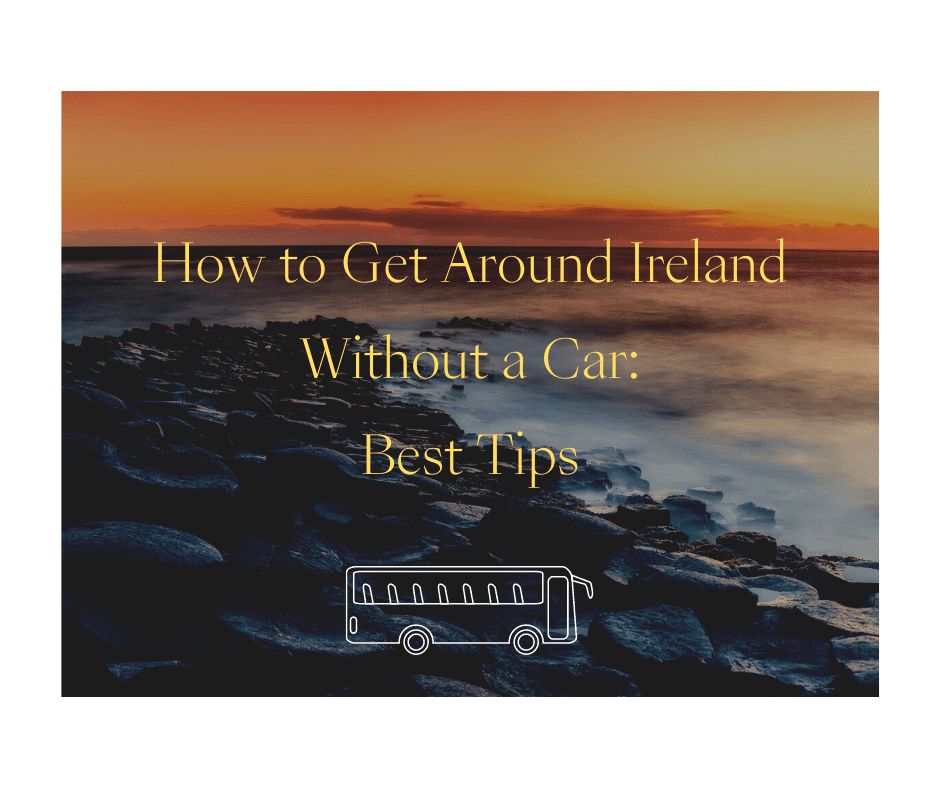 Many visitors to Ireland unfortunately won't have the option of renting a car, because of the extortionate prices in the Republic. Also, for various other reasons, visitors may simply choose not to rent one. But, is it possible to travel around Ireland without a car? Yes, absolutely!
And this detailed post will show you exactly how you can have a fulfilling holiday in Ireland without a car.
But first of all, let's look at some advantages and disadvantages of renting a car in Ireland:
| | |
| --- | --- |
| Advantages of Car Rental | Disadvantages of Car Rental |
| Complete freedom to go wherever you want, you are not tied to any schedule or route. | To rent in the Republic is very expensive and the price of diesel and petrol is over €2 per litre in 2022. |
| Some sights are only reachable by car (for example some remote hiking locations/beaches) | Can be confusing with issues like insurance, hidden costs, age requirements etc. |
| If you want to avoid the more crowded roads, attractions, having a car enables this. | Can be tiring to drive on Irish roads if not used to narrow lanes, driving on the left. |
| It's the easiest option when travelling with young kids. | Will have to pay for parking in towns, cities and also major attractions (e.g. Cliffs of Moher) as well as tolls on motorways) and these costs will add up. |
If you feel renting is the only option, I have looked at this and come up with some genuine solutions to counteract the high prices. Click here to see how you can save a fortune on car rental.
If you have decided against it, no car should not mean no fun! Here I am going to look at some ways where you can get from A to B without a car hassle-free and still take in a great deal of attractions in Ireland.
How to get around Ireland without a car
Plan carefully in advance
Bus
Train/LUAS
Tour bus
Day Trips
Cycle
Walk
Use certain cities/towns as a base to explore
If renting a car, rent for a short timeframe
Combine all forms of transport
Plan Carefully in Advance
Decide on which towns and their corresponding surrounding areas you would like to visit and find out if these places are easily reachable by public transport. Choose your 'bases' smartly. Many of these will offer day trips to various sights in the locality (for example: Galway-Cliffs of Moher, Galway-Aran Islands)
Many of these day trips are quite busy, so booking in advance is key.
Book accommodation in respective locations.
Familiarise yourself with the main modes of public transport within the island and book online in advance. Certain transport operators such as Irish Rail work out cheaper if you book in advance.
If there are any money-saving cards (for example Dublin's Leap Card) purchase in advance, so you're good to go exploring the minute you arrive.
Bus
Bus Eireann/Expressway

One of the best options to get around Ireland without a car is by bus.
The main bus operator in Ireland is Bus Eireann. It is a state-owned company and services the whole of Ireland and Northern Ireland (in association with Ulsterbus) Its logo is easily recognisable with the Irish Red Setter.
A subsidiary of Bus Eireann, Expressway, offers services between the major cities and airports of Ireland. Bus Eireann's central station is located at Bus Aras, North Dock, Dublin (coordinates: 53.3499° N, 6.2520° W)
Bus Eireann has an extensive network of routes throughout Ireland, more so than the train network, and are generally speaking, cheaper.
Booking/Planning
The go-to website for checking timetables, planning your journey and booking tickets is www.buseireann.ie. It is also generally possible to pay in cash on the bus.
Although booking online is slightly cheaper, it can take away some of the flexibilty you may have. For example, you may visit a town that you would like to spend a few hours longer in, but your ticket only allows you to travel back at a certain time. Generally speaking, the buses in the more rural areas will always have free seats, so paying on board is the way to go.
Important: While Bus Eireann buses does not accept card payments, Expressway on the other hand accepts contactless debit and credit payment.
Currently, as of June 2022, Expressway is offering huge reductions in their services. Check out the savings you can make: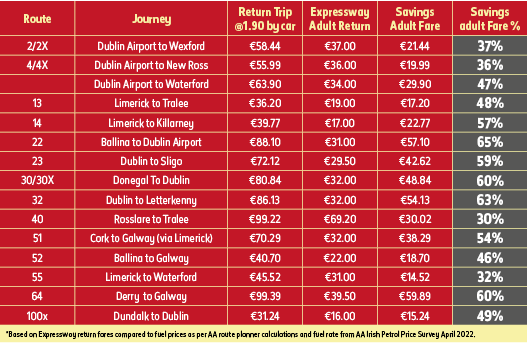 Citylink/Gobus
Citylink is also a provider of coach services between Galway to Dublin, Galway to Dublin & Dublin Airport, Galway to Cork, Galway to Limerick, Limerick to Dublin Airport. A single ticket will cost from Galway to Dublin Airport (express) €18 . Check out citylink.ie for timetables and bookings.
The exact same price applies to Gobus – €18 (gobus.ie)
Getting around Dublin without a car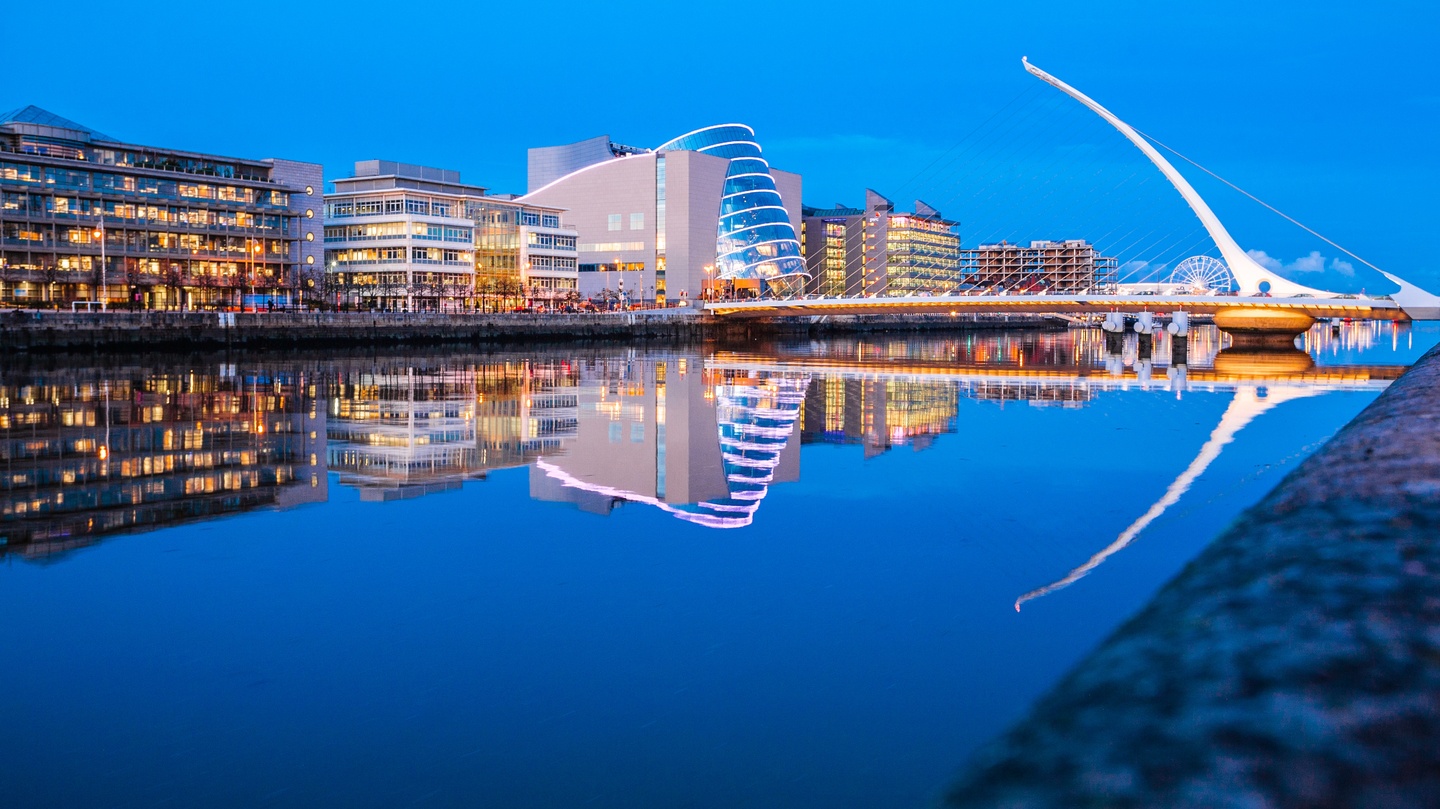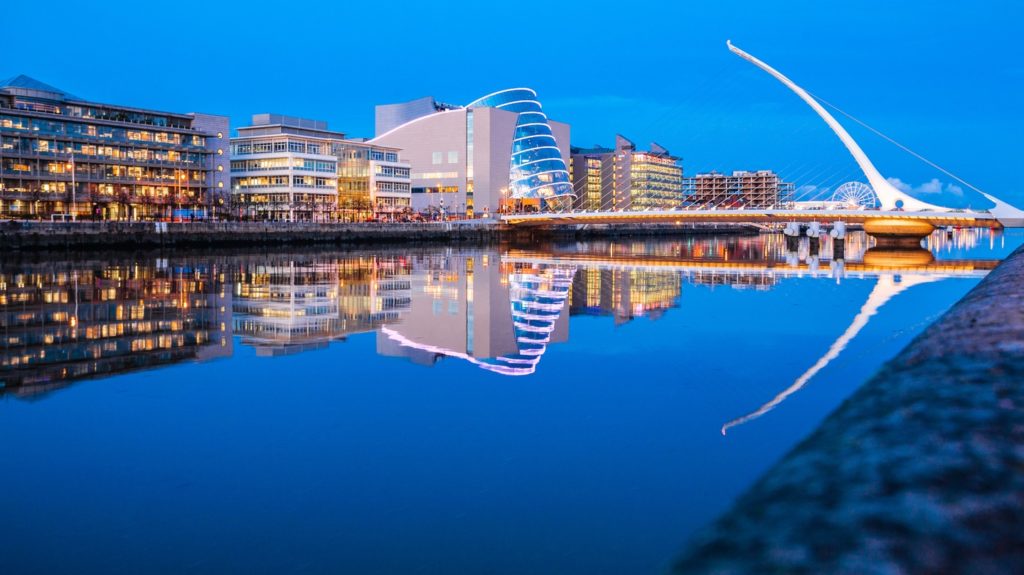 First of all, everywhere in Dublin is serviced by a bus. There are over 4000 stops and buses are extremely frequent. Dublin does not possess an underground train but does have a tram network, which is called the Luas (which means 'speed' in Irish).
This is divided into 2 lines, namely the red and green. The DART (Dublin Area Rapid Transit) caters for the coastal towns and villages and provides a very practical and scenic way to visit some wonderful coastal villages such as Howth, Killiney, Greystones and Bray, which are synonymous with great coastal hikes. Click here to download the map onto your device. Will come in handy to get your bearings when out and about.
Leap Card
What is it?
A Leap Card is a prepaid travel card you can use on public transport around Ireland. It is valid on buses, trains, DARTs and Luas trams in and around Dublin, Cork, Galway, Limerick, Waterford, Sligo, Athlone, Kilkenny and Wexford city and town services throughout Ireland. You can save up to 31% on the price of a single ticket.
How much does it cost?
It depends on how long you are planning to stay, you can choose from a number of options and find one that best suits your visit. This card runs on a credit basis and each journey will result in credit being deducted.
If you have an NFC-enabled phone, you can check your balance with the Leap Top-up App. Just tap the card against your phone. You can top-up via the app or at a vending machine.
1 day (24 hours) – €8.00
3 days (72 hours) – €16.00
7 days (168 hours) – €32.00
Where can I buy it?
You can buy it online here.
Note: This will be delivered to your home address, so this will take a few weeks if you live outside of Ireland!
You can also buy it in Dublin Airport at Spar (T2 Arrivals) or WHSmith (T1 Arrivals)
You can also buy it in Dublin City Centre at Dublin Bus, 59 Upper O'Connell St.
Dublin Bus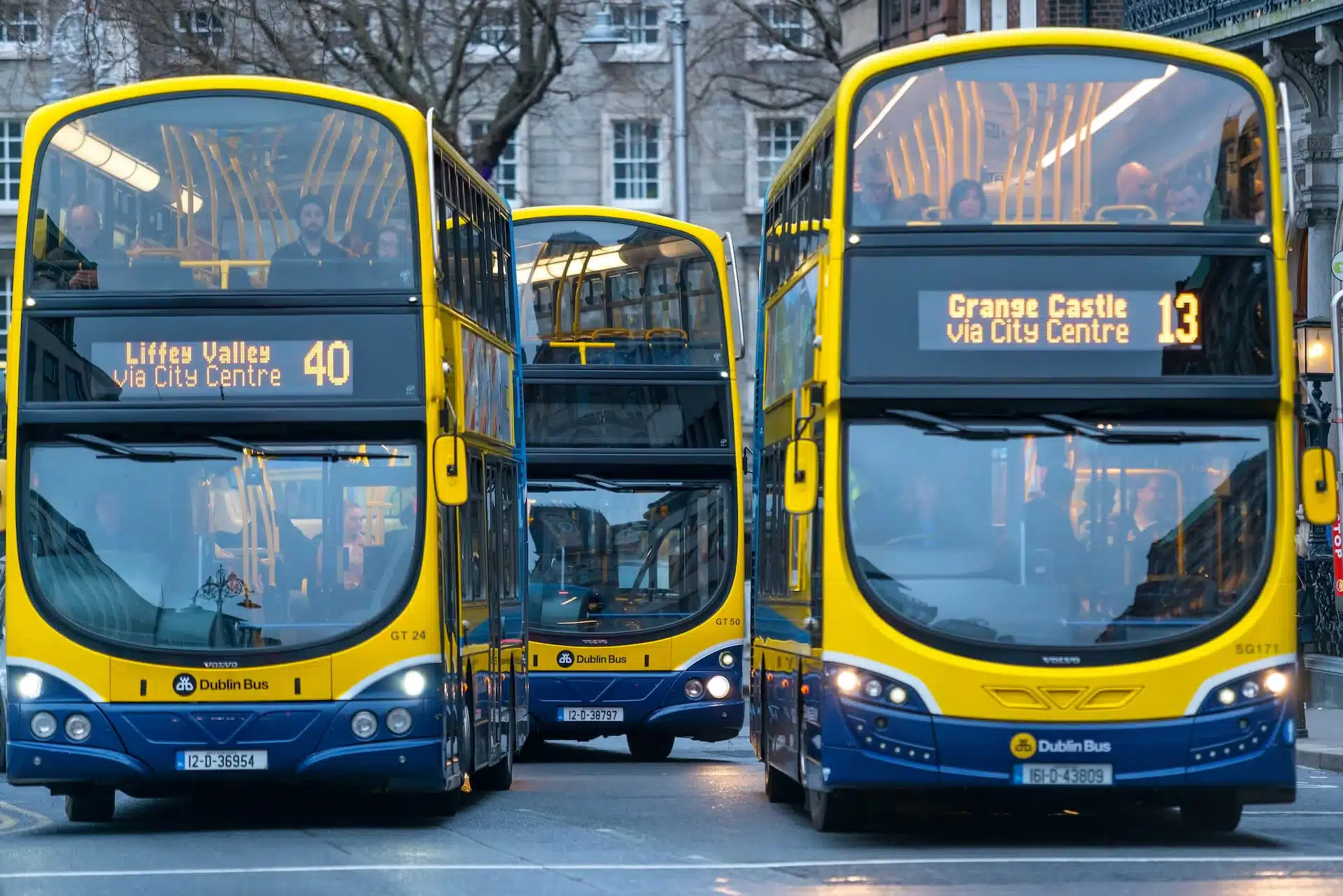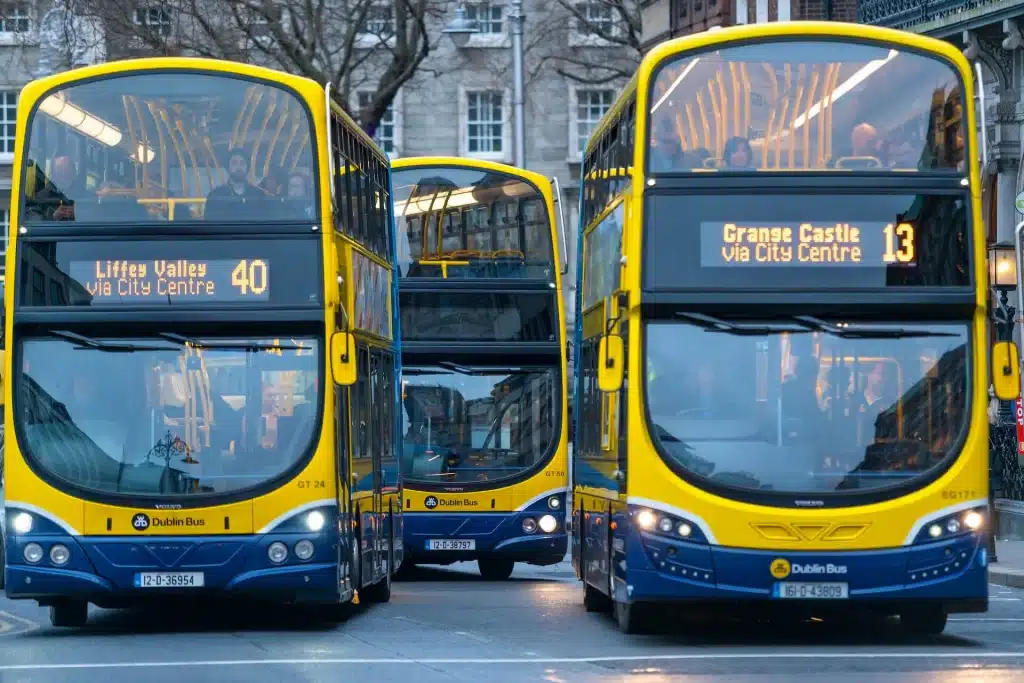 Dublin Bus serves the whole city and also stretches its services to the suburbs, therefore having a very comprehensive network. Normal services run from 5.00am until midnight.
The Nitelink service operates from midnight until 4.00am on Friday and Saturday nights. The vast majority of buses are double-decker, which the kids (and adults) will love!
Tip: Sit on the front seat upstairs for the ultimate widescreen experience!
Booking/Planning
The fare you pay depends on the length of your journey and there is a city centre fare.
Paying with cash: An exact fare system is operated by Dublin Bus and only coins (not notes) are accepted. No change is given.
Prepaid tickets: You can also pay your fare with a prepaid ticket. Magnetic prepaid tickets must be inserted into the bus validator when boarding. Prepaid smartcard tickets must be validated by holding the smartcard on the reader target for at least a second or until a light appears.
The best way to go about planning your route is by going straight to this link.
In order to book your tickets online, book here.
You can save up to 30% on your bus fair if you have purchased the Leap Card.
Luas
What is it?
As already mentioned the Luas is the tram network in Dublin and runs on 2 lines: green and red. The green line runs from Brides Glen to Broombridge via the City centre.
The red line runs from Tallaght to The Point and from Saggart to Connolly train station. Click here to keep up to date regarding schedules, stops etc.
Good to know: The Red line and Green line are not linked. Passengers should change at Abbey Street and then cross O'Connell Bridge, then Westmoreland Street, College Green (Trinity College), Grafton Street to reach St Stephens Green.
How much does it cost?
Tickets must be bought before travel, unless you have a prepaid travel card such as the Leap card. Machines are located at every stop. Make sure you touch-on at the start of every journey and tap-off at the end. An invalid ticket will result in a €100 fine, which is a nasty enough dent in the wallet.
The price depends on how many zones you cross on your journey. For example a standard single ticket starts off at €1.25 for 1 zone and goes up to €2.35 for 5 zones. There is a surcharge for use at peak times. Have a look here for the finer details.
Conclusion
Buy a Leap card if you feel you will use it enough and combine all modes of transport to get you to your desired location. As you can see, you will save significantly if you opt to travel by bus, Luas and the LEAP card is an absolute must-have, especially in Dublin.
Some of the savings to be made in comparison to renting a car are enormous. You are now about to see that combining the bus with the train is a very viable way of getting around the rest of the country without a car.
Avoid this mistake: Some make the mistake of renting a car straight away in Dublin Airport and spending 2 nights in Dublin. Then it suddenly dawns on them there was no need whatsover to do so. Dublin is well-connected and there are also car rental offices in the city centre, should you decide to travel down the country by car.
Train
Iarnród Éireann – Irish Rail
Another great option of getting around Ireland without a car is by train.
Iarnród Éireann is the national rail operator in Ireland. Its main stations are located in Heuston and Connolly Stations in Dublin City.
Here is an illustration of the routes Irish rail covers:
As you can see, the main cities and towns are linked, but no airports. It is also handy to know that Rosslare Harbour and Dun Laoghaire Harbour are linked by train.
The train network is clearly not as extensive as the bus network, but as a means of getting from A to B, it is faster and offers more comfort.
The DART (Dublin Area Rapid Transit) and Commuter trains are also operated by Irish Rail
Booking/Planning
It is highly recommended to book ticket in advance as it is cheaper and you are guaranteed a seat. Early morning and early evening trains can get busy and you may end up standing for the duration of your trip.
Go directly to this link to get the best rates: https://journeyplanner.irishrail.ie/webapp/
A quick scan has shows that a one way ticket from Galway to Dublin Heuston is current €15.99, which is fantastic value. Remember, this is the online rate.
Bicycles:
Bicycles are allowed on Intercity trains, but restrictions may apply during peak travel times. You must book bicycle spaces for Intercity services in advance online.
Fold-up bikes are allowed on all services free of charge.
Conclusion
Train is certainly a viable option and many tourism hubs such as Westport and Killarney are accessible by train. Booking online is absolutely essential and currently some great deals can be found. Going by train allows you to travel more comfortably and you are not impacted by issues such as heavy trafiic, or other hold-ups on the road.. It is also an eco-friendly way to travel, which for many is a deal-breaker of late.
What I think: Trains are a great way to get from one major town/city to another, but don't rule out some operators like Citybus or Expressway, which travel on the recently-built motorways which join all the cities of Ireland. To access the more rural locations of Ireland, Bus Eireann is the way to go.
Day Trips
If you would like to see the many beautiful landscapes of Ireland without a car, there are some brilliant tours on offer.
There are a number of companies who run bus tours around Ireland. As mentioned earlier, it is wise to choose your 'bases' properly. This will give you the best chance of availing of some great day trips and bus tours which are on offer in many of the main tourist hubs of Ireland. Here I am going to focus on Dublin and Galway.
Dublin
Some important info!
Although this is not a day drip out of Dublin per se, allow me to give you some vital info. The one tour that is an absolute must on this list is the 'Book of Kells'. You must book this ticket in advance, there is no chance of just showing up and being able to view. This is one of the most popular tours in all of Ireland. It is located in Trinity College in the city centre, and includes one of the most breathtaking pieces of literature known to exist. It was crafted by monks in the year 800 AD and contains the 4 Gospels in spectacular illustrated form. Every day a new page is turned.
For many, the tour of the Long Room, which is included in the ticket price will be a must-see, not just because it was filmed in Harry Potter, but for the majesty of the structure and design of the interior. The oldest harp in Ireland is also on display in the Long Room. Here you will see a list of daytrips available from Dublin, with the Book of Kells included.
[tp_widget][/tp_widget]
What day trips make sense from Dublin?
It depends on if you are only staying in Dublin or you have plans to stay in a different base such as Galway, for example. If you plan to stay in Galway, then avail of the many tours on offer from this location, which will all be within a far closer distance than Dublin. The same goes for the other tours such as The Giant's Causeway.
If you are only going to be based in Dublin, there are a whole host of trips you can avail of, many of which are listed below. Note the Cliffs of Moher and Giant's Causeway trip are incredibly highly rated…
What would I do?
If I was staying 2 nights in Dublin, I would use all the public transport available to me within the city, and make full use of my Leap card. A great short trip would be the DART to Howth in the morning, where I would do the wonderful cliff walk, have lunch afterwards and then get the train back into the city for some more sightseeing, such as visiting the Book of Kells or the Guinness Storehouse.
If I was staying in Dublin longer, I would venture to an incredible Irish landscape such as the Cliffs of Moher or Giant's Causeway.
Galway
Galway is potentially the best city to use as a base for so many wonderful daytrips which are within a relatively short distance of the city. The city itself comes alive in the evening with Irish music flowing out onto the streets from the countless pubs. The waft of freshly cooked seafood, amongst a whole variety of international cuisines, will certainly get your appetite going after a long day out on the islands or the cliffs you may have visited earlier in the day.
As already mentioned, Galway is easily accessible from Dublin by train.
Don't forget: I highly recommend booking any day trips from Galway in advance, especially for the summer months.
Must-sees from Galway
Should you plan to spend multiple days in Galway (which I highly recommend) the absolute must see regions are:
Connemara
Aran Islands
Cliffs of Moher
Just writing those three locations conjure up some incredible images and evoke some great memories of having visited these locations on numerous occasions. It's impossible to have a preference, but the two tours which stick out for me are: The Cliffs of Moher and Aran Islands and secondly Connemara with Kylemore Abbey. These are for me the most spectacular, varied and culturally rich.
Inisheer: This is the smallest of the Aran Islands and a real gem, with its patchwork stone-walled fields to its magnificent hilltop castles. Throw in a white-sand beach with turquoise waters and an enormous shipwreck for good measure. A real step back in time, where the locals still converse in their native Gaelic tongue and life seems to be at a snail's pace.
Then, there's the Cliffs of Moher. The iconic coastal image of Ireland and just needs to be seen to be believed.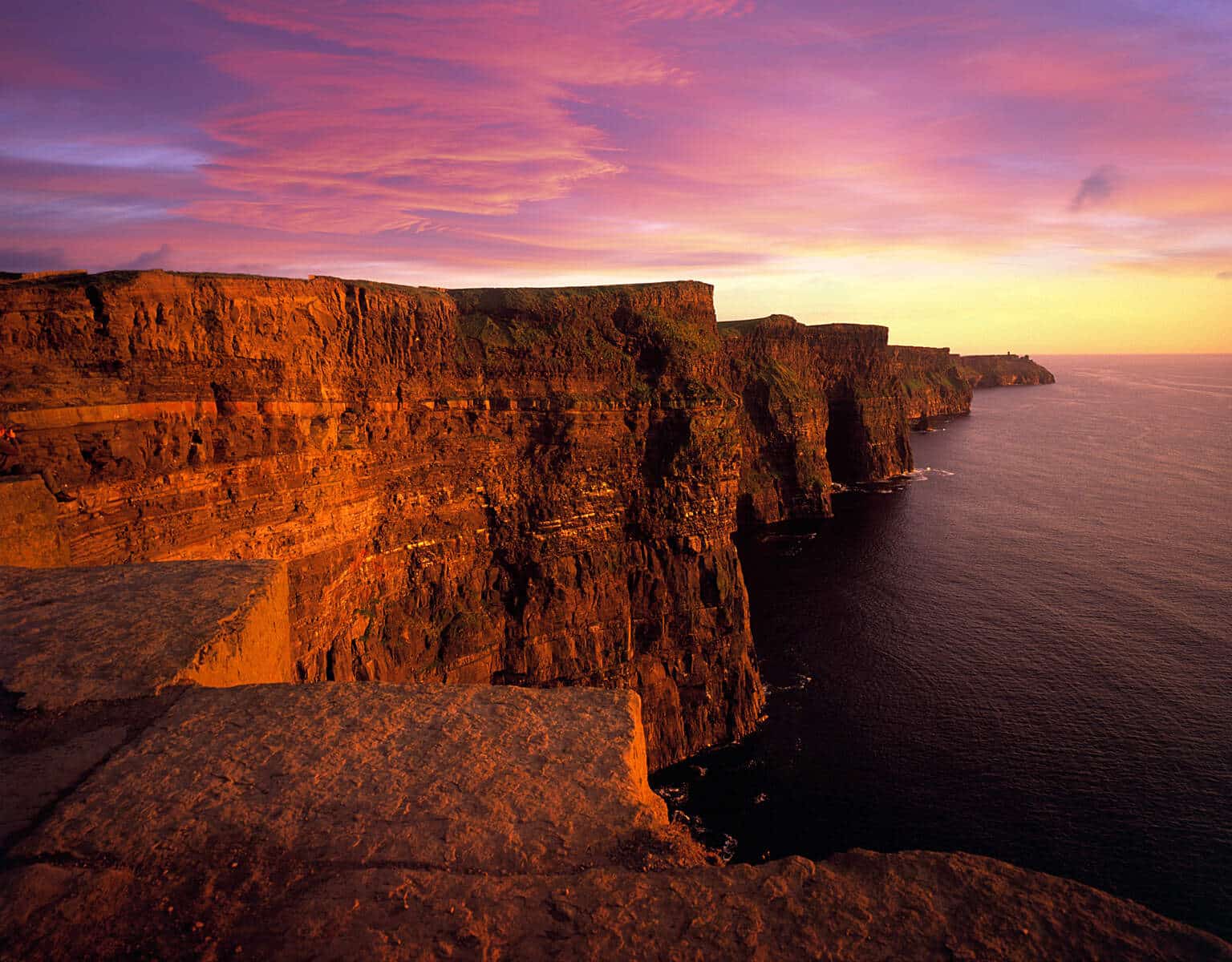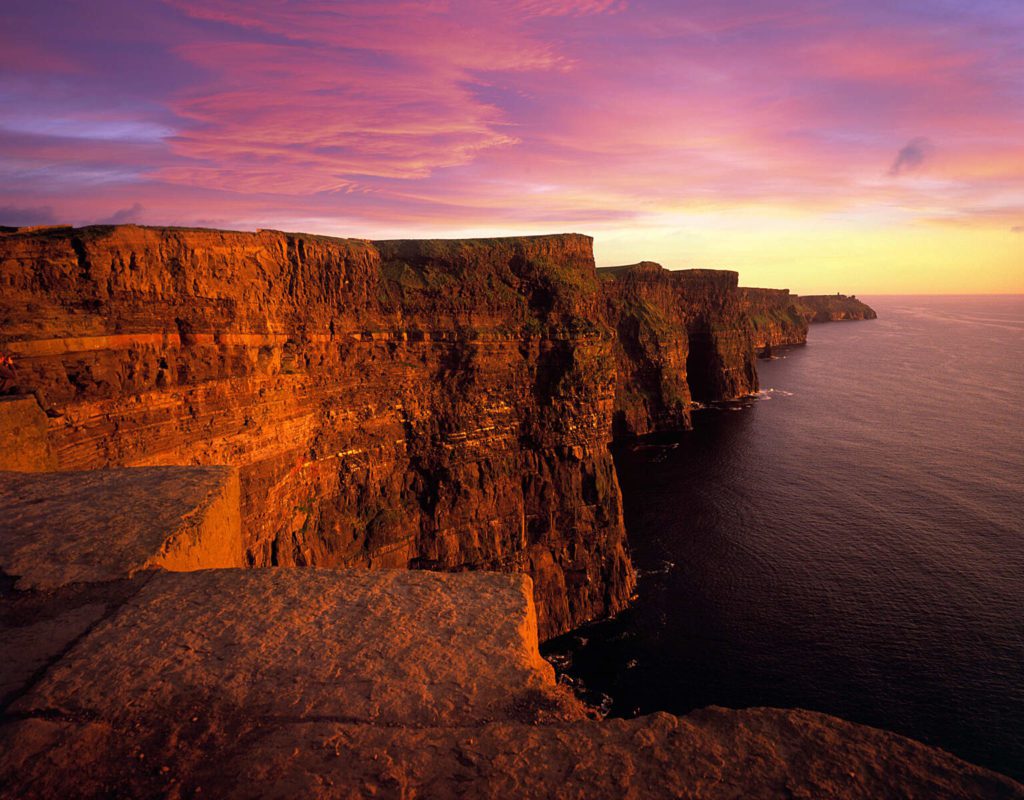 Connemara is the definition of wildly romantic. Its vastness is what draws countless tourists year after year. The sheer variety of its landscapes will leave you awe-struck, from its coral beaches, the hundreds of lakes and the magnificent mountain ranges to the small meandering streams and rivers that cut through the barren valleys, its one of my favourite places in all of Ireland or anywhere for that matter.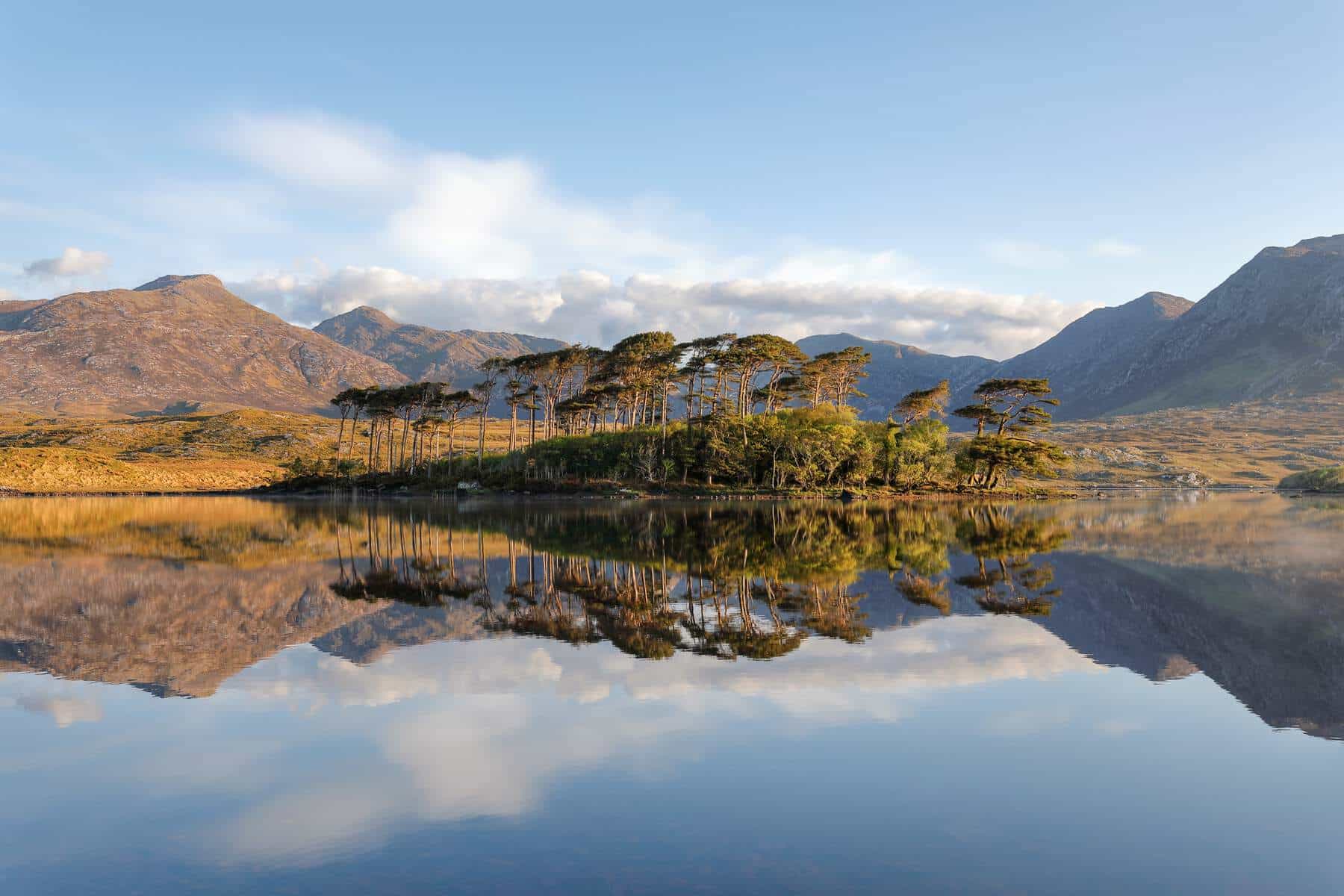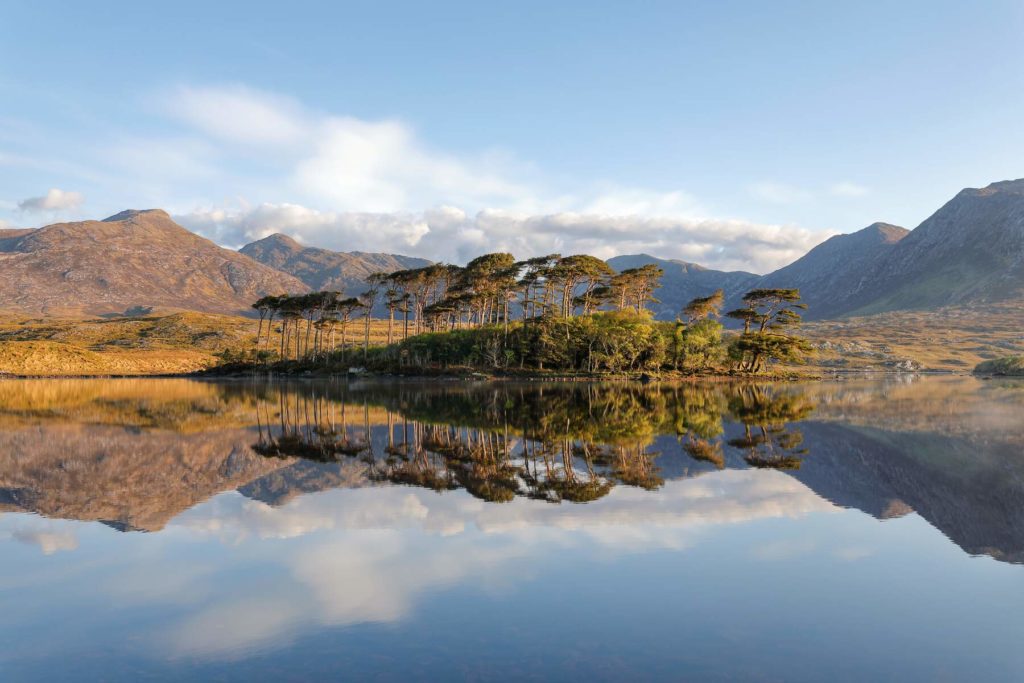 The Connemara daytrip will take in the wonderful Kylemore Abbey, a beautiful Benedictine Abbey founded over 100 years ago, set in a magnificent location on the shores of Kylemore Lake and guarded by green tree-covered hills.
What would I do?
I would do the Conemara trip with Kylemore Abbey and also the Cliffs of Moher/Aran Island trip.
The Cliffs of Moher/Aran Islands trip is a long day, with many, many impressions, countless photo opportunities and quite a lot of travelling. Be well rested for this one and look at it as a potential highlight of your trip.
There are a great selection of trips to choose from, have a look below. Should you go ahead and book one, make sure you are booking a trip from Galway.
Other possibilities of getting around Ireland without a car
Walk
Dublin is a great city for walking. It's flat and the city centre in particular is definitely doable by foot.
The same can be said for all other cities and towns in Ireland, Galway has a particularly small city centre, which you can see within a half an hour or so.
There are also a number of long range designated walking ways such as:
The Kerry Way. Distance: 215km
The Burren Way. Distance: 114km
The Ulster Way. Distance: 1,000km
In order to access some of these walking routes, you would have to plan in advance and utilize means of public transport such as Bus Eireann to get to these more remote locations.
Cycle
Although Ireland is not yet up to the standards of some mainland European countires in terms of bike lanes and cycling infrastructure, there are some wonderful cycling locations. The 2 main designated cycling lanes which come to mind are the Greenways in Mayo and Waterford.
The Greenway in Mayo starts at the town of Westport, which as we know, is accessible by train from Dublin. This particular route is 44 km long and passes through some of the most spectacular scenery along the west coast of Ireland.
It's possible to rent bikes in Westport, so the train/bike combo is certainly a very viable option if choosing not to rent a car. If there are any issues along the way, there is a shuttle service that will make sure you won't get stranded! Check out the below link to bike rental in Westport, or indeed any other activities on offer locally.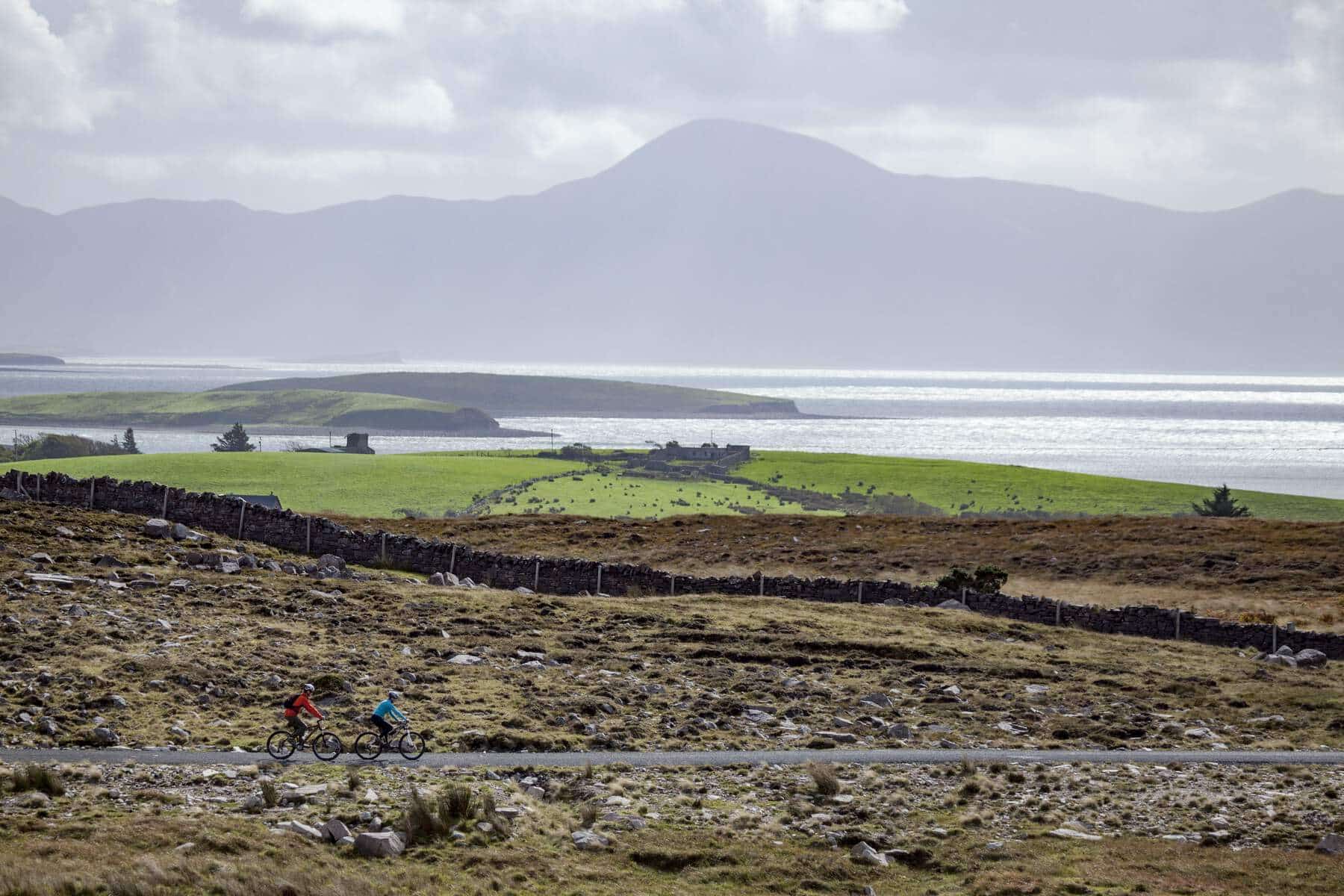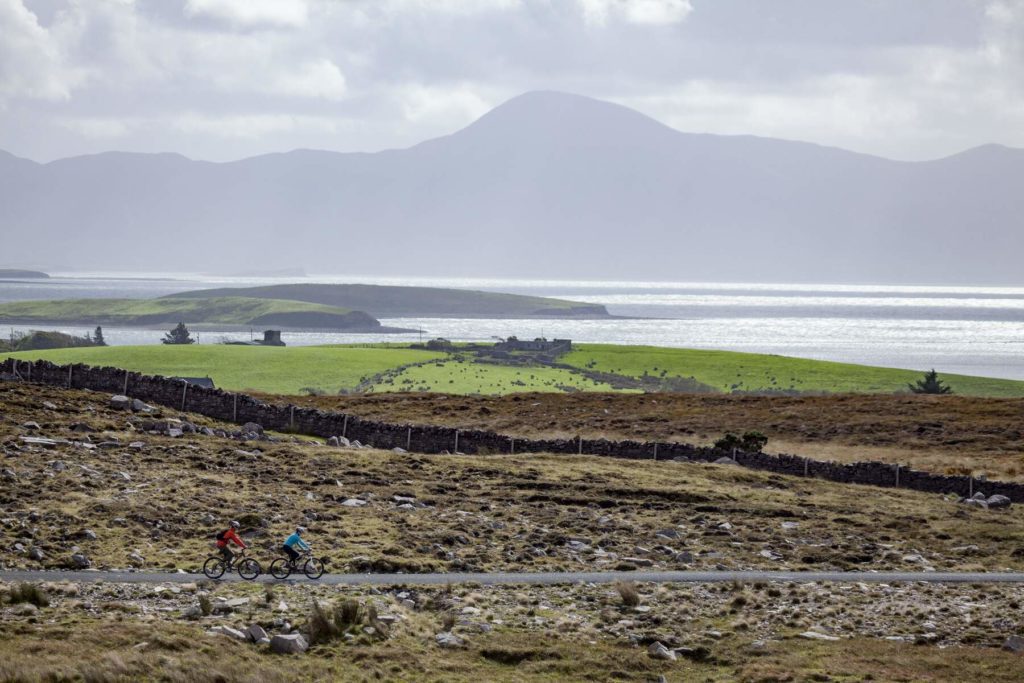 Once you get into the more rural parts of Ireland, the roads can be very quiet and make for some great cycling. Many regions of Galway, Donegal, Mayo, Kerry and Cork offer some good challenging climbs too, and if you are inclined towards more undulating cycling conditions, there are plenty of routes on offer.
Overall Conclusion
So, there's a sample of the alternatives to renting a car. The overall goal of this post was to give you an idea of the possibilities which exist if you decide to do Ireland without a car.
As regards the other bases, such as Killarney, Cork and Belfast, a blog post will be dedicated to each of these, as well as a more detailed one for Galway and Dublin, so stay tuned!
I firmly believe you can have a fulfilling holiday in Ireland without a car by planning carefully in advance and knowing exactly what you would like to see and experience. You will have to combine various forms of transport but I think it's very clear that this is absolutely doable! And if you are unsure about where to go, just remember: Your feet will bring you where your heart is.
I'd love to hear if you have any comments of tips which could help fellow travellers out!