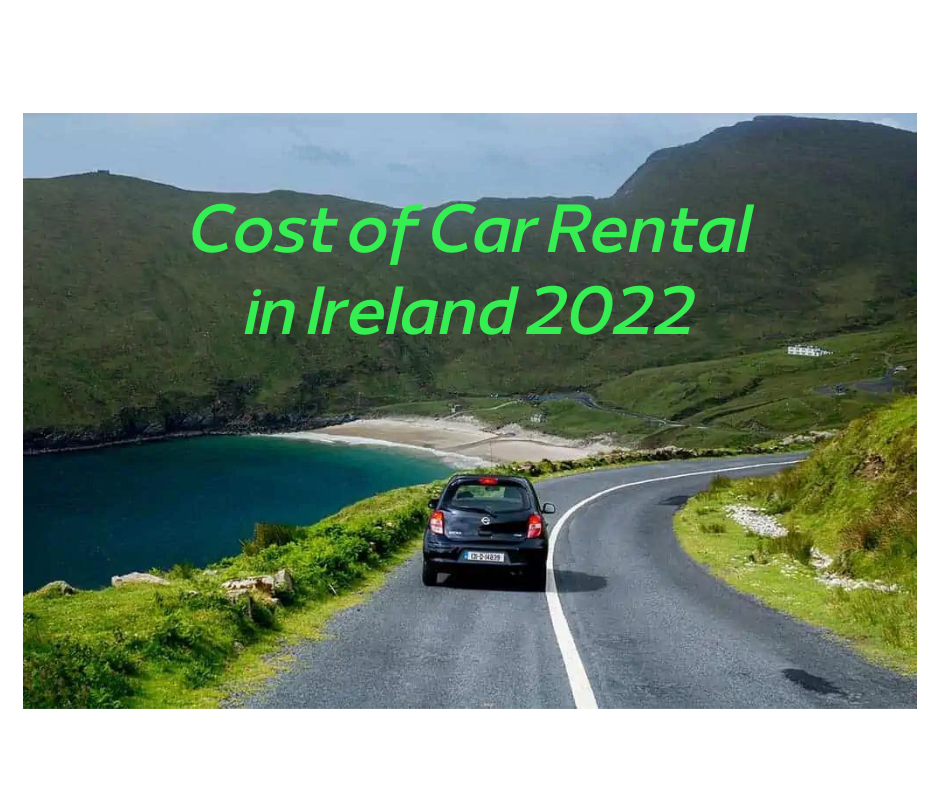 Has driving through the lush, green landscapes of Ireland always been your dream? Have you always wondered what it's like to experience driving along the Atlantic coastline with the only traffic being the local sheep who seem to own the roads?
Maybe you've already looked into renting and have noticed that the prices in Ireland are extremely high. Let me tell give you some pointers on how you could save a lot on your car rental.
Is Car Rental Expensive in Ireland in 2022?
The short answer is yes. The long answer is: Car rental is especially expensive in Ireland this year.
Currently, you will have noticed that we live in times of severe inflation, which has a large effect on everyone and everything including car rental prices. Ireland seems to be one of the countries with the most elevated rental car prices as of summer 2022. Is there a way around this? Yes! Here I'm going to outline some things to ponder when thinking about renting a car. I'm also going to finish this piece with advice which will save you hundreds and possibly thousands on your car rental!
Weighing up the Options
I would like to start off by saying that I personally prefer to explore Ireland by car, but I am in a fortunate position of having access to one! Ireland is just begging to be explored and having the freedom of a car enables this. But living in times of inflated prices calls for a little thinking outside of the box and sacrifices have to be made here and there.
With some careful planning ahead it is certainly possible to enjoy a fulfilling and exciting holiday to Ireland. Ireland has been welcoming tourists for many years, so in most places, a great infrastructure geared towards tourists is already in place, which brings me to the point that it's not absolutely necessary to rent a car.
There are in fact many advantages to not renting. For example you will not have the worry of driving on the left side of the road or feeling insecure on the many narrow and windy roads around Ireland. Also, you won't have a mini heart attack every time you have to refill your petrol or diesel. Throw in not having to drive at all while on holidays, for some of you commuters out there, this could be a godsend.
OK, but if I want to rent, where can I hire a car in Ireland?
Here is a list of the many locations where it's possible to rent a car in Ireland. Car rental is possible from all the main airports in Ireland, and also in most of the major towns scattered around Ireland:
Athlone
Cavan
Cork City
Cork Airport
Dublin City : Lombard Street
Dublin Airport
Dublin: Spencer Dock
Dublin South
Dun Laoghaire
Irish Car Rentals/Dublin Airport
Waterford
Shannon Airport
Drogheda
Naas
Navan
Sligo
Kilkenny
Galway
Limerick
Clonmel
Ireland West Airport Knock
Wexford
Belfast City Centre
Belfast Airport
Killarney
Roscommon
Rosslare
Kerry Airport
Letterkenny
Donegal Airport
Mullingar
Limerick – Ennis Road
Click on this link to see the geographical locations of these car rental offices:
https://www.google.com/maps/d/embed?mid=15UoPU3NQAwn5_CDCQahgN7wYCIjJIM6t&ehbc=2E312F
The Shocking Price Difference Between Ireland and Northern Ireland
Now, brace yourself… Let me give you a breakdown of what you will be expecting to pay if you rent in the Republic of Ireland and what the rates are just up the road in Northern Ireland as of July 2022.
I've created a table to demonstrate the bizarre irregularities in price between the 2 countries:
| | | | | |
| --- | --- | --- | --- | --- |
| | Shannon | Dublin Airport | Belfast Air. (drop-off Belfast) | Belfast Air. (drop-off Dub. Air.) |
| 1 Week Car Rental – Ford Focus (16.07-23.07) | €1,451.00 | €1,451.00 | €763.51 | €996.72 |
| 2 Week Car Rental – Ford Focus (16.07-30.07) | €3,049.13 | €3,049.13 | €1,579.10 | €1,829.14 |
Quite sobering, hey?
The car is question is a mere Ford Focus (nothing against them) but my point is that you certainly will need space in the boot for all the luggage you have brought over. This size car would accommodate 2 (very max. 3 passengers) and all their stuff. You know exactly where I am going with this-a bigger car amounts to astronomical prices (and I have not even mentioned insurance and the price of fuel yet)
For one week, there is a saving of a whopping €687.49 on renting a car from Belfast Airport, providing you return to the same location.
And you save an incredible €1470.03 on a 2 week rental!
You still save €454.28 if you decide to drop your car off at Dublin Airport for 1 week and €1219.99 for 2 weeks!
What should I do so?
My Advice:
Rent in Northern Ireland and devise your holiday around visiting this fantastic part of the island. If you are limited to only one week's vacation, I would advise concentrating on just this part of Ireland. If you plan to stay longer, then a whole world of opportunites await. Have a look below for the best rates:
[tp_widget][/tp_widget]
Click here to see my suggested itinerary for one week in the northern part of Ireland.
Insider Tip!
Think outside the box! Are you a couple? Then you can rent a van in the Republic for a fraction of the price. Vans can be rented in various areas of Ireland. Most of the car rental locations listed above offer van rentals too.
If choosing to rent a van, it is important to know that those who hold a standard driver's license are eligible to drive a light or medium sized van. For example: A Citroen Berlingo. In Ireland, this would apply to those holding a Category B driver's license.
Category B- This category involves vehicles other than motorcycles, mopeds, work vehicles or land tractors, whose Maximum Authorised Mass (MAM) does not exceed 3500 kg. It should have the capacity to carry a maximum of eight passengers in addition to the driver.
Urgent Information
Word has recently gotten out about the possibility of renting a van as an alternative to a car, so get onto it quickly!
I hope I have provided some clarity for you in how you can save on your car rental. As the fella says: 'Those who do not think outside the box are easily contained'
Feel free to leave a comment or why not just say hello!