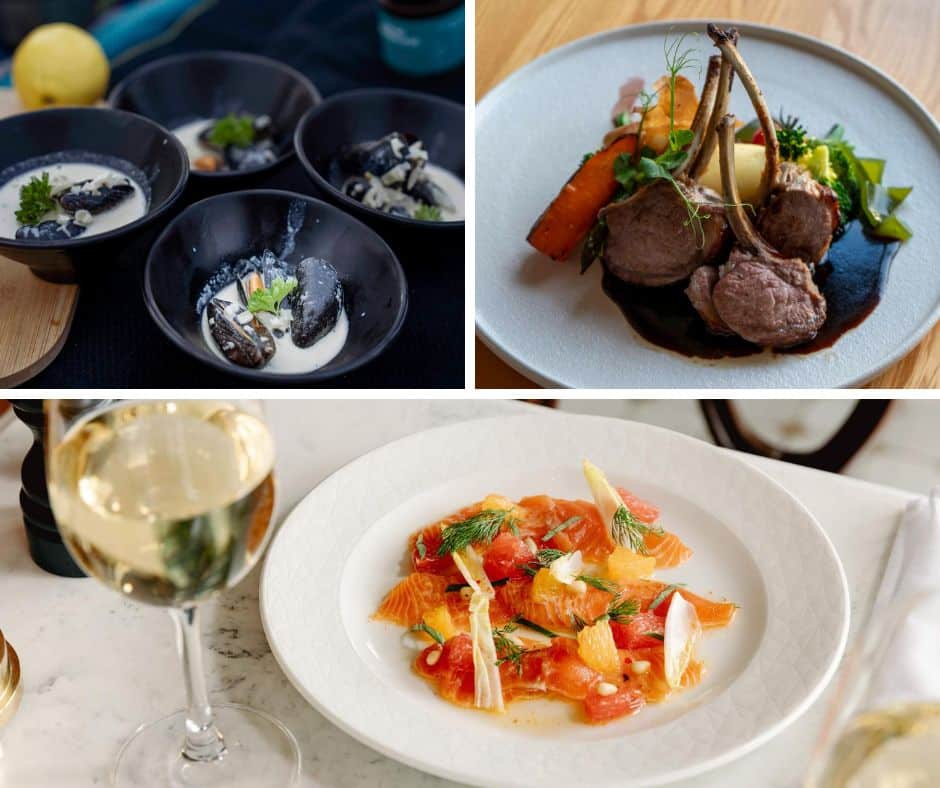 The West of Ireland, with its breathtaking landscapes and rich cultural heritage, is not only a treat for the eyes but also a haven for food enthusiasts.
The region boasts a diverse and flavourful culinary scene, originating from fresh produce from both land and sea. This is evident on the menus of most restaurants, where you'll be treated to a fantastic variety of dishes.
Ireland has come a long way in recent years. Should you have an image of Irish food being boring or limited, you're in for a wonderful surprise!
In this article, we are going to provide a general overview of what to expect when it comes to classic Irish food, and then give you our choice of where to find the best eateries in the west of Ireland region.
Seafood Heaven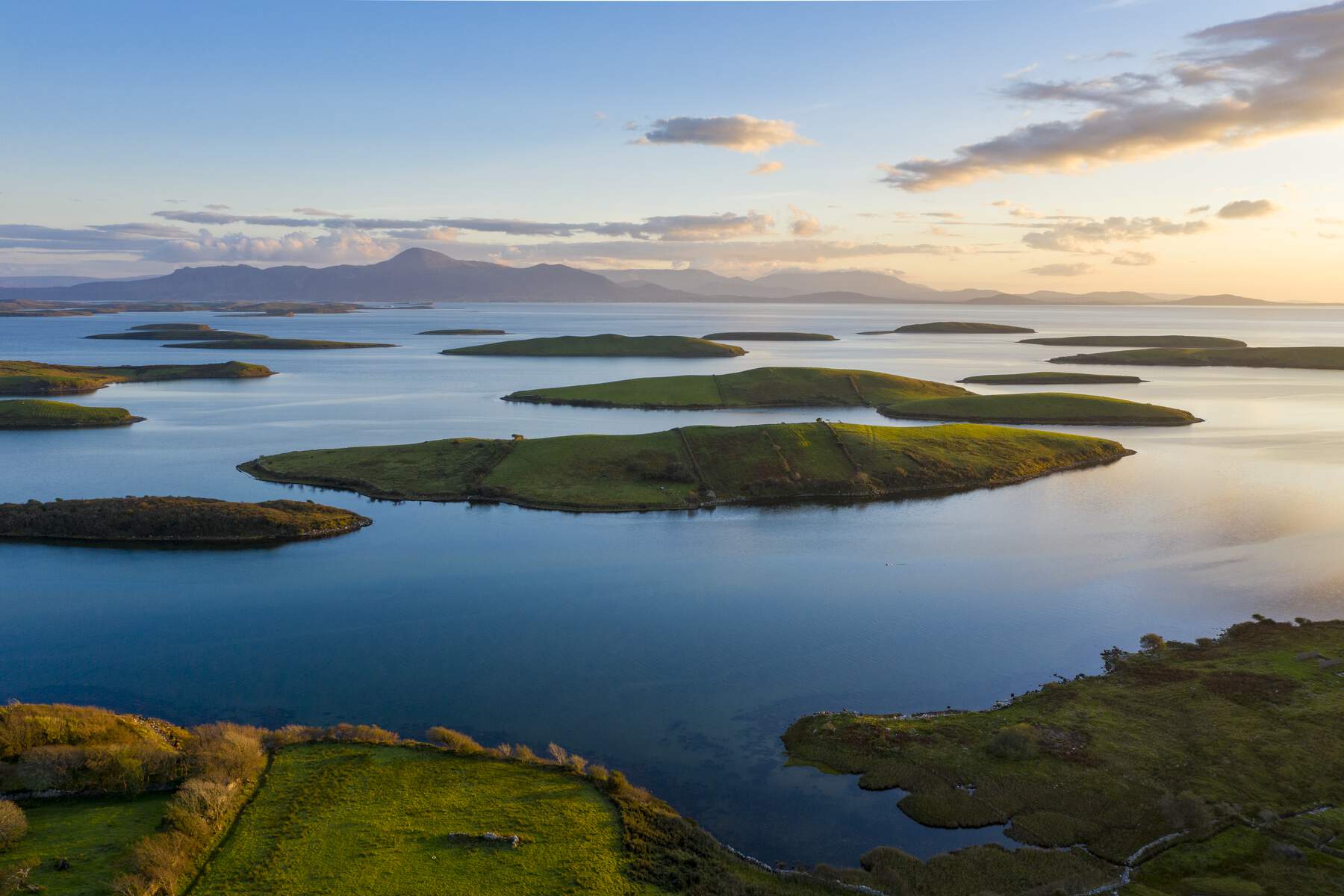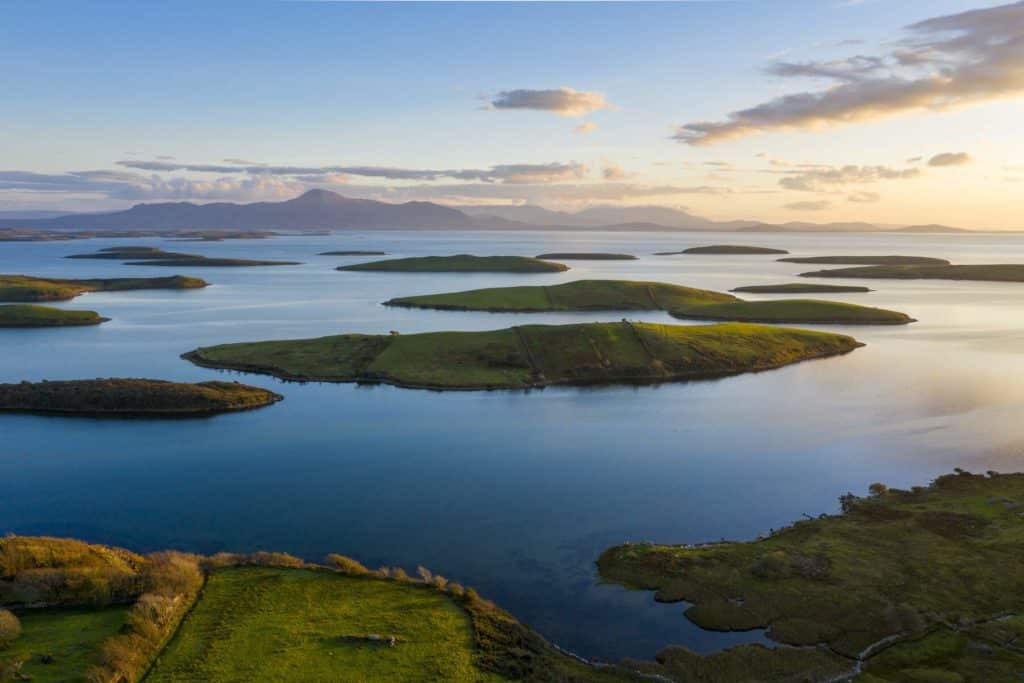 Nestled along the rugged coastline of the Atlantic Ocean, the West of Ireland is renowned for its seafood delicacies. From succulent oysters harvested in Galway Bay to perfectly grilled Atlantic salmon, if you are a seafood lover, you'll find yourself in paradise.
The freshness of the catch is key, and many local restaurants take pride in sourcing their seafood directly from nearby waters. Take for example, the Leenane Hotel, located on the shores of Killary Fjord. Here, you can enjoy the fresh mussels which have been harvested in the waters of the fjord.
Traditional Irish Food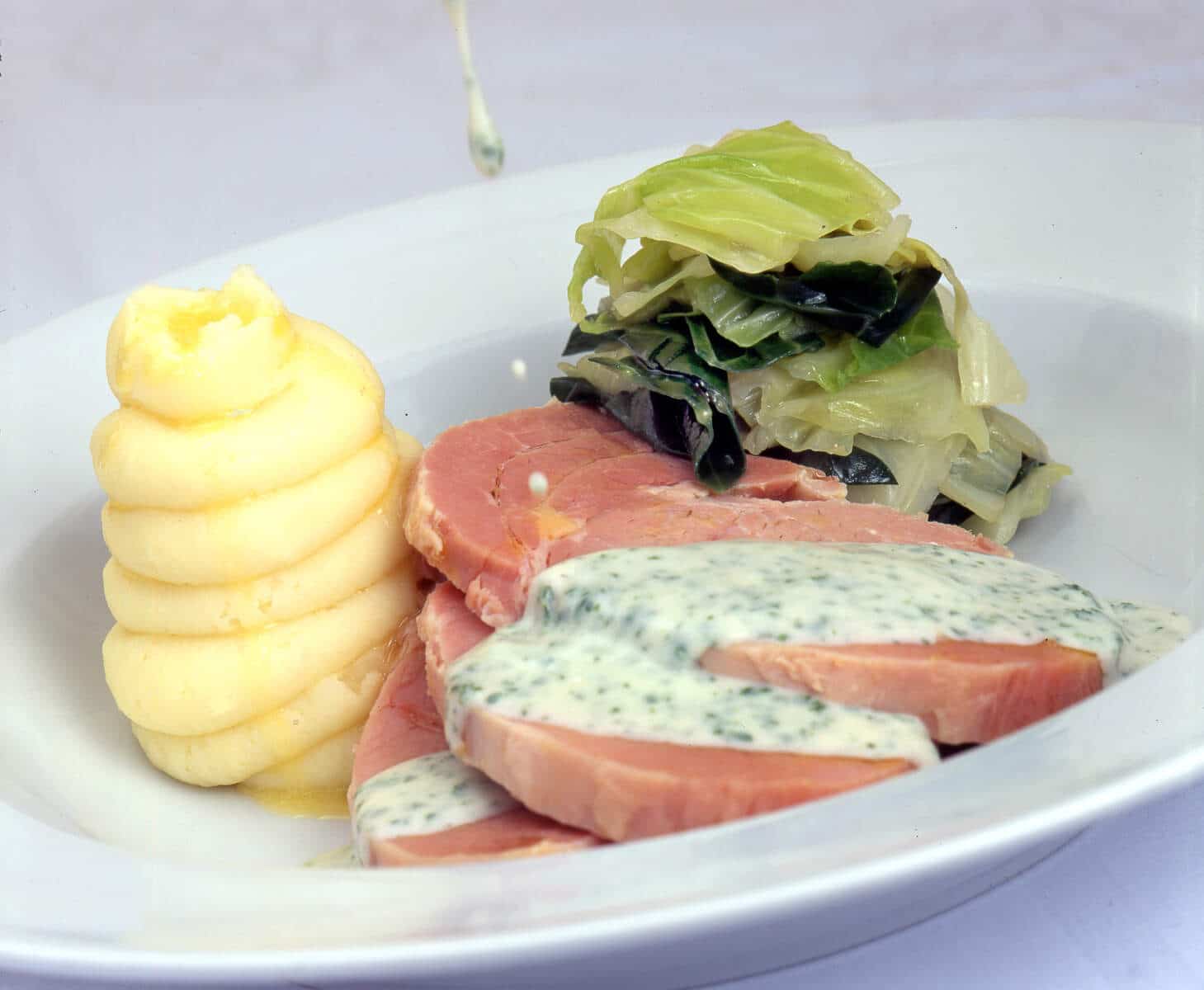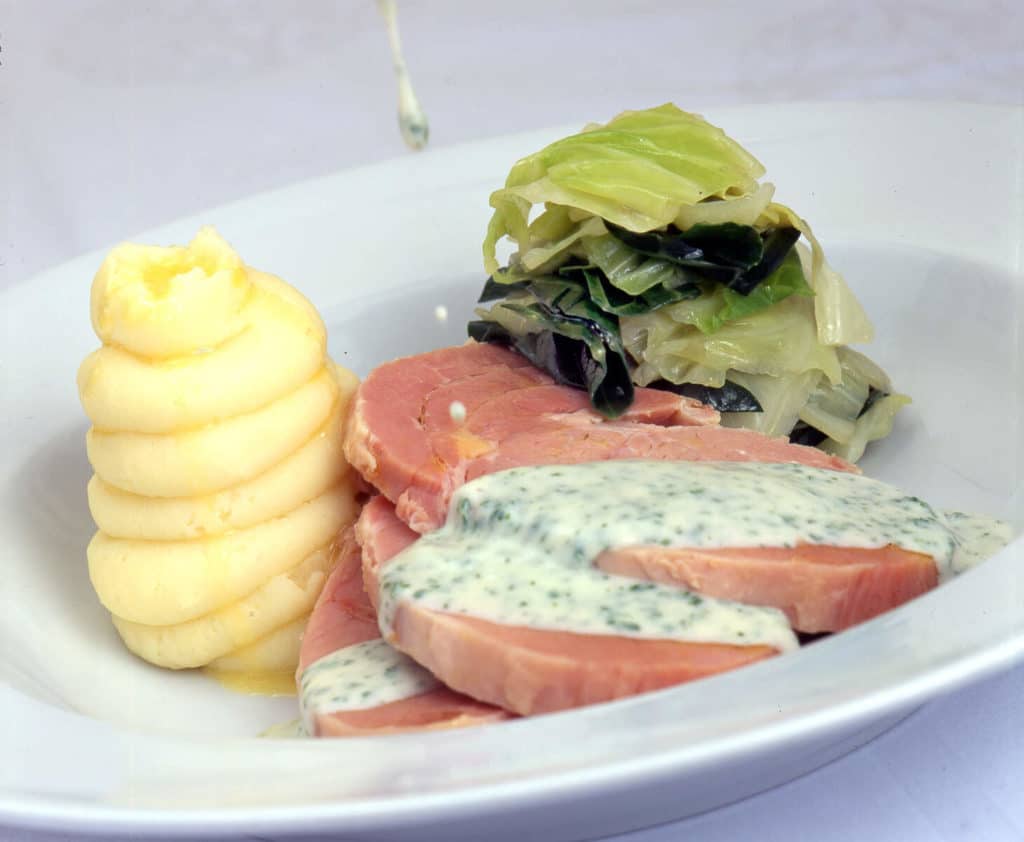 No visit to the West of Ireland is complete without savouring traditional Irish dishes that have stood the test of time. Indulge in good, hearty stews, like the famous Irish lamb stew. Try a traditional shepherd's pie, the essence of comfort food.
Or why not sample one of my very favourites; bacon and cabbage with a mash potato and parsley cream sauce? Just perfect on a cold winter day.
Black pudding, white pudding, and soda bread are staples that add a distinctive taste to many meals, showcasing Ireland's commitment to preserving culinary traditions. These are eaten as part of a full Irish breakfast and let me tell you, you won't need much of a lunch after a feed like this!
Farm-to-Table Freshness
Agriculture is a way of life in the West of Ireland, and the farm-to-table movement has gained significant momentum in recent years.
On your visit to the west of Ireland, you'll be treated to dishes made from locally sourced produce, ranging from vibrant vegetables to artisan cheeses.
We get plenty of rainfall in the west of Ireland, but that only adds to the quality of our produce. Irish cows certainly won't go hungry in this region of the world! Those of you living outside the country will certainly have come across our world-famous butter and cheeses.
The quality of Irish beef is second to none. In fact, it has become one of Ireland's chief exports. If meat is not your thing, no worries, there are always vegetarian and vegan options available on the menu.
Pub Grub and Warm Hospitality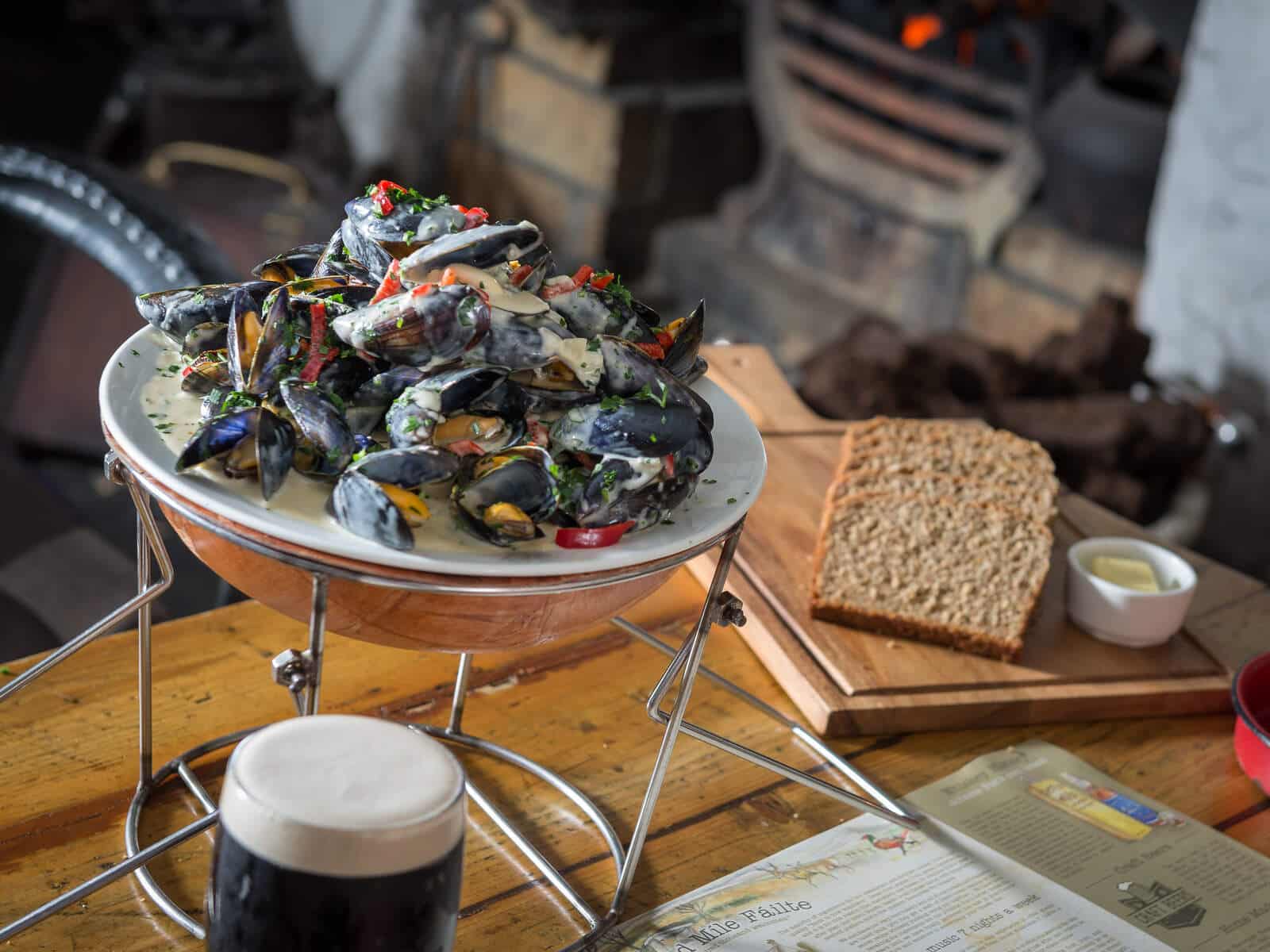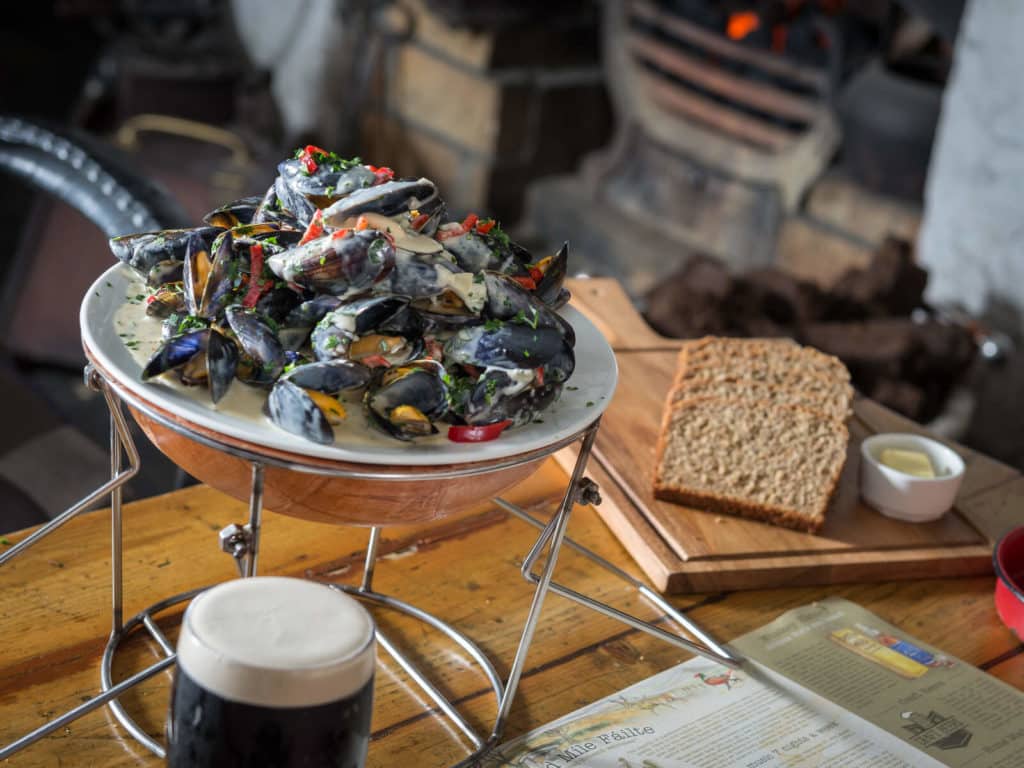 The Irish pub is not just a place to enjoy a pint; it's also a hub of social life and delicious comfort food.
Pubs in the West of Ireland often serve up hearty pub grub, such as beef and Guinness pie or crispy fish and chips. The warm and welcoming atmosphere makes every dining experience a memorable one, with live music providing the perfect backdrop to a great meal.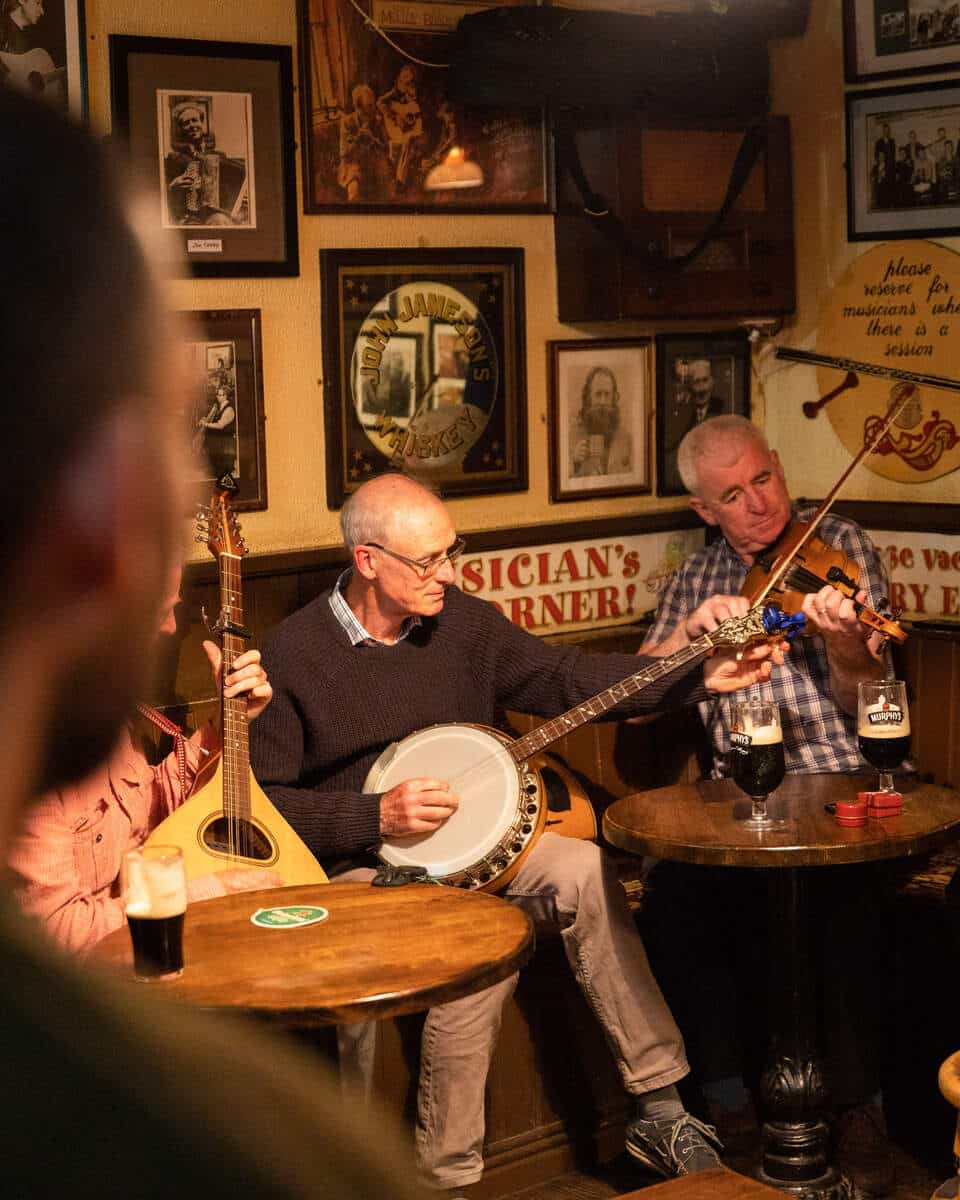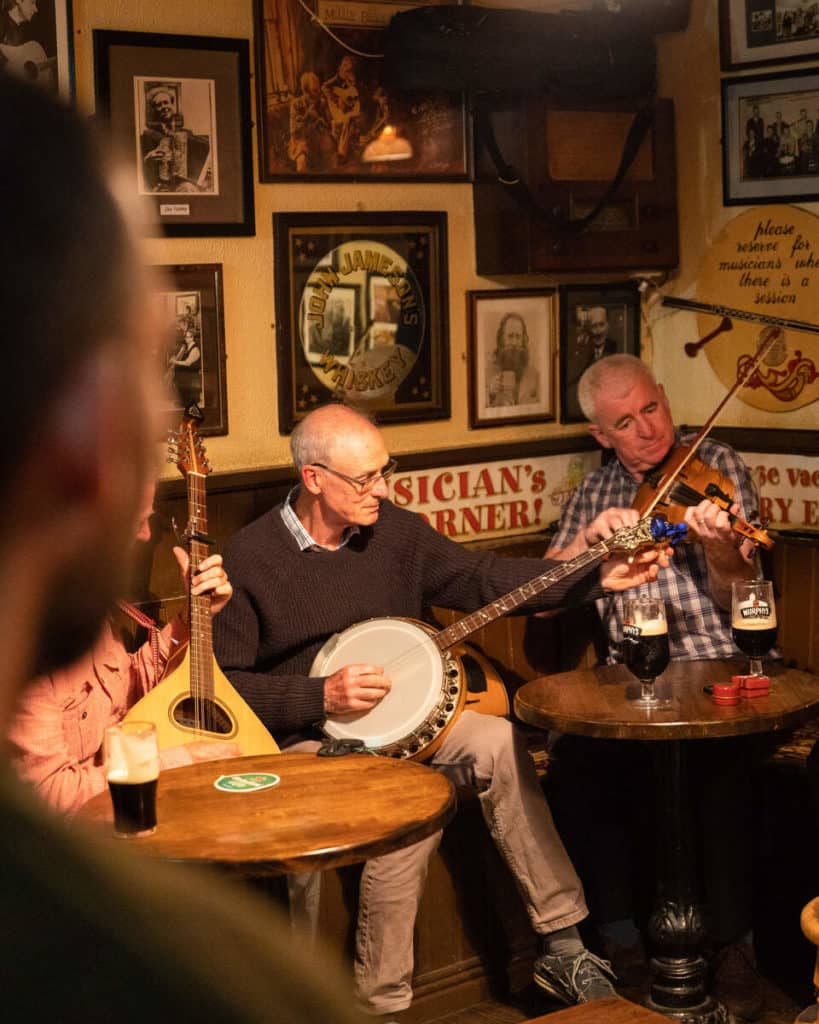 Pub Grub has become a lot more prevalent in the last 10-15 years or so and is something we highly recommend enjoying.
Many of the once quieter pubs in more rural regions along the western seaboard offer some beautiful meals, such as fresh seafood, artisan burgers and Sunday roasts, so keep your eye out when travelling along the Wild Atlantic Way!
Sweet Endings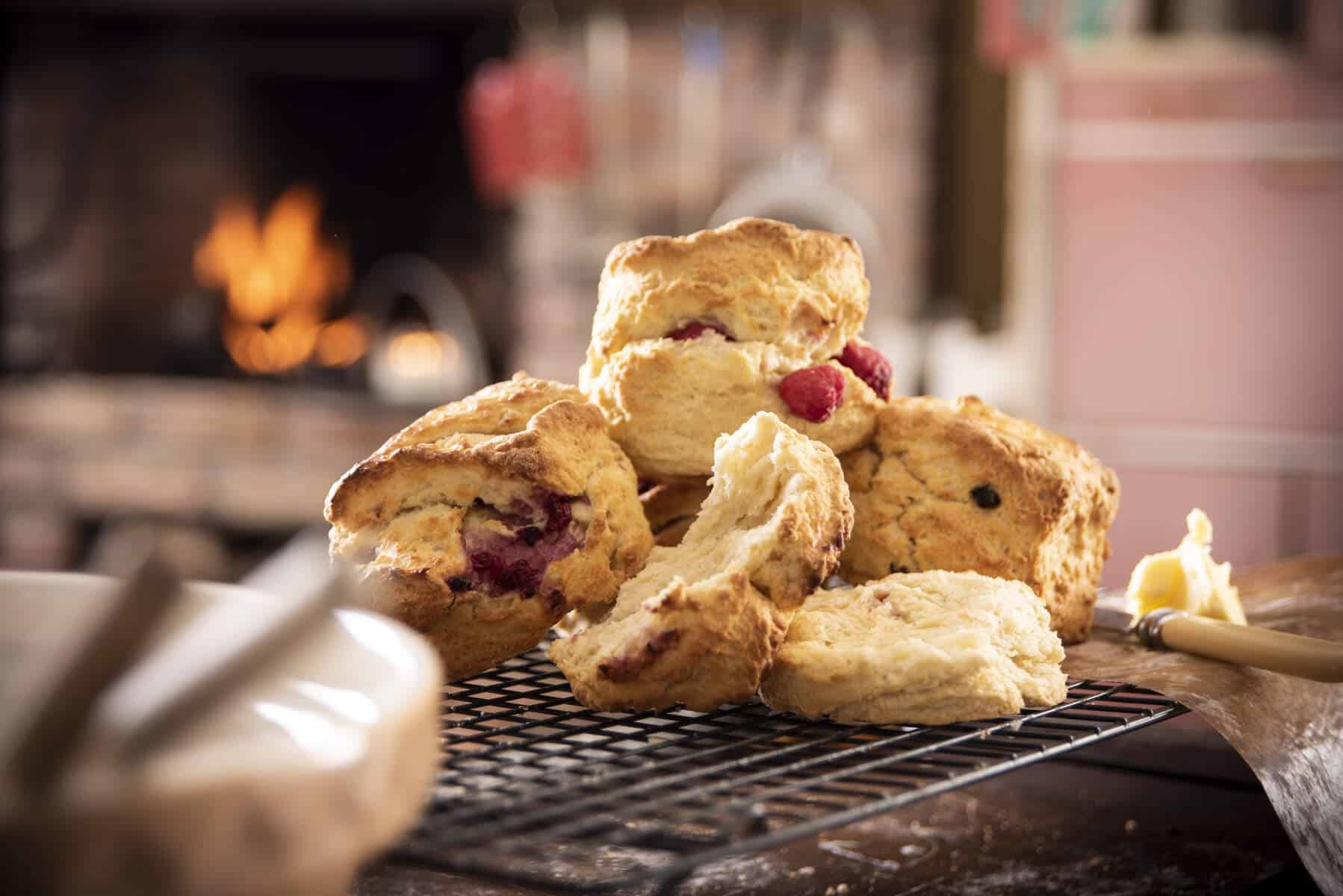 No culinary exploration is complete without indulging in something sweet, and the West of Ireland does not disappoint.
From the creaminess of Irish butter to delicious pastries, the region offers a delightful array of desserts. Don't miss out on trying traditional Irish treats like the famous Irish coffee or a slice of rich fruitcake.
Other treats/deserts which I highly recommend are scones, apple tart, rhubarb tart, apple/rhubarb crumble, porter cake and coming up to Christmas, those irresistible mince pies.
List of traditional Irish dishes/food you must try
Bacon & Cabbage: Classic Irish dish featuring boiling bacon and cabbage, a staple in Irish cuisine.
Irish Stew: Hearty one-pot dish with lamb or mutton, potatoes, and vegetables.
Shepherd's/Cottage Pie: Savoury minced meat pie topped with mashed potatoes and baked (add some cheddar cheese to the mash: you won't regret!
Seafood Chowder: Rich soup with a variety of fresh seafood, such as mussels and smoked haddock and creamy broth.
Black & White Pudding: Traditional Irish sausages made with blood, oatmeal, and spices, eaten as part of full Irish breakfast
West of Ireland Mussels in white wine/cream: Fresh mussels cooked in a pot, often served with fries.
Fish & Chips: Iconic Irish dish of deep-fried fish (cod/plaice) and thick-cut potatoes.
Oysters: Fresh and briny shellfish, a popular Irish seafood delicacy in the west of Ireland.
Fresh Fish: Hake, Monkfish, Haddock, Salmon & much more: Diverse selection of fresh sea fish commonly found in Irish cuisine.
Boxty: Traditional Irish potato pancake, often served with savoury toppings.
Irish soda bread: Quick bread made with baking soda, a staple in Irish baking and beautiful with seafood chowder.
Barmbrack: Sweet Irish bread with dried fruit, often enjoyed during Halloween, inside of which a ring is placed. Those who come across the ring will wed within a year!
Jelly & Ice cream: Simple and beloved dessert combination in Ireland.
Apple Pie with custard: Classic apple pie served with warm creamy custard.
Apple/Rhubarb Crumble: Baked dessert with a crispy topping, featuring apples or rhubarb. Wonderful with a scoop of vanilla ice-cream.
Sample Menus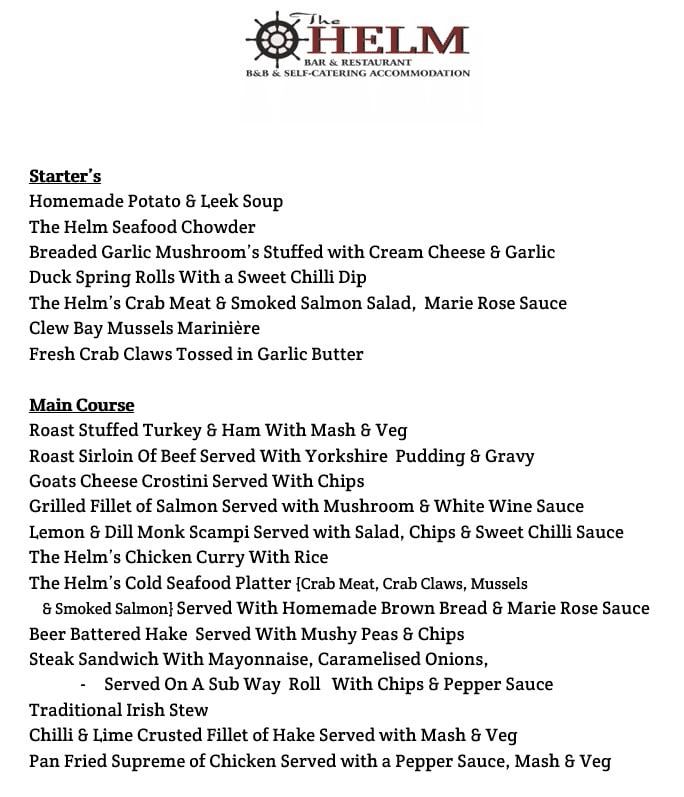 Moran's Oyster Cottage: Kilcolgan, Galway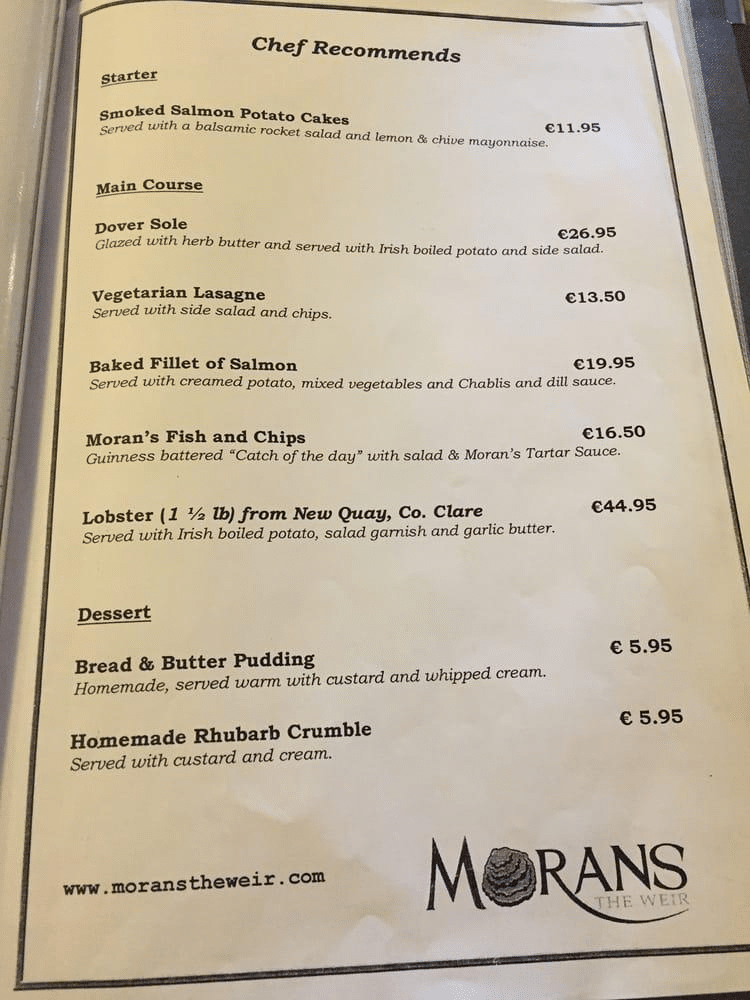 Our Favourite Restaurants in Mayo & Galway